All the news for Sunday 30 March 2014

Experienced Black Sticks return for Hawke's Bay Festival




Black Sticks Women's head coach Mark Hager has announced a team of 19 to compete in the Hawke's Bay Festival and the warm-up games against China in Taupo this week.

The Hawke's Bay Festival will see the Black Sticks Women take on Australia, Argentina, China, Korea and Japan from 5-13 April in Napier.

"The two tests played this weekend against Korea have in some ways raised more questions than answers for us.  We are far from settled on a team for the World Cup and want players to continue to work hard and prove they have what it takes.

"The Festival is a fantastic opportunity for us to see exactly where we are at and what needs to be worked on ahead of the World Cup," said Hager.

Senior players Krystal Forgesson, Stacey Michelsen and Kayla Whitelock  - who together have a total of 528 international tests – return to the side while Katie Glynn is still recovering from injury.  It is the first international test  Michelsen has played since injuring her knee in April at the Four Nations held in New Zealand.

A 19th player has been named due to Anita Punt leaving the field with a knee injury in yesterday's game.  It is expected that Punt will sit out of the two tests in Taupo but be available during the Hawke's Bay Festival.

The FIH World Cup, which is being held in Holland from 31 May – 15 June,  is held every four years and includes the world's top 12 teams.

The national selectors for the Black Sticks Women are Di Te Awa, Chris Leslie and Hager.

The Black Sticks will play against China at 6pm on 31 March and 1 April. Gate sales only. For more information click here. To purchase tickets for the Hawke's Bay Festival go to www.ticketmaster.co.nz.

Both Black Sticks games against China this week and ALL Black Sticks games during the Hawke's Bay Festival will be LIVE STREAMED on www.hockeynz.co.nz

Black Sticks Women – China tests and Hawke's Bay Festival
| | | | | | |
| --- | --- | --- | --- | --- | --- |
| Shirt # | Player Name | NHL Team | Position | Age | Caps |
| 1 | Kayla WHITELOCK | Central | Midfielder | 28 | 205 |
| 2 | Emily NAYLOR | Central | Midfielder / Defender | 28 | 230 |
| 3 | Krystal FORGESSON | Auckland | Striker / Midfielder | 31 | 196 |
| 4 | Olivia MERRY | Canterbury | Striker | 22 | 32 |
| 6 | Petrea WEBSTER | North Harbour | Striker / Midfielder | 26 | 52 |
| 7 | Aniwaka ROBERTS | Capital | Midfielder | 24 | 24 |
| 8 | Sally RUTHERFORD | Midlands | Goal Keeper | 32 | 54 |
| 13 | Sam CHARLTON | Midlands | Defender / Midfielder | 22 | 78 |
| 14 | Michaela CURTIS | Central | Striker | 20 | 11 |
| 16 | Liz THOMPSON | Auckland | Defender | 19 | 17 |
| 17 | Sophie COCKS | Canterbury | Striker / Midfielder | 19 | 19 |
| 19 | Rhiannon DENNISON | North Harbour | Defender | 20 | 31 |
| 22 | Gemma FLYNN | Midlands | Midfielder / Striker | 23 | 159 |
| 24 | Rose KEDDELL | Midland | Defender / Midfielder | 20 | 35 |
| 25 | Sian FREMAUX | Canterbury | Midfielder / Striker | 21 | 26 |
| 27 | Jordan GRANT | Canterbury | Defender / Striker | 22 | 5 |
| 30 | Bianca RUSSELL | North Harbour | Goal Keeper | 35 | 65 |
| 31 | Stacey MICHELSEN | Northland | Midfielder / Defender | 23 | 127 |
| 32 | Anita PUNT | Capital | Midfielder | 26 | 146 |
Team Management 
Head Coach:              Mark Hager
Assistant Coach:             Sean Dancer
Manager:                           Debbie Balme
Physiotherapist:               Helene Barron (Taupo) / Fiona O'Connor (Hawke's Bay Festival)
Performance Analyst:      Ian Hicks
Hockey New Zealand Media release


---

Grange set up rematch against Kelburne after win over Wildcats



A narrow win for Grange over Western Wildcats. Photo Credit: Duncan Gray

Grange will meet Glynhill Kelburne in tomorrow's Aberdeen Asset Management National League Grand Final after a narrow 1-0 win over Western Wildcats at the Glasgow National Hockey Centre.

A tempestuous affair was ultimately settled by Frank Ryan's goal in the 38th minute, sending the capital side through for a playoff rematch against the defending champions, who are aiming for ten titles on the trot.

Edinburgh University upset the odds in Pool A, defeating Grove Menzieshill 2-1 and consigning the Taysiders to a derby clash against Dundee Wanderers in the promotion/relegation play-offs.




Grove Menzieshill went one up two minutes from half-time after a goal from Alasdair Irvine, giving Chris Anderson's side a lead at the interval.

However, the University side responded midway through the second half, former GB and Scotland international Graham Moodie finding the back of the net in the 56th minute to make it 1-1.

With six minutes to go, Gordon Armour ensured Division 1 safety for Edinburgh University with a well taken winner to give his side a 2-1 win.

Also in Pool A, AAM Gordonians have used the play-offs to their advantage, triumphing 4-2 over Watsonians to keep their place in the top division.



AAM Gordonians on the attack against Watsonians. Photo Credit: Duncan Gray

First half goals from Martin Babicky, Kevin Wong, John Hamilton and Dwayne Rowsell put the game out of sight for the Aberdonians. Watsonians' reply came from William Butler and David Patterson, but it wasn't enough to prevent them from finishing bottom of the pool.

PSL Team Sport Clydesdale defeated Dundee Wanderers 7-3 in Pool B, meaning that John McKnight's side will consolidate their place in the top flight.



PSL Team Sport Clydesdale's win over Dundee Wanderers ensured Division 1 hockey next season. Photo Credit: Duncan Gray

Ciaran Crawford and Archie Breckenridge gave the Titwood side the perfect start, both scoring from a penalty corner set piece in the fourth and sixth minute respectively.

Crawford made it 3-0 in the 26th minute, before Wanderers pulled back a goal right on half-time courtesy of a Fergus Sandison penalty corner.

However, Rory McCann restored Clydesdale's advantage two minutes after the interval and Crawford completed his hat-trick from the penalty spot sixty seconds later to make it 5-1.

Nevertheless, Wanderers demonstrated resilience in the contest as Sandison scored his second of the match from the penalty spot in the 51st minute, and Paul Dailly was on target to make it 6-3 in the 64th minute.

Ewan Fraser completed the scoring, recording Clydesdale's seventh goal of the encounter from a field goal.

Inverleith recorded three wins out of three matches to top Pool B after a comfortable 4-0 win over Uddingston.

Adam MacKenzie's four penalty corner goals were the difference between the two sides, the Scotland international scoring in the 17th, 56th, 60th and 67th minutes.

Uddingston, meanwhile, will take on fellow Division 2 side Watsonians for a place in Division 1.



Adam MacKenzie's penalty corner expertise ensured a comfortable win for Inverleith over Uddingston. Photo Credit: Duncan Gray

Scottish Hockey Union media release


---

Clydesdale Western gain revenge against Edinburgh Uni to reach Grand Final



Milne Craig Clydesdale Western striker Holly Cram celebrates her goal against Edinburgh Uni. Photo credit: Duncan Gray.

Milne Craig Clydesdale Western earned revenge for last weekend's defeat to Edinburgh University with a dominant 3-0 win over the students in Glasgow today.

It means the Titwood outfit qualify for Europe and will now face Grove Menzieshill in tomorrow's Aberdeen Asset Management National League Grand Final at the Glasgow National Hockey Centre.

Scotland international Ali Howie opened the scoring two minutes from half-time to give her side a crucial 1-0 lead at the interval.

Shortly after the re-start, striker Holly Cram was on target to make it 2-0 before Morag McLellan made it 3-0 in the 49th minute.



Scotland internationals Jen Eadie (L) and Maisie Morris (R) battle it out in Glasgow. Photo Credit: Duncan Gray

Glynhill Kelburne made it three wins from three in Pool A with a 3-2 win over GHK Ladies.

After a goalless first half, the Paisley side took the lead in the 45th minute through Drew Berry, before Emma Barlow doubled their lead to 2-0 in the 52nd minute.

However, GHK responded in the 56th minute when Jenny Morris pulled her side back into the contest.

Nevertheless, Barlow restored Kelburne's two goal advantage in the 62nd minute from a field goal to make the score 3-1.

Lynsey Barlas grabbed another goal for GHK two minutes from time, but Kelburne held out to claim a 3-2 win.



Glynhill Kelburne were 3-2 winners over GHK Ladies in Glasgow. Photo Credit: Duncan Gray

In Stirling, Western Wildcats' 5-3 win over AAM Merlins Gordonians means that the Auchenhowie outfit pipped GHK to second spot in the pool on goals scored after the two sides finished level on points and goal difference.

Scotland international Kareena Marshall scored twice for Wildcats, with Alex Stuart, Lucy MacArthur and Rachel Houghton getting a goal each. Merlins reply came from an Aimee Clark double and one from Morag Hardie.

In Pool B, CALA Edinburgh ensured they avoided the relegation play-offs with a 2-0 win over Grange EL. Amy Costello opened the scoring opened scoring in the 26th minute from a penalty corner.



CALA Edinburgh's last minute winner ensured Division 1 safety for the capital outfit. Photo Credit: Duncan Gray

A nervy and close second half ensued but Emma McGregor was the heroine for CALA Edinburgh, scoring right on the full-time hooter to enable her side to finish in second place on goal difference.

It means Hillhead Ladies will play in the relegation play-off despite a 4-4 draw against Watsonians.

Amber MacFarlane's two goals, and one each for Carla MacNiven and Wendy Andrews wasn't enough to get Hillhead Ladies into the top two spots.

Kirsty Hill notched a hat-trick for the capital outfit, while Nikki Stobie was also on target.

Scottish Hockey Union media release


---

Klang Valley final in U16 meet

By S. Ramaguru
   
KUALA LUMPUR: It will be an all-Klang Valley final for the first time when Kuala Lumpur and Selangor fight for the boys' title in the MHC-Milo Under-16 hockey championship in Kangar on Sunday.

Five-time champions Kuala Lumpur checked in with a 2-1 win over defending champions Perak while Selangor ousted Penang 2-0 to book their first final date since the tournament began in 2004.

Selangor have only qualified for the semi-finals once – ending up fourth in 2010. Thus, they are excited at the propect of winning their title ever boys' Under-16.

Coach Wan Samsuri Wan Hassan said on Saturday that they are determined to lift the title.

"The players are fired up and want to win the title for the first time. This team is good as the players have come through the 1Mas programme," said the Selangor coach.

"We had good game against Penang ... my boys played to instructions and carried out their roles well. The final will be tough as KL are a top team, considering they have won the title before."

Selangor could have lost to Penang in the semi-final if the islanders had converted some of the nine penalty corners they earned in the game.

In the end, goals by Umar Hakimi Ahmad (14th minute) and Mohd Syazwan (39th) were enough for Selangor to see off Penang.

The match between Perak and KL was closer.

The City team took an early lead in the fifth minute through a Mohd Haziq Hisyamuddin's field goal before Perak equalised in the 28th minute through Mohd Nazrul Asyraff.

KL kept up the pressure and were rewarded with the winner in the 61st minute through a penalty corner goal by Mohamed Fitri.

 Meanwhile, Penang retained the girls title after coming back from a goal down to beat Negri Sembilan 3-1 in the final at the Kuala Perlis Turf.

NurHalifa Abdul Khalid put Negri in the lead in the 14th minute with a field goal but Penang equalised four minutes later with a similar goal by Nor Hafea Mazran.

Zuraika Zaini then put Penang ahead in the 32nd minute and was on target again for the third goal in the 58th minute.

Pahang finished third after edging Kelantan 3-2 in a penalty shootout after both teams drew 2-2 in regulation time.

The Star of Malaysia


---

KL knock out champs Perak

By Fadhli Ishak   

KUALA Lumpur are on the brink of winning their sixth Milo-MHC National Under-16 tournament title after edging defending champions Perak 2-1 in the semi-final in Kangar yesterday.

The closely fought encounter saw KL open the scoring via a fifth minute field goal from Wan Haziq Hisyamuddin but found themselves level after Perak's Mohammad Nazrul Ashraf netted from a penalty corner in the 23rd minute.

The five-time winners, however, progressed at the Kangar Stadium after Muhammad Fitri Khairul Ariffin scored the winning penalty corner in the 61st.

They will play Selangor, who beat Penang 2-0 in their semi-final, for the title.

KL coach K. Embaraj said his boys will have to be more clinical if they are to emerge victorious against Selangor today.

"It was a close match against Perak but we certainly had our chances to finish off the game in the second-half," said Embaraj.

"We had at least four penalty corners in the latter stages of the game but could not convert.

"At this stage of the tournament, chances do not come that often and the boys must improve on this aspect if we are to beat Selangor.

"Selangor have been playing well the whole tournament and are definitely a formidable threat.

"There is no pressure on the players from me to win tomorrow but they know what is at stake (sixth title) and I believe it is possible if we play to our full potential."

Penang, however, successfully defended their title in the girls competition after they beat Negri Sembilan 3-1 in the decider at the SMK Kuala Perlis pitch.

Pahang finished third after downing Kelantan 3-2 in a shoot-out after both sides were tied 2-2 at the end of regulation time.

RESULTS -- Boys' semi-finals: Selangor 2 Penang 0, Kuala Lumpur 2 Perak 1.

Girls' third-place playoff: Pahang 2 Kelantan 2 (Pahang win 3-2 on penalties); Final: Penang 3 Negri Sembilan 1.

Today -- Boys' third-place playoff: Penang v Perak (3pm), Final: Kuala Lumpur v Selangor (5pm) -- Kangar Stadium.

New Straits Times


---

Hunger to play for India never died: Yuvraj Walmiki

Suhrid Barua




Comebacks are part and parcel of a sportsman's life. Every comeback opportunity injects a dose of hope in a player to really make it count. And it hasn't been any different for Indian hockey striker Yuvraj Walmiki, who has acquitted himself quite well ever since staging a return to the national fold in the Hockey World League Final in January this year. And the 2nd Hero Hockey India League gave him a platform to build on that. "I was out of the national side for close to a year. Even when I was out of the side, the hunger in me to play for the country never died. I never let negative things creep into my system as positive energy was running through my body. I kept my chin up, kept working hard and it paid off," Yuvraj says in an exclusive interview to Stick2hockey.com

The 24-year-old Mumbai lad last played for India in the 2012 FIH Champions Trophy in Melbourne, where India put up an eye-catching performance after the London Olympics blues, reaching the semifinals where they narrowly lost to arch-rivals Pakistan in the bronze medal play-off tie. Yuvraj had a decent tournament, even scoring a goal in India's 3-1 opening game win over England.

A lot of water has flown under the bridge and the nippy striker was as determined as before, giving his best shot in the domestic tournaments while turning out for Indian Oil on contract in a bid to reclaim his national berth. "I owe a lot to Indian Oil for giving me an opportunity to play for them for a few months. I featured in the Beighton Cup, Lal Bahadur Shastri hockey tourney, Nehru tournament as well as the Mumbai Gold Cup. In fact, I was the top goal-scorer in the Nehru tournament," he quips.

Yuvraj has since joined Indian Railways. "I'm happy to have joined the Indian Railways as a Junior Ticket Collector – I joined them just before the start of the 2nd HIL. I really look forward to delivering for them whenever I'm free from national duty. Of course, my primary focus is to fare well for the national side."

The Walmiki ménage must be 'extra' elated as his younger brother Devinder also made it to the Indian World Cup probables. Yuvraj doesn't mind the 'family' competition. "I'm happy for him. Although we will be competing for places in the national team, I wish him all luck," he puts forth his thoughts.

Yuvraj was catapulted into limelight when he put up a dazzling performance in India's 2011 Asian Champions Trophy glory. For someone, who surmounted numerous hurdles including his economically disadvantaged background, en route to doing what he loves the most – his performance triggered a heap of cash awards and even a promise of a flat promised by the Maharashtra government. "I was promised a flat in September 2011 and I'm yet to get it. I still live in my modest house, which I have renovated a bit opposite to Marine line station. I'm trying my best to contact the concerned government authorities, and keeping my fingers crossed," he exudes hope.

The youngster, who scored a fine opportunistic goal against Australia during the Hockey World League Final in New Delhi, helping India take a 2-0 lead in the first twenty-odd minutes of play, gushes about playing alongside somebody as talented as Sardar Singh. "I'm really honoured to be playing alongside somebody like Sardar Singh. He is a great player and importantly, a fabulous human being. You keep learning so many things playing with him."

Yuvraj sees the 2014 World Cup as a huge opportunity for India to show the world that they are surely going up the ladder. "We have got a great coach in Terry Walsh, who knows how to get the best out of the boys. Of course, it all boils down to how a team plays on any given day, we will look to put our best foot forward and make our country proud," he signs off.

Stick2Hockey.com


---

BSF win Dashmesh Hawks hockey title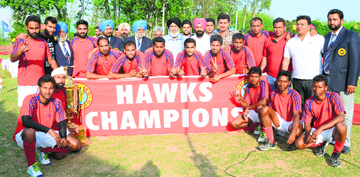 The BSF team poses with the trophy after beating EME in the final of Dashmesh Hawks Hockey Festival on Saturday. Tribune Photo

Ropar - BSF Jalandhar beat EME Jalandhar 3-1 in the final of Dashmesh Hawks All India Hockey Festival here today. The match was played according to the new International Hockey Federation (FIH) rules with four 15-minute quarters.

While no team could score in first quarter, BSF took the lead through a field goal by Lakhbir Singh in the 29th minute. In the third quarter, Hitender Singh consolidated their lead through a brilliant field goal in the 35th minute.

In the last quarter, EME got one back through captain Gurjinder Singh in the 50th minute. However, Mukhjinder Singh converted a penalty stroke in the dying minutes as BSF eased to victory.

The winning team received a cash prize of Rs. 51000, while the runners-up received Rs 31000.

The Tribune


---

New FIH rules to be introduced in India from June 1

NEW DELHI: The new hockey rules announced by the international sport governing body, FIH, will be introduced in India for its domestic competition from June 1 this year, Hockey India (HI) said on Saturday.

HI implemented the new FIH tournament rules featuring four quarters of 15 minutes, in all domestic tournaments from June 1 at its 22nd Executive Board meeting held here.

As of September 1, hockey will be played in four 15-minute quarters instead of two 35-minute halves while forty-second time-outs will also be introduced and be implemented when a penalty corner is awarded and after goals are scored, the FIH had said earlier this month.

The body also discussed issue of Harbir Singh who was denied a visa for participation in the Commonwealth Games 2014 at Glasgow. HI secretary general Narinder Batra has been authorised to take further action on this matter after consultation with Indian Olympic Association.

Among other decisions, HI appointed Sports Mechanics to provide video analysis to each of the four national teams including men and women teams in senior and junior category.

Food Corporation of India's associate membership was ratified by the Board. Further the decision was taken to introduce a new category of membership for Hockey India named as Hoc-Key member for under-15 teams. Hockey Citizen XI membership in the category of Hoc-Key member was ratified," the board said in a statement.

Five new academy members - R D T Academy, Chennai, Maharaja Ranjit Singh Academy, Punjab, Tamil Nadu Hockey Academy, Tamil Nadu, Nehru- NDMC Hockey Academy and Hubli Hockey Academy, Hubli - were also added.

Bjorn Isberg was appointed as Tournament Director and Craig Gribble as Umpires Manager for the Hero Hockey India League 2015 was approved, it added.

The performance and activities of existing Hockey India members were discussed and a decision was taken to relegate Hockey Andhra Pradesh from permanent member category to Associate member for changing their president without any prior intimation to the parent body.

A decision was taken to disaffiliate Hockey Hyderabad, who was an Associate member, and said they would not be participating in any of the national championships conducted by Hockey India in 2014. A decision was taken to disaffiliate Hockey Delhi on grounds that they changed their president and constitution without prior intimation or approval.

The Times of India


---

Hockey India to give aid to Afghanistan Hockey Federation

NEW DELHI: With the aim of promoting hockey as a sport across the world, Hockey India on Saturday took a strategic decision to provide aid to the Afghanistan Hockey Federation.

The decision was taken in the 22nd Board Meeting of Hockey India held here.

Afghanistan Hockey Federation had requested for aid in a communique received early this month. HI Board has agreed to send hockey sticks, balls and goalkeeper pads to them. Speaking on the contribution, HI secretary general Narinder Batra said, "Hockey India is committed to the grassroot development of the sport. This is a small contribution to promote hockey among enthusiasts in Afghanistan."

In another initiative, Hockey India has increased the annual grant of State Units members from Rs. 6.00 lacs to Rs. 8.00 lacs. In addition, associate member (non-institutional) will get Rs. 3.00 lacs and other members will get Rs 2.00 lacs per annum.

The Times of India


---

Hockey India's small Gesture towards historic ally Afghan

K. Arumugam

This is a kind step that can veritably give Indian hockey a face lift, foothold and worthy motivation to regions where hockey hardly exists in Afghanistan, a country known for all wrong reasons nowadays.

Hockey India has decided to provide unspecified number equipment to Afghan Hockey Federation, says a press release from Hockey India.

HI's gesture was in response to the SOS from AHF

Afghanistan Hockey Federation had requested for aid in a communiqué received early this month. HI Executive Board, which met today in Delhi, has agreed to send Hockey Sticks, Balls and Goalkeeper Pads to them.

Hockey in Afghan flourished in the past, an Afghan player even representing first Indian Olympic team, 1928.

Indian teams used to visit Afghan on their national day from early 40s to till late 70s.

Dr Narinder Batra, Secretary General of HI, said, "This is a small contribution to promote hockey among enthusiasts in Afghanistan."

Well said

Stick2Hockey.com


---

Hockey plans for U18 team

Arin Kumar

THE Fiji Hockey Federation is trying to work out how to best satisfy the educational needs of the players of the national girls under-18 team which is preparing for the Youth Olympic Games in China in August.

FHF president Dr Robin Mitchell said nearly all the players in the team are secondary school students and might face disruptions with their studies.

He said the teams that went to Port Villa in Vanuatu to participate in the YOG qualification tournament earlier this month were made up of students from Ovalau, Lautoka, Nadi and Suva.

"All except one of our team members are secondary school students, so we will have to make an assessment of who will be available to travel to Nanjing in August which is quite close to important exams for those in Form 6 and 7," Dr Mitchell said.

"They will have to make a decision as to whether they can continue to train for the next five months as well as be away from school for at least two weeks during the YOG," he said

The Fiji Times


---

Sikhs top of the world

by Dil Bahra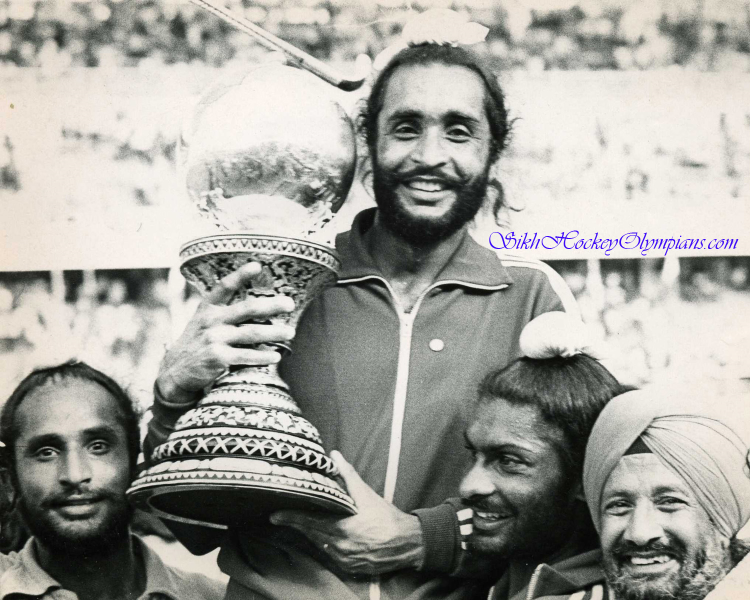 India's winning captain,  Ajit Pal Singh proudly displays  the World Cup with  Mohinder Singh (L), Surjit Singh and Gurcharan Singh Bodhi (R). Photo: Morley Pecker

In our series of the impact Sikhs have had at men's hockey world cups, we look at the third world cup held in 1975.

The third Men's Hockey World Cup was held at Merdeka Stadium, Kuala Lumpur, Malaysia from 1 - 19 March 1975.

Twelve nations competed at this world cup: Malaysia; New Zealand; Netherlands; Pakistan; Poland and Spain in Pool A and Argentina; Australia; England; Ghana; India and West Germany in Pool B.

India, the bronze medal winners at the first World Cup in Barcelona in 1971 and runners – up at the second World Cup in  Amstelveen in 1973, were led by a Sikh, Ajit Pal Singh and the team included seven Sikhs. Both the Team Manager and Team Coach were Sikhs - Balbir Singh Sr. and Gurcharan Singh Bodhi.

Hardial Singh Kular of Kenya was on the FIH Jury of Appeal for the tournament.

Gurdev Singh of India was on the umpires' panel.

Kenya failed to qualify for the World Cup, having lost the African Championship to Ghana in 1974.

Although Sikh players scored only seven goals in the tournament, these goals were scored at crucial periods of the tournament. In the semi-final against the host, Malaysia, left winger, Harcharan Singh scored the winning goal in extra time to take India to the final with a 3 – 2 win.

The final was a classic India v Pakistan match. Both teams played brilliant open hockey and Pakistan took the lead through Mohammad Zahid's goal in the 17th minute. Surjit Singh equalised from a penalty corner in the 44th minute. India's winning goal, scored by Ashok Kumar, in the 52nd minute is still being talked about today. The point that is widely disputed is whether the ball hit the backboard and rebounded, or hit the goal post and rebounded. The very experienced Malaysian umpire, Vijayanathan had no doubt and awarded the goal. There were no video referrals in 1975.

India had won a world title for the first time since 1964. They had beaten Pakistan for only the fifth time (in 15 attempts), and they had scored two goals against Pakistan for the first time.

 Ajit Pal Singh and Harcharan Singh now have a complete set of Gold, Silver (Amstelveen 1973) and Bronze (Barcelona 1971) medals at world cups.

India Team: Ashok Diwan; Aslam Sher Khan; Surjit Singh; Varinder Singh; Ajit Pal Singh (Capt); Mohinder Singh; V.J. Phillips; Ashok Kumar; Shivaji Pawar; B.P Govinda and  Harcharan Singh. Subs (not used) Leslie Fernandez; Michael Kindo; Onkar Singh; P.E.Kalaiah and Harinder Jit Singh Chimni.

Pakistan Team: Saleem Sherwani; Manzoor-ul-Hassan; Munawar-uz-Zaman; Saleem Nazim; Akhtar Rasool; Iftikhar Ahmad; Islahuddin (Capt); Mohammad Azam; Mansoor Jnr.; Mohammad Zahid and Samiullah. Sub used, Safdar Abbas for Samiullah (15 minutes).

Umpires: A. Renaud (France) and  G. Vijayanathan (Malaysia)

The Final standings were 1. India; 2. Pakistan; 3. West Germany; 4. Malaysia; 5. Australia; 6. England; 7. New Zealand; 8. Spain; 9. Netherlands;  10. Poland; 11. Argentina; 12. Ghana.

Next week: 4th  World Cup.

www.sikhsinhockey.com