All the news for Saturday 5 December 2020

International Hockey Federation scraps traditional qualifying round for World Cup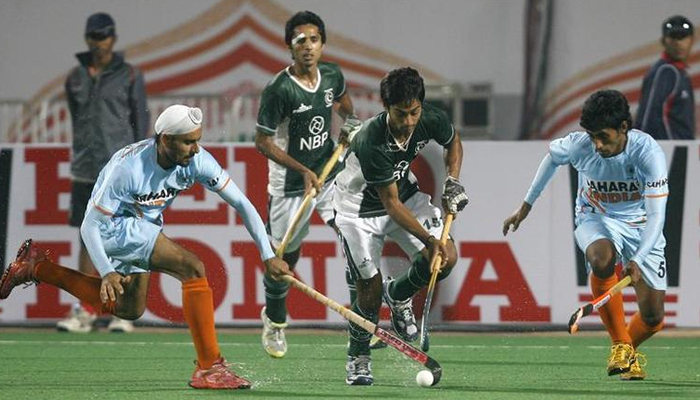 Pakistan's Abbas Haider (C) tackles India's Gurwinder Singh Chandi (L) and Arjun Halappa during their match at the men's Hockey World Cup in New Delhi. — Reuters/Files

KARACHI: The International Hockey Federation tweaked qualifying rules ahead of the women and men's world cups in 2022 and 2023 respectively.

The decision was made during an e-conference of FIH executive board chaired by president Dr Narinder Batra.

The newly introduced rules eliminate traditional qualifying round. Instead, the teams' will be judged on their performance at the final competition of Continental Championship 2021. Previously, continental champions directly qualified for the world cup while other teams played a qualifying tournament.

In the new system, four teams from Asia, including the hosts, will qualify for the men's Hockey World Cup on the basis of their position in Asia Cup 2021. Seven teams from Europe, two each from Pan America and Oceania, and one from Africa will also qualify for the FIH Men's World Cup 2023.

The corollary is that if India qualifies for the semi-final, Pakistan would comfortably rank among top four to qualify but if India fails to reach the semis then Pakistan must finish among top three to play the world cup.

In 2018, the number of teams were increased from 12 to 16 - with five continental champions and 11 teams from FIH Hockey World Leagues vying for the world cup.

Geo.TV


---

All go at the Championships in Japan




The All Japan Championships are a sign of the determination of next year's Olympic Games hosts to get sports and physical activity in the country back to speed as quickly as possible.

With the Olympic Games Tokyo 2020 now scheduled for July 2021, Japanese sporting federations and the government have been pushing hard to get athletes and the general population back playing sport and getting more active after the months of restrictions imposed as a result of the global pandemic.

As reported in the New York Times, over the course of the pandemic, Japan hasn't imposed the more stringent lockdown restrictions practiced by many countries. This is due to lower infection rates than many other nations, plus government policy to keep the economy moving. By July soccer matches were allowing fans to watch matches, albeit with strict social distancing measures and any celebration more raucous than applause forbidden.

Like other team sports in Japan, hockey has been running its national leagues, with the women's league already completed and the men's league due to be finalised later this month.

Offering another opportunity for the top athletes to play competitive hockey, the All Japan Championships is an elite event for the top men's and women's teams in the country. It is a one-off four-day event, taking place from 3-6 December and is in addition to the Japanese National League.

Taking part in the Championships will be the top four university sides and the top four company teams. The university sides qualified via the University Championships, which took place on 31 October and 3 November. The company teams held their qualifying event during the period 5-8 November.

The eight female teams taking part are: Yamanashi Gakuin University; Ritsumeikan University; Tokai Gakuin University; Tenri University; Sony HV Bravia; Coca-Cola Red Sparks; Glaxo Smith Klein Orange United and Nanto Bank Shooting Stars.

The male qualifiers are: Ritsumeikan University; Tenri University; Meiji University; Fukui University; Liebe Tochigi; Gifu Asahi Club; Hyojito Fullerton Hockey Team; and Alder Hanno.

The competition is a straightforward knockout format. The winners of the first round, which takes place on Thursday 3 December for the men and Friday 4 December for the women, will go through to a semi-final. The winners of the semi finals meet in a grand final on Sunday 6 December.

FIH site


---

MHC looking for goalkeeper to fill S Kumar's big shoes

By Jugjet Singh



S. Kumar has been tasked with finding a quality goalkeeper who could replicate his success. - NSTP/file pic

Former Malaysian national hockey goalkeeper S. Kumar is looking for someone to fill his shoes.

And it is not easy for him to find a fitting replacement, because Kumar's shoes might just be too big.

For more than 20 years, Kumar, who was once hailed as Asia's best goalkeeper, was the undoubted first choice for the national team.

Playing for Malaysia since 1999, Kumar has amassed 321 international caps, won two Asian Games silver medals in 2010 and 2018, and another silver at the 2017 Asia Cup in Dhaka.

No other Malaysian keeper could come close to his illustrious career. And now Kumar has been entrusted to find his successor.

Kumar, who turned 41 a few days back, has ventured into coaching with the Malaysian Hockey Confederation (MHC) hoping he will produce a world class goalkeeper in his mould.

At the moment, four youngsters trying out Kumar's 'shoes' are Hairi Rahman, Adrian Andy Albert, Shafie Sahrom and Hafizuddin Othman.

It will take a while before they find the one with the right size.

"Kumar trains the junior goalkeepers during weekdays. And on Saturdays, he helps me train the four senior goalkeepers," said national head coach Arul Selvaraj.

"Goalkeeper training is a specialised field and Kumar has been helping me to keep them fit as well as strengthen certain areas."

Malaysia have been kept afloat in many tournaments by Kumar, and Arul knows the strength of the team was basically in defence.

"Yes, a good goalkeeper gives the team an added confidence, and that is what we want from the player selected to replace Kumar between the posts," said Arul.

"I have yet to go full swing with the goalkeepers, as the nearest tournament is only next year."

The senior team will compete in the Asian Champions Trophy in Bangladesh on March 11-19.

Next month, the national trainees will be released to play in the Malaysia Hockey League which is expected to have eight teams in the men's and six in the women's tournament.

New Straits Times


---

Passing up a good deal

By Jugjet Singh



Sabah players celebrate after defeating Pahang in the Perak Malaysia Games final in 2018. -NSTP/file pic

NATIONAL juniors team manager I. Vickneswaran has decided to forego a lucrative offer from Terengganu to coach the Sabah's men team who are making their debut in the Malaysia Hockey League (MHL) next month.

In signing up for Sabah over the mighty Terengganu HT (THT), he hopes to take them to the same heights of University Kuala Lumpur (UniKL).

The Sabah women's team will be coached by Yahya Atan for the second season.

"I had an offer to coach Terengganu HT but chose Sabah as I am more interested in development.

"And I hope this young Sabah team will also be as successful as the UniKL Junior Hockey League team that I coached in 2009," said Vickneswaran.

In 2009, the then Malaysian Hockey Confederation (MHC) president Tengku Abdullah Sultan Ahmad Shah had mooted the UniKL idea and Vickneswaran was their first JHL coach.

In 2013, UniKL contributed seven players for the 2013 Junior World Cup team that finished fourth in New Delhi.

"The best Sabah players have been signed up by other MHL big guns and so I will have the development team with me.

"But that is not a problem, as the vision is to train as many players as possible to represent the nation in the future.

"MHC have released some of their coaching and management officials to coach MHL teams this season, while some were held back," said Vickneswaran.

National seniors coach Arul Selvaraj, Juniors coach Wallace Tan and women's coach Nasihin Nubli will only watch and scout from the stands, as they will not be coaching any MHL teams this season.

MHC have announced that eight men's and six women's teams have registered for the MHL, which will be held on Jan 8-Feb 28 if the government gives the green light.

In view of the Covid-19 pandemic, MHC will need approval to run the MHL.

The Sabah women made their MHL debut this year, finishing fifth among six teams.

Their men's counterparts are also expected to struggle, and may end up last.

Sabah had planned to field four teams in the JHL this year, two each in the boys and girls events, but the Covid-19 pandemic did not make this possible.

Now, they will introduce their men to the MHL.

New Straits Times


---

Jr player Gangandeep Kaur: "Am a learner, learning drag-flicks from the Seniors"




Bengaluru, 04 December 2020: Another gem from powerhouse Haryana, 21-year old Gagandeep Kaur, aims to  to progress in her career, learning tricks of the trade from players in the Senior national teams.

"As a drag-flicker myself, this is probably the best time for me because I know in the future, I can have the chance to work and play with some of the best drag-flickers in the country. I have always really admired Gurjit Kaur, Rupinder Pal Singh and Harmanpreet Singh for their drag-flicking abilities, and I always look up to them.

Gagandeep Jr, (to distinguish from her namesake in the early 2010s), fittingly helped her junior team win the gold  at the 4-Nations Invitational Tournament in Ireland last year with a penalty corner goal in the Final.

"When you are in the Junior team, all you can do is grab every opportunity you get to interact with the Seniors, and also watch them closely – as to what they do on the pitch, how they prepare, how they approach each session, and how they also end up spending their time in recovery. I think it's a fantastic scenario for me to be in, and I am really happy that I can also speak to these champion players for any advice and guidance that I might need."

"I think it is important that as athletes we don't lose track of what we need to be doing. If you are a top-level athlete, you need to ensure that you are always disciplined and are giving your best on and off the field. So, what I've tried to do is make sure I am doing everything that I would have been doing if we were playing competitive hockey regularly. It is important to train your body to keep participating in intense drills so that we don't feel rusty when you are on the field again."

"I have also been able to speak to my coaches and understand what I can do better. Like I mentioned, I have also had the chance to speak to the Seniors, and talk about how and what I could do better to make sure I am on the correct path, and can represent the Senior Team as well. At the moment, my focus is strictly on the Junior team and we are trying to revisit some of our past performances and make sure we can work on key areas which need attention.

Stick2Hockey.com


---

Athlete Spotlight: Abby Tamer




Each athlete that wears the red, white and blue has a unique story to how their careers came to fruition. From the junior level to the senior squad, USA Field Hockey is putting national team athletes under the spotlight to share their journeys.

Hockey has always dominated the home of Abigail (Abby) Tamer – both the field and ice varieties. It's also common for the Wolverine State based family to frequently utter "Go Blue" on a daily basis. It's a tradition Tamer will follow next year as she plans to attend the University of Michigan, like her parents and sister before her, but in the meantime continues to carve a name for herself as a current member of the U.S. Rise Women's National Team.




Tamer's father played ice hockey at Michigan and spent 11 years in the National Hockey League. Her mother, Keely, played on the pitch as a Wolverine and currently serves as the USA Field Hockey Michigan State Chapter President. Both were adamant about their children playing more than one sport growing up as Tamer played ice hockey until the seventh grade. Field hockey ultimately filled the gap for the Whitmore Lake, Mich. native, though it didn't always seem that would be the case.

"My mom started the field hockey program in Dexter, Mich. and suggested I play," said Tamer. "I said yes, and initially I wasn't a huge fan and I was ready to focus on soccer, but my parents had me finish the season and my love for the sport grew during that time."

Tamer met every challenge that came her way as a multi-sport student-athlete at Dexter High School. On the field, she was a four-time Division 1 All-State selection (2017-20), First-Team All-American selection in 2019, two-time selection for the Michigan Dream Team (2019, 2020) and Michigan Player of the Year (2019, 2020). She also served as co-captain her junior and senior seasons, where she helped guide the Dreadnaughts to back-to-back state championships.




"High school athletics were such a great experience because of how consistently we trained and how lucky we were to have coaches that pushed us to our highest level," continued Tamer. "The standards we were held to at Dexter were very high and I think they will prepare us for other aspects of our lives. Learning how to balance athletics with academics was challenging at first but became second nature pretty quickly."

Tamer also played soccer in the spring in 2018 and 2019, although the 2020 season did not come to fruition. Despite this, she added that her own role on the soccer team helped her develop into a stronger leader while also adding value to the two sports come game time.

When their season remained in limbo in the early days of the coronavirus (COVID-19) pandemic, Tamer admitted that motivation was low on the team, although it was good to be with her teammates through the uncertainty.

"Once we got the green light for competition, the uncertainty became the thing that really pushed us to be the best we could," said Tamer. "We approached each practice with the idea that we needed to keep peaking and we could never slow down because the whole season could get shut down at a moment's notice."

On October 31, the team's perseverance paid off as she, along with nine other seniors, hoisted the Michigan High School Field Hockey Association (MHSFHA) Division 1 Championship trophy to cap off their high school careers. Now with college on the horizon, she is eager to join her sister, Emma, under head coach Marcia Pankratz for the Wolverines in 2021 and continue a household tradition.

"Michigan has [always] been in my family," noted Tamer. "I was always interested in Michigan, even when I was set on playing soccer, but as my interest in field hockey grew, and as I got the first-hand view of what it was like to be a student-athlete there, I knew that Michigan was the optimal choice for me. The combination of the unmatched academics and the competitive athletics made Michigan a top choice. After going on visits and seeing the team atmosphere, watching them be successful and talking with their first-class coaching staff, I knew that Michigan was the best possible school out there. I could not be more excited to begin training with the team."

Outside of high school play, Tamer is also an active member of Pinnacle Field Hockey, which she credits in holding the same standards for all athletes, as well as club director Nancy Cox, for helping provide playing opportunities for club members.

"I am very appreciative of the experience that Pinnacle has provided me along with all the other athletes involved. Along with developing players who are ready for any level, Pinnacle supplies athletes with skills to be successful in life."

Her club life often intertwined with USA Field Hockey Regional, National and Sanctioned Events, as well as those in the Olympic Development Pathway. Tamer has been an active participant in Futures since her early playing days. Each summer brought her more levels of growth as an individual, which she used when first trying out at Junior National Camp.

"I knew that I was going to be surrounded by the very best, whether that be coaches or players, and I wanted to take advantage of that experience and take in every possible bit of information," said Tamer. "That camp was such a huge growth point in my journey and my game developed so much during those three days."

In 2019, she was named to the U-17 USWNT which traveled to Germany to compete against the U-16 squads of the host nation and Belgium. In her words, putting on the red, white and blue jersey for the first time was unforgettable, combined with a large sense of pride and in knowing her determination had been well worth it.

Despite canceled trainings and international competitions, Tamer found it simple to remain active during the highs and lows of the pandemic.

"I was very lucky during quarantine because my family is pretty active and competitive so we could all keep pushing each other when motivation might have been low," said Tamer. "My dad gave us workouts and we all had very good reasons to stick with them. I focused on strength and conditioning during quarantine and I grew a lot in those aspects which is obviously beneficial for a sport like field hockey."

As she waits to take the field with her teammates for USA and at Michigan, Tamer is looking forward to some down time before the 2021 field hockey calendar fills up.

USFHA media release


---

US Field Hockey National Team Members Bring "Uncommon" Coaching Online

By Karen Rosen



Lauren Moyer, Ashley Hoffman and Amanda Magadan pose together for a photo.

Ashley Hoffman, Amanda Magadan and Lauren Moyer want more people to become as passionate and excited about playing field hockey as they are.

On a national team trip to Argentina last January, they were sitting in their hotel lobby "just chatting about field hockey, like nerds," Moyer said. "We had been brainstorming for a while that we wanted to offer something online."

They knew similar team sports like soccer and lacrosse provided online resources and also had an enviable level of engagement on social media.

"Become Uncommon" was born, a coaching group created and managed by the three members of the USA National Field Hockey Team to fill that gap in the market.

"Our brand is we want to create athletes to stand out," said Hoffman, 24, captain of the women's national team. "We really wanted to share our experiences from a holistic athlete- type view, so not only coaching and clinics, but also yoga, meditation and food, plus workouts that we do – just everything that you need to become an elite athlete."

While inspiring and helping athletes achieve more – becoming "uncommon" – they want the sport itself to become more common.

"I literally had no idea this sport even existed prior to high school," said Magadan, 25, who grew up in New Jersey. "We really wanted to make field hockey cool and hype it up and inspire girls to play it more and grow the game."

And boys, too. They estimate that about 20 percent of their subscribers are male.

As national team members, the trio has star power and a wealth of information and experience to share. When the pandemic hit, they not only had the time to roll out online curriculums, they knew their backyard drills would be welcomed by athletes whose seasons had shut down.

Once it is safe to hold camps again, they hope to offer in-person instruction.

Hitting the Ground Running

"Become Uncommon" went live in May, rolling out three videos a week and offering introductory, medium and advanced skill levels. They quickly signed up more than 100 subscribers.

The three players are the stars of the videos, setting up tripods, doing the drills and then editing the footage.

With an imminent return to full-time training, they have decided to change their model by offering whole curriculums as a package.

The attacking and defensive videos have been among the most popular.

"People love the shooting drills," Magadan said. "They're a lot of fun for you when you're practicing them and even just to watch."

By filming sample workouts, they also offer insight into what the national team is doing. Athletes navigating a route to collegiate play can find tips on recruiting.

Their teamwork extends to the company, with Magadan taking charge of business, including partnerships, and email campaigns; Moyer handling marketing, media and the website and Hoffman as the creative force developing the curriculums.

"Beyond Uncommon" also seeks to make field hockey "more accessible to people," Moyer said.

While the Northeast is a traditional hotbed and pockets of hockey are growing in Texas, Missouri and California, "it is still very much a growing sport in the U.S." Magadan said. "We want to further that growth and help it in any way we can while also using our platform on the national team to do that."

The three co-founders had different paths into the sport. Hoffman, who is from Pennsylvania, had a field hockey stick in her hand almost as soon as she could lift it. Her mother, Brenda, won a bronze medal as a member of Team USA at the Olympic Games Los Angeles 1984 and has been enlisted to help do  some videos, although Hoffman said, "Most of the time, she's like, 'Don't show me in the video. I don't want to be in it.'"



Lauren Moyer makes a pass for the U.S. Women's Field Hockey team.

Choosing Between Sports

Moyer, who is also from Pennsylvania, played both soccer and field hockey. When both became  fall sports her sophomore year in high school, Moyer chose field hockey because she was better at it and burnt out from playing competitive soccer.

Besides, Moyer realized she liked shooting with her hands more than with her feet.

Magadan was a softball player who thought that sport was her ticket to a collegiate program. Looking to play a fall sport and meet new people, her choices were volleyball and field hockey. Being "5-foot-2 on a good day," she picked up a stick.

Hoffman and Moyer went on to play at the University of North Carolina-Chapel Hill, a field hockey powerhouse under coach Karen Shelton, whose players have been mainstays of Team USA.



Ashley Hoffman competes for the U.S. Women's Field Hockey Team.

Hoffman, whose primary position is defensive screen, was a two-time All-American at UNC, the 2019 Honda Award winner and won three ACC titles and the 2018 national championship.

"I had watched them play Maryland in the national championship when I was in middle school and immediately you're just drawn to the Carolina Blue," said Hoffman, who majored in sociology and minored in education.

It didn't hurt that her mom knew Shelton as a teammate on the 1984 Olympic team. "She knew I could blossom as a player under her," said Hoffman.

Shelton became head coach at UNC in 1981 at age 23, and in her 40 years at the helm she has won eight NCAA Championships and 23 ACC titles. The most recent ACC crown came in November, when the Tar Heels were underdogs playing on their home turf in Karen Shelton Stadium. Moyer was a volunteer assistant with the team.

Olympic Opportunities

Five of the 16 players on the 2016 Olympic roster hailed from UNC.

"It's incredible what Karen Shelton has been able to build down there," said Moyer, 25. "Because  Carolina attracts that kind of player, you know that every day you go to practice that you're getting better."

A forward, Moyer played in the NCAA Final Four all four years and won an ACC championship in 2015. She earned All-ACC and All-NCAA Tournament honors.

Initially, Moyer thought playing for the Tar Heels was out of reach for her.

"I wasn't sure if I was good enough to go there," said Moyer, who majored in sociology, "but obviously when I went and I was offered, I almost snapped Karen Shelton's hand off. It was everything I could have wanted it to be, and more."



Amanda Magadan is shown in action for Team USA.

Magadan, a midfielder and defender, went to Lafayette College where she was all-region and All-American.

Her coach, Jennifer Stone, encouraged her to join a USA Field Hockey high performance program, which put her in the national team pipeline.

Magadan, who majored in economics and psychology, believes she is the first player from the Patriot League to earn a spot on the national team.

"It was a lot about proving myself and letting people know that people from the Patriot League can hang with the ACC schools," she said.

Rebounding from Disappointment

Magadan, Hoffman and Moyer hope to help rebuild the national team after Team USA unfortunately did not make the 12-team field for the Olympic Games Tokyo 2020.

The Americans fell short during qualifying in 2019 in India. That led to staff changes, including the hiring of new coach Anthony Farry in October, and the retirement of several players.

"We were one goal way, which is heartbreaking," Hoffman said. "Not qualifying just proved the desire, the work, the time and effort that it takes to actually make an Olympics, so when we do go – and I'm saying when – it'll be that much sweeter."

The national team will move back into a full-time residency program once conditions allow.

"Something as simple as fitness is so much harder when you're not with the whole team," said Magadan.

The first step toward regaining international prominence is qualifying for the world cup in 2022, and then for the 2024 Paris Games. As host country, the United States has an automatic berth in Los Angeles in 2028 and the three "Become Uncommon" co-founders hope to play there, bucking the trend of Team USA athletes retiring at age 23 or 24.

"Before COVID hit," Hoffman said, "it was really trying to navigate how do we grow and create a new culture while still holding onto the best parts of the last squad?"

Their teammates have been supportive of "Become Uncommon," liking and commenting on videos. Some helped out at their first clinic, organized by Magadan a couple of months ago, and the co-founders hope to add team members as full-time or guest coaches.

Hoffman, who recently returned from playing professionally in Holland, is trying to incorporate some of what the Dutch teach their youth into the "Become Uncommon" curriculum.

And she believes young players are receptive to learning directly from the national team.

"I think they like that it is us coaching them," Hoffman said, "so anyone who watches our videos gets to know us as players a little bit more."

And that's uncommon.

Team USA


---

Hockey Legend Rasheedul Hassan Tests Positive for Covid 19

By Ijaz Chaudhry




Karachi: Pakistan`s former hockey captain Rasheedul Hassan has tested positive for Covid 19. Rasheed, who is now self isolating himself at home, told that his son has also tested positive. While his wife and daughter`s tests came negative,

Rasheedul Hassan played for Pakistan from 1978-1987 at the right half position.

In an enviable career, he won every gold medal- Olympics (1984), World Cup (1982), Asian Games, Asia Cup, Junior World Cup, Champions Trophy.

His elder brother Manzoorul Hassan (1973-82) was one of the greatest full backs, the game of hockey has seen.

Ijaz Chaudhry writes on hockey & other sports. For more about him and his work, visit: www.sportscorrespondent.info

Fieldhockey.com


---

I have been victimised by PIA: Shahbaz Senior

Mohammad Yaqoob



Former Pakistan hockey captain and legendary forward Shahbaz Ahmed Senior has termed his transfer from Islamabad to Karachi by his parent body PIA as an act of revenge and vows to get a stay-order against the harsh decision.

LAHORE: Former Pakistan hockey captain and legendary forward Shahbaz Ahmad Senior has termed his transfer from Islamabad to Karachi by his parent body PIA as an act of revenge and vows to get a stay-order against the harsh decision.

Shahbaz, who led Pakistan to win its last World Cup in 1994 and the Champions Trophy title the same year, while talking to Dawn said that as he had filed a case against PIA in Islamabad High Court for not giving him due promotion despite being the senior most general manager marketing in PIA's Islamabad station, he was transferred to Karachi on a day when 4000 employees were transferred from Karachi to Islamabad.

"I am the only one who has been transferred from Islam­abad to Karachi, in the HR department, while I was working in the marketing department. Is there any logic in this?" asked Shahbaz who earned a lot of honour as an international hockey player and was also decorated with the Hilal-e-Pakistan Award, President of Pakistan Award and Pride of Perfor­mance.

Shahbaz, who played 300 plus international matches for Pakistan, further said that his transfer to the HR department would definitely be a setback to his promotion case and this was the main target of PIA behind his transfer.

He said that in the last hearing at the Islamabad High Court, Justice Amir Farooq had asked PIA to submit its reply in his case of promotion, which they could not file in the last three months. "As PIA has no solid reply for not giving me my due promotion, instead of giving the reply to the court, they decided to transfer me from marketing to HR department," claimed Shahbaz.

"I had also written a letter to PIA Chief a year back, hoping that since he belongs to the forces, he will not ignore merit in my promotion case," recalled Shahbaz. "But I did not receive any reply from the PIA boss and so I went to the court, some three months back."

"It was easy for me to enjoy PIA job like Wasim Akram, Moin Khan, Shoaib Mohammad, M Irfan or Qamar Ibraheem to withdraw salaries while sitting at home, but I preferred to perform duties in Saudi Arabia, Rawalpindi and now in Islamabad," he contended.

"My annual character report is excellent and as an extremely productive officer I have recovered Rs 30 crores and in next one week time I will recover another Rs 80 crores of PIA," he said. "I served my country as a hockey player for almost ten years (1986 to 1996) and earned many titles for it, but now I am being treated as an ordinary employee of the organization," said Shahbaz who was declared player of the tournament in both1990 and 1994 World Cups, ."But I will not surrender and I will fight till last to get my right," he said.

Shahbaz said on Monday he would try to get an stay-order against his transfer orders to Karachi. He said the Islamabad High Court has given 15 days to PIA to submit its reply in his case of promotion.

Shahbaz further said first the PIA had issued him a show-cause notice, claiming that he had no educational degrees, but when he submitted his all three degrees, that notice was withdrawn.

Dawn


---

Ferreira flashes back to Sydney

s2h Team




Indian hockey was looking up in the 1990s, matching the standards set by both Asian rivals Pakistan and South Korea. The team finished second in both the 1993 Asia Cup and 1994 Asian Games ahead of arch rivals Pakistan. There was a whiff of fresh air and hope seen on the horizon. It was in the fitness of the things that India finished a respectable fifth at Sydney World Cup, a rise of five rungs from the previous edition in Lahore in 1990. The upward journey peaked with India winning the gold medal at Bangkok four years down the line. A member of the Sydney outfit Gavin Ferreira recounts his experience at the World Cup, the final of which was played on this day 26 years ago – Editor

For Gavin Ferreira, it all changed in trice when it came to the 1994 Sydney World Cup.

"I was in and out of the India team," the 49-year-old recollects. "I was sidelined by coach Zafar Iqbal for the Hiroshima Games held shortly before the World Cup and my international future was uncertain," says the former left-winger.



Gavin Ferreira being feted for a goal

Then, in came Cedric D'Souza, who replaced Iqbal as coach and the Mumbai-based Ferreira was in the scheme of things for the World Cup. Cedric brought in many changes in style, tactics, strategy and coaching methods. He also effected changes in the team and I got my chance."

"Just being at the World Cup in Sydney was a fantastic experience," he says. "To watch and play against some of the big stars from Pakistan, the Netherlands and Australia, to name a few, was a dream come true."

Ferreira flashes back to the final between Pakistan and the Netherlands, held exactly on this day, 26 years ago. "The team got caught up in formalities in town and reached the packed venue (Homebush Stadium) late. But we watched the entire second half and the shootout that followed which Pakistan won," he recollects.

"Watching Shahbaz Ahmed (the Pakistan legend) was a real treat but I daresay he was lucky with his penalty stroke in the tiebreaker. That Pakistan team had a fabulous forward line and midfield that sort of made up for its somewhat suspect defence. Tahir Zaman, their inside-forward, played a crucial role along with Shahbaz in their success." And of course, their goalkeeper Mansoor Ahmed stood tall in the penalty shootout in the final (as well as the semifinal against Germany)," Ferreira says.



1994 World Cup star Shahbaz Ahmad

"As for us, we achieved a creditable fifth position after beating England in the classification matches but we were still disappointed at not reaching the semifinals. We had a team that gelled really well. Cedric's methods were refreshing and we worked hard at the camp in Chandigarh. Sessions started in the morning and ended in the afternoon".

"I recollect the team doctor (Cruz) who made sure we got the right diet and food supplements including protein – there was no dearth of "vatanas (beans)," Ferreira says in lighter vein.

"And team spirit was high. Jude Felix was a great captain and was a unifying character. We had a great deal going for us. We started with a 2-0 win over South Korea who beat India in the Hiroshima Asian Games final just weeks earlier. I scored a goal and the start of the campaign couldn't have been better," recalls the former Mahindras and Air India player.

Ferreira was to score another – in the next match against Netherlands – but that was in a losing cause. A 2-4 defeat to the Dutch put the brakes on the team's progress and a 2-2 draw with South Africa, when victory was the expectation, brought on pressure. A defeat to Germany (1-2) all but put paid to India's semi-final hopes and a 4-2 victory over Belgium wasn't enough to sneak an entry into the medal round.



Gavin played 100+ caps for India, had a colourful hockey career

Victory over Argentina in the tiebreaker set up a clash with England which India won by a solitary goal to bring up their best finish at the World Cup in 12 years and provide some solace to a team that expected to do a lot more.

"But for all that, I look back with a great deal of joy at the Sydney World Cup. It was a stage for me to prove myself and I recall I scored a couple of goals there," Ferreira, who collected 118 international caps, affirms.

Ferreira went on to play the 1996 Atlanta Olympics but retired from international hockey in 1998 after a test series against Pakistan. A mainstay in Cedric's game plan, he fondly remembers the title Mumbai won in Gwalior under the coach's tutelage along with that of the Sydney campaign.

"The Sydney campaign may not have ended on a glorious note for us but there were positives we took from there and at that point in time our fifth-place finish promised a lot for the team and Indian hockey at large," Ferreira says in retrospect.

Ferreira's hopes were not misplaced. The team went from strength to strength and peaked by wresting the Asian Games gold medal at Bangkok 1998 – their first in 36 years.

Stick2Hockey.com