All the news for Wednesday 2 December 2020

World Masters Hockey calls off World Cups

This just in from the WMH President Glenn Paton:

The WMH Executive Board has been monitoring the impact of the COVID-19 pandemic throughout 2020.

A risk management framework, created to facilitate assessment of the potential impact of the developing situation on the postponed 2020 World Cups, was continually updated to inform the EB's decision making. To enable Hosts and participants to plan ahead, the EB set a deadline of November 2020 for a final decision on the viability of the 4 World Cups.

Decisions could only be made on assumptions rather than certainties and the range of scenarios considered were:
● COVID-19 being an ongoing risk throughout 2021.
● A vaccine penetration rate of 75% (WHO assessment) not being achieved before the end of 2021 and most vaccines not being ready for world wide distribution before the summer of 2021.
● The impact of reductions in the number of participating teams and an appreciable lack of the shared social activities which contribute to the character and ambience associated with Masters Hockey Events.
● The difficulties of managing Health & Safety procedures such as virus screening, testing and quarantining and the financial liabilities for these having to be met by participants.
● Travel insurance being very expensive in the circumstances, the high cost of hospital treatment in Japan and South Africa and the possibility that treatment would be very basic or unavailable for the uninsured.
● The difficulty of predicting the actions of local authorities if there was a viral outbreak at an
Event and the uncertainties of being able to maintain overall risks for all concerned at an acceptable level.
● Participants not being able to self / team isolate and the higher infection risks of commercial travel.

As a result of lengthy considerations of the above assessments, regretfully, World Masters Hockey has unanimously decided to cancel the Nottingham, Cape Town & Tokyo World Cups due to be held in 2021.

The EB views its duty of care for the well-being of its members as paramount. Whilst this decision will be extremely disappointing, the EB wishes to assure the membership that it intends to run World Cups in 2022 and will offer these Events to the Hosts of the canceled World Cups.

The EB recognises that the underlying desire of our members is to "just play Hockey" and so the EB is keen to promote lower risk re-engagement through local and / or regional competitions.

To those who have experienced the tragic loss of a loved one during this pandemic, the EB wishes to express sincere condolences and best wishes. The worst should soon be over and we hope we will meet again on the field of play in the not too distant future!

World Masters Hockey Facebook page


---

2020 Masters World Cups Cancelled Due To Pandemic



England Women's Masters World Champions

England Hockey are sad to learn that the 2020 Masters World Cups - one of which was due to be hosted in Nottingham - have been cancelled.

The decision was made by the World Masters Hockey Executive Board after they initially postponed the tournaments due to be held in Nottingham, Cape Town and Tokyo earlier this year due to the Covid-19 pandemic.

Having set a deadline of November 2020 on a final decision as to whether the tournaments could go ahead in 2021, they decided for a number of reasons to cancel the tournament, the main one being the safety of the players involved.

England achieved plenty of success during the 2018 World Cups, winning four gold medals and also claiming two silvers.

World Masters Hockey intend to run World Cups in 2022 as planned and will offer the events to the hosts who missed out this year.

England Hockey Board Media release


---

Hockeyroos 2021 squad heralds exciting revolution

Australian women's hockey is full of optimism after a wave of elite talent with immense potential was included in the 2021 Hockeyroos squad.

Exciting 20-year old striker Courtney Schonell and tenacious defender Meg Pearce have been rewarded with selection after their impressive form could not be ignored.

Western Australian duo, goalkeeper Aleisha Power and defender Penny Squibb, were also selected following excellent performances at last month's high pressure national selection camp.

*A VNR and audio files featuring interviews with Hockeyroos Head Coach Paul Gaudoin, goalkeeper Aleisha Power and midfielder Steph Kershaw, plus highlights from recent intra-squad matches will be distributed following this media release.*

The addition of the highly ambitious quartet adds a new dynamic to a Hockeyroos squad full of promise leading into next year's Tokyo Olympics.

While the immediate focus is on July's Games in Tokyo, Head Coach Paul Gaudoin said the selection panel's decisions were also made with the 2022 Commonwealth Games and next Olympic cycle in mind.

"Courtney (Schonell) joins Amy Lawton and Karri Somerville as athletes in our squad who are 20 years of age or younger. Throw in Aleisha Power, who is 23, and they represent the exciting present and future of the Hockeyroos," said Gaudoin.

"Their enthusiasm, desire and hunger to not only represent the Hockeyroos but compete and succeed is contagious."

"This squad includes some of the most exciting and talented young players in world hockey and gives us a fantastic blend of youth and experience."

Schonell, a product of the NSW Institute of Sport, is a talented striker who has been a member of the Jillaroos (Australian Under 21 squad) and National Development Squad.

"Courtney demonstrated at the selection camp that she has a quality skill set, wants to compete and is ready to step into the Hockeyroos program and take her game to another level," said Gaudoin.

Pearce receives her opportunity after pressing her claims over the past two years.

"Meg is an athletic defender who epitomises the values and behaviours expected of a Hockeyroo," said Gaudoin.

"She has great mobility and closing speed and adds to our current defensive group."

"Penny (Squibb) has also shown marked improvement this year and will push our other defenders to push the bar even higher."

Power represented the Hockeyroos previously in a three match home series in November 2017 and becomes an official part of the squad after being a standout at last month's national selection camp.

"Aleisha is an extremely talented goalkeeper who has matured a lot in the past 18 months through her willingness to learn and improve," said Gaudoin.

Power takes the place in the squad of veteran goalkeeper Rachael Lynch who has amassed 223 appearances over 14 years on the international stage.

Power's selection highlights a changing of the guard and a renewed focus towards an injection of young blood into the Hockeyroos fold.

Georgina Morgan and the recently retired Karri McMahon are the others to come out of the squad.

"Rachael, Georgina and Karri have been exceptional contributors and fantastic players for the Hockeyroos over an extended period," said Gaudoin.

"Today's announcement comes with mixed emotions for many – that is the nature of high performance sport."

"Selection is always difficult and even more so this year. I empathise with the athletes who have missed out but the selection panel has chosen a squad that it believes gives the Hockeyroos the best chance of success not just in 2021 but over the next Olympic cycle.

"The selection criteria takes into account a range of aspects so we stand by and respect the decisions the selectors have made."

Due to the impact of COVID and the inability of some athletes to attend the last month's national selection camp, the selection panel has named 25 athletes with the option of filling the full quota of 27 in the first quarter of 2021.
| | | | |
| --- | --- | --- | --- |
| Name | Date of Birth | Hometown, State | Caps (Goals) |
| Laura Barden | 9/06/1994 | Kew, VIC | 44 (5) |
| Jocelyn Bartram (gk) | 4/05/1993 | Albury, NSW | 51 (0) |
| Edwina Bone | 24/04/1988 | Orange, NSW | 202 (5) |
| Emily Chalker | 28/07/1992 | Crookwell, NSW | 244 (82) |
| Jane Claxton | 26/10/1992 | Adelaide, SA | 182 (18) |
| Kalindi Commerford | 18/11/1994 | Ulladulla, ACT | 50 (8) |
| Madison Fitzpatrick | 14/12/1996 | Cabarita Beach, QLD | 75 (16) |
| Greta Hayes | 17/10/1996 | Sydney, NSW | 9 (0) |
| Kate Jenner | 5/05/1990 | Mudgee, NSW | 127 (1) |
| Stephanie Kershaw | 19/04/1995 | Townsville, QLD | 64 (7) |
| Amy Lawton | 19/01/2002 | Emerald, VIC | 14 (3) |
| Rosie Malone | 8/01/1998 | Burleigh, QLD | 51 (11) |
| Kaitlin Nobbs | 24/09/1997 | Newington, NSW | 82 (4) |
| Meg Pearce | 1/07/1994 | Camp Hill, QLD | - |
| Brooke Peris | 16/01/1993 | Darwin, NT | 171 (26) |
| Aleisha Power (gk) | 1/01/1997 | Northam, WA | 3 (0) |
| Courtney Schonell | 17/09/2000 | Campbelltown, NSW | - |
| Karri Somerville | 7/04/1999 | Kensington, WA | 2 (0) |
| Penny Squibb | 9/02/1993 | Tambellup, WA | 10 (1) |
| Grace Stewart | 24/04/1997 | Gerringong, NSW | 86 (25) |
| Renee Taylor | 28/09/1996 | Everton Park, QLD | 82 (8) |
| Sophie Taylor | 12/09/1995 | Melbourne, VIC | 34 (1) |
| Ashlee Wells (gk) | 1/08/1989 | Morwell, VIC | 121 (0) |
| Mariah Williams | 31/05/1995 | Parkes, NSW | 83 (15) |
| Georgia Wilson | 20/05/1996 | Mahogany Creek, WA | 38 (0) |
Hockey Australia media release


---

Get in Line or Get Out selection for Hockey Australia

Paul Gaudoin and Hockey Australia announce their squad for 2021.




To say there are some big shocks is an understatement.

As reported by Simon Orchard in edition 17th of Hockey World News (Edition 17), the squad has been reduced to premature retirements, leadership spills, and enough bitching and backstabbing to make contestants in the Bachelor mansion look like members of the Brady Bunch. Overwhelming dissatisfaction with the direction and purpose of this group coupled with a mixture of overzealous coaches, a lacklustre governing body, and poor leadership – on and off the field – the Hockeyroos have had an inevitable fall from grace.

Some changes were needed, or as the HA press release says, a 'renewed focus towards an injection of young blood into the Hockeyroos fold'. Now with this new announcement and the notable absence of Rachel Lynch, the Worlds No.1 Goalkeeper, along with influential stars Georgie Morgan and Karri McMahon, the Hockeyroos have weakened their squad somewhat in what is viewed by the media as a 'get in line or get out' selection phase.



Amsterdam, Nederland – Australie, Hockey, Dames, FIH Pro League, FIH Pro League Grand Finals, Finale, Seizoen 2018-2019, 29-06-2019, Nederland – Australie 2-2, Nederland wint na shootouts, goalkeeper Rachael Lynch (Austr.)

If the decision has been taken by CEO Matt Favier, High-Performance Director Toni Cumpston or Head Coach Paul Gaudoin, the fact that they have chosen a squad for the next Olympic cycle (Paris 2024) is indicative of the decision.

Several players at the height of their powers have either walked or been forced out. Anna Flanagan, Kathryn Slattery, Madi Ratcliffe, Gabi Nance, Jade Warrender and Georgie Parker, to name a few. And some – after reflection – are happy that they are well away from the world they simply did not love. Nance even came back but left again. You might say that one walkout is a lightning strike – but two are more likely to be an indictment on the programme.

Now add to that list, Lynch, Morgan and McMahon, and you've got a line up that would be a challenge to World Honors in their own right.



BRUXELLES (Belgium) – Georgina Morgan (Aus.) scored 0-1, during Hockey World League women (semi final competition) BELGIUM v AUSTRALIA. right keeper Rachael Lynch (Aus.) COPYRIGHT KOEN SUYK

A common denominator among the group above is they all speak their minds and are strong-willed. They weren't ready to settle for mediocrity or a sub-par environment – and made their thoughts and feelings well known in the hope of improving conditions in the team.

Only time will tell if this latest announcement and squad selection is the right move or a selection policy that will come back to haunt Gaudoin in Tokyo.

Hockey World News


---

Keep pushing hard, regardless who your opponent is: Harmanpreet Singh recalls finals of Men's Hockey World League

In the year 2017, the Indian men's hockey team faced Australia at the Kalinga Stadium in Bhubaneswar for their opening match of the Odisha Men's Hockey World League Final.

Edited By Karen Noronha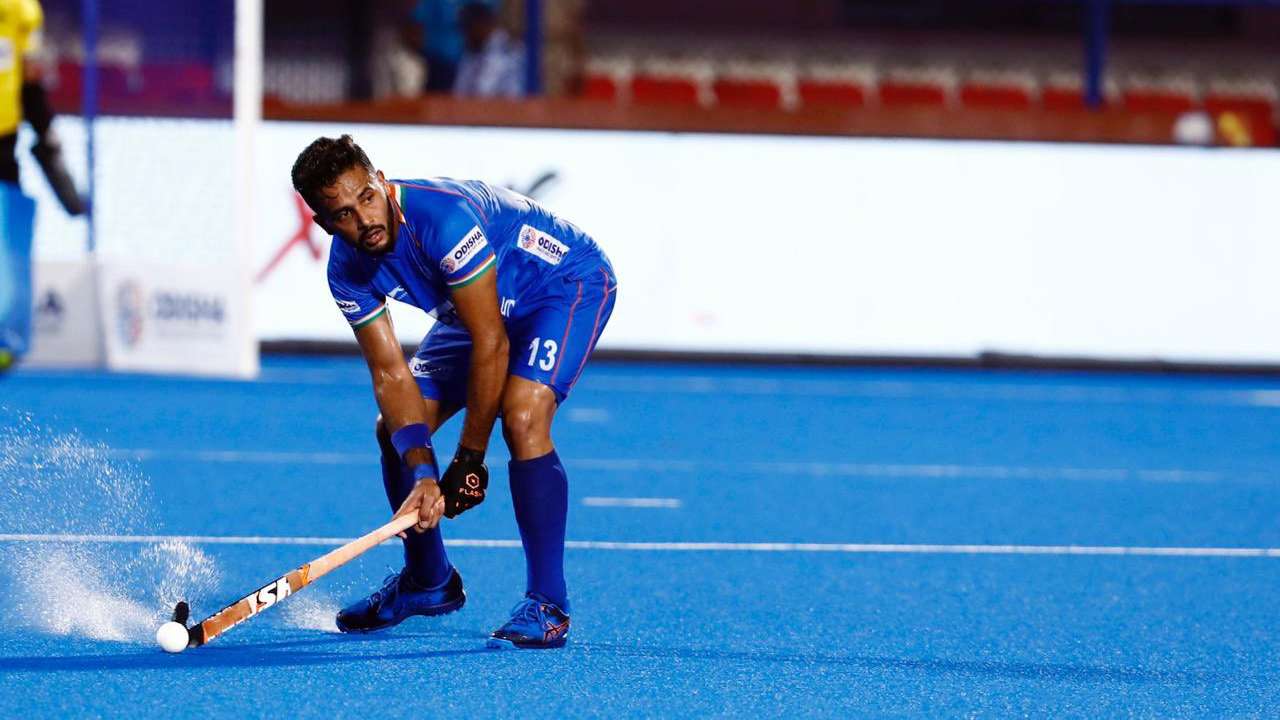 Harmanpreet Singh recalls 2017 finals of Men's Hockey World League , Hockey India Twitter

In the year 2017, the Indian men's hockey team faced Australia at the Kalinga Stadium in Bhubaneswar for their opening match of the Odisha Men's Hockey World League Final.

It was a tournament that saw Indian defender Harmanpreet Singh stake his claim in the team, with some fine performances as India claimed a bronze medal in front of their home fans.

#OnThisDay in 2017, Kalinga Hockey Stadium hosted the FIH Hockey World League!

Picture courtesy: @FIH_Hockey #IndiaKaGame pic.twitter.com/ZXrmMoFCxB
Also Watch
— Hockey India (@TheHockeyIndia) December 1, 2020

"It was definitely one of the biggest tournaments for me, and especially with the senior team. Having won the FIH Junior Men's World Cup in 2016, the Odisha Men's Hockey World League Final 2017 gave me the chance to experience the thrills of playing the highest form of hockey at the grandest of stages," expressed Harmanpreet in an official Hockey India release.

"We did not have the best of starts in our pool matches, but I think we finished the tournament really strongly. However, what I really learned from that tournament was the fact that if you keep pushing hard, you'll eventually achieve your goals, regardless of which or how big an opponent you're facing," he added.

"It was definitely one of the biggest tournaments for me, and especially with the Senior Team. Having won the FIH Junior Men's World Cup in 2016, the Odisha Men's Hockey World League Final 2017 gave me the chance to experience the thrills of playing the highest form of hockey.... pic.twitter.com/HshYHXW00k

— Hockey India (@TheHockeyIndia) December 1, 2020

The 24-year-old was India's joint-highest scorer in the tournament along with fellow drag-flicker Rupinder Pal Singh with two goals each and believes playing with the veteran has helped him immensely in his career.

"I've always looked up to Rupinder because when I was a junior, he was always putting in exceptional performances on the field. So to have had the chance to practice, play, and share the same room with him, has been an honour for me. I've learned a lot from my interactions with him, and I hope we can both continue to play well for the team going forward," said Harmanpreet.

Daily News & Analysis


---

Competition on hold until new year; HI AGM reveals hefty financial difficulties

Hockey Ireland has confirmed no all-Ireland competition will start until a four-week lead-in period has passed from the point in time that training is allowed on the entire island of Ireland.

It means the EY Hockey Leagues and Irish Senior Cups will not return until the new year.

It follows Hockey Ireland's Covid-19 Group's meeting today regarding Covid-19 restrictions made by the Irish (ROI) Government and the Northern Irish (NI) Executive.

They agreed that, as per Level 3 guidelines in ROI, adults will be allowed to return to non-contact training with immediate effect. Training must be in pods of maximum 15 (including coaches/managers) and socially distanced at all time. In addition, competition matches "may not be played at any level".

These restrictions do not apply to Irish Senior International squads under Sport Ireland's elite exemption.

A previous missive had suggested a potential return as early as December 12 for the EY Hockey Leagues with all going well.

However, with Northern Ireland currently under lockdown until December 11, it means the island's marquee competitions are on hold until mid-January at the very earliest.

It means the first option mooted by Hockey Ireland on November 20 is now ruled out and so clubs will be keen to hear what the alternative plans hinted at are.

In that statement, they said: "the two other scenarios would be to consider re-starting competitive hockey in early January or later in January.

"The option of a 'curtailed' season may also to be considered if the restrictions continue into 2021 or new restrictions are imposed later in the season."

Elsewhere, this week's Hockey Ireland AGM saw the financial auditors state a "material uncertainty exists that may cast significant doubt on the company's ability to continue as a going concern".

In 2019, Hockey Ireland made a deficit of €280,730 and has negative reserves at the year end of €157,390.

While the directors of Hockey Ireland said they hope to "secure additional long term sponsorship and they expect to increase the income from affiliation fees", this auditors maintained their concerns and the situation for 2020 is, of course, complicated by the Covid-19 pandemic.

In terms of the Hockey Ireland accounts, a few things caught the eye on first look:

1) "It also creates uncertainties in the company's ability to continue as a going concern, realise its assets and discharge its liabilities in the normal course of business." pic.twitter.com/eRcbZhXKxq
— The Hook (@hookhockey) November 26, 2020

The deficit arises primarily as a result of significant losses relating to the hosting of the women's World Series Semi-Final in Banbridge and the Olympic qualifiers in Donnybrook. These two events accounted for roughly €235,000 of the total deficit.

In a letter issued by HI CEO Jerome Pels before the meeting, he explained:

"Firstly, the FIH World Series Finals event, hosted by Hockey Ireland in Banbridge as part of the Olympic Qualification for the Senior Women, was a financial challenge.

"Hockey Ireland had to secure a new venue because the National Stadium was under renovation and the pitch at the Sport Ireland Campus was not in place yet.

"FIH requirements, erection of temporary stands and the commercial challenge of the venue being outside Dublin resulted in a significant loss. Despite the financial implications, the event was a great success and secured home qualification for the Senior Women's Team on the road to Tokyo.

"Secondly, hosting the Senior Women's Olympic Qualifier in a rugby stadium and installing a temporary hockey surface in Energia Park (Donnybrook Stadium) was a massive undertaking.

"However, this venue produced significant benefits from a promotion point of view as it enabled the tournament to be broadcast on live TV at prime time, as well as providing the opportunity for thousands of fans to be part of this unique moment of Irish hockey history.

"Thirdly, the Men's Olympic Qualifier in Vancouver, Canada incurred higher costs than anticipated as the location was announced with limited notice, and the team was assigned a fixture much further afield than planned for."

On a more positive note, Hockey Ireland's latest membership count was listed at 33,521 with clubs are reporting strong interest from potential new members.

Sponsors have also confirmed continuing support and "hopefully we will benefit from the interest that the Olympic Games in 2021 will bring to hockey".

The Hook


---

Game changer Olympic Gold for India 1928

BY DILJIT SINGH BAHRA




We are happy to present the SEVENTH and the LAST of the DIL BAHRA's signature column on early Indian hockey history. The author has won our hearts for pioneering such a painstaking effort, sparing it for wider audience and choosing the site as the platform. The London based researcher has thus rendered a great service to the game of hockey, which we all love deeply. The columns were thoroughly embellished with hitherto unseen but unforgettable vintage pictures. Readers would gladly concur to the fact that his content and images provided much needed and intellectually satisfying moments that helped us overcome the difficult COVID-19 times. All his articles are archived in our 'COLUMN' section. The column is one of our highlights: India's oldest hockey website, kicking and alive in its 21st year – K. Arumugam, Editor

BACKGROUND: Hockey was first played at the London 1908 Olympic Games where six teams participated – England, Ireland, Scotland, Wales, Germany and France. It was not included again until Antwerp 1920 where four countries, England (Great Britain), Belgium, Denmark and France entered. Four years later, in Paris, hockey was omitted from the Olympics because of limited support. It was clear that an international body was necessary to unite the sport and be responsible for the organisation of tournaments at the Games. On the initiative of a Frenchman, Paul Leautey, the International Hockey Federation (FIH) was founded in Paris on the 7th January 1924. France, Belgium, Austria, Hungary, Czechoslovakia, Spain and Switzerland were the founder members.



A lighter moment before the bully-off of the 1928 Olympic Games final in a packed stadium. (l-r) Dhyan Chand , George Martins and Holland goalkeeper Adriaan Katte. Photo: Nick Leeflink collection

INDIA READY: India was taking a lively interest in the Olympic movement. Charles Newham, the president of Punjab Hockey Association, Guru Datt Sondhi, the vice-president an others had attended the Paris 1924 Olympic Games and became convinced that India must play a part in future Olympiads. Newham and Sondhi played a key role in the formation of the Indian Hockey Federation (IHF) in 1925 where the possibility of India taking part in Olympic hockey was first mentioned. The IHF confirmed at their meeting in Delhi on 15 December 1927 that India would compete at the 1928 Amsterdam Olympics and decided to accept the invitation of the English Hockey Association (EHA) to tour Great Britain for a month before proceeding to Amsterdam.

The IHF applied to join the FIH and were provisionally admitted at the meeting on 6th May 1928. This membership was essential for India to take part in the 1928 Olympics. The conditions for representing a country at the Amsterdam 1928 Olympic Games were "Only those who are Nationals or naturalised subjects of a country or of a state which is part of that country are able to represent that country" pursuant to Rule 2 of the General Regulations of the IX Olympiad – Amsterdam 1928.

SELECTION TRIALS: In order to select the team for the Olympic Games, it was decided to hold trials in Calcutta (now Kolkata) in February 1928 and all provinces were invited to send players for selection.

The Army Sports Control Board informed the IHF that it would not be entering a team and that soldiers were available for selection by their provinces and that leave would be granted for them to play.

This selection tournament was played in Calcutta, from 13-16 February 1928. Five teams, United Province; Rajputana; Punjab; Bengal and Central Province participated in this tournament. Enormous crowds attended to see the matches. This then became the first National Championship which was won by United Province. Following two more trial matches on 16th and 17th February, 13 players were selected, by Major Ian Burn-Murdoch (32nd Sikh Pioneers), Colonel Hill and Albert Barmes Rosser (Bengal). Major Ian Burn-Murdoch, who was also the president of the IHF, announced the team on 19th February 1928.

THE TEAM OF 13
GK: Richard James Allen (Port Commission, Calcutta and Bengal)
RB: Michael E Rocque (Govt. Telegraph, Jubbulpore and Central Province)
LB: Leslie C Hammond (N I Railways and United Province)
RH: Kehar Singh Gill (Government College, Lahore and Punjab)
CH: Broome Eric Pinniger (N W Railways and Punjab)
LH: William James Goodsir-Cullen (Telegraph Club, Agra and United Province)
RW: Maurice A Gateley (Delhi Rangers and Punjab)
RI: Feroze Khan (Forman Christian College, Lahore and Punjab)
CF: Dhyan Chand (Army and United Province)
LI: George E Marthins (Telegraph Recreation Club, Agra and United Province)
LW: Frederick S Seaman (The Mills, Cawnpore and United Province)
Back/Half-back: Rex A O Norris (G I P Railways, Jubbulpore and Central Province)
Forward/Utility: Shaukat Ali (Calcutta Customs and Bengal)

Four players who were then in England would join the team there. They were: Jaipal Singh (St John's College, Oxford University and Wimbledon Hockey Club), Nawab of Pataudi (Balliol College, Oxford University), Shahzada Mohammad Yusuf (Fitzwilliam House, Cambridge University) & C V Carberry (London).



St John's College Hockey Team 1923–24. Captain Jaipal Singh is seated middle row second from left. Photo: By permission of St John's College, Oxford

THE JAIPAL SINGH PHENOMENON: Jaipal Singh (St John's College at Oxford, 1922 to 1926 and captaining the college team on many occasions. His hockey talent was spotted when he played for Isis Hockey Club in Oxford and he was selected for the annual Inter-Varsity match against Cambridge on 20 February 1924 at Beckenham. Oxford won 3-0, having lost the previous three encounters. His outstanding performance in that match, playing at left full-back, earned him a lot of publicity in hockey circles and the English press. He was awarded an Oxford Blue. He followed this performance the following year in the Inter-Varsity match when Oxford beat Cambridge 3-2 on 18 February 1925, again at Beckenham. Later that year he led the All India Hockey Club on a tour of the continent, this being the first hockey team from England playing on the Continent. He played for the Oxford University again in the 1926 match and was regarded as an outstanding full-back, probably the best in England during that period. Jaipal played many matches for the Oxford University Hockey team, even captaining the team on few occasions. He also played for Wimbledon Hockey Club. He had played at the famous Folkestone Festival and played in Europe during the All India Hockey Club tours to the continent.

The Indian team selectors, led by Major Ian Burn-Murdoch (32nd Sikh Pioneers), president of Indian Hockey Federation, were aware of Jaipal's performance in England. And so were the two IHF officials in England at the time, Colonel Bruce Turnbull, the past president of IHF and Major Ricketts, the international umpire. To help matters, Charles Newham who was president of Punjab Hockey Association and vice-president of IHF was kept informed of Jaipal's performance by Conrad Corfield, his college friend, who had captained Cambridge in the Inter-Varsity match in 1920 and who was also an English international. Jaipal played some matches in England and two of the five matches at the Olympic Games.



Balliol College Oxford hockey team 1927-28. Nawab of Pataudi is standing 1st right. Photo: By permission of Balliol College, Oxford

Mohamed Iftikhar Ali Khan (Nawab of Pataudi) was at Balliol College, Oxford (1927 to 1931). He had represented the college XI at cricket and hockey and had represented Oxford University at hockey, cricket and billiards. He was a forward in the University hockey team. He also played cricket for Worcester Cricket XI and England XI. He was a member of the All India Hockey Club. In all, he was an all-rounder sportsman. He played some matches for the Indian team in Merton Abbey and Folkestone in England but did not travel to Amsterdam for the Olympics. He was a keen cricketer and therefore he was more interested in playing cricket than hockey during the cricket season in England (he played in the Inter-varsity matches in 1930 and 1931 and was a double Oxford Blue, hockey and cricket in 1931).



Fitzwilliam House hockey team 1926 – 27. Captain S M Yusuf is at the centre of middle row. Photo: By permission of Fitzwilliam College, Cambridge

Shahzada Mohammad Yusuf: He was a Non-Collegiate student at Cambridge University (and so a member of Fitzwilliam House, the institution of which Non-Collegiate students were members). He became a member of Cambridge University in January 1923 and was a member until June 1927. He was a member of the All India Hockey Club which toured the continent in 1925. He played hockey for Fitzwilliam House and captained the team in 1926-27 season. He studied Agriculture and graduated with a Bachelor of Arts Ordinary Degree in June 1927. In October and November 1927 he played for Cambridge University in their trial matches. On 23 November 1927 he represented Cambridge University against Wimbledon Hockey Club, which included Jaipal Singh. He did travel with the team to Amsterdam and played in four of the five matches at the Olympics. Jaipal Singh, Shahzada Mohammad Yusuf and Nawab of Pataudi knew each other socially and had played together with the All India Club team. They had also played against each other with their college and University teams.

The whereabouts of C V Carberry, who had played for St Xavier College, Calcutta, who had gone to London, could not be ascertained and he did not join the team either in England or the Olympics.

Albert Barmes Rosser, Hon Secretary of Bengal Hockey Association, was appointed as team manager. It was decided at the meeting in Delhi in December 1927 to approach Colonel Bruce Turnbull, who was in England at the time, to be the coach as he had a good deal of experience of hockey both in India and England.

The 13 players and manager sailed to England from Bombay (now Mumbai) on 10th March 1928. They had gathered in Bombay two days earlier and played an exhibition match a day before they sailed. This was the first time that they had met and played together as a team.

Colonel Bruce Turnbull was appointed Business Manager of the IHF in England and he was responsible for arranging all fixtures in England and the continent before the Olympic Games. He did manage to get top class fixtures in London after the Easter break – a period when the cricket season had just begun. And he did manage to arrange five fixtures at the famous Folkestone festival during Easter.

When the Indian team arrived in Tilbury, England, on Friday 30th March 1928, they were given a hearty welcome to England by a number of officials and visitors, including Major Edward Ricketts who was acting on behalf of Colonel Bruce Turnbull, Business Manager.

The day after their arrival, on Saturday, 31st March 1928, they played a powerful Combined Services team at the Officers Club, Aldershot. The Services team, which included seven internationals, one English probable and two divisional representatives, were:
1. Commander J D Campbell (Royal Navy)
2.Commander C H L Woodhouse (Royal Navy)
3.Lieut Commander T N D'Arcy (Royal Navy and Ireland)
4.Lieut H A Hinds (Royal Navy)
5.Schoolmaster I D Lawrence (Royal Navy and England)
6.Lieut T H Ely (Army and Ireland)
7.Lieut R F Leitch (Army and Ireland)
8.Lieut J D Cairnes (Army and Ireland)
9. Captain F M Eagar (Army and Ireland)
10. Lieut P G Rogers (Army and England)
11. Flight Lieut Hampton (Royal Air Force)

The match, bully-off at 3 PM was played on a wet muddy ground and therefore it was found possible to play only 25 minutes each way. The Indian team lost 1-2, Dhyan Chand scoring India's only goal. Major Edward Ricketts (India) and Flight Lieut E B C Betts umpired the match.

The Indian team played two matches at Merton Abbey in London before the Folkestone Easter tournament. They defeated a London XI that included six internationals, 5-2. They defeated an Anglo Scottish team, which also included six internationals, 7-2.



An overview of the playing fields at Folkestone Festival. Photo:Dil Bahra collection

The hockey season in England ended at Easter. There were many Easter Festivals, both in England and the continent to mark the end of playing season. In England the popular festivals were at Folkestone, Bournemouth, Lowestoft, Scarborough, Bridlington, Porthcawl, Llandudno and Tynemouth.

The Indian team entered the Folkestone Festival which drew 18 teams, some from the Continent. The Folkestone festival normally attracted at least two international sides, and in 1928 these were France and Belgium. Four sessions were played daily and hockey was of a high standard there.

The team made a great start at Folkestone. On Good Friday, in the first match of the Festival, they defeated Old Rossalians 17-0. The next day they defeated Mystics, a Club from Frankfurt (Germany) 7- 0. The team drew 3-3 against a Festival X1, a fixture which was not part of the Folkestone Festival and played on a rest day. Easter Monday saw them defeat another German Club, Frankfurt SC, 2-0.

On Tuesday 10th April, the last match of the Festival, at 03.15pm, was a much awaited match against a very strong Hockey Association X1 that included nine England internationals. Seven of these players had played for England against France in an international match at Folkestone on Saturday 7th April and all seven had featured against Ireland (26th March 1928); Wales (27th March 1928) and Scotland (31st March 1928). India won the match 4-0 in front of a big (paying) crowd.

The Hockey Association X1's entire forward line was the same one which defeated France 12-0 at the same venue three days earlier. India played three more matches at Merton Abbey before departing to Holland on 23rd April. They defeated a Combined London Universities and Hospitals XI 7-3; an Anglo-Irish X1 12-4 and London University XI 7-1.

On the English leg of their tour, India played 11 matches, winning nine, drawing one and losing one.



1928 Olympic hockey final. Dhyan Chand is sandwiched at the centre of action

THE AMSTERDAM FIELD: Only 10 countries had entered the hockey tournament by April 5th 1928 (Hungary did not enter as was expected). Great Britain did not enter a team, nor were they expected to enter. The British officials, who were responsible for founding the International Hockey Board to administer the rules of the game, did not recognise the FIH, which Britain had to join to compete in the Olympics. On 22nd April 1928, the FIH ranked India No. 1 for the draw in two divisions (pools) for the hockey tournament. The FIH rankings were:
1. India
2. Germany
3. Denmark
4. Holland
5. Belgium
6. France
7. Austria
8. Spain
9. Switzerland
10. Czechoslovakia.

THE FORMAT: Czechoslovakia withdrew before the start of the hockey tournament. India was drawn in Division A with Denmark, Belgium, Austria and Switzerland.Germany, Holland, France and Spain were drawn in Division B. The winning teams in these divisions were to play the final; the runners-up the 3rd place.

WARM UP MATCHES: Two days after arriving Amsterdam, the Indian team played a game in the Olympic Stadium — three weeks before it opened. An Amsterdam selection team was the opponent during this extremely unofficial opening of the Olympic Stadium. It was part of a rehearsal in the run-up to the Games. The visiting team won 15-2. The Indian team played three more matches in Holland. They beat Arnhem Hockey Club 8-0 on 28th April; Holland Olympic A team 8- 0 in Amsterdam on 2nd May; Holland X1 8-1 in The Hague on 5th May. After the matches in Holland, the team played two matches in Germany. They beat Hanover 10-0 on 6th May and Berlin X1 5-1 on 7th May. The team played one match in Brussels, against a Brussels XI, winning 10-2 on 13th May before returning to Amsterdam on the 14th May for a friendly match against an Amsterdam XI.

HISTORIC 17.O5.1928: India played its maiden Olympic match on this day, against Austria at the Old Stadium at 1700 hrs.The Indian team in their first Olympic Games match was:
GK: Richard James Allen (Bengal)
RB: Michael E Rocque (Central Province)
LB: Leslie C Hammond (United Province)
RH: Rex Norris (Central Province)
CH: Broome Eric Pinniger (Punjab) captain
LH: William James Goodsir-Cullen (United Province)
RW: Maurice A Gateley (Punjab)
RI: Shaukat Ali (Bengal)
CF: Dhyan Chand (United Province)
LI: George E Marthins (United Province)
LW: Frederick S Seaman (United Province)

Centre forward Dhyan Chand gave India the lead in the 6th minute by scoring India's first goal at Olympic Games. He added two more to give India a 3-0 lead at half time. George Marthins scored two goals and Shaukat Ali one goal to give India a comfortable 6-0 win. (Some Indian sources state Dhyan Chand scored 4 goals, Gateley and Ali one each).



Indians dominate a goalmouth action, Amsterdam Olympics

18.05.1928: On this day in their second match which was against Belgium, played at the Old Stadium at 1630 hrs, India made three changes – Jaipal Singh playing at left-back and captaining the team; Shahzada Yusuf playing at left half; and Feroze Khan at inside-right. India defeated Belgium 9-0 with Feroze Khan scoring five goals. Frederic Seaman scored two and Dhyan Chand and George Marthins one each.

20.05.1928: At 1600 hrs on this day against Denmark India retained the same team as the previous match against Belgium. Dhyan Chand gave India an early lead in the 4th minute and added another in the 26th minute to give India a 2-0 lead at half-time. Feroze Khan broke his left collar bone in the 17th minute and the team played with only 10 players for the rest of the match (no substitutes were allowed then). Two more goals by Dhyan Chand and one by Frederic Seaman earned India a 5-0 win.

22.05.1928: At 1500 hrs at the Olympic Stadium, India played their last Pool A match against Switzerland. Jaipal Singh had not returned from England where he had gone after last Sunday's match against Denmark and Leslie Hammond returned to his position as left-back. William Goodsir-Cullen returned as left-half, Maurice Gateley as right-winger in place of Shaukar Ali who was ill, with Frederick Seaman playing as left-inside and Shahzada Yusuf playing as left-winger. India defeated Switzerland 6-0 after leading 2-0 at half-time. George Marthins opened the scoring for India in the 6th minute and Maurice Gateley added another in the 26th minute to give India a 2-0 lead at half-time. Dhyan Chand scored two goals in quick succession in the 53rd and 55th minute to increase India's lead to 4-0. Shahzada Yusuf added one and Maurice Gateley scored the last goal in the 65th minute. As winners of Division A, India qualified to play in the final of the Olympic Games against the winners of Division B*.



Dutch Newspaper cuttings covering the 1928 Olympics. Courtesy of Nick Leeftink

There are no primary sources available for the goal scorers either from the IOC, the then FIH or the Nederlandsche Hockey en Bandy Bond. My information for the goal scorers is based from four Dutch Newspapers: AlgemeenHandelsblad; De Telegraaf; Nieuwe Rotterdamsche Courant; De Maasbode which reported on the Games. All these papers covered the hockey matches and had full page coverage of the final (courtesy of Nick Leeftink (hockeymuseum.nl)



Medal Ceremony 1928 Olympic Games

THE FINAL: The final was played on Saturday 26th May 1928 at 15.45 hrs at the Olympic Stadium. The Indian squad of 15 had been reduced to 11. Jaipal Singh did not return, Kehar Singh Gill nursed a knee injury, Feroze Khan had broken his left collar bone as already noted and Shaukat Ali was in bed with flu.

The final was played in a very sporty manner. A capacity crowd of 40,000 in the Olympic Stadium saw India defeat the home side 3-0. Dhyan Chand scored the opening goal in the 15th minute to give his team a 1-0 lead at half-time. He scored his second goal within two minutes of the start of the second half and six minutes later George Marthins made it 3-0. The Statesman newspaper reported that "at the end of this memorable final, Penniger, the captain of India team, was carried shoulder high by the Dutch team and so was the captain of the Dutch team by the Indian player". This is also echoed in The Anglo-Indian Review, June 1928.



1928 Olympic Gold Medal. (Rex Norris family collection in London)

Germany defeated Belgium 3-0 on 26th May 1928 to finish third (Indian Umpires, Edward Ricketts and Bruce Turnbull umpired this match). Thus the final three positions were: 1st India (gold medal); 2nd Holland (silver); 3rd Germany (bronze).



Indian and Holland Teams after the 1928 Olympic Final. Photo: Nick Leeflink collection

Near the end of the Olympic hockey tournament the journal Revue der Sporten would write about the British Indians: "They have loosened up here, these people most of whom are of a different race, of different customs, of different notions. They have experienced a friendly welcome here and were given a sincere handshake. They came from England, where they hardly received any attention, where they were treated very coolly, and where the appreciation for their game and gentlemanly conduct was not rewarded with a warm handshake. Here they found hockey players who received them as friends, here they were regarded as sportsmen. Small wonder, therefore, that they feel at home in our country! Watch them sit around in the Hotel Zomerzorg, which has been almost exclusively reserved for them. They are having a good time in wonderful surroundings, with forests, dunes and the seaside. They are happy and contented."

The fact that the Dutch eleven had reached the hockey final created such enthusiasm that the Olympic Stadium was sold out for the first time, in no time.



1928 Indian Olympic hockey team. K. Arumugam collection

PRAISE FROM THE PRESS: As per De Corinthian, a journal for the sports elite observed the build up thus: "Towards one o'clock the trams in the direction of the Stadium were crammed. Taxis were nowhere to be had and the occasional one which became available was stormed immediately. There was only one traffic flow in our great capital, going in the direction of the Olympic Stadium in the South of Amsterdam. In the Van Tuyllplein thousands of cars from all parts of the continent were parked. All this for a hockey match: hockey, which was virtually unknown to the masses a fortnight ago."

The British-Indian superiority in the Olympic tournament clearly manifested itself in their goal difference: 29 scored and nil conceded, which meant that goalkeeper Richard Allen had kept his goal clean in all five matches. Although the second half was a formality the spectators remained enthusiastic till the end.

"The Dutch and the Asians, who were delighted with their warm welcome in Amsterdam, hit it off. Earlier they had not felt at ease in England, where they had experienced arrogance and chill. In the Netherlands they were welcome and the meetings on the hockey pitch took place in a very friendly spirit from the beginning".

Out of gratitude for the Dutch hospitality the British Indians proved themselves patient teachers who helped the Dutch hockey players where they could. According to De Waal the Netherlands owed their excellent performance in the Games and the fact that they even defeated Germany, the number one in Europe, to the Asian lessons. This feat was greeted with great enthusiasm by the British Indians. To their great amazement the Dutch hockey players were carried around on the shoulders of their friends from the Far East after their victory over Germany.

TAIL PIECE: Three days before the final, the FIH formally approved India's membership, Colonel Bruce Turnbull was appointed to the FIH Council. Provisional admission was granted on 6th May. Thus, India became the first non-European country to become an FIH member. Edward Wallace Claud Ricketts, Bruce Turnbull and Albert Barmes Roser were the three officials from India at the Amsterdam 1928 Olympic Games.

*(Some Indian sources have the scorers as Dhyan Chand 4, Maurice Gateley 1 and George Marthins 1)

Stick2Hockey.com


---

Vahe discovers the joy of volunteering in Tonga




The Tonga Hockey Federation has been gradually developing hockey at both national and grass roots level.

The national men's and women's teams have made huge strides forward in recent years to a point where they compete internationally in the Oceania Hockey5s and have world rankings of 65 and 58 respectively.

But like all progressive governing bodies, the Tonga Hockey Federation is also concerned to grow the sport at the grass roots level. In recent years, it has been doing a stellar job introducing and promoting hockey to all members of the community. The focus through November has been with Primary and Secondary Schools, culminating in national championships.

The success could not have been possible without the outstanding contribution of national player Fakavahe (Vahe) Paeaimoana. Vahe volunteers daily to help Development Officer Hiko Fungavaka coach and umpire at each of the participation programmes. Of the 11 schools in the programme Vahe undertook singular responsibility for two of them – Mangaia Primary and GPS Nuku'alofa.

Vahe also assists with the disability programme, the social adult programme, and the new Kau Mai Village Hockey programme.

Vahe attended the FIH Level 1 coach course delivered in Nuku'alofa in 2019 to upskill himself to be competent in both basic skills and delivery methods. The most magnificent quality that Vahe brings to the role is that he always has a smile on his face and this transfers to the children that he is working with.

Speaking on behalf of the Oceania Hockey Federation, continental development officer Gill Gemming says: "Here at the OHF, we think that Vahe epitomises volunteering at its best!"

FIH site