All the news for Tuesday 7 August 2018

Top 5 things we learned from the Vitality Hockey Women's World Cup London 2018




1. DOMINANT DUTCH

This record breaking Dutch team dominated this event. Scoring 35 goals, conceded only three - they were outstanding in every department. Whilst England and Australia proved their toughest opponents, they blew the rest of their opposition away, including the biggest win in World Cup history - 12-1 against Italy. Netherlands showed once again why they have been the number one ranked nation in the world since 2012 as they owned this event from start to finish. No one can deny that the best team won.




2. THE HISTORY MAKERS

They captured the hearts and minds of sports fans across the world. Ireland women were the first team sport to reach a World Cup final in their nation's history. Their battling performances and never-say-die attitude inspired fans across the world. Cocktails were named after their athletes and pubs were packed out across the nation as the Green Army shocked the sport by taking the silver medals. Spain's pedigree has also been growing in recent years and their historic first victory against Australia to win the bronze medals signalled just how far they have come - achieving their best ever finish in this event.




3. RISING STARS

The 2018 World Cup saw a number of new stars unleash their potential on the world stage, none more so than Argentina's Lucina von der Heyde, winner of the Best Junior Player Award. The 21 year-old Argentina hot-shot has been improving year on year and despite not reaching this year's latter stages, Las Leonas have a shining star within their ranks who will no doubt lead her team to glory in the future. Irish goalkeeper Ayeisha McFerran is another one to keep your eye on. The 22 year-old epitomised the spirit of this famous Irish team, her battling attitude providing confidence and direction which kept her team focused and motivated throughout the competition.




4. HOSTS

England Hockey, Lee Valley Hockey and Tennis Centre, Queen Elizabeth Olympic Park, London, England - you were simply outstanding! The stadium became a hot cauldron every day as fans poured in to cheer on the greatest teams in the world, providing an unforgettable atmosphere for the players to shine. And it wasn't just the action on the pitch that dazzled. Fan Central proved incredibly popular whilst treats like the Red Arrows flyover, fireworks and the Hockey Makers Choir all made for a truly unforgettable event which will go down in history as one of the sport's best. And of course - we can't forget the wonderful Hockey Makers who were crucial to this event.




5. FANS

Despite scorching temperatures throughout the event, and a tiny drop of rain, over 120,000 fans turned out to cheer on their heroes. And what an atmosphere you created! Everyone involved in the event, from athletes to coaches, media and fans, they all left the stadium with huge smiles on their faces thanks in part to the electric atmosphere created by each and every fan who came through the gates. We can't wait to feel this passion once again as the greatest men's teams on the planet go head to head later this year at the Odisha Hockey Men's World Cup Bhubnaneswar 2018.




All photos (c) FIH/Getty Images

#HWC2018

FIH site


---

Underdogs Ireland show spirit in Women's Hockey World Cup silver

By The Hockey Paper



A silver lining for Irish hockey PIC: England Hockey

Ireland midfielder Nicci Daly is a motor racing data engineer and knows all about speed on four wheels.

Yet even she was forced to acknowledge the incredible movement and pace of the Dutch team as they raced to a 6-0 victory, accumulated their eighth World Cup title and kept up their unbeaten run since the Rio Olympics.

"They move so well off the ball and it's their movement off the ball that is hard to keep up with as they know where they are and where to play the ball," she said, with a silver medal round her neck after Ireland produced one of the greatest moments in hockey – and sport – to reach Sunday's final.

"They don't hold onto it for very long and trying to keep an eye on where they are all running to was hard."

Daly will now go back to the day job in the US with Juncos Racing Team as a data engineer. But not before she attempts another sporting upset when she competes this month in a racing day in aid of the Irish Cancer Society as part of an-all female team "against the lads".

It will take some time for the enormity of the Green Army's run in London to sink in.

Captain Katie Mullan had said on the eve of their Dutch clash that her team would 'grab the bull by the horns'.

It wasn't to be but but after dealing with almost an hour of relentless Dutch attacking, the smiles returned as they were cheered and applauded by a 10,000 sell out.

All 11 players on the pitch fell to their knees at the hooter. It was Mullan who stirred first and went over to congratulat her team. This was not a day for tears. It was a day for celebration.

And more incredible stories. When Megan Frazer, who had grown into the tournament after 20 months out injured, was ruled out with a hamstring, Ireland were forced into calling up Emily Beatty.

At the end of a Spanish holiday, she had her bag packed full of green colours and was set to join the crowd on Sunday. But Irish management scuppered that idea. She was now Frazer's replacement.

After a bright opening, it was all Dutch. Lidewij Welten scored her fifth goal of the tournament and Holland's 30th of the World Cup. There were six different Dutch scorers in all. Their ability to find space in a cluttered circle the difference across the tournament. A visionary team.

Four goals in six minutes either side of the break did for the Irish, most of whom had taken extra holiday to train together for the last six weeks.

But the last fortnight has been storyline after storyline, a run based on strong work ethic and a squad billed as 'best friends' by whichever member of the Green Army you spoke to.

The fun-loving Ayeisha McFerran, the goalkeeper of the tournment, has led a strong defensive unit which had been key to outwitting higher-ranked opponents.

Before the final, the 22-year-old US college student had only shipped three goals, coupled with her two epic shoot-out wins.

"I watched her as an 18-year-old and you could tell she had this steel about her, the athleticism," said coach Graham Shaw.

Four years on, she took away memories to last a lifetime. Yet the journey is only beginning for the Irish.

Earlier, part-timers Spain, beaten by Ireland in the semi-final on Saturday, won a first ever bronze medal courtesy of a fine 3-1 victory over Australia.

This was the underdogs' tournament, topped with an outstanding performance by hockey's dominant force. Ireland now belong among the elite and a top 10 place in the FIH rankings.

The Hockey Paper


---

Now for the Olympics, says Irish women's hockey coach Graham Shaw



Wonder goalie, Ireland's Ayeisha McFerran PIC: England Hockey

Ireland women returned home on Monday to a true hero's welcome, a civic reception held by Dublin's lord mayor, silver medals and the catalysts for newfound respect in hockey after producing one of sport's most extraordinary stories.

Over the last fortnight, the rise of the Irish was the story of the women's World Cup.

Coach Graham Shaw will now urge Shirley McCay, his most experienced player, to opt out of retirement as Ireland aim towards Olympic qualification for the Toky 2020 Games.

McCay, 30, played in her most important tournament after over a decade of service during a career where three Olympic qualifications have been missed

McCay was believed to be set on retiring after the World Cup and become a development coach with Ulster Hockey.

And Shaw said: 'First of all she'll have to talk to me before she retires!

'She has been a true star, a real model for all young female players in Ireland, but her journey can't end here and I'll tell her that.

'We're 12 months away from an Olympic qualifier – that's 12 months of your career to achieve your ultimate dream.

'You've achieved one of them in winning a silver medal, so we'll sit down and talk. She has done a lot for our sport and I'm hoping she'll do a lot more in the next two years and then I'll allow her to step away.'

McCay said last October that she was set on retiring after the World Cup, but she said on Sunday: 'I never thought this would happen so I need to reflect and see. Maybe not, I can't say.

'I can't say right now; this isn't about me, it's about the team and I am just so proud. I never thought this would happen so I need to go away and reflect and see.'

Ireland's gutsy performances will now see them enter the world's top 10 for the first time in next month's rankings and belief surging through a side with a host of twenty-somethings and students wondering what the next step will be.

Shaw, a former Irish player, admitted that Ireland now need to push themselves even further forward to keep up with the world order after he witnessed Holland's 6-0 from the dug out.

'Hopefully the people who came over to support, the people at home watching on TV now can really truly see which way this sport needs to be played,' he said.

'This is what we need to aim for now in how we coach our young kids, how we coach our schools, how we coach our clubs. This is hockey at the very, very highest level and hopefully now people can see that.'

Once again Shaw was left overwhelmed by another 60 minutes of World Cup hockey. Only this time it was witnessed by a sea of green.

He added: 'I mean it felt like a home game. It felt like we were in Dublin, Belfast or Cork playing. Just an incredible atmosphere and we're so grateful to the people who travelled over to support the team.'

Meanwhile, midfielder Ali Meeke believes Ireland's new-found confidence on the world stage has left them in good stead before they return as World Cup runners-up after a much-needed break.

Last summer, Ireland avoided relegation from the European elite division, despite a 7-2 trouncing to Spain. Twelve months on, Meeke said that Ireland were 'going places' in hockey.

Meeke, 27, said: "It's in our locker but it's about reaching those higher places and working on that.

'We have to also hit the younger ages and schools' hockey. And in the years to come when the wheels start turning you are going to see even more special things for us.'

With four Irish playing at elite clubs in Europe, including top scorer Anna O'Flanagan, some of Shaw's players could now be lured to the continent to further enchance their reputations.

And Meeke said this will only benefit Shaw's side.

She said: 'It is growing in the women's game. And you can see it from the players who can come back from their clubs in Europe and they are bringing that mentality and intensity and it's feeding into our game. The more of that the better.'

The Hockey Paper


---

Minister promises funding boost for Ireland hockey heroes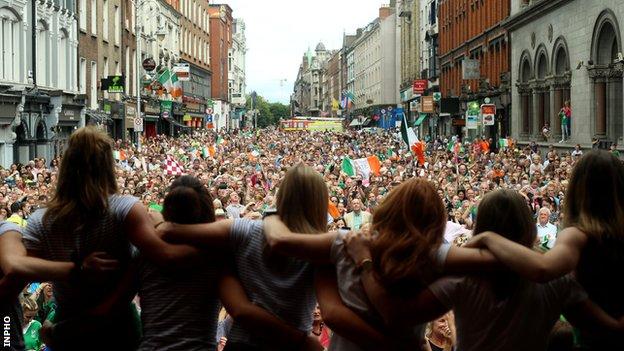 Ireland players look down Dame Street in Dublin during their homecoming event. The return home of the Ireland women's drew a huge crowd of supporters to Dublin city centre

Irish Minister for Sport Shane Ross has said hockey will benefit from a "significant share" of an additional £1.34m funding for Olympic sports.

The Ireland women's team returned home on Monday after a sensational World Cup performance, with the team of largely amateur players reaching the final.

There have been calls for more funding for Ireland's hockey heroes and Ross welcomed the team at Dublin Airport.

"You have won that sort of [financial] recognition," said the sports minister.

"I have decided that we will give [an additional] 1.5m euros (£1.34m) for Olympic and World Championship preparation and hockey will enjoy a significant share of that.

"The one winner yesterday was the Irish team, they are winners, what they have done for sport, Ireland and women is absolutely unprecedented."

Olympics now the target for Ireland

Hockey stars home after doing 'something special'

Addressing the players, Ross added: "That shows what great spirit, great endurance and great play can do for yourselves.

"We look forward to you going to the Olympics and on to even greater things. Today is a day for celebration and for thanks to you."

After arriving at Dublin Airport, the Irish team then attended a civic reception at City Hall before attending a public event in front of thousands of people in the city centre.

Dublin's Lord Mayor Nial Ring, who hosted the event, thanked the team for "making us so proud to be Irish".

"This is a historic day, on a historic street. The ladies in this team have made history for themselves, their sport and their country," said the Lord Mayor.

Ireland, the second-lowest ranked of the 16 teams going into the London tournament, shocked the USA, India (twice) and Spain on the way to reaching Sunday's final, where they were hammered 6-0 by the Netherlands.

Prior to Monday's announcement by the minister, Sport Ireland's total funding to Irish hockey was set to be just over £820,000 in 2018.

To draw a comparison, British hockey is receiving more than £17m in the current Olympic cycle, running from 2017 until the 2020 Tokyo Games.

Almost £460,000 of the Irish funding comes from Sport Ireland's high performance unit with Hockey Ireland receiving just over £232,000 to administer the sport.

A further £40,000 comes from Sport Ireland's carding scheme for elite Irish athletes with just over £31,000 coming from the Women in Sport programme in addition to a one-off payment in the region of £53,000 for Ireland's World Cup campaigns in both the men's and women's games this year.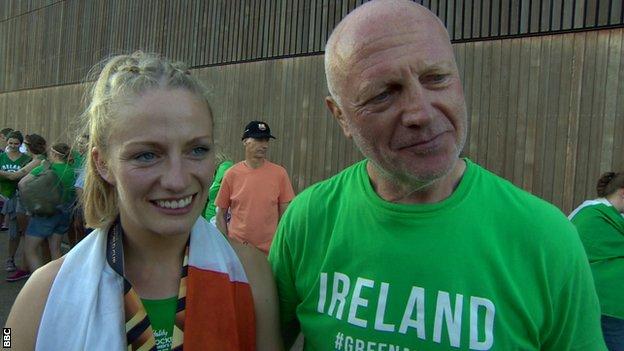 Phillip Matthews' daughter Hannah was part of the Ireland hockey squad at the World Cup. Phillip Matthews earned one cap for the British and Irish Lions in 1989 in a rare 'home' match for the Lions against France in Paris

Ex-Ireland rugby skipper Matthews in funding call

Following Sunday's World Cup final, former Irish rugby captain Phillip Matthews joined those who insist the team's run should result in more funding for the sport.

Matthews' daughter Hannah was part of the Irish team at the tournament.

"It's only from things like this that you can kick on and exert political pressure," Matthews said.

"We have got to attract a bit more funding and get more women into playing sport and get more funding into hockey because they've shown with a bit of commitment and passion what you can do.

"It has really stirred emotion back home and the whole journey's been incredible."

The Irish women's team narrowly failed to qualify for the Rio Games two years ago but are expected to move into the top 10 of the world rankings following their World Cup success in London.

BBC Sport


---

Extra bucks could be just the boost that Irish hockey needs

Minister says an additional €1.5m is to be allocated to high performance teams

Johnny Watterson



TOP-FLIGHT: The Irish hockey team prepares to return home on a Cityjet flight from London after their unprecedented silver medal finish at the Hockey World Cup in London. Nicci Daly (left) and Katie Mullan show off their medals in front. Photograph: Nick Bradshaw

The funding into women's hockey must change or the sport will fall back to where it was before the Irish women's team shattered the glass ceiling in winning a World Cup silver medal in London on Sunday.

After their achievement in becoming the first Irish team in field sports to reach a World Cup final, Irish striker Deirdre Duke echoed her team-mates' sentiments saying Ireland must change the costly environment that has been the norm in the sport.



Ireland's Lizzie Colvin in action during during the final of the FIH Women's Hockey World Cup against the Netherlands at Lee Valley Hockey and Tennis Centre. Photograph: Sean Dempsey/EPA

While Hockey Ireland have said the reviled levy no longer applies to its senior team, the players, who were guests of honour at a civic reception in Dublin on Monday, have reiterated that competing for Ireland continues to come at a financial cost.

We hear that the bandwagon is pretty big so we like the sound of that!

Duke again repeated the message after the World Cup final that the system has to change if Ireland are to have a set-up that would allow them prepare to face teams like the Dutch, who claimed gold after their comprehensive 6-0 win in the World Cup final.

"We hear that the bandwagon is pretty big so we like the sound of that!," said the Irish forward. "Hopefully it just puts hockey on the map. It's obviously not a huge sport back home and we struggle to get funding.

"We're just trying to change the game and get more funding. We don't have a national stadium. Obviously we pay to play."
 
The critical difference between hockey and other Irish sports, which hope to qualify for the Tokyo Olympic Games in 2020 is that, while all the sports in general are funded by Sport Ireland, players on the Irish women's hockey team are not part of the individual carding system.

Minister for Sport Shane Ross yesterday announced at Dublin Airport, when the team touched down, that an additional €1.5million was being allocated to high performance teams. However, the sum was not broken down, so it is unclear how the women hockey players will benefit.

The Irish carding system is designed to give money directly to athletes so they can live and train as closely as possible to professional levels. The scheme is constantly evolving and changing as some athletes perform at major championships and others do not and so move up and down the funding ladder. But there are anomalies and hockey is not even on the carding ladder.

Shane Ryan, who swam to an impressive 50-metre backstroke bronze medal in the European Championships in Glasgow on Saturday, deservedly received €20,000 this year from the State as a world-class athlete. Mona McSharry, another talented swimmer from Sligo, is on the same figure as is top athlete Ciara Mageean.
Role models

Rower Sanita Puspure receives €20,000 while the inimitable O'Donovan brothers Paul and Gary get the top carding grant of €40,000 as podium athletes.

Stephanie Meadow, a professional golfer who according to the LPGA has career earnings of €92,803, received €20,000 as part of the Team Ireland 2018 Golf Grants.

Women's sport is growing and growing. You have to pinch yourself to realise that you are part of that

It is important to note the distinction between money going into a federation for the sport and an entirely different stream of funding going directly to athletes.

None of the World Cup final hockey players are named on the carding scheme list and so don't receive funding directly through the scheme.



Fans enjoying the homecoming of the Irish hockey team on Dame Street follwing their reception at City Hall. Photograph: Cyril Byrne/THE IRISH TIMES

Sport Ireland did allocate €45,000 into hockey pool funding this year but no individual hockey players were listed.

Were the World Cup finalists individual athletes from sports such as rowing, sailing, athletics or boxing the achievement of London would place them in the podium category of the carding scheme and in line for €40,000 per athlete.

It's a bone of contention but the Irish players are also pleased to be part of a driving force among women in sport. Role models. They will take that.

"Women's sport is growing and growing. You have to pinch yourself to realise that you are part of that," added the UCD law graduate Dukes.



Kelly Jonker of the Netherlands celebrates scoring their second goal against Ireland during the final of the FIH Women's Hockey World Cup at Lee Valley Hockey and Tennis Centre. Photograph: Daniel Leal-Olivas/AFP/Getty Images

"The GAA... Croke Park getting more people last year [a record 46,286 attended the All-Ireland Ladies football final between Dublin and Mayo]. To think that we are a part of this and driving the bandwagon is pretty special. Hopefully we keep pushing on and increase the level of interest."

Hopefully all of the media attention and home support will help drive it on next season

Women's hockey now finds itself at the leading edge for team sports that have traditionally struggled to get large groups of players up to elite level. The Irish squad do not want London 2018 it to become an historical aberration.

"This started back in September," added Duke. "After last summer, we were pretty disappointed with our European campaign. We just decided to set a culture and we really said that this was our opportunity to go and do something special. It's really changed for us, particularly with the qualification for Tokyo.

"If we can get into the top 10 in the world, we could get a home draw. We just need to build and build on this. Hopefully all of the media attention and home support will help drive it on next season.

"We need more contact time. We have to keep training. You can't be satisfied with this. It's funny, you might think this is as good as it gets. But we want Tokyo. We want to go and qualify for that and then hopefully medal at that if possible.

"It's just so important that we push on here and don't sit back and just enjoy it."

Irish Times


---

Meet Elena Tice: Ireland's 20-year-old Hockey World Cup silver medalist, who played international cricket at 13



Elena Tice , Twitter

Ireland finished as runners up in the recently ended women's Hockey World Cup, losing 6-0 to eight-time champions Netherlands and that feat saw an Irish player got her name etched in the history books.

It was Ireland's first appearance in the tournament in 16 years.

Meet Elena Tice - one of the few female cricketers who have represented their country in two sports. The other elite players are Australia all-rounder Ellyse Perry (football), New Zealand captain Suzie Bates (basketball) and all-rounder Sophie Devine (hockey).

At a tender age of 13, leg-spinner Elena made her One-Day International (ODI) debut for Ireland. Elena, who was the third youngest female cricketer to make her ODI debut, co-incidentally played her maiden ODI against the Dutch.

Two weeks short of 18, Elena then made her first appearance for Ireland's senior hockey team. Now, at an age of 20, she is a silver-medal holder in the World Cup. Courtesy of their runners up finish, Ireland are expected to break into top-10 rankings for the very first time.

Born in Basingstoke, Hampshire, her family moved to Indianapolis in the USA when Elena was just four. There she picked up baseball before the family relocated once again. This time, they head to Vienna , where she took her first steps into cricket.

Elena went on to play for the Austria Cricket Club later. At nine, she moved back to Ireland where she began playing school cricket for Aravon School while also lining up for the Merrion Cricket Club. The same year marked her initiation into hockey too.

Since her childhood, Elena has pottered in several other sports too, including football, rugby, horse-riding and Evented (an equestrian event) until about age 13.

Elena is the youngest of three siblings. One of her brothers, Patrick, represented the Ireland's Under-19s and Cambridge University as wicketkeeper-batsman. The other brother, Dalton, played rugby with the Leinster Under-19s. A huge supporter of Manchester United, she looked up to the legendary Paul Scholes and all-rounder Andrew Flintoff for his charisma in cricket.

Daily News & Analysis


---

Two Australian Teams Crowned Masters World Champions

Ben Somerford




The Australian Men's 35+ and Men's 50+ sides have been crowned world champions at this year's Masters World Cup which concluded in Terrassa, Spain, on Sunday.

It was a heartbreaking weekend for the Australian Women's teams, with four sides finishing as runners-up.

Australia defeated England to claim the Men's 35+ title in Sunday's final, to complete a perfect campaign after winning six from six pool games. Troy Sutherland finished top scorer with 10 goals.

In the Men's 50+ division, Australia got past the Netherlands 2-1 in Sunday's decider, having overcome Ireland with the same scoreline in Friday's semi-final.

Australia were edged 1-0 by England in the Women's 35+ final, while the Aussies went down 2-1 to Argentina in the Women's 40+ decider too after a faultless campaign.

In the Women's 50+ final on Saturday, Australia was beaten 1-0 by Ireland after winning all previous five matches at the tournament.

Australia's Women's 55+ side also finished as runners-up, going down to 3-0 in a shootout to England following a 1-1 draw.

Elsewhere, Australia finished third and fourth (Wattles) in the Women's 60+ division and fourth in the Women's 45+ division.

There were seventh, sixth and fifth place finishes for Australia's sides in the Men's 40+, 45+ and 55+ divisions respectively.

Hockey Australia media release


---

USA Wraps Up at EXIN Masters World Cup




TERRASSA, Spain - As the sun rose, luggage was packed and families were on route for the next leg of the journey following the conclusion of the EXIN Masters World Cup in Terrassa, Spain this past weekend. The United States was well represented across all age divisions as several finished strong in the final days. The U.S. O-40 Men's Masters Team was the highest finishing USA squad with 6th place and one the women's side the U.S. O-35 Women's Masters Team finished in 5th place.

Friday, August 3

O-40 Men's 3 vs. South Africa 1 (5th-8th place)

O-45 Men's 2 vs. Malaysia 2 (9th-12th place)

O-50 Men's 1 vs. Wales 1 (9th-12th place)

O-55 Men's 0 vs. England 7 (Quarterfinals)

O-35 Women's 1 vs. New Zealand 2

The U.S. O-35 Women's Masters Team played to a 1-2 loss against New Zealand. The loss eliminated the team from the medal matches on Sunday, August 5. USA played solid, but were down early when New Zealand struck first in the opening quarter on a well-executed penalty corner. USA responded with a penalty corner in the third quarter by Tiffany Cappellano (Oley, Pa) which was set up by Brandi Alexander Kist (Tega Cay, S.C.). Unfortunately, less than a minute later New Zealand scored the game-winning goal. The team wraps up the tournament with a friendly game against Ghana and a likely impending match against Sri Lanka.

O-40 Women's 5 vs. Italy 1 (11th-12th place)

USA finished with a 5-1 win over Italy to secure 11th place at the EXIN Masters World Cup. Four different players scored and Holly Master (Watertown, Mass.) added two assists as USA used a strong defense and balanced attack to dominate Italy in their final match. USA jumped on the board early with a goal by Kelly Cawley Williamson (Oley, Pa.). Lauren Baugher (Waltham, Mass.) then knocked in a baseline pass from Georgina Serenelli (Pinecrest, Fla.) in the opening quarter. Italy answered with one of their own before Kristy Recek (Bel Air, Md.) sent a long ball to the near post from the top left circle. The team used two more goals from Tamika Smith (Elkridge, Md.) and Williamson to close out the scoring in the second half.

O-45 Women's 1 vs. New Zealand 4 (5th-8th place)

The U.S. O-45 Women's Masters Team fell 1-4 in a hard fought match against New Zealand Friday morning. Down 0-2 in the first quarter, USA responded with a goal in the second. Captain Florencia Manero (Key Biscayne, Fla.) preserved through three shots on goal before finally scoring on the fourth rebound. New Zealand answered with a third goal in open play, ending the half with a 1-3 lead. Goalkeeper Jen Anderson (Owings Mills, Md.) shut New Zealand down in the third quarter despite facing six penalty corner opportunities, including one very impressive split save. USA dropped one more on a penalty corner in the fourth quarter making the final score 4-1.

O-50 Women's 4 vs. Argentina 1 (7th-8th place)

USA closed out the O-50 division tournament with a decisive 4-1 win over Argentina. The red, white and blue opened the scoring in the first period on a goal by Sophie Etienne (Belmont, Mass.) and followed with two more in the second period by Meri Dembrow (Royal Oak, Mich.) and Antoinette Arner (Quakertown, Pa.). Dembrow scored again in the fourth period giving USA a 4-0 lead. Argentina would ultimately come back to score their only goal of the match for a final score of 4-1. The win gave USA a 7thplace finish out of 16 teams.

O-55 Women's 1 vs. Canada 0

The U.S. O-55 Women's Masters Team competed in a North American show down against Canada to conclude the EXIN Masters World Cup. Canada started quickly by setting up some scoring chances but superb goaltending, including a diving save by USA's Donna Chung (Canton, Mass.), thwarted their chances. USA's defense, anchored by Michelle Finegan (Doylestown, Pa.), showed great composure to patiently thread the ball up to the midfield, changing the momentum of the game to USA's favor. Linda Kreiser's (Middletown, Pa.) keen tactical awareness put her in the perfect position to distribute the ball effectively down the right side to a speedy Lisa Cropper (Franklin, Mass.), who then used quick stick skills to maneuver the ball into the circle, earning several penalty corners. In the 34th minute USA converted from a well-executed penalty corner insert by Diane Molinaro (Quakertown, Pa.) to Barb Marois (Dover, N.H.) who drilled the ball into the back of the goal for the 1-0 lead. USA's chances continued as forward Karen Croteau (Harpswell, Maine) used some crafty stick work to slip by Canada's defense and fire a fast shot onto the near post, almost scoring by collecting her own rebound. USA's strikers kept the pressure in Canada's circle with several open goal scoring chances, but to no avail. In a last ditch effort, Canada pulled their goalkeeper hoping the extra field player would ignite a change in fortune. USA held strong for the win and a great end to a competitive tournament.

Saturday, August 4

O-40 Men's 0 vs. Germany 4 (5th-6th place)

O-45 Men's 0 vs. Wales 2 (9th-12th place)

O-50 Men's 2 vs. South Africa 2 (9th-12th place)

O-55 Men's 1 vs. Malaysia 4 (5th-8th place)

O-45 Women's 1 vs. Spain 1 (2 - 1 Shootout) (7th-8th place)

USA won a tough rematch with Spain Saturday morning. Chantal Ayers (Apex, N.C.) capitalized on a broken penalty corner attempt in the first quarter to give USA an early 1-0 lead. After a scoreless and very physical second quarter, Spain answered with a goal in the third. At the end of regulation, the score remained 1-1, forcing a shootout. Manero and Pamela Stuper (Hamden, Conn.) scored for USA while goalkeeper Anderson held Spain to only one goal in their five attempts. The win secured the U.S. O-45 Women's Masters Team a 7th place finish in the tournament.

Sunday, August 5

O-55 Men's 1 vs. Spain 3 (7th-8th place)

USA played its playoff match on Sunday to decide 7th and 8th place. Spain got an early goal from their first penalty corner which struck hard inside USA's left post. The game progressed with several promising attack's from USA and against the run of play. Spain however earned another penalty corner which resulted in a stroke and a goal to make it 0-2 in favor of the host nation. USA continued to press and a great passing movement from Eric McGinley (McLean, Va.) and Tommy Khoo (Bethesda, Md.) ended with Jeremy Roberts (Beltsville, Md.) scoring his fifth goal of the tournament to make him second highest scorer of the event. The squad pressed for the remainder of the game and had several great chances, but Spain scored a third goal in the dying seconds on another corner to put the game out of reach. USA finished 8th out of 18 teams, a very successful first time for this age group.

O-35 Women's 5 vs. Sri Lanka 0 (5th-6th place)

It was a bitter sweet ending to the team's first EXIN Masters World Cup tournament. With several high-intensity matches, the O-35 Women's Masters Team fell just short of a medal game. USA finished 5th in the tournament with a solid 5-0 win over Sri Lanka. It was a fun, light hearted affair; with text-book passing combinations and touches on the ball for all to end the tournament. As many teams progress, USA made great strides with all playing as a unit for the first time ever. With their first Masters under their belts, the players have taken away great lessons, experiences and friendships. And you can bet they have higher hopes for the next World Cup.

Final Standings
Team     Placement
 O-40 Men's      6th
 O-45 Men's      11th
 O-50 Men's      11th
 O-55 Men's      8th
 O-35 Women's      5th
 O-40 Women's      11th
 O-45 Women's      7th
 O-50 Women's     7th
 O-55 Women's      6th

USFHA media release


---

It will not be a cakewalk for Indians

Anything less than gold would be seen as a disaster for men; difficult but not impossible for women

Uthra Ganesan



Under the spotlight: Sardar Singh's form could well be the difference between India returning with gold, or not. Photo Credit: K_MURALI_KUMAR

It wouldn't be a cakewalk for the Indian hockey teams at the Asian Games but at least for the men, anything less than gold at the 2018 edition would be seen as a disaster.

For the women, though, it would be a fight to finish on top — difficult but not impossible.

Hockey at the Asian Games has largely been the domain of a handful of nations — India and Pakistan, with Korea and occasionally Malaysia among the men. Among the women, it has been a China-Korea battle with India and Japan making up the top four. The orders might change but the teams at the top are expected to remain the same this time as well.

The Indian men are the highest ranked Asian side in the world at fifth, and the only one in top-10. They go into the competition as defending champions, fresh off a practice series win against New Zealand and Korea and second consecutive silver at the Champions Trophy. The team has a new coach who is an old hand at managing most of the boys and would be desperate to become the first team to seal an Olympic spot.

The mix of youth and experience, after a couple of disappointing outings that saw too much emphasis on young legs, has worked well.

The team appears balanced though it would be ruing the absence of Ramandeep Singh upfront due to injuries. The one player who will be under the spotlight is Sardar Singh, who had a mixed outing at the Champions Trophy. His form could well be the difference between India returning with gold, or not.

The format makes it easier unless the team implodes. Clubbed with Korea and Japan in Pool A, along with Sri Lanka and Hong Kong, India needs to finish in the top-two to get into the semifinal. While Korea is expected to be the other team to progress past the group stage, Japan as host for Tokyo 2020 wouldn't have to worry about qualifying though the Japanese would like to stake claim on merit.

From the other pool, Malaysia and Pakistan are favourites to advance.

Test of nerves

It wouldn't be as easy for the women. Clubbed with Korea, Thailand, host Indonesia and Kazakhstan, the Indian girls should reach the semifinals but beyond that, it would be a test of nerves and determination.

The recent quarterfinal finish at the World Cup may have been disappointing but it showed a structured team that wouldn't give up till the end.

On paper, the Indian women have as much chance as any of the other three top contenders — China, Japan and Korea. India has beaten them all in the last few outings, including the Asia Cup last year, and would be keen to continue. The only areas of concern would be penalty corners and a strike-force that appears to have lost some of its sharpness — pushing Vandana Katariya ahead and allowing her and Lalremsiami to play more freely may be the simplest solution to the latter.

The new Pro League starts in 2019 and would be a qualifying route for the Olympics. With India not being part of it and the complex process itself stretching over two years, the team wouldn't want to get into working out the permutations. Winning the Asiad would be the easiest way to avoid that.

The Hindu


---

South African Hockey Men's Squad Named



Photo - Marcel Sigg (Run Ride Dive)

The FIH Hockey World Cup takes place in Bhubaneswar in India from the 28 November until the 16 December this year. With the FIH Vitality Hockey Women's World Cup completed this past weekend, the eyes of the International hockey audience will shift to India for the 14th edition of the men's showpiece.

South Africa will be taking part in its 6th World Cup with a best finish of 10th achieved in 1994 and in 2010 when the World Cup was hosted in Delhi. With that in mind today South African Hockey announce a greater 29-man squad from which the final 18 will be picked following the completion of the South African Men's IPT in Pietermaritzburg.

The new coaching team, appointed for before the Commonwealth Games and headed by coach Mark Hopkins, have adopted a transparent and informative culture within South African Hockey and it was refreshing to see regular discussions between Mark and the provincial coaches throughout the tournament. Mark firmly believes that the team selected should not just be heroes on the field, but most definitely heroes off it as well, with one of the mottos of the team "humans first, hockey players second".

Convenor of Selectors Allistar Fredericks shared his thoughts on the squad; "The selection process was a robust process as the four selectors (Allistar Fredericks, Mark Sanders, Mark Hopkins and Devon van der Merwe) have identified quality players from which coach Mark Hopkins will have a talent pool to work with. We have put together an experienced squad with a great group of youngsters. Every player at the tournament was watched and considered for selection-based form at this IPT, not because of past performances. This is a fantastic group of players and a squad that we are excited about. We also know that it will be an incredibly challenging process to finalise the 18 for the World Cup, but we are looking forward to it immensely!"

Tim Drummond, who captained South Africa in the recent Commonwealth Games and World League Semi-Finals, has been reappointed as the captain for World Cup squad. 

Rassie Pieterse earns a call up on the back of an outstanding IPT, where he was named keeper of the tournament, and he is joined by the IPT Player of the Tournament, Mo Mea. Jared Cass, a superb defender for the SA Invitational U21 side is also rewarded with a place in the 29-man squad.

The experienced trio of Rhett Halket, Julian Hykes and Jonty Robinson all return having featured in the FIH World League Semi-Finals last year but missed out on the Commonwealth Games. Their collective experience of about 400 combined caps will be a massive lift to younger players like Dayaan Cassiem, Ryan Julius and Nqobile Ntuli, but also to the squad.

Paebo Lembethe, who captained the Northerns Blues to fourth place in the IPT, earns his first call-up, while the likes of Taylor Dart, Clinton Panther, Lance Louw and Richard Pautz are given opportunities to add to their caps for the National team.

Of course, a major coup for the selection team is the availability of Nic Spooner, who showed consistently in Pietermaritzburg the class that has seen him win the EHL and included in the Hockey India League in the past.

The selectors have also taken the opportunity to name a further 12 squad members who form part of the initial plans for the next 18 months or so but will not be used for the World Cup. These include some exciting talents like Tevin Kok, Rusten Abrahams, Andrew Hobson and Mark Chong.

Next on the agenda for the men will be the Premier Hockey League starting on Saturday at Randburg Astro turf. Further announcements about camps and fixtures will be made on www.sahockey.co.za

SA Hockey Men's World Cup Squad 2018*

Name, Province, Caps
Dan Bell, Southern Gauteng, 46
Matt Brown, Southern Gauteng, 4
Jared Cass, South Africa U21, 0
Dayaan Cassiem, South Africa U21, 17
Richard Curtis (GK), Kwazulu Natal, 5
Taylor Dart, Southern Gauteng, 18
Tyson Dlungwana, Northern Gauteng, 18
Tim Drummond, Kwazulu Natal, 131
Jethro Eustice, Kwazulu Natal, 95
Rhett Halkett, Western Province, 148
Tommy Hammond, Southern Gauteng, 21
Keenan Horne, Western Province, 34
Julian Hykes, Southern Gauteng, 122
Gowan Jones (GK), Kwazulu Natal, 42
Ryan Julius, Western Province, 24
Peabo Lembethe, Northern Gauteng, 0
Lance Louw, Southern Gauteng, 27
Mohamed Mea, Kwazulu Natal, 14
Owen Mvimbi, Southern Gauteng, 28
Nqobile Ntuli, Kwazulu Natal, 26
Clinton Panther, Kwazulu Natal, 100
Taine Paton, Kwazulu Natal, 104
Richard Pautz, Southern Gauteng, 16
Rassie Pieterse (GK), Southern Gauteng, 133
Jonty Robinson, Kwazulu Natal, 115
Reza Rosenberg, Southern Gauteng, 23
Daniel Sibbald, Kwazulu Natal, 44
Austin Smith, Western Province, 158
Nic Spooner, Southern Gauteng, 1

SA Hockey Association media release


---

White Withdraws From 2018 National Senior Men's Squad

Ben Somerford




Hockey Australia today advises Kookaburras defender Tristan White has withdrawn from the National Senior Men's Squad indefinitely and effective immediately.

The 28-year-old, who hails from Wollongong and has been based there for the past two years, has made the decision to step away due to being unable to fully commit to the Kookaburras programme ahead of the 2018 World Cup in November and December.

"I've made this decision with my family, home life and work commitments in front of mind," White said.

"Given that I've recently become a father, my goalposts have shifted and I want to spend as much time as possible with my family.

"The Kookaburras have been and still are very important to me, however I am at a point where I am not able to meet all of the rigours that are involved with being in the Kookaburras squad leading into a World Cup.

"I'd like to thank everyone who has helped me along the way at a club, state and national level. The Kookaburras have given me some of my most valued memories, which I'll never forget.

"Being a member of one of world sport's greatest performing teams has not only improved my hockey, but more importantly, it's improved me as a person."

White, who has 102 caps to his name, said he is not retiring from international hockey and would like to be considered for the Kookaburras in future years.

Kookaburras Head Coach Colin Batch said: "We understand Tristan's decision was a difficult one but made for the right reasons.

"He will play for NSW in the Australian Hockey League this year, so we will continue to assess his performance and would consider him for future selection should his situation change.

"We wish Tristan, Lauren and their baby daughter Lexi all the best for the future."

Hockey Australia media release


---

Preparations Ramp Up For Exciting 2018 AHL

Ben Somerford




Several states have announced their preliminary squads and released ticket details with the 2018 Australian Hockey League (AHL) two months away from commencing.

The 2018 AHL will take place throughout October, with three rounds played at venues around the country, before a centralised finals series in a to-be-confirmed location on 25-28 October.

This year's AHL marks a significant change from the previous centralised 10-day carnival format, allowing fans across the country an opportunity to witness their state on home turf over the course of a month.

All squads must be submitted by the deadline of 5 September, with several states still undergoing trials while others have named extended lists ahead of the 6-7 October opening round.

Tasmania and Western Australia were the latest states to announce their preliminary training squads late last month ahead of the AHL.

South Australia are yet to confirm their squads but last week announced Michael Nobbs and Mark Dedman as Hotshots and Suns coaches respectively.

Hockey Queensland confirmed their extended squad back in June, with recently retired Kookaburras captain Mark Knowles named in their Blades roster.

Hockey NSW also have announced their preliminary Waratahs and Arrows squads to be coached by decorated ex-Australia players Brent Livermore and Katrina Powell respectively. 

Hockey ACT confirmed their extended Lakers and Strikers squads in mid-July minus Anna Flanagan who has linked up with the Arrows, while Hockey NT and Hockey Victoria are yet to announce their lists.

Hockey NSW have released tickets for their Round One match-up against Queensland on Saturday 6 October at Sydney Olympic Park Hockey Centre via Ticketbooth.

Hockey Victoria have announced an exciting bundled Hockey Fan Package for their two Rounds Two and Three fixtures in Melbourne, along with 2019 FIH Pro League and 2019 AHL games with tickets on sale on Monday 3 September via this link.

Hockey Queensland, Hockey ACT, Hockey Tasmania and Hockey SA are expected to release details on tickets later this month, while it's anticipated there will be walk-up sales only for Hockey WA and Hockey NT's fixtures.

Confirmed Men's AHL Squads So Far:

Canberra Lakers

Davis Atkin (Wests), Garry Backhus (Wests), Malcolm Beer (St. Patrick's), Andrew Charter (Hockey Australia), Dan Cleary (St. Patrick's), Joshua Chivers (St. Patrick's), Owen Chivers (Wests), James Day (OCHC), Tom Deane (United), Dean Evans (Goulburn), Anand Gupte (Wests), Niranjan Gupte (Wests),   Jamie Hawke (Central), Brendan Hill (United), Jeremy Hopkins (United), Brendan Laidley (TVHC), James Lawrence (TVHC), Pat Keir (Central), Aaron Kershaw (Goulburn), Aaron Knight (United), Matt McLaughlin (Wests), Lewis McLennan (OCHC), Nic Milne (TVHC), Matt Neeson (United), Jeremy Payne (Albury-Wodonga), Dean Robertson (Goulburn), Lewis Shepherd (OCHC), Stuart Shepherd (United), Oscar Smart (Albury-Wodonga), Blake Smith (OCHC), Brad Smith (Goulburn), Ben Staines (Goulburn), Jake Staines (Goulburn), Thomson Stuckey (Central), Glenn Turner (Goulburn)

NSW Waratahs

Tim Brand (North West Sydney), BJ Bruton (Newcastle), Matthew Butterini (Far North Coast), Benjamin Craig (North West Sydney), Tom Craig (North West Sydney), Matthew Dawson (Newcastle), Hayden Dillon (Newcastle), Blake Govers (Illawarra South Coast), Kieran Govers (Illawarra South Coast), Jack Hayes (Illawarra South Coast), Nick Holman (Central Coast), Samuel Liles (Tamworth), Kurt Lovett (Parkes), Dylan Martin (Central Coast), Nick McEwen (North West Sydney), Flynn Ogilvie (Illawarra South Coast), Simon Orchard (Newcastle), Ryan Proctor (Metropolitan South West), Lachlan Sharp (North West Sydney), Nathanael Stewart (Metropolitan South West), Ashley Thomas (North West Sydney), Tristian White (Illawarra South Coast), Matthew Willis (Tamworth)

Queensland Blades

Jacob Anderson (Mackay), Matthew Argent (Brisbane), Cade Banditt (Ipswich), Daniel Beale (Brisbane), Robert Bell (Brisbane), Scott Boyde (Brisbane), Jarrod Brown (Ipswich), Douglas Buckley (Rockhampton), Jarrod Carseldine (Brisbane), Oliver Crane (Tweed Border), Justin Douglas (Townsville), Matthew Finn (Toowoomba), Michael Francis (Brisbane), Ashley Hennegan (Mackay), Tim Howard (Brisbane), Adam Imer (Gold Coast), Shane Kenny (Brisbane), Mark Knowles (Rockhampton), Joshua Mynott (Maryborough), Mitchel Nicholson (Townsville), Hugh Pembroke (Brisbane), Matthew Pembroke (Brisbane), Corey Piggin (Gold Coast), Kane Posselt (Cairns), Aidan Rintala (Townsville), Joel Rintala (Townsville), Ian Schulz (Sunshine Coast), Matthew Shaw (Brisbane), Nathan Smith (Ipswich), Matthew Swann (Mackay), Jared Taylor (Brisbane), Aaron Weiss (Gold Coast), Corey Weyer (Gold Coast), Jake Whetton (Brisbane), Blake Wotherspoon (Tweed Border), Dylan Wotherspoon (Tweed Border)

Tassie Tigers

Kieron Arthur (NWG), Benji Austin (NWG), Hayden Beltz (DiamondBacks), Joshua Beltz (DiamondBacks), James Bourke (NWG), Tim Deavin (Derwent / Tamar Churinga), James Dick (University), Jeremy Edwards (OHA), Gobindraj Gill (NWG), Nicholas Leslie (OHA), Kurt Mackey (OHA), Samuel McCambridge (OHA), Linden McCarthy (Derwent), Sam McCulloch (Canterbury), Eddie Ockenden (NWG), Jayden Pearson (University), Benjamin Read (University), Billy Shaw (Derwent), Oliver Smith (OHA), Jack Welch (DiamondBacks), Alistair White (NWG), Grant Woodcock (DiamondBacks)

WA Thundersticks

Tim Andrew (UWA), Graham Begbie (YMCC), Simon Benetti (Westside Wolves), Joshua Bowen (Old Haleians), William Byas (Westside Wolves), James Collins (Victoria Park Xavier), Jyi Connolly (YMCC), Bryn de Bes (WASPS), Matthew Fisher (UWA), Liam Flynn (Old Haleians), Jason Gabriel (Victoria Park Xavier), Dane Gavranich (Westside Wolves), Timothy Geers (Melville City), Frazer Gerrard (UWA), Brandon Gibbs (WASPS), Coby Green (UWA), Jake Harvie (Westside Wolves), Joe Kenny (Westside Wolves), Brayden King (Old Haleians), Tyler Lovell (YMCC), George McGeoch (Westside Wolves), Trent Mitton (WASPS), Alistair Murray (Westside Wolves), Marshall Puzey (YMCC), Alec Rasmussen (Old Haleians), Daniel Rayney (WASPS), Ben Rennie (Old Haleians), James Richardson (WASPS), Marshall Roberts (YMCC), Daniel Robertson (Old Aquinians), Tom Wickham (UWA), Aran Zalewski (Old Aquinians)




Confirmed Women's AHL Squads So Far:

Canberra Strikers

Bella Apps (OCHC), Catriona Bailey-Price (OCHC), Lucy Balfour (OCHC), Edwina Bone (UCHC), Meredith Bone (UCHC), Kalindi Commerford (TVHC), Talia Constance (North Canberra Eagles), Ashleigh Deacon (TVHC), Ainslee Deeth (St. Patrick's), Emma de Kiefte (UCHC), Sassie Economos (TVHC), Mikayla Evans (St. Patrick's), Naomi Evans (St. Patrick's), Talei Forrest (TVHC), Sophie Gaughan (TVHC), Kate Gilmore (OCHC), Laura Gray (TVHC), Stef Kindon (St. Patrick's), Rebecca Lee (TVHC), Emma Lomas (ANUWHC), Olivia Martin (UCHC), Beckie Middleton (England), Millie Monfries (St. Patrick's), Aleisha Price (St. Patrick's), Molly Rasmussen (United), Grace Ronnfeldt (Albury-Wodonga), Jessica Smith (ANUWHC), Peta Sutherland (ANUWHC), Tina Taseska (Central), Taylor Thomson (St. Patrick's), Ellie Toole (TVHC), Shelley Watson (ANUWHC), Sarah White (TVHC)

NSW Arrows

Alice Arnott (Tamworth), Jocelyn Bartram (Sydney East), Morgan Blamey (North West Sydney), Tamsin Bunt (Bathurst), Lisa Farrell (Metropolitan South West), Anna Flanagan (Northern Sydney and Beaches), Andrea Gillard (Lithgow), Kate Hanna (Northern Sydney and Beaches), Greta Hayes (North West Sydney), Rene Hunter (Lithgow), Kate Jenner (Newcastle), Sarah Johnston (Northern Sydney and Beaches), Georgina Morgan (Tamworth), Kaitlin Nobbs (Sydney East), Jessica Parr (Newcastle),  , Mikaela Patterson (North West Sydney), Makaela Potts (Metropolitan South West), Courtney Schonell (Metropolitan South West), Emma Scriven (North West Sydney), Molly Simpson (Northern Sydney and Beaches), Emily Smith (Goulburn), Maddison Smith (Illawarra South Coast), Emma Spinks (Central Coast), Grace Stewart (Illawarra South Coast), Jessica Watterson (Bathurst), Mariah Williams (Parkes), Abby Wilson (Lithgow)

Queensland Scorchers

Hannah Astbury (Townsville), Tiana Barrett (Toowoomba), Emily Burrows (Brisbane), Kirstin Dwyer (Mackay), Layla Eleison (Ipswich), Jade Emblem (Toowoomba), Aleesa Ferguson (Brisbane), Ashlea Fey (Sunshine Coast), Madison Fitzpatrick (Tweed Border), Savannah Fitzpatrick (Tweed Border), Morgan Gallagher (Brisbane), Rebecca Greiner (Bundaberg), Georgia Hillas (Brisbane), Jordyn Holzberger (Ipswich), Madeline James (Gold Coast), Jodie Kenny (Sunshine Coast), Stephanie Kershaw (Townsville), Kelsey Linton (Sunshine Coast), Ambrosia Malone (Gold Coast), Britt Noffke (Bundaberg), Tegan Richards (Gold Coast), Natarlia Smith (Townsville), Jamie Stone (Gold Coast), Renee Taylor (Brisbane), Britt Wilkinson (Brisbane)

Tassie Van Demons

Ashleigh Arthur (NWG), Phillida Bridley (DiamondBacks), Maddison Curtis (Canterbury), Evelyn Dalton (OHA), Jean Flanagan (OHA), Nicole Geeves (DiamondBacks), Julia Gunn (OHA), Ruby-Rose Haywood (DiamondBacks), Madeleine Hinton (University), Louisa Jacobson (NWG), Jemma Kenworthy (Canterbury), Samantha Lawrence (West Devonport), Sarah McCambridge (OHA), Sofie McLeod (OHA), Blair Patten (Canterbury), Nellie Paynter (OHA), Jessica Tremayne (Derwent), Eliza Westland (Derwent)

WA Diamonds

Sienna Archer (Curtin University), Danielle Bestall (Victoria Park Xavier), Roos Broek (Curtin University), Jemma Buckley (Westside Wolves), Aimee Clark (Melville City), Sara Foster (UWA), Rachel Frusher (Victoria Park Xavier), Annie Gibbs (Curtin University), Erin Judd (Melville City), Line Malan (Old Haleians), Phillipa Morgan (UWA), Caitlin Pascov (UWA), Candyce Peacock (Westside Wolves), Aleisha Power (Curtin University), Jolie Sertorio (Suburban Lions), Emma Reid (Victoria Park Xavier), Renee Rockliff (Victoria Park Xavier), Sage Rogers-Uff (Westside Wolves), Kathryn Slattery (WASPS), Penny Squibb (Curtin University), Shanea Tonkin (North Coast Raiders)

Hockey Australia media release


---

Nairobi Simba, USIU gather pace

By AYUMBA AYODI



Sikh Union's Inderjit Matharu (left) dribbles past Strathmore University's Ian Shama during their Kenya Hockey Union men's Premier League match on August 5, 2018 at City Park Stadium. PHOTO | CHRIS OMOLLO |  NATION MEDIA GROUP

Nairobi Simba and United States International University-Africa (USIU-A) claimed vital victories on Sunday at City Park Stadium, Nairobi, to improve in their men's hockey Premier League standings.

Harvir Gataure smashed in a deflection in the 41st minute to spur the 2012 champions Nairobi Simba to a 1-0 victory against three-time champions Strathmore University, while USIU-A needed Lawrence Makhatsa's 25th minute goal to stun Wazalendo 1-0.

USIU-A and Simba's victories saw them improve by one place in the standings to fifth and sixth places with 17 and 16 points respectively.

USIU-A now have five wins, two draws and six losses, while Simba have now succeeded in five outings, but have drawn once and also lost six times.

Strathmore slumped two places to seventh with 16 points, having won five matches and lost a similar number of matches.

Wazalendo might have lost for the fifth time this season, but stayed third in the 12 teams log with 19 points, having won six matches and drawn once.

Defending champion Kenya Police and Butali Sugar Warriors, the 2016 champions, could be sharing the top spot spot with 27 points each, but Butali are top courtesy of a superior goal difference.

The two teams, who are on nine wins and a loss each, have a match each to complete their first leg matches. Butali are up against Greensharks, with Police facing Nakuru in their next round of matches.

Gataure, Francis Esikuri, Allan Iningu and Davis Wanangwe had a share of missed opportunities that could have put Simba in front in the first and second quarters.

On the other hand, Alpha Wambusi and Derrick Musuya also blew up golden chances that could have seen them make the difference for the university lads.

However, the only moment of the match came in the third quarter when Wanangwe sliced through the midfield for a smashing shot that was deflected, before Gataure wasted no time to place it home.

Strathmore's skipper Paul Omariba failed to utilise a penalty corner in the last quarter, what with Simba's coach-cum-player, the legendary Inderjit Matharu, also failing to convert a penalty corner.

"We are now trying to play catch up after losing many points in the first leg. We should have been in top four now, but we encountered many setbacks including injuries," said Matharu, adding that they hope to continue to refine and sharpen their attack that has been blunt.

Strathmore coach Meshak Senge rued the absence of his key striker Festus Onyango, who is out with an injury. "His absence clearly manifested in our attack that lacked the oomph," said Senge.

"We badly needed the three points but we live to fight another day."

Daily Nation