All the news for Saturday 14 April 2018

XXI Commonwealth Games - Day 10
Gold Coast (AUS) 5 - 14 Apr 2018

Results Saturday 14 April 2018 (GMT +10)
Women Bronze Medal England - India 6 -  0
Women Gold Medal New Zealand - Australia 4 - 1 
Men Bronze Medal India - England 2 - 1
Men Gold Medal New Zealand - Australia 2 - 0

Final Placings
Men
1. Australia
2. New Zealand
3. England
4. India
5. Malaysia
6. Scotland
7. Pakistan
8. Canada
9. Wales
10. South Africa
Women
1. New Zealand
2. Australia 
3. England
4. India
5. Canada
6. South Africa
7. Malaysia
8. Scotland
9. Wales
10 Ghana
---

New Zealand women win historic gold at Gold Coast 2018 Commonwealth Games




New Zealand have won their first ever Commonwealth Games gold medal as they defeated Australia in the Gold Coast 2018 women's hockey.

As a result, Australia picked up silver while England won bronze as they beat India.

In the final, New Zealand took the lead through Shiloh Gloyn in the 28th minute when she smashed a shot beyond goalkeeper Rachael Lynch to give the Black Sticks a 1-0 advantage going into the half-time break.

Whilst Australia had their chances, New Zealand continued to dominate and in the third quarter, penalty corner conversions from Rose Keddell and Olivia Merry put them 3-0 ahead.

Australia's Hockeyroos battled hard and made a brief comeback through a Jodie Kenny drag flick in the 50th minute but it was to be New Zealand's day. Anita McLaren sealed their historic win in the 56th minute through a penalty corner to make the final score 4-1.

After their win, Head Coach Mark Hager said: "This means a hell of a lot to our group. We have found ourselves in crunch matches before but I'm just so pleased we were able to finally get across the line and win gold. The feeling is fantastic, this is a team I absolutely love being a part of and I'm proud of every single one of them."

"These players don't make a lot of money but put in a tremendous amount of time and effort, mostly after hours, to get to where they are, so this is thoroughly deserved."
Mark Hager, New Zealand Head Coach

Speaking about their loss, Australia's Savannah Fitzpatrick said: "I am pretty devastated. Silver seems worse than bronze sometimes. We weren't on the same page for a period and that's when they hurt us. We were trying to work really hard but it was frantic energy not positive energy."

In the bronze medal match, Sophie Bray was a hat-trick hero for England as they defeated Asian champions India to secure their sixth consecutive Commonwealth Games medal.

Both teams took time to get into this match and although India challenged England goalkeeper Maddie Hinch on several occasions, England showed their ruthlessness in front of goal.

England pulled ahead just before half-time through Hollie Pearne-Webb. From a penalty corner she misjudged the trap but fortunately had enough time to make the strike herself, which to her delight ended up in the back of India's net.

After the break England's Sophie Bray lit up the Gold Coast Hockey Centre, her first goal the best as she perfectly executed a backhand strike into the top corner in the 43rd minute. She then got her second of the day six minutes later.

Laura Unsworth made it 4-0 as she scored from a tight angle before Bray completed her hat-trick with only four minutes remaining.

The three-goal hero had one last influence on the match as she set up her captain Alex Danson for England's sixth.

That result was the 10th consecutive year the women have medalled at a major hockey event as either England or Great Britain.

Afterwards, England captain Alex Danson said: "It was a resilient performance. We've got a very big, very talented squad. It's a fantastic way to end this event. It's a relief when you've done the work at home, and you've got the tactics and the ability as individuals in the team to play. It's all about the mindset, how you feel going into the match. How you talk, how you think, and how you stand."

RESULTS
Women
Gold: Australia 1, New Zealand 4.
Bronze: England 6, India 0.

FIH site


---

Kiwi Women create history on the Gold Coast



Photo: www.photosport.nz

The New Zealand Women have written a new page in the history books after dominating Australia 4-1 to win their first ever Commonwealth Games gold medal.

Shiloh Gloyn electrified the vocal Kiwi fans in the 28th minute when she hammered a forehand shot past goalkeeper Rachael Lynch, giving New Zealand a 1-0 halftime lead.

New Zealand piled on pressure in the third quarter and opened a 3-0 buffer following penalty corner strikes from Rose Keddell and Olivia Merry.

Australia pegged a goal back through a Jodie Kenny flick 10 minutes from fulltime, but the chance of a home side comeback was snuffed out by terrific defence.

Anita McLaren sealed the famous result in the 56th minute when she sent home a trademark flick from another penalty corner.

Head coach Mark Hager was emotional speaking about the victory after the match, with the gold medal also completing the set for veterans Stacey Michelsen and Anita McLaren who both won silver in Delhi 2010 and bronze in Glasgow 2014.

"This means a hell of a lot to our group. We have found ourselves in crunch matches before but I'm just so pleased we were able to finally get across the line and win gold," Hager said.

"The feeling is fantastic, this is a team I absolutely love being a part of and I'm proud of every single one of them.

"These players don't make a lot of money but put in a tremendous amount of time and effort, mostly after hours, to get to where they are so this is thoroughly deserved.

"New Zealand gave me the chance 10 years ago to coach a national team and I'm so proud and privileged to have so many great players in the group and to be standing here with them now."

New Zealand 4: (Shiloh Gloyn 28', Rose Keddell 34', Olivia Merry 42', Anita McLaren 56')
Australia 1: (Jodie Kenny 50')
Halftime: New Zealand 1-0

Hockey New Zealand Media release


---

NZ Topple Hockeyroos For Commonwealth Games Gold

Ben Somerford




The Hockeyroos have missed out in their bid for a fourth consecutive Commonwealth Games gold medal after going down 4-1 to New Zealand in Saturday afternoon's final at Gold Coast Hockey Centre.

Australia claimed the silver medal for the first time, having claimed four of the five gold medals since hockey was admitted as a Commonwealth Games sport in 1998.

Fourth-ranked New Zealand proved too strong and experienced, although it took them until late in the first half, with goalkeeper Rachael Lynch keeping them at bay, to break through via Shiloh Gloyn's goal.

The Black Sticks broke the game open in the third period with goals from Rose Keddell and Olivia Merry from penalty corners, before Jodie Kenny's 50th minute drag flick gave Australia late hope.

The Hockeyroos replaced goalkeeper Lynch with an outfield player with nine minutes to play in a bad to find a way back, but New Zealand added a fourth from Anita McLaren to seal their maiden Commonwealth Games women's hockey gold.

New Zealand finished the game with a 57 per cent possession dominance and won nine penalty corners compared to Australia's three, converting three of them.

Australia started well but it was New Zealand with the chances as Lynch came to the Hockeyroos rescue on numerous occasions.

In the third minute, Lynch kicked away a low McLaren diagonal cross-cum-shot, while Gloyn fired wide after the ball fell into her path at close range. Lynch also scrambled away a close-range 12th minute chance to Samantha Harrison.

In the second period, Lynch had to be alert to thwart the danger from McLaren initially, before a brave Ashlea Fey out-bodied Olivia Merry to clear.

The Hockeyroos survived a few penalty corners before Savannah Fitzpatrick had a great chance when found unmarked inside the circle but Black Sticks keeper Sally Rutherford smothered her shot.

Madi Ratcliffe fired a tomahawk over the top as Australia started to create, before Lynch did well intercept down the other end with Madison Doar waiting to pounce on a good chance.

Fitzpatrick had another chance denied after Jane Claxton's drive in the 27th minute.

The Black Sticks then took the lead when Gloyn swooped on Karri McMahon's mistrap, firing low into the backboard past Lynch. The goal was the first Australia had conceded all games.

New Zealand captain Stacey Michelsen had the first of the chances in the second half, forcing a high save from Lynch.

The Black Sticks doubled their lead in the 34th minute when Rose Keddell fired home from a rebound after Merry's effort from a penalty corner. Australia desperately referred the goal but it stood.

New Zealand added a third in the 42nd minute, again from a penalty corner, with Merry lashing in a powerful shot past the diving Lynch.

The visitors pushed for more goals early in the final period, with Smith searching for Gloyn in the 46th minute at the near post.

The Hockeyroos won their second penalty corner for the match in the 49th minute, with Jodie Kenny forcing a save from Rutherford.

However, Australia won another penalty corner barely 30 seconds later, which Kenny rocketed into the backboard for her fifth goal of the 2018 Commonwealth Games to give the hosts hope.

With nine minutes to play, Australia replaced goalkeeper Lynch with an outfield player in a bid to find two more goals, although they were almost immediately found out when Harrison flashed wide.

Australia pushed, winning another penalty corner, but New Zealand sealed the win with five minutes to play through McLaren's drag flick.

Australia 1 (Kenny 50')
New Zealand 4 (Gloyn 28', Keddell 34', Merry 42', McLaren 55')

Hockey Australia media release


---

Gaudoin: Hockeyroos Must Learn From This For World Cup

Ben Somerford




Hockeyroos coach Paul Gaudoin wants his side to learn the lessons of their 2018 Commonwealth Games final defeat for their betterment ahead of the 2018 World Cup and 2020 Tokyo Olympics.

Australia will compete at the World Cup in London in July and August, having lost 4-1 to New Zealand in the Commonwealth Games gold medal match on Saturday afternoon.

Gaudoin said strides had been made during the Hockeyroos' Gold Coast campaign but implored them to learn from the tournament.

"I'm bitterly disappointed," Gaudoin said. "I don't think we came and played the game that we wanted today.

"New Zealand came and showed their experience in finals more than we did.

"What we want to do is make sure we use what happened today as an opportunity to learn and improve in our lead-up to the World Cup in July and also Tokyo in two years' time.

"We've got a relatively young group who'll learn a lot from this.

"I hope it sticks in their minds as to what it feels like because they have to expect and anticipate that all the time."

The Hockeyroos group has evolved greatly since the 2016 Rio Olympics and the side missed the World League Final in New Zealand last year, so they're short of big-game experience and the pressure which comes with that.

"We want them to understand it's not good enough," Gaudoin said.

"We don't want to be second best and we want to be the winners on the podium.

"That's why this is a great opportunity to play in front of a packed house in a pressured game which is what this was, as was the semi-final.

"We want to be able to use this to our advantage next time."

Hockeyroos skipper Emily Smith echoed Gaudoin's sentiment, insisting that they weren't satisfied with a silver medal.

"I'm extremely disappointed," Crookwell product Smith said. "There's a lot to learn coming out of that final.

"It's something we'll have to make sure we use this opportunity. It becomes an opportunity to improve. It's a huge motivation.

"To have this silver medal, while it's pretty and looks awesome, it would've been much nicer if it was gold.

"This will motivate us over the next few months leading up until the World Cup."

Hockey Australia media release


---

Black Sticks women claim first ever Commonwealth Games gold

By Andrew Alderson

New Zealand women's hockey fans have been rewarded with a pioneering moment on the Gold Coast.

The Black Sticks created history by securing a 4-1 defeat of Australia to win gold for the first time in six Commonwealth Games attempts.

Euphoria flooded out of the dug-out as the final hooter brought a moment of unshackled triumph.

Years of "almosts" and "so closes" were transplanted by a confidence which stunned their opponents into submission in front of a roaring bipartisan crowd that included Prime Minister Jacinda Ardern.

Late in the third quarter, Split Enz' History Never Repeats boomed over the public address system as New Zealand went 3-0 up. That proved a prophetic anthem. Australia, a team which had won the title on four of the five previous occasions, were bound for defeat.

"Ki-Wi, Ki-Wi," reverberated around the stadium as the clocked ticked.

There was an outpouring of joy atop the dais as the team belted out "God of Nations" for the first time in such circumstances.

"I said to the girls, this is the most excited I've been for a game of hockey," captain Stacey Michelsen beamed post-match.

"We came out with a huge amount of energy and continued that through the game.

"To score early through Shiloh [Gloyn] was amazing, but to continue that flow was something we don't do often. It was pleasing to keep that roll on."

The goal-scorers seized their moment on the big stage.

After a scoreless first quarter, Gloyn smashed a field goal from out in front three minutes before halftime. Australian goal keeper Rachael Lynch had no answer as the ball cannoned into the right of the net.

The Black Sticks followed up with penalty corners in the 34th, 42nd and 56th minutes to Rose Keddell, Olivia Merry and Anita McLaren as they put the match result in a vice.

However, the work of goalkeeper Sally Rutherford and her defence force, conceding two goals across the tournament, deserved just as much glory.

"We've got quite a good senior group around the back," Michelsen said.

"I think it's so pleasing to have them set us up with good positions, going forward on the ball.

"And with Sally Rutherford and Grace O'Hanlon in goal, we were solid."

"They [Rutherford and O'Hanlon] were fantastic the whole series," added coach Mark Hager.

"Again today, Sally had some early shots and made good saves. Grace did well in the shoot-out to get us here."

Momentum carried over from the semi-final duel against England.

The penalty-takers Michelsen and Samantha Harrison, and the force field of O'Hanlon must also be lauded for dragging them through.

Breaking a jinx of eight failed shoot-outs saw them vault into a new age of self-assurance.

What this means for the resurgence of hockey in New Zealand over the coming years is anybody's guess.

The sport debuted at Kuala Lumpur in 1998, and New Zealand have endured some devastating moments. The 4-2 penalty strokes loss in Delhi after a 2-2 draw to Australia in the final was probably the worst, something current team members Michelsen, McLaren, Ella Gunson and Harrison will no doubt remember.

"Anita and I started playing together in 2009," Michelsen said.

"We joke about being 'old gals' now, but it's been amazing to have her alongside me when we had the disappointment of Delhi and Glasgow.

"That's one of the things I came back for - unfinished business," McLaren added, after taking time out post-Rio.

"I haven't been on top of the podium, there's always a lot of fear behind [getting] fourth for me. This is amazing."

Entering the tournament, the women had a record which included silver at Delhi in 2010 and bronze at Kuala Lumpur in 1998 and Glasgow in 2014.

Coach Mark Hager sought a complete set of gold, silver and bronze medals since his tenure began in January 2009.

"I'm pretty sure we'll go okay if we get our defence right," he said at the pre-tournament media conference.

Those words echoed in the final.

"The last few tournaments we've leaked a few too many goals and haven't put on enough scoreboard pressure. We also want to improve our penalty corner and goal scoring conversion rates."

The team were as good as his words.

The New Zealand Herald


---

Black Sticks win gold in women's hockey at Commonwealth Games video

New Zealand Black sticks smash Australia to win gold

IAN ANDERSON ON THE GOLD COAST



Coach Mark Hager and the Black Sticks enjoy winning gold over Australia. GETTY IMAGES

No more heartbreak.

That was the result of the New Zealand women's hockey team deservedly grabbing Commonwealth Games gold with a 4-1 win over Australia at the Gold Coast Hockey Centre on Saturday.

Shiloh Gloyn, Rose Keddell and Olivia Merry netted as the visitors dominated the hosts, with plenty of support in the crowd for the Kiwis. Jodie Kenny pulled a goal back for Australia from a penalty corner with 11 minutes to play but New Zealand clinched it late - after Australian had removed their goalkeeper for an outfield player - when Anita McLaren's penalty corner took a deflection on the way in.



Shiloh Gloyn of New Zealand is congratulated by her teammates after scoring the first goal during the women's gold medal match against Australia at the Gold Coast 2018 Commonwealth Games. GETTY IMAGES

The New Zealand women's side had never won a Commonwealth Games hockey gold medal before Saturday. Over the past five Games, the Black Sticks had collected one silver (at Delhi in 2010) and two bronze after making the medal round each time.

"It's been a long time coming and I know I've been on the receiving end of some pretty terrible heartbreaks," Merry said.

Australian-born coach Mark Hager reiterated that feeling.



Olivia Merry rejoices after netting New Zealand's third. GETTY IMAGES

"To get a reward after a lot of heartache we've had over the last 10 years - two Olympic fourths, Commonwealth Games, World League finals - we haven't quite been able to get over the line.

"It's just pleasing for the girls that we've finally done that."

In a nervy first quarter, the visitors edged it and could have led but Gloyn's shot on turn early didn't find the net.

Gloyn made no mistake just before halftime though when she robbed a defender off the ball and fired her shot low, hard and to the left of Australian goalkeeper Rachael Lynch.

Keddell doubled the lead with a diving effort in the third quarter following a penalty corner and Merry put the Kiwis out of reach when she blasted in from another penalty corner with less than four minutes remaining in the period.

"Incredible ... indescribable," Merry said.

"To not only beat them 1-0 but to beat them 4-1 - they're a quality side. Everything worked from the get-go today.

"I don't know if it's going to sink in for a wee while yet."

Hager said he was surprised by the margin and relative ease of victory after shootout goals from Sam Harrison and captain Stacey Michelsen and goalkeeping heroics from Grace O'Hanlon took NZ into the final courtesy of a dramatic win over England in their semifinal on Thursday.



Rose Keddell is pumped after scoring New Zealand's second. GETTY IMAGES

"I thought we started really well, we moved the ball around really well, we created some opportunities early," Hager said.

"Rachael Lynch I thought kept Aussie in the game early on and had an outstanding game.

"We spoke about relaxing inside the circle - particularly Shiloh - I felt she rushed the first couple of shots - and then she went out there and got us 1-0 up, which was briliant.

"Then I think the girls felt 'yep, we're confident, we can do this'.

"It's the monkey off the back."

New Zealand will also contest a trans-Tasman final tonight when the men face Australia at the same venue, starting at 11.15pm NZ time.

Stuff


---

Incredible Bray inspires England to Gold Coast bronze



Bray scores against India CWG 2018

Sophie Bray was England's hero as they won their sixth consecutive Commonwealth Games medal, securing bronze with a crushing victory over India.

The Kampong forward scored a 13-minute hat-trick – including an outrageous 43rd minute effort from the edge of the circle –while also pulling off two brilliant blocks on the line from penalty corners.

Having struggled for rhythm early on – with Maddie Hinch making a number of crucial saves – England produced a second half masterclass, with Laura Unsworth and Alex Danson also finding the net late on after Hollie Pearne-Webb opened the scoring shortly before half-time.

That result gave Team England their 100th medal of Gold Coast 2018 while also ensuring this is the 10th consecutive year the women have medalled at a major tournament as England or Great Britain.

Following on from their semi-final shoouout defeat to New Zealand, England began this game slowly with Gurjit Kaur denied by Hinch and then Emily Defroand from consecutive eighth minute corners.

At the other end England's only chance of note early on was an Unsworth corner which was saved by Savita, who then showed smart reflexes to prevent a diving Ellie Rayer from scoring in the 17th minute.

Ten minutes later England opened the scoring as Pearne-Webb recovered well from an initial mistrap to smash the ball beyond Savita and give her side the all-important half-time lead.

It was India who started the second half on top though with three corners in quick succession, only for Bray to block Monika's poke towards goal after Hinch saved Rani's strike from the first before Ellie Watton read the third to perfection, intercepting the ball before the Indian captain could strike.

Hinch then produced two crucial saves in just over a minute to deny Vandana Katariya and Lalremsiami to preserve England's lead, while at the other end Unsworth flashed a shot wide after being found by a beautiful Pearne-Webb pass on the diagonal.

Bray then took the game by the scruff of the neck as she produced a wondrous backhand strike, lifting the ball into the top corner, to double England's lead before grabbing her second to secure the win in the 49th minute, with another fantastic goal-line clearance coming in between.

Unsworth then classily swept the ball past Savita from a tight angle to make it four before 27-year-old Bray completed her hat-trick with four minutes remaining.

There was still time for her to turn provider as well as she set up captain Alex Danson for England's sixth to cap off an imperious performance, one which will provide them with the perfect platform to build on ahead of this summer's Vitality Hockey Women's World Cup.

England 6 (1)
Pearne-Webb (PC, 27); Bray (FG, 43; FG, 49; FG, 56); Unsworth (FG, 55); Danson (FG, 57)

India 0 (0)

England Starting XI: Hinch (GK), Ansley, Balsdon, Toman, Pearne-Webb, Unsworth, Haycroft, Townsend, Watton, Bray, Danson (C)

Subs: Tennant (GK), Petty, Lane, Defroand, Martin, Hunter, Rayer

England Hockey Board Media release


---

England women blitz to bronze against hapless India

By Rod Gilmour on the Gold Coast




Thinking Thursdays? Call this Smashing Saturday as England women finished their Commonwealth campaign with a superb bronze medal, a 6-0 thrashing against India.

Sophie Bray, England's standout forward, was in electric form in the circle as the 27-year-old notched a 13-minute hat-trick against an increasingly-tired Indian outfit.

There were goals too for captain Alex Danson and Laura Unsworth, while England even managed to notch their first penalty corner in 26 attempts when Hollie Pearne-Webb opened the scoring before the break.

"It was a resilient performance," said Danson, who is now three goals behind England's record scorer Marjorie Pollard (116).

"We've got a very big, very talented squad. It's a fantastic way to end this performance. It's a relief when you've done the work at home, and you've got the tactics and the ability as individuals in the team to play.

"It's all about the mindset, how you feel going into the match. How you talk, how you think, and how you stand."

The Olympic champions' attacking prowess may have deserted them against New Zealand but in a match which marked England's 100th medal of the Games, this milestone will be remembered for Bray's killer instinct display.

The Kampong forward's best moment came in the third quarter when she finished a fine triangle move before unleashing an unstoppable reverse stick strike.

At the other end, Maddie Hinch was called into action five times – including a brace of penalty corner stops – before Amy Tennant was given a late chance in goal with bronze won.

From bronze in last summer's EuroHockey Championships to the same podium finish here, England's rebuilt squad are beginning to click. Concussions and injuries did blight their campaign but, as the old hockey adage goes, it was all about England winning their last game.

"As a defender I don't score many goals so it's quite nice," said Pearne-Webb. "But in our team it doesn't matter who scores the goals as long as we score. We all came out to make sure we weren't going home without a medal."

Indian captain Rani said her side would have to work on defensive frailties ahead of the World Cup.

She said: "We are playing England in our first game and we need to work towards that.

"We cannot afford to give them soft goals like we did today and we need to make the most of the chances that we are creating."

The Hockey Paper


---

England thrash India to win hockey bronze

England beat India 6-0 to claim bronze in the women's hockey - the country's 100th medal at this Commonwealth Games.

Sophie Bray scored a hat-trick after Hollie Pearne-Webb had put England ahead, with Alex Danson and Laura Unsworth completing the rout.

The victory ensured England bounced back from their semi-final shootout loss to New Zealand.

England, who lost 2-1 to India in the group stage, have won a medal at every Games since hockey's 1998 introduction.

Captain Danson said: "It was a resilient performance. It's a relief when you've done the work at home, and you've got the tactics and the ability.

"This performance shows the grit that we're about. Sport is challenging, sport is tough. The best athletes are the most resilient, that's why I am so proud of this team. "

New Zealand beat Australia 4-1 in the gold medal match for their first Commonwealth title.

BBC Sport


---

England humiliate India 6-0 to take bronze in women's hockey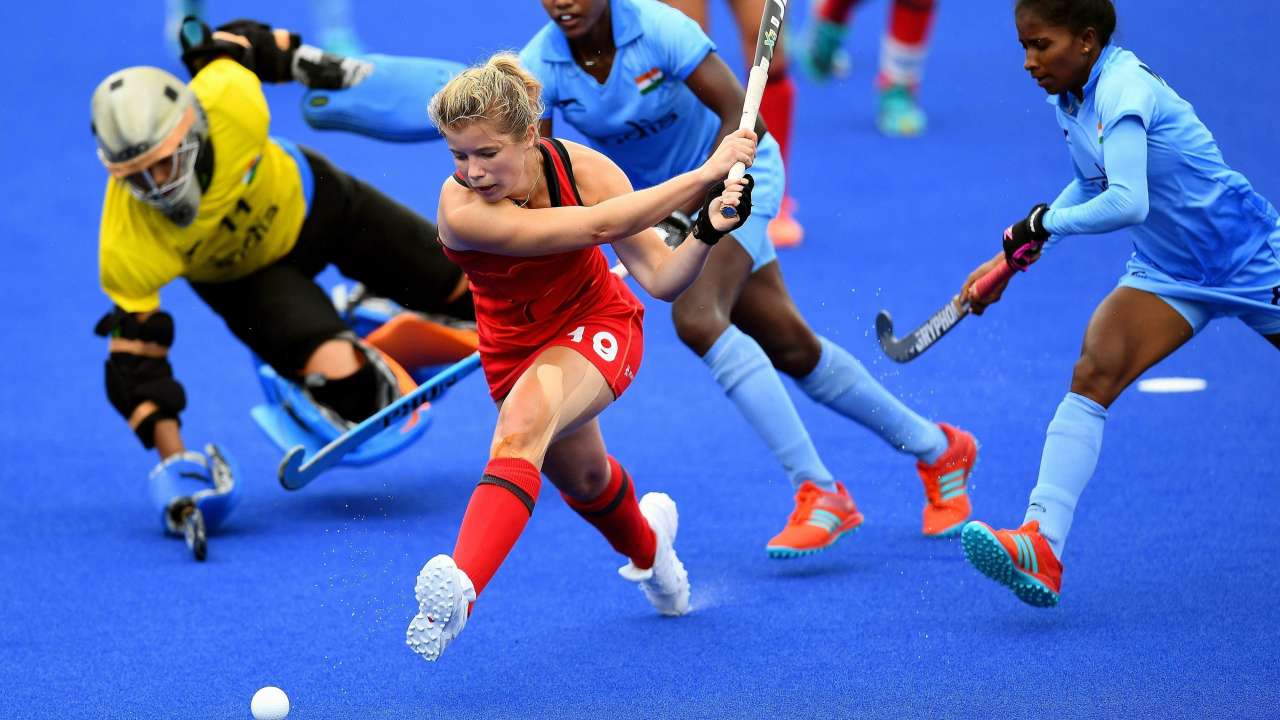 England's Sophie Bray scores against India on Saturday , AFP

Indian women hockey team suffered a humiliating 0-6 defeat in the bronze medal match against England to finish fourth at the Commonwealth Games, in Gold Coast, Australia, on Saturday.

India could convert none of the five penalty corners and their defence line-up cracked under pressure in the final quarter to go out of the tournament on an embarrassing note. India had beaten England 2-1 in Pool matches but was outclassed on Saturday.

It is now third straight time that Indian women's hockey team will return empty-handed from the Games as the last time it stood on podium was in 2006 when it won a silver.

Sophie Gray stood out with her stellar show as she steered her side to win with her three field goals while Laura Unsworth, Hollie Pearne-Webb and captain Alexandra Danson struck a goal each in England's commendable victory.

Navneet Kaur earned India's first penalty corner in the eighth minute. However, it resulted in causing injury to Vandana Kataria as Gurjit Kaur's furious hit rebounded off England custodian's pads and hit Vandana on her forehead. The freak injury forced Vandana out of the field. India were given another penalty corner but the England defence was solid.

England captain Danson earned her team's penalty corner, three minutes later, but Savita stood like a rock in front of the goalpost, not allowing the ball to pass through.

Both team played a measured game with a mix of attack and defence and the second quarter also looked like going barren but moments before the break, India conceded a penalty corner and Hollie Pearne-Webb put England ahead by beating Indian goalkeeper with her hit which went past Savita.

Vandana took the field with bandage on her forehead and immediately made an impact as India got three back-to-back penalty corners. However, India could convert none as England goalkeeper Madeleine Hinch and defence line foiled all attempts. Indian players lacked variation and co-ordination to pull off the equaliser.

England too got its third PC soon but Hanah Martin could not beat Savita this time. A defense lapse could have cost India but Laura Unsworth hit wide off a diagonal pass. Just two minutes were left in the third quarter when Sophie Bray found the back of the net with a stunning reverse hit from top of the striking circle, doubling the lead for England.

India had no choice but to go all out and succeeded in getting another penalty corner in the first minute of the final quarter but conversion remained an issue. Sophie, though, was yet again bang on target as she consolidated her team's lead. Sophie trapped the ball which came from Hanah Martin's stick and beat three Indian defenders to slam it home. Laura Unsworth, Sophie and Danson then put it beyond India by pumping in three quick goals.

Daily News & Analysis


---

Australia and New Zealand men to play for gold



Australia will play rivals New Zealand for gold Photo: FIH/WSP

Australia will play New Zealand for the men's hockey gold medals at the Gold Coast 2018 Commonwealth Games after both nations won their Semi-Finals tonight.

New Zealand defeated India 3-2 whilst Australia beat England 2-1 in the evening matches.

The first Semi-Final saw New Zealand take on Asian champions India and it was the Black Sticks who went ahead after seven minutes through a powerful Hugo Inglis reverse-shot.

New Zealand doubled their lead five minutes later when Stephen Jenness slipped a back-stick flick through the legs of India goalkeeper PR Sreejesh.

India pulled a goal back just seconds from half-time from a Harmanpreet Singh penalty stroke before Marcus Child gave New Zealand some breathing room midway through the third quarter, scoring from a penalty corner deflection to make it 3-1.

India were not out of it yet though and continued to seek ways to claw their way back into the game. Harmanpreet Singh, who had just come back on as a kicking-back, scored a penalty corner flick in the 56th minute which made for a nervy end to the game.

New Zealand held on to win though and book their place in their first Commonwealth Games final since Manchester 2002 where they won a silver medal.

Afterwards, New Zealand Head Coach Darren Smith said: "For most of the game we had a two goal lead which is really pleasing. India put us under pressure, especially in the third quarter, but I thought we handled it really well and then scored again. India came at us strongly but they were down by two and had nothing to lose. I'm really impressed with the way we absorbed everything they threw at us."

In the second men's Semi-Final, Trent Mitton scored a double in Australia's win against England.

"In the back of everyone's minds it's for (Mark) Knowlesy as well. We don't talk about it too much but I think everyone knows it's his last game - home crowd, gold medal match - it's pretty special."
Trent Mitton, Australia

It looked as though it could have been another Aussie goal blitz as Mitton shot between England keeper George Pinner's legs after only 26 seconds.

Following that early shock England composed themselves, grew in confidence and eventually levelled in the third period as Ian Sloan slotted home from the back post in the 37th minute.

Australia's Kookaburras persevered however and Mitton scored his second of the night, from a penalty corner, with only ten minutes on the clock remaining, his sixth goal in only five games.

Australia then came under intense pressure from England after yellow cards to Daniel Beale and Tom Craig but clung on to take the win and set up a gold medal match against their Trans-Tasman rivals.

Speaking afterwards about the gold medal match, Australia's goal hero Trent Mitton said: "The chance is everything. Everyone works to be in that gold medal match on the last day. In the back of everyone's minds it's for (Mark) Knowlesy as well. We don't talk about it too much but I think everyone knows it's his last game - home crowd, gold medal match - it's pretty special."

As a result of the men's Semi-Finals, Australia will play New Zealand in both the men's and women's gold medal matches, the women's taking place at 12:45 and the men's at 21:15 (all times local). In similar fashion, England will play India for bronze in both events, the women's match taking place at 10:30 and men's at 19:00.

Three men's and a women's classification match also took place today to decide on final rankings for those not involved in the medal matches.

Malaysia men secured fifth spot after defeating Scotland 2-1. Shahril Saabah and Amirol Arshad proved the heroes for Malaysia while Alan Forsyth scored Scotland's only goal. Despite their loss, Scotland's sixth place finish is their best in Commonwealth Games hockey history.

Pakistan meanwhile finished the event unbeaten as they defeated Canada 3-1. Muhammad Arslan Qadir, Ali Mabashar and Muhammad Irfan JR scored for Pakistan while James Kirkpatrick got Canada's solitary goal. This result meant Pakistan finished seventh and Canada eighth.

Wales finished their encouraging campaign with a 3-2 win against South Africa. Gareth Furlong and a James Carson double won the match for European nation, with Ryan Crowe and Dayaan Cassiem getting on the scoresheet for the African champions. The Welsh win saw them finish ninth and South Africa 10th.

In the women's event, Canada shocked World Cup bound South Africa 3-1. Shanlee Johnston and Madeline Secco gave them an early lead before Natalie Sourisseau also joined in on the scoring. South Africa managed to score a consolation goal through Candice Manuel which resulted in Canada finishing fifth, their highest ever ranking in Commonwealth Games hockey, and South Africa sixth.

RESULTS
Women
5/6th: South Africa 1, Canada 3.

Men
Semi-Finals: India 2, New Zealand 3; Australia 2, England 1.
5/6th: Scotland 1, Malaysia 2.
7/8th: Canada 1, Pakistan 3.
9/10th: South Africa 2, Wales 3.

#GC2018Hockey

FIH site


---

Red-hot Kiwis set up gold medal clash



Photo: www.photosport.nz

The New Zealand Men will play for a gold medal after stunning India 3-2 in the semi finals at the Gold Coast Commonwealth Games.

The Kiwis were in sublime form and shrugged off India's dominance over them in recent years to book a place in their first Commonwealth Games final since Manchester 2002 where they won a silver medal.

Striker Hugo Inglis put New Zealand on the board in the seventh minute when he ran the ball into the circle and smashed home from a stinging reverse shot.

The Kiwis doubled their lead five minutes later with Stephen Jenness showing his class from close range, slipping a back-stick flick through the goalkeeper's legs.

India pulled a goal back just seconds out from halftime when they were awarded a penalty stroke, Harmanpreet Singh calmly slotting the attempt.

Marcus Child pushed the lead out to 3-1 midway through the third quarter when he scored from a penalty corner deflection which Kane Russell pitched up in the air for him to shoot from the post.

The Indians poured on huge pressure in the final quarter and clawed within just one goal when Harmanpreet slotted a penalty corner flick in the 56th minute.

But New Zealand muscled up in defence and kept their composure to shut out India and celebrate a huge victory.

Goalkeeper Richard Joyce was heaped with praise post-match for an incredible performance which saw him called on to make multiple clutch saves.

The New Zealand Men now progress to the gold medal match where they will go up against Australia at 11:15pm (NZ time) on Saturday.

Head coach Darren Smith was thrilled with his side's performance with a medal now guaranteed.

"For most of the game we had a two goal lead which is really pleasing. India put us under pressure, especially in the third quarter but I thought we handled it really well and then scored again," he said.

"India came at us strongly but they were down by two and had nothing to lose. I'm really impressed with the way we absorbed everything they threw at us.

New Zealand 3: (Hugo Inglis 17', Stephen Jenness 13', Marcus Child 40')
India 2: (Harmanpreet Singh 30', 56')
Halftime: New Zealand 2-1

Hockey New Zealand Media release


---

New Zealand denies India final berth

Not only the poor conversion but defensive lapses too played a huge rule in India's defeat.

A. Vinod



New Zealand players celebrate after scoring the second goal against India in the men's semifinal hockey match at the Gold Coast 2018 Commonwealth Games on Friday.   | Photo Credit: Dean Mouhtaropoulos

New Zealand ended India's hockey gold quest on Friday night, leaving it to play for third place against England.

New Zealand took an early lead and defended professionally to thwart the Indians, who did try their best to stage a comeback.

The Kiwis went ahead when Hugo Inglis got the ball past a helpless P.R. Sreejesh with a finely executed reverse flick. The counters launched by India did not work out, as the New Zealand defence quickly closed ranks and denied the Indians ball possession.

The New Zealand attack then got back into full swing and found the second goal following a terrible lapse by the Indian defence.

Manpreet Singh dented his reputation leaving the ball unchallenged and providing Stephen Jenness the opportunity to put the ball past Sreejesh.

The Indians were able to pull one back in the dying minutes of the second quarter, when a rash challenge from Kiwi captain Arun Panchia resulted in a penalty corner.

The conversion set-piece hit Shea McAleese on the line resulting in a penalty stroke. Harmanpreet Singh made no mistake.

The third quarter was fiercely fought, with the Indians on the attack and the Kiwis smartly defending, resulting in a rush of penalty corners. The Indians were, however, unsuccessful, while Marcus Child ensured a two-goal buffer, by scoring from close.

India struggled to catch up, but could only reduce the lead as Harmanpreet Singh got one more.

In the other semifinal, which again was a tense affair, Australia had to dig deep to quell England's challenge and win 2-1.

The Hindu


---

India lose to New Zealand in men's hockey semis

GOLD COAST (Australia): The Indian men's hockey team failed to recover from a poor start, losing to New Zealand 2-3 in a semi-final of the 21st Commonwealth Games (CWG) here on Friday.

India put up a disastrous defensive performance in the first quarter to concede two goals to Hugo Inglis (7th minute), Stephen Jenness (13th). But Harmanpreet Singh converted a penalty stroke in the 29th minute. India trailed 1-2 at half-time.

Markus Child regained New Zealand's two-goal lead in the 40th minute. India kept chasing and reduced the deficit to one in the 57th minute through a penalty corner but it proved to be too late to find an equaliser.

India will now head to the bronze medal playoff against England who were beaten by Australia in the second semi-final.

Coming into the semi-final, India lost the match in the first 15 minutes. It was a worst possible defensive performance to begin a semi-final.

The early focus seemed to be missing when the entire right flank lost its sense of positioning as Inglis intercepted defender Harmanpreet Singh to swiftly drive into the striking circle and employed a successful backhand shot past Indian goalkeeper PR Sreejesh.

Then, Inglis made the most of a poor pass from Manpreet Singh near top of the defending circle before passing it on to Jared Panchia, who straight drove at the Indian post. But poor communication among the defenders left Jenness unmarked. Jenness only had to nudge it past Sreejesh to make it 2-0.

New Zealand continued their good performance, earning their first penalty corner in the 22nd minute but Cory Bennett's drag-flick was well-saved by Sreejesh.

India's moment of reckoning came in the 29th minute when Sumit intercepted a New Zealand defender to drive into the right flank. A deliberate foul by New Zealand skipper Arun Panchia resulted in India winning their second penalty corner.

Though Varun Kumar's drag-flick didn't make the post, a deliberate obstruction saw India being awarded a penalty stroke which was converted by Harmanpreet.

India began the third quarter with a penalty corner in the 33rd minute, but again could not make much of it with Harmanpreet's drag-flick being saved by the first rusher.

The following minutes saw Chinglensana Singh and Gurjant Singh create opportunities to score but were off the mark.

New Zealand kept up their momentum, not letting go of scoring opportunities, when they won two back-to-back penalty corners in the 39th minute.

Though their No.1 drag-flicker Kane Russell's effort was blocked, Marcus picked up a good rebound to put it past Sreejesh, earning New Zealand a crucial 3-1 lead.

It didn't help India's cause when they missed two more opportunities to score through penalty corners in the 41st and 43rd minutes.

Under pressure to make their third consecutive Commonwealth Games final, India fumbled on opportunities to score.

Later, Harmanpreet Singh managed to convert a penalty corner with a powerful flick to the right top corner in the 57th minute.

Desperate for an equaliser, India pulled out their goalkeeper to add an extra outfield player.

Forward Akashdeep Singh got a yellow card in the 57th minute, making the situation worse for the Asian champions.

With time ticking away, the team could not pull off a finish similar to the one against England when they scored two goals in the final two minutes of the match, thus settling for a 2-3 loss.

The Times of India


---

Indian men out of gold race after losing to Black Sticks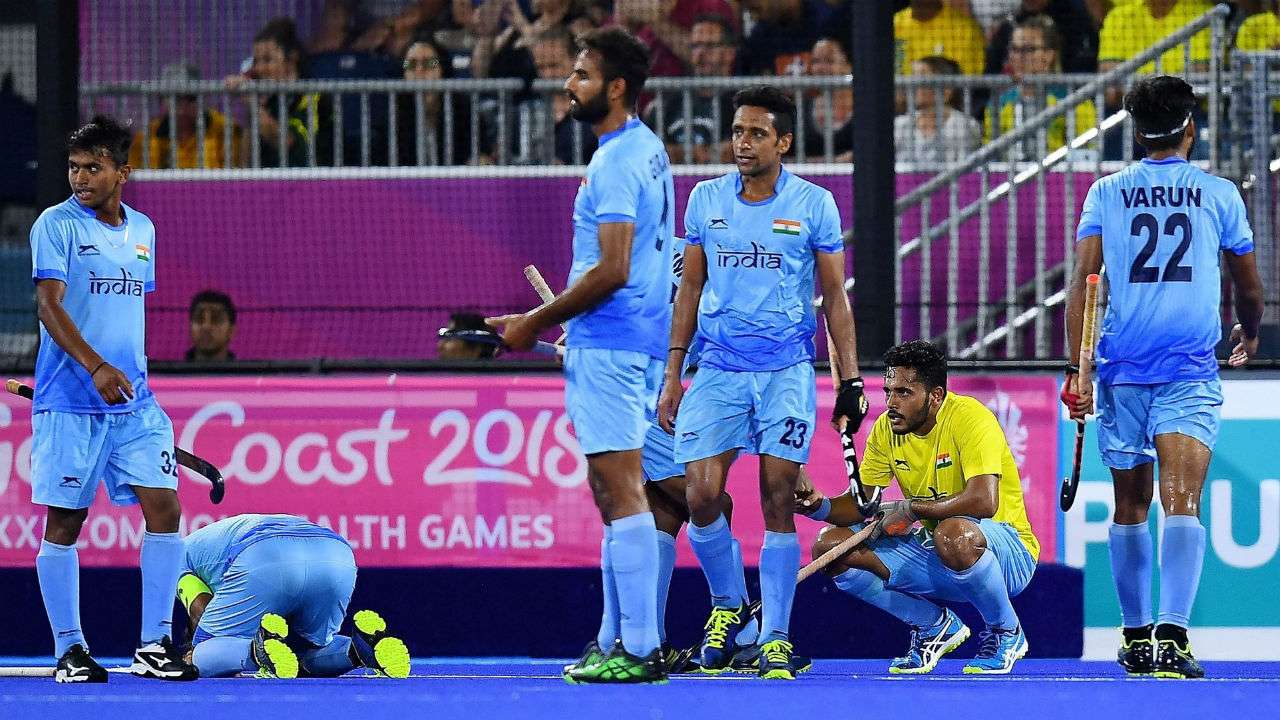 Indian men's hockey team India's hockey players look dejected on the pitch after losing to New Zealand in their mens field hockey semi-final match during the 2018 Gold Coast Commonwealth Games at the Gold Coast hockey centre on April 13, 2018 , AFP

A profligate Indian men's hockey team squandered eight of the nine penalty corners to suffer a 2-3 defeat at hands of lower-ranked New Zealand in the semifinals of the Commonwealth Games, on Friday.

Not only the poor conversion but defensive lapses too played a huge rule in India's defeat, which means the silver medallists from the last two editions will now fight in the bronze medal play-off.

Hugo Inglis, Stephen Jenness and Marcus Child scored for New Zealand in the first three quarters. Harmanpreet Singh scored both the goals for India, converting a penalty stroke before finding the net on the eighth penalty corner.

In the fast-paced first quarter, India had first chance to take lead but Mandeep Singh missed out and the team made it worse for itself by fluffing a penalty corner.

The Kiwis though did not miss their chance as forward Hugo Inglis sounded the board with a furious reverse hit. An inexplicable defence lapse allowed Stephen Jenness to double the New Zealand lead.

"The story of the tournament is that we have had enough penalty corners. We created enough chances but we didn't score off those. If you see today, we were in the circle of opponent for 32 times and they countered 14 times.

They scored 3 but we only scored 2. The game is about scoring the goals and we don't do that enough," a disappointed coach Sjoerd Marijne said after the match.

The Indian team struggled to penetrate the New Zealand defence. New Zealand earned their first penalty corner in the second quarter but PR Sreejesh thwarted the attempt, saving the team from conceding a 0-3 lead.

Another penalty corner was awarded to New Zealand when the umpire ruled that Jenness was fouled inside the striking circle. However the Indians got the decision overturned by taking a video referral.

SV Sunil attempted an ambitious strike from the near post but his shot hit the vertical.

Late in the second quarter, Sumit, charging from the right flank, was felled by a Kiwi defender and Indian team were awarded a penalty corner. Kiwi custodian stopped the first shot but on rebound, Akashdeep's shot hit the shoulder of a Kiwi defender, resulting in India getting a penalty stroke.

Harmanpreet converted the penalty stroke reduce the lead at the half-time.

Sunil earned a penalty corner for his side early in the third quarter but India squandered the chance to get an equaliser.

A defensive lapse on penalty corner cost India dear as Varun Kumar failed to clear ball after a couple of rebounds and Marcus Child put New Zealand ahead 3-1.

A fifth penalty corner also went abegging, leaving India with an arduous task of erasing the two-goal deficit in the final quarter. Conversion remained an issue with the Indians as Dilpreet Singh's shot hit the far post.

Five minutes from the final hooter, India got back-to-back penalty corners but converted none. While Harmanpreet finally converted a penalty corner it was too late in the day.

Daily News & Analysis


---

Kookaburras Into Gold Medal Match After Dramatic Finale

Ben Somerford




In-form Trent Mitton has scored a double as nine-man Australia heroically held on to record a 2-1 win over England on Friday night to clinch a spot in the 2018 Commonwealth Games gold medal match.

The Kookaburras will now play New Zealand in Saturday's final at 9:15pm AEST, with the Hockeyroos also to play their Trans-Tasman rivals earlier in the day in the women's gold medal match, representing a bumper day for hockey in Australia.

Mitton scored within 26 seconds to send the Kookaburras on their way, but England levelled in the third period through Ian Sloan.

The Western Australian forward scored the winner from a penalty corner in the 50th minute, taking his Games tally to six goals in five games.

Australia came under intense pressure in the final 10 minutes after yellow cards to Daniel Beale and Tom Craig but clung on.

The contest was tight throughout with 50-50 possession and Australia winning four penalty corners to England's three, but the Kookaburras had more circle entries (23-14) and shots (11-4) and were good value for the win, despite the late pressure.

Mitton opened the scoring in the first minute with a powerful diagonal shot through England goalkeeper George Pinner's legs after Beale's release.

Western Australian Mitton almost turned provider seven minutes later when he set free a diving Dylan Wotherspoon but Pinner denied him.

Australia survived a scare when James Gall found space on the baseline on the left side but the ball bobbled away safely after an Andrew Charter save.

The Kookaburras should have doubled their lead in the 21st minute on a fast break when Tom Wickham opted to lay off for Mitton who was thwarted by the onrushing Harry Gibson.

Australia hit the post in the 25th minute after a moment of hesitation from England keeper Gibson, with the final touch coming off Lachlan Sharp.

England came close in the 28th minute when Sam Ward, who had received a yellow card earlier in the quarter, missed after Liam Ansell's pass.

Australia won a penalty corner in the final minute of the first half but Jeremy Hayward's drag flick was blocked.

Australia were first to come close in the second half after a fine move down the left flank with Mitton and Wotherspoon combining to release the speedy Craig but Pinner got there first.

A minute later England won their first penalty corner with substitute keeper Tyler Lovell palming away Mark Gleghorne's effort.

Moments later the visitors levelled when an unmarked Ian Sloan converted at the back post after a baseline run in the 37th minute.

Wickham flicked a shot wide, while the Kookas launched a late third period raid when Beale drove forward but Pinner kicked away from Wickham's cutback.

Australia won a penalty corner in the 50th minute after a push on Sharp, with Hayward denied with two drag flicks before Mitton fired in from the third attempt. England referred Mitton's drag flick but the goal was upheld.

Barely a minute later, Beale was handed a 10-minute yellow card for a slide tackle, ensuring a tense finale for the Kookaburras.

England won a penalty corner in the 53rd minute, with Lovell saving well from Gleghorne's drag flick, before the visitors boldly replaced goalkeeper Gibson with an outfield player with seven minutes remaining, with Australia a man down.

Craig also received a yellow card late on to further give England a numerical advantage, but Australia held on to secure a spot in Saturday's gold medal match.

Australia 2 (Mitton 1', 49')
England 1 (Sloan 37')

Hockey Australia media release


---

England agonisingly lose to Australia in Gold Coast semi-final



Harry Gibson in action against Australia CWG 2018

England's men will battle for bronze at the 2018 Commonwealth Games after narrowly falling short against defending champions Australia.

On the occasion of Barry Middleton's 413th international cap – which sees him move to second in the all-time list – Trent Mitton caught England unawares after giving his side the lead just 26 seconds into the game.

The same player then won the game for his side ten minutes from time, benefitting from a large slice of luck as his penalty corner deflected off Middleton's knee and over George Pinner.

Ian Sloan had equalised for England earlier in the second half but – despite two late yellow cards for Australia – England couldn't quite find the second leveller and will face India to contest third place.

Roared on by a home crowd, Australia got off to the perfect start as they caught England in a whirlwind, with Mitton smashing the ball through Pinner after being neatly found by Daniel Beale.

That lead almost doubled in the eighth minute as the Kookaburras intercepted a pass but Pinner raced off his line to charge down Dylan Wotherspoon, who could only put his shot into the 'keeper's pads before it rolled wide.

England grew into the game afterwards as it became much more physical, with Flynn Ogilvie needing treatment after landing on his face while Sam Ward yellow carded, although he almost immediately hit back on his return only for his deflection on a Liam Ansell past to just trickle the wrong side of the post.

Harry Gibson then pulled off three superb saves to ensure Australia only took a one goal lead into half-time before Pinner yet again showed a great turn of pace to get to the ball before a charging Tom Craig in the 35th minute.

That seemed to inspire his team-mates and two minutes later they were level as Ward shovelled the ball over Tyler Lovell's stick for Sloan to tuck in after the Australian 'keeper batted away a stinging corner flick from Mark Gleghorne.

Australia immediately looked to hit back but once again Pinner was not to be beaten, smothering two further efforts before England turned the screw again at the start of the final quarter, with David Goodfield flinging himself to try and get on the end of a Ward cross but falling just inches short.

Gleghorne then produced two heroic blocks to charge down successive Australian corners but England's luck was to run out on the third as Mitton grabbed his sixth goal of the tournament with ten minutes to play.

And despite England reverting to a kicking back and both Beale and Craig seeing yellow, there was to be no way through for Bobby Crutchley's side despite their best efforts.

They will now play India to reclaim their bronze medal from Glasgow at 10:00 BST on Saturday 14 April.

Australia 2 (1)
Mitton (FG, 1; PC, 50)

England 1 (0)
Sloan (FG, 37)

England Starting XI: Pinner (GK), Dixon, Weir, Sanford, Creed, Middleton, Gall, Sloan, Roper (C), Goodfield, Ward

Subs: Gibson (GK), Gleghorne, Willars, Martin, Condon, Ansell, Griffiths

England Hockey Board Media release


---

Australia edge England to confirm Trans-Tasman finals

By Rod Gilmour on the Gold Coast




The semi-final curse struck England men again on Friday as a 2-1 defeat to Australia edged the world champions into a sixth successive final.

England, who last beat Australia in 2014, have now fallen short of the final in five of the last six Commonwealth Games, while Australia's remarkable run at Commonwealth level remained in tact – just.

Trent Mitton's strike in the first 30 seconds was cancelled out by co-captain Ian Sloan to set up a nervy final two quarters.

But the Kookaburras took control when Mitton fired an unstoppable penalty corner strike in the 49th minute.

England took off goalkeeper Harry Martin in the final salvos and relied on 11 outfield players.

Even with Australia playing the last six minutes with nine players due to late cards, spirited England still couldn't find the net.

Captain Mark Knowles, perhaps Australia's standout player, said: "In those last few minutes of playing with a team of nine against 11, it was gritty, gutsy, determined and involved everything that I had learned from fifteen or sixteen years of being a Kookaburra."

Co-captain Phil Roper said: "We were all over them, we matched them toe to toe, we even bettered them in the second half quite easily but couldn't get that second goal."

Since winning the 2009 EuroHockey Championships they have now lost in the semi-finals of major tournaments seven times.




Despite conceding so early, England certainly looked as if they might change this forgettable record.

But in a physical encounter, England had their share of green and yellow cards which saw Bobby Crutchley's side lose their rhythm

"We had small lapses of ill-discipline and that's disappointing as it was things within our control," added Sloan.

The encounter saw former captain Barry Middleton record his 413th combined international cap to go second in the all-time list.

Defeat left England to play for the bronze-medal, while Australia meet New Zealand.

England women also take on India as Danny Kerry's side look to continue their record of finishing on the podium at every Games since hockey was introduced in 1988.

The Hockeyroos play the Black Sticks in the women's final.

The Hockey Paper


---

Men's hockey team struggle to beat Scotland for fifth placing

THE Malaysian hockey team did not play their best but it was enough to edge Scotland 2-1 to clinch fifth position in men's hockey at the Gold Coast Hockey Centre.

Malaysia started off sluggishly while world No. 23 Scotland created a number of chances with their aggressive play.

Scotland were rewarded with an early lead in the 11th minute off a field goal by Alan Forsyth.

The goal worked up the World No. 12 Malaysia who came back strongly in the second and third quarter to score two goals through Muhd Shahril Saabah (26th minute) and Amirol Aideed Arshad (39).

Malaysia played a total of five matches in the Games. They scored seven goals and conceded 11.

National chief coach Stephen van Huizen said the players were complacent.

"The Scottish are a hardworking team and they pushed us to the maximum. Our players were not in good shape in front of goal," he said.

Stephen said Malaysia would have enjoyed a good run if not for the demoralising 7-0 defeat to England in the opening match.

"We are ranked sixth and we finished fifth – so that's okay," said Stephen.

"We need to focus on the players' fitness and the goalkeeping. We want to be well prepared for the Asian Games in Jakarta as the gold medal winners will qualify for the 2020 Tokyo Olympics," he added.

The Star of Malaysia


---

Van Huizen happy with his team's performance

By AJITPAL SINGH and NOR HAIRULNIZAM WAHID



Coach Stephen Van Huizen. (NSTP/MOHD FADLI HAMZAH )

GOLD COAST: Coach Stephen Van Huizen believes his national hockey team are on the right track for the Indonesia Asian Games later this year following the promising performance at the Commonwealth Games.

Malaysia were ranked only sixth among teams in the tournament, but they finished fifth following a 2-1 win over Scotland in a classification match at the Gold Coast Hockey Stadium on Friday.

Scotland took the lead through Alan Forsyth in the 11th minute before Shahril Saabah (21st) and Amirol Arshad (39th) sealed the win.

For the record, Malaysia were without five regulars in goalkeeper S. Kumar, defenders Izad Hakimi Jamaluddin and Faiz Helmi Jali, midfielder Marhan Jalil and forward Nik Aiman Nik Rozemi.

Veteran Kumar is serving a provisional suspension for a doping offence while Faiz Helmi opted out to focus on studies. The others are nursing injuries.

"My team bounced back well after the opening 7-0 defeat to England and I am satisfied with our fifth place finish.

"Of course, there are areas we need to improve on. We did not do physical work leading up to this tournament as I had limited time with them due to commitments to the Malaysian League and Sultan Azlan Shah Cup.

"We need to go back to the drawing board and make sure we get a good fitness programme in terms of running and strength ahead of the Asian Games.

"I think the players' skill level is already there... now we need to get them stronger and fitter," said Stephen.

On the performances of the fringe players, Stephen said: "This tournament has given me a good insight on them."

"I now have a bigger pool to work on and it will be tough to name my final team for the Asian Games when the other five players return," said the former international.

Stephen also praised his goalkeepers, Hafizuddin Othman and Hairi Abdul Rahman in the absence of Kumar.



(File pix) National hockey team are on the right track for the Indonesia Asian Games later this year following the promising performance at the Commonwealth Games said Stephen Van Huizen. (NSTP/YAZIT RAZALI)

"They did good and bad things here. The duo still need to work on decision making. I believe the exposure will make them more confident as before this, Kumar was the No 1 keeper," he added.

The team will head to Argentina for six matches with the Olympic champions in May and then to Australia for five games in June or July.

New Straits Times


---

Pakistan hockey clinch 7th place with victory over Canada

LAHORE: Pakistan, after drawing four straight matches at the Gold Coast Commonwealth Games in Australia, finally won one against Canada to secure the seventh place at the men's hockey tournament on Friday. The Men in Green, in their pool matches, played stalemates against Wales (1-1), India (2-2), England (2-2) and Malaysia (1-1) to end on the fourth position in their Group B. This pitted them against Canada for seventh place playoff where they won 3-1. Pakistan's 12 attempts on Canada's goal reaped three goals, while Canada could only convert one chance out of their nine tries.

Canada opened the scoring with a goal in the 12th minute and kept their lead intact till half-time, but Pakistan came back strong after the break and equalised in the 34th minute courtesy Arslan Qadir's field goal. Six minutes later, Pakistan won a penalty corner which was successfully converted into a goal in the 40th minute as the Men in Green registered a lead for the first time in the match. With three minutes remaining in the match, Pakistan scored one against all thanks to Muhammad Irfan Junior's field goal to end their Games' campaign on a high and end the match 3-1. Pakistan captain Muhammad Rizwan Sr said that their performance was not up to the mark in the tournament.

"We didn't play well in the tournament and it took us a lot of time to get the momentum right. We should have won some of the matches instead of drawing them," said Rizwan. "The coach is also not happy but we have learned a lot from the matches, but as I said that we were not able to score many goals. He added that this experience would be helpful to them in the upcoming assignments. "But as were are preparing for the big games next year, we have gained a lot of experience and learned a lot which will help us in preparing," he concluded.

The Daily Times


---

Pakistan beat Canada 3-1 to finish seventh in Commonwealth Games hockey

GOLD COAST: Pakistan team came from behind to beat Canada 3-1 and clinch the seventh position in the XXI Commonwealth Games hockey competition here on Friday.

Canada went ahead in the first quarter through James Kirkpatrick goal in open play.

The North Americans kept the lead intact till the end of the second quarter although Pakistan were far better side in the second half.

Arslan Qadir then equalised followed by a fine goal from Mubashar Ali, who ended up Pakistan's top scorer in the competition with four goals, to put their team ahead in the game by 2-1.

In the last quarter, Mohammad Irfan Jr completed the tally with his third goal of the event.

Dawn


---

Retiring Knowles: There's No Lack Of Motivation For Us

Ben Somerford




Retiring Kookaburras captain Mark Knowles says he's achieved one goal by qualifying to play in Saturday's 2018 Commonwealth Games gold medal match but is far from content.

Australia edged England 2-1 in Friday night's gripping semi-final to clinch a spot in Saturday's final against New Zealand from 9.15pm AEST at Gold Coast Hockey Centre.

The final will be 34-year-old Knowles' final match for Australia, having announced his retirement prior to the Commonwealth Games, ending a decorated 324-game career.

"I set my goal to play in the Commonwealth Games final at 9.15pm on Saturday night," Knowles said.

"We're there now. I want it for myself but I want it more for the 11 guys who don't have a gold medal. There's no lack of motivation for us."

Australia did it the hard way in the semi-finals, reduced to eight outfield players for the final seven-and-a-half minutes after yellow cards to Tom Craig and Daniel Beale.

To make matters worse, England replaced their goalkeeper with an outfield player, putting Australia under intense pressure given their numerical disadvantage.

Knowles, throughout his 324 games, said he'd never experienced anything like it.

"I've never played in a game like that," he said. "I've played with a man down before and against a goalkeeper off, but never two players down against a goalkeeper off.

"When I think back about that, you've got to stick to what you talk about and you reflect back to those Friday morning meetings at 6am at Perth Hockey Stadium where you think 'I wonder when this is ever going to matter', it mattered last night.

"This is a group of guys who are switched on."

Knowles was full of praise for the side for a gritty performance.

"It's hard enough playing with 11 players on the field, let alone playing with nine and against a team that's taken their goalkeeper off," he said.

"What I will say is that's as gritty a performance as I've seen for a long time.

"We desperately wanted to win for this crowd, this team and ourselves.

"I'm so proud to lead this group."

Hockey Australia media release


---

Horror Commonwealth Games for SA hockey



SA women's hockey (File)

Cape Town - Team South Africa had a Gold Coast Commonwealth Games to forget on the hockey field, with the men's and women's side managing a solitary victory each.

The men's side finished bottom of Pool A with a single win over Canada (2-0) in their final match. They wrapped up their campaign with a 3-2 defeat to Wales to finish 10th - and last - overall.

It represented a significant step backwards for the side which had finished fifth in the two previous Commonwealth Games.

While coach Mark Hopkins may point to a "super-exciting young side with unlimited talent", the real trick will be convincing SASCOC to permit them to travel to the next big international competition - the 2020 Olympic Games in Tokyo.

The SA women's side fared marginally better as a single win (2-0 over Wales) and a draw (1-1 v Malaysia) saw them finish third in Pool A and progress to the playoff for 5th and 6th - where they went down 3-1 to Canada.

Adding insult to injury, the Canadians are coached by former SA men's player and women's team coach, Giles Bonnet.

Again, the sixth-place finish represents a poorer return for a side that finished fourth at the two previous Games.

The SA men's and women's sides are currently ranked 15th and 14th in the world rankings, respectively.

Team SA flew 36 players in total (plus eight officials) to Australia for hockey alone.

Sport24


---

2018 Test Matches USA v CHI (W) presented by Citi - 2nd test
Lancaster (USA)

USA - CHI         5 - 1

FIH Match Centre


---

Five Goal Scorers Contribute to USWNT's Second Win of Series Over Chile




LANCASTER, Pa. – In front of a packed stadium at Spooky Nook Sports in Lancaster, Pa., the U.S. Women's National Team took on No. 15 Chile in the third game of the series, presented by Citi. USA got on the board first late in the first quarter and Chile found the equalizer five minutes into the second but not before USA regained the lead by tallying two goals in two minutes. The red, white and blue would add two more in the fourth to secure the 5-1 win.

"We were creating some opportunities, just weren't able to finish in the beginning," said Kathleen Sharkey (Moosic, Pa.)."They have a very strong goalie, who we have seen play really well the last two games, so we needed to go around her and use the extra pass. Once we were able to do that we were able to get the ball in the goal."

The match started with USA quickly taking possession to their attacking end. Momentum was with USA for a period of time, but they were unable to threaten through Chile's defense. In the 9th minute, Chile generated some attack getting their first circle entry but Alyssa Manley (Lititz, Pa.) was there to make the defensive stop. It took until the final minute of the quarter for USA to get a positive outcome in the circle. What was initially called a penalty stroke, was referred by Chile and turned into a penalty corner for USA. On the attempt, Sharkey sent a straight shot down to Amanda Magadan (Randolph, N.J.) on the right post who was in the perfect position to deflect it in for a 1-0 lead.

USA continued to dominate possession but faltered in the 20th minute when Chile's Kim Jacob was able to split the defense and send a reverse shot into the cage. The score line wouldn't remain tied for long as Anna Dessoye (Mountaintop, Pa.) was able to give USA the lead again two minutes following. Another two minutes after that, Sharkey added another goal on a pass from Erin Matson (Chadds Ford, Pa.). A few more looks came for both sides, but the halftime score stood in favor of USA, 3-1.

Quick off the restart, Sharkey immediately found room in the circle to get off a low angled backhand shot that was saved by Chile's new goalkeeper Claudia Schuler. Play turned stagnant for a period as a lot of action took place between the 25-yard lines before USA turned into an offensive threat. Multiple shots on goal tested Schuler before USA earned a penalty corner in the 45th minute. Unsuccessful on the chance, the quarter ended with the score not changing.

USA continued to knock and two minutes into the final frame Sharkey sent a backhand cross toward the goalmouth that was tipped in by a diving Margaux Paolino (Villanova, Pa.). Captain Melissa Gonzalez (Mohegan Lake, N.Y.) added the 5th and final goal in the 57th minute. She intercepted a Chile pass, dumped it to Sharkey and grabbed the rebound off Schuler in time for an upright reverse shot past the goalkeeper. USA would then run out the clock, ending the game with a final score of 5-1.

"The first game our intent was decent, but not really with the gas pedal all the way down mentality," said Janneke Schopman, USWNT Head Coach, on recapping on the series so far. "I was very happy that we came back and didn't give up our fight. Today, it was important for me that we could replicate our performance Wednesday. In some aspects it was a little less but in others, it was way better. Hopefully, tomorrow we can combine both, play with the intent, urgency and going forward with speed, and at the same time defensively staying calm and composed and not give up any corners or goals."

The fourth and final game of the U.S. Women's National Team vs. Chile, presented by Citi, series is tomorrow, Saturday, April at 6:30 p.m. ET.

USFHA media release


---

Glenanne on the precipice of first Irish EYHL title



Shane O'Donoghue takes on Lisnagarvey's Ryan Getty. Pic: Sinead Hingston

Glenanne have their first chance to land the men's EY Hockey League title this Saturday at Comber Road where a win against their nearest rivals would secure glory.

Facing Garvey on their home patch, though, is no mean task at the best of times without the potential white-line fever that comes with being so far ahead.

Joe Brennan's side have nine points to spare over Garvey at the head of the division with three games left on their agenda and an unbeaten record.

The Ulster side, though, do have a game in hand and a result here could put a few jitters in the Tallaght club's minds for the final run-in with games against Monkstown and Banbridge no gimmes.

Mental fortitude has been the Glens calling card this season, though, winning a string of games with late goals while nine wins by just a single goal show the ability to grind out results.

Both sides are coming into the tie off the back of home defeats in the Irish Senior Cup, the Glens falling to eventual champions Three Rock Rovers 5-1 while Garvey conceded twice in the first ten minutes against Pembroke and never recovered.

Rovers and Pembroke meet again six days after their cup final encounter with the latter needing to pick up points to have a chance at the end of season Champions Trophy playoffs. Banbridge are in a similar boat when they meet Cork C of I.

At the bottom, basement side Railway Union will very much be targeting their home game against an Annadale side who need one more win to be absolutely sure of safety. Cookstown, meanwhile, play on Sunday against Cork C of I in their second game of the weekend in Ulster.

Alexandra College is the venue all weekend for the first phase of the provincial playoffs with a spicy tie between Corinthian and UCD opening up the weekend. Five teams will battle it out for one place in the next stage of the promotion series

The Leinster sides are joined by UCC, Instonians and Mossley, the latter picking up a last-minute ticket when Kilkeel declined their invitation.

The Mourne Men's club constitution does not allow them to play on Sundays and so precludes their involvement. Bangor, YMCA and Bandon all received byes to stage two of the playoffs.

The Irish Junior Cup is on Sunday with Glenanne II facing Pembroke II. The game has been moved to Grange Road from Belfield due to work being carried out at the National Stadium which has led to it being deemed unplayable by the technical officials.

Such a situation will hopefully be avoided next season with The 42 reporting today that the Belfield pitch will be replaced this summer. How much access Hockey Ireland, if any, get to the new pitch remains up in the air as it will be funded solely by UCD.

Previously, it was a joint project which allowed Hockey Ireland a specific number of hours of pitch time and first dibs on key dates. This led to UCD's men and women renting Serpentine Avenue and Santry Avenue for their games last weekend with Belfield used for the Irish Hockey Trophy finals.

Men's weekend fixtures
Saturday
EY Hockey League: Banbridge v Cork C of I, 2.45pm, Banbridge Academy; Lisnagarvey v Glenanne, 3pm, Comber Road; Railway Union v Annadale, 2.40pm, Park Avenue; Three Rock Rovers v Pembroke Wanderers, 3pm, Grange Road

EYHL Wildcard Provincial Play-offs (all at Alexandra College): UCD v Corinthian, 10.15am; Mossley v Instonians, 11.45am; UCC v UCD, 1.30pm; Corinthian v Mossley, 3pm; Instonians v UCC, 4.45pm.

Sunday
EY Hockey League: Cookstown v Cork Church of Ireland, 2.30pm,Steelweld Park.

EYHL Wildcard ProvincialPlay-offs (all at Alexandra College): Mossley v UCD, 9.45am; Corinthian v Instonians, 11.15am; UCC v Mossley, 1pm; Instonians v UCD, 2.30pm; Corinthian v UCC, 4.15pm

Irish Junior Cup final: Glenanne II v Pembroke Wanderers II, 4pm, Three Rock Rovers

Munster Senior Cup final: Bandon v Limerick, 2.30pm, Garryduff
Munster Cork Cup final: Catholic Institute v Waterford, 12.30pm, Garryduff.

The Hook


---

UCD on brink of retaining Irish women's EY Hockey League



Katie Mullan scored twice in midweek for UCD in the league. Pic: Adrian Boehm

UCD can potentially add the EY Hockey League title on Sunday to the Irish Senior Cup title won last Sunday following a 4-0 midweek win over Pembroke.

Katie Mullan's first half double came in addition to goals from Lena Tice and Abbie Russell saw them well clear – indeed, they missed a stroke before the break – and within sight of the winning line.

It extends their league lead to seven points with two of their last three games coming against bottom side Hermes-Monkstown. Last term, they won the league at the Merrion Fleet Arena in the closing minutes of an epicly close-run campaign and it could be the same venue for the coronation.

It is a measure of the turnover in personnel for Town that they now need to get at least a point from those two meetings with UCD to have any chance of escaping the drop with the retirements and departures to foreign shores seeing their swing in fortunes.

They did hold Railway Union at bay in their back-match on Thursday evening, recording a scoreless draw for their fifth point of the season with Liz Murphy excelling between the posts.

Should the students win and Cork Harlequins miss out on victory at Railway, the title will be confirmed this weekend, three weeks out from the playoffs. Railway, for their part, are chasing a top four playoff place and a win would put them in that frame.

Ards did what they could in midweek to keep their outside chances alive with Chloe Brown scoring both goals on Wednesday in a 2-1 win over Belfast Harlequins. Ards are next up against Pegasus on Sunday.

At the bottom, Pembroke will hope they can grab a result to finally put some distance between them and Trinity in the battle to avoid the relegation playoff spot.

Pembroke meet a Belfast Quins who look out of the running for the playoff berths while Trinity are at Loreto whose chances are similarly remote with seven points to make up from four games.

Elsewhere, the women's EY Hockey League wildcard provincial playoffs play out at Alexandra College with five teams battling it out in a round-robin for one ticket for the playoff finals weekend.

Hosts Alex start off against Corinthian whom they lost two twice this season. Queen's finished runners-up in the Ulster Premier off the back of a 0-0 draw against champions Lurgan on Monday but have some star quality in Jessica McMaster and Erin Getty.

Their first tie is against a Catholic Institute side who have won both the Munster Senior Cup and Irish Hockey Trophy in the last two weeks. Dungannon are the last side to enter the fray having secured their playoff ticket in midweek, too.

The winner of the wildcard round will join Muckross, UCC, Lurgan and either NUIG or Greenfields at the Mardyke in a fortnight's time.

Midweek results
EY Hockey League: UCD 4 (K Mullan 2, L Tice, A Russell) Pembroke 0; Hermes-Monkstown 0 Railway Union 0; Ards 2 (C Brown 2) Belfast Harlequins 1 (J McAuley)

Women
Saturday
EYHL Wildcard Provincial Play-offs (all at Alexandra College): Corinthian v Old Alex, 10.15am; QUB v Catholic Institute, 11.45am; Dungannon v Corinthian, 1.30pm; Old Alex v QUB, 3pm; Catholic Institute v Dungannon, 4.45pm.

Sunday
EY Hockey League: Ards v Pegasus, 2.30pm, Londonderry Park; Loreto v Trinity, 2pm, Beaufort; Hermes-Monkstown v UCD, 2.30pm, Merrion Fleet Arena; Pembroke Wanderers v Belfast Harlequins, 2.30pm, Serpentine Avenue; Railway Union v Cork Harlequins, 1pm, Farmer's Cross

The Hook


---

Poland take the spoils over Scotland boys in U18 series



Scotland Under 18 Boys v Poland – photo by Duncan Gray

Scotland`s under 18  boys' side lost the three match series 2-1 against Poland at Clydesdale over the last few days, part of their build-up for the U18 European Youth Championships II in Wales later this year.

The Scots youngsters started the series brightly against Poland, a side in the top flight of European youth hockey, and took the first game with a comfortable 4-1 victory. The home side were two up in only eight minutes, both Andrew McConnell and Robbie Croll had scored at penalty corners.  Just on the stroke of half-time Fraser Heigh converted another set piece for a 3-0 lead.

Although the Poles pulled one back in the second half, with three minutes left Croll added a fourth for the Scots.

The second encounter was a much closer affair, in fact it was goalless at the interval. This time it was Poland who took the initiative with strikes by Gracjan Jarzynski and Wojciech Ruthowski. Heigh pulled one back for Scotland at a penalty corner with just five minutes remainding but the Poles held on to win 2-1 in the end.

And so it was set up for the decider, in six minutes the visitors went ahead through Eryk Bembenek, but two minutes later Heigh was again in target for the equaliser. The Poles took a 2-1 lead into the break through Jerzy Wisniewski. The second half belonged to Poland with further strikes by Mikolaj Marczynski and Tomasz Bemenek for a comfortable 4-1 win and the series.

Scottish Hockey Union media release


---

Scotland U18 Girls off to a good start against Poland



Photo by Mark Pugh

Following on from a recent series win against their Welsh counterparts, Scotland U18 Women faced Poland at Uddingston in the first of three test matches.

It was the visitors who started brightest, showing some neat individual skills as they threatened the Scottish defence in the early stages. They were rewarded with a couple of penalty corners, and it took a smart save by Rachel Strachan in the Scots goal to divert a deflected strike past the post from the first attempt. From the second shortly after, it was Kathryn Meenan who came to the Scots rescue with a vital goalline block to deny the Poles the opener. Cailin Hart then made a brave block to deflect a shot wide.

In a scrappy first half, Scotland failed to find any real rhythm and as the match progressed both sides struggled to bring any fluidity to their play. Towards the end of the half however, the home side managed to fashion some chances of their own as they fought their way back into the game. First a penalty corner opportunity was sent wide by Margery Justice. Then, Erin Stevens found space in the circle but the chance was quickly snuffed out by the onrushing keeper. Soon after, Eve Pearson found herself through one on one but she too was thwarted by the Polish keeper, before Jenny Walls showed neat footwork to get a quick shot away which was also well saved.

Scotland started the second half on the front foot and slowly started to take control of the game. Georgia Smith's smart deflection went inches wide, while Eve Pearson twice came close to scoring after good work from Kirsten Cannon down the right hand side. As the Scots turned the screw, they started to move the ball much more intelligently, stretching the Polish defence and creating plenty of space to attack. Georgia Jones and Erin Stevens then both had reverse stick efforts saved by the goalie before Lexi Sabatelli drew yet another good save from the Polish keeper with an improvised volley. At the other end, Poland's only real chance came from a reverse stick shot that flashed narrowly wide.

As the game moved into the final quarter, Scotland finally made the breakthrough at a penalty corner, as Emily Dark dispatched a well-taken drag flick into the side netting. The young Scots continued to harass the Polish defence, and after a succession of turnovers high up the pitch, they eventually got their reward with 5 minutes to go. Georgia Jones robbed the Polish full-back near the baseline and squared the ball to Lexi Sabatelli who squeezed it home.

"The girls showed resilience to battle their way back into the game after a nervous start, and I'm pleased at how we managed the game in the second half," said Head Coach Keith Smith. "Despite not being anywhere near our best, we still created plenty of opportunities to score against a tricky opponent. The challenge now for the group is to raise our levels of consistency while continuing to develop our understanding of our principles of play, and how to implement them, over the remaining matches in the series"

Scottish Hockey Union media release


---

MJHL: Anderson Thunderbolts eye No 2 spot

By Jugjet Singh

KUALA LUMPUR: Anderson Thunderbolts is eyeing the second spot in Division One of the Malaysian Junior Hockey League (MJHL), as Tunku Mahkota Ismail Sports School (SSTMI) Thunderbolts are almost assured of the League title.

SSTMI Thunderbolts have opened up an eight point lead with maximum points after seven matches, and will be difficult to chase at this point.

Anderson, whose best finish in the JHL to date is third, are second right now on 13 points after six matches and will have to beat Old La Sallians Association of Klang (Olak) at the Azlan Shah Stadium today to keep their dream alive.

And their two more matches are against Sabah Sports School Resilient followed by Pahang Sports School Thunderbolts.

"We must collect full points against Olak to keep the second spot in sight as after tomorrow (today) we have tougher matches against Sabah and Pahang," said Anderson coach Nizam Hashim.

Olak are lying at the bottom of the table after losing all six matches. They have let in 35 goals and only scored three.

Anderson on the other hand, have won four, drew one and lost one match. And even though they have only scored 15 goals, but they have a good defence and only let in six goals in six matches.

"We can't afford a slip at this stage as UniKL and Pahang both have 12 points and will also be aiming for the second spot," said Nizam.

Bukit Jalil Sports School, on 10 points, are the other challengers to Anderson's quest.

"As a school team, we are still the best in Perak, but as a JHL club we have yet to finish this high and so I believe my players will give their best against Olak for starters."

Olak will also be fighting their own battle today to avoid relegation to Division two together with Perlis Young Lions who have also yet to win a single point after six matches.

SUNDAY: Division One -- Sabah SS Resilient v PJCC Tigers (Likas, 4pm), SSTMI v SMKDBL UniKL v (SSTMI, 4pm), Anderson Thunderbolts v Old La Sallians Association Klang (Azlan Shah, 5pm), Pahang SS Thunderbolts v Bukit Jalil SS Thunderbolts (National Stadium, 8pm), SSTMI Thunderbolts v Perlis Young Lions (SSTMI, 6pm).

Division Two: Group A: Datuk Taha v SSP-MSP (Seremban II, 5pm), MSNT-PHT-SMKPM v MSSPP - PSHA Jnr (Batu Buruk, 5pm); Group B: MSSP Stinger v TBSS Tampin (Perlis, 5pm), Johor Baru v Sains Batu Pahat (Batu Pahat, 5pm), SMGKR Boys v MSSPP - PSHA (Gunung Rapat, 5pm); Group C: KL Vipers v MSS Selangor (KLHA, 5pm).

Jugjet's World of Field Hockey


---

Upper Hill boys face St Anthony's Kitale

By Elizabeth Mburugu



Upper Hill's Maurice Ouma (left) and William Cheruiyot of Narok School during the Kenya Secondary Schools Sports Term 1 Games at Friends Kamusinga Boys High School, Nzoia region in Bungoma County. [Jonah Onyango, Standard]

Perennial rivals Upper Hill and St Anthony's Kitale will battle it in the boys' hockey finals as this year's Brookside Secondary Schools National Term One Games end today at Kangaru School.

The final will be a repeat of last year 's encounter which St Anthony's carried the day forcing Upper Hill to settle for second best.

However, they will have to be at their best as they are yet to win convincingly. At the group stage, their only victory was against Thika High.

The Standard Online


---

Olympic legend inspired by West African Development



Olympic legend Dame Katherine Grainger recently visited FIH's TAP in Ghana Photo: UK Sport

With its national women's team having just finished competing in their first major international competition and a national hockey event taking place in its capital city, Ghana's hockey development is progressing apace at both ends of the development spectrum.

Ghana women have just concluded their first foray into the Commonwealth Games, while Accra is preparing to host the West Africa Hockey5s tournament.

This marked progress represents key milestones for the International Hockey Federation (FIH) Targeted Assistance Programme (TAP) that has transformed hockey in the West Africa country.

The TAP West Africa project began in 2014 as part of England Hockey's bid to host the 2018 World Cup.

It is run in conjunction with the African Hockey Federation, the Ghana Hockey Association and is supported by FIH.

UK Sport has also been a key funding partner in the project. Four years on and England are just a few months away from hosting the Vitality Hockey Women's World Cup London 2018 and Ghana is celebrating reaching a number of landmark points in its own hockey development.

"People who have worked on the project have left with their own incredible life experiences and memories and there is a distinct sense that it had changed everyone's lives for the better."
Dame Katherine Grainger, Chair of UK Sport

FIH Hockey Academy and Education Manager Andre Oliveira says there are three areas in which the Targeted Assistance Programme has delivered outstanding results. The first of these is the development of a workforce which can deliver hockey events, namely, coaches, umpires, umpire managers and educators.

Then there is the development of the national team, which has been so emphatically demonstrated by the success of Ghana women in qualifying for the Commonwealth Games.

Ghana are now ranked 30th in the world and will be the lowest ranked team at the tournament, but their inclusion and their rise up the rankings signals a spreading of hockey across Africa.

The third area of improvement is the hockey development and growth in the countries that surround Ghana. In Togo, the number of registered players has reached 700 (from 200) and Burkina Faso is about to enter its first international competition – the West Africa Hockey5s tournament in Ghana's capital city Accra.

Also at the inaugural Hockey5s tournament were Nigeria, Ivory Coast and Sierra Leone. Dame Katherine Grainger is Great Britain's most decorated female Olympian, with five Olympic medals in addition to six world championship titles. She is now Chair of UK Sport and was on hand to watch the hockey action at the West Africa Hockey5s.

Speaking about this Programme and the event, she said: "I had heard great things about the TAP project but it wasn't until being privileged enough to have a visit to Ghana myself that I realised its enormous positive impact. We often talk about how sport can transform lives and in Ghana I saw a wonderful tangible example of that. Once again great partnerships in sport created something special and ground-breaking.

"Between UK Sport, England Hockey, the FIH, the African Hockey Federation, and the Ghana Hockey Association, five different African Nations were able to come together for the first time and compete in a hockey tournament. For two of those nations the athletes had never had the opportunity to compete internationally before."

She continued: "The hockey was played with a ferocious level of passion and enthusiasm and the singing and dancing displayed by the teams at the end of the tournament showed how much players, officials and spectators were celebrating the experience."

Grainger pointed out that Ghana's aim at the start of the project was to qualify for a world level tournament by 2022. In fact, in qualifying for the Commonwealth Games, this target was met four years early.

"In addition to the tournament itself, throughout the four year project further participation and performance projects had been put in place for coaches, players and umpires with a plan that hockey can continue to grow and develop in Ghana and across West Africa. " added Grainger, "People who have worked on the project have left with their own incredible life experiences and memories and there is a distinct sense that it had changed everyone's lives for the better."

FIH's Targeted Assistance Programme is a key component of the 10-year Hockey Revolution strategy. By increasing the degree of professionalism amongst the organisations in West Africa it is hoped that this Programme will contribute to the strategy's overall aim of making hockey a global game that inspires the next generation.

For more information about hockey in Ghana, click here.

For more information about hockey in Africa, visit the African Hockey Federation's website.

#GlobalProjects

FIH site