All the news for Thursday 12 April 2018

XXI Commonwealth Games - Day 8
Gold Coast (AUS) 5 - 14 Apr 2018

Fixtures 12 April 2018 (GMT +10)t
Women Placing 9-10 Wales - Ghana 1 - 1 (Shoot out 2 - 0)
Women Placing 7-8 Malaysia - Scotland 2 - 4
Women Semifinal England - New Zealand 0 - 0 (Shoot out 1 - 2)
Women Semifinal Australia - India 1 - 0

Fixtures Friday 13 April 2018 (GMT+10)
8:30 Men Placing 9-10 South Africa - Wales
10:45 Men Placing 7-8 Canada - Pakistan
14:00 Women Placing 5-6 South Africa - Canada
16:15 Men Placing 5-6 Scotland - Malaysia
19:30 Men Semifinal India - New Zealand
21:45 Men Semifinal Australia - England

Final Standings
Men's Pool A
| | | | | | | | | | |
| --- | --- | --- | --- | --- | --- | --- | --- | --- | --- |
| Rank | Team | Played | Won | Draw | Lost | For | Against | Diff | Points |
| 1 | Australia | 4 | 4 | 0 | 0 | 16 | 2 | 14 | 12 |
| 2 | New Zealand | 4 | 3 | 0 | 1 | 18 | 6 | 12 | 9 |
| 3 | Scotland | 4 | 1 | 0 | 3 | 7 | 14 | -7 | 3 |
| 4 | Canada | 4 | 1 | 0 | 3 | 3 | 11 | -8 | 3 |
| 5 | South Africa | 4 | 1 | 0 | 3 | 4 | 14 | -10 | 3 |
Men's Pool B
| | | | | | | | | | |
| --- | --- | --- | --- | --- | --- | --- | --- | --- | --- |
| Rank | Team | Played | Won | Draw | Lost | For | Against | Diff | Points |
| 1 | India | 4 | 3 | 1 | 0 | 12 | 9 | 3 | 10 |
| 2 | England | 4 | 2 | 1 | 1 | 15 | 8 | 7 | 7 |
| 3 | Pakistan | 4 | 0 | 4 | 0 | 6 | 6 | 0 | 4 |
| 4 | Malaysia | 4 | 1 | 1 | 2 | 5 | 10 | -5 | 4 |
| 5 | Wales | 4 | 0 | 1 | 3 | 6 | 11 | -5 | 1 |
Women's Pool A
| | | | | | | | | | |
| --- | --- | --- | --- | --- | --- | --- | --- | --- | --- |
| Rank | Team | Played | Won | Draw | Lost | For | Against | Diff | Points |
| 1 | England | 4 | 3 | 0 | 1 | 11 | 3 | 8 | 9 |
| 2 | India | 4 | 3 | 0 | 1 | 9 | 5 | 4 | 9 |
| 3 | South Africa | 4 | 1 | 1 | 2 | 3 | 4 | -1 | 4 |
| 4 | Malaysia | 4 | 1 | 1 | 2 | 3 | 8 | -5 | 4 |
| 5 | Wales | 4 | 1 | 0 | 3 | 4 | 11 | -7 | 3 |
Women's Pool B
| | | | | | | | | | |
| --- | --- | --- | --- | --- | --- | --- | --- | --- | --- |
| Rank | Team | Played | Won | Draw | Lost | For | Against | Diff | Points |
| 1 | Australia | 4 | 3 | 1 | 0 | 8 | 0 | 8 | 10 |
| 2 | New Zealand | 4 | 2 | 2 | 0 | 18 | 1 | 17 | 8 |
| 3 | Canada | 4 | 1 | 2 | 1 | 5 | 2 | 3 | 5 |
| 4 | Scotland | 4 | 1 | 1 | 2 | 6 | 8 | -2 | 4 |
| 5 | Ghana | 4 | 0 | 0 | 4 | 1 | 27 | -26 | 0 |
---

Men's hockey Semi-Finals line-up set for Gold Coast 2018 Commonwealth Games



England and India played out a thriller at the Gold Coast Hockey Centre Photo: FIH/WSP

The men's hockey Semi-Finals are set for the Gold Coast 2018 Commonwealth Games, with Australia taking on England and New Zealand playing India on Friday night at the Gold Coast Hockey Centre.

Australia's 2-1 win against Oceania rivals New Zealand plus India's dramatic 4-3 victory over England confirmed the Semi-Finals line-up for the men's event. Australia finished top of Pool A, New Zealand second while in Pool B India finished top with England second.

Another capacity crowd turned out to witness the Trans-Tasman derby between Australia's Kookaburras and New Zealand's Black Sticks.

Both teams were in fine form going into this match having won each of their Pool matches so far.

And it was free-scoring New Zealand who should have taken the lead in the 18th minute, but Hugo Inglis went wide after picking up a penalty corner rebound.

Australia's Kookaburras made them pay shortly afterwards as Jacob Whetton squeezed in a shot from the baseline beyond New Zealand's Richard Joyce, the Kiwi goalkeeper disappointed to have lost a goal at his near post.

Both teams battled hard looking for opportunities, however it wasn't until the fourth quarter that the match provided more goals.

Australia's Tom Wickham found Trent Mitton in the circle who deflected home to double their lead in the 56th minute.

New Zealand did not give up and their hard work, evident throughout this match, was rewarded in the 58th minute when Cory Bennett rocketed the ball into the Australian net from a penalty corner.

This was too little too late for the Black Sticks however as Australia went on to win 2-1 and set up a Semi-Final against England.

India's match against England was also crucial in terms of determining the Semi-Final line-ups, with the winner taking top spot in Pool B.

With the stakes high, both teams played at an incredible tempo – with end to end action delighting a large contingent of English and Indian spectators.

England took the lead in the 16th minute as a quick break led to David Condon scoring a stunning reverse stick strike past Indian goalkeeper PR Sreejesh.

Whilst England looked the better team in the opening stages, momentum swung India's way in the 32nd minute.

Gurjant Singh intercepted a pass from Ian Sloan before Mandeep Singh set up Manpreet Singh to slot the ball past England goalkeeper Harry Gibson.

After the break, India maintained a lot of possession but couldn't find the killer touch to penetrate England's strong defence.

Their persistence paid off in the 50th minute however as Rupinder Pal Singh edged India ahead 2-1 as his deflected shot from a penalty corner ended up in the back of the net.

England responded within minutes as Liam Ansell scored his first goal of the event from a penalty corner to draw level. Sam Ward then took England into the lead again in the 55th minute, also through a well worked penalty corner.

With the prospect of avoiding world number one ranked Australia in the Semi-Final, India rallied. After removing their goalkeeper the reigning Asian champions levelled with just under two minutes left on the clock. Luck was on Varun Kumar's side as his penalty corner was deflected beyond the English goalkeeper.

India were now in the driving seat and as they continued to pressure, Mandeep Singh connected with a searing strike into the circle to knock it high into the English net.

Seconds later the final hooter sounded as India celebrated their 4-3 victory which set them up with a Semi-Final meeting with New Zealand's Black Sticks on Friday.

The other men's games of the day determined the classification matches. Pakistan and Malaysia played out an exciting 1-1 draw, with Shafqat Rasool scoring for Malaysia before Ramadan Rosli equalised for Pakistan.

This result saw Malaysia finish in third position in Pool B and set up a final match against Scotland in the 5-6th classification match. Pakistan meanwhile will take on Canada to determine seventh and eighth place.

South Africa and Canada rounded out the day's action, with the reigning African champions recording their first win of the event, 2-0 through goals from Ryan Julius and Reza Rosenberg.

Despite their win they still finished in fifth position in in Pool A, which means that they will now play Wales to decide who finishes ninth and 10th.

In the women's hockey, two matches took place. Malaysia recorded their first win of the event, 1-0 against Wales, thanks to a goal from Hanis Onn. This meant they finished fourth in Pool A and will now take on Scotland to determine 7-8th place.

The second women's match saw Ghana score their first goal of the event through Cecilia Amoako. However it was no consolation as their opponents, Canada, scored five past them through a Brienne Stairs double, whilst Madeline Secco, Danielle Hennig and Katherine Wright also got on the scoresheet.

As a result Canada took the three points to finish in third place in Pool B and will now play South Africa to determine placings 5-6th. Wales meanwhile will take on Ghana with the winners finishing ninth and losers 10th.

RESULTS
Women
Pool A: Malaysia 1, Wales 0.
Pool B: Canada 5, Ghana 1.

Men
Pool A: Australia 2, New Zealand 1; Canada 0, South Africa 2.
Pool B: Malaysia 1, Pakistan 1; India 4, England 3.

#GC2018Hockey

FIH site


---

Canada defeats Ghana to secure spot in 5/6 placement game

Emotional victory gives Canada a chance to fight for fifth



Canadian players thank the fans for their respect for the Humboldt Broncos. Photo: Yan Huckendubler

Everyone in the Gold Coast Hockey Centre stood silently for a moment before today's match. It was a powerful and moving scene as the fans, athletes, staff and officials honoured the victims of the Humbodlt Broncos Canadian junior ice hockey team's fatal bus crash. Canadian players thanked the fans by raising their sticks above their heads, many of which had names and messages taped on in support of the Humboldt, Saskatchewan community.

Canadian defender Dani Hennig spoke about the moment on the field at the beginning of the game.

"It really hits close to home. All of us have travelled for various sports growing up and as adults," Hennig said. "We wanted to do something today to show that even from across the world, they are in our hearts and that we are thinking of everyone in that community."

The emotions were running high as the game got underway. Canada came into today's game against Ghana needing a win to secure their spot as third in the pool. Canada didn't waste much time getting on the board, as Brienne Stairs banged in a loose ball following a Canadian penalty corner.

Maddie Secco added to the lead in the second quarter finishing off a nice passing play that featured Kat Leahy and Amanda Woodcroft. Ghana made history in today's match, scoring their country's first goal in Commonwealth Games play. But the jubilation was short lived as Canada's Dani Hennig buried a penalty corner drag flick one minute later.

Hennig, playing in her 150th international match, said scoring a goal at a major games on a major milestone day was a special experience. But, a true team player, she was first and foremost happy that the team was able to secure the win.

"Anytime I get to step on the field in the Canadian colours, it's a special experience," said Hennig. "I think we've played well all tournament so to finally get the result we wanted, it's a nice feeling. And to get a goal in this game was just icing on the cake."

It was all Canada in the final frame as Stairs and Kate Wright added the insurance markers to give Canada a 5-1 victory, punching their ticket into the fifth-place game. Head Coach, Giles Bonnet said the game wasn't the prettiest to watch but they got the result they needed to get.

"It wasn't our best game, but it didn't have to be our best game," he said following the teams victory over Ghana. "We stayed focus and did well moving the ball, which culminated in a great third and fourth quarter."

The victory in tonight's game secured Canada's spot in the 5/6 placement game. Their opponent will be South Africa, a team Canada's coach Giles Bonnet is all too familiar with. He coached the South African women's national team from 2010-2014 and led them to the 2012 Olympic Games. Bonnet said he's not overthinking his connection to his past team.

"It's always an advantage to have worked with the team before," he said. "…but this is about our team and executing the game plan. This is a final for us."

Catch Team Canada take on South Africa LIVE on www.DAZN.com on Thursday April 12 at 9pm PDT.

Field Hockey Canada media release


---

Pakistan draw Malaysia 1-1 in last Games outing

By Nabil Tahir



PHOTO: AFP

Pakistan men's hockey team drew their fourth and last match 1-1 against Malaysia at the Gold Coast Hockey Centre to end their 2018 Commonwealth Games campaign with four draws and four points in group B.

Pakistan, led by Muhammad Rizwan Sr, entered the match against Malaysia with three draws in their last three matches against Wales (1-1), India (2-2) and England (2-2).

The Men in Green opened the scoring with a field goal in the ninth minute of the first quarter courtesy Shafqat Rasool.

They were able to secure the lead till the half-time buzzer blared but Malaysia, fresh from a ten-minute break, attacked Pakistan's goal and were successful in pushing one past the line in the 39th minute of the match.

Pakistan hockey team out of medals race at Commonwealth Games

Ramadan Rosli was Pakistan's tormentor as he scored a field goal for Malaysia to bring the score on level terms. Both team tried to score afterwards but the match ended in a stalemate.

Pakistan, with the draw, dropped to the fourth spot in group B and will now feature in the seventh-eighth position match on April 13.

A disappointed Rizwan Sr told The Express Tribune that they tried their best but their conversion was lacking.

"The team made seven attempts on Malaysia's goal out of which only one was successful. We could have scored a goal but we made small mistakes which led us to this draw," he said. "In modern hockey, even a minor mistake can destroy your move."

He continued by saying that lack of team chemistry led to undesirable results. "Every player has to be a step ahead of the move and should be ready to carry the ball forward and that can only be achieved by playing more matches with the same players."

Rizwan Sr added that team's main motive at Commonwealth Games was to get good practice in order to prepare for the upcoming World Cup. "We gained a lot of experience by playing here and we will take this experience back home and prepare for the big assignment. However, if we had wins in this tournament, it would have boosted our confidence more."

The Express Tribune


---

Malaysia hold Pakistan 1-1 as both teams bow out of hockey semi-final race at CW Games

GOLD COAST: Pakistan hockey team played yet another draw, their fourth in the Commonwealth Games, against Malaysia here on Wednesday as both teams went out of semi-final contention at the Gold Coast Hockey Centre. The score was 1-1.

Pakistan will now play the 7th/8th position match on Friday.

There was a lot at stake when Pakistan and Malaysia came across in their last pool game on Wednesday. Pakistan needed to win the game in order to make it for the fifth place in the game while for Malaysia a draw was enough.

In the end, both teams finished with equal points. As per the tournament rules, the side with more wins finished ahead. Pakistan drew all the four matches while Malaysia had one win.

Meanwhile, Secretary Pakistan Hockey Federation (PHF), Mohammad Shahbaz Senior in an interview with Radio Pakistan said that Pakistan team's overall performance in the event had been satisfactory.

He said that in the matches against India and England, Pakistani players showed fine hockey and came back strongly to draw both the tough matches which, he said, was encouraging. "It is after a long time that Pakistan team showed tremendous fighting spirit," said Shahabaz.

"The credit for that goes mainly to the newly-appointed Dutch coach Roelant Oltmans who has infused a new spirit in the team and the players are responding wonderfully to his coaching," he added.

In the match, Malaysia called the early shots. A steal in Pakistan half left goalkeeper Imran Butt with no option but to rush out of the 23-metre to thwart the danger. It cost him yellow card. Replacement Mazhar Abbas was called to make two outstanding saves in his five minute appearance on the pitch.

Pakistan managed to settle down and were certainly the better side during the rest of the first half. In the ninth minute, after some delightful short passes, a scoop reached Shafqat Rasool who was standing unmarked near the right post. Showing presence of mind and agility, he quickly flicked it into the cage to make it 1-0 for Pakistan.

In the second quarter, the two sides got a couple of back-to-back penalty corners but to no avail. Dilber had the best open play opportunity when he had the goal at his mercy as the Malaysian goalie had left the post but the try was poor.

At the half time Pakistan was leading by one goal.

The Greenshirts rushed out of the blocks after the change of the sides and had a penalty corner in the first minute but the variation did not click. After some exciting tussle in the middle by forwards of the two sides, Malaysia tested goalie Imran Butt who was in a good position to stop their attack.

In the 39th minute, Fitri Sari putting together a magnificent dribbling run, sent a parallel reverse ball in the path of Ramadan Rosli from deep inside circle's left. The latter then dived to complete a memorable goal.

First minute of the fourth quarter saw Pakistan wasting another penalty corner. Soon afterwards Malaysia, too, could not make most of the two back-to-back penalty corners coming its way.

With less than three minutes left, Pakistan head coach Oltmans replaced the goalkeeper with an outfield player.

There was some high drama as Pakistan obtained two back-to-back penalty corners in the penultimate minute but the Malaysian net minder Hairi Abdul Rahman anticipated well each time to squander the opposition hopes.

Dawn


---

Debatable goal ends Black Sticks' unbeaten run

By Andrew Alderson



New Zealand's Hugo Inglis plays with the ball as his runs pass Australia's Edward Ockenden. Photo / Greg Bowker

A debatable goal proved the difference in Australia's 2-1 pool victory against New Zealand at the Commonwealth Games.

Cory Bennett drilled a shot home from a penalty corner with 90 seconds remaining, but Australia's defence held after Jacob Whetton and Trent Mitton slotted earlier attempts.

Regardless, both teams have qualified for the semi-finals and will play either England or India.

The first half moved at a frenetic pace with individuals' fitness tested to capacity. Players gave their best Road Runner impressions whirring across the turf.

New Zealand demonstrated slick stick work and passing accuracy, but struggled to prod or puncture the Australian defence.

The world No.1s' modus operandi was characterised by a constant "reset, reset" call from their defence as they endeavoured to bring shape and control to their game. New Zealand earned five penalty corners but could not convert.

The cadence relented, albeit slightly, in the latter stanzas as exhaustion loomed.

New Zealand goalkeeper Richard Joyce and captain Arun Panchia debated the call for the opening goal. They were concerned the ball had not travelled five metres off a free hit before it went in the circle.

Black Sticks coach Darren Smith said they were trying to get the umpire to review it.

"I think he should [in such circumstances], because we're playing some big hockey here.

"It's Australia-New Zealand and we're at the Commonwealth Games, a couple of teams going at it, and there is a high chance it didn't go five metres.

"We were a wee bit disappointed with that. But, in the end, the second goal took it away from us."

A match highlight was the grave music which reverberated when a video review was called. It sounded like strains from a James Bond film before the MI6 agent extracts himself from a spot of trouble. The organisers should take a bow.

One instance came after Shea McAleese stopped a penalty corner with his horizontal stick in the 14th minute. The shock must have gone through his hands like an electric current, but he held firm.

Hugo Inglis got close to scoring for New Zealand in the second quarter when a penalty corner deflected off Australian goalkeeper Andrew Charter. Inglis pushed it left but dribbled with alacrity throughout.

New Zealand held their nerve again some abrasive attack in the first period.

The hosts had four shots on goal but the Black Sticks were relentless keeping the ball clear of the net.

The best examples came from three penalty corners when McAleese, Dane Lett, Nic Woods and captain Panchia donned their extra protective gear to join Joyce in warding off the inevitable missiles.

Elsewhere, Kane Russell averted a difficult situation in the third minute when a ball was weaved within two metres of the right post.

"It was a typical Australia-New Zealand battle; lots of physicality, pace and attack," Panchia said.

"They are disciplined, swarm well [on defence] and make it tough. You don't tend to get as much time as against other teams."

Smith said either semi-final opponent would be a challenge.

"It's not like we are going to find a bunny waiting for us. This was a chance to get a bit of acid and pressure [into our campaign] and Australia always provide that."

The Black Sticks men secured silver at Manchester in 2002 and bronze at Delhi in 2010 since hockey's debut in 1998.

The New Zealand Herald


---

Black Sticks men finish second in pool after loss to Australia, set for India semifinal video

Andrew Voerman



Black Stick Hugo Inglis challenges Mark Knowles of Australia during their pool match. ROBERT CIANFLONE/GETTY IMAGES

A late goal from Cory Bennett gave the Black Sticks hope of a draw before Australia clinched a 2-1 victory as both sides now eye the men's semifinals.

The Black Sticks men have finished second in their pool at the Commonwealth Games on the Gold Coast, after losing 2-1 to Australia in their final match on Wednesday night.

They had already qualified for the semifinals, but were hoping to secure top spot in pool A, and a more favourable matchup, with a win or a draw against their trans-Tasman rivals.

The identity of their semifinal opponent was found later on Wednesday, when India pipped England 4-3 in a thriller to top pool B. India will now face the Black Sticks on Friday, while Australia play England.

Australia took the lead five minutes into the second quarter against the Black Sticks, when Jacob Whetton scored.

The Kiwis had a couple of good chances from penalty corners near the end of the third quarter, but the host nation regained the upper hand in the final spell.

Kiwi keeper Richard Joyce made a fine save with just under seven minutes to play to keep his side in it - the Black Sticks would have topped the pool with a draw - but three minutes later, Trent Mitton doubled Australia's lead.

The Black Sticks gave themselves a sniff of a draw, when Cory Bennett scored from a penalty corner with 80 seconds remaining, but they couldn't find another, and so 2-1 it finished.

The Black Sticks women completed their pool play action on Monday, where they had a 0-0 draw with Australia.

They finished second in their pool as a result, and will face England in a semifinal at 9pm on Thursday night.

In the other women's semifinal, Australia will play India.

Stuff


---

New Zealand Men through to semi finals



Photo: www.photosport.nz

Despite being edged 2-1 by Australia in their final pool game, the New Zealand Men are guaranteed a chance to play for a medal at the Gold Coast Commonwealth Games.

It was a typical trans-Tasman battle with both sides leaving everything out on the turf in an end-to-end encounter from start to finish.

World number one ranked Australia opened the scoring in the 20th minute when Jacob Whetton netted from a tight angle.

Trent Mitton doubled Australia's advantage with a 57th minute field goal before the Kiwis pulled a goal back when Cory Bennett smashed home a reverse shot from a penalty corner deflection shortly before fulltime.

The result sees New Zealand finish second in Pool A with three wins and one loss, setting up a semi final match-up on Friday night against Pool B winners India.

Captain Arun Panchia said it was an extremely hard fought game but one that will help his side going into the semi finals.

"It's not the result we wanted but I think we can take a lot out of the match, it was a very competitive game against a world class Aussie side so it's good build up for the semis," he said.

"Australia are ranked number one in the world and were favourites going in so for us to come away with a performance like that was pleasing.

"We're looking forward to the challenge on Friday night and know what we have to do to book a place in the gold medal match."

New Zealand 1: (Cory Bennett 59')
Australia 2: (Jacob Whetton 20', Trent Mitton 57')
Halftime: Australia 1-0

Hockey New Zealand Media release


---

England just fall short in extraordinary Indian encounter



Ansell v India CWG 2018

England will play Australia in the semi-finals of the 2018 Commonwealth Games as they agonisingly lost to India in a thrilling match at the Gold Coast Hockey Centre.

Sam Ward's seventh goal of the tournament looked to have secured a remarkable comeback for his team after they had trailed with nine minutes to go, with Liam Ansell initially levelling the scores.

But two goals in the final two minutes from Varun Kumar and Mandeep Singh secured a remarkable win for India that sees them finish top of Pool B.

David Condon had given England the half-time lead but goals from Manpreet Singh and Rupinder Pal Singh gave India the advantage, before Ansell started the grandstand finish with a corner strike of his own in the 52nd minute.

Despite having playing only yesterday, the game started at a ferocious tempo with Lalit Upadhyay firing a golden fourth minute opportunity wide after Harry Gibson did well to save Gurjant Singh's effort.

Dilpreet Singh then scuffed a shot shortly after before England won the game's first corner in the sixth minute, Mark Gleghorne's forcing Sreejesh Parattu into a good save.

Substitute George Pinner was then forced into immediate action at the start of the second quarter to kick the ball away from Akashdeep Singh as he wound up for a shot, before England raced down the other end with Condon unfurling a brilliant shot on the reverse to open the scoring.

Ansell almost doubled the lead on the stroke of half-time but Parattu saved his snapshot before Gleghorne did well to charge down a penalty corner at the start of the second half as India came flying out of the traps.

And it didn't take long for them to make that momentum count as Gurjant intercepted a pass from Ian Sloan before Mandeep Singh set up Manpreet to slot the ball past Gibson's outstretched leg in the 33rd minute.

Mandeep and Sloan both came close with further efforts in the third quarter before the game really kicked off in the final period, with Rupinder giving India the lead for the first time as his strike beat an unlucky Pinner after taking two deflections.

England responded almost immediately as Ansell crunched a clever corner routine past Parattu before Ward did likewise in the 56th minute to seemingly secure the victory.

India however had other ideas and with just 100 seconds remaining grabbed the equaliser as Kumar's corner was once again deflected beyond Pinner.

The drama wasn't over there though as India pushed for the winner and it duly came less than a minute later as Manpreet just got a touch on a fizzing ball into the circle which flew high into Pinner's net, capping off a truly remarkable match.

India 4 (0)
Manpreet (FG, 33); Rupinder (PC, 51); Kumar (PC, 59); Mandeep (FG, 60)

England 3 (1)
Condon (FG, 17); Ansell (PC, 52); Ward (PC, 56)

England Starting XI: Gibson (GK), Sanford, Gleghorne, Creed, Willars, Middleton, Martin, Sloan (C), Condon, Griffiths, Ward

Subs: Pinner (GK), Dixon, Weir, Gall, Goodfield, Roper, Ansell

England Hockey Board Media release


---

Skipper Manpreet Singh's aggressive captaincy stands out as India beat England 4-3

Sundeep Misra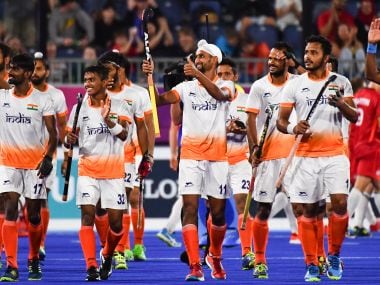 India's beat England 4-3 in a pulsating Pool B encounter on Wednesday. AFP

Doff your caps, hats, sticks, whatever you have, in the direction of India captain Manpreet Singh. In a match that was tied 3-3, seconds ticking away faster than Usain Bolt in his prime, Manpreet saw what the English defence couldn't — Mandeep Singh ready with his stick and the intended deflection. The reasonable hockey fan could argue there was more hope than intent riding on the slap-shot. But when you deal with seconds and a spot on top of the Pool, hope and intent becomes one. The slap shot was powerful and deadly in its accuracy. England, masters of the man-to-man tactic, couldn't keep Mandeep and that bobbing stick away. The ball kissed the edge of his stick and sped past a bewildered English goalkeeper Harry Gibson. India had won 4-3 as all hell broke loose.

It was a throbbing fourth quarter with five goals in 15 minutes. India, direction-less in the second quarter and desperately searching for rhythm in the third, found space, pace and ambition to annihilate the English who thought they had the game at 3-2. But they hadn't reckoned for Manpreet who roared like a lion in the fourth quarter. He made the middle zone his own. Thrice he dribbled past two English defenders, tying them up in their own wake. And after Varun Kumar made 3-3 and added to the frenzy, Manpreet saved the best for last.

Huge credit to Mandeep Singh who muscled himself into that position, pushing the defender back, making room for a deflection on a ball travelling at more than 140km/hr, the arch of the stick, the subtle turn, ball meeting a composite of fibreglass, graphite and carbon and zipping into goal. A split-second had turned the functional Mandeep Singh into the vibrant match-winner.

None of this could be presumed when both teams turned up on the pitch, tied at seven points, looking for a win to avoid the reigning champions Australia in the semi-finals. The initial attacks were with India as Lalit Upadhyay and Dilpreet Singh took shots but the power was missing. At the other end, P Sreejesh, the other star of the day's whirlwind match, kept the English at bay and when he saved England's first penalty corner (PC), it was his third save inside of five minutes. England were playing to a plan and moving through the middle. It kept the Indian midfield at bay and ensured that instead of creativity, defending was the task. Flanks were used by both the teams and Gurjant had a hard shot saved.

The second quarter saw Amit Rohidas, easily one of the best attacking defenders in the tournament, get a green card. It seemed familiar that seeing a bit of frustration, England were making the Indians play physically. And it was then, when India had nine players on the pitch, apart from the goalkeeper, that England scored through David Condon, a piece of brilliant reverse shot-making that beat Sreejesh. Two minutes later, Sreejesh saved Gleghorne's penalty corner flick. India were surviving.

India earned their first PC in the 31st minute and Harmanpreet's shot was saved. India were pushing hard with Sunil's trademark moves. The sharpness though was missing. Gurjant and Mandeep found themselves in good positions but the English defenders were fast and cleared to the lines. It seemed a bit weird that India weren't using the aerial balls from the back to release pressure as England desperately searched for another goal knowing that India had a PC battery plus the forwards had the knack of scoring when least expected to.

All of that opened up in the 32nd minute when Gurjant couldn't find space in the English striking circle and passed to Mandeep who, just when about to make a move towards the English goal, intelligently decided to turn around and give it to an overlapping Manpreet Singh. The Indian captain advanced into the striking circle and took a slap-shot from the top that beat George Pinner. In so many ways that was probably the turning point for Manpreet Singh, the player-captain. Suffused with confidence, Manpreet found his mojo.

In the fourth quarter, Manpreet was checked by Adam Dixon and the resultant penalty corner was converted by Rupinderpal Singh. India led 2-1. In the 51st minute, England had two PCs. After Gleghorne's was saved, England changed tactics and on the fourth PC, Gleghorne tapped sideways to Liam Ansell who flicked as the Indian runners were taken by surprise and couldn't change direction. It was 2-2.

In the 55th minute, a Dixon reverse was saved by Sreejesh. The intensity was building up. England who weren't giving too much space in the midfield, now started to show gaps. Manpreet took advantage. But with 4 minutes and 14 seconds to go, England had their fifth PC and Sam Ward slotted it neatly into the corner. England coach Crutchley's fist-pump on the side-lines showed that he thought the match was done and dusted. And when Rupinderpal Singh pulled up clutching his hamstring, it seemed fate had decided England was its destination.

India still countered with force. Akashdeep Singh, not having the best of tournaments slid, into the English striking circle and was hemmed in by James Gall and Sam Ward. The umpire pointed towards India's fourth PC. Crutchley looked heavenwards. The Indian bench sat mumbling prayers. Varun Kumar's flick will not be his best but it did the trick. Gibson made a hash of it and saw the ball roll into goal. There was bedlam now. The scores were tied at 3-3.

England made the cardinal sin of taking their eyes off the ball and Manpreet seized the opportunity. Acres of space in front, he moved and slapped a shot that zipped in like a bullet. The rest is history as India gained three points to finish with ten and top Pool B.

England were swamped by India's high pressing in the fourth quarter. It is better left to imagination an Indian side consistently playing at the same tempo and pace for a full four quarters, pushed and led by a captain who was powerful, creative and imperious. Suddenly, the air surrounding the Indian hockey team is thick with possibilities.

Firstpost


---

India beat England in thriller to set semis clash with NZ

s2h team




Gold Coast: India scored two goals within one and half minutes to seal a 4-3 win over England and set up a semifinal clash with New Zealand.

After leading 2-1 at a stage, India went down 2-3 in the 56th minute courtesy Sam Ward. India, then hungry for a win, sent off goalkeeper PR Sreejesh, who had a brilliant day on the field making some spectacular saves, and brought an extra active player on the turf. The move was successful and India got the much needed penalty corner, which was converted by Varun Kumar in the 59th minute.

Not settling for a draw, India continued pressing for attacks and finally yield the result of their hard work, when a cross by Manpreet Singh was deflected by Mandeep at the right angle.

"This kind of hard work on field is what we trained for in the last few weeks in Bengaluru where we paid a lot of attention to discipline and winning mentality. I'm happy this has come in the right moment in the tournament after an average start," said Chief Coach Sjoerd Marijne on the team's win. Rupinder Pal Singh (51') and Manpreet Singh (33') were the other goal scorers for India while David Condon (17'), Liam Ansell (52') and Sam Ward (56') scored for England.

Stick2Hockey.com


---

Indian men quell England's challenge

India will take on New Zealand while England will face defending champions Australia.

A. Vinod



Indian men's hockey team players celebrate after their victory over England at the Gold Coast 2018 Commonwealth Games on Wednesday.  Photo Credit: AFP

There were sound moves, good defence and a glut of goals as India staged a comeback to quell England 4-3 to top Pool A in men's hockey of the XXI Commonwealth Games at the Gold Coast hockey centre here on Wednesday.

The intentions of the side was quite clear — avoid Australia in the semifinals, a path which was already cleared on Tuesday itself. But then, the going was not on the expected lines as England too seemed to have the same idea, what with Australia eking out a 2-1 win over New Zealand and emerged leader of Pool B.

England, after a barren first quarter, got the lead through David Condon who was bang on target after getting into the Indian scoring circle. The Indians, shell-shocked by this reverse, took a long time to find their rhythm and the turnaround came in the third quarter with skipper Manpreet Singh getting the equaliser.

Drag flicker Rupinder Pal Singh got one right almost eighteen minutes later to put India into the lead for the first time. But the joy was shortlived as Liam Ansell pierced one past the Indian custodian, off a penalty corner.

England went ahead four minutes later, this time through Sam Ward, but India was not finished. The second comeback was made possible by Varun Kumar, and then a minute later, Mandeep Singh was right on target to ensure a memorable win.

There should be no diverse opinion as to who the real 'man-of-the- match' was: The Indian skipper Manpreet, who, for the first time, did justice to his role as captain of the side.

The Hindu


---

India beat England in 2 minutes

Score two very late goals to win 4-3 and top pool; victory ensures they won't face Aussies in semis

Rohit Mahajan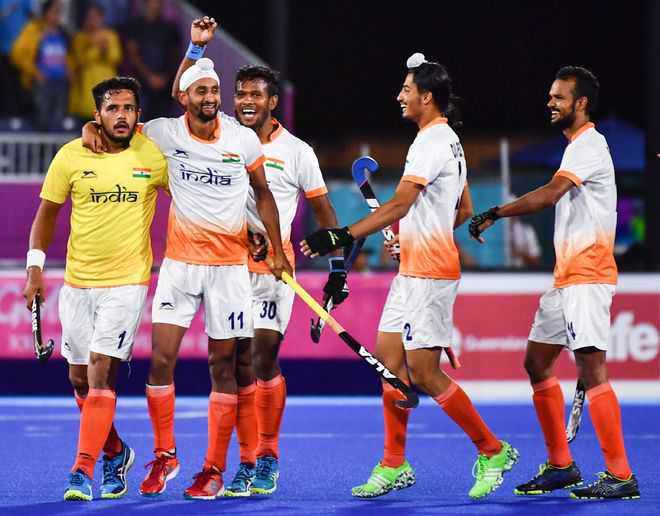 Mandeep Singh (second left) celebrates with his teammates after scoring a goal against England. AFP

India's men played England in hockey today. Two goals were scored in the last two minutes by the team that won; that team was India. The 4-3 win is extremely heartening, especially after India's struggles against Pakistan, Wales and Malaysia in the earlier group games.

Who likes to play Australia in hockey? No one. Immediately before India got on to the turf, Australia had beaten New Zealand, taking the No. 1 position in Pool A. India didn't want to play Australia in the semifinals; the only way to ensure that was to top Pool B. India did that, with two stunning strikes in the dying minutes of the match. India have lost the last two CWG finals to Australia — if they beat New Zealand in the semifinals on Friday, they can get a shot at revenge. For that to happen, of course, Australia would have to beat England in their semifinal match.

India trailed 2-3 with four minutes left in the match; they desperately surged ahead to seek the equaliser, and a foul by England gave them an opening. A penalty corner was awarded to India, and Varun Kumar made it count. The Indians in the crowd broke into wild celebrations. That would have been enough for them, but there was more — immediately after that, Mandeep Singh scored the winning goal with a deflection with just a second left to play.

India's first two goals were scored by Rupinder Pal Singh (51st minute) and Manpreet Singh (33); for England, David Condon (16), Liam Ansell (52) and Sam Ward (56) sounded the board.

Structure found

With each scrappy win, after the scrappy draw with Pakistan, coach Marijne had been expressing the satisfaction that his team won ugly. He's repeatedly said that winning ugly is better than scoring a lovely goal or two and losing.

India again showed weaknesses in defence, conceding a penalty corner late in the game when the scores were 2-2; Ward converted with a powerful drag-flick and with the clock ticking away ominously, India seemed destined to lose another game after conceding late goals.

But the match had a twist in the tale yet — this time it worked for India. They surged ahead in attack and two goals in two minutes made coach Marijne a very, very happy man indeed.

Marijne had been insisting after the recent tough games that good times would come for the team. They did tonight. "More important than the result is that the performance was much, much better than in the previous matches," the delighted Dutchman said. "Individual effort of most players was better than in the previous matches."

He said the Indians were more disciplined; he was happy the team didn't give up, continued to go hard at England right to the end. "Two minutes before full time, scoring two goals... This showed good mentality of the players," the coach said. "Most of the match we were in control, we had more circle penetrations, so that was good."

Better form, avoiding an Australia semifinal on their home territory — a day of much good for Indian hockey today.

The Tribune


---

India stun England to top Pool B in men's hockey

GOLD COAST (Australia): The Indian men's hockey team scored two goals in the final three minutes to overcome England 4-3 in a thrilling match to top Pool B and enter the semi-finals of the 21st Commonwealth Games here on Wednesday.

Manpreet Singh (32nd), Rupinder Pal Singh (51st), Varun Kumar (58th) and Mandeep Singh (59th) scored for India while England got their goals from David Condon (17th minute), Liam Ansell (52nd) and Sam Ward (56th).

Following the win in their final Pool B game, India have 10 points - three more than second-placed England.

It was tussle to the top spot in Pool B and the two teams lived up to the billing with entertaining hockey, pushing each other hooter-to-hooter.

Though India were quick to attack with Gurjant and Lalit Upadhyay taking shots on goal in quick succession only three minutes into the first quarter, England upped the ante soon after with Mark Gleghorne creating a goal scoring opportunity as he helped win the first penalty corner for England.

However, Indian goalkeeper PR Sreejesh was stunning in his effort to pad-away Gleghorne's fiercely-struck flick.

England though dominated the proceedings in the first and second quarter with disciplined structure, keeping the ball for longer spells, and came up with good man-to-man marking that kept the Indian forwards in the hunt to create space.

England struck first in the 16th minute when Mark Gleghorne opened-up the counter attack racing into the right flank, a strong cross to Adam Dixon saw him assist goal-scorer David Condon who came up with a brilliant backhand shot to convert and give England a 1-0 lead in the 17th minute.

An Indian infringement in the following minute saw England win their second penalty corner of the match, but Sreejesh was unrelenting yet again, stopping and clearing Gleghorne's flick.

India's wait for an equalizer finally ended in the 33rd minute when skipper Manpreet Singh struck from the top of the circle after a good assist from Mandeep Singh, who couldn't take a shot on goal himself with two English defenders tackling him.

Earlier though a penalty corner opportunity was lost out by India when Harmanpreet Singh's drag-flick was obstructed by England's first rusher.

The 1-1 equaliser ensured the third and the fourth quarter would be fought with great vigor and that's exactly what transpired.

India continued to dominate the third quarter as Rupinder Pal Singh earned India the much-needed 2-1 lead when he converted a penalty corner in the 50th minute. But defensive errors in the circle saw India give away two crucial PCs soon after.

England, meanwhile, punished India for their mistakes as Liam Ansell and Sam Ward swiftly converted PCs in the 52nd and 56th minute respectively, snatching a 3-2 lead. But the action continued with India putting up an aggressive front.

Akashdeep Singh helped India win a penalty corner in the dying minutes of the match, with India pulling out the goalkeeper to add an extra man to their attack, the tactic worked with Varun Kumar finding the equaliser with a well-struck drag-flick.

A powerful pass from Manpreet that sliced into the top of the circle was deflected into the goal by Mandeep ending the match with winning points taking their total tally to ten points in Pool B.

India take on New Zealand on Friday.

The Times of India


---

Indian men's hockey score two late goals to pip England, top Pool B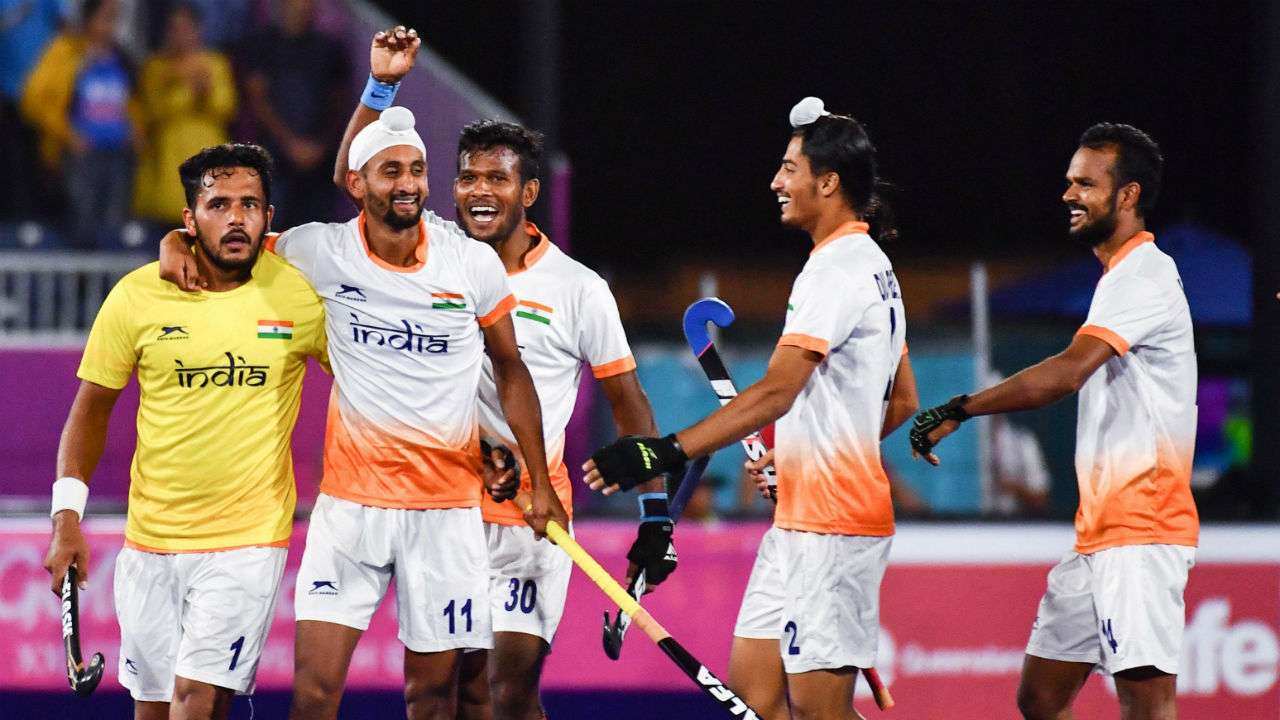 Indian hockey team , AFP

Varun Kumar and Mandeep Singh struck in dying minutes of the game as the Indian men's hockey team pulled off a thrilling 4-3 win over England to top Pool B in the Commonwealth Games on Wednesday.

It was Varun Kumar (59th minute) who scored the 3-3 equaliser through a well-struck penalty corner before Mandeep Singh (60') scored the winner.

Rupinder Pal Singh (51') and Manpreet Singh (33') were the other goal scorers for India while David Condon (17'), Liam Ansell (52') and Sam Ward (56') struck for England.

India's final league game also decided their semifinal opponents. They will take on New Zealand while England will face defending champions Australia.

It was Manpreet's fierce strike from the midfield that found a deflection off Mandeep's stick and ensured a sensational win for India.

This kind of hard work on field is what we trained for in the last few weeks in Bengaluru where we paid a lot of attention to discipline and winning mentality. I'm happy this has come in the right moment in the tournament after an average start, said chief coach Sjoerd Marijne.

Talking about the semifinal against New Zealand, the coach said: "I want the team to keep up this winning momentum. New Zealand are a good team, they did well against Australia and I want our boys to soak up this energy from this match against England and focus on the semifinal." It was a tussle to the top spot in Pool B and both India and England lived up to the billing with entertaining hockey, pushing each other hooter-to-hooter.

Though India were quick to attack with Gurjant and Lalit Upadhyay taking shots on goal in quick succession only three minutes into the first quarter, England upped the ante soon after with Mark Gleghorne creating a goal scoring opportunity as he helped win the first PC for England.

However, Indian goalkeeper PR Sreejesh was stunning in his effort to pad-away Gleghorne's fiercely-struck flick.

England though dominated the proceedings in the first and second quarter with disciplined structure, keeping the ball for longer spells, and came up with good man-to-man marking that kept the Indian forwards in the hunt to create space.

England struck first in the 16th minute when Gleghorne opened-up the counter attack racing into the right flank, a strong cross to Adam Dixon saw him assist goal-scorer David Condon who came up with a brilliant backhand shot to give England a 1-0 lead in the 17th minute.

An Indian infringement in the following minute saw England win their second PC of the match, but Sreejesh was unrelenting yet again.India's wait for an equaliser finally ended in the 33rd minute when skipper Manpreet struck from the top of the circle after a good assist from Mandeep, who couldn't take a shot on goal himself with two English defenders tackling him.Earlier though a PC opportunity was lost out by India when Harmanpreet Singh's drag-flick was obstructed by England's first rusher.

The 1-1 equaliser ensured the third and the fourth quarter would be fought with great vigour and that is exactly what transpired.

India continued to dominate the third quarter as Rupinder Pal Singh earned India the much-needed 2-1 lead when he converted a PC in the 50th minute. But defensive errors in the circle saw India give away two crucial PCs soon after.

England, meanwhile, punished India for their mistakes as Liam Ansell and Sam Ward swiftly converted PCs in the 52nd and 56th minute respectively, snatching a 3-2 lead. But the action continued with India putting up an aggressive front.

Akashdeep Singh helped India win a PC in the dying minutes of the match, with India pulling out the goalkeeper to add an extra man to their attack. The tactic worked with Varun Kumar finding the equaliser with a well-struck drag-flick.

A powerful pass from Manpreet that sliced into the top of the circle was deflected into the goal by Mandeep, sealing the issue for India.

Daily News & Analysis


---

India stun England to top Pool B in men's hockey

GOLD COAST (Australia): The Indian men's hockey team scored two goals in the final three minutes to overcome England 4-3 in a thrilling match to top Pool B and enter the semi-finals of the 21st Commonwealth Games here on Wednesday.

Manpreet Singh (32nd), Rupinder Pal Singh (51st), Varun Kumar (58th) and Mandeep Singh (59th) scored for India while England got their goals from David Condon (17th minute), Liam Ansell (52nd) and Sam Ward (56th).

Following the win in their final Pool B game, India have 10 points - three more than second-placed England.

It was tussle to the top spot in Pool B and the two teams lived up to the billing with entertaining hockey, pushing each other hooter-to-hooter.

Though India were quick to attack with Gurjant and Lalit Upadhyay taking shots on goal in quick succession only three minutes into the first quarter, England upped the ante soon after with Mark Gleghorne creating a goal scoring opportunity as he helped win the first penalty corner for England.

However, Indian goalkeeper PR Sreejesh was stunning in his effort to pad-away Gleghorne's fiercely-struck flick.

England though dominated the proceedings in the first and second quarter with disciplined structure, keeping the ball for longer spells, and came up with good man-to-man marking that kept the Indian forwards in the hunt to create space.

England struck first in the 16th minute when Mark Gleghorne opened-up the counter attack racing into the right flank, a strong cross to Adam Dixon saw him assist goal-scorer David Condon who came up with a brilliant backhand shot to convert and give England a 1-0 lead in the 17th minute.

An Indian infringement in the following minute saw England win their second penalty corner of the match, but Sreejesh was unrelenting yet again, stopping and clearing Gleghorne's flick.

India's wait for an equalizer finally ended in the 33rd minute when skipper Manpreet Singh struck from the top of the circle after a good assist from Mandeep Singh, who couldn't take a shot on goal himself with two English defenders tackling him.

Earlier though a penalty corner opportunity was lost out by India when Harmanpreet Singh's drag-flick was obstructed by England's first rusher.

The 1-1 equaliser ensured the third and the fourth quarter would be fought with great vigor and that's exactly what transpired.

India continued to dominate the third quarter as Rupinder Pal Singh earned India the much-needed 2-1 lead when he converted a penalty corner in the 50th minute. But defensive errors in the circle saw India give away two crucial PCs soon after.

England, meanwhile, punished India for their mistakes as Liam Ansell and Sam Ward swiftly converted PCs in the 52nd and 56th minute respectively, snatching a 3-2 lead. But the action continued with India putting up an aggressive front.

Akashdeep Singh helped India win a penalty corner in the dying minutes of the match, with India pulling out the goalkeeper to add an extra man to their attack, the tactic worked with Varun Kumar finding the equaliser with a well-struck drag-flick.

A powerful pass from Manpreet that sliced into the top of the circle was deflected into the goal by Mandeep ending the match with winning points taking their total tally to ten points in Pool B.

India take on New Zealand on Friday.

The Times of India


---

Canada falls to South Africa in final group stage match

Canada will move forward to face Pakistan in the 7/8 placement game



The Red Caribous pay tribute to the junior Humboldt Broncos killed in a bus accident in Canada. Photo: Yan Huckendubler

It's been a sombre few days for Canada as the country is still reeling from the fatal bus accident of the junior ice hockey team, Humboldt Broncos, in rural Saskatchewan. Canadians across the world, including at the Gold Coast Games are showing their support. The Canadian Men's National field hockey team's final group stage match featured a moment of silence before the game.

Canada's opposition, South Africa, came into today's match with a 0-0-3 record in the tournament. Despite the winless record, today belonged to the South Africans. The first half featured even play from both sides as the teams felt each other out and found their rhythm in the match. South Africa stunned Canada one minute into the third quarter with a well-timed deflection goal by Ryan Julius.

The desperation came too late in the game as Canada dominated the fourth quarter earning five penalty corner opportunities but were unable to capitalize on any of them. South African keeper, Siyavuya Nolutshungu, performed admirably posting a clean sheet and making some tremendous saves in clutch moments down the stretch. With the Canadian keeper out for an extra attacker, South Africa added a goal in the last minute. A late PC effort from Canada yielded no result and South Africa secured their first victory. Canada finished second in a three-way tie for third and will now play in the 7/8 consolation match against Pakistan.

With little time for reflection, Canada will now turn its sights on Pakistan. Over the past five years, Canada has only played against Pakistan three times. They lost twice to Pakistan at the Azlan Shah Cup in 2016 and defeated Pakistan in the 2017 World League Semi-Final. As coach Paul Bundy said before the tournament began, the team will put a great emphasis on how they finish this event and set themselves up for the 2018 World Cup in the fall.

You can watch Team Canada take on Pakistan live at 5:45pm PDT on Thursday — www.dazn.com

Field Hockey Canada media release


---

It's time for the Commonwealth Games semi-finals!



England Hockey fans at Lee Valley

With Gold Coast 2018 Commonwealth Games pool matches complete, attentions now turn to the semi-finals for both our men's and women's squads.

Both have safely secured qualification to the final four and both face southern hemisphere teams for places in the final.

England Women v New Zealand  (Thursday 10am)

England Men v Australia (Friday 10am or 12.15pm)

England's women topped their pool with victories over South Africa, Wales and Malaysia but were defeated by India. Top spot has set up a semi-final with New Zealand who came second in Pool B.

Speaking ahead of the clash, head coach Danny Kerry said: "New Zealand are a very good side and we are looking forward to a cracking game. We will need to be alert to their threats of which they have a number of. Equally we carry a threat too and it should be a very tight and exciting game between two very good sides."

Our men finished second in their pool after defeat to India in their final group game. With just 39 seconds left on the clock India grabbed a winner to move them top and leaves England facing Australia in the semi-finals on Friday.

England defeated Wales and Malaysia in the group stages which drawing with Pakistan before their defeat to India. Sam Ward has been in red hot form and with 7 goals in just 4 games is currently the tournament's top scorer.

Looking ahead to the match with Australia, co-captain and goalkeeper George Pinner said: "We are very excited about playing Australia in front of a packed house. It's a great opportunity and the atmosphere should be fantastic.

"We've played them a few times recently, it's always a tough physical battle and we expect nothing different to that on Friday."

England Hockey Board Media release


---

New Zealand Women face England in semis



Photo: www.photosport.nz

It's been confirmed the New Zealand Women's hockey team will go up against England in the semi finals at the Gold Coast 2018 Commonwealth Games.

The Kiwis finished second in Pool B with two wins and two draws, setting up a cross over against Pool A table toppers England at 9:00pm (NZ time) on Thursday for a chance to play for gold, while winners of Pool B Australia meet India at 11:15pm.

Meanwhile, the New Zealand Men play their final pool match against trans-Tasman rivals Australia at 6:30pm (NZ time) today, with live coverage on TVNZ Duke.

On the Gold Coast, the 10 competing nations for both men's and women's competitions are divided into two pools of five based on their FIH World Rankings.

The hockey competition has seen each side play all other pool opponents with only the top two from each pool progressing to the semi finals and medal matches.

The New Zealand Women have won three medals at past Commonwealth Games including silver at Delhi 2010 and bronze at Kuala Lumpur 1998 and Glasgow 2014.

Hockey New Zealand Media release


---

New Zealand Men line up India in semis



Photo: www.photosport.nz

The New Zealand Men have been confirmed for a semi final showdown with India at the Gold Coast 2018 Commonwealth Games.

The Kiwis finished second in Pool A with three wins and one loss, setting up a cross over against Pool B winners India at 9:30pm (NZ time) on Friday, with live coverage on TVNZ Duke.

Meanwhile, hosts Australia will take on England who finished second in Pool B in the evening's other semi final at 11:45pm (NZ time).

On the Gold Coast, the 10 competing nations for both men's and women's competitions are divided into two pools of five based on their FIH World Rankings.

The hockey competition has seen each side play all other pool opponents with only the top two from each pool progressing to the semi finals and medal matches.

The New Zealand Men have won two medals at past Commonwealth Games including silver at Manchester 2002 and bronze at Delhi 2010.

Hockey New Zealand Media release


---

Stats Speak: Uphill task for India to beat hosts Hockeyroos

By B.G.Joshi (Sehore-Bhopal, India)

Indian women have never beaten Aussies in knock-out stage. Women in blue have won on 5 occasions out of 41 matches so far. Four of the victories have come in test matches in bilateral series, each in year 1967, 1994, 2011 and 2016. In 1996 Indira Gandhi International Gold Cup India beat Australia 3-0. "It happens sometimes", said stalwart coach Rick Charlesworth on that loss. Can India do it again?

Head to head of India-Australia in Women's Hockey
Particulars

MP

W

D

L

GF

GA

Total

41

5

6

30

47

129

In CWG

4

0

0

4

3

11

Last played in Melbourne test match ,Nov 2016, lost 1-3
Fieldhockey.com


---

Pursuit For Home Gold Excites Local Boy Wotherspoon

Ben Somerford




Murwillumbah product Dylan Wotherspoon says chasing gold on the Gold Coast is really special with family and friends right behind him.

Wotherspoon, who turned 25 earlier this week, could enjoy a big celebration over the weekend with the Kookaburras to play England in the 2018 Commonwealth Games semi-finals at 9:45pm AEST on Friday night.

Australia will be chasing a spot in the gold medal match against either India or New Zealand to be played at 9:15pm AEST on Saturday evening.

The Commonwealth Games are special for all players but for Wotherspoon, playing on home turf makes it extra special.

 "It is really special," said Wotherspoon, who has scored three goals during the 2018 Commonwealth Games.

"It's something for me, so close to home, it's a great chance to give back to family and friends.

"It's really special. To play for you country so close to home is amazing.

"There's a lot of supporters here for me."

The forward added that Australia were chasing a more-complete performance in the semi-finals.

"We've come out of the blocks firing nearly every game," he said.

"At the moment we're focusing on the 60-minute performance. We're not quite happy with the way we've been performing.

"We'll look at the footage and hopefully keep building and building for the two games to go."

Brisbane product Whetton, who scored a fine goal in Australia's 2-1 win over New Zealand on Wednesday, echoed Wotherspoon's sentiment.

"We know that if we do put that 60-minute performance it's going to be very tough for someone to beat us," Whetton said.

"We play our best hockey in pressure situations and that's a semi-final tomorrow night.

"We're looking to put in a solid performance tomorrow night and to be in that final."

Whetton, who is part of the Kookaburras' leadership group, added that they weren't feeling any extra pressure.

"Not at all. We've started this tournament off fresh," he said.

"Like any tournament, we go out there to win that tournament.

"We don't feel any pressure to go out there and perform for anyone except ourselves.

"We know if we play our best hockey, we'll come away with a good result."

Australia plays England in the semi-final from 9:45pm AEST on Friday.

The Kookaburras defeated England twice in last month's Sultan Azlan Shah Cup including the final but drew with them at the World League Final in India in December.

Hockey Australia media release


---

Stephen's men eye fifth place finish in Gold Coast

THE Malaysian men's hockey team are eyeing the fifth spot in the Common­wealth Games.

Forward Mohd Ramadan Rosli saved the blushes for Malaysia yesterday by equalising in the third quarter to hold Pakistan to a 1-1 draw in a Group B match at the Gold Coast Hockey Stadium.

Pakistan took the lead with a field goal by Shafqat Rasool in the ninth minute and Ramadan levelled for Malaysia in the 39th minute off a field goal.

Malaysia needed a draw or a win to move to the fifth-place playoff.

Both teams have four points from four matches but Malaysia finished third in the group as they have one win while Pakistan drew all their matches.

Malaysia will face either Canada or Scotland on Friday.

National chief coach Stephen van Huizen said his players made defensive errors early in the match which resulted in Pakistan taking the lead.

"But my men managed to get their act together and did well to get the equaliser," said Stephen.

"We came here with the hope of finishing in the top five based on our world rankings and we hope to achieve it."

The Malaysian women's team, meanwhile, edged Wales 1-0 in a Group A match.

Nadiah Hanis Onn scored the winner in the 26th minute off a field attempt.

World No. 22 Malaysia and South Africa, 14th, were tied on four points from four matches but the Africans finished third on a better goal difference.

Malaysia will face world No. 18 Scotland in the seventh-place playoff on Friday.

The Star of Malaysia


---

Another disappointment

Abdul Mohi Shah

Yet again during the last three years, our national hockey team has disappointed the nation. In an event that is being participated only by six of the best twelve teams, Pakistan are now left to play for 7th or 8th position playoff.

In the ten-team competition, only South Africa and Wales — ranked 15th and 24th — are the lesser fortunate in the Commonwealth Games as in all expectations both will lock horns to avoid wooden spoon. Then come Pakistan who were left to wait for the outcome of South Africa-Canada match to know their opponents for 7th or 8th position.

Hockey fans back home have been waiting for almost more than two years to hear a good news from the team. This time around the expectations were even higher as the reins of the team were handed to highly-paid coach Roelant Oltmans months before the start of Games.

Just recently, minnows Japan deprived Pakistan of three-nation title also participated by 32nd ranked Oman team. Watching Pakistan playing a draw against Oman in the same tournament was yet another shocking result for the nation that now possibly have lost the count as how many times Pakistan have been beaten on hockey field during the last three years.

Admitted that Pakistan have drawn all the matches they played in the Commonwealth Games but the draw has always been the worst result in the such tournaments. Four draws mean four points. On the contrary two wins out of four give you six points. It was because of the draws Pakistan finished second last on the Pool B points table behind England, India and Malaysia.

Another tournament and another poor finish. These three years have been the worst ever in the history of Pakistan hockey. Greenshirts' FIH ranking had slipped to an all time low (14th) before recovering somewhat at No 13. Fears are there that it would further slip in days to come as the team continues to perform poorly. The unwise decisions by the high-ups of Pakistan Hockey Federation (PHF) during the last three years contributed to these results.

To start with it was never a wise decision to appoint local coaches with the national team when Brig (r) Khalid Sajjad Khokhar took over the reins of the federation. Since he had the finances at his disposal, time and again he was reminded that local coaches have no real knowledge of modern hockey, thus pinning hopes on them would be a futile exercise.

Admitted that PHF president at that time wanted to take some concrete decisions to improve the then No 6 or 7 ranking of the team, those around him had other motives and they have succeeded in getting the coaching jobs for their near and dear ones. When the local coaches backfired again and again ultimately the PHF had to bring in Oltmans for the second stint with the national team.

Declining a wildcard entry to play the penultimate Champions Trophy in 2016 and later Azlan Shah Hockey Cup last month were the decisions contributed to team's declining standard. Time and again the PHF bosses were reminded at the time of taking over the federation in 2015 that getting involved into provincial hockey politics would be fatal not only for the federation but for the promotion of hockey at grassroots level. Those having other motives in the federation were adamant to have provincial hockey associations of their choice in what they called in less than three months. Now the same PHF officials are eating their words and admitting in open that there biggest mistake was to get involved in provincial politics in special reference with KP Hockey Association. One wonders where their tall claims of toppling KP association in just three months have gone now.

Majority of the PHF officials were supporting the idea of having new-look team. Major part of the first two years have seen them ignoring players like Rizwan Senior, Shafqat Rasool, Mohammad Irfan, Tauseeq Irshad, Imran Butt and a few others. Again the PHF has reversed its decision and all those players who were part of the team that won silver in Champions Trophy during Rana Mujahid's era as secretary PHF are now back.

Apart from these, there are a few more such decisions that contributed to systematic down fall of the team. Now in all major events, Pakistan have been left playing for the last positions. At Commonwealth Games, in the absence of some powerful teams like Germany, Holland, Argentina, Belgium, Spain and South Korea one expects team like Pakistan to make it to the semi-finals at least. Sadly, Pakistan hockey has missed yet another good opportunity to stage recovery and to put the team's progress on right track.

The News International


---

Lovestruck Indian skipper focused on golden mission



Lovebirds: Manpreet Singh and Illi Najwa Saddique.

AS India's skipper, Manpreet Singh is the undisputed head of the hockey team.

But off the field, the 25-year-old is head over heels in love with a Malay­sian – Illi Najwa Saddique, a 24-year-old of Pakis­tani descent.

The Punjab-born Manpreet first met Illi when he featured in the Sultan of Johor Cup in Johor Baru in 2013. And it was love at first sight.

"I've been courting Illi for the last five years and plan to get married in two years' time," he said.

But for now, his hockey career is the priority.

"I'm busy with my hockey career and I have a heavy responsibility as captain of the Indian team," said Manpreet, who has been wearing the armband since May last year.

"I want to help India win their first Games gold medal here.

"We won silver in Glasgow (2014)," said Manpreet, who made his international debut in 2011 when he was 19.

He has featured in two Olympics – in London in 2012 and Rio De Janeiro in 2016. He was named the Asian Hockey Federation (AHF) Junior Player of the Year in 2014.

India have qualified for the semi-finals in Gold Coast and will face either defending champions Australia or New Zealand on Friday.

India lost to Australia 4-0 in the final in Glasgow four years ago.

The Star of Malaysia


---

The Hockey Social: Tinder, goals and caps at the Commonwealth Games



Australia ensured top spot and a special goal to match (PIC: Grant Treeby, Hockey Australia)

The Hockey Social, our regular dose on what's happening in the world of hockey, brings you the latest from the Commonwealth Games

Fun after the Games … and during

Many Commonwealth Games athletes have taken to the online dating app Tinder while staying on the Gold Coast – and that includes hockey players. Despite hockey being one of the few events to take place throughout the 11 days of action, that hasn't stopped some athletes taking their minds off the pitch.

An account claiming to be that of South African hockey player Nqobile Ntuli says he's after "some wild troopers", while it is reported that Welsh hockey player Dale Hutchinson also shows off his party side with pictures of him out clubbing and celebrating a tournament medal with a beverage in the dressing room. "We billed the Commonwealth Games as the 'Friendly Games' and certainly they're friendly," Commonwealth Games Minister Kate Jones said.

Skill sparks wrath of the coaches

"I saw Joycey (New Zealand goalkeeper Richard Joyce) go down a little bit and open up a bit of an angle. He's really good with his stick and had already made a fabulous save on one of our shots earlier.

"I practice that at home and if you ask the coaches, they'd say they get annoyed at me for doing it, but when it comes off it's not too bad."

Jake Whetton describes his brilliant goal in the first half against New Zealand, dribbling along the baseline and scooped it over the goalkeeper's shoulder.

And now go to the two minute mark to watch the goal…

Racking up the caps

As former captain Barry Middleton took to the pitch against India, the long-serving Englishman recorded yet another milestone. He is now the second most-capped international with 412 alongside Dilip Tirkey, who played for India between 1995 and 2009. Middleton, 34, will go second on his own when England play Australia in the semi-final (incidentally, he reached his 400th cap also against Australia).

Not that Middleton will be even thinking about caps. So how long can Middleton go on and can he surpass the Netherlands' caps record holder Teun de Nooijer (453)? It is likely that he could do this well before Tokyo 2020 which would make for a significant achievement for a player who must rank as Britain's most-capped sportsperson.

Hockeyroos gold to lead to talent drain?

"When Georgie Parker was celebrating her hockey gold medal at the Glasgow Commonwealth Games she would have laughed in your face had you told her by this Games she would be playing a sport (AFLW) she had never played in a competition which then did not exist."

An interesting read from writer Robert Craddock in the Courier Mail on why the rise of women's sports in Australia is hurting our medal hopes. The lingering question, he writes, is not whether more will follow but who will follow. The drain is inevitable.

What they said…

"We were only together for 10 days in nine months. We are also not used to the heat here given that we trained in Spain where it was snowing."

Part-time funding and weather patterns seemed to scupper Scotland's preparation for the Gold Coast Games, according to coach Derek Forsyth.

The Hockey Paper


---

2018 Test Matches USA v CHI (W) presented by Citi - 2nd test
Lancaster (USA)

USA - CHI         6 - 0

FIH Match Centre


---

Strong Scoring Performance Lifts USWNT Over Chile in Match Two of Series




LANCASTER, Pa. – The U.S. Women's National Team came out strong in their second match of the four-game series against No. 15 Chile at Spooky Nook Sports in Lancaster, Pa. USA kicked off the scoring by tallying three in the first quarter and another each in the second and third on their way to a 6-0 victory.

"Our ability to continually do the hard work created great opportunities for us and put us in advantageous positions," said Melissa Gonzalez (Mohegan Lake, N.Y.), USWNT captain. "Our strength is unit play both defensively and offensively. Tonight, we raised the bar from game one."

USA came out on the front foot, applying a lot of pressure to their opposition and getting the ball quickly into their attacking circle. It only took until the second minute when Chile's goalkeeper Claudia Schuler was tested when Gonzalez  beat her and dumped it toward the goalmouth where it was picked up and cleared by a Chile defender. Two minutes following, USA got on the scoreboard through a drive by Gonzalez that filtered through a few athletes and was finished on the post by Laura Hurff (Newark, Del.). USA kept up the offensive mentality, cutting down a few threats from Chile, before notching their second goal in the 10th minute. Strong on the ball, Erin Matson (Chadds Ford, Pa.) went through a defender and followed up herself pushing it hard into the corner to extend the lead to 2-0.

Staying aggressive USA continued to push forward. In the 14th minute, Jill (Witmer) Funk (Lancaster, Pa.) collected the ball in the middle of the field and used her speed to break through and dump it to Catherine Caro (Martinsville, N.J.) who finished to make it 3-0.

The same spark for USA continued into the second quarter. Just three minutes in Gonzalez added her name to the score sheet after making a defensive stop that she took into the circle and fired a hard backhand into the corner. Chile started to generate some offensive runs toward the end of the quarter but were unable to string consecutive passes together, as the halftime score stood in favor of USA, 4-0.

Two minutes into the third frame is when Chile recorded their first shot on goal. A long ball up field found a striker who ripped a backhand shot that was saved by USA's goalkeeper Jackie Briggs (Robesonia, Pa.). It didn't take long for the ball to make its way to the other end through a great passing sequence that lead to a shot by Caro and a penalty corner for USA. Off a well-executed chance in the 34th minute, Ali Froede (Burke, Va.) swept it to Funk who deflected it into the net, giving USA a 5-0 lead. Chile started to find more positive looks as they gathered their first penalty corner and few more opportunities in their attacking circle, but USA's defensive unit continued to remain strong.

In the fourth quarter, Chile continued to look for any kind of outcomes in their circle, and on the other end USA looked to extend their lead even more. After some back and forth play between the 25-yard lines, USA earned a penalty corner with just a minute and half remaining in the game. The initial shot by Kathleen Sharkey (Moosic, Pa.) hit a Chile foot, and on the second attempt off a scramble in front of the goal, Matson tallied her second goal of the game to make the final score 6-0 and secure the win for USA.

"After watching film from the first game, we decided we wanted to come out 100% from the beginning and sustain that the whole game," commented Matson. "It is definitely something we want to work on but we picked it up in the end, which is a good thing."

The U.S. Women's National Team vs. Chile, presented by Citi, series continues on Friday, April 13 at 6:30 p.m. ET with the third game. This game is Love Your Melon Night! USA Field Hockey has teamed up with Love Your Melon to celebrate the fight and research done to beat pediatric cancer. Fans can purchase a ticket package that includes a limited-edition dual-branded USA Field Hockey Love Your Melon Beanie.

USFHA media release


---

O'Haire Joins Junior U.S. Men's National Team Staff as Goalkeeping Specialist



Image Taken by Candice-Leigh Baumgardner

COLORADO SPRINGS, Colo. - USA Field Hockey is pleased to announce that Jon O'Haire has joined the Junior U.S. Men's National Team high-performance coaching group as a goalkeeper specialist. The role represents a return to the United States coaching scene after spending the last six years in New Zealand.

Actively involved in the U.S. Men's and Women's National Teams from 1997-2005, O'Haire worked with a range of goalkeepers from both programs in a number of settings. He served as an assistant coach of the USMNT at the 1999 Pan American Games in Winnipeg, Canada and 2003 Pan American Games in Santo Domingo, Dominican Republic. He was recognized as the 2003 USA Field Hockey National Coach of the Year for his work with the goalkeepers on both teams. He was an assistant coach to the U.S. U-21 Women's National Team at the Junior Pan American Championship in Bridgetown, Barbados which qualified the squad for the 2001 Hockey Junior World Cup in Buenos Aires, Argentina.

O'Haire's coaching resume includes a number or roles at the United States collegiate level and includes positions at American University, University of Maryland, University of Michigan, Penn State University, The Ohio State University and Miami University of Ohio. A 2012 move took him to Christchurch, New Zealand, and while there he served as a Community Hockey Manager at Canterbury Hockey Association and goalkeeper specialist coach with the Canterbury Regional High Performance Center. O'Haire also worked with the Black Sticks U-21 Men's goalkeepers in their lead up to the Junior World Cup in 2016 and most recently at the Future Black Sticks Goalkeeper Camp for men and women in 2017.

His involvement with hockey started in 1981 as a club player in New York with the Greenwich Field Hockey Club. In 1982, he was first selected to the U.S. Men's National Team as a goalkeeper. O'Haire played in 54 international outdoor test matches from 1983-1995 and played on three Pan American Games teams, winning bronze medals with in 1987 and 1995. Domestically, he participated in eight U.S. Olympic Festivals, claiming four gold and three silver medals. O'Haire also represented the United States internationally in a number of indoor tournaments. He continues to play at the club level and with a variety of tournament teams. O'Haire and his wife, Beth, reside in Columbus, Ohio.

Join USA Field Hockey in welcoming O'Haire and his expertise to the Junior U.S. Men's National Team coaching staff.

USFHA media release


---

Women's Hockey World Cup teams express concern over training times

By Rod Gilmour on the Gold Coast



Lily Owsley takes on the New Zealand defence (PIC: Simon Parker)

Teams playing at the 2018 Vitality women's World Cup in London face more time travelling to training for hockey's showpiece than actual allotted times at the Olympic Park, The Hockey Paper can reveal.

The logistical factor of coping with 16 women teams – up from 12 at the 2014 event in the Netherlands – will test England Hockey chiefs ahead of England's biggest sporting event in July and August

On Thursday, England Hockey is to mark the 100-day countdown until the World Cup when 100 schoolchildren will join four GB Rio golden girls. But administering the top women's teams will be a far bigger hurdle.

New Zealand and India are two of the teams who have expressed initial dissatisfaction of having just one hour of pre-tournament pitch time at the Lee Valley Hockey Centre – trimmed from the usual 90 minutes.




"For a country like ours, it's a cost factor as well. We can't afford to go elsewhere and hire a bus," said Mark Hager, the New Zealand coach and one of the favourites.

"What's frustrating for everybody is that you are sometimes travelling more than you're playing."

THP contacted England Hockey for a comment on the matter, but had received no response at the time of publication.

Teams are currently working through arrival dates to calculate allocation times.

It is uncommon for teams to have one hour training ahead of a tournament. During the event, however, teams usually train for 60 minutes in between matches.

"Most teams would like to push for 90 minutes and if not to use alternative pitches close to the stadium," added Hager.

"It's a difficult thing for England Hockey with 16 teams, so we've asked the question."

The Hockey Paper


---

Tartan Trilogy – A Summer of Scottish Hockey




It's a summer of Scottish Hockey as Scotland's women's and men's international teams welcome top-class international opposition to Glasgow in a Tartan Trilogy of three-match challenge series'.

There are three trophies up for grabs at the Glasgow National Hockey Centre as Scotland women face Ireland and Italy, while Scotland men play USA, each in a 'best of three' contest for silverware.

The matches will come fresh from the Gold Coast Commonwealth Games where both squads are representing Scotland against top international competition on the world stage.

The Tartan Trilogy sets off in motion another phase of top international hockey for the Scotland squads. It's also a great chance for the home support to cheer on Scotland's best players, including Gold Coast 2018 athletes, in the flesh on home turf.

Ireland and Italy will both compete at the Hockey World Cup in London this year and come to Glasgow ahead of the tournament to face tough opposition in Scotland.

Scotland women also have a home tournament on the horizon and the Tartan Trilogy starts off a process that will eventually lead to the EuroHockey Championship II in Glasgow 2019.

2017 was an incredible year for Scotland's men's hockey team. The Blue Sticks will be looking to carry their exceptional form from last year, where the team won EuroHockey Championship II and qualified for the World League semi-final, into 2018.

Tickets for all matches are on sale now HERE

Full schedule

'The Celtic Series'

Scotland v Ireland (women)
Dates & times: Thursday 31 May (19:00); Saturday 2 June (15:00); Sunday 3 June (13:00)
Venue: Glasgow National Hockey Centre

'The Italian Series'

Scotland v Italy (women)
Dates & times: Tuesday 12 June (19:00); Thursday 14 June (12:00); Friday 15 June* (19:00)
Venue: Glasgow National Hockey Centre

*Match on Fri 15 June also includes Scotland U16 girls' v Ulster U16 girls' (5pm)

'The Atlantic Series'

Scotland v USA (men)
Dates and times: Sunday 8 July (12:00), Monday 9 July (18:00), Wednesday 11 July (14:00)
Venue: Glasgow National Hockey Centre

Scottish Hockey Union media release


---

EHL FINAL4 sides Bloemendaal and Kampong level at top of Hoofdklasse



©: Frank Uijlenbroek/world Sport Pics

EHL FINAL4 sides Bloemendaal and SV Kampong ended last weekend level on 44 points in the Hoofdklasse as the former came from behind to beat SCHC while the Utrecht team drew with AH&BC Amsterdam.

For Bloemendaal, Thomas Vis fired in a corner into the bottom right to give SCHC a shock lead after shipping plenty of early pressure. But Jamie Dwyer's stroke, a Roel Bovendeert field goal and a corner from Tim Swaen on the hour completed a 3-1 turnaround.

For Kampong, they led twice at the Wagener Stadium but ended up settling for a 2-2 draw. Philip Meulenbroek and Martijn Havenga twice put them in front with Boris Burkhardt getting the first equaliser and Mirco Pruijser closing out the scoring in the 39th minute.

HC Rotterdam, the other EHL FINAL4 side from the Netherlands, kept their push for a playoff place going as they recorded a 5-4 win over Almere with Jeroen Hertzberger and Seve van Ass both scoring two and Thijs van Dam getting the other.

They remain in fifth place with six points to make up on fourth place Oranje-Rood - 2-1 winners over Pinoke – but they have a game in hand.

This weekend is a busy one with Rotterdam going to HGC on Friday, Kampong hosting Den Bosch and Bloemendaal at Pinoke. A couple of days later, Rotterdam take on Kampong in a mouth-watering clash between two EHL outfits.

Euro Hockey League media release


---

Wegnez to move to high-flying Racing



©: Frank Uijlenbroek/world Sport Pics

Victor Wegnez will switch from KHC Dragons to Royal Racing Club de Bruxelles for next season, initially signing on a two-year contract.

The midfielder moved from Daring last season, switching from Brussels to Antwerp, but will return back to the initial city following one campaign with the club.

It adds to a good week for Racing who beat the Waterloo Ducks 6-2 last weekend, coming back from 2-0 down inside the first 12 minutes.

Conor Harte cut the gap before Willy Garcia equalised and Tom Boon put Racing in front before half-time with a deflection from Harte's powerful pass.

Tommy Willems extended their lead further before Cedric Charlier and a second Boon goal stretched the lead out to 6-2.

Reflecting on the game, Charlier said afterwards to Le Soir: "We were not in the game for the first ten minutes, especially in the duels. But the reaction was perfect.

"The work of the past few weeks has paid off. The group continues to grow in maturity and the way in which we manage important moments. We stayed calm despite this two-goal lead for Watducks.

"This is clearly a reference match after last week's Kampong match in EHL. But nothing is done yet. We will continue to take the matches one by one to ensure our place in the playoffs."

Dragons were unable to take full advantage of the Ducks slip, drawing 2-2 with Braxgata. Herakles continued their good form with a 2-1 win over Pingouin, Amaury Keusters scoring the crucial goal once again.

Royal Leopold beat Daring 3-1 while La Gantoise boosted their playoff hopes with a 4-2 win at Oree.

Euro Hockey League media release