All the news for Saturday 17 February 2018

Danson hat-trick guides GB to victory



Alex Danson

A hat-trick from captain Alex Danson guided Great Britain to a first win on their tour of Argentina as they defeated the hosts 4-2.

Danson netted twice in the opening quarter before Laura Unsworth put GB into a 3-1 half-time lead. Danson completed her hat-trick in the final fifteen minutes to all but confirm victory for her side.

Having lost the opening three test matches GB responded to put in a strong performance in front of a lively home crowd and secure a deserved win.

GB flew out the blocks and raced into the lead inside just the second minute. Giselle Ansley fired a shot at goal from a penalty corner which was saved, but Danson was quickest to react and turn the ball home.

The visitors went close to doubling their lead as they continued to dominate the opening proceedings but against the run of play Campoy finished after a scramble in the Great Britain area. However in the final minute of the opening quarter Danson deflected cleverly from a penalty corner to restore the lead.

GB's fluid play wasn't broken by the break and they extended their lead immediately as Unsworth slapped a hard shot under the bar. The rest of the quarter was evenly contested and GB took their 3-1 lead into the half-time break.

Both sides pressed for more goals in the third quarter but despite a number of chances and penalty corners, neither side were able to find the back of the net.

The hosts pushed hard for a way back into the game in the final fifteen minutes but Rose Thomas stood up to their efforts to make two fine saves. With nine minutes to go Danson completed her hat-trick, again making a clever deflection on the post.

Argentinean star Noel Barrionuevo made sure of a nervy few closing moments though as she netted to make it 4-2 with just under five minutes remaining but GB's defence held firm to secure the victory.

Great Britain XI: Nikki Cochrane, Laura Unsworth, Anna Toman, Susannah Townsend, Alex Danson (C), Giselle Ansley, Sophie Bray, Hollie Pearne-Webb, Ellie Watton, Nicola White, Amy Costello

Subs: Zoe Shipperley, Sarah Haycroft, Sarah Robertson, Ellie Rayer, Emily Defroand, Jo Hunter, Rose Thomas

Great Britain Hockey media release


---

2018 Oman Triangular Series - Day 3
Muscat (OMA)

OMA - JPN 0 - 3

Standings
---

Midfield dynamo McLaren takes punt

By David Leggat



Anita McLaren is relishing being back on Black Sticks duty after taking a break. Photo / Photosport

Anita McLaren is relishing being back on Black Sticks duty; it's fair to suggest they'll be chuffed to have the midfield dynamo in their squad preparing to take on Argentina in Bueno Aires next week too.

McLaren, nee Punt, hasn't played a game since the shattering fourth-placed finish at the Rio Olympics in 2016. Clean outs after the four-year Olympic cycle are common place.

In New Zealand's case they have lost a clutch of players with a wealth of international experience, most notably Kayla Whitelock, Emily Gaddum and Gemma McCaw, who have retired. That's 775 caps between them.

Charlotte Harrison is thought unlikely to return (222), leaving the likes of Stacey Michelsen, world player of the year finalist last year (244) and Sam Charlton (206) remaining of what was one of the most gifted group of players New Zealand have assembled.

Now McLaren, who has 247 caps, and a record 96 goals, is back and buzzing to get into her work again.

A sports coordinator and mentor at Kings College, McLaren felt she had to give back to the school for the support and time off they had given her since she started working there in 2015, hence the break.

Time out from the sport was also important, considering by her reckoning she had missed only two international assignments since her debut nine years ago.

''I did intend to come back earlier but it didn't quite pan out so I ended up having a full year off and it's been really good,'' she said.

''Now I'm a lot stronger and in better shape. I've worked pretty hard over the break to get my body right and I am enjoying hockey, which is nice.''

McLaren, at full pace bringing the ball through the midfield, is among hockey's more electrifying sights. Add in her goalscoring punch with the penalty corner drag flick and she is a significant attacking presence for the fourth-ranked Black Sticks.

She admitted it took time to get past the hurt of missing a medal, for the second consecutive Olympics.

In London in 2012, New Zealand lost a semifinal penalty shootout after being deadlocked 2-2 with the world's best, the Netherlands, then missed a bronze with a poor display in the third-fourth match against Britain.

Two years ago it was the same story, losing the semifinal to eventual gold medallists Britain 3-0 then going down to Germany 2-1, a game they should never have lost.

''London hurt, but no one expected us to make the semifinals,'' she recalled.

''To me Rio hurts more because we should have won. Even with two minutes to go I still had my hand on the medal. (You thought) keep going through the process, it's going to happen. When it didn't it was quite surreal. (You thought) not again, surely not.

''You try and move on but it's definitely a sore spot and will be for the rest of my life.''

McLaren, a talented runner, dabbled in athletics last summer, but hockey is her first sporting love. She had athletic goals and ''that got me off the couch last year. My husband (former athlete Scott McLaren) is a trainer and he got me in pretty good shape.

''If I didn't (do that) I wouldn't be where I am now. It was the hardest training of my life.''

McLaren is excited by the talent coming through into the Black Sticks. She wants to help them develop and hopes her experiences can provide an extra incentive.

She is adamant the targets of 100 goals and surpassing Gaddum's record caps – she's 27 behind – aren't why she is back in the game.

''Kayla should have played many more tests than anyone. But she always said it's the quality not the quantity.''

For now she is nervous going into the first of five internationals against world No 3 Argentina in Buenos Aires on Monday.

She knows she is fit, but that's not international hockey match fit.

''You can't replicate that. The only way is to play games.

''I've played enough to know the speed of international hockey, I know what going to be like.''

The Commonwealth Games on the Gold Coast in April is on the horizon. There's another Olympic campaign further off, in Tokyo in 2020. But let's not go there.

''There's no point getting ahead of myself. I'm just keeping things simple and as long as I'm improving each time I on go turf I'll be happy.''

The New Zealand Herald


---

Child facing hip surgery and possible end of career

By David Leggat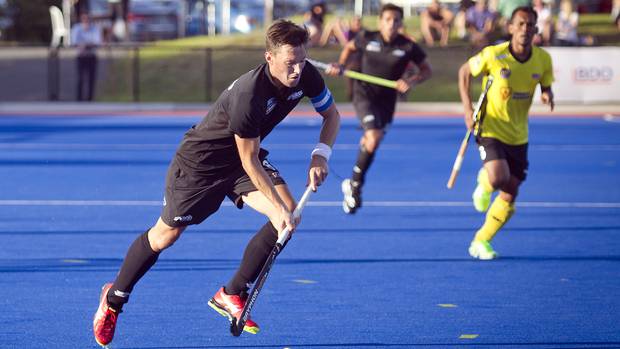 Child has been told there's a 70 per cent chance he will recover and get back on the hockey field. Photo / Andrew Warner

New Zealand's best hockey player Simon Child is having to face the prospect that his career at the top might be over.

The Black Sticks attacker has been sidelined for a year, since damaging a hip playing in the Hockey India League. It proved a worse injury that first thought and he hasn't played a game since then.

Now he's having surgery in mid-May, once he returns from his honeymoon. He was to have gone under the knife this week but the required surgery turned out to be ''gruntier'' than had been expected, hence the rearrangement.

''I've been able to start doing a bit of running, but very basic, straight line and at a pretty slow pace,'' Aucklander Child, 29, said.

''I haven't come close to playing any form of competitive hockey. I've done some light gym work and built up strength, but every time I try to do some lateral stuff, or acceleration, it gets pretty sore and flares up quickly.''

The surgery will involve dislocating his hip, shearing off bone the surgeons believe is protruding into the hip, cleaning the joint and removing some floating cartilage which is thought to be causing pain.

Child has been told there's a 70 percent chance he will recover and get back on the hockey field – which leaves 30 percent of grim news.

''That was pretty hard. It wasn't an easy thing to hear but these things happen,'' Child said.

His 274 caps have him fourth among all New Zealand players; his 140 goals, achieved while turning himself into a world class player, are 10 behind the recently-retired recordholder Phil Burrows.

Child has been an international since 2005. He believes if all goes well, and given a decent amount of recovery time after the surgery, he could have another five years in him.

But he's not about to risk more serious long term injury and future quality of life.

The World Cup at the end of this year is likely pushing it, but the Tokyo Olympics in 2020 appeals. But first things first, so it's surgery, then recovery, then ''we'll see''.

The New Zealand Herald


---

UJ hockey star relishes Games opportunity



University of Johannesburg hockey star Kristen Paton (left) ticked off another item on her bucket list when she was chosen for the South African women's squad to compete in the Commonwealth Games in Australia in April. Photo: Saspa

Surprised at her selection, University of Johannesburg hockey star Kristen Paton is looking forward to the challenges she will face at the Commonwealth Games in Australia in April.

The 21-year-old chiropractic student made her debut for the national team late last year, but thought her inexperience might count against her.

"In all honesty I was really surprised about my selection and am still in awe," said Paton, who lives in Melville in Johannesburg.

"I knew I had a good year in 2017 and I'd hoped that would get the selectors thinking, but I was well aware that selecting me would be a gamble because of my inexperience."

She said she had decided not to worry too much about making the Commonwealth Games team, opting just to focus on performing well.

"I'd really put it out of my mind and was just enjoying playing again, really content with the space that I was in. So my selection definitely came as a pleasant surprise."

 
Now, having achieved one of her goals, Paton said she was delighted to get exposure at the "biggest multi-sport event after the Olympics".

"It's a platform to compete with some of the best athletes in the world and it's always good to compare ourselves to other nations.

"I also enjoy multi-sport events because you're exposed to other disciplines but in an environment with like-minded people that allows you to perform and provides everything that you may need."

Attending the Commonwealth Games, which take place on the Gold Coast from April 4 to 15, was the second tick on her bucket list after making her national debut last year.

"I'm never really satisfied, so with the World Cup later this year I'd love to attend that and make it a picture-perfect year.

"Looking further ahead, the Olympics is another goal but I'm just taking it one step at a time."

Paton was introduced to hockey at Constantia Kloof Primary in Johannesburg in Grade 3.

"I didn't really know anyone so my teacher gave me her hockey bag and stick and convinced me to play hockey," she recalled.

"I fell in love immediately and drove my mom crazy using items in the house as beacons and our lounge as an astroturf.

"It wasn't until Grade 10 [at Northcliff High] that things started picking up and I made my first provincial team."

Moving to UJ, Paton said two years under coach Robin van Ginkel provided her with a crucial high-performance environment that she needed for her growth.

"The coaching staff have also played a big role in my development," she said.

"Funnily enough, the UJ men's first team coach, Gareth Ewing, invested in me at the age of 16 when he selected me for the  Gauteng U21 team and he has been involved ever since.

"I don't think there's anyone you can single out – it's more a collective who have shaped me."

She said her family had also played a huge role, encouraging her when disappointment struck and "always being the voice that pushes you to keep going".

University of Johannesburg media release


---

Pakistan on course to feature in World Cup in India: FIH

NEW DELHI: Hockey's world governing body indicated on Thursday that Pakistan will take part in the men's World Cup this year in India despite acute tensions between the two countries.

Pakistan have qualified for the World Cup to be held in the eastern Indian city of Bhuba­neswar between Nov 18 and Dec 16. But fears have been raised that Pakistan could skip the 16-team event as sporting ties bet­ween the neighbours are frozen.

The International Hockey Federation (FIH) told AFP however that no participating nation has indicated problems that could lead to a withdrawal, or India refusing to let any nation attend.

"We are looking forward to welcoming all 16 qualified teams. We have not received concerns from any of the participating teams nor the host about this matter," an FIH official told AFP in an email statement.
Advertisement

"FIH strongly believes that hockey is an inclusive sport, aimed at celebrating diversity and promoting friendship and respect."

India's blind cricket team did not go to Pakistan in January for the 50-over World Cup, forcing their matches to be switched to the UAE.

India and Pakistan's senior cricket teams have not played a bilateral series since 2013 because of the tense political climate. India accuses its neighbour of supporting militant activities, particularly in the disputed Kashmir region. Pakistan denies these accusations.

Pakistan's kabaddi, squash and wrestling teams also did not travel to India for marquee tournaments last year.

Pakistan, who did not qualify for the 2014 World Cup, are the most successful team in the hockey World Cup — sport's showpiece event — with title wins in 1971, 1978, 1982 and 1994.

Dawn


---

One win and one defeat for Grove Menzieshill men in Minsk




Grove Menzieshill clocked up one win and a defeat on day one of men's EuroHockey Indoor Club Trophy 2018. The tournament in Minsk, Belarus, will see the Scots take on Slagelse HC on day two before the next stage of the competition.

KS Pomorzanin Torun 6-4 Grove Menzieshill

A hat-trick from captain Gavin Tomlinson was not sufficient to prevent Grove Menzieshill going down 6-4 to the powerful Polish side SK Pomorzanin Torun in their opening pool match at the European Indoor Club Trophy in Minsk.

While the reversal is disappointing, Torun will certainly be one of the favourites for promotion while the result also leaves the Taysiders with a precious point for coming within two goals of the victors.

After Krystian Makowski opened the scoring for the Poles in only four minutes the Scots were always chasing the game and never got their noses in front at any point.

It was a ding-dong affair in the first half with the Taysiders levelling twice through Tomlinson from open play, but Makowski again and then Rafal Szreiter ensured that Torun reached the interval 3-2 ahead.

Five minutes into the second half Tomlinson again equalised from a penalty corner but the Dundonians were not able to capitalise. Two more strikes from Szreiter put Torun into a more comfortable 5-3 lead, but with four minutes remaining Ross McPherson pulled one back for Grove Menzieshill.

The Scots went in search of a belated equaliser but with 30 seconds remaining were caught on the rebound by Makowski for his third of the game and a 6-4 victory.

Grove Menzieshill were set to play the Italian champions Bra, only a clear win here will suffice if the Taysiders hope to challenge for a spot in the promotion pool. The Italians were thumped 5-0 by Danish side Slagelse in their opening match.

Grove Menzieshill 2-1 HC Bra

Grove Menzieshill then played the Italian champions HC Bra, and only a clear win here would suffice if the Taysiders hoped to challenge for a spot in the promotion pool. The Italians were thumped 5-0 by Danish side Slagelse in their opening match.

In a tight game it was Grove Menzieshill who took the lead as half time approached. Ross McPherson struck in the 17th minute to put the Taysiders 1-0 up at the break.

Grove Menzieshill started the second half as strongly as they finished the first. Scotland international Gavin Byers, fresh from his selection for the upcoming Gold Coast Commonwealth Games, finished well to make it a comfortable 2-0 lead.

Nicholas Chiesa pulled one back for the Italians from a penalty corner on 28 minutes to put his side back in touch with the Scots.

Several excellent saves from Grove Menzieshill keeper Steven McIlravey kept the Dundonians in the lead at the sound of the final hooter, and a good 2-1 victory was secured for the Scots and they head into Saturday with one win and one loss in Minsk.

Scottish Hockey Union media release


---

Jermyn guiding the next generation; Garvey-Bann's big showdown



John Jermyn is guiding the Cork C of I youth. Pic: Adrian Boehm

Cork C of I's youth section will play a crucial role in keeping them competitive in the men's EY Hockey League according to club legend John Jermyn.

Rising stars Andrew Salter, Tony Brophy and 15-year-old Kevin O'Dea all made an impact last weekend as the Garryduff side nabbed a 2-2 draw at table-topping Glenanne.

They have got their chance in the first team – perhaps earlier than expected – due to the high volume of departures from the club, many moving up to Dublin and beyond for work reasons.

And Rio Olympian Jermyn says they have made a slotted in well to the national league despite their tender years, hoping he can impart some of his knowledge to the next generation.

"They are vocal and its like they have been there for years, young talent coming on stream that I want to keep playing with for another couple of years! Kevin in there at centre mid is just 15 – I'm 20 years older than him."

The Glenanne performance was one Jermyn said they can be more than content with. It puts them four points clear of the relegation playoff place and if they can grab a win on the road at Peter Caruth's Annadale on Saturday.

The Glens outing was their first of 2018 as, more by accident than design, they got a seven-week break from action for the cold weather, something that many other clubs have called to be instituted into the calendar.

"The winter break actually did us a couple of favours and gave us a chance to regroup. We are down two more players now, down 12 in total now for this season from last. I don't think there is any other team that has had that kind of loss [to cope with]."

As for the Glens, they will look to get back on the winning trail at Steelweld Park against Cookstown, a side they edged out 3-2 earlier in the campaign.

The Dublin team have been unbeaten in their matches this season, winning nine and drawing three to top the table and build up a seven-point gap with the chasing pack.

"We can take a lot from that performance down at St Andrews earlier in the season," said Reds captain Jon Ames. "We ended the match better than they did, but we started very nervously and it was just too far to get back from 2-0 down.

"Numerous times this year Glenanne have scored goals right at the death to win or draw games, and you have got to say 'well done' when you see that fighting spirit.

"It is up to our guys to match or better that effort, and to show the killer instinct to execute our opportunities when they come about."

Lisnagarvey's pursuit of the Glens at the top continues with a big derby date against Banbridge. Both have had a stop start season with many games called off to catch up on.

Bann coach Mark Tumilty – who was honoured as the Sport NI Club Performance Coach of the Year this week – saw more training sessions cancelled this week because of the weather.

He took to Twitter to call for change: "Feels like a running club. Winter break a must for our game. Missing training session more frustrating than missing games.

"Proper indoor league structure would help develop players further. Only top nation in Europe not doing indoor."

For Garvey, James Lorimer is looking forward to the tie off the back of their thumping 5-1 win over Monkstown: "Banbridge will bring their direct attacking style and even with an inconsistent campaign, to date, we will give them the respect they've earned.

"The mood in the dressing room is good, buoyed by the flurry we had against Monkstown, it feels like we're playing to our potential now. With Glenanne dropping points and games in hand, focus game by game is our aim now to contend for the title."

Pembroke are playing their first EY Hockey League match since December 16 and will hope there is not too much ring-rust, something that was shown in their two Irish Senior Cup wins, scraping by South Antrim and Mossley.

Railway and Three Rock's tie is postponed to March 1 due to Rovers involvement in European indoor action. They started their campaign with two wins on Friday, beating Armenia's Hrazdan 3-2 with a Ben McCrea winner and a 10-0 success against Georgian hosts Club Tbilisi.

In Leinster Division One in midweek, Andy Malcolm's double saw Rathgar beat Dublin North 2-0 while Avoca had the same margin in their favour against Clontarf on Thursday evening.

In the latter tie, there was an evenly contested first half of few clear-cut chances. Dave Lawless was forced to make one excellent diving save from a baseline run and 45-degree pass.



Lisnagarvey's James Lorimer. Pic: Adrian Boehm

Avoca had a stroke correctly overturned from a corner drag that stuck a defender on the line but outside the post. Stefan Gallagher also pulled off a fine block to a Tarf one-on-one chance.

The second half opened up and Avoca took the lead with 10 minutes to go, catching Clontarf napping over a disputed free. A three-pass move saw Ruairi Nolan round Lawless and slap the ball home.

Three minutes later, a counter attack essentially finished off the game when Jonathan Elmes found himself free in the D to strike home with accuracy.

Avoca are back in action on Saturday against Rathgar while YMCA can move level with Corinthian if they get the best of a tester at Clontarf.

The rest of the schedule is reduced with Dublin North in the Irish Hockey Trophy against Portrane in a Fingal derby.

Men's fixtures (Saturday unless stated)
EY Hockey League: Annadale v Cork C of I, 2,30pm, Strathearn; Cookstown v Glenanne, 2.30pm, Steelweld Park; Lisnagarvey v Banbridge, 3pm, Comber Road; Pembroke Wanderers v Monkstown, 4pm, Serpentine Avenue.

Irish Hockey Trophy, quarter-finals: Bandon v NICS, 2.30pm, Bandon GS; Bangor v UCC, 3pm, Bangor Aurora; Newry v Raphoe, 2.30pm, Newry HC; Portrane v Dublin North, 2pm, Donabate.

Leinster Division 1
Tuesday: Rathgar 2 (A Malcolm 2) Dublin North 0
Thursday: Avoca 2 (R Nolan, J Elmes) Clontarf 0
Saturday: Avoca v Rathgar, 12.30pm, Newpark; Clontarf v YMCA, 12pm, Mount Temple; UCD v Kilkenny, 2.50pm, Belfield

Munster Division 1: Cork C of I B v Cork Harlequins, 3pm, Garryduff.

The Hook


---

Make or break time for Pegasus and Cork Quins in women's EYHL



Pegasus captain Alex Speers. Pic: Sinead Hingston

Pegasus and Cork Harlequins face a make-or-break battle at Queen's as the second and third placed sides in the women's EY Hockey League in their respective title pursuits.

Both have ground to make up on UCD – who Pegs meet a week later – and any slip up would leave them needing snookers in the race for the regular season title and a European place.

The importance is not lost on Alex Speers who told the Belfast Telegraph: "The next two games are vitally important as we play UCD next and we certainly haven't given up on winning the title rather than just making it into the play-offs.

"We are looking forward to playing both the teams above us at home and, after that, we only have one out-of-province match, away to Loreto."

Speers is one of the league's top scorers with seven, three behind Naomi Carroll, one of two Quins players along with Yvonne O'Byrne who hit 100 international caps on the trip to Spain this week.

Indeed, the two clubs are the two highest scorers in the league this season with both sides posing serious corner threats via Roisin Upton, Hannah Grieve and Shirley McCay directing things at the top.

Loreto meet Hermes-Monkstown for the fourth time this season. The Beaufort side have won the two meetings on the national stage, 4-0 in the league and 2-0 in the Irish Senior Cup while the Jacqui Potter Cup was a 3-2 win for the Rathdown-based club with Natalie Esteves scoring a hat trick.

For Loreto, Nicci Daly's foot is in a protective boot following an injury sustained on Irish duty in Spain which saw her on the sidelines for the guts of the week in Malaga.

In the battle between fourth and fifth, Railway Union face Ards at Park Avenue. Both sides have picked up four points from six in 2018 with the Dubliners yet to concede in two league ties since the turn of the year.

They drew in the first half of the campaign and they are the two clubs with lowest aggregate scorelines this season, showing this one has the potential to be a very close-run thing. Indeed, the sides are well-acquainted with Ards winning their recent indoor final showdown.

At the bottom, Pembroke meet Trinity at Serpentine Avenue, gunning for revenge against a student side who earned their only win of the campaign against the purples.

Since then, the Ballsbridge club have been able to get international trio Aisling Naughton, Emily Beatty and Gillian Pinder into the same side at the same time and they could be a key factor in turning the tide.

They will need to be wary of the aggressive forward line of Niamh Sweeney and Sally Campbell. The students were promoted off the back of a tight defence but they have found things much tougher in that regard, conceding more than anyone else, something they will need to remedy to close the gap on Pembroke a place above them.

UCD are going on the hunt for an eighth successive victory when they go to Belfast Harlequins with a wealth of international players on either side.

Deramore Park has proven a stronghold this season with the host club unbeaten on home turf in five outings. Zoe Wilson and Robyn Chambers both did not feature in their league tie at Cork Quins a fortnight that ended with a late 4-3 defeat but they could return to make an impact.

Ellen Curran will come back into the fold for UCD who have conceded just once in five league games, shading three of those on a 1-0 scoreline.

In Leinster, Muckross will look to maintain their advantage following their breakthrough win over Old Alex last Saturday. Emma Mathews – while still young in relative terms – adds some extra experience following her return from UCD and injury.

Old Alex go to Genesis trying to keep the pressure on. Genesis need to get results from each of their upcoming series of games that features the top three in the next four weeks if they are to have any chance of nicking an EYHL promotion playoff spot.

That looks an improbability, though, and a loss could see their mathematical chance pretty much done. Corinthian take their unbeaten run to Clontarf where a win puts their playoff ticket ever closer. Glenanne host North Kildare while Rathgar face Avoca.

In the Irish Hockey Trophy, Bray and Three Rock battle it out for a place in the semi-final, ensuring one Leinster side will make it through to the final four.

Women's weekend fixtures (Saturday unless states)
EY Hockey League: Belfast Harlequins v UCD, 2.30pm, Deramore Park; Loreto v Hermes-Monkstown, 1.15pm, Beaufort; Pegasus v Cork Harlequins, 2.30pm, Queen's; Pembroke Wanderers v Trinity, 2pm, Serpentine Avenue; Railway Union v Ards, 2.40pm, Park Avenue

Irish Hockey Trophy, quarter-finals: Bandon v Ballymena, 12pm, Bandon GS; Bray v Three Rock Rovers, 1pm, Loreto Bray; Catholic Institute v Belvedere, 3pm, Rosbrien.

Leinster Division One: Glenanne v North Kildare, 10am, Glenanne Park; Rathgar v Avoca, 2.15pm, High School; Clontarf v Corinthian, 3pm, Mount Temple; Genesis v Old Alex, 3.30pm, St Raphaela's; Muckross v Our Lady's, 1.30pm, Muckross Park

Munster Division 1
Saturday: Waterford v UCC, 2pm Newtown School.
Sunday: Limerick v Bandon, 2pm, Villiers.

The Hook


---

Algeria pulls out all the stops as hockey makes reappearance



The Youth African Games, featuring hockey, will be held in Algeria in July

Algeria is the latest member of the African Hockey Federation to drive forwards with its hockey development after many years of little hockey activity in the country.

One of the motivations for building a hockey culture in Algeria is the reinstatement of hockey back into the Youth Africa Games (YAG). Whilst a Youth Olympic Games (YOG) qualifying event has been played in the continent before, qualifying Namibia for the YOG in Nanjing in 2014 where they finished a credible fourth, it is the first time a hockey YOG qualifier will be incorporated into the YAG.

This year's event will be taking place in Algeria's capital, Algiers, from 18-28 July and the Algerian Hockey Federation are pulling out all the stops to make sure their teams will be competitive at the event.

"This third edition of the Youth Africa Games is expected to attract many National Associations to participate as well as create a momentum for the young generation in Africa to get more engaged with hockey as a sport."
Ahmed Azmy, African Hockey Federation CEO

More than 400 young players from Algiers schools and clubs are part of a hockey development programme funded partly by the African Hockey Federation (AfHF). Two coaches from Egypt, Hossam Fouda and Ashraf Shafik, are leading the programme.

The coaches bring a lot of international experience with them. They both participated in the Barcelona Olympics of 1992 as part of the Egyptian national team. Hossam became the Head Coach of the Egyptian National team in 2014 and Ashraf became Assistant Coach for the Egyptian Under-21 National team in 2016.

Over the next six months, the 400 youngsters will be put through their paces by the two coaches and eventually a boy's and a girl's team will be selected to represent Algeria at the YAG.

Training is held in Algiers on a recently laid multi-sport artificial turf, which was originally made for soccer. The Algerian Minister of Sport has dedicated this turf to hockey for the training period. The Ministry of Sport is planning to lay down a full size hockey turf to be ready for the YAG in time. If those plans do not materialise, they will prepare the multi-sport training turf for the YAG Hockey 5s tournament.

Hockey activity will not cease once the Games have taken place. CEO for the African Hockey Federation, Ahmed Azmy, said: "After the first six months and following the YAG, a second phase of the programme will take another six-month period. The two coaches will be sent to four other different Algerian states to train the schools' physical education teachers who will in turn train the school students, both boys and girls, to spread hockey all over Algeria."

Azmy is delighted that hockey is receiving such a boost in Algeria. He says: "Introducing hockey in Algeria, originally a non-hockey country, is very important because Algeria is organising the Youth Africa Games 2018, qualifying for the Youth Olympic Games 2018.

"For the AfHF, this is an important step since hockey was left out of the multi-sport events since 2003 and this year it is coming back after 15 years of absence. Multi-sport events are very important because the National Olympic Committees are liable for funding the participating teams in all sports, which for hockey will be an incentive for National Associations to participate in such events.

"This third edition of the Youth Africa Games is expected to attract many National Associations to participate as well as create a momentum for the young generation in Africa to get more engaged with hockey as a sport. The AfHF intends to follow-up the progress of this programme by visiting Algeria on regular basis during the coming period."

For more information about hockey in Africa, click here.

FIH site


---

Nearly £8000 raised for Ben Rawson



Ben Rawson

A charity match between Great Britain's men and a Northern Invitational XI has raised almost £8000 for a young hockey player who had to have his leg amputated last year due to cancer.

A crowd of over 500 packed into Brooklands Hockey Club on Tuesday 13 February with all proceeds from the charity day going towards helping Ben get the best prosthetic limb possible in the hope he can return to hockey.

The day started with 200 children getting the opportunity to be coached by the players themselves before the game took place in the evening as GB faced up against a Northern Invitational XI.

Despite the freezing conditions the hockey family turned out in force, filling any available space around the edge of the pitch to watch a contest which saw Great Britain side run out eventual 7-0 winners.

To see a video from the charity day click here.



Henry Weir

After the match GB head coach Bobby Crutchley presented a signed shirt to Ben – who was in attendance with his family – in a moment which was met with warm applause from all corners of the ground.

So far more than £7,700 has been raised for Ben as a result of the charity day, a figure which is expected to grow once all the money has been collected.

Speaking after the match, Great Britain forward Sam Ward said: "It was incredible to see such a big crowd turn out. It was great to come up to the north and come back up here and put some hockey on show tonight. But obviously the main thing about today was just to raise as much money as we possibly can for Ben.

"We have got to say a big thank you to Brooklands Hockey Club, they put on an amazing event and it is a huge privilege to have been a part of it and I am really proud of all the boys and the effort they have put in.

"The main thing is just to raise as much money as we can for Ben and I think the biggest thing is him getting back to full health and doing what he can and raising enough money so he can get back on a hockey pitch with a prosthetic leg.

Mark Bateman, who coached the Northern XI, said: "I am really proud of the club, George our chairman and everyone who has come out and done their bit. To have more 200 kids being coached by the Great Britain team and then the game here with so many watching was amazing.

"I definitely want to say a big thank you to all the club members, to Great Britain Hockey, the guys that have sponsored the event. There are too many people to say who have helped – thank you to all of them."

England Hockey Board Media release


---

Book Review: "The Mohammed of Benares And Other Stories"

By Ijaz Chaudhry




Hockey books are quite uncommon. Celebrated Indian sports journalist Sundeep Misra has come out with an excellent anthology of hockey tales in his book," The Mohammed of Benares and Other Stories"

The book's 18 short stories are all captivating with diverse themes.

At times, he touched very sensitive issues.                                                                                                                    

'The Indian vs Foreign Conundrum' is about the perennial debate in both India and Pakistan regarding the foreign coach for the national team.  He very objectively assesses the performance of India under the domestic and foreign coaches. At the same time there is a qualitative analysis as well. 

It spans a period of around three and a half decades with the first story from the 1982 Asian Games when in the much awaited final between India and Pakistan watched by an overflowing crowd including the Prime Minister Indra Gandhi , the green shirts annihilated the hosts 7-1. It is titled, 'When hockey broke a million hearts'. 

Then there is a chapter, 'The colossal drama of India vs Pak'.  It throws light on how political tensions sometimes become the central theme of an Indo-Pak match.  However, it is summed up well, "Rankings have no legitimacy when it comes to an India-Pakistan game.  The tie thrives on nerves, and the team that holds it the best usually ends up winning."

Mostly, and expectantly, Indian hockey remains the focus.                                                                                          

Some big controversies have been recalled.                                                                                                                 

-For instance, the Captaincy issue.  Ahead of the 2016 Olympics, Sreeejesh Ravindran replaced Sardar Singh in 'Who Deserved the Captain's Armband"                                                                                                                                                                             

-Also for the 2016 Olympics, India left the outstanding right half Gurbaj on disciplinary grounds which in all probability caused India missing out on its first Olympic medal since 1980.

Missing out on the semifinal at the 2000 Olympics is told from a very different angle. The campaign is beautifully narrated. India had one step into the semifinal; needing only a win against the lowly Poland in the last pool match.  They went ahead 1-0 but Poles equalized with less than a minute left.

It devastated the Indian players.  About Dhanraj  Pillay, their finest forward of the time, the book says, "Dhanraj had to be literally carried to the bench. The former Indian captain was shedding copious tears. ".

His disappointment didn't end there.  A day later, Dhanraj was heard talking to his mother on phone, "Amma, three Olympics I have played and I couldn't get a medal back… Amma forgive me, I have failed."

There are separate chapters on Indian's three well known coaches of recent time: Harendra Singh, Cedric D'Souza and Dutch Roelant Oltmans. 

Harendra, who coached India's 2016 Junior World Cup winning team, is described as an emotional but meticulous at the same time.  Cedric, in top level coaching business for 24 years, is hardworking and the first Indian to bring structured hockey in the team. Plus, he has always been an optimist.  

Oltmans has one of the finest CVs for any coach- guiding his native Holland to the titles of 1996 Olympics and 1998 World Cup, among other achievements.  Here, each of India's matches at the 2017 Sultan Azlan Shah under Oltmans is minutely analysed.

Apart from the national coaches, widely different styles of two of most well-known Indian hockey administrators, K.PS.Gill and Narinder Batra are detailed.

Batra, now heading FIH, is rightly credited with bringing financial revolution in Indian hockey. And now the whole hockey world expects him to deliver the same at the global scale- the first non-European president in FIH's history. 

'Islah and His Romance for the Past' as the title suggests evokes nostalgia from Islahuddin, one of Pakistan's all-time greats. The memories of old days of Indo-Pak rivalry when it was so intense on the field but  camaraderie off it, "In the  seventies, when we visited India, Dilip Kumar, Amitabh Bachan, Rajesh Khanna all hosted us".

Dilip Tirkey's saga appears to be a piece of fiction. India's former captain of recent past, the great defender Tirkey entered politics and narrowly lost the 2017 elections contesting on the BJP ticket which now rules the country.  Tirkey comes from the tribal belt of Odhissa state. This area is known as the Red Corridor where Maoists insurgency has been prevailing for many years.  Here, under the aegis of the Dilip Tirkey Sports Research and Development Foundation, Tirkey created the 1st Rural Hockey Championship with the participation of 1500 teams. Yes, 1500 teams; not players.  The championships ran for six months.

Though Indian hockey is showing signs of resurgence but there have been some colossal failures in the recent past before the real revival started.  There is an exhaustive post mortem of India's show at the 2012 Olympics where they ended last 12th.

Coming to the chapter which carries the title of the book, "The Mohammed of Benares", is the most moving obituary of the master dribbler Mohammed Shahid, rated by many as India's most artistic player since Dhyan Chand. The last line, 'The holiest city of the Hindus gave rise to the Mohammed of Indian hockey' epitomises the cliché 'Sports transcends culture and religion'.

Beautifully written; at times one wonders is it poetry or prose.

The book is a wonderful read not only for hockey lovers but all the sports lovers and not only Indians.

Renowned sports journalist Sundeep Misra has worked extensively in print and TV journalism for India's leading media houses such as the Indian Express, Asian Age and India Today. He has also written for top publications such as Firstpost, Khaleej Times, The Tribune, Tahelka, Caravan and Mid-day.

s an author, he penned 'Forgive me Amma' the biography of hockey legend Dhanraj Pillay.

His second book, 'The Best of Indian Sports Writing' is an anthology on sports writing bringing together India's 16 finest sports writers.  Sundeep has covered Olympic Games, Hockey, cricket and soccer World Cups, and Asian and Commonwealth Games.

Ijaz Chaudhry writes on hockey & other sports. For more about him and his work, visit: www.sportscorrespondent.info  

Fieldhockey.com