All the news for Wednesday 16 June 202

Indian women's hockey team wants to win Olympics medal for COVID warriors: Rani Rampal

Rani also informed that the core probables training at the SAI Center in Bengaluru will undergo selection trials this week to pick the team for the Tokyo Games.



Rani Rampal said the vow would also give an added onus to the team to do well in the Olympics. (FILE PHOTO)   -  FIH

The Indian women's hockey captain Rani Rampal on Tuesday vowed that her team would leave no stone unturned to win a historic medal in the upcoming Olympics and dedicate it to the frontline workers who risked their lives during the COVID-19 pandemic.

Rani also informed that the core probables training at the Sports Authority of India Center in Bengaluru will undergo selection trials this week to pick the team for the Tokyo Games, which opens on July 23.

"Winning for our countrymen and women who have made many sacrifices in order to save lives during this pandemic will make it a truly special outing in Tokyo for the team," Rani said in a release.

"This Olympics is unlike any other in the past. Our country has been through a lot, we are proud of our doctors and frontline workers who have selflessly worked to save lives.

"As we work hard towards securing a medal at the Olympic Games Tokyo 2020, we pledge to dedicate our efforts and hopefully our victory to these Covid warriors. We are all here and safe thanks to them." Rani said the team takes inspiration from the doctors, nurses and paramedics who have tirelessly worked without a break since the pandemic first broke out in India last year.

"We draw a lot of inspiration from these great people who have risked their own lives to save others. We have come across numerous such stories of sacrifice and humanity.

"As players, the only thing we can give in return for their great efforts is by achieving something historic and dedicate it to them and that's what we have decided to do," Rani added.

She said the vow would also give an added onus to the team to do well in the Olympics. Last year during the nationwide lockdown, the team had raised funds to help feed more than 1000 families from economically under-privileged backgrounds. The players raised over Rs 20 lakh through a 21-day online fitness challenge.

Rani stated that she and her teammates were making each and every training session count as the Tokyo Olympics is less than 40 days away.

"Everyone is pumped up to give their best shot to make it to the squad. We are undergoing selection trials this week and the environment is really good around the team," she said.

Sportstar


---

A whirlwind few weeks for our Olympic bolter Sean Findlay




Sean Findlay is the 19-year-old go-getter who surprised even himself by making the Tokyo Olympic squad. He has had to overcome the loss of his Mum and having glandular fever in March to get there.

Tell us how you found out you'd made the Olympic squad.

When Darren (Vantage Black Sticks Head Coach Darren Smith) called I didn't believe it at first and asked him if he'd got it wrong. I was pretty stoked but pretty surprised. It was one of the best moments in my life.

Who was the first person you told?

I was actually back in the Hawke's Bay and Dad was at the turf watching our old school team play. So I rang him and said you need to come home as I may have some news.

In recent weeks you've been named Under-21 Player of the Year, made your Black Sticks debut and now the Olympics squad. Are you pinching yourself?

It was always a dream to play for the Black Sticks and go to the Olympics but I didn't expect it to all happen at the same time.

How special was it to score on debut against Australia?

I don't score a lot of goals. The only thing I told myself was not to hit it high. I didn't want to be the player who with their first shot in their first game hits it over the cross bar. On the video, I definitely looked shocked and surprised afterwards.



Sean Findlay debuts for the Vantage Black Sticks in the Sentinel Homes Trans-Tasman series in May 2021.

And is it correct that you achieved all of this despite having glandular fever earlier in the year?

We thought it was tonsillitis but it was actually glandular fever. I was pretty lucky with lockdown, as despite being out for five weeks I only actually missed a week or so of hockey. It was really frustrating just watching and I had to go so slowly when I returned to training.

Tell us about your father Graeme who lives and breathes hockey.

Dad has always been there. He's coached me since Under-11s and coached our high school team. He's always at the turf and always coaching, and he means everything to me. He wasn't able to be here today (for the Olympic squad naming) but I've spent the last six days at home in the Hawke's Bay with him and my three sisters (Emma, Hannah and Greer).

My Mum died of cancer when I was 14. She was a big driving force behind what I'm doing now and she always said "don't worry about what anyone else thinks, just go and do the best you can do."

When I scored (on debut against Australia) I glanced up at her.

Shea McAleese will be a four-time Olympian in Tokyo but you've known him forever, haven't you?

He's been a role model and mentor but also a good mate and team-mate in the Hawke's Bay. He helped me bridge the pathway from where I was to where I am now. He gave me advice and shared his personal experiences about what I needed to do to get to the next level.

What are your goals in Tokyo?

To play the best hockey I can and show everyone what I can potentially do as well as seeing how I match up against the best midfields in the world.

How do you relax away from hockey?

I catch up with mates and over summer I was going for a few surfs but there's not much of that going on at the moment.

Official Blacksticks site


---

Super-excited Hope Ralph has her eye on a medal in Tokyo




Hope Ralph might be grinning from ear to ear about making the Olympic squad, but the 21-year-old's thoughts are with her close Taranaki mates Holly Pearson and Anna Crowley who sadly missed out on joining her in Tokyo.

Tell us about that magical moment when Vantage Black Sticks Head Coach Graham Shaw told you that you'd made the Olympic squad.

We got an email first with the list and I was like "Is that my name?" I was speechless. And then I got a call from Graham later that day. I was a bit numb as I didn't know how to feel because it was so surreal. But then I was super excited.

After the rollercoaster of the last year, did you think we'd get to this point of being on the eve of heading to Tokyo?

I didn't want to think as if it wasn't going ahead. We just had to train hard like we were going. If it wasn't going ahead we couldn't do much about it but we couldn't be on the back foot.

How tough was it hearing that your good friends from Taranaki – Holly Pearson and Anna Crowley – had missed out?

It was bittersweet as I was so excited but they're my friends and I want them to do well. They were really good about it which helped me. Anna was back home (in Taranaki) but Holly came and gave me a big hug. We're still so young and will have so many more opportunities.

What was it like being back playing hockey in the recent Sentinel Homes Trans-Tasman series after such a long break?

It was pretty cool to be playing after 15 months away from it. In the first game I think we were just getting used to playing at that level again.

Looking back on the series, we needed to be more clinical in both circles but I'm proud of how hard we worked for each other.

You scored your first goal for your country in the draw with Argentina in last year's FIH Pro League in Christchurch. What were your memories of that day?

When I scored I was jumping up and down. Have you seen the video? It was pretty special that Liv (Olivia) Shannon hit it to me as we'd played so much hockey together. It was Under-18s all over again.



Hope Ralph celebrates a goal during the FIH Pro League vs Argentina in February 2020.

Who have been the main influences on your hockey?

My Mum Karla has coached me since I was four and through to Sacred Heart Girls' College, along with coaching Anna and Holly as well. Verity Sharland taught me a lot through Under-18s, as have both Greg Nicol and James Coughlan.

It was special to have Mum here today (for the Olympic squad naming) as well as my Dad (Steve) and my younger sister India who I forced to be my running buddy during lockdown.

What keeps you busy when you're not playing hockey?

I'm studying Sport Management at AUT and finish my last two papers this semester and then I graduate. I want to join the Police Force after hockey but if that doesn't work out I've always got my degree.

What are your goals in Tokyo?

I want to win a medal (she smiles) and to keep working hard and leave everything out there every game.

Official Blacksticks site


---

Emily Defroand To Retire From International Hockey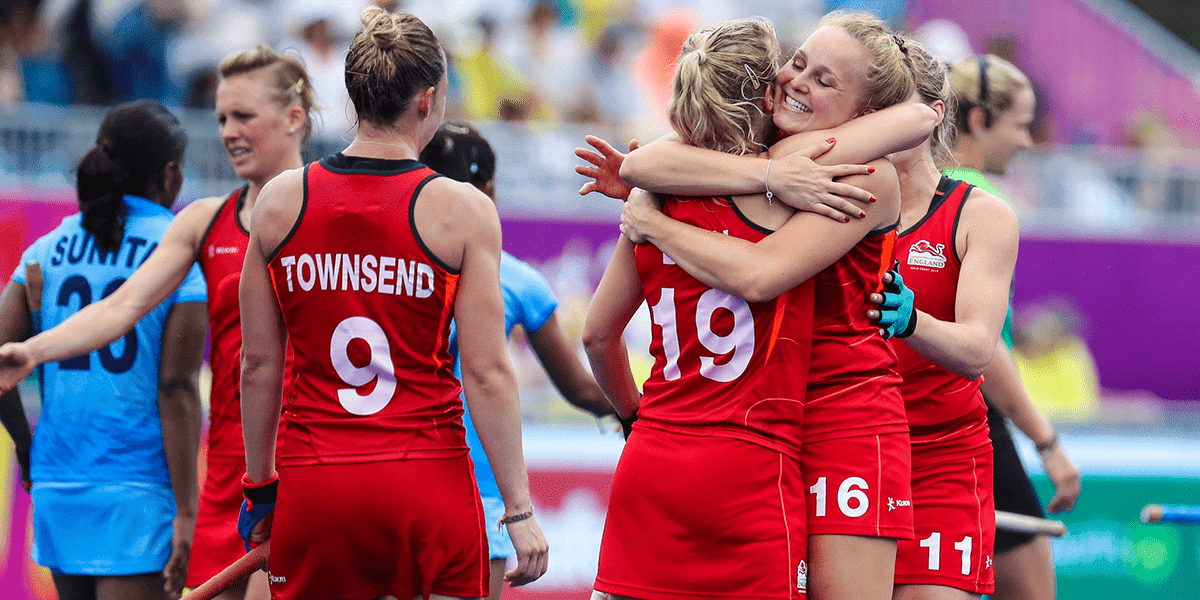 England Hockey and Great Britain Hockey are sad to announce that Emily Defroand is retiring from international hockey.

Having suffered a number of serious injuries in recent years, Emily has taken the difficult decision to step away from the Great Britain centralised programme for the benefit of her long-term health and wellbeing.

The 2018 Commonwealth Games bronze medallist has made the decision with the full support of the medical team and everyone involved with Great Britain Hockey.

Emily said: "It has been an absolute honour to have represented Great Britain and England over the last four-and-a-half years. At the age of 26, this is not a decision that I thought I would have to be making, nor one I have taken lightly, but having pushed my body to the limit, I know this is the right decision.

"I am so proud to have been a part of this squad and what we have achieved on the pitch, as well as the adversity we have overcome off it. I will forever be grateful to my team-mates, our support staff and everyone involved at Great Britain Hockey for making this such a wonderful chapter of my life."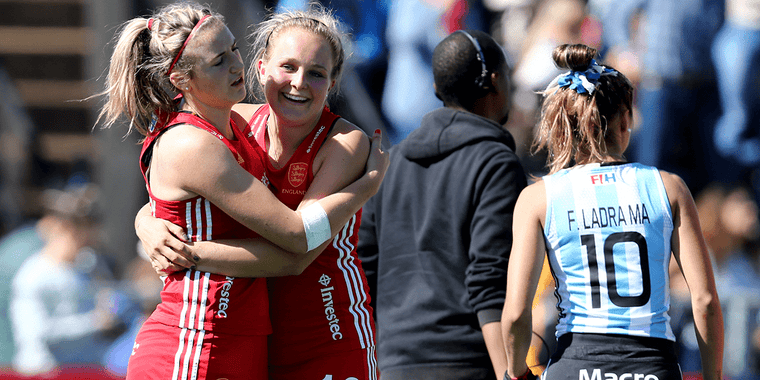 Emily won three bronze medals with England in 2017 and 2018

Emily made her international debut for England on 25 February 2017 before pulling on the GB shirt for the first time against Argentina on 10 February 2018. She made a total of 55 international appearances (36 England, 19 Great Britain) and won three bronze medals with England.

Her involvement in elite sport won't be coming to an end there though as Emily will soon be starting a job in the Communications department at West Ham United FC, a club close to her heart.

Ed Barney, Great Britain Hockey's Performance Director, said: "It is with a heavy heart that we see Emily step away from international hockey but it is a decision that we know is well considered and ultimately right for her.

"Over the past four and half years Emily has brought enviable passion, dedication and commitment to everything that she has done. Her bubbly and vivacious character has been so valued by players and staff alike.

"With such commitment to dual aspirations, Emily is a shining light to all of her peers in the sport – it is fabulous to see such a seamless transition to a fantastic role and something that she should take a huge amount of pride in. Emily has set fantastic standards both on and off the pitch and will leave a genuine legacy in aspects of our equality, diversity and inclusion work and I hope that we continue to work closely with her over the coming years."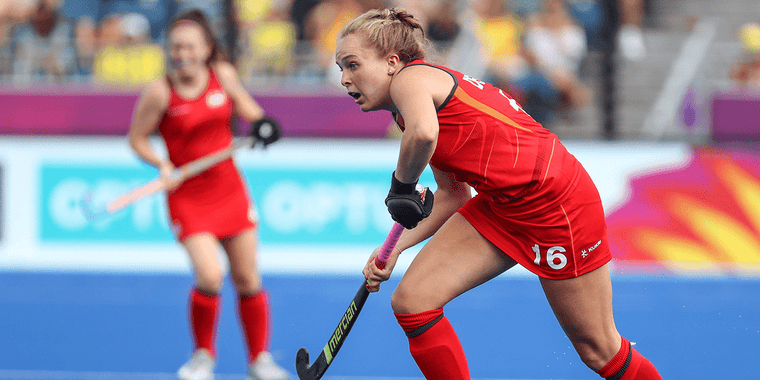 She played for England at the 2018 Commonwealth Games, helping the team to a third-placed finish

England and Great Britain women's head coach Mark Hager added: "Emily's commitment to the Great Britain and England teams will be greatly missed. Emily not only drove standards on and off the pitch but she was also a versatile player that left no stone unturned in her pursuit of excellence.

"Emily was a player that could read a match and change the momentum of a game by her ability to win possession under pressure and turn the momentum in her favour from her drive to compete in any contest.

"The laughter Emily bought was infectious and I know staff and her team-mates will miss having her around; her ability to bring a group together was valued so much by the staff and players.   

"I can't thank Emily enough for her commitment to the programme and wish her much success in her new adventures."

Great Britain Hockey would like to thank Emily for everything she has given our sport over the last four-and-a-half years and we wish her the very best for the future.

England Hockey Board Media release


---

Emily Defroand: England & Great Britain player forced to retire from international hockey aged 26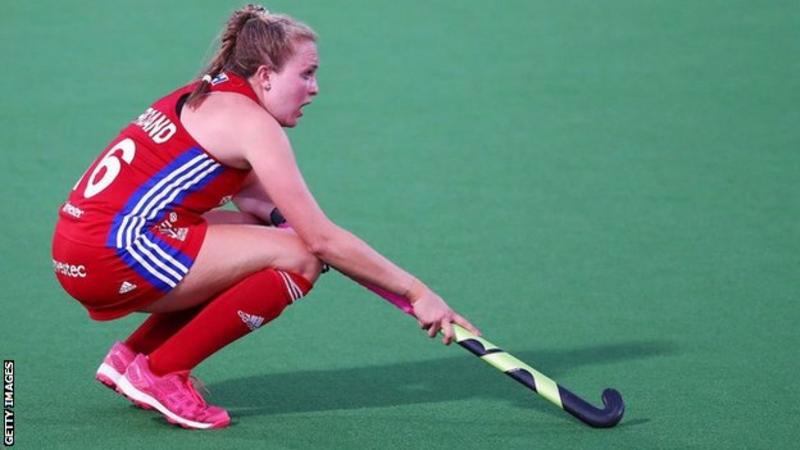 England and GB head coach Mark Hager described Emily Defroand as "a player that could read a match and change the momentum of a game"

England and Great Britain's Emily Defroand has retired from international hockey aged 26 after several serious injuries in recent years.

Great Britain Hockey said Defroand is stepping away "for the benefit of her long-term health and wellbeing".

The midfielder won European and Commonwealth Games bronze with England in her four years with the team.

"Having pushed my body to the limit, I know this is the right decision," said Defroand, who won 55 caps.

"It has been an absolute honour to have represented Great Britain and England over the last four-and-a-half years. At the age of 26, this is not a decision that I thought I would have to be making, nor one I have taken lightly."

Making her England debut in 2017, she won bronze in that year's European Championships and Commonwealth bronze the following year. She went on to win 36 caps for her country and also played 19 times for Great Britain.

After sustaining a back injury in January, the Surbiton player worked to recover her fitness, but a relapse in March ended her hopes of playing at this summer's Tokyo Olympics.

Great Britain Hockey's performance director Ed Barney, said "Emily has brought enviable passion, dedication and commitment to everything that she has done," describing her as "a shining light to all of her peers".

BBC Sport


---

Maryland field hockey adds Scott Tupper to coaching staff

By Wesley Brown



Photo by Steve Bardens/Getty Images

Maryland field hockey announced Monday that Lafayette assistant coach Scott Tupper would join the Terrapin staff as an assistant coach.

Tupper, a two-time Olympian, hails from Canada, where he boasts a strong professional field hockey career. He has been a part of the Canadian National Team since 2005 with 313 appearances. He played in the 2008 and 2016 Olympic games and is training for the games in Tokyo this summer.

"I'm very excited at the opportunity to join the University of Maryland field hockey program," Tupper said in a statement. "It's a privilege to work with a program that has such a long tradition of success within the NCAA, producing both championships and high-achieving student-athletes. I would like to thank Coach Meharg for the opportunity, and I can't wait to be on the field with the team in College Park."

In his coaching career, Tupper has worked in programming and recruiting roles at the Rob Short Coaching Academy of Vancouver. He also has served as a trainer and coach for Canadian athletes.

Testudo Times


---

High Performance Centre to help revive hockey: DG SBP




LAHORE - Pakistan Hockey Federation (PHF) Secretary Asif Bajwa and Head Coach of national hockey team Olympian Khawaja Junaid called on Director General Sports Punjab Adnan Arshad Aulakh at National Hockey Stadium on Tuesday.

They also presented a bouquet to the DG SBP on this occasion. Pakistan's former Davis Cupper and Secretary Punjab Lawn Tennis Association Rashid Malik was also present during the meeting. PHF Secretary Asif Bajwa and Kh Junaid expressed their gratitude to Aulakh on the allocation of Rs 250 million in the Punjab budget for fiscal year 2021-22 for the construction of Hockey High Performance Centre in Lahore.

DG SBP Adnan Aulakh said that the High Performance Centre for Hockey will prove to be a revolutionary measure for the revival of hockey. "Definitely, it will be a great facility for young male and female hockey players from across the country. Our talented players will be able to polish their skills under the supervision of qualified hockey coaches at the centre," he added.

"Hockey is our national game and Sports Board Punjab will leave no stone unturned for the promotion of this game among the young generation. The SBP is organizing hockey events regularly with the collaboration of PHF to provide sufficient playing opportunities to young male and female hockey players of the province."

"Recently, we organized 1st Quaid-e-Azam Inter-Division Hockey Championship 2021, Lahore Division Women Hockey Tournament and Under-17 Boys Hockey Tournament at the National Hockey Stadium to provide a befitting platform to young players to demonstrate their potential," he added.

PHF Secretary Asif Bajwa said that DG SBP Adnan Aulakh had a vital role in the allocation of a huge amount of Rs 250 million for the construction of Hockey High Performance Centre. "Mr. Aulakh is taking valuable measures for the promotion of hockey and extending every kind of assistance for the holding of hockey events."

PLTA Secretary Rashid Malik also lauded the role of DG SBP Adnan Aulakh for the revival of hockey. "Under the able guidance and supervision of Mr. Aulakh, sports and sportsmen in Punjab have been flourishing and his efforts will benefit sports in Punjab in the long run."

The Nation


---

SA Hockey mourns passing on of stalwart 'Ally' Fredericks



South African Hockey on Tuesday announced that Executive Board Member Allistar 'Ally' Fredericks has passed on. Photo: Supplied

CAPE TOWN - South African Hockey on Tuesday announced that Executive Board Member Allistar 'Ally' Fredericks has passed on.

A post on SA Hockey's official website read: 'It is with profound sadness that we announce the passing of our Executive Board Member Allistar 'Ally' Fredericks.

'Ally was an Atlanta 1996 Olympian and a legend of the game bringing hope to many.

'Sincere condolences to his family and friends. May his soul rest in peace.'

His inclusion in the Atlanta 1996 Olympics Games team was significant because he was the first player of colour to represent the national hockey team.

Sundesh Mahes, a former hockey player who played against Fredericks at the annual Easter Tournament in 2000 in East London, paid tribute to a national hockey stalwart who was an opponent at several inter-provincial hockey tournaments.

"I received the sad news that Allistar Fredericks passed away," said Mahes. "He was the president of the Southern Gauteng Hockey Association and held down other positions as well on the national hockey landscape.

"This is indeed a sad day for his family and the hockey community. 'Alli' was a hero amongst the hockey fraternity.

"He was undoubtedly the most skilful player in South Africa for many years. We lost a huge influence in SA hockey today."

IOL Sport