All the news for Saturday 12 June 2021

EuroHockey Championship 2021 Men - 12 June
Amsterdam, Netherlands

All times GMT +2)

4 Jun 2021     GER v WAL (Pool B)     8 - 1
4 Jun 2021     NED v FRA (Pool B)     3 - 0

5 Jun 2021     ENG v RUS (Pool A)   5 - 0
5 Jun 2021     BEL v ESP (Pool A)   4 - 2
5 Jun 2021     FRA v WAL (Pool B)   2 - 2

6 Jun 2021     GER v NED (Pool B)   2 - 2
6 Jun 2021     ESP v RUS (Pool A)   5 - 1
6 Jun 2021     ENG v BEL (Pool A)   2 - 1

8 Jun 2021     BEL v RUS (Pool A)   9 - 2
8 Jun 2021     FRA v GER (Pool B)   5 - 6
8 Jun 2021     ESP v ENG (Pool A   2 - 3
8 Jun 2021     NED v WAL (Pool B)   6 - 0

10 Jun 2021     RUS v FRA (Pool C)   5 - 6
10 Jun 2021     ESP v WAL (Pool C)   6 - 1
10 Jun 2021     ENG v GER (SF1)   2 - 3
10 Jun 2021     NED v BEL (SF2)   2 - 2 (SO 3 - 1)

11 Jun 2021     ESP v FRA (Pool C)     2 - 3 (Spain qualifies for the 2022 World Cup)
11 Jun 2021     WAL v RUS (Pool C)    3 - 3 (Wales and Russia are relegated)

12 Jun 2021     ENG v BEL (3rd/4th Place)   2 - 3
12 Jun 2021 12:30     GER v NED (Final)

Pool Standings

Pool A
| Rank | Team | Played | Wins | Draws | Losses | Goals For | Goals Against | Goal Difference | Points |
| --- | --- | --- | --- | --- | --- | --- | --- | --- | --- |
| 1 | England | 3 | 3 | 0 | 0 | 10 | 3 | 7 | 9 |
| 2 | Belgium | 3 | 2 | 0 | 1 | 14 | 6 | 8 | 6 |
| 3 | Spain | 3 | 1 | 0 | 2 | 9 | 8 | 1 | 3 |
| 4 | Russia | 3 | 0 | 0 | 3 | 3 | 19 | -16 | 0 |
Pool B
| Rank | Team | Played | Wins | Draws | Losses | Goals For | Goals Against | Goal Difference | Points |
| --- | --- | --- | --- | --- | --- | --- | --- | --- | --- |
| 1 | Netherlands | 3 | 2 | 1 | 0 | 11 | 2 | 9 | 7 |
| 2 | Germany | 3 | 2 | 1 | 0 | 16 | 8 | 8 | 7 |
| 3 | Wales | 3 | 1 | 0 | 2 | 4 | 16 | -12 | 3 |
| 4 | France | 3 | 0 | 0 | 3 | 7 | 12 | -5 | 0 |
Pool C
| Rank | Team | Played | Wins | Draws | Losses | Goals For | Goals Against | Goal Difference | Points |
| --- | --- | --- | --- | --- | --- | --- | --- | --- | --- |
| 1 | Spain | 3 | 2 | 0 | 1 | 13 | 5 | 8 | 6 |
| 2 | France | 3 | 2 | 0 | 1 | 11 | 10 | 1 | 6 |
| 3 | Wales | 3 | 1 | 1 | 1 | 7 | 11 | -4 | 4 |
| 4 | Russia | 3 | 0 | 1 | 2 | 9 | 14 | -5 | 1 |
---

EuroHockey Championship 2021 Women - 12 June
Amsterdam, Netherlands

All times GMT +2)

5 Jun 2021     NED v IRL (Pool A)   4 - 0
5 Jun 2021     ESP v SCO (Pool A)   4 - 1

6 Jun 2021     ENG v ITA (Pool B)    4 - 0
6 Jun 2021     GER v BEL (Pool B)   1 - 1

7 Jun 2021     IRL v SCO (Pool A)   1 - 0
7 Jun 2021     BEL v ITA (Pool B)   4 - 0
7 Jun 2021     ENG v GER (Pool B)   0 - 2
7 Jun 2021     ESP v NED (Pool A   1 - 7

9 Jun 2021     IRL v ESP (Pool A)   1 - 1
9 Jun 2021     GER v ITA (Pool B)    4 - 0
9 Jun 2021     BEL v ENG (Pool B)   1 - 1
9 Jun 2021     NED v SCO (Pool A)   10 - 0

11 Jun 2021     SCO v ITA (Pool C   3 - 1
11 Jun 2021     IRL v ENG (Pool C)   1 - 5
11 Jun 2021     NED v BEL (SF1)   3 - 1
11 Jun 2021     GER v ESP (SF2)   4 - 1

12 Jun 2021 16:30     IRL v ITA (Pool C)
12 Jun 2021 18:45     ENG v SCO (Pool C)

Pool Standings

Pool A
| Rank | Team | Played | Wins | Draws | Losses | Goals For | Goals Against | Goal Difference | Points |
| --- | --- | --- | --- | --- | --- | --- | --- | --- | --- |
| 1 | Netherlands | 2 | 2 | 0 | 0 | 11 | 1 | 10 | 6 |
| 2 | Spain | 3 | 1 | 1 | 1 | 6 | 9 | -3 | 4 |
| 3 | Ireland | 3 | 1 | 1 | 1 | 2 | 5 | -3 | 4 |
| 4 | Scotland | 2 | 0 | 0 | 2 | 1 | 5 | -4 | 0 |
Pool B
| Rank | Team | Played | Wins | Draws | Losses | Goals For | Goals Against | Goal Difference | Points |
| --- | --- | --- | --- | --- | --- | --- | --- | --- | --- |
| 1 | Germany | 3 | 2 | 1 | 0 | 7 | 1 | 6 | 7 |
| 2 | Belgium | 2 | 1 | 1 | 0 | 5 | 1 | 4 | 4 |
| 3 | England | 2 | 1 | 0 | 1 | 4 | 2 | 2 | 3 |
| 4 | Italy | 3 | 0 | 0 | 3 | 0 | 12 | -12 | 0 |
Pool C
| Rank | Team | Played | Wins | Draws | Losses | Goals For | Goals Against | Goal Difference | Points |
| --- | --- | --- | --- | --- | --- | --- | --- | --- | --- |
| 1 | England | 2 | 2 | 0 | 0 | 9 | 1 | 8 | 6 |
| 2 | Scotland | 2 | 1 | 0 | 1 | 3 | 2 | 1 | 3 |
| 3 | Ireland | 2 | 1 | 0 | 1 | 2 | 5 | -3 | 3 |
| 4 | Italy | 2 | 0 | 0 | 2 | 1 | 7 | -6 | 0 |
---

Round-up 11th June, EuroHockey Championship, men




Spain may have lost the battle but they won the war as their 3-2 loss to France was enough to keep them top of Pool C and earn a World Cup ticket. France took sixth as a result while Wales finished seventh after their 3-3 draw with Russia.

Men's EuroHockey Championships

Pool C

Spain 2 (X Lleonart, P Quemada) France 3 (T Clément, P van Straaten, A Igau)

France produced a brilliant comeback to beat Spain 3-2 to finish off their entertaining campaign, one which saw 35 goals come from their five games. For Spain, they remained in fifth place, however, and landed the final remaining World Cup spot courtesy of their earlier wins over Wales and Russia. The Red Sticks had started excellently with Xavi Lleonart's shot hitting a body on the line, giving a stroke which he converted himself. Pau Quemada doubled up with a quite brilliant first time finish from David Alegre's assist. But the French comeback was on when Timothée Clément finished off an assist from Pieter van Straaten. Van Straaten equalised with 11 minutes to go following François Goyet's mazy run and the winner came in quite brilliant fashion. It started on the French baseline but was worked well around the back to left back Viktor Lockwood who played an outstanding ball from left to right to van Straaten and then on to Benjamin Marqué. The ball fell to Antonin Igau on the back post to pot the goal.

Spain – France 2-3 (2-1)

7' 1-0 Xavi Lleonart (PS)
18' 2-0 Pau Quemada (FG)
25' 2-1 Timothée Clément (FG)
49' 2-2 Pieter van Straaten (FG)
55' 2-3 Antonin Igau (FG)

Umpires: C van Bunge (NED), M Pontus (BEL)

Wales 3 (J Naughalty 2, H Jones) Russia 3 (A Kuraev, M Khairullin, S Matkovskiy)

Wales finish in seventh place overall with Russia ending in eighth with both destined for the 2022 European qualifier events following their lively 3-3 draw. Going into the tie, Wales needed a 12-goal win for a World Cup spot and a six-goal success to move ahead of France. But that never looked likely to materialise, especially when they fell behind to Andrey Kuraev's sixth minute opening goal. Joe Naughalty equalised from the penalty spot and Wales went in front in the 24th minutes from an excellent team goal, set up by Rupert Shipperley and scored by Hywel Jones. Naughalty netted his third goal of the tournament from a corner only for Russia to bounce back again via Marat Khairullin's spin move. Semen Matkovskiy's drag-flick got the Russians back on terms with six minutes to go.

Wales – Russia 3-3 (2-1)

6' 0-1 Andrey Kuraev (FG)
17' 1-1 Joseph Naughalty (PS)
24' 2-1 Hywel Jones (FG)
40' 3-1 Joseph Naughalty (PC)
43' 3-2 Marat Khairullin (FG)
54' 3-3 Semen Matkovskiy (PC)

Umpires: X Fenaert (FRA), D Rodriguez (ESP)

EuroHockey media release


---

11th June EuroHockey Championships, women's semi-finals




The Netherlands and Germany set up a sixth women's EuroHockey Championship final meeting as both fought their way through tough semi-finals, getting the best of Belgium and Spain, respectively. They will meet on Sunday in the final at 12.30pm (CET) with the bronze match at 10am (CET).

Earlier in the day, England moved within touching distance of a fifth overall and a World Cup ticket when they beat Ireland 5-1; Scotland got their first win in Pool C with a 3-1 success against Italy.

Women's EuroHockey Championships

Semi-finals

Netherlands 3 (F Matla, F Albers, C van Maasakker) Belgium 1 (S Vanden Borre)

The Netherlands moved a step closer to another women's EuroHockey Championship title as they held off the challenge of Belgium in front of a healthy crowd at the Wagener Stadium.

But it was far from a facile victory over Belgium as Eva de Goede admitted afterwards: "They definitely made it hard for us. We played them a couple of times now and it is always difficult to beat them, especially in the third chukka when they really played well and had us. So I was really happy when we scored pretty quickly in the fourth with that amazing corner from Caia [van Maasakker] that gave us more breathing time."

Frédérique Matla's tip-in in the fifth minute – her seventh goal of this tournament – set the Dutch on their way in pursuit of a 13th Euro final appearance.

Felice Albers made it 2-0 when Pien Dicke tackled a defender coming out of defence and quickly transferred to Laurien Leurink. She found Albers peeling across goal and she was able to evade the goalkeeper and pop into the goal.

But Belgium were not about to roll over and they showed their attacking intent. Judith Vandermieren tested Josine Koning's padding with a fierce reverse-stick shot.

And Alix Gerniers threatened from their first penalty corner early in the second half. Indeed, were it not for two brilliant pieces of covering from Pien Sanders, the Red Panthers could have been through one-on-one.

Charlotte Englebert's direct running was a key feature, tearing into the heart of the Dutch defence and eliminating a number of players. In time, it duly yielded a stroke – when Justine Rasir's stick was checked – which Stephanie Vanden Borre converted, making it a real game.

But the Dutch settled well at the three quarter time break and set about getting back their control on the fixture. Elodie Picard was forced into a rapid triple-stop before the Dutch won their second corner

This time, van Maasakker picked out the top corner with her drag-flick to restore the two-goal advantage and quash the Belgian assault.

And de Goede added it has been really enjoyable to get back into action on this stage.

"It's even better than ever because we have missed it so much. You almost take it for granted that there are fans in the stands but now it is so special to have them back. Even though it is not completely full, it feels so full and it is at home for us so it is amazing to have them behind us. They really helped us through the game today."

Netherlands – Belgium   (2-0)

5' 1-0 Frédérique Matla (FG)
16' 2-0 Felice Albers (FG)
37' 2-1 Stephanie Vanden Borre (PS)
49' 3-1 Caia van Maasakker (PC)

Umpires: A Keogh (IRL), M Meister (GER)

Germany 4 (C Pieper, S Zimmerman, P Maertens, A Schröder) Spain 1 (B Bonastre)

Germany set up a sixth women's EuroHockey Championship final showdown with the Netherlands thanks to their 4-1 semi-final win over Spain, putting them within one win of a third continental title.

The scoreline did not reflect an incredibly close tussle with the margin of success inflated by two last minutes goals as Die Danas capitalised on Spain leaving the back door open.

"It was a pretty tough game for us," said MVP Cecile Pieper. "We came out really strong and scored right away and then it got out of our hands a bit. In the second half, we came on strong again and, in the end, I think it was a deserved win because we had a really good second half.

"In sport, there is always a little bit of luck and that was on our side. But our corner defence looked really good and our goalie had a great day and I am really proud of the girls."

Germany got off to the perfect start, winning a corner which drew the best from Maria Ruiz. It went out for a long corner which was worked back into the danger zone with Anne Schröder flipping the ball into the path of Cecile Pieper to redirect the ball in.

Spain were level in the 13th minute from their first corner when Lucia Jimenez took in a slightly off course injection, sweeping at goal where Berta Bonastre was waiting to chip the ball into the net.

From there, it was an intense battle between well matched teams with very little to separate them. Spain did spurn the next golden opportunity, a corner move falling to Xantal Giné who had the goal at her mercy but caught her sweep shot early and across the face of goal.

And the miss was punished just before the end of the fourth quarter from a series of corners, the second of which Sonja Zimmerman brought the power to make it 2-1.

Spain threw everything into attack for the closing quarter and picked up four penalty corners but each time the German defence broke out at pace to charge down the chances and allow now clean sight to goal.

And when the Red Sticks withdrew their goalkeeper, Germany capitalised to score two more into an unguarded net, Pia Maertens and Schröder the happy recipients to make sure they could breathe a bit easier in the final seconds.

Looking forward to the Dutch contest, Pieper added: "It is a classico and we will throw everything at it and hopefully it will be a really good game."

Germany 4 – Spain 1

3' 1-0 Cecile Pieper (FG)
13' 1-1 Berta Bonastre (PC)
45' 2-1 Sonja Zimmerman (PC)
60' 3-1 Pia Maertens (FG)
60' 4-1 Anne Schröder (FG)

Umpires: Y Makar (CRO), C Martin-Schmets (BEL)

Pool C

Scotland 3 (B Shields, S Robertson, M Bell) Italy 1 (S Laurito)

Italy dominated the first quarter but could not find a way past the impressive Amy Gibson who made a series of strong blocks. Against the run of play, Scotland got on the board when Bronwyn Shields slipped home a penalty corner move at the left post. Sarah Robertson got the next in the 21st minute after McKenzie Bell's great run and a Fiona Burnet pull-back. Bell made it 3-0 with 13 minutes to go with a perfectly executed turn and shot from mid-circle. Sofia Laurito got one back from Italy's fifth penalty corner – they ended with seven, Scotland had one – from the injector spot and while they took off their goalkeeper for the closing phases, they could not close the gap further.

Scotland – Italy 3-1 (2-0)

17' 1-0 Bronwyn Shields (PC)
21' 2-0 Sarah Robertson (FG)
47' 3-0 McKenzie Bell (FG)
53' 3-1 Sofia Laurito (PC)

Umpires: L Delforge (BEL), S Bockelmann (GER)

Ireland 1 (D Duke) England 5 (S Evans 2, A Toman, L Owsley, J Hunter)

England produced a five-star comeback to move to the edge of fifth place overall and qualification for the 2022 World Cup as Sarah Evans scored a couple of goals. The Green Army started perfectly with Deirdre Duke's diving touch seeing her get on the end of a brilliant Anna O'Flanagan cross in the 10th minute. But England steadied the ship and scored three times in the second quarter to turn things around. Toman's pin-point corner shot brought the sides level before Evans touched in at the back post from Lily Owsley's cross. Evans then volleyed in from an Ellie Rayer assist for 3-1 at half-time. From there, England always looked in control and moved further clear via Giselle Ansley's heavily deflected shot and Toman's corner sweep with Owsley and Jo Hunter swooping to nick the final touches.

Ireland – England 1-5 (1-3)

9' 1-0 Deirdre Duke (FG)
20' 1-1 Anna Toman (PC)
23' 1-2 Sarah Evans (FG)
29' 1-3 Sarah Evans (FG)
42' 1-4 Lily Owsley (PC)
59' 1-5 Jo Hunter (PC)

Umpires: S Wilson (SCO), I Amorosini (ITA)

EuroHockey media release


---

Netherlands and Germany reach women's EuroHockey Championships final

By Neil Shefferd



The Netherlands reached the women's EuroHockey Championships final after beating Belgium and will have a chance to retain their title on Sunday ©Getty Images

Defending champions and tournament hosts The Netherlands reached the final of the women's EuroHockey Championships after a 3-1 victory over Belgium in Amsterdam.

Frederique Matla got the Dutch off to the best possible start with a fifth minute field goal.

Felice Albers doubled The Netherlands advantage on 16 minutes with a second field goal.

A penalty stroke from Stephanie Vanden Borre reduced Belgium's advantage to 2-1 with a penalty stroke on 37 minutes.

Caia Van Maasakker secured the Dutch's place in the final from a penalty corner with ten minutes to go which made it 3-1.

In the second semi-final Germany started strongly when Cecile Pieper gave them the lead with a third minute field goal.

Spain levelled ten minutes later thanks to a penalty corner from Berta Bonastre which made it 1-1.

Germany's lead was restored by a penalty corner from Sonja Zimmermann on 45 minutes.

Victory was sealed by two last minute field goals for the Germans, courtesy of Pia Maertens and Anne Schroder.

In men's Pool C France recovered from 2-0 down to defeat Spain 3-2.

A penalty stroke in the seventh minute from Xavi Lleonart gave Spain the early lead before Pau Quemada doubled their advantage with an 18th minute field goal.

Timothee Clement halved the deficit with a field goal on 25 minutes before France levelled with ten minutes remaining courtesy of Pieter van Straaten.



England's women's hockey team defeated Ireland 5-1 to top Pool C after two matches ©Getty Images

The winner came courtesy of a further field goal from Antonin Igau with five minutes remaining, completing an impressive turnaround for the French.

In the other game in the pool Wales and Russia played out an entertaining 3-3 draw.

Andrey Kuraev gave Russia a sixth minute lead with a field goal before Joseph Naughalty levelled for Wales with a penalty stroke on 17.

A field goal from Hywel Jones restored Wales advantage in the 24th minute before Naughalty's second of the game from a penalty corner made it 3-1.

Russia battled back thanks to a field goal from Marat Khairullin before a penalty corner from Semen Matkovskiy levelled the contest at 3-3 with six minutes to go.

The results meant Spain and France both finished Pool C with six points, with Spain ahead on goal difference.

By topping Pool C Spain ensured themselves of fifth place and the final spot at the 2023 Hockey World Cup, due to be held in India in January 2023.

In the day's match in women's Pool C England fought back from an early goal down to overcome Ireland 5-1.

Deirdre Duke gave Ireland an early lead with a ninth minute field goal before Anna Toman levelled for England with a penalty corner on 20 minutes.

Toman's strike was the first of three during a ten minute period, and was followed by a brace of field goals from Sarah Evans.

Penalty corners from Lily Owsley and Jo Hunter added late gloss to what proved to be a convincing England victory.

England currently lead the pool after winning their first two matches.

Inside the Games


---

Netherlands march on to the European Cup Final




Despite a lot of goodwill and some great possibilities, the Belgian players did not manage to surprise the Netherlands who will play their 4th consecutive European final.


---

Wins For Scotland And England, Wales Draw On Eighth Day Of EuroHockey Championships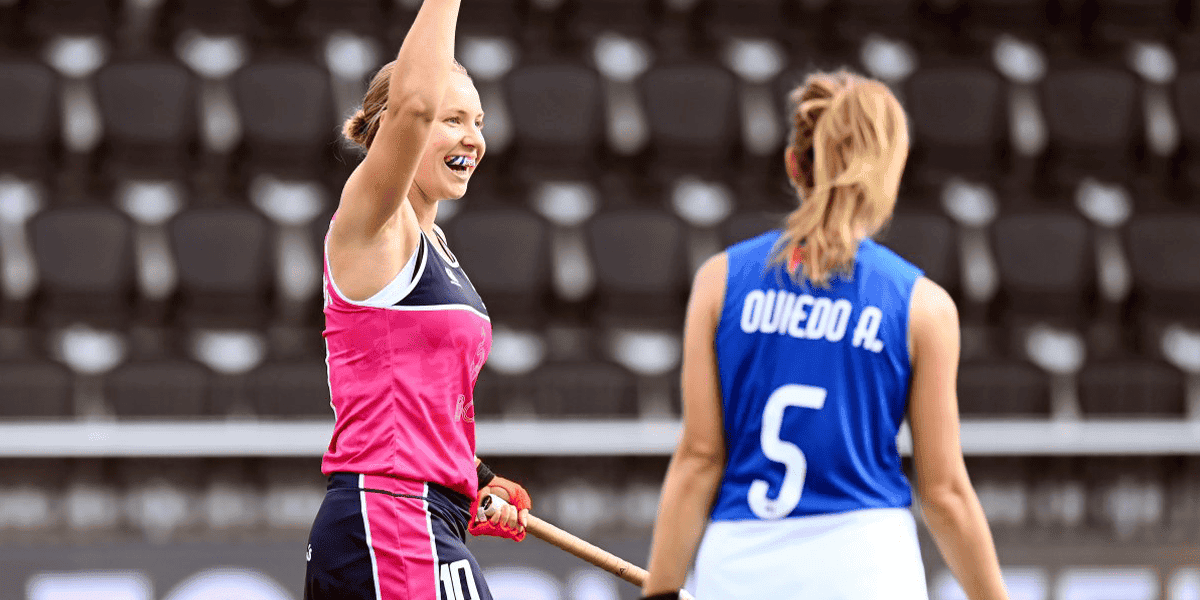 England and Scotland's women won their opening games of Group C while Wales played out a thrilling draw with Russia on another pulsating day of the 2021 EuroHockey Championships.

England's women moved a step closer to World Cup qualification as they beat Ireland 5-1, Sarah Evans scoring twice and Anna Toman, Giselle Ansley and Jo Hunter all getting on the scoresheet too.

That followed Scotland's women sealing their first points of the tournament with a 3-1 win over Italy thanks to goals from Bronwyn Shields, Sarah Robertson and McKenzie Bell.

And Wales' men capped off their tournament with an exciting 3-3 draw against Russia, Joey Naughalty (2) and Hywel Jones finding the target.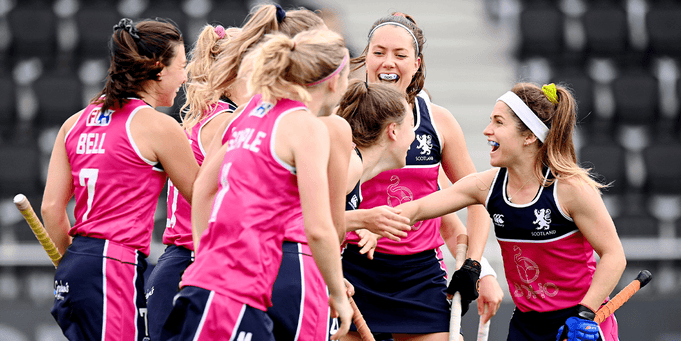 Scotland's first victory at the 2021 EuroHockey Championships moved them to second in Group C. Credit: World Sport Pics

Coming off the back of a 10-0 defeat to The Netherlands in their final game of the first group stages, Scotland went into their game with Italy determined to claim their first win of this year's event.

However they came under pressure right from the start, with Amy Costello saving on the line in the first minute while goalkeepers Amy Gibson and Nicki Cochrane were kept busy early on.

Having held firm, Scotland then took the lead in the 17th minute as Shields turned a clever corner routine home for her first international goal before Robertson doubled the advantage shortly after.

Italy continued to throw everything they had at the Scottish defence but still couldn't find a way through, with Bell then adding a third for Scotland in the third quarter to see them to victory despite Sofia Laurito's late consolation.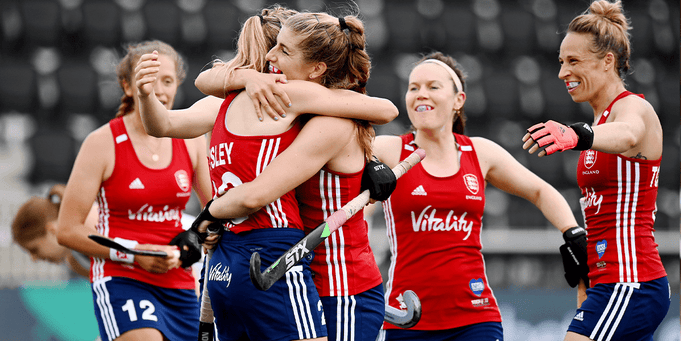 Sarah Evans scored twice to take her overall tournament tally to three goals. Credit: World Sport Pics

Having agonisingly missed out on making the semi-finals, England's women turned their attentions to Ireland knowing victory would put them within touching distance of a place at the 2022 Women's Hockey World Cup. But they got off the the worst possible start as Deirdre Duke expertly deflected in Anna O'Flanagan's cross to give the Irish the lead in the 10th minute.

England ramped up the pressure once the second quarter got underway and it paid dividends, with Toman slotting home her first goal for Great Britain to equalise in the 20th minute before Evans struck twice to give England a commanding 3-1 lead at half-time.

Ansley then fired home her 25th international goal to make it four in the third quarter before Hunter's looping deflection on a Toman shot added some gloss to an impressive performance that left England top of Group C on six points, with Scotland sitting behind them on three points.

A draw against their Scottish counterparts tomorrow would be enough to see England finish in fifth place and claim the last World Cup qualification spot.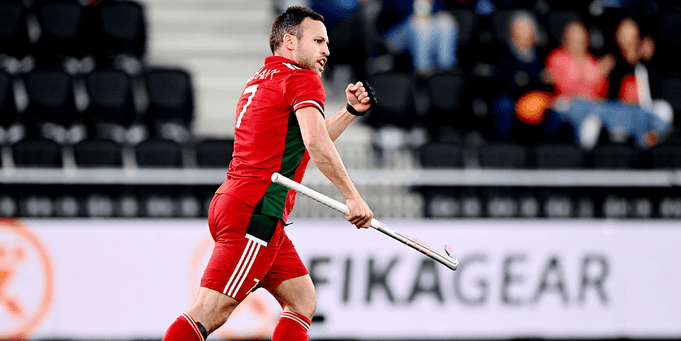 Joey Naughalty scored twice in his 101st appearance for Wales. Credit: World Sport Pics

Wales' men headed into their final game of the tournament looking to end with a win against a Russian side ranked four places below them in the world. Their start was far from ideal though as they behind as Andrey Kuraev scored for Russia.

Naughalty - who had won his 100th cap for Wales in the previous game - calmly converted a penalty stroke early in the second quarter to draw the scores level before Hywel Jones produced a lovely finish on the spin to give Wales the lead heading into half-time.

There was a second goal for Naughalty early in the second half as he converted a penalty corner before Marat Khairullin produced a neat finish to halve the deficit. Alexey Sobolevskiy then looked to have drawn Russia level with a brilliant goal of his own, only for it to be ruled out after a review. But Russia did score a third through Semen Matkovskiy to draw themselves level and they even pushed for a winner but the Welsh defence held firm.

With Wales' tournament having come to an end, England's men and women and Scotland's women will follow suit tomorrow. First up it's the men's bronze medal match, which will see Danny Kerry's England side look to emulate their fine victory over Belgium in the group to stand on the final step of the podium. That game takes place at 09:00 on BT Sport 1. The Home Nations clash between England and Scotland's women then follows at 17:45 on BT Sport 3.

Great Britain Hockey media release


---

England Put Five Past Ireland To Move Closer To World Cup Qualification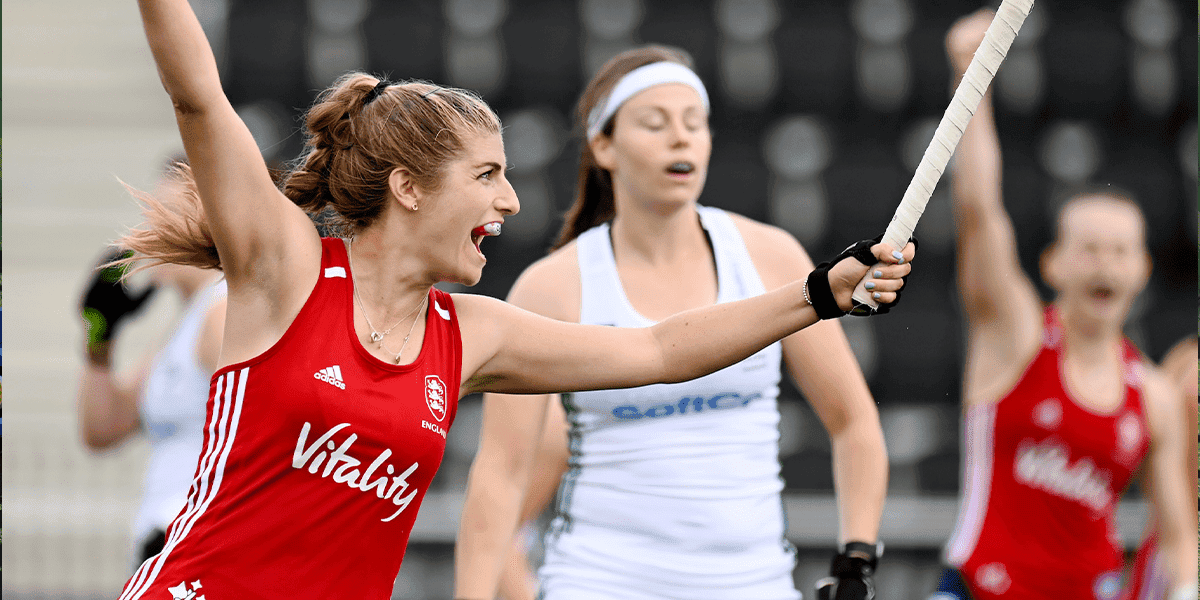 England's women produced a commanding performance to beat Ireland and take a step closer to qualifying for the 2022 Women's Hockey World Cup.

Sarah Evans struck twice while Anna Toman, Giselle Ansley and Jo Hunter all scored from corners as England came from behind to secure their second win of the tournament.

Ireland had taken the lead early on through Deirdre Duke as they started the game on the front foot but once the momentum turned in the second quarter, England never looked back.

That result leaves England sitting top of Group C on six points, with both Ireland and Scotland behind them on three points. To qualify for the World Cup, England will need to stay where they are in the standings, meaning victory over Scotland in their final group game tomorrow will secure their place.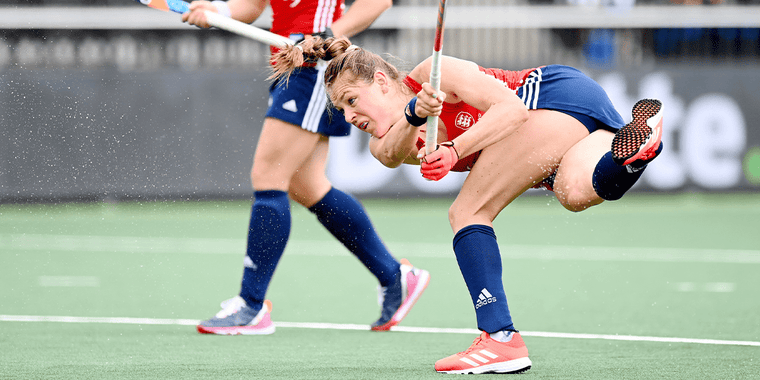 Giselle Ansley scored for the second consecutive game, taking her international total up to 25. Credit: World Sport Pics

Both teams began the game looking nervous, with neither fashioning a clear cut chance until Maddie Hinch was required to make a brilliant reaction save after an Ireland corner was initially blocked by Laura Unsworth.

There was nothing the England shot stopper could do to stop Duke's goal a minute later as the forward slid in to convert Anna O'Flanagan's superb cross.

England significantly upped their tempo in the second quarter, Grace Balsdon firing a corner just wide before Toman slapped home her first England goal with perfect precision in the 20th minute.

Giselle Ansley then saw a corner well saved by Ayeisha McFerran before Evans scored her first of the day, finding herself in the right place to nudge home Lily Owsley's cross after good play down the right hand side of the circle.

McFerran saved another corner just seconds later but Evans was perfectly placed once again shortly before half-time to turn in her second after some silky 3D skills by Ellie Rayer at the top of the circle.

England continued on the front foot in the second half, winning a corner in just the second minute that McFerran once again managed to block before Izzy Petter's shot on the reverse flew over the crossbar.

Ansley was on hand to score for the second successive game in the 42nd minute as her corner flick deflcected off an Irish stick into the net before Rayer looked to add a fifth in the dying moments of the quarter, only to be denied once again by McFerran.

The Ireland 'keeper once again denied Rayer in the 51st minute, with Erica Sanders firing the rebound wide before McFerran saved another shot from Laura Unsworth.

With less than two minutes remaining, England won their eighth corner and added their fifth goal as Hunter's touch on Toman's shot looped into the goal.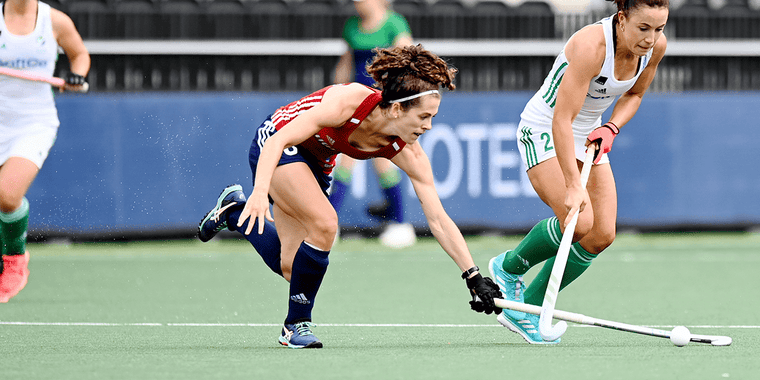 Anna Toman scored one goal, assisted another and was named Player Of The Match. Credit: World Sport Pics

After the game, Player Of The Match Toman said: "We're so pleased to get the win. Obviously we were very disappointed with our last pool game so we went away as a team, put that to bed and focused on this game which was huge for us.

"Obviously Home Nations battles can often be quite hard for us as England players so I'm really pleased with the result and we can now look forward to our game against Scotland.

"It was nice to get involved in a bit more attacking play through the middle. It was a new experience for me! I'm thrilled for the girls, thrilled with the team's performance and looking forward to tomorrow."

Their final group game against Scotland will take place at 17:45 on Saturday 12 June. That will follow on England's men contesting for European bronze when they face Belgium at 09:00. Both games will be shown live on BT Sport 3.

Ireland 1 (1)

Duke (10', FG)

England 5 (3)

Toman (20', FG); Evans (22', FG; 29', FG); Ansley (42', PC); Hunter (59', PC)

Starting XI: Hinch (GK), Unsworth, Evans, Toman, Townsend, Rayer, Ansley, Pearne-Webb (C), Owsley, Balsdon, Petter

Subs (Used): Burge, Sanders, Neal, Hunter, Ledesma, Crackles

Subs (Unused): Heesh (GK)

England Hockey Board Media release


---

Ireland's World Cup hopes on hold after 5-1 loss to England




Ireland's World Cup qualification bid looks set to come down to October's final qualifier after they could not build on a strong start against England in the EuroHockey Championships' Pool C.

Deirdre Duke's outstanding early goal had them dreaming of a first win over England since 1987 – and a first in several Euro meetings – but three second quarter goals put paid to those hopes.

As such, barring an unlikely turnaround in fortunes – requiring a heavy England loss to Scotland and a big Irish win over Italy – Ireland will now contest an eight-team qualifier in October for a ticket to next summer's World Cup.

"We started really well, building really good possession and going for it," was the assessment of Lizzie Holden, playing in her 200th cap.

"The wheels came off in the second quarter and they gathered momentum. That was the difference and there are just such fine margins in these Europeans. It spiralled out of control but we still put in a really good shift and am proud of the girls' work-rate."

Coach Sean Dancer concurred, adding: "Really disappointing; there was a lot on the line today and that obviously adds a lot of pain to the whole thing.

"We started the game well first quarter and I was really happy with how the game was going. We just couldn't keep it going.

"The key thing about that first quarter is we backed ourselves. We just didn't do that second quarter, missed a couple of opportunities from our attacking penalty corners and let a few in."

Underdogs going into the tie, the task was made trickier when midfielder Chloe Watkins was ruled out due to a quad injury. It meant a debut for Ards' striker Zara Malseed but meant a rejig in formation for Dancer's side.

The Irish survived a tricky opening with super first-up defence to limit any damage and soon, they started to make inroads at the far end.

The approach was more direct with Naomi Carroll and Katie Mullan finding space to drive on and the opening goal came in the 13th minute. It was a glorious piece of work, created 70 metres out from goal as Anna O'Flanagan chipped a Carroll pass beyond her marker to unlock space.

A quick interchange with Nicci Daly was followed by O'Flanagan's perfect cross that Deirdre Duke dove onto.

But the game turned England's way with three goals in a nine minute spell in the second quarter. Anna Toman picked a brilliant line to clatter the backboard from England's second penalty corner.

Danger-woman Lily Owsley's baseline run finished with an inviting pass to the back post that Sarah Evans gobbled up to swap the lead. And Evans was on hand to volley in the third just before half-time from Ellie Rayer's pass, leaving Ireland with a mountain to climb.

And that became steeper in the 42nd minute when Giselle Ansley's corner shot took a heavy defensive touch to lift out of reach of Ayeisha McFerran and into the goal with Owsley credited as getting the final touch.

Jo Hunter then completed the result with 70 seconds remaining, tipping over the line after another strong corner sweep shot from Toman.

Ireland will conclude this campaign on Saturday at 3.30pm (Irish time, RTE Player and BT Sport) against Italy, a last competitive game for the side before Olympic selection.

"The reality is it is still a must win game and we have to approach it that way," Dancer added.

Women's EuroHockey Championships
Pool C: Ireland 1 (D Duke) England 5 (S Evans 2, A Toman, L Owsley, J Hunter)

Ireland: A McFerran, R Upton, N Evans, K Mullan, S McCay, L Tice, N Carroll, H McLoughlin, L Holden, S Hawkshaw, A O'Flanagan
Subs: Z Malseed, M Carey, M Frazer, N Daly, H Matthews, D Duke, L Murphy

England: M Hinch, L Unsworth, S Evans, A Toman, S Townsend, E Rayer, G Ansley, L Owsley, G Balsdon, I Petter
Subs: E Burge, E Sanders, L Neal, J Hunter, C de Ledesma, F Crackles, S Heesh

Umpires: I Amorosini (ITA), S Wilson (SCO)

Irish Hockey Association media release


---

England 1 point from World Cup Qualification after Ireland Win



Picture: Sarah Evans celebrates. WORLDSPORTPICS COPYRIGHT FRANK UIJLENBROEK

England took a big step towards securing fifth place and World Cup qualification, coming back from a 1-0 first quarter deficit to beat Ireland 5-1 and secure their position at the top of Pool C.


---

England beat Ireland to boost World Cup hopes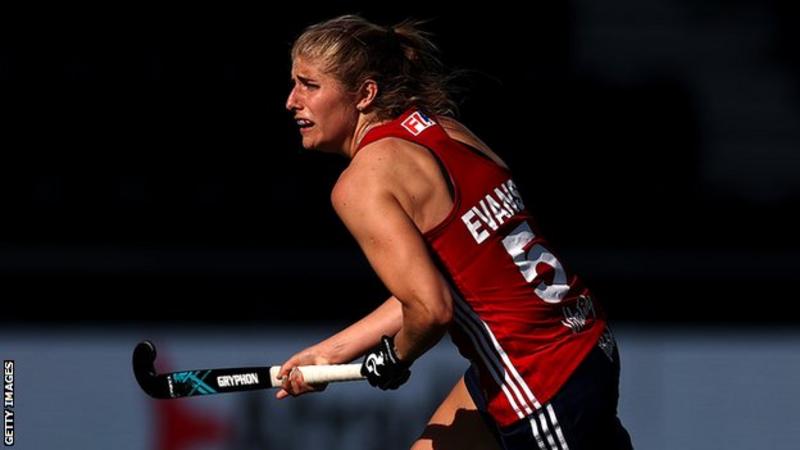 Evans's two goals helped turned the match England's way

England came from a goal down to beat Ireland 5-1 at the EuroHockey Championships and keep their hopes of reaching the 2022 World Cup alive.

Deirdre Duke's ninth-minute goal gave Ireland the lead in their Pool C meeting in Amsterdam.

But England piled on the pressure with Anna Toman levelling from a penalty corner before two Sarah Evans strikes before half-time put them in control.

Giselle Ansley added another before a late Jo Hunter goal.

Victory for England over Scotland on Saturday (17:45 BST) will secure fifth place at the tournament and a place at the World Cup.

Ireland are also chasing the fifth-place finish which would ensure World Cup qualification but now almost certainly will have to rely on the final eight-team qualifying event in October.

Only a heavy England defeat by Scotland and big Irish win over Italy in Saturday's concluding Group C games will see Sean Dancer's squad securing fifth spot.

It is the first time in 15 European Championships that England have finished outside the top four.

"I'm really pleased. We were hugely disappointed not to reach the semi-finals, but this one was a big one for us," said Toman. "Now we can look forward to playing Scotland."

BBC Sport


---

Scotland beat Italy at the EuroHockey Championships




Scotland women defeated Italy 3-1 in their first Pool C match of the EuroHockey Championships, with fine goals from Bronwyn Shields; Sarah Robertson and McKenzie Bell in Amsterdam. Scotland now face England tomorrow to try and retain their place in the EuroHockey Championships.

This contest saw the two teams come together for the first time since Scotland beat Italy 2-1 in the EuroHockey Championship II 2019 final in Glasgow.

Italy started on the front foot and prompted some good defending by Amy Costello to clear the first sign of danger coming from the Italians in the early stages.

Then came a fantastic save by Amy Gibson, before being called into action again a few minutes later to keep the Italians out in the opening quarter.

If Italy edged the first quarter then the second quarter definitely belonged to Scotland.

The Tartan Hearts took the lead when Bronwyn Shields struck her first goal for Scotland. Shields injected the ball at a penalty corner, and took the return pass to finish at the near post and make it 1-0.

A lovely finish by Sarah Robertson midway through the quarter gave Scotland a 2-0 lead. Some stealthy work by McKenzie Bell down the left allowed Fiona Burnet to set up Robertson perfectly to blast the ball low and hard against the back board, leaving the goalkeeper with no chance.

Scotland worked a high press in the third quarter and looked comfortable throughout. They nearly went 3-0 ahead when Sarah Jamieson went on a powerful run into the D, and picked out Fiona Semple at the far post, but the ball went agonisingly wide

Then Robertson cracked the post when she fizzed the ball against the upright not long before the end of the quarter.

The illusive third goal finally came early in the final quarter when Bell found the bottom left corner with a great finish to put Scotland 3-0 ahead.

Italy pulled one back from a penalty corner rebound when Sofia Laurito popped the ball into the roof of the net.

In a late push Italy took off their goalkeeper for the final five minutes to play with 11 outfield players, but the Scots were comfortable and saw out the game to claim an important victory.

Scotland attacker Sarah Jamieson said, "We've put in a huge shift in this tournament with relatively little prep time, so it's really great to get the win today.

"We've been improving every game, being aggressive and retaining the ball – today we kept the ball better and it helped us make chances.

"Next we play England. The fifth game in the tournament is always hard on the body but we'll need to find the same energy again and take our chances when they come."

Scotland Head Coach Jen Wilson added, "It was a really good performance. Amy Gibson was really good in the first quarter and really steadied us, but then we just got stronger and stronger as the game went on.

"We could have had more goals, and it was great to create opportunities, but the third goal was a really crucial one as we knew they'd really come at us towards the end.

"We'll look forward to the England game now. We're up for the game and the challenge to ourselves is to make sure we keep progressing as we have done with each game."

Scottish Hockey Union media release


---

Fighting spirit of the Scots secure 3-1 win Vs Italy



Picture: WORLDSPORTPICS COPYRIGHT FRANK UIJLENBROEK

Scotland won their first match at the EuroHockey Championships in Amstelveen, soaking up Italian pressure in the first quarter before scoring twice in the second to set up the victory.


---

Men of Russia and Wales share the points




Wales needed twelve goals against Russia to knock France from the second place in group C. The group in which they compete for a World Cup ticket. That premise was not very realistic for Wales. The team defended a lead for a long time, but in the end the runs were shared: 3-3.


---

Wales relegated after 3-3 draw with Russia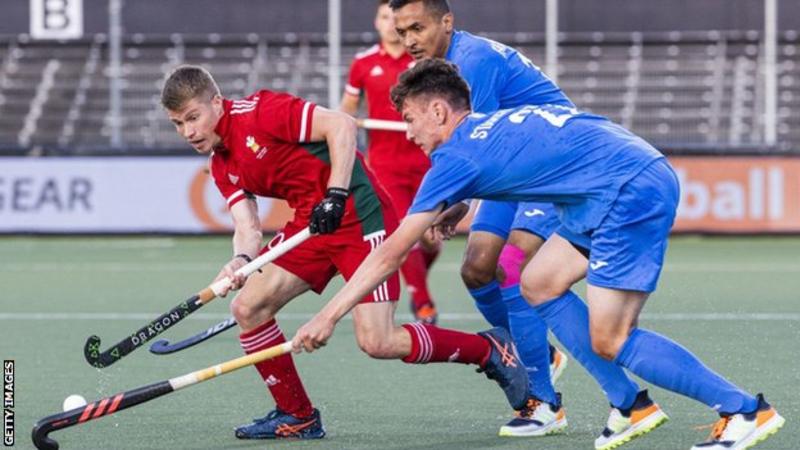 Rhodri Furlong competes with Denis Starienko and Evgeny Artemov of Russia

Wales' men have been relegated from the top tier of European hockey after drawing 3-3 with Russia in their final match.

Wales' 6-1 defeat by Spain on Thursday meant Danny Newcombe's side needed to better France's result against Spain.

However, France scored twice in the second half to beat Spain 3-2.

Wales led Russia 3-2 until the final minutes, and will now play in EuroHockey's second division for the next Championships in 2023.

James Naughalty scored twice against Russia, either side of Hwyel Jones' goal.

Wales were playing in the third division as recently as 2015 but had climbed to the top tier of European hockey.

Earlier in the 2021 tournament, Newcombe saw his side recover from an 8-1 defeat by Germany to beat France 3-2 before losing 6-0 to Netherlands.

Wales finished seventh in the group with Russia eighth.

BBC Sport


---

Olympic Games Tokyo 2020: Spotlight on Canada




In the latest of our Olympic Spotlight series, we look at Canada men, who will make their eighth Olympic appearance in the same city they made their first.

The Red Caribou – who made their Olympic debut at the Tokyo 1964 Games – have long been one of the giants of Pan American hockey, becoming continental champions on no less than five occasions. They have yet to achieve an Olympic finish higher than tenth, but will be aiming to top that in Tokyo, having qualified by battling past Ireland in the 2019 FIH Hockey Olympic Qualifiers to achieve back-to-back Olympic qualification for the first time since the 1980s.

Ahead of his team's Olympic challenge, we caught up with Canada captain Scott Tupper – the talismanic defender who has played over 300 times for his country – talk all things Tokyo 2020. The interview was recorded in April 2021.

Scott Tupper, thank you so much for giving us your time. The delayed Olympic Games Tokyo 2020 are on the horizon.  How is everyone in your camp feeling?

Scott Tupper: "First and foremost, just excited. There has been a lot of uncertainty since the initial postponement and through the rest of 2020. I think people's focus almost got off hockey and the Olympic Games for a little time. There was probably still some uncertainty in late 2020 and early 2021, but now it's all going forward, and we are back properly training, getting some proper competition in. Our group is just excited to get going and get into the summer."

You have been lucky enough to have two Olympic tournaments under your belt, having competed at Beijing 2008, where you were very young, and Rio 2016. What were those experiences in Beijing and Rio like for you, and also, what does it mean to you to represent your country at the Olympic Games?

Scott Tupper: "For the last part [of the question], it's a massive honour and something I am super proud of, to be able to represent Canada at the Olympic Games. For me, Beijing and Rio for me were very different experiences. As you said, I was very young in Beijing. It was the first major tournament where I was properly in contention to make the team, being part of the qualifying process. We qualified and I just thought, oh, this great news. You qualify and then you get to go to the big events. Unfortunately, we didn't qualify for London [2012], so I think that, while I had a fantastic time in Beijing and absorbed a lot of it, I didn't appreciate how special those moments are and that they don't necessarily come again. [It was difficult] to miss out on London and have to watch that one from home. But then getting to Rio was fantastic. I had a different perspective on it, in terms of really soaking up all aspects of it. I had a little bit of a different role in the team, being one of the more senior guys. Using whatever wisdom I may have, I tried to impart some of it on the guys. I think we had a great time there, although didn't quite do as well as we hoped we could. But now, going into Tokyo, we are super proud to have qualified again. It is the first time since the 1980s that Canada has made back-to-back Olympics, so I'm really excited for that."

It was a while back now, but can you remember how you felt when you secured qualification for Tokyo, edging past Ireland in the FIH Hockey Olympic Qualifiers in Vancouver?

Scott Tupper: "It was a bit of a rollercoaster of emotions. That game was a unique one, having to come back [from behind] and some of the events of the actual match itself, all coming down to late in the game. I think it was an exhilarating experience, but kind of exhausting as well. I remember being really exited and proud of the team for the way we performed, to come back and to put ourselves in contention to have that opportunity late in the qualifiers. I was relieved and excited that we qualified in front of our home fans, with my wife, my parents and my in-laws all being on the side-line there. That was really cool. It was a really good moment for Canadian hockey, to have such an important event taking place right in the midst of our community, where a lot of us play our club hockey and a lot of the guys go to coach or train every single day. That was really special for us."

In Tokyo, the focus will be all about getting out of a tough looking pool and into the quarter-finals. Canada are in Pool B alongside reigning World and European champions Belgium, multiple gold medallists Germany and the Netherlands, as well as Great Britain and South Africa.

Scott Tupper: "Yes, every match in the Olympics certainly is difficult! I think anyone looking at the pool will note that there is probably a group of four and a group of two, if you are just looking on typical form. We certainly have four powerhouses of World and European hockey in the group, so it is going to be difficult. But when you qualify for an Olympics or a World Cup, you look forward to playing the best teams in the world. I think Belgium have well and truly shown that they are the best team in the world recently, so it is going to be a great experience to play against them. The same with Germany, who are always capable at a big event of winning, the same with Holland and GB as well. For us and South Africa, we are probably both eying each other as the game we have to win, which is nice. We've always had some fairly tense games against South Africa, and we are looking forward to that one. Our mentality is basically going to be that we go into every match in the pool play to be as competitive as possible. And, well and truly, if you have your best day possible and a team that is higher ranked doesn't have their best day, you have an opportunity to take points. Maybe it's a couple of really good individual efforts; maybe it is a good goal-tending performance or a defensive performance. But if you can put yourself into that position, to be competitive every time you walk out onto the field, you never know what is going to happen. You have to play the game. We'll see how it goes, but we are certainly excited to play those matches, for sure."

So on that, is the strategy the old cliché of taking it one game at a time and see where the journey takes you?

Scott Tupper: "Yes, I think so. You mentioned it earlier, getting into that top four [in the pool], into a quarter final, is certainly a goal for us. Our best placement at an Olympic Games is tenth position, so if we can get into a quarter-final it would be the best performance by the Canadian men's team ever, and we would love to do that. But I do really think it is one game at a time, and not letting say a tough match at the start of the tournament roll into the next game. Ultimately, it is possible that you could get through with two good results. We'd love to have more than two, but we really need to make sure that whether the previous game has gone well or not so well, we put it to bed and have a good game plan ready to go in order to be ready to seize any opportunity that might present itself."

On a personal note. After the Olympics are done and dusted, what is next for Scott Tupper? Is It retirement or will you keep doing what you do?

Scott Tupper: "It is a good question. I have started my transition a little bit. I coach collegiately in the United States, actually. My employer has been super flexible with me in my ability to prepare for the Olympic Games, which has been fantastic. To be perfectly honest, I don't know. I'd rather not have an end in mind. Maybe Tokyo is my last event; maybe not. There is the Pan American Cup in January 2022, which will serve as a World Cup qualifying tournament. If I can still help the team and the coaches think I still provide value, I perhaps have the opportunity to help the team get to the next major event. I think it is a really big piece for Canada to be able to continue to qualify for the Olympics and World Cup, the premier events in our sport, so you never know. Every time you sit back after a big tournament to reflect, all of a sudden, the next big tournament is just a couple of months down the line. Then you think, maybe I just need to lace up my shoes again and get back out there. We'll see, I'm not totally sure."  

Well, whatever you decide, you have been a fantastic servant to the sport. We wish you all the best for Tokyo 2020.

Scott Tupper: "Thanks so much."

The hockey competitions at the Olympic Games Tokyo 2020 will take place from Saturday 24 July to Friday 6 August 2021. Both the men's and women's competitions feature 12 teams, split into two pools of six ahead of quarter-finals, semi-finals and medal matches. For more information about the hockey competitions at the Olympic Games Tokyo 2020, visit https://tokyo2020.org/en/sports/hockey/.

Visit Watch.Hockey App to view the full interview.

#Tokyo2020
#StrongerTogether
#HockeyInvites

FIH site


---

Staying calm in crunch situations will be key at Games, says Navneet Kaur

Navneet said the Indian team management is ensuring that all players are clear about their roles on the pitch.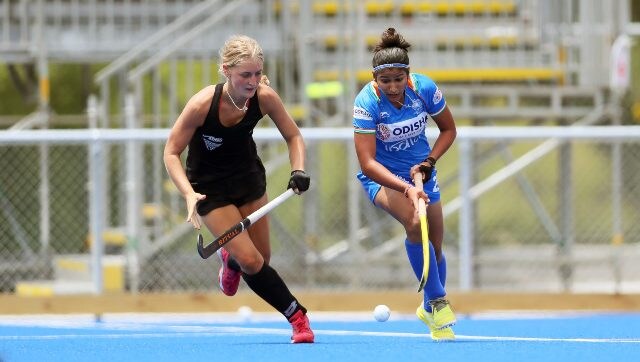 Navneet Kaur has played 79 matches for India. Image: Hockey India

Bengaluru: Indian women hockey players have all the skills to compete against the world's best but they will need to stay calm and take the right decisions in crunch situations to be able to do well during the upcoming Olympics, feels forward Navneet Kaur.

Kaur, who has played 79 matches for India, said the team should try to cut down on the errors during the Tokyo Olympics which opens on July 23.

"We all have the skills and talent to take on the best in the world. However, making key decisions on the pitch is a crucial factor for any side. Therefore, it will be very important for us to stay calm during crunch situations," she said.

"Even one wrong pass could hurt us deeply, therefore, we have to ensure that we are thinking clearly and not making too many unforced errors on the pitch during the Olympics," said Kaur.

The 25-year-old said the Indian team management is ensuring that all players are clear about their roles on the pitch.

"There should be no confusion amongst the players on game day. The coaches and captain have been ensuring that everyone knows about their roles and how they can execute their plans so that we coordinate well on the pitch during matches.

"The Olympics is going to be a big challenge for us, and we have to play at our absolute best to garner good results," said the forward in a release.

Talking about the Indian team's training sessions, Kaur said, "We are having high-intensity training at the moment. We try to simulate match situations during practice and give everything we have during training sessions.

"We are very confident about our abilities and it's just about executing our plans properly on game day. If we play to our potential, we will surely do very well in Tokyo."

Firstpost


---

Field Hockey Canada announces 2021summer talent identification camps



Photos: Blair Shier

Field Hockey Canada is delighted to announce that High-Performance Director, Adam Janssen and his team of coaching staff will be hosting identification camps across the country this summer. These camps will give the high performance team the chance to identify the next generation of talent. If you are dreaming of playing for Canada and committed to working towards your goal, this is the perfect opportunity for you. Please note that pre-registration for these camps will be available shortly. More details will follow later this month, but note that places will be limited, so sign up early to be sure to be seen.

Field Hockey Canada will continue to follow the COVID-19 restrictions and be flexible to any changes that may occur. Any changes to schedules or locations will be communicated to all parties. Janssen understands the pandemic cost the community access to domestic and international competition. He said that these ID camps will serve as good opportunities for players to connect with high-performance coaches and for athletes to be identified and placed into the NextGen system.

"Missing two years of national championships and the limitations placed on us by the pandemic, mean that these camps are much needed," he said.  "They will be a vital point for us to identify players to come into our extended NextGen program starting in fall 2021."

PROJECTED DATES:

Women:
BC – September 17-19 – U16
BC – September 24-26 – U18
BC – August 6-8 – U21
ON – Date and field TBD
Alberta – July 29–31

Men
BC – U18/U22 Camp – Aug. 13-15 (Tamanawis field)
BC – U16 Camp – Sept. 3-5  (Tamanawis field)
ON – September 24-6 FIELD TBD

<<REGISTRATION WILL BE MADE AVAILABLE SHORTLY>>




Field Hockey Canada media release


---

'Investing' in their fitness

By Jugjet Singh



Arul Selvaraj

IF you can't go to the gym, you can always bring the gym to your home.

Concerned about their fitness and the future, some national men's hockey players have made "good investments" during the current nationwide lockdown.

Covid-19 has made field training and tournaments impossible to organise. The players are now cooped up at home and can only train around their housing estates.

Some, however, have bought treadmills and exercise bikes — which are expensive, but a good investment for the future.

"It has been more than 10 days under total lockdown, and my players are diligently following the training modules.

"And since they can't go to the gym, some have brought the gym to their homes.

"Many have invested in treadmills and exercise bikes knowing very well that the Covid-19 pandemic is here to stay for a longer time than expected," said national coach Arul Selvaraj yesterday.

With no tournaments to look forward to, training is all Arul and his men can indulge in.

"Although it is not as conducive as training on the artificial pitch, my players have given their best so far and are not holding back in their workout routines at home.

"And those with 'a gym at home' have invested for their future although exercise machines are expensive.

"They have made themselves as comfortable as possible while waiting for the pandemic to ease," he added.

The trainees have received their Covid-19 vaccinations and are just waiting for the Asian Hockey Federation (AHF) to finalise the Asian Champions Trophy in Dhaka, Bangladesh in October.

It is still subject to approval from Covid-19 for Malaysia to play against India, Japan, Pakistan, South Korea, and hosts Bangladesh.

Pakistan and India shared the 2018 title due to bad weather, with the latter winning the 2016 edition.

New Straits Times