All the news for Thursday 8 April 2021

Pacy India play out high-scoring draw vs Argentina in practice tie ahead of FIH Pro League

Varun Kumar scored two goals for India while Rajkumar Pal and Rupinder Pal Singh grabbed one each. India will play Argentina in the FIH Pro League next.

By Utathya Nag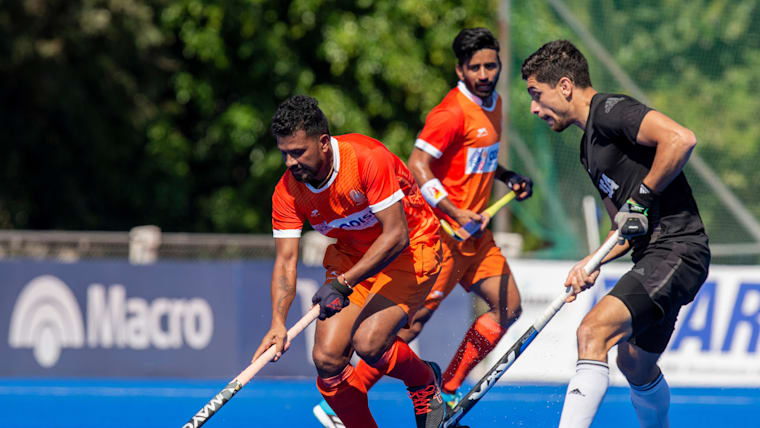 Pacy India play out high-scoring draw vs Argentina in practice tie ahead of FIH Pro League

The Indian men's hockey team stayed unbeaten in their tour of Argentina as they held the hosts to a 4-4 draw in the second practice match at the CeNARD sports complex in Buenos Aires on Wednesday.

India had beaten Argentina – the reigning Olympic champions - 4-3 in the first practice match played on Tuesday.

India will next face Argentina in the FIH Hockey Pro League match on April 11.

On Wednesday, Varun Kumar (7' and 44'), Rajkumar Pal (13') and Rupinder Pal Singh (14') were on the score sheet for India while Leandro Tolini (10'), Lucas Toscani (23'), Ignacio Ortiz (42') and Lucas (57') accounted for the home side's goals.

India made a blistering start, scoring three goals in the first quarter alone. Seven minutes into the match, Mandeep Singh won India a penalty corner, which was effortlessly converted by dragflicker Varun Kumar.

Argentina, though, responded just three minutes later through a penalty corner. Leandro Tolini, who scored a brace in Tuesday's match, executed a well-executed dragflick to bring his team level.

India, however, regained the lead with Rajkumar Pal's goal in the 13th minute. He was assisted by Nilakanta Sharma, who has been in good nick. A minute later, Rupinder Pal Singh scored a splendid goal from a penalty corner earned by Lalit Upadyay and put India 3-1 ahead.

In the second quarter, Argentina's Lucas Toscani cut down India's lead with a goal in the 23rd minute.

Following the 10-minute half-time break, both teams vied for control of the proceedings. Eventually, it was Argentina who broke through. Attacking midfielder Ignacio Ortiz converted another penalty corner to level things up at 3-3.

It didn't dampen India's spirit, though, Varun, who started the scoring for India, struck the back of the Argentina goal again in the 44th minute to hand the lead back to his team.

A goal down, the home team stepped on the gas in the final quarter in search of an equaliser. India goalkeeper Krishan Pathak did well to deny them in the early stages but in the dying minutes, Argentina's Lucas scored a field goal to settle the thrilling match at 4-4.

Olympic Channel


---

Indian men's hockey team plays out 4-4 draw against Argentina in second practice match

With the visitors ahead only by a goal, the last quarter was a battle of nerves with the home team stepping on the gas to secure an equaliser.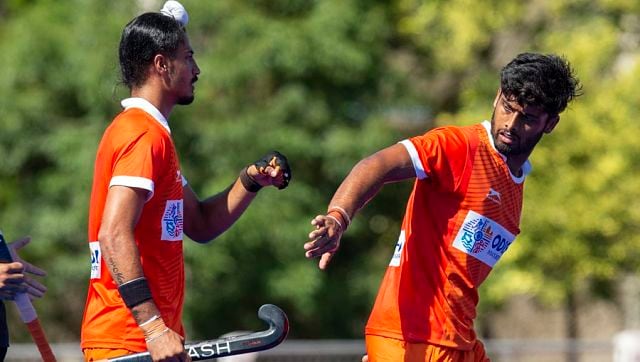 India made a fine start with a well-structured attack that fetched them three goals in the first quarter. Image Courtesy: Twitter @TheHockeyIndia

Buenos Aires: Olympic champions Argentina quelled India's chances of a second consecutive victory as they made a strong comeback for a 4-4 draw in a tense practice match on Wednesday.

It was Varun Kumar (7th and 44th), Rajkumar Pal (13th), Rupinder Pal Singh (14th) who scored for India while Leandro Tolini (10th), Lucas Toscani (23rd), Ignacio Ortiz (42nd) and Lucas (57th) found the target for the home team.

India had won the first practice match 4-3.

India made a fine start with a well-structured attack that fetched them three goals in the first quarter.

The first goal was courtesy forward Mandeep Singh who helped India earn a penalty corner in the seventh minute which was effortlessly converted by dragflicker Varun Kumar.

Though an early 1-0 lead put the home side on the backfoot, they bounced back in the 10th minute when they earned a PC.

Leandro Tolini, who scored twice in the previous match, came up with a well-executed dragflick to equalise.

India, however, regained the lead with Rajkumar Pal's goal in the 13th minute. He was assisted by Nilakanta Sharma who has been in good nick, showing his prowess as an attacking midfielder.

In the following minute, a PC earned by India forward Lalit Upadhyay saw Rupinder Pal Singh score a splendid goal, taking India's lead to 3-1 in the 14th minute.

The second quarter began with both teams trading PCs with each other but none were successful. However, in the 23rd minute, Argentina's Lucas Toscani struck a fine goal to narrow India's lead to 3-2.

Though India replied with aggressive attack, they were unable to create successful forays into the striking circle.

Following the 10-minute halftime break, both teams vied to dominant with the ball and played on par with each other to keep the tempo up.

It was eventually Argentina who succeeded in breaking the gridlock in this quarter by earning a PC which was well-struck by Argentina's attacking midfielder Ignacio Ortiz.

The 3-3 equaliser didn't dampen India's spirit as they successfully scored the fourth goal via forward Dilpreet Singh who made a successful entry into the striking circle, earning India a PC in the 44th minute.

Varun made no mistake in converting the goal and regaining the lead for India.

With the visitors ahead only by a goal, the last quarter was a battle of nerves with the home team stepping on the gas to secure an equaliser.

Though they created a PC in the early minutes of the fourth quarter, it was well-saved by India custodian Krishan Pathak but he could do little to stop Lucas's field goal in the 57th minute, thus ending the game in a 4-4 stalemate.

India will next face Argentina in the FIH Hockey Pro League match on 11 April.

Firstpost


---

Graham Reid: "When we play a strong Argentina, we need to be consistent in all the quarters:




On Tuesday, India won their first engagement in Argentina 4-3 for a grand start to the tour. Harmanpreet Singh (28′), Rupinder Pal Singh (33′) and Varun Kumar (47′) and  Nilakanta Sharma (16′) scored for India.

This is what Chief Coach Graham Reid said about the tour opener.

"It was a very good practice match, intensely fought by both teams. It is always nice to come up with a win against a team like Olympic Champions Argentina as it amplifies our confidence levels".

"We were able to create opportunities in the circle and also convert them. This was one of the areas we really put our minds to in the national camp back in SAI, Bengaluru. But we allowed Argentina to come back into the game particularly in the third quarter where they scored twice. When you play a strong team like them, we need to be consistent in all the quarters."

"Each match we play is a learning experience and I feel we have scope to do better. We look forward to a good match on Wednesday too. These matches will surely help us when we take on the home team in the double header Pro League matches."

Stick2Hockey.com


---

FIH confirm May schedule for Pro League with three nations yet to make return

By Liam Morgan Wednesday



The FIH has confirmed the Hockey Pro League schedule for May ©Getty Images

All Hockey Pro League matches involving Australia, China and New Zealand that had been scheduled for May have been postponed due to COVID-19 restrictions in the three countries.

The International Hockey Federation (FIH) has confirmed 22 matches on the schedule until the end of May, all of which are set to take place in Europe.

None of the matches will feature Australia, China or New Zealand, who have not played a Hockey Pro League game since the pandemic hit.

"The FIH and the participating nations are working on rearranging the postponed matches," the FIH said in a statement.

"More information will be given in this regard, as soon as available."



All Hockey Pro League matches scheduled to be held in May are set to take place in Europe ©Getty Images

The next round of fixtures includes the men's games between Argentina and India in Buenos Aires, set for Saturday (April 10) and Sunday (April 11).

Argentina made their return to Pro League action last weekend following a coronavirus-enforced break as their men and women played Germany in Buenos Aires.

India are also due to travel to Britain for games in the men's league on May 8 and 9.

Britain's men and women are set to host Germany in May, while Spain's men and the United States women are also scheduled to play in London before the end of next month.

Inside the Games


---

Congested schedule made worse by adding 22 Pro League matches

FIH Hockey Pro League: a further 22 matches confirmed




Lausanne, Switzerland: After the thrilling matches played last week in Argentina between the home national teams, Men and Women, and Germany, the International Hockey Federation (FIH) can announce that, on top of the Argentina-India (Men) matches scheduled on 10-11 April, a further 22 FIH Hockey Pro League matches are confirmed at this stage until the end of May. All these matches will be played in Europe.


---

Hockeyroos and Kookaburras home Pro League matches postponed




Australia's scheduled international FIH Pro League matches in the lead up to the Tokyo Olympics have been postponed, Hockey Australia and the International Hockey Federation (FIH) have confirmed.

The Hockeyroos and Kookaburras were set to resume their FIH Pro League campaigns this month, however all matches involving Australia, China and New Zealand have been put on hold because of international travel restrictions due to the global COVID-19 pandemic.

This means the upcoming Pro League double headers between Australia and New Zealand will not go ahead as originally scheduled on the ANZAC Day weekend (24/25 April) in Perth.

Australia's national teams will also not travel to Europe for matches against Spain, the Netherlands and Germany which were planned for May.




Hockey Australia is optimistic about playing against New Zealand at some stage following New Zealand Prime Minister Jacinda Ardern's announcement that New Zealand will allow Australians to enter the country without mandatory quarantine from April 19.

Hockey Australia, Hockey New Zealand and the FIH are working together to bring FIH Pro League to life in 2021 for what are proving to be increasingly crucial hit outs in preparation for the Olympics.

The Kookaburras and Hockeyroos have not played an international match since 7 March last year.

"The Kookaburras and Hockeyroos have shown phenomenal resilience and adaptability in continuing their preparations for Tokyo without any international matches in over a year," said Hockey Australia CEO Matt Favier.

"This lead up to an Olympics is unprecedented and it is too much of a risk sending teams to Europe this far out from the Games.

"We will continue to monitor the situation and the possibilities of playing any internationals knowing how critical they are for our national teams.

"We are hopeful they will have the opportunity to play on home soil again before they head to Tokyo in July."

Further announcements will be made in due course.

The FIH Hockey Pro League is the annual global home and away league involving the world's best men's and women's international hockey nations.

The revised match schedule of the 2020-2021 FIH Hockey Pro League is available here.

Hockey Australia media release


---

"A Lot Of Happiness And Proud Moments" - Ollie Willars Moves Away From International Hockey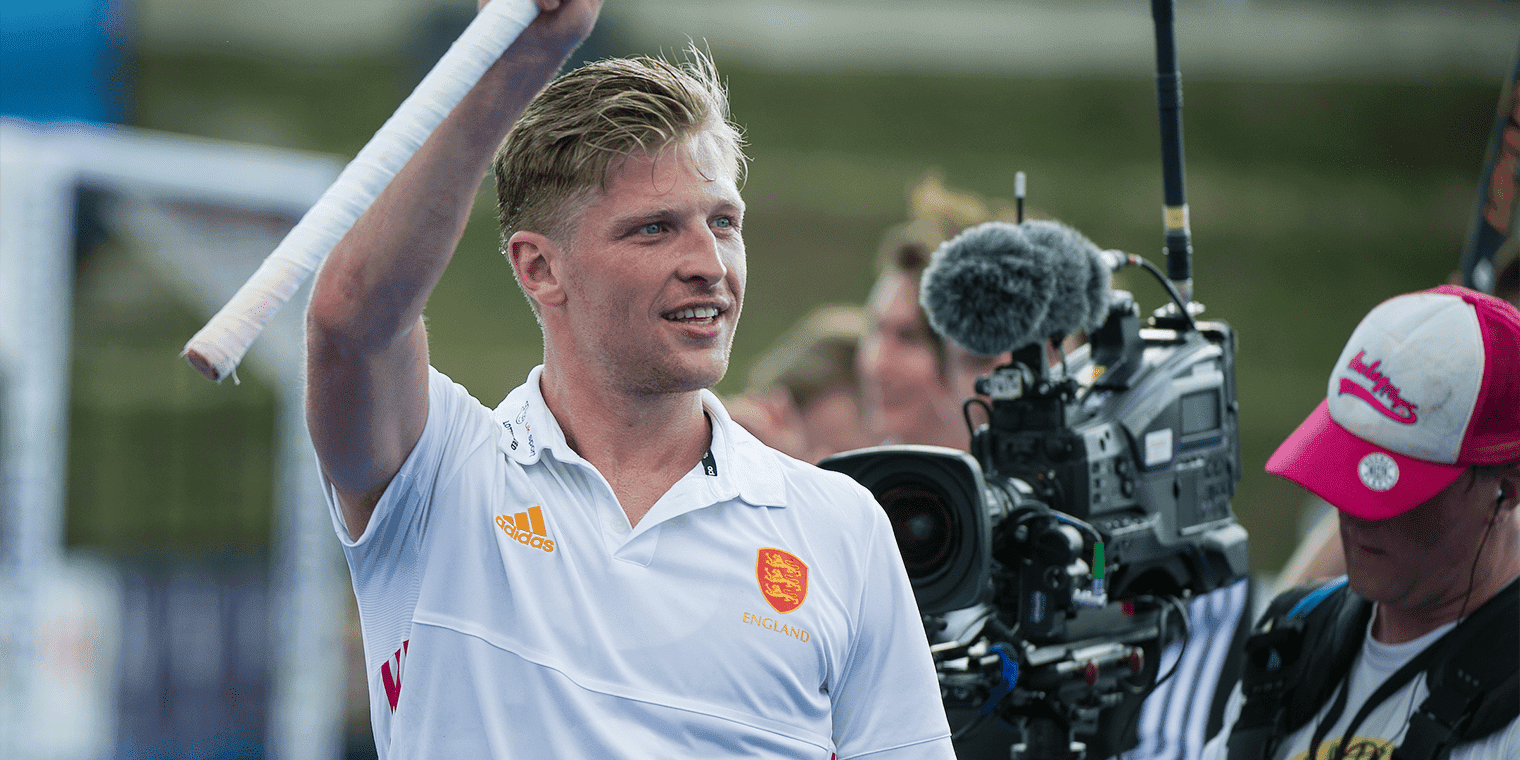 After making 138 appearances across a period of eight years, Ollie Willars has taken the decision to step away from international hockey.

The defender made his debut for England at the 2012 Champions Trophy and enjoyed plenty of success for the nation, playing 99 times and winning eight medals, including two bronzes at both the EuroHockey Championships and Commonwealth Games.

Ollie also played 39 times for Great Britain, making his debut in 2014. He was part of the squad that overcame Malaysia in 2019 to ensure the nation would be represented at the Tokyo Olympics while he also scored in the final against Australia as Great Britain won the 2017 Sultan Azlan Shah Cup.

After a period of reflection, Ollie has made the decision to leave the international game and has set up his own business – Give & Go – providing a personalised mentoring and coaching experience to help aspiring young hockey players.

Speaking about the decision, Ollie said: "There's a tinge of sadness to leave. I've made a lot of good friends over the years and worked with some great coaches. So there's that but actually I also feel a real excitement about what's next and moving onto the next chapter. I do feel some sadness but there's also a lot of happiness and fond memories of everything I've experienced throughout my career.

"It got to a natural point where Danny and I had a conversation and I really respect him for that. With Covid and everything that's going on, the team haven't had as many games as they'd like and it's best for them to focus on those that Danny wants to take with him to Tokyo and unfortunately I didn't fall into that category. It's sad but at the end of the day I want the team to do the best they can do and I can look back on the last eight years with a lot of happiness and a lot of proud moments."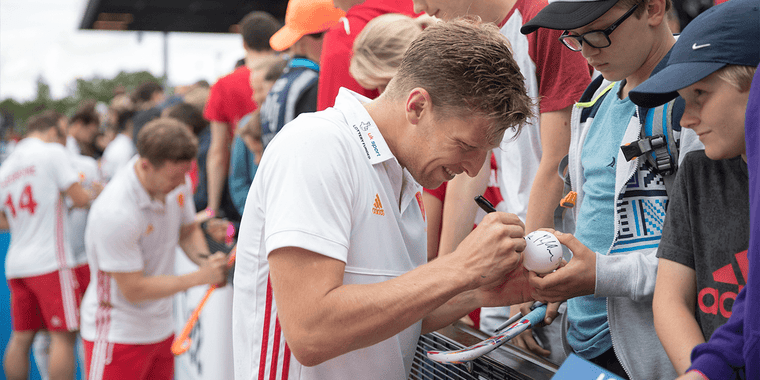 Using Ollie's vast knowledge and experience that he's developed throughout his years in the game, Give & Go aims to provide those wishing to take their game to the next level with a programme tailored to them, designed to help each individual realise their full potential.

With an ethos built on making sure players continue to enjoy their hockey, using kindness as a key tool and focusing on the person as a whole, Give & Go is an exciting venture that we wish Ollie all the best with.

This was echoed by Great Britain's Performance Director Ed Barney, who believes Ollie's superb work ethic and exceptional character will be hugely beneficial to all those who he will take under his wing with the programme.

He said: "Ollie has been a phenomenal ambassador for British hockey. His commitment and perseverance through thick and thin has been an example to all. This is one of the many reasons he is so well respected by all of his teammates and staff alike.

"It has been a pleasure to work with Ollie and his willingness to take on the difficult conversation and speak openly has been of huge value to the programme. It's always a pleasure to turn up to Bisham and be greeted by Ollie's infectious smile.  

"We could not wish Ollie more success, fulfilment and contentment as he embarks on the next phase of life. Ollie has been truly committed in his preparation and we wish him every success going forwards."

"It's sad but at the end of the day I want the team to do the best they can do and I can look back on the last eight years with a lot of happiness and a lot of proud moments."
Ollie Willars

Head coach Danny Kerry was similarly effusive, adding: "Ollie is a legend. He's the squad member that everyone respects, trusts and wants to succeed. Why is that? Because he did everything in his power to be the best he could be, whilst also doing everything in his power to support his mates. As I say, a legend.  

"We know Ollie will stay connected, and I wish him well in his future. I'm particularly excited for Ollie with his new mentoring company "Give&Go" he has started at which I'm sure he will also excel."

Alongside Give & Go, Ollie will continue playing club hockey for Dutch outfit HGC alongside Alan Forsyth and Zach Wallace in the Hoodfklasse next season.

England Hockey would like to thank Ollie for his fantastic contribution across the last few years and we wish him all the very best for the future.  

England Hockey Board Media release


---

Missed Tokyo Dream forces Willars Retirement




Ollie Willars has decided to retire from international hockey, after missing out on Tokyo dream, with 138 caps over the course of eight years.


---

Singh Named Head Coach of USMNT



Images Courtesy of FIH/World Sport Pics/Frank Uijlenbroek

COLORADO SPRINGS, Colo. - Following an extensive search process, USA Field Hockey is proud to announce the hiring of Harendra (Harry) Singh as the new head coach of the U.S. Men's National Team.

Singh boasts three decades of combined experience as an athlete and coach. His appointment follows after previously serving as the chief coach of the senior India Men's National Team from 2017-18.

"We are thrilled to have Harry join USA Field Hockey and lead our Men's program," stated Simon Hoskins, USA Field Hockey's Executive Director. "The U.S. Men's National Team showed great progress prior to the COVID-19 shutdown and now with a coach of the caliber and experience of Harry at the helm we are excited for the future of the USMNT."



Rabobank Hockey Champions Trophy India - Belgium

"Thank you for this exciting opportunity to coach the U.S. Men's National Team," said Singh. "My enthusiasm knows no bounds as I am excited to begin this journey with my experience in providing tools to players to find their strengths and weaknesses. Developing personalized training programs will surely help the team who have the power to change the tables in world hockey with their sheer grit determination and hard work. I am truly looking forward to being a part of a professional setup. I am excited to become a contributor to the growth of the USMNT by providing 'Best of Breed' to our players.

I'm looking forward to a dynamic relationship as we get ready to challenge the best of the best teams in the years to come."

His first assignment with the men's team was the 2018 Asian Champions Trophy, an annual event that features the top six squads across Asia, where he led India to gold in Muscat, Oman. More recently, Singh led India to a fifth place finish at the 2018 Odisha Hockey Men's World Cup as national hosts in Bhubaneswar. That same year, the men's side also claimed a silver in the 2018 Champions Trophy and bronze medal at the 2018 Asian Games.

In addition to his experience on the men's side of the game, Singh also served as the head coach of India's Women's National Team from 2017-18. During this time he managed the team to a gold medal in the 2017 Women's Hockey Asia Cup. He also has extensive experience coaching the nation's junior national teams, and personally considers his time as the head coach of the India Junior Men's National Team the crowning moment of his career thus far, which was capped off with a gold medal at the 2016 Men's Junior World Cup.

In total, Singh has claimed eight gold medals, five silver and nine bronze at various tournaments on the international level and has coached more than 350 international matches between the junior and senior national teams.

At the national level, Singh has been involved with coaching and training a number of high rising Indian coaches at the Sports Authority of India and various State Hockey Associations. He holds a FIH Level 4 High Performance certification and to date has helped produce more than 20 Olympians for India across his career. Many of these athletes have also went on to receive some of the highest awards given by government entities in India, including the Rajiv Gandhi Khel-Ratna, Padma Shri and Arujuna Awards. For his own service and dedication to the game, Singh was bestowed the Dronacharya Award in 2012, the highest civilian award for outstanding coaches in sports and games.

As an athlete, Singh appeared in 23 international matches for India from 1985-91 and represented India at the 1990 Asian Games in Beijing, where he helped the team to a silver medal, before electing to retire at the age of 26 in order to pursue a career in coaching. Prior to his time on the Indian National Team, Singh played for Delhi University and Combined University team (1984-87), Air India in nine national championships (1998-2010) and appeared in all major domestic tournaments with varying success.

Please join USA Field Hockey in welcoming Singh to Team USA!

USFHA media release


---

Past experience guides calm Mathijssen's recent Euro successes




HC Bloemendaal coach Rick Mathijssen says past experience has helped guide his huge recent success as he added EHL Men's 2021 glory to a 2019 double with AH&BC Amsterdam.

"The experience of losing helps you to win afterwards, " said Mathijssen to hockey.nl, who first lost a number of finals as coach of the Amsterdam's women, before his team took the Dutch national title and EuroHockey Club Cup two years ago.

"Now in retrospect, I am happy with the lessons from then and that experience.

"It is precisely at such moments that you have to remain the coach. Keep faith in your squad, keep encouraging. I remember that we lost 4-1 to Den Bosch with Amsterdam [in the 2018 playoffs].

"I also gave up during that match. But – again afterwards – I noticed that I was not helping the team with that. Now, I am more aware of always performing and staying in the game."

While there was no crowd at the Wagener Stadium, a usual feature and appeal of the Euro Hockey League, Mathijssen says this title will be memorable for different reasons.

"It's a strange feeling," he added. "This too will be a prize that everyone will remember later, the EHL of 2021. The one without an audience. Definitely not how we wanted it and yet memorable."

Jorrit Croon concurred with that "strange feeling", saying: "you really have to get everything out of yourself without an audience.

"It's especially crazy when you've scored. It is as if you score and the goal is then rejected by VAR. You are very happy for a moment, but then there is nothing.

"I thought it was a strange atmosphere, but that doesn't make winning this cup any less beautiful."

'We know what kind of a madhouse is normal for the final of the EHL," Thierry Brinkman added. "The contrast is crazy but I didn't worry about it during the game. I only wanted one thing: to demolish the opponent."

Euro Hockey League media release


---

Ehren delighted to finish Euro career with Den Bosch on suitably elevated stage




Den Bosch coach Raoul Ehren was delighted his illustrious career on the European club scene came to a close on a suitable stage.

He had already led the Brabant club to seven European titles in its former guise of the EuroHockey Club Cup but this was to be his last – at least for the time-being – before moving on to coach the Belgian women's team.

He had long hoped for an elevated stage for the European competition and so was delighted for the EHL – with the backing of ABN AMRO – to go #EquallyAmazing this year.

"That we can play the final here is exactly what I had in mind," Ehren told hockey.nl after the final.

"I think it's fantastic that we are on an equal footing with the men's tournament. We are very grateful to the EHF and their partners for taking this step.

"And also that they even managed to organise this tournament in corona time. Everyone understands that we are not here today in front of six thousand people. That is the next step but I won't be here for that one!"

The GRAND FINAL win over Club de Campo was his 35th win in 40 European club games but it was probably the 39th game that will stick longer in the memory as Den Bosch edged out their arch Dutch rivals AH&BC Amsterdam in a shoot-out, scoring the equaliser with 74 seconds to go of normal time.

"The euphoria after the win over Amsterdam was insane. Afterwards it was quite difficult to put focus back on this final," Ehren added.

"We came here to win the EHL. That is why we said that the euphoria could last until Saturday evening and that we did not want to hear anything more about Saturday's game from Sunday.

"That went well, also because of all the experience in the team. Those players know that when you are so close to the final victory, you should not let go of it. We did that well and I am happy that we can take the European Cup with us to Den Bosch."

Euro Hockey League media release


---

Muschs's dream hat trick secures Leopold EHL Men's bronze




Max Muschs admitted he never dreamed of scoring three goals against the German champions as his hat trick helped Royal Léopold come back to beat Uhlenhorst Mülheim to bronze 4-2.

With their two biggest forward threats out injured – Tom Boon and Max Plennevaux – it was the 21-year-old who took on the hero's role.

Speaking to Le Soir, Muschs said of the magic moment: "While putting on my socks before the game, I never thought of scoring three goals against the German champion.

"I have been training penalty corners for a very long time and trying to improve my drag-flick. I took my chance in the absence of Tom Boon and Max Plennevaux to show what I am capable of.

"I have learned a lot from them and my third goal was thanks to Tom who told me to place the ball between the legs of the German goalkeeper whom he knows very well. I thanked him for his good advice which allowed us to kill the match and finish on the podium."

Overally, it was a strong weekend for the Brussels club, winning their first EHL medal with Sunday's bronze. They were disappointed not to crown an impressive performance against HC Bloemendaal with a GRAND FINAL berth, missing out in a shoot-out.

"Exactly, we were very disappointed on Saturday night because we had a very good game. We certainly did not deserve this setback in the shootouts.

"But the reaction was good on the pitch. We played 100%. We really wanted to snatch this 3rd place before being able to focus again on the Belgian championship."

And they can face into the latter stages of the season with confidence with youngsters like Muschs, Dylan Englebert, Archibald de Kepper, Corentin de Trez and Maxim Groeteclaes hoping to play key roles in securing a return visit to the EHL.

Euro Hockey League media release


---

German clubs reflect on tough EHL FINAL4 experience




Germany's two EHL representatives – Der Club an der Alster and Uhlenhorst Mülheim – were left to reflect on a frustrating weekend with both missing out on the medals at the Wagener Stadium.

For Alster coach Jens George, he was honest in his appraisal to hockey.de after a 4-2 BRONZE MATCH defeat to AH&BC Amsterdam.

"It has been said for years that we are on par with the Dutch teams – regardless of whether us or the UHC [Hamburg] women took part in the competition.

"But, even if it often looks very even, we never beat them. So, you might have to admit that we are obviously not at the same level."

The tie was in the melting pot at 2-2 before Amsterdam closed out the game with sharp goals from Fay van der Elst and Freeke Moes saw the host club pull clear.

"We didn't reward ourselves enough in our good phases and we weren't powerful enough in the opponent's quarter," said George. "And then two brilliant counterattacks punished our mistakes as cold as ice."

For Uhlenhorst's men, they struggled without defensive duo Ferdinand Weinke and Lukas Windfeder and their young guns unable to see out results from promising positions at half-time.

"You have to admit in both games that we broke in in the second half," said UHTC coach Thilo Stralkowski. "Even if we didn't want to use the personnel situation as an excuse – we simply lacked substance."

For Stralkowski, there was nonetheless value to be taken as he handed experience to 17-year-olds Jannik Enaux, Philipp Noertersheuser and Alex van Schwerin among a number of new faces.

"In spite of everything, the commitment and the passion was great – and I'm really proud of the team. We have to learn from the experience now and take the lessons with us into the final phase of the league."

Euro Hockey League media release


---

Car sharing to hockey still not permitted under guidelines




Hockey players are still not permitted to car share to matches unless players are in the same household or support bubble due to the ongoing pandemic.

The edict comes from England Hockey following clarity from the DCMS and department for transport.

"Car sharing now is not expected to be permitted for sport until at least Step 3 of the Governments Roadmap, no earlier than 17 May," England Hockey said in a statement.

As of late March, government safer travel advice does not allow for car sharing to take place. On that basis most winter leagues and competitions were curtailed for the 2020-21 season.

However, some regional leagues are continuing seasons with the aim of some form of conclusion in May.

EH added: "With travel being such an important part of making competition accessible and inclusive for so many, England Hockey recommends that Step 4 of our original Covid-19 Roadmap continues to be followed.

"We will review this position and are hopeful of transitioning to Step 5 to coincide with the further easing of travel restrictions."

The next step of the government's roadmap takes affect from 12 April and England Hockey will review the guidance for any changes that may be possible to implement from next week.

SIGN UP for The Hockey Paper's returning newsletter: Promotions, exclusives and our best coverage

The Hockey Paper


---

Denayer highlights physical and mental wellbeing on World Health Day



Photo Credit: Instagram accounts (L to R) - Joyce Sombroek, Rachael Lynch, Martin Haener

After a year in which hockey, along with every sport, has taken a back seat as the global pandemic put normal life on 'hold', the FIH commemorates World Health Day.

Speaking on behalf of the international hockey community, Felix Denayer of the Belgium Red Lions pays tribute to all those on the frontline of the fight against COVID as well as remembering and honouring those who have lost their lives to the virus.

In the video recorded message, the Belgian superstar, who was part of the winning World Cup team in 2018 as well as silver medalist at the Rio Olympic Games 2016, urges everyone to look after their own health, both physical and mental, and to look out for the health and wellbeing of family, friends and team mates.

#WorldHealthDay2021

FIH site