All the news for Tuesday 1 December 2020

Solitary change to 2021 squad underlines Kookaburras strength

Australia's men's hockey team, the Kookaburras, will head into the rescheduled Tokyo Olympic year with one new inclusion to its 2021 squad.

Versatile New South Wales talent Dylan Martin is the new player named in a Kookaburras squad that is currently ranked number 2 in the world.

The 22-year-old, who was part of this year's National Development Squad, excelled against Australian hockey's best talent at the recent National Super Camp in Perth.

He was also a standout in the all-conquering NSW Pride team during last year's Sultana Bran Hockey One team and was named the Player of the Tournament at the 2019 Australian Under 21 Championships.

Kookaburras Head Coach Colin Batch said Martin's hockey attributes will further strengthen a squad list that is already bursting with world class quality.

"Dylan (Martin) is strong technically, physically he is very good, and he is a smart player who can play in a number of different positions for us," said Batch.

"His selection provides additional balance to our playing positions, particularly in defence, and he will certainly challenge others in the squad to lift their level even higher."

"We have a lot of excellent players in this squad and breaking into the Kookaburras team isn't easy."

Martin replaces Queensland forward Dylan Wotherspoon, the Kookaburras selection panel opting to provide more depth in the defensive half of the pitch considering the plethora of exceptional strikers in the group. Wotherspoon debuted in 2014 and has made 93 appearances.

After a year like no other due to the COVID pandemic which saw the Kookaburras play just eight international matches and not one since early March, Batch said eyes were now firmly on being primed for Tokyo in July.

"All of the players selected are excited about being in the pre-Olympic squad," said Batch.

"We are looking forward to getting back to playing international matches and having that focus of the Olympics…it is getting closer."

"Further to Tokyo, the selection of this squad is also about starting to target the 2022 Commonwealth Games and 2024 Olympics in Paris."

The continued impact of COVID around the world means the timing of the Kookaburras' next international match remains uncertain, however they are scheduled to take on New Zealand in the FIH Pro League on 24/25 April.

Kookaburras games record holder Eddie Ockenden, who will head into his 15th year of representing his country at senior level, and Aran Zalewski, who was named Player of the Tournament in the inaugural FIH Pro League and is nine matches off reaching 200, will again co-captain the squad.

The 16-player Kookaburras team to represent Australia at the rescheduled Tokyo Olympics is scheduled to be announced in mid June.

Kookaburras 2021 squad
| | | | |
| --- | --- | --- | --- |
| Name | Date of Birth | Hometown, State | Caps (Goals) |
| Jacob Anderson | 22/03/1997 | Mackay, QLD | 23 (9) |
| Daniel Beale | 12/02/1993 | Brisbane, QLD | 177 (28) |
| Josh Beltz | 24/04/1995 | Hobart, TAS | 41 (3) |
| Tim Brand | 29/11/1998 | Chatswood, NSW | 40 (16) |
| Andrew Charter (gk) | 30/03/1987 | Canberra, ACT | 181 (0) |
| Tom Craig | 3/09/1995 | Lane Cove, NSW | 101 (29) |
| Matthew Dawson | 7/04/1994 | Killarney Vale, NSW | 140 (12) |
| Johan Durst (gk) | 18/03/1991 | Melbourne, VIC | 3 (0) |
| Nathan Ephraums | 9/06/1999 | Keysborough, VIC | 4 (0) |
| Blake Govers | 6/07/1996 | Wollongong, NSW | 98 (85) |
| Jake Harvie | 5/03/1998 | Dardanup, WA | 70 (3) |
| Jeremy Hayward | 3/03/1993 | Darwin, NT | 156 (65) |
| Tim Howard | 23/06/1996 | Wakerley, QLD | 61 (1) |
| Tyler Lovell (gk) | 23/05/1987 | Perth, WA | 145 (0) |
| Kurt Lovett | 15/01/1997 | Parkes, NSW | 3 (0) |
| Dylan Martin | 12/01/1998 | Wagga Wagga, NSW | - |
| Trent Mitton | 26/11/1990 | Perth, WA | 173 (79) |
| Eddie Ockenden | 3/04/1987 | Hobart, TAS | 366 (71) |
| Flynn Ogilvie | 17/09/1993 | Wollongong, NSW | 109 (21) |
| Lachlan Sharp | 2/07/1997 | Lithgow, NSW | 49 (11) |
| Josh Simmonds | 4/10/1995 | Melbourne, VIC | 19 (1) |
| Matthew Swann | 16/05/1989 | Mackay, QLD | 204 (7) |
| Jack Welch | 26/10/1997 | Hobart, TAS | 9 (3) |
| Corey Weyer | 28/03/1996 | Biggera Waters, QLD | 43 (3) |
| Jake Whetton | 16/06/1991 | Brisbane, QLD | 203 (64) |
| Tom Wickham | 26/05/1990 | Morgan, SA | 54 (24) |
| Aran Zalewski | 21/03/1991 | Margaret River, WA | 191 (25) |
Hockey Australia media release


---

Annan signs contract extension with the KNHB




Alyson Annan (47) will remain the national coach of the Orange Ladies after the Olympic Games in Tokyo. The KNHB has extended its employment contract up to and including the 2022 World Cup, which will be played in both Spain and the Netherlands.

The ball started rolling a few months ago, after it was agreed that Annan would stay on at least until the Olympic Games in Tokyo , which have been postponed by a year. 'I then started thinking about what my ambitions are. If I no longer saw a challenge, if I no longer felt a click with the group of players, then I would stop. '

Annan wanted to continue. The discussions with the KNHB revealed that the hockey association also wanted to continue with her. 'I'm not done with the ladies yet. I still enjoy what I do and I would like to continue with this team. Moreover, I am still young and I am far from learning. I have that feeling very strongly, 'said Annan, who emphasizes that she is grateful for the confidence that the union has expressed in her.



Annan hugs goalkeeper Anne Veenendaal after winning the 2018 World Cup. Photo: Koen Suyk

2024 Olympics in Paris

Jeroen Bijl, technical director of the KNHB, says in the press release: 'The Dutch Women's National Team plays well-groomed and dominant hockey under Alyson. With that approach, the team won all titles in the past three years. The KNHB has great confidence in Annan's approach. The next World Cup will also be played within a year after the Olympic Games, due to corona. Those ingredients together made us want to extend the agreement with Annan up to and including the 2022 World Cup. '

Annan does not want to comment on the 2024 Games in Paris. For now she thinks it is logical that the contract will be valid until the 2022 World Cup (1-17 July). 'The Paris Games are still very far away. It is logical to review the situation in the run-up to the World Cup. This is the path we have now chosen. '



Annan falls in the arms of captain Eva de Goede after winning the European Championship 2019. Photo: Willem Vernes

Not to the men

Max Caldas has been known to turn the Tokyo Olympics into his last trick. The chance to switch from women to men, as did in Caldas after the 2014 World Cup, was not an option for Annan and, according to her, was not discussed with the KNHB. At Amsterdam she exchanged Ladies 1 for Men 1 in 2014.

'I don't automatically see moving from women to men as a step up. I wanted to continue with the ladies, so it was not an option for me. The ladies are very good. I seize the opportunity to continue with them. '



Annan, two-time World Player of the Year, does an exercise during a training session of the Dutch national team. Photo: Willem Vernes

I became a coach because I like to make players better. That process does not end with a medal.

After the departure of Sjoerd Marijne in 2015, Annan was appointed as national coach of the Orange Ladies. Under her leadership, the Dutch national team continues to string the prizes to this day. Winners were the European Championship 2017 (Amsterdam), the HWL Final 2018 (Auckland), the World Cup 2018 (London), the FIH Pro League Final Four 2018 (Amsterdam), the Champions Trophy 2018 (Changzhou) and the European Championship 2019 (Antwerp). If the Orange team takes gold at the Games in Tokyo, all international prizes will be won with Annan as national coach – after the silver at the Games in Rio de Janeiro in 2016.

Nevertheless, according to Annan, there is no danger that she will become saturated. 'I became a coach because I like to make players better. That process does not end with a medal. A medal is a combination of circumstances that reward you for how good you are at that moment. That does not necessarily mean that you are the best player you can be. You can always keep developing yourself. Moreover, there will soon be a challenge for me in working with the players who will not be at the Games, but at the World Cup. '



Annan during the Pro League match against Great Britain. Photo: Koen Suyk

Who in the end of the Tokyo group does or does not stop will come later. We will focus on the Games first.

Whether the plan is to rejuvenate after the Games, or to try to keep the older guard on board up to and including the World Cup, is something Annan says she is not working on for the time being. 'I am now focusing on the Tokyo group towards the Olympic Games. The potentials follow a trajectory with the aim of possibly connecting after the Games. Who in the end of the Tokyo group does or does not stop will come later. We will focus on the Games first. '

For now it is important to prepare the Oranje Dames as well as possible for Tokyo in a year which is uncertain because of the corona pandemic. 'The situation is of course not ideal for anyone, but we have to make do with it. It is important to come out with the clubs and ensure a stable program, so that we can perform optimally in Tokyo. '

Hockey World News


---

Limited competition before Olympics greatest worry: Reid

Indian men's hockey coach says trying to put in place a backup competition with top teams

Indervir Grewal



Graham Reid, indian men's hockey team coach

With the Tokyo Olympics just seven months away, and preparations severely hampered by the Covid-19 pandemic, Indian men's hockey team's chief coach Graham Reid says "the prospect of limited competition" before the big event is his "greatest worry".

India have not played a competitive match since their home Pro League matches in February. Their next outing will be the Asian Champions League in Dhaka in March, but the event is still not a certainty due to the pandemic.

"Speaking with other coaches around the world, especially outside of Europe, the prospect of limited competition before the Olympics is our greatest worry," said Reid.

Europe getting ahead

Reid singled out Europe because competitions have already returned in most European hockey-playing nations. While many nations have restarted their national leagues, international hockey also made a return in Europe in September. After a gap of almost seven months, the Pro League season restarted in Europe, involving the men's and women's teams of Germany, Belgium, Netherlands and Great Britain.

The return of international hockey turned out to be a big morale-booster, especially for teams like India, who have been in training for months without any hopes of seeing competition. "Like everyone in world hockey, we were all excited about seeing international hockey resume," said Reid. "It is disappointing that we will not be able to join the ranks of international competition just yet, but seeing this happening instils the players with the confidence that we will rejoin in the new year."

Longer wait for India

After a small winter break, the Pro League is scheduled to return in Europe in February. For India, though, the wait will be longer — their next Pro League match is scheduled for April.

For India, the Pro League matches in April and May could turn out to be their only international exposure in over 16 months heading into the Tokyo Olympics in July-August. It is not an ideal scenario for a coach. For Reid, the stakes are even higher, considering the extremely high expectations of the Indian hockey federation. Reid having joined in April last year, the Olympics will be the Australian's first big assignment as the India coach.

"It is always difficult when you see the other side of the world begin international competition and we don't have any," Reid said of the restart of the Pro League in Europe. "But we can't afford to spend time on things we can't control."

Backup competition?

India have been training for months, and Reid said they are "slowly trying to lift our training tempo up to international standard". "But we still have work to do, to get to where we need to be by the end of the year," Reid said.

However, without international matches, it is difficult to gauge the team's real progress. "Any coach wants to gauge where the team is at and what still needs to be done before the Olympics," Reid said. "High quality international competition provides this. We have, however, tried to provide a high-quality internal competition as much as possible."

"In the meantime, we are trying to put in place a backup competition with other top teams, but given the current world conditions the outcome of all this is not known. After an end-of-year break, we hope to try to organise matches to be able to reach some of our goals before March," he added.

Flood after lull

When India do start their Pro League campaign, the coaching staff will have to face another challenge. After having to wait for over a year, India's schedule is very hectic. They will play 10 Pro League matches from April 10 to May 30, travelling to Argentina, Europe and back to India.

"We have been trying to build our aerobic base during this last period so we can handle this robust competition schedule," Reid said. "This is the schedule we have been dealt and we are doing everything we can to prepare for this. The Olympic Games, though, are where every team wants to be playing at their best and that is no different for India," he added.

Training diaries

Mental challenges

The norm of 4-to-6-week camps and then the players getting a break to visit families however has not returned, nor has the normal weekend release to visit Bangalore city. We have been operating in a bubble inside the SAI campus since the players' return in early August. We are now into our fourth month of camp. This brings its own mental challenges as the normal unloading and refreshing needs to be done inside the camp.

Focus on goalkeeping, drag-flicking

One of the things we have been able to focus on during these last few months is goalkeeping and drag-flicking. Hockey India has been coordinating for additional online coaching sessions that have helped our players hone their skills in these areas.

Analysing Pro League matches

The coaching staff has reviewed all the games (after the Pro League restart) and now with the players are also continuing to analyse these games. This involves the squad being split into sub-groups where all players need to watch, analyse and present back to the group to ensure that everyone has the knowledge. It is important that players, along with the coaches, have that in-depth knowledge of other teams.

The Tribune


---

Farming background helped prepare for hockey: Shamsher

Attari youngster says facing difficulties as a kid made him brace for uncertainties



Shamsher Singh is determined to make his opportunities count.

Shamsher Singh says that coming from a difficult agricultural background helped him prepare for the uncertainties in life and challenges in hockey. "I have come from difficult background, with my father making his living from farming. There were several odds that I faced in my initial days in hockey and the struggle for basics like hockey stick, kit and shoes was real," Shamsher said.

"I believe this past experience helped me brace for any uncertain circumstances and this year we have all been put off gear with the pandemic, but what's important is to continue to stay focused on our goals, no matter the odds," added the 23-year-old forward.

He made his senior India debut at the Olympic Test event in Tokyo last year. It proved to be a memorable outing as India won the tournament by beating New Zealand 5-0 in the final, with Shamsher scoring his first goal for national team.

Shamsher, who belongs to Attari, Amritsar, trained for six years at the Surjit Hockey Academy in Jalandhar. His father Hardev Singh is a farmer and mother Harpreet Kaur is a housewife.

Goals

Talking about his aims for this year, he said: "I wanted to build on my game further and was hopeful of finding opportunities in key events that were to be held this year But with the scenario changing due to the pandemic, I have realigned my focus to make the most of the situation by improving my basics and gain experience by closely working with seniors in the team."

Before taking up hockey, Shamsher had joined a music class to learn how to play the harmonium, but quit after three months. Then he took up hockey and rose through the ranks, getting into the junior national team. He said the disappointment of 2016, when he could not make the team for the Junior World Cup, was a turning point in his career.

"I was part of the reserves but missed out on making the cut for the India squad that went on to win the coveted Junior World Cup," he said. "It was magical to watch the team win the title in front of crazy hockey fans in Lucknow and watching the entire tournament from the sidelines only made me more determined to work hard and earn the India jersey."

"Now in the senior core probable group, my aim is to become a dependable player for the team and execute what's expected of me from the coach," he said.

The Tribune


---

Katie Glynn's switch from Black Sticks to Olympic champs

Sarah Cowley Ross



Former Black Stick Katie Glynn works with Great Britain hockey forward Izzy Petter, as they train towards defending their Olympic title in Tokyo next year.

In her first interview since leaving the Black Sticks, Katie Glynn tells Sarah Cowley Ross why she couldn't turn down the chance to help Great Britain defend their Olympic hockey title in Tokyo next year.

When Black Stick legend Katie Glynn was playing under Mark Hager, he often joked that when she retired, she'd steal his job.

Four years into her retirement, Glynn and Hager have reunited on the coaching team of the Olympic women's hockey champions, Great Britain.

It may not be where the 31-year-old Glynn expected to be a year ago, when she was the Black Sticks assistant coach working towards the 2020 Tokyo Olympics.

But she's come a long way in her hockey journey from the young girl who watched her mother and brother on the turf, taking in all she could – learning to read the game and be the best hockey player she could be.

And she was one of our best – 134 international caps and 77 goals to her name representing New Zealand at the 2012 London Olympics and the 2010 and 2014 Commonwealth Games.

Following her retirement due to injury, Glynn turned to coaching, while continuing in her job in the sports department at Diocesan School in Auckland – a role she'd held through most of her playing career.

"I started coaching as a way to stay connected to the game I love and I've come into coaching much earlier than I expected," she says.

Glynn quickly moved through the ranks – assisting junior national teams and in 2019 took on the role of assistant coach of the Black Sticks women.

With the cancellation of the Tokyo Olympics, Glynn called time on her role with the national side. The Great Britain opportunity, she says, was too good to turn down.

"Not a lot of opportunities like this come around and if I want to pursue coaching long-term, I realised it would be a great chance to get out of my comfort zone and experience something different," she says.



Katie Glynn scrambles with Great Britain keeper Maddie Hinds in the 2014 Commonwealth Games semifinal – won by the British. Richard Heathcote/Getty Images

Glynn says a number of friends told her about the role.

"It was a long shot for me to throw my name in the hat and I was just shocked to get a second interview, let alone the job."

It gave her the chance to work with Hager again, who she loved playing under in the Black Sticks side. "He has an exceptional hockey mind and I feel really lucky to learn from him," she says.

In September she arrived in the Covid-19-stricken United Kingdom and set up camp in the Great British programme, alongside experienced David Ralph as assistants to Hager.

The centralised programme is based at Bisham Abbey (45 minutes out of London) where the contracted players live and breathe hockey.

"It's refreshing to come into a positive environment – the girls very professional and know the systems in place," says Glynn.

"I'll get a number of messages every week asking for extra sessions following training because they all want to be better."

There's a dedicated turf for the men's and women's teams and they've received an elite exception from the government to continue training while in the current lockdown conditions.

While the level of investment in the women's side is reflective of their gold medal status, Glynn says the GB programme, in terms of support staff on the ground, is similar to New Zealand.

"The staff are all exceptionally driven, thorough in their roles and there's a great trust model that everyone does their roles," she says.

At her first training, Glynn admits it was a weird feeling putting on the GB kit and assisting a team which cruelly robbed New Zealand of some key moments in the last two Olympic Games.



Mark Hager and Katie Glynn are reunited as coach and assistant coach for the Great Britain women's hockey side.

"Singing the anthem at our recent tour was obviously really different and fortunately the team analyst sent me the words to learn," she laughs.

Glynn's new team have just completed a European tour in early November with strict Covid-19 protocols in place and were able to play against the Dutch and Belgium national sides.

The team required their bus drivers join their bubble before the tour started. "We had two team buses, multiple Covid tests throughout the tour, single rooms and all sat by ourselves at dinner," Glynn says.

While the international matches were excellent for the team, Glynn admits the focus right now is on maintaining the training environment to a high standard.

"We don't know when the next international match will be – we're creating a competitive environment amongst the squad," she says.

Being together and getting to tour definitely helped the players' stress levels and wellbeing Glynn says, but she knows from experience it's the three or four months leading into the Olympics that brings 'selection stress'.

"The delay of a year has been positive for our team, obviously with new staff coming on and some players returning from major injuries. The mood is in the camp is great," she says.

Glynn is contracted to Great Britain and England Hockey until the Tokyo Games, and says she's not in a hurry to progress to a head coaching role.

"I haven't set my sights on being a head coach in New Zealand – at the moment I'm focused on being here and making the most of this opportunity," she says.

On the potential of coming up against New Zealand in Tokyo, Glynn is pragmatic: "I'm a passionate Kiwi and I have close friends in the group, so I will always want New Zealand teams to do well."

The sides are not in the same pool at the Olympics, so if they were to meet, it would be in the knockout stages of the tournament.

"I probably didn't see myself being here now, I saw myself being at the Tokyo Olympics with New Zealand," she says.

"At the end of the day this is how sport works – people move around, you get on with it, and I'm really excited to be working with this group"

For Glynn being away from her family – particularly fiancée Sophie Elwood – is the hardest part of this career opportunity.

"High performance sport is not easy – it's an emotional roller coaster," she says. "but the highs are worth all the lows you go through."

Stuff


---

GB Receive Four Nominations For FIH Hockey Pro League Awards



Zach Wallace v Aus FIHPL2020

The on-field action may be over for this year but Great Britain still have one more chance to take victory this year – and you are in charge of whether they emerge victorious.

The men's and women's teams have received two nominations each in the FIH's end of year FIH Hockey Pro League awards, with the winners decided purely by votes from fans.

The women's dominant 3-0 victory over New Zealand back in February has been shortlisted for the 'Best Match' of the year, as has the men's thrilling 4-4 draw against Australia earlier that month.

Zach Wallace's supreme solo effort in that game has also been nominated for the 'Best Goal' as has the beautiful team goal finished off by Sarah Jones against Belgium.

In order to vote, you will need the Watch.Hockey app – it can be downloaded for free on Apple and Android devices. You have until 5 December 2020 to get your votes in so what are you waiting for?

Great Britain Hockey media release


---

A PRObable Record Breaker

Ashley Morrison

This year has been a difficult one for many sports. Those running the sport have had to be innovative and creative in order to deliver something; some have managed to do this well, others have struggled. One thing that many followers of sport as well as players have had plenty of time to do, is reflect.


---

La Gantoise strengthen lead in Belgian men's league




The top four in the Belgian men's Honor Division have eked out a gap to the rest of the pack after a lively double-weekend of action with La Gantoise maintaining top spot.

The Ghent-based club ran up a big 3-0 win over Orée on Saturday before easing by the challenge of Braxgata 9-2 on Sunday, helping them to lead the pack by two points with a game in hand.

The former success came with goals from Leandro Tolini and Etienne Tynevez and saw Orée drop down to third place. Both were on the mark again on Sunday with Tolini scoring three times with two each for Guillaume Hellin and Arthur Borrekens while Frenchnmen Tynevez and François Goyet getting the others.

Orée bounced back on Sunday with a 4-1 victory over Beerschot.

Waterloo Ducks continued their excellent recent form with a 3-1 success against KHC Dragons on Saturday and then raided Racing Club de Bruxelles to win 2-0. Their six-point boost sees them move into second place in the table.

Fourth-placed Royal Leopold also recorded two wins each with a 4-1 away win over Braxgata and had an easy 9-1 success against the Old Club.

They now have a four-point gap to fifth placed KHC Leuven who succumbed to a surprise 2-2 draw with 11-placed Daring on Sunday.

Euro Hockey League media release


---

Campo continue to lead way in Spanish leagues




Club de Campo extended their lead at the top of the Spanish women's division to nine points courtesy of their comprehensive 7-0 win over RC Jolaseta.

Pilar Campoy struck twice in the first 20 minutes to put them on course for victory and they struck another five times in the second half. Carmen Cano made it three before a double of Laura Barrios extended the advantage to 5-0; Sara Barrios and Amparo Gil completed their victory.

Neither of their closest rivals were in action with second placed Junior FC's game against Atlètic Terrassa postponed due to a positive case of Covid-19.

In the same way, the tie scheduled between third placed SPV-Complutense and Real Sociedad was not played either.

Real Club de Polo moved up to fourth place with a 3-1 win over RS Tenis. Ivone Guilera made the breakthrough a minute into the second half before Tenis equalised via Micaela Angelino. But final quarter goals for Sofia Maldonado and Xantal Giné swung the tie Polo's way.

Campo's men are also leading the way in their league after Jose Basterra'a hat trick ran up a hat trick to add to Ricardo Sanchez's third minute opening goal against RC Jolaseta.

The Madrid side are level on 25 points at the top with Club Egara with the Terrassa side also winning 4-0, their success coming in a derby tie against CD Terrassa. Pol Gispert, Xavi Gispert and Alex Broto put them in control in the first half hour and Pere Divorra stretched out the winning margin in the second half.

Atlètic Terrassa stay in third place with a 5-1 win at FC Barcelona while Real Club de Polo beat RS Tenis 4-1.  

Euro Hockey League media release


---

Central Falcons soar through the Sentinel Homes Premier Hockey League to win the championship




The Central Falcons have put together a clinical performance in the final of the Sentinel Homes Premier Hockey League as they dispatched of the Northern Tridents 3-1 in the gold medal match.

The Central Falcons finished the Sentinel Homes Premier Hockey League Round Robin phase in first place after going through pool play undefeated. They entered the final full of confidence and started the match playing with plenty of go forward as they looked to get on the board early.

The Falcons would take one of their early chances from their second penalty corner. Megan Hull would sweep the ball to the post where Jenna-Rae McIntyre would calmly deflect the ball into the goal.

After being forced to absorb early pressure, the Northern Tridents started working their way into the contest and led by the inspired play of their captain Stacey Michelsen began creating several opportunities themselves.

Kirsten Pearce tied the match up early in the second quarter when a crash ball into the circle lobbed up, and she would then shot the ball over her shoulder into the top of the goal.

The Falcons regained their lead late in the second half when the ball struck the Tridents player on the foot resulting in a penalty stroke. Falcons captain Kayla Whitelock stepped forward and slotted the goal.

Minutes later a great Falcons screen would force the Tridents into a turnover in their half. Two long fast passes found Michaela Curtis in the circle. Her shot would rocket into the top of the net to give the Falcons a two-goal buffer in the second half.

The Tridents were aggressive early in the second half and went agonizingly close to getting their second goal following a Step Dickins drag-flick. The Falcons post defender would stop the ball on the line before clearing it out of the circle.

With six minutes remaining in the fourth quarter and in desperate need of finding goals to bring themselves back into the match, the Northern Tridents pulled their goalkeeper. While the move gave them momentum, they were unable to crack the Falcons defence who closed out the game and the inaugural Sentinel Homes Premier Hockey League title.

Central Falcons 3 (Jenna-Rae McIntyre 7 min, Kayla Whitelock 24 min, Michaela Curtis 27 min)

Northern Tridents 1 (Kirsten Pearce 18 min)

Hockey World News


---

Expensive hockey equipment big hurdle in game's promotion: Tauqir Dar

Mohammad Yaqoob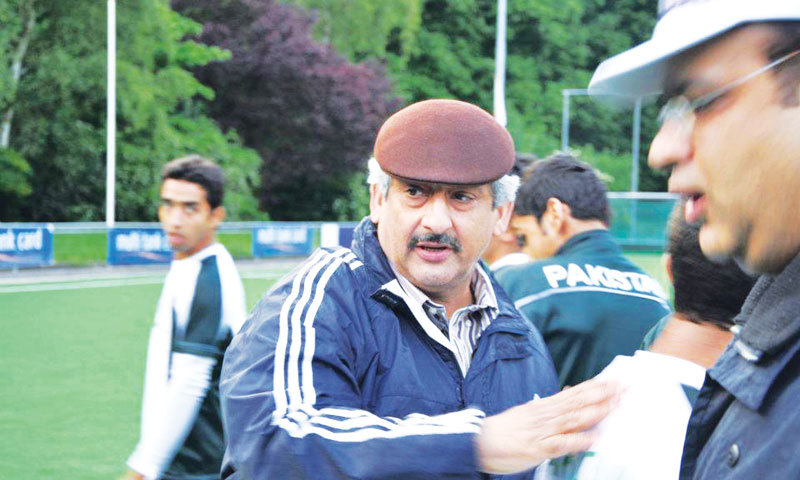 Tauqir Dar. File Photo

LAHORE: Former hockey Olympian Tauqir Dar has urged the government to take necessary steps to bring the prices of sports equipment down in order to promote the sports culture in the country and make it affordable for athletes and sportspersons.

Talking to reporters at the Dar Hockey Academy, at the National Hockey Stadium here on Saturday along with ex-Test cricketer and ex-chief selector Mohammad Ilyas, Tauqir said that it seems under a planned strategy, the game of hockey in Pakistan is being destroyed by European nations.

"It is a case of Pakistan vs Europe really. At first when European nations for several years could not beat Asian giant Pakistan on grass surfaces, they master-minded the introduction of Astroturf. But even then, Pakistan succeeded to win Los Angeles Olympics 1984 and then World Cup and Champions Trophy both in 1994," recalled Tauqir.

"After that, in order to create further problem for Pakistan, the wooden hockey stick was replaced with a plastic one and changes were also made in other equipments, especially in the kit of a goalkeeper" observed Tauqir. "Now, though the country has a good number of Astroturf grounds, the high prices of hockey sports equipment are the biggest hurdle in the way of promotion of the game."

"Presently, a quality hockey-stick plus good pair of joggers cost around Rs 12,000 while the cost of goalkeeper's kit is around Rs 300,000. So it is just not possible for middle or lower-middle-class families to afford such expensive equipment," he argued.

Tauqir went on to add that though in the past, departments and educational institutions provided hockey sticks, balls, and other equipment to the budding players, the current scenario is very depressing as no such support comes from the institutions anymore.

Tauqir, who is running Dar Hockey Academy for the last 13 years from own generated resources, said that without reducing the prices of the sports goods, the culture of sports will not develop in the country.

Commenting on the PHF's new plan of holding a hockey league, Tauqir said in 2005 a league was organized in Karachi by then secretary PHF Brig. (rtd.) Mussaratullah and it was a good step. But it did not flourish.

"If the PHF has the will and the vision for it, then it will find out ways to organize the league successfully," said Tauqir. "The league is the best short-cut which could provide employment to hockey players as well as generate financial opportunities for them."

He suggested the PHF hold the league matches in small cities like Gojra, Gujranwala, Khanewal, and others to promote the game and make it popular.

Tauqir, son of great Olympian Munir Dar, said the country was blessed with lot of talent in hockey but there was a need for putting in place a perfect system to groom that talent into skilled, international level one.

Ilyas also added that said at their young age, the game of hockey was very popular and Pakistan won so many titles including Olympics, World Cups and Asian Games.

"Though we were cricketers, it was our desire to be a hockey player as their names were more popular because Pakistan was at the top of world hockey," he said.

Ilyas said there were many reasons of the decline of hockey and one of them was that the government was not patronizing the game. He said many departmental hockey teams and clubs had closed down due to financial problems. "I can only request the government and departments to come out with bigger roles to revive hockey," he said.

He appreciated the role of Tauqir Dar Hockey Academy for providing a good number of players to the Pakistan team.

Dawn


---

Making a little go a long way




Pedro Berganza is someone that has been making a little go a long way as he has been putting much of his time and energy into developing hockey in El Salvador.

Among his many roles on the El Salvador National Hockey Association, Pedro is the main point of contact, joint head of finance and in charge of hockey development. He is also goalkeeper for the national team.

The national association has worked with a very limited budget from the National Olympic Committee for the past decade. Despite that, Pedro has managed to keep an enthusiastic band of athletes playing and training. Both the men's and women's national teams competed in the 2018 Central American Hockey 5s Championships, where both teams finished in third place.

Pedro's determination has paid off as, just recently, the El Salvador Hockey Association was included in the Sports National Organisation (INDES) budget, meaning more development and growth for the sport.

Under the Pan American Hockey Federation (PAHF) development strategy, Pedro has developed a link with coach and mentor Ignacio Lopez, a FIH and PAHF educator. Lopez visited El Salvador to offer his experience and support, and has been in constant contact with Pedro ever since, helping him develop his coaching knowledge and development work.

In a further demonstration of his determination to develop hockey in the Central American country, Pedro has participated in most of the PAHF webinars and different education opportunities. Through his coaching, he is able to share that knowledge and learning with other aspiring players.

Speaking of his love and enthusiasm for hockey, Pedro says: "Sport is engraved in my DNA and practicing it makes me happy. It is my passion and transforms me into a better person for my family and friends."

FIH site


---

Scottish Masters Hockey organisation formed




The Scottish Masters Hockey Working Group is delighted to announce the formation of Scottish Masters Hockey – a company limited by guarantee, which will be the vehicle to administer the masters international teams for men and women on behalf of Scottish Hockey.

With the unanimous backing of the 15 current international squads and approval from the Scottish Hockey Board, an interim board has been appointed from the working group, which has been developing the structure and procedures for a number of months with support from Scottish Hockey CEO David Sweetman.

The interim board consisting of Jacky Burnett, President; Bernie Morrison, Vice President; Fraser Auld, Treasurer; and Niall Sturrock, Secretary, will run the organisation with the support of three 'international sub committees' representing the various age groups until the first AGM is held in March.

In the intervening period members will be recruited to the new organisation through the completion of a google form (https://forms.gle/PBpHcD3KM5fvMrnM7 ).
Additionally nominations will be sought from appropriately qualified and experienced individuals in the masters' community to stand for election for the key roles at the AGM.

Interim president Jacky Burnett, said "I am delighted that the culmination of a tremendous amount of hard work has seen the setting up of Scottish Masters Hockey. There is an increasing recognition of the role that International Masters Hockey has in maintaining high level competition for hockey players as they move (gracefully or otherwise) through the ages. The formation of Scottish Masters Hockey provides a support structure to our international teams and provides them with representation at Scottish, European and World level. "

Scottish Hockey CEO, David Sweetman said "It is absolutely fitting that following the formation of a single organisation to run masters hockey worldwide, in World Masters Hockey, that Scotland has a representative body nationally to promote the views and activities of our international masters players. A great deal of work has been accomplished to get to this stage and Scottish Hockey looks forward to a strong and fruitful relationship with Scottish Masters Hockey."

On behalf of Scottish Masters Hockey Interim Board.

For further information, please email This email address is being protected from spambots. You need JavaScript enabled to view it.

Scottish Hockey Union media release