All the news for Thursday 19 November 2020

Fédération Française de Hockey celebrates 100th anniversary




FRANCE: The Fédération Française de Hockey, the national hockey association of France, recently celebrated the 100th anniversary of its formation.

The FFH officially came into existence on 13th November 1920 in Paris, when representatives of sports clubs practicing hockey came together for an Extraordinary General Assembly. The meeting was chaired by Mr Paul Léautey, President of the Union de Federations Française des Sports Athlétiques (UFFSA) Hockey Board of Directors, assisted by Vice-President Mr Vitry and Mr André Varnier, the General Secretary.

Mr Léautey explained the main purpose of the meeting to the General Assembly, while Mr Vanier read the statutes of the Federation. All statutes were unanimously adopted, and the new Federation was born. Mr Léautey became the first President of the FFH, which immediately set about the task of developing the sport for both men and women throughout the country.

Mr Léautey was not just a hugely important figure in French hockey. In response to hockey's omission from the Paris 1924 Olympic Games, he was the driving force behind the creation of the International Hockey Federation. The FIH came into being in Paris on 7 January 1924, with Mr Léautey becoming the first President of the Federation.

Congratulations to the FFH on the occasion of their 100th anniversary!

FIH site


---

2020 National Hockey Festival Canceled Due to Rising COVID-19 Concerns




COLORADO SPRINGS, Colo. - As the nation and world face a resurgence of coronavirus (COVID-19) cases and hospitalizations, USA Field Hockey has made the difficult decision to cancel the 2020 National Hockey Festival, presented by CranBarry, in both North Carolina and Virginia. The 40th annual Festival was set to take place in two locations, the BB&T Sports Park in Bermuda Run, N.C. and Virginia Beach Sportsplex/Hampton Roads Soccer Complex in Virginia Beach, Va.

"The health, safety and well-being of the field hockey community is USA Field Hockey's primary concern, and this decision did not come lightly," said Simon Hoskins, USA Field Hockey's Executive Director. "We made the decision based on recommendations from federal, state and local governments, increasing concerns of COVID-19 transmissions, the rising rate of hospitalizations throughout the country, and recent daily changes that tightened restrictions around travel. Erring on the side of caution in the midst of this pandemic, this is the right thing to do."

USA Field Hockey would like to thank all who have worked so hard in training and preparing for this event, and who had planned to attend. While this year has been challenging on so many levels, the organization is optimistic about a safe return to play in the weeks and months ahead.

USA Field Hockey wishes you and your family a happy and safe Thanksgiving and look forward to being back on the field together soon.

USA Field Hockey would like to also thank Festival sponsors, CranBarry, Harrow Sports, Gatorade and Touchline Video, for their ongoing support these last several weeks. As well as all USA Field Hockey sponsors 4U Field Hockey, Disney, HocSocx, Honig's, KILOGEAR CUT, Longstreth, STX and YOLO Sportswear. An extended thank you as well to the venues, BB&T Sports Park, Hampton Roads Soccer Complex and Virginia Beach Sportsplex, for their continued diligence as the planning process was ever-changing. Finally, thank you to the teams at Visit Charlotte, Visit Virginia Beach and Visit Winston-Salem for all of their collaboration in helping plan out local information and meal options for traveling teams in and around each Festival location.

All clubs who were still registered for the National Hockey Festival will be refunded minus a $50 administrative fee. Hotel reservations made through USA Field Hockey's travel partner, Team Travel Source, will be canceled and refunded.

USFHA media release


---

2021 JPIL Canceled Due to COVID-19 Mandates & Concerns




As the US Junior Premier Hockey (JPH) Organizing Committee continue their preparation for the start of the 2021 indoor season, various circumstances surrounding the coronavirus (COVID-19) pandemic are having an impact on the planning and implementation of a safe and successful event.
 
The recent mandates by both the New Jersey and Connecticut Governors, informing clubs to avoid interstate travel to participate in sporting events, and with one of the host indoor venue informing JPH that they will not allow "Out Of State Teams/Clubs" to enter their building, made it even clearer that JPH should respect the mandates and hence cancel all 2021 JPH Indoor events
 
As an organization, JPH strives to host highly organized and competitive sanctioned events for the benefit of all USA Field Hockey Member Clubs. To do so, JPH invites member clubs, umpires and technical staff from all over the United States to participate. Unfortunately, JPH's endeavor became less and less practical as statewide restrictions on travel and indoor gatherings, as well as other threats of the pandemic, continue to increase.
 
Therefore, JPH has made the extremely difficult decision to cancel all 2021 Junior Premier Indoor League (JPIL), USA Field Hockey Sanctioned Events, - Invitational and U-14 - out of concern for the health and safety of all participants, officials, staff and supporters.
 
The JPH Directors and Organizing Committee apologize for this inconvenience, but believe that it is the most responsible decision that can be made at this time, in the interest of the health and safety of all supporters and the field hockey community.
 
JPH wants to thank you for the continued support and understanding during this difficult time and hope all remain safe throughout the course of the indoor season. JPH looks forward to being able to bring the spring 2021 Junior Premier Outdoor League event to your region.

Content Courtesy of JPH

USFHA media release


---

KHU shift focus to 2021 with Premier, Super and Nationwide leagues fate hanging in balance

By Washington Onyango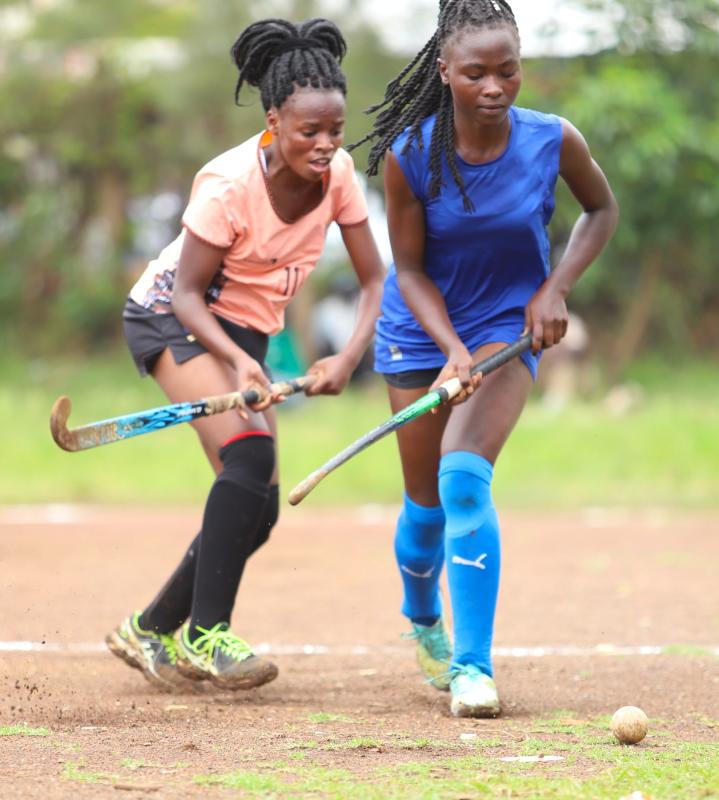 Vivian Onyango of Lakers (R) tussles for the ball against Strathmore University's Cynthia Achieng during a Premier League match in Kisumu. [Washington Onyango/Standard]

The Kenya Hockey Union is shifting its attention to 2021 calendar in the wake of the coronavirus pandemic which has resulted to the loss of the 2020 season.

KHU was forced to suspend the one-week-old league back in March league as Kenya battled the coronavirus pandemic.

The KHU Premier League, Super League and Nationwide League were affected by the pandemic which would all by now be at the final stages.

Attempts by the union to resume contact sports have been so far halted by the government which has since remained firm on not allowing resumption of sports due to the rising number of cases in the second wave of the virus.

This has forced the union to rethink ways of coming up with a solution for the already ending season which has six weeks left.

Speaking to the Standard Sports, KHU boss Nahashon Randiek said the local league which was halted in March cannot be restarted.

Randiek said that it will be impossible to start and finish the leagues with the remaining time to next year hence the need to shift focus to the new term, 2021.

 "We are six weeks to 2021 and there is no way we can commence and conclude the league in less than two months. We are now thinking about the new league in 2021," he said.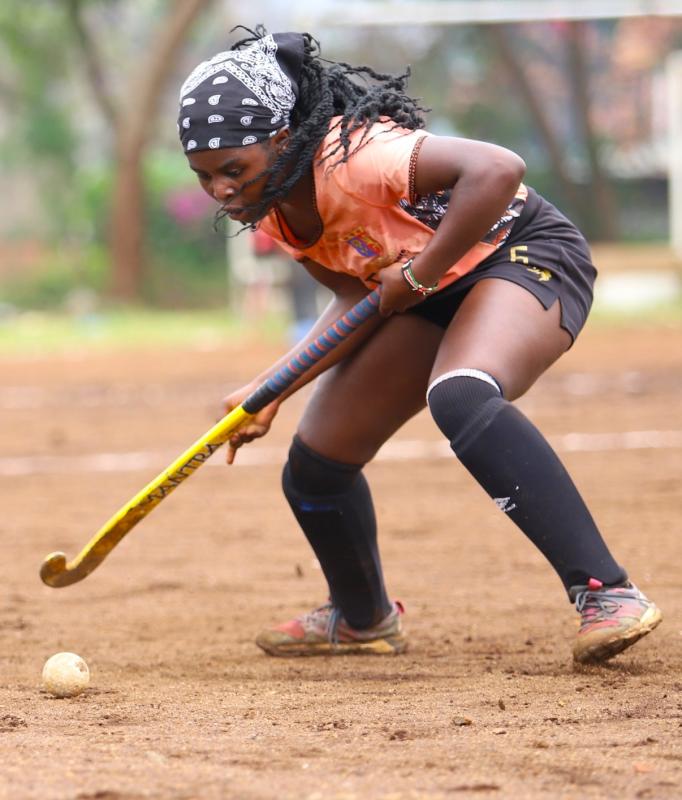 Strathmore University's Ruth Adhiambo in action during Kenya Hockey Women Premier League match against Lakers in Kisumu. [Washington Onyango/Standard]

Hockey being among the contact sports that have not received green light from the Ministry of Sports and the Ministry of Health to resume play, Randiek said they have already developed protocols for safe resumption and are awaiting a go ahead from the government.

"We are ready for action. All that is reaming is for the government to give us a goa ahead which we have been waiting for two months," said Randiek.

Nevertheless, the KHU boss explained that they are weighing up the option of having ta knockout tournament to maximize the time lost once they are given a clean bill of health.

"We will have tournaments played in formats that are in order and which will comply with the protocols set by the Ministry of Health," he said.

Butali Sugar Warriors and Blazers were crowned last year's men and women KHU Premier League champions respectively.

Daily Nation


---

Mark Knowles appointed to Hockey Australia pathway role




The progression of Australian hockey's next generation of stars has been bolstered with Kookaburras great Mark Knowles to take on the role of Hockey Australia's National Athlete Pathway Program (NAPP) Technical Lead.

A decision to restructure the National Athlete Pathways Program for the Paris 2024 Olympic cycle and beyond involved creating a new technical lead position to oversee the alignment of the athlete pathway from grassroots to the national teams.

Knowles' appointment will see him responsible for providing technical direction to HA's men's and women's pathway programs, athletes and staff.

The 2014 World Player of the Year, Olympic gold medallist, four-time Commonwealth Games gold medallist and Australian Player of the Year will also be the link between hockey's pathway programs and the National Performance programs.

Knowles has proven to be an exceptional leader. As the Australian captain and flag bearer at the 2018 Commonwealth Games, he famously walked from the front of the Australian contingent to the back during the Opening Ceremony, typifying the kind of leader he is.

"Mark's decorated playing career and the exceptionally high standards he set for himself and those around him speaks for itself, but it is not only his on-field achievements that make him the ideal person for this position," said Hockey Australia High Performance Director Toni Cumpston.

"The type of leader Mark is and his passion for others to come together to achieve desired outcomes sets him apart.

"We see this as a critical aspect of the role he will undertake – how he can influence and lead a unified system that can make the pathways for future Hockeyroos and Kookaburras even better."

"I am absolutely delighted to have Mark re-join our High Performance team."




For the past three years Knowles has held down a senior management position at the Queensland Academy of Sport overseeing aspiring Olympic, Paralympic and Commonwealth Games athletes and coaches across the athlete, wellbeing and engagement space.

This positions him to positively assist the challenges faced by aspiring hockey athletes and coaches.

"I am really excited by Mark's appointment to this role and what he can bring to Hockey Australia's pathway programs," said Hockey Australia's Manager Performance Pathways, Bill Davoren.

"Besides his recognised hockey prowess and knowledge, he is an impressive person and leader. I believe he will have a significant impact in the coming years on our programs nationally."

Knowles said the opportunity to return to hockey in a full time capacity and contribute to the pathway of a sport that has given him so much was a major factor in his interest in the role.

"I'm extremely passionate about the pathways system. It's the area that shapes our future hockey stars. For hockey to take this step and get a national technical lead was too big an opportunity not to apply for," said Knowles.

"In my experience the pathways system has been very good so I don't see myself as a massive change maker, but what I do think I bring is an ability to bring people together and collaborate really openly.

"Sports need to invest in the pathways and for me, the ability to be involved in the future and junior squads and influence, inspire and be a strong link for those players and coaches to the national system is something I can't wait to be involved in."

"I'm thrilled that hockey has taken this step to put a little bit more into this group of emerging players because they are the future of our game. I was one of those kids 20 years ago."

A significant part of Knowles' role when he officially starts in February will be to work with the National Junior Coaches in helping the Junior Program prepare for the 2021 Junior World Cups.

Hockey Australia media release


---

George Pinner: "I'm Proud... But I'd Swap Any Personal Achievement For An Olympic Medal"



George Pinner and Adam Dixon

With nearly 500 international appearances between them, George Pinner and Adam Dixon are two of the most experienced players in world hockey right now.

They've shared plenty of memorable moments on the pitch together as well as off it, having both been guests at each other's weddings over the last few years.

The longevity they've shown representing their country is certainly impressive, with Dixon recently playing his 100th game for Great Britain while Pinner closes in on his 200th combined cap.

But they don't see these personal achievements aren't the be-all-and-end-all. They would much rather experience team success with some of their closest friends rather than just focusing on what they've done, as they discussed in the second #InsideTheCircle special as part of Hockey's In-Haus Weekend.

"It's not about milestones for me," explained goalkeeper Pinner.

"I'm just proud at how long I've been able to keep going being part of the programme. I got my first cap I 2007, which is quite a long time ago now, and to stay in an international programme for that length of time and win those number of caps shows a diligence to the stuff people don't see. The psych work, the gym stuff, looking after yourself.

"I've played with some very, very talented players who for one reason or another haven't quite hit those milestones. I'm proud because it's something to show for that commitment you've made but it's not about those personal milestones.

"I would swap any personal achievement for a medal at an Olympic Games or something like that.

"It's nice because it's a recognition for your hard work but it's not the reason I play for."

England and GB captain Dixon agreed, adding: "It's about giving my all every single game. If it happens to be a milestone and they coincide with each other then brilliant.

"But if I only make 99 games for whatever reason it's not something I'll regret for the rest of my life. It's just the icing on the cake.

"It's nice to recognise those moments when someone does reach those times in their career but it's not the end."

One personal achievement the duo have been able to celebrate recently however was Dixon's wedding to his long-term partner, having been able to go ahead with the ceremony despite the current Coronavirus situation.

The defender said: "We thought Covid had changed plans for many of us and already had quite a big effect but my wife and I didn't want to let that affect us, our relationship and what we had planned for the future We thought we'd just crack on!

"We had a small wedding with a few very unique guests and George was one of the lucky few who got an invite. George's speeches were cut short by a torrential downpour outdoors – that was one of my highlights as he couldn't put too much dirt on me!

"It was certainly an amazing time and I'm really looking forward to seeing how the next few months as a married man are going to go."

Great Britain Hockey media release


---

Sushila Chanu is hopeful of playing back-to-back Olympics




The Indian Women's hockey team's experienced midfielder Sushila Chanu Pukhrambam is no stranger to the Olympic Games, having captained the side that took part at the 2016 Rio Olympics. The 28-year-old has remained a consistent performer with the team, and is hopeful that she will have the opportunity to represent the tricolor in Tokyo next year.

"It has been a strange year for everyone. As a player of the national team, I have always been used to a fast-paced environment, where we play match after match, without getting much time to ponder over things. However, now that we've had so much time on our hands, I've been able to look back on a lot of things, and also prepare for the next phase of my career. We have the opportunity to create history by not just playing in consecutive Olympics for the first time, but also by making it to the podium," expressed Sushila.

"However, as things stand, we are still living under unprecedented circumstances, but my heartfelt thanks to everyone who has been working day in and day out to keep us safe. Even here at SAI, we've got some amazing staff that looks after us, and is always on their toes when it comes to our safety. Credit to Hockey India and SAI as well for providing us with a supremely secure environment where we can focus on maintaining our rhythm, and keep improving for what is to come," added the Midfield maestro.

Having played more than 180 International Caps for the national team, Sushila is one of the most experienced players in the current Indian set-up, and believes that sharing her insights with the youngsters is what keeps her going. "Obviously when you get to this stage when you've played more minutes than most of your teammates, you tend to feel a sense of added responsibility. I have always enjoyed working with younger players who are eager to learn. With my knowledge and experience of the game, I feel I can contribute to the team's success not just on the field, but also off it, by making sure I am there to guide the youth and helping them progress in their careers," she said.

Having last played competitive hockey back in February 2020, when the team toured New Zealand, Sushila believes it is important for her team to keep their firm focus on next year's Tokyo Olympics. "Like the rest of the sporting fraternity, we are also hopeful that the Tokyo Olympics will take place next year. It is the biggest tournament for all of us, and we have been working hard for the past four years to make sure we can achieve our goals when the tournament happens. Certainly, there are challenges involved when it comes to keeping ourselves in top form, but our coaching staff has ensured that we are more focused than ever and are keeping ourselves in the best shape and rhythm to get back to competitive hockey whenever circumstances allow," signed off Sushila.

Stick2Hockey.com


---

ParaHockey Grows with Long Island Field Hockey

By Alexa Barraco, Long Island Field Hockey ParaHockey Coach




As Long Island Field Hockey's (LIFH) youth training program came to an end for the fall season, we made great strides in integrating individuals with disabilities into our program. While we are growing slowly, our goal is to continue to recruit more athletes by reaching out to achieve our goal roster. LIFH has been fortunate enough to collaborate with field hockey coaches from the United Kingdom, The Netherlands and other parts of the world who are far more advanced in ParaHockey than we are here in the United States.

One of the most valuable tips we have learned from other successful ParaHockey programs, is to not segregate our athletes with disabilities from our athletes without disabilities, but instead find ways to integrate training for both simultaneously.

LIFH's athlete Lauren Richardson, the pioneer for this developing program, has made huge improvements during our fall training. Lauren had the opportunity this season to practice with both girls with and without disabilities. All of the girls on the team treat Lauren with the utmost respect and cheer for her throughout the entire practice.

During our final scrimmage of the season, Lauren made two saves (one of them on a penalty corner) and finished the game with a shutout. Lauren has gone from practicing with a larger GO Ball, to a regulation sized game ball in just a matter of weeks! Both individuals with and without disabilities are learning from each other every training session and the feedback from families has been very positive. Long Island Field Hockey is proud to help "Grow the Game" for all and is very excited for the future of this program!

USA Field Hockey believes field hockey is a sport for all, a sport for life, and strives to make it more accessible and inclusive. If you are interested in starting a ParaHockey program in your community, reach out to This email address is being protected from spambots. You need JavaScript enabled to view it. for support.




USFHA media release


---

Avitus and Mervyn recollect Balbir Grewal's persona on and of the field




Former international Avitus D'Cruz watched Balbir Singh from close as a marker of the feared centre-forward. The admiration and fascination for the athlete-turned-hockey player in the former's mind is evident. Triple Olympian Mervyn Fernandis explained how Balbir Singh's knack of removing the generation gap between them increased his respect.

Excerpts from an exclusive chat with the duo, about the Balbir Singh (Railways) they knew:



Avitus D'Cruz

Avitus D'Cruz (Tata Sports Club & India): "He was an athlete, played football for Western Railway and got into hockey by chance. Balbir was doing his athletic training at the Railway ground in Mumbai. Their hockey team had come for a practise match and injury to a player led to Balbir picking up the stick for the first time, he never looked back. This incident was told to us by a person to emphasise Balbir's all-round ability. He represented WR in football matches at the Cooperage and other tournaments. It would be difficult to find a world-class hockey player excellent in athletics and football".

"Goal-scoring was his passion on the hockey pitch, once he sighted the white line entering the D, he did not waste time taking a shot at goal and scored stunning goals for WR, Railways and India. The important goals scored by him, at the Olympic Games and Asian Games for example, should have earned him the highest honours".

"For us in Mumbai and anywhere in India, watching Balbir play was a delightful experience. I recall a Nehru Cup match in Delhi, involving two India teams. Gurbux Singh from Kolkata, the India captain once and playing as right back, was moving towards the ball rolling towards his right. Balbir had so much pace that he raced from right wing across the field to steal the ball. The crowd rose to their feet after watching the centre-forward swoop on the ball, take it off the defender's stick and score with a deft shot past the goalkeeper".

"Teams needed to make plans to try and block him. I stuck close and tried to tackle before the ball reached him, otherwise there was no chance. He was so fast and skilful that defenders covering up each other was the only hope, me and brother (Anu D'Cruz) tried our best. During national camps in Mumbai, I was given the role of marking him and accepted the challenge, at times play became rough.  We had tense moments on the ground, but once the game was over, he was a player you looked forward to meeting".

"Balbir got along well with local players and I remember him telling India probables to not fool around with Mumbai players. This happened during a national camp, these were top players from all parts of India, many from Punjab and here was Balbir telling them to treat local players in the camp with respect. It was a bold statement and showed his personality."



Mervyn Fernandis

Mervyn Fernandis (Indian Airlines and India): "I was in awe of this guy. When Balbir Singh got the ball, there is something majestic in the way he moved. Watching him on the move on the pitch was a treat. Rarely has Indian hockey been blessed with a centre-forward of his muscular structure and body movement, speed and skills, control and execution.… all qualities in one player".

"The late Mickey Ferrao and he were two athletes in the Western Railway hockey team playing as wingers. I remember my dad telling me about these two being very fast. I played on the same team in an exhibition match in Mumbai (Bombay Hockey Association ground then) against a team from France. For me, playing inside right alongside a great centre-forward (Balbir Singh played winger and centre-forward), was memorable. I was very young then and felt nervous when news of my selection to the Bombay XI was conveyed. Questions in my mind ranged, during the pre-match players meeting, from how does he receive the ball, how would he want the ball to be played to him. "Beta, apna game khelo, you don't worry… baaki ham sambhalenge," he told me".

"The confidence he gave to a youngster is etched in my memory. Every time I thought the ball was too fast for him to reach, Balbir Saab's strides were so good, before you could think of anything, he was with the ball and moving onward. Whenever we met later, it was a brotherly relationship… the senior-junior gap was not seen despite the 10-year gap between us in international hockey. Balbir Saab had already played the 1968 Mexico Olympics then, we were hockey-playing kids in 1976-77".



1966 Bangkok Asian Games winners India. Balbir (3rd from l, sitting) struck the winner in the final

"He got crucial goals for India, had a fan following across the nation but would move around as if he has achieved nothing in life. When he walked past hockey fans, that swagger of his made people in the stands talk among themselves…. "Balbir Saab ja rahe hai…" Watching him walk was like a Vivian Richards stepping out to the crease…. no airs, all class. Later in life, a memorable experience was meeting him at the Film City studio for the shoot, in connection with the Torch of Freedom video involving greats of Indian sport (made by Kailash Surendranath & Arti Surenranath). It took a couple of takes to finish the shoot".

"As per the script, Balbir Saab was to hand over a flaming torch to me after running a few strides on the set resembling a bridge. Usually in hockey, inside forwards like me feed the ball to him at centre-forward position. A reversal of roles here…. the centre-forward handed over the torch to his inside-right.  It was easy, as he mentioned that once the move was explained to us, to give the shot. Our understanding did the rest".

"I feel special to be alongside a great player twice, once creating the passes for him in a match and later receiving the torch. The video became popular across the nation, as fans loved Indian greats from various sports on the big screen. Balbir Saab delivered for India in world hockey, for his department in national hockey but remained humble. It is an honour to be in the same frame with a hockey great."

Stick2Hockey.com