All the news for Thursday 17 September 2020

Germany entertain Belgium as FIH Hockey Pro League returns


It has been a long time coming, but the welcome return of the FIH Hockey Pro League is so nearly upon us. On Tuesday 22 and Wednesday 23 September, 'Hockey at its Best' will resume in the German city of Düsseldorf, where the host nation will entertain the national women's and men's teams of Belgium. 

The fixtures – which take place at Düsseldorfer Hockey Club 1905, conveniently located less than 90 kilometres from the Belgian border – will see the teams face each other twice over the two days. The timings of the matches are the same on both days, with the women's teams taking to the field at 1530 local time (CEST - UTC +2), with the men's fixtures set to start at 1800. 

Among the measures being taken to ensure the safety of everyone involved in these matches, the games are being played behind closed doors and in adherence to the safety guidelines of the competing governing bodies and local authorities. There will also be no pre-match handshakes or flagbearers, while athlete and staff testing within the respective 'team bubbles' being an essential element during this time. All participants, including the appointed officials, must have presented a negative corona test within 48 hours of the first match. The host National Associations have been working tirelessly to ensure that venue hygiene meets the highest possible standards, with the well-being of everyone involved – from athletes and staff to officials, broadcast workers and event organisers – being top priority. 

Although the fans may not be allowed into the stadium itself, all four matches will be available to watch via television or digital streaming thanks to our broadcast partnerships, as well as on the new Watch.Hockey app, which will be available for download via the respective Apple and Android App stores on 17 September.

Germany v Belgium (Women & Men)
Where: Düsseldorfer Hockey Club 1905, Düsseldorf (GER)
Dates: Tuesday 22 & Wednesday 23 September 2020

WOMEN'S MATCHES  
Times: 22 Sept – 1530 | 23 Sept – 1530 (local time | CEST – UTC/GMT +2)
Match pages: Match 1 | Match 2  

Summary: While Belgium women will arrive in Düsseldorf sitting fifth in the current FIH Hockey Pro League standings, two places higher than their seventh-placed hosts, it is worth remembering that Germany had not even played their first match when COVID-19 brought the competition to a standstill. Die Danas were strong performers in the 2019 edition, finishing fourth in the 'league' phase before going on to take the bronze medal in the end of season Finals event. Although there is no Finals competition this time around, Germany – who also claimed European bronze last year – have every reason to believe that they can put together a serious title challenge. Both Head Coach Xavier Reckinger and captain Janne Müller-Wieland have expressed their enthusiasm about the return of international hockey, eager to get back to doing what they do best. Star attacker Charlotte Stapenhorst – who has been out of international action for over a year due to serious injury - could make her 100th appearance for Die Danas, if she is involved in next week's fixtures.

Belgium's Red Panthers have six points on the board following a fruitful tour of Oceania in January and February, where they were only beaten once in their four matches against the higher-ranked home teams. Belgium battled to two draws against Australia in Sydney, claiming a bonus point in Match 2 thanks to a shoot-out win before travelling to Auckland and inflicting a 2-1 home defeat on the Black Sticks, thanks to strikes from Ambre Ballenghien and Anne-Sophie Weyns. New Zealand were 4-1 winners of their second meeting, but Belgium had proven yet again that they are capable of taking on the big guns in this competition. Despite being without ace goalkeeper Aisling D'Hooghe, who is pregnant, Belgium will feel confident about their chances of giving Germany a run for their money in Düsseldorf.  

The essentials…

Current FIH World Ranking: Germany: 4 | Belgium: 11
Current FIH Hockey Pro League position: Germany: 7 | Belgium: 5
Final standings - FIH Hockey Pro League 2019: Germany: 3 | Belgium: 5

Head-to-heads in all competitions (since 2013 – 17 matches)
Wins: Germany: 12 | Belgium: 4 | Draws: 1
Goals scored: Germany: 42 | Belgium: 22

Team pages (squads & statistics): Germany | Belgium


MEN'S MATCHES  Times: 22 Sept – 1800 | 23 Sept – 1800 (local time | CEST – UTC/GMT +2)
Match pages: Match 1 | Match 2

Summary: Germany's men managed to play two FIH Hockey Pro League fixtures before COVID-19 bringing world sport to a halt, claiming five points from a possible six in Valencia against Spain in January. Match 1 ended with the scores locked at 2-2 before Die Honamas took the bonus point by winning the shoot-out. Germany were comfortable winners of the second game, triumphing 5-1 thanks to strikes from Christopher Rühr, Timur Oruz, Marco Miltkau, Lukas Windfeder and Constantin Staib all on target. With their re-start fixtures being a double-header against Belgium, the current table-toppers, reigning World and European champions, and the top ranked team in the world, the opposition does not come any tougher. There is certainly a sense of excitement amongst Germany's athletes, with 33-year-old Tobi Hauke – a veteran of over 300 matches and a double Olympic gold medallist (2008 & 2012) – recently stating: "you could wake me up at midnight and I would be ready to play against a national team". 

Although Germany are certainly raring to go, the size of the challenge posed by the brilliant Belgians will not be lost on them. The Red Lions stormed to a breath-taking 8-0 victory the last time they faced Germany in the FIH Hockey Pro League, with Shane McLeod's team avenging a home shoot-out loss suffered two weeks earlier by producing an utterly devastating away performance in Krefeld, Germany. Before the COVID-enforced break, Belgium showed excellent form in the FIH Hockey Pro League, returning from tours of Australia, New Zealand and India with 14 points from their six matches. India were the only team to beat them, taking a 2-1 win in Bhubaneswar on 8 February before Belgium hit back to claim a 3-2 triumph in Match 2 the following day. The Red Lions scored nineteen times in those six matches, with Alexander Hendrickx (4) and Felix Denayer (3) top scoring for the team. While it is possible that there will be some rustiness after such a lengthy break, Belgium will be aiming to continue where they left off and remain, indisputably, the team to beat. 

The essentials…

Current FIH World Ranking: Germany: 6 | Belgium: 1
Current FIH Hockey Pro League position: Germany: 8 | Belgium: 1
Final standings - FIH Hockey Pro League 2019: Germany: 6 | Belgium: 2

Head-to-heads in all competitions (since 2013 – 19 matches)
Wins: Germany: 7 | Belgium: 9 | Draws: 3
Goals scored: Germany: 43 | Belgium: 55

Team pages (squads & statistics): Germany | Belgium

A total of 18 FIH Hockey Pro League matches are set to be played between September and November, with the remaining 76 scheduled between January and May 2021. 

Keep up to date with all the latest news on the FIH Hockey Pro League via the event website and through FIH social media channels -Facebook, Instagram and Twitter.

#FIHProLeague
#HockeyInvites
#PlayHockeyStayHealthy

Official FIH Pro League Site


---

Watch.Hockey App: FIH & NAGRA create digital home of hockey




The International Hockey Federation (FIH), the world's governing body for the sport of hockey, and NAGRA, a Kudelski Group (SIX:KUD.S) company and the world's leading independent provider of content protection and multiscreen video solutions, announced today the launch of "Watch.Hockey", a ground-breaking fan engagement app that creates a new digital "home of hockey" to the millions of hockey fans, players and officials worldwide.

"Watch.Hockey" will be available starting September 17, 2020, free of charge, on the App Store and on Google Play.

The timing of the Watch.Hockey launch coincides with the gradual resumption of international hockey, with the FIH Hockey Pro League re-starting on September 22, 2020 (Germany-Belgium). Through the app, FIH expands support for its global fan base by providing access to live matches on web, mobile and smart TVs. Other features of the app include live scores, results, statistics, personalized content in a "For You" section, and trending content, as well as access to replays, highlights, archived content, and news.

"Our fans and community are at the center of everything that we do, and now we can bring the sport that unites all of us to them in an innovative way to enable a new level of engagement. Launching Watch.Hockey in the current context makes it particularly meaningful. I encourage the global hockey community to download the app now and start enjoying its rich, diverse and exciting content. I want to thank our partner NAGRA, whose teams have been by our side all these months to make this project a reality," said FIH CEO Thierry Weil.

"The application is very good. It enables you to see all the information about hockey from all over the world and, at the same time, watch international hockey when you want and from where you want. It is a way to be closer and more updated about what is going on in the hockey world, and it's available to everyone, fans, players, coaches, etc." said Argentina's player Carla Rebecchi.

"This is a great initiative by FIH which really brings hockey to your fingertips. It is an easy way to find live match action, replay old matches and watch and re-watch highlights. It is also very informative, you can quickly find match schedules, results and hockey news from all parts of the world," said PR Sreejesh, India's goalkeeper.

"We applaud the FIH for reaching this milestone and giving a new dimension to the sport of hockey in a time of so much change, when engaging with fans, players and the hockey community at large is more important than ever before," said Jean-Luc Jezouin, SVP Sales Development for NAGRA. "We are grateful to be a part of the return of hockey to the pitch, bring the best hockey content to millions of fans worldwide, and deliver a digital platform to help hockey grow and prosper."

The "Watch.Hockey" app is powered by NAGRA's "sports-as-a-service" platform, which allows the FIH to harness the power of the sport's passion and unite the leagues, clubs, and players for greater fan engagement to create an all-embracing sports experience in line with FIH's vision.

Download the Watch.Hockey app as of September 17 on.

-       Apple Store: https://apps.apple.com/us/app/id1502181056
-       Google Play: https://play.google.com/store/apps/details?id=com.nagra.ion.fih

#HockeyInvites
#WatchHockey
#DigitalHomeOfHockey

FIH site


---

FIH launches Watch.Hockey app to boost fan engagement

By Cassie Worth




World hockey has launched its latest digital offering – Watch.Hockey – which it says will be the new online home of hockey across the globe.

The FIH teamed up with Nagra, a global streaming solutions outfit, to create a new fan engagement app which will be available from Thursday (Sep 17) free of charge on the App Store and Google Play. The FIH said that the product could become a pay service in some aspects.

The Watch.Hockey launch coincides with the gradual resumption of international hockey, with the FIH Hockey Pro League re-starting next week in Germany.

The app will feature nothing we haven't seen before – live matches (geo blocked), scores, results and stats.

However the design looks clean and it will also include replays, trending content and the ability to capture match action and share on social.

The FIH signed a 10-year deal with Nagra in May to deliver an online digital service for hockey.

At the 2018 World Cup, details were released for FIH.Live which was supposed to interact more with digital fans, but never took off and it currently houses mostly past Pro League matches.

In previous interviews, Nagra hoped to unlock the FIH's data from the last two decades, as well as hoping to "regain its glory days" when the sport had a higher profile than cricket.

Download the app by clicking on the relevant link on the left.



The Hockey Paper


---

Fürste to make shock return to club action with Beerschot




In a move that nobody expected, not even Moritz Fürste himself, the 35-year-old German legend is returning to the hockey stage for at least eight games with Royal Beerschot.

They have convinced the 294-time international – whose trophy cabinet includes double Olympic gold, a World Cup title and three EHL successes – has been co-opted as cover after Argentina star Lucas Rossi was unable to link up with the club due to coronavirus restrictions.

According to an interview with the hockey.de website, he has been training with Harvestehuder THC for a couple of weeks to help him get back up to speed but is in reasonable shape as the agency he runs organises fitness competitions in Europe and the USA.

"I don't want to cause unrest in the new structures in the UHC team by suddenly appearing again. I also discussed that with Benedikt Schmidt-Busse. Christoph Bechmann immediately liked the idea of training at the HTHC, which I was happy about."  

He will link up with Beerschot – in what he calls "my Corona project" – the week after next with the potential to play his first games since June 2018.

Euro Hockey League media release


---

Faizal targets national team return

By Malik Muhamad



Terengganu forward Faizal Saari. PIC BY MALIK MUHAMAD

KUALA TERENGGANU: Faizal Saari is ready to fight for his place in the Malaysian national hockey team.

The forward, who was dropped from the national team earlier this year, is eager to prove his worth and impress head coach Arul Selvaraj in the Razak Cup, which starts on Friday, at the National Hockey Stadium in Bukit Jalil.

"I am honoured to represent Terengganu after a two-year hiatus in the Razak Cup. I am eager to make an impression as I want to represent the country once again.

"I did not play for Terengganu in the last two editions as I had national team commitments.

"The Razak Cup is the most prestigious hockey tournament in the country, and I want to help my state do well.

"My other mission is to show that I am still good enough to be in the national team."

Faizal regards Kuala Lumpur and Perak as contenders for the Razak Cup crown.

"It will be a difficult tournament as every team want to win it.

"KL and Perak are strong as they have included several national players," he added.

Terengganu were third last year and runners-up in 2018. Among the national players in the Terengganu team are Akhirmullah Anuar Essok, Shahrun Nabil and goalkeeper Zaimi Mat Deris.

For the record, KL are the most successful team in the Razak Cup with 16 titles, followed by Selangor on 10 since 1963.

New Straits Times


---

Firhan withdraws from Terengganu's Razak Cup squad

By Malik Muhamad



Firhan Ashari. NSTP FILE PIC

KUALA TERENGGANU: National player Firhan Ashari will not feature for Terengganu in the Razak Cup, which starts on Friday.

The 27-year-old has decided to withdraw from the team following the death of his daughter.

Firhan's two-year-old daughter, Nur Ayra Delisha died on Saturday.

Terengganu manager Rafhan Harun said his absence is a blow as he is a key player.

"Firhan informed us whether he could skip the Razak Cup following his daughter's death. We have granted his wishes as he is still feeling sad.

"Furthermore, his wife is also expecting. It is a very difficult time for him.

"Firhan is a special player as he can play in any position, except as a goalkeeper. However, we still have a strong team for the tournament," said Rafhan.

He added: "Our target is to win the Razak Cup this year.

"Perak, Kuala Lumpur and Pahang are the other favourites. Our team will be led by the Saari brothers, Faizal and Fitri."

Terengganu have been drawn in the same group with Police, Armed Forces and Kelantan.

Tai Beng Hai's team will open their campaign against Police at the National Hockey Stadium in Bukit Jalil.

New Straits Times


---

Schleicher Rediscovers Joy of Field Hockey on USWNT



 
Haley Schleicher was a megastar at First Colonial. But she has discovered the real joy of field hockey as a member of the US National team.

Led by Cox, First Colonial and Tabb, field hockey teams from Hampton Roads dominate the Virginia High School League record book, from the Falcons' 21 state championships to the Tigers' 159-1 scoring margin in 2011.

But few players have left a more indelible mark than Haley Schleicher.

As a First Colonial junior in 2014, Schleicher became the first high school player in the country to amass more than 50 goals and 50 assists in a season. Then, as a senior, she did it again, leading the Patriots to a Class 6 state title. Schleicher tallied both her 200th career goal and her 200th career assist in the victory to become the first high school player nationally to achieve both milestones.

In Schleicher's four years at First Colonial, the team appeared in the state championship game every season, with two victories bookending her Patriots career. The two-time All-Tidewater Field Hockey Player of the Year was named the Senior National Field Hockey Player of the Year in 2016 to cap her historic run.

Even as her name was being etched in the record books, though, Schleicher was struggling with feeling disconnected to her sport.

"My heart wasn't in it in high school," Schleicher said in a recent interview. "I think talent was there, and talent got me so far, but I started playing because my mom coached and I had friends, but I don't think I made it my own and was passionate about it for my own reasons until about a year and a half ago.

"I think I felt pretty detached from those records and those things that are paper. … (At the time) it was never on my mind."




Schleicher originally became interested in field hockey thanks in large part to her mom, longtime coach Beanie Schleicher, who was coaching at Maury High at the time. Schleicher, who mostly played soccer as a kid, spent her summers hanging around at her mom's practices with the Commodores and sat on the sidelines during games.

Beanie, who coached Schleicher through middle school and then at First Colonial, was on the sideline for many of her daughter's biggest moments, including her record-breaking performance in the 2015 state title game.

"Her senior year, when we won states, that's probably the most excited I've ever seen her," Beanie said. "Everything about that year was quite special. She broke a lot of milestones that year."

But beyond the accolades and the wins, the most important thing for Schleicher was the sense of community she found in field hockey.

"It was powerful to play with girls older than me who were really good but cared for me and nurtured me and wanted to be friends and play with me," she said. "Being young and coming in freshman year, I just remember it being very welcoming. The community of the girls on the team made it fun and made it to where we were just working hard and playing together and enjoying time off the field, and I think that was really cool to have in high school."

But as she made the jump to Duke, Schleicher felt hampered by a fear of failing to live up to expectations.

"I think I just felt pressure or fear to mess up," she said. "I just got kind of apathetic about it and I was just going through the motions with field hockey."

It wasn't until more recently that Schleicher really rediscovered her passion for the sport at which she so excels. After she "underperformed" in her first few seasons at Duke, recording no points as a freshman and just two goals as a sophomore, Schleicher spoke to her coaches about how she was feeling.

Blue Devils head coach Pam Bustin remembers those conversations well.

"With Haley, it was really just a matter of constant communication with her ... constantly just trying to pull it out of her and constantly trying to get her to realize that there's a disconnect happening between her and the game, which affects the team and affects her ability to enjoy it," Bustin said.

"Obviously Haley is extremely talented as a field hockey player and as an athlete. There were times when I think just her emotional connection to the sport and her ability to lock in mentally as far as reading the game and the tactics of it weren't always connected with her physical ability," she added. "For a coach, sometimes it's frustrating, but also you understand that you're coaching kids between the ages of 18-22 and a lot of things go on during these college years and sometimes you just have to give the patience."




With the coaching staff's help and her growing connection to her Christian faith, Schleicher was able to find her way back to field hockey.

"I think the pivotal thing for my game was that I knew I was valued and loved and cared for regardless of accolades or what I could accomplish," she said. "That just freed me up to play and have fun without being scared of messing up or doing this or that. … It was the first time I really enjoyed playing hockey in a long time."

"(In her senior year) she was a spark," said Bustin, who saw Schleicher take on a more proactive role with the team both on and off the field. "Now she created the attack, now she was definitely involved in the defense. Now we could really rely on her in some critical areas of the game where we couldn't rely on her before."

Around the same time, Schleicher also rediscovered her interest in representing Team USA. As a teenager, she spent time in the USA Field Hockey futures program, playing on the U17 and U19 junior national teams before stepping away from international play when she went to college.

Schleicher decided to try out again, this time for the women's national team, and was named to the team in January. Now a full-time field hockey player, she lives and trains in Philadelphia with some of her teammates as they prepare to restart their season September 22 with eyes on the 2024 Summer Olympics in Paris. Kealsie Robles, a goalkeeper who played at York High and Old Dominion, also is a US national team member.

Schleicher is excited to see where this new chapter with her new team goes.

"It's been really great," she said. "Right now, it's the first time I'll be in residency with the team and full time playing with them. This time, with COVID, we've had weekly Zoom calls and I feel like I've been able to get to know the girls the past couple of months and dig into those relationships. That's been important to me since high school, and I think that's what drives me and helps me to stay motivated and playing."

I think the pivotal thing for my game was that I knew I was valued and loved and cared for regardless of accolades or what I could accomplish.
Haley Schleicher

Content Courtesy of Sian Wilkerson, The Virginian-Pilot
Images Courtesy of Duke Athletics

USFHA media release


---

World Cupper Jasjit Singh's dogged effort during lockdown




Jasjit Singh Kular, former India player, comes from a family of doctors. Although not one himself, the defender and drag-flicker extends his pedigree to the care and well being of stray dogs who battle the odds for survival.




Nor has the Covid-19 pandemic bottled him up when it comes to doing what his heart tells him. And that's service for the care of animals, particularly dogs in his hometown Jalandhar.

The Sansarpur  hero, who represented Indian national field hockey team  at the The Hague World Cup six summers ago, shuttles between keeping fit, doing his job with the Railways and assisting an NGO called Animal Protection Foundation which cares for strays.

"Dogs have suffered as the lockdown had meant restaurants and eateries shut down thereby depriving them of food," he revealed.

Jasjit has three pet dogs and his village home in Sansarpur had a range of animals – cows, buffaloes and numerous birds – which developed a love for animals in him.



Jasjit Singh loves animals, seen above with dogs whom he nurtures

"I donned a PPE in the early days of the pandemic to help stays in trouble. We helped 300-400 dogs a day. And it's not only dogs. Cows and buffaloes face survival challenges in our towns, villages and cities. Especially the male species which are discarded by owners for nil commercial value," he explained.

"There's little done on the ground to save these animals," he said. "And neglect leads to behaviour borne out of hunger and frustration often leading to harm on humans which is no fault of the animals who have been wronged in the first place."



Animal lover Jasjit Singh Kular

A true believer that this is a cause and effect world we live in, Jasjit appears to be a thoughtful, caring citizen and a worthy ambassador of the sport.

On 6th July when the lockdown was at its severest phase, made a humble request through his social media post. He requested for a donation of Rs.100 every month and make donation for public causes a habit.

His complete message: 'Its a humble request to everyone to donate at least Rs 100 every month from your savings to animalprotectionfoundation so that we can carry out the surgeries, medicines, boarding of injured dogs, transportation, doctors' fee and many other daily expenses. Your 100 can collectively become thousand and will be helpful to treat animals everyday. If you think we are already getting many funds then I would like to share that our NGO is under debt right now. We need around 50 to 60k at least every month to carry out the operations and we are not getting any fixed income from any source. ….. am writing this with a heavy heart as for today's case we don't have enough funds to afford a surgery for this poor puppy'.

He pleaded to fellow Indians to make donating to right cause a habit.

"Make donating a habit"

Stick2Hockey.com also requests interested visitors to open their heart and do their bit towards what the kind-hearted but strongly willed Jasjit Singh Kular's chosen cause.

Stick2Hockey.com is actually humbled and equally proud of to publish humane acts of such hockey players as Jasjit Kular

Stick2Hockey.com


---

A teacher who led a hockey revolution among tribals in Jharkhand

Benedict Kujur has trained a number of girls and boys who went on to represent India

A government-aided minority school teacher in Jharkhand epitomises the saying 'where there is a will, there is a way'.

Benedict Kujur has trained a number of girls and boys who went on to represent India in the national hockey team.

Kujur never led the odds pitted against him daunt him. He was posted as teacher and went on to become the principal at a minority-run primary school in Karangaguri village of Jharkhand's Simdega district.

The village is located in a remote area where common people are deprived of even basic amenities.

The school was initially till fifth class and later it was extended to class eight.

"In 2003, when I was posted to Karangaguri village, I decided to organise sports. Initially, the students were not interested and even the parents were indifferent. I called a meeting of parents and tried to create awareness about sports," Kujur said.

He said, "After many attempts, the parents agreed to let their wards participate in sports. I made the sports class mandatory for everyone. Hockey was the only option. We started hockey training for students. Skill development among students was my agenda. While imparting them the skills, we faced an enormous resource crunch," he says.

But he found ways to transcend all difficulties. The hockey sticks were made of bamboo. Even a hockey ball wasn't available. A 'Sharifa' fruit came in handy as a ball. Later a ball made of bamboo was used in the training sessions.

The biggest problem was skill development. "We used to hold two sessions besides mandatory classes in the school. The first session for training was in the morning and second in the evening. While getting involved in skill development, we focused on exercises. Students were asked to run on river sand beds and even climb hills. As the area is really backward, proper diet was not available," said Kujur.

In a short period, the school became a nursery for hockey talent. Many players trained at this school have played at the district and state levels. Most of those who played in the national team were women.

Now the school is getting assistance from many NGOS and other benefactors. Now hockey sticks and hockey balls are available for students.

The girls who went on to play at the national and international level include Beauty Dundung, Sushma Kumari, Alka Dundung, Deepika Soreng and Pink Ekka.

Kujur was transferred to Jaldega in 2016. Till then the school had become a hockey powerhouse.

Beauty Dundung, who played for India in 2019 appreciates the contribution of Benedict Kujur in her career. "It was mandatory for us to bring hockey sticks. When we failed to go with hockey sticks then we were scolded by Principal sir. We used to play with bamboo sticks in school. I have played many matches against many countries, including Australia. The skills imparted by Sir help us in international hockey as well," Dundung told IANS.

Appreciating his work, Manoj Kumar, Secretary of Simdega hockey Association, said "70 per cent of Jharkhand's hockey players come from the school which was trained by the Benedict Kujur. Six players have played at the international level. The school provides basic skill training to students for hockey who later find it easy to play anywhere." Jharkhand has a rich history of producing hockey champions. Even iconic player Jaipal Singh Munda belonged to Jharkhand.

The Tribune


---

Harun becomes hockey coach again, doubts over league



Bangladesh head coach Mahbub Harun alongside his charges during training Dhaka Tribune/Md Manik

Harun has managed the Bangladesh national team at many international assignments in the last 14 years, starting with the Asian Games 2006

Bangladesh Hockey Federation relied on Mahbub Harun once again by appointing him national team head coach for the Asian Champions Trophy, scheduled to be held in Dhaka from March 11-19, 2021.

Harun has managed the national team at many international assignments in the last 14 years, starting with the Asian Games 2006.

His role changed only when the federation brought foreign coaches like Oliver Kurtz and Naveed Alam, among others.

Last time Harun guided Russel Mahmud Jimmy and Co was during the Asian Games 2018 qualifiers.

Bangladesh progressed through the qualifiers but he was left out of the job at the final event as the team toured Indonesia under Malaysian coach Gobinathan Krishnamurthy.

Six top-ranked teams from the continent will take part in the Asian Champions Trophy, established in 2011.

Bangladesh are set to make their debut as host of the prestigious meet, originally scheduled to be held this November before it got delayed due to the Covid-19 pandemic.

Harun, also a former national team midfielder with his playing career spanning from 1988-99, admitted that ninth-ranked Bangladesh have no chance in the competition but the superior opponents are not unfamiliar.

He said premier league would make their preparation better but doubted over holding it this year due to lack of response from the clubs.

"I can understand the players better if the league takes place before the Champions Trophy. It would be good for the players as well because they will be more involved in games. We may get two-three new faces for the national team as well," Harun told Dhaka Tribune Wednesday.

With a target to start the league in October, BHF asked the 13 clubs to send the names of their representatives but only five clubs responded before the executive committee meeting Tuesday when Harun's appointment was announced.

BHF acting general secretary Mohammad Yusuf informed that two more clubs – Police and Wari – responded by Wednesday, along with Abahani Limited, Bangladesh Sporting, Azad Sporting Club, Sadharan Bima and Sonali Bank.

Mohammedan Sporting Club Limited and Mariners replied that they would play if the suspensions of their officials are withdrawn, Yusuf added.

"It could be delayed for 10-15 days but we want to begin the transfer window in October-November. We are instructed by the BHF president to hold the league at any cost even if other clubs don't come," said the acting GS.

He hoped to start the national camp preparation ahead of the Champions Trophy after initiating the youth camp in October.

Dhaka Tribune


---

Former Olympian calls PHF 'job centre'

By Ijaz Chaudhry

LAHORE: Former national team coach Olympian Tauqeer Dar has called the Pakistan Hockey Federation (PHF) a "job center" and said that the destruction of the national spot is all due to protection of personal interests.

"We have accepted humiliation. We now don't feel anxiety and worry and embarrassment over our defeat. After coming into office, we think of our family instead of the country. We do not love our country anymore. People celebrate Independence Day but the fact is that we do not love our country," Dar expressed these views while talking to this correspondent.

Giving the example of Karachi, he went on to say that the city has a population of 25 million but there is not a single boy in the national team from there and in Lahore hockey is played at only two or three places.

"The Olympians are the first to be taken into account. They are responsible for the destruction of the national spot. If the government cannot sponsor hockey, then the private sector should. Anyone who gets a job in the federation becomes diplomatic," he added.

About Prime Minister Imran Khan's directives to change the constitution, Dar said that hockey will be totally destroyed if the role of departments is abolished. "No one will play hockey if there are no departments. Departments provide a player security. Hockey has become the most expensive team game in the world. The goalkeeper's kit is worth Rs300,000," he said.

He also called the people coming to PHF flatterers and opportunists. "The flatterers thrive and are seen again and again coming in, in the name of serving the national game. There are fewer hockey players and more aspirants for positions," he said.

"For the last 20 years nothing concrete has been done. People come and people go. In the past, there were people who looked for talent and then honed it. Today, when a good player comes forward, his path is blocked," he said.

He said there was no hockey at school, college or university level. "When hockey was played in educational institutions, we used to win medals," he said.

"Say bad things and keep saying bad things until you get some responsibility. There can never be improvement unless we work with honesty, sincerity and service to the country. Solve player problems. We have always achieved success on individual talents. There are still talented players in the country but there is no one to take care of them," he said.

Ijaz Chaudhry writes on hockey & other sports. For more about him and his work, visit: www.sportscorrespondent.info  

Fieldhockey.com


---

AGM outcomes: Resolution voting result and new elected directors



Bury St Edmunds V Rugby & East Warks

At the England Hockey AGM on Tuesday evening, the membership of England Hockey took the decision to support the proposed structural changes set out in A Structure Fit for the Future. Over 250 delegates attended the AGM electronically and the vote supported the resolution with 86% of votes received being in favour of the resolution (53.4% of the membership voted with the vote result 894 to 146 and 13 abstentions).

Angela Durnin and Simon Mantell were elected as Membership Elected Directors of England Hockey replacing Katie Roberts, and Mike Stoddard after his election as President in 2019. Ian Wilson also attended his last AGM after 17 years as Finance Director of England Hockey ahead of being replaced by Kuldeep Kaur who starts on 12 October. All those standing down will be missed for their significant contributions at board level for England Hockey and in Ian's case the huge contribution he has made since the establishment of England Hockey returning the governing body to a sound financial footing.

The approval of the Structure Fit for the Future proposals now means that work can start in earnest on delivering the most significant rationalisation and simplification of governance structures that hockey in England has seen. The aim is for a structure that is easier to understand, more consistent and accountable and ultimately easier for clubs and participants to work with. It will take time to deliver the changes and the proposals will continue to need to evolve and develop. The next steps will focus on establishing the new 'shadow' structures in each Area and progressing the priority work areas such as adult leagues. If you are interested in helping be part of delivering the changes then please take a few moments to let us know by filling in the short expression of interest here.

Mike Stoddard, President of England Hockey and chair of the AGM said "It was excellent to have so many members join us to discuss such an important issue as well as a such a strong turnout of votes from members. The strong mandate from the membership to deliver the Structure Fit for the Future proposals is a message on the appetite for change. Equally, the board of England Hockey recognise that some volunteers that have given long and loyal service do not agree with all aspects of what is proposed. Given the support from the membership for the proposals we hope that those will choose to continue to give their knowledge and experience to the change process, equally we recognise that some will choose this opportunity to step away. We thank them for all they have done for hockey over the years.

"As club hockey is on the verge of leagues resuming the leadership at England Hockey all expressed their gratitude for the effort and energy that is going in to help the game restart. The impact and full implications of Covid-19 for hockey are not yet understood and the board will continue to ensure that these are considered as the proposals develop and the season progresses."

More details about the AGM are available here: www.englandhockey.co.uk/agm

More details about the Structure Fit for the Future proposals are available here: www.englandhockey.co.uk/agmresolution

England Hockey Board Media release


---

England Hockey league structure changes given green light

By Richard Bright




England Hockey's restructure plans for regional and county leagues – the biggest changes to the sport in two decades – have been given the green light after membership voted overwhelmingly in support of change.

England Hockey proposed "clear purpose and leadership" and after 86 per cent voted in favour, the governing body will now aim to deliver "the most significant rationalisation of governance structures England hockey has seen."

According to attendees, a number of questions were raised on Tuesday night including affiliation fees, the impact of restructure on smaller clubs, boundary clubs and umpiring, as well as the potential impact of a reduced league programme due to coronavirus.

Following the 894 to 146 vote in favour, England Hockey will now begin work on a league structure which "is easier to understand, more consistent and accountable and ultimately easier for clubs and participants to work with".

EH say it will "take time" to deliver the changes, while it had previously been hoped the new structure would be put in place for the 2021/22 season. Following the vote there are now expected to be 50 fewer organisations and 100 fewer committees for starters.

"The next steps will focus on establishing the new 'shadow' structures in each Area and progressing the priority work areas such as adult leagues," EH said in a statement, with the officials looking for interested parties to help deliver the changes.

The South League now looks set to be disbanded over 50 years. It currently has 181 clubs and will have a third of the teams under the new changes.

With the South Men's League split up, three new areas are set to be implented: Greater London, South East and South Central.

From our previous coverage, boundary clubs (M25) will choose one area to play in, while EH have claimed that 140,000 miles will be axed in travel for London clubs, with a "significant saving" in the offing.

The Midlands is set to become the biggest league in England, with the eight "more equal areas" based on density of teams and travel times. England Hockey say that the plans offer a "fairer structure" for progression.

Some Northern hockey officials had previously expressed concerns over failing to retain North Premier and Division 1 leagues, with fears over not being able to reduce the gap between regional and national league hockey and better the competition structure for junior players.

Let us know your views. This email address is being protected from spambots. You need JavaScript enabled to view it.



The Hockey Paper


---

Message from Nick Pink ahead of new England Hockey League season




Nick Pink, England Hockey Chief Executive

The 2019-20 season was concluded over the last two weekends with a number of domestic finals at Nottingham Hockey Centre. We thank the venue staff, Hockey Makers, officials and teams who overcame all the challenges to make the finals such a success and congratulate those teams who picked up the silverware.   

Hot on its heels the 2020-21 hockey season is almost officially with us and this weekend marks the return of league hockey, with the first round of matches in the England Hockey League Premier Division. It is an exciting time for all of us involved in the sport and I have been so impressed with the way hockey clubs, volunteers, coaches, umpires and players up and down the country have taken to the advice we have been sending out to prepare ourselves for this upcoming season. I keep hearing about the 'new normal', and who would have thought when we announced the suspension of hockey on 16 March alongside all other community based sport, that we would be looking at a return to our sport with Covid officers, travel restrictions and social distancing of up to six people, and so much more now in place.



EH Champs 2020

The resilience of those involved in hockey is inspiring, and the return of the EHL this weekend and league hockey over the following two weeks is the next exciting step that we are looking forward to. The Premier Division has some changes too this season, and we are grateful for the collaboration of those clubs involved in this change, that now sees 11 teams in the Premier Division, in a split league format dovetailing with a busy international programme.

Good luck to those involved this weekend and over the following weeks. Please do remember to follow the advice and guidance that are in place, and let's start this season with the sense of responsibility and excitement that will see hockey successfully return, and a respect for all involved.

England Hockey Board Media release


---

England Hockey chief calls for responsibility as league reconvenes



Celebrations like this are banned for the time being in English hockey

England Hockey chief executive Nick Pink has called for a "sense of responsibility" ahead of league hockey's return this weekend.

The men's and women's Premier Divisions kick off on Saturday and Sunday, with a revamped league and the first elite league action since the 2019/20 season came to a shuddering halt as the pandemic took hold.

Pink said: "It is an exciting time for all of us involved in the sport and I have been so impressed with the way hockey clubs, volunteers, coaches, umpires and players up and down the country have taken to the advice we have been sending out to prepare ourselves for this upcoming season.

"I keep hearing about the 'new normal', and who would have thought when we announced the suspension of hockey on 16 March alongside all other community based sport, that we would be looking at a return to our sport with Covid officers, travel restrictions and social distancing of up to six people, and so much more now in place."

Pink added that he was inspired to see the "resilience of those involved in hockey" as the 2020/21 season kicks off but reminded players and clubs to continue to follow coronavirus advice.

He added: "Please do remember to follow the advice and guidance that are in place, and let's start this season with the sense of responsibility and excitement that will see hockey successfully return, and a respect for all involved."



The Hockey Paper


---

Why Ruth Adhiambo is itching for the stick once again

By Washington Onyango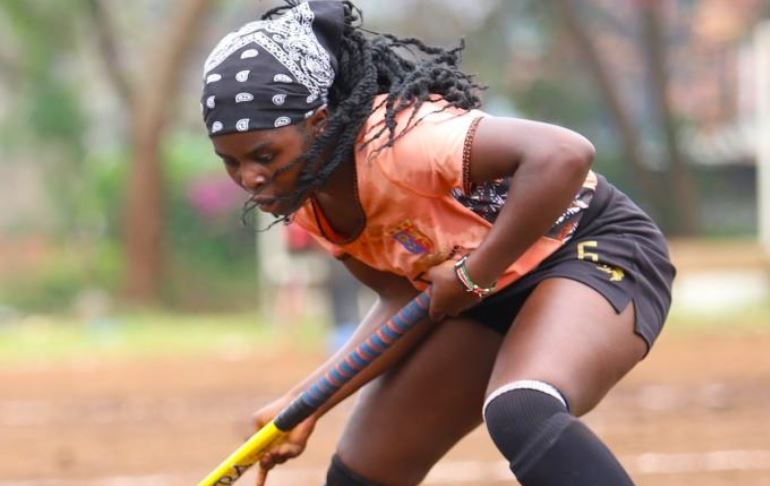 Strathmore University's Ruth Adhiambo in action during Kenya Hockey Women Premier League match against Lakers in Kisumu. [Washington Onyango/Standard]

The 2020 Kenya Hockey Union (KHU) Women's Premier League was just 12 days old when the first coronavirus case was reported in the country.

Three matches had already been played with defending champions Blazers defeating last year's runner-up USIU Spartans 1-0 and Amira Sailors thrashing Orange Leonas 3-0 in the two opening matches.

In the third match, Ruth Adhiambo featured in Strathmore University's barren draw against newbies Wolverines but her dreams of helping the team improve its performance in the second match were shattered after the Government suspended all sports on March 14.

Six months later, Adhiambo has not given up on making a return to the pitch.

She is positive amidst uncertainty occasioned by the irregular COVID-19 situation that the country will return to normalcy and the premier league will resume, soon.

"Nothing makes me happier than playing hockey. The game gives me comfort and peace and I can't wait to get back to the pitch," Adhiambo said during an interview with the Standard Sports.

Encouraged by the return of sports across the world, Adhiambo said her main objective is to help Strathmore fight for the premier league title which has been dominated by Blazers (formerly Telkom).

"Our main objective this season was to win the premier league. Despite a slow start (draw), we were planning on improving our game before Covid-19 happened," she said.

Working with a special training and workout routine for the past six months, she believes she is yet to post her 'A' game.

"Since Covid-19 was first reported and with the social distance requirements in place, I have been training on my own. I do early morning runs and home workouts, which was not part of my routine, but I am now in good shape to face even tougher opponents," she said.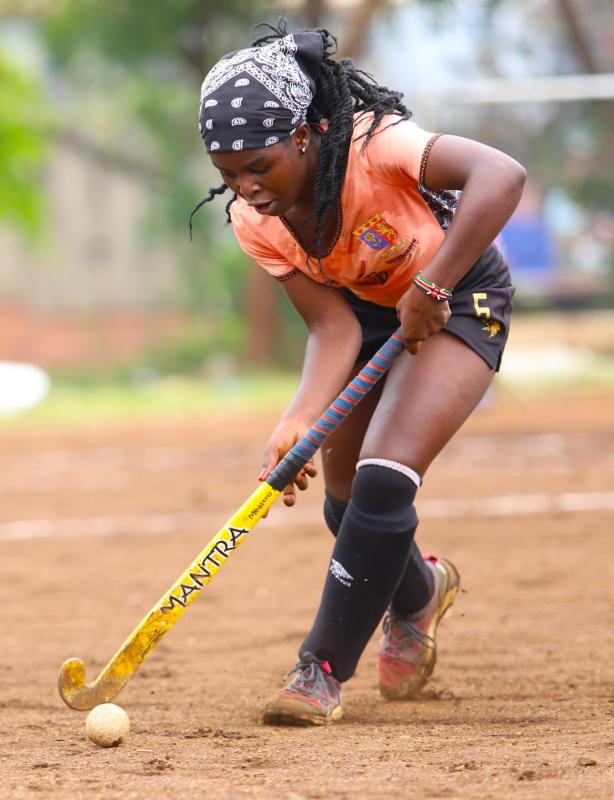 Adhiambo is positive amidst uncertainty occasioned by the irregular COVID-19 situation that the country will return to normalcy.  [Washington Onyango/Standard]

There are high hopes that activities would resume soon after the Ministry of Sports released proposed protocols for resumption of sports in the country last month.

In the proposal, resumption of sports activities will take place in three phases.

The first phase will be dedicated to medical and athletes' tests followed by the second phase where the players will be required to resume training individually for seven days before training in small groups for a week.

The third phase will involve collective training.

Adhiambo started playing in 2012 after joining former East Africa Secondary Schools girls' hockey champions Kerugoya Girls High School.

Having started out just as a school team fan in the stands, she went on to be a crucial player for the team where she helped Kerugoya qualify for national and East Africa secondary school games in 2013, 2014 and 2015.

Her determination and hard work on the pitch saw her land a sports scholarship to join Strathmore University in 2016 where despite not scoring a goal, she helped the team finish second behind Blazers in the Premier League.

The Standard Digital


---

US Weekend College Games: Atlantic Coast Conference




As the only conference playing field hockey this fall, the Atlantic Coast Conference opening weekend begins this Friday with one game and two more on Sunday. All matches are available for live stream on the ACC Network.

FRIDAY, SEPTEMBER 18

No. 4 Duke at No. 6 Syracuse | 5:30 p.m. ET | ACCN

No. 4 Duke will head to New York to take on No. 6 Syracuse in the Atlantic Coast Conference (ACC) season opener. Last year's match-up was a battle as it took two overtime periods to decide a winner. Although Duke tallied 28 shots to the Orange's 11, it was Syracuse who notched the game-winner in the 78th minute to defeat the Blue Devils.

Three athletes across both rosters were named to the 2020 Preseason All-ACC Team. Duke represents with senior Lexi Davidson who returns after starting all 21 contests as a junior. She helped Duke's backline to seven shutouts and a 1.13 goals against average. Syracuse's Charlotte de Vries and Laura Graziosi were both named to the team. de Vries had a standout freshman season leading the Orange with 15 goals and 31 points. She scored six game-winning goals, including the overtime goal in last year's match-up with Duke, and started all 18 games. Graziosi appeared and started in all 18 games at midfield  as a sophomore and recorded nine points on the season with three goals and three assists.

Last season, Duke finished 13-8 overall, 1-5 in the ACC and earned their 18th berth in the NCAA Tournament, falling to No. 6 Iowa in the opening round. They welcome six newcomers to the team that includes Barb Civitella, a member of the U.S. Rise Women's National Team, and return a veteran class that includes sophomores and U-21 USWNT athletes, Hannah Miller, who garnered All-South Region Second Team recognition last year, and Josie Varney. Junior Leah Crouse, All-ACC Second Team and U-21 USWNT athlete, will use her leadership on the forward line after leading the Blue Devils, tied with Miller, for 11 goals. They have also added USWNT goalkeeper Jess Jecko to the staff as a volunteer assistant coach.

Syracuse finished 2019 with a record of 12-7 overall and 3-3 in conference play. They also fell in the opening round of the NCAA Tournament to eventual runner-up, Princeton, in their 14th appearance in the event. They add six rookies to the 2020 roster. The Orange will be led by sophomore de Vries, U-21 USWNT athlete, All-Mideast Region First Team and All-America Second-Team, and senior Carolin Hoffman, All-Mideast Region First Team and All-America Third Team.

Consistent with New York State's COVID-19 protocol and in an effort to maintain a safe and healthy campus community, Syracuse University Athletics will not host fans at any home sports events at this time.

SUNDAY, SEPTEMBER 20

No. 4 Duke at No. 6 Syracuse | 11:00 a.m. ET | ACCN

No. 1 North Carolina at No. 7 Wake Forest | 2:00 p.m. ET | ACCN

An in-state match-up will see the No. 1 ranked North Carolina team travel to Winston-Salem, N.C. to take on No. 7 Wake Forest. The last time these two teams met in mid-October 2019, the Tar Heels calculated their 36th consecutive win (3-1), which set an ACC record.

As the two-time defending NCAA and ACC Champions, the Tar Heels will be the team with the target on their backs. In 2019, they posted a 23-0 overall record, capturing the program's eighth NCAA title and 22nd ACC championship. The team will be led by junior Erin Matson and senior Eva Smolenaars who were both named to the 2020 Preseason All-ACC Team. Matson had a standout sophomore campaign being named the Honda Sports Award recipient, ACC Female Athlete of the Year, Division I National Player of the Year, ACC Offensive Player of the Year,  South Region Player of the Year, NCAA Tournament Most Outstanding Player, All-America First-Team, All-ACC and All-ACC tournament, while finishing with 33 goals, 15 assists and 81 points. Smolenaars has been instructional in UNC's midfield, starting all 23 games last year and being named to the All-NCAA Tournament Team after she had two goals and an assist in the final. U.S. Women's National Development Team member and redshirt junior Cassie Sumfest will be returning to the backfield for the Tar Heels after sitting out the 2019 season to recover from an ACL injury. Current USWNT striker Lauren Moyer has joined the staff as a volunteer assistant.

Wake Forest is coming off a 9-11 season, after going 0-6 in the ACC. The Demon Deacons welcome eight incoming including Lee Ann Gordon, Rise USWNT athlete, and will be anchored by an experienced upper class with senior defender Anne Van Hoof, All-American Second Team and All-ACC Second Team, leading the helm. Van Hoof started in all 20 games last year and led Wake Forest with seven goals. Long time goalkeeper for the USWNT, Jackie Briggs transitioned between staffs in the off-season and now represents Wake Forest as an assistant Coach.

In accordance with guidance from the North Carolina Department of Health and Human Services, Wake Forest will not be able to host fans for their upcoming home contests through September.

*Rankings are based off the ACC Field Hockey Preseason Coaches Poll

USFHA media release