All the news for Monday 10 February 2020
2020 FIH Pro League (Men) - 10 February
7 Feb 2020     ARG v ESP (RR)     3 - 4
8 Feb 2020     NZL v GBR (RR)     1 - 1 (3 - 1 SO)
8 Feb 2020     IND v BEL (RR)     2 - 1
8 Feb 2020    ARG v ESP (RR)     5 - 1

9 Feb 2020     NZL v GBR (RR)     0 - 3
9 Feb 2020     IND v BEL (RR)     2 - 3

Live streaming and full game replay on https://fih.live (May be Geo blocked if there is TV coverage)

Pool Standings
| Rank | Team | Played | Wins | SO Win | Draws | SO Loss | Losses | Goals For | Goals Against | Goal Difference | Points |
| --- | --- | --- | --- | --- | --- | --- | --- | --- | --- | --- | --- |
| 1 | Belgium | 6 | 4 | 1 | 0 | 0 | 1 | 19 | 11 | 8 | 14 |
| 2 | India | 4 | 2 | 1 | 0 | 0 | 1 | 12 | 9 | 3 | 8 |
| 3 | Netherlands | 4 | 2 | 0 | 0 | 1 | 1 | 13 | 13 | 0 | 7 |
| 4 | Australia | 4 | 1 | 1 | 0 | 1 | 1 | 13 | 11 | 2 | 6 |
| 5 | Germany | 2 | 1 | 1 | 0 | 0 | 0 | 7 | 3 | 4 | 5 |
| 6 | Great Britain | 4 | 1 | 0 | 0 | 2 | 1 | 9 | 10 | -1 | 5 |
| 7 | Spain | 6 | 1 | 0 | 0 | 1 | 4 | 13 | 23 | -10 | 4 |
| 8 | Argentina | 2 | 1 | 0 | 0 | 0 | 1 | 8 | 5 | 3 | 3 |
| 9 | New Zealand | 4 | 0 | 1 | 0 | 0 | 3 | 4 | 13 | -9 | 2 |
---

2020 FIH Pro League (Women) - 10 February
7 Feb 2020    ARG v USA (RR)     6 - 2
8 Feb 2020     CHN v BEL (RR)     Postponed due to Coronavirus
8 Feb 2020     ARG v USA (RR)     6 - 1
8 Feb 2020     NZL v GBR (RR)     0 - 3

9 Feb 2020     CHN v BEL (RR)     Postponed due to Coronavirus
9 Feb 2020     NZL v GBR (RR)     2 - 2 (4 - 5 SO)

Live streaming and full game replay on https://fih.live (May be Geo blocked if there is TV coverage)

Pool standings
---

Belgium beat India in thriller in Kalinga




The final match of a frenetic weekend of FIH Hockey Pro League action saw Belgium Red Lions face India in Bhubaneswar. India were looking to repeat their win from the previous day, but as Graham Reid said ahead of the game, "an injured lion is dangerous." And so it proved as Belgium edged it in a 3-2 thriller in the heat of the Kalinga Stadium.

The final match of this weekend's FIH Hockey Pro League programme saw India men attempt to repeat their performance from the previous day when they had beaten the reigning World and European champions Belgium in a closely-fought match. This time it was the Red Lions who had the better of the result, winning 3-2 after a high-paced and entertaining 60 minutes of top quality hockey. 
It was Belgium who opened the scoring through a penalty corner rocket from Alexander Hendrickx. India equalised through Vivek Prasad and then took the lead when Amit Rohidas found the net. Belgium answered immediately with two goals from Maxime Plennevaux.
Speaking after the game, Player of the Match, Belgium's Nicolas de Kerpel said: "It [India] is always a really tough place to play. I hope the next time we play India, it is not so tough."
Speaking about his team's penalty corner routine, de Kerpel said: "It is all about rhythm. If we get the rhythm then we have the best penalty corner routine in the world. We scored from one today, so I hope that we are getting into the rhythm now."
Talking of his own performance, De Kerpel said: "I am happy to be here as Player of the Match but I know there is more improvements to be made to my game."
India's captain, Manpreet Singh, said: "I think we have learnt a lot of things over the two games. We had good opportunities but we didn't make the most of them."
He added: "I am really proud of the team. In our matches against Netherlands and Belgium, we started at a good pace from the first whistle and  we are scoring in the first minutes. And we have good counter attacks, so now we need to make the most of those."
For more information, click here.

Keep up to date with all the latest news on the FIH Hockey Pro League via the event website and through FIH social media channels - Facebook, Instagram and Twitter.  
FIH Hockey Pro League 

Saturday 8 February 2020 – CENARD, Buenos Aires (ARG)

Women's result: Argentina 6, USA 1 (Match 2 of 2)
Player of the Match: Carla Rebecchi (ARG)
Umpires: Ayanna McClean (TTO), Catalina Montesino (CHI) & Bruce Bale (ENG - video)

Men's result: Argentina 5 Spain 1 (Match 2 of 2)
Player of the Match: Lucas Martinez (ARG)
Umpires: Federico Garcia (URU), Bruce Bale (ENG) & Catalina Montesino (CHI - video)

Sunday 9 February 2020 – North Harbour Hockey Stadium, Auckland (NZL)

Men's result: New Zealand 0, Great Britain 3 (Match 2 of 2)
Player of the Match: Adam Dixon (GBR)
Umpires: Steve Rogers (AUS), Lim Hong-Zhen (SGP) & Irene Presenqui (ARG - video)

Women's result: New Zealand 2, Great Britain 2 - 4-5 After Shoot-Out (Match 2 of 2)
Player of the Match: Georgia Barnett (GK - NZL)
Umpires: Aleisha Neumann (AUS), Irene Presenqui (ARG) & Lim Hong-Zhen (SGP - video)
Kalinga Stadium, Bhubaneswar (IND)
Men's result: India 2, Belgium 3 (Match 2 of 2)
Player of the Match: Nicolas de Kerpel (BEL)
Umpires: Coen van Bunge (NED), Gareth Greenfield (NZL) & David Tomlinson (NZL - Video)

#FIHProLeague

Official FIH Pro League Site


---

Britain beat New Zealand in dramatic shoot-out in FIH Pro League

By Nancy Gillen



©Getty Images

Britain dramatically defeated New Zealand in a shoot-out in the women's International Hockey Federation (FIH) Pro League.

The match between the two teams at the North Harbour Hockey Stadium in Auckland finished at 2-2, with Olivia Shannon opening the scoring for New Zealand in the 28th minute.

Anna Toman equalised 10 minutes later, before Grace Balsdon put Britain 2-1 up in the 42nd minute.

Shannon's second goal in the 53rd minute was enough to see the match end as a draw.

Britain then edged past New Zealand 5-4 in the shoot-out, with Tessa Howard scoring the winner and giving her country the bonus point.

"We're happy to get those two points with the bonus in the shoot-out," said Toman.

"However we are a bit disappointed to not get all three.

"We dropped intensity a little bit in the first half compared to yesterday, which is something to learn from as we will have back-to-back games again."

The British men's side recorded their first Pro League win with a 3-0 result against New Zealand.

Adam Dixon scored twice, with Liam Ansell getting on the scoresheet.

Cenard in Buenos Aires also hosted a double-header, with the women's Argentina side thrashing the United States 6-1. 



Belgium overcame India 3-2 in the men's FIH Pro League ©Getty Images

Noel Barrionuevo and Delfina Merino managed two goals each, while Agustina Gorzelany and Carla Rebecchi made it six.

Taylor West scored the consolatory goal for the US.

The Argentinian men's side also recorded an impressive victory, comfortably beating Spain 5-1.

Pau Quemada of Spain cancelled out an early Martin Ferreiro goal in the 22nd minute, but Lucas Vila put Argentina back in front in the 32nd minute.

Two goals from Lucas Martinez and Jose Tolini secured the win.

Men's world champions Belgium then enacted revenge for yesterday's loss against India, this time narrowly defeating their opponents 3-2 at Kalinga Stadium in Bhubaneswar.

Alexander Hendrickx began the scoring for Belgium in the third minute, with India's Vivek Prasad equalising just before the end of the first quarter.

Nicolas de Kerpel put Belgium back in front as the second quarter begun, before Amit Rohidas immediately brought the score to 2-2.

Maxime Plennevaux scored what turned out to be the winner in the 26th minute, with the match remaining goalless from then on.

Pro League action continues on Saturday (February 15), with New Zealand taking on the US in the women's competition at Nga Puna Wai Hockey Stadium in Christchurch, while New Zealand come up against Spain in the men's competition.

Inside the Games


---

Dixon fires GB's men to first 2020 FIH Hockey Pro League win



Dixon Celebrates 2020FIHPL

Great Britain's men recorded their first victory in the 2020 FIH Hockey Pro League with a comfortable win over New Zealand in Auckland.

Captain Adam Dixon led from the front with two clinical flicks to inspire his side to their first win of the season.

Liam Ansell was also on target and Ashley Jackson made his 250th combined international appearance for England and Great Britain as the team finished their first set of matches in this year's league in style.

Unlike yesterday, this meeting started at a sedate pace as both teams sized each other up. Indeed Dixon's precise flick from a 14th minute corner was the first chance either side had mustered up until that point.

That gave his side the confidence to be a little more adventurous in the second quarter as they fashioned a few more chances, with two Luke Taylor corners cleared while a Black Sticks defender smashed another deflection of the line as it looked to be heading in.

George Pinner was called into action for the first time early in the third quarter, while Richard Joyce produced two fine saves to keep out efforts from Alan Forsyth and Phil Roper.

The visitors increased the pressure in the final quarter and added a second as Ansell fired a corner through the man stationed on the post in the 50th minute.

Five minutes later Dixon wrapped up the points with another superb finish, finding the other corner with ease to ensure Great Britain's men ended their tour of Oceania on a high.

After the game, Dixon said: "I'm feeling very happy with the result. Obviously we've been here for a while and not found a win so to come away with the full points is reflection of the work we've put in.

"We've been trying a lot of new stuff over the last couple of weeks so to see it come together is all very nice.

"We didn't feel like we played that badly yesterday to come away with the draw but we weren't clinical enough in front of goal. So to see a few things click into place is great and to wrap the tour up with a win is great for team morale.

"It felt nice to score. It was a bit of a shock. They were the first flicks I've had on this trip so it was a bit of a bonus for them to go in. It was a good day at the office."

Tickets for this summer's FIH Hockey Pro League games in London go on general sale from 20 February. For more information, click here.

The team will next be in action away to The Netherlands on 28-29 April.

New Zealand 0 (0)

Great Britain 3 (1)
Dixon (14', PC; 55', PC); Ansell (50', PC)

Starting XI: Pinner (GK), Martin, Dixon (C), Jackson, Ansell, Waller, Gall, Sanford, Sorsby, Calnan, Draper
Subs (Used): Taylor, Forsyth, Shipperley, Sloan, Gleghorne, Roper
Subs (Unused): Ames, Griffiths, Gibson (GK), Wallace

Great Britain Hockey media release


---

Shootout bonus point for GB's women from final match in New Zealand



New Zealand v GB Shootout Win 2020FIHPL

Great Britain's women picked up two more points in the 2020 FIH Hockey Pro League after securing a shootout victory over New Zealand.

Having convincingly won 3-0 the day before, this time the side were held in normal time as two goals from Olivia Shannon cancelled out fine flicks from Anna Toman and Grace Balsdon.

Sarah Jones thought she'd scored the winner in the final minute of the game but it was overturned on review, taking the game to a shootout. Tess Howard then starred, scoring GB's first attempt while also sealing the win in sudden death after Sabbie Heesh had saved from Stacey Michelsen.

The result means that the women picked up five points from a possible six in Auckland, while Shona McCallin also made her 50th appearance for Great Britain during the game.

Both Heesh and her opposite number Georgia Barnett were called into action in the opening stages to prevent their opponents from opening the scoring, while Lily Owsley did well to charge down a corner.

Great Britain ramped up the pressure in the second quarter but couldn't find a way through the Black Sticks defence before they raced up the other end in the 28th minute as Shannon smashed the ball past Heesh to give her side the lead.

Susannah Townsend almost equalised a minute later but somehow Barnett flung herself across the goal to stop her shot from close range.

New Zealand looked to have doubled their lead early in the third quarter as Kaitlin Cotter forced the ball beyond Heesh but she was adjudged to have done so illegally.

Shortly after Toman made them pay as she fired in her fourth goal in seven international matches to level the scores.

Balsdon then produced one of those corners she's becoming known for as she rocketed the ball into the top corner, giving Barnett no chance to complete the turnaround.

With seven minutes remaining the Black Sticks hit back however as Shannon was on hand to turn home a rebound after a corner was initially well blocked by Laura Unsworth.
As the game entered its final minute, Jones was on hand to turn the ball into the goal for what she thought was the winner after great build up play from Charlotte Watson.

However New Zealand reviewed immediately and the goal was disallowed having been deemed to have touch the back of the striker's stick in the build up.

GB then led 4-2 in the shootout thanks to Howard, Owsley, Hannah Martin and Sarah Robertson before New Zealand clawed it back to 4-4 and take it to sudden death.

Heesh stood tall to deny Michelsen with the Black Sticks' first attempt before Howard stepped up once again to slot the ball into the goal and grab the bonus point.

Speaking after the game, Toman said: "We're happy to get those two points with the bonus in the shootout. However we are a bit disappointed to not get all three. We dropped intensity a little bit in the first half compared to yesterday, which is something to learn from as we will have back-to-back games again.

"I wouldn't say I'm becoming a goal machine but it is nice to be able to step up and get a few goals – as a defender it doesn't happen that often and it didn't happen at all for me earlier in my career.

"This weekend has given us heaps of confidence. We aimed to get 50% of points from this trip so we're a little bit down on that but it's been an incredible tour, we've improved leaps and bounds as a team. We've started to create a new identity as a team as well so we need to carry that forward. I'm really excited for what's to come."

Great Britain's women are next in action against The Netherlands on 28-29 April.

New Zealand 2 (1)
Shannon (28', FG; 53', PC)

Great Britain 2 (0)
Toman (38', PC); Balsdon (41', PC)

GB win shootout 5-4

Starting XI: Unsworth, Toman, Martin, Townsend, Robertson, Rayer, Pearne-Webb (C), McCallin, Heesh (GK), Owsley, Balsdon
Subs (Used): Howard, Jones, Neal, Hunter, Watson, Wilkinson
Subs (Unused): Hinch (GK), Burge, Petter

Great Britain Hockey media release


---

Great Britain finish on a high in Auckland

By The Hockey Paper



Anna Toman celebrates in Auckland PIC: WORLDSPORTPICS/SIMON WATTS

Great Britain defender Anna Toman says the team has every reason for optimism after finishing their FIH Pro League tour down under with a bonus point win.

After an uplifting 3-0 win over New Zealand on Saturday, a match full of attacking nous and high press, GB women claimed two more points with a draw against the same opponents, with Toman and Grace Balsdon each producing fine corner flicks before Sarah Jones had a last minute goal disallowed.

Tess Howard and Sabbie Heesh, in for the injured Maddie Hinch, then starred in the shoot-out as to secure the bonus point. Black Sticks teenager Olivia Shannon had put the hosts in the lead before her equaliser took the game to a shoot-out.

Toman said: "This weekend has given us heaps of confidence. We aimed to get 50 per cent of points from this trip so we're a little bit down on that but it's been an incredible tour, we've improved leaps and bounds as a team.

"We've started to create a new identity as a team as well so we need to carry that forward. I'm really excited for what's to come."

Two goals from Adam Dixon earlier helped Great Britain's men secure their first outright win in the FIH Pro League as they comfortably beat New Zealand 3-0 in Auckland.

Liam Ansell also found the back of the net as Danny Kerry's side grabbed all three points for the first time this season, having previously drawn with the Black Sticks on Saturday and Australia the previous week.

It was their first win since beating the Kiwis at Twickenham Stoop last summer.

The day's action saw Ashley Jackson make his 250th combined England and Great Britain appearance, while Shona McCallin won her 50th cap for GB. On Saturday, she netted her first GB goal.

Subscribe to our print or digital edition for the bigger picture in 2020. Discounts with our partners and major savings on our digital product for global readers. Find out which subscription suits you best. Sign up now!

It's a huge year for the sport – and our mission is for all juniors, grass roots, masters and general hockey lovers to read the game.



The Hockey Paper


---

Great Britain beat women's Black Sticks in epic sudden death international



Black Olivia Shannon (in action here against Belgium last week) scored twice against Britain. BRETT PHIBBS

Great Britain held off a fast-finishing Black Sticks women in Auckland on Sunday, winning In 5-4 in a penalty shootout after the match was tied 2-2 at fulltime.

Black Sticks teenager Olivia Shannon scored her first two goals of her international career in normal time.

The Black Sticks women were looking for an improved effort in their second match of the weekend against Great Britain, yet early on Britain had the best scoring opportunities.

As the first quarter wore on the Kiwis started to look stronger and construct some opportunities themselves, with Olivia Merry shooting just wide.



Olivia Merry shot just wide in the first half. ALISHA LOVRICH/PHOTOSPORT

New Zealand hit the front midway through the second quarter when a quick counter-attack saw Shannon rip a shot past the keeper into the net.

 Britain got back in it when Anna Toman scored from a penalty corner, then Grace Balsdon did the same four minutes later to put Britain in front.

Shannon tied the match at 2-2 when she pounced on a penalty corner rebound.

Great Britain held their nerve to secure a penalty shootout victory 5-4
 
Black Sticks Women 2 (Olivia Shannon 28, 53), Great Britain 2 (Anna Toman 38, Grace Balsdon 42)

*Great Britain won the shootout 5-4

In the men's game Great Britain finished strongly to beat the Black Sticks men 3-0 in the second match of the FIH Hockey Pro League 2020 between the sides.

Great Britain looked clinical early on and never relented throughout the contest.
 
New Zealand coach Darren Smith commented his side's nervous play.

"We were a bit tense today and couldn't work our way into the contest. Great Britain looked like the more clinical side.

"We were able to try some things during the match as we attempted to chase the match."

Black Sticks Men 0, Great Britain 3 (Adam Dixon 14, 55, Liam Ansell 50)

Stuff


---

Belgium have 'best corner routine in world'




Nico de Kerpel says Belgium have the best penalty corner routine in the world after topping the Pro League table in their away legs.

The world champs beat India 3-2 on Sunday after the hosts lost on Saturday. The Red Lions have 14 points from their six games following their early year global pursuit. They will next play at home in May.

After a 3-2 reverse against India, the wounded lions came out fighting and Alexander Hendrickx scored an early PC before a Vivek Prasad equaliser.

The second quarter then saw a flood of goal-scoring activity as Amit Rohidas found the net with Belgium answering immediately with a goal from de Kerpel, the player of the match. Maxime Plennevaux scored the winner in the 26th minute.

De Kerpel said: "It is all about rhythm. If we get the rhythm then we have the best penalty corner routine in the world. We scored from one today, so I hope that we are getting into the rhythm now.

India's captain, Manpreet Singh, said: "I think we have learnt a lot of things over the two games. We had good opportunities but we didn't make the most of them."

He added: "I am really proud of the team. In our matches against Netherlands and Belgium, we started at a good pace from the first whistle and we are scoring in the first minutes. And we have good counter attacks, so now we need to make the most of those."

Meanwhile, Argentina men beat Spain 5-1 on Saturday, while Argentina women ousted USA 6-1.

Subscribe to our print or digital edition for the bigger picture in 2020. Discounts with our partners and major savings on our digital product for global readers. Find out which subscription suits you best. Sign up now!

It's a huge year for the sport – and our mission is for all juniors, grass roots, masters and general hockey lovers to read the game.



The Hockey Paper


---

Belgium beat fighting India 3-2

s2h Team



Photo: s2h photographer Shamim Qureshy

There is no room for mistakes in high stake matches that too if it is against world's number one team, Belgium. The Indians at Bhubaneswar seemed to have learnt the hard lesson today with a defeat to their famed rival (2-3) in the repeat home match of the Pro-League. India twice cancelled out Belgium's lead but conceded the match winner in the 26th minute due to an unforced error coming from its defender Harmanpreet Singh.

It was normal clearance from India's 25-yard area. Harmanpreet pushed the ball hard across to right full back, instead of upfront, only to see it was intercepted near the circle which ended in the cage. This third goal of the World Cup holders went unanswered in the next 34 minutes for their satisfying victory.

One of such mistakes, a scoop across his own circle, cost India the semifinal berth at Jakarta Asian Games two summers ago.

India has so far won three of their four Pro-league matches; Sunday marks its first defeat in the prestigious league.

Quick goals and relentless attacks from both sides marked the first half. Belgium took lead twice in the first two quarters only to see India equalizing. Then when Indian defender Harmanpreet Singh messed up an easy looking clearance midway through the second quarter, Belgium lapped it up at top of the circle to whack their third lead through Plannevaux Maxie.

Earlier, Plannevax struck a beautiful goal off a cross from Simon Gougnard (2-1). Quickness and adeptness of deflection of the cross got otherwise alert looking PR Sreejesh stranded. Belgium struck its first goal off its lone penalty corner it got in the first half. Alexander Hendrick it was who posted the starting goal moments of second minute of the day's proceeding (1-0).

Defender Surender Kumar was seen on attacking mode in the first quarter. It was at this setting, the defender excelled a loot working manoeuvres after manoeuvres, creating chances for scoring. It was one such act that resulted in youngster Vivek Sagar Prasad slipping the ball to the right of goalie Vincent Vanasch to equalize (1-1) to take first quarter break on even term.

Manpreet Singh showed enormous energy and enterprise especially in the crucial third and fourth quarters with nippy run downs, crisp crosses that threatened the Belgium goal. Had only Ramandeep Singh in particular was alert enough, things would have been different. Twice he messed up in one to one situation with goalie much to the chagrin of the Indian bench.

India had three penalty corners compared to lone solitary one by their famed rivals, but Harmanpreet, who was off colour today, could do nothing.

India had been defeating Belgium on the turf or elsewhere continuously last two years which was halted today with its defeat.

Crowd was better today compared to Saturday.

India will take on Australia in its 3rd Phase of Pro-league on 21st and 23rd Feb at the same venue.

Stick2Hockey.com


---

Harmanpreet error hands Belgium 3-2 win over India

Hockey world champion Belgium bounced back from its first-leg defeat to beat India 3-2 in the second leg of the FIH Pro League on Sunday at the Kalinga Stadium.



Belgium celebrates the third goal against India in the second leg of the FIH Pro Leagu tie at the Kalinga Stadium in Bhubaneswar.   -  Biswaranjan Rout

India fought hard but a defensive lapse from Harmanpreet Singh cost it dear as it slumped to it first defeat in the second edition of the FIH Hockey Pro League, losing 2-3 to world champion Belgium here on Sunday.

After defeating world number three the Netherlands in its opening two matches of the FIH Pro League, India beat world number one Belgium in a thrilling match on Saturday to continue its unbeaten run.

But the Manpreet Singh-led side could not repeat Saturday's performance and went down fighting in its second match against world number number one Belgium.

Alexander Hendrickx scored from a penalty corner in the third minute for Belgium but it was Maxime Plennevaux's (17th, 26th) two field goals that ensured the win for the visiting side.

India's goals came from Vivek Sagar Prasad (15th) and Amit Rohidas (17th). The win enabled Belgium to keep its top position at the standings with 14 points from six games, while India is placed second with eight points from four matches.

The Red Lions took the lead as early as in the third minute when Hendrickx scored from a penalty corner after the the initial two efforts of Sebastien Dockier and Thomas Briels were brilliantly saved by India custodian P.R. Sreejesh.

India drew level eight seconds before the end of the first quarter when Vivek tapped in after Surender Kumar's fine work from the right flank.

Belgium restored its lead two minutes into the second quarter through Plennevaux, who deflected in a beautiful pass from Simon Gougnard. But it took India just 30 seconds to level the scores when Rohidas scored off a rebound from a penalty corner.

The Indians matched Belgium in every aspect of the game but were undone when a terrible back pass from gifted Belgium the third goal in the 26th minute. The Indian defender played a pass straight to Nicolas de Kerpel from a free hit, who passed it on to Plennevaux slotted in with a diving effort.

Down by a goal, the Indians made an aggressive start after the change of ends, securing a penalty corner soon but Rohidas' shot was saved by Belgium goalkeeper Vincent Vanasch. In the 44th minute India earned another penalty corner but it bungled the chance as the third quarter produced no goals.

In the final 15 minutes, the Indians pressed hard for the equaliser but sloppy passing and solid defending from Belgium foiled their attempts.

India captain Manpreet Singh blamed the missed chances for his team's defeat.

"I think we have learnt a lot of things over the two games. We had good opportunities but we didn't make the most of them," he said.

"I am really proud of the team. We are starting at a good pace from the first whistle and scoring in the first minutes. And we have good counter attacks so we need to make the most of those."

India will next play Australia in its third round of matches here on February 21 and 22.

Sportstar


---

After winning first leg, India lose 2-3 to world champions Belgium in second clash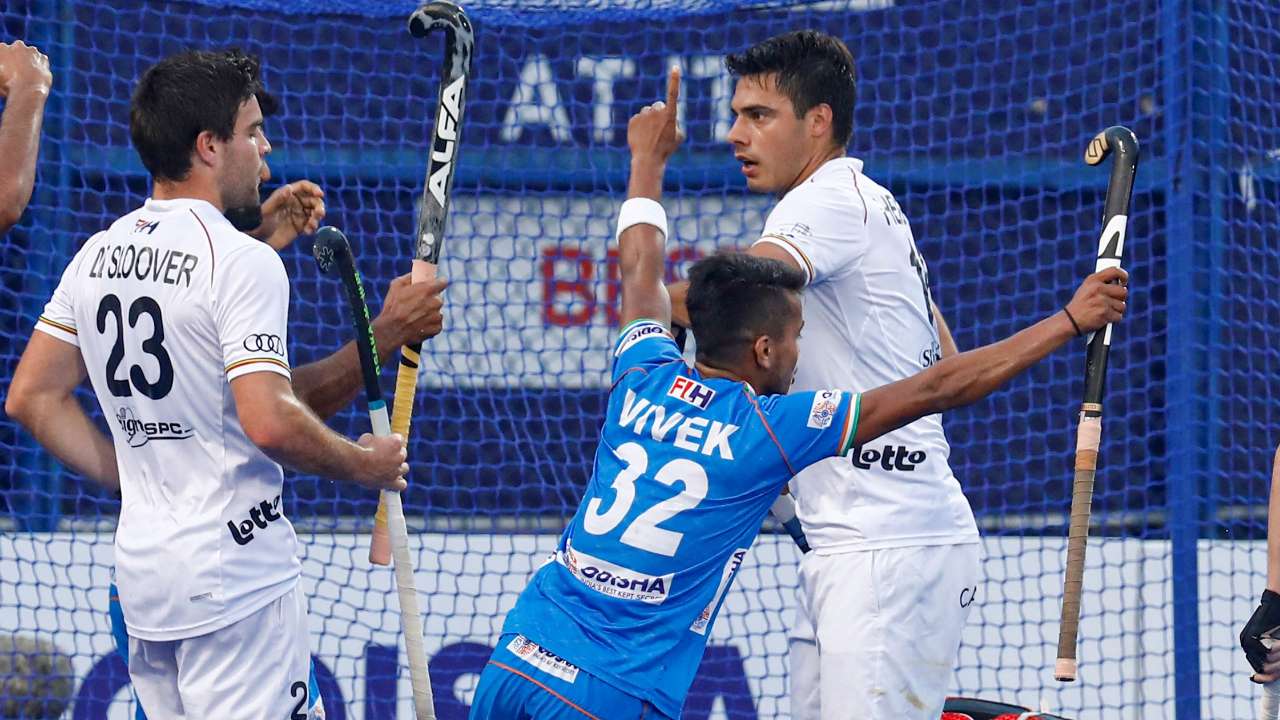 FIH Pro League: India lose 2-3 to Belgium in second clash , Hockey India Twitter

After Indian hockey team won the first clash against No. 1 Belgium, they went down 2-3 in the second clash of the FIH Pro League at the Kalinga Stadium on Sunday.

Despite India had great ball-possession, accuracy, circle entries, penalty corners and an overall better game than Saturday, the Indian side fell short.

"I think the Indian team played better today despite the result," said Belgium head coach Shane McLeod referring to India's 2-1 victory the night before.

"Today was a performance we can repeat. We created opportunities - that's what we have to do. We gifted them two goals which you can't. We just need to execute when we create opportunities; put them in the goal," said Reid, who felt the team lacked in defence, according to Hindustan Times.

"Last night we were strong in defence and stopped them. Tonight we didn't do it upfront."

The Indian coach had made four changes to the winning combination as he wanted to test players ahead of the Olympics.

Gurinder Singh, Birendra Lakra, Chinglensana Singh and Gursahibjit Singh came in for Dilpreet Singh, Rupinder Pal Singh, Kothajit Singh and Nilakanta Sharma.

As for the game, Belgium went on the offensive and earned their lone penalty corner (PC) in the third minute which Alexander Hendrickx (3rd) converted with his flick hitting the roof of the net.

"We really wanted to win. We didn't want to lose two in a row which doesn't happen too often. The players wanted to come back after yesterday's game. Nobody wanted to lose this game," said Belgium captain Thomas Briels, according to Hindustan Times.

As for rankings, India are still second in the standings with eight points behind Belgium and will next take on Australia on February 21 and 22.

Daily News & Analysis


---

22 countries to take part in Nottingham's World Cups




Nottingham Hockey Centre is hosting four World Cups this summer. The hockey centre, home to Beeston Hockey Club, on University Boulevard has been awarded the Men's and Women's' Over 35s and Over 40s Masters World Cups in what will be the biggest masters hockey event ever to have taken place in the United Kingdom at one venue.

England leads the way in International Masters hockey winning 9 Gold medals, 4 Silver and 3 bronze at the last World Cups in 2018 across a number of age-group competitions.

Over 1200 participants will travel from 22 countries to take part in Nottingham's World Cups.

Cllr Dave Trimble, Portfolio Holder for Leisure & Culture at Nottingham City Council, said: "This is fantastic news for Nottingham and will build our status on the global sporting map. Nottingham Hockey Centre has world class facilities and thoroughly deserves to host these World Cups this Summer."

Steve Floyd, World Cup Manager at England Hockey, said "England Hockey has a long, and successful association with the International Hockey Federation in staging major events and I am confident this will be a tremendous event. I look forward to welcoming players, officials and spectators from all around the world to the first-class facility at Nottingham Hockey Centre"

David Griffiths, Chairman at Nottingham Hockey Centre, commented "We are delighted to be hosting the Masters World Cups in Nottingham this summer. We have worked extremely hard developing the site over the last 10 years in order to be able to host events of this scale. There will be over 60 teams from across the world taking part in this 10 day event and we look forward to welcoming them all to our great city."

Further information about the event can be found on the World Cup website at masters2020.hockey

The event will take place 8 -17 August 2020.

England Hockey Board Media release


---

2020 Test matches RSA v USA (M) - 2nd Test
Durban (RSA)

8 Feb 2020     RSA v USA     4 - 2
9 Feb 2020     RSA v USA   2 - 1

Upcoming (GMT +2)

11 Feb 2020 17:00    RSA v USA
12 Feb 2020 09:00     RSA v USA

Live stream and Match replays on the Shoott South Africa Facebook page.

FIH Match Centre


---

South Africa hold firm against stubborn USA

The South African Men and United States of America Men locked horns for the second test at a capacity crowd filled Ashton College in Ballito this afternoon. The African Champions held the 1-0 lead in the series after winning the opening game 4-2.

The South Africans started well creating regular opportunities but the likes of Dayaan Cassiem, Nic Spooner, Tevin Kok and Bili Ntuli were all denied by poor finishing, good goalkeeping or a combination of both. The South Africans were, however, fully in control of the game much to the partisan crowd's pleasure.

That pressure finally told, and the hosts got the deserved lead through Taine Paton playing in his 113th test for his country took advantage of wonderful forward defensive work by his team-mates and emerged into the D with a superb diving finish. It was the goal the South Africans had deserved and although USA had made them work for it, the score was completely fair.

There were a couple of penalty corners kept out before the half time break but at 1-0 up coach Garreth Ewing would have been both happy and frustrated with the lack of killer instinct. His team emerged in the second half with the even more intensity than in the first and they should very much have gone 2-0 up sooner than when skipper Keenan Horne finished off his opportunity after good work around the D.

Once again though the South Africans allowed the Americans back into the game with two green cards and USA finally converted a third PC attempt Aki Kaeppeler. With the score back at 2-1 the South Africans showed no signs of panic and started playing the game more and more in the USA half.

They should have added to the tally with some great opportunities in the final ten minutes, but with the penalty corners not working on the day and some good opportunities squandered they had to settle for a 2-1 win and a 2-0 lead in the series.

The third test takes place at the same venue at 17:00 on Tuesday before the series is wrapped up on Wednesday morning. For the South Africans the attention will then turn to the 6th ranked Germans who will take them on in four tests in Johannesburg.




SA Hockey Association media release


---

Defense Shines for USMNT in Narrow Loss to South Africa




DURBAN, South Africa – Competing in their second matchup in as many days, both the No. 24 U.S. Men's National Team and No. 14 South Africa looked to follow up their performances in front of the crowd at Ashton International College. Both squads fought hard for ball control throughout the contest as USA's defensive unit stepped up time and time again to keep the match competitive and provided momentum swings. After teams swapped goals in the third quarter, South Africa was able to hold off a final push by the red, white and blue to claim a 2-1 victory.

South Africa started off on the front foot in with the home crowd behind them as Austin Smith quickly set up a scoring chance in the opening seconds. USA fought for the ball in their corner but South Africa intercepted near midfield and reset but the shot was off target. The defensive unit of USA stood strong over the next several minutes and halted several opportunities which included key saves by goalkeeper Jonathan Klages (Berlin, Germany). South Africa earned the game's first penalty corner in the 14th minute where Matthew Guise-Brown took the drag off the insert but Klages was in position once again to round out the opening quarter.

Tyson Dlungwana was issued a green card in the 17th minute which Aki Kaeppeler (Stuttgart, Germany) aimed to capitalize on as he led USA's ensuing possession but could not get the team on the scoreboard. In the 22nd minute Tevin Kok was chased into USA's corner where Kei Kaeppeler (Stuttgart, Germany) gained control. The team could not clear however as the ball moved to Taine Paton who gained circle entry and quickly fired a shot behind Klages for the game's first goal. USA settled down and nearly scored moments later but goalkeeper Rassie Pieterse made a save. The teams then exchanged offensive tries to round out the half.

As the third quarter got underway South Africa threatened once more with a penalty corner in the 35th minute, which Keenan Horne converted to extend the lead. Two green cards were also issued in quick succession to Clinton Panther and Dayaan Cassium to put USA up two bodies. They seized the opportunity in the 37th minute on a penalty corner which A. Kaeppeler put into the top corner of the goal. USA settled shortly after and continued to patiently wait for opening's in the opposition's defense but South Africa turned the ball over several times to cool off momentum. Klages and USA's defense were up to the task in response and halted multiple chances to round out the quarter.

Mohan Gandhi (Ventura, Calif.) started off the last 15 minutes of the match swiftly for USA as he found Johnny Orozco on a quick possession near the 25 yard-line. The pass was just out of reach but USA was back on offense seconds later. Momentum paused when A. Kaeppeler was given a green card in the 49th minute. Near expiration, South Africa's Paton picked up a yellow card but USA could not take advantage. Turnovers near midfield continued to damper USA's hopes score the equalizer as the home team shaved time off the penalty and game clock. A final push saw USA drive into the far corner but could not find an opening as time expired.

Today's match marked a career milestone for Gandhi, who played in his 100th international cap. To mark the occasion, the 26 year-old served as USA's captain for today's game.




USA and South Africa continue their summer series on Tuesday, February 11. Fans can tune in and watch live stream coverage of the series on the Shoott South Africa Facebook page.

USFHA media release


---

Continuous improvement is key to Janne's success




Germany's Janne Müller-Wieland is a multi-capped (more than 300 international caps), multi-medalled stalwart of Die Danas. In recent times, she has led her team to bronze at the 2016 Rio Olympic Games, gold at the 2018 Indoor World Cup, silver at the 2019 EuroHockey Championships and bronze in the FIH Hockey Pro League Grand Final in 2019.

In leading her team to victory over Italy at the 2019 Olympic Qualifier matches, she has also given herself the best shot at participating at her fourth Olympic Games – she first competed in Beijing in 2008.

Each of the Hockey Stars interviews published on the FIH website are with the nominees for Best Player. The winning athletes will be announced on February 13.

What does the nomination for FIH Best Player mean to you?
Janne Müller-Wieland: "The nomination is a great honour and it is probably the biggest thing you can achieve as an individual hockey player but obviously in the end it is about the team. But yes, this is great.

Looking back to 2019 what was your best and most memorable moment?
Janne Müller-Wieland: "We had a lot of highlights last year but I think the most memorable bit is that we turned a lot of games around, including a lot of important games in the Pro League and at the EuroHockey Championships as well. That became a strength of ours."

Why do you think 2019 was such a good year for you?
Janne Müller-Wieland: "Thanks to the Pro League and the Europeans and the Olympic Qualifiers, we had so many games last year and I played every single Pro League game. So there was a lot of exposure, a lot of chances to compete against the best players in the world and naturally that makes you a bit better as well."

Starting from this year, you and your team have made a pledge to make a difference in the world. Can you explain further?
Janne Müller-Wieland: "Because of international hockey you have to travel a lot and obviously that is not helping our CO2 emissions or our carbon footprint. That is why, as a team, we wanted to do something about that. We want to off-set our own emissions but we want to give every other hockey team the opportunity to off-set their own emissions too. We all have to do something, so we started to build a hockey forest and we are going to plant trees and we invite everyone else to donate a tree and we will plant it for you. It is our way of making the world a little bit of a better place."

What are your dreams and aspirations for this year?
Janne Müller-Wieland: "We want to continue to develop on the way we played last year. In the end we hope we can play the best hockey we can possibly play and get as far in competitions as we possibly can."

#HockeyStarsAwards

FIH site


---

Indian Women's hockey: Haryana razes SAI to clinch National Senior A-division title

Haryana pumps in six goals in a one-sided final; MPHA takes third place.

M. R. Praveen Chandran



Champion: The winning team, Haryana. - C. SURESH KUMAR

In the end, the final turned out to be anti-climatic and one-sided as Haryana lived up to its favourite's tag and trounced SAI 6-0 to win the 10th National Senior Hockey (A division) championship title at the National Games Hockey stadium here on Sunday.

There were no more comebacks for the young SAI side which ran out of steam after a promising start.

SAI dominated the first quarter during which it earned three penalty corners. But SAI's penalty-corner conversions left a lot to be desired as Haryana survived. It was a different Haryana side which took the field in the second quarter. The former champion shrugged off its defensive approach and played with lot of verve and aggression in the midfield, much to the discomfort of SAI defence.

Haryana took the lead in the 19th minute. Annu, after receiving a pass from the right, sold her marker a dummy and pushed the ball towards an unmarked Manisha, who scored. Poonam Rani did the spadework for the second goal with an excellent pass which was deflected in by Annu in the 22nd minute.

SEMIFINAL REPORT

SAI managed to keep a clean sheet in the third quarter despite being at the receiving end of the Haryana attack.

However, Haryana stamped its class by scoring four goals in the last quarter. Kajal struck a field goal in the 47th minute and Deepika made amends for her earlier misses by scoring the fourth goal in the 50th minute. Haryana kept up the pressure and scored twice again through Usha (59) and Deepika Sen (60). The latter converted a penalty corner in the dying minutes of the match to complete an excellent day for the champion side.

'Excellent'

"We played excellent hockey today. I am proud of my girls. SAI's performance was not up to the mark," Azad Mallik, the Haryana coach, said after the match.

Madhya Pradesh Hockey Academy finished third after defeating Maharashtra 2-1 in the loser's final.

After a cagey start, the tournament's top scorer, Rutuja Pisal, scored her 10th goal to put Maharashtra ahead in the 25th minute. However, MPHA struck twice in two minutes through Jyoti Pal (31) and Sadhana Senger (33) to turn the contest on its head.

The results

Final: Haryana 6 (Manisha 19, Annu 22, Kajal 47, Deepika 50, Usha 59, Devika Sen 60) bt SAI 0.

Loser's final: Madhya Pradesh Hockey Academy 2 (Jyoti Pal 31, Sadhana Senger 33) bt Maharashtra 1 (Rutuja Pisal 25).

Sportstar


---

Away goals rule in men's EYHL as reds snatch big win while Garvey almost shocked by YM



TRR's Jody Hosking and Pembroke's Alex Burns tangle. Pic: Adrian Boehm

Five away wins in the Irish men's EYHL with a huge 36 goals registered; Corinthian were the one side from the bottom half to win as YM came close to a big result against Lisnagarvey

Men's EY Hockey League – day nine round-up

UCD 3 (C Empey 2, A Empey) Corinthian 4 (P Caruth, G Holmes, D Howard, I Stewart)

Ian Stewart netted with six minutes to go to grab Corinthian a big away win, moving them into sixth place on their own and keep up their interest in the playoff places.

In gale-force conditions, the reds burst into a 2-0 lead with Glenn Holmes on the mark in the first quarter and – after UCD hit the crossbar – David Howard converted a stroke. Conor Empey pegged one back within two minutes of that and his younger brother Ali levelled at 2-2 before half-time.



Corinthian coach Joe Brennan. Pic: Adrian Boehm

Conor Empey slung home a corner for 3-2 but Peter Caruth responded in kind for 3-3 at the quarter-time break before Stewart weighed in with the winner, his fourth goal in two games since the turn of the year – he has eight for the season.

"They're learning at an incredible rate and are so hungry, taking on any sort of knowledge myself and Peter [Caruth] can give them," coach Joe Brennan said after the twin. "They keep pushing on and hopefully we can now put ourselves in the hunt because I want to battle for top four rather than just staying up.

"We've shown ourselves as being hard to beat but maybe it's important to change the mindset."

He also hailed Charlie Henderson's involvement in goals. "We were lucky enough to be able to call on someone of Charlie's calibre. While he is not the youngest and hasn't played in five years, he is such a great guy to have around. He does the basics so well in goals and is a big, positive character so you couldn't ask for someone better to do what he has done for us."

YMCA 2 (R Henderson, T Power) Lisnagarvey 3 (A Williamson 2, M McNellis)

Lisnagarvey produced a big comeback to beat ninth place YMCA as the leaders got an almighty scare as the Wesley hosts impressed but were frustrated not to be more from the game.

Ross Henderson's deflection got them up and running in the 11th minute and Tom Power also got a first time finish to make it 2-0 to the Y two minutes later.

Garvey ramped up the pressure in the second quarter with a quartet of corners kept out by Jakim Bernsden and his defence but the Ulster side had a lifeline when Andy Williamson netted his 15th goal of the campaign.

His 16th arrived early in the second half before Mark McNellis scored a rare goal in the 43rd – Garvey's third strike in 12 minutes either side of half-time – to turn the game around. YM fought back and had corner chances to get something out of the game but Grant Glutz was denied by James Milliken, leaving it at 3-2.

It keeps Lisnagarvey five points clear at the top while YM are in ninth in the relegation playoff place, five clear of bottom side Annadale.

Glenanne 4 (S Boucher 3 S Ronan) Banbridge 7 (J Wright 2, J McKee, E Magee, R Scott, J Moffett, Pe Brown)

Banbridge continued their strong form with a fifth win in six outings to move into third place, level on points with UCD and Three Rock Rovers at the halfway stage of the league.

They got off to a slow start as Shannon Boucher ripped in a corner; Peter Brown equalised quickly after Owen Magee's perfectly weighted pass found Philip Brown who centred to his younger brother to finish on his reverse.

Boucher got the second when Gary Shaw took a free-hit in the right corner and fired across to the striker who touched in behind his back, going in off a defensive leg. Josh Moffett equalised for 2-2 when Owen Magee burst around the back and laid up for Jonny McKee; his initial shot was blocked but his team mate cleaned up the chance.

And it was 3-2 before the end of the quarter, Eugene Magee this time picking out Robbie Scott for a simple finish at the quarter-time break. The older Magee added a corner for 4-2 before Bann started to pick off some ragged outletting – Hugh McShane intercepted a blind pass in midfield, leading to Jamie Wright's shot going in via a deflection in front of Leo Micklem.

Then McKee stole in after a miscontrol on the 23-metre line gave him a clear run on goal, shooting in on his backhand – 6-2 at half-time. Wright got his second for 7-2 with a tap-in after a swift move down the left wing which McKee spun back into the path and Eugena Magee slapped to the waiting Wright at the right post.

Boucher completed his hat trick and Stu Ronan scored a stroke late in the game but Bann were well in the clear at that stage.

Pembroke 2 (A Sothern, J Ryan) Three Rock Rovers 5 (B Walker 2, M Darling, P Blakeney, R Canning)

Three Rock Rovers landed their fifth win of the campaign with a 5-2 win at Serpentine Avenue after a strong first half performance had them well in the clear. After a couple of direct corner chances were well defended, Rovers deployed a couple of deflection moves which Ben Walker guided in both times, making it 2-0 in the 20th minute.

Mitch Darling added a third before half-time and Peter Blakeney scored another for 4-0 in the second half, going around the goalkeeper at the back post following Harry Morris's turnover and drive.

Pembroke got on the board early in the fourth quarter via an Alan Sothern drag-flick in the 55th minute and the game became frantic when Jack Ryan got another back with eight minutes to go from play. But nerves were settled with a couple of minutes left via Ross Canning. Rovers move up to 16 points with, level with UCD and Banbridge.

Annadale 0 Monkstown 6 (D Carson, S Cole, G Watkins, R Quirke, R Nichols, M Gibbons)

Monkstown bounced back from their first defeat of the season with a comfortable 6-0 win over bottom side Annadale at Strathearn. Rory Nichols' eighth goal of the campaign put them 1-0 up in the 22nd minute and Stephen Cole doubled up for a 2-0 half-time lead from a corner rebound.

Davy Carson stretched the lead to 3-0 with a first time reverse on the run. The fourth was a brilliant team move with Mark Gibbons getting in front of his defender to finish off. Ross Quirke smashed the fifth into the roof of the net and the sixth was a late stroke from Gareth Watkins after Carson was fouled when rounding the goalkeeper.

The Hook


---

Loreto go clear as Alex continue their rise as major players in women's EYHL



Catholic Institute's Roisin Upton holds off Orla Macken. Pic: Adrian Boehm

Loreto moved three points clear at the head of the Irish women's EYHL as Old Alex landed a big win at Pegasus; Belfast Quins nick draw against Muckross while Pembroke tie with Insta. UCD saw off Railway

Women's EY Hockey League

Cork Harlequins 1 (R Barry) Loreto 2 (S Torrans, S O'Brien)

Loreto moved top of the women's EY Hockey League table for the first time as they struck twoce in the last 14 minutes to land a 2-1 win over Cork Harlequins at Farmers' Cross.

Like a week before, Harlequins got off to a great start, winning early corners but chances were at a premium initially.

The Dubliners – who were without Hannah Matthews – upped the ante at the start of the second quarter with Kate Murphy the busier goalkeeper before the hosts went ahead when Nikki Barry's long corner found Michelle Barry who unleashed a reverse-stick cross which Rebecca Barry got a beautiful deflection to.

Loreto responded in kind and hit the post soon after but remained 1-0 behind until the final quarter when they eventually got level courtesy of a speedy counter-attack, finishing off by Sarah Torrans. Five minutes later and Siofra O'Brien had the winner when she profited on confusion at the heart of the Quins' defence to score from play.

Pegasus 1 (K McDonald) Old Alex 2 (E Russell, R Evans)

Old Alex made it 10 points from the last 12 available to move into a share of second place with Pegasus, the side they beat on Saturday. Emma Russell's first quarter goal following a move down the right wing put Alex in front and that lead was augmented when Rebecca Evans applied the scoring touch to a corner deflection move.

Kerri McDonald pulled one back in the third quarter with a corner strike of her own but no equaliser was forthcoming and Alex had their sixth win of a productive campaign. Both sides are now three points behind Loreto.

Belfast Harlequins 3 (S Barr, K Welshman, J Dennison) Muckross 3 (A O'Flanagan, S Cannon, S Barnwell)

Julie Dennison's scrambled penalty corner finish on the final blow saw Belfast Harlequins grab their second point of the season, meaning Muckross had to settle for the fifth draw from nine outings this term.

Anna O'Flanagan put Muckross ahead in the eighth minute with a lovely defelction in front of the goalkeeper but it was annulled within three minutes by her international team mate Serena Barr with a textbook corner strike, Jenny McAuley winning the set piece.

Susie Cannon returned the Dubliners to the lead just before half-time, showing grit to get the ball over the line. Her side survived a spell down to nine players in the second half and went further clear early in the fourth quarter when Sophie Barnwell cleaned up off Suzie Taylor's pads.

Katherine Welshman pulled one back to make it lively with 15 minutes to go and Quins carried that momentum on, winning a last minute corner that Barr swept goalward. It got have a stop from Ellie McLoughlin but injector Dennison eventually got a hold of the ball and flipped it in on her backhand.

UCD 3 (H McLoughlin, L Tice, E Nyland) Railway Union 0

UCD won a high-quality tussle at Belfield despite rough conditions to strengthen their place in the top four at the halfway stage. They led from the end of the first quarter when Hannah McLoughlin scored from a penalty corner that she won herself. Earlier, Railway had plenty of pressure, forcing Clodagh Cassin into a couple of big saves while Michelle Carey went close.

Very little separated the sides in the second and third quarter as penalty corners were traded back and forth. But the game was settled in the last five minutes with a couple of late goals, Lena Tice dragging in for 2-0 and Edel Nyland scored her first for the club into a keeper-less goal in the final minute.

Pembroke 1 (E Beatty) Catholic Institute 1 (C Moloney)

Catholic Institute picked up their fifth point of the season as fifth placed Pembroke's wait for a first win since November goes on. Pembroke went in front in the seventh minute courtesy of a cracking goal from Emily Beatty.

But Insta were a strong match for the Dublin 4 side with Naomi Carroll drawing a great save from Aoife Glennon while Roisin Upton's corner shot was also denied by a top stop just before half-time.

A couple more corners for the Limerick side came along, one of which was deflected in by Ciara Moloney for the equaliser with eight minutes to go. The result sees Insta remain in ninth place, chipping away at the gap to the likes of Cork Harlequins and Railway Union.

The Hook


---

Lucky 13 for bros

By R. KIRUBASHINI



Opportunist: Terengganu's Fitri Saari (second from right) in action against UiTM during the Malaysia Hockey League match at the Tun Razak Hockey Stadium in Jalan Duta yesterday. — CHAN TAK KONG/The Star

KUALA LUMPUR: You can call it a lucky 13 for the Saari brothers, Faizal and Fitri.

The Terengganu duo stole the show by scoring in quick succession in the 13th minute en route to their team's 3-0 win over Universiti Teknologi Mara (UiTM) in the Malaysia Hockey League (MHL) at the Tun Razak Hockey Stadium in Jalan Duta.

Faizal opened the scoring after converting a penalty stroke awarded for a foul by a UiTM player in the penalty area.

UiTM had no time to rue their error as seconds later, captain Fitri joined in the party by doubling the east coast side's lead with a field goal.

The brothers' quick-fire strikes gave Terengganu a 2-0 lead in the first quarter.

Terengganu then had to wait until the 57th minute to add their third goal when Mohd Umar Bhutta scored after a penalty corner attempt that deflected off UiTM goalkeeper Mohd Fitri Jasni.

It was Terengganu's eighth win from 11 matches.

What made the win more special was Fitri's determination to play despite having fever.

The 26-year-old Fitri was pleased with the win and his own performance.

"I just did my best. I did not want to let the team down despite being a little unwell, " said a determined Fitri.

"Today, we just tried to keep it simple. We did not underestimate UiTM because they have beaten Maybank and drawn with TNB, so we had to take them seriously and play well.

"I am proud of the team as we managed to win comfortably. Earlier, we had struggled to beat smaller teams. We only got a narrow 3-2 win over TNB Thunderbolts. So I am happy with the team for showing improvement today, " explained Fitri.

On the chances missed especially through penalty corners, Fitri admitted that his team had to improve their conversion rate.

"UiTM's defending of penalty corners was good today. Their goalkeeper could read our attempts and save well. We have to take more of our chances or we will suffer in the future, " said Fitri.

The skipper will now shift his focus to winning the TNB Cup with Terengganu.

"Our target now is to become overall champions (by lifting the TNB Cup) as we cannot win the league anymore, being too far behind leaders UniKL (Universiti Kuala Lumpur).

"So we will just try to do well in the rest of the league games, then focus fully on winning the Cup."

The Star of Malaysia


---

D-Day for Dharmaraj

By Jugjet Singh



K. Dharmaraj

Coach K. Dharmaraj was not his usual smiling self though his side, Terengganu Hockey Team (THT) beat Universiti Teknologi Mara 3-1 in the Malaysia Hockey League (MHL) yesterday.

Dharmaraj's demeanour was understandable to those around him, because he is about to make a big decision on his life today.

He has reached a crossroad after coaching the national men's juniors and seniors, the national women's juniors and seniors as well as the Philippines women's indoor team.

"Yes, I have called for a press conference tomorrow to announce my next direction and plans in life. That is all I can reveal," said Dharmaraj yesterday.

The Malaysian Hockey Confederation (MHC) did not renew all their coaches' contracts, except for Roelant Oltmans last December.

Among the coaches affected were Dharmaraj (national women's team), Nor Saiful Zaini (national juniors) and national assistant coach Stephen van Huizen, as well as others under contract with MHC and National Sports Council.

They were told to apply for the jobs concerned this month, and the closing date for women's coach is midnight Monday. But some, like Wallace Tan (men's junior coach) and Lailin Abu Hassan (women's junior coach) have been rehired since.

It is believed that more than 10 coaches, local as well as from abroad, have written in for the senior women's coaching position.

On THT's win, Dharmaraj said: "We are chasing for the second spot as UniKL have already laid a strong claim on the title."

The THT goals were scored by Faizal Saari (13th), Fitri Saari (13th) and Umar Bhutta (57th).

RESULTS — Men: Terengganu HT 3-UiTM 0, UniKL 3 Thunderbolts 1, NurInsafi 4 Maybank 5, Tenaga 7 HockAdemy 1.

New Straits Times


---

Dharmaraj won't re-apply for coaching position



K. Dharmaraj will rest while waiting for offers.

KUALA LUMPUR: Award winning hockey coach K. Dharmaraj has made up his mind not to re-apply for the coaching position he was asked to vacate in December.

Instead, he will now rest while waiting for offers.

The Malaysian Hockey Confederation (MHC) did not renew all their coaches' contracts, except for Roelant Oltmans, in the middle of last December.

This drastic measure was taken after Malaysia were whipped 9-3 on aggregate by Britain in the London Olympic Qualifier.

And the coaches were told to re-apply for their old positions, which was also opened to all others including overseas coaches. For the senior women's coaching job, the closing date is midnight today.

Dharmaraj had called for a high-noon press conference at the Kuala Lumpur HA, and accompanied by his wife Suhaida Shaiyuddin, he gave his reasons.

"This is a big decision in my life. And I am taking this stand after certain quarters came between me and my employers and created fiction," said Dharmaraj.

New Straits Times


---

GALA Day 2020 delivers goals, drama and trophies



9 February 2020 at Bells Sports Centre, Perth. Scottish Hockey Indoor Gala Finals.
Women's Grand Final – Dundee Wanderers v Clydesdale Western – photo by Duncan Gray

GALA Day 2020 delivered four top-quality matches full of goals and drama at Bells Sports Centre in Perth.

Inverleith won the men's final; Clydesdale Western were crowned women's champions; while Hillhead retained their Women's National League 1 status with Watsonians gaining promotion in the men's promotion/relegation match.

Women's Grand Final | Dundee Wanderers 2-3 Clydesdale Western

A dramatic last minute winner saw Clydesdale Western crowned champions of Women's National League 1 at GALA Day 2020.

The game got off to a flying start with an early goal from Clydesdale Western; a powerful low finish by Margery Justice made it 1-0.

It was an opening quarter played at an intense tempo with both sides working hard to open the other's defence.

It went to 2-0 at the end of the first quarter approached. Holly Steiger struck with a nice deflected finish in front of the goalkeeper to put Clydesdale Western at a two-goal advantage.

Into the second quarter and the high tempo continued. Wanderers struck back as a lightning strike into the bottom left corner by Vikki Bunce pulled it back to 2-1.

Another powerful strike across the goalkeeper Amy Snell made it 2-2 as Wanderers turned the screw before half time.

Millie Steiger came into the contest as the game continued and played some scintillating hockey for Clydesdale Western, but the scores remained even at half time.

An explosive Wanderers attack down the left opened Clydesdale up but an excellent diving save denied what looked a certain goal.

Wanderers were awarded a penalty stroke and Emily Dark stepped up to strike it, the effort fizzing wide of the left post.

Clydesdale Western were next to have a pop at goal and Fran Lonergan saw her low effort skip just wide of the mark.

The final minutes of the contest were an absolute battle with both sides trying to land a knockout punch. The game roared from end-to-end and the crowd were on the edge of their seats.

Then a slick Clydesdale counter saw Millie Steiger finish clinically at the far post in the final seconds to win the contest 3-2.

Men's Grand Final | Grove Menzieshill 3-4 Inverleith

Inverleith were crowned men's champions at GALA Day 2020 after a sensational final at Bells Sports Centre in Perth. A goal from Derek Salmond in the final seconds saw the Edinburgh side take victory after a contest of the highest quality.

It was a golden start for Grove Menzieshill when Cammy Golden fired home an early goal with a low strike from a penalty corner for 1-0.

The contest was played at ferocious speed as both sides went hunting for goals, making an excellent spectacle for the fans at bells.

Stephen Dick equalised for Inverleith right at the end of the first quarter. His low flick smashed off the post, zipped along the line, hit the other post and went in for 1-1.

Inverleith enjoyed some pressure as the quarter progressed but found the Grove Menzieshill defence to be stubborn.

The first half came to a close even but promised a big second half of action-packed drama.

Inverleith took the lead early in the second half when Patrick Christie popped up at the far post to convert under pressure. 2-1.

Grove Menzieshill began piling on the pressure and they got their reward when Cammy Golden slammed home his second of the match – a low pile driver against the backboard to make it 2-2.

A penalty stroke went the way of Inverleith and Christie's effort from the spot went wide of the bottom left corner.

Inverleith thought they had the ball in the net but it was disallowed and allowed Grove Menzieshill to break quickly. Jamie Golden took the ball in acres of space, rounded the goalkeeper, and scored to make it 3-2 for Grove Menzieshill.

There were 90 second left on the clock when Jack Jamieson equalised for Inverleith with a low finish after a neat penalty corner exchange.

The drama wouldn't end there. Derek Salmond slipped home a clinical finish with 20 second left to make it 4-3 to Inverleith and steal the trophy at the death. It was a stunning ending to a sensational final.



9 February 2020 at Bells Sports Centre, Perth. Scottish Hockey Indoor Gala Finals.
Men's Grand Final – Inverleith v Grove Menzieshill – photo by Duncan Gray

Women's National League 1 promotion/relegation | Hillhead 3-3 (1-0) CALA Edinburgh

A dramatic shootout was required to settle the Women's National League 1 promotion/relegation match with Hillhead retaining their status in the top division.

It was Hillhead who struck an early goal through Zoe Irvine; her well finished low drive against the backboard put the Glasgow side 1-0 up.

Cala began to settle and caused some problems down the right, prompting one good diving save to keep Hillhead in the lead.

Then Cala equaliser through Amie Jayne Russell, a sweet deflection at penalty corner so the ball hit the roof of the net for 1-1.

The Cala surge continued as the first quarter progressed and they almost took the lead at the end of the first quarter. Another penalty corner routine fashioned the opportunity but the ball was well blocked to keep the scores even.

The second quarter became a more tentative affair with neither side creating any clear opportunities.

Then right before half time a lovely exchange between Hillhead's Zoe Irvine and Olivia Robertson opened the goal for a strike at close range, but the ball managed to escape the attack at pace.

In the third quarter Hillhead took the lead from a penalty stroke – Rachel Osborne slammed the ball into the bottom right corner to make it 2-1.

A Cala penalty corner in the last minute of the quarter was well saved and prompted a goalmouth scramble that Hillhead eventually managed to clear.

Early in the final quarter an instinctive finish by Katie Fleming put Hillhead 3-1 ahead. A lovely deflection wrong-footed the goalkeeper and found the bottom right corner to put Hillhead in the driving seat.

Cala took off their goalkeeper for the final two minutes and threw everything at Hillhead.

It prompted a tremendous late fightback. Angela Davie converted a penalty corner before Abbie Grant finished clinically across the goalkeeper. Suddenly it was 3-3 and running penalties.

The shootout was as close as the match and only one goal separated the teams.

Hillhead's Irvine slid her running penalty into the bottom left corner for a 1-0 shootout victory.



9 February 2020 at Bells Sports Centre, Perth. Scottish Hockey Indoor Gala Finals.
Womens Division 1 promotion/relegation playoff game – Hillhead v CALA Edinburgh. – photo by Duncan Gray

Men's National League 1 promotion/relegation | Clydesdale 4-4 (1-2) Watsonians

The Men's National League 1 promotion/relegation battle required a shootout to decide the winner after an action packed 4-4 draw, with Watsonians relegating Clydesdale in the shootout with a 2-1 win.

It was a good start to the match for Clydesdale when Chris McFadden shot just over bar from an early penalty opportunity.

Watsonians then opened the scoring when a Fraser Sands penalty corner somehow found the back of the net, the ball bouncing innocuously over the line. 1-0.

Clydesdale had an effort saved on the buzzer when Chris McFadden had a shot stopped low at the bottom left corner.

Watsonians put Clydesdale under pressure early in the second quarter with back-to-back penalty corner.

Fraser Sands found the top left corner with the second effort to make it 2-0, bagging his second of the match in the process.

Clydesdale's Ali Douglas nearly connected with the ball when he dove in at the far post at a cross-goal pass, then Watsonians broke and Dave Patterson shot just wide of the right post on the counter.

Clydesdale pulled one back when a Struan Walker top quality finish from a corner saw the ball hit off the post and in for 2-1.

Early in the second half Walker converted a second drag flick into the top left corner to level the scores at 2-2.

Walker bagged his hat-trick shortly after with a slick close-range finish to lift the ball over the goalkeeper and in for 3-2.

Watsonians equalised through an excellent far post finish by Patterson, his second of the contest to make it 3-3.

The match tore from end-to-end with both sides looking like they could score with any attack.

Ben Galloway put Clydesdale back in front midway through the final quarter, he forced ball home across the goalkeeper.

Immediately Watsonians equalised with a powerful low drive by Sands to make it 4-4 and take the game to a shootout.

The finishing in the shootout was impressive but it was Watsonians who took a 2-1 victory with goals from Sands and Pedro Garcia, and secured promotion in the process.



9 February 2020 at Bells Sports Centre, Perth. Scottish Hockey Indoor Gala Finals.
Mens Division 1 promotion/relegation playoff game – Clydesdale v Watsonians – photo by Duncan Gray

Scottish Hockey Union media release


---

Hockey's bushfire relief contribution hits $100,000




Hockey Australia is delighted to announce over $100,000 has been raised for bushfire relief following the recent FIH Pro League matches in Sydney plus various other fundraisers by hockey clubs, teams, and current and former players.

"This is a fantastic result towards helping those who have been adversely affected by the disastrous bushfires," said Hockey Australia CEO Matt Favier.

"On behalf of the Hockey Australia Board, I sincerely thank everyone, including our corporate partners and the Hockey Associations of India and Great Britain, who have contributed to this cause."

"The impact of these fires will be felt for a long time to come and the way the greater hockey community has put its hand up to assist has been outstanding."

Hockey Australia and its corporate partners

A total of $38,000 was donated to the Red Cross Bushfire Appeal by Hockey Australia (HA) and its corporate partners Ausdrill through its parent company Perenti, TigerTurf and Westfund after the Hockeyroos and Kookaburras combined for 19 goals over their FIH Pro League matches in Sydney.

HA and the three organisations pledged $500 for every goal scored by Australia's national teams across the four match days in Sydney.

This amount will increase with major partner Fortescue Metals Group to donate $500 for every Australian goal scored during the four FIH Pro League double headers in Perth in March and May.

Kalindi Commerford

Hockeyroo Kalindi Commerford donated $1,750 out of her own pocket to the Treading Lightly Inc Milton Ulladulla Region Bushfire Appeal after pledging $50 for every goal scored by all teams across the weekend of Pro League matches against Belgium. This also included a $100 donation for the goal she scored, while a few of her Hockeyroos teammates also contributed over $100 to the cause.

Australian Indoor Hockey Festival

Across the three weeks of the Australian Indoor Hockey Festival in Wollongong, $5,436.85 was raised for bushfire and drought relief.

Jamie Dwyer

Australian hockey legend Jamie Dwyer raised $11,000 for the Red Cross Bushfire Appeal after offering to give away his Rio Olympics playing shirt and hockey stick as incentive for people to donate. HA also auctioned off two personalised Jamie Dwyer frames which made $500 each.

Kookaburras clinics

Over $1,200 was raised through two coaching clinics organised by players from the Kookaburras prior to the two Pro League matches against Great Britain at Sydney Olympic Park.

Member Associations

Hockey Victoria donated $5,000 towards the Victorian Bushfire Appeal, while Hockey ACT are providing support through the #WeAreOne campaign.

Hockey India

Hockey India made a US$25,000 donation plus signed shirts with all funds going to the Red Cross Bushfire Appeal.

Great Britain clinic

Great Britain's Men's Team conducted a clinic at Ryde Hockey Club in Sydney to raise $1,200 for the Red Cross Bushfire Appeal, which included the auctioning of a signed Great Britain team shirt.

Details of the fundraising campaigns including how to donate can be found here.

Hockey Australia media release