All the news for Tuesday 13 August 2019

African Hockey Road to Tokyo 2020 (Men) - Day 2
Stellenbosch (RSA)

Results

12 Aug 2019     EGY v ZIM (RR)     6 - 0
12 Aug 2019     GHA v KEN (RR)     3 - 2
12 Aug 2019     RSA v NAM (RR)     3 - 1

Fixtures (GMT +2)

13 Aug 2019 13:00     EGY v KEN (RR)
13 Aug 2019 15:00     NAM v GHA (RR)
13 Aug 2019 19:00     RSA v ZIM (RR)

Live streaming on https://www.facebook.com/ShoOTTSA/ (No commentary)

Pool Standings
| Rank | Team | Played | Wins | Draws | Losses | Goals For | Goals Against | Goal Difference | Points |
| --- | --- | --- | --- | --- | --- | --- | --- | --- | --- |
| 1 | Egypt | 1 | 1 | 0 | 0 | 6 | 0 | 6 | 3 |
| 2 | South Africa | 1 | 1 | 0 | 0 | 3 | 1 | 2 | 3 |
| 3 | Ghana | 1 | 1 | 0 | 0 | 3 | 2 | 1 | 3 |
| 4 | Kenya | 1 | 0 | 0 | 1 | 2 | 3 | -1 | 0 |
| 5 | Namibia | 1 | 0 | 0 | 1 | 1 | 3 | -2 | 0 |
| 6 | Zimbabwe | 1 | 0 | 0 | 1 | 0 | 6 | -6 | 0 |
---

African Hockey Road to Tokyo 2020 (Women) - Day 2
Stellenbosch (RSA)

Results

12 Aug 2019 09:00     GHA v ZIM (RR)     3 - 1
12 Aug 2019 11:00     NAM v KEN (RR)     0 - 1

Fixtures (GMT +2)

13 Aug 2019 11:00     GHA v KEN (RR)
13 Aug 2019 17:00     RSA v ZIM (RR)
Live streaming on https://www.facebook.com/ShoOTTSA/ (No commentary)

Pool Standings
| Rank | Team | Played | Wins | Draws | Losses | Goals For | Goals Against | Goal Difference | Points |
| --- | --- | --- | --- | --- | --- | --- | --- | --- | --- |
| 1 | Ghana | 1 | 1 | 0 | 0 | 3 | 1 | 2 | 3 |
| 2 | Kenya | 1 | 1 | 0 | 0 | 1 | 0 | 1 | 3 |
| 3 | South Africa | 0 | 0 | 0 | 0 | 0 | 0 | 0 | 0 |
| 4 | Namibia | 1 | 0 | 0 | 1 | 0 | 1 | -1 | 0 |
| 5 | Zimbabwe | 1 | 0 | 0 | 1 | 1 | 3 | -2 | 0 |
---

SA Hockey Men get started on the African Hockey Road to Tokyo 2020



Picture - Eunice Visagie

The opening day of the African Hockey Road to Tokyo 2020 got underway at University of Stellenbosch today with six African Hockey nations competing for the continents ticket to the Tokyo Olympic Games.

The South African Hockey Men got the tournament off to a good start with a 3-1 win over Namibia. The match was also the 150th cap for long-time goalkeeper Rassie Pieterse and he was presented with a pennant to mark the achievement.

After a goalless first half the South Africans broke the deadlock through the mercurial Dayaan Cassiem. The Western Province local forced an error in defence by the Namibians before he surged into the D and finished expertly past the impressive DJ Strauss in goals for the Namibians.

Into the final quarter South Africa made the game safe as Austin Smith, another local in the South African team, earned himself a brace through penalty corners. The first was a low drag flick just over the backboard before the second was a rocket into the top right corner. There was time for a late consolation goal for Namibia that their performance deserved. Percy Barthram got onto the end of a penalty corner variation to finish the game 3-1.

Egypt had earlier laid down a marker with a 6-0 win over Zimbabwe. The star of the show was hat-trick king Ahmed Elganaini, while there was a brace from Amr Sayed and Amr Ibrahim completed the scoring to get the Northern Africans off to a fantastic start.

Ghana twice came from behind to deny Kenya and steal a big opening day win. The highlight being a last-minute winner that sent the Ghanaian fans into raptures. Constant Wakhura had opened the scoring for the Kenyans before Benjamin Kwofie levelled for Ghana. Festus Onganyo would have sent the fans into raptures giving Kenya a late lead before Ghana produced an outstanding fightback through Elikem Akaba and then skipper Salya Nsalbini to win a superb encounter.

The SuperGroup South African Hockey women had a bye on the opening day as the women's tournament only has five nations competing and were able to get an early look at this opposition. In the opening game of the tournament it was the Ghanaian Women who landed the first strike. They were victorious 3-1 over Zimbabwe. Vivian Narkuor got herself a first quarter brace to give the West Africans an early 2-0 lead. Sophie McDonald gave the Zimbabweans a glimmer of hope with a 21st minute field goal before Roberta Sarfo made the game safe for Ghana.

A spirited performance from Namibia was not enough in the second game against Kenya with Grace Makokha scoring the only goal of the game to give the East Africans a winning start against their Southern African opponents.

African Hockey Road to Tokyo 2020 Results – 12 August 2019

(W) Ghana 3-1 Zimbabwe
(W) Namibia 0-1 Kenya
(M) Egypt 6-0 Zimbabwe
(M) Ghana 3-2 Kenya
(M) South Africa 3-1 Namibia

African Hockey Road to Tokyo 2020 Fixtures – 13 August 2019

(W) – 11:00 – Ghana vs. Kenya
(M) – 13:00 – Egypt vs. Kenya
(M) – 15:00 – Namibia vs. Ghana
(W) – 17:00 – South Africa vs. Zimbabwe
(M) – 19:00 – South Africa vs. Zimbabwe

SA Hockey Association media release


---

All eyes on Stellenbosch as Africa's Road to Tokyo Ticket is decided

The waiting is over. The African countries have converged on Stellenbosch to contest the African Hockey Road to Tokyo 2020 Event. The tournament prize is ultimately the champions of African Hockey, but more pertinently it gives the winner the rights to one of the 12 spots in the hockey tournament at the Tokyo Olympic Games.

The fixtures, which were released a couple of months back, have had to be replaced as Nigeria and Uganda have withdrawn from the Men's and Women's competition. What it means for the tournaments is that the Women's' tournament will be contested between five nations, namely; Ghana, Zimbabwe, Namibia, Kenya and hosts South Africa. The men's tournament will feature the same five sides with the addition of Egypt completing the six sides to fight for honour in the men's tournament.

The one change in the tournament with the revised fixtures is that there is no final and the tournament will be decided over a round robin stage. 3 points for a win, 1 for a draw with the tie separator being goal difference first.

For Supergroup South Africa their opening game will be when they take on the Zimbabwean ladies at 17:00 on Tuesday, while for the South African Men their campaign will open against Namibia on Monday at 17:00.

For those in the Western Cape, get down to watch all the games at the University of Stellenbosch, while those that are unable to travel will be able to stream the games on Shoott South Africa's Facebook page.

SA Hockey Association media release


---

South Africa Hockey sides are firm favourites for African Cup



SA goalkeeper Rassie Pieterse (left) in action against Belgium's Florent Van Aubel (right, down) during the men's Field Hockey World Cup match between Belgium and South Africa at the Kalinga Stadium in Bhubaneswar, India in December. Photo: EPA/Harish Tyagi

STELLENBOSCH – The South African men and women's hockey teams will be strong favourites to win the African Cup tournament, which starts at the Stellenbosch University yesterday.

The event doubles up as the continental Olympic qualifier for Africa with the winning teams qualifying for the Tokyo Olympic Games.

In the men's competition, eight teams will be competing with South Africa and Egypt the two teams expected to be contesting the final.

South Africa have won the last seven Africa Cups.

South Africa recently completed a successful FIH Series Finals campaign in which they took second place in Bhubaneswar, India and with it the chance to compete in the FIH Olympic qualifiers in October and November.

Sascoc has stipulated that the teams need to qualify via two routes - by winning the African Championships and by winning through to the FIH Olympic Qualifiers in October and November.



Erin Hunter will captain the SA women's team at the African Cup from today. Photo: supplied

The SA Ladies are the strongest team on the continent and should clinch the title with ease.

Today's Fixtures (Selected)

Egypt v Zimbabwe (Men), 4pm
South Africa v Nigeria (Ladies), 6pm
South Africa v Nigeria (M), 8pm

Independent Online


---

Test matches BEL v MAS
Wilrijk (BEL)

9 Aug 2019     BEL v MAS     5 - 1
12 Aug 2019     BEL v MAS     8 - 0

FIH Match Centre


---

Women's International Squad Announced for Euro Hockey Champs




The Irish Women's Hockey squad was unveiled early this morning for the Euro Hockey Championships which will get underway later this week in Antwerp.

After a strong training block together and several international training matches, the following squad has been selected:

1 Ayeisha McFerran
2 Roisin Upton
3 Nicola Evans
4 Katie Mullan (C)
5 Shirley McCay
6 Elena Tice
7 Gillian Pinder
8 Bethany Barr
9 Chloe Watkins
10 Elizabeth Colvin
11 Nicola Daly
12 Hannah Matthews
13 Elizabeth Murphy
14 Sarah Hawkshaw
15 Anna O'Flanagan (VC)
16 Zoe Wilson
17 Deirdre Duke
18 Alison Meeke

Speaking on the squad selection Head Coach, Sean Dancer, said, "We have had a good preparation period leading into this competition, with the opportunity to push and develop our squad with a number of International games.

Our selection has plenty of experience and we will be expecting them to stand up when it counts and make the most of our opportunities.

The Euro Hockey Championship is an excellent competition with Olympic qualification for the winner, this is a great challenge that our group is looking forward to."

Vital World Ranking points are at stake for all teams in this tournament as the Olympic Qualification process heats up. The Green Army will take on England, Germany and Belarus in Pool B of the Championship with their opening match against England taking place on Sunday 18th of August at 11:15 local time.

All Euro Hockey Championship matches will be streamed live on EuroHockeyTV at: //www.eurohockeytv.org/en-int/schedule

For more information on the Belfius Euro-Hockey Championships, see: //www.belfiuseurohockey.com/en/

The full match schedule can be found at //www.belfiuseurohockey.com/en/calendar/

Irish Hockey Association media release


---

Head coach Sean Dancer selects strong Ireland squad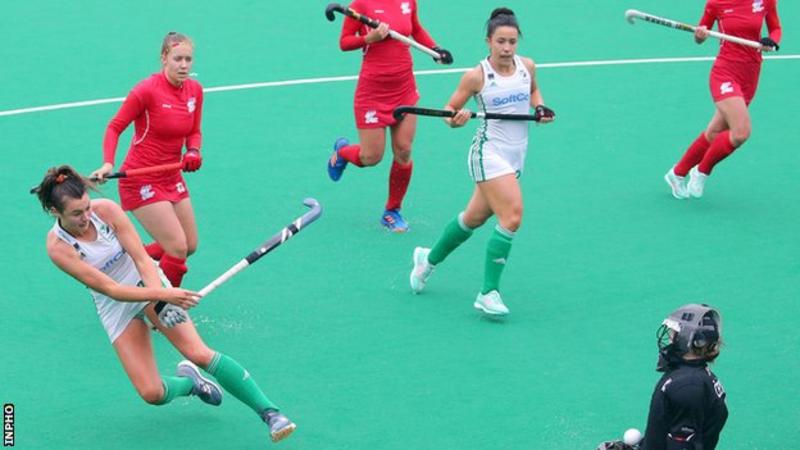 Deirdre Duke fires off a shot

Ireland head coach Sean Dancer has named a strong squad for the EuroHockey Championships, which begin in Antwerp on Friday.

Katie Mullan will captain last year's World Cup finalists, who begin their campaign against England on Sunday.

Having reached the final of the FIH Series tournament in June, Ireland are already assured of a place in an Olympic qualifier later this year.

However winning the EuroHockey would secure direct passage to Tokyo 2020.

Dancer's side will also meet Germany and Belarus in Pool B.

Nikki Evans returns to the squad in place of the injured Megan Frazer while goalkeeper Elizabeth Murphy will provide back-up for Ayeisha McFerran.

"Our selection has plenty of experience and we will be expecting them to stand up when it counts and make the most of our opportunities," said Dancer.

"The Euro Hockey Championship is an excellent competition with Olympic qualification for the winner, this is a great challenge that our group is looking forward to."

Ireland squad: A McFerran, R Upton, N Evans, K Mullan (c), S McCay, E Tice, G Pinder, B Barr, C Watkins, E Colvin, N Daly, H Matthews, E Murphy, S Hawkshaw, A O'Flanagan, Z Wilson, D Duke, A Meeke.

BBC Sport


---

Scotland men's squad announced for Belfius EuroHockey Championship in Antwerp




The Scotland men's squad has been announced by head coach Derek Forsyth for the Belfius EuroHockey Championship in Antwerp on 16-25 August. It's a hotly anticipated return to the top division of European hockey for Scotland men after the Blue Sticks won EuroHockey Championship II 2017 in Glasgow.

The Scots have had an exceptional last few years and have also clocked up their highest ever finish at a Commonwealth Games; won Team of the Year at the Sunday Post Sports Awards; and have finished higher than ranking four times in three years.

Now Scotland travel to Antwerp to take their place at the top table of European hockey and will take on the Netherlands; Germany and Ireland in Pool B of the tournament.

Germany will be Scotland's first opponents when they meet on 17 August at 12:30 UK time. On the following day Scotland play Ireland at 14:45 before taking on the Netherlands at 17:00 on 20 August. Crossover matches start from 22 August.

Chris Grassick is missing through injury while Alan Forsyth and Lee Morton feature off the back of a successful FIH Pro League campaign with Great Britain. The talented young Cammy Golden is also included in the squad after helping Scotland U21 Men to gold medal success in U21 EuroHockey Championship II last month.

Squad
Name             Club
Tommy Alexander     UHC Hamburg
Tim Atkins         Surbiton
Kenny Bain         Hurley
Michael Bremner     UHC Hamburg
Andy Bull         Old Georgians
Gavin Byers         UHC Hamburg
Murray Collins     Teddington
Callum Duke         Hillhead
Craig Falconer     Reading
David Forrester     Montrouge
Alan Forsyth         Surbiton
Cammy Golden     Klein Zwitserland
Ed Greaves         Loughborough
Callum MacKenzie     Cardiff Met
Aidan McQuade     Grove Menzieshill
Lee Morton         Old Georgians
Nick Parkes         Surbiton
Duncan Riddell     Grange

Schedule

17 August | 12:30 | Germany v Scotland
18 August | 14:45 | Ireland v Scotland
20 August | 17:00 | The Netherlands v Scotland
22 August | TBC | TBC
24 August | TBC | TBC

Scottish Hockey Union media release


---

Strong Australian U21 squad named for Sultan of Johor Cup

Mitch Wynd




Burras U21 Head Coach Ben Bishop has announced his team for the ninth edition of the Sultan of Johor Cup in Malaysia.

Of the 18 players named in the squad, only Lachlan Busiko, Dylan Martin, Ehren Hazell and Daniel McBride have been involved previously in the annual international tournament, although McBride has yet to take the field having suffered an injury prior to the first match last year.

"This year will be particularly exciting as we have 14 athletes who have been selected to tour Johor for the first time," said Bishop.

"As always the competition will be strong from the other nations and we look forward to building on our history of results at the event."

The team will attempt to win the Cup for a third time having won the tournament in 2016 and 2017. Australia sits alongside India and Great Britain as two-time winners.

"We are very much looking forward to returning to Malaysia for the Sultan of Johor Cup in what will be our eighth appearance at the tournament," said Bishop.

"It is an extremely valuable tournament that we are lucky to be able to attend each year.

"The competition, conditions and international travel opportunity all provide for a fantastic development experience for our emerging athletes."

The tournament will see the six competing nations play in a round robin format culminating in a day of play-offs to determine the final placings.

The Australian team will depart for Malaysia on 7 October 2019 and open its campaign against Japan on Saturday 12 October 2019.

Kookaburras U21 Men's Squad – 2019 Sultan of Johor Cup

Name, State

Luca Brown, QLD
Lachlan Busiko, SA
Patrick Coates, VIC
James Collins, WA
Michael Francis, QLD
Brinley Gallagher, NSW
Dane Gavranich, WA
Sam Gray, NSW
Anand Gupte, ACT
Tom Harvie, WA
Ehren Hazell, NSW
Aaron Knight, ACT
Dylan Martin, NSW
Daniel McBride, VIC
Sam McCulloch, TAS
Robbie MacLennan, NSW
Daine Richards, NSW
Christian Starkie, WA

Tournament Details

2019 Sultan of Johor Cup
12-19 October 2019
Johor Bahru, Malaysia

Australia matches

Saturday 12 October 2019

Australia v Japan (4:05pm local time)

Sunday 13 October 2019

Australia v Malaysia (8:35pm local time)

Tuesday 15 October 2019

Great Britain v Australia (4:05pm local time)

Wednesday 16 October 2019

India v Australia (4:05pm local time)

Friday 18 October 2019

Australia v New Zealand (8:35pm local time)

Saturday 19 October 2019

Play-off for all placings

Australia's history at the Sultan of Johor Cup

2018 3rd place
2017 Champions
2016 Champions
2015 5th place
2014 3rd place
2013 Did not compete
2012 3rd place
2011 Runner Up

Hockey Australia media release


---

Meet Gurjit Kaur, Indian hockey's defensive wall and goal-scoring machine

International Business Times, India, caught up with Gurjit Kaur, the defender with the knack for pumping goals through PCs, for an exclusive chat.

By Akshay Saraswat



Gurjit Kaur in actionHockey India

It's hard for any top-level hockey side to succeed without having an efficient penalty-corner specialist. Thankfully for India, the women's team have found one such player in the form of Gurjit Kaur. The strong Punjabi kudi has been scoring prolifically in the last couple of years and only seems to be getting better.

In this exclusive interview with Akshay Saraswat of International Business Times, India, the 23-year old discusses her recent success, team's challenges and the role of a defender in modern-day hockey.

In the FIH Series Finals held in Hiroshima, you were the leading goal-scorer. Was that the biggest achievement of your career?

Gurjit: Yes because in this tournament, I scored 11 goals whereas in Asian Games, I had 10. In Asia Cups, I had 8 goals in 2017 edition, 10 in 2018 and 11 in this year's event. So, yes, this was a big achievement.

In earlier days, almost all drag-flickers used to be defenders. But that has changed now. Why was it so earlier?

Gurjit: Earlier, people used to prefer defenders because they are generally strong. Even for direct hits, they were the chosen ones. But now every player is playing all over the pitch, so, becoming a drag flicker isn't that difficult.

You mentioned that defenders are generally strong. So, as a defender yourself, do you try to make yourself stronger also, apart from working on your skills?

Gurjit: Yes, because if you look at foreign teams, their girls use their body a lot. So, we also have to train in keeping with that style. We also enjoy that a lot.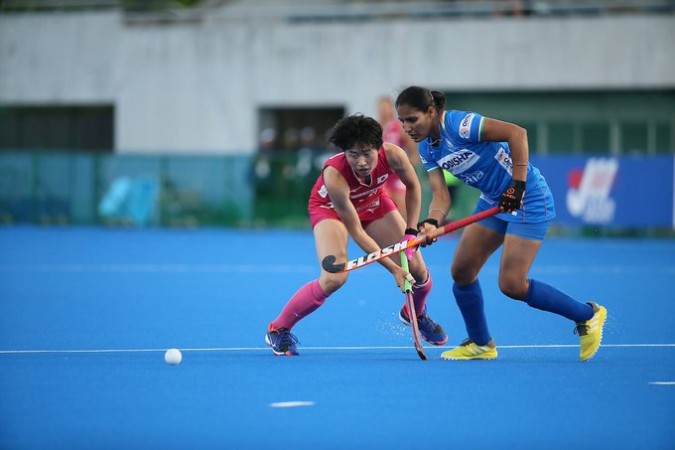 Gurjit Kaur in action against JapanTwitter

But the foreign players do indulge in a lot of body play. We practice in a similar way so that in a match or in a tournament, we don't have any difficulties.

There is training for everything. Whether one is a striker, defender or midfielder, they are all given the right training according to their position and situation.

It has been said that there is special emphasis being laid upon the defence of the team by Coach Sjoerd Marijne since the attacking front is anyways good. Do you feel that your team's defence capabilities have improved in the last one year or so?

Gurjit: Definitely, the girls have improved a lot compared to before. Earlier, we weren't that good but now, have improved a lot. Strikers have also shown a lot of improvement, so have defenders. The whole team has worked a lot on improving their game.

In the final of FIH Series Finals, Rani took the penalty corner shot to score the first goal. Who decides and how is it decided which player will take the shot and what kind of shot or variation will be used?

Gurjit: The coach decides, when the team meeting takes place, which method to use in penalty corners. Since we had played against Japan earlier as well, so both I and Rani were at the castles. Their focus was on me because I am the drag-flicker and my being in that position convinced them that we would go for the drag-flick. But our coach made a slight change to surprise them and that's why Rani took the shot.

Since your team had lost to Japan in the Asian Games final last year, was there added determination to not let Japan get an opportunity of getting back in the match and keeping things in full control?

Gurjit: Certainly, because we had lost to them in the Asian Games. So, there was a little feeling of vengeance inside us, as well as some pressure that we had lost to them earlier so winning this match is very important. We cannot lose to them this time! Our entire team and coaching staff had decided the game plan. So, we had gone in to the match with that and the determination that we have to win.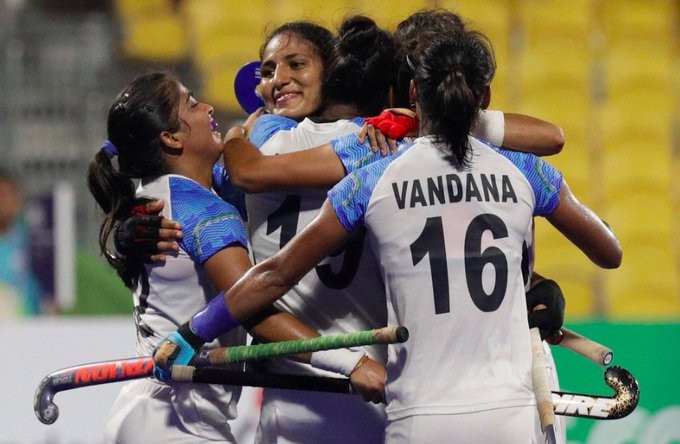 Gurjit celebrates with her teammatesTwitter

There is a new system of penalty shootouts that has come into place in the last few years. Do you also like to participate in them or leave it to the strikers and midfielders?

Gurjit: We have special training for it in our camps and only those who are best in it are picked to do the job in matches also. It is not necessary that only the strikers are eligible for selection and defenders are excluded. So, currently, while the training is going on, the coach looks at who are the best and most confident players in that situation. Then only he decides whom to send into the match.

Would you personally like to take part in these penalty shootouts?

Gurjit: I don't participate as of now but other members of the team are good and those who have confidence are given the responsibility. I take the penalty strokes. I am confident about them so I am sent for those. But for the 8-second foray, we have good strikers who are sent.

Punjab was always known as a great state for hockey. What about the state of women's hockey in Punjab? How strong is the culture of hockey in Punjab, overall?

Gurjit: In recent times, it has weakened considerably. Earlier it used to be very strong but now, there aren't that many players. Currently, in the junior's camp also, there are only 2-3 and in seniors also, there are only 2. So, compared to earlier times, the craze for hockey is much less, including among girls.

What is the reason for this?

Gurjit: The main reasons are, we don't get good facilities like gym, proper diets, coaching etc. There aren't enough coaching centres or grounds with astro-turfs. These are the main reasons.

Haryana seems to be doing quite well in sports and there seem to be good enough facilities to tap the natural talent there. Do you think Punjab has been left behind in that department?

Definitely, because earlier, Punjab also used to have many players, in the girls team as well. But nowadays, there are very few because, while Haryana has a lot of good facilities, turfs, centres and academies, Punjab doesn't have those things, they are finished.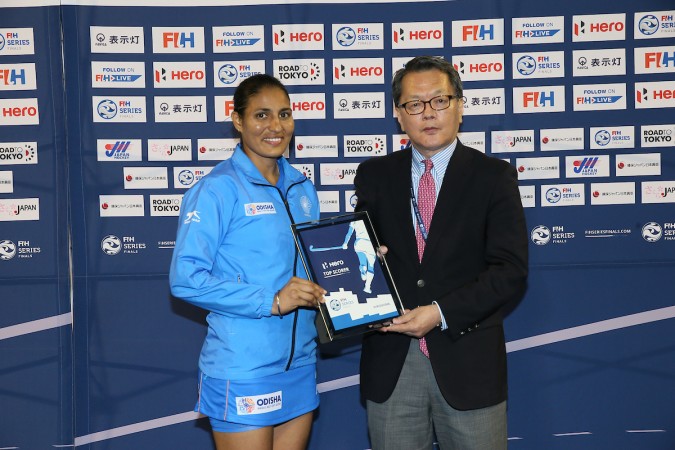 Gurjit receiving top scorer award for the FIH Series Finals in Hiroshima

What can the government do to revive the culture of hockey in Punjab which you say has been withering away?

Gurjit: The government should pay more attention and provide good facilities to the players. Then only players, especially young ones can come out and play. There should be grounds and astro-turf based grounds. Good, nutritious food should be available. All these facilities should be provided so that young players feel like coming out to play.

How did you get involved with hockey?

Gurjit: I was in school at the time. In 2006, I was living in the hostel of Kairon School in Amritsar. That's where I started playing hockey. But I wasn't serious at the time and didn't know anything about hockey then. We had gone there just to study.

Then, slowly, slowly, I kept developing as a hockey player. I was in 12th standard in 2012 when, for the first time, I was selected for the Indian junior team camp. I remained in the junior camp for some time and after that, got selected for the senior camp in 2014. My first tour was also with the senior team, in 2014. In 2016, I was left out, then returned in 2017. Since then, I have continuously been in the team.

How and when did you become a defender?

Gurjit: I used to play in all positions. In the camp, they played and assessed players' skills at all positions. When the coaches feel that you can play best at a certain position, they assign it to you. The same thing happened with me. After I was tried at different positions in the field, the coaches felt I could play well in defence and I was made into a defender.

What are the expectations of your current coach from you and the defenders in general? Are you lot expected to assist in attacking as well apart from doing your usual defensive work?

Gurjit: When the team goes into attack, the whole team has to go into attack. It can't be that only the attackers and midfielders go forward and the defenders just stand behind. So, we also go ahead to support them. Similarly, strikers also move back to help the defenders. The whole team helps each other out. The entire team moves up and down.

But if your team is leading by 2-3 goals and very little time is remaining, would you then be expected to stay behind just in case there is a counter-attack?

Gurjit: No, in that situation, our goal is to hold on to the ball as long as possible. We have almost won but that doesn't mean that we have to play completely defensively in our own half. We will attack and still press high. If we pull back, it will increase the pressure on us. If we have the ball, then, how do we hold on to it and how do we give it to the strikers so that more goals can be scored, that's what we try.

International Business Times


---

How the making of Harjeeta unmade Harjeet

Indervir Grewal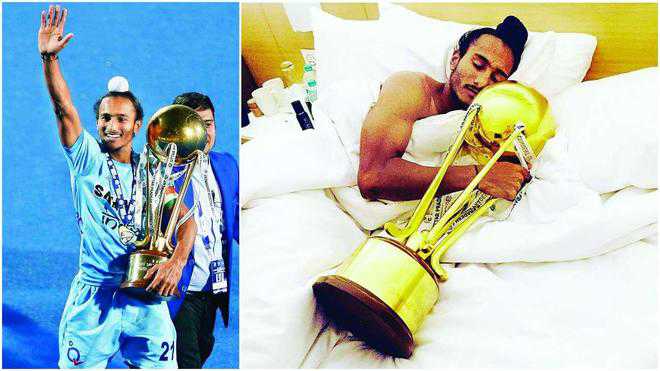 Harjeet Singh waves to the crowd during the victory lap to celebrate the 2016 Junior World Cup triumph; Harjeet with the trophy in his hotel room. file

Chandigarh: His impromptu and unabated performance of bhangra to the beats of the dhols playing in the stands after the semifinal win over Australia; the way he held the trophy tightly to his chest and couldn't stop kissing it all through the Indian team's victory lap — Harjeet Singh's every action at hockey's Junior World Cup in Lucknow became a memory for a lifetime. The captain of the team, Harjeet was unquestionably the leader and the face of the India team that won the World Cup in December 2016.

He was a beacon of hope for the Indian fans, exuding unequivocal confidence that India were going to become the champions. He was the heart of the Indian team's midfield — a live wire on the field about whom former high performance director Roelant Oltmans couldn't stop raving.
"Wait and watch, this team will bring many more trophies," were Harjeet's famous words at the press conference after India's victory in the final.

The next day, a photograph of Harjeet cuddling the trophy in his hotel bed, as if it were a child's soft toy, appeared on social media. Over the next few weeks, Harjeet's words and the photo swept the nation — it filled the nation with hope that India could regain its hockey glory.

'Life changed'

Three years later, that photograph has again gone viral — this time, though, only as a reference. Next to his photo is the poster of the 2018 Punjabi movie Harjeeta. The poster recreated that 'iconic' photograph, with a bare-chested Ammy Virk, the movie's lead, lying in the bed with the trophy. The movie, based on Harjeet's journey from a down-on-his-luck boy to the champion of the world, was adjudged the best Punjabi film in the National Film Awards on Friday.

At first, Harjeet, who belongs to Niholika village near Kurali, didn't even know if it was a big deal. "I didn't even know about the award or how big an honour it was," Harjeet said from Bengaluru, where he is playing a tournament. "Slowly it hit me, and I was filled with the feeling of pride. I know how hard everyone worked on the movie and how hard Ammy Virk worked for two years," he added.

Harjeet's hockey journey began in Kurali in 2004 when he joined Gopal Hockey Academy. But Harjeet, the son of a truck driver, faced many hurdles in pursuing his dream, the lack of funds being the main one. However, his hard work got him into the state's top hockey academy, Surjeet Academy in Jalandhar, in 2008, and the youngster's road to glory was fast-tracked. He was among the youngest to make the cut for the junior national team, and in 2014, as an 18-year-old, he was named the best player at the Sultan of Johor Cup in Malaysia. He became the poster-boy for one of Indian hockey's greatest successes in 2016. The movie further spread his stardom. "The movie made a huge difference to my life. Before it, I was known only because of hockey. But now, many people, from different fields, know me," Harjeet said.

Downslide

Three years later, his photo with the trophy remains an inspiration for youngsters to follow their dreams. In the hockey circles, though, it doesn't inspire hope but a feeling of what could have been. In the post-World Cup euphoria, Harjeet emerged as one of the biggest finds for the future. Oltmans, then the senior team coach, wasted no time in throwing Harjeet in the deep end, the senior international hockey circuit. Many great talents have either struggled or failed to make the transition from junior to senior hockey. Harjeet struggled as well. But there was huge scope for improvement. Until the movie offer came his way. Though Harjeet "got all the permissions" from the coach and federation, he failed to realise how the movie would affect his game. As he spent much of his time working with the filmmakers, Harjeet's game suffered. "You can't help giving most of your time to a project like this. It was based on my life," Harjeet said. "I didn't even realise that my individual training time was being affected."

Road back via Jalandhar, Netherlands

He not only lost his place in the team but also failed to make it to the national camp — his last being the camp for the 2018 Commonwealth Games. Heartbroken, Harjeet decided to go back to the basics. "I have been training at Surjit Academy for over a year," said Harjeet, who is an employee of Bharat Petroleum.

Avtar Singh, a coach at the academy, said that Harjeet got over the disappointment and worked hard on his fitness and game. The hard work paid off — after being in the wilderness for over a year, Harjeet was recalled for the 60-player national camp in April this year. But he couldn't make the cut when the group was trimmed to 33. This time, it hurt even more. "A player's level falls but you can get it back up. I had worked hard and was confident… I deserved to get into the 33-member camp. I am disappointed but I can only keep working harder," Harjeet said.

Harjeet has got a "great opportunity" to get back into the reckoning for the national team. The 23-year-old has been signed by a top club in the Netherlands, HGC. "It is a big step for me. I will train and play with some of the best players in Europe," Harjeet said.

There may yet be more photos of Harjeet with a trophy in his arms.

The Tribune