All the news for Wednesday 10 July 2019

2019 Test matches: SGP v HKG (M) - 1st Test
Singapore

9 Jul 2019     SGP v HKG     2 - 1

Upcoming (GMT +8)
10 Jul 2019 20:00     SGP v HKG
12 Jul 2019 20:00     SGP v HKG
14 Jul 2019 09:00     SGP v HKG

IH Match Centre


---

Wiese Names USMNT Roster for 2019 Pan American Games




COLORADO SPRINGS, Colo. – The largest event in the Pan American region is rapidly approaching as all eyes are on Lima. With that, and following the FIH Series Finals in Bhubaneswar, India, U.S. Men's National Team Head Coach Rutger Wiese and his coaching staff have confirmed the 16-athlete roster and two provisional athletes that will compete for the red, white and blue at the 2019 Pan American Games (PAG) in Lima, Peru from July 29 to August 10.

"We are extremely excited for the 18 athletes selected for this important event," said Wiese. "We're looking to continue to build on our experience from India. With three more weeks of prep this squad can't wait to start play against Peru on the July 30."

The roster for No. 23 USMNT is a similar one that saw action at the FIH Series Finals last month, where the team finished fourth. It also features a solid core of nine veteran athletes that saw action in the 2015 Pan American Games in Toronto, Canada. In that competition USA advanced from pool play with a 1-1-1 record before moving on to finish fifth in the tournament. Mixed in are players that have extensive international experience, including the 2017 men's Pan American Cup (PAC) and the 2016 Junior Men's Pan American Championships.

2019 USMNT Pan American Games Roster:

Michael Barminski (Ventura, Calif.) Tom Barratt (Greensboro, N.C.) Sean Cicchi (Thousand Oaks, Calif.), Christian DeAngelis (Doylestown, Pa.), Ajai Dhadwal (Agoura Hills, Calif.), Mohan Gandhi (Ventura, Calif.), Pat Harris (Moorpark, Calif.), Deegan Huisman (Almere, The Netherlands), Aki Kaeppeler (Stuttgart, Germany), Kei Kaeppeler (Stuttgart, Germany), Jonathan Klages (Berlin, Germany), Adam Miller (Panama City, Fla.), Alberto Montilla (Allen, Texas), Johnny Orozco (Ventura, Calif.), Paul Singh (Simi Valley, Calif.), Tyler Sundeen (Simi Valley, Calif.)

The two provisional athletes are Will Holt (Camarillo, Calif.) and Daan Wisselink (Amsterdam, The Netherlands).

2019 USMNT Pan American Games Schedule:

Tuesday, July 30        USMNT vs. Peru        5:00 p.m. ET
Thursday, August 1        USMNT vs. Canada    1:00 p.m. ET
Saturday, August 3        USMNT vs. Mexico        1:00 p.m. ET
*Eastern Time zone is -1 behind local time

USA will play in Pool B against No. 10 Canada, No. 32 Mexico and No. 55 Peru. Pool A consists of No. 4 Argentina, No. 28 Chile, No. 37 Trinidad and Tobago and No. 69 Cuba. USA will play the host nation in their opening match to round out the first day of men's competition. Two days later, they will face Canada, a team that they have not faced since PAC in Lancaster, Pa. where the neighbors to the North won 4-3 in a shootout to advance to the gold medal game. Finally, USA will meet Mexico for the second time this year after playing in the FIH Series Finals where USA won 9-0.

Don't miss a moment of Pan American Games build up. Keep up to date with everything happening with the Pan American Games at usafiedhockey.com and by following the hashtag #AllEyesOnLima. For more information, check out the 2019 Pan American Games Event Program by clicking here.

*The U.S. Men's National Team Pan American Games roster is subject to approval by the United States Olympic and Paralympic Committee.

USFHA media release


---

Schopman Names Roster to Compete at 2019 Pan American Games




COLORADO SPRINGS, Colo. – It's the biggest stage for the sport in the Americas. It is an Olympic Qualifying event. And at the end of the month, All Eyes should be On Lima. Following the conclusion of the FIH Pro League, U.S. Women's National Team Head Coach Janneke Schopman and coaching staff have named the 16-athlete roster and two provisional athletes that will travel to Lima, Peru for the 2019 Pan American Games (PAG) taking place July 29 to August 10.

"Picking 16 athletes was extremely difficult this time," commented Schopman. "we have a great group of players who work hard to improve as individuals and as a team. In the end I had to make a choice, but I see our team as a group of 27, not just the 16 or 18 players that are going to compete. The next weeks of preparation will be important for us as a group to get the last details right and I am looking forward to see us compete in Lima!"

For USA, only one veteran of the Toronto edition remains on the USWNT's program roster with Alyssa Manley (Lititz, Pa.). She will be a key leader as the squad has resumed training following a regeneration week. Team captain Kathleen Sharkey (Moosic, Pa.), who missed the last Pan American Games due to injury, will also be a recognizable face to watch as well as Caitlin Van Sickle (Wilmington, Del.) who was selected as a provisional athlete in 2015.

The majority of the remaining roster for the USWNT will see Lima as unfamiliar terrain, although most hold large experience in major competitions like the 2018 Vitality Hockey Women's World Cup in London, as well as the 2016 Junior Pan American Games and 2017 women's Pan American Cup. The youth-filled team has also used the past few months in the FIH Pro League as a ground to garner chemistry and experience in preparation for Lima. Together, they share the common goal of returning to one of field hockey's biggest stages to push further than their finish at the Rio 2016 Olympic Games.

2019 USWNT Pan American Games Roster:

Mackenzie Allessie (Mount Joy, Pa.), Kelsey Bing (Houston, Texas), Anna Dessoye (Mountaintop, Pa.), Ali Froede (Burke, Va.), Linnea Gonzales (Bel Air, Md.), Danielle Grega (Kingston, Pa.), Ashley Hoffman (Mohnton, Pa.), Amanda Magadan (Randolph, N.J.), Alyssa Manley (Lititz, Pa.), Erin Matson (Chadds Ford, Pa.), Lauren Moyer (York, Pa.), Margaux Paolino (Villanova, Pa.), Kathleen Sharkey (Moosic, Pa.), Casey Umstead (Green Lane, Pa.), Caitlin Van Sickle (Wilmington, Del.), Julia Young (Yorktown, Va.)

The two provisional athletes are Alyssa Parker (Woodbine, Md.) and Kealsie Robles (Yorktown, Va.).

2019 USWNT Pan American Games Schedule:

Monday, July 29        USWNT vs. Mexico     3:00 p.m. ET

Wednesday, July 31    USWNT vs. Chile        1:00 p.m. ET
Friday, August 2        USWNT vs. Peru        1:00 p.m. ET
*Eastern Time zone is -1 behind local time

The No. 13 U.S. Women's National Team sits in Pool B with No. 15 Chile, No. 29 Mexico and No. 38 Peru. Pool A contains No. 3 Argentina, No. 18 Canada, No. 25 Uruguay and No. 63 Cuba.

USA will open up PAG competition with Mexico, an opponent they haven't faced since the 2017 women's Pan American Cup. Next, they will play familiar opponent Chile who in the last two years they have faced eight times. In their final pool game, USA will play hosts Peru, who they have never matched up against.

For all information regarding the Pan American Games, including full schedule, rosters, news and more, check out the official PAG Event Program by clicking here. #AllEyesOnLima

*The U.S. Women's National Team Pan American Games roster is subject to approval by the United States Olympic and Paralympic Committee.

USFHA media release


---

Shona McCallin set for Great Britain hockey return in Japan

By The Hockey Paper



England and GB's Shona McCallin. Photo: Ady Kerry

Shona McCallin is set to make her international comeback in Japan after suffering concussion last year.

The 27-year-old was injured in a Test against Argentina 17 months ago and following a long recovery then had to overcome a knee injury.

The Rio Olympian is now welcomed back into the GB women's squad for a six-match tour to Japan, which will also see the squad assess the humidity ahead of their Olympic defence next summer.

Coach Mark Hager said: "The big thing with Shona is she brings that real experience. We're not expecting too much from Shona because she hasn't played for so long, but I think this trip for her is about getting used to being back on the hockey field and playing at this tempo.

"Hopefully everything goes well for her and if she's selected for the Euros then this will be a really good preparation for her."

Meanwhile Scotland's Charlotte Watson is set to make her first Great Britain appearance after being called up for the first time.

The 21-year-old already has more than 50 caps for Scotland and played for them in last summer's Commonwealth Games.

Sarah Evans also returns after missing the Stoop match.

Don't miss our Euro preview! Subscribe by July 30 to receive your copy!



The Hockey Paper


---

Scotland men to face Austria in Vienna




Scotland men will take on Austria in a two-match series in Vienna this week as they build towards Belfius EuroHockey Championship in Antwerp.

The matches will be played on Friday 12 July at 17:00 and Saturday 13 July at 18:00, and follow Scotland's excellent performance at the Hockey Series Finals in Le Touquet – finishing higher than ranking for the fourth time in three years.

The Austrians are also preparing for European competition as they set to play Men's EuroHockey Championship II in Cambrai, France. Tough competitive matches are expected with such important tournaments on the horizon.

In August Scotland will compete at the Belfius EuroHockey Championships against Germany; Ireland; and the Netherlands in the Pool. In 2017 Scotland won EuroHockey Championship II in Glasgow to earn the right to compete in the tournament, held in Antwerp.

Squad
Name, Club
Tommy Alexander, UHC
Russell Anderson, Brooklands
Kenny Bain, Hurley
Michael Bremner, UHC
Andy Bull, Old Georgians
Gavin Byers, UHC
Murray Collins, Teddington
Callum Duke     Hillhead
Craig Falconer, Reading
David Forrester, Montrouge
Ed Greaves, Teddington
Rob Harwood, Western Wildcats
Lee Morton, Old Georgians
Joe McConnell, Western Wildcats
Callum MacKenzie, Cardiff Met
Aidan McQuade, Grove Menzieshill
Nick Parkes, Surbiton
Hamish Galt, Western Wildcats

Scottish Hockey Union media release


---

Good defence does not mean scoring fewer goals: Kavanagh

'When I was with the Australian teams, we scored a lot of goals by defending very well'

Shreedutta Chidananda



Roadmap: Fergus Kavanagh, who is conducting a week-long camp for the team's defenders, has three main target areas: tackling, marking and intercepting. 

Fergus Kavanagh was part of a golden era in Australian hockey, when the Kookaburras lifted successive World Cups, won the Champions Trophy five years in a row, and secured two Olympic bronze medals. Key to that success, the 34-year-old believes, was the team's ability to defend as a unit.

Imparting lessons

This week, Kavanagh will attempt to impart some of those lessons to India's defenders as the National men's camp resumes at the SAI here. The former Australia defender has been invited by Hockey India to spend seven days with the squad as Chief Coach Graham Reid attempts to drill his philosophy of 'collective defending' into the players.

"I'm trying to convey to the midfielders and strikers how important defence is," Kavanagh said here on Tuesday. "Indian hockey is known for being all about scoring goals and flair. I'd also like it to be known for great defence. Good defence does not mean scoring fewer goals or taking something away from the attacking side.

"Actually, if you have a good defensive team, you will create more scoring opportunities. That's what I saw when I was with the Australian teams. We scored a lot of goals by defending very well."

Target areas

Kavanagh has three main target areas at this week-long camp: tackling, marking and intercepting. Consistency, he insists, is vital.

"These players have great hand-eye co-ordination and skills with the ball; it's just about helping them develop their skills without the ball," he said.

"We see quite a few players who are good in their tackling. Some of the younger players are a bit more raw: they might make one or two good tackles but then they fall away with their level. We want to make sure they are more consistent."

It was important, Kavanagh stated, for attacking players to take pride in their defensive duties and not treat it like drudgery.

"It's about changing the mindset, from thinking that defense is a negative thing to taking pride in defending well," he said.

"When we won the 2014 World Cup, the player of the tournament was Mark Knowles, our free central defender. That tells you how important defence is in major tournaments. If you defend well, you can compete for a medal."

The Hindu


---

'India have potential to become a world-class defensive hockey unit', says Fergus Kavanagh

The retired Kookaburras great talks to DNA about working on developing the defensive skills of not just the individual players but also of the team as a whole.

By Rutvick Mehta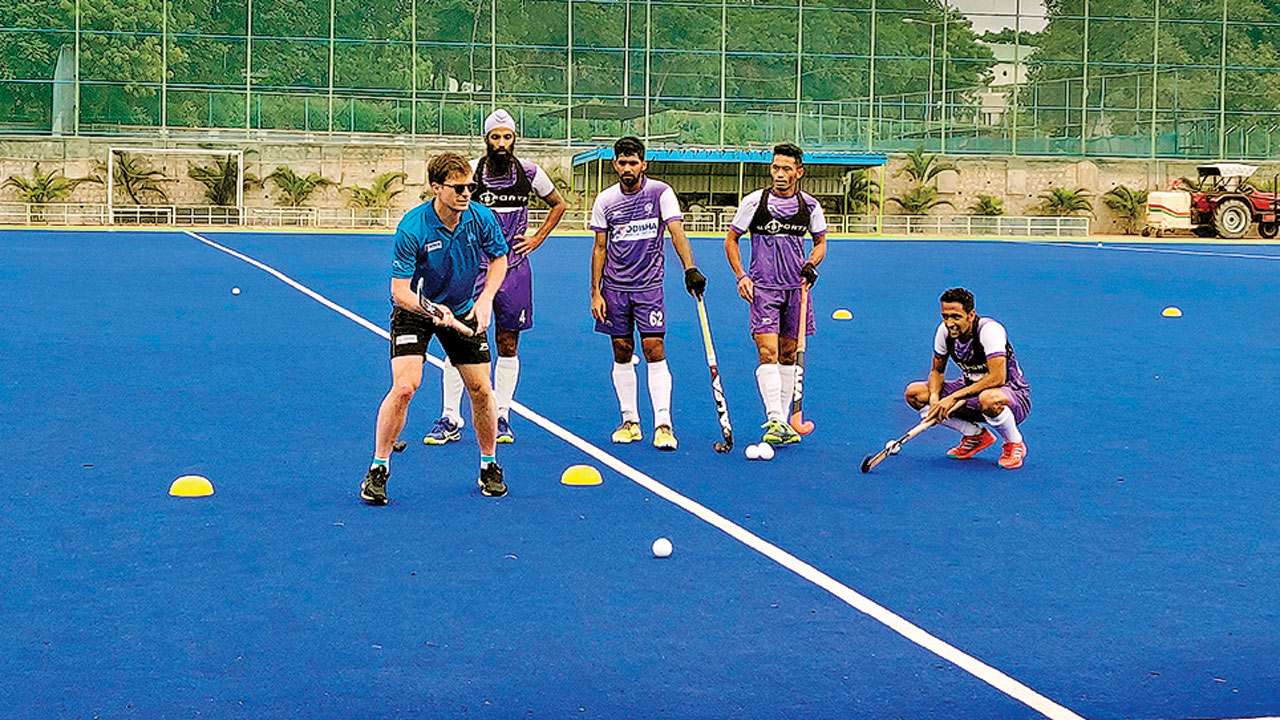 Fergus Kavanagh Ex-Australia defender Fergus Kavanagh (L), a two-time World Cup winner, during a training session with Indian defenders in Bengaluru on Tuesday

Fergus Kavanagh knows a thing or two about defending. The Dublin-born Kavanagh was an important cog in the defensive wheel of the Australia hockey team that won back-to-back gold medals in the 2010 and 2014 FIH World Cup, as also five consecutive FIH Champions Trophy from 2008 to 2012.

Invited by Hockey India to work with 14 defenders from its senior men's core group at a week-long camp in Bengaluru, the retired Kookaburras great talks to DNA about working on developing the defensive skills of not just the individual players but also of the team as a whole. Excerpts from an interview:

What are some of the things you plan to work on in the camp?

We're focussing on defensive skills. At a very high level, if you think of hockey in India, we all think of a natural attacking flair of scoring goals. I would like to help them become world-class defenders and a world-class defensive team. When you get to the major events, the World Cup or the Olympics, you have to have a solid defensive base to compete for the medals. I've played against a lot of these players and also with some of them in the HIL (Hockey India League). So, I think I have a good view of their strengths and what they can improve upon. They've already got some really good defenders, and my role is to help them become one of the best in the world. And for others, it is to help them improve their defensive skills in tackling, intercepting and marking.

Do you think there's potential in some of these Indian players becoming the best defenders in the world, and India one of the best defensive units?

I surely think so. It doesn't happen in a week, obviously. But I've seen some individual defenders from a few years ago who have stepped up and improved. Birendra Lakra, who I played with in Ranchi (in HIL), I've seen him develop into a world-class defender. I feel Harmanpreet Singh also has the potential to become a top defender.

As for the team, it takes time. I know from when I was with the Australia team, it took us months and years to develop the way we play in order to become a really good defensive unit. I think India are close, but there's still room for improvement. And that is the objective of the coaching unit of Graham (Reid) and Chris (Ciriello).

Like you said, Indian hockey earlier was more about its attacking flair and defence wasn't such a big focus factor. But one saw in the 2018 World Cup that India's defence held up quite well. Do you think defence is an area that has evolved in Indian hockey from the time you played against them?

I definitely think it has. When I made my debut in 2007, it was actually against India, I think we won that game 5-2 or 5-3. And during that period, you'd see that India would score a lot of goals but would also concede a lot. Over the last few years, the defensive side of Indian hockey has really improved, and the focus has been put on defensive hockey. Because scoring goals and playing attacking hockey comes instinctively for the Indian players, the focus on defensive hockey individually and as a team has helped them. And that's why you're seeing Indian hockey improve in the world rankings.

Head coach Graham Reid talks about defending as a team, wherein even the midfielders and forwards have to think like defenders and get behind the ball. Is that something you think needs to be grilled into the mindset of the team?

It's really about changing the mindset and the thinking of every player. Everyone has to defend, it's not just the defenders' job. Sometimes, the strikers are the most important players to defend in a play. And if they are defending well, it makes everyone else's job easier and helps the collective defensive performance. So, it's a mindset thing, that when you don't have the ball, everyone has to defend. When that happens, you'll see that everyone is contributing. If you defend well as a team, it also means that you win the ball back more, and you get more opportunities to attack because the strikers will be intercepting and stealing the ball.

For me, defending is not passive, it should help in creating more goal-scoring opportunities and thereby more goals. It's a proactive thing, it's about taking control of the situation when you don't have the ball.

One of Indian hockey's biggest banes lately has been conceding last-minute goals in important matches. Why do you think it's happening so frequently?

I think it's probably a combination of mental discipline — being able to stay calm and perform your role under pressure — and also confidence of the team. If that happens a few times, then in the last few minutes you can lose that confidence and become nervous. So, it's about trying to build that resilience that you can perform under pressure, and building your confidence that when it gets close and when it's towards the end of the game, you have faith in your ability and defensive skills as a team. And that too will take a bit of time.

So what can be the corrective measures to address the issue?

The first thing is that you have to acknowledge the problem. We have to accept that 'Okay, this is something that happens, and we have to address it'. And then you have to talk about it as a team, that in these moments in a game or in a tournament when we're under pressure and when the other team has momentum, we have to come together as a team and have to have the confidence to ride the wave. It's also important to have the belief in your tactics, that when you're under the pump, the tactics will stand by you. Once you know that you have that mindset sorted, your skills will take care of itself even under these pressure situations.

Kavanagh's Medal Cabinet

    Olympics: Bronze (2008, 2012)
    World Cup: Gold (2010, 2014)
    Champions Trophy: Gold (2009, 2009, 2010, 2011, 2012); Bronze (2014)
    Commonwealth Games: Gold (2010)

Daily News & Analysis


---

STOMP Goalkeeping Partners With HA To Sponsor New Goalkeeper Awards

Mitch Wynd

Hockey Australia (HA) is pleased to welcome STOMP Goalkeeping as its inaugural partner of Goalkeeper of the Tournament awards at all national age group tournaments.

The award will be presented for the first time at the U21 National Championships in Lismore starting today and will be given to the male and female goalkeepers adjudged best performers throughout the tournament.

It marks the first time that individual awards for goalkeepers will be available for players outside of the AHL, with the award now presented at the U13s (2019), U13s, U15s, U18s, and U21s (2020) competitions.

HA CEO Matt Favier said the new award will give goalkeepers the opportunity to be recognised in a way not previously possible.

"We're really delighted to include the award in all our national championships, recognising the best of the best of our goalkeepers across all age groups. To not only include the new award by to do so in partnership with STOMP Goalkeeping and Rachael Lynch, a current Hockeyroos goalkeeper respected globally, is just fantastic," said Favier.

The award will be presented alongside the Player of the Tournament award presented by Just Hockey and the Leading Goal Scorer of the Tournament presented by ASICS.

STOMP Goalkeeping Director Rachael Lynch, Australia's most capped female goalkeeper (211 caps) and recent FIH Pro League Goalkeeper of the Final, is thrilled to partner with HA.

"Hockey and goalkeeping have given me so many incredible opportunities to learn and grow as a person. Through STOMP I am able to share my knowledge and experience with the young up and coming goalkeepers of Australia," said Lynch.

STOMP Goalkeeping is a training program for goalkeepers, covering everything from technique to skills and mental approach.

The U21 National Championships begin today, Wednesday 10 July at the Goonellabah Hockey Centre.

For more information about STOMP Goalkeeping, please click here.

Hockey Australia media release


---

Junior USMNT Loses Close Defensive Match Against Wageningen A1 Team



Image Taken by Katherine Hennessy

WAGENINGEN, The Netherlands - July 9, 2019 - After having a day of more training, the Junior U.S. Men's National Team hit the pitch at the Wageningen Mixed Hockey Club for their second friendly match against Wageningen A1. Although USA created multiple scoring opportunities, they lost the close defensive match 1-2.

"I felt we controlled the game and implemented the game plan we set in place," said Shannon Taylor, Junior USMNT Coach. "Unfortunately, we were not able to capitalize on the opportunities we created. Tomorrow we look forward to building on our core concepts as a group."

While USA started the game with intensity and an early goal attempt by Wyatt Katz (Santa Rose Valley, Calif.), Wageningen opened the scoring with field goal at the 10-minute mark. USA looked for the equalizer on a penalty corner two minutes later, but Wageningen's goalkeeper came up with the saves on three rapid attempts. The score at the end of the first quarter stood USA 0, Wageningen 1.

USA created multiple opportunities in the second quarter while also earning penalty corners in the 20th and 21st minutes. Puneet Singh (San Jose, Calif.) took a shot on goal in the 29th minute but it was deflected by the goalkeeper. USA only conceded one penalty corner to Wageningen, but a miss trap on the corner meant that their opponent could not take advantage. The scoreline remained unchanged at halftime.

With a large group in front of the goal, USA leveled the game in the 42nd minute when a shot from Jatin Sharma (South San Francisco, Calif.) rebounded off the goalkeeper and Cameron Spach (Thousand Oaks, Calif.) caught the ball on a bounce at close range and quickly put it away. USA earned a fourth penalty corner but was unable to convert. Wageningen earned a penalty stroke moments later and converted for the go-ahead goal. Heading into the final quarter, USA trailed 1-2.

Game intensity remained high into the final period and two green cards were issued to Wageningen. USA tried to rally with a final penalty corner attempt in the 55th minute but came up short.  While the squad worked hard to break through the opponent's defense, some basic errors let them down. The hosts were able to hold the lead to the final buzzer for the win.

The Junior U.S. Men's National Team will wrap up their Holland Tour with a final training session by a friendly match on Tuesday, July 9 at1 1:30 p.m. ET.

USFHA media release


---

Positive results for U18s NAGS against Belgium




Canterbury Hockey Club played host to theEnglish U18s Boys & Girls NAGS test series against Belgium over the weekend which saw both teams put in good performances and earn positive results. Read how the teams fared:

U18 Girls
Game 1
England 2 - 1 Belgium (2 - 1 HT)
Summers 11' FG
Bourne 27' PS
Belgium 24' FG

Coming off the back of a challenging weekend in Germany, England hosted Belgium in a two match test series. England dominated the early phases of the first game and were rewarded when a fast and dynamic run from Katie Curtis along the baseline ended with a slipped ball to Lottie Summers, who converted the opportunity.

In the second quarter, England continued to press, but a counter attack from Belgium down their right caught the England defenders stretched, with a well-timed finish bringing the game level.

There was a rapid response from England as Sian Emslie won a penalty stroke, which Darcy Bourne put into the top of the net to restore the lead, an advantage the side would be able to hold onto for the remainder of the match to secure an opening game victory.

Game 2
England 2 - 0 Belgium (1 - 0 HT)
Plumb 24' FG
Klugman 56' FG

After Saturday's game, Belgium came out and applied pressure right from the start in the second match. After soaking up some pressure, England stepped up their game and were rewarded with an excellent team goal. Liv Hamilton broke through Belgium's front line and, following some good link up play, found Darcy Bourne who lifted the ball over the goalkeeper to Aimee Plumb who calmly slotted it into the net.

Belgium applied more pressure and earned a couple of penalty corners which were well dealt with by the England defence. Late in the game Sally Sime cracked a through ball to Alice Klugman who picked it up, moved it on and collected the return to score the second goal with a well worked move.

Head Coach's comments: "Following last weekend's test against Germany, the results against Belgium were pleasing, with continued improvement in performance evident that will stand to us going into the 6 Nations. For large parts of the games, we dominated play. The key to success will be to start turning this pressure into outcomes."

U18 Boys
Game 1
England 1 – 4 Belgium (HT 0-1)
Robson 39' PS
Belgium 8' FG, 47' PC, 54' FG

Belgium scored very early on with some flowing stick to stick hockey breaking down England's zone defence. England worked hard to try and get back into the game with the side earning a penalty stroke just after half-time which Ellis Robson calmly scored to restore parity. As the second-half went on it was clear that Belgium had worked out the English defence and they scored three more to win this first game.

Game 2
England 2 – 2 Belgium (HT 1-1)
Telytche 14' FG
Stanley 59' FG
Belgium 29' FG, 36' PC

As the first quarter of the second match ended, Xavier Telytche got on the end of a ball across the face of goal to open the scoring for England with an early strike. As the half was nearing an end, a slight lapse from England saw a turnover ball quickly taken into the England circle for Belgium to score just before the break.

Both teams came out strong after the interval with Belgium scoring a penalty corner low down inside the right post. The final quarter was physical and fast and the game went all the way to the last minute before England were awarded a penalty corner as time ran out.  A poor trap at the top of the circle led to some improvisation but England kept their heads and worked the ball back in front of goal for Toby Stanley to send the teams home with a draw thanks to a very late equaliser.

Game 3
England 3 – 2 Belgium (HT 1-2)
Robson 27' FG
Pendle 58' FG, 59' FG
Belgium 6' PC, 28' PC

Belgium proved to be very effective from the top of the circle, scoring another penalty corner early in the first quarter. England manged to get Ellis Robson free in the circle to equalise a few minutes before the end of the half only to give Belgium another penalty corner which, once again, they dispatched to take a lead going into half-time.

The second half-seemed to be relentless with turnovers and breakaways from both teams, with it looking as though Belgium would hang on for the win. However, Alex Pendle had other ideas and scored twice in the last two minutes to secure the victory for England with an action-packed conclusion to the game.

Head Coach's comment: "It was important that we had a good weekend after a tough test against Germany last week. We had a plan to work on this weekend and over the three days it was clear that things were improving. We were able to achieve not only good results but put ourselves in a good mindset prior to departing to the 6 Nations later in the week."

England Hockey Board Media release


---

U16s NAGS learn from Belgium test




England's U16s NAGS travelled to Belgium for a three match test series in their final international matches of the current programme, read how the teams got on:

U16 Boys

Game 1
Belgium 5 - 2 England (4 - 1 HT)
Penrose 28' PC, 57' PS
Belgium 1' FG, 3' FG, 13' FG, 21' PC, 37' PC

In the first match, England were overrun by an intense Belgian press with two turnovers deep in their own territory providing Belgium with simple opportunities to establish an early two goal lead. England were able to stem the tide for a period of time but a third Belgian goal just before quarter time reflected the balance of play.

Belgium added a fourth from a penalty corner but just before half-time England responded with a slick penalty corner goal which was finished by Rory Penrose. The second-half was a more balanced affair, even with Belgium scoring again from a penalty corner in the third quarter. England played their best hockey in the final quarter and added a second goal from a penalty stroke which was both earned and converted by Rory Penrose for his second of the game.




Game 2
Belgium 3 - 1 England (1 - 0 HT)
Penrose 45' PC
Belgium 27' FG, 31' FG, 47' FG

In the second match of the series, England delivered a much-improved performance, controlling long periods of possession in the first quarter. The first quarter finished at a stalemate and the second looked to be going the same way until just before half-time when Belgium scored a scrappy goal after an initial save by Heath.

England looked to start the second half on the front foot but loose marking at critical times saw Belgium extend their lead from open play and kill England's momentum. Having rebuilt a platform during the third quarter, England were able to score from a penalty corner. With the initial flick run down, the ball fell neatly for Rory Penrose to finish high into the net.

Having re-established a foothold in the game, the final quarter appeared finely poised, however, England again conceded early to provide Belgium a two-goal margin.




Game 3
Belgium 2 - 1 England (2 - 0 HT)
Wilcher 58' PC
Belgium 11' FG, 28' FG

A competitive first quarter saw opportunities for both teams to score but once again it was Belgium who took the lead as they made the most of loose marking on two occasions to earn a healthy 2-0 lead before half-time.

England took control of both possession and the game as time ran on with several claims for penalty corners being waved away. With five minutes to go both teams elected to withdraw their goalkeeper, leaving eleven outfield players on both teams. With the action even more frantic, England won a penalty corner, which was converted by Lewis Wilcher. England were able to create one more clear-cut opportunity with seconds remaining in the game but couldn't force a shot on target.

Player Comment, England U16 Boys Captain, Ben Collinson: "It was a tough weekend for the team and although the results didn't go our way, the team demonstrated huge amounts of resilience to come back from a tough start to play well during the weekend. We learned that even small mistakes can be costly against the top European sides and we will particularly look to improve our man marking during our next games."

Head Coach's Comment: "From the relative shock of the first quarter in game 1, the team made big strides in their performances over the weekend. The first game provided a clear lesson for the team that their concentration levels need to be at highest level from the first minute to the last. If the group continues to develop using the experiences from this weekend and across the programme, I am confident we can win these games in the future."




U16 Girls

Game 1
England 2 - Belgium 1
Long FG 14
O'Malley-Kumar FG 32
Belgium FG 47

It was a winning start to the series for England who enjoyed lots of possession and demonstrated good defensive work to repel Belgium's attacking threat in the first match of the test series.

England opened the scoring at the end of the first quarter courtesy of a Maddie Long field goal, with Grace O'Malley-Kumar doubling the lead just after the half-time break with another goal from open play.

The game lacked a bit of intensity and though Belgium were able to pull a goal back, they could find no equaliser thanks to England's scramble defence.

Game 2
England 0 - Belgium 1
Belgium FG 43

Despite not seeing such a positive score line as in the first game, this was a much better performance from the team despite the first quarter lacking intensity. The players executed their zonal defence very well and frustrated the Belgium attack for large parts of the game with the final quarter seeing some high intensity and good circle entry. Just a lapse allowed the Belgians to score a well taken goal and claim victory in the second game of the series.

Game 3
England 0 - Belgium 1
Belgium FG 25

A repeat score-line of the second test match, this game was played at a high intensity as England tested the Belgian defence on numerous occasions. There was good possession and circle entries as a result of good pressing of the Belgian defence. However, like in the previous game, Belgium were able to snatch the victory with a field goal just before half-time proving decisive in earning victory.

Head Coach's comment: "The next challenge for this group of young players will be to capitalise on their possession and circle entry. The players understanding and appreciation of the principles of attacking play is outstanding and it is just some attention to detail that will help them in the future."

England Hockey Board Media release


---

The CTM PHL for 2019 ready to go after draft completed




The highly anticipated fourth season of South Africa's CTM PHL took a step up in preparation tonight as the teams were finalised after the draft. The draft, which is based on the American sports draft system as seen in the likes of the NBA and NFL, sees the selected coaching teams battle for players to fill their squads. The draft is seen as a great curtain raiser to the tournament and such is its innovative nature that it was shortlisted for the Sports Industry Awards 2018 for "Cutting Edge Sport Award".

Each squad consists of 20 players, made up of 7 marquee players as determined by SA Hockey's High-Performance team, with a further 3 players into their 20 from the "new generation" pool featuring the country's most exciting young talent. Coaches were forced to release between 4 and 8 players from the 2018 squads ahead of the draft.

In the men's tournament the only change to the coaching staff was Neville Rothmann, who as head coach for the SA U21 Coach, will lead the Golden Gate Gladiators. Returning coaches are Mark Sanders (Cavemen), Ashlin Freddy (Gazelles), Cheslyn Gie (Elephants), Lungile Tsolekile (Mambas) and defending champion Sihle Ntuli (Dragons).

After the announcements of marquee and released players, the honour of the first pick for the 2019 Premier Hockey League, from the new generation player pool, went to Mustapha Cassiem, called on by the Mapungubwe Mambas, while the first draft for the defending champions Drakensberg Dragons first pick was Suubi Mugerwa-Seawabe.

Onto the main pool the Mambas had first pick once again and gave Greg Last his place in the history books as the first main pool pick of the 2019 CTM Premier Hockey League. Other notable picks from the main pool included Julian Hykes (Addo Elephants), Ignatius Malgraff (Dragons), Robin Jones (Mambas) and Spencer Botes (Cavemen).

In the Women's tournament Tarrin Ramsden and Sandile Bosman made their debuts at the draft tables after being appointed as head coach at the St. Lucia Lakers and the Madikwe Rangers respectively. They are joined by defending champion Marcelle Keet (Blyde River Bunters), Shaun Hulley (Orange River Rafters) and Ryan Pillay (Wineland Wings).




Also starting with the "new generation" pool, the women's honour of first pick went to the exciting Cailyn den Bakker for the Wineland Wings, much to the disappointment of the next five coaches in line. The defending champions, the Blyde River Bunters, made Gracious Mpe their opening pick for the 2019 CTM Premier Hockey League. 

As the coaches analysed their playbooks and sums that reminded you of William Smith on a Saturday morning, just without the smarties, the draft moved onto the main pool of players. In this round the drafts of Christine Seggie (Wings), Londeka Dlamini (Rangers) and Tasmin Preller (Lakers) attracted the most animated reactions when selected.

Marissa Langeni, CEO of South African Hockey, shared the following thoughts: "The CTM PHL is always an exciting event on the hockey calendar. I think the coaches have done some good hard work in planning their squads for 2019 and I think they will be happy with what they have done. We are delighted to continue our partnership with CTM as our headline sponsor of PHL for 2019. The CTM PHL has a fantastic legacy already of making sure we make top level hockey accessible to all players, and we look forward to growing this legacy again in 2019!"

The battle lines have now been drawn and the planning can begin. Who will topple the Drakensberg Dragons and the Blyde River Bunters in 2019? Will the Maropeng Cavemen win back their title? Will the Daisies and the Gladiators rock the Premier Hockey League boat. The answers to these questions and more will be revealed at the Randburg Astro when the fourth edition of the CTM PHL gets underway on July 18.

SA Hockey Association media release


---

Tuks women's hockey team won their third consecutive title at the USSA tournament last week.



Joyful players of the Tuks women's hockey team shortly after the final whistle confirmed their victory over die NWU Pukke in the final of USSA championship. Photo: Supplied

The Tuks women's hockey team completed a hattrick on last week in Stellenbosch, South Africa by beating Pukke 3-2 in the final of the USSA Tournament.

It was clear from day one that the team was on a mission when they beat UCT 2-0. Up to the final Tuks did not concede one goal while scoring eight goals themselves.

As Tuks and Pukke played to a 0-0 draw during their pool game encounter, it was no surprise the final turned out to be a humdinger.

Inky Zondi attributes his team's doggedness to the lessons learned from the Varsity hockey semi-final against Maties. Tuks lost that encounter, but impressed with their never say die attitude during the last 15 minutes of the game. One of the team's goals during USSA's was never to be in a situation where they needed to play catchup again.



The captain of the Tuks women's hockey team, Megan Anderson, again guided her team by example at last week's USSA championship. Photo: Reg Caldecott

As usual, Zondi was hesitant to single out individuals for their brilliance, but he could not help himself but praise Megan Anderson, the captain.

"Megan lead by example from the very first minute and never relented. Through her work ethic, she set up countless scoring opportunities in every game. Without a doubt, she will be remembered as one of the best to have played for Tuks," he said.

Zondi also praised Warren Sangster who stood in for him while he was involved assisting the national women's hockey team.

"Warren did a sterling job. I think we have earned the right to celebrate winning the USSA Tournament for the third time. Especially Megan, Marizen Marais and Thandokazi Chithi who played every final," Zondi concluded.

The Tuks men's hockey team finished third at USSA's beating UJ in the playoffs.

Pretoria East Rekord


---

Hitting new heights in Nepal



Photo Credit: Lincoln Minster School

A new world record for a hockey match played at the highest altitude ever is due to be set anytime in the next few days.

As part of Operation Olympus, a group of students from Lincoln Minster School in Loncolnshire, England, will be joined by Great Britain and England men's manager Andy Halliday, plus members of Hockey for Heroes, the charity that raises funds and provides support for injured servicemen and women.

The group, which comprises 20 students aged 15-18, will trek approximately 5,200 metres up the Annapurna Mountain Range in the Himalayas in north-central Nepal. They will then play a 40 minute hockey match – at the highest altitude this has ever happened.

Over the past few months, Gary Johnson, CEO of Hurricane Sports Foundation and a founding member of Hockey for Heroes, has spent time working with the students, developing their hockey technique and leadership skills in readiness for the challenge.

As they make their way across the mountain range, the group will be delivering hockey coaching sessions to communities along the route. The Lincoln Minster students have all been taught to coach hockey skills and small-sided games and will be putting these skills to the test, under the guidance of PE teacher Tom Eves, Johnson, Halliday and Joel Forrester, the managing director of Hockey for Heroes. The group will also distribute hockey equipment, sticks, balls and specialist goalkeeper clothing, to the communities with the wider aim of leaving a legacy of hockey in Nepal. – a country where hockey is currently not well known.

"It's unbelievable, trekking 18,000 feet to play a hockey match and leave a legacy."
- Kate Richardson-Walsh, Olympic Gold Medalist

Just to add one more challenge into the mix, Halliday will be dribbling a hockey ball for the duration of the trek. Extreme dribbling is not a new thing for the GB manager – he has already dribbled a hockey ball up the three largest peaks in the UK – Snowdon, Scafell Pike and Ben Nevis – as part of a charity fundraiser.

Great Britain and England Head Coach Danny Kerry took to Twitter to offer his support to the group, adding: "A massive shout-out to the group as they dribble hockey balls up the foothills of the Himalayas. They will be introducing hockey to communities along the way. It is the most ridiculous idea ever; yeah it's mad!"

And Olympic gold medalist Kate Richardson-Walsh said: "It's unbelievable, trekking 18,000 feet to play a hockey match and leave a legacy. You will also be creating a new world record, the hockey family are all behind you and supporting you. Stay safe and have fun."

Joel Forrester said: "On this expedition to Nepal, it is our aim to teach and inspire the future players of our sport. We also hope they learn key life principles in taking life on and being brave from their Hockey for Heroes mentors."

He added: "The humanitarian aspect to this trip is also something we are really looking forward to. Delivering equipment and hockey coaching sessions to people in the most remote part of the world is something that we are passionate about. We want to have a positive impact upon people's lives."

And Mike Joyce, Executive Director of The Hockey Foundation, said: "Good luck with your incredible adventure and, of course, for your world record attempt to play hockey at 5,300 metres."

#OperationOlympus #OpOlympus

FIH site