All the news for Friday 8 February 2019

2019 FIH Pro League (Men) - 8 February

Weekend fixtures

8 Feb 2019     NZL v GBR (RR)     2 - 6   
10 Feb 2019 15:00 (GMT +11)    AUS v GER (RR)

Unofficial Pool Standings
| Rank | Team | Played | Wins | Win Draws | Loss Draws | Losses | Goals For | Goals Against | Goal Difference | Points | Percent |
| --- | --- | --- | --- | --- | --- | --- | --- | --- | --- | --- | --- |
| 1 | Belgium | 4 | 2 | 1 | 1 | 0 | 14 | 9 | 5 | 9 | 75.0 |
| 2 | Great Britain | 2 | 2 | 0 | 0 | 0 | 12 | 7 | 5 | 6 | 100.0 |
| 3 | Netherlands | 2 | 1 | 1 | 0 | 0 | 9 | 8 | 1 | 5 | 83.3 |
| 4 | Spain | 2 | 0 | 1 | 0 | 1 | 7 | 8 | -1 | 2 | 33.3 |
| 5 | Australia | 2 | 0 | 0 | 1 | 1 | 6 | 9 | -3 | 1 | 16.7 |
| 6 | New Zealand | 3 | 0 | 0 | 1 | 2 | 9 | 14 | -5 | 1 | 11.1 |
| 7 | Germany | 0 | 0 | 0 | 0 | 0 | 0 | 0 | 0 | 0 | 0.0 |
| 8 | Argentina | 1 | 0 | 0 | 0 | 1 | 2 | 4 | -2 | 0 | 0.0 |
The FIH inexplicably and confusingly use a system, not used in any other sports League in the World, of making the percentage more important than point until the end of the League when they will revert to points. Fieldhockey.com prefers to use the conventional Points and so the Unofficial Pool Standings on this site are reflected in this manner.
---

2019 FIH Pro League (Women) - 8 February

Weekend fixtures

8 Feb 2019     NZL v GBR (RR)     5 - 1   
9 Feb 2019 17:00 (GMT +11)     AUS v CHN (RR)
10 Feb 2019 17:00 (GMT +11)     AUS v GER (RR)

Unofficial Pool Standings
The FIH inexplicably and confusingly use a system, not used in any other sports League in the World, of making the percentage more important than point until the end of the League when they will revert to points. Fieldhockey.com prefers to use the conventional Points and so the Unofficial Pool Standings on this site are reflected in this manner.
---

Great Britain's men hit six again to see off New Zealand



Adam Dixon celebrates in the FIH Pro League

Great Britain's men made it two wins from two in the FIH Pro League with an exciting win away to New Zealand.

Sam Ward scored the first ever hat-trick in this competition, while Phil Roper hit two and new captain Adam Dixon also scored in a 6-2 victory.

Danny Kerry's side were ruthless in the circle, and scored six for the second game in succession to go top of the table early on in the competition.

5-0 up after 40 minutes, GB conceded a couple of goals quickly but a third for Sam Ward very quickly settled any nerves and it was a comfotable conclusion to the match.

The guys have very much hit the ground running, and with world number two Australia up next, they will look forward to their next game with confidence.

The game was also noteworthy for James Gall, who made his 50th international appearance.

Match report

Sam Ward was on the prowl inside the circle early on, and with eight minutes on the clock he touched just wide of the upright. Down the other end, George Pinner made an important save with Britain temporarily down to ten after a card for Chris Griffiths.

Goalless at the end of the first quarter, Britain scored three in the second period to take control of the match in Christchurch. Ward fired home through the 'keeper's legs on 18 minutes after a sequence of four penalty corners, and then we scored two in a minute from corners thanks to Phil Roper and Adam Dixon. Roper's was a well-worked move while skipper Dixon got a third goal in two games by drilling into the corner.

There were a further four goals in the third quarter, Ward finding the net with a second time finish after the ball was crashed into the circle. Roper then scored from very close range, Ward again involved in the creation.

New Zealand gave themselves a glimmer of hope with two goals in a minute, capitalising on a card for GB defender Liam Sanford. First Nic Woods scored from a corner before Hugo Inglis got a decisive touch on a high ball into the circle.

Any thought of a comeback by the Black Sticks were quickly extinguished though, with Ward capitalising on their decision to go with eleven outfield players, this time Roper the provider on 46 minutes.

Four goals to the good, Kerry's side saw the game out comfortably and maintained a 100% record after two games played. With Australia next up at 7:30am next Saturday morning, the top class hockey continues apace in the FIH Pro League.

New Zealand 2
Woods 43 (PC); Inglis 44 (FG)

Great Britain 6
Ward 18 (PC), 33 (FG), 46 (FG); Roper 27 (PC), 40 (PC); Dixon 29 (PC)

Starting XI: Pinner, Taylor, Ames, Weir, Sanford, Dixon (c), Gall, Wallace, Roper, Ward, Forsyth
Subs used: Gibson, Creed, Griffiths, Morton, Willars, Sloan, Waller

Great Britain Hockey media release


---

Black Sticks Men go down to Great Britain




The Vantage Black Sticks Men have gone down 6-2 to a determined Great Britain side. Great Britain put themselves up 5-0 before the Black Sticks tried to come back into the game. Unfortunately the mountain proved too great and the Great Britain team came away with the points.

The first international hockey match played at the new Nga Puna Wai sports hub was played on a beautiful Christchurch evening which saw the Vantage Black Sticks Men take on the team from Great Britain.

The Game started evenly with both sides looking to construct some offense. The Black Sticks were playing with an aggressive press looking to put the Great Britain Men under pressure and forcing some turnovers deep in their own half. The Black Sticks had some great early chances, but Great Britain goalkeeper George Pinner managed to scramble across the goal and keep the Black Sticks strikers in check. After the 1st quarter we were still tied at 0-0 but both sides were looking threatening.

Great Britain started the 2nd quarter aggressively earning the first penalty corner of the match. Richard Joyce saved the 1st shot however it came up off his kicker giving Great Britain a second chance at the penalty corner. The resulting penalty corner ended up going in off Richard Joyce's pad putting Great Britain in the lead 1-0. Late in the 2nd quarter Great Britain earned another penalty corner after the Black Sticks couldn't secure the ball in the circle. The Great Britain team then used a variation behind the back of the flicker and was put in the goal by Phil Roper. Great Britain then scored their third through captain Adam Dixon on another penalty corner. Great Britain would head to the sheds at half time full of confidence and looking to close out the victory.

Great Britain continued to apply the pressure at the start of the 3rd quarter and earned themselves another penalty corner on a crash ball into the Black Sticks circle. Richard Joyce saved the drag flick and we remained 3-0 in favour of the Great Britain team. As the quarter wore on the Great Britain side capitalised when the Black Sticks couldn't clear the ball and Sam Ward scored his second goal of the evening and put the Great Britain team in a commanding position. Phil Roper then scored his second goal of the evening off a high deflection into the goal. Late in the 3rd quarter the Black Sticks got themselves back into the game with 2 goals the 1st by Nic Woods in his 100th match as he drag flicked the ball into the net. Hugo Inglis then scored his 4thgoal for the tournament as he received a well-placed overhead in the circle and touched it over the keeper giving the Black Sticks a shot at a comeback.

In the 4th quarter the Black Sticks playing with no keeper Sam Ward completed his hattrick and further extended the Great Britain lead scoring their 6th goal of the evening. With 12 minutes to go Great Britain conceded a penalty corner however the Great Britain 1st runner was able to force Kane Russell's drag flick wide of the goal.

Great Britain 6 (Sam Ward 18', 33', 46', Phil Roper 27', 40', Adam Dixon 29')
Vantage Black Sticks2 (Nic Woods 43' , Hugo Inglis 44')

Hockey New Zealand Media release


---

Black Sticks humbled by Great Britain in Christchurch



Sam Ward scored a hat-trick for Great Britain. GETTY IMAGES

The New Zealand men's Black Sticks remain winless in the FHI Pro League following a 6-2 drubbing at the hands of Great Britain on Friday.

The Black Sticks were outplayed and out-hustled by an energetic British team at Ngā Puna Wai Sports Hub in Christchurch.

Friday's encounter was the first time international hockey had been contested in Christchurch since Porritt Park was destroyed in the 2011 earthquakes.

The humbling loss was an unfortunate way for Black Sticks midfielder Nic Woods to bring up his 100th test match in the black shirt but he did manage a goal in his milestone match.

A three-goal second-quarter blitz - all from penalty corners - put Great Britain in a commanding position up 3-0 at halftime.

They were clinical on attack and defence and limited opportunities for a dull Black Sticks side in a high-scoring match.



Black Sticks goal scorer Hugo Inglis controls possession as he's surrounded by Great Britain defenders. GETTY IMAGES

Great Britain forward Sam Ward scored his second goal early in the third quarter that came from an unlucky rebound from Black Sticks keeper Richard Joyce.

Joyce, who was constantly under pressure but pulled off several remarkable saves, saved an attempt on goal only for the ball to bounce straight back to Ward who knocked it in to make it 4-0.

Soon after, Phil Roper tapped in his second following some sharp work from Ward in the circle.

The Black Sticks finally won their first penalty corner late in the third quarter but were unable to convert. But they did a couple of minutes later when Great Britain were a man short following Liam Sanford being handed a yellow card.

Woods converted from the Black Sticks second penalty corner.

Black Sticks striker Hugo Inglis quickly doubled his team's score when he skilfully tapped in a lengthy overhead pass from Kane Russell to further capitalise on the visitors being a man short and close the gap to 5-2 at the end of the third quarter.

But the Black Sticks' comeback took a hit early in the final quarter when Ward got his hat-trick with a soft goal despite his team still being a man down.

Black Sticks striker Stephen Jenness dealt his side a further blow when he was had to sit down for five minutes in the final quarter for dissent.

In the first quarter, Ward grabbed the first goal of the match before Roper scored the second - after the ball struck Black Sticks defender Shea McAleese's foot.

The Black Sticks problems were compounded soon after when striker Hayden Phillips was shown a yellow card for a foul, forcing his team to play with just 10 men for five minutes.

And Great Britain capitalised, less than a minute later, with a third goal to captain Adam Dixon.

At halftime, Great Britain dominated the stat sheet with 59 per cent of possession and 12 circle entries compared to just four from the Black Sticks.

They had capitalised on three of their six penalty corners but the Black Sticks could not even win a penalty corner in the first half.

With a loss to The Netherlands (3-4) and a penalty shootout loss to Belgium (after being locked up at 4-4) the Black Sticks are yet to taste victory in the FHI Pro League.

Great Britain, unbeaten in two games, top the men's points ladder.

GREAT BRITAiN 6 (Sam Ward 3, Phil Roper 2, Adam Dixon) beat the BLACK STICKS 2 (Nic Woods, Hugo Inglis)

Stuff


---

Black Sticks Women seal huge win over Great Britain




The Vantage Black Sticks Women have rebounded spectacularly from their shock loss to Belgium a week ago to beat Great Britain. The Black Sticks showed an improved focus on both ends of the field as they took the result 5-1 to gain their first points of the FIH Pro League.

The Black Sticks took on the reigning Olympic Champions Great Britain in the second match of the evening at Nga Puna Wai Sports Hub. Looking to bounce back after two tough defeats to the Netherlands and Belgium the Black Sticks got themselves on the scoreboard early through a goal to Olivia Merry breaking the Black Sticks scoreless drought in the FIH Pro League. Great Britain got themselves on the scoreboard soon after when the Black Sticks were ruled to have stopped the ball with their body on the goal line resulting in a penalty stroke which was converted by Giselle Ansley. There was no further change to the score as the 1st quarter finished with us tied at 1-1.

The second quarter was an exciting one which saw the Vantage Black Sticks retake the lead in the 19th minute with an Ella Gunson drag flick. The Black Sticks were looking to move the ball around quickly and expose the Great Britain defence. With 8 seconds to go in the half the Black Sticks conceded a penalty corner off a crash ball into the circle. The Black Sticks defence ran down the penalty corner and withstood the Great Britain attack to head to the sheds with a 2-1 lead.

The Great Britain side started the 3rd quarter positively and challenged the Black Sticks keeper Grace O'Hanlon was up to the task to keep the Black Sticks lead intact. Olivia Merry then disposed one of the Great Britain defenders of the ball and powered into the circle to rocket a shot past the keeper and increase the Black Sticks lead 3-1. Kirsten Pearce late in the 3rd quarter received a great through ball from Kelsey Smith and had a shot however the shot went just wide of the goal and the score remained the same as we went into the 4th quarter.

Late in the 4th quarter Olivia Merry converted a penalty corner to score her 3rd goal of the evening and put the Black Sticks in a commanding position with 10 minutes to go in the match. Great Britain had a penalty corner with 2 minutes to go however Grace O'Hanlon reacted spectacularly and stopped the deflection. The Black Sticks then broke down the field and Amy Robinson slotted home the Black Sticks 5th goal for the evening to seal an emphatic win.

Vantage Black Sticks Women 5 (Olivia Merry 5', 35', 51', Ella Gunson 19' Amy Robinson 58')
Great Britain Women 1 (Giselle Ansley 11')

Hockey New Zealand Media release


---

GB women beaten in first FIH Pro League game



Sarah Robertson in the FIH Pro League

Great Britain's women were beaten by New Zealand in their first FIH Pro League game after an emphatic display by the Black Sticks.

Britain had 60% possession but found it difficult to get a foothold in the game, while Olivia Merry scored a hat-trick for the Commonwealth Games champions in a ruthless performance.

There was a debut for Great Britain's Lizzie Neal, while Giselle Ansley got Britain's goal with a penalty stroke in the first quarter.

The side will now look to regroup for their next match away to Australia on Saturday 16 February.

Match report

New Zealand got off to a very positive start with Olivia Merry nipping in front of a defender to turn home past Nikki Cochrane from close range. But Giselle Ansley made it 1-1 before the end of the first quarter, firing home a penalty stroke on 11 minutes.

The concession of a penalty corner on 19 minutes proved crucial, Ella Gunson beating Amy Tennant to make it 2-1 at the interval.

A thunderous second from Merry made it 3-1 on 35, and from that point on New Zealand were able to control proceedings.

Merry found the net again on 51 from a corner, before Amy Robinson produced a lovely deft touch to make it 5-1 with a minute to go.

With a debut for Neal and a number of other young players part of the squad, there are some reasons to be upbeat after this very first game, but the athletes will of course be looking for a more positive result against Australia next time out.

The FIH Pro League has produced top class hockey in every game so far, and Britain will be looking to turn in a positive performance in their next match in Perth.

New Zealand 5
Merry 5 (FG), 35 (FG), 51 (PC); Gunson 19 (PC), Robinson 59 (FG)

Great Britain 1
Ansley 11 (PS)

Starting XI: Cochrane, Pearne-Webb (c), Ansley, Toman, Balsdon, Petty, Evans, Martin, Robertson, Rayer, Owsley
Subs used: Tennant, Defroand, Neal, Howard, Sanders, Jones, Hunter

Great Britain Hockey media release


---

Adam Dixon named GB and England Captain



Adam Dixon

Great Britain and England Hockey are pleased to announce a new player leadership structure for our international men's hockey teams.

Adam Dixon will be the new captain of both teams, with David Ames selected as vice captain.

The remainder of the player leadership group is formed by George Pinner, Phil Roper and Jack Waller.

Performance Director Ed Barney said, "This is an exciting period for the men's programme and it has been great to see the programme evolve and progress following on from Rio. Building on the great work initially led by Bobby Crutchley and Katie Warriner, the time is right for an evolved leadership model and I have no doubt that Adam and the leadership group will lead the programme exceptionally well into a new era of men's international success."

Head Coach Danny Kerry commented, "Following the great work post-Rio by the captaincy group of Phil Roper, George Pinner and Ian Sloan we have worked with the athlete and staff group to think about what leadership we need moving forward. I am delighted with the appointment of Adam Dixon as captain, he is hugely respected by his peers, has worked hard at stretching aspects of his game and his leadership in recent months and has a fine reputation as a leader with his club at Beeston.

"Adam will be supported and complimented by the remainder of the athlete leadership group with David Ames as Vice Captain, and Phil Roper, George Pinner and Jack Waller completing the leadership team. They have already begun to consider their roles and responsibilities to the team and how they will operate. The staff and team are excited by the evolution of this critical part of the programme."

Dixon is the most experienced player in the current men's squad with more than 250 appearances for both Great Britain and England. A dependable, reliable character both on and off the pitch, the 32-year-old won gold in the 2009 European Championships, and has also won Commonwealth Games medals on two occasions. He played in the 2016 Olympics in Rio, and is also a well-respected leader at his club side Beeston. He has also played club hockey in the Netherlands, and won the India Hockey League with Kalinga Lancers. Adam was born in Nottingham and, like England men's cricket captain Joe Root, attended Worksop College.

Adam added, "I'm obviously delighted to be given the opportunity to captain my country. With it there obviously comes a huge amount of responsibility and I feel that at I am at the stage in my career where I can give my all to the captaincy and continue to try give my best performances on the field.

"I don't take this challenge lightly and there's certainly going to be times when the team and myself are tested to our limits over the coming months. However, I feel the squad is in a good position to tackle these challenges head on. Firstly there are some excellent existing leaders within the group who can play a massive role in steering our performances and shaping our team culture. Secondly, we have some real talent across the squad that is hungry to improve every time they step onto the training ground. Both of the above fill me with genuine excitement and optimism for the coming FIH Pro League and Olympic qualification campaigns."

Vice Captain Ames, 29, hails from Cookstown, Northern Ireland, and has been part of the Great Britain programme since 2015, having previously played for Ireland. In that time he has played in the Olympics, European Championships and World Cup. In 2016 he was voted player of the year in the men's English Hockey League, and he has the respect of both his teammates and staff for his dedication to the sport and ability to read the game.

Ipswich-born Pinner and Chester-born Roper have been part of the leadership structure since early 2017, while Wimbledon's Waller – who has only just turned 22 – is a new addition having only come into the squad in the latter part of 2018 under new coach Danny Kerry.

With the first ever FIH Pro League now underway and Olympic qualification on the line in 2019, this is a very exciting time for the sport. Great Britain's men earned a super 6-5 win in their first match away to Spain, and they are now in Christchurch for their next fixture at 4am UK time on Friday. Friday's game is live on BT Sport, as are all Great Britain games in this competition. The league has started in fine style, with an incredible 51 goals in the first seven men's matches. Great Britain are currently the only side with a 100% win ratio.

Great Britain's men's first home game in the competition is on Saturday May 4 against Spain at London's Lee Valley Hockey and Tennis Centre. Tickets on sale now from £7.50 Under 18s and £22.50 adults.

The British women also play their first match on Friday, taking on New Zealand at 6am UK time. Newly-appointed coach Mark Hager is now with the team and will be looking to overcome a New Zealand side he managed for the best part of a decade.

Great Britain Hockey media release


---

Adam Dixon set to 'give my all' as new Great Britain men's hockey captain

By The Hockey Paper




The "hugely respected" Adam Dixon will lead Great Britain's charge towards Tokyo 2020 Olympic qualification after being announced as the new men's captain on Thursday.

Great Britain have only played one international game in 2019, yet there has already been a swathe of news filtering out of Bisham Abbey.

Dixon's appointment follows Mark Hager's appointment as women's coach, Sophie Bray's retirement and news that Australian Mark Hickman has become national goalkeeping coach lead.

The latest announcement follows Danny Kerry's swap to the men's role and a swift change of the leadership structure.

The co-captaincy trio of George Pinner, Phil Roper and Ian Sloan has been replaced by Dixon as sole captain, with David Ames selected as vice captain. Pinner and Roper, along with Jack Waller, will form a five party player leadership group.

Performance Director Ed Barney said: "The time is right for an evolved leadership model and I have no doubt that Adam and the leadership group will lead the programme exceptionally well into a new era of men's international success."

With Barry Middleton currently taking an international break, Dixon is the most experienced player in the GB camp with over 250 caps.

He is a dependable and affable character on and off the pitch and, outside of his long-established links with Beeston, has forged connections during his hockey forays with Kalinga Lancers in the Hockey India League and the likes of HC Rotterdam in the Netherlands.

Dixon, 32, said: "I feel that at I am at the stage in my career where I can give my all to the captaincy and continue to try give my best performances on the field."

Kerry added: "I am delighted with the appointment of Adam Dixon as captain, he is hugely respected by his peers, has worked hard at stretching aspects of his game and his leadership in recent months and has a fine reputation as a leader with his club at Beeston."

The Hockey Paper


---

Emily Defroand upbeat on Great Britain hockey future under Mark Hager

By Rod Gilmour




Midfielder Emily Defroand believes new coach Mark Hager can turn Great Britain women into a "a forward-playing hockey nation".

Australian-born Hager quit the New Zealand women's role last month to join the GB programme ahead of Tokyo 2020 and will get a first glimpse of his new charges in a competitive environment against his old team on Friday night (6am UK time) in Christchurch.

"His track record as a coach is really impressive," said Defroand. "You can see his style of play which he has adopted with the New Zealand girls over the last decade. They have gone from strength to strength.

"They are a fast, forward-playing hockey nation and if he can bring that input and build upon what we have already it will be exciting for us moving forward."

After nearly 10 years in charge, Hager left New Zealand under a cloud after allegations of a negative team environment surfaced following the women's World Cup. An independent review was commissioned, the findings of which are set to come to light shortly.

However, Defroand said that the team had been left assured by performance director Ed Barney and Sally Munday, Great Britain hockey's chief executive, when the news was first announced.

"They said they were confident in Mark's appointment and the process they went to in employing him," said Defroand, who has won back her place in the squad after missing out at last summer's World Cup.

"They took an extended due diligence process and spoke to UK Sport and New Zealand Hockey. They had a sense of excitement and optimism and that rubbed off on me straight away.

"I have spoken to a few New Zealand girls who played over here and they are really envious of us. They really respected him and liked him as a coach.



Mark Hager took over as GB women coach in January PIC: Worldsportpics

"It's great we can take one of the best coaches around and have him in our ranks."

Munday told BBC Sport last month: "He's a good man, a family man, a man of really high values and morals.

"We think he's going to be a really good fit for us in Great Britain."

Great Britain's clash – the team has yet to win a tournament since Rio 2016 – in Christchurch will be the first in their Hockey Pro League campaign.

GB men get the double header under way when they play the Black Sticks at 4am UK time.

We will have an extended interview with Emily on her return to the squad after World Cup disappointment at a later date in The Hockey Paper

The Hockey Paper


---

Kookaburras Issue Rallying Call For Tasmanian Support

Ben Somerford




Hobart pair Josh Beltz and Jack Welch have called on the Tasmanian public to get out and show they deserve more international events when the Kookaburras and the Hockeyroos play this weekend.

Australia will play three matches on Saturday and Sunday at the Tasmanian Hockey Centre, taking on China PR and Germany as part of the new FIH Pro League.

The Hockeyroos will play China and Germany at 5pm on Saturday and Sunday respectively, while the Kookaburras will face the Germans at 3pm on Sunday.

The Kookaburras will also play an 2x15-minute exhibition match from 3pm on Saturday followed by a clinic and fan engagement with signing opportunities.

Tickets are available for both days via ticketbooth.com.au, while a Weekend Super Pass for all three matches represents great value.

The weekend's action represents a rare opportunity for Tasmanians to witness elite international hockey, with the Kookaburras last visiting in 2015.

"The more people we can get there the better to cheer us on," said Beltz, who'll represent his country in front of his home crowd for the first time on Sunday.

"I think as much international experience we can get down here the better.

"I think this weekend is a good opportunity for the Tassie fans to show the other states that we really support hockey and we want to have as many games down here as we can.

"The best way to do it is to get people inside watching the games."

Welch will make only his sixth international appearance in green and gold, having debuted in September.

He described playing in front of his home crowd as a "dream come true".

"Family and friends are going to be able to watch, so it's definitely going to be an experience to remember," Welch said.

"There's definitely going to be nerves. I've only played a few games. I'm going to go out there, try to play confident and see how we go.

"It's a dream come true. It's something I've always wanted to do and strived towards for a long time. To actually to be able to do it this early in my career is really special."

Beltz and Welch are long-time family friends who grew up in the same neighbourhood in Hobart and both said playing together in their hometown was special.

The Kookaburras are determined to bounce back in the FIH Pro League after going down in a shootout to the Netherlands after a 5-5 draw and 4-1 to Belgium in the opening round last weekend in front of two massive crowds.

"It was a disappointing start but the beauty is we get to play another game," Beltz said.

"The FIH Pro League is about playing the best teams in the world. We've got Germany who are by no means an easy team.

"We've got to out there and focus on what we do best and hopefully come out with a win."

The matches in Hobart are made possible thanks to the support of Events Tasmania.

Saturday's match against China PR will LIVE on kayosports.com.au and delayed on FOX SPORTS, while the Kookaburras' match against Germany will be LIVE on FOX SPORTS 507 on Sunday. The Hockeyroos' match against Germany will be delayed on FOX SPORTS and live on kayosports.com.au.

Tickets are still available for the Hobart matches by ticketbooth.com.au.

Australian fixtures (*all times are local)
Saturday 9 February 2019 – Tasmanian Hockey Centre, Hobart
Kookaburras exhibition match - 3pm, Hockeyroos v China PR - 5pm
Sunday 10 February 2019 - Tasmanian Hockey Centre, Hobart
Kookaburras v Germany - 3pm, Hockeyroos v Germany - 5pm

Hockey Australia media release


---

Green Army 1 vs 4 Spain

Anna O'Flanagan, captaining the Green Army today, gave her team an early lead in the 7th minute from a well worked penalty corner routine that saw her score from the rebound. But 3 minutes later and the experienced Carlota Petchame had levelled the tie against the run of play.

Lola Riera doubled Spain's lead from a powerful drag flick from the top of the circle that lift Liz Murphy with little chance. Lizzie Colvin continued her fine form, stepping back into the squad following a break after the World Cup, as she controlled the midfield channel and distributed the ball with ease.

Sarah Hawkshaw, who recently earnt her first cap in Chile, continued to impress with her darting runs down the wings while cutting either side of her Spanish markers. Petchame gave the hosts a commanding lead in the third quarter from a bit of a goal mouth scramble. The initial reverse strike was parried away before Maialen Garcia scooped the ball over Murphy to find Petchame at the busy back post to bundle the ball into the goal. Ali Meeke's skills were on display as she left several defenders in her wake, but the final outcome was just missing for the Green Army today. Riera finished the game off with her second goal; another well executed penalty corner.  

Ireland 1 (O'Flanagan) 
Spain 4 (Petchame x2, Riera x2)

Starting: E Murphy, C Brown, K Mullan, S McCay, E Tice, B Barr, S Barr, L Colvin, S Torrans, S Hawkshaw, E Curran

Subs: E Buckley, A Naughton, Y O'Bryne, E Beatty, A O'Flanagan (captain), A Meeke, L McGuire

Schedule (all times listed are local):

1/2/19 4:30pm Ireland 1 - 1 India in Hockey Santomera pitch, Murcia
3/2/19 11am Ireland 0 - 3 India in Hockey Santomera pitch, Murcia
4/2/19 6:30pm Ireland 1 - 2 Spain in Armilla Hockey, Granada
6/2/19 12:30pm Ireland 3 - 3 Spain in Armilla Hockey, Granada
7/2/19 11am Ireland 1 - 4 Spain in Armilla Hockey, Granada

Irish Hockey Association media release


---

Spain take the laurels from series with much-changed Ireland



The captains and umpires prior to Wednesday's games. Pic: Stefan Deems/RFEH

Ireland drew a dramatic second test against Spain on Wednesday morning before losing 4-1 on Thursday as Graham Shaw rang the changes

Ireland were denied victory by Spain in the last play in their second test match in Granada this week, denying them a famous comeback.

The hosts burst into a 2-0 lead in the first 11 minutes with Clara Ycart and Alejandra Torres-Quevedo both scoring set piece goals in quick succession.

Anna O'Flanagan got one back before half-time with a clever deflection move from Hannah Matthews' assist and Ireland were level four minutes after the break. Skipper Katie Mullan got it, trapping overhead from Sarah Hawkshaw's high ball into the circle, finishing off at the second attempt.

Matthews put Ireland in front for the first time with seven minutes to go, her sweep at goal taking the direct route to the backboard despite several sticks attempting to get a touch.

But Spain forced some late pressure and won a penalty corner which Maria Lopez swept down the barrel into the net.

Women's senior international test matches

Ireland 3 (A O'Flanagan, K Mullan, H Matthews)
Spain 3 (C Ycart, A Torres-Quevedo, M Lopez)

Ireland: E Buckley, Y O'Byrne, K Mullan, S McCay, B Barr, L Colvin, N Daly, H Matthews, S Hawkshaw, A O'Flanagan, A Meeke
Subs: N Evans, L Tice, E Beatty, H McLoughlin, D Duke, L McGuire

Thursday:

Ireland closed out their latest training series with a 4-1 loss to Spain in Granada, leaving them with two draws and three defeats from their camp this week.

They were unable to build on a smart start with Anna O'Flanagan pouncing on a rebound in the seventh minute after good work by Bethany Barr.

Spain levelled via Carlota Petchame against the run of play before the end of the first quarter and duly took control with Petchame scoring a second while Lola Riera added a couple, too.

Once again, it was an experimental Irish side with only four of the World Cup silver medalists starting the tie with another four coming off the bench.

Spain 4 (L Riera 2, C Petchame 2)
Ireland 1 (A O'Flanagan)

Ireland: L Murphy, C Brown, K Mullan, S McCay, L Tice, B Barr, S Barr, L Colvin, S Torrans, S Hawkshaw, E Curran
Subs: A Naughton, Y O'Byrne, E Beatty, A O'Flanagan, A Meeke, L McGuire

The Hook


---

Ireland draw little comfort from Spanish trip

Pick of the weekend games in the women's Hockey League is the meeting of UCD and Pegasus at Belfield

Mary Hannigan



Railway Union's Sarah Hawkshaw: she took part in the games in Spain. Photograph: Laszlo Geczo/Inpho
 
The results didn't go Ireland's way in Spain over the past week with three defeats and two draws from their five games, but coach Graham Shaw used the contests to give further opportunities to some of the squad's more recent additions, among them Sarah Hawkshaw and the Barr twins Bethany and Serena.

Having drawn one and lost one of their two games against India in Murcia, Ireland ended their three-match series against Spain in Granada on Thursday with a 4-1 defeat, adding to their earlier 2-1 loss and 3-3 draw against the team they beat in last summer's World Cup semi-finals.

Anna O'Flanagan gave Ireland a first-quarter lead in the last of the matches, but their hosts were level by the break, and added three more scores in the final two quarters.

Next up for Ireland is a trip to Bisham Abbey in England next month, when they will play a number of uncapped games against Britain, but before then the players return to club duty, starting this weekend with the resumption of the Hockey League.

After the last round of matches in November, Pegasus led the table by two points from Loreto, with UCD a further five points adrift, one clear of Pembroke Wanderers in fourth.

The pick of the weekend games then is the meeting of UCD and Pegasus at Belfield, while Loreto host Cork Harlequins, who are a point off the top four.

Pembroke are at home to Belfast Harlequins (sixth) on Sunday, with Railway Union (eighth) taking on Old Alexandra (seventh).

Saturday's only game pairs the bottom two with Ards at home to Muckross. 

Hockey League – Saturday: Ards v Muckross, Ards Park, 2.30pm. Sunday: Loreto v Cork Harlequins, Grange Road, 1.30pm; UCD v Pegasus, Belfield, 1.30pm; Pembroke Wanderers v Belfast Harlequins, Serpentine Avenue, 4pm; Railway Union v Old Alexandra, Park Avenue, 4.15pm.

The Irish Times


---

SA Womens Squad named for second camp



Phumi Mbande and Quanita Bobbs back in the squad. Photo - Marcel Sigg -Run Ride Dive

The second training camp for the SA Womens Hockey team gets underway today in Johannesburg. In a year where the focus will be on the FIH Hockey Series Finals and the African Qualifier, its imperative to hit the ground running for Robin van Ginkel.

With a number of players unavailable for the first camp, this camp offers the opportunity for a bunch of players to stake their claim for places in the squads. It will be a first opportunity for the likes of Nicole la Fleur, Phumi Mbande and Quanita Bobbs to take part in a camp under the new leadership, while an exciting group of players also get their first opportunities.

Amore de Wet, who has featured for the SA Indoor side on more than 20 occassions, is joined by the exciting Bianca Woods, Charne Maddocks and Stephanie Botha. Other new players at the camp include Donna Small, Kirsty Adams, Mia Barnard, Sandi Tabata and Sare Laubser.

The came takes place at St. Stithians College and finishes next Friday the 15 February.

South African Women's Training Camp Squad (8-15th February 2019)
Phumi Mbande    
Erin Hunter    
Mia Barnard    
Sandi Tabata
Amore De Wet    
Izelle Verster    
Mishca Ellis    
Sare Laubser
Ashleigh Datnow    
Kara Botes    
Mmathshepo Modipane    
Shindre-Lee Simmons
Bianca Woods    
Kirsten Paton    
Nicole La Fleur    
Stephanie Baxter
Casey Jean Botha    
Kirsty Adams    
Nicole Walraven    
Stephanie Botha
Celia Evans    
Lezaan janse van Vuuren    
Nicolene Terblanche    
Sylvia van Jaarsveldt
Charne Maddocks    
Lezan Jakobs    
Nikki Veto    
Tarryn Glasby
Courtney du Preez    
Lillian Du plessis    
Quanita Bobbs    
Teagan Fourie
Donna Small    
Lisa Deetlefs    
Robyn Jonson    
Toni Marks

SA Hockey Association media release


---

Scotland women to play Italy in Rome




Scotland's women's hockey team will play a three-match test series against Italy in Rome as part of preparations for a major year of hockey for the squad.

The matches will be held at the Olympic Preparation Center Giulio Onesti on the 18th and 19th of February at 16:00 pm and the 21st of February at 10:00 pm local time.

Head Coach Jen Wilson has announced her squad for the matches, which includes McKenzie Bell; Jessica Buchanan; and Louise Campbell following their performances at the Beatson Cancer Charity Super Series.

All three of the new players caught the eye of the Scotland senior women coaching staff throughout the recent Beatson Cancer Charity Super Series event at the Glasgow National Hockey Centre.

Dundee Wanderers forward Charlotte Watson, currently on 49 caps, could be set to win her 50th cap for Scotland on the trip, with Bex Condie, on 47 caps, also close to a milestone appearance. Kerry-Anne Hastings could also gain her first Scotland cap in Rome.

It's a huge year ahead for the Scotland women's national team with two major international tournaments on the horizon.

On 8-16 June Scotland women will compete at the Hockey Series Finals in Dublin alongside Ireland; South Korea; Czech Republic; France; Malaysia; and Ukraine.

Then there's huge home games when Scottish Hockey hosts Women's EuroHockey Championship II at the Glasgow National Hockey Centre on 4-10 August.

Here Scotland will play on home turf in the tournament featuring Wales; Czech Republic; Ukraine; Austria; Italy; Poland and Turkey.

Scotland women's Head Coach Jen Wilson said, "These games are important preparation for the Hockey Series Finals and EuroHockey Championship II this year. We'll also have some new players in the squad who'll have the opportunity to show what they can do at this level.

"Italy is a team we know well and the matches will be close and competitive. We have a similar world ranking so it's the perfect opportunity for a good tough series against a strong team. We're looking forward to it."

Scotland squad

McKenzie Bell (Western Wildcats)
Jessica Buchanan (Clydesdale Western)
Fiona Burnet (Wimbledon)
Lucy Camlin (Watsonians)
Louise Campbell (University of Edinburgh)
Bex Condie (Gloucester City)
Lorna Cruickshank (Durham University)
Kaz Cuthbert (Western Wildcats)
Emily Dark (Dundee Wanderers)
Jen Eadie (Clydesdale Western)
Amy Gibson (Der Club an Der Alster)
Kerry Anne Hastings (Durham University)
Kate Holmes (Western Wildcats)
Heather Howie (Clydesdale Western)
Sarah Jamieson (Muncher Sports Club)
Lucy Lanigan (Watsonians)
Fiona Semple (Wimbledon)
Laura Swanson (University of Edinburgh)
Becky Ward (Western Wildcats)
Charlotte Watson (Dundee Wanderers)

Scottish Hockey Union media release


---

Men's National Team Announces 2019 Squads




Field Hockey Canada is excited to announce the 2019 Men's National Team and Men's Senior Development Squad. These athletes train full time out of Vancouver, BC. The team partners with West Vancouver Field Hockey Club for on-field training and partners with Richmond Olympic Oval for weight training. Members of these squads will be selected to form national teams representing Canada at international competitions.

MEN'S NATIONAL TEAM
PLAYER    POSITION    CURRENT CLUB
Adam Froese    DEF    India Club
Antoni Kindler    GK    West Van HC
Balraj Panesar    DEF/MID    UBC HC
Brad Logan    MID    West Van HC
Brandon Pereira    DEF    United Brothers
Brenden Bissett    FWD    Vancouver Hawks
David Carter    GK    United Brothers
Devohn Noronha Teixeira    FWD    Toronto Lions/West Coast Kings
Fin Boothroyd    FWD    UBC HC
Floris Van Son    FWD    HIC Amsterdam
Gabe Ho-Garcia    MID/FWD    Club de Camp Madrid
Gordon Johnston    DEF    Vancouver Hawks
Iain Smythe    FWD    Vancouver Hawks
James Kirkpatrick    FWD    West Van HC
James Wallace    MID/FWD    UBC HC
John Smythe    MID    Vancouver Hawks
Keegan Pereira    FWD    HTC Mulheim
Mark Pearson    MID    West Van HC
Matthew Sarmento    FWD    Vancouver Hawks
Oliver Scholfield    FWD    Vancouver Hawks
Richard Hildreth    MID    Teddington HC London
Scott Tupper    DEF    West Van HC
Sukhi Panesar    MID    United Brothers
Taylor Curran    MID    West Van HC

SENIOR DEVELOPMENT SQUAD
Player Name    Current Club
Brendan Guraliuk    UBC HC
Ethan McTavish    UBC HC
Floyd Mascarenhas    UBC HC
Gavin Bains    UBC HC
Harbir Sidhu    India Club
Iqwinder Gill    India Club
Kyle Bishop    UBC HC
Lyle Fernandes    OKD Brampton
Manna Sahota    India Club
Rajan Kahlon    UBC HC
Rowan Childs    UBC HC
Satbir Brar    India Club
Tarjan Sandhu    United Brothers
Thomson Harris    UBC HC
Vikram Sandhu    UBC HC

Field Hockey Canada media release


---

Keusters retires from life as a red lion



©: Frank Uijlenbroek / World Sport Pics

Amaury Keusters announced his retirement from international hockey this morning via social networks following 96 caps for the Belgian red lions.

" It's time to turn the page and retire from the Belgian national team," the 28-year-old Herakles man said. "This is probably the toughest decision so far but I am grateful and proud of the last six years with the Red Lions.

"I have given my all in the past six years and, for me, it is time to take on a new challenge. I would like to build up a career combining it with several more years of clubhockey.

"I want to thank my teammates, club coaches and international coaches/staff members both at Herakles and the Red Lions for believing in me and helping me become the person and hockey player I am now.

"I've had some great memories, some ups and some downs, but they were all worth the sacrifice. Finally, I would like to wish the team all the best for the coming years and thank my family and friends for the continuous support."

Keusters made his international debut prior to the 2012 London Olympic against Australia at his home club.

He went on to play in two Hockey World League finals as well as the 2017 EuroHockey Championships where he came home with a silver medal.

Euro Hockey League media release


---

EHL sides Grunwald Poznan and Three Rock Rovers ready for Euro indoor challenge




WKS Grunwald Poznań will be going all out for glory at the EuroHockey Indoor Club Trophy in Zelina, Croatia this weekend as the continental club championships tip off.

The Polish champions, coached by Karol Śnieżka, are in Group B together with SPV Complutense (Spain), Slavia Prague (Czech Republic) and hosts of HK Zelina (Croatia).

Group A will be played by East Grinstead (England), Soerbymagle HC (Denmark), Amiens SC (France) and Gaziantep Polisgücü SK (Turkey), all hoping they can join the elite level in 2020.

"In November we won the "International Hockey Tournament on the Grass" in Unisław, and then all our outdoor league matches.

"In addition, we have won all 10 of our indoor games and that's why I think our team is very well prepared for the tournament in Croatia," said team manager Waldemar Serowski.

The military team stopped off in Vienna in midweek for a challenge match against SV Arminen who recently won the Austrian championship and are looking forward to hosting the EuroHockey Indoor Club Cup next week.

They do have a slight doubt over Michał Kasprzyk with a light injury but the defender should be ready for action.
Grunwald are among a series of sides to play in the EHL this season who are also in European indoor action.

In the Cup, SV Arminen and AH&BC Amsterdam will line out while Three Rock Rovers are in the EuroHockey Club Challenge I in Norway.

They earned promotion last season from the fourth tier in Georgia and added another Irish title last week with a 6-1 final win over Railway Union.
Coach Liam Canning says his side are confident of success but he is approaching the tournament in measured fashion.

"The lads are confident, aiming for promotion two years in a row. Realistically, getting to the top four playoffs would be a tall order. We just don't play at that level enough here in Ireland but we know we are playing for ourselves [for 2020] and so fifth or sixth will guarantee us a good level again to develop on."

Euro Hockey League media release


---

Three Rock going deep underground in search for Euro glory



Jody Hosking shoots in the Leinster indoor league. Pic: Sinead Hingston

Three Rock Rovers are going deep underground for their latest European adventure as they travel to Oslo for the EuroHockey Indoor Club Challenge I this weekend.

The Kringsja club venue is "like going into a World War II bunker" according to coach Liam Canning who is leading the club into their sixth European indoor campaign in a decade.

His side have experience of the Norwegian venue already from December 2017 when they played a challenge tournament there, giving them some sense of what lies ahead.

"The venue is about 100 metres underground with two pitches behind a giant metallic door on rollers," Canning said. "Once you go in, you are in artificial light for the whole day.

"The surface is also slower and stickier than the wooden ones we have played on in Ireland."

The coach is one of the stalwarts of the Irish indoor scene, developing a passion for the code in the 1980s with the superb Avoca side who were one of the key clubs during indoor's heyday in Ireland.

With Three Rock, he has managed to forge a strong unit over the last 10 years with his son, Ross, crucial in midfield as the main passer of the ball. Jody Hosking's dynamism is a feature while outdoor internationals Ben Walker – who has overcome an ankle injury – Jamie Carr, Daragh Walsh and Luke Madeley are quickly becoming accustomed to the game.

In Oslo, they will initially face a fancied Ukranian side OKS SHVSM Vinnitsa and Cardiff & Met on Friday before taking on Italy's Bologna on Saturday morning in the group.

A top-two finish would keep them in the running for promotion on Sunday while the bottom two in the group are destined for the relegation pool.

Looking at the challenge, Canning senior has researched as much as he can but knows that even though this is the third tier of European competition, it is still a far cry from what Rovers have experienced to reach this stage.

"The Ukrainians will play a very patterned game and it will test our discipline to the hilt. I have seen a good amount of the way they play and they won their first three games last year and were unlucky not to get promoted.

"The Welsh will be like an English league side so maybe a bit similar to us; the Italians, we will wait and see.

"We don't really play to the same patterns or have as many confirmed set plays. It is a lot more instinctive but we do have three different presses that we are happy with now. It will be very different from anything we have played so far but how we played in the Irish competition will not be anything like what we will show here.



Daragh Walsh on the attack. Pic: Sinead Hingston

"We are quick on the counter and I think we are physically likely to be one of the strongest which hopefully comes into its own later in the competition."

The coach will not be in situ for the first game due to work commitments at St Columba's College but will take over from Scott Crombie on the sideline from game two onwards.

As for their chances, hopes are high in the squad of backing up last year's success in the fourth tier in Georgia but Canning takes a more measured approach.

"The lads are confident, aiming for promotion two years in a row. Realistically, getting to the top four playoffs would be a tall order. We just don't play at that level enough here in Ireland but we know we are playing for ourselves [for 2020] and so fifth or sixth will guarantee us a good level again to develop on."

Men's EuroHockey Indoor Club Challenge I, Oslo, Norway
Friday: HC OKS SHVSM Vinnitsa v Three Rock Rovers, 9am; Cardiff & Met v Three Rock Rovers, 3.10pm
Saturday: Hockey Club Bologna v Three Rock Rovers, 9am
Saturday afternoon/Sunday morning: classification matches, times to be confirmed

The Hook


---

Inverleith men back in indoor European action this weekend




Inverleith men are back in indoor European action this weekend as they compete in the European Club Challenge 1 tournament in Norway this weekend.

"We have a strong squad of players going to the tournament, with the players very excited at the prospect of being given the opportunity to finish indoor hockey season on a high," said Neave.

The Edinburgh side will face SK Senkvice (Slovakia), AD Lousada (Portugal) on Friday, and then host side Kringsja Sports Klubb (Norway) early on Saturday in the initial pool competition before moving on to the later classification games.

It is difficult to ascertain the quality of the pool opposition, but as usual Neave is cautious about the prospects.

"There are some very strong competent teams in the tournament (some of whom we have played in previous competitions), and so I think it would be foolhardy to be making predictions at this stage.

"However, it is fair to say that our primary objective is to try and finish in the top two of our pool and then reassess from there."

A top two finish would propel Inverleith into the promotion pool against the leading sides from the other group.

The Oslo tournament is at the Challenge 1 level, Europe`s third tier, while in the recent past Inverleith have played in the higher Trophy level. Two years ago in Croatia the Edinburgh side finished fifth, but last year in Belarus Grove Menzieshill were relegated to the third division.

Inverleith`s domestic campaign started off in fine style with a perfect record after five games – Patrick Christie, Stephen Dick and Stuart Hatton were thick among the goals – but thereafter it all didn't go according to plan and the Edinburgh side were left with the consolation of third spot.

So it will be interesting to see how well Stuart Neave is able to get his side to pick up the cudgels and take on Europe. An interested bystander will be new champions Western Wildcats, where Inverleith finish in Oslo is where the Auchenhowie side start off a year from now.

Scottish Hockey Union media release


---

Terengganu Ladies win women's MHL

By Jugjet Singh

KUALA LUMPUR: Terengganu Ladies defeated KL Wipers 3-0 today to win the women's Malaysia Hockey League.

Sadly, only 20-odd fans watched the match held at the Tun Razak Stadium here.

They scored through Siti Rahmah Othman (23rd minute), Fatin Shafika Sukri (34th) and Siti Noor Amarina Ruhani (55th).

Terengganu Ladies, also champions in 2017, have one more match left in the league against China's Liaoning Hockey Club on Saturday.

They earned 30 points, five more than PKS UniTen, from 11 matches.

"Our only blemish in the league was the 2-1 defeat to UniTen in our last match.

"I salute my charges for their superb performance to retain the title," said coach K. Gobinathan.

Captain Siti Noor Amarina, national player, said they will not focus on winning the overall crown.

"We still have a match against Liaoning to complete the league fixtures on Saturday and will use it as a warm-up for the semi-finals. We hope to win the overall title," said Siti Noor Amarina.

RESULTS

Tengku Mahkota Ismail 1 PKS UniTen 5, PSHA-MSSP 0 Liaoning HC 16, Terengganu Ladies 3 KL Wipers 0.

New Straits Times


---

Terrific Terengganu lift women's hockey league with one match to go

By Aftar Singh



We are the champions. Terengganu players celebrating after winning the National Women's Hockey League. - MUHAMAD SHAHRIL ROSLI/The Star.

KUALA LUMPUR: Terengganu lifted their second National Women's Hockey League title in style with one match in hand.

The East Coast team defeated KL Wipers 3-0 at the Tun Razak Stadium in Jalan Duta on Thursday and sealed the title and pocketed the prize money RM50,000 with 30 points from 10 wins and one defeat.

Their only defeat was against PKS-Universiti Tenaga Nasional (Uniten) 2-1 on Monday.

Terengganu, who won their first league title in 2017, will wrap up the league fixtures against Liaoning Club of China on Saturday.

All Terengganu needed was just a draw against KL Wipers to clinch the title but they went on the offensive and took a lead through Siti Rahmah Othman off a penalty corner in 23rd minute. It was her eighth goal in the league.

They kept up the pressure and netted two more penalty corners through Fatin Shafika Mohd Sukri in the 34th minute before Siti Noor Amarina Ruhani completed the rout in the 55th minute.

Terengganu skipper Siti Noor Amarina Ruhani was delighted with the victory.

"I played for Terengganu in 2017 and we did well to win both the league and overall titles. We now hope to repeat the feat this season," said Siti Noor

Liaoning Club thrashed hapless Penang State Hockey Association PSHA-MSSPP 16-0 at the USM pitch on Thursday.

Top four teams - Terengganu, PKS Uniten, Police Blue Warriors and Liaoning Club - will feature in the overall cup.

The first-leg semi-finals matches will be played on Tuesday while the return leg matches will be held on Thursday. The final is slated on Feb 16.

RESULTS
TERENGGANU 3 KL WIPERS 0
SSTMI 1 PKS-UNITEN 5
PSHA-MSSPP 0 LIAONING CLUB 16
STANDINGS
                                       P W D L F A Pts
TERENGGANU            11 10 0 1 49 8 30
PKS UNITEN                12   8 1 3 36 10 25
POLICE BLUE              11   8 0 3 34   8 24
LIAONING                    11   7 1 3 45 11 22
SSTMI                           11  3 0 8   9 40   9
KL WIPERS                  11   2 0 9   8 33   6
PSHA-MSSPP              11   0 0 11 1  72   0

The Star of Malaysia


---

Deavin aims to excel in hockey and business in 'second home'

By Aftar Singh

KUALA LUMPUR: Universiti Kuala Lumpur's (UniKL) top hockey defender Timothy Deavin wants to make Malaysia his second home.

This does not come as a surprise as the Australian has been captivated with the country since he started playing in the Malaysia Hockey League (MHL) in 2017.

In fact, the 35-year-old from Perth plans to go one step further by opening up a sports bar in Kuala Lumpur when he is not too busy with hockey.

"I like the lifestyle in Malaysia. Kuala Lumpur is one of my favourite places to stay. I want to make it my second home," said Deavin.

"I opened a sports bar in Perth three years ago.

"There are people managing it for me while I play hockey in Malaysia.

"I hope to expand my business here. I'll try to balance both al­though hockey will always remain my greatest love," said the Aussie, who has a degree in computer science.

The only thing he is still trying to adapt to in Malaysia is its hot and humid weather.

"I'm still getting used to it. But I'm having good fun playing with this team here," he said.

Deavin, who took up hockey at the age of nine, made his international debut at the 2010 Sultan Azlan Shah Cup where Australia became champions.

And since then there was no turning back for him as he went on to represent his country in three Champions Trophy (2010, 2011 and 2016), World Cup in The Hague in 2014 (champions), 2012 London Olympics (bronze).

His only disappointment so far is missing out on a medal at the 2016 Rio de Janeiro Olympics.

Australia lost 4-0 to Holland in the quarter-finals.

Deavin hoped to steer UniKL to their first league title.

"We are having a good run so far and I believe that we stand a good chance of winning," he added.

UniKL top the standings with 19 points and they will start as the favourites against Universiti Tekno­lo­gi Mara (UiTM) today at the Tengku Abdullah Stadium in Bangi.

Their main challenge will be against second-placed Tenaga Nasional on Sunday at the Tun Razak Stadium.

UniKL edged UiTM 2-1 and Tenaga 3-1 respectively in the first-round matches.

The Star of Malaysia


---

Yasin says Shahbaz Sr return to PHF a relief for hockey

ISLAMABAD - Rawalpindi Hockey Association senior officials and member of Pakistan Hockey Federation Muhammad Yasin congratulated Olympian Shahbaz Senior for taking back his resignation as secretary PHF and continuing his duties again.

While talking to The Nation on Thursday, M Yasin, who is also Punjab Hockey Association representative expressed these views. He said Shahbaz had served Pakistan hockey for decades and Pakistan hockey need a person like Shahbaz, who could steady the ship along with President Brig (R) Khalid Sajjad Khokhar.

"I have long being associated with hockey in different capacities and I know inside outs of hockey. I can easily claim that Shahbaz under present circumstances has done the right thing in the best interest of Pakistan and hockey as Shahbaz doesn't need posts nor offices to get personal benefits. It is hockey who needs Shahbaz.

He is a mega name and he needs no introduction world-wide. Whenever one takes Pakistan name in hockey, it is impossible to sideline Shahbaz and his services for Pakistan hockey. I want to say a big thanks to Brig Khokhar, who rejected Shahbaz' resignation and urged and convinced Shahbaz to take back his decision, which I feel was taken after he got highly frustrated. But now I know and I am confident Shahbaz is back, Pakistan hockey will start upward journey again," Yasin concluded.

The Nation


---

Rasheed for hockey revival at schools

LAHORE: The absence of basic skills is the major reason behind the declining trend of hockey in Pakistan; this was stated by former international hockey player M Rasheed while talking to 'The News' on Wednesday.

M Rasheed, who clinched seven gold medals during his playing days, said the young hockey players are not being taught the basic techniques of the game properly which is a big injustice with the game itself. "Though the modern day hockey has advanced to a great extent but the fundamental structure remained the same even after several decades and our young learners need to focus on improving the basics of the game," he added. Giving the details of his playing career, Rasheed informed that he has been part of one of the best hockey teams. "I was the member of Pakistan team that won seven gold medals in 1982 Asian Games, 1980 Champions Trophy at Karachi, 1979 Junior World Cup at Paris, 1980 Azlan Shah Hockey, 1981 4-Nation Hockey Tournaments at Singapore, Poland and Holland".

Answering a query, M Rasheed, who represented Pakistan in 84 matches including two Champions Trophy tournaments in 1980 and 1981, said the current leading hockey teams of the world brought several changes in the format of the game after the 1990s according to their culture and atmosphere but unfortunately our hockey players are trying to copy their playing style blindly instead of focusing on their own game.

M Rasheed, a former key defender of the national hockey team, further said that Pakistan Hockey Federation (PHF) Secretary Shahbaz Sr has great respect among the world hockey community and Pakistan hockey must take benefit from his iconic stature.

He said it's right time for Pakistan hockey authorities to trace fresh talent at grassroots level. "They can get sufficient hockey potential by holding regular hockey events at schools and colleges. There is also need to depute qualified coaches at schools. While coaching in schools, our coaches must focus on the basic hockey skills in the early stages of a young hockey player". Replying a question, M Rasheed said: "Pakistan hockey high-ups must forget their personal differences for the true growth of hockey across the country. Pakistan hockey can regain its lost glory if all the stakeholders play their due role positively for the revival of hockey".

The News International


---

Top India stars to participate at Senior Women's Hockey Nationals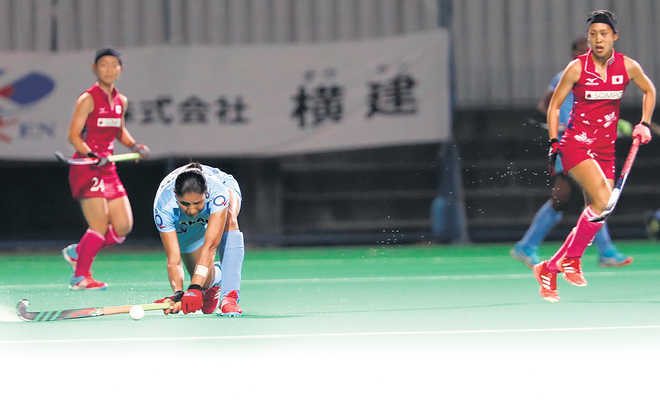 India's hockey star Gurjit Kaur in action during Asia Cup in Japan.

Top India stars will turn up for their respective state units and employers when the 9th Senior Women's Hockey National Championship begins here on Friday.
 
Gurjit Kaur, Deep Grace Ekka, Sushila Chanu, Navneet Kaur, Navjot Kaur, Anupa Barla and Vandana Katariya are some of the top stars who will turn up for the defending champions Railway Sports Promotion Board.
 
"After their successful outing in the Spain recently, it is good for the players to continue their competitive form at the National Championship," said David John, High Performance Director, Hockey India.
 
"While the core group of women in the national team have remained constant over the past two years, national selectors would be watching out for fresh talent during the tournament as we prepare for the important next 18 months leading into the Olympic Games 2020."       
 
RSPB will begin their campaign against Hockey Rajasthan in the Pool A opening match during the 11-day domestic extravaganza.
 
The Pool A also features Hockey Karnataka, Hockey Odisha and Hockey Coorg while Pool B will see last year's runners-up Hockey Madhya Pradesh, Madhya Pradesh Hockey Academy, Hockey Gangpur-Odisha, Chhattisgarh Hockey and Hockey Bhopal.
 
Pool C includes Hockey Haryana, Hockey Maharashtra, Uttar Pradesh Hockey, Hockey Him, Central Reserve Police Force and Pool D will have Hockey Jharkhand, Hockey Punjab, Hockey Unit of Tamil Nadu, Association of Indian Universities and Kerala Hockey.
 
Teams that finish top two in each of these Pools in the round robin stage will qualify for the quarterfinals to be played on February 15, while the semifinal and final will be played on February 17 and 18 respectively.

The Tribune


---

PREVIEWS: English Men's Hockey League

The first team to take points off leaders Surbiton, the University of Exeter will be aiming to do the same again as they begin the second half of the Men's Hockey League Premier Division with a home game against the reigning champions on Sunday.

September's 1-1 draw turned heads as the top flight newcomers took their first points, but since then they have only secured three more points despite playing some good hockey.

Simon Tyson, University of Exeter's Manager, said: "We're looking forward to the second half of the season, starting with Surbiton. They're obviously a top team and as with most of our fixtures in the Premier Division, we'll be playing against one of our old boys, this time James Royce.

"We were disappointed not to get more points on the board in the first half of the season given that almost all of our games have been close affairs. The squad is now much more experienced at Premier Division level than at the beginning of the season and we're confident that we can pick up some results over the coming weeks.

"The winter break has been busy for us. We re-entered indoor competition for the first time in a few years and secured three promotions, losing only once in 16 games. This has complemented our outdoor game and helped us to retain a good level of sharpness going into this weekend."

Should Surbiton fail to take maximum points, Hampstead & Westminster could be there to leapfrog them to go top of the table. They face third bottom Wimbledon.

Elsewhere, third-placed Beeston host Brooklands MU. Beeston are only three points off the top two and could go level with the top two if results go their way, whilst bottom side Sevenoaks face mid-table Reading in their quest for a first win of the season.

In the Men's Conference East unbeaten leaders Old Georgians have a home game against Teddington, while second-placed Oxted go to Canterbury who are third. A win for either side will see them second.

And at the other end of the table there's a crucial game at bottom of the table Richmond on Sunday when they host third-bottom Cambridge City who are just two points ahead.

We could have a new leader in the Men's Conference North after this weekend.

Current table toppers Bowdon are at home against third-placed University of Nottingham, who could go top if they secure a big win. They will also need second-placed University of Durham to lose to Loughborough Students.

And in the Men's Conference West headers Olton & West Warwicks head to Oxford Hawks as they bid to pull clear of Havant, who are level on points.

FIXTURES

Men's Hockey League (Friday, 8 February 2019)

Men's Conference West
Univ of Bristol v Team Bath Buccaneers 19:45

Men's Hockey League (Saturday, 9 February 2019)

Men's Conference North
Leeds v Belper 18:00
Univ of Durham v Loughborough Students 18:00

Men's Hockey League (Sunday, 10 February 2019)

Men's Premier Division
Univ of Exeter v Surbiton 12:30
Beeston v Brooklands MU 14:00
Wimbledon v Hampstead & Westminster 14:00
Reading v Sevenoaks 14:30

Men's Conference East
Canterbury v Oxted 12:45
Richmond v Cambridge City
Old Georgians v Teddington 14:00
Old Loughtonians v Brighton & Hove 14:00
Southgate v City of Peterborough 14:30

Men's Conference West
Univ of Birmingham v Isca 12:30
Fareham v Chichester 13:30
Oxford Hawks v Olton & West Warwicks 14:00

Men's Conference North
Alderley Edge v Sheffield Hallam 14:00
Doncaster v Preston 14:00
Bowdon v Univ of Nottingham 14:30

England Hockey Board Media release


---

PREVIEWS: Investec English Women's Hockey League

After storming to victory in the Jaffa Super 6s Indoor Championship last month, East Grinstead will be aiming to transfer that form to the outdoor game as the Investec Women's Hockey League Premier Division resumes.

Currently third in the table, East Grinstead are at home against second-placed Holcombe on Saturday, and could go top if they win and current leaders Surbiton lose out at Buckingham by more than two goals.

"Coming out of the winter break is always difficult when we progress to the indoor finals," said East Grinstead team manager Tony Crisp. "This limits outdoor preparation time which has been compounded by a week of bad weather, meaning training time has been severely curtailed."

East Grinstead will be without Ellie Rayer who is away on international duty, while Laura Unsworth is out injured.

Elsewhere, bottom of the table Canterbury will be hoping to record their first win of the season as they travel to second-bottom Slough, who only have one victory to their name.

The University of Birmingham play host to Clifton Robinsons who will be keep to retain their place in the top four, while Bowdon Hightown travel to Beeston on Saturday.

And Sunday sees Bowdon Hightown in action again, with a home match against Slough.

In the Investec Women's Conference East the top two sides play each other, with leaders Wimbledon having home advantage over second-placed Hampstead & Westminster for Saturday's match.

Elsewhere, Cambridge could move up from third to first if they can beat visitors Harleston Magpies and the sides above them can only draw.

Unbeaten Loughborough Students head to the University of Durham on Saturday aiming for another victory after last weekend's big 9-0 win over Timperley.

Second-placed Leicester will want to keep pace with Loughborough as they host Ben Rhydding, while at the other end of the table the bottom two play each other with Sutton Coldfield going to Timperley.

With nine league wins in a row under their belts, Investec Conference West leaders Stourport could take that winning streak to 11 this weekend as they go to Swansea City on Saturday then return home to play Trojans on Sunday.

FIXTURES

Investec Women's Hockey League (Saturday, 9 February 2019)

Investec Premier Division
Buckingham v Surbiton 12:00
Slough v Canterbury 12:30
Univ of Birmingham v Clifton Robinsons 13:30
Beeston v Bowdon 14:00
East Grinstead v Holcombe 16:00

Investec Conference East
St Albans v Horsham 13:00
Sevenoaks v Bedford 13:30
Southgate v Ipswich 14:00
Wimbledon v Hampstead & Westminster 14:00
Cambridge City v Harleston Magpies 17:00

Investec Conference West
Gloucester City v Isca 12:00
Olton & West Warwicks v Trojans 12:00
Swansea City v Stourport 12:00
Exe v Barnes 13:00
Reading v Oxford Hawks 16:30

Investec Conference North
Leicester v Ben Rhydding 12:00
Brooklands-Poynton v Fylde 13:00
Timperley v Sutton Coldfield 14:15
Leeds v Belper 16:00
Univ of Durham v Loughborough Students 16:00

Investec Women's Hockey League (Sunday, 10 February 2019)

Investec Premier Division
Bowdon v Slough 12:30

Investec Conference East
Bedford v Ipswich 13:30

Investec Conference West
Stourport v Trojans
Reading v Exe 12:30

England Hockey Board Media release


---

Hockey teams gear up for gripping SPAR tourney

The regionals will begin in March and the grand finals are tabled to be played in July at St Mary's DSG.

Lloyd Mackenzie



SPAR School Girls' Hockey Challenge Tournament director, Les Galloway (seated) with SPAR's sponsorship controller, Claire Hogg (at centre back); Grace Kitshoff (back left) from St Anne's, Cara Waud, Ccptain of Epworth; Wykeham Collegiate, Jade Brandis (left front) and St John's DSG's, Kelsey Dellar (right front). PHOTO: Jonathan Burton

THE dates for the ninth SPAR KZN School Girls' Hockey Challenge in South Africa have been announced, with the grand finals taking place at St Mary's DSG in Kloof.

Four tournaments will take place in March and will kick off with the Pietermaritzburg regionals.

The central and northern regionals of Pietermaritzburg will be played on Sunday, 3 March, hosted by one-time winners, St John's DSG and The Wykeham Collegiate. Saturday, 9 March will see the Durban North regional take place at Crawford La Lucia. Durban Girls High School will host the Durban central regional at 3 Schools Trust on Sunday, 10 March.

The fifth regional tips off the first of two tournaments taking place in April. On Sunday, 7 April, Amanzimtoti will see the teams for the Durban south regional at 3 Schools Trust. Heading further south, the challenge moves down to Port Shepstone for the Sisonke and Ugu Southern KZN Regional tournament on Saturday, 13 April at Creston College.

The final four tournaments all take place in May.

The action will move inland to Newcastle's St Dominic's for the Northern KZN regional on Saturday, 4 May. Greytown High School will host the Umvoti, uThukela and Umzinyathi regional on Saturday, 11 May.

The Highway regional will take place at Thomas More College. To wrap up the regionals, Grantleigh will host the northern KZN coastal regional on Sunday, 19 May.

Once the winners are revealed at the 10 regionals, the regional representatives will converge at St Mary's DSG two months later for the grand finals. The riveting final swill take place on Saturday, 20 to Sunday, 21 July.

The Highway Mail