All the news for Tuesday 6 November 2018

Germany announce squad for World Cup




Head coach Stefan Kermas has announced the German men's national team who will compete at the upcoming Odisha Hockey Men's World Cup Bhubaneswar 2018.

The "Honamas" will be eyeing their third World Cup title

Crowned World Champions in 2002 and 2006 and winning the bronze medal at the Rio Olympic Games in 2016, Germany sit in Pool D with Malaysia, the Netherlands and Pakistan.

Germany men's team for the Odisha Hockey Men's World Cup Bhubaneswar 2018:

Mark Appel
Tobias Walter
Florian Fuchs
Benedikt Fürk
Mats Grambusch
Tom Grambusch
Johannes Große
Martin Häner
Tobias Hauke
Timm Herzbruch
Dieter Linnekogel
Marco Miltkau
Mathias Müller
Dan Nguyen Luong
Christopher Rühr
Ferdinand Weinke
Niklas Wellen
Lukas Windfeder

#HWC2018

FIH site


---

Five Rot-Weiss stars in German World Cup squad



©: Dirk Markgraf

Five Rot-Weiss Koln players have been named in the German World Cup squad named on Monday as the big event in India comes sharply into focus.

Mats and Tom Grambusch, Johannes Grosse, Marco Miltkau and Christopher Ruhr have all been named in a high quality panel who feature in one of the toughest initial groups, playing the Netherlands, Pakistan and Malaysia.

Stefan Kermas's side has a large number of players set to play in the EHL next Easter with Uhlenhorst Mulheim trio Benedict Furk, Timm Herzbruch Ferdinand Weinke and Lukas Windfeder joined by Mannheimer HC's Danny Nguyen Luong and Dragons' Tobias Walter.

Nine Olympic bronze medal winners of Rio 2016 are still in the World Cup squad of Stefan Kermas, which contains a balanced mix of experience and talent.

With Fürk, Martin Häner and Tobias Hauke, three players have already passed the 30. Herzbruch and Große are the youngest in their squad at the age of 21.

Uhlenhorst's Julius Meyer and Hamburger Polo Club's Constantin Staib have been named as reserves and will travel with the team in case of injury or illness.

Prior to their departure on November 24, Germany will play three games in Alicante as part of their warm-up preparations.

Euro Hockey League media release


---

Pakistan in danger of missing out on World Cup, warns Shahbaz

Mohammad Yaqoob

LAHORE: In a potentially alarming development for the national game already facing multiple crises, Pakistan Hockey Federation secretary Shahbaz Ahmed Senior on Monday feared that if the government does not release the grant of Rs80 million for the federation within a week, it will be tough for the PHF to field national team in the World Cup starting later this month.

"The PHF has directly written a letter to the Prime Minister Secretariat for the release of Rs80 million grant as the World Cup is around the corner. And if Pakistan does not succeed in fielding its team in the World Cup it will defame the country's name and [as a result] its massive damage will also be felt by our hockey in future too," Shahbaz told reporters ahead of the national training camp that starts here on Tuesday.

"Pakistan can face a heavy fine from the International Hockey Federation (FIH) for not fielding a team in the World Cup, for any reason," he warned.

The 14th edition of the World Cup, the game's pinnacle event, featuring teams from 16 countries — divided into four pools — will be staged in Bhubane­swar, India from
Responding to a question, Shahbaz said though the PHF was in contact with the Ministry of Inter-provincial Coordination, a direct letter had been written to the PM Secretariat to get the said grant at the earliest as time was running out.

Moreover, Shahbaz added, the PHF was also trying to get some sponsorship from the private sector to address the financial crisis.

To a question, he said the PHF would soon announce the hiring of Tauqir Dar and Danish Kaleem for the national team management.

"As I have just returned from India [after attending the FIH Congress], I will meet the PHF president to get the approval for the hiring of these two Olympians," he said.

"Tauqir has been serving hockey by running Dar Academy while Danish is serving there as coach. Both are involved in hockey activities, so they can be the best choices," Shahbaz reckoned.

He said a three-member committee would be formed soon to probe the spat occurred between head coach Hasan Sardar and then-assistant coach Mohammad Saqlain during the recently-held Asian Champions Trophy in Muscat. As a result of the unfortunate incident, Saqlain had to quit the post during the championship.

"Hasan as team head coach and manager has vast powers as he is responsible for every result. Therefore, he should have like-minded persons in the team management," Shahbaz maintained.

It may be mentioned that Hasan recommended the name of Tauqir as head coach but the latter had refused to work on this post. However, he agreed to join the team as assistant manager.

Tauqir, on his part, had recommended the name of Danish for the position of assistant coach in place of Saqlain.

During the FIH meeting in India, Shahbaz said, he held a joint meeting with the officials of FIH, Bangladesh, Kazakhstan and Afghanistan on organising an international tournament in Pakistan next month.

"All the participating countries have promised to inform about their availability for the said tournament in a week's time," the PHF secretary said.

APP adds:

Meanwhile, Shahbaz expressed the determination to make an all-out effort to hold the Pakistan Hockey League (PHL) within the next two months.

"I believe we will have to hold our league on priority basis. This is necessary for the development and growth of our young players," Shahbaz said. "The successful holding of the league will pave the way for Pakistan to regain glory in the national game.

"I believe I am in a better position now to invite international players for our [planned] league. I'm sure I will manage to convince world's renowned players to come to Pakistan for this league," he vowed.

Shahbaz, however, said the PHF would need support of the Pakistan Sports Board (PSB) and the government to hold the prestigious event in the country. "We are looking forward to the PSB and the government for organising this league."

Dawn


---

Visa hurdle unlikely in Pak's path to WC

Hockey India official says visas will be granted after Pak trims its squad to 20 members

Smita Sharma &Vinayak Padamdeo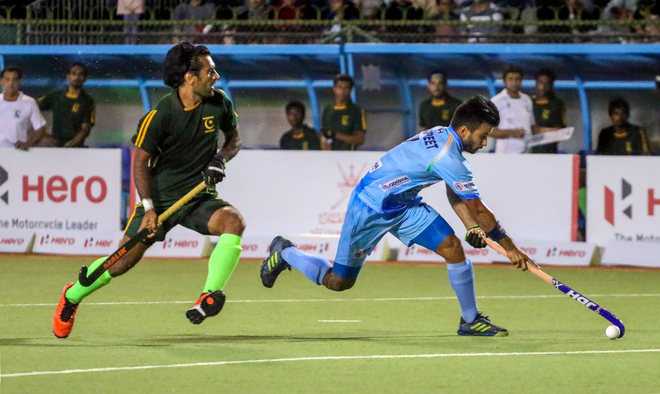 The Asian Champions Trophy final between India and Pakistan was washed out in Muscat two weeks back. So, the archrivals will be eager for a face-off in the World Cup. file photo

Amid tense bilateral ties, Pakistan's hockey team is awaiting visa clearances from India to travel to Bhubaneswar later this month for the World Cup. Sources told The Tribune that the team is 'likely to travel' to participate in the multilateral event and there is 'no problem in principle'.

The tournament, which will see 16 teams face off, kickstarts on November 28. The teams are expected to start reaching Odisha a week prior to it. "The visa applications are under process. The tournament begins end of November. We have enough time," stressed a source.

Sporting engagements between India and Pakistan have been minimal even as a Parliamentary Standing Committee on External Affairs, that was briefed by Foreign Secretary Vijay Gokhale last month, advocated some form of ties including people to people and sports. However, unlike in 2016, when the Pakistani team applied for visas after the official deadline and later withdrew from Junior Hockey World Cup held in India, this time visa requests were received in time, the sources said. "There is no delay in issuance of visas. Pakistan has sent a long list of 30 members. It has to be cut short to 20 by November 10. Once that is done, they will be provided with visas to travel," said a Hockey India official. The official also clarified that the Indian team too will have to be pruned to 20 by the November 10 November deadline.

The International Hockey Federation (FIH) has requested the Indian government to allow Pakistan to participate in the top tournament.

A three-member Pakistani delegation was in attendance for the FIH Congress in New Delhi last week. Pakistan's hockey team last played in India in December 2014.

In the past few months, India has been accused of denying visas to some Pakistani academics, scholars and chefs who wanted to travel for conferences and a Food Festival in Amritsar. India in September called off a Foreign Minister Level meeting scheduled in New York within twenty four hours of accepting the Pakistani offer of talks, citing spate of killings in Kashmir among its reasons. "Let me tell you that the visa regime between two countries is a reflection of the current state of relations between the two countries. And if the relations are not good then it is understood that visa regime would not be good," MEA spokesperson Raveesh Kumar responded last week to a question on whether visas will be issued to Pakistani exhibitors to participate in the upcoming India International Trade Fair.

The Tribune


---

Shahbaz determined to hold Pakistan hockey league within two months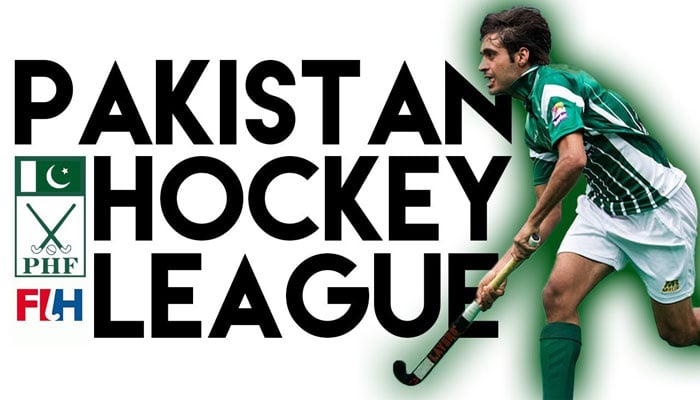 ISLAMABAD: Secretary Pakistan Hockey Federation, Shahbaz Ahmed Senior on Monday expressed the determination to make an all-out effort to hold Pakistan Hockey League within next two months.

"I believe we will have to hold our league on priority basis. This is necessary for the development and growth of our young players" Shahbaz told APP on his return from India after attending a meeting of the International Hockey Federation (FIH) in New Delhi, where he was also elected as a member of Board of Governors of world game's governing body.

Shahbaz said that the successful holding of the league would help pave way for Pakistan regain erstwhile glory in the national game.

"I believe I am in a better position now to invite international players for the league. I'm sure I will manage to convince world's renowned hockey players to come in Pakistan for the league," he said.

Shahbaz, however, said that the federation would need Pakistan Sports Board and the government's backing to arrange the prestigious event in the country.

"We are looking forward to the PSB and government to hold the mega event. Our youngsters need exposure and the league will provide a perfect platform to them.

"They will get inspired and motivated. They will develop the passion for the game when they will see world's top players performing right in front of them," he maintained.

Shahbaz said it was unfortunate that youngsters in the country were losing interest in national game and the result was that Pakistan had stopped producing great hockey players.

He also underlined the need to establish hockey academies and training centres in various cities of the country to revive the national game.

"Sooner or later, we'll have to invest to set up training centres and academies to polish the skills of our promising players," he added.

He said it was necessary to develop sustained passion for hockey among the youngsters.

"This is only possible if we'll introduce the game at gross-root level by establishing hockey academies," he added.

The News International


---

Hockey India League to return in 2019



Ashley Jackson ruling midfield in the Hockey India League

The Hockey India League looks set to return in 2019 featuring men's and women's teams and a shortened format.

According to a Hockey India official, HIL is slated for after the completion of the FIH Pro League, between November and December, and will played under five-a-side rules.

The franchise teams will remain the same, although Delhi Waveriders, which featured the like of England's Iain Lewers, are not expected to take part.

"The league would be remodelled and would now include both men's and women's events. We are looking at making it 5-a-side instead of 11-a-side," an official told reporters.

Each franchise will have 10 men and 10 women in their squad, it is reported.

"The existing franchises are likely to continue and we are still in talks with them, working out details. We are also talking to other possible owners," the official said.

"The Pro League would be over in the first half of 2019 and all players from across the world would be available for the HIL."

India's growing success has previously been credited to the success of the HIL in enabling young players to play alongside the top stars.

It is not known how many international players will be retained by each franchise. With the Pro League stretching from January to June, clubs may have the final say on any foreign players being enticed to India.

The Hockey Paper


---

Van Aubel and Denayer honoured at Belgian awards night



©: Frank Uijlenbroek / World Sport Pics

KHC Dragons Florent van Aubel was awarded the Golden Stick last weekend as the best player in Belgium for the 2017/18 season.

It came as something of a surprise to the man known as "the magician" as he anticipated the award would go to Arthur van Doren – his former club-mate now at Bloemendaal – for a fourth time.

"Seriously, I did not think I could leave with a prize tonight," he told the Hockey Belgium website. "The other four named had a fantastic season. Last year, I was still evolving with my great friend Arthur Van Doren, who is still the best player in the world. And for me, it was pretty clear that he was going to win again. That's why it's a real surprise."

"Obviously I'm proud of the award. Even though it is a team sport, an individual prize is something quite special. It's certainly my final four playoff games that made the difference.

"But let it be clear that I would immediately return my Golden Stick to be crowned champion again with Dragons or win the gold medal at the World Cup."

Dragons' Felix Denayer was voted by the public as men's player of the year.

"It's always a pleasure to win this type of award. I always try to give my maximum on and off the pitch. I love the game and it remains a real passion.

"There are more and more players who excel each season and it becomes more and more difficult to highlight. But we always have a better chance of getting noticed when the team foes well.

"I must thank the Dragons. It is no coincidence that Florent van Aubel has established himself and that Arthur Van Doren was also nominated. But behind, there is also the whole group of Dragons. We had a great season and we are reaping the benefits of that."

Other winners on the night included Alex Gerniers for the women's main award. Antwerp's Michelle Struijk won the women's Golden Hope award while Waterloo Ducks Maxime van Oost won the men's version.

Euro Hockey League media release


---

Ashley Jackson joins Old Georgians in surprise hockey transfer




English Conference side Old Georgians have scored another significant coup after they announced the services of Ashley Jackson on Monday night.

Jackson, 31, is currently knocking in the goals for his Dutch side HGC, but the Hoofdklasse winter break has allowed the Weybridge-based club to sign Great Britain's all-time leading scorer. Jackson has clearly got his hockey mojo back up and running.

With 12 goals in 11 games and leading the Hoofdklasse goalscoring tables, Jackson will now look to keep Old Georgians top of the Conference East table.

"Having witnessed Ashley first hand as a youngster playing against us for East Grinstead, it will be a pleasure to have him on our side," a club statement read.

"It also allows the wider squad a unique opportunity to learn from someone who is rightly regarded as one of the best in the world at his trade."

The Surrey side, founded only in 1995, are unbeaten after six games, with current England forward Sam Ward also playing for the club, which also features the likes of Dan Fox, Dan Shingles and James Tindall.

The Hockey Paper reported last month that GB coach Danny Kerry had made contact with Jackson to seek his views on a possible return to the international set up.

For that to happen, Jackson would have to return full-time to the UK.

His signing for Old Georgians could be the first step in realising a path towards Tokyo 2020.

Old Georgians are at home to Cambridge City this Sunday.

The Hockey Paper


---

Womens EY Irish Hockey League Weekend Round Up

Loreto moved top of the women's EY Hockey League with a 2-0 win in Belfast over Pegasus, moving above the Ulster side on goal difference.

Corner goals in the first and last quarters from World Cup stars proved the difference with Hannah Matthews netting early on before Ali Meeke sealed the deal with 10 minutes to go. It lifts Loreto to 12 points, level with Pegs but ahead of on goal difference after five rounds of matches.

UCD are in third but were forced to battle all the way by Belfast Harlequins in a 1-1 draw. The visitors to Belfield led in the second quarter when Jenna Watt was impeded, giving Zoe Wilson the chance to open the scoring from the penalty spot.

Ellen Curran equalised in the second half from an excellent move down the right wing to draw things level before sides had big chances to win it before honours were shared.

Pembroke continued their fine run of form with a third successive win, beating Muckross 2-1 in the Dublin 4 derby. Sophie Barnwell's deflection had Muckross one up in the second half but another pair of World Cup stars, Emily Beatty and Gillian Pinder, turned things Pembroke's way.

Old Alex are another side on form. They scored twice early on in their 2-1 win over Ards, building a 2-0 lead by the tenth minute via Aine Connery and Hannah McDermott.

Caroline Adams did score Ards first goal of the season from a corner in the second quarter but Alex remained in front for a third win since promotion.

Cork Harlequins got their second win of the campaign when they beat Railway Union 3-1 at Park Avenue with Cliodhna Sargent in sparkling form. She set up Jane Murphy for a 1-0 lead they held for a long time until Sarah Hawkshaw equalised. But two goals in the last quarter from Michelle Barry won the day for the Cork side.

In EYHL2, Queen's lead the way in Pool 1 thanks to a third win, beating Trinity 3-2. UCC got their first win as they dismissed Greenfield 4-1.

In Pool 2, Monkstown and Catholic Institute advanced their perfect records. Town won their third match with a 5-1 win at Dungannon while Insta beat NUIG 3-1 in Galway.

EY Hockey League: Railway Union 1 (S Hawkshaw) Cork Harlequins 3 (M Barry 2, J Murphy); Ards 1 (C Adams) Old Alex 2 (A Connery, H McDermott); Pegasus 0 Loreto 2 (H Matthews, A Meeke); Pembroke 2 (E Beatty, G Pinder) Muckross 1 (S Barnwell); UCD 1 (M Carey) Belfast Harlequins 1 (Z Wilson)

EYHL Division 2

Pool 1: Queen's University 3 (E McStea, B Ravey, T Hastings) Trinity 2 (S Campbell, E Markey); UCC 4 (S O'Leary 2, J Clein, A Collins) Greenfields 1 (S Dunleavy)
Pool 2: Dungannon 1 (L White) Monkstown 5 (S Hoban-Logan, L Grehan, R Moore, E Kealy, A Barnwell); NUIG 1 (R Heskin) Catholic Institute 3 (E Ryan, C O'Shea, R Upton)

EY Hockey League – day five extended reports

Saturday: Railway Union 1 (S Hawkshaw) Cork Harlequins 3 (M Barry 2, J Murphy)

Cork Harlequins picked up their second win of the season with a 3-1 win over Railway Union as Michelle Barry struck twice while Cliodhna Sargent put in an imperious performance in midfield.

The first quarter ended scoreless with Quins having three corner chances while an excellent Barry run and slip pass ended with a miscontrol when well placed.

The Cork side went in front in the second period when Sargent robbed Kate Lloyd in midfield and drove forward into the circle where she turned and delivered the perfect ball for Jane Murphy to turn in.

Railway came more into the tie in the third quarter and they had their best chance when a speculative ball found Lloyd free on the left. Her reverse flashed across the face of goal.

The Sandymount side – who were without Holly Jenkinson, Amy Elliott and Anna May Whelan – were back in from a penalty corner which saw an initial Hannah de Burgh Whyte shot saved but Sarah Hawkshaw picked the ball up and managed to squeeze home her shot at the near post.

Quins got back in front when Olivia Roycroft chased a speculative Sargent ball into the corner, robbing the ball off de Burgh Whyte and crossing for Barry. With her first touch, she rounded Carolyn Crampton and stuck it in. Barry then made it 3-1 when she intercepted a long ball, danced into the circle and scored on her reverse.

Sunday:

UCD 1 (E Curran) Belfast Harlequins 1 (Z Wilson)

Both sides had serious claims for all three points but ended up sharing a cracker of a tie at Belfield 1-1. The visitors hit the front in the second quarter when Zoe Wilson launched a long ball over everyone to Jenna Watt at the far end who was through on goal. Her shot was impeded when shooting, rightly leading to a stroke which Wilson slotted.

UCD struggled to find too much forward momentum in the first half as Quins worked well around a solid core down the centre of the pitch with a direct game when in possession.

The students, though, found much more width with quick, in-to-out passes in the second half and it yielded plenty of dividends. Marianne Fox, though, was inspired between the Quins posts, keeping out numerous openings.

Bethany Barr's excellent pass into Niamh Carey's run down the right finally unlocked the door when she crossed for Ellen Curran whose shot went in via a defensive foot.

The final quarter swung end to end with Belfast having two major chances to nick it in the final minutes. Clodagh Cassin got down to deny Lucy Geddes at close range with a super glove stop and clearance. Then Wilson clattered the crossbar in the last two minutes.

UCD, though, also had a massive chance on the final whistle with two corner shots, the latter of which Fox just about scrambled over the endline from Anna Richardson's reverse.

Pembroke 2 (E Beatty, G Pinder) Muckross 1 (S Barnwell)

Pembroke made it three wins in a row as they came back from a goal down to beat Muckross in a highly entertaining Dublin 4 derby at Serpentine Avenue.

While they had the best of the exchanges, Muckross carried a big threat at all times which they showed in the 13th minute when Sophie Barnwell's deflection hit the post. Lisa Mulcahy's power-slap was then saved off the line by Hayley O"Donnell.

At the far end, Laura Noble's touch came back off the inside of the post to somehow keep the scoreboard blank. The Muckross goal again led a charmed life when Aisling Naughton laid on a beautifully weighted pass – allowing time for the passer to stand back and watch it reach its target – to Gillian Pinder to race through one-on-one.

She could have shot herself but her pass to the right post gave Ellie McLoughlin time to get across and smother. A corner did follow from which O'Donnell smashed off the base of the post. McLoughlin kept out Pinder on the hooter to keep it 0-0.

The second half saw the goals arrive. Muckross got the first when a corner shot got a heavy touch down the left channel from Barnwell, seeing the ball bounce down and then loop into the net. The lead lasted five minutes when Pinder got a shot off which McLoughlin saved but Emily Beatty slung out a stick to the loose ball, popping in the rebound.

And the winner came from the spot with 13 minutes to go when another O'Donnell corner slap was half-stopped before bumping into post-woman Julie Poland's foot. Pinder slotted into the right corner. From there, Pembroke closed out the game well, stifling any Muckross openings and looking the more likely to score.

Ards 1 (C Adams) Old Alex 2 (A Connery, H McDermott)

Old Alex continued their fine start to the competition with a 2-1 win at Londonderry Park, moving them into fourth place in the table after five matches.

Like each of their other wins, they got on the score sheet very early on as Aine Connery and Hannah McDermott struck within the first 11 minutes to set them on their way. Caroline Adams got one back from a corner in the second quarter and they had a good amount of pressure in the second but Alex secured the spoils as their enjoyable start to life in the national stage rolls on.

Pegasus 0 Loreto 2 (H Matthews, A Meeke)

Loreto got the big win of the weekend as they ended Pegasus's perfect start to the season with a 2-0 win at Queen's with a corner goal in the first and fourth quarters from World Cup stars.

Hannah Matthews got the first in the ninth minute from a set piece and they remained ahead through a tempestuous second period in which both Alex Speers and Shirley McCay both spent time in the sin bin.

The game was put to bed in the final quarter from another corner, this time Ali Meeke scoring the goal with 10 minutes to go. The win puts Loreto ahead of Pegasus on goal difference with four wins out of five.

EYHL Division 2

Queen's University beat Trinity for the second time in a week to move into pole position in Pool 1 of the women's EY Hockey League Division 2 as they edged out their opponents 3-2, backing up their 2-0 win a week ago at the intervarsities.

Sally Campbell gave Trinity the lead just before half-time from the penalty spot but quick replies in the second half from Emily McStea and Beth Ravey for 2-1 at the three quarter time break and Tori Hastings gave them some breathing room. Erica Markey's corner goal made things tight for the last nine minutes but Queen's have their third win of the group.

UCC, meanwhile, won 4-1 at the Mardyke against Greenfields with Saoirse O'Leary scoring twice with further goals from Jenny Clein and Aoife Collins before Sarah Dunleavy got a consolation goal.

In Pool 2, Monkstown and Catholic Institute continued their 100% records in the competition with wins over the weekend. Monkstown won 5-1 at Dungannon with Sadhbh Hoban-Logan and Lara Grehan getting them off to a flyer and Rachel Moore stretched the lead to three at half-time.

Laura White pulled one back but Emily Kealy and Amber Barnwell closed out the win for Monkstown, making it three wins from three.

Insta won 3-1 in Dangan to record their second win of the group. Roisin Upton's drag in the fourth minute got them on the board. Rachel Heskin tied the game up at 1-1 before Christine O'Shea restored the Limerick side's lead in the 14th minute and Emer Ryan advanced it to 3-1 at half-time, the ultimate final score. It has created a five-point gap between the top two and the chasers at this early stage of the competition.

Irish Hockey Association media release


---

UVic captures first McCrae Cup since 2008 with victory over York




The Victoria Vikes topped the host York Lions by a score of 3-1 in Game 2 of the U SPORTS Field Hockey Championships in Canada on Saturday afternoon to bring home the program's first national banner since 2008.

"We had a reunion with the 2008 team earlier this year and the one thing they passed onto us was it's not necessarily about the winning, it's about the friendships you develop," said Vikes head coach Lynne Beecroft after the game. "This group will live together forever. They've got along so well all year and we played a good team game in both games here. Everybody did their part, I can't single out one player who stood out from our team because they all played great."

The game was intense from the beginning as both teams seemed desperate to get off to a good start. The Lions had the first scoring chance after U SPORTS All-Canadian Jaslan Stirling broke in front of the Vikes net and was fouled inside the circle. An ensuing penalty corner was defended well by the Vikes defence though, as they shut down the Lions attack and cleared the ball quickly away from goalie Robin Fleming's net.




The Vikes went on the offensive for the next several minutes, as they kept the Lions pinned deep in their own end for the better part of the next 10 minutes. The Lions defenders held strong though, with fifth-year veteran Sara Vollmerhausen making a number of excellent defensive plays to keep the game scoreless.

Victoria opened the scoring at 13:18 of the first half after a scramble following a penalty corner in the Lions end. Midfielder Lindsay Cole corralled a loose ball and dove with a swipe of her stick to score the game's first goal past Lions goalkeeper Alycia Gray. They extended their lead to 2-0 just over a minute later on a goal by fellow midfielder Stefanie Sajko, who was stopped on her first attempt but tapped in a rebound to put the Vikes in front by two.

The home team established some pressure late in the first half but were unable to capitalize as the Vikes took a 2-0 lead into the locker room at halftime.

After some sustained pressure in the Lions end to begin the second half, Victoria made it 3-0 on a goal by rookie Cara Butler. The Vikes were buzzing around Gray with a number of chances before Butler found the back of net.

The remainder of the second half was played mostly in the middle of the field until Lions defender Sydney McFaul added a late goal for the host team with less than a minute left but it was not enough as the Vikes prevailed 3-1. UVic outshot York 11-5 in the final contest of the season for both teams and dictated the field position for the majority of the game.

The victory for the Vikes was their 12th U SPORTS championship in program history and marks the eighth year in a row the trophy has been won by a team from the Canada West conference. The UBC Thunderbirds had won seven nationals titles in a row before this season.

The Lions fall in the national final for the second year in a row but the future looks bright for the back-to-back OUA champions, with only two graduating players and a young roster on the upswing, the team looks to be contenders for the national title for several years to come.

The Vikes' Emily Wong was named tournament MVP as well as Player of the Game in the championship win. McFaul was named Player of the Game for the Lions, while her teammate Sara Vollmerhausen was awarded the R.W. Pugh Fair Play Award.

Story originally published on USPORTS.CA

Field Hockey Canada media release


---

Taylor Mason's first goal was "icing on the cake" of Maryland field hockey's tournament run

Mason scored in the Terps' blowout semifinal win.

By Lila Bromberg



The team huddles together during Maryland field hockey's match against Ohio State at the Field Hockey & Lacrosse Complex on Sept. 21, 2018. (Andi Wenck/The Diamondback)

When Maryland field hockey earns a penalty corner, usually Bodil Keus, Nike Lorenz or Linnea Gonzales takes over the circle. But in the Big Ten semifinals on Friday, another player got the call.

In the 45th minute against Ohio State, freshman Taylor Mason took the initial pass from forward Bibi Donraadt and fired a hard shot from the top of the circle toward the goal. Goalkeeper Aaliyah Hernandez lunged to save the ball, but Mason's shot deflected off her blocker and into the top left of the net.

Mason smiled from ear to ear, hugging her teammates amid shouts of "good job, Tay!" and "yeah, Tay!" after getting her first career goal as a Terp. Her score was Maryland's eighth of the day as the team eased to the Big Ten championship with a 9-1 victory over the Buckeyes.

"It was really exciting because it was a goal of mine in the season to get at least one," Mason said. "To get my first goal on such a good win, when we were all playing so well, was just the icing on the cake."

No. 1-seed Maryland went on to win the conference championship on Sunday, defeating No. 6-seed Iowa 2-1. Throughout the weekend, Mason played a bigger role for the team than she has all season.

Before this weekend, Mason saw action in nine games, averaging 17.7 minutes off the bench and notching one shot and one assist. But she was on the field for a season-high 46 minutes against the Buckeyes in the tournament semifinals, then played 18 minutes in a tight defensive matchup against the Hawkeyes in the final.

At 5-foot-10, Mason is one of the tallest players on the team. Coach Missy Meharg said Maryland took advantage of Mason's height against Iowa, as she used her long wingspan to press players and was able to quickly run up and down the field.

Meharg said she's also been impressed with Mason's improvement and work ethic over the course of the season, leading to the increased playing time.

"Every single training session, she's been getting better and better," Meharg said.

Mason credited her teammates — as well as the guidance of 31-year coach Meharg — in helping her transition into collegiate hockey after four years at Central Bucks High School West in Pennsylvania. She tries to soak in everything they say to better prepare herself for when she does get her minutes.

WIth her time on the field increasing due to the impressive performance over the weekend, it's likely Mason could play a bigger role for Maryland in the upcoming NCAA tournament, where the Terps enter as the No. 2 overall seed. And she's ready to help her team win a national championship.

"For me, every practice is an opportunity to get better," Mason said. "Let's go out as hard as we can and take it seriously and learn a lot."

The Diamondback


---

Rutgers Field Hockey Earns First NCAA Bid In 32 Years, Takes On UConn In First Round

The Scarlet Knights take on the defending national champions



Ben Solomon/Rutgers Athletics

The week long wait was ultimately worth it. After producing one of the best seasons in program history, the Rutgers field hockey team earned its first NCAA Tournament bid in 32 years on Sunday night, when the 18 team field was announced.

Rutgers will face the Big East champion and defending national champion UConn Huskies (18-3) this Friday at 2:30 p.m. in College Park, Maryland. The winner will face the winner of the First Round match between Albany (16-4) and Maryland (19-2).

After finishing the season with a 13-5 record and five wins over ranked opponents, including two in the top ten, Rutgers earned one of eight at-large bids. The Big Ten earned four of those eight, as Penn State, Michigan, and Iowa joined Rutgers and conference tournament champion Maryland in the field. The Big Ten has more teams in the NCAA Tournament than any other conference.

"I'm really excited," head coach Meredith Civico said. "I'm really proud of this team. I really felt like they deserved this after we had such a great season. It's really exciting that we get to keep playing. That's something this group has never felt before, so for them to be in this position, I'm really proud and excited for them. When I came in and we took over this program, the goal was to build a team that could compete for Big Ten and NCAA Championships. I'd like to think that this is now the standard. For the freshmen, this is something that becomes the norm. I'm really happy that this group of seniors was able to experience it because helped elevate this program to the next level and they deserve It because of their leadership and dedication to the team. It's really exciting to get to play in the postseason. For the team to have that experience is really important for going forward."

While coach Civico takes Rutgers to the NCAA Tournament for the first time in over three decades, she is no stranger to it. She played in three Final Fours as a player at Maryland, including being a key member of the 2005 national championship team. Playing this First Round match at Maryland brings things full circle for Civico, who has completely turned around the Rutgers program in her seven years at the helm.

"It's incredible," senior co-captain Nikki Profita said. That moment, seeing our name on the screen was just so reliving, outstanding, amazing. This has been a goal of ours, and to reach it is just outstanding. For us to do this with this group, especially for me in my senior year, there's no better way to go out. As long as we can keep going, I'll be happy. We'll refocus now. We've been practicing blind this last week, not knowing who the next opponent would be. Now knowing that we got to this point, we're there. We played UConn tough in the preseason scrimmage, but so much has changed throughout the season. We've grown, they've grown. Now we just have to get after it."

The Scarlet Knights went 3-3 against teams that made the NCAA Tournament, beating Iowa, Princeton, and St. Joseph's, while losing to Michigan, Penn State, and Maryland. They tied for the lead in the nation with nine shutouts this season and had multiple players earn All-Big Ten season honors, including midfielder Daphne Groothuis and goalkeeper Gianna Glatz being named to the First Team.

Rutgers is 2-2 all-time in NCAA Tournament history, winning both their First Round matches in 1984 & 1986, their only two appearances, before losing in the round of eight both times.

Here is a snapshot of the side of the bracket that Rutgers is on. We will have a full preview of the First Round match against UConn on Thursday.

On the Banks