All the news for Monday 6 August 2018

Vitality Hockey Women's World Cup 2018
London (ENG)

Final results

AUS v ESP (Bronze Medal)     1 - 3
NED v IRL (Gold Medal)         6 - 0

Final placings:
1st Netherlands
2nd Ireland
3rd Spain
4th Australia
5th Germany
6th England
7th Argentina
8th India
9th Italy
10th Belgium
11th New Zealand
12th Korea
13th Japan
14th USA
15th South Africa
16th China

FIH Match Centre
 
---

Glorious Dutch dominate and record books are re-written



Glorious Dutch celebrate winning gold. Pic credit: Getty Images/FIH

 Relentless and magnificent. The Netherlands have absolutely owned the Vitality Hockey Women's World Cup since their opening 7-0 scoreline against Korea.

The women in orange might have been slightly stunned by the reception their opponents received as they walked out for the final but then it was business as usual – except in this case, the word 'usual' is a synonym for unparalleled excellence.

If ever a World Cup title was warranted, it was this one and the question every other coach has to be asking is "How do we beat the Dutch?"

London turned green for the afternoon as Ireland women played out the final chapter of their fascinating World Cup journey. The crowd sang the Irish national anthem with a pride and a passion that moved even the most neutral of spectators and the Netherlands were, for just a moment, a sideshow to the main event.

Then the action started on the pitch. Every Irish pass was greeted with a roar of approval. A heavy tackle by Caia van Maasakker was booed, albeit with an undercurrent of humour. But this is the Dutch and it was going to take a lot more than a noisy crowd to put them off course.

For Chloe Watkins and Eva de Goede, this final was a particularly special occasion as both players were representing their respective nations for the 200th time.

Ireland started brightly, with the excellent Nikki Evans showing the confidence to take the Dutch on and create opportunities for her team mates. Gradually though, the Dutch felt their way into the game and, as is their style, a sweeping team move allowed Vitality Best PLayer Lidewij Welten to give them a lead in the seventh minute.

After the quarter break it was again a team move that doubled that lead. Frederique Matla took the ball down the Dutch right-hand side of the pitch, before slipping to Xan de Waard. Her shot was weak and dealt with easily by Goalkeeper of the Tournament Ayeisha McFerran but the rebound fell to Kelly Jonker who made no mistake as she shot home with a clipped backhand shot.

Netherlands began to turn the pressure up, winning two penalty corners in quick succession. Unusually for the world number one team, the shots failed to produce goals, but this was rectified a few minutes later as the tournament's Top Scorer Kitty van Male pounced on a rebounded effort from van Maasakker and shot home for her eighth goal of the tournament.

With just 30 seconds left on the clock, Malou Pheninckx unleashed a shot from the edge of the circle that flew into the top corner of the Ireland goal. McFerran, who has been so excellent all tournament could do nothing about the rocket of a shot – Pheninckx's third goal for her nation and her third of this tournament.

The half time break gave Graham Shaw a chance to regroup his shattered troops but it also gave Alyson Annan an opportunity to put her foot down even more firmly on the pedal.

"We deservedly won, we played the best hockey throughout the tournament and this was shown today." Alyson Annan, Netherlands Head Coach

The Netherlands came out with every intention of making each attack count and just two minutes into the half, Marloes Keetels was on hand to knock the ball into the goal after another defence splitting run by Welten.

Caia van Maasakker finally found her groove as she scored from the penalty corner – her third of the tournament. The shot was perfectly placed just out of McFerran's reach.

Irish hopes were lifted for a moment when a Netherlands penalty corner broke down and a quick move saw the Deirdrie Duke alone with just one Dutch defender. A lot is said about the Netherland's attack but on this occasion it was the defence that showed its class. Irene van Assem made the tackle and the danger was averted with composure.

And so to the last 15 minutes of this compelling story. The Netherlands were within touching distance of the trophy for an amazing eighth time, and for the second consecutive edition. But Ireland had played their own part in this story too.

As one highly ranked team after another had fallen by the wayside, the story just got more amazing and that is why millions were tuning in across the world and the stadium was full of people determined to see how the final chapter panned out.

With their total domination of the sport since 2016, harking back to a single loss in July 2017, the Netherlands are one of the best sports team in the world at the moment, but for sheer exhilaration, this World Cup also belongs to the teams that overturned the rankings and entertained the crowds for 15 glorious days of hockey.

The final score of 6-0 is an all-time record for World Cup finals, and it is a signal to the hockey world that the Netherlands have set the bar very high indeed.

Ireland's inspirational captain Kathryn Mullan reflected back: "It was a tough, tough game. We prepared as we did for all the other games. The turn around time was tight and we knew it was going to be a real physical effort from us and we weren't perhaps as fresh as we would have liked. But credit where credit is due, the Dutch are phenomenal.

"We may be disappointed when we look back at the game as to how they got in, but the better team on the day won. The effort my teammates put in was brilliant.

"It's tough right now, but in a few weeks or month we will look back with pride. We came in ranked 16th and we wanted to cause an upset. I'm wearing a silver medal, so we have definitely caused an upset."

Netherlands' Frederique Matla, said: "This is my first world cup so I am really excited. We set out to attack. We knew they had nothing to lose but we knew we just had to play our game."

Netherlands Head Coach Alyson Annan said: "We deservedly won, we played the best hockey throughout the tournament and this was shown today.

"There are things we have taken from this tournament that are not good enough and we need to improve on those. Some attacking things and our finsihing also needs to be improved on." "There are also some defensive things that need to be improved."

Asked how she would beat the Netherlands if she were head coach to another nation, the World Cup winning coach said: "That is a question I have set myself – that is my homework."

Vitality Best Player: Lidewij Welten (NED)
Best Goalkeeper: Ayeisha McFerran (IRL)
Young Player: Lucina von der Hyde (ARG)
Hero Top Scorer: Kitty van Male (8) (NED)

#HWC2018

FIH site


---

Netherlands win the Vitality Hockey Women's World Cup




The Netherlands completed a successful defence of their Vitality Hockey Women's World Cup title with a 6-0 win over Ireland.

Goals from Lidewij Welten, Kelly Jonker, Malou Pheninckx, Kitty Van Male, Marloes Keetels and Caia Van Maasakker led the Dutch to victory in a dominant display.

A full house of 10,000 packed into Lee Valley Hockey and Tennis Centre for the showpiece final and an incredible atmosphere was created fitting for the occasion.

Ireland had shocked the hockey world to reach the final and despite the scoreline battled for the entirety roared on by the crowd.

It was a frantic start to proceedings however the Dutch soon took control of the ball and were causing problems for the Irish defence.

On seven minutes the Netherlands again penetrated the circle and after a poor clearance Welten was able to collect and shoot on the turn sending the ball past McFerran. 

The pressure continued but the Ireland defence were solid against the penalty corner threat of Caia Van Maasakker and held firm ahead of the first break.

Immediately from the restart the lead was doubled as Jonker netted her sixth goal of the tournament.

Malou Pheninckx made a good run down the right and her cut back was hammered towards goal. McFerran made the save but Jonker reacted quickest to send a strong backhand strike into the bottom corner.

Two goals in quick succession saw the Dutch take a 4-0 lead into half-time as Van Male slapped home from a penalty corner before Pheninckx hammered a fierce shot high into the net.

Two became three on the stroke of half-time, from a penalty corner the ball found its way wide to Van Male who slapped hard at goal with too much power for McFerran.

Two more goals in the third quarter put the result beyond any doubt as Welten crossed to Keetels to finish from close range before Van Maasakker made it six with a stunning drag-flick into the top right corner.

The final fifteen minutes was a calmer and quieter affair, the Irish team continued to give their all and successfully kept the Dutch attack at bay, showing more of what had got them all the way to the final.

The final whistle eventually blew as the Dutch players and staff flooded the pitch to celebrate retaining their title.

England Hockey Board Media release


---

World Cup finished with records of most Gold Medal, most tournament goals and biggest win in final to Netherlands

By B.G.Joshi (in Lee valley hockey stadium, Olympic Park, London)



Top scorer van Male Kitty (NED) (Photo by:  Avtar Bhurji (sportmediagroup.com.au).

In the 14th edition of the World Cup all 3 medals have been won by Europeans for the first time since 1981 Buenos Aires.  Germany, Netherlands and USSR were on podium on that occasion. In London Netherlands, Ireland and Spain are top 3.

The Green Machine and Red Sticks won their first ever World Cup medals Silver and Bronze respectively. Oranje take the record of most 8 Gold medals won in any FIH's elite tourney. Las Leonas are next, Argentine have 7 Gold Medals in the Champions Trophy.

Netherlands have scored 35 goals in this World Cup (2018) and broke the 33 goals record of Australia. The Hockeyroos netted 33 tournament goals in Utrecht (1998). Present Dutch coach Alyson Annan was the player in that team and was the top scorer with 8 goals.

The 6-0 triumph is biggest victory in a final match in any elite tourneys (women) of the FIH, which surpassed 6-2 victory of Argentina vs. Germany in Monchengladbach Champions Trophy (2008).

Netherlands van Male Kitty became top scorer of the tournament with 8 goals. She kept the legacy of her country in the World Cup.  Here are the top Dutch scorers in the World Cup:
| | | | |
| --- | --- | --- | --- |
| Year | Venue | Player | Goals Scored |
| 1978 | Madrid | Toos Bax | 9 |
| 1981 | Buenos Aires | Fieke Boekhorst | 13 |
| 1990 | Sydney | Lisanne Lejeune | 8 |
| 2006 | Madrid | Sylvia Karres | 6 |
| 2010 | Rosario | Maartje Paumen | 12 |
| 2014 | Hague | Maartje Paumen | 7 |
| 2018 | London | Van Male Kitty | 8 |
 Fieldhockey.com


---

All smiles for Europe, every medal and everything

s2h Team




Nothing has changed for good. Forty four years ago, Wilman Koopman lifted the World Cup on its maiden edition. The hockey country that has enviable number of playing surfaces and vibrant Clubs, which obviously produced role model players of men and women's hockey in trove, The Netherlands today walloped Cinderella team Ireland 6-0 to retain the World Cup once more. They won it hard four years ago at home, now Ireland offered resistance in their unbeaten run. In fact, the fast and furious Dutch girls gve no time for th Irish to settle, goals came in numbers, half time 4-0. Wilman to Heuvel van der Carlin it has been a great ride for the European super power.




Just like Moscow World Cup football, all the winners in hockey too turned out to be Europeans. Even as we are wonder struck with Ireland's feat in Lee Valley, Spain stunned Australia in the fight for the consolation, often called Bronze Medal contest. Spain got their biggest prize of recent times by 1-3 scoreline.

When the medals go to Europe, the special awards also need to go, after all its outstanding performance some stars in them turned the tide in favour of them. So you best player, Best goalkeeper, top scorer all to Europe. Young player award went to an Argentinean lass.

Results:
Gold medal match
Netherlands v Ireland 6-0
Bronze medal match
Australia v Spain 1-3

Individual Awards:
Vitality Best Player: Lidewij Welten (NED)
Best Goalkeeper: Ayeisha McFerran (IRL)
Young Player: Lucina von der Hyde (ARG)
Hero Top Scorer: Kitty van Male (NED) (8)

Final placings:
1st Netherlands
2nd Ireland
3rd Spain
4th Australia
5th Germany
6th England
7th Argentina
8th India
9th Italy
10th Belgium
11th New Zealand
12th Korea
13th Japan
14th USA
15th South Africa
16th China

Stick2Hockey.com


---

Netherlands win eighth hockey World Cup and end Ireland's fairytale

Nick Ames at the Lee Valley Hockey Stadium



The Netherlands team and coaching staff celebrate after beating outsiders Ireland 6-0 in the women's hockey World Cup final. Photograph: Sean Dempsey/EPA

There are few more compelling forces in sport than this lavishly gifted Netherlands team but, first of all, a word for the runners-up.

The thought that Ireland could reach a World Cup final had been outlandish to the extent that their coach, Graham Shaw, admitted after this mismatch that the Dutch were the only opponents he had not made detailed preparations to face. Until 2016 their players had been obliged to stump up €550 annually for the privilege of international hockey; sometimes it is a struggle even to rent the right pitches and perhaps such a thrilling feat will focus minds back home towards better funding a sport in which there is so much burgeoning talent.

In the meantime the most salient lessons are there to be learned from the Netherlands. Their eighth title was never in doubt after Lidewij Welten, deservedly named player of the tournament at the conclusion, scored early on and the bar they have set for everyone else continues to rise. This was a crushing victory from a unit with no obvious weaknesses and, in truth, little else had been expected. In the end it was a six-goal hiding that brought delight to all parties and, to be clear, that is not to belittle the seriousness of Shaw's exceptional team.

"To beat the teams we've beaten, to come here now and be second in the world, it's a truly remarkable achievement and I don't think it'll really sink in until we get home and reflect on it," said Shaw, who might be afforded a better grasp of what they have done when Ireland receive a civic reception on their return to Dublin on Monday.

The only regret, Shaw admitted, was that Ireland did not make a game of things for slightly longer. Buoyed by a vociferous crowd that, after a last-minute dash for tickets on both sides of the Irish Sea, had turned this into something resembling a home game, they had actually made the better start before Welten's opener.

When Caia van Maasakker was forced into crudely halting a break by Anna O'Flanagan there were faint hopes they could follow the example of Spain, who shocked Australia to win the third-place play-off earlier in the day. Then Welten, finding a gap between the legs of the otherwise excellent Ayeisha McFerran, broke through and the reasons for Ireland to sweat in 28C heat began mounting up.

"Ireland started off really well and I think we were a little nervous as well," Welten said. "But I knew from the moment we scored the goal that we would get more." Any tension having dissipated, the Netherlands stretched out and added three goals before the interval. Kelly Jonker found the corner with a clinical backhand effort, effectively put the game beyond Ireland four minutes into the second quarter; the third came when a blocked penalty corner fell nicely for Kitty van Male to score her eighth goal of the competition and confirm her status as its top scorer. Then Malou Pheninckx blasted a stunning angled finish into the roof of McFerran's net and the priority, now, was to avoid a repeat of the routs the Dutch had dished out earlier in the fortnight.

Further punishment was limited to a tap-in from Marloes Keetels and a wonderful, lifted penalty corner strike from Van Maasakker, both arriving in the first four minutes of the second half. "Once the Dutch relax you're in big trouble," Shaw reflected, but Ireland managed to stem the tide and were even afforded a few attacking flickers of their own.

A low-key final quarter was no reason to douse the champions' euphoria at full time and Welten was certainly not wrong when she said they had "showed the world what we are capable of". Ireland stayed out for their own celebration but thoughts will soon turn to how, exactly, such an accelerated rate of progress can be maintained.

"There's going to be expectation now but with that comes opportunity," said Shaw, whose next task is to ensure Ireland qualify for the 2020 Olympics. "I firmly believe the talent is in this country and we need to give them everything we can to allow them to succeed."

They have now seen at first hand how far there is to go; this was, though, a final contested by two teams to delight in for very different reasons.
Ireland beat Spain in shootout to seal shock Hockey World Cup final spot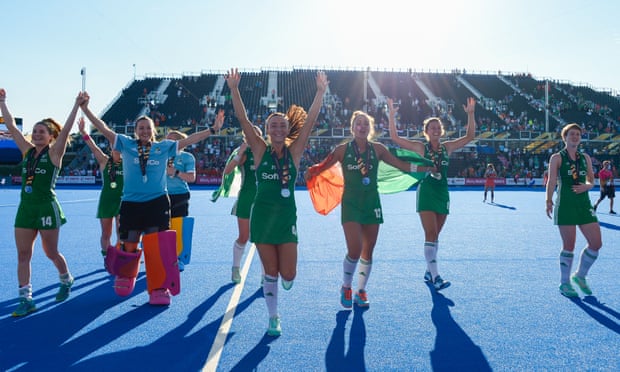 Ireland's players applaud their fans in the crowd. Ireland were the second-lowest ranked team in the tournament but made a surprise run to the final. Photograph: Paul Simpson/Frozen in Motion/REX/Shutterstock/Rex/Shutterstock

The Guardian


---

Classy Dutch crush Ireland to claim eighth women's hockey World Cup title



Ireland's Shirley McCay and Xan de Waard of the Netherlands clash during the World Cup final in London. CHRISTOPHER LEE/GETTY IMAGES

Ireland's first women's World Cup hockey final ended in defeat as the Netherlands retained the title with an emphatic 6-0 victory in London on Monday (NZT).

Ireland, the second-lowest ranked country in the tournament, was unable to produce a fairytale ending at England's Lee Valley Hockey Centre.

Goals from Lidewij Welten, Kelly Jonker, Kitty van Male, Malou Pheninckx, Marloes Keetels and Caia van Maasakker capped a dominant performance from the Dutch as they won the competition for a record eighth time.

The Netherlands team hasn't lost since the Olympic final two years ago.

This was Ireland's first World Cup since 2002, and its previous best result was 11th in 1994. Ranked 16th, Ireland topped a group including Olympic champion England and was first into the quarterfinals.

Graham Shaw's Ireland began brightly but did not manage a shot at goal until the final quarter and the Netherlands, which lifted the trophy on home soil four years ago, soon showed its superiority.

Welten put Alyson Annan's team ahead in the seventh minute, turning to hit a powerful shot through a crowded circle and past Irish goalkeeper Ayeisha McFerran at the near post.

Jonker found the bottom-left corner to double the lead in the 19th, while superb blocks from Irish pair Shirley McCay and Roisin Upton following penalty corners prevented further goals.

The free-scoring Dutch, who registered 29 goals in five matches to reach the final, put the result beyond doubt with two quick goals in the final stages of the second period.

Tournament top scorer Van Male smashed in her eighth of the competition from close range and, moments later, Pheninckx was allowed too much space to fire the ball high into the net.

Shaw called for his players to "be proud'' at halftime but they were outclassed by the world's top-ranked team and powerless to stop Keetels tapping home a fifth and Van Maasakker adding another from a penalty corner.

Earlier, Spain beat Australia 3-1 in the bronze-medal match.

Spain went 2-0 ahead in 14 minutes with goals from Maria Lopez and Berta Bonastre.

Kathryn Slattery pulled one back for Australia in the 40th before Alicia Magaz extended Spain's lead in the 51st.

Stuff


---

Netherlands win final to end Irish odyssey

By Cian Murtagh

Netherlands were crowned Women's Hockey World Cup winners for a record eighth time as a crushing 6-0 victory ended Ireland's fairytale tournament.

Four goals in a seven-minute spell around the half-time break earned the Dutch an emphatic victory.

Ireland had won new fans on their unlikely road to the final, but had no answer to their opponents' intensity.

Their reward for reaching the final is an expected climb into the top 10 of the world rankings for the first time.

Lidewij Welten, Kelly Jonker, Kitty van Male, Malou Pheninckx, Marloes Keetels and Caia van Maasakker scored for the Netherlands, who extended their unbeaten run in all competitions to 32 matches.

Van Male finished as the tournament's top scorer with eight goals.

Playing without fear

The only other World Cup meeting between these two teams took place in the group stages of the 2002 tournament, when the Dutch also ran out 6-0 winners.

Ireland coach Graham Shaw said after the semi-final win against Spain that he had unsuccessfully attempted to set up a match against the reigning World League champions on several occasions in an effort to test his team against the best in the world.

Ireland midfielder Chloe Watkins had promised her team would continue to "play without fear" as they had throughout the tournament, and they began brightly in front of a largely green-clad crowd in London.

But Shaw's side found the relentless pressing of the European champions too difficult to withstand as they fell behind after just seven minutes.

The impressive Welten picked up the ball inside a crowded circle and cleverly rolled her marker before unleashing a powerful reverse shot that flew past goalkeeper Ayeisha McFerran.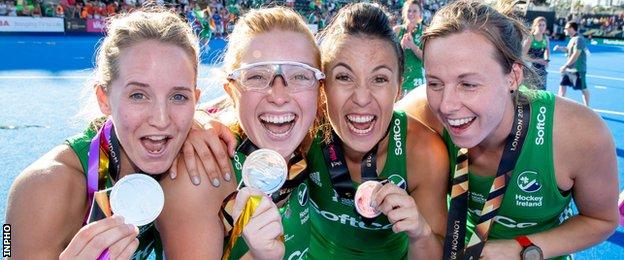 Ireland's Nicci Daly, Zoe Wilson, Anna O'Flanagan and Megan Frazer show off their silver medals

Dutch press home advantage

Trailing in the biggest match of their careers, Ireland's players remained composed in the face of the relentless Dutch press.

The holders' first penalty corner finished in a powerful shot from Lauren Stam, before Ireland's Shirley McCay produced a brave a diving block as the Green Army only trailed by a goal after the opening quarter.

Netherlands doubled their advantage in the 19th minute after McFerran made a superb kick save but Jonker pounced on the rebound to score.

Roisin Upton made a brilliant goalline clearance to keep Irish hopes alive but the Dutch found an extra gear as half-time loomed with Van Male and Pheninckx scoring within a two-minute spell to push their team four goals clear.

The goals continued to flow at the start of the third period as Keetels prodded home from close range after a good run by player of the tournament Welten.

The final goal came in the 34th minute when van Maasakker's superb flick from yet another penalty corner flew past McFerran and in off the post.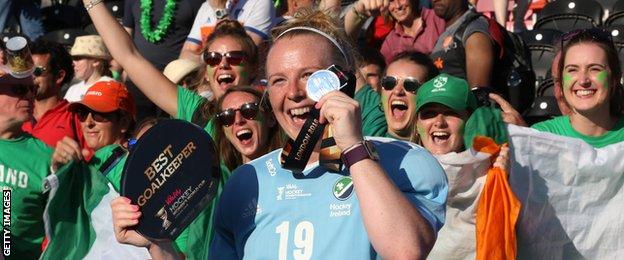 Ireland's Ayeisha McFerran was named the goalkeeper of the tournament

What they said

Ireland head coach Graham Shaw: "A big learning curve today and maybe a step too far against an out-standing side but we can be so proud to stand here and say we came second in the world and when the girls reflect back they will look on an astonishing, remarkable achievement."

"Hopefully we can improve on this and we've got a big future ahead of us in our sport - both men and women - because there is a lot of talent in Ireland."

"I hope we get the recognition it deserves and the girls are rewarded for a world silver medal.

"We talk about performance and we talk about trying to reach goals and they've absolutely smashed them out of the park. I think they deserve to be rewarded now and hopefully we can have some conversations and bring the sport to a new level."

Sally Walton, London 2012 bronze medallist on BBC Radio 5 live

"It isn't that Ireland played badly it is that the well-oiled machine that are the Dutch just absolutely steamrollered them.

"A little bit of fatigue potentially, but that's going to affect both teams. Take nothing away from the Dutch, they have played sublimely in this final.

"The girls are obviously going to be disappointed for Ireland, they play the sport because they love it and because they want to win, but when the disappointment of just this result goes out of the way they'll realise that they're champions no matter what."

Analysis

Nigel Ringland, BBC Sport NI at Lee Valley

It went the way a lot of us might have feared it would before the game started. But you can't take anything away from what Ireland have achieved over the past two and a half weeks.

On Monday morning they will wake up, the new world rankings are going to come out and Ireland will be in the top 10 - that is a major achievement and it has repercussions for their Olympic qualification next year, hopefully heading to Tokyo in 2020.

They've done the country proud, they've done each other proud, their family and friends and most of all the sport of hockey, which hopefully will get a massive boost in Ireland from what these girls have done over the past number of weeks.

BBC Sport


---

Green Army Win World Cup Silver




It was always going to be a tough task against the world number 1 side in sweltering heat but the Green Army were in their usual determined form. The opening goal came in a crowded circle in the 7thminute when Lidewij Welten spun her marker and shot home from close range.

Anna O'Flanagan and Nicci Daly were causing the Dutch some trouble down the left wing but the experienced Dutch defence kept the circle entries to a minimum. Kelly Jonker doubled her sides lead in the 19thminute as she sent a rocket into the corner from her reverse shot. 

The Netherlands notched up 5 penalty corners in the opening half but the corner runners weren't giving the Dutch any time and drag flicks were sent high and wide until Kitty van Male picked up a loose ball from an initial penalty corner block and swept into the corner. A minute later and Malou Pheninckx found herself free in the circle and smashed the ball high into the net to put her side 4-0 in front at the half.

The start of the second half didn't go according to plan as Welten broke into the circle in the 32ndminute and slipped the ball to Marloes Keetels free in front of goal for the tap in. Caia van Maasakker made it 6 from a penalty corner drag high into the corner. Chloe Watkins, winning her 200thcap today, was appearing all over the pitch as she poached the ball from the Dutch and then looked to set up attacks on the counter. The best chance of the quarter came from a Dutch penalty corner mistrap that saw Ireland break at pace and Deidre Duke pick up the ball in the circle but good scramble defence by the Netherlands so them win possession back. There was no lack of effort from the Green Army as they defended resiliently, and Lizzie Colvin and Katie Mullan were at the core of several turnovers as Ireland chased a goal. Daly was the first to test Anna Veenendaal as she darted into the circle and smashed the ball goalward but the shot was well saved. 2 penalty corners in quick succession for the Dutch were duly dealt with as Roisin Upton saved one off the line and Shirley McCay threw her body in front of another to see Margot van Geffen's shot go high.

Netherlands ran out deserved winners but the Green Army cemented their place in history with World Cup silver and Ayeisha McFerran was rightly named Goalkeeper of the Tournament.

Graham Shaw, head coach, said "Netherlands are an outstanding side with world class players, we can be so proud to stand here and say we came second in the world. It's an incredible achievement, and I think when the girls reflect back they will see what a remarkable achievement this is. There's not many people back home in Ireland that can say they have a World silver medal. This is just so special and I could not be more proud of them". 

Vitality Hockey World Cup Final, London

Ireland 0
Netherlands 6 (Welten, Jonker, van Male, Pheninckx, Keetels, van Maasakker)

Starting: N Evans, K Mullan, S McCay, G Pinder, R Upton, A McFerran, C Watkins, L Colvin, H Matthews, A O'Flanagan, Z Wilson

Subs: G O'Flanagan, Y O'Byrne, E Tice, E Beatty, N Daly, D Duke, A Meeke

Ireland's Pool B Vitality Hockey World Cup Fixtures:

Ireland 3vs1 USA 21/7/18 6pm
Ireland 1vs0 India 26/7/18 2pm
Ireland 0vs1 England 29/7/18 7pm
Quarter Final Ireland 0vs0 India (3-1 in shootout) 2/8/18 6pm
Semi Final Ireland 1vs1 Spain. Shootout: Ireland 3v2 Spain 4/8/18 2pm
World Cup Final Ireland 0vs6 Netherlands 5/8/18 4:30pm

Irish Hockey Association media release


---

Brave Irish women's hockey team lose World Cup final to the Netherlands in London




Ireland's women's hockey team went for gold in the World Cup final on Sunday afternoon in London.

Unfortunately, they weren't able to take the final step and become hockey world champions after an incredible campaign.

Graham Shaw's side came up against the Netherlands, who have won the tournament seven times, and had a tough afternoon in sweltering conditions in the English capital, losing 6-0.




The Dutch opened the scoring after eight minutes of the first quarter. Lidewij Welten struck from the edge of the circle past Ayeisha McFerran in the Irish goal.

The Netherlands settled into the game from that point and forced the Irish team back. They had to do a lot of defending.

Ireland were resolute and worked extremely hard, but their illustrious opponents launched wave after wave of attack.

It was soon 2-0. Kelly Jonker followed up a rebound from an Irish save to double the Netherlands' lead.

Ireland were hanging on at times and McFerran was forced to make several saves.

The third Dutch goal came from a penalty corner, Kitty van Male knocked it home.

Ireland went four down just before half-time.

The Dutch team are all full-time professionals and had odds of 7/1 on to win the final. The Irish team are amateurs were ranked 16th in the world before the tournament. They surpassed every expectation to reach the final.

On Saturday, they recorded a sensational semi-final victory over Spain in a dramatic shoot-out. In the quarter-finals, Ireland beat India in a shoot-out. Sunday's final was always going to be a difficult encounter against such a talented team.

The Netherlands are ranked first in the world and it showed on Sunday. They're a classy team and continued where they left off after half-time, scoring twice in the third quarter.

But Ireland never gave in and tried to push for a goal of their own.

The Irish team weren't expected to get so far in the tournament. They go home with their heads held high and a silver medal. And will always be the first Irish team to reach a senior world final in a field sport.

They are due to have a civic reception at Dublin City Hall on Dame Street on Monday evening.

Sports Joe.ie


---

Ireland's Megan Frazer ruled out of final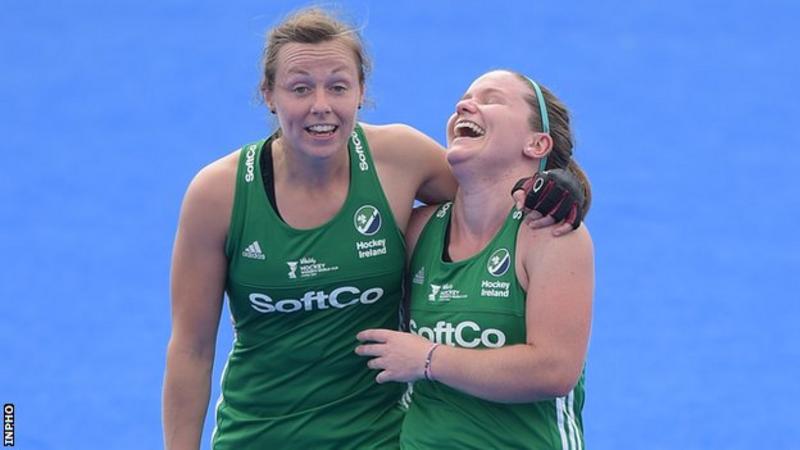 Megan Frazer (left) and team-mate Shirley McCay after Ireland's World Cup quarter-final against India

Ireland will be without former captain Megan Frazer for their Hockey World Cup final against the Netherlands.

Frazer, 27, has been ruled out of the game because of a hamstring injury.

The Londonderry woman battled back from a serious knee injury to take her place in Ireland's World Cup squad but Emily Beatty will replace her for the final.

Beatty, 24, was named as a reserve before the start of the tournament and the Pembroke player joined up with the rest of the squad this morning.

Frazer's place in the tournament squad had been in doubt until last month when she made her return to international duty after a two-year injury lay-off in Ireland's penultimate warm-up match against Chile.

The Germany-based player appeared to pick up an injury during the closing stages of the dramatic semi-final victory against Spain but managed to finish the game.

Beatty, who scored the only goal in the warm-up win against Chile, was already in London but has now linked up with her team-mates and the Dublin native is likely to feature in the final against the defending champions.

BBC Sport


---

Irish eyes smiling through thick and thin

s2h team




It would be unfair to term Ireland's march into the final of the Women's Hockey World Cup a miracle. Instead, call it a triumph of an indomitable spirit battling impossible odds.

The Irish feat manifested itself in a group of players paying to play for their country, reportedly to the tune of 550 euros per player a year. And that on top of combining work careers with playing a sport with professional demands.

Needless to say, that includes holding a full time job while juggling resources, time and energy to be good enough to challenge opponents, most of whom are full-time athletes supported by central funding.

The Irish women, we are told, experienced a welcome problem -- a plea to employers to extend leave after going further than they ever imagined in the World Cup.

They beat India 1-0 to top the pool and book a direct quarterfinal spot. The Green Army then beat India again, this time in a shootout to enter the semifinals where they accounted for Spain in the tie-breaker again.

It set up a Ripley's Believe it or Not scenario -- the second lowest ranked side (No. 16) in the World Cup taking on the No. 1 and seven-time champions, the redoubtable Netherlands.

Reaching the final is surely a watershed moment for the lionhearted Irish. After the men's rapid strides in recent years which led to the country's first ever Olympic spot in a team sport since 1948 when they qualified for Rio 2016, the Irish women have taken the cue.

Their tale of sacrifice and battle against heavy odds, however, is familiar. Ask Sean Kerly, Great Britain gold medal hero of the 1988 Seoul Olympics. Giving up his marketing job, he walked a tightrope to get in the best form and shape for the Games.

Teammate and star goalkeeper Ian Taylor who held two teaching jobs to sustain his hockey activity was another exemplary story.

The pressure of pursuing hockey and the hardships and sacrifice borne by self and family, however, took its toll on some.

Grant Mitton, the young Australian forward in the mid-1980s chose to quit at the young of 24 to build a business career. As did Imran Sherwani, Sean Kerly's teammate and effervescent forward at Seoul, who called time on his career to contribute to his family's news agency business.

The Germans have made multi-tasking a fine art, however. Michael Green who excelled in the 1990s and early 2000s was found gazing at his laptop screen between training sessions in a bid to earn a medical degree and German players down the years are noted for juggling studies with playing hockey at the highest level. Never easy.

Full funding and centralized programs have bettered the lot of players in the Netherlands, Australia and England to name a few but the spare a thought for the likes of South Africa who like their Irish counterparts battle the odds aggravated by geographical isolation from the top nations.

The situation contrasts that in India where players are virtually paid to play. As a matter of fact, hockey has long been seen as a passport for a job -- a welcome situation, given that most players come from economically challenged backgrounds.

But why then haven't Indian teams dominated the podium with so much going in their favour?

The reasons are manifold, and includes a less than adequate player base ready to graduate into world class. A job, for many becomes an end instead of a means.

The Late Leyland D'Souza, the doyen of hockey journalists, once said, "The reasons for the Western teams' eminence despite the odds comes from their love for the game. A form of patriotism, if you like."

You get the drift while watching giant-killers Ireland and Italy in the World Cup.

Stick2Hockey.com


---

Fans hail Irish history-makers

By Mark Simpson BBC News NI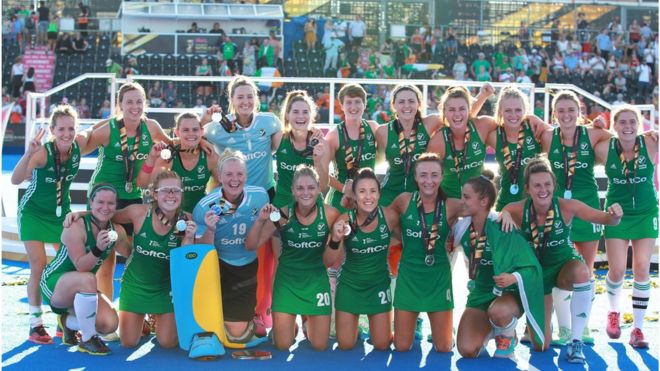 Ireland's women's hockey team celebrate their silver medals at the World Cup. Image copyright EPA

It was the biggest day in Irish hockey's 130-year history and a small corner of east London turned green.

The Netherlands won the match 6-0 but Irish fans outnumbered and out-sang the Dutch in the 10,000-seater Lee Valley stadium.

Fans came from Limavady to Limerick to cheer on the Irish team.

The green contingent was bolstered by hundreds of people from Northern Ireland and the Republic who work in London.

"I had to be here," said former Ireland captain Noelle Brannigan, who played for Pegasus in Belfast in the 1980s.

"This is an incredible day for Irish sport."

The team may have been underfunded and underestimated but they overachieved.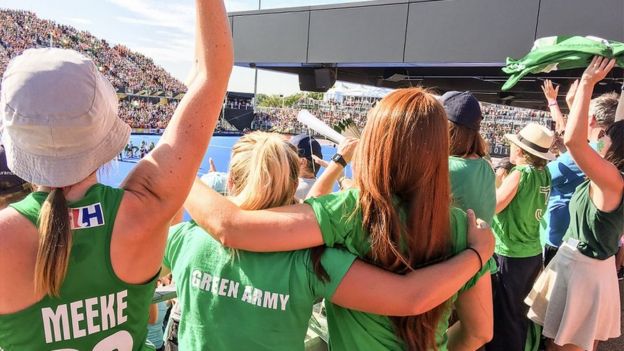 Fans cheer on the Irish team at the Hockey World Cup final in London

The Netherlands hit them for six in the final, but Ireland are 15 places below them in the world rankings.

Every time the Dutch scored, Dancing Queen by ABBA was played over the loudspeaker.

By the sixth goal, Irish fans were demanding that someone changed the record.

"What do you want instead - The Winner Takes It All?" shouted back a Dutch fan.

Everyone laughed. It was that sort of day.

The Irish squad included lawyers, teachers, students and a doctor.

Of the 18-strong squad, six came from Ulster. Like rugby and cricket, the Irish international hockey side is made up of players from both sides of the border.

Irish rugby and hockey connections run deep.

Defender Hannah Matthews is the daughter of former Ulster and Ireland rugby player Philip Matthews.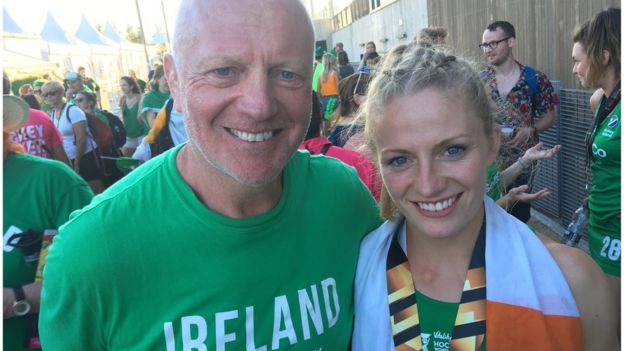 Mike Gibson - arguably Ireland's greatest ever rugby player - became a hockey umpire after he retired from the sport.

Hockey has long lived in the shadow of other sports in Ireland.

The World Cup heroics of the Irish women have given hockey the chance to shine and push other sports off the back pages.

So given the unprecedented success at the World Cup, will Irish hockey be able to retain its new top-level status?

It may boil down to funding.

Money, money, money.

BBC Sport


---

Sense of pride as Dublin crowd cheers hockey's rare spectacle

Loreto Hockey Club members on Irish team celebrated in Churchtown's Glenside Pub

Ronan McGreevy



Can't bear to look: Hockey fans watch Ireland's drubbing at the hands of the Netherlands in the World Cup final on Sunday. Photograph: Ronan McGreevy/The Irish Times

Like London buses you wait ages for a big hockey match – and then two come along at once.

Just 24 hours after gathering for a Hockey World Cup semi-final match against Spain which was replete with tension and eventually joy for Ireland, a huge crowd gathered in the Glenside Pub in Churchtown for the final which, from an Irish perspective, was devoid of both those emotions.

The pub is the local for members of the Loreto Hockey Club in Rathfarnham. The Loreto club is one of the few all-female hockey clubs in the capital, and three of its members are in the Irish squad - Ali Meeke, Hannah Matthews and Nikki Daly.

There was standing room only for Saturday's semi-final, but there was not even that for the final, with many of the children present sitting on the floor, staring up the big screen.

They lustily sang Ireland's Call, the anthem and a reminder that it is not just the rugby team which has an all-Ireland dimension – but that is as good as it got.

Once the first Dutch goal went in, the tension left the capacity room and the procession of Dutch goals followed.

By the time the third quarter rolled around the crowd were cheering every block and goal line clearance, as many feared Ireland would suffer the fate of Italy – who lost by double scores against the same opponents.



A huge crowd gathered in the Glenside Pub in Churchtown for the Hockey World Cup final, in which the Netherlands beat Ireland 6-0. Photograph: Ronan McGreevy/The Irish Times

That never transpired as Ireland put in a redoubtable defensive display in the last quarter, and the Dutch dropped the intensity of their play.

Colouring pencils

Some of the younger members of the audience returned to their mobile phones. A few spread out colouring pencils on the ground and started to scribble.
 
With the final result never in doubt, the crowd broke into The Fields of Athenry, along with a few chants of a soccer anthem from a bygone World Cup – Olé, Olé, Olé.

The dominant emotion was pride, especially when the club's three squad members appeared on the big screen to receive their silver medals.

"We're so proud of them," said Loreto club captain Edel Maxwell. The club have 500 junior members and a lot of them were present for what is a rare spectacle – a prime time television audience for a hockey match.

"This will do Irish hockey the power of good. People have gone to great efforts. They have cut holidays short, they have come early to be here and to soak this up. We are so proud of our three girls from Loreto and the whole team," she said.

Day trippers

Most of the Irish sporting public have been day trippers in the hockey world this week. Next week, Irish women's hockey will be back competing with the All-Irelands, Premier League football and rugby for attention.

Still, in this glorious Irish summer, nobody can deny that Irish women's hockey has had its day in the sun.

The team will have another day out on Monday when they are due for a reception in City Hall at 2pm, followed by a parade down Dame Street.

The Irish Times


---

Metro Mayor requests World Cup homecoming for Limerick hockey player Roisin Upton

Maria Flannery



Limerick woman Roisin Upton, third from left, with teammates after winning silver medals in the World Cup (PICTURE: Craig Mercer/Sportsfile)

LIMERICK'S Metropolitan Mayor, Cllr Daniel Butler, has called on Limerick City and County Council to organise a homecoming reception for hockey player Roisin Upton, to mark the Irish team's achievement in reaching the World Cup final.

The Irish Women's Hockey Team won silver after they were beaten by the Netherlands in this Sunday afternoon's final, which ended 6-0.

Raheen woman Roisin Upton played a vital role in the team throughout the World Cup campaign.

The twenty four-year-old is a former pupil of An Mhodhscoil and Crescent College Comprehensive, and has more than 40 caps for Ireland.

The women's hockey team captured the country's attention this week when they reached new heights in the world of sport. Having entered the tournament as the 16th ranked team, they progressed all the way to come face-to-face with the world's number one team, the Netherlands.

Mayor Butler said: "I have this evening called on Limerick Council to organise a homecoming reception for Roisin Upton in light of her historic achievement of making a World Cup final.

"Roisin and her teammates have achieved a first World Cup field sport final in the history of this state. To have among this brave team a local player in Roisin has been the source of a huge sense of pride among us all here in Limerick. She has equipped herself with absolute professionalism on and off the pitch," said the city's mayor, who is also from Raheen.

"I want to acknowledge her family, especially her parents, for their huge support and dedication in supporting Roisin to get there. I also want to acknowledge the local hockey community here in Limerick who deserve huge credit for their part in this achievement through the commitment and sacrifice. They have endured much heartbreak and near misses and finally they get the reward they deserve."

Cllr Butler continued: "Limerick has found itself a new sporting icon in Roisin Upton and we must celebrate her and all she has achieved and will inevitably inspire others to achieve, especially young women."

Limerick Leader


---

Lock leads Spain to first ever World Cup medal



Spain celebrate a first-ever bronze: Pic credit: Getty Images/FIH

Spain's incredible journey at the Vitality Hockey Women's World Cup came to a bronze-tinted end as they defeated Australia with a consummate display of creative, attacking hockey.

The bronze medal match was a clash between Australia, the world number five team and 2014 silver medallists, and Spain who, with a FIH Hero World Ranking of 11, have played way beyond initial expectations.

The Australian team had lost in shoot-out to the Netherlands less than 24 hours earlier, while Spain had lost to Ireland in similar fashion in the first semi-final.

Australia certainly looked the more battered of the two teams contesting the bronze medal. Jodie Kenny was sporting heavy strapping on her shoulder and Renee Taylor was unable to play, so Lily Brazel had come into the squad as a replacement.

Spain in contrast looked lively as they chased their best finish in a World Cup – their best previous result was fourth in 2006. Certainly it was Spain who came flying out of the blocks and were rewarded with a goal just ten minutes into the game. Maria Lopez was the scorer after yet another innovative penalty corner routine saw Lynch unable to react to the quick switch of play.

Australia were still looking flat as Spain kept pushing and pushing for a second goal. Where Australia were looking to play the ball wide and up the sides, the Spain side were happy to create and push forwards through the middle of the pitch.

Georgina Oliva, who has enjoyed a wonderful tournament, was able to architect several attacks with her clever passing.

Both Rosie Malone and Brooke Peris showed their own determination to leave this World Cup with a medal as they made several bursting runs from the midfield but every Australia attack was met by a stoic Spanish defence.

It was the strength of the defence that led to the second goal. Australia attacked but lost possession. The ball up the pitch found Beatriz Perez, who in turn found Berta Bonastre. The player, who had been so devastated after her team's loss to Ireland the previous day, was on hand to fire home.

As the team's re-emerged into the sweltering hot Arena after the half-time break, Bonastre said: "We know it is not how we start the game but how we finish it. We are here to win a medal, we really deserve it."

The third quarter saw Spain look to increase their lead; again their defence were solid as the Australia midfield and attack tried to unpick them. The breakthrough eventually came as Emily Hurtz found Emily Smith. The Hockeyroo's captain's shot was goal bound but Kathryn Slattery just made sure and got a nick on the ball to halve the deficit.

As the fourth quarter counted down, both teams began to look as if they were suffering from the heat and the previous day's exertion. A crucial moment in the match however saw Alicia Magaz strike the ball home to extend the lead to 3-1.

Australia's Head Coach Paul Gaudoin removed Rachael Lynch and the Australia side ramped up the pressure. Slattery and Maddy Fitzpatrick both ran at the Red Sticks defence but found the wall impenetrable.

The last chance for Australia came with just over two minutes left. A penalty corner was taken by Georgina Morgan but her shot was not strong enough to give Smith the chance of a deflection. As Australia's most recent recruit Lily Brazel thumped the ball forwards, the excellent Rocio Gutierrez swept the ball forward and Spain were able to celebrate their first medal at a World Cup.

"We didn't put in a performance yesterday, the girls were gutted and they wanted to put it right today," said Spain's Head Coach Adrian Lock.

"We took it to Australia. the goals went in and once they went in we weren't going to let that go.

"We talked about the opportunity to do something that no-one has ever done before. We wanted to make our own history. We have played them five times this year, we hadn't beaten them but we drew four times. We knew we could win today," he added.

Australia's Head Coach Paul Gaudoin said: "Spain were very good today and we weren't quite there today. We will learn a lot from today's performance. We can't use yesterday's match as an excuse for today."

A jubilant Cristina Guinea said: "It's like a dream come true and we are so grateful that our hard work has paid off. We have a great team attitude and everyone takes responsibility for defence and attack. There are more medals to come."

#HWC2018

FIH site


---

Hockeyroos End World Cup Ride In Fourth Spot

Ben Somerford




The Hockeyroos have finished their impressive 2018 Women's World Cup campaign in fourth spot after suffering a 3-1 loss to Spain in the bronze medal match in London on Sunday.

Australia had missed out on a place in the World Cup final following a shootout loss to the top-ranked Netherlands on Saturday and didn't appear to be able to shake off that disappointment.

Spain, ranked 11th, raced to an early two-goal lead via Mario Lopez (11') and Berta Bonastre (14').

The fifth-ranked Hockeyroos responded when Kathryn Slattery tapped in from close range in the 40th minute, but Alicia Magaz's 51st minute goal sealed the win and bronze for the Spaniards.

The result represents the third time that Australia have finished in fourth spot in World Cup history, while it's Spain's best-ever placing, having come fourth in 2006 on home turf.

Hockeyroos defender Jodie Kenny said: "It was extremely tough. We played a great match yesterday (against the Netherlands) and it was a shame we couldn't replicate that match from yesterday.

"We were up and about ready for it and we were just outplayed. It's extremely disappointing to out fourth but in the overall scheme it's a good effort from us."

Kenny added: "I think there's a lot to be proud of in how we played. We matched up against some of the best teams in the world and played some really amazing hockey. But we're disappointed we couldn't finish it at the business end."

Spain started the better of the two sides and went ahead in the 11th minute when Lopez's drag flick took a slight deflection off Kenny past goalkeeper Rachael Lynch.

Three minutes later, Spain were 2-0 up when Beatriz Perez broke on the right side of the circle, cutting back for Bonastre to sweep past a helpless Lynch.

Australia tried to rally but went into the main break with only one shot on goal registered.

Spain had their chances to go further ahead, with Lynch called on to save well from Magaz's deft touch from Lola Riera's powerful drive into the D in the 38th minute.

The Hockeyroos got one back in the 40th minute, shortly after Lucia Jimenez had been green carded, with Emily Hurtz passing to captain Emily Smith whose lobbed shot was goalbound with Slattery making sure of it.

Magaz tested Lynch on the stroke of three-quarter time, but the industrious Spanish attacker got her reward when she added the sealer in the 51st minute after good lead-up play by Perez again.

The latest FIH Hero World Rankings will be confirmed following the conclusion of the World Cup.

Australia 1 (Slattery 40')
Spain 3 (Lopez 11', Bonastre 14', Magaz 51')

Hockey Australia media release


---

Kenny: Hockeyroos 'Have Come A Very Long Way'

Ben Somerford




Hockeyroos defender Jodie Kenny says the side's top four finish at the 2018 Women's World Cup is a sign of the youthful team's growth but acknowledges there's plenty more to learn.

Fifth-ranked Australia lost their semi-final to world number one Netherlands in a shootout before losing the bronze medal match 3-1 to Spain in London.

Veteran defender Kenny said the fourth-place finish was a step forward for Paul Gaudoin's side as they continue to evolve following their quarter-final exit at the 2016 Rio Olympics.

"We've come a very long way," Kenny said.

"I'm extremely proud of all the girls."

The World Cup represented another opportunity for the side to gain big-game experience, having reached the Commonwealth Games gold medal match in April, losing 4-1 to New Zealand.

"It shows we've still got a lot of learning in the bigger matches," Kenny said.

"We need to play really well throughout to get over those hurdles at the end, the tough final matches that show physical and mental strength as well."

Gaudoin refused to use Australia's heartbreaking semi-final shootout loss to the Dutch on Saturday as an excuse for Sunday's loss to Spain, which was the side's only defeat the World Cup inside regulation time.

"Spain were very good today and we weren't quite there today," he said.

"We will learn a lot from Sunday's performance. We can't use Saturday's match as an excuse for Sunday."

Kenny added that she felt the group was primed for a better performance against the Spaniard, but were beaten by a better side.

"We were up and about ready for it and we were just outplayed," the Wamuran product said.

"It's extremely disappointing to end up fourth but in the overall scheme it's a good effort from us."

Australia is expected to rise in the latest FIH Hero World Rankings which are due to released this week.

Hockey Australia media release


---

Award winners: Vitality Hockey Women's World Cup London 2018



VITALITY BEST PLAYER: Lidewij Welten – Netherlands
Netherlands women dominated the Vitality Hockey Women's World Cup London 2018 and central to their success was Lidewij Welten. Playing in her third World Cup, the 28 year-old midfield dynamo was the spearhead of Dutch attacks time and time again, scoring five goals, including the opening goal in the final. The Netherlands have played some inspiring hockey in London and Welten has been an inspiration within this title winning team.



BEST GOALKEEPER: Ayeisha McFerran – Ireland
The 22 year-old Irish goalkeeper epitmosied the spirit of this famous Irish team. A leader from the back, her battling attitude provided confidence and direction which kept her team focused and motivated throughout the competition. Having lost only three goals in their run to the final, McFerran proved the hero in all of Ireland's shootout victories - against Asian champions India in the quarter-final and Spain in the semi-final. Whilst she could not stop a powerful Dutch performance in the final, McFerran has emerged from this event as one of the world's leading goalkeepers.

BEST JUNIOR PLAYER: Lucina von der Heyde – Argentina
The 21 year-old Argentina hot-shot showed great potential during the Vitality Hockey Women's World Cup London 2018. A Junior World Cup winner in 2016, Lucina has been improving year on year. Despite not reaching this year's latter stages, Las Leonas have a shining star within their ranks who will no doubt lead her team to glory in the future.



HERO TOP GOALSCORER: Kitty van Male (8 goals)
The golden girl from the golden team, Kitty was lethal throughout this event. Two goals in the opening match against Korea, one against China and four in the record breaking 12-1 win against Italy saw the Dutch top Pool A. She then grabbed the crucial third goal in the final as Netherlands went on to win a record eighth World Cup title. undefined

#HWC2018

FIH site


---

EXIN Masters World Cup - Finals

---

Malaysian veterans' 55+ best finish



PIC: Datuk Manjit.

KUALA LUMPUR: The Malaysian veterans' 55+ team earned their best finish ever when they ended sixth among 15 teams in the Masters Hockey World Cup in Terrassa, Spain.

Malaysia beat United States 4-1 in the fifth-eighth classification but then lost 4-2 to Australia for sixth position.

Harcharanjit Singh, who also scored against Australia yesterday (Sunday), was the 55+ tournament top-scorer with six goals.

"This is the best ever finish for 55+ Malaysia in the veterans World Cup, but still, it was a little disappointing because I believe we were good enough to play in the semi-finals this time around," said team manager Datuk Manjit Majid Abdullah.

Jugjet's World of Field Hockey


---

Excellent end to Scotland v Wales development series in Wrexham



Photo by Chris Wood – Hockey Action

An excellent development series between Scotland and Wales men and women came to an end in Wrexham with Scotland women and Wales men winning their series'. All teams were very competitive and played out great matches over the weekend.

Wales women Dev 1-2 Scotland women dev

It was a clean sweep of victories for Scotland women development as they finish the three match series against Wales Development with a 2-1 win in Wrexham.

The Scots flew out of the traps for this encounter and probably created more chances in the first half than they did in the previous two games combined; somehow the ball failed to find the net.

Into the second half and the Scots were camped inside the Welsh 23 metre line and eventually the opening goal arrived. Millie Steiger showed great composure on the right to fashion the opportunity, a one-two later and Jenny Walls converted clinically to put Scotland 1-0 up.

Then the Welsh sucker-punched their visitors when they capitalised on a mistake to break forward and finish neatly for the equaliser.

A deflection of a Welsh stick in the final quarter put Scotland 2-1 ahead and the young Scots did a good job of seeing the game out.

Emily Dark struck the bar from a penalty corner with the final strike of the game as Scotland development ran out 2-1 winners to win three games out of three in Wrexham.



Photo by Chris Wood – Hockey Action

Wales men Dev 0-0 Scotland men dev

Scotland men Development battled out another goalless draw with Wales men Development in Wrexham in the third game of a three match series.

The result means that Wales win the closely contested series 1-0.

It was a game that saw both teams cancel each other out for much of the contest as both sets of players stepped up their play, yet again, in the very tight series.

In a contest where there was nothing to separate the sides, Scotland fashioned two opportunities from penalty corners. Joe Waterston had both efforts charged down by an impressive Welsh defence.

It was a competitive game, very even, and both sides improved with every contest throughout the series – but on this occasion it ended stalemate and Wales development took the series.

Scottish Hockey Union media release


---

Kerugoya eye hockey glory in regional games

By Elizabeth Mburugu



Kerugoya Girls Mitchelle Akoth (left) and Lavenda Rugusta of Tigoi Girls from western region during KSSS Term 1 National games at Kangaru School Embu County. [Jonah Onyango, Standard]

Former regional hockey champs Kerugoya eye glory in this year's games

Dethroned East Africa Secondary Schools girls' hockey champions Kerugoya are hopeful to have a positive ending this year.

The four-time regional champions will be seeking to recapture the title they last won in 2012.

Kerugoya ruled the regional scene for years but were overshadowed by Sinyolo Girls, who have dominated the championships since 2013.

However, in the absence of Sinyolo, who boast five East Africa titles, Kerugoya are determined to make amends and reclaim their lost glory.

Despite finishing third behind national champions Trans Nzoia Mixed and finalists Tigoi, Kerugoya head coach Joseph Maina is confident they will finally get it right after several failed attempts.

Get the latest World Cup news updates. Subscribe to our SMS sports service by texting 'SPORTS' to 22840.

"We will settle for nothing less than the East Africa title. We go to the championships as the third team but we have done it before and won four East Africa titles that included beating the national champions," Maina said.

He added that his players are ready for the East Africa challenge after correcting their mistakes at the national games.

"We have worked on all our weaknesses and improved our game. The national games helped us gauge ourselves because strong opponents exposed our weak areas."

He added that their major undoing, which has prevented his charges from shining at the national games, is lack of competition in the Central Region.

"We have never won the national title because we don't have tough opponents in our region," said Maina.

"When we get to the nationals, we struggle because the level of competition is higher but we have used the regional games to improve our form and it has worked in our favour. We hope it will be the same this year."

Kerugoya also benefited from training with 20-time women's league champions Telkom, who visited the school as part of their CSR project.

They will bank on upcoming striker Maureen Ndirangu, midfielders Pamela Ambinga and Mitchelle Akoth. Mercy Wambui will be their main guard in defence.

They will contest the title in a round-robin format against compatriots Trans Nzoia Mixed, Tigoi and Uganda's Kukungulu Memorial, St Mary's Namagunga, Bweranyange and Old Kampala.

The Standard Online


---

Chhattisgarh: Tribal girls fight guns with hockey in Naxal-infested village

Tribal girls in the Naxal-infested Kondagaon village of Chhattisgarh have picked up hockey sticks over guns to fight Naxals.

The young girls are being trained with the help of Indo-Tibetan Border Police or ITBP instructors.

"When sir asked us would you play hockey, we said we will play. Now, they have been giving training to us. We are preparing ourselves for state-level tournaments," said Chandrika, a hockey player.

Another player, Dineshwari, said "I play hockey and I am a goalkeeper. Earlier we used to play Kabaddi here after which a hockey team was formed and now we are trained by two teachers."

The team, who recently competed in a competition, stood second overall, thus proving their mettle.

With such sport-based interventions, tribal children, who have always been the soft target for Naxals, can be encouraged to get involved in positive activities.

Daily News & Analysis