All the news for Wednesday 13 June 2018

Indian women begin Spain series with 0-3 defeat

MADRID: In a disappointing start to the series, Indian women team was blanked 0-3 by hosts Spain in the opening match of the five-match series at the Consejo Superior de Deportes Hockey Stadium on Tuesday.

It was an evenly matched encounter between the two teams but the hosts were helped by the efficient finishing shown by Lola Riera (48', 52') and Berta Bonastre (6') whose goals were enough to secure the victory.

Spain dominated possession in the opening quarter as 26-year-old Bonastre found herself in the right spot to score the opening goal in only the sixth minute.

The hosts looked to add a second goal but India's defence held on throughout the first quarter.

The visitors had chances of their own, but could not produce clear goal-scoring opportunities. Skipper Rani Rampal had a glorious chance in the 14th minute but her shot ended up going wide.

India started the second quarter fairly well as Anupa Barla's shot in the 19th minute was saved by Spanish Goalkeeper Maria Ruiz. The next minute Rani had her second chance of the match but could not get the equalising goal.

India were awarded a penalty corner in the 24th minute but the resulting shot went just wide of the Spanish post. Two minutes later, the hosts looked to counter India and forced a reflex save from goalkeeper Savita, who made sure that the visitors went into the half-time break only a goal down.

The Indian shot-stopper was called into action again at the start of the third quarter when she made a save from a penalty corner. At the other end of the pitch, Rani tried to make amends of the missed opportunities but her shot on goal was saved by Maria Ruiz.

The visitors looked to find an equaliser in the final quarter of the match as they took a more attacking approach and let runners get past the Spanish defenders on the flanks.

However, in an unfortunate turn of events for Sunita Lakra, a common-ball hit her head and the referee decided to give a penalty stroke to the hosts, which was well converted by Riera in the 48th minute.

Four minutes later, Riera was awarded her second goal of the match as her drag-flick from a penalty corner was deflected by Sunita Lakra's stick into the back of the net, giving Spain a 3-0 lead.

India tried to find an opening in the latter stages of the match, but the Spanish ensured comfortable victory with sufficient players behind the ball.

The Times of India


---

Opening match win for Scotland in the Italian Series



Photo by Duncan Gray

Scotland women won the opening match of the Italian Series with an excellent 2-1 victory at the Glasgow National Hockey Centre.

It was an even and competitive opening quarter with neither side able to penetrate the opposition defence. Katie Robertson was showing some nice play in the middle of the pitch for Scotland and the back line looked strong and resolute.

The first chance of the match went to Italy when Giuliana Ruggieri turned and shot on the left just wide of the target.

Italy enjoyed more possession in the second quarter but the Scots were strong at the back.

Scotland's best chance came when Fiona Burnet went surging into the D but was denied by some solid defending.

The second half had barely began when Italy took the lead. The goal came through a deflection by Ruggieri to go 1-0 up.

Scotland nearly struck back instantly but Nikki Alexander-Lloyd was denied by some solid Italian defending with a strike across goal.

Italy came close for a second goal from a penalty corner but Lucy Camlin in goal got down low to her right to make an excellent save.

Scotland again caused problems when Lucy Lanigan turned and shot in a crowded D but her effort was blocked.

Scotland then deservedly equalised when Amy Costello slammed home a penalty corner to equalise for Scotland. The powerful low strike found the bottom right corner to make it 1-1.



Photo by Mark Pugh

Scotland broke down the right at the start of Q4, and nearly took the lead when Fiona Burnet dived for the ball but couldn't connect.

A second goal came soon enough and it was Scotland who took the lead through another penalty corner routine. This time a scramble on the goal line was knocked home from close range by Alexander-Lloyd to make it 2-1.

Scotland came very close to scoring a third from another penalty corner but Italy managed to scramble the ball clear.

A late Italy penalty corner nearly brought an equaliser but it was smashed past the post, and Scotland held on to claim an excellent series win on the opening night.

Scotland play Italy in the second match of the Italian Series on Thursday at 12:00 at the Glasgow National Hockey Centre.

Scottish Hockey Union media release


---

2018 Test Matches: BEL v ESP (M)
Brussels (BEL)

BEL v ESP     5 - 2

FIH Match Centre


---

China reveal squad for Vitality Hockey Women's World Cup London 2018



China head coach Jamilon Mülders. Copyright: FIH / World Sport Pics

China Head Coach Jamilon Mülders has announced his team for the Vitality Hockey Women's World Cup, London 2018.

This will be the first major global event for China under the leadership of the former Germany women's head coach, and both coach and players will be looking for a strong showing after months of preparations.

A third place in the recent Donghae Asian Champions Trophy will have given Mülders plenty to think about as China were the top ranked team at that tournament and might have expected a higher placed finish.

At the Asian Champions Trophy, China (World Ranking 8) lost by 3-1 score lines to both India (WR:10) and Korea (WR: 9). They then rallied to beat Malaysia to take bronze.

The team for the Vitality Hockey Women's World Cup has some familiar names in it, with veteran goalkeeper Li Dong Xiao adding to her 142 caps. The defence will also be bolstered by the presence of experienced Cui Qiu Xia (137) and Gu Bing Feng (51), both of who are part of a strong leadership team.

The forward line will be led by Zhang Xiao Xue and Wu Qiong, who have mustered more than 150 caps between them.

Song Xiaoming was China's top scorer at the Asian Champions Trophy and, although the player is relatively inexperienced at international level, with just 20 caps to her name, she is a talented striker who will add firepower to China's attack.

While Mülders has selected a team full of experience in each area of the pitch, he has also added some exciting young players to the roster. Li Hong and Zhong Jia Qi are two new names on the China team sheet and, with both players being just 18 years-old, Mülders will be looking for the teenagers to add the spark of youthfulness to the team.

As a final preparation before the World Cup gets underway, China will be heading to Europe for a series of test matches against fellow World Cup hopefuls Belgium.

China are in Pool A at the Vitality Hockey Women's World Cup. Their campaign gets underway with a match against Italy on 22 July. They then face the reigning champions, the Netherlands, on 27 July before playing Asia rivals Korea on 27 July.

For the full Vitality Hockey Women's World Cup London 2018 schedule, click here.

FIH site


---

Women's National Team dominates at Hockey Series Open with 4-0 record

Canada surges ahead in Olympic qualification with undefeated tournament



Photo Credit: Andrés Mallén

The Canadian Women's National Team is one step closer to the Tokyo 2020 Olympics after completing a successful run at the Hockey Series Open last week in Salamanca, Mexico. With four wins in four matches, Canada finished in first place, in front of host nation Mexico.

Heading into the event, Canada was the number one seeded team and proved their dominance after a 28-0 victory over Guatemala on the second day of competition. The team followed the match with an 18-2 win over Puerto Rico the next evening.

Giles Bonnet, the newly appointed head coach, acknowledged the countless hours being put in by the Women's National Team as they aim to strengthen their technique.

"The players are making considerable sacrifices in order to make themselves available in the upcoming 14-month period," he said. "Their commitment and intrinsic motivation to improve…is highly motivating."

The first two matches were notable for several reasons. Defender Karli Johansen celebrated her 100th career senior international match before the start of the match against Puerto Rico, while teammate Samantha McCrory scored six goals during her debut senior international match against Guatemala.

"I'm so proud to have received my 100th cap," Johansen said. "I feel extremely grateful to be able to represent my country with this group of girls. We have big things planned in the next few years and it feels like a perfect way to kick off a busy summer of training and competing."

Johansen expressed her gratitude for having emerging players on the team, stating that McCrory, who was one of the top scorers of the tournament, continues to inspire her greatly.

"[Sam] has been training with the senior group for a while now, and it's amazing to see how quickly she is learning and improving every day. It pushes the rest of us to do the same," she said.

Two days later, Canada won 8-1 against Mexico, at which McCrory scored another two goals. The team would go on to win 17- 0 against Panama to secure a series victory, conceding only three goals throughout the entire tournament.

Bonnet sees the Hockey Series Open as the first step in Canada's ambition to compete in the Olympic Games. However, he recognizes that the road ahead won't be easy.

"It's very clear for us what a challenge [Tokyo 2020] will be," he said. "We have chosen an 'Everest' to climb and we realize we will need to do this without oxygen," Bonnet said.

The team has now arrived in Dublin, Ireland where they are participating in a 7-week excursion across Europe, training and competing against top European nations. It gives the Women's National Team a firsthand opportunity to assess strengths and weaknesses and close potential gaps ahead of the next training phase in September 2018.

Field Hockey Canada media release


---

SoftCo Series To Be Streamed Live On Hockey Ireland Youtube

Both matches of the SoftCo Series between the Green Army and Canada will be streamed live on Hockey Ireland's Youtube channel. The fixtures are the first home games of Ireland's World Cup preparation and are a great opportunity to see the Green Army in action! As well as two great matches, there will be a fun zone, Hockey Skills Challenge, spot prizes and free thunder sticks for all children.

Match 1: 15/6/18 7pm Ireland vs Canada
Match 2: 16/6/18 5pm Ireland vs Canada

Both matches will take place in Pembroke Wanderers. Please note the previously schedule match on Wednesday June 13th in Three Rock has been cancelled.

Tickets will be available on the gate:

Children-Free
Adults- €10 for 1 match or €15 for both matches

Irish Hockey Association media release


---

Two youngsters to replace experienced Nurul

By Aftar Singh

KUALA LUMPUR: Malaysia will not have the services of national forward Nurul Nabila Mansor for the women's World Series Hockey tournament in Singapore from June 23-July 1.

Nurul, who has represented Malaysia in tournaments for the last six years including the recent Commonwealth Games in Gold Coast, Australia, is two months pregnant.

Two youngsters – fifteen-year-old Kiran Kaur and Hasya Syahida Saifuddin, 17, – have been called up to replace the experiences Nurul.

National coach K. Dharmaraj had watched forward Kiran play in domestic tournaments since she was 11 and said Hasya deserved her spot in the national training squad.

"Kiran is a talented player, who can be groomed into a world-class player and Hasya, too," said Dharmaraj.

"I want young players to be drafted into the training squad to give them early exposures.

Six teams – hosts Singapore, Malaysia, Hong Kong, Indonesia, Kazakhstan and Thailand – will feature in the World Series, which is the qualifying tournament for the 2020 Tokyo Olympics.

The top two teams in the World Series will advance to the second round of the tournament.

Under the guidance of Dharma­raj, world No. 22 Malaysia stunned world No. 12 Japan 3-2 to finish fourth in the five-nation Asian Champions Trophy in Donghae City, South Korea, last month.

The Star of Malaysia


---

Croon moves to Bloemendaal from HGC



©: Marloes Kaal

Jorrit Croon has joined HC Bloemendaal for the upcoming season, making the switch from HGC with whom he made his major breakthrough into the Dutch national team in 2016.

Speaking about the move, the Rio Olympian said it was tough decision but that he feeld Bloemendaal will help his development.

"I have had good years at HGC but, as a top athlete, you want to improve yourself every time. Then the question is: where can I do that best? The way of playing at Bloemendaal, the team and the coaching staff are great. I can improve myself here.

"Michel van den Heuvel demands the utmost from his players. I know that I can still learn a lot in the defense and I hope to play and win more finals."

Board member Tophockey Pepijn Post said of the new arrival: "Jorrit is a great hockey player, technically very special. It's great that such talents want to play at Bloemendaal.

Croon, meanwhile, concluded: "I have always had a special feeling for Bloemendaal. When I played hockey for only a few years, Bloemendaal won five country titles in a row. That was very special. I hope to have a great many years with great success at 't Kopje."

Euro Hockey League media release


---

Old Mutual iWYZE, back to support the 2018 Schools Hockey Nationals and young futures




Insurance brand, Old Mutual iWYZE is excited to again partner with the South African Hockey Association (SAHA) on behalf of SA Schools Hockey Association, as the official title partner sponsor of the 2018 Schools Hockey Nationals under-16 and under-18 categories as well as the National Schools Teams for this season. This sponsorship forms part of iWYZE's vision to support and groom the country's young talent and fits into its brand vision, which is to enable positive futures.

Old Mutual iWYZE maintains their youth sponsorship programme for boys and girls at under 16 and under 18 tournaments and as well as the Schools High-Performance programmes, which also sees the inclusion of an international series between South African Schools and Australian District School Teams that will take place from 9-11 July in Pietermaritzburg.

"I am thrilled that iWYZE returns to sponsor this amazing tournament for a second year. Last year's tournament was incredible and we look forward to it being bigger and better this year," says iWYZE Head of Brand & Advertising, Presodhini Naicker.

"Sports has always been a significant part of our country's heritage – our people are passionate about it and take it very seriously. Therefore, it is an honor to partner with SAHA, to help develop one of our country's fastest growing sports and support the boys and girls who passionately perform their best to represent their respective schools and promote the game of hockey. With our support, we can help these boys and girls inspire other young hopefuls to follow in their footsteps and assist this beautiful game to continue to flourish.

"SA Hockey would like to thank iWYZE for their continued support for our schools hockey program. The iWYZE Nationals are a platform for future stars of the game to showcase their talents.." Said Marissa Langeni the CEO of South African Hockey Association.

"The SA Schools Hockey family are ecstatic to once again be involved with Old Mutual iWYZE, a household name in short-term and motor vehicle insurance. This year's event will showcase the difference that iWYZE has made in Schools' Hockey at the National Events," said Wendell Domingo, President of SASHOC. "This spectacular event will have the added attraction of SA u18 Boys and Girls strutting their talents against Australia National Schools teams."

SA Hockey Association media release


---

Hockey player needs help

Jyothi Laldas



Bridget Swart PHOTO: supplied

TALENTED 17-year-old South African, Bridget Swart from Mandeni will represent KZN in hockey at Bokkie Week in Limpopo.

She will be playing in the U19 AVS Natal team.

The event, which will be held in Naboomspruit from July 2 to 6 will see AVS rugby, hockey and netball players do battle for the winners' titles.

The participants will begin their tour on June 27 in preparation for the tournaments.

To this end, Bridget, who holds her AVS Natal colours in hockey, needs to raise an amount of R6 700 to cover the cost of going to the event.

She is appealing to the community and businesses to help her make this dream a reality.

"I have been playing hockey since Grade 2 and I love it so much. I hope that you will be able to help me attend this event and make one of my dreams come true."

Anyone willing to assist can contact the organisers on +27 71 892 9839 or email This email address is being protected from spambots. You need JavaScript enabled to view it. for more information.

News24


---

Gritty Kathungi out to maintain status quo

By Elizabeth Mburugu



Transzoia Mixed School'sBeverlyne Akoth (right) and Tigoi Girls's Adeline Murenga (Best player) during KSSSA Term 1 National games at Kangaru School Embu County on Saturday April 14, 2018. [Jonah Onyango, Standard]

Kitui County schools football giants Kathungi are seeking to extend their dominance as this year's Eastern Region Secondary Schools Term Two Games begin today at Kitui School.

Kathungi, who have reigned in the region for five years in a row, hope to secure their ticket to national championships set for Eldoret, next month.

Kathungi came close to winning their maiden national title in 2013 but fell short after going down 1-2 to Upper Hill in the finals at Kangaru School. Since then, they have made it to all the national games but failed to make it to the finals. Last year in Nyeri, they finished fourth behind winners Upper Hill, St Anthony's Boys Kitale and Kakamega High School.

Banking their hopes on their strong striking force of Hamis Salim, Samuel Mambo and Anthony Furaha, Kathunngi coach Ibrahim Naika believes that they can weather the storm. "Other schools like Mbooni Boys and Machakos are coming up and we I think it won't be business as usual in the near future but this year my boys are in fine form and I believe they have what it takes to retain the trophy," Naika said.

He added that apart from the strong forwards on his line up, he also has a solid midfield and defence led by Joshua Nzangala and Abdirahman Aden. Kathungi are in Group A together with Tharaka Nithi's St Daniels, Gikumene and Kathiani from Meru and Machakos counties. Makueni County winners Mbooni are in Group D alongside Siakago from Embu, St Pauls Kiwanjani of Isiolo and Marsabit's Butiye.

Get the latest World Cup news updates. Subscribe to our SMS sports service by texting 'SPORTS' to 22840.

In the girls' contest, former regional champions Matuu Memorial are in Group B alongside Samisi from Kitui, Makueni'S St Mary's and Kirigara from Meru.

In the Copa Coca Cola Under-16 challenge, Makindu Boys of Makueni highlight Group A where they will face off with Kitui's Kyuso, St Cyprian from Meru and Ndalani from Machakos. Group B has Dakabaricha from Marsabit, Siakago and St Daniels. Kisayani, Chogoria Girls, and St Anne's Kiriari will battle for the girls' title in Group A while Mua Hills, Thitha, St John's and Moi Girls Marsabit will play in Group B.

The Standard Online


---

MHC: It's not just a re-branding exercise

By Jugjet Singh

KUALA LUMPUR: A new development plan to replace 1Mas is expected to kick off in July, and its not just another re-branding programme said Malaysian Hockey Confederation (MHC) president Datuk Seri Subahan Kamal Tuesday.

1Mas, incepted in 2010, suffered a natural death when the RM11 million alloted to it was all spent up early this year. Some claimed it was wisely spent, while others claim the money was not wisely utilised, as the programme overlapped many others.

"The new development programme will start in July as we have found a sponsor to carry out activities. It will replace 1Mas, but it is not just another re-branding exercise, but to help develop the sport in a big way," said Subahan.

MHC deputy president Datuk Dr S. Shamala was also present.

Players from sports schools, project schools, Tenaga Nasional's Thunderbolts programme as well as Universiti Kuala Lumpur's (UniKL) hockey club, were also training in the 1Mas programme and it was a messy affair.

However, at a meeting attended by state affiliates in Bukit Jalil yesterday, some of the problems faced by 1Mas were thrashed out and it was agreed that the main pitfalls will be avoided in the new plan.

1Mas director Tai Beng Hai briefed state affiliates on the previous programme. And after much discussion, it was decided to forge ahead with fresh ideas.

MHC Technical Director Terry Walsh said: "The problem here is everybody is claiming a hand in developing the said players and I believe they all had a hand somewhere along the way. But lets look at the bigger picture, in the end, the players will play for Malaysia and the benefit will be for everybody."

Jugjet's World of Field Hockey


---

Hockey India president, IOA treasurer react to coach Harendra Singh's complaint about food quality at SAI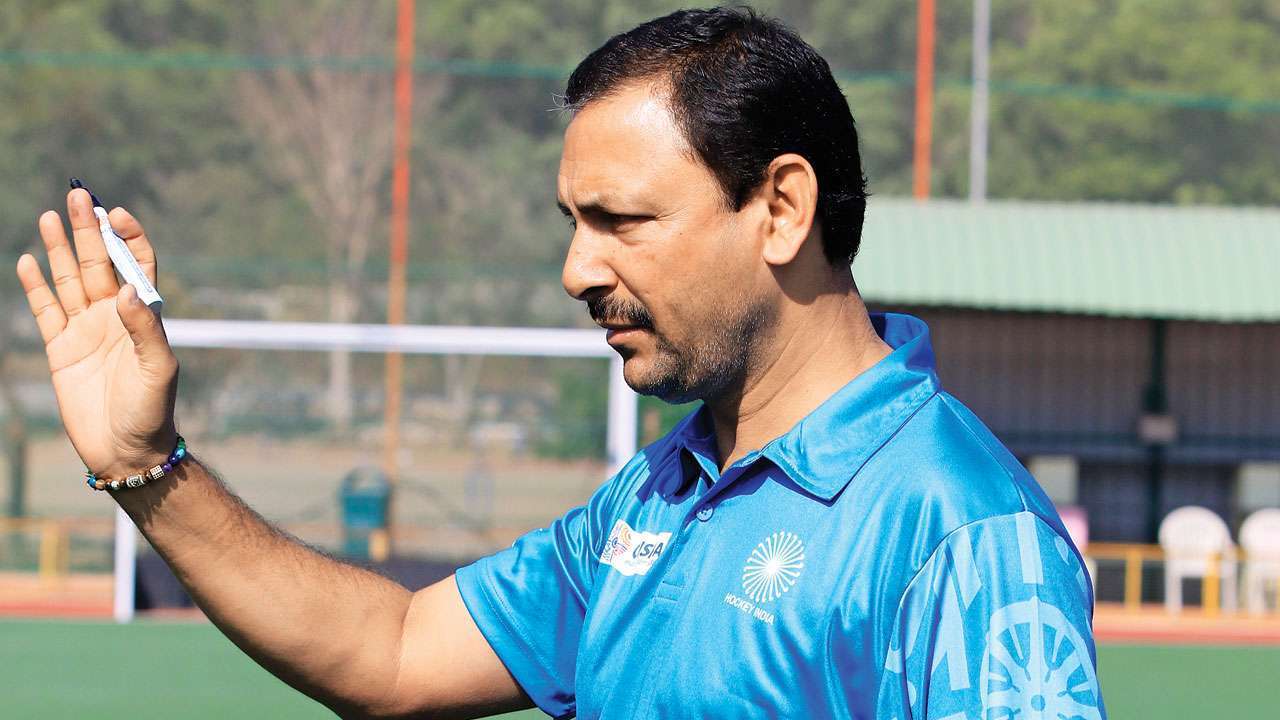 Harendra Singh - File Photo, PTI

Harendra Singh, chief coach of the Indian men's hockey team, wrote a letter to Hockey India complaining about the poor quality of food and hygiene level at the Sports Authority of India (SAI) center in Bengaluru.

"I would like to bring to your kind notice that food quality at Bangalore SAI center has been well below par with a professional unit ' excessive oil and fat throughout, bones with lack of meats. Moreover insects, bugs and hair were also found in the food. Sir, I would also like to inform you that hygiene part has also been neglected," Harendra wrote in his mail.

Reacting to Harendra's complaint, Rajinder Singh, Hockey India president, said, "This is really serious and we cannot take it lightly. If any athlete gets sick, who'll be responsible? That's why we have planned to hold a meeting and we've asked the ministry for time."

IOA treasurer Anandeshwar Pandey added, "Players representing India should be given proper diet. If coach has raised such issues, it must be solved. If proper food isn't given to sportpersons it affects their performances."

Harendra further revealed that they had conducted blood tests of all 48 athletes-- who are currently training at SAI centre in Bengaluru ahead of the Champions Trophy-- and that the results have revealed a food-related deficiency in some of the players.

"The kitchen utensils which are used to prepare food are unhealthy. We are preparing for the upcoming Champions Trophy, Asian Games and World Cup. It is vital for these high-performance athletes to have meals which consist of entire nutrition. Recently we conducted blood tests on all 48 athletes and the blood report found many food related deficiencies in some athletes, which act as a hindrance to perform at the optimum level," the chief coach of the Indian men's hockey team said.

Harendra also pointed out that the quality of food is sub-standard despite Minister of Youth Affairs and Sports Rajyavardhan Rathore had given instructions during his visit to the center prior to the 21st edition of the Commonwealth Games in April.

"Before CWG during our one of the camp Hon'ble Sports Minister visited the camps given instruction to competent that within 48 hrs these complain must be address. But in spite of Hon'ble Minister Saheb instruction no change is visible,"the chief coach said. He concluded his mail by requesting Hockey India to look into the matter and help in resolving the problem as soon as possible.

Soon after receiving the complaint, Hockey India president Rajinder Singh has written to President of Indian Olympic Association Narinder Dhruv Batra, saying that such issues affect the performance of the players at the optimum level while also requesting their indulgence in the matter.

"We request for your indulgence and IOA intervention to get the food, hygeine and cleanness issues sorted out at SAI Bangalore in case IOA is looking for good performance for Indian Men and Women Hockey Teams. Such issues affect in the overall/preparation of the elite teams and the optimum/peak performance," Rajinder said.

In reply to the letter from Harindra Singh and Hockey India, Indian Olympic Association (IOA) president Narinder Batra wrote to SAI Director General Neelam Kapur to address the issue seriously. "I am forwarding the trailing emails received from Harendra Singh, Chief Coach Indian Senior Men Hockey Team and forwarded to me by President Hockey India. Hon'ble Minister had visited SAI centre Bangalore couple of months back and he is aware of this situation concerning the athletes and their food issue, hygeine issues etc," Batra said.

"It is couple of months now, I humbly request SAI to kindly take care of food quality, hygeine, cleanness etc at SAI centre Bangalore in interest of health and performance of elite athletes. If we expect elite athletes to perform at their best, then we also need to provide them with the best," he added.

On a related note, India are slated to play Champions Trophy from June 23 to July 1 in Breda, Netherlands.

Daily News & Analysis


---

SAI orders surprise checks after hockey coach Harendra Singh's complaint against Bengaluru centre

Sports Authority of India (SAI) has decided to go for a performance review of all its regional centres after men's national hockey chief coach Harendra Singh has complained about sub-standard food and hygiene standards in the Bengaluru facility.

"We are deeply concerned about the quality of food and hygiene in the SAI centres and give it the highest priority. The problem in Bengaluru has come to the notice earlier during the Minister's (Rajyavardhan Singh Rathore) visit in March this year," said SAI Director General Neelam Kapur in a statement. "Orders have been issued to take corrective action which includes hiring a new cook, ensuring quality of raw food supply and improving hygiene."

The complaint has prompted the DG to call an urgent meeting of the Regional Heads. "Regional Directors will be accountable to ensure quality food and hygiene. Monitoring systems are being put in place including surprise checks. Strict action will be taken on any complaints received," Kapur added.

Harendra had expressed his serious concerns over food and hygiene in SAI South Centre, Bengaluru to the national federation Hockey India, which was earlier headed by current IOA and International Hockey Federation (FIH) chief Narinder Batra.

Having received the complaint, Batra swung into action and wrote to the Sports Ministry on the issue. The Indian team is training in the Karnataka capital for the Champions Trophy to be held in Breda, Netherlands from June 23 to July 1.

Daily News & Analysis


---

Liz Chase

Effervescent Zimbabwean hockey player who helped to win the fledgling nation's first gold medal at the Moscow Games in 1980

By Cathy Harris



Liz Chase with her gold medal in 1980

In what was surely one of the most bizarre starts to an Olympic campaign, the Zimbabwe women's hockey team set off from Harare for the 1980 Moscow Games in an aircraft used to transport meat. They had to cope with the overpowering stench, strapped in like paratroopers down either side, their luggage piled up in the middle.

Robert Mugabe had led the newly independent country, formerly known as Rhodesia, for three months when the International Olympic Committee extended its invitation. Women's hockey was making its Olympic debut and there had been plans for a six-team tournament, but five pulled out after the US-led western boycott protesting against the Soviet Union's invasion of Afghanistan.

With only the hosts left, the organisers cast around for replacements. The Zimbabweans received their invitation 35 days before the opening ceremony and officials scrambled to select a squad. Their captain, Ann Grant, admitted that they were like a bunch of excited children when they first saw the Olympic stadium. "We had never seen an artificial pitch and didn't have the right shoes to play on it because we'd only ever played on sunbaked grass pitches in Zimbabwe," she recalled. "We had to rush out and buy them."

The happy-go-lucky group attracted the attention of many athletes in the Olympic Village. Britain's impending medal-winners Daley Thompson, Sebastian Coe and Steve Ovett were among the athletes who spent time with them and followed their progress during the Games.

"Suddenly people wanted to know all about Zimbabwe," said Chase. "We went to a party at the Kremlin and had such fun socialising with loads of famous athletes. Everyone wanted a part of us — we were all just so proud."

A skilful and versatile forward with a natural goalscoring ability, Chase was a cornerstone of the side as they pro- gressed through the round-robin event. Despite struggling with a knee injury, she provided the pass for Pat McKillop to seal Zimbabwe's 4-1 victory over Austria, which secured the gold medal.

Never one to opt for extra training sessions, Chase could be temperamental when things did not go her way on the pitch, but her vivacious personality and sense of fun and enthusiasm made her popular among her peers.

There was one hitch at the medal ceremony, Sarah English, the team's goalkeeper, recalled. "Zimbabwe didn't even have its own national anthem," she said. "They played the Olympic anthem, that's all. But there was the Zimbabwe flag and we were all so proud."

Back home the team's unlikely victory had captivated the nation: they were heralded as "the Golden Girls", and Mugabe's wife, Sally, promised each squad member an ox.

At a ceremony to mark their triumph the said animals failed to materialise and the players were left bemused as Mrs Mugabe presented them with a small polystyrene-wrapped packet of meat each. "It was actually hilarious," Chase recalled.

Elizabeth Muriel Chase was born in the city of Mutare (formerly Umtali), the elder of two daughters born to Ken, who worked in customs and excise, and Daphne (née Lowth), a housewife.

As a young girl Liz moved with her parents to Bulawayo before they returned to Harare, where she attended Girls High School. She was a school prefect and games captain, and she excelled at hockey, representing the national schools team.

As a student at Johannesburg College of Education (JCE), Chase represented South Africa at under-21 level and Southern Transvaal. After graduating with a teaching diploma she returned to Harare. Posts at Oriel Girls High School and Mount Pleasant High School followed. From 1976 to 1977 she played six times for South Africa.

Three years after winning the gold medal Chase accepted a position at JCE as a lecturer in physical education. Always eager to maintain links with the sport, she took on several roles, includ- ing coaching the South African schools team. She also served on provincial and national selection panels and became a sports administrator at the University of the Witwatersrand in 2000 until her retirement in 2015. She is survived by her partner of 28 years, Clare Digby, former president of the South African Hockey Association.

Her lasting legacy is the long-awaited synthetic turf hockey pitch at Wits, which was officially opened in 2014. Her effervescence made her the driving force behind the £750,000 project as she co-ordinated the fundraising effort.

Chase loved cooking, especially on the barbecue, and friends tell the story of an incident in the bush near Kruger National Park. Noticing two hyenas in the darkness 20 yards from the fire pit, the guests quickly scampered to the house for safety, apart from Chase, who was unfazed and ignored the predators as she calmly carried on cooking.

Liz Chase, Olympic gold hockey medal- winner, was born on April 26, 1950. She died of cancer on May 9, 2018, aged 68

The Times