All the news for Tuesday 15 May 2018

Malaysia stand proud

By Jugjet Singh

KUALA LUMPUR: Coach K. Dharmaraj's women held their heads high even though they lost 3-1 to world number eight China in the Asian Champions Trophy in Donghae, South Korea, Monday.

Malaysia, ranked 22nd, will now play Japan on Wednesday.

Hanis Nadia Onn scored for Malaysia in the 22nd minute while the China goals came off Zhang Jinrong (third), Li Hong (20th) and Cui Qiuxia (53rd).

Dharmaraj was pleased with his charges, who gave world beaters China a great fight.

"Our opponent is among the top teams in Asia (silver medal in the 2017 Asia Cup) and ranked much higher than us. And so, my charges exceeded my expectations and I am very happy to see their progress," said Dharmaraj.

Malaysia were down 2-0 but still fought back to score, and China's third goal came off a penalty stroke.

"In the fourth quarter, skipper Siti (Noor Amarina Ruhani) made a rough tackle and China asked for a video referral which resulted in a penalty stroke. We had a good chance to narrow the gap, but missed a penalty corner attempt.

"We play Japan next after a days rest and I expect it to be another tough encounter."

Japan held South Korea 1-1 Monday, while Malaysia had lost to the Koreans 3-1 in the curtain raiser.

Jugjet's World of Field Hockey


---

Malaysia women's squad go down to world No. 8 China

PETALING JAYA: Malaysia went down to a second defeat in the women's Asian Hockey Champions Trophy in Donghae City, South Korea.

The 22nd ranked Malaysians took the fight to a world No. 8 China team but were unfortunate to troop off with a 3-1 defeat at the Sunrise Stadium yesterday.

Malaysia lost their first match 1-3 to South Korea on Sunday.

An aggressive China struck early with Zhang Jinrong scoring in the third minute before Li Hong doubled the score in the 20th minute.

Malaysia reduced the deficit two minutes later when Hanis Nadiah Onn scrambled the ball in during a goalmouth melee.

Then Siti Amarina Ruhani gave away a penalty stroke and Cui Qiuxian converted to make it 3-1 in the 50th minute.

With the loss, Malaysia are out of the running for a top-four finish in the five-nation round-robin competition.

National coach K. Dharmaraj was, however, upbeat and pleased with his team's spirited showing.

"We had our chances. We were down 2-0 but we still managed to pull one back to trail 1-2 at half-time.

"In the third quarter, we should have had a penalty stroke but the referee only awarded a penalty corner and we lost our referral.

"That in turn affected us as China requested for a referral on a world class tackle by Siti in the fourth quarter and they got a penalty stroke."

Dharmaraj was, however, concerned with injuries to Raja Norsharina Raja Shabuddin and Juliani Din ahead of their clash with Japan today.

"Raja suffered a broken finger while Juliani was stretchered out with a knee injury. Japan are strong and we'll need to be at our best to even take something away from them," said Dharmaraj.

Japan, who were hammered 4-1 by India on Sunday, held on to a 1-1 draw against hosts South Korea in yesterday's other match.

The Star of Malaysia


---

Vantage Black Sticks primed for Cromwell



Lulu Tuilotolava (21) will make her International debut. Photo: Planet Hockey

The Vantage Black Sticks Women are set to kick-start their road to the Hockey World Cup with a strong team named to compete at the Pioneer Energy Women's Tri Nations in Cromwell.

The series sees New Zealand (world ranking 4th), take on trans-Tasman rivals Australia (5th) and Japan (12th) over nine days of exciting international hockey from 19-27 May.

Teams will play each other twice during a round robin phase, with the top seed automatically progressing to the final where they will meet the winner of a 2nd vs 3rd playoff.

Cromwell will play a superb host to the series, following the recent upgrade to the Pioneer Energy Turf which has enabled games to be played at international standard.

There are five changes to the side which recently won New Zealand's first ever Commonwealth Games gold medal on the Gold Coast.

Stacey Michelsen, Sam Charlton, Liz Thompson and Amy Robinson have not been included in the series due to injury and family commitments while Pippa Hayward has retired.

Auckland midfielder Lulu Tuilotolava (21) will make her international debut in Cromwell while strikers Kirsten Pearce and Michaela Curtis, along with defenders Steph Dickins and Kim Tanner return to the side.

Vantage Black Sticks Women's assistant coach Sean Dancer will take on head coaching duties for the series and is excited about the challenge.

"We're looking forward to getting into action in Cromwell, we have a few injuries to senior players so it's a chance for some others to push for World Cup positions," Dancer said.

"Australia and Japan will be tough opponents and we are welcoming the challenge of playing them again. This tournament presents a good preparation series on the way to the World Cup.

"It's another great opportunity to bring top class hockey to one of the smaller regions in New Zealand and we really appreciate and enjoy the support we get."

New Zealand open their series at 4:30pm this Saturday against Japan before a Commonwealth Games gold medal game rematch against Australia on Sunday at 2:30pm.

The Pioneer Energy Women's Tri Nations serves as build up for the FIH Hockey Women's World Cup which will be held in London from July 21st - 5th August.

Passes for most days are already sold out, but there are still tickets available to mid-week games and the Gold Medal Celebration event on Sunday 20th May through www.dashtickets.co.nz

CLICK HERE for more on the Pioneer Energy Women's Tri Nations

VANTAGE BLACK STICKS WOMEN
Pioneer Energy Tri Nations – Women's International Hockey
19 - 27 May, Cromwell
| | | | | | |
| --- | --- | --- | --- | --- | --- |
| SHIRT # | PLAYER NAME | REGION | POSITION | AGE | CAPS |
| 14 | Michaela CURTIS | Central | Striker | 24 | 51 |
| 1 | Tarryn DAVEY | Midlands | Defender/Mid | 22 | 25 |
| 5 | Frances DAVIES | Midlands | Defender | 21 | 45 |
| 17 | Steph DICKINS | North Harbour | Defender | 23 | 10 |
| 10 | Madison DOAR | Auckland | Striker | 18 | 17 |
| 28 | Shiloh GLOYN | Midlands | Midfielder | 28 | 62 |
| 12 | Ella GUNSON (capt) | Northland | Defender | 28 | 185 |
| 2 | Sam HARRISON | Auckland | Striker | 26 | 143 |
| 24 | Rose KEDDELL | Midlands | Defender | 24 | 170 |
| 32 | Anita McLAREN | Capital | Midfielder | 30 | 258 |
| 4 | Olivia MERRY | Canterbury | Striker | 25 | 192 |
| 9 | Brooke NEAL | Northland | Defender | 25 | 141 |
| 15 | Grace O'HANLON | Auckland | Goalkeeper | 25 | 31 |
| 18 | Kirsten PEARCE | North Harbour | Striker | 26 | 97 |
| 8 | Sally RUTHERFORD | Midlands | Goalkeeper | 36 | 161 |
| 25 | Kelsey SMITH | Capital | Striker | 23 | 75 |
| 22 | Kim TANNER | Midlands | Defender | 25 | 28 |
| TBC | Lulu TUILOTOLAVA | Auckland | Midfielder | 21 | - |
Pioneer Energy Tri Nations Women's International Hockey – Match Schedule

 

Saturday 19th May - 4:30pm

Vantage Black Sticks vs Japan

Sunday 20th May - 2:30pm

Vantage Black Sticks vs Australia

Monday 21st May - 6:30pm

Australia vs Japan

Tuesday 22nd May - 6:30pm

Vantage Black Sticks vs Japan

Wednesday 23rd May - 6:30pm

Vantage Black Sticks vs Australia

Thursday 24th May - 6:30pm

Australia vs Japan

Saturday 26th May - 4:30pm

Playoff for final (2nd vs 3rd)

Sunday 27th May - 2:30pm

Final

Hockey New Zealand Media release


---

Black Sticks make five changes to gold-medal winning squad

By David Leggat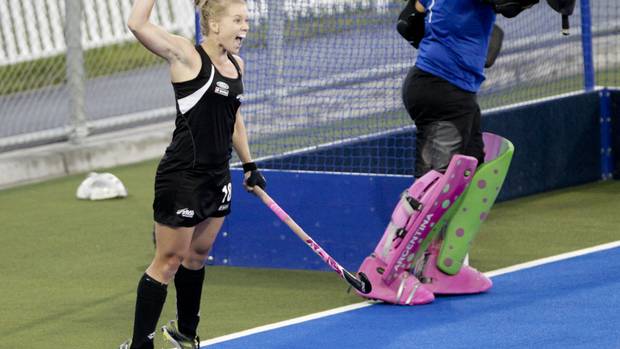 Kirsten Pearce. Photo / Paul Taylor.

New Zealand have made five changes to their Commonwealth Games gold medal-winning squad for a tri-series against Australia and Japan starting in Cromwell this weekend.

New faces included for the series are Auckland midfielder Lulu Tuilotolava, a 21-year-old who will make her international debut, strikers Kirsten Pearce and Michaela Curtis, who return to the squad, along with defenders Steph Dickins and Kim Tanner.

Missing from the Games squad are senior players Stacey Michelsen, Sam Charlton and Liz Thompson, along with Amy Robinson and the retired midfielder Pippa Hayward. The first four are sitting the series out due to either injury or family commitments.

"We have a few injuries to senior players so it's a chance for some others to push for World Cup positions," Black Sticks assistant coach Sean Dancer said. He will run the teeam during the series, in whcih each team will play the other twice each going into a final.

"Lulu has been training extremely well and we look forward to her making her international debut, it's a special moment for her and one she thoroughly deserves.''

New Zealand are ranked fourth in the world, Australia fifth and Japan 12th.

It is an ideal lead-in for New Zealand as they prepare for the World Cup in England in July. Australia and Japan are both in New Zealand's group at the cup.

"Australia and Japan will be tough opponents and we are welcoming the challenge of playing them again. This tournament presents a good preparation series on the way to the World Cup.

"It's another great opportunity to bring top class hockey to one of the smaller regions in New Zealand and we really appreciate and enjoy the support we get,'' Dancer added.

New Zealand kick off the tournament against Japan on Saturday.

New Zealand squad:
Goalkeepers: Grace O'Hanlon (Auckland), Sally Rutherford (Midlands)
Defenders: Frances Davies, Kim Tanner, Rose Keddell (Midlands), Steph Dickins (North Harbour), Ella Gunson, Brooke Neal (Northland).
Midfielders: Anita McLaren (Capital), Shiloh Gloyn (Midlands), Lulu Tuilotolava (Auckland), Tarryn Davey (Midlands).
Attackers: Maddy Doar, Sam Harrison (Auckland), Kelsey Smith (Capital), Michaela Curtis (Central), Kirsten Pearce (North Harbour), Olivia Merry (Canterbury).

The New Zealand Herald


---

Black Sticks women make five changes for Tri Nations tournament



Striker Kirsten Pearce, left, is back in the Black Sticks squad for the Tri-Nations tournament in Cromwell. PHIL WALTER/GETTY IMAGES

The Black Sticks women have made five changes to the squad that won Commonwealth Games gold for the Tri Nations tournament in Cromwell.

The series, which serves as a build up to the FIH Hockey Women's World Cup in July, sees New Zealand host Australia and Japan over nine days, beginning on Saturday.

Stacey Michelsen, Sam Charlton, Liz Thompson and Amy Robinson have not been included in the squad due to injury and family commitments, while Pippa Hayward has retired.

That has seen 21-year-old Auckland midfielder Lulu Tuilotolava (21) called up for her international debut. Strikers Kirsten Pearce and Michaela Curtis have been recalled to the side along with defenders Steph Dickins and Kim Tanner.

Assistant coach Sean Dancer will also take on the head coaching duties for the series and is excited about the challenge.

"We're looking forward to getting into action in Cromwell, we have a few injuries to senior players so it's a chance for some others to push for World Cup positions," Dancer said.

"Australia and Japan will be tough opponents and we are welcoming the challenge of playing them again. This tournament presents a good preparation series on the way to the World Cup.

"It's another great opportunity to bring top class hockey to one of the smaller regions in New Zealand and we really appreciate and enjoy the support we get."

The Black Sticks open the Tri Nations against Japan on Saturday before meeting Australia the following day - the first meeting between the trans-Tasman rivals since the Kiwis won 4-1 in last month's Commonwealth Games final.

Teams will play each other twice during the round robin phase, with the top seed automatically progressing to the final where they will meet the winner of the second vs third playoff.

AT A GLANCE

Black Stick women's squad: Goalkeepers: Grace O'Hanlon, Sally Rutherford. Defenders: Frances Davies, Kim Tanner, Rose Keddell, Steph Dickins, Ella Gunson, Brooke Neal. Midfielders: Anita McLaren, Shiloh Gloyn, Lulu Tuilotolava, Tarryn Davey. Attackers: Maddy Doar, Sam Harrison, Kelsey Smith, Michaela Curtis, Kirsten Pearce, Olivia Merry.

Stuff


---

Kampong and Harte continue their shoot-out dominance



©: World Sport Pics

SV Kampong and David Harte's stunning run of shoot-out wins continued into the Hoofdklasse playoff final as they beat AH&BC Amsterdam at the Wagener Stadium to take the initial lead in their best of three series.

Normal time ended 1-1 with Thijs Lissone's tip in cancelled out by a similar effort from the in-form Philip Meulenbroek who got a fine touch to Martijn Havenga's powerful pass.

Havenga hit the post with the closest effort of the second half, one which saw Kampong have the slightly better chances.

The Utrecht side won the title last season with a couple of shoot-out wins en route to the trophy and also won their semi-final with a pair of shoot-out wins. As such, they went into the decisive element of the game.

And for a fifth time in Dutch competition in 12 months, he made three big saves to win the shoot-out, the pick of them keeping out Boris Burkhardt while also denying Lissone and Teun Rohof shot wide with little of the goal to aim at.

Goals from Quirijn Caspers, Sander de Wijn and Bjorn Kellerman then settled the game in Kampong's favour.

HC Oranje-Rood won the first leg of the third place playoff with a shoot-out win against Bloemendaal after normal time had ended 2-2.

The second legs will be played next Saturday with a potential third leg set for next Sunday if required.

Euro Hockey League media release


---

Rot-Weiss and Uhlenhorst Mulheim set for regular season showdown



©: Frank Uijlenbroek/world Sport Pics

Rot-Weiss Koln, Uhlenhorst Mulheim and Mannheimer HC all pinned down playoff places with Harvestehuder THC close to following them following the latest double weekend in Germany.

Rot-Weiss continue to lead the way following a 5-2 away win at Dusseldorfer HC before edging out Krefeld 3-2 on Sunday. In the second game, they trailed 2-1 at half-time but goals from Elias Wurker and Christopher Ruhr turned the tide and keeps them three points clear of Mulheim.

Coach Andre Henning, though, still ha plenty of headaches over selection with Benjamin Wess and Philipp Zeller both being brought out of retirment to play their part.

Mulheim are eyeing their late season against Rot-Weiss in what is a potential playoff for top spot in the regular season and a ticket to the EHL. They won 5-2 at Krefeld on Saturday before winning 3-0 in Dussldorf with Tobias Matania, Thilo Stralkowski and Elian Mazkour getting the goals.

Mannheimer HC lost ground with a surprise loss to Nuremburg HTC, giving up a 2-0 lead in the first 18 minutes as two goals from Benjamin Benzinger changed things around with Justus Weigand scoring the conculsive goal in the 37th minute.

"Nuremberg earned the three points because they were consistent and could control the game better," MHC coach Michael McCann said afterwards. "As a team that wants to reach the Final Four, we have not shown enough against a team that wants to stay in the league."

A day later, the situation was reversed with Mannheim going 2-0 down against bottom side Munich only to come back to win 3-2 with Gonzalo Peillat, Guido Barreiros and Felix Shues scoring the goals.

Harvestehuder THC beat Club an der Alster 7-4 and Berliner HC 3-2 to move five points clear of the chasers for fourth spot with two rounds of matches to go.

Next weekend sees Ireland play Germany in Dublin with the Bundesliga taking a break. Round 21 on May 26 sees the Rot-Weiss versus Uhlenhorst highlight match.

Euro Hockey League media release


---

Spanish playoff match-ups confirmed as Junior move up to second



©: Frank Uijlenbroek/world Sport Pics

The line-up for the Spanish playoffs was confirmed this weekend with Junior FC making the big move, ending the regular season in second place behind Real Club de Polo.

They did so with a 3-1 win at Atletico San Sebastian with goals from Franc Mercurio, Guillem Saborit and Javier Garcia scoring the goals, enough to move them above Club de Campo.

It means they will play seventh placed CD Terrassa in their two-leg playoff quarter-final. Polo face eighth place RS Tenis in their quarters following their comprehensive victory in the Spanish league, winning overall by 10 points. A 69th minute goal from Borja Llorens earned Polo a 3-2 win over Campo who will face FC Barcelona as a result.

Fifth placed Atletic Terrassa meet fourth Club Egara in a potentially intense battle. Egara finished higher but lost to RS Tenis 3-1 on the final day of the season while Atleti finished with a 7-3 win over FC Barcelona with two goals each from Roc Oliva and Marc Salles.

In terms of European places, Polo have one space as regular season champs while Egara won the Copa del Rey which confers a place if Spain remain with three EHL spots. The national champion from this playoff series will earn the top European place.

Euro Hockey League media release


---

Lyon upset the odds to reach French national final




FC Lyon proved the surprise package from the second phase of the French league as they won both their games last weekend to claim a place in the grand final against Saint Germain.

They started off with a 7-2 win over already qualified Saint Ger on Saturday, a simple enough win, setting them up for a big battle on Sunday against CA Montrouge.

It was 3-0 after 20 minutes but suddenly got much closer and was 3-3 going into the final minute when Lyon nicked the victory, 4-3, with Sebastian Jean-Jean, Thomas Chalumeau, Alban Semenol and Gaspard Baumgarten getting the key goals.

With Saint Ger beating Racing Club de France 2-1 on Sunday, it meant Lyon finished in second on nine points in the four team group with Montrouge and Racing – the regular season champions – on six points and out of contention.

It means Lyon are through to their first final since 2011 while Saint Germain go in search of their 11th title. The winner will take France's top European spot and a place in the EHL.

Euro Hockey League media release


---

Tuks win tense shootout to reach Varsity Hockey final

By Dan Lombard



Mitchell Currie of Tuks celebrates after scoring during Game 32 Semi Final 2 Tuks v Wits varsity hockey match at Tuks Hockey field Pretoria Photo by: Christiaan Kotze/SASPA

The University of Pretoria did what needed to be done as they beat the University of the Witwaterstrand 5-3 in a penalty shootout after the second semi-final ended 6-6 at the Tuks astro on Monday evening.

The final match of Day Four proved to be a thriller as the Gauteng rivals pushed each other hard despite the chilly conditions on the Highveld.

Wits took the lead in the 10th minute as Kingsley Botes netted a superb field goal which was followed up by Brandon James's goal from a short corner. It must be said that James has had a fantastic run in the second leg of the Varsity Hockey tournament with the sharpshooter regularly proving his weight in gold for Wits.

Tuks got themselves on the scoreboard in the 23rd minute as Mitchell Currie successfully converted a short corner which was followed by another goal from a penalty corner to Bradley Sherwood eight minutes later.

Sherwood levelled matters with 11 minutes left on the clock but Wits regained the lead moments later as James sunk yet another goal.

The last five minutes saw a frenzy of goals in which the lead exchanged hands twice as Sherwood gave Tuks the lead for the first time in the match as he bagged his hat-trick before James secured his own hat-trick and gifted Wits the lead once more.

The drama continued right until the stroke of full-time as Peobo Lembethe smashed in a goal to bring the score to 6-6 which forced the teams into a penalty shootout which Tuks won 5-3 which ensured their passage into the Varsity Hockey final.

Scorers
Tuks: 6
Goals: Mitchell Currie, Bradley Sherwood (3), Peobo Lembethe

Wits: 6
Goals: Kingsley Botes, Brandon James (3)

* Field goals count 2 in the Varsity Sports Hockey competition

FNB Player of the Match: Brandon James (Wits)
Mugg & Bean Star Saver: Duncan Fischer (Wits)
Samsung Super Striker: Bradley Sherwood (Tuks)

Teams
Tuks: 1. Hendrik Kriek (GK), 3. Onke Letuka, 4. Mitchell Currie, 6. James Redfern, 7. Sam Mvimbi, 8. Peabo Lembethe (c), 9. Steven Paulo, 10. Michael Forrest, 15. Bradley Sherwood, 19. Matthew Davies, 22. Mark Chong.
Subs: 5. Jared Cass, 11. Ashley Kemp, 13. Matthew Butler, 16. Nicholas Pio, 20. Christian Kriek, 21. Tim Halle, 23. Sizwe Mthembu.

Wits: 1. Duncan Fischer (GK), 2. Gareth Riley, 4. Cody van Wyk, 6. James Brandon, 7. Michael Marki (c), 8. Jaryd Thomas, 11. Chris Makaba, 12. Chad Futcher, 17. Rusten Abrahams, 18. Kamal Ramburuth-Hurt, 19. Kingsley Botes.
Subs: 5. Brad Riley, 10. Thabang Modise, 13. Bryce Cressy, 14. Sean Donaldson, 15. Michael Horan, 21. Tristan le Forestier, 23. Sizwe Nyandeni (GK).

Varsity Sports media release


---

Maties march into the final

By Dan Lombard



Alex Stewart of Maties uring Game 31Semi Final 1 Maties v NWU varsity hockey match at Tuks Hockey field Pretoria Photo by: Christiaan Kotze/SASPA

Stellenbosch University continued their impressive form to beat the North-West University 2-0 in a penalty shootout after the first semi-final ended in a 2-2 draw at the Tuks Astro.

After three days of perfect playing conditions, the final day was marred by the cold and wet which had an effect on the players and supporters alike.

NWU shot out of the blocks early as they took on the frontrunners from Stellenbosch in cold conditions with Killian Ludick netting a field goal in the third minute.

The two titans battled it out as they both made attacking inroads into the other's territory but were unable to score any more goals as the men from Potchefstroom went into the half-time break 2-0 up.

Maties struggled to break down NWU's defence but they were rewarded for their attacking intent in the 39th minute as sharpshooter Dayne Samboer fired in a goal from a short corner.

Samboer was on hand eight minutes later to level the scores as he converted another penalty corner to setup a thrilling finish to the first semi-final.

NWU celebrated what they thought was the winning goal with ten minutes left on the clock but it was reversed on referral by Maties.

The men from Stellenbosch enjoyed the majority of possession but could not convert it into goals and with the scores still tied the result was determined by a penalty shootout which Maties won 2-0 to book their spot in the Varsity Hockey final.

Scorers
Maties: 2
Goals: Dayne Samboer (2)

NWU: 2
Goals: Killian Ludick

* Field goals count 2 in the Varsity Sports Hockey competition

FNB Player of the Match: Rob McKinley (Maties)
Mugg & Bean Star Saver: Nicholas Giger (Maties)
Samsung Super Striker: Dayne Samboer (Maties)

Teams
Maties: 2. Andrew Hobson, 4. Nicholas Giger, 7. Matthew Roman, 9. Wade Dollman, 11. Dayne Samboer, 14. Gareth Tate, 15. Ruari Baker, 21. Clayton Saker, 22. Ross Anderson, 29. Mbuso Mgobozi, 38. William Everleigh.
Subs: 1. Rob McKinley (GK), 5. Tom Richardson, 8. Alex Stewart (c), 12. Maximillian Pike, 16. Jordan Turnbull, 23. Reece Arendse, 24. Callen Heynes.

NWU: 3. Lochner van der Schyff, 5. Leonard du Plessis, 6. Anru Kock, 7. Gertjie Lamprecht, 9. Killian Ludick, 10. Sinoxolo Mbekeni (c), 14. Mitesh Makan, 15. Snyman Thessner, 18. Pierre Bothma, 20. Stean Naude, 22. Mthokoza Mbotho (GK).
Subs: 1. Andrew Oosthuizen (GK), 11. Francois Cilliers, 12. Damian Tamine, 13. Francois Joubert, 17. Damian Kenny, 21. Siyabonga Mabo, 23. Clayton Tait.

Varsity Sports media release


---

UCT beat UJ at the death

By Dan Lombard



James Watters of UCT during Game 30 UJ v UCT 5/6 playoff varsity hockey match at Tuks Hockey field Pretoria Photo by: Christiaan Kotze/SASPA

The University of Cape Town had the final say despite trailing for most of the match as they beat the University of Johannesburg 6-5 to claim fifth place at the 2018 Varsity Hockey tournament at the Tuks Astro.

The Orange Army wasted no time in getting on the scoreboard as Manessah Dube scored from a short corner in the second minute as UJ looked to shut out UCT early on.

UCT responded six minutes later as they took advantage of a defensive error by UJ that allowed Daiyaan Solomons to fire in a field goal to temporarily take the lead for his charges.

The men from Johannesburg found a rich form of scoring just before the half-time break as they netted three goals in as many minutes with James Gilbert and Ernest Jacobs scoring from a short corner with Tristan Blackie-Roden knocking in a field goal.

It was UCT that showed their class in the second half as they shored up on defence while Dan Cole converted two field goals to snatch a 6-5 victory over their Johannesburg opponents.

Scorers
UCT: 6
Goals: Daiyaan Solomons, Dan Cole (2)

UJ: 5
Goals: Manessah Dube, James Gilbert, Tristan Blackie-Roden, Ernest Joubert,

* Field goals count 2 in the Varsity Sports Hockey competition

FNB Player of the Match: Jack Forest (UCT)
Mugg & Bean Star Saver: Anton van Loggerenberg (UCT)
Samsung Super Striker: Dan Cole (UCT)

Teams
UCT: 1. Anton van Loggerenberg (GK), 2. James Watters, 4. Ross Talmage, 5. Bjorn Sorenson (c), 6. Malachy Barbour, 10. Jack Forest, 12. Dan Cole, 14. Michael Gildenhuys, 15. Jaydee Rossouw, 19. Nick Meckechnie, 28. Ross Maharage.
Subs: 3. Tim Alfeld, 8. Walter Pfaff, 13. Mawu Zukisa, 23. Daiyaan Solomons, 26. Peter Liam (GK), 31. Tino Elijah, 32. Jack Tevershan.

UJ: 2. Brad Robertson, 5. Kyle Lion-Cachet, 6. Michael Newland-Nel, 7. Chad Burke, 8. Courtney Halle (c), 9. Che February, 14. Kyle Naicker, 16. Rayner York, 20. Manessah Dube, 21. Gary Cooper (GK), 23. Keegan Smith.
Subs: 1. Matthew Martins (GK), 11. Tristan Blackie-Roden, 12. Ukanyo Mabandla, 13. Ernest Jacobs, 17. Jesse Martins, 18. Diego de Abreu.

Varsity Sports media release


---

Madibaz claim first win to finish seventh

By Dan Lombard



Laython Coombs of the Madibaz during Game 29 Kovsies v Madibaz 7/8 play-off varsity hockey match at Tuks Hockey field Pretoria Photo by: Christiaan Kotze/SASPA

The Nelson Mandela University left their best efforts for last as they beat the University of the Free State 6-0 in the Varsity Hockey 7th/8th playoff at the Tuks astro on Monday afternoon.

The Madibaz were determined to improve on their results as they had yet to win at this year's instalment of the university hockey extravaganza and they did just that as Brodie Fanoe and Laython Coombs slapped in a field goal apiece in the first quarter.

Coombs followed up with his second field goal shortly into the second quarter.

Interestingly, both teams could not make use of their Power Plays as the rain made things difficult for the teams in the opening match of the final day's action. The second half was a dull affair as cards for infringements were the order of the day as neither team could dominate up front.

Kovsies pushed hard to try and score but the Madibaz responded with a fantastic defensive effort to keep them scoreless and hold onto their lead to win their first match in their last appearance.

Scorers
Kovsies: 0

Madibaz: 6
Goals: Brodie Fanoe, Laython Coombs (2)

* Field goals count 2 in the Varsity Sports Hockey competition

FNB Player of the Match: Laython Coombs (Madibaz)
Mugg & Bean Star Saver: Nathan Waters (Madibaz)
Samsung Super Striker: Brodie Fanoe (Madibaz)

Teams
Kovsies: 1. Loufrans Esterhuizen (GK), 2. Andrè Nel, 4. Jordan Pope, 7. Matthew Ramos, 8. Willie Kruger, 9. Mpho Tsaone, 13. Tiaan Weldhagen, 14. Stephan van Vollenhoven, 19. Shelton Mollentze, 22. Tylor Oliver.
Subs: 3. Egon van der Merwe, 5. Raymond de Villiers, 6. Ryan Scheepers, 15. Mvelase Mbombisa, 18. Cheslyn Neethling (c), 24. Luyolo Nkosana (GK).

Madibaz: 1. Nathan Waters (GK), 5. Jason McGillivray (c), 6. Callan Dewar, 7. Arno van Jaarsveld, 9. Sarvesh Naidoo, 10. Jacques Potgieter, 11. Andre Potgieter, 13. Jose Smith, 17. Laython Coombs, 18. Joshua Engole, 21. Jared de Kock.
Subs: 4. Kurt Wicht, 8. Alexander Penhall (c), 12. Brodie Fanoe, 15. Michael Hansel, 16. Richard Asmah-Andoh, 24. Duncan Hare (GK)

Varsity Sports media release


---

Crunch time as varsity hockey heads into knock-out stages

Maties are coming off the back of a 15-2 thumping of defending champions UJ, a result that saw the Johannesburg outfit fail to qualify for the knockout stages.

Michael Pedro



Maties hockey team during the Varsity Hockey games. Picture: @varsitysportsSA/Twitter.

JOHANNESBURG - Maties head into today's semifinal against NWU as firm favourites to win the competition having gone through the group stages as the only unbeaten team.

The men from Stellenbosch are coming off the back of a 15-2 thumping of defending champions UJ, a result that saw the Johannesburg outfit fail to qualify for the knockout stages.

Leading goal scorer in the competition Dayne Samboer was at it again as he netted a superb hat-trick to take his tournament tally to eight goals.

NWU on the other hand just scraped into the top four, sneaking in on goal difference ahead of UCT, who they beat 4-0 in the final round of group matches.

The match between the two in round four of the competition saw Maties edge their North West opponents 6-5, Reece Arendse netting a field goal in the final minute of the game to secure the hard-fought victory.

The second semifinal sees Tuks lock horns with Wits, in an all Gauteng derby match. Tuks finished the regular season in second place, six points behind Maties, winning five of their seven games.

The Pretoria outfit are coming off the back of an 8-0 win over UFS Kovsies, a result that came after back-to-back losses to UCT and Maties respectively.

Wits, meanwhile, head into the clash having won back-to-back games against UFS and Madibaz in round six and seven respectively. The previous meeting between the teams took place in round three, where Steven Paulo netted two minutes from time to give Guy Elliot's chargers a narrow 6-5 win.

Both match-ups promise to be tightly contested encounters given the way the group matches panned out.

Maties, will however undoubtedly be tipped to go all the way and claim their first Varsity Hockey title, while the remaining semifinalists will be hoping to upset the form book.

The first semi-final between Maties and NWU gets underway at 17h00, with Tuks and Wits doing battle at 18h45.

Eye Witness News


---

Tuks face Wits in Varsity Hockey semi-final

Tuks's men's hockey team ended second on the log in the Varsity Hockey Tournament and they will play against Wits in the semi-finals on Monday night.



Michael Forest is one of the Tuks team's leading goal scorers in the Varsity Tournament. Photo: Reg Caldecott

Monday night's Varsity Hockey semi-final between Tuks and Wits is guaranteed to be a humdinger.

During last weekend's encounter, Tuks was only able to secure the victory in die dying minutes of the game. Guy Elliott (Tuks head coach) does not expect things to be easier this time around playing against Wits.

"Tuks and Wits got a real rivalry going over the last few years where there is never any mercy shown. Monday night is not going to be an exception. It is all going to boil down to which team wants it the most and can make the most of its opportunities," said Elliot.

Maties, who is the only unbeaten team in the tournament, will play Northwest Pukke in the other semi-final.

The Tuks team had been on a roller coaster ride during the past weekend's games. On Friday night they lost 4-2 against UCT and Saturday they went down 5-4 after a titanic battle against Maties. It meant they had to beat Kovsies on Sunday night. They did so in emphatic style winning 8-0.

Elliott was slightly disappointed after the lost against Maties.

"It was not as if we were playing poorly. We were not making the most of our scoring opportunities. Against UCT we had 40 circle entries, but we were just not able to make it count. The biggest problem is that we battled to score from penalty corners. If we were able to do so in only 20% of the corners, we would have won both games," Elliot explained.

It was notable that Tuks was also not able to score goals in any of the three Power Plays over the weekend.

Elliott admits that the only time Tuks was able to capitalise on their opportunities during the Power Play in the whole tournament was against Wits. He said on Monday night his team need to make it count.

On Sunday night against Kovsies in the second quarter Tuks played some of their best hockey of the whole tournament. In a blitzkrieg of 15 minutes Ashley Kemp, Steven Paulo, Bradley Sherwood and Michael Forest (2) scored goals to give Tuks an 8-0 lead. The team did not score any goals after halftime.

According to Forrest, who is one of the Tuks team's leading goal scorers in the Varsity Tournament, they consciously decided to take things a bit easier as it was important to save themselves for the semi-final.

"Getting a convincing win against Kovsies was the confidence booster we needed. On Monday night the challenge will be to make the most of every scoring opportunity," said Forrest.

Pretoria East Rekord


---

NWU loses appeal against Maties' semi-final victory




After an appeal of NWU's goal against Maties in the Varsity Hockey semi-final, a panel of hockey umpires concluded that the original decision not to award the goal would stand, meaning that the 2-2 score in regular time stands, with Maties winning the shootout to reach the Varsity Hockey final.

Varsity Hockey adheres to international hockey rules, which state that if a decision made by the umpire is appealed within 30 minutes of the final whistle, the decision can be reviewed.

Utmost confidence is placed in the umpire John Wright who reviewed the in-match decision after the game. Wright has umpired three Hockey World Cup finals and two Olympic finals, and his experience was invaluable in such a crucial decision.

The Varsity Hockey final will take place at the Maties astro on Monday, 21 May 2018.

Varsity Hockey is proudly brought to you by Mugg & Bean, FNB and Samsung.

Varsity Sports media release


---

1000 school children attending Euro Hockey Club Cup



League finals Surbiton

More than 1000 school children will be cheering on Europe's best female hockey teams after being given free tickets on the opening day of the Women's EuroHockey Club Cup at Surbiton Hockey Club.

The children are set to watch the first three matches on Thursday 17th May, which should ensure a fantastic day and atmosphere for the six competing teams from Germany, Belarus, The Netherlands and Ireland. In the final fixture of the opening day, five-time league champions Surbiton will take on Spanish champions Club de Campo Villa de Madrid.

Young fans will be able to wave national flags for all competing clubs and collect autographs from international stars and Olympic medalists. Away from the action on the main pitch, there will be a chance for the kids to pick up and stick and give hockey a try.

Around 35 different schools have taken up the offer of free tickets. Many are based in the local area, but school children from as far afield as Bristol and Coventry will be travelling to Sugden Road to watch Europe's top female club players in action.

It is hoped that this free schools tickets initiative will help to inspire more youngsters to both watch and play our sport. With the excitement of the upcoming EHCC and the Vitality Women's Hockey World Cup in London later this summer, there is plenty of top quality hockey to get excited about!

Free schools tickets for the daytime matches on Thursday 17th May are still available. For general admission tickets for the EHCC, please go here.

Please email This email address is being protected from spambots. You need JavaScript enabled to view it. for details

England Hockey Board Media release


---

University of Edinburgh host EuroHockey Club Challenge I this weekend




Edinburgh University will host the EuroHockey Club Challenge I (Women) 2018 this weekend with the tournament held at Sport & Exercise Peffermill from 18-21 May 2018.

Under 12's will be able to attend the event free of charge as part The University of Edinburgh Sports Union's widening participation initiative. For spectators the event promises a fun-filled weekend with an inflatable hockey pitch, pop up stalls and shops and a host of entertainment on and off the pitch with tickets starting from £5.

Ross Simpson, Head of Sports Development at Edinburgh University Sports Union said

"The University prides its self on making a positive contribution to the city, and by having meaningful relationships with the local community. Our Hockey clubs have always had a fantastic association with local clubs, schools and East District Hockey promoting hockey and getting young people involved. It is important to us to provide these opportunities to as many individuals as possible, and this is why we are excited to offer all under 12's free entry to the Euro Hockey event. The opportunity to show case world-class hockey on our doorstep – no better way to inspire the next hockey generation."

This will be the first time that the EuroHockey Club Challenge I has been held in Scotland and teams and players will benefit from the brand new Polytan playing surface that was recently unveiled at Peffermill, which represents a £360,000 investment by the University and is the first phase of a £3.15 million masterplan for outdoor sport at Edinburgh.

Edinburgh University (EUWHC) and Milne Craig Clydesdale Western will both represent Scotland in the tournament, with Edinburgh competing on home turf.

Jim Aitken MBE Director of Sport at University of Edinburgh said,

"We are thrilled to host this event and offer our international standard facilities to this prestigious competition. We will be joined by top teams and this is a fantastic accolade and opportunity for our EUWHC team and will no doubt be a lasting memory of their student experience"

In Pool A, EUWHC will compete against Swansea City (Wal), HC Metrostroy (Rus), and HC Rottweiss Wettingen (SUI), while CUS Pisa (ITA), Gintra Strekte Uni HC (LTU), Braxgata HC (Bel), and Clydesdale Western HC will play in in Pool B.

For tickets and information please visit https://www.eusu.ed.ac.uk/ents/event/1055/

Scottish Hockey Union media release


---

Hudson regain Coastal Hockey Challenge title



Hudson Park won the East London Coastal tournament in the SPAR Eastern Cape Schoolgirls Hockey Challenge for the second time when they beat Clarendon 2-0 in the final at Stirling in East London on Sunday. Picture: Craig Giese

Hudson Park reclaimed the title in the East London Coastal tournament of the South African SPAR Eastern Cape Schoolgirls Hockey Challenge in a thrilling final against Clarendon in East London on Sunday.

Hosted by Stirling, the third edition of this competition produced another exciting day of hockey, with the matches taking place in fine weather and in an excellent spirit.

The Hudson Park outfit were the East London Coastal winners in 2016, but saw Clarendon claim the honours in last year's competition. Clarendon went on to win the provincial title.

This time, however, Hudson had the edge in a final which tournament director Bev Forword said delivered a high-quality contest.

"In all, eight teams took part, with Cambridge, Stirling, Clarendon and Hudson reaching the semifinals," she said.

"Clarendon beat Cambridge 2-0 and Hudson beat Stirling by the same margin to go through to the final.

"In a fine display of skills from both sides, the final developed into a fast-moving game from one end of the field to the other. Hudson eventually ran out winners 2-0."

The Hudson team will now join other regional winners Kingswood (Port Elizabeth Inland) and Alexander Road (PE Coastal) in the provincial finals to be played at Woodridge, just outside PE, in August.

SPAR Eastern Cape sponsorship and events manager Alan Stapleton said they appreciated the support received in the East London event.

"It was another fun-filled, sunny SPAR Hockey Challenge made a little bit extra special with some Mothers' Day hampers and surprises," he said.

"There was a really wonderful turnout from families and support groups."

He added that just as SPAR sprang plenty of shopping surprises on their customers, so did the teams at the Schoolgirls Hockey Challenge throw up surprises of their own.

"While Clarendon seemed very organised and well set to control events in the preliminary rounds, the Hudson Park team always looked like an outfit who could upset the applecart," he said.

"And they did just that, seeming to want that victory just a little bit more.

"The spirit and commitment of the Hudson Park team epitomised everything that this Hockey Challenge stands for."

Stapleton added that it was good to have a variety of schools competing, with the remaining teams being Grens, Merrifield, West Bank and Greenpoint.

"It was so encouraging to see these teams out there, giving everything they have and just loving the spirit of the event.

"I am sure they made special memories and, hopefully, sporting friends for life."

The remaining regional tournaments will be played in King William's Town on Sunday (May 20) and George the following weekend.

R News


---

Is this the best club outfit in world hockey?

By The Hockey Paper



Dave Curry, left, and Molly Anson-Atkins, centre, in Surbiton colours

It has been noticeable at league play-offs and on the continent when the club have played in Europe.

But the time has come to recognise this colourful jacket and ask The Hockey Paper readers whether Surbiton has the best supporters' outfit in club hockey.

The idea was conceived by club member Dave Curry, who got the blazers made, and Molly Anson-Atkins, another avid chief cheerleader who is an actor and former player for Surbiton Ladies.

When Surbiton men qualified for the Euro Hockey League five years ago, the travelling support were looking for something "bold" to attract attention.

Jackets were made, as well as standout jumpers, with over 200 in circulation six years on.

"Everyone wanted to get one but some didn't want to commit as they wanted to see what they were like before spending £100," says Anson-Atkins, daughter of Samantha Bond, who played Miss Moneypenny in four Bond films.

"They are fantastic and all the parents of the juniors have asked about them, so they can then go and watch the national finals with them on."



Surbiton and Canterbury fans forge connections in Europe

Even though it's unofficial, the blazer has become a symbol of Surbiton both at home and on the road.

Anson-Atkins also made the point of referencing a lack of women's attire for club members and supporters.

"There were club ties but nothing for the women that I could wear. You could wear a tie but I don't wear a shirt or cufflinks," she says. "It was something that we could all wear and join in for both younger and older members.

"There is a pride in wearing it and you feel part of something. It's not exclusive and we are supporting the club not just the Ladies."

The jacket will be out in force at the EuroHockey Club Cup this week when Surbiton host the European showpiece at Sugden Road.

And although it is unlikely that the jackets will be sported by rival fans, Anson-Atkins wants clubs to band together as the English national champions attempt to win the European Cup for the first time.




"We are the only English team at the Euros and it would be fantastic to get other clubs down and support as a nation as opposed to the fact that it's Surbiton," she added.

"The girls are undoubtedly an incredible team, but we want the support from everyone. You can't generate the atmosphere on your on."

So now you've seen the images, we want to know whether there are other club outfits out there across the globe which can rival Surbiton's effort.

It could be a shirt, jumper, tie, dress or suit. Email This email address is being protected from spambots. You need JavaScript enabled to view it. with your images or use our social media platforms on Twitter or Facebook.

Wouldn't it be great to highlight the best before the women's World Cup this summer? We will reveal the best before then. Over to you!

The Hockey Paper


---

Golden Girl Liz Chase dies

Collin Matiza



Liz Chase (front row, right) with members of the Golden Girls hockey team who captured the country's first Olympic Games gold medal at the Moscow Olympics in 1980

THE small women's hockey fraternity of Zimbabwe yesterday woke up to the sad news of the death of the legendary Liz Chase — a member of the "Golden Girls" who made history by winning the country's first ever gold medal at the Olympic Games during the 1980 Moscow Games in the then Soviet Union.

According to the former president of the Zimbabwe Olympic Committee, Tommy Sithole, Chase died "peacefully" at the age of 68 in South Africa on Thursday.

Field hockey at the 1980 Summer Olympics was represented by two events of men's and women's competitions; and it was at those Games that Zimbabwe made their debut appearance at the Olympics as an independent country after attaining its Independence on April 18 of the same year.

At the Moscow Games in July 1980, Zimbabwe was represented by team of 42 athletes (23 men and 19 women) who competed in 10 sporting disciplines including a 16-member women's field hockey side.

The 16-member squad was assembled less than a month before the Olympics began to help fill the gaps the American-led Olympic boycott created in the women's field hockey competition.

Zimbabwe's subsequent victory in the round-robin tournament with three wins and two draws was regarded as a huge upset, particularly considering the team's lack of preparation and experience; and according to Wikipedia, it has been called an "irresistible fairy story".

The women's hockey matches, held between July 25 and 31, 1980, were all played on artificial turf, which none of the Zimbabwean team members had ever seen; they had also never played together until that month.

After beating Poland and the then Soviet Union (now Russia) and drawing with Czechoslovakia (now Czech Republic) and India, the Zimbabweans won the competition on the final day with a resounding 4–1 victory over Austria.

Dubbed the "Golden Girls" by the media in Zimbabwe, they were met by cheering crowds on their return home, and were briefly national celebrities. Zimbabwe did not win another Olympic medal until 2004.

Apart from Chase, the other "Golden Girls" were Arlene Boxall, Sandra Chick, Gillian Cowley, Patricia Davies, Sarah English, Maureen George, Ann Grant (captain), Susan Huggett, Patricia McKillop, Brenda Phillips, Christine Prinsloo, Sonia Robertson, Anthea Stewart (player-coach), Helen Volk and Linda Watson.

And the Hockey Association of Zimbabwe yesterday paid tribute to one of the history-making "Golden Girls" — Liz Chase — following her untimely death in South Africa on Thursday.

"It is with great sadness that we announce the passing of Liz Chase on 9th May in Johannesburg after a long illness," the HAZ wrote on their Facebook wall yesterday.

"Liz was born in Mutare, with her high school years being spent at Girls High School in Harare. Her hockey talent was seen early on and she has had an illustrious and distinguished playing career. From the National Schools team in 1966 to National Under-21 and to the senior side there was little that Liz had not accomplished.

"From school she went to South Africa to get her degree in Physical Education. During this time she played for the varsity and the local provincial sides of Wits and Southern Transvaal, excelling in the depth of competition.

"In the seasons 1973/74 Liz was chosen to represent South Africa B and then in 1976/77 she was chosen to represent the Springbok Ladies Hockey team."

On her return to Zimbabwe she played for Old Hararians club while teaching Physical Education and coaching sports teams at Oriel Girls High School in Harare. She was selected for the national side every year until she immigrated to South Africa in the early 1980s.

She was one of the cornerstones of the gold medal-winning Zimbabwe team at the Moscow Olympic Games in 1980, being selected as vice-captain for this too, according to HAZ.

"Liz was a strong and hard-hitting striker with a turn of speed, good ball control and great vision.

"Her skill on the field was matched by her coaching skills off it and this she took with her to South Africa. She was in charge of the physical education department at Wits (University) for a number of years till her retirement in 2015.

"She was great fun to be with, a larger than life character, an integral part of the team. For us her teammates she was more than just a player. In the years since our hockey days, the bonds of love and friendship have only strengthened and we will miss her beyond words. To the family, friends and colleagues our deepest sympathy on the loss of Liz," the HAZ wrote on the Facebook wall.

The Herald