All the news for Monday 14 May 2018

Women's Donghae Asian Champions Trophy 2018 - Day 1 & 2
Donghae City (KOR)

Results 13 May 2018

IND v JPN (RR)     4 - 1
KOR v MAS (RR)     3 - 1

Results 14 May 2018

KOR v JPN (RR)     1 - 1
CHN v MAS (RR)     3 - 1

Pool standings
| Rank | Team | Played | Wins | Draws | Losses | Goals For | Goals Against | Goal Difference | Points |
| --- | --- | --- | --- | --- | --- | --- | --- | --- | --- |
| 1 | Korea | 2 | 1 | 1 | 0 | 4 | 2 | 2 | 4 |
| 2 | India | 1 | 1 | 0 | 0 | 4 | 1 | 3 | 3 |
| 3 | China | 1 | 1 | 0 | 0 | 3 | 1 | 2 | 3 |
| 4 | Japan | 2 | 0 | 1 | 1 | 2 | 5 | -3 | 1 |
| 5 | Malaysia | 2 | 0 | 0 | 2 | 2 | 6 | -4 | 0 |
---

Navneet Kaur does the star turn
 
Notches up hat-trick over Japan



Navneet Kaur was in her element as she teased the Japanese defence to slot in three goals. File photo.

Navneet Kaur scored a hat-trick as India got off to a rollicking start with a 4-1 win over Japan in their opening match of the 5th women's Asian Champions Trophy hockey tournament here on Sunday.

The young forward scored in the 7th, 25th and 55th minute, while Anupa Barla (53rd) got the other goal for India at the Sunrise Stadium here.

The Indian team was dominant right from the start as it displayed well-strategised attack to break the strong Japanese defence. An early chance came by when forward Vandana Katariya and Lilima Minz worked in tandem to create space in the striking circle.

Navneet picked up an assist from Vandana to send the ball past Korean goalkeeper to give defending champion India the lead in the seventh minute.

Showcasing talent

Then Navneet showcased her abilities as she drove into the 25-yard mark and assisted experienced forward Vandana to drive into the circle. Vandana's clever return of ball from the right flank to an unmarked Navneet at the top of the circle saw her double the lead in the 25th minute.

India continued to keep up the momentum into the third quarter which was disrupted by rain. Three minutes into the third quarter, India won back-to-back penalty corners but could not convert. Japan too won three back-to-back PCs this quarter but could not beat the experienced Savita.

India's third goal came off a brilliant assist by Udita to Anupa Barla and the latter beat the Korean defender to fire in a the goal in the 53rd minute.

India's fourth came off a counter attack after Japan missed a PC opportunity in the 55th minute. Navneet took the ball into the opponent's half, passed to Udita and positioned herself before hitting home with ease.

Aki Yamada scored a consolation goal for Japan in the 58th minute.

India next takes on formidable China on May 16.

The results: India 4 (Navneet 7, 25, 55; Anupa Barla 53) bt Japan 1 (Aki Yamada 58); South Korea 3 bt Malaysia 1.

The Hindu


---

Navneet tricks Japan thrice, India win opener 4-1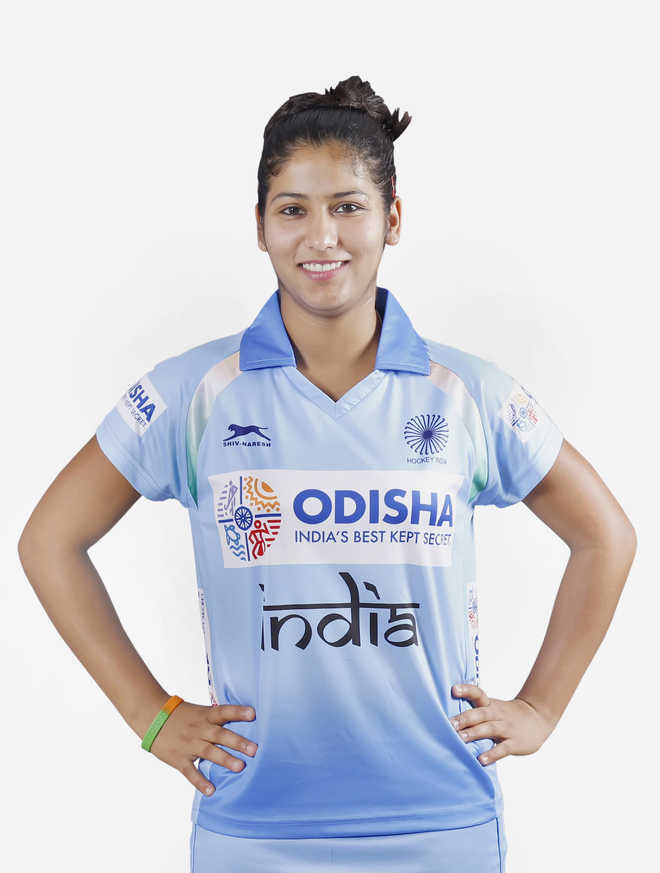 Navneet Kaur

Young forward Navneet Kaur fired a hat-trick as India began their title defence at the women's Asian Champions Trophy hockey tournament in an emphatic fashion, registering a 4-1 win over Japan here on Sunday. Navneet starred in India's win with goals in the seventh, 25th and 55th minutes. Anupa Barla (53rd) was the other goal-scorer for India, who were playing their first match under head coach Sjoerd Marijne's in his second stint with the women's team.

India were dominant right from the start as they displayed a well-strategised attack to break the strong Japanese defence.  An early chance came when forward Vandana Katariya and Lilima Minz worked in tandem to create space in the striking circle. It was Navneet who picked up an assist from Vandana to send the ball past the goalkeeper, fetching India a 1-0 lead in the seventh minute. India played with speed and kept the ball under their control for much of the time to keep up the pressure on Japan. Good defence, led by skipper Sunita Lakra, ensured Japan found few opportunities inside the circle.

Unstoppable Navneet

Meanwhile, Navneet continued to trouble the Japanese defenders with her frequent forays into their circle. In the 25th minute she controlled a fine pass from Vandana at the top of the circle and scored a fine goal, doubling India's lead to 2-0.

India kept up the momentum in the third quarter, which was disrupted by rain, as well. Three minutes into the third quarter, India won back-to-back penalty corners but failed to convert. Japan, too, won three back-to-back penalty corners in this quarter but couldn't beat the experienced India goalkeeper Savita.

India's third goal came off a brilliant assist by Udita to Anupa Barla, who picked up the pass nicely, beat a defender, and sent the ball crashing into the net with a fierce hit in the 53rd minute. Two minutes later, Navneet completed her hat-trick as India took a commanding 4-0 lead. The goal came off a counterattack when Japan missed an opportunity to score off a penalty corner in the 55th minute. Navneet took the ball out of India's half, passed it to Udita, received it back inside the circle and hammered it past the Japanese goalkeeper.

Aki Yamada scored a consolation goal for Japan in the 58th minute.

The Tribune


---

Our girls go down to S. Koreans in opener

KUALA LUMPUR: Malaysia put up a good fight against South Korea before going down 3-1 in the opening match of the Asian Women's Hockey Champions Trophy in Donghae City, South Korea.

It's a better scoreline compared to Malaysia's 5-2 loss in the opening match against the Koreans in Singapore two years ago.

National coach K. Dharmaraj's team started well by taking the lead off a penalty corner converted by Nurul Nabihah Mansur in the 32nd minute at the Sunrise Stadium yesterday.

But the Koreans – ranked ninth in the world – came back strongly to score three goals through Lee Yu-ri (34th), Kim Hyun-ji (43rd) and Kim Bo-mi (55th).

Dharmaraj was satisfied with his team's overall performance.

"What matters to me is that we matched them throughout the game," said Dharmaraj.

"We came close to equalising through Nuraini (Abdul Rashid) as her penalty corner drag flick hit the post – that's unfortunate."

World No. 22 Malaysia will take on world No. 8 China today.

"China are here with their World Cup team and we expect high-level hockey. We've to play a tight marking game," said Dharmaraj.

The Star of Malaysia


---

Fey Added To Hockeyroos' Tri Nations Team

Ben Somerford




Hockey Australia today confirms Ashlea Fey has been added to the Hockeyroos' team for the upcoming Tri Nations series as an injury replacement.

Queensland defender Fey comes into the 18-member team following an injury to Madison Fitzpatrick.

Australia will play both New Zealand and Japan at the Tri Nations in Cromwell, New Zealand, from 19-27 May. The Hockeyroos are due to fly out on Monday.

The Tri Nations will be crucial preparation for the Hockeyroos ahead of the 2018 World Cup in London in July and August where they're pooled with both New Zealand and Japan, along with Belgium.

Australia are currently ranked fifth in the world, behind New Zealand who are fourth while Japan are 12th.

Follow @Hockeyroos on Twitter for match updates throughout the Tri Nations series.

The semi final/final will be streamed via the Black Sticks Facebook page (no geo-blocking).

Hockeyroos team for Tri Nations:
Athlete (City, State)
Kristina Bates (Mont Albert, VIC)
Jocelyn Bartram (Albury, NSW)
Edwina Bone (Orange, NSW) *Plays for ACT
Lily Brazel (Sydney, NSW) *Plays for VIC
Kalindi Commerford (Mollymook, NSW) *Plays for ACT
Ashlea Fey (Sunshine Coast, QLD)
Savannah Fitzpatrick (Cabarita Beach, NSW) *Plays for QLD
Emily Hurtz (Sydney, NSW) *Plays for VIC
Jodie Kenny (Wamuran, QLD)
Stephanie Kershaw (Townsville, QLD)
Karri McMahon (Berri, SA)
Kaitlin Nobbs (Newington, NSW)
Brooke Peris (Darwin, NT)
Kathryn Slattery (South Stirling, WA)
Emily Smith (c) (Crookwell, NSW)
Grace Stewart (Gerringong, NSW)
Renee Taylor (Everton Park, QLD)
Ashlee Wells (Morwell, VIC)

Tri Nations Women's International Hockey Match Schedule (all times AEST):
Sunday 20 May 12:30pm - New Zealand vs Australia
Monday 21 May 4:30pm - Australia vs Japan
Wednesday 23 May 4:30pm - New Zealand vs Australia
Thursday 24 May 4:30pm - Australia vs Japan
Saturday 26 May 2:30pm - Playoff for final (2nd vs 3rd)
Sunday 27 May 12:30pm - Final

Hockey Australia media release


---

Dragons make it four in a row with Belgian title success



©: Phdph.com

KHC Dragons made it four Belgian titles in a row and 11 in total as they drew 4-4 in the second leg of their final, adding to a 5-1 win in the first leg on Thursday against the Waterloo Ducks.

Florent van Aubel told the Hockey Belgium website afterwards that it was the toughest win yet, seeing off the side that won the regular season.

"What's special about this win is that we all feel like we had a much more difficult season, even if, statistically, we had a better championship than last year.

"The fact is that the expectations are, every year, higher for us and that becomes more and more difficult to meet. But since last weekend, Dragons did what it knows best: to be at the highest level at the key moments and I think our victory was deserved."

For Arthur van Doren, it was the perfect way to sign off his spell with the club before he moves to HC Bloemendaal next season.

"It's wonderful to leave the club so close to my heart with a title. After Thursday's game, we knew that the Watducks would throw all their strength into the battle and although we suffered a little late in the game, I think this victory in the final is deserved."

Van Aubel had given Dragons the lead just a minute into the game to ease some early tension before Maxime Capelle levelled in the 17th minute.

Dragons raced ahead, though, when Jeffrey Thys and van Aubel scored witin 90 seconds of each other for a 3-1 half-time lead. William Ghislain revived hope only for Henri Raes to put some clearance between the teams.

Victor Charlet scored twice in the closing five minutes from corners but too late to snatch a win and a share of the series.

Euro Hockey League media release


---

Leopold pin down third place from Belgian league



©: Phdph.com

Royal Leopold claimed the EHL playoff/third place playoff series in Belgium as they closed out a 6-1 success against Racing Club de Bruxelles, adding to a 3-1 win on Thursday.

They punished a Racing side who had to attack from the outset and were punished on the counter. Conor Harte put Racing in front early on following a faked shot by Tom Boon from a penalty corner to make it 1-0 in the 10th minnute but Leo were soon fighting back.

Alexis Lemaire deflected in a cross from Dimitri Cuvelier for 1-1 and they soon has the lead in the 21st minute via Arthur Verdussen who shot home on the turn.

Kane Russell got the third from a cleverly worked thrid penalty corner of the game and he repeated the trick a minute later for 4-1 at half-time and the EHL ticket was almost assured.

It left Racing in a desperate position and they had to take drastic action, taking goalkeeper Jérémy Gucassoff out for the last 11 minutes. It backfired, however, and Leo got two more goals in the last three minutes with Verdussen shooting into an empty goal while Tanguy Zimmer completed the win in the 69th minute.

It means Royal Leopold will return to the EHL after a one-year absence along with the Waterloo Ducks and KHC Dragons, the Belgian finalists.

Euro Hockey League media release


---

Grove Menzieshill and Edinburgh University take the European spoils in Grand Finals



Scottish Hockey Play-off Final – Grange v Grove Menzieshill – photo by Duncan Gray

Grove Menzieshill men and Edinburgh University women took Scotland's top European spots with tremendous victories in the Grand Finals at the Glasgow National Hockey Centre.

Men's Grand Final | Grange 1-3 Grove Menzieshill

Grove Menzieshill took Scotland's EHL spot with a sensational 3-1 win over Grange in the Men's Grand Final.

It was an even start to the contest with Grove Menzieshill creating the game's only half chance in the early stages.

As the game grew older it was the Taysiders who took control of the match and again Grove Menzieshill came close after some good play by Gavin Tomlinson created a half chance with a slick pass from the left.

Next it was Aiden McQuade to test the Grange keeper with a flick from the top of the D but it was well dealt with by Nathan Doherty.

Against the run of play it was Grange who opened the scoring. A penalty corner saw Frank Ryan slam the ball low into the left corner to give the League and Cup champions a 1-0 lead.

Todd Mills had a chance for Grange to double the advantage but he couldn't connect with the ball in the middle of the D.

Then Grove Menzieshill scored a screamer. Some great running by Cameron Golden was more than matched by his finish, which flew like a rocket into the left corner of the net. 1-1.

The second half continued in the vein of the first and it was Grove Menzieshill who took the lead through a well-worked penalty corner. The ball was slipped to the right for Ollie James who slid in to finish from close range. 2-1.

Grange went on the attack and a penalty corner by Ryan was well saved by Steven McIlravey.

It went to 3-1 with a few minutes remaining and it was James again sliding in from a penalty corner for the goal.



Photo by Mark Pugh

Women's Grand Final | Edinburgh University 1-1 (3-1) Clydesdale Western

Edinburgh University won the Women's Grand Final in dramatic fashion, the game going to running penalties after finishing 1-1.

Sam Judge opened the scoring for the Edinburgh side 25 minutes into the first half, before Lexi Sabatelli struck back after the final. Edinburgh University secured a magnificent treble though, winning 3-1 when it came to running penalties.

The game started evenly, both sides struggling to gain a firm foothold or create any decisive opportunities.



Scottish Hockey Play-off Final – Edinburgh University v Clydesdale Western – photo by Duncan Gray

Nevertheless, as the half wore on the students began to look stronger than their opponents, and they were rewarded when Judge opened the scoring, courtesy of a penalty corner.

While Clydesdale did demonstrate the danger they posed towards the end of the first half, Sabatelli coming close, their Edinburgh opponents headed into the interval more content with how they had performed.

Their dominance started to become more noticeable in the second half. Captain Zara Malseed was heavily involved, and managed to carve out a number of dangerous chances for herself.

Nevertheless, she was unable to convert, and despite having full control of the match, the Edinburgh side were soon punished for being wasteful.

Sabatelli equalised for Clydesdale, finishing off a wonderful solo effort to leave the game poised at 1-1.

While they had spent most of the afternoon on the defensive, the goal buoyed Clydesdale, and they started to look the more dangerous of the two sides.

With under a minute remaining Millie Brown missed a guilt-edge chance for them, and the game went to running penalties.

Edinburgh University soon regained their stride. Laura Swanson and Sophie Newton sent them into a 2-0 lead, and while Millie Brown's valiant effort brought it back to 2-1, Clydesdale were unable to recover fully, succumbing to a 3-1 defeat against a dominant Edinburgh University outfit.



Scottish Hockey Play-off Final – Edinburgh University v Clydesdale Western – Photo by Duncan Gray

Men's Promotion/Relegation match | Dundee Wanderers 1-6 Uddingston

Uddingston secured their top flight survival with a comprehensive 6-1 win against Dundee Wanderers.

Bradley Hughes was their star man, finding the net four times, with Paul Counsell and Steven Percy scoring the others.

The game started evenly, both teams threatening and finding their way forward.



Scottish Hockey Play-offs – Uddingston v Dundee Wanderers – four goal hero Bradley Hughes in action – photo by Duncan Gray

After ten minutes had been played, Hughes opened the scoring for the eventual winners, finishing off an impressive move started by captain Percy.

Their Dundee opponents struck back almost immediately though, Bobby Ralph making it 1-1 just a minute after the first goal had been scored.

Uddingston, however, refused to let that setback deter them. Hughes scored again after 15 minutes had been played, this time from a penalty corner.

His side then started to take complete control of the match, playing with increasing flair and confidence. Their efforts were soon rewarded, Hughes securing his hat-trick just before the interval.

Little changed in the second half. Any hopes of a Wanderers comeback fell flat, Hughes again converting to find a fourth minutes after play had resumed.

The Uddingston talisman was on fire, and came close to scoring again on more than one occasion.

Dundee were sloppy on the ball and struggled to mount any consistent attacks. They were soon punished by their relentless opponents, Counsell scoring to kill off any doubts as to who was going to emerge victorious.

Insult was added to injury in the final minutes. Having been crucial to some of his sides attacking moves, captain Steven Percy added a sixth to their tally.

Uddingston will be delighted with their survival. Having finished ninth this season, their goal will be to build on that next year and utilise their strong attack to full effect.

For a disappointed Dundee side, the hope will be to bounce back at the first attempt.



Photo by Mark Pugh



Scottish Hockey Play-offs – Grange v Inverleith – photo by Duncan Gray

Women's Promotion/Relegation match | Inverleith 1-2 Grange

Grange women avoided relegation with a 2-1 victory over Inverleith at the Grand Finals.

It was a tight opening to the match with Grange slightly edging the play. Both sides enjoyed little waves of attacking possession without creating any clear chances for a strike at goal.

The first chance of the match went the way of Grange. Courtney Doherty sent a drag flick toward the bottom left corner but it was well saved to keep the score level.

As the half progressed Grange huffed and puffed but found the Inverleith defence a tough nut to crack.

The second half began as the first ended – a Grange penalty corner zipped just wide of the left post.

It was the third penalty corner of the match that counted. Again it went to Grange and in a variation from previous efforts Beth Dodds swept the ball home to make it 1-0.

Dodds scored her, and Grange's, second goal of the match and it was a carbon copy of the first. A penalty corner to the left of the D and Dodds fired it past the goalkeeper and into the goal. 2-0.

Grange began to battle back into the match and were denied by a double save from a penalty corner routine.

Inverleith pulled one back with two minutes remaining. The ball was smashed into the D and deflected home by Stephanie Bain to make it 2-1.

Right at the death Inverleith was awarded a penalty corner to try and find an equaliser but a top save by Chantal Guillot kept Grange in front and took the victory to seal their place in National League 1 next season.



Photo by Mark Pugh

Scottish Hockey Union media release


---

Den Bosch, the Dutch team to watch at EuroHockey Club Cup

By The Hockey Paper




Hosts Surbiton will have it all to do when the EuroHockey Club Cup kicks off on Thursday. The tournament will be spearheaded by HC's-Hertogenbosch from the Netherlands, the current champions and Europe's most successful team, who are joined by fellow Dutch side AHBC Amsterdam.

Germany also have two teams, UHC Hamburg and Mannheimer HC. Spain are represented by Club Campo Villa de Madrid, Ireland by UCD Ladies HC and Belarus' HC Victorya Smolevichi complete the line-up.

Here, we run the rule over three of the top teams to watch …

'S HERTOGENBOSCH

Looking in as an outsider you might be mistaken in thinking that this is in fact the 'Den Bosch' Cup as the ladies from 's Hertogenbosch have lifted the title no less than five times since the new format of this event was launched in 2010.

HC 's-Hertogenbosch, also known as 'HC Den Bosch', is a Dutch hockey club, which was founded on July 14, 1937 in 's-Hertogenbosch. With over 2,500 members it ranks with some of the largest hockey clubs in the Netherlands. The army of yellow and black juniors being a familiar sight around the club, many days during the week!

There is no doubt that Den Bosch come into the EHCC as firm favourties. They have no fewer than 10 players currently in the Dutch squad all hoping for a spot in the World Cup, which will be played in London in July.

THE STARS:
In a team of superstars it's a hard job to pick out a few extra shining stars but undoubtedly Ireen van den Assem, Lidewij Welten and indeed Headcoach Raoul Ehren remain at the core to the success of the team. It will be the end of an era for the 'elder lemon' as Marlies Verbruggen retires at the end of the EHCC. It seems that retiring at the end of EHCC as the legend Maartje Paumen also retired at the end of EHCC in 2017. It was an incredibly memorable moment for all hockey fans as she was honoured by the junior army of yellow and black.

RECORD BREAKERS:
Den Bosch broke its own record of 'Longest series without a loss' in the Dutch National League this year. From 2002-2004 the team played 48 matches without a loss. Since November 2015 till April 8 the team have now won pver 50 games without a loss. Not hard to see why they are favourites in Surbiton.

AH&BC HC

AH&BC or 'Amsterdam' for short is one of the largest and most successful hockey clubs in the Netherlands. The club has over 2300 members and in its 124 years of existence has acquired the most national titles of any club in the Netherlands. Amsterdam is also the oldest hockey club in the Netherlands. Since its foundation in 1892, the club has won 21 league titles with its men's team and 19 national championships with its Ladies.

Many top players come from Amsterdam's own youth academy. Since 1989, the club has been working with a modern and comprehensive youth plan, in which, in addition to the technical development of youth players, fun in games and teamwork also play an important role.

WHO TO WATCH
Amsterdam will be the second Dutch team playing and have taken part in the tournament twice before winning it in 2014. With a long list of Dutch internationals and German talisman Julia Mueller, they will be tough opposition for the women from Dublin. They play their first game at 2.30pm on May17.

UHLENHORSTER HC

Uhlenhorster Hockey Club, also known as UHC Hamburg, is a hockey club based in Hamburg, Germany. It was founded in 1901, since 1923 their home ground is located in Hummelsbüttel, Wandsbek.

UHC is one of the most successful clubs in Germany, both at the Senior and Academy levels, with squads playing in the Bundesliga. The men's side have won the Euro Hockey League three times. Uhlenhorster Hockey Club Academy is one of the leading hockey academies in Europe and has produced a number of international players.

EURO PEDIGREE
Uhlenhorster have won their domestic league three times in a row and have some recent successes in the EuroHockey Club events . With a Bronze medal in 2016 and last time out they provided some of the most thrilling matches of the competition, a penalty shootout win in the semi final against AH&BC set up a close run loss in the final to Den Bosch. They will be coming back this year trying to go one better and claim the top spot.

ONES TO WATCH:
In Janne Muller-Weiland they have the Germain captain, a former German player of the year and a former European Champion. Janne's experience at the back is matched by Eileen Hoffmann's upfront. Eileen has 233 caps for Germany and is the Germans League's all time leading scorer. The spine of the team is completed by Katharina Otte, a double Olympian and a hugely influential player for UHC.

Info supplied by European Hockey Federation

The Hockey Paper


---

Hosting Europe's elite is opportunity to showcase why hockey matters

Beckie Middleton



Surbiton's Beckie Herbert celebrates scoring with teammate Sarah Page against Reading at the Investec Women's Finals Weekend

For the majority of hockey players, club hockey is a major part of how you first fall in love with the game. Our Surbiton Ladies team is full of homegrown talent, club stars and GB internationals, but whatever our 'hockey CVs' look like as individuals, for us the most exciting part of hosting the EuroHockey Club Cup is having the chance to celebrate how important club hockey is in the bigger picture of our sport.

On a personal note, this will be my eighth European club campaign. Playing at the pinnacle of European club hockey has provided some of the best and most memorable experiences of my whole hockey career and I am so excited to have the opportunity to play at home in the biggest club competition there is.

With Leicester HC I travelled to Scotland, France, the Netherlands and even Azerbaijan, and played in two EHCC finals, losing out to perennial European club superpower HC Den Bosch in 2007 and 2011. All three of our previous EuroHockey Club Cups with Surbiton have taken place in the Netherlands, so it's brilliant to be able to bring the tournament to England this time around.

On a wider level, hosting this event is a big deal in the context of the challenges club hockey in England is currently facing. The nature of international hockey – in terms of the impact of the upcoming Pro League and the demands of the GB centralised programme – means that we need to come together as a hockey community to help our clubs continue to be a major part of English hockey's future.

While hockey prides itself on gender equality, a significant gap remains in the way the women's EHCC and the men's EHL competition are valued, broadcast and promoted. However, with 40 current internationals set to play at Sugden Road during the EHCC – many of whom are in the final stages of preparing for the Women's World Cup – there is no doubt that this will be an exciting competition that will showcase some of the world's best players in their club colours.

England Hockey wants "A nation where hockey matters". For me, this has to include acknowledgement and celebration of the fantastic work of clubs across the country in providing the vast majority of 'hockey people' with their main involvement and exposure to the game. Hosting the EuroHockey Club Cup at an English club is a perfect opportunity to do this.

Surbiton Ladies know that we have a responsibility to go out there and represent English clubs in the best way we can – we want to show how good top club hockey can be and give people a reason to get excited about the quality of our domestic game.

While we'll be doing our best to make an impact on the pitch, putting on a successful tournament also relies on hockey people voting with their feet to show Europe what English clubs are all about. This is where you come in. If you love club hockey and you can make it down to Surbiton HC, we would love to have your support.

Hope to see you there!

Buy your tickets for the EuroHockey Club Cup at Sugden Road May 17-20

The Hockey Paper


---

Wits keep the Madibaz winless

By Dan Lombard



Cody Van Wyk of Wits during Game 25 Madibaz v Wits varsity hockey match at Tuks Hockey field Pretoria Photo by: Christiaan Kotze/SASPA

The University of the Witwatersrand added insult to injury to beat the Nelson Mandela University 7-2 and keep them winless in the Varsity Hockey tournament at the Tuks Astro on Sunday afternoon.

Pretoria spoilt the players to perfect conditions on the third day of action yet both teams struggled to assert themselves in the first half.

It was Wits who would challenge the scoreboard first as they scored a brilliant field goal to give his team a 2-0 lead.

The score remained unchanged until the half-time break despite the teams on the astro throwing everything into the match.

Chad Futcher added a goal from a well taken short corner in the 35th minute to make it 3-0 but the Madibaz responded 12 minutes later as Christopher Wynford sunk a field goal.

It was all Wits in the final moments of the match as they converted two more field goals to bring their tally up to 7-2 and secure a vital win a head of tomorrow's playoffs.

Scorers
Madibaz: 2
Goals: Christopher Wynford

Wits: 7
Goals: Chad Futcher (2), Rusten Abrahams, Kamal Ramburuth-Hurt

* Field goals count 2 in the Varsity Sports Hockey competition

FNB Player of the Match: Kamal Ramburuth-Hurt (Wits)
Mugg & Bean Star Player: Duncan Fischer (Wits)
Samsung Super Striker: Chad Futcher (Wits)

Teams
Madibaz: 1. Nathan Waters (GK), 5. Jason McGillivray (c), 6. Callan Dewar, 7. Arno van Jaarsveld, 9. Sarvesh Naidoo, 11. Andre Potgieter, 13. Jose Smith, 14. Christopher Wynford, 15. Michael Hansel, 17. Laython Coombs, 21. Jared de Kock.
Subs: 4. Kurt Wicht, 8. Alexander Penhall (c), 10. Jacques Potgieter, 12. Brodie Fanoe, 16. Richard Asmah-Andoh, 18. Joshua Engole, 24. Duncan Hare (GK).

Wits: 1. Duncan Fischer (GK), 2. Gareth Riley, 4. Cody van Wyk, 6. James Brandon, 7. Michael Marki (c), 8. Jaryd Thomas, 11. Chris Makaba, 12. Chad Futcher, 17. Rusten Abrahams, 18. Kamal Ramburuth-Hurt, 19. Kingsley Botes.
Subs: 5. Brad Riley, 10. Thabang Modise, 13. Bryce Cressy, 14. Sean Donaldson, 15. Michael Horan, 21. Tristan le Forestier, 23. Sizwe Nyandeni (GK).

Varsity Sports media release


---

NWU crush UCT's semi-final hopes with clinical 4-0 victory

By Dan Lombard



Mitesh Makan of NWU celebrates after shooting and scoring during Game 26 NWU v UCT varsity hockey match at Tuks Hockey field Pretoria Photo by: Christiaan Kotze/SASPA

The North-West University put an end to the University of Cape Town's winning ways as they beat the Capetonians 4-0 in this year's Varsity Hockey tournament at the Tuks Astro.

The chilly Autumn conditions must have played a part in the players' tempo as the match can best be described as lethargic with most of the action taking place between the two teams' circles.

NWU were on the scoreboard in the first quarter as they sunk a field goal by Mitesh Makan which they defended until the half-time break. The second and third quarters were a dull affair in terms of scoring but the action on the field was sensational as both teams pushed hard to score.

UCT enjoyed two great days before their meeting against NWU but they struggled on Day Three as they just could not find the back of the net. NWU put the result to bed in the fourth quarter as they knocked in another field goal by Killian Ludick to win 4-0 as they won their third match on the trot at the Tuks Astro.

Scorers
NWU: 4
Goals: Mitesh Makan, Killian Ludick

UCT: 0

* Field goals count 2 in the Varsity Sports Hockey competition

FNB Player of the Match: Gertjie Lamprecht (NWU)
Mugg & Bean Star Player: Anton van Loggerenberg (UCT)
Samsung Super Striker: Mitesh Makan (NWU)

Teams
NWU: 3. Lochner van der Schyff, 5. Leonard du Plessis, 6. Anru Kock, 7. Gertjie Lamprecht, 9. Killian Ludick, 10. Sinoxolo Mbekeni (c), 14. Mitesh Makan, 15. Snyman Thessner, 18. Pierre Bothma, 20. Stean Naude, 22. Mthokoza Mbotho (GK).
Subs: 1. Andrew Oosthuizen (GK), 11. Francois Cilliers, 12. Damian Tamine, 13. Francois Joubert, 17. Damian Kenny, 21. Siyabonga Mabo, 23. Clayton Tait.

UCT: 1. Anton van Loggerenberg (GK), 2. James Watters, 4. Ross Talmage, 5. Bjorn Sorenson (c), 6. Malachy Barbour, 10. Jack Forest, 12. Dan Cole, 14. Michael Gildenhuys, 15. Jaydee Rossouw, 19. Nick Meckechne, 28. Ross Maharage.
Subs: 3. Tim Alfeld, 8. Walter Pfaff, 13. Mawu Zukisa, 23. Daiyaan Solomons, 26. Peter Liam (GK), 31. Tino Elijah, 32. Jack Tevershan.

Varsity Sports media release


---

Maties knock out defending champions UJ

By Dan Lombard



Dayne Samboer of Maties during Game 27 Maties v UJ varsity hockey match at Tuks Hockey field Pretoria Photo by: Christiaan Kotze/SASPA

Stellenbosch University were in a dominant mood as they thumped UJ 15-2 as the defending champions crashed out of the Varsity Hockey tournament at the Tuks Astro.

The crowd may have dwindled as the weather turned cold but Maties were on hand to keep those who opted to stay warm, with their brilliant display of how to score goals.

The match saw two hat-tricks, to Reece Arendse and Dayne Samboer as Maties remained unbeaten in the tournament.

Arendse bagged his goals in the first half as UJ just could not contain the men from Stellenbosch but they did score a consolation field goal shortly after Matthew Roman made it 8-0 to Maties.

The defending champions certainly did not lie down as they attacked with purpose but their attempts were thwarted by the resilient defence of Maties.

The final 10 minutes were a goal scoring blitz for the frontrunners as Samboer netted his hat-trick which included a goal from a penalty corner and two field goals while Maximillian Pike added another field goal for good measure as Maties claimed an emphatic 15-2 victory in the capital.

Scorers
Maties: 15
Goals: Reece Arendse (3), Matthew Roman, Dayne Samboer (3), Maximillian Pike

UJ: 2
Goals: Che February

* Field goals count 2 in the Varsity Sports Hockey competition

FNB Player of the Match: Alex Stewart (Maties)
Mugg & Bean Star Player: Matthew Martins (UJ)
Samsung Super Striker: Reece Arendse (Maties)

Teams
Maties: 2. Andrew Hobson, 4. Nicholas Giger, 7. Matthew Roman, 9. Wade Dollman, 11. Dayne Samboer, 14. Gareth Tate, 15. Ruari Baker, 21. Clayton Saker, 22. Ross Anderson, 29. Mbuso Mgobozi, 38. William Everleigh.
Subs: 1. Rob McKinley (GK), 5. Tom Richardson, 8. Alex Stewart (c), 12. Maximillian Pike, 16. Jordan Turnbull, 23. Reece Arendse, 24. Callen Heynes.

UJ: 1. Matthew Martins (GK), 2. Brad Robertson, 5. Kyle Lion-Cachet, 7. Chad Burke, 8. Courtney Halle (c), 9. Che February, 11. Tristan Blackie-Roden, 13. Ernest Jacobs, 14. Kyle Naicker, 16. Rayner York, 23. Keegan Smith.
Subs: 6. Michael Newland-Nel, 12. Ukanyo Mabandla, 15. James Gilbert, 17. Jesse Martins, 18. Diego de Abreu, 20. Manessah Dube, 21. Gary Cooper (GK).

Varsity Sports media release


---

Tuks beat Kovsies to finish second on the log

By Dan Lombard



Ashley Kemp of Tuks during Game 28 Tuks v Kovsies varsity hockey match at Tuks Hockey field Pretoria Photo by: Christiaan Kotze/SASPA

The University of Pretoria secured second place on the Men's Varsity Hockey log after they despatched the University of the Free State 8-0 in the final match of Day Three's action at the Tuks Astro.

The first quarter whittled down to both teams trying to find the back of the net but the match came alive in the second quarter as Tuks scored goals by Ashley Kemp, Steven Paulo, Bradley Sherwood and a brace to Michael Forrest as they powered to an 8-0 lead at the break.

Kovsies galvanized their defence in the third quarter as they regularly frustrated the Tuks attack with solid defending yet they could not find themselves that elusive first goal with 15 minutes left on the clock.

Tuks had two field goals disallowed during the 8-0 routing of Kovsies due to the ball touching the foot of a Tuks player but this did not stop them from pressing hard on attack while superbly defending their own goal throughout the match.

In the end, Kovsies were no match for a rampant Tuks as the home team rounded a good win before tomorrow's playoffs.

Semi-final action will take place on Monday, 14 May with Maties facing NWU and Tuks squaring off against Wits.

Scorers
Tuks: 8
Goals: Michael Forrest (2), Ashley Kemp, Steven Paulo, Bradley Sherwood,

Kovsies: 0

* Field goals count 2 in the Varsity Sports Hockey competition

FNB Player of the Match: Jared Cass (Tuks)
Mugg & Bean Star Saver: Lourens Esterhuizen (Kovsies)
Samsung Super Striker: Ashley Kemp (Tuks)

Teams
Tuks: 1. Hendrik Kriek (GK), 3. Onke Letuka, 4. Mitchell Currie, 6. James Redfern, 7. Sam Mvimbi, 8. Peabo Lembethe (c), 9. Steven Paulo, 10. Michael Forrest, 15. Bradley Sherwood, 19. Matthew Davies, 22. Mark Chong.
Subs: 5. Jared Cass, 11. Ashley Kemp, 13. Matthew Butler, 16. Nicholas Pio, 20. Christian Kriek, 21. Tim Halle, 23. Sizwe Mthembu.

Kovsies: 1. Lourens Esterhuizen (GK), 2. Andrè Nel, 3. Egon van der Merwe, 6. Ryan Scheepers, 8. Willie Kruger, 10. Gerhard van Bosch, 13. Tiaan Weldhagen, 14. Stephan van Vollenhoven, 15. Mvelase Mbombisa, 18. Cheslyn Neethling, 22. Tylor Oliver.
Subs: 4. Jordan Pope, 7. Matthew Ramos, 9. Mpho Tsaone, 11. Justin Smouse, 19. Shelton Mollentze, 24. Luyolo Nkosana.

Varsity Sports media release


---

Varsity Sports Hockey final table standings


| # |    | TEAM | PL | W   | D   | L   | PD | BP | PTS |
| --- | --- | --- | --- | --- | --- | --- | --- | --- | --- |
| 1 | | Maties Hockey | 7 | 7 | 0 | 0 | 27 | 0 | 21 |
| 2 | | UP Tuks Hockey | 7 | 5 | 0 | 2 | 16 | 0 | 15 |
| 3 | | Wits Hockey | 7 | 4 | 0 | 3 | 15 | 0 | 12 |
| 4 | | NWU Puk Hockey | 7 | 4 | 0 | 3 | 11 | 0 | 12 |
| 5 | | UCT Hockey | 7 | 4 | 0 | 3 | 3 | 0 | 12 |
| 6 | | UJ Hockey | 7 | 3 | 0 | 4 | -12 | 0 | 9 |
| 7 | | UFS Kovsies Hockey | 7 | 1 | 0 | 6 | -36 | 0 | 3 |
| 8 | | Madibaz Hockey | 7 | 0 | 0 | 7 | -28 | 0 | 0 |
---

Kenya Police break from jail as Butali teach USIU a lesson

By AYUMBA AYODI



Strathmore University Gladiators' Franklin Wahongo (left) battles for the ball with Kenya Police's Willis Okeyo during their men's Premier League match at City Park Stadium on May 13, 2018. PHOTO | KANYIRI WAHITO |  NATION MEDIA GROUP

Champions Kenya Police and Butali Warriors turned on the style to win their respective men's hockey Premier League matches on Sunday at City Park Stadium, Nairobi.

However, Police almost got another shocker but rallied from 2-1 down to silence former champions Strathmore University 4-2. Police were coming from a 4-3 defeat to Greensharks the previous weekend.

Interestingly, Butali locked up their match in the first quarter where they scored all the goals of the match in a 3-0 win over battling United States International University-Africa (USIU-A).

USIU-A fought to get back into the game but wasted a myriads of chances and will have only themselves to blame for the big loss.

Amos Barkibir inspired Police to victory with his double in the 30th and 59th minutes.

Veterans Willis Okeyo and Moses Cheplaiti scored Police's other goals in the 44th and 54th minutes respectively. Skipper Festus Onyango notched a brace for Strathmore, who went out of the ammunition to let Police reload and floor them.



Butali Sugar Warriors' George Mutira celebrates his goal against USIU-A during their men's Premier League match at the City Park Stadium on May 13, 2018. PHOTO | KANYIRI WAHITO | NATION MEDIA GROUP

Derrick Kuloba drew first blood for Butali with a sizzling back flick in the second minute before skipper Kenneth Nyongesa and George Mutira netted from short corners in the sixth and 12th minutes respectively.

"We just had to redeem ourselves after the Greensharks shocker," said Police coach Patrick Mugambi.

"It wasn't easy since at one time we had to come from behind to win."

Strathmore coach Meshack Senge rued cases of indiscipline and shortage of manpower when he played the third quarter with three men less.

That is after Stephen Nyaguto (40th), Clayton Luvanda (44th) and skipper Festus Onyango (44th) were sin-binned for infringement. "We conceded so many penalty corners that we also failed to protect," said Senge.

"We lost our belief when Police levelled at 2-2 with poor goalkeeping also proving costly."

However, Senge said his new unit is learning in every match.

"I lost virtually all of my players this season hence I have to rebuild again," said Senge.

Butali Warriors head coach Dennis Owoka said lack of proper training during the week owing to rains hampered a good display from his charges.

"We have not hard proper session," said Owoka, who also took issue with his team for not punishing USIU-A even after they played with three men less on the last quarter.

"We should have scored six goals and this is actually unacceptable," said Owoka.

Daily Nation


---

Pakistan hockey Olympian Mansoor laid to rest in Karachi




KARACHI: Pakistan's World Cup-winning hockey goalkeeper Mansoor Ahmed was laid to rest here on Sunday. The hockey legend's funeral was attended by former Pakistan cricket captain Shahid Afridi, Muttahida Qaumi Movement-Pakistan leader Amir Khan and hockey star Islahuddin Siddique. However, no government officials were in attendance. "My heart is heavy with the loss of the hockey legend, however, death is a reality we all have to face," Afridi said. "No celebrities were in attendance today, however, had a legend like this passed away somewhere else in the world, the response would have been different," the former cricketing star said. "He was a legend and it is a shame that such a star was buried without any state honours," MQM leader Amir Khan said while speaking to the media.

Director General of Inter-Services Public Relations, Maj Gen Asif Ghafoor, tweeted Chief of Army Staff Gen Qamar Javed Bajwa's condolence: The 49-year-old had been suffering for weeks from complications stemming from a pacemaker and stents implanted in his heart, and had reached out to India for help in securing a heart transplant.

The government of Pakistan had reportedly offered Ahmed a mechanical heart transplantation which, had he accepted, would have been the first time the procedure was to be conducted in Pakistan. However, the hockey legend had wanted a more conventional and proven procedure, for which he had wanted to go to India and had thus refused the offer. Ahmed has been a sporting icon in Pakistan since helping the country win the 1994 World Cup in Sydney with his penalty stroke save against the Netherlands in the final.

He played 338 international matches and also participated in three Olympics and various other high-profile events in a career spanning from 1986 to 2000. In addition to being named the world's best goalkeeper on four occasions, Ahmed was bestowed with a presidential award in 1988 and the Pride of Performance in 1994.

The Daily Times


---

Pakistan hockey legend Mansoor Ahmed's death a missed opportunity for India to trump jingoism and extend help across the border

Sundeep Misra

Don't touch those hockey goalposts for a few days, they would be moist — they are grieving. On the other side of the border, in a city called Karachi, Mansoor Ahmed passed away; hopefully, his last thoughts were not on India. In a fractured world where humans are on the verge of extinction while bigots flower and increase their numbers like rodents in heat, Mansoor, dying, his heart fluttering like butterfly wings, extended his hands towards India — for life. And we responded with cliché-laced religious hate-mongering, wrapped in cowardly nationalistic fervour.
Mansoor Ahmed featured in 338 matches for Pakistan and participated in three Olympics in a career spanning from 1986 to 2000. AFP

A dying hockey player, arguably one of the best the sport has seen, the man who gave Pakistan the 1994 World Cup saw the worst of both sides. To call the other a zealot, you don't have to be one; India forgot that. Those emaciated hands, holding a stick, wrapped in gloves, held off 90mph penalty corner flicks by Dutch legend Floris jan Bovelander but couldn't fend off the rush of hate messages that erupted in India. He wanted a heart. Mansoor's was failing. He wanted one of ours; our heart.

In a video plea, he said, "Now I need a heart transplant, and for that I need support from the Indian government. I may have broken a lot of Indian hearts on the field of play by beating India in the Indira Gandhi Cup (1989) and in other events but that was sport. Now I need a heart transplant in India and for that I need support from the Indian government."

Mansoor, who played 338 international matches and participated in three Olympic Games, added, "Humanity is paramount and I'd be immensely obliged if I get a visa."

His death becomes a classic example of how we look at each other as sporting nations. It's been 71 years since we created borders. We refuse to look beyond it. Caught in the whirlpool of hate, we constantly fall prey to jingoism, fanaticism and a brand of zealotry that should make us hang our heads in shame. Somewhere in the making of India, politicians made monkeys out of us — making us clap and dance to their tune.

Sane sportspersons on both sides of the border spoke like born-again fire-brands, their sporting frustrations coming out in their ignorant Indo-Pak tirades. Amidst all that the sub-continent offers through online hatred and television channels spitting hatred like a diarrhea spewing rump, Mansoor knew he only had days to live. A man self-consumed by hatred would never extend his hand towards a sworn enemy, even if it was to save himself. Hatemongers won't agree. But remember, 71 years back that blood was ours too. Short-sighted politicians gave it a name — Pakistan.

Not many knew or remembered him when his plea hit TV stations and news wires. Not many remember the 1994 World Cup that turned Mansoor's life upside down. Despite losing the 1990 World Cup final in Lahore to Holland 1-3, they were rated behind the Dutch in the 94' World Cup final. After a stuttering start and with Bovelander's threat looming large, Pakistan came back strongly in the second half. Mansoor's agility and solid goalkeeping allowed Shahbaz Ahmed, Tahir Zaman, Shahbaz Junior, Kamran Ashraf and Asif Bajwa to run rings around the Dutch defence. Yet when the match finished 1-1, the Dutch still held the aces with Taco and Bovelander sure shot penalty stroke winners. Pakistan chanted for Mansoor in unison. The Homebush could have been the National Stadium, Lahore, filled with green shirts and almost every Pakistani worth their name buying tickets in black to attend the World Cup final.

After Taco van dan Honert scored, the flick ripping through the middle, the power almost shoving aside Mansoor, it seemed that it would be second time unlucky for Pakistan. Mansoor stood still as Bovelander looked strained; the pressure working its stressful magic on the sport's most deadly drag-flicker. His was the opening goal of the match. But strokes have a different theme — face to face with a man under the helmet, the pusher usually cannot see the eyes, can't read the goalkeeper. It's the power, the angle, the corner and the assumption that the goalkeeper will go the wrong way. Mansoor didn't have to make a save. Bovelander pushed wide. Bovelander had blinked. Mansoor, with the tag of the world's best goalkeeper, had forced him to.

Marc Delissen and Jacques Brinkmann scored. With the scores 4-3 in favour of Pakistan, Shafqat Malik failed with his stroke. Holland had one chance to equalise and take it do sudden death. Jeroen Delmee walked up. Mansoor, the hooded knight in a white helmet, white pads and blue jersey, number '1' monochromed on the front, stood still. For that split second, Homebush went quiet. Thousands of kilometres away, Pakistan went still. Delmee slightly moved his body to the left. Mansoor went to his right and the flick went off Mansoor's right glove. The hooded knight had given the World Cup to Pakistan. Shahbaz Ahmed won the Player-of-the-Tournament, the first player in history to win it for the second consecutive time. But Mansoor was the darling, the jewel, the hallowed one. It's been 23 years and five World Cups since that victory. In the lanes of Karachi and Lahore, when nostalgia grips former players and hockey fans, they remember Mansoor. Of course, they speak about the artistry of Shahbaz. But it's the knight of Homebush Stadium they revere.

Maybe, we could have helped. The Chennai Hockey Association volunteered help with surgeons confirming they had been contacted by his doctors. Maybe, it was all in vain.

Mansoor has been a heart patient for almost a decade and doctors recommended a transplant for the 49-year-old. It takes anywhere between four and six months for an overseas patient to get a heart in Chennai. A heart can be given to a foreigner only when there are no Indians on the waiting list. As per the new rules, a hospital doing the transplant on a foreigner has to give an undertaking it is not overlooking any Indian in need of heart.

Former India captain V Baskaran did his best to speak to the doctors in Chennai and personally also spoke to players in Pakistan but Mansoor's deteriorating condition made it impossible for him to take the trip. "It's sad," said Bhaskaran. "In the end, he was a human, a player who gave his best. And in the end, he just wanted help. I don't know yet, but I think we failed somewhere."

Mansoor is gone. His funeral is after the Zohar prayers at the Sultan Masjid in Karachi. Offerings of grief appear a little hypocritical, like a cheap gimmick. Maybe, help would have been humane.

Firstpost