All the news for Friday 13 April 2018

XXI Commonwealth Games - Day 9
Gold Coast (AUS) 5 - 14 Apr 2018
Fixtures Friday 13 April 2018 (GMT+10)
Men Placing 9-10 South Africa - Wales 2 - 3
Men Placing 7-8 Canada - Pakistan 1 - 3
Women Placing 5-6 South Africa - Canada 1 - 3
Men Placing 7-8 Scotland - Malaysia 2 - 1
Men Semifinal India - New Zealand 2 - 3
Men Semifinal Australia - England 2 - 1

Fixtures Saturday 14 April 2018 (GMT +10)
10:30 Women Bronze Medal England - India
12:45 Women Gold Medal New Zealand - Australia
19:00 Men Bronze Medal India - England
21:15 Men Gold Medal New Zealand - Australia

Final Placings
Men
1.New Zealand or Australia
2. New Zealand or Australia
3. India or England
4. India or England
5. Malaysia
6. Scotland
7. Pakistan
8. Canada
9. Wales
10. South Africa
Women
1. Australia or New Zealand
2. Australia or New Zealand
3. England or India
4. England or Australia
5. Canada
6. South Africa
7. Malaysia
8. Scotland
9. Wales
10 Ghana
---

Canada drops final match to Pakistan 3-1

Lots of work ahead as Canada finishes their Commonwealth Games campaign in eighth place



Photo: Yan Huckendubler

Canada got the start they wanted but couldn't keep the momentum going in the second half, eventually falling to Pakistan 3-1, finishing eighth in the 2018 Commonwealth Games hockey competition.

Today's game was a tale of two halves. With 11 minutes elapsed in the first quarter, Canada's James Kirkpatrick played a ball across the baseline that wound up deflecting off a Pakistan defender and into the net. A fortunate bounce, no doubt, but a worthy representation of the pressure and attacking zone time that Canada mustered in the first half. The stellar play of the Pakistan keeper, Imran Butt, kept the score margin tight after 30 minutes of play.

It was a different Pakistan side that showed up in the second half. They took control and dominated the play on both sides of the ball. A two-goal third quarter gave Pakistan the lead and the momentum heading into the final frame. Despite the late penalty corner efforts from Canada, they were unable to claw their way back into this match. Pakistan notched a late marker and wrapped up seventh place at the 2018 Commonwealth Games.

Canada, who came in ranked fifth at the event, the three-rank drop was disappointing. For Canadian team captain, Scott Tupper, today's incomplete team game was an example of one of the key issues for the Canadian side.

"We actually started today's game really well, but we couldn't add more goals in the first half and apply scoreboard pressure," he said. "…and then we just got sloppy in the second half. It wasn't a complete performance."

Despite the disappointing results at this year's Commonwealth Games, Tupper thinks there were sections of time where the team played high quality hockey. It's those times that he said the team will draw on moving forward.

"Obviously, the win against Scotland was a highlight," Tupper said. "But I think the biggest thing for us was consistency. At some moments we played really good hockey. But it only came in patches. Moving forward it will be about putting complete-game performances together."

When asked where the deficits in the team's game this week were, Tupper responded emphatically that the team needs to work on attacking and finishing off their goal-scoring opportunities.

"I mean, one field goal in five games. It's just not good enough at this level," he said. "We have to be able to score if we want to compete at the highest level. We have to work on developing that killer instinct in the circle."

Tupper and his teammates will decompress and evaluate their performance over the next few weeks as the team recovers from competition and then it will be straight back to work preparing for the World Cup in December. Canada, currently ranked 11th in the world will face 15 top-ranked teams at the World Cup. Be sure to follow along as the team makes the seven-month march to Bhubaneswar.

Field Hockey Canada media release


---

Canada makes history with fifth place finish

Two first quarter goals vault Canada to decisive 3-1 victory over South Africa



Photo: Yan Huckendubler

As Canada took to the field in their final game today against South Africa, they were standing on the edge of Canadian hockey history. The previous best finish by any Canadian hockey team in Commonwealth Games history was sixth. On the back of two first quarter goals and some rock-steady defense — that has come to be expected — Canada decisively finished off the event with a 3-1 win. For Kate Wright, these types of performances have felt like a long time coming.

"This was a great showing from our team, and now it really feels like the beginning of something great," she said. "We stuck to our game plan all tournament and it was really nice to see where we measure up."

In today's game, it was actually South Africa who had the first penalty corner try, but as has become routine, Canadian goal keeper Kaitlyn Williams deflected the early chance away. Canada bounced back and struck fast and furious, immediately pressuring South Africa and earning a few penalty corners of their own.

With six minutes remaining, Canada's Shanlee Johnston injected a penalty corner and went straight to the net deflecting in the return pass from Karli Johansen. The goal, Johnston's first of the Games, came at a crucial moment for Canada and led to another first half goal by Maddie Secco. If Wright had one criticism of the team's play this week it was in their goal scoring. The team was held scoreless in their first three matches.

"We did a lot of things well this tournament but we really struggled with actually putting the ball in the net," Wright said. "We'll get straight to work adjusting small things with our attacking circle play and see if we can fix that."

While Canada's attacking play may not have been up to snuff, their defensive performance was all-world. The rear-guard unit of Johansen, Sara McManus and Dani Hennig was lights-out over the past 10 days, protecting the Canadian zone, all the while being clinical and dangerous with their outlet passes.

"It's great to have them back there," Wright said. "They give us so much confidence. With them back there, it gives us the breathing room to focus hard on our attack. They are how we get the ball out and how we keep it out."

The goalkeeping of Kaitlyn Williams over the course of the event was nothing shy of MVP worthy. Williams allowed only one goal (in the form of a penalty stroke in the game against Australia) in 3.75 games of work. Her athleticism, positioning and decision making was world class and Wright had nothing but good things to say about the Canadian keeper.

"She has worked so hard over the past few years to get where she is now. We're so proud of her and were lucky to have her back there," Wright continued. "She stood on her head for us. She's just so dominant back there."

Canada finished off South Africa in the second half, adding another marker in the fourth quarter, successfully making history and finishing fifth. For Wright and Team Canada, a historical finish at the 2018 Commonwealth Games is a great start but there's clearly more in the tank for this young team that's just getting started.

"I think we belong in the medal round with the best countries in the world. We're definitely proud of how we played but we're not satisfied. We want to make sure, next time we come up against those top countries, we're beating them. It's that simple," she said.

Field Hockey Canada media release


---

Scotland women finish Gold Coast 2018 with win over Malaysia



Scotland women finish Gold Coast 2018 with win over Malaysia

Scotland women finished Gold Coast 2018 on a high with an excellent 4-2 win over Malaysia. Goals from Millie Brown, Lucy Lanigan, and a double from Amy Brodie secured a seventh spot finish for the Scots.

Scotland were on blistering form from the pass back. The first chance of the match went to the Tartan Hearts and it was Nikki Alexander-Lloyd who was denied by a good save, winning a penalty corner in the process.

The following penalty corner was slick, Robyn Collins slid the ball for Kareena Cuthbert to deflect but her effort was well stopped and cleared.

It wouldn't take Scotland too long to bag the opening goal. Millie Brown scored with a far post tap-in after some lovely play by Sarah Jamieson in the build-up. 1-0.

Jamieson was causing Malaysia all sorts of problems in the first quarter, her skill, trickery and powerful running was a great catalyst for Scotland's early dominance.

Then some brilliant running into the D by Sarah Robertson promised another goal but her shot was blocked and Malaysia survived.

Still Scotland hunted for a second and won a penalty corner after some good play by Katie Robertson and Mairi Drummond.

Collins stepped up to strike but was denied a goal when her drag flick was well saved under the crossbar by the goalkeeper.



Photo by Team Scotland

The deserved second goal came soon enough. Amy Brodie scored a lovely goal into the top corner after a great pass by Amy Costello in the build-up.

Brodie was denied another goal after a good run into the D from the left. Sarah Robertson and Alexander-Lloyd combined in the build-up. The Scots were on fire.

The third goal for Scotland came after some wizardry by Jamieson to set-up Amy Brodie to score her second, and Scotland's third, with a clinical low smash into the net. 3-0.

Malaysia came out firing after half time and dragged themselves into the game. A Nuraini Rashid drag flick found a deflection from Fatin Sukri into the net for 3-1.

A short time later and another penalty corner from Malaysia was converted by Nuraini to make it 3-2.

It looked like lightning might strike three times as the third quarter neared an end when another penalty corner was awarded, but this time Scotland survived and cleared the danger.

Scotland showed grit and determination and battled against the Malaysian flow. Charlotte Watson nearly scored when she pounced in the D but her shot was deflected wide.

Scotland eventually put the game to bed when Lucy Lanigan scored to make it 4-2 as the game neared its conclusion.

Scotland took the victory, and seventh place, in a fantastic performance to end their Gold Coast 2018 Commonwealth Games.

Goal scorer Amy Brodie said, "We went out and wanted to finish as high as we could. We've had a good tournament, seventh wasn't really where we wanted to be but we got to finish on a win.

"Our game plan was to go out and use the width and really trust ourselves going forward, and that's what we did."

Scottish Hockey Union media release


---

Australia and New Zealand women to play for gold at Commonwealth Games Gold Coast 2018



Australia qualified for their fourth consecutive Commonwealth Games final Photo: FIH/WSP

Oceania rivals Australia and New Zealand will play for the women's hockey gold medals at the Gold Coast 2018 Commonwealth Games as they both won their respective Semi-Finals tonight.

In the first Semi-Final, England, who finished top of Pool A, took on Pool B runners-up New Zealand - the highest scoring team in this event so far, with 18 goals.

New Zealand nor their opponents could find the back of the net in this match however, but that did not detract from the fast-paced, action packed encounter that thrilled yet another capacity crowd at the Gold Coast Hockey Centre.

While New Zealand goalkeeper Sally Rutherford made a number of crucial saves during regulation time, Grace O'Hanlon entered the cauldron and left a hero, denying England time and time again in the shoot-out.

The Black Sticks alternate goalkeeper saved four of England's shoot-out attempts - from Alex Danson, who was making her 300th international appearance (combined for England and Great Britain), Sophie Bray, Anna Toman and Hollie Pearne-Webb. Hannah Martin was the only English player able to beat her.

New Zealand meanwhile relied on Samantha Harrison and captain Stacey Michelsen to score the two shoot-out goals to win the Semi-Final for the Kiwis and take them to the gold medal match in the Commonwealth Games for the first time since 2010.

After their win, New Zealand Head Coach Mark Hager said: "Grace was brilliant, she kept us alive and ignited our players in the shoot-out. I also want to praise Sally who was outstanding and really kept us in the game under huge pressure."

Straight afterwards, Australia's Hockeyroos qualified for their fourth consecutive gold medal match at the Commonwealth Games.

The 2014 champions dominated the majority of this match, and whilst India had their chances, the Hockeyroos got the all-important goal to take them to the final.

In the 36th minute, Grace Stewart volleyed home a raised pass from Savannah Fitzpatrick's in what was one of the best goals of the event so far.

Whilst this was a highlight, Hockeyroos Coach Paul Gaudoin will be pleased his team continued their strong defensive duties, with the hosts yet to concede at this event.

Speaking afterwards, Australia's Emily Smith reflected on their campaign so far. She said: "We haven't gone through this tournament 'guns blazing'. We have had to grind every game, but that's what will set us up for the final."

Following their wins, defending champions Australia will now play their Trans-Tasman rivals New Zealand in the gold medal match at 12:45 (all times local) on Saturday 14th April, with England playing India for bronze earlier, at 10:30.

Earlier in the day, Scotland and Malaysia entertained the fans with a six-goal thriller.

The Scots started well, with Millie Brown and an Amy Brodie double giving them a 3-0 half-time lead.

Malaysia then battled their way back into the game, with Fatin Sukri then Nuraini Rashid both scoring through penalty corners.

Despite the attempted comeback, Scotland's nerves settled when Lucy Lanigan scored Scotland's fourth as the game finished 4-2 - a result that saw Scotland finish in seventh and Malaysia eighth.

In their debut Commonwealth Games, Ghana took Wales to a shootout in their classification match after the match finished 1-1.

Ghana stunned their European opponents as they took the lead through Serwaa Boakye in the 43rd minute. It took just under 10 minutes for Wales to level, through a penalty corner from Tina Evans, which took the game to shoot-out.

Sian French and Sarah Jones emerged the heroes for Wales as the only two scorers in the shoot-out, ensuring a ninth place finish for their team, with Ghana ranked 10th.

Next up are the men's classification matches and Semi-Finals as well as the 5/6th women's classification match which all take place tomorrow, Friday 13th April.

RESULTS
Women
Semi-Finals: England 0, New Zealand 0 (New Zealand won shoot-out 2-1); Australia 1, India 0.
9/10th: Wales 1, Ghana 1 (Wales won shoot-out 2-0)
7/8th: Malaysia 2, Scotland 4.

#GC2018Hockey

FIH site


---

New Zealand Women to play for gold



Photo: www.photosport.nz

The New Zealand Women will play for a gold medal at the Gold Coast Commonwealth Games after securing a thrilling 2-1 shoot-out victory over England in the semi finals.

It was an absorbing game which saw both sides produce 60 minutes of top shelf hockey after which nothing separated them at fulltime.

With goalkeeper Sally Rutherford playing an impressive match during regulation time, head coach Mark Hager made the decision to put a fresh Grace O'Hanlon in for the deciding shoot-out.

During the shoot-out O'Hanlon made four absolutely remarkable saves with Hannah Martin the only English player able to beat her.

Samantha Harrison scored to put things on level terms going into the final shot, which captain Stacey Michelsen calmly buried into the back of the net.

New Zealand now move on to the gold medal game at 2:45pm (NZ time) on Saturday where they face a rematch against trans-Tasman rivals Australia, live on TVNZ Duke.

Losers of the semi finals England and India will play-off for bronze earlier in the day.

Head coach Mark Hager wasn't able to watch the final stages of the shoot-out which he described as 'heart pumping'.

"I had to turn away and I couldn't watch the final shot, I was just too tense," he said.

"Grace was brilliant, she kept us alive and ignited our players in the shoot-out. I also want to praise Sally who was outstanding and really kept us in the game under huge pressure.

"For Stacey to come in and win the game I thought was very fitting. I'm just so pleased for her and very proud of how she always puts her hand up with the mindset 'I'm going to get this done'.

O'Hanlon said her homework paid off during the shoot-out, where it seemed she knew exactly where each England player was looking to go.

"I did my homework and scouting very thoroughly but I also just went out there wanting to play my game and rely on my instincts.

"Shoot-outs are a specific skill of mine, I'm a big unit and pretty quick. Huge credit to Sally too as she's yet to concede a goal and is an amazing keeper, so I was happy to play my role."

New Zealand 0
England 0
Halftime: 0-0
New Zealand won shoot-out 2-1

Hockey New Zealand Media release


---

Heartbreak for England in Gold Coast semi-final



Danson (L) against Anita McLaren in the NZL semi-final CWG 2018

England's women will fight for Gold Coast 2018 bronze after agonisingly losing to New Zealand on penalties at the end of a gripping match.

Stacey Michelsen was the player to break English hearts as she scored the decisive final penalty following the goalless game, calmly lifting the ball over Maddie Hinch to send her team into the final.

England had taken the initial lead in the shootout through Hannah Martin but Samantha Harrison equalised shortly after before Grace O'Hanlon – who only came off the bench for the shootout - made two great saves to keep out Anna Toman and Hollie Pearne-Webb.

Michelsen then proved to be the hero of the day, although England should be incredibly proud of themselves after an impressive performance on Alex Danson's 300th international appearance.

Having barely been tested against Malaysia, Maddie Hinch was required to paw away Anita McLaren's second minute effort after a great break by Michelsen before she kicked away a diving reverse effort by Harrison.

England soon found their stride though, winning three penalty corners in the eighth minute with Samantha Charlton brilliantly charging down two while the other from Hollie Pearne-Webb drew a smart save from Sally Rutherford.

Danny Kerry's side had plenty of success down the right, with Alex Danson seeing a diving effort saved, Susannah Townsend having the ball nicked away from her as she wound up for a shot and a sliding Sophie Bray nudge smothered by Rutherford.

The Black Sticks also had chances of their own through Tarryn Davey and Kesley Smith – the latter forcing another good stop from Hinch – but neither side could break the deadlock before half-time.

The momentum continued to ebb and flow in the third quarter but there was no further goalmouth action until England won a 43rd minute corner, with Brooke Neal deflecting Unsworth's effort agonisingly wide of the post.

New Zealand soon retaliated, winning their first corner 20 seconds into the final quarter, but Ansley positioned herself superbly on the line to block McLaren's flick and keep the scores level.

Sarah Haycroft then thought she had a goal on her birthday, only to find the whistle had already been blown, while Hinch produced another good block to deny Michelsen before showing why she is regarded as the world's best with an unbelievable save to keep out a rasping Olivia Merry effort on the stroke of full-time.

And despite Hinch keeping out three penalties it just wasn't to be as Michelsen defied all the pressure on her shoulders to produce an inch-perfect effort to win the tie.

England will now fight for the bronze medal at 01:30 BST on Saturday 14 April.

England 0 (0)
New Zealand 0 (0)
New Zealand win the shootout 2-1

England Starting XI: Hinch (GK), Ansley, Lane, Toman, Pearne-Webb, Unsworth, Haycroft, Townsend, Bray, Danson (C), Watton

Subs: Tennant (GK), Petty, Balsdon, Defroand, Hunter, Martin, Rayer

England Hockey Board Media release


---

Shoot-out sees New Zealand beat England to reach Commonwealth hockey final

By Rod Gilmour on the Gold Coast




England were denied a fourth shot at Commonwealth gold by New Zealand – but were still outdone by an Australian on Thursday night.

In another shoot-out at the backend of a major tournament, Grace O'Hanlon built a wall around her net and saved from four English sticks.

A Queenslander by birth, O'Hanlon was scouted by the Black Sticks in the last few years – she has a Kiwi father – and moved from Perth in early 2017 after a lack of opportunities in her native country.

She didn't have any opportunities for 60 minutes here as she was on the subs' bench and only entered The Cauldron, as Maddie Hinch described it, when the shoot-out was confirmed and she replaced Sally Rutherford.

With the drama locked at 1-1 after a goalless normal time period, Hollie Pearne-Webb stepped up for England's last go in their first shoot-out in a major tournament since Rio but couldn't convert.

New Zealand captain Stacey Michelsen, their best player by a Trans-Tasman distance, then took the most authoritative shot all night. Her timing atoned for NZ's own shoot-out loss to England at the same stage in 2014.

She stepped up, forgot about weaving across Hinch, and instead planted a spectacular flick shot to send the Black Sticks into their first final since Delhi 2010 against  Australia, who edged India 1-0.

Have international 'keepers tuned up to the studious Hinch and her infamous notebook? It looked that way on Thursday night as the athletic O'Hanlon prevailed, while Hinch, who bustled the Kiwis as is her wont, cut a hugely disconsolate figure afterwards.

In the battle of the notebooks, O'Hanlon, who keeps her own one, had read the script but for not knowing anything about Pearne-Webb's tendencies from the 23m line. It was, she said, a flip of the coin.

"Grace is a really mobile keeper and did a great job," said Samantha Harrison, the Black Stick still shaking with adrenaline. "We do a lot of homework to see what other keepers do. They are really diligent on their scouting."

Little wonder she was shaking. After being dropped after London 2012, taking time off the game, missing the Rio Olympics and returning to the performance squad last year, this was her biggest game for six years.

"Our defence was amazing tonight," she added. "That really helped us out there. There is so much excitement and it's doing the basics.

"It's important to stick to our structure and grind it down and make the most of our opportunities."

The stats told us that New Zealand had 11 shots to England's eight. Yet England were bearing down on the Kiwi's goal for a majority and played perhaps their best tournament hockey of the week. The only crux being that they just couldn't pass the strong back line employed by Mark Hager, their coach.

For England, balls were being lost in or around the 23m line, while captain Alex Danson, playing her 300th Test match,  and Sophie Bray couldn't find a way to goal.

England also had five more penalty corner offerings. This was the third match, with over 20 chances to boot, that they couldn't score from the top of the D.

"We came here for gold. What you saw was two high quality teams playing against each other," said England's Sarah Haycroft. "There wasn't much between the teams. It came down to those fine margins.

"We did everything right but credit to New Zealand."

While Hinch parried and punched a number of shots away in normal time, England were keeping the Black Sticks' on their toes at the back.

The third quarter provided the best 15 minutes of the match, but still the deadlock couldn't be broken.

Then, in the final phases of battle, Bray and Danson broke but the Kiwis again held firm and cleared. The ball was sent straight up field where Olivia Merry flashed inches past Hinch's far post a second before the hooter.  But not before Hinch had forced it wide. She really could not have done much more on the night.

More major tournament semi-final heartache, then, as Hannah Martin proved England's only shoot-out converter.

"If you look back at the match we were on top for most of the game," said defender Laura Unsworth. "That's positive going forwards and since going to New Zealand in November we have definitely taken a step forwards."

This was a step back from their golden ambitions, with a bronze medal on Saturday on the line instead.

Hockeyroos hold on

It proved a tale of two Graces in the semi-finals. Grace Stewart's third quarter brilliance – a wonderful volley hit – did for India was just enough for the host nation.

The Hockeyroos have hardly been convincing in this tournament and are doing just enough to keep themselves in the mix. It's tournament hockey that counts after all – as well as superb goals.

Stewart said: "It is very exciting. Not often those shots come off. They are mostly air swings, but it was great to see it hit the back of the net.

"It was very lucky I slotted it to be honest. We probably could have snuck another goal in, but we didn't and I wasn't really that stressed."

The gold and bronze medal matches will take place on Saturday.

The Hockey Paper


---

Black Sticks make Commonwealth Games final after thrilling shootout

By Liam Napier

Finally, the Black Sticks women win a penalty shootout. And what a time to break the duck.

Black Sticks captain Stacey Michelsen, Samantha Harrison and keeper Grace O'Hanlon with a heroic effort after being injected for the shootout, proved match winners as New Zealand snuck past England in their Commonwealth Games semifinal to progress to contest gold against Australia.

Nightmares in these moments have long haunted the Black Sticks. Penalty shootouts are not their thing at major events, having lost eight straight before this. Yes, eight.Two of the most painful came with medals on the line.

Four years ago in Glasgow, the Black Sticks lost a penalty shootout in the semifinal against England after being locked 1-1 at fulltime.

Two years prior it was a similar story, losing a shootout to the Netherlands in the semifinal of the 2012 London Olympics.

Not this time. They refused to let history and heartbreak repeat.

New Zealand had one final chance at the death of regulation when Olivia Merry hit a bobbling ball just wide. After 11 shots on goal from the Black Sticks, eight from England, the 0-0 deadlock remained.

After the Black Sticks' third successive scoreless draw at these Games, O'Hanlon replaced Sally Rutherford. It was a big call, given Rutherford is yet to concede in five games here.
O'Hanlon fully justified the faith, saving four attempts in the shootout to allow Samantha Harrison and Michelsen to step up and send the Black Sticks through.

Michelsen, tactically left to last of New Zealand's five penalty takers, looked calm from the moment she stepped to the top of the circle.

Unlike any before her, Michelsen took the ball and charged dead straight with determination, flicking the ball over world-class keeper Madeleine Hinch with clutch precision.

This was a leader delivering when needed most.

Shootouts are a cruel way to decide medals. England's Susannah Townsend sat outside 15 minutes after the match, tears still flowing.

The Black Sticks know that feeling all too well.

As he gathered his team just prior to the shootout, Black Sticks coach Mark Hager tried to take the emotion away. He said don't worry, what will be will be.

All good in theory, of course.

When Samantha Charlton and Liz Thompson missed their attempts and England nailed their third, what would prove their only success, hopes of progression rested heavily on Harrison. She nailed it, as did Michelsen.

"We've been on a helluva lot the other way – a helluva lot let me tell you," Hager said, his shoulders never resting lower. "The more you get eventually you're going to win one so it's pleasing we did. Stacey scored one in London but she missed every one since so for her to get one today it's the monkey off the back as well."

Hager revealed the team had gone away from practice shootouts.

"We took the pressure off. We know how to dribble; we know how to do one-on-one contests so we did them little bits at a time rather than trying to focus really hard on them and say 'here's our No 1 weakness we've got to spend hours and hours on it'. We didn't bother. We did it once every fortnight or week and we'd go home."

Much of the glory for breaking the mental barrier rests with O'Hanlon. She knew this was her moment, and absolutely killed it.

"That's a specialty skill of mine. That's one of the reasons they brought me into the programme. I'm a big unit and I'm pretty quick so that was always going to be my role," she said. "The onus is on the player to score – they're expected to score you are just out there for glory so I think that gives you more confidence knowing all the pressure is on them.

"I think I'm still in a bit of disbelief. I was waiting for them to refer it and take the rug out from under us. It felt fantastic. Watching Stacey tuck that one past Matty Hence… it's always good to get a win against her."

The Black Sticks have never claimed Games gold; three silvers and two bronze before now. Between now and Saturday's showdown, Hager will urge them to harness this momentum and take the next step.

"We've got a medal but we've got a chance to get a gold medal. We've been in this situation before and faulted a little bit. As long as we play well I'll be happy."

More history may await.

The New Zealand Herald


---

Proud Northland hockey mum could barely watch daughter's match winning penalty strike

By Andrew Johnsen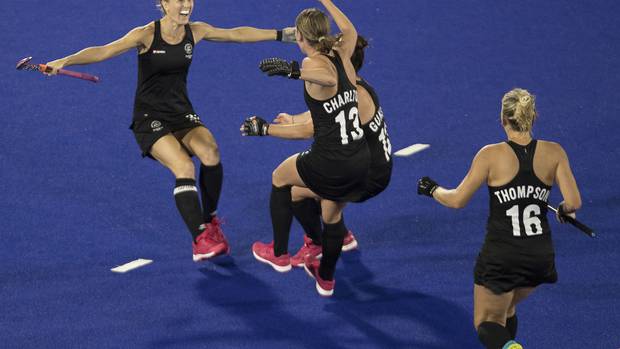 New Zealand captain Stacey Michelsen celebrates with team mates Samantha Charlton and Ella Gunson after the deciding goal against England in the Commonwealth Games semi-finals. PHOTO/GREG BOWKER

Nerves may not have been on her daughter's face but Barbara Michelsen was certainly feeling them in the grandstand.

New Zealand defeated England on a penalty shootout to progress through to the gold medal match at the 2018 Commonwealth Games after Northlanders Stacey Michelsen and Samantha Harrison nailed vital strikes - Michelsen slotting the winner to put her side in the final.

"My husband [Terry] said to me "I don't think I can watch" and I said "me neither", her proud mother said.

"It's funny because Madi [Doar, Northland's New Zealand striker] said to Terry 'I saw you put your head down'. But we've been there before so you have to pull your head up and watch it with bated breath.

"It's really special for the girls. I don't think they've won a shootout to go through at these big tournaments.

"Shootouts are so terrible. There's so much pressure on them and you feel so much for them. Being the captain there was a bit on her but we were so relieved when she hit it."

Michelsen struck the decisive goal over the right shoulder of England goalkeeper Maddie Hinch which led to frenzied celebrations with her teammates.

The level of jubilance isn't something usually seen from Michelsen according to her mother.

"That was the happiest we've ever seen her after a game," she said.

"Everything is really serious while she's playing but when she hit the winning strike she raised her hand in celebration.

"She's been playing for years but we've never seen her celebrate like that. Kiwis don't put ourselves out there a lot but she's had a number of losses in that situation so she was thrilled to win it."

New Zealand will now take on hosts Australia in Saturday's final at 2.45pm (NZ time).



Northland's Sam Harrison battles for possession with England's Hollie Pearne-Webb during New Zealand's semi-final victory. PHOTO/GETTY IMAGES

Hockey Northland performance manager Hymie Gill has been keeping an eye on New Zealand's run towards a gold medal playoff and has liked what he's seen.

However, given New Zealand's history of struggling in the shootout, Gill was a bit worried.

"When regulation ended 0-0 I thought 'here we go again, the girls are going to fall at the final hurdle' but the way Grace O'Hanlon played gave them a huge amount of confidence.

"Having Stacey step up to take the last shot, she's probably the best one to do that with all of her experience and skills. She's suited to that situation."

Gill has been impressed in general with the level of play the Northland contingent of players has produced.

"Madi is doing brilliantly for an 18-year-old on this stage. She pops up at the right place at the right time and has a big future.

"Ella [Gunson] is a real steadying influence in that defensive group and she doesn't make a lot of mistakes.

"And Brooke [Neal] is awesome. She is defensively good and uses her reach really well.

"Collectively they've been brilliant Northlanders at these Games."

Redemption shootout

Ghosts of penalty shootouts past couldn't have been far from the minds from players and supporters alike as New Zealand inched towards a gold medal match berth.

New Zealand had been in this position before, needing to win via shootout to progress to the final. They'd lost their last eight in a row.

Michelsen had been there in those tough moments - the pain of losing to England at the Glasgow Commonwealth Games in 2014, the lost shot at Olympic glory in 2012 against the Netherlands.

But there was a different feel about this particular New Zealand side. Nerves didn't emanate off them.

Goalkeeper Grace O'Hanlon was immense for the New Zealanders, saving four of five attempts on goal after being brought on for the in-form Kelly Rutherford.

However it was two Northlanders who got it done on the attacking end.

Striker Samantha Harrison scored New Zealand's first as she took her time to fire her shot past the English goalkeeper.

Then Michelsen came forward for what would inevitably be the final and defining moment of a brilliant contest.

Rather than biding her time and trying to out-manoeuvre the goalkeeper, Michelsen instead charged straight at Hinch and flicked one over an outstretched glove to spark jubilant celebrations.

The New Zealand Herald


---

Black Sticks into women's hockey final at Commonwealth Games video

Black Sticks keeper Grace O'Hanlon saved four England penalties to put New Zealand through to the gold medal match.

IAN ANDERSON ON THE GOLD COAST



Black Sticks captain Stacey Michelsen wheels away after scoring the winning goal.PHOTOSPORT

Grace O'Hanlon went from an extra to playing a starring role in 'The Notebook'.

The reserve goalkeeper for the Black Sticks sprung from the bench to help ensure the New Zealand's women's hockey side will play for gold against hosts Australia at the Commonwealth Games.

The Black Sticks beat England in a shootout after the match was scoreless at the end of normal time on the Gold Coast on Thursday night.

Stacey Michelsen sent NZ into the final when she netted the crucial goal in a 2-1 shootout triumph, while goalkeeper O'Hanlon - who substituted fellow netminder Sally Rutherford especially for the shootout - made four saves from England's five attempts.

NZ will play Australia, who defeated India 1-0 in the later semifinal, in the final on Saturday at 2.45pm NZT.

When O'Hanlon took her place for the eight-second shootout - five players from each side take their turn to score within eight seconds - she carried with her a notebook with details of the England players' preferences and style as how to score.

O'Hanlon said she always knew coach Mark Hager would sub her in for a shootout.

"I started prepping a little bit before. I make sure I'm warmed up, I've gone through my notes, I tried to scout out who would probably take their shootouts ... four out of five.



Black Sticks players celebrate victory in their women's semifinal hockey match over England at the Gold Coast 2018 Commonwealth Games. GETTY IMAGES

She said there was a reason why she took the notebook with her and referred to it when New Zealand were shooting.

"I don't have a very good memory," she laughed.

"There was one unknown in there - the last one! So that was a coinflip for everyone."

O'Hanlon said all the pressure in a shootout was on the outfield players.

"The onus is on them to score, and I'm there to collect glory if it'll come my way. If I can just stay in it, stay in it ... not have to do anything - or headbutt it like that first one ... a save's a save.

"I knew right from the word go that was my role - that was my one job today. I had been practising a lot."



Stacey Michelsen of New Zealand shoots on goal in front of Grace Balsdon of England during the women's semifinal hockey match at the Gold Coast 2018 Commonwealth Games. GETTY IMAGES

​Hager said he was delighted for Michelsen, who coolly netted the winner with a lofted shot.

"She's probably missed a lot over her time. She scored one in London (2012 Olympics) and probably hasn't scored one since.

"But I'm so proud of her. She always puts her hand up - she hasn't shirked the issue and said 'No, I'm gone, I can't do it,' Her mindset is 'I'm going to get better than this and eventually, so proud that she converted it."

England had the better of the first half but New Zealand dictated terms in the second half and almost snatched a winner in the last second.

The New Zealand women have never won a Commonwealth Games hockey gold medal. Over the past five Games, the Black Sticks women's side has collected one silver (at Delhi in 2010) and two bronze after making the medal round each time.

Stuff


---

Black Sticks' blood still pumping the day after winning through to Games hockey final



Samantha Harrison battles for the ball with Hollie Pearne-Webb of England during the women's semifinal hockey match at the Gold Coast 2018 Commonwealth Games. GETTY IMAGES

Black Sticks keeper Grace O'Hanlon saved four England penalties to put New Zealand through to the gold medal match.

Sam Harrison said she hadn't been that nervous since making a bungee jump.

Mark Hager decided not to watch.

And most Black Sticks fans probably looked through their fingers as New Zealand got through to the women's hockey gold medal match at the Commonwealth Games.

Harrison and captain Stacey Michelsen scored in the fingernail-chewing eight-second shootout decider after NZ and England were tied at 0-0 after 60 minutes on the Gold Coast on Thursday night.

Goalkeeper Grace O'Hanlon - used by coach Hager in a tactical switch for the shootout as a replacement for Sally Rutherford - saved four of the five English attempts to propel NZ into a final against Australia on Saturday as they chase their first Commonwealth Games gold.

"I think that's the most nervous I've ever been in my life," Harrison said.

"It was my first shootout that I've taken in a big match like that.

"I'm still nervous ... I'm still shaking. 

"It kind of reminded me of when I did a bungee jump actually - I was so nervous, my head was spinning. It was the same feeling."

Harrison, a Black Sticks veteran at 26, said it brought back memories of her last Games appearance at Delhi in 2010, when NZ lost to Australia in a shootout.

She had praise for O'Hanlon and the team's preparation for this situation.

"We do a lot of homework, to see what keepers and players do. Our keepers are really diligent on their scouting.

"She's [O'Hanlon] a really mobile keeper, that's why she's really good at that job. Sally keeps it out during the game, then Grace takes over.

Hager described the shootout as "heart-pumping" and admitted he turned his back on it.

"I did the same thing in the Hockey Indian League - we went to a shootout in the semifinal and I  couldn't watch. I thought I'd do the same thing and see what happens.



Black Sticks star Stacey Michelsen on the ball against England in the semifinals. DEAN MOUHTAROPOULOS/ GETTY IMAGES

"Grace was brilliant. She kept us in it and gave us a chance.

"That helps the people taking the shootouts when you're goalkeepers making saves; they get confidence and hopefully the heart-rate comes down a little bit.

"I also need to praise Sally Rutherford. I thought she was fantastic during the game - her first half basically kept us in the contest, because we were under the pump. They had a a lot of baseline entries and a lot of ball across the face of goal and I thought Sally was brilliant in that area for us."

England were the better team in the first half but New Zealand grew stronger in a match where both defences scrambled superbly.

"We wanted to win the game - we went to a set structure we wanted to try in the last five minutes and we created a couple of opportunities," Hager said.

"So that's also pleasing to know that if we're down, we can go to that."

Australia made the final - set to start at 2.45pm NZ time on Saturday - with a 1-0 win over India.



Happy NZ coach Mark Hager gives the thumbs up. PHOTOSPORT



NZ players celebrate after winning the penalty shootout. PHOTOSPORT

Stuff


---

England lose tense women's hockey semi-final against New Zealand

England suffer penalty shoot-out heartbreak

England women's hockey team lost a dramatic semi-final against New Zealand in a shootout and had to settle for a place in Saturday's bronze medal match.

New Zealand won the shootout 2-1, after neither side could break the deadlock in four goalless quarters.

That outcome was the reverse of 2014's semi-final in Glasgow, which England won on a shootout before taking silver.

The Kiwis will play Australia in Saturday's gold medal match while England face India for the bronze.

Alex Danson made her 300th international appearance, but was one of four England players to be denied from close range in the shootout.

Earlier on Thursday, Wales beat Ghana in a shootout to place ninth in the competition while Scotland comfortably beat Malaysia 4-2 to finish in seventh.

England's men will take on favourites Australia in Friday's semi-final (12:45 BST).

BBC Sport


---

Stewart Stunner Sends Hockeyroos Into Gold Medal Match

Ben Somerford




The Hockeyroos have qualified for a fourth consecutive Commonwealth Games gold medal match after Grace Stewart's brilliant volley clinched a 1-0 win over India in their semi-final at Gold Coast Hockey Centre on Thursday night.

Stewart scored the game's only goal in the 37th minute, powerfully converting Savannah Fitzpatrick's raised backhand pass into the shooting circle.

Australia had dominated the chances on goal up until that point, earning their reward, although they had to weather late pressure from India in the last period.

The fifth-ranked Hockeyroos will now play fourth-ranked New Zealand in the decider at 12.45pm AEST on Saturday.

The performance also maintained Australia's perfect defensive record, having yet to concede a goal throughout the 2018 Commonwealth Games.

The first half offered up few chances with both sides feeling each other out with the lure of a spot in the gold medal match.

Hockeyroos keeper Rachael Lynch was tested in the second minute through Vandana Katariya and India captain Rani.

Australia launched their own raid with India keeper Savita denying Eddie Bone with a slider from a fifth minute penalty corner.

Gabi Nance went on a good run just inside the shooting circle to set up a chance for  Stewart in the final minute of the first quarter, but she miscued her shot.

The scoring opportunities dried up in the second period, with Jane Claxton's reverse stick shot after Stephanie Kershaw's steal proving the best chance, with Rani equal to it.

Hundred-gamer Hurtz went on a marauding baseline run in the 36th miunte which almost set up Fitzpatrick.

Barely a minute later, it was Fitzpatrick who turned provider with a clever pass finding Stewart who lashed it beyond Savita.

Australia navigated a series of Indian penalty corners in the final period, with runner Bone thwarting two attempts.

Lynch made a save crucial late in the game when Navneet Kaur produced an expert backhand trap at the back post from Monika's diagonal pass, with the goalkeeper swooping on the danger.

Rani also shot wide on the turn in the dying moments as Australia held on to secure their spot in the gold medal match.

Australia 1 (Stewart 37')
India 0

Hockey Australia media release


---

Stewart: I Still Can't Believe It Went In

Ben Somerford




Gerringong youngster Grace Stewart still cannot believe her spectacular match-winning volley in Thursday's 1-0 semi-final victory over India went in.

Stewart, who turns 21 later this month, lashed in Savannah Fitzpatrick's backhand cross for the decisive goal, earning the Hockeyroos a spot in the 2018 Commonwealth Games gold medal match.

"It was very exciting," Stewart said.

"I still don't believe that it went in. Those ones you often miss.

"It was very nice. I hit it sweetly off the stick.

"It was a relief to put it in the back of the net."

The youngster, who was part of Australia's 2016 Rio Olympics team as a teenager, said she was relishing the home games.

"It's been amazing especially at home with family and friends in the stands," she said.

"It's been something pretty special. I'm looking forward to tomorrow night, getting out there and hopefully doing everyone proud."

Australia will play New Zealand in Saturday's final from 12.45pm AEST.

The Hockeyroos are yet to concede a goal in five games, with goalkeeper Rachael Lynch playing a leading role.

"Personally I've felt really calm at this tournament," said Lynch, who is playing at her third Commonwealth Games.

"I don't know if that's the experience of being here before. I take a lot of confidence out of the girls and how they play.

"You've probably seen all over the pitch the girls have had some really solid performances but definitely with the defence, my job is made easy when I've got a great defence around me who are working so hard and are so brave.

"I don't focus on a clean sheet, it's not a goal for me, I'm grateful that's where we are at for the tournament.

"My personal focus is to stop the ball going in the goal. If I can do my job, hopefully the girls down the other end will take care of the rest."

Hockey Australia media release


---

India fail Aussie test, to face England for bronze

s2h team




A determined Indian women's hockey team failed to beat the mighty Australia, as it went down 0-1 in the semi-final clash in the Gold Coast games on Thursday. While Australia will face New Zealand in the final, India will play against England for bronze.

India played tactically superior game in which it held Australia goalless in the first half and then in the last quarter went for full attack. With measured return passes and overcrowding their defence, India did not allow the Aussies team to have a say in the circle. India did not yield much of penalty corners too, just two in the first half.

India made a daring attempt in the second minute after Vandana Katariya made a good run on the left flank and sent a cross to skipper Rani. However Australian goalkeeper Rachael Lynch, who has not let a single goal slip in in the tournament so far, saved it.

Australia too kept the attack on and even earned penalty corners, which was not converted. The Indian defence made some errors, but still controlled the Aussie attack.

However, in the 37th minute, Grace Stewart tapped in a reverse off Savannah Fitzpatrick's pass from the right flank.

It was fabulous goal, struck overhead by Grace without which heroic effort Indian citadel would not have been breached.

India changed its gear in the last quarter, which got the Australian lasses unawares. They were forced to defend. On couple of occasions, Indians created chances to seize the net but it was the Australian goalie who was extremely great in her form. Twice, she stopped well timed pushes of captain Rani Rampal.

Three minutes for the final quarter, India let go the goalkeeper and brought another active player on field, however the move failed to see an equaliser.

India did not reach the semifinals in the last two editions but this year surprised pundits to scale highs in Gold Coast.

Indian girls will now taken on England (World No.2) for the bronze. India defeated the higher ranked team 2-1 in the league.

Stick2Hockey.com


---

Indian women's hockey team loses to Australia, to play for bronze medal

India will now clash with England for a bronze medal on Saturday.



Australia's Grace Stewart celebrates after scoring a goal against India during the women's hockey semifinal at the Gold Coast 2018 Commonwealth Games on Thursday. Photo Credit: Dean Mouhtaropoulos

Indian women's hockey team failed to capitalise on two goal-scoring chances in the dying minutes to suffer a 0-1 defeat at the hands of triple defending champions Australia in the semifinals of the Commonwealth Games in Gold Coast on Thursday.

Desperate to neutralise Grace Stewart's strike in the third quarter, India's coach Harendra Singh recalled goalkeeper Savita Punia when only four minutes were left in the match but his players could not cash in on the chances that came their way.

Navneet Kaur missed out on a sitter from a Monika Malik cross from the right flank while captain Rani Rampal could not slam in a through pass from Vandana Kataria.

India will now clash with England for a bronze medal on Saturday.

The play was mostly restricted to India's half with Australia dominating the contest with high ball possession.

The Indian team saved two back-to-back penalty corners in the early minutes of first quarter after Vandana created a move inside the Australian striking circle. Her move, however, lacked support to pose a serious threat.

The Indian defence remained solid to keep an aggressive Australia at bay, though, passing upfront was not fluent for the Rani-led team.

The hosts kept attacking the Indian half and Grace Stewart missed a shot in front of the Indian goal but the Indians came out of the first quarter unscathed.

Indian custodian Savita deflected a furious hit from an Australian player early into the second quarter. A yellow card to Navneet meant that the Indian team was down to 10 women for five minutes.

The defending champions remained offensive, restricting the play to India's half but still could not penetrate the opposition defence as the second quarter too remained goal-less.

Australia earned their third penalty corner of the match in the third quarter but an onrushing Deep Grace Ekka foiled the attempt. Stewart broke the deadlock by tapping a high cross, straight into the Indian goal.

India earned back-to-back penalty corners in the fourth quarter but squandered both as the opportunity to score an equaliser went abegging. They got another penalty corner but could not utilise that also.

The Hindu


---

India has an edge over NZ

s2h team

India has an edge over New Zealand as it takes on them today in the Gold Coast semifinal.

Both historical and recent history prove Indian edge over the Oceania team. India recently visited New Zealand and engaged in two separate 4-Nation competitions. Though the main rival there was Belgium, the hosts and the Indian team met twice once in Tauranga and again in Hamilton. India emerged clear winners on both occasion.

At Tauranga on 20th Jaunuary, India took good 2-0 half time lead with goals coming from reliable Harmanpreet Singh and greenhorn Dilpreet Singh. The Kiwis struck through a penalty corner in the 42nd minute to reduce the margin, but Mandeep Singh struck five minutes later to take home the match (3-1). A week later, the result did not change between India and the host, though the difference narrowed down.

Lalit Upadhyaya gave India first of the three goals India would later strike, only to see Daniel Harris cancel out before the half time. On resumption, midfielder Harjeet Singh and defender Rupinder Pal Singh scored before Kane Russel, who is NZ's PC expert, asserted once. India could thus defeat New Zealand twice on their home.

By and large, India-New Zealand contests went in favour the former. However, it should be conceded that the Kiwis has capabilities to surprise any rival on their given date.

The gap between the two semifinals of today are narrowest. For instant, India got 29 penalty corners and converted just 8. The Kiwis have slightly better record: 10 out of 27. Similarly, the Kiwis have conceded 17 penalty corners in the past four matches and took four goals in. India on the other hand conceded six goals out of 20 it conceded.

Indian fans who expect easy outing today at Gold Coast therefore may be in shock if India did not pull up its socks in time.

India did everything to get away from the perennial tormentors Australia with a stunning show against England. However, unless carefully treated and chances availed it may prove to be counter-productive today.

India need to marshal all its arsenal and play impeccable game to ward off today's semifinal challenge. History cannot give victory, but the form on given day.

Stick2Hockey.com


---

Skipper Manpreet Singh is confident ahead of hockey quarter-final against New Zealand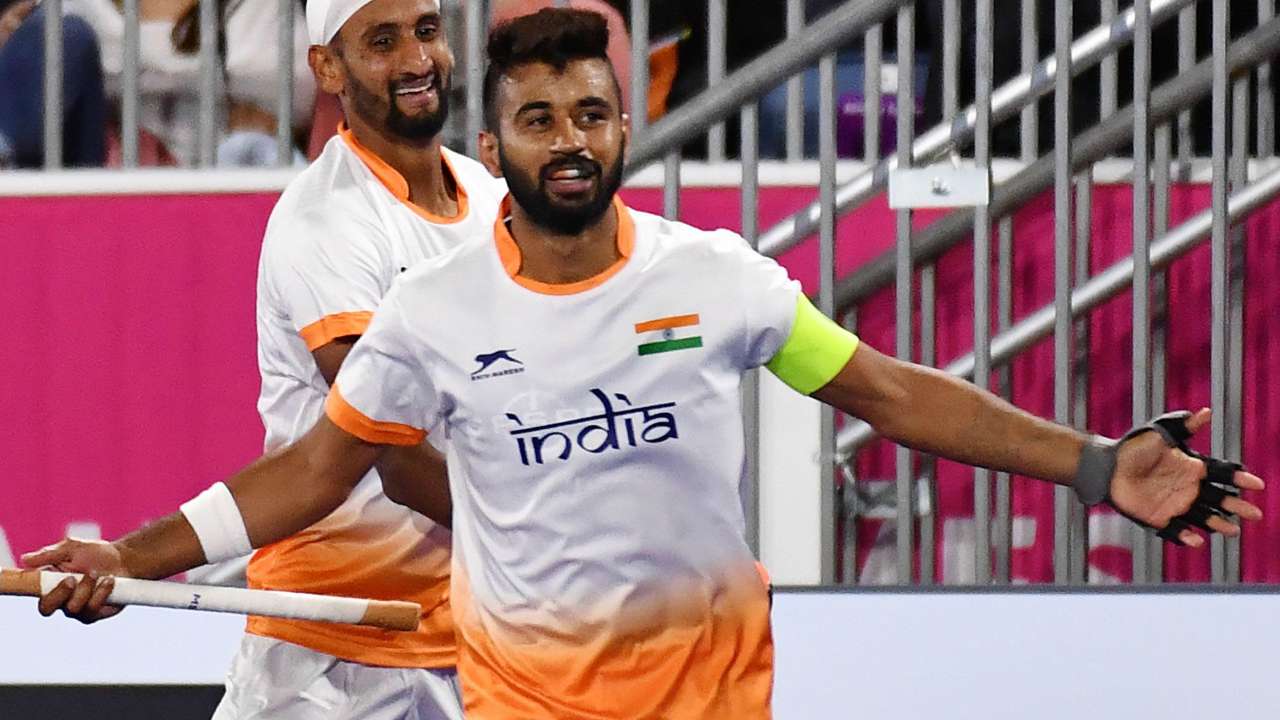 Indian men's hockey captain Manpreet Singh in action during the 2018 CWG in Gold Coast, Australia , AFP

Invincible so far, a determined Indian men's hockey team will continue its quest for the elusive gold medal when they take on New Zealand in the semifinal at the 21st Commonwealth Games in Gold Coast, Australia, on Friday.

The Manpreet Singh-led side was held for a draw by arch-rivals Pakistan in their opening Pool B match last week, while they notched up 4-3 win over Wales and a 2-1 victory against Malaysia in the following matches, before outwitting England 4-3 on Wednesday.

It was a thrilling match where India scored two successive goals in the final 1.36 minutes through Varun Kumar's 3-3 equalizer and Mandeep Singh's 4-3 winner in the 60th minute which was brilliantly set up by skipper Manpreet Singh.

It was a match we had to win because we wanted to find the rhythm we usually play with and tick off the areas that had bothered us earlier. The first three matches were certainly not our best. We didn't muster a 9/10 performance as the coach demands, said Mapreet, who put up his aggressive front against England, scoring the first goal for India in the 33rd minute and played a linchpin in the Indian midfield.

Despite a poor start against England and trailing twice (0-1 in the 17th minute and 2-3 in the 56th minute) in the match, Manpreet's team found the ambition to turn around the result in India's favour in the fourth quarter.

Manpreet said, "The punishments after losing a match back in the training camp in Bengaluru were planned by the coaching staff to instil that winning attitude. We have had problems of conceding late goals but this time we did not want to settle for a loss or draw until the final second of the match. Though I still feel it wasn't our best performance, we didn't give up till the end."

It is this winning attitude that the two-time silver medallists want to carry into their semi-final match against New Zealand, who had a good outing in Pool A with big wins against Canada (6-2), South Africa (6-0), Scotland (5-2) and a narrow 1-2 loss against Australia.

"Against New Zealand too, we don't want to focus too much on what they bring to the table, but we want to focus on our own strengths and ensure we fight till the last whistle," asserted the 25-year-old midfielder.

India will also be riding on their successful outing in their recent New Zealand Tour in January this year where they beat the home team twice in the two-leg Four Nations Tournament.

"Yes, we have played them recently and are aware of their game as much as they are aware of ours. But that was a different event, and this is a different event and I am sure they will also come into the match with a winning mindset. We just want to stick to our game and ensure there are no unforced errors," Manpreet said on the eve of their semi-final match.

Daily News & Analysis


---

Stats Speak: India-New Zealand in international hockey (men)

By B.G.Joshi (Sehore-Bhopal, India)

World number 6 India will play SF against World number 9 New Zealand in Gold Coast today. Indian army (represented India) has played a series in 1926, which was first ever sport tour of India.

 Since then Indian-Kiwis have played regularly in all tournaments. In Glasgow CWG both teams played the SF. India beats New Zealand 3-2, seven players from that squad are playing in Gold Coast.

Head to head:
| | | | | | | |
| --- | --- | --- | --- | --- | --- | --- |
| Particulars | MP | W | D | L | GF | GA |
| Total | 95 | 51 | 17 | 27 | 212 | 152 |
| In CWG | 3 | 2 | 0 | 1 | 7 | 5 |
| Last 10 | 10 | 6 | 1 | 3 | 23 | 13 |
India-New Zealand in Semifinals
| | | | | |
| --- | --- | --- | --- | --- |
| Year | Venue | Tournament | Score | Result |
| 1991 | Auckland | Olympic Qualifier | 2-2 tb 4-3* | India wins in tie breaker |
| 2014 | Glasgow | C'wealth Games | 3-2 | India wins |
*Aashish Ballal was Indian goalie.

Fieldhockey.com


---

Hockeyroos treated with 'bewildering contempt' by Commonwealth TV chiefs

By Rod Gilmour on the Gold Coast



Australia's Hockeyroos celebrate, but well after 9pm (PIC: Grant Treeby)

Television scheduling always provides a moot point for general sports fans wanting to watch their undervalued favourite sport on the global stage.

But it seems the Hockeyroos and its army of supporters have had valid cause for outrage at the way the team has been shunted from the mainstream at the Commonwealth Games.

In their first match against Canada – albeit one of pretty poor quality – their push back was a respectable 4:30pm local time.

But in their next four, they started after 9pm, while the semi-final finished just shy of 10:40pm.

Yes, there have been superb crowds at the Hockey Centre but the tournament has largely been given second billing in terms of exposure thanks to timings which are unfriendly for the younger market.

And the Australian media has not left this go unnoticed.

Well-known Australian sports journalist Robert Craddock underlined the apathy towards Australia's celebrated team in the Courier-Mail.

The Hockeyroos, he writes, had been treated with "bewildering contempt" by tournament organisers as they attempt to win a fourth straight gold medal on Saturday (12:45 local time).

"Hockey rarely gets chance to shine and, despite excellent live crowds, this tournament on home soil has sadly failed to fully exploit a precious opportunity, particularly given both the men's and women's teams are unbeaten," he wrote.

"The Commonwealth and Olympic Games are their big tickets and to programme late night games is a major blow to any prospects they may have had to grow the game by getting it on prime time television."

The Hockeyroos and the Black Sticks will clash at 12:45 local time in the final – but that match time was fixed from the outset. In the semi-final, the television host had the decision to make on the start time.

It doesn't get much better for the men either as Australia will play England at a crazy 9:45pm local time for a place in the final.

At a time when Hockey Australia is mulling over changes to its domestic league structure and trying to entice more people into the game, these start times barely help.

"It is nothing less than a crude insult to team flag-bearer Mark Knowles who is retiring after this tournament," concluded Craddock.

The Hockey Paper


---

Weekend is Warming Up, Celebrate by Supporting the U.S. Women's National Team




LANCASTER, Pa. - April 12, 2018 - No matter what kind of weather, field hockey is simply the best. Just like the competition, the weather at Spooky Nook Sports, the Home of Hockey, is heating up this weekend for the U.S. Women's National Team vs. Chile Series, presented by Citi. If you haven't already, don't miss USA live this weekend in the stands in their final two matches as their road to the Vitality Hockey Women's World Cup in London, England continues.

Don't forget to also support USA in the final two Theme Nights: Love Your Melon Night and Team USA Night!

Love Your Melon Night

Help celebrate the fight and research done to beat pediatric cancer! Grab your limited-edition dual-branded USA Field Hockey Love Your Melon Beanie by purchasing a Love Your Melon Supporter Package. Each ticket sold through this special ticket package supports Love Your Melon's program to give a hat to every child battling cancer in America. Fifty percent (50%) of profit from the sale of all Love Your Melon products is given to their non-profit partners, who work in the field of pediatric oncology, fund cancer research initiatives and provide immediate support for families of children battling cancer.

Each package includes an individual limited-edition USA Field Hockey Love Your Melon Beanie ($30 value) and a ticket to a designated section. Love Your Melon Supporter ticket packages start at $30 per person ($44 value) in Section D and go up to $34 per person ($48 value).

Click here to purchase tickets. (Promo codes are not valid on Love Your Melon Supporter ticket packages).

Team USA Night

Support Team USA by coming decked out in the stands wearing red, white and blue! As part of the festivities Saturday night, USA Field Hockey will recognize past members of the U.S. Women's National Team as well as honor members of the Rio 2016 Olympic Team!

USA Field Hockey Members should have received an email with an exclusive discount code to use when purchasing tickets. Group and member discounts are available. If this email was lost or accidentally deleted, please email This email address is being protected from spambots. You need JavaScript enabled to view it. with your name and membership ID number to receive the promo code.This will be your only opportunity to see the U.S. Women's National Team before the Vitality Hockey Women's World Cup, the team's biggest stage in 2018!

Click here to purchase tickets. Tickets for all games will be for sale at the door.

USFHA media release


---

100 days to go to Vitality Women's Hockey World Cup




This morning over 100 schoolchildren gathered at Lee Valley Hockey and Tennis Centre in East London to celebrate 100-days to go until the start of the Vitality Hockey Women's World Cup 2018.

The schoolchildren were joined by four Olympic Gold Medallists –Shona McCallin, Nicola White, Hannah MacLeod and Georgie Twigg – who were part of the triumphant Great Britain hockey team at Rio 2016.

Nine East London clubs were in attendance on this grey April morning; Crostyx, Wapping, East London, Tower Hamlets, Redbridge, Upminster, Waltham Forest and Old Loughtonians. 




England and Great Britain Gold medallist, Shona McCallin said;

"As players we enjoy giving back to the community, especially in East London where we play so much of our International hockey. It's great to give back to the kids who living within a couple of miles of the ground.

"With the World Cup coming up I really hope it reaches people who maybe don't get that opportunity to see hockey much and may be first-timers to the sport. Have a go, pick a stick up and try it because as players we want to grow the sport."

The Vitality Hockey Women's World Cup trophy, was on display where many adults and children got a chance to get up close and personal with the most sought-after silverware in Women's International Hockey.

From March to October 2017 in London alone, England Hockey delivered 135 hourly coached sessions in 38 schools, engaging 1,140 children.

England and Great Britain Rio gold medallist Hannah MacLeod, who has since retired from International hockey, said;

"The enthusiasm and excitement for the World Cup is just amazing. 100 days is still a long way to go but the appetite for hockey in this country and around the world is really growing.

"It's amazing to see so many kids having fun and enjoying themselves. Five, six years ago we would never have been able to run anything like this but we've had so many more players turn up today than we were expecting which is testament to how much the sport is growing in this country."

The Vitality Hockey Women's World Cup takes place from 21 July to 5 August 2018 and will see England face off against India, United States of America and Ireland in Pool B.

This is the biggest women's hockey event in the world. A total of 16 world-class teams, including England, will be welcomed to the Lee Valley Hockey and Tennis Centre on Stratford's Queen Elizabeth Olympic Park, the home of the sport.

For more information, where to buy tickets and how to follow the World Cup action, please go here.

England Hockey Board Media release


---

Big National League and Scottish cup weekend on the cards



Gary Maitles flies through the air to score for Kelburne – photo by Duncan Gray

For most teams there are four games to go in the National League 1 season, at the moment Bromac Kelburne and Edinburgh University seem to be in the driving seat in the quest for the men`s and women`s titles, but there may be some twists and turns still to come.

Kelburne are five points ahead of Grange in second place, but with a game more played, on Saturday they have a banana skin visit to Western Wildcats` den at Auchenhowie. Three points here for the champions would go a long way to see them collect their 14th league championship – but nothing is certain as the end of last season`s campaign demonstrated.

The Paisley side undoubtedly rose to the occasion to see off the challenge of Grange 5-3 in the top-of-the-table clash a few weeks ago. Earlier in the campaign Kelburne were 2-0 winners over fourth placed Wildcats at Glasgow Green, a double from Josh Cairns did the damage that day.

And the Wildcats` form has been up and down since the restart, in addition they will be without the services of striker Rob Harwood, still on the Gold Coast. Whatever the outcome at Auchenhowie Grange must keep on winning to maintain the pressure and they are at home to Edinburgh University at Fettes.

The students have yet to win in the league since the winter shutdown and they have dropped to sixth in the table, but last Sunday they went to Tayside and dumped Grove Menzieshill out of the Scottish Cup, scoring five goals in the process. So University are capable of hitting the heights.

Grange certainly won comfortably 4-1 in the first meeting of the sides, there were two goals each for Jacob Tweedie and Ally Irvine.

Grove Menzieshill will have to pick themselves up from their cup exit if they hope to take the three points from their visit to a revitalised Clydesdale at Titwood. Three league wins in a row and a cup triumph over Kelburne, albeit in a penalty shoot-out, could make this the closest contest of the day. The carrot for Clydesdale is that they now have an outside chance of a top four finish.

Elsewhere, the remaining two games have the mark of relegation about them. Hillhead have perhaps the best chance of avoiding the relegation play-offs, they won their last two outings against Uddingston and Dundee Wanderers, they have a game in hand, and take on bottom side Inverleith at Peffermill. An additional three points could see Mark Ralph`s charges move up to the safety of sixth place.

Dundee Wanderers and Uddingston are both on 13 points towards the foot of the table, whoever wins this one could start the progress to safety. The Taysiders won the earlier contest 1-0 with Bobby Ralph getting the sole goal.




Edinburgh University could consolidate their hold at the top of the women`s National League 1 if they can see off third bottom Grange. It will be more difficult with the continued international leave of Amy Brodie and Becky Merchant, but the students are still unbeaten since the winter break. In addition, University won the earlier encounter 6-0, so will hope the three points are safe.

The students` cause should also be aided by the fact that Milne Craig Clydesdale Western entertain Grove Menzieshill at Titwood in a second versus third clash… so one or both could drop further points.

The Titwood contest is diluted slightly by the absence of their respective Commonwealth Games players, so the conflict could well be decided by which team has the stronger depth of squad.

Back in October the tussle on Tayside ended in a 2-2 draw – Emma McGregor put Western ahead at the interval, the home side then took a 2-1 lead in the second half through Iona Armour and Nikki Skrastin only for Millie Brown to level at the end.

At the moment the Titwood side are four points ahead but with two more games played, so the contest for second spot is still tight.

Fourth placed Wildcats are without the services of Gold Coast starts Kareena Cuthbert and Becky Ward, but will hope to still be too much for bottom side Kelburne at Auchenhowie.

Dundee Wanderers will aim to consolidate fifth spot with a home win over GHK, especially as they won the earlier game 4-0, Emily Dark scoring twice. But the Taysiders are under pressure from Watsonians who lurk one point behind with a game in hand. They entertain a Hillhead side that beat them 2-1 back in October.




SCOTTISH CUP – SEMI-FINALS

The men`s Scottish Cup semi-finals presents an intriguing scenario – will it be the underdogs Clydesdale and Edinburgh University who progress to the ultimate stage or will Grange and Wildcats from the top four triumph? The rough and tumble of the cup can often throw up rogue results.

Grange certainly triumphed in the league encounters, taking all six points and scoring eleven goals in the process. The latest encounter was a 7-1 victory at Fettes, Todd Mills scoring four of them.

Edinburgh have already given the Wildcats a bit of a mauling – 3-0 at Peffermill with David Mawhinney, Simon Balschke and Kevin Wong on target. But what makes this tie so intriguing is that both sides have shown inconsistency in performance.

The women`s penultimate ties look a little more predictable, and certainly Edinburgh University will feel themselves capable to see off a GHK side they beat 9-1 in the league. The Glasgow side however has been on an exceptional run of matches to reach this stage of the competition, especially having disposed of neighbours Hillhead in the last round. The romance of the cup could have another story.

The Grove Menzieshill versus Wildcats on Tayside could be a closer affair – both sides lack their Scotland players – although the Dundonians won the league fixture 3-0, Jenny Walls scored twice with Iona Armour getting the other.

Scottish Hockey Union media release


---

SSTMI Thunderbolts too strong for OLAK

By Jugjet Singh

KUALA LUMPUR: Tunku Mahkota Ismail Sports School (SSTMI) Thunderbolts are expected to claim a comfortable victory over Old La Sallians Association Klang (Olak) in Division One of the Junior Hockey League at the Pandamaran Stadium today.

Only the score is yet to be determined.

SSTMI Thunderbolts are champions elect, as they have beaten all the tough teams and their final three matches are just to complete the fixtures before they can lay their hands on the League title.

The Johor Sports School is sitting pretty with 18 points from six matches while their nearest rival is Anderson Thunderbolts who has 13 points after six games.

And there is no way that SSTMI is going to lose their next three matches, against lightweights, and allow Anderson to pip them to the title.

"We have beaten the three tough teams in Division One (Anderson, Bukit Jalil Sports School and Pahang Sports School) and I believe my players will not disappoint against Olak tomorrow (Friday), followed by PJCC (Petaling Jaya) and Perlis (Young Lions).

"We need to take control of the Olak game early, to make our work much easier," said SSTMI coach Wan Roslan Wan Rahman.

And while SSTMI has yet to lose or draw a game, bottom of the table Olak has lost all five matches and let in a total of 30 goals and scored only three.

FRIDAY: Division One -- Sabah SS Resilient v Pahang SS Thunderbolts (Likas, 4pm), Bukit Jalil SS Thunderbolts v Perlis Young Lions (KLHA, 5pm), Old La Sallians Association Klang v SSTMI Thunderbolts (Pandamaran, 5pm).

Division Two: Group A -- MBMB Warriors v SSN Young LIons Jr (Malacca, 5pm); Group B: SMS ains Batu Pahat v SMKGR Boys (Batu Pahat, 5pm), BJSS Juniors v MSSP Stinger (Ministry of Education, 5pm); Group C: Sabah Jr v Andwerson (KLHA, 7pm), SMK Zaaba v SMK Bandar Seri Putra (Zaaba, 7pm).

SUNDAY: Division One -- Sabah SS Resilient v PJCC Tigers (Likas, 4pm), SSTMI v SMKDBL UniKL v (SSTMI, 4pm), Anderson Thunderbolts v Old La Sallians Association Klang (Azlan Shah, 5pm), Pahang SS Thunderbolts v Bukit Jalil SS Thunderbolts (National Stadium, 8pm), SSTMI Thunderbolts v Perlis Young Lions (SSTMI, 6pm).

Division Two: Group A: Datuk Taha v SSP-MSP (Seremban II, 5pm), MSNT-PHT-SMKPM v MSSPP - PSHA Jnr (Batu Buruk, 5pm); Group B: MSSP Stinger v TBSS Tampin (Perlis, 5pm), Johor Baru v Sains Batu Pahat (Batu Pahat, 5pm), SMGKR Boys v MSSPP - PSHA (Gunung Rapat, 5pm); Group C: KL Vipers v MSS Selangor (KLHA, 5pm).
RANK
TEAMS
MATCHES
GOALS
POINT
PLAYED
WON
DRAWN
SO
LOST
FOR
AGAINST
DIFF.
1
SSTMI THUNDERBOLT
6
6
0
0
0
36
4
32
18
2
ANDERSON THUNDERBOLTS
6
4
1
0
1
15
6
9
13
3
SMKDBL-UNIKL-PHJ
6
4
0
0
2
14
11
3
12
4
AHP-SSP-THUNDERBOLT
5
4
0
0
1
11
8
3
12
5
BJSS THUNDERBOLTS
5
2
1
0
2
23
9
14
7
6
MBPJ TIGERS
6
2
1
0
3
14
15
-1
7
7
SSTMI
6
2
1
0
3
10
15
-5
7
8
SSMS RESILIENT
4
1
0
0
3
7
27
-20
3
9
MSNSSN YOUNG LION PERLIS
5
0
0
0
5
5
13
-8
0
10
OLAK
5
0
0
0
5
3
30
-27
0