All the news for 11 January 2018

Kentwell Names Indoor USWNT Roster to Compete at women's Indoor Hockey World Cup




COLORADO SPRINGS, Colo. - Following an impressive undefeated performance which included a gold medal at the women's Indoor Pan American Cup (IPAC) in Georgetown, Guyana, the U.S. Women's National Indoor Team earned their first-ever bid to the FIH women's Indoor Hockey World Cup. Set to take place February 7-11, 2018 in Berlin, Germany, Indoor USWNT Head Coach Jun Kentwell has named the 12-athlete roster and 2 traveling alternates to make the trip. A veteran squad will be present for USA as three fresh names have been added, including Sarah Johnson (Lincoln University, Pa.), Abigail Pitcairn (Aspinwall, Pa.) and Corinne Zanolli (Newtown Square, Pa.).

"The selection of the squad to travel to the Indoor World Cup has been the most difficult decision I have ever had to face," said Kentwell. "I have never worked with a group of players who shown so much commitment and determination. I am extremely pleased with the very positive improvement in each of the player's skills and tactical awareness."

This squad selection came after constant assessment over the past few months, as well as building through games and sessions during the last two weeks. For Kentwell and coaching staff, it was  to narrow down the traveling roster as the full squad played an important role in building the team. Without each member of the Indoor USWNT's commitment and hard work, which has continually pushed everyone to develop every aspect of their game, the team would not have been able to attain the level they have reached.

Taking place at the Max-Schmeling-Halle, the 12-team women's tournament includes teams that all fall within the top-20 of the FIH Hero Indoor World Rankings. The Indoor USWNT starts pool play on Wednesday, February 7 against No. 5 Belarus at 4:25 a.m. ET and No. 4 Poland at 10:00 a.m. ET. On Thursday, February 8 they will face No. 12 Kazakhstan at 4:10 a.m. ET and No. 19 Switzerland at 10:15 a.m. ET. Their final pool game is on Friday, February 9 against No. 1 The Netherlands at 7:00 a.m. The Quarterfinals will start on Saturday, February 10 with the Finals taking place on Sunday, February 11.

Women's Indoor Hockey World Cup Matches:

Wednesday February 7
USA vs. BLR        4:25 a.m. ET
USA vs. POL        10:00 a.m ET

Thursday, February 8
USA vs. KAZ        4:10 a.m. ET
USA vs. SUI        10:15 a.m. ET

Friday, February 9
USA vs. NED        7:00 a.m. ET

Both the men's and Women's Indoor World Cups will be available to view on the FIH YouTube Channel, free of charge. While it is not confirmed if all games will be broadcast, stay tuned to USA Field Hockey for more information.

Mary Beth Barham (Fairfax, Va.), Ali Campbell (Boyertown, Pa.), Samantha Carlino (Kennett Square, Pa.), Sierra Espeland (Fredericksburg, Va.), Sarah Johnson (Lincoln University, Pa.), Annie McDonough (Kennett Square, Pa.), Madison Orobono (Macungie, Pa.), Abigail Pitcairn (Aspinwall, Pa.), Samantha Popper (Blue Bell, Pa.), Hannah Prince (Gorham, Maine), Paityn Wirth (Thompsontown, Pa.), Corinne Zanolli (Newtown Square, Pa.)

Traveling alternates for the Indoor Hockey World Cup are Katherine Gerzabek (Springfield, Pa.) and Elizabeth Yeager (Rye, N.Y.). Supporting Kentwell in Germany will be assistance coach Ahmed Elmaghraby, manager Richard Kentwell and athletic trainer Aaron Finer.

USA Field Hockey is proud of the U.S. Women's National Indoor Team who will compete for the first-time ever at this event. Because of the milestone opportunity, we are asking members, friends and fans to participate in helping to offset the cost of the team's travel expenses. Your support helps to elevate the team's experience to best prepare them to succeed on the international stage. Please consider helping us meet our goal as any donation, big or small, helps.

Click Here to Donate to the Indoor USWNT Indoor World Cup Fund

For all information regarding the FIH women's Indoor Hockey World Cup in Germany, including the full schedule, check out the event page by clicking here. #IHWC2017

USFHA media release


---

Wales Men's EuroHockey Indoor Championships III Squad Selected!

Laura Hallsmith

With the competition taking place this weekend, a squad with a blend of experience and youth have been selected to play at the 2018 Men's Indoor Championships III this weekend.

The indoor competition is a vital step on the senior men's performance programme as it provides the opportunity for players to gain experience of senior hockey in a challenging format of the game. With this in mind, Ben Clague, Jack Maclean, Will Riley, Jolyon Morgan and Mike Wood will all be making their first appearance for the senior indoor side after playing in the U21's EuroHockey indoor tournament last January.

The tournament will be held on 12-14 January 2018 in Nicosia, Cyprus; with Wales playing the opening match against Belarus on Friday. They'll further go up against Slovenia, Slovakia, Cyprus, Greece and Scotland.

Looking ahead to the weekend, Head Coach for the tournament, Lee Ible explained how important it is for the squad to play towards their strengths

'We head to Cyprus in good shape, after some productive training events over Christmas. The indoor championships are always a great opportunity for us as a group to blood new players into the senior environment and over the years many of the current senior squad have made their way through via this event. It's always difficult to predict how we will go on at the event, what we do know is that we will encounter some more experienced indoor teams there, but we also know that if we can play to our capabilities we can achieve some positive results.'

Wales Squad

James Carson
Ben Clague
Ali Clift
Kit Cutter
Eddy Evans
Ed Jones
Jack Maclean
Jolyon Morgan
Will Riley
Andrew Seimann
Jack Trantor
Mike Wood

Fixtures

Fri 12th Jan
10:00 – Belarus v Wales
14:30 – Slovenia v Wales

Sat 13th Jan
14.30 – Slovakia v Wales
19.20 – Wales v Cyprus

Sun 14th Jan
09.10 – Wales v Greece
12.40 – Scotland v Wales

Hockey Wales media release


---

Sardar Singh's exclusion underlines India's push for faster legs, but Manpreet's men will miss his experience

Sundeep Misra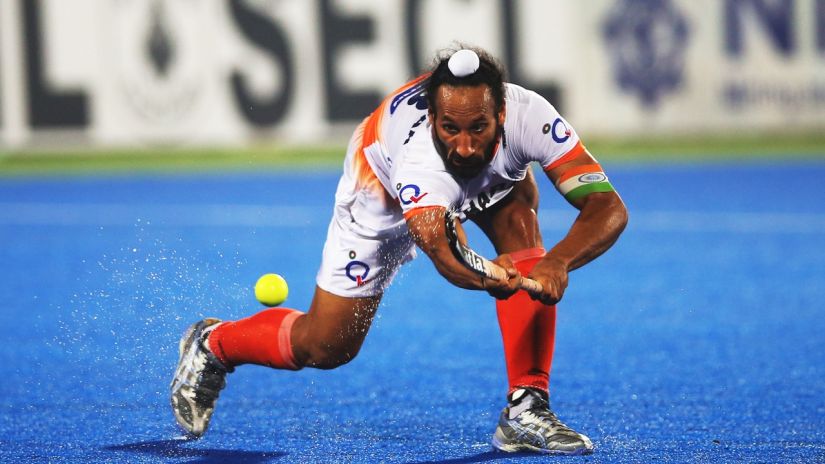 Frozen out of the New Zealand tour is the former skipper and experienced midfielder Sardar Singh. The coach was non-committal on Sardar's future in the team. Getty Images

Chandigarh

The JW Marriot in Chandigarh sits on the crossroad of four streaming streets that head into some of the affluent sections of the city. Except at night, as the city sleeps early, the rest of the time, it's a crowded inter-section that the hotel looks down on. On regular days, inside the parking area and at times opposite the entrance is parked a purple Range Rover with New Delhi licence plate. Inside the hotel on the Mezzanine floor sits Sardar Singh, the Range Rover man as few friends call him. He doesn't talk much, once in a while joining the banter. The chaos on the roads outside reflects Sardar's state of mind. One of India's most influential hockey players in the last 6-7 years is at the crossroads. Kept out of the team for the Hockey World League Finals, he was perplexed, confused yet confident that the management is probably trying out new players. He hopes the New Year will change all that.

Bangalore

At the SAI Centre in Bangalore, the team list is out. It's been a short camp. Some of the players have been playing domestic tournaments for their employers, mainly oil companies. PR Sreejesh is happy to see his name on the list. He has been out for more than six months with an ACL injury. "I am excited to see my name on a team list again," he says. Sardar's name is not there. For the second consecutive camp and tour/tournament, the former Indian captain's name is missing. Someone observing him inside the camp says he quietly went down to the gym and started working out.

The team list is not surprising in terms of the inclusions. It's a busy and tough year for Indian hockey. Exciting too as quite a few tournaments would test the progress of the team under Sjoerd Marijne, a Dutch coach who has had a brilliant start to his Indian coaching stint with two medals in his first two tournaments – gold at the Asia Cup and a bronze at the Hockey World League (HWL) Final. India now travels for the double leg four-nation tournament in New Zealand between Japan, Belgium, India and New Zealand. Then they go for the annual fixture in Malaysia, the Azlan Shah before recharging batteries to land on the Gold Coast, Australia for the Commonwealth Games. It's the Champions Trophy in Holland, the last edition before it is consigned to the history books, and India has been invited. And then the second most important tournament of the year – the Asian Games, winning gold gives India automatic qualification for the 2020 Tokyo Olympic Games. In October, the national team will travel to Oman for the Asian Champions Trophy before finally picking a team that in all respects would have the best chance to stand on the podium at the 2018 World Cup in Bhubaneswar.

It's a packed calendar which requires dexterity, passion, experience and a fit Indian side. For the New Zealand tour, Surender Kumar is back and Dipsan Tirkey is out. Harmanpreet Singh, playing non-stop hockey, the whole of last year should have been given a break along with the Indian captain Manpreet Singh. It was quite evident at the HWL Finals that he was pushing himself to his limits. Whether the three-week break has been enough or not is for the physios and coach to decide. But the surprise inclusion is Satbir Singh who didn't have a great Asia Cup but now suddenly finds himself back in the Indian side. Satbir's performance at the Asia Cup was not down to form. It's simply about him raising his levels and it would be surprising to see him in the mix when the selectors and coach sit down to list their top 18 players by the time the team travels to Indonesia for the Asian Games. Vivek Sagar is a welcome inclusion and one thought Mandeep Singh needed to work on his balance at the camp rather than jetting out to New Zealand. Dilpreet has been fast tracked into the national side from the team that finished with a bronze medal at the Sultan of Johor Cup, his first international tournament in the U-21 age group. The Punjab striker scored nine goals in six matches which included a hat-trick to end up as the tournament's top-scorer with nine goals. Ramandeep Singh, kept out of the HWL Finals is back in the Indian team with Armaan Qureshi, another centre-forward being given another opportunity.

But frozen out of the New Zealand tour is the former skipper and experienced midfielder Sardar. The coach was non-committal on Sardar's future in the team. "We're busy with this tournament. Then we'll see further. Right now, I can't say anything about the future."

Eight caps short of 300, India's 'supposedly' playmaker, converted back into a defender plus the pusher for the penalty corners and the player who others look for inspiration when caught in a jam faces a period of uncertainty. David John, high performance director for the Indian national team, refers interestingly to Sardar as 'previous stature' but is quick to add that India usually 'discard players very early' and then qualifies that statement with 'Argentina had nine players above 30' and 'Australia had seven players above 30 at the Olympics.' In a way, probably leaving the door, if not fully open, slightly ajar for Sardar.

"You don't need to keep any door open for Sardar," says Col Balbir, who has followed Sardar's career since the team he broke into the Indian junior team. "That's the wrong way to put it. The key questions are: Can he still hold the ball? Can he rotate without losing possession? And does that vision of finding Akashdeep (Singh), Ramandeep (Singh), (SV) Sunil still exist? I think all the three boxes are ticked. Why are we talking of speed here. Controlling the game in key moments of the match is as important as scoring goals. I don't see any player in this team, in this year, doing that better than Sardar."

Across 2018, India are playing 6-8 big tournaments and winning gold at Jakarta Asian Games constitutes a direct entry to Tokyo Olympics. John says 'the World Cup is at home so we need to have a strong finish' and 'performance at the Commonwealth Games is important because our funding also rests on that.'

But the important part is when we recognise experience, especially on the bigger stage, doesn't that constitute shielding players of the skill level like Sardar and keeping him fresh and fit for the bigger ones. John doesn't commit. "It's difficult to choose," he says. In other words, the high performance director believes there is an entire stable of players all fit and raring to go. "Experience is a factor," says John. "We are also giving a chance and seeing Harjeet Singh (Junior World Cup winning captain). I know what Sardar brings to the table plus I also know the others don't bring 'that' at the moment." David also points to Sardar's leg speed saying it's not fast enough. "The speed of the game has gone up. Sardar's speed hasn't come down. But he is training hard and he is in the core group of players. So we have to see."



Across 2018, India are playing 6-8 big tournaments, and winning a gold at the Asian Games in Jakarta constitutes a direct entry to Tokyo Olympics. Hockey India

MP Ganesh, the 1990 World Cup coach and former Olympian believes Sardar is the best player in his position at the moment. "We have to see what are the strategies that the team is working out at the moment," explains Ganesh. "It's a team sport and everything has to be taken into consideration. I do believe that Sardar deserves his place but he would also listen to reason if explained the reason to be kept out of the HWL and now the New Zealand tour."

Sardar hasn't uttered a word yet. Like last time, he is in the camp and believes what the coaches decide is the best. Yes, speed is always increasing across the sport in the world. Yet control and holding the ball are equally important and we saw that in the matches at the HWL Final. John says that even though India beat Germany in the bronze-medal play-off, the team wasn't at its best. So do we always sacrifice control for speed and try and break for counter-attacks at every given opportunity? "Yes," feels John. "We are one of the fittest teams and we drain the opposition's energy when we attack and play with speed. It's a new style and the players will take a bit of time to adapt to it."

John also says that the leaders on the pitch need to make that call and gauge what is happening when the team is needed to switch to control from high speed. "We do need to conserve energy," points out John. "And sometimes when we have attacked in the last five minutes of each quarter, we have found the opposition tiring."

Col Balbir feels playing at high speed constantly also exposes the defence on a counter. "We had counters against us in the HWL 3rd/4th play-off," he says. "We were lucky. But players like Manpreet now have to defend and also be play-maker – that is a role which in the present scheme of things is not possible. You are burdening the player. And I could see that in the match against Germany."

Resting Manpreet wasn't an option for John; or sending Sardar as the mentor/player when you have a bunch of youngsters against New Zealand, Japan and Belgium playing eight matches in a week and a half. "I think Manpreet will play four matches," explained David. "But Marijne wanted him as the captain and the main man who would communicate with the rest of the team. Marijne relies on him in the team meetings."

Marijne echoes John's words: "It's important because his leadership can help the young players to develop their game." On Sardar's mentorship role, Marijne said,"Sardar is doing it in the camp. But we have Manpreet, Rupinder and lot of players who can help the youngsters."

MK Kaushik, the 1980 Mocow Olympic gold medallist and chief coach of the Gold medal winning 98' Asian Games team, feels that Sardar's presence in the 33 means they understand his importance in the side. "You can't keep a good player out," says Kaushik. "And keeping him fit is important because you would need to use that experience in the bigger tournaments."

Ashok Kumar, the man who scored the match-winner in the 1975 World Cup final against Pakistan does admit that the team comes first then the player comes. "The players and their performance makes the team win," says Ashok. "If the player is not the team, then some gap comes. Nobody can fill Sardar's space. This is what I know, and many other players also know. Those who have seen his performance they know that he is playing complete hockey and his experience can help the team. I think hockey should take the benefit of it."

With 33 players in the camp and John thinking of increasing it to 48 by the middle of the year, it's almost like spinning a roulette wheel when it comes to selecting players for 6-8 tournaments, especially in 2018. "Even if we distribute players across tournaments, team selections are done simply on the fact that we don't want to finish 4th or 5th but try and win the tournament," says John. For the double leg 4-nation tournament, John admits that the team was selected when the team for the HWL Final was announced. There is no doubt that structures and the way India had played hockey over the last 4-5 years is in for a major change. Players will sit out as we see Akashdeep and Sunil not on the flight to New Zealand. But overall, there would be a core group that will play the Commonwealth Games, Asian Games and the World Cup – three tournaments that India would want to excel at; put its best 16 on the pitch.

For Sardar, who has won seven golds as a player and three as captain, the word 'experience' probably sets off a cascading series of mixed emotions. What John calls 'lack of leg speed', which actually means lacking in speed on the pitch, will hopefully not make Indian hockey hit an air pocket. Sacrificing experience for faster but inexperienced legs might not always work.

Stats and facts of Sardar Singh:

Born: July 15, 1986

Debut: In Chandigarh, against Pakistan, first Test match of eighth home-away India-Pakistan series.

Caps: 292

Goals: 16

Tournament played as player: 37 (Olympic Games - 2; World Cup - 2; Champions Trophy - 2; Hockey World League - 6, Azlan Shah Cup - 8, Asia Cup - 3, Asian Games - 2, Asian Champions Trophy - 2, Commonwealth Games - 3)

Gold medals won as player: 7 (Asian Games - 2014; Asian Champions Trophy - 2016; Asia Cup - 2017; Azlan Shah Cup - 2009, 2010; Olympic Qualifier - 2012; World League Round 2 - 2013)

Tournament played as captain: 16 (World Cup - 1; Champions Trophy - 2; Hockey World League - 5, Azlan Shah Cup - 3, Asia Cup - 1, Asian Games - 1, Asian Champions Trophy - 1, Commonwealth Games - 1)

Gold medal won as captain: 3 (Asian Games - 2014; Olympic Qualifier - 2012; World League Round 2 - 2013)

Silver medals won as captain: 5 (Asia Cup - 2013; Commonwealth Games - 2014; Azlan Shah Cup - 2008 and 2016; Asian Champions Trophy - 2012)

Bronze medals won as captain: 2 (Hockey World League - 2015; Azlan Shah Cup - 2015)

Youngest ever captain of India: In Ipoh Azlan Shah Cup played in May 2008; Sardar's age was 21 years and 10 months

Brothers won the Asia Cup: Didar Singh (2007) and Sardar Singh (2017)

Hockey India League: Played in all five versions, won as captain in 2014 (Delhi Waveriders) and 2016 (Punjab Warriors)

FIH's All Star team: Twice in 2010, 2011

Awards: Rajeev Gandhi Khel Ratna (2017).  Padma Shri (2015)

With stats inputs from BG Joshi

Firstpost


---

Teenager Vivek Sagar Prasad on the cusp of Indian history

Debayan Sen



Vivek Sagar Prasad (22) captained the U-18 team at the Sultan of Johor Cup. Hockey India

On January 17, midfielder Vivek Sagar Prasad could become the second-youngest Indian on record to represent the country in men's hockey if he takes the field against Japan in the 4-Nations Invitational Tournament in Tauranga, New Zealand. As a fan of chess, though, hockey was not even Vivek's first choice of sport growing up.

Only a chance encounter with a hockey coach while in school in his village of Shivnagar Chandon near Itarsi, Madhya Pradesh brought a pre-teen Vivek in contact with the sport.

"I was more interested in badminton and chess. We were told sometime in 2010-11 that those interested in playing hockey could join training, and that's how hockey came into my life. I would probably have taken chess more seriously, if my interest in hockey hadn't grown very quickly," Vivek says.

Should Vivek start against Japan, he would leapfrog the likes of BP Govinda, Latif-ur-Rehman, Sardar Singh and Ashok Kumar to sit behind drag-flicker Sandeep Singh in the list of youngest men's hockey players for India. Incidentally, it was 1975 World Cup winner Ashok who spotted the spark in the young midfielder and brought him into organised hockey in 2013.
Name
Age on debut
Opposition, Venue & Year
Sandeep Singh
17y 10m 11d
Germany, Kuala Lumpur 2004
BP Govinda
18y 10m
Italy, Mumbai 1970
Latif-ur-Rehman
19y 6m 6d
Ceylon, Colombo 1948
Sardar Singh
19y 10m 2d
Pakistan, Chandigarh 2006
Ashok Kumar
20y 5m 27d
Singapore, Singapore 1970
*If Vivek Sagar Prasad plays on Jan 17, he will be 17y 10m 22d old
All stats courtesy BG Joshi

"Mera poora shrey unhi ko jaana chahiye (all credit for where I am today should go to him). He spotted me when I was playing tournaments and offered trials at his MP Hockey Academy and that's where I first started playing hockey with any seriousness."

A steady growth in his game saw Vivek selected as captain for his maiden outing with the Indian Under-18 team at the Sultan of Johor Cup in Johor Bahru in October 2017. Vivek says he had to quickly block out the fact that it was his first India selection at any level, as well as his first trip outside India, as captaincy brought with it a lot of responsibility.

"All I thought of was that if I am the captain and play well, then the team will automatically do better," he says of a tournament where India won bronze. "We got 20 penalty corners but only converted two, while those teams only scored off PCs against us. If we had converted even half our opportunities, I know we would have returned with gold."

His performances as the left-sided midfielder fetched Vivek the Best Player of the Tournament award, and a call-up to the national camp, where he says playing alongside his idols has been full of lessons.

"For instance, Manpreet bhai tells me that if you play along the centre, then you have to look to your left and right as well. If you go forward (for attack), then you also have to drop deep when defending. Main thing is calling and communication, and seniors like Sreejesh bhai and Sardar bhai keep guiding me and rectifying my mistakes."

Selection for India must be a thrill, especially in a young group where Vivek is the youngest of four debutants alongside goalkeeper Krishan Pathak, midfielder Simranjeet Singh and striker Dilpreet Singh.

However, the joy of being selected for India for the first time has been subdued for the 17-year-old following a bereavement in the family. "Celebrations kam hi hongi kyonki abhi mere dadaji expire hue hain, tabhi bataya hai lekin zyada nahin bataya (the celebrations will be muted, because my grandfather just died recently. That's why I haven't told everybody about this)," says Vivek, adding that he only got to know of his selection only on Monday morning after a regular practice session at the ongoing camp in Bengaluru. "I only informed my brother. He has not played hockey, he is actually an engineering student.

"All I am thinking of is going there and giving my best, so that I can confirm my place in this team. And I will try to connect with everybody there."

ESPN India


---

12 Punjab players in national hockey team for four-nation tourney

CHANDIGARH: Living up to its reputation of being the Mecca of hockey in the country, Punjab has given 12 players to the 20-member Indian contingent scheduled to participate in a four-nation tournament in Tauranga and Hamilton, New Zealand. India will be up against Olympics runner-up Belgium, Japan and hosts New Zealand in the meet beginning on January 17.

Out of the 12, 10 are from the Jalandhar's Surjit Hockey Academy. The 12 Punjabis making the cut are captain Manpreet Singh Pawar, Rupinder Pal Singh, Satbir Singh, Krishna Pathak, Harmanpreet Singh, Varun Kumar, Gurinder Singh, Harjeet Singh, Simranjeet Singh, Mandeep Singh, Ramandeep Singh and Dilpreet Singh.

"Punjab has always been the torchbearer of Indian hockey, but this time the number is unparalleled," said Harendra Singh, coach of Indian women's hockey team. "Most of them had played under me during my stint with the junior hockey team. This is also the fittest units I have seen in a long time."

For Pathak, Simranjeet and Dilpreet, this is the first India call up. Goalkeeper Pathak was a member of the 2016 junior World Cup-winning

team. Pathak and Simranjeet were part of the India A team that participated in the Australian Hockey League in September.

The 21-year-old goalkeeper, who lost his father to a heart attack two days before the junior World Cup started, says this is a dream come true for him. "I was very emotional when I heard about my selection. I wish my parents were alive. They would have been super proud of me," said an emotional Pathak.

Mid-fielder Simranjeet too is thrilled with his selection. "I knew that the call would come but trust me it is a different feeling altogether."

An inclusion that generates enthusiasm is that of 18-year-old striker Dilpreet who, like Simranjeet and Pathak, is a product of Surjit academy. He was part of the junior team that won the bronze medal in the Sultan of Johor Cup last year. In his first international tournament in the U-21 age group, Dilpreet scored nine goals in six matches to end up as the tournament's top scorer.

"Itis an amazing feeling. I was in a shock when I got the message and it took me 30 minutes to settle down. I am looking forward to don the national colours," said the18-year-old lad from Jalandhar. "I believe this tour will do wonders for me and I will be a better player," he added.

The Times of India


---

Black Sticks men's team face tough Four Nations test

Black Sticks coach Darren Smith is expecting a stern test for his team in the upcoming Four Nations men's hockey series against Belgium, India and Japan.



Black Sticks Shea McAleese (file).

Smith has named a squad of 23 for the series, which runs from January 17-28 in Tauranga and Hamilton.

Midfielders Shea McAleese and Arun Panchia provide the bulk of experience, having played a combined 476 internationals, while there are also 11 athletes who have played fewer than 50 tests.

Smith says world No.3 Belgium have gone from strength to strength since winning silver at the Rio Olympics, while sixth-ranked India are also in top form after winning the Asian Games and finishing third in the recent World League Final.

Japan, ranked 16th in the world, are also improving rapidly and last year knocked over No.1 Australia at the Sultan Azlan Shah Cup with their direct and hard-working style.

"For our team, it will be the first time that we have been fully together since July 2017 with European club hockey and injury meaning that we operated deep into our extended squad through October-November," Smith said.

"This will allow us to give more opportunities and also get our team in order ahead of the Commonwealth Games in April."

Split across two separate five-day series, the Four Nations begins at Blake Park in Tauranga on January 17-21 before the teams head to Gallagher Hockey Centre in Hamilton from January 24-28.

Ninth-ranked New Zealand last played Belgium and Japan at the Hockey World League Semi Finals in Johannesburg, where they lost 2-0 and won 3-1 respectively.

The Black Sticks will also be hunting for revenge against India, who came away with a 4-0 win in their last clash at the Sultan Azlan Shah Cup earlier this year.

Black Sticks: David Brydon, Marcus Child, George Enersen, Daniel Harris, Hugo Inglis, Stephen Jenness, Richard Joyce, Dane Lett, Devon Manchester, Shea McAleese, Harry Miskimmin, Leo Mitai-Wells, George Muir, Dominic Newman, Arun Panchia, Jared Panchia, Hayden Phillips, Brad Read, Nick Ross, Kane Russell, Aidan Sarikaya, Blair Tarrant, Nic Woods.

TVNZ


---

All problems addressed, athletes satisfied: Hockey India CEO

NEW DELHI: Asserting that issues plaguing the Senior Men's National Championship in Imphal have been addressed, Hockey India CEO Elena Norman said the players will vouch for the effort the national body has put in.

Hockey players arriving in the Manipuri capital to participate in the 8th national championship (B Division) had complained of inadequate facilities.

The athletes had said they were not provided blankets, adequate food or proper toilets.

"Infrastructure is not a problem, there weren't enough resources. I went there personally, visited each and every room, ate with the people there. And now, I can say that every issue has been addressed," Norman said.

She said the organisers, perhaps, "underestimated" the logistical requirements of the event before getting things back in order.

"The athletes understood we are there to help them, and they are now satisfied," the Australian, who was appointed HI's first Chief Executive Officer in 2011, said.

Asked about the logic behind giving small tournaments to tier-II, tier-III cities like Imphal and Hojhai in Assam, Norman said HI wants to give a chance to everybody.

"We want to obviously give a chance to everybody. We don't want to take them to the same centre again and again, it is not about lack of infrastructure."

Coming back to the controversy that broke out in Imphal, she said, the organisers were initially "not able to prioritise" what needed to be done and at what stage.

"They underestimated how much time it takes in setting up the things. But then we have got great support from the Manipur government and the sports authorities there. People were always on the job."

Earlier, the tournament was plunged into controversy when the players complained they had no beds to sleep and the washrooms had leakages.

Because of the non-availability of beds, the players were seen sleeping on mattresses on the floor. The players also complained that they have not been provided with blankets.

The Times of India


---

Field Hockey Canada names Giles Bonnet Head Coach of the Women's National Team



Giles Bonnet coaches the South African Women's National Team at the 2012 Olympic Games in London, UK.

Field Hockey Canada is announcing the appointment of Giles Bonnet as the Interim Head Coach of the Canadian Women's National Team. Bonnet has an exceptional hockey resume and enters into the program with a wealth of experience and knowledge.

A native of South Africa, Bonnet has over 30 years of professional involvement in the sport both as a player and coach. His 20-plus year coaching career features experience with top men's and women's club teams in the Netherlands Premier League as well as international experience with the Dutch, Irish, Belgian and South African national teams.

His seven years as the head coach of the Belgian men's national team heightened the position of the Red Lions in the global field hockey world. Over the past 20 years, Bonnet has been a key contributor to leading and preparing several countries in their march towards Olympic qualification and competition.

Bonnet is particularly proud of the accomplishments of the South African women's national program while he was there. He was the head coach the South African women's team at the 2012 Olympic games in London, UK. The team also tackled the challenging World Cup qualifying circuit and followed it up with positive results at the 2014 World Cup.

"Giles is a deeply experienced international coach with a sustained record of success," said Jeff Sauvé, Chief Executive Officer of Field Hockey Canada. "We are confident Giles will make a substantial contribution to the success of our team and program."

Bonnet will be responsible for leading the team through their winter and spring tours, including the 2018 Commonwealth Games. He said he sees a great deal of potential in the Canadian program and he's excited to be selected for the role.

"I have seen a lot of progress from Team Canada over the past few years," Bonnet said. "A lot of necessary ingredients are in place for Canada to make the next step and I am looking forward to working with the team and staff in realizing the potential that exists."

The Canadian Women's National Team is heading to Santiago, Chile on January 17 for a two-week training tour. Following that, they will be in the U.S. for a neighbouring tour before taking off to the Gold Coast for the 2018 Commonwealth Games. Their busy spring culminates with the prestigious Hawkes Bay six-nations tour in May in New Zealand.

Field Hockey Canada media release


---

KLHC coach hopes Cup win will spur his side to Charity Shield

By Aftar Singh



Counting on you: Terengganu will rely on the world's top penalty corner specialist Gonzalo Peillat (third left) to deliver the goals in the Premier Division.

Counting on you: Terengganu will rely on the world's top penalty corner specialist Gonzalo Peillat (third left) to deliver the goals in the Premier Division.

KUALA LUMPUR: Kuala Lumpur Hockey Club (KLHC) have their feet firmly on the ground despite winning their first trophy – the Tan Sri P. Alagendra Cup.

KLHC, also the defending league champions, are well aware of the challenges and pitfalls that await them in the opening match against Terengganu in the Charity Shield match in Kuala Terengganu tomorrow.

KLHC coach Lim Chiow Chuan is hoping the penalty shootout win over Terengganu in the Tan Sri P. Alagendra Cup final last Sunday will spur his players to another superb win in the lion's den at the Batu Buruk Hockey Stadium.

"The fighting spirit, resilience and composure to stick to the game plan were instrumental in our comeback win over Terengganu in the final.

"To me, that win and the performance of our players showed we're progressing in the right direction," said Chiow Chuan.

KLHC were 2-0 down in the first quarter before ending the match 3-3 in regulation time and prevailing 4-3 in the penalty shootout.

"The players are interacting well, on and off the pitch. After three matches, they're beginning to understand each other better," said Chiow Chuan.

The Star of Malaysia


---

UniKL aim to get off to a flying start against Tenaga

KUALA LUMPUR: Universiti Kuala Lumpur (UniKL) are out to make a winning start in the Malaysia Hockey League (MHL) Premier Division.

UniKL, who reached their first ever semi-finals of the Tan Sri P. Alagendra Cup last week, open their campaign against Tenaga Nasional at the National Hockey Stadium in Bukit Jalil tomorrow.

UniKL skipper Mohd Marhan Mohd Jalil said that winning the opening match would boost the players' morale in their quest to win one of the two titles at stake.

In the Tan Sri P. Alagendra Cup semi-finals, , UniKL lost 3-1 to eventual champions Kuala Lumpur Hockey Club (KLHC). Marhan, a national midfielder, believes his teammates can bounce back strongly with a win against Tenaga.

"We must put that defeat to KLHC behind us and prepare mentally for a tough encounter against Tenaga.

"We're fortunate to secure some very experienced foreign players and we hope they can help the team," said Marhan.

"Against Tenaga, we need to employ a tight marking game as they have skilful national forwards like Tengku Ahmad (Tajuddin Tengku Abdul Jalil) and Muhd Firhan (Ashaari) who are deadly if given half a chance," added Marhan.

"Not only must we work on our penalty corners but we must be more vigilant in defending against penalty corners.

"The team's all geared up to do well in the league where every point matters and we know it's a long and winding road ahead."

UniKL played Tenaga twice in home and away matches last year. UniKL won 1-0 on both occasions.

UniKL have featured in the MHL since 2011 but have yet to win any silverware. Last year, eight teams featured in the Premier Division and UniKL finished third overall behind league champions KLHC and Tereng­ganu.

The Star of Malaysia


---

U.S. U-16 & U-19 Men's National Team Traveling Rosters Confirmed for Test Series in Chile




COLORADO SPRINGS, Colo. - Following evaluations at a training camp this past November, as well as the test series against Canada's U-18 Men's Team in Moorpark, Calif., Junior U.S. Men's National Team Head Coach Rutger Wiese and coaching staff have confirmed the U.S. U-16 and U-19 Men's National Team rosters that will travel to Santiago, Chile to compete again Chile's Junior Squads from March 10-17.

In preparation for the Chile Test Series, both teams will participate in training camps in January and February in Moorpark, Calif. Once finalized the game dates and times will be released. This event will not be live streamed.

U.S. U-16 Men's National Team Chile Test Series Roster:
Gerald Cutone (Reading, Mass.), Corey Dykema (Newport News, Va.), Brett Eisner (Lafayette, Calif.), Mehtab Grewal (Somis, Calif.), Jack Hawley (Ventura, Calif.), Gurcharan Johal (Phoenix, Ariz.), Wyatt Katz (Santa Rose Valley, Calif.), Tyler Kim (Fredericksburg, Va.), Namit Mangat (Glendale, Ariz.), Rafael Martell (Miami, Fla.), Jasper Pouw (Santa Rose Valley, Calif.), Russell Smith (Camarillo, Calif.), Cameron Spach (Thousand Oaks, Calif.), Matthew Wong (Alamo, Calif.), Sam Zuzick (Moorpark, Calif.)

U.S. U-19 Men's National Team Chile Test Series Roster:
Payton Breslow (Moorpark, Calif.), Alex Curtis (London, United Kingdom), Christian DeAngelis (Doylestown, Pa.), Jack Gallucci (Trubell, Conn.), Phile Govaert (Rye, N.Y.), Zaid Hassan (Santa Clara, Calif.), Liam Hawley (Ventura, Calif.), Vincent Heller (Stuttgart, Germany), Colin Hennessy (Marlborough, Mass.), Wander Hommes (Westlake Village, Calif.), Graeme Jackson (Moorpark, Calif.), David Kristof (Darien, Conn.), Finlay Quaile (Taunton, United Kingdom), Alberto Montilla (Allen, Texas), Jatin Sharma (San Fransisco, Calif.), Dean Schiller (Alexandra, Va.), Amrinderpal Singh (Corona, Calif.), Ryan Torigian (Simi Valley, Calif.), Spencer Walshaw (Thousand Oaks, Calif.)

Chile is scheduled to travel to the United States this August for another test series, which will be held in Greenwich, Conn.

USFHA media release


---

U18 Ireland Ladies - Training Panel Selection

U18 Coach, Garuth Grudie, has selected the following players to move forward to the next phase of the Ireland U18 Ladies programme.

Name, Club, Province
Iseult Cambay, Pembroke Wanderers, Leinster
Gemma Ferguson, Mossley, Ulster
Ellie McLoughlin, Naas HC, Leinster
Caoimhe Perdue, Cork Harlequins, Munster
Alex Burns, Rainey, Ulster
Lisa Mulcahy, Muckross, Leinster
Caitlin Sherrin, Loreto, Leinster
Sarah Dunleavy, Greenfields, Connacht
KJ Marshall, Pembroke Wanderers, Leinster
Muireann Scanlon, Catholic Institute, Munster
Olivia Berry, Banbridge, Ulster
Amy Elliott, Railway Union, Leinster
Christina Hamill, Loreto, Leinster
Nadia Bennallal, Banbridge, Ulster
Sofia Cole, Railway Union, Leinster
Charlotte Cope, Naas HC, South East
Yasmin Pratt, Muckross, South East
Siofra O'Brien, Loreto, Leinster
Kate Gourley, Pegasus, Ulster
Natasha Twomey, Muckross, Leinster
Hannah Kelly, Old Alex, South East
Amy Buttimer, Bandon, Munster
Rachel Houston, Lisnagarvey, Ulster

The following players may be included in the panel subject to assessment at the next national training day on Sunday 18th February.
Olivia Mullan, Ballymoney, Ulster
Rebecca McCullough, Mossley, Ulster
Caroline Matthews, Muckross, Leinster
Sarah McAuley, Muckross, Leinster

The following players will be invited to regional sessions only for the next phase.
Niamh Shaw, Railway Union, Leinster
Saoirse Griffin, Cork Harlequins, Munster
Molly Dougan, Mossley, Ulster
Rebecca Kingston, Cork CoI, Munster

Irish Hockey Association media release


---

QPCC retains Men's Open, Mixed Vets hockey titles

Nigel Simon



QPCC Mixed Vets team

Queen's Park Cricket Club made a successful defence of their Men's Open and Mixed Veterans titles when the 16th annual Ventures Hockey Club Invitational Indoor Hockey Tournament concluded at the Woodbrook Youth Facility, Hamilton-Holder Street, Woodbrook on Sunday night.

In the men's final, the Parkites got a goal each from national women's team coach Jerazeno Bell, Jordan Reynos, Darren Cowie and Stefan Mouttet to secure a come-from-behind 4-3 win over Defence Force.

The "Teteron Men" took the lead in the seventh minute through T&T international Mickell Pierre while team-mate Marcus James made it 2-0 three minutes later before Bell pulled a goal back for the Parkites in the 11th.

James then restored Defence Force's two-goal cushion in the 16th, but national out-door defender Jordan Reynos cut the advantage in the 17th for a 3-2 half-time scoreline.

With minutes left in the match, national outdoor team captain Darren Cowie drew the Parkites level and with two minutes left, Stefan Mouttet banged in the decisive item.

Queen's Park had a much easier time in the Mixed Veterans decider as national senior men's indoor team coach Raphael Govia netted seven times in a 12-3 come-from-behind demolition of Defence Force.

Govia got his items in the fourth, fifth, ninth, 23rd, 27th, 31st and 33rd minutes while Rob Wyatt (4th & 38th) and Gary Chin (24th & 35th) added two each, while former National Security Minister Gary Griffith chipped in with the other in the 36th. For the Defence Force Anthony Morales got a double in the third and 20th, and former T&T standout, Nicholas Wren, the third item in the 25th.

And in the Women's Open Division, Paragon used a late rally to beat host club, Ventures 3-2 for a second title in three years.

After a tense first-half, guest player and T&T international Krizia Layne opened the scoring for Ventures which lasted until the 27th minute when Australia-based Alanna Lewis drew Paragon level.

A minute later Keima Gardiner fired Paragon ahead and Kristin Thompson made it 3-1 in the 29th before Layne added second for ventures in the 33rd.

SUNDAY"S RESULTS

Finals
Mixed Veterans
QPCC 12 (Raphael Govia 4th, 5th, 9th, 23rd, 27th, 31st, 33rd, Rob Wyatt 4th, 38th, Gary Chin 24th, 35th, Gary Griffith 36th) vs Defence Force 3 (Anthony Morales 3rd, 20th, Nicholas Wren 25th)
Women's Open
Paragon 3 (Alanna Lewis 27th, Keima Gardiner 28th, Kristin Thompson 29th) vs Ventures 2 (Krizia Layne 17th, 33rd)
Men's Open
QPCC 4 (Jerazeno Bell 11th, Jordan Reynos 17th, Darren Cowie 35th, Stefan Mouttet 38th) vs Defence Force 3 (Mickell Pierre 7th, Marcus James 10th, 16th)
Third place
Women's Open
SC Magnolias 8 (Brianna Govia 2nd, 14th, 24th, 26th, Kaitlyn Olton 30th, 34th, Shaniah De Freitas 27th, Savannah De Freitas) vs Notre Dame 0
Men's Open
Fatima 6 (Andrew Vieira 9th, 28th, 30th, Quinn Clarke 17th,. 48th, Marlon King 33rd) vs Malvern 6 (Ariel Bowen 4th, 6th, 29th, Jovan Wren 7th, Kristen Emmanuel 14th, 35th) - Malvern won 2-1 on penalty-stroke shoot-out
Semifinals
Men's Open
QPCC 4 (Jerazeno Bell 16th, 26th, 29th, Mark Ayen 36th) vs Fatima 2 (Quinn Clarke 31st, Roshan Hamilton 33rd)
Defence Force 7 (Marcus James 4th, 9th, 29th, 31st, 39th, Mickell Pierre 31st, Dillon Francis 36th, Shaquille Daniel 40th) vs Malvern 6 (Kristien Emmanuel 1st, 34th, Kieron Emannuel 18th, 19th, 35th, Ariel Bowen 19th).
Women's Open
Ventures 1 (Krizia Layne 19th) vs SC Magnolias 0
Paragon 4 (Keima Gardiner 4th, 21st, Gabrielle Thompson 20th, Arielle Williams 26th) vs Notre Dame 0

Honour Roll
Most Valuable Player
Men's Open: Mark Ayen (QPCC)
Women's Open: Arielle Williams (Paragon)
Mixed Veterans: Raphael Govia (QPCC)
Best Goalkeeper
Men's Open: Karlos Stephens (T&T Defence Force)
Women's Open: Sarayah-U Plaza (Ventures)
Player of the Tournament: Jordan Vieira (Fatima).

The Trinidad Guardian


---

Fate of KHU polls to be known

By BRIAN YONGA



Kenya Hockey Union chairman Nashon Randiek. PHOTO | FILE |  NATION MEDIA GROUP

The High Court will on Thursday rule if the Kenya Hockey Union (KHU) will hold its elections this Saturday.

George Jalango of Hockey Kenya Federation (HKF) had on Monday evening obtained a temporary injunction from the High Court to stop Saturday's annual general meeting and elections from taking place.

Jalang'o is contesting the validity and mandate of the Kenya Hockey Union as the representative body for the sport in the country.

During Wednesday's hearing at Milimani, Jalango, representing HKF, asked the court not to allow KHU to continue with the AGM because of another ongoing case in the same court between the two parties.

"If the elections are done it will be a great injustice to the Sports Act and we will suffer a lot because we will have to withdraw our case," Jalang'o argued.

"Suppose the court rules in our favour that we are legally registered and they went ahead and did the elections it will made our application before this court null and void, "he added.

Edward Rombo, the lawyer representing KHU argued that Jalango is not a member of KHU and belongs to another organisation that is not registered.

He added that KHU has already incurred costs of organising for the AGM and asked why he (Jalang'o) is interested in the affairs of the Union yet he is not a member of the union.

High Court Judge, Joseph Sergon directed all parties to report to the court Thursday morning at 9am for the ruling.

Jalang'o has been embroiled in a bitter legal fight with KHU over the last four years over on which body is legally registered.

Jalango argues that his HKF was registered as the official national hockey governing organization, thus rendering the capacity of the KHU and its scheduled elections null and void.

The elections have twice been postponed due to various reasons with the four-year term of the current office having expired last month.

The election were due to be held on October 28 but were postponed due to the Africa Cup of Nations which were held In Ismailia, Egypt from October 22-29.

They were then pushed to December 16 only to be postponed to allow affiliates time to hold their elections.

Ten positions will be up for grabs among them chairman, two vice chairperson, secretary general, vice secretary and match and fixtures secretary.

Others are match and fixtures vice secretary, treasurer, assistant treasurer and public relations officer.

KHU chairman Nashon Randiek, who was elected unopposed during the last election in 2013, will this time have an opponent in Nairobi Hockey Association's Inderjit Singh Matharu, a former Kenya international and Olympian.

Daily Nation