All the news for Tuesday 9 January 2018

Croatia Cup 2018 - Glory for SPAR South Africa




The final day of the 2018 Croatian Indoor Cup offered the tantalising prospect of knock out hockey, something that has caused immense excitement in various tournaments around the globe over the last 12 months. The nerves for SPAR South Africa would be there as they know that more than anyone else about the possibilities of the winner takes all one-off games.

Semi-Final – SPAR South Africa vs. Slovenia

Slovenia welcomed back their first choice keeper, Aleksandra Dervaric, and it was quickly evident that she would be in for a busy morning. To her credit she was more than up to the task and made save after save to keep the South Africans at arm's length. In fact in the opening 15 minutes only Kara Botes and Heather McEwan managed to breach her goal after finding an inspired keeper. SPAR South Africa was soon rewarded for their persistence, however, as Celia Evans, Kara Botes and Heather McEwan all scored before the break to give it a little gloss on the scoreboard!

The second half saw the tides turn as wave after wave of South African attack produced goals a galore. Cindy Hack scored back-to-back goals, a trademark for SPAR South Africa in this series, and quickly saw the lethal Kara Botes make it 8 from a penalty corner. Celia Evans and then the Hack, Botes duo each got further goals to make it 11-0.

The Slovenians, who had earlier in the tournament secured an outstanding victory against Slovakia, refused to give up and although they conceded two more goals to Tegan Fourie and Celia Evans, they refused to quit playing and their development will be speedier for experiences of this tournament.

SPAR South Africa would now contest the final against the hosts Croatia who earlier saw off Slovakia in an exciting 8-2 result.

Final - SPAR South Africa vs. Croatia

The final was expected to be a hotly tested match with Croatia saving their best for the final game in front of their home crowd. But it was the SPAR South Africa ladies that seemed more up for the fight, maybe spurred on by the fact that family was able to watch a live streamed game on Facebook.

Croatia throughout the tournament had made fast starts to the matches and anticipating this, SPAR South Africa took the game to their hosts from the opening whistle. Celia Evans took the lead for SA in the fourth minute and lethal short corner queen Kara Botes fired in a second just 60 seconds later.

Croatia was looking for an olive leaf of opportunity, but would not find South Africa in a charitable mood. Instead by half-time, the score was 4-0 through Kelly Reed and Heather McEwan.

The second half followed a similar pattern as SPAR South Africa bossed possession and then would sporadically create chances. The chances were converted fairly regularly as Kara Botes, Cindy Hack and Kelly Reed scored before Kara Botes fired in her hat-trick goal to make it 8-0. Fittingly SPAR South Africa's captain scored the final goal for SA as they took a 9-0 lead with 7 minutes left.

To the delight of the home crowd, Croatia were able to score a consolation goal through Una Litvic, but they knew they had been second best in every single facet of the game and SPAR South Africa were the worthy and unquestionable winners.

Awards

Best Player – Cindy Hack (SPAR South Africa)
Top Goalscorer – Kara Botes (SPAR South Africa)
Best Goalkeeper – Iva Zlomisilic (Croatia)

SA Hockey Association media release


---

Hockey men supported for 2018 World Cup



Minister of Sport and Youth Affairs Darryl Smith, right, presents president of the Trinidad and Tobago Hockey Board Douglas Camacho with a cheque at the TT Olympic Committee head office, on Friday.

Trinidad and Tobago's senior hockey men have received a welcome boost to their FIH Indoor World Cup preparation with an injection of funds from the Ministry of Sport and Youth Affairs.

At a presentation ceremony on Friday, Minister of Sport Darryl Smith handed TT$1,000,000 to Douglas Camacho, president of the TT Hockey Board. The money will go towards travel, accommodation, uniforms and other team necessities for scheduled warm-up games in late January as well as the Indoor Hockey World Cup Finals to be held in Germany from February 7 to 11.

Camacho said the national team has been working hard in training sessions at the Woodbrook Youth Facility and is looking forward to the challenge of participating in TT's second outing at the Indoor World Cup.

"We've been drawn in Pool A to face European teams and Australia, so we hope to bring our exciting brand of hockey to the tournament and show them what we've got. We're not going to make up numbers, but to prove that Trinidad and Tobago belongs on the world stage."

Hockey is one of several team sports which have been successful in 2017, and according to Minister Smith, recent results have been encouraging.

Smith said, "We are proud of the hockey men for qualifying for a second time for the Indoor World Cup and had to ensure they had every resource available to prepare adequately and perform at their best come February. Wherever Trinidad and Tobago's athletes play, we always make an impact, and even more when we host. Look at the success of the women's volleyball team, the CCCAN team, the badminton teams...home court advantage is real and that's why we're making a concerted effort to host more sporting events in Trinidad and Tobago to showcase our own talent and establish ourselves as the regional hub for sport."

The men's hockey team departs on January 24 for a 10-day pre-tournament tour in Holland, after which they travel to Berlin for the World Cup.

Trinidad & Tobago Newsday


---

The Netherlands Coach Provides Insight About USWNT Series and Team Building




COLORADO SPRINGS, Colo. – As the countdown to the U.S. Women's National Team series against The Netherlands continues, both teams have been gearing up since the New Year for their respective, highly anticipated competition schedules leading to the Vitality Hockey Women's World Cup in London, England.

As field hockey hits the West Coast at Stanford University for the four-game matchup, the top ranked FIH Hero World Ranked The Netherlands is just as eager to start 2018 on a high note. USA Field Hockey sat down with Holland's head coach Alyson Annan, as the squad looks forward to facing the USWNT in the coming weeks, as well as their plans as tourists while in the Golden State.

USA Field Hockey: This series kicks off 2018 in preparing for the World Cup in London. How does the schedule look for The Netherlands in 2018?

Alyson Annan: The United States trip is an important one for us, with it being the start of our World Cup prep. On our return, the players will return to the clubs that leaves us limited time with the players until May.

USA Field Hockey: While in the United States, what is the team looking forward to the most outside of playing? What is everyone looking forward to experiencing? Any plans to sight see or team building in between matches?

AA: We will spend a few days team building in San Francisco. We are still planning but are of course looking to do some sightseeing.

USA Field Hockey: Are there any players that have been to the United States prior to this series?

AA: There are definitely players that have been to the United States. A few played in the Junior World Cup years ago that I believe was in Boston.

USA Field Hockey: Ideally, what are you looking forward to the most while state-side?

AA: We are looking forward to coming to the United States for this trip. We hope the weather will be kind to us.

CLICK HERE TO PURCHASE TICKETS

Discounted group tickets will also be available for each game when 10 or more tickets are purchased for the same match. This is a great option for clubs, middle and high school teams, collegiate programs or any group of friends wanting to experience international field hockey competition together. Contact Glen Hollingsworth at This email address is being protected from spambots. You need JavaScript enabled to view it. with any questions or to purchase tickets for your group!

USFHA media release


---

Harbinger of Indian hockey squad announced

s2h team

As a harbinger of things to shape up the crucial year, a 20-member team with the return of the most experienced PR SReejessh and as many as four new faces has been announced. The new look team will take part in a four-Nation competition in distant New Zealand. The event starts on 17th January and will have Japan, and Beglium besides the hosts in the fray.

Two more under-21 boys unearthed by victorious Harendera Singh namely Goalie Pathak and forward Simranjeet Singh have made their senior grade.

The team will be led by 25-year-old midfielder Manpreet Singh while Chinglensana Singh Kangujam will shoulder the responsibility of Vice Captain.

Decorated goalie PR Sreejesh returns to national side after nearly eight months of injury layoff. Sreejesh will be joined by young goalkeeper Krishan Bahadur Pathak a Member of the 2016 Junior World Cup winning team and who was also part of the India 'A' team that participated at the Australian Hockey League in September 2017.

New inclusions in the team are forward Dilpreet Singh and midfielder Vivek Sagar Prasad. The duo was rewarded for their promising performance at the 7th Sultan of Johor Cup last year where the team returned home with the Bronze medal. While Vivek had led the team with great determination and played an instrumental role in the midfield, Dilpreet was India's goal-getter with nine goals in six matches to his credit.

India's defence features Rupinder Pal Singh, Harmanpreet Singh, Varun Kumar – all three will double-up as dragflickers. They will be joined by Birendra Lakra, Surender Kumar and Gurinder Singh in the defense-line.

The midfield will see skipper Manpreet Singh, Chinglensana Singh, Harjeet Singh, Nilakanta Sharma, Satbir Singh along with debut players Simranjeet Singh and Vivek Sagar Prasad. India's attack will see Ramandeep Singh return to the team with young gun Armaan Qureshi, Dilpreet Singh, Mandeep Singh and Lalit Upadhyay.

"The team continues to remain a good mix of young and experienced players. They will get to show their abilities against top quality teams. This is an important year for us with major tournaments in the pipeline and one of our focus areas is to perform consistently especially against higher ranked teams," expressed Chief Coach Sjoerd Marijne further adding that this tour will be a good exposure ahead of the Gold Coast Commonwealth Games 2018. "We use this tour for our preparation for the Commonwealth Games and look at progressing to the next level after the previous two tournaments," he added.

Meanwhile Hockey India's High Performance Director David John said, "This tour provides international exposure for some of our younger players in the squad with four of them making their international debut with the senior team. We also view this tournament as another opportunity to assess senior players performance under competition."

Squad:
Goalkeepers 1. PR Sreejesh
2. Krishan Bahadur Pathak

Defenders
3. Harmanpreet Singh
4. Surender Kumar
5. Gurinder Singh
6. Varun Kumar
7. Rupinderpal Singh
8. Birendra Lakra

Midfielders
9. Manpreet Singh(C)
10. Chinglensana Singh Kangujam (VC)
11. Vivek Sagar Prasad
12. Harjeet Singh
13. Nilakanta Sharma
14. Simranjeet Singh
15. Satbir Singh

Forwards
16. Dilpreet Singh
17. Ramandeep Singh
18. Mandeep Singh
19. Lalit Kumar Upadhyay
20. Armaan Qureshi

Stick2Hockey.com


---

Sreejesh back in team for four-nation tournament in New Zealand

Manuja Veerappa

BENGALURU: With the Commonwealth Games, Asian Games and World Cup lined up, 2018 will be a challenging year for Indian hockey. The next 12 months will decide the future of many senior players and the career path of youngsters who have been consistently pushing their case with commendable performances.

In this background, the Manpreet Singh-led team will begin their season at the four-nation invitational hockey tournament in New Zealand, beginning on January 17. The tournament, to be played in Tauranga and Hamilton, will see Belgium, Japan, India and the New Zealand in action.

The tournament will mark the return of seasoned goalkeeper PR Sreejesh who was out of action due to a knee injury he sustained at the Sultan Azlan Shah tournament in May last year. Mainstay striker SV Sunil has been rested to manage the workload while four fresh youngsters will make their senior India debut.

Krishan Bahadur Pathak, the goalkeeper who was part of the junior World Cup-winning squad, has made it to the team along with his junior teammate Simranjeet Singh, a midfielder. The other two players are midfielder Vivek Sagar Prasad and forward Dilpreet Singh, both of whom impressed during the bronze-winning performance at the Sultan Johor Cup.

Akash Chikte and Suraj Karkera, who manned the goal at the Hockey World League final, have been axed.

For the second consecutive tournament, former skipper and experienced midfielder Sardar Singh finds himself out of the team. The coach was non-committal on Sardar's future in the team. "We're busy with this tournament. Then we'll see further. Right now, I can't say anything about the future," he said.

The Times of India


---

India names four uncapped players



New crop of players: Sjoerd Marijne says giving youngsters international experience will help in the long run. Photo Credit: K. Murali Kumar

Bengaluru: India has named four uncapped players in its squad for the Four Nations invitational hockey tournament in New Zealand, while P.R. Sreejesh returns to action after a lengthy injury-forced absence.

Young players Dilpreet Singh, Vivek Sagar Prasad Simranjeet Singh and goalkeeper Krishan Pathak are all in line to make their senior debut at the start of a busy year for Indian hockey. Dilpreet and Vivek played starring roles at the Sultan of Johor Cup last year, where the Junior Indian team claimed the bronze medal, and are currently part of the junior camp under Jude Felix. Simranjeet and Pathak, meanwhile, were members of the Indian side that won the Junior World Cup in 2016.

"We are giving youngsters international experience. We have bigger tournaments in the year and we'll have to see who we can field," said head coach Sjoerd Marijne at the SAI here on Monday.

The Dutchman stated that Sreejesh had recovered completely from the ACL injury that had sidelined him since the Sultan Azlan Shah Cup last April. "It's perfect now. We have eight matches in New Zealand; we will see how many he can play. It's good for him to start at the highest level. It will help him for the next big tournament (CWG) in April," he said.

Marijne felt that Akash Chikte and Suraj Karkera, who took turns in goal for India at the HWL Final, had not been consistent enough. "Akash and Suraj did show their potential at the HWL Final but they have plenty of room for improvement. They were not consistent. What we want is consistency. Now we want to give Krishan a chance and see how he performs."

Marijne said senior forward S.V. Sunil needed to "rest his body" while refusing to comment on the future of Sardar Singh, who continues to sit out.

The Four Nations tournament, also featuring Belgium, Japan and host New Zealand, will be played in Tauranga and Hamilton from January 17.

The squad:

Goalkeepers: P.R. Sreejesh, Krishan Bahadur Pathak; Defenders: Harmanpreet Singh, Surender Kumar, Gurinder Singh, Varun Kumar, Rupinderpal Singh, Birendra Lakra; Midfielders: Manpreet Singh (capt.), Chinglensana Singh Kangujam, Vivek Sagar Prasad, Harjeet Singh, Nilakanta Sharma, Simranjeet Singh, Satbir Singh; Forwards: Dilpreet Singh, Ramandeep Singh, Mandeep Singh, Lalit Kumar Upadhyay, and Armaan Qureshi.

The Hindu


---

PR Sreejesh named in India squad for four-nation tournament in New Zealand; Sardar Singh, SV Sunil omitted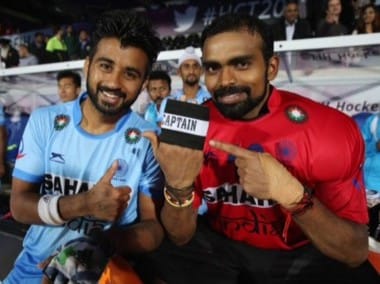 PR Sreejesh returns to India squad. Image courtesy: Twitter/@TheHockeyIndia

New Delhi: Goalkeeper PR Sreejesh may feature in his first competitive event in eight months after being named in India's 20-member squad for a four-nation tournament in New Zealand.

However, veteran and former captain Sardar Singh has been once again ignored in the squad along with SV Sunil.

India will compete with Belgium, Japan and hosts New Zealand at Tauranga and Hamilton in the tournament, beginning 17 January.

The team will be led by 25-year-old midfielder Manpreet Singh while Chinglensana Singh Kangujam will be his deputy.

Sreejesh, who missed some key tournaments in 2017 due to a knee injury, will be joined by young goalkeeper Krishan Bahadur Pathak, a member of the 2016 Junior World Cup winning team. Pathak was also part of the India A team which participated at the Australian Hockey League in September.

New inclusions in the team are forward Dilpreet Singh and midfielder Vivek Sagar Prasad. The duo was rewarded for their promising performance at the Sultan of Johor Cup last year where the team returned home with the bronze medal.

While Vivek had played an instrumental role in the midfield, Dilpreet was India's goal-getter with nine goals in six matches to his credit.

Indias defence features Rupinder Pal Singh, Harmanpreet Singh, Varun Kumar all three will double-up as dragflickers. They will be joined by Birendra Lakra, Surender Kumar and Gurinder Singh in the defense-line.

The midfield has skipper Manpreet Singh, Chinglensana Singh, Harjeet Singh, Nilakanta Sharma, Satbir Singh along with debut players Simranjeet Singh and Vivek.

Indias attack will be led by Ramandeep Singh along with young gun Armaan Qureshi, Dilpreet Singh, Mandeep Singh and Lalit Upadhyay.

"The team continues to remain a good mix of young and experienced players. They will get to show their abilities against top quality teams. This is an important year for us with major tournaments in the pipeline and one of our focus areas is to perform consistently especially against higher ranked teams, said chief coach Sjoerd Marijne.

"We use this tour for our preparation for the Commonwealth Games and look at progressing to the next level after the previous two tournaments, he added.

Squad:

Goalkeepers: PR Sreejesh, Krishan Bahadur Pathak

Defenders: Harmanpreet Singh, Surender Kumar, Gurinder Singh, Varun Kumar, Rupinderpal Singh, Birendra Lakra.

Midfielders: Manpreet Singh (C), Chinglensana Singh Kangujam (VC), Vivek Sagar Prasad, Harjeet Singh, Nilakanta Sharma, Simranjeet Singh and Satbir Singh

Forwards: Dilpreet Singh, Ramandeep Singh, Mandeep Singh, Lalit Kumar Upadhyay and Armaan Qureshi.

Firstpost


---

India exploring newer ways to score goals: Sreejesh

BENGALURU: Having returned to the Indian hockey team, veteran goalkeeper PR Sreejesh on Monday said the team is exploring newer ways to score goals.

"I am happy to see my name in the (Indian team) list, and definitely, I have been through a tough time for almost six months for recovery through rehabilitation programmes. It is a proud moment for me," he told reporters here.

"We are focusing on scoring goals. Also, working hard to achieve that in a new way," he added.

Sreejesh said he is seeking to regain the confidence of his teammates.

He said 2018 will be a big year for the team with three major events coming up, starting with the Commonwealth Games.

"We would also play the Asian Games and the World Cup," he added.

Coach Sjoerd Marijne said Sreejesh's comeback is good for the team as he is an experienced player.

"Of course, it is good for us that he (Sreejesh) is coming back. He is really an experienced player, but at the time when Sreejesh was not there, the other two goalies Suraj Karkera and Akash Chikte had their moments in his absence."

"Now, Krishan (Bahadur Pathak) gets an opportunity for New Zealand tour. So, we have four good goalies which will be really nice competition between them," he added.

Captain Manpreet Singh said Sreejesh's presence is also important as he could pass on tips to the youngsters.

The Times of India


---

Antwerp welcomes indoor's finest for European Cup




Antwerp's Lotto Arena will host Europe's finest indoor teams – including six of the top eight rated sides in the world – as the EuroHockey Cup gets under way next Friday.

Top seeds Germany will be the favourites and they line up in a group with Denmark, Poland and the Czech Republic. World number two Austria are in a group with Russia (fourth), Switzerland (8) and outsiders Belgium (16th).

Despite being lowly ranked, the Belgians have made huge strides in the indoor format in recent times and they will be backed by a very strong crowd with 5,000 spectators already having bought tickets to the event.

The side features the recently retired outdoor international goalkeeper Jeremy Gucassoff. He is among four Racing Club de Bruxelles men in the squad along with Thibault Cornillie, Pierre-Louis Maraite and Thomas Vanneste while Real Club de Polo's Max Plennevaux in their line-up for the event.

In their group, Austria – with the goal machine Michael Körper in the mix – look the side to beat.

In Pool A, Germany are employing a wholly different side for the Europeans compared to the indoor World Cup with Moritz Fürste and Linus Butt providing the experience for a young panel.

Uhlenhorst Mülheim's Malte Hellwig and Mannheimer's Teo Hinrichs are among talents who are also likely to appear in the EHL at Easter in Rotterdam.

** You can see each game in the competition live on the EHF's channel: www.eurohockeytv.org with games getting underway on Friday at 10am (CET).

Euro Hockey League media release


---

Scotland men's indoor squad announced for Europeans

An exciting squad has been selected to represent Scotland in Nicosia at men's EuroHockey Indoor Championship III. The tournament will be held on 12-14 January 2018 in Nicosia, Cyprus.

Gavin Byers will wear the captain's armband and lead Scotland's charge for promotion. The squad also includes exciting youngsters Patrick Christie and Ewan Mackie, as well as set-piece expert Josh Cairns.

Scotland will face Cyprus and Greece on the opening day before going head-to-head with Slovakia and Belarus on day two, and then Slovenia and Wales on the final day.

Scotland indoor squad Head Coach Stuart Neave said, "I am delighted to be taking a strong group of indoor players to the European Championships in Cyprus, comprising representation from eight different clubs.

"Selection was not easy. Many thanks to the time and effort put in by all players from the wider squad during the preparation period. The fact that the tournament is "round robin" with six matches in three days will provide a stern test of the squad's fitness and stamina. However, I believe we have a group of players capable of achieving our targets."

Scotland squad

Gordon Amour (Edinburgh University)
Gavin Byers (Capt) (Grove Menzieshill)
Josh Cairns (Kelburne)
Jamie Carnegie (Grove Menzieshill)
Patrick Christie (Inverleith)
Luke Cranney (Grange)
Allan Dick (Southgate)
Ewen Mackie (Inverleith)
Callum Milne (Grange)
Elliot Sandison (Dundee Wanderers)
Fergus Sandison (Dundee Wanderers)
Gavin Sommerville (Western Wildcats)

Fixtures

12 Jan 2018

11:10 (09:10) – Cyprus v Scotland
18:10 (14:10) – Greece v Scotland

13 Jan 2018

10:00 (8:00) – Scotland v Slovakia
17:00 (13:00) – Scotland v Belarus

14 Jan 2018

08:00 (06:00) – Scotland v Slovenia
12:40 (10:40) – Scotland v Wales

Scottish Hockey Union media release


---

Women's Indoor National League 1 delivers on action



Dundee Wanderers v Clydesdale Western – photo by Duncan Gray

With the Scottish women`s National League 1 semi-finals approaching, champions Dundee Wanderers and Milne Craig Clydesdale Western have emerged from Pool A as have Edinburgh University and Grove Menzieshill from Pool B.

Dundee Wanderers confirmed their place at the top of Pool A with a convincing 5-1 win over rivals Western. The champions opened with an open play strike by Ruth Blaikie in only three minutes, the score was doubled by Jess Ross just on the interval.

The Taysiders confirmed their victory with further second half strikes by Emily Dark with a double in as many minutes and Blaikie again, Millie Steiger scored a consolation for Western.

Hillhead moved on to the same points as Western with a comfortable 7-1 win over Kelburne in their opening encounter.

Wanderers went on to extend their unbeaten run with an 8-2 victory over Kelburne, Blaikie claimed a hat-trick and there were two each for Dark and Amy Snelle.

It is almost certain that Western will join the champions in the semi-finals after they disposed of the challenge of Hillhead with a comfortable 7-1 victory, top scorer was Kayleigh Justice.

In Pool B Edinburgh University still hold a one point advantage over Grove Menzieshill as the status quo was maintained when the sides fought out a 2-2 draw. The Dundonians drew first blood with a Pauline Story strike in four minutes, and that was the score at the interval.

The students retaliated early in the second half with a penalty corner conversion by Becky Dru, and two minutes later the same player put Edinburgh 2-1 ahead, this time from open play. Midway through the second half Ailsa Small levelled for Grove Menzieshill from a set piece. The Taysiders pressed for the winner, and even replaced their goalkeeper with an additional outfield player in the closing minutes to force the issue, but chances were not converted and there was no further scoring.

However, both Edinburgh University and Grove Menzieshill were virtually assured of a semi-final spot when Wildcats beat CALA 4-1 in the other pool match. Wildcats were 3-1 up at the interval through Sophie Aitchinson, McKenzie Bell from the spot and Iona McIntyre-Been, Emma Davie replied for the Edinburgh side. There was little change in the second half although Emma McDairmid added a fourth for the Auchenhowie outfit.

University continued their unbeaten run after seeing off capital neighbours CALA 5-2 to retain pole position in Pool B. It was only 1-1 at the interval, Jemima Reid opened for CALA but Bethan Mann levelled for the students.

The pool leaders marched into a 3-1 lead in the second half through Dru and Robin Robinson, but Emma Davie pulled one back for CALA at a penalty corner. University finally sealed the points with a late surge which saw Hanna McKie and Ella Watt add two more to their tally.

Grove Menzieshill held on to second place in the pool, but in their second outing were taken to the wire by a toothy Wildcats pack. Alison Glass-Davis gave the Taysider the lead but by the interval the Wildcats had clawed their way to a 2-1 advantage through McDairmid and Bell. But Grove Menzieshill turned the tables in the second half with strikes by Susan Hamilton and Glass-Davis again for a narrow 3-2 victory in the end.

Scottish Hockey Union media release


---

Bangor reign at top continues; Randalstown nick key win over Rainey



Bangor following their Linden Cup win.

Bangor stay top of the Ulster Premier League after a hard-fought 2-1 over Kirk Cup champions Kilkeel at the Aurora Complex on Saturday in the battle of the Ulster cup winners.

The seasiders' victory completed a memorable week for Scott Parker's men, who had lifted the Linden Cup with a 5-0 win over Raphoe on Monday. Both teams had their chances in the first half but Bangor produced the more clear-cut opportunities and penalty-corners to warrant their 1-0 half-time lead from a Ryan Burgess drag flick.

The second half was sloppy from both sides and Kilkeel grabbed an equaliser from a Bangor defensive error on the right-hand side of the pitch early on. Five minutes after the break, Eddie Agnew tapped the ball home following a block by the home goalkeeper to square the match.

Bangor, however, managed to break away with nine minutes left and Michael McComb's cross which deflected in off a Kilkeel defender's stick for the winner.

"I thought we played well in the first half and deserved our half-time lead." said Bangor coach Parker.

"The second half was tough and Kilkeel caused us problems but I always felt we had the pace up top to hurt them and we got that important second goal from Michael. I'm delighted with the win and all credit goes to the guys who have worked so hard recently to keep this good form going."

Elsewhere, Instonians kept the pressure on Bangor with a comfortable 4-0 win over Cliftonville. Penalty-corner expert William Robinson scored twice in the game at Shaw's Bridge and the result keeps Inst them two points off the pace but with the benefit of a game in hand.

Civil Service came from 3-1 down to beat Newry 5-4 at Stormont, Queen's continued their impressive run with a 5-2 win at Antrim while North Down beat Raphoe 3-0 in Donegal.

Only one women's Ulster Premier League game survived the frost as Randalstown edged closer to safety following a 2-1 win over Rainey in Antrim. Town survived a late Rainey onslaught to hang on for the win over the Magherafelt side.

It was a crucial win for the Co Antrim team, who have moved further clear of the drop-zone while Rainey remain in trouble in the bottom half of the table.

Richie McGaw's side are just two points ahead of basement side Portadown, who now have two games in hand. It's been a tough baptism in the top-flight for Rainey, who have won just once in their 10 outings to date since securing promotion last season. However, they were a tad unfortunate not to have taken something from the game.

Randalstown coach Harry McNeill admitted: "While we had the edge in the first-half, they dominated the second and probably deserved more than what they got from the game."

"From our own point of view, it was a vitally important result as we are now six points clear of the relegation-zone. It's been a tough season so far for what is essentially a very young squad and we had two 15-year-olds in our team for the game."

Town got off to a dream start when Ulster Under 18 star Holly Taggart set up Sharon Graham for the opener after only three minutes. Only 10 minutes later, it was 2-0 as CJ McDonald drove into the circle after a brilliant run and fired home an unstoppable shot.



Randalstown recorded an important win over Rainey.

However, Rainey pulled one back two minutes after the break when, after forcing a barrage of penalty-corners, Alex Burns' shot was deflected into the net by Charlotte Beggs. Rainey went on to dominate proceedings for the remainder of the game but Town keeper Laura Chestnut stopped everything that came her way.

In Senior One, Lisnagarvey made it eight wins on the bounce as goals from Sarah Colgan, Jenna McQueen, Laura Gamble and Amy Brown gave them a 4-0 victory over Omagh at Comber Road. Ballymena stay five points behind in second after Rebekah Reynolds scored twice in a 5-2 win over CI while there were also victories for Armagh and Priorians.

The top-scorer of the day across both the men's and women's programmes was Emma Allen, who hit four for Priorians in their 6-1 win over Victorians. Armagh's recent revival continued as two goals from Jemima Stevenson and one from Karen Nesbitt earned them a 3-0 victory over Knock at Ardmore.

Men
Ulster Premier League: Raphoe 0 North Down 3 (J Clarke, G McKeown, P Wilson); NICS 4 (E Whittington, D Bradley, R Anderson, C Bannister) Newry Olympic 3 (R Irwin, A Irwin, D England); Instonians 4 (W Robinson 2, J Palmer, S Kelso) Cliftonville 0; Antrim 2 (L Kane, T Allen) Queen's 5 (C Anderson 2, R Wolsely, F Harkins, A Doyle); Bangor 2 (R Burgess, M McCombe) Kilkeel 1 (E Agnew)

Women
Ulster Premier League: Randalstown 2 (S Graham, CJ McDonald) Rainey 1 (C Beggs)

Senior One: Armagh 3 (K Nesbitt, J Stevenson 2) Knock 0; CI 2 (L Ternahan, L Mercer) Ballymena 5 (C Gillespie, R Reynolds 2, C McCracken, K Young); Lisnagarvey 4 (S Colgan, J McQueen, L Gamble, A Brown) Omagh 0; Priorians 6 (E Allen 4, J Kennedy, A O'Neill) Victorians 1 (R Hewitt).

The Hook


---

KLHC eye three more titles to accomplish mission

By Aftar Singh

KUALA LUMPUR: One down and three more to go for Kuala Lumpur Hockey Club (KLHC).

The KL team, powered by seven national players and six foreigners, started the new season with a bang by winning their first silverware – the Tan Sri P. Alagendra Cup.

KLHC edged defending champions Terengganu 4-3 in sudden-death penalty shootout after both teams failed to break the 3-3 deadlock in regulation time in the final at the National Hockey Stadium in Bukit Jalil on Sunday.

KLHC team manager Ahmad Anuar Sham Kamar said it felt great to lift their first-ever Tan Sri P. Alagendra Cup.

"Winning the trophy has motiva­ted our players to continue their fine run in the Malaysia Hockey League (MHL).

"Last year we won two titles but this season we hope to create history by winning all four titles at stake in the MHL," said the former international.

The other titles at stake in the MHL are the Charity Shield, Premier Division and TNB Cup.

KLHC, who won the Premier Division title last year, are gunning for their third straight Charity Shield against reigning TNB Cup champions Terengganu at the Batu Buruk Hockey Stadium in Kuala Terengganu on Friday.

KLHC edged Terengganu 2-1 in the 2016 Charity Shield and also won it last year – 6-5 in a penalty shootout after both teams were tied 2-2.

Ahmad said his players were all fired up for another thrilling match against Terengganu in the Charity Shield.

"We've beaten them twice in their own backyard and it will be great to win our third straight Charity Shield," said Ahmad.

South Korean penalty corner specialist Jang Jong-hyun has been in sizzling form for KLHC in the Tan Sri P. Alagendra Cup.

Jong-hyun, top scorer in the MHL the last two seasons, has converted penalty corners in three matches in the tournament.

He netted one to help KLHC beat Tenaga Nasional 2-1 in the quarter-finals and scored two in the 3-1 win over Universiti Kuala Lumpur (UniKL) in the semi-finals. In the final, Jong-hyun scored one in the 3-3 draw.

The Star of Malaysia


---

New Leadership Group for Wales Women

Laura Hallsmith



Leah Wilkinson becomes the new Captain

With the departure of Abi Welsford as Captain announced last week, Head Coach Kevin Johnson and the playing group have opted to review their leadership structure as the group look forward to the Commonwealth Games and World League round 1 in 2018 and beyond.

Speaking about the future Johnson has emphasised that as a squad, it's vital they continue to be aspirational about their development and remain focused on open and honest reflections on their growth as a group. This led to the process being driven by the playing staff to ensure that all had a voice.

The new leadership structure will see Leah Wilkinson step up to the position of team Captain; a decision Johnson feels Wilkinson rightly deserves after a string of solid performances and results these past couple of years.

"I'm delighted for Leah that the team have wished for her to step up from her previous role as Vice-Captain to take the Captaincy. As a current joint caps record holder for Welsh women's Hockey, she deserves her chance to lead the team outright and will bring her own style of leadership to the role as we move into our next period of development".

Reflecting on her time as Vice-Captain, Wilkinson shared her hopes for the future

"To be able to lead my country and this group of incredible women is a real honour and one I am very proud of. For the past 4 years I have had the role of Vice-Captain under Abi Welsford; an inspirational leader and a true role model and I hope that I can take many of her leadership qualities into the role. It's an exciting time for the squad with the Commonwealth Games in April, the World League in September and Europeans in 2019. We have a great mix of youth and experience and both the management and the group have a real vision of how we want to play. With hard work and dedication, I'm sure we can reproduce and build on our successful 2016-2017 cycle. The future is certainly a positive one and one I am thrilled to be involved in".

The process has also seen talented midfielder Sian French appointed Vice-Captain, a move that Johnson feels will be a huge benefit to the squad.

"Sian has been one of our most consistent performers on pitch in the last couple of years and carries much authority as a respected senior player. I'm pleased she's now made the step up to Vice-Captain. The side and I feel certain she'll continue to represent the team positively as both a player and leader".

Alongside Wilkinson and French, the group have selected GB athletes Sarah Jones (sponsor Williams Lester) and Beth Bingham to complete the leadership quartet; thus, forming the new leadership structure.

Hockey Wales media release


---

PHF to hire an Australian coach in a week

ISLAMABAD: The Pakistan Hockey Federation (PHF) will be appointing an Australian coach for the national team in a week.

Talking to media on Monday, a PHF official dismissed all reports for considering former German captain Christine Blunck for the job.

Responding to a question, he said local Pakistani coaches including Farhat Khan, Khawaja Junaid, Shahnaz Sheikh etc had been tested time and again, therefore the PHF was trying to rope in a foreigner.

"We need to catch up with the modern international standards of hockey and a foreign coach can let us achieve that goal," he said.

The Daily Times


---

Mattresses on the floor for hockey players in chilly Imphal

National hockey players are being made to sleep on mattresses on the floor in Imphal during a cold winter.



Mattresses provided to players taking part in national hockey in Imphal.(HT Photo)

Manipur has come under sharp criticism for providing poor accommodation to the players who have reached Imphal for the senior national hockey B division championship. The 15-day competition that got underway on Sunday, is being held under the aegis of Hockey India.

At this time of the year when the temperature goes down to as low as 2 to 3°C during the night, players were given mattresses on the floor to sleep on.

Former international Thoiba Singh from Manipur agreed the state hasn't made good progress in terms of infrastructure. "There is acute shortage on that front," he told Hindustan Times.

Thoiba said good accommodation was an issue. "We are trying to provide the best that we have. Some officials of Hockey India have also come here and they are monitoring the situation. We have provided room heaters and extra mattress to the players," he added.

Thoiba said budget constraint was a big issue. "There is not much support from the state government," he said adding there should be adequate hostel for sporting events.

An official with one of the teams said, the national team gets good facilities and the same should be provided for domestic competitions. "Someone from the federation should monitor the facilities before teams arrive so that the basics things are mot missing," he said on condition of anonymity.

There are 33 teams participating in the competition.

Hindustan Times


---

Love Actually




It is a common occurrence that people ask me, "Why are you still involved in the game?" "Don't you feel burned out?" "Is there really more to learn or do?" These questions have arisen on numerous occasions during my years as a hockey enthusiast, from age 15 to 35, yet my answer has always been the same - because I love it.

My childhood experience with sports defines the term organic. I never played to earn a college scholarship or to make someone else happy. I didn't travel to tournaments every weekend with ungodly amounts of pressure on my shoulders. I even quit the U.S. Women's National Team to try something new, only to return 2 years later. Maybe I was oblivious to reality and pressure or, quite simply, I grew up in a different generation. But, one fact always remained the same - I played field hockey because it was fun and when I wasn't having fun, I always took a break.

I see the pressure that our athletes have in today's athletic world and it breaks my heart. How and when will we ever turn back to what really matters?

Sometimes I think it is providential that my career spanned over so many years, afforded me to see many new places and allowed me to meet amazing people along the way. But as I get older, I realize it was not luck or simply hard work. It was my passion for competition, my appreciation for the learning process and my love for the people that surrounded me every day that always kept me coming back for more.

The truth is, I have an inner competitive drive and hockey fulfilled that outlet. I am the person racing to get in the door first and the one that secretively wants to win every game of UNO that I play with my sons.

Competition was part of my DNA and this factor became a driving force of my playing career. If you ask most successful athletes, they all say the same. I love competition. Not just the big games, but the competitive drive of winning the small battles everyday at training.

Sports are not always peaches and cream. It's a process. Whether you are just starting out in a youth league, playing for your high school or club or competing at the highest level, you will always have days were you simply grind it out. Successful athletes don't just understand the grind, but they live for it.  

Loving the process and the simple life lessons along the way are exactly what got me out of bed each day. But, one day I woke-up and couldn't find the desire in the process.

I spent the next 2 years in corporate America. Every day, I put on stilettos and attempted to make my frizzy outrageous hair look somewhat attractive.

At the start, it was fun and fulfilling. I was new to the traditional working world and the learning process was intriguing at the start but soon, the competition of sales wasn't enough. I wanted to win on the field.

The corporate process was not one with which I connected. I certainly didn't connect with the people, because for the most part, we had different aspirations, different goals, and ultimately, a different drive than my colleagues. Different isn't bad - it's just different, and it meant that I felt myself longing for the complete fulfillment of my competitive drive, which I knew I had in hockey.

I turned back to hockey and the national team where I reconnected with the sport in a much fuller way. Every day I rolled out of bed, put on my training shoes and made my frizzy outrageous hair easy to control as I ran, lifted, practiced and played. The return was natural, it was fun, it was fulfilling. I was back in the world where I simply loved the process, had fun and loved the people that surrounded me every day. I wasn't playing for money or someone else's happiness. I was playing because I had fun and I loved the sport.

I had the opportunity to continue to travel to many new places, meet many new people and experience things that I still hold as treasured memories. As my family grew, my love of the sport did not diminish but rather the time available to both reached maximum capacity. I stepped away from playing actively, but I did not step away from the sport, because my competitive drive has been channeled into developing ways to help others capitalize on their passion.

So when I am at a club practice, or at a hockey event, and I'm holding the hand of one of my sons, and people ask me "'Why are you still involved in the game?',  'Don't you feel burned out?', or  'Is there really more to learn or do?'", it's an easy answer for me. I have had the same answer since I was 15 years old. It's the same answer I want everyone to be able to respond with when someone asks them why they play.

"Actually, because I love it."

Keli Smith Puzo is a Field Hockey Life Club team founder, two-time Olympian and former member of the U.S. Women's National Team

USFHA media release