All the news for Wednesday 20 June 2018

Top 6 hot-shots playing in the Men's Rabobank Hockey Champions Trophy 2018



Jorrit Croon of the Netherlands. Copyright: FIH / Getty Images.

With less than a week to go until the start of the Men's Rabobank Hockey Champions Trophy 2018 in Breda, Netherlands, we take a look at some of the rising stars who each have the potential to make a big impact in this world famous competition.

BUY TICKETS NOW!

LACHLAN SHARP, AUSTRALIA




Age: 20
Position: Midfielder / Forward
Shirt No: 1
Info: Wearing the iconic number 1 made famous by five time FIH Player of the Year Jamie Dwyer, Lachlan Sharp has enjoyed a fine start to his international career. Following his senior international debut late in 2017, Sharp has claimed gold medals at the Odisha Men's Hockey World League Final Bhubaneswar 2017, the 27th Sultan Azlan Shah Cup in Malaysia and the Gold Coast 2018 Commonwealth Games on home soil in Australia. Sharp is an unpredictable talent with quick hands and a rapid turn of pace, assets that make him a defender's worst nightmare. 

MAICO CASELLA, ARGENTINA




Age: 21
Position: Forward
Shirt No: 9
Info: Maico Casella was one of the standout talents at the Uttar Pradesh Men's Hockey Junior World Cup 2016 in Lucknow, India, and was soon promoted to the senior set-up where he is now established as a key player for Los Leones. A terrific attacking player with speed, skill and composure, Casella creates plenty of goal-scoring opportunities for his team mates and often finds the net himself.

VICTOR WEGNEZ, BELGIUM




Country: Belgium
Age: 22
Position: Midfielder
Shirt No: 26
Info: Regularly described as one of Belgium's most exciting young talents, Victor Wegnez is an intelligent, skilful midfielder who is never scared to take on opposition defences. He captained the Belgium Under-21 team at the Uttar Pradesh Men's Hockey Junior World Cup 2016 in Lucknow, India, guiding his team to a silver medal behind title winners India. Wegnez has over 40 caps for the Red Lions and looks likely to be part of the team for many more years come.

JORRIT CROON, NETHERLANDS




Age: 19
Position: Forward
Shirt No: 7
Info: Netherlands Head Coach Max Caldas surprised many people with his selection of the then 17-year-old Jorrit Croon for the Rio 2016 Olympic Games, but his choice was more than vindicated by a string of standout performances from this hugely gifted attacker. Two years down the line, Croon is still a teenager but has now played over 40 times for his country, with appearances at the Hero Hockey World League Semi-Final 2017 (London, ENG) and the Rabo EuroHockey Championship 2017 (Amstelveen, NED), where he became a European champion. The home fans in Breda will be hoping that they can see the very best of this gifted youngster throughout the Champions Trophy competition. 

DILPREET SINGH, INDIA




Age: 18
Position: Forward
Shirt No: 2
Info: At 18 years of age, Dilpreet Singh was one of the youngest players competing at the Gold Coast 2018 Commonwealth Games in Australia earlier this year, but that did not stop him from making a big impact. He scored the opening goal in the 2-2 draw with Pakistan before also notching in the victory against Wales, showing that he is capable of repeating the kind of form at senior level that saw the then 17-year-old finish as top scorer at the Under-21 invitational Sultan of Johor Cup 2017 in Malaysia, where the team took the bronze medal. Dilpreet is a striker with a killer instinct in front of goal, and will be relishing the opportunity to test himself against the best goalkeepers in the business.

MUBASHAR ALI, PAKISTAN




Age: 20
Position: Defender
Shirt No: 3
Info: While Mubashar Ali's senior international career is only just getting started, he has already made quite a name for himself thanks to some crucial goals. At the Gold Coast 2018 Commonwealth Games earlier this year, the defender scored late penalty corner equalisers against both India and England as Pakistan went through the entire competition unbeaten. While too many drawn matches eventually resulted in a seventh place finish, Mubashar's heroics did not go unnoticed and he will now be looking to produce more of the same against the world's best here in Breda.  

With Breda gearing up to host the 37th Men's Rabobank Hockey Champions Trophy, expect the stands at the BH & BC club to be awash with orange as the host nation face competition from reigning champions Australia, Argentina, Belgium, India and Pakistan. The event offers one of the last opportunities for these teams to play competitively before the Odisha Hockey Men's World Cup Bhubaneswar 2018, adding even more spice to the occasion.

#HCT2018

FIH site


---

Govers recalls his golden goal in 2012

Alexie Beovich




When it comes to the Champions Trophy, the Kookaburras hold plenty of records but winning a fifth consecutive title in 2012 didn't come easy.

Returning Kookaburras forward Kieran Govers was the hero back in Melbourne in 2012 when he netted a miraculous golden goal winner to clinch a 2-1 victory over the Netherlands.

The Wollongong product's tomahawk goal from marginally inside the shooting circle set off wild scenes in front of a parochial home crowd, with Govers mobbed over the fence by fans.

Govers recalled: "Eddie Ockenden did some razzle dazzle down the left-hand side gave it to T-Dubs (Tristan White) who passed it to me.

"At the start I wanted to go in to the circle and hit it as hard as I could. But instinct took over, I tapped it around the side and went for the tomahawk.

"I didn't even practice it. I wanted to hit it hard as the defender was coming. I don't know why I turned to my backhand and went with the tomahawk."

The goal cued wild celebrations. Govers added: "I didn't even see it go in. I heard the backboard.

"I turned around and Junior (Jason Wilson) and Mitts (Trent Mitton) who were jumping up in the air.

"I saw Knowlesy, chucked my stick and ran for the crowd."

Earlier, Sander Baart had put the Dutch ahead on 18 minutes with Russell Ford equalising just past the half hour mark.

The scores couldn't be split by full-time, until Govers' extra-time winner which made it five Champions Trophies in a row.

The title was Govers' third Champions Trophy but Australia's fifth but he said playing in front of a home crowd which included his mother Jenny and brother and now-Kookaburra Blake made it extra special.

"It was amazing. The five straight wasn't one of our main focuses. We wanted to win in front of our home crowd. It's not often you get that opportunity in a major tournament."

The triumph secured Australia their record 13th Champions Trophy title overall (now 14) and they'll be aiming for another in the final edition of the tournament in Breda from 23 June to 1 July.

Australia's matches in the 2018 Champion's Trophy will be broadcast live on Fox Sports.

Hockey Australia media release


---

Getting To Know Aran Zalewski

Alexie Beovich




Midfielder Aran Zalewski is one of the Kookaburras current leaders but also one of the side's more unique individuals. He'll also play his 150th game for Australia at the upcoming Champions Trophy, so we thought we'd give you an insight into who he is.

What's your full name?

Full name is Aran Zalewski. I don't have a middle name. I reckon that's pretty cool.

That's exotic, what's your background?

Aran is spelled differently because my mum is from Ireland. She grew up there. She was giving way her last name, so she wanted to ensure I had some Irish heritage in me which is where Aran comes from. Obviously Zalewski is a Polish name, my old man is Polish.

Your nickname is Moose. Can you explain that?

That's a long-running nickname. I used to get called Zeus back in the day which evolved to Spruce Moose, which Whetty (Jake Whetton) coined. Moose stuck, the boys seemed to like it and I'm pretty happy with it.

How did an Irish and Polish couple end up in the WA south-west town of Margaret River, where you grew up?

Pretty crazy. They got together in New South Wales and when they were having me, they were looking for a place to live all over the country. They settled in Perth for a few years and the Margaret River Hockey Club got in touch with my old man and asked him to come down. They gave him a job and a house. They went down there, checked it out and never looked back.

So I assume your dad was a pretty good player?

Dad didn't start playing hockey until he was 18, but he loved it. He loved being part of the Hockey Club and he's still a big part of the Margaret River Hockey Club today. Hockey is a family sport and it's a big community thing.

Where'd you go to school?

I went to primary school in Margaret River at the Catholic School, St Thomas More, and then went to Perth to Aquinas College in Year Nine and boarded at the school there.

What do you do outside hockey nowadays?

I'm studying Commerce at the moment. I'm only doing a couple of units, trying to get my degree finished. When I'm not doing that I'm probably at the beach surfing or trying to get away on the weekends trying to do something adventurous.

What's the end goal of those studies?

I still haven't figured out what I want to do career-wise but I'm enjoying my study and I definitely want to have a degree under my belt and move towards some sort of business field.

Favourite surfing spot?

I was in love with Boranup but I think Yallingup is now my favourite spot. Boranup had a few whales wash up there recently, attracting a few sharks, so I think I'll give that a miss for a couple of months!

Favourite holiday spot and why?

Portugal in a camper-van. Having a van gives you flexibility to go wherever you want and you're not in the constraints of a hotel room. Portugal has the second-best beaches in the world behind Australia, beautiful weather, cheap food.

Favourite place to play hockey and why?

The Hockey India League is one of my favourite places in my hometown Bhubaneshwar because the crowd is amazing. For Australia, the best place to play hockey is in the Netherlands.

Finally on this topic, who's the worst team-mate to room with on tour?

The goalies are the worst to room with. They are notoriously messy. If they've got their goalie gear there as well, they're notoriously smelly. Probably Tyler (Lovell) mostly.

Thanks for your time, good luck at the Champions Trophy!

Hockey Australia media release

---

When The Kookaburras Shook 'The Olympic Curse' In Athens

Alexie Beovich




"I didn't feel it myself. It was more something in the media, rather than the players worrying about it," 2004 gold-medal winning Kookaburras goalkeeper Mark Hickman recalls. "We always saw ourselves as a new team."

Australia's 2004 Athens Olympic gold medal triumph was historic. The Kookaburras got rid of their Olympic curse, having fallen short on so many occasions previous.

In fact going back in the history books, the Kookaburras first played Hockey at the Olympics in Melbourne in 1956, finishing sixth. Eleven campaigns came and went, with the side excruciatingly continually falling short, including three silver medals and three bronze medals.

In 2004, though, that run would come to an end.

Ex-Kookaburras midfielder Rob Hammond, who was part of the 2004 side, adds: "We only had four players from the previous Olympics so there was no baggage.

"It was irrelevant to our group as it didn't affect us. Our group in 2001 was a rebuild."

The rebuild started to take shape in 2004, with the Athens Olympics proving the side's crowning glory.

It didn't come easy, though, with the Kookaburras trailing in four of their five pool games, but recording three wins, one draw and a loss to get into the semi-finals in second spot behind reigning gold medallists the Netherlands.

Australia's ability to come from behind was a sign of things to come, although they produced a strong showing in the semi-finals to defeat Spain 6-3 with Michael McCann and Grant Schubert scoring doubles.

Hickman recalls: "We only made the semi-finals by one point. We had a lot of close games, where if we'd dropped points, we would've missed out on the semis.

"We played Spain in the semis, who hadn't lost a game and had only three goals scored against them, but the semi-final was almost our best game of the tournament."

Australia's opponents in the final would be the Netherlands, who had won their encounter in the pool phase 2-1. The curse loomed in the background, although the players gave little thought to it.

Once again, in the gold medal match, Australia went behind when Ronald Brouwer put the Dutch ahead in the 27th minute, but the Kookaburras weren't worried.

Hammonds reflects: "It's well known at half-time (then assistant coach) Colin Batch wrote up on the whiteboard, 'trust our preparation'.

"We know what that meant to the group. We knew we were stronger, faster and fitter than the Dutch. We just had to stick to that during the game. We stuck to that, including extra-time, and it paid off."

Firstly Travis Brooks equalised two minutes after the interval, with the scores ending 1-1, sending the decider to extra-time.

Cue superstar Jamie Dwyer who netted the winner from a 78th minute penalty corner.

Hickman recalls: "It was incredible. I was on the bench at the time. It was a penalty corner. Interestingly the PC which was called by the coaches, Jamie didn't follow through with. I don't know how many people know that.

"It caught everyone by surprise. Jamie was meant to deliver it for a deflection but just hit it."

Hickman adds: "It's a bit of a cliché, but it's one of those moments where time stood still for me. You thought about all the work that'd gone into it, it was a moment of disbelief.

"Yes we'd won but you couldn't believe it. Everyone ran onto the field. I tried to catch Jamie and couldn't catch him. I don't think he's run that fast for a long time."

Fittingly, among those to celebrate the drought-breaking win with the side were former Kookaburras Mark Hager and David Bell (who were part of the 2004 Hockeyroos coaching set-up), who had never quite managed an Olympic gold during their lengthy international careers.

"It was the last day of team sport competition," Hickman says. "A lot of Australian athletes and supporters were in the stands, so it was an amazing feeling, despite not being in Australia, you almost felt like the home team.

"We were lucky we had Mark Hager and David Bell to celebrate with us. John Eales was our athlete liaison who spent some time with us prior to departure. We had 'Oarsome Foursome' which was spectacular in the rooms afterwards.

"Once that died down, we all did think about what we'd done as the Australian men's team had a long history with the Olympics."

Hockey Australia media release


---

Time for redemption: Having missed out as player, Harendra Singh eyes Olympic glory as hockey coach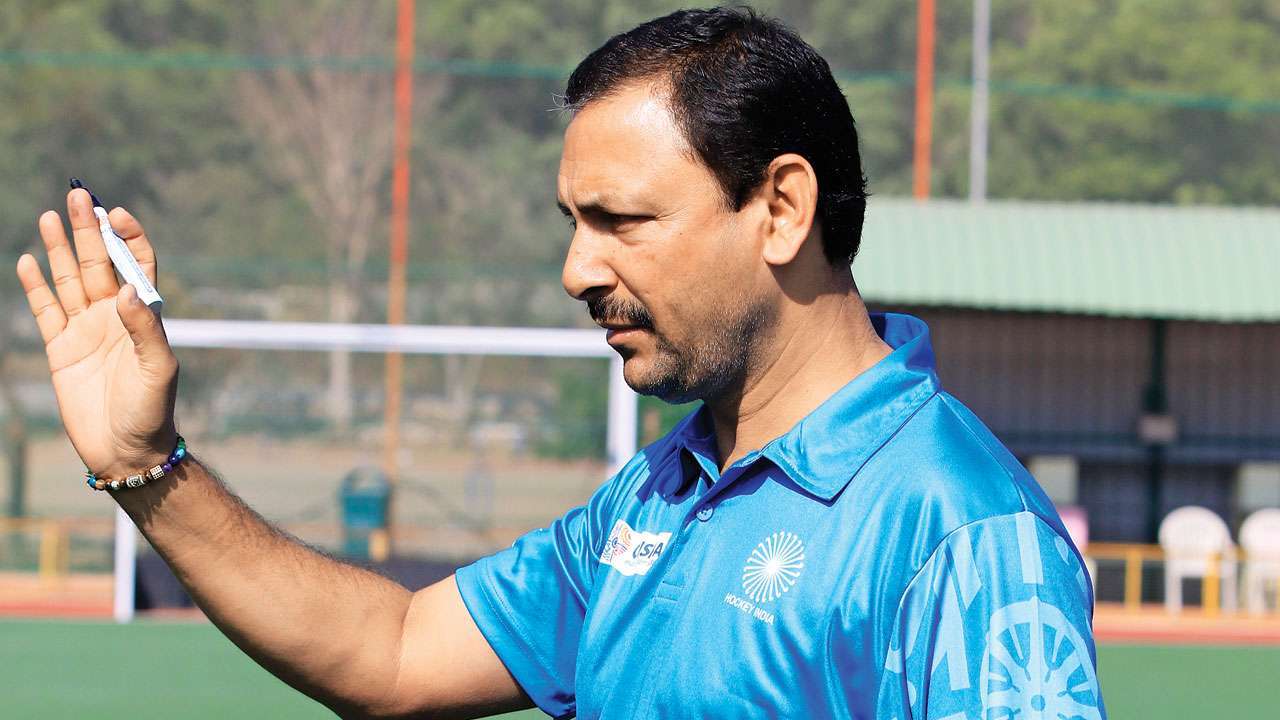 Harendra Singh - File Photo, PTI

He never got the opportunity to represent India at the Olympics as a player but Harendra Singh is hopeful of living that dream in a different way -- as the coach of the senior men's hockey team at the 2020 Tokyo Games. Considered the 'Man Friday' of Indian hockey, Harendra claims "nothing is impossible" for him.

Barely a month into the high-profile job, he is clear about his goals -- securing podium finishes in the upcoming Champions Trophy and the season-ending World Cup, retaining the Asian Games gold in Jakarta -- a direct ticket to the 2020 Olympics.

"Yes, I never got the opportunity to compete at the Olympics and that will always remain the biggest regret of my playing career. But there is always another day and now I have an opportunity to be at the big stage in a different capacity," Harendra told PTI in an interview before leaving for the Champions Trophy to be held in Breda, Netherlands from June 23 to July 1.

Harendra was brought in as men's coach for a fourth stint after Sjoerd Marijne was moved back to the women's camp following a poor Commonwealth Games campaign where the team finished fourth. Even though he didn't have a stellar playing career, Harendra's exploits as a mentor are incomparable and he is the only FIH certificate holder coach in India.

"2018 is a very crucial year for Indian hockey with three important tournaments around. I agree I didn't have enough time with the team but my goal is clear from day 1 -- podium finishes in Champions Trophy and World Cup and gold in Asiad which will ensure our ticket to Tokyo Olympics," said Harendra. "These players are not new to me. I have coached all of them at one point or the other. The core group of players know my working style inside out," said the lanky Harendra, who last coached the men's senior team back in 2009.

Asked how realistic his ambitions are, a confident Harendra replied: "Nothing is impossible and I have proved that time again, be it with the junior men's team or the women's side."

Talking about India's preparation for the important year ahead, including the upcoming Champions Trophy, Harendra said: "The team is physically and mentally in best shape. We only have to work upon penalty corners, goal scoring rate, ball possession etc. We have had psychology, physiology sessions, besides working on technical aspects and now it's the time for the players to deliver on the field."

Harendra said during the national camp in Bengaluru, he paid individual attention to every player. "During the camp I tried to define to every player, their individual responsibility along with team responsibility because I feel individual coaching is more important than team coaching," he said.

"There should be two-way communication because one can solve 90 per cent of his or her problem with communication." Harendra is looking at the last edition of the Champions Trophy as a preparation for the Asian Games and feels his role is just of a facilitator to the players in deciding their fortunes in the tournaments ahead.

"I go into any tournament with a mindset that let the players decide what colour of medal they want. I will just help them in achieving that," he signed off.

India will open their campaign against arch-rivals Pakistan in the Champions Trophy on Saturday.

Daily News & Analysis


---

USMNT Embarks on 22-Day Europe Summer Training Tour




WATTIGNIES, France – Wasting no time to stay active as a unit and prepare after winning the Hockey Series Open event in Mexico less than two weeks ago, the U.S. Men's National Team is abroad again gaining as much international exposure as possible. On Saturday, the team will kick off a 22-day extensive training regimen which will feature four different test match series against FIH Hero World Ranked No. 8 Spain, No. 10 Ireland, No. 18 France and No. 23 Scotland.

"For us, this summer is all about getting prepared for 2019," said Rutger Wiese, USMNT Head Coach. "We will be spending a lot of time on technical trainings as well as having the opportunity to play against top competition. It is a great opportunity to evaluate some junior national players at the senior level."

The last time the USMNT met three of these four teams was at the 5 Nations Tournament in January in Malaga, Spain. USA's opening match saw them against No. 23 Scotland. Despite a hard-fought contest, the USMNT could not overcome an early deficit as the Blue Sticks claimed a 3-1 victory. Next, they went head-to-head with No. 8 Spain, and although they were deadlocked after the first half, the host nation defeated them 2-0. Their last match of the event was against No. 10 Ireland. USA played well containing the opposition when tested, but a major penalty, 10-minute yellow card, ultimately proved to be the turning point in the 4-2 loss.

At this time last year, the USMNT traveled abroad where they practiced and met No. 18 France in three friendly matches. After splitting the first two contests, USA could not withstand France in the final game who came out strong and took advantage early as they fell 4-1.

USMNT European Tour Roster:

KevinBarber (Camarillo, Calif.), Tom Barratt (Greensboro, N.C.), Sean Cicchi (Thousand Oaks, Calif.) Christian De Angelis (Doylestown, Pa.), Ajai Dhadhwal (Agoura Hills, Calif.), Mohan Gandhi (Ventura, Calif.), Alex Grassi (Brookeville, Md.), Pat Harris (Moorpark, Calif.), Will Holt (Camarillo, Calif.), Deegan Huisman (Almere, The Netherlands), Aki Kaeppeler (Stuttgart, Germany), Kei Kaeppeler (Stuttgart, Germany), JaJa Kentwell (Spring City, Pa.), Jonathan Klages (Berlin, Germany), David Kristof (Darien, Conn.), Adam Miller (Panama City, Fla.), Johnny Orozco (Ventura, Calif.), Paul Singh (Simi Valley, Calif.)

Joining this squad on the tour will be Alberto Montilla (Allen, Texas) from the U.S. U-20 Men's National Team, to gain experience but he will not compete in the official capped matches.

U.S. Men's National Team vs. France Test Series:

Game 1:        Saturday, June 23        9:00 a.m. ET
Game 2:        Sunday, June 24        8:00 a.m ET     

U.S. Men's National Team vs. Spain Test Series:

Game 1:        Tuesday, July 3        1:00 p.m. ET
Game 2:         Wednesday, July 4        1:00 p.m. ET
Game 3:         Friday, July 6            7:00 a.m ET     

U.S. Men's National Team vs. Scotland Test Series:

Game 1:        Sunday, July 8            7:00 a.m. ET
Game 2:        Monday, July 9        1:00 p.m. ET
Game 3:        Wednesday, July 11    9:00 a.m. ET

U.S. Men's National Team vs. Ireland Test Series:

Game 1:         Thursday, July 12        TBD
Game 2:        Saturday, July 14        TBD
Game 3:        Sunday, July 15        TBD

USFHA media release


---

When the final whistle blows

What do you do when you finish your playing career?

Sarah Juggins



Macarena Rodriguez (ARG) and Rob Short (CAN). (Photo: Yan Huckendubler)

From the moment you get selected for a national team, your life for the immediate future is mapped out in front of you. When you train, what you eat, where you travel, when you sleep. As an elite athlete you become one managed entity and, depending upon the length of your international career, this could be the case for five, 10 or 15 years. So, what on earth do you do when you finish your playing career?

It is a question a lot of athletes ask themselves and it can be a cause of much concern and worry, particularly as athletes reach the twilight of their playing careers. For many hockey players, they will have put work, studies, even family life on hold and this can have serious consequences.

Take, for example, the world of work. An athlete who has devoted 10 years of his or her life to hockey, will inevitably be behind his or her contemporaries when it comes to the workplace. From being in a position where they are at the very top of their profession as elite sports people, elite athletes will suddenly find themselves starting near the bottom again. That can be a difficult process and a tough reality, and it is something that many, many players struggle to deal with.

We spoke to two top hockey players who retired from the international scene after years of service to their national squads to find out how they coped with suddenly not living micro-managed lives.

Macarena Rodriguez was a key member of the Argentina team that won gold at the 2010 Rosario World Cup and silver at the 2012 London Olympics. She also won three Champions Trophy gold medals with Las Leonas, captaining the side to victory in 2014. Shortly afterwards she was deselected from the squad.

"It was not my decision to retire," says Macarena. "The coaching team wanted to make some changes and age was against me. But while I played for Las Leonas, I lived my dream. Looking back now I can say that I achieved everything I wanted to and I can now accept that I am done with that stage of my life."

Following her deselection from the national team, Macarena finished her degree in Information Systems and gave birth to her son Tobias. She now works for Cleversolutions, a software development company and trains the youth team at River Hockey, where she still plays club hockey.

While this all sounds like a planned exit from the sport and a successful transition into everyday life, Macarena admits she found it far from easy.

"It was a very tough few months because for so many years of my life the only thing I did was to play hockey and I did it professionally. Leaving that closely-knit environment was very hard. I thought I was coping but when I next saw the girls playing my eyes filled with tears for the memories and moments lived with the shirt.

"But it's like everything, it has a beginning and an end and, thank God, I was able to learn to live without hockey being my job and my life."

For the first few months after retirement, Macarena filled her days with things that took her mind away from the hockey pitch. She took up hobbies such as knitting and painting and worked on web pages, designing and creating websites. But, as she says, "Nothing can replace the adrenaline of international competition."

While Macarena knows she will never replicate the thrill of lining up for Las Leonas, she is also pragmatic in her advice to others in a similar situation: "My advice is to always be yourself and don't allow yourself to think you are involved in something that is irreplaceable, because nobody is indispensable. You have to go on searching and pursuing new dreams without taking your feet off the ground."

In answer to the question of what she misses most, Macarena laughingly replies that the thing she doesn't miss is the physical training, although, she says, Tobias is determined to keep his mother very busy!

Rob Short is another long-serving international player who found that his services were no longer required when a new coach took over the national team. The Canadian international represented his nation at two Olympic Games (2000 and 2008), two World Cups (1998 and 2010) and brought home two gold medals from the Pan American Games (1999 and 2007).

"The new coach came in and wanted to move to a younger group and a couple of the older, more established players were not part of his plans," says Rob. "At first it was a tough message to swallow but quickly it forced me to move onto my career in coaching which was an exciting transition."

Rob's international coaching career began immediately after his retirement from the national team. In 2013 he took charge of the U21 Canadian Women who were seeking qualification for the Junior World Cup.

But while Rob was happy to coach the junior women's team, when it came to any involvement with the men's national team, it was a different matter. With heartbreaking honesty, he says: "Watching Canada for me was impossible. So many of the boys were my friends, so I wanted to be supportive but, in the end, it was just too tough to watch the team that I had been part of for almost 20 years."

It took Rob until the 2016 Rio Olympics before he felt he could watch the team play without being part of it. 

Coaching was the obvious step for someone of Rob's knowledge and ability but, as he says, there is a world of difference between being on the field, playing in the moment and watching from the sidelines.

"Don't get me wrong," he says. "I absolutely love coaching but it is the second-best job in the world compared to actually playing as a professional athlete. I can't describe how appreciative I am of that time playing abroad in Holland (Rob spent a number of years playing in the Dutch domestic league) and for Canada for 20 years."

Rob has not stopped playing hockey. He turns out for the West Van Millionaires, who play in the premier division in Vancouver, Canada, and he also plays in top class tournaments such as the California Cup and the prestigious Surrey tournaments. This gives him the chance to pit his skills against a lot of the players who are on the current national roster.

"If I am honest, the feeling of wanting to play for Canada will never leave.  But I am now really enjoying training the men's team in combination with my passion of working in my Academy with young female athletes who are looking to play university and college hockey and/or play for Canada. I can still remember the excitement of being at that stage of my career and I love seeing the enthusiasm of those young players."

Both players and national hockey associations are beginning to put a lot more thought into how athletes can successfully transition away from a playing career and Rob has his own advice. "There was a lot of downtime while I was playing for the national team and for my club side in Holland. I used that time to start a business. I would say to guys now, use that downtime to finish your studies or give some thought to your future. As a father, a coach and a businessman, I would love some of that downtime now."

It has taken a while but Rob is now in a place where he is happy and in love with life. He and wife Rachel have a son called Brek, and are living a fulfilled, if hectic, life. "It has been amazing since moving on from retirement as I love my job, and I love the life I have created here in North Vancouver. There is this new next level of enjoyment and meaning to what life is about.

"Of course, I would be lying if I said I don't want to join in the drills and play but I am thoroughly enjoying being there to help motivate and prepare the team for what we hope will be some successful results in the near future."

Pan American Hockey Federation media release


---

Alster's unrivalled passion saw us to German hockey title, says Amy Gibson

By Rod Gilmour



German side Alster celebrate women's title PIC: Der Club an der Alster

Scotland goalkeeper Amy Gibson has revealed the "amazing passion" which propelled Alster to a first German women's title.

Alster went to the Final Four weekend knowing that local rivals Uhlenhorst were the team to beat. But the Hamburg side, which had reached finals' weekend 10 years in a row, were beaten by a spirited Alster side 3-1 to spark wild celebrations.

"That's so cool, now we take apart our clubhouse," Alster goal scorer Viktoria Huse told local media afterwards.

And despite her limited German, Gibson was in tune with Alster's "contagious" team commitment in a breakthrough season which also yielded the indoor title.

"We have such a great squad and the belief that the girls have is amazing," said Gibson, who returned from the Commonwealth Games to play a vital part in the title win.

"I think the fact we won the indoor title in February gave us the confidence and belief that we could go and do the same outdoor for the first time ever."

If there was one word Gibson understood it was 'Zusammen', translated as 'together'. "We spoke about it a lot before the weekend and also had a very detailed plan from our coaching staff of how we wanted to play and that helped massively in the semi-final and final especially in the second half," the Scot told The Hockey Paper.

"I mean I really couldn't have asked for a better season. I sat on the bench for the whole of the indoor season but learned so much. It's a totally different game in Germany than anywhere else. So to see the girls win the title and our goalkeeper Helen Heitmann to be outstanding and help the team win on penalties was amazing.

"Then to qualify for the European cup next season and finally win the league at the weekend I really couldn't have had a better or more enjoyable season. It's been great to make so many new friends and play with some of the German legends."

Gibson, who joined the club this season from Reading, made a vital contribution in the final to stop Uhlenhorst going 2-0 ahead before Alster's second-half riposte took the underdogs to victory.

But despite coming off second best in the Hamburg derbies before Christmas, Gibson says the indoor title paved the way for Alster's memorable weekend.

She added: "I think towards the latter half of the season when we just kept winning we felt it could be our year, there are some incredible players in the team and the passion from them is like something I've never seen before.

"And although I don't understand what they are on about most of the time, I can tell they are so passionate about the game, the team and the club. It's contagious. I can't really pinpoint a certain point of where I think we realised we could win but I think there was a belief the whole season and it never wavered."

The Hockey Paper


---

Evans set to reprise unvergesslich season with UHC



Nikki Evans on the attack for UHC against Mannheimer HC. Pic: Frank Uijlenbroek/World Sport Pics

"Unvergesslich" – Nikki Evans description of an "unforgettable" year with UHC Hamburg, one she is delighted to be able to reprise for a second season.

Her enthusiasm for the year gone by is infectious, something that rubbed off on her club coach Claas Henkel who told the Deutsche Hockey Zeitung "it's impossible to be in a bad mood in her presence".

It is an attitude that probably helped her overcome some initial trepidation for the year, admitting that she cried all the way over to Germany as she moved away from her boyfriend, family and friends.

But, by season's end, she says she was crying all the way home such were the memories of a rollercoaster season, coming back with European Cup and German championship silver medals.

"Not the fairytale ending but an unforgettable season," she tells The Hook about the year gone by. "Losing finals hurts like hell and we came bitterly close in both the EHCC and German Championships.

"I guess that is elite sport, and there are such fine margins at the top. But I am privileged, honoured and incredibly proud of what we have achieved with UHC Hamburg this year.

"It has been an unbelievable experience for me personally, fun times, lifelong friendships, endless laughs and many memories. I am delighted and excited to say that I will be returning back next season!"

Evans qualified as a lawyer a year ago and decided to take a year out from work, putting full focus on hockey in World Cup year with a high-class offer on the table from one of Germany's top clubs.

She linked up with a UHC side who have won five outdoor German championships in the last 11 years, reaching the final 10 times as well as European silver and bronze.

Lining out with the likes of Olympic medalists Janne Müller-Wieland, Jana Teschke, Marie Mävers, Eileen Hoffmann and Katharina Otte (now Frank) provided perfect team-mates to learn from.

"It was the best decision I ever made," she enthuses. "I am so grateful to my team mates, coaches and UHC for making me feel so welcome and making Hamburg feel like home for me.

"A club like UHC has extremely high standards and sets the bar so high. The level of hunger and expectation was definitely a big attraction for me, consistently competing and succeeding amongst the best."

There were initial teething problems, particularly with the language barrier with every session conducted in German ("such a difficult language").

But hockey soon did the talking with Henkel hailing her "athletic play" but "most of all, she is an incredible team player who, in her positive way, gets everyone involved".

It built toward a climax in the past two months with big game after big game.

"It was a rollercoaster of a season, particularly this second part. With the way the German season is structured, we have played 16 competitive games in two months.

"It has been all go. There are no easy games in the Bundesliga. Every weekend you face tough games with present different tactics and challenges.

"The EHCC was definitely a career highlight for me. The standard and quality of play was like playing in an international competition. It is strange to say that I was so disappointed to come away with a silver medal from the biggest club competition in the world.

"It was bang, smack in the middle of our season. We had two away games the weekend before, flew to London on the Wednesday and played our German rivals Mannheim in the quarters.

"It was definitely the hardest tie in the quarter-finals, playing a top outfit with some world-class players. It was always going to be close as we had played each other 10 days previously in the league."

A fantastic goal from Eileen Hoffmann was enough to take UHC through before their keeper Noelle Rother was outstanding.

"Then came UHC v Amsterdam. A repeat of last year's semis, my first experience of Germany playing Holland…. a local derby!

"That togetherness, grit, never say die attitude and team spirit we have enabled us to dig in and grind out a sudden-death shoot-out win. Again, our keeper was incredible. One of the best days in my career!"

It set up a repeat of the 2017 final against Den Bosch, the undisputed queens of the competition. UHC got level at 1-1 with eight minutes to go and Evans felt her side had the momentum to push on for glory.

But an unexpected turnover two minutes from time gave Den Bosch a sniff and they counter-attacked at speed to score the clinching goal.

"Heart-breaking, having come so close. Still tough to take but I know I will look back in years to come and be proud of a silver medal in the top European competition amongst the best in the world."

After that whirlwind five days in London, the club were straight back to action domestically, qualifying for the final four and a ticket to Krefeld to play in front of over 4,000 fans each day.

"Livestream, video referral and the prospect of another game against Manheimmer HC in the semi-final. This game we were lucky to win but I always had confidence. They had the better share of the chances. It took a sudden death shoot out and another master class from our goalkeeper to send us through to the final.

"I knew a different team would turn up for the final the next day. A local derby against our Hamburg rivals, Club on the Alster. We started strong and went one up.

"We should have scored a second and put the game to bed. But half time came at a bad time for us and ill discipline cost us in the third quarter, conceding two goals."

The forward says she "sees the game differently now and love the German mentality" and is keen to carry what she has learned into the green jersey.

"The standard of the German league is a lot higher. German teams are renowned for their structures and style of play, played with a very high level of basic skills.

"Playing and training at a high level week in week out has helped me improve technically and enabled me to bring my physical output to the next level."

She was rested for last weekend's games against Canada due to the proximity to the German playoffs. But now she is back in the fold in Dusseldorf, looking forward to a series in Germany against some of her team mates to start the run-in to the World Cup.



In action at the EuroHockey Club Cup

"We have an incredibly exciting couple of weeks coming up as we continue our preparations for World Cup. It is also fantastic for us that SoftCo have joined our team.

"They have always supported hockey in Ireland, sponsoring Hermes-Monkstown and so its great to have them as our major sponsor. It is brilliant to have this international organisation, who are proud of their Irish roots, join our journey.

"It is also great to have some matches at home before we head to the World Cup in London. I am looking forward to seeing the Green Army perform on the world stage."

Once the World Cup is over, she has that return ticket to Hamburg to look forward to.

"With a ticket to the EHCC next season, I am excited about my future with this amazing club and delighted to be staying.

"I am hungry for the challenge next season, to be better, learn from this season and make improvements next season and see if we can go one step further than we did this season domestically and in Europe."

The Hook


---

Tom Wilson Memorial Tournament to be held on 23 June



Tom Wilson Memorial Tournament

The life of Tom Wilson will be celebrated this Saturday at Old Loughtonians HC with a tournament being held in his memory.

Starting at 14:00, the Tom Wilson Memorial Tournament will see mixed teams from Havering HC, Nottingham Trent University, Coopers' Company, Coborm School and Old Loughts come together and play two days ahead of what would have been his 25th birthday on 25 June.

The doors will be open to anyone who wishes to attend and a raffle will be held on the day, with all items gratefully received. All the money raised on the day will go to the Tom Wilson Memorial Fund, which you can find out more about here.

England Hockey Board Media release


---

Call for nominees for FIH Awards 2018



FIH is looking for nominees for various Awards Photo: FIH/Getty Images

The International Hockey Federation (FIH) is calling for nominations ahead of the 30 June deadline for the FIH Awards which will be presented at the FIH Congress New Delhi 2018 in India later this year.

A number of awards will be presented at a special ceremony during this event, with nominations being accepted from all corners of the hockey world, from Continental Federations to National Associations, hockey clubs, players and fans, to anyone associated with the sport - depending on the award category.

Below is an outline of all the Awards and Trophies that will celebrate the achievements of hockey's stars over the past two years.

The Pablo Negre Trophy*
The Pablo Negre Trophy is presented to a National Association that has made a significant mark either through innovative programmes and initiatives or by embracing the spirit of hockey through exceptional sportsmanship.

Guust Lathouwers Memorial Trophy
This award celebrates an individual who has made an outstanding contribution towards the development of umpires. The nomination for this award comes via the umpiring committee and will be revealed on the night.

Theo Ykema Award
The Theo Ykema Award is presented to a National Association who has inspired, developed and enriched hockey in its homeland through projects and initiatives.

Etienne Glichitch Award
Presented to an individual, National Association or Continental Federation who has developed hockey through innovative ideas or the professionalisation of their organisation.

The Super Fair Play Trophy Rene G Frank
The Super Fair Play Trophy Rene G Frank is awarded to a team or individual who has upheld the spirit of hockey and shown exemplary sportsmanship on and off the field.

HRH Sultan Azlan Shah Award
The HRH Sultan Azlan Shah Award acknowledges actions and achievements of individuals within both hockey and their professional careers.

In addition to the above awards, four awards for individuals will also be presented. These awards are the Order of Merit, Diploma of Merit  and Honorary Member. They each recognise and celebrate outstanding commitment and contribution to hockey by an individual.

For more information and details about how to enter, click here.
https://fih.formstack.com/forms/fih_awards_2018
For previous award winners, click here.

*The Pablo Negre Trophy no longer offers the winner a pitch from Polytan or lighting from Musco Lighting.

FIH site