All the news for Friday 16 February 2018

2018 Oman Triangular Series - Day 2
Muscat (OMA)

JPN - PAK 2 - 2


| Rank | Team | Played | Wins | Draws | Losses | Goals For | Goals Against | Goal Difference | Points |
| --- | --- | --- | --- | --- | --- | --- | --- | --- | --- |
| 1 | Pakistan | 2 | 1 | 1 | 0 | 5 | 2 | 3 | 4 |
| 2 | Japan | 1 | 0 | 1 | 0 | 2 | 2 | 0 | 1 |
| 3 | Oman | 1 | 0 | 0 | 1 | 0 | 3 | -3 | 0 |
---

Pakistan drew 2-2 with Japan in tri nation hockey

Abubakr Mahmood converted a penalty corner with just two minutes left on the clock to salvage a 2-2 draw for Pakistan in an exciting encounter against Japan in the 3-nation hockey tournament at Muscat's Sultan Qaboos Sports Complex.

It was Green Shirts' second match, having defeated Oman 3-0 on Wednesday.

Pakistan went ahead early. In the 10th minute Shajeeh Saeed scored a field goal.

It remained 1-0 with only six minutes left in the match.

However, in the 54th minute, Japan not only equalised but also took the lead.

First Yamada, on a penalty corner and then Yamasaki through open play found the target.

When it seemed all over for Pakistan, Abubakr saved the day for his team.

Pakistan 2 ,   Japan 2
SCORERS:
Pakistan: Sahjeeh Saeed & Abubakr Mahmood
Japan: Shota Yamada & Koji Yamasaki

Pakistan's next match is on Saturday against Oman.

PHF Media release


---

Indoor Hockey World cup enjoyed by millions

By Sarah Juggins, FIH Media Coordinator



Over 8,000 fans witnessed the Indoor Hockey World Cup finals live Photo: FIH/WSP

The players emerged onto the pitch through a tunnel of flames; an indoor hockey record breaking 8,000 fans were cheering themselves hoarse; red, gold and black flags waved in time to the music that was bellowing through the loud speakers; the stadium commentator roared each player's name as they entered the arena. This was hockey at its very best – big, bold, packed and loud!

The action on the pitch was just as heated. The women's final between Germany and the Netherlands saw the host nation hit their top form at just the right time. Where Netherlands had sailed through each stage of the competition, Germany needed to dig deep, but on the night it all went right. They won 2-1 and fittingly, Best Player Anne Schröder and Rising Player Nike Lorenz were the two scorers.

In the men's final it went to the wire. Germany looked unassailable until Michael Körper dragged Austria back into the game. The score was 3-3 at full-time and Austria held their nerve to win the shoot-out.

"8.25 million people watched a highlights clip from the Finals on Tagesschau"

With all such competitions, ensuring things run smoothly is essential. A huge team of people combine to make an event happen. There are the pitch officials – umpires and technical officials – all volunteers although completely professional in their roles. Behind the scenes there is the huge army of volunteers who looked after the players, cleaned the changing rooms, provided information and generally made sure everyone had a good time. In the media centre, journalists, photographers, bloggers and web-site editors gathered to make sure every second of action was reported, ensuring that the millions of people following the event around the world were always up-to-date with the action.

Getting people to watch the fifth Indoor Hockey World Cup was always going to be a challenge – the event in Berlin was competing with the Winter Olympics and the Bundesliga: one a globally popular international event and the other a superbly supported domestic event that also reaches worldwide soccer audiences. How was hockey going to compete?

The organisers at the Max-Schmeling-Halle need not have worried however. The extended seating offered 8,000 seats and everyone of them was filled on finals day. This in itself was a record sized crowd for Indoor Hockey. The queues around the exterior of the Halle would have brought a smile and a sigh of relief to the organising committee. Yes, there might be fireworks in PyoengChang but here in Berlin, on this finals day, all thoughts were with Die Danas and Honamas.

The total viewing figures from around the world are still being compiled but for the German coverage, it was good news. It was not simply the people in the stadium who were tuning into this exciting event.

At peak viewing, 460,000 people in Germany tuned into the men's final between Germany and Austria through broadcasting partner Sport1. Then 280,000 tuned in for the women's final between Germany and the Netherlands.

In the roundup sports show, RD Sportschau, later that day, 3.14 million people watched the five minutes of highlights from the competition, with a further 8.25 million watching a shorter version on Tagesschau. That is the reach of the Indoor World Cup to German audiences.

Another indication of just how successful this Indoor Hockey World Cup has been can be seen in some of the headline figures from the FIH social media platforms which received:

    Nearly six million impressions over the course of the five days (an increase of 91%)
    A raft of new fans, bringing the total number to 1,272, 592 across Facebook, Twitter and Instagram
    A 12.3% increase in messages received on FIH social media platforms from fans enthralled by the action
    A 41% increase in the number of fans engaging with FIH posts on all social media platforms.

These figures indicate the level of excitement that built around the world as the Indoor Hockey World Cup moved towards its exciting climax. People from across the planet tuned in on the various channels to find out how their heroes were performing. And for those people who were actually there, the noise, the atmosphere, the excitement and, above all the hockey action, made the Indoor Hockey World Cup a magical sporting moment to remember.

Days after the seats have been dismantled and the floors swept clear of discarded flags and banners, the sound of "die perfeckte Welle" is still ringing around this correspondent's head.

#IHWC2018

FIH site


---

Umpiring at the Indoor World Cup




While the England teams may not have been at the recent FIH Indoor World Cup, that did not stop us making an appearance in the form of umpires Rachel Williams and Lee Barron as well as David Collier (Technical Director), Louise Knipe (Umpire Manager) and Jo Pennycook (Technical Official). Here is how the tournament unfolded from their point of view.

Wow, what an amazing eight days we have had in Berlin at the Indoor World Cup!

Arriving on Sunday was the start of a frenetic couple of days of pre-event preparation before launching into a gruelling schedule of matches that started at 0900 and finishing as late as 2300 on some days.  But seeing teams from all over the world were competing and the wonderful group of vocal and colourful fans they brought with them made it very worthwhile!




The first few days were played in front of excited crowds of up to 5,000 people but it was the weekend really rocked as the upper tiers at the Max-Schmeling Halle were opened. The semi-finals and finals were played out to record breaking crowds of 8,300 very loud spectators! 

The noise was deafening and atmosphere electric as Rachel Williams walked out for her semi-final match between Germany and Belarus, while Lee Barron umpired his second World Cup final with Jo Pennycook keeping a close eye on proceedings from the table.

Joined by our colleagues from Scotland – including recently crowned 'World Umpire of the Year' Sarah Wilson and technical official Martin Monaghan – this was an unforgettable experience for all involved.  Überragend (awesome)!




England Hockey Board Media release


---

The Wright stuff



South Africa's John Wright picked up this year's Male Umpire of the Year Award Photo: FIH/Getty

John Wright is one of the best known faces on the international hockey umpiring circuit and it is hard to imagine that the fair-minded and good humoured South African will no longer be gracing top international matches with his presence. But Wright hung up his whistle after 219 international matches, fittingly finishing his career at the 2017 Hockey World League Semi-Final in Johannesburg, South Africa.

Wright's work as an international umpire of the highest calibre was honoured at the Hockey Stars Awards when he received the Male Umpire of the Year award, presented by Stefan Abel, Honary President of the German Hockey Federation (DHB).

Over an umpiring career that spanned 21 years, Wright officiated at an incredible five Olympic Games, including two finals in 2008 and 2016, as well as four World Cups. He also became only the fourth umpire to reach the 200 international games milestone.

Talking to FIH about what the award means to him, Wright says: "It is indeed a real highlight and honour for me to win this prestigious FIH umpiring award, and I'm really grateful to receive it."

While Olympic Games and World Cups rank high on the South African's favourite moments, the final match at the 2017 Hockey World League Semi-Final really stands out as a special memory. "Most definitely my best moment last year and a really emotional one for me, was umpiring my last tournament, the World League Semi-finals in Johannesburg, and umpiring with my brother Peter."

The Wright brothers umpired the men's final between Germany and Belgium in Johannesburg together and the occasion was made even more special because many of John's family were also present.

Reflecting back on how umpiring has changed in the 20 plus years that he has been involved, John says: "The game at an international level has made major strides in the last couple of years. It is now an exciting sport to watch and enjoy and this is not only for the players, but also the umpire, spectators and TV audience.

"The speed and skill of the players is remarkable. That said, it is becoming more and more difficult to umpire, so umpires are going to have to properly prepare, especially physically and mentally, should they want to make a valuable contribution to the game and spectacle."

Wright points to the introduction of the self-pass and four quarters as "amazing" improvements to the game. And he feels the role of the video umpire will become far more prominent as the games continue to get faster and faster.

For now though, he is taking a break from all things hockey and concentrating on two other great loves: cricket and his young family. But, he says, he is sure he will be taking an active role in hockey again further down the line.

#HockeyStarsAwards

FIH site


---

Umpire of the Year Sarah Wilson educating athletes at all levels



Scotland's Sarah Wilson won Female Umpire of the Year for 2017 Photo: FIH/Getty

Scotland's Sarah Wilson is one incredibly busy person. As a Physical Education teacher, she spends all day, every day encouraging her pupils to not just play sport to the best of their ability, but to value the role of the official too.

Wilson – who was a top junior player herself until a back injury halted her playing career – practises what she preaches by performing her role as one of the world's leading umpires. Her efforts were rewarded earlier this month as she picked up the International Hockey Federation (FIH) Hockey Stars Awards Female Umpire of the Year.

She says there are some definite similarities between the day job and her umpiring role: "When you are teaching or umpiring you are always trying to set boundaries – you allow the players, or the students, certain leeway, but your role is to make sure they can perform to their best within the parameters of the sport. And there always has to be a bit of humour involved."

Wilson, who umpired at the Rio 2016 Olympic Games and took charge in the final of the 2017 Sentinel Homes Hockey World League Final in Auckland, New Zealand, said: "I feel very humbled to have received this award. I think it is so special that umpires are recognised at this level and I feel so honoured to be accepting this.

"As non professionals, we all work tirelessly to ensure that we are physically and mentally fit enough to officiate the game in a way that allows the players to create a spectacle and showcase our sport."

One of the Scottish umpire's stand out moments in 2017 was the final of the Rabobank EuroHockey Championships in the Wagner Stadium in Amsterdam, Netherlands. She said: "The home crowd created an electric atmosphere, which was so special to be a part of. Umpiring in the Netherlands is always full of excitement!"

The year ahead is another busy one for Wilson. She has already umpired at the Indoor Hockey World Cup in Berlin, Germany then she jets off to Australia for the Commonwealth Games on the Gold Coast. London then beckons in July and August as she is one of the umpires chosen to officiate at the Vitality Hockey Women's World Cup between 21 July and 5 August.

As Wilson contemplates these challenges, her genuine love of the game shines through: "I hope to umpire to the best of my ability in all of these tournaments and allow for exciting and enthralling matches. I look forward to working with all the amazing women in the FIH umpiring teams and no doubt will enjoy the challenge that the games bring."

#HockeyStarsAwards

FIH site


---

Pakistan will be invited for Hockey World Cup: FIH Chief Batra

NEW DELHI: Pakistan will be invited to participate in the 2018 World Cup in India from November 28 to December 16, International Hockey Federation (FIH) president Narinder Batra said here on Thursday, as Hockey India (HI) announced its five-year association with the Odisha state government to sponsor both the men's and women's teams.

There was speculation that Pakistan may not be allowed to travel to India due to the hostile political relations between the two countries. However, Batra informed that since the World Cup – to be played in Bhubaneswar – is an FIH-sanctioned event, Pakistan will come to play at the event "provided they adhere to certain procedures".

Pakistan qualified for the World Cup after finishing seventh at the Hockey World League (HWL) semifinals in London, followed by some results of other teams at the EuroHockey Championships going their way. Pakistan had failed to qualify for the 2014 World Cup staged in The Hague, the Netherlands.

"Pakistan will be invited because it's an FIH-sanctioned event. We have taken the necessary permissions from the external affairs ministry. There are certain rules and procedures in which participating nations have to apply for visas 60 days prior to the start of the tournament. There are other procedures which Pakistan will have to follow," Batra said.

It's been learnt that the Pakistan Hockey Federation (PHF) has requested the Indian High Commission in Islamabad to process the visas of their players and officials on time so to avoid any last-minute glitch. It's to be noted that Pakistan's junior team failed to participate in the Junior Hockey World Cup in Lucknow in 2016 as, according to the FIH, the PHF had applied for the players' visas after the official deadline had expired.

The Times of India


---

Hockey's governing body expects Pakistan to play 2018 World Cup in India

Hockey's governing body indicated on Thursday that Pakistan will take part in the men's World Cup this year in India despite acute tensions between the two countries.

Pakistan have qualified for the World Cup to be held in the eastern Indian city of Bhubaneswar between November 18 and December 16.

But fears have been raised that Pakistan could skip the 16-team event as sporting ties between the neighbours are frozen.

The International Hockey Federation (FIH) told AFP however that no participating nation has indicated problems that could lead to a withdrawal, or India refusing to let any nation attend.

"We are looking forward to welcoming all 16 qualified teams. We have not received concerns from any of the participating teams nor the host about this matter," an FIH official told AFP in an email statement. "FIH strongly believes that hockey is an inclusive sport, aimed at celebrating diversity and promoting friendship and respect."

India's blind cricket team did not go to Pakistan in January for the 50-over World Cup, forcing their matches to be switched to United Arab Emirates.

India and Pakistan's senior cricket teams have not played a bilateral series since 2013 because of the tense political climate.

India accuses its neighbour of supporting militant activities, particularly in the disputed Kashmir region.

Pakistan's kabaddi, squash and wrestling teams also did not travel to India for marquee tournaments last year.

Pakistan, who did not qualify for the 2014 World Cup, are the most successful team in the sport's showpiece event with title wins in 1971, 1978, 1982 and 1994.

Dawn


---

Rot-Weiss, Racing and TRR embark on Euro indoor journeys



©: Frank Uijlenbroek/world Sport Pics

EHL KO16 sides Rot-Weiss Köln, Royal Racing Club de Bruxelles and Three Rock Rovers all embark on European indoor journeys this weekend as the focus shifts back to the club game for the spring.

For Rot-Weiss and Racing, they go to Wettingen in Switzerland for the EuroHockey Indoor Club Cup with the German side looking to win the continental title for the ninth time – the most recent coming in 2013.

Indeed, German clubs have dominated the competition with only Poland's KS Pocztowiec Poznan – in 2003 and 2007 – Swiss club Rotweiss Wettingen in 2002 and Atlètic Terrassa in 1999 breaking their monopoly since the introduction in 1990.

Rot-Weiss have a star-studded line-up but Mats Grambusch did miss the World Cup final last week through injury. On their squad list are the likes of Christopher Rühr, Tom Grambusch, Moritz Trompertz and Mathias Muller. They are in a group with England's Surbiton, Russia's Dinamo Elektrostal and host club Wettingen.

Racing are on the other side of the draw in a tough group featuring Dutch champions AH&BC Amsterdam, Austria's SV Arminen – finalists in 2017 and featuring a number of European and World Cup winners – and Spain's SPV Complutense.

Jeremy Gucassoff, Tom Boon, Max Plennevaux and Cedric Charlier are among their big names along with Swiss international Andrin Rickli who is on their indoor squad list.

They won the second tier competition in 2017 with a 7-5 win over Denmark's Slagelse to earn their promotion to the top level in style.

Three Rock Rovers are back in Europe for a fifth time and will contest the fourth tier EuroHockey Indoor Club Challenge II in Tbilisi, Georgia. Their aim is to finish in the top two and earn promotion.

Their key player is Ross Canning who was part of the World Stars team who played in the Pro Series Indoor in Cape Town before Christmas.

** All of the Indoor Club Cup games will be live streamed on: www.eurohockeytv.org.

Euro Hockey League media release


---

Haycroft excited for European Club Cup on home soil



Surbiton's Sarah Haycroft. Credit Tim Reder

It is less than 100 days to go until clubs across Europe descend on Sugden Road for the European Club Cup where Surbiton women will be playing hosts.

The event will be taking place from the 17 to 20 of May with the junior U14 Girls competition being played alongside it at Kingston Grammar School.

Surbiton will welcome German sides UHC Hamburg and Mannheimer. The current champions HCHErtogenbosch as well as AH&BC Amsterdam, both from Holland. UCD (Ireland), Club Campo Villa de Madrid (Spain) and Victoriya Smolevichi (Belarus) complete the competing teams.

Sarah Haycroft, Surbiton women's captain and England Internationalist is beaming with pride and knows Surbiton will be great hosts.

"We are immensely honoured to be able to host the European Club Cup at Sugden Road and it will be such a special weekend for all those involved. Hosting the best teams from all over Europe, including some of the best players in the world, will go down as one of the proudest times in the clubs history.

"One of the best things about Surbiton is how tight knit the club is, with everyone coming together to help organise and make this event the best it can be. As a squad our goal is to improve on our performances in Europe, finishing fourth last year. So we are hoping the added bonus of playing on home soil in front of a home crowd will give us that extra boost to come home with a medal this year."

England Hockey Board Media release


---

Grove Menzieshill men head to Minsk to compete for Euro indoor glory



Grove Menzieshill v Inverleith

Grove Menzieshill men throw off the disappointment of losing their indoor domestic crown a fortnight ago and take on some of the continent`s finest at the European Indoor Club Trophy in Minsk this weekend.

But it will be a tough assignment, on Friday they open against Pomorzanin Torun (Poland) followed by Bra (Italy) later in the day, with Slagelse (Denmark) to follow early on Saturday. If the Taysiders have any aspirations to contest promotion they must finish in the top two places in the pool, otherwise they will enter the treacherous relegation group.

Gavin Tomlinson, Grove Menzieshill men captain, said: "We aim to medal. But we have had a dip in form and some of the teams will have players who have just returned from the Indoor World Cup, so we know it will be difficult."

On the pool opposition, Tomlinson said: "We have done research on the teams we are competing against which we have added to the existing knowledge base we already have."

But Tomlinson confirmed that his club`s four international players – Gavin Byers, Cameron Golden, Ben Cosgrove and Aidan McQuade – are now available after missing the end of the domestic season on Scotland duty in Malaga.

"We will therefore be travelling with a full squad which will give the team a big boost," said Tomlinson.

Tomlinson will be hoping for a return to the form that took Grove Menzieshill through the National League 1 campaign with a perfect record, at that point the Taysiders swept all before them with even straight victories.

The Dundonians' last venture into the world of the European indoor circuit came in 2014, ironically at the same venue, when they finished a very creditable third and the bronze medal.

Meanwhile, on the domestic front Grange have the chance to open up a six point lead over second placed Bromac Kelburne if they can see off Dundee Wanderers on Tayside in the only outdoor National League 1 match scheduled after the winter shutdown.

The Edinburgh side are the only unbeaten side in the division and consequently are favourites for this one. In the earlier fixture Grange emerged 2-0 winners, the goals came from Frank Ryan and teenager Jacob Tweedie.

However, after a poor start to this season`s campaign Wanderers latterly put a few results together, they are unbeaten in their last five outings, wins over Clydesdale and Uddingston were combined with three draws.

Scottish Hockey Union media release


---

Georgia on the Three Rock Rovers mind



Three Rock Rovers with the National Indoor Trophy

Three Rock Rovers have traversed four time zones this week to represent Ireland at the EuroHockey Indoor Club Challenge II in Tbilisi, Georgia, gunning for a top two finish from their seven team competition.

Their trip to Georgia is the furthest east an Irish indoor team has travelled for continental competition, out-doing their 2012 trip to eastern Turkey when they earned promotion in Malatya.

Indeed, only Hermes' 2004 outdoor trip to Baku on the shores of the Caspian Sea in Azerbaijan goes beyond in terms of distance to Europe's eastern frontier.

From that 2012 vintage, just Ross Canning and Jody Hosking are back again working off a much younger panel this time with the majority making their debut in European indoor competition.

Crucially, they have the services of Eckhart Geyer, the German teenager who played with the club for the last three seasons while at school in St Columba's.

He is an expert left-back and played a key role in winning this year's Irish Indoor Trophy when they beat Railway Union 8-5 in the final, over-turning a loss to the same opponent in the Leinster final a week before.

Outdoor internationals Luke Madeley and Daragh Walsh will rotate at the back while Richard Pautz is another key player.

Ross Canning, meanwhile, is one of the top Irish indoor protagonists, having played in the World Stars team that played in the Pro Series Indoor tournament in Cape Town before Christmas alongside a string of Indoor World Cup winners.

He and his father Liam – who coaches Rovers – have been instrumental in trying to develop the game on the island and they travelled to Berlin last weekend for the World Cup, picking up extra tips.

Between the posts, Stephen Dawson comes in for Conor Quinn who was unavailable to travel while Ben Walker and Peter McConnell also could not make it from the side that won the Irish final.

As for the opposition in Georgia, they start off with a tie against Armenia's Hrazdan before taking on the hosts Club Tbilisi on Friday evening.

Next is Finnish opposition HC Klippari on Saturday morning before they face Norwegian outfit Kringsja. On paper, the toughest tie comes on Sunday against Lithuania's Klevas Siauliai before the tournament concludes against Bulgaria's RHC Lokomotiv whom Three Rock beat in 2012 6-1.

They will be deciding their own fate; should they take one of the promotion places, as 2018 indoor champions, they will be the ones to benefit directly.

Rob Abbott travels as the Irish umpire to the event. No man has been more influential in trying to raise the indoor game in Ireland in recent times and he is currently organising a Leinster Under-18 indoor tournamentin which Rovers, Corinthian, YMCA and Railway Union will take part on February 25.

TRR squad for EuroHockey Indoor Club Challenge II (Tbilisi, Georgia, February 16-18): Stephen Dawson, Eckhart Geyer, Luke Madeley, Ben McCrea, Daragh Walsh, Ross Canning (Capt), Jody Hosking, Richard Pautz, Harry Morris, Conor Empey, James Walker.

Tom Goode is in Switzerland where he will the umpires manager while Simon O'Connor will umpire in Prague at the EuroHockey Challenge I.

Full schedule: https://eurohockey.altiusrt.com/competitions/91#matches

The Hook


---

USA Field Hockey Announces National Award Winners to be Recognized at the 2018 Hall of Fame and Awards Gala




COLORADO SPRINGS, Colo. - USA Field Hockey is excited to announce the winners of the 2017 National Awards that more broadly recognize, honor and celebrate individuals across the hockey community whose contributions have made a major and lasting impact on the game of field hockey in the United States.

In 2017, the award winners are:

USA Field Hockey Grow the Game Award - is presented to a USA Field Hockey Member that has help lay a foundation, build a lasting program and impacted their community through field hockey. They have provided opportunities to countless field hockey players in their region that would not exist without their efforts

Grow the Game Award Winner: Matthew Kogut

USA Field Hockey National Coach Award - is presented to a USA Field Hockey Coach Member that exemplifies the values of sportsmanship, fair play and healthy competition. This individual is dedicated to their craft and works tirelessly to make their players, fellow coaches and the field hockey community better.

National Coach Award Winner: Carolyn King Robitaille

USA Field Hockey National Umpire Award - is presented to a USA Field Hockey Umpire Member who has shown integrity and love of the game on and off the field of play. This recipient has treated players, coaches and fans with respect while enforcing the rules and keeping the game safe and fair.

National Umpire Award Winner: Suzi Sutton

USA Field Hockey National Club of the Year Award - is presented to the USA Field Hockey Member Club who has excelled on and off the field of play. This club has demonstrated skills on the pitch that are recognized by their peers and fans, but equally important they have shown their passion for hockey and sportsmanship off the pitch. They have used field hockey to make an impression on the lives of others and brought opportunity to their community.

Club of the Year Award Winner: Windy City Field Hockey Club

Congratulations to all of these winners! USA Field Hockey will be honoring the nominees and winners of each category at the 2018 Hall of Fame and Awards Gala on Saturday, March 17, 2018 in Baltimore, Md.

USFHA media release


---

National Indoor Tournament Begins This Weekend in Lancaster, Pa.




LANCASTER, Pa. - The nets are hung, the floors are down and the stage is set for the first 2018 National Indoor Tournament (NIT), presented by YOLO Sportswear, beginning this weekend at Spooky Nook Sports in Lancaster, Pa. USA Field Hockey would like to welcome the U-14 Girls division to kick off the first weekend of indoor play Friday, February 16 to Monday, February 19. The four-day tournament consists of 186 club teams who will battle it out for the right to earn the title of NIT Pool Champions.

With so much going on, you can stay up-to-date with all the happenings of the 2018 NIT with the following information.

2018 National Indoor Tournament Event Program
Whether you are looking for results, schedules, rosters or a list of vendors, access the official 2018 National Indoor Tournament Event Program on your mobile device. Simply click here, or go to usafieldhockey.com on your mobile device, click the three horizontal lines in the upper lefthand corner and click National Indoor Tournament. Scroll to click on Event Program.

#NIT2018
All NIT participants are encouraged to post tournament pictures on their social media accounts, such as Instagram or Twitter. Be sure to tag us at @USAFieldHockey and use the hashtag #NIT2018. Some of our favorite moments will be featured in a photo gallery!

Play Your Best and Let Next Level Video Take Care of the Rest!
No more messing with cameras, batteries and tripods. Lugging them from hotel to car to Spooky Nook Sports and then back again. Go out and play without worrying about whether you're going to capture your best plays. Next Level Video (NLV) will be filming every moment of every game. Use NLV to create your own recruiting video or have them do the editing for you with one of their affordable Highlight Packages. Click here to view video packages.

Stop by the USA Field Hockey Tent!
Have questions about accessing the event program or about the tournament in general? Stop by the USA Field Hockey Tent for the answers. There will even be a drawing to win some awesome USA Field Hockey gear!

Action Shots for Sale
Want the perfect image of your athlete competing? USA Field Hockey's event photographer will be on site to capture all the action. Following the conclusion of the event, a link will be made available where interested attendees can purchase a variety of high-resolution print or digital files.

USA Field Hockey would like to welcome all athletes, coaches, umpires and hockey fans to Lancaster, Pa. for the U-14 Girls National Indoor Tournament!

* A parking fee of $5 per vehicle at Spooky Nook Sports will be charged daily, per vehicle for all parking at Spooky Nook Sports. This includes a shuttle ride from the South lot. Parking in the Spooky Nook lot will be on a first-come, first-serve basis. All payment for parking will be processed at the Guest Services Oval, which is located just inside the entrance to the Spooky Nook Sports facility. Satellite parking will also be available in lots located a few miles from the facility. Shuttles will run throughout the day and will be available to return participants to the satellite lot.

USFHA media release


---

Focus is on winning Asian Games and World Cup, says coach Sjoerd Marijne

NEW DELHI: With a heavy calendar lined up this year, Indian men's hockey team chief coach Sjoerd Marijne has set his sights on retaining the Asia Games crown to give his players ample time to prepare themselves for the 2020 Tokyo Olympics.

India have a packed schedule this year with as many as four important international tournaments lined up in Commonwealth Games, Champions Trophy, Asian Games and the season-ending FIH men's World Cup, besides the Azlan Shah Cup.

But for the coach winning the Asian Games and World Cup sits at the top of his agenda. "I want to win the Asian Games and the World Cup. Those are my two objectives. If you win the Asian Games, you become the first team in the world to qualify for the Olympics. So, you get almost two years to prepare and that would be perfect. That's what we are aiming for," a determined Marinje told reporters here on Thursday.

Marijne said other tournaments will act as a preparatory platform in the pursuit of his team's goal which are Asian Games and World Cup.

"But every tournament this year is important because the other tournaments will help us prepare for the big tournaments. So we are taking every tournament very seriously," he said.

"The Champions Trophy we can use to prepare for the Asian Games. The level is really high and that's good for us. It's really an honour to be a part of the last Champions Trophy."

Since taking over the charge of the team four months back, Marijne has been experimenting with the squad in every tournament and the coach said the process will continue until he finds the right combination. "During the New Zealand tour, we had another group from the World League Finals and Asia Cup and it also will be the same with the Azlan Shah and the Commonwealth Games. We have to think about the mental state of the players and their body," he said.

"We have good depth in the team. We have involved a lot of players in the last few months and we did that with purpose thinking about this year. On the New Zealand tour, a few youngsters made their debut," Marijne said.

"It's about finding a right mix of experienced and junior players. We want to have depth."

Marijne so far has had a successful outing with the Indian men's team, winning medals in both the Hockey World League Final and Asia Cup under him. "It's nice to win medals but it's important to stay critical to yourself because if you think everything is good you will not improve. If you are critical to yourself then you are making steps and that's what we are doing now," he said.

Asked whether he feels any outside pressure, Marijne replied: "No, I don't feel pressure. The highest pressure I feel is from myself. I want to win everything. But the most important is players want to win.

"They want to have a legacy and there is nothing beautiful than creating legacy. And you create legacy by winning medals."

Veteran Sardar Singh is in the twilight of his career and is no longer a certain in the squad. Marijne refused to comment anything on individual players. "I never talk about individual players. I can't say anything about the announcements of team for Azlan Shah," he said.

"We look at every tournament in a different way. We try to have a combination of experienced and junior players in every tournament."

The Times of India


---

I want to be better than I was, vows PR Sreejesh upon returning from injury

NEW DELHI: Seasoned goalkeeper PR Sreejesh is determined to reach peak fitness and form in time when the key events start this year and promises to be a better player in order to boost the Indian hockey team in a busy year.

Sreejesh, who sustained a knee injury at the Sultan Azlan Shah Cup in May last year, returned to the national squad last month for the Four Nations Invitational Tournament in New Zealand after undergoing surgery.

Sreejesh played a stellar role in India's evolution in world hockey. They won medals in the 2016 FIH Champions Trophy and the 2017 World Hockey League (HWL) Final, apart from the 2014 Asian Games gold and the Commonwealth Games 2014 silver medal.

The 29-year-old from Kerala on Thursday admitted that there is a long way to go before he hits top form. He hoped that he will be at his best when India play the Commonwealth Games, Asian Games and the World Cup.

"The pre-injury Sreejesh is history. This one is something new. You can't rely on what you were. I had to build up something new," the former captain told reporters on the sidelines of an event to announce Odisha's sponsorship association with the national men's and women's hockey teams.

"Post surgery, I had a big transformation. I am totally changed. Now, I don't want to be what I was. I want to be better than what I was," he added.

"I have really worked hard. Still I need to get some more confidence."

Talking about his struggle in making the comeback, Sreejesh said that he has also changed in personal life. "I saw life in a different perspective. I realised life as a person other than hockey and how my family members function in day-to-day life.

"In sporting terms), when you comeback from injury, you start from scratch. You need to learn how to walk, how to run. That was a difficult period for me being a goalkeeper, you cannot move like you were able to before (the injury). A goalkeeper has added weights.

"I was determined. In two months, I started to jog and three months' time, I started to wear pads -- I followed a perfect process."

Talking about the busy period till December, Sreejesh said: "Every match is important for us. It is important to save your energy and avoid injuries. Pressure is there but we have experienced players and the younger players are also getting their chances going into the big events."

The Times of India


---

Sardar, Sreejesh determined to reclaim spot

Duo personifies the fightback of a previous generation against up and coming newcomers

Uthra Ganesan



A new start: Odisha Chief Minister Naveen Patnaik with Rani Rampal and Manpreet Singh, the women's and men's team captains as the State stepped in to sponsor the national sides. Photo Credit: R.V. Moorthy

One has been out of action for almost a year with injury, struggling to get back on his feet and prove he is still the best at what he does. The other is fighting against both age and perception for a spot in the national side.

Together, P.R. Sreejesh and Sardar Singh personify the fightback of a generation of Indian hockey players against newcomers keen to make their mark.

Out of the team for the past two outings, Sardar is nevertheless confident of being part of the side at least till the World Cup later this year.

"I said it before that I want to continue till the Olympics. There are no major tournaments in 2019 for us apart from Olympic preparation. I will be playing proper hockey this year till the World Cup," the 31-year-old midfielder said.

Sardar played at the triumphant Asia Cup last year but has been bypassed for younger, fitter competitors since then.

"My body is fine. There is no lacking on the fitness part. There are 30-34 players in the core probables and it is good that now every player is getting a chance," Sardar said.

Optimism unaffected

Sreejesh remains one of the most popular players in the side. His injury-forced absence from the turf hasn't affected his optimism either.

"As players, you often get too focussed on the game, the team, the field. You forget there is life outside as well. This time away has helped me realise what it means to be a father and also given me a glimpse into what life can be after hockey," he said.

He injured himself during the Azlan Shah tournament and came back only during the recent tour of New Zealand. "This is a new Sreejesh, I have totally changed and I don't want to be what I was, I want to be better than that now. I feel I am totally ready. The CWG will give a better idea," he said.

New sponsor, new logo

The event marked Odisha government's coming on board as the new chief sponsor of the national men's and women's teams and unveiling of the new logo and team jerseys, replacing Sahara.

While it is a first-of-its kind association with a state sponsoring the national side for the next five years, it would also be the first time since 1995 the Sahara group would not be associated with the sport.

The Hindu


---

Career at crossroads, Sardar wants to ply his trade in midfield

Vinayak Padmadeo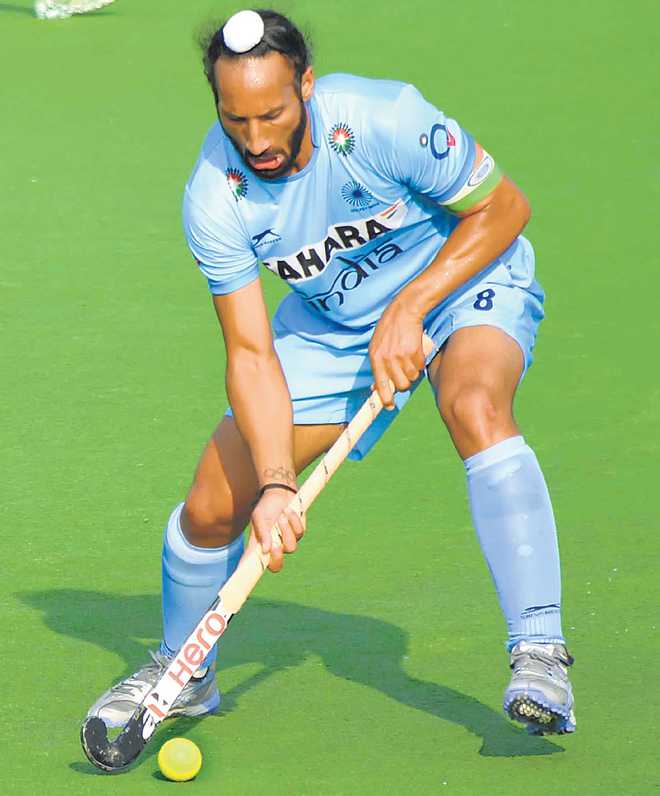 Sardar Singh

Even if there are no guarantees that he will be in the squad for the Sultan Azlan Shah Cup in Malaysia, former India skipper Sardar Singh hasn't given up hope yet and has been vocal about his preferred role in the team — that of a midfielder. Hockey India is scheduled to announce the team for the multi-nation tournament, which begins on March 3, next week and Sardar's place in the side is still not certain.

Men's hockey team coach Sjoerd Marijne added to the intrigue when he chose not to answer a specific question on whether Sardar was still in his scheme of things. "I never talk about individual players," Marijne said on the sidelines of a function held here to announce the Odisha government as the main sponsor of the hockey teams.

"I can't say anything about it. The team for Azlan Shah will be announced in about a week and then you will know. This is the only thing I can say as of now," he said. Marijne added that the team would be "rotated" as there were many major tournaments, including the Commonwealth Games, the Asian Games and the World Cup, scheduled to be held this year.

This may not be music to Sardar's ears, who sat on the sidelines during the last two tours. What makes things worse for the 292-cap veteran is the fact that a few individuals in the support staff have been critical of his performance, both at the Rio Olympics and last year's Asia Cup.

Free man shackled

Played as the free man, essentially a sweeper-back who is not bound by position play and can assist the team going forward, Sardar struggled in this role. "I don't read papers much but I was told about the criticism that I slowed the team down or that I am a slow mover. Par mein fast kab tha (But when was I fast)?" asked Sardar. "In 2011-12, when Michael Nobbs was our coach, I was played as a free man. In the Asia Cup I was played as the free man again, which was after 6-7 years. Obviously, there were a few errors on my part, but I would like to tell you that 6-7 players were sick during that tournament."

"I'll play in any position that suits the team. But I have been playing as a midfielder for over a decade now and I think I can do well there. It will be beneficial for the team as well," he said.

Sardar also made it clear that he was not ready to retire yet. "For sure, I am available this year till the World Cup. But I have also talked about the Olympics because there are no major tournaments in 2019 and the year will be all about preparation."

The Tribune


---

Sardar says he's not done yet, eyes 2020 Olympics for parting shot

NEW DELHI: He might be standing at the twilight of his career, but former hockey captain Sardar Singh is not done yet and wants to give himself a chance till the 2020 Tokyo Olympics before deciding on his illustrious career.

Talismanic midfielder Sardar, of late, has been in and out of the team as the management of the Indian men's hockey team is giving chances to youngsters in an effort to get the right combination for a busy 2018 calendar.

Sardar, who was part of India's Asia Cup winning squad last year, has been dropped from India's last two tournaments - the Hockey World League Final in Bhubaneswar and last month's tour to New Zealand.

He is currently part of the core probables, but it remains to be seen what the team management is thinking about the veteran even though he himself is still optimistic.

"I said it before that I want to continue till the Olympics. There are no major tournaments in 2019 for us apart from Olympic preparation. I will be playing proper hockey this year till the World Cup," Sardar said on the sidelines of an event on Thursday.

Sardar said he doesn't lack motivation and fitness wise also he is in proper shape. "But the next tournament where I will get a chance be it Azlan Shah, Commonwealth or anything else, I just want to give my best," the 31-year-old midfielder said.

"My body is fine. There is no lacking on the fitness part. Fitness is very important and my main focus would be to avoid injuries."

The veteran, however, is happy with the rotation policy adopted by the new coach Sjoerd Marijne.

"There are 30-34 players in the core probables but till last year only 18 or 19 were usually part of the team. It is good that now every player from the core group is getting a chance. When I was dropped the coach told me that they have seen me in Asia Cup and now they want to see other players of the group."

Sardar said now no one can take his place for granted in the team.

"The rotation policy is a good process. The left-out players don't feel de-motivated anymore. Nobody can be sure of his place and everyone has to perform to secure his place," he said.

"The coaches have seen all players, gave all chances and they now know who can perform at what level. Now the best 16 or 18 will get a chance in the team."

Sardar was played as a free-man in his last outing in the Asia Cup. Even though he is ready for any role for the team's sake, the veteran said he still relishes his trademark midfield position.

"I first played a free-man under Michael Nobbs when (High Performance Director) David John was also there with the team. I again played in the same position after 6-7 years in the Asia Cup," he said.

"I am ready to play at any role for the team, but what I feel is that I can deliver more on the midfield position, a place where I have played for the last 10 years."

The Times of India


---

Odisha sponsors national teams

s2h team

India's men and women national teams will sport Odisha on their jerseys hereafter after the provincial government of Odisha has replaced Sahara which stood by hockey since 2004.

This has been showcased in a grant event held in the capital by the State Government, whose supremo Naveen Patnaik was present with his huge band of supporters.

In a massive function which saw full attendance from media, Naveen Patnaik said that hockey is a way of life in his state, and it was therefore fitting his government came forward to sponsor the national team.

The sponsorship will last next five years. Indian men and women's teams were present. The Men's team which was to leave for Kuala Lumpur in the night , was brimming with confidence on the stage. All coaches and support staff were also presented to the huge audience.

Legends Dhanraj Pillay, Dilip Tirkey and Viren Rasquinha were also present. In an interesting chat with the presenter they dwelt on various aspect of contemporary scene.

Men and women's team's captains, Manpreet Singh and Rani Rampal too joined the discussion.

Their refrain was that its wonderful to have Odisha as India's sporting headquarter, and it will be great to play against the hockey knowing crowds.

Narinder Dhruv Batra, who wears many administrative caps, was also present on the occasion.

Stick2Hockey.com


---

Odisha govt to sponsor Indian hockey team, becomes first state to sponsor a national sports team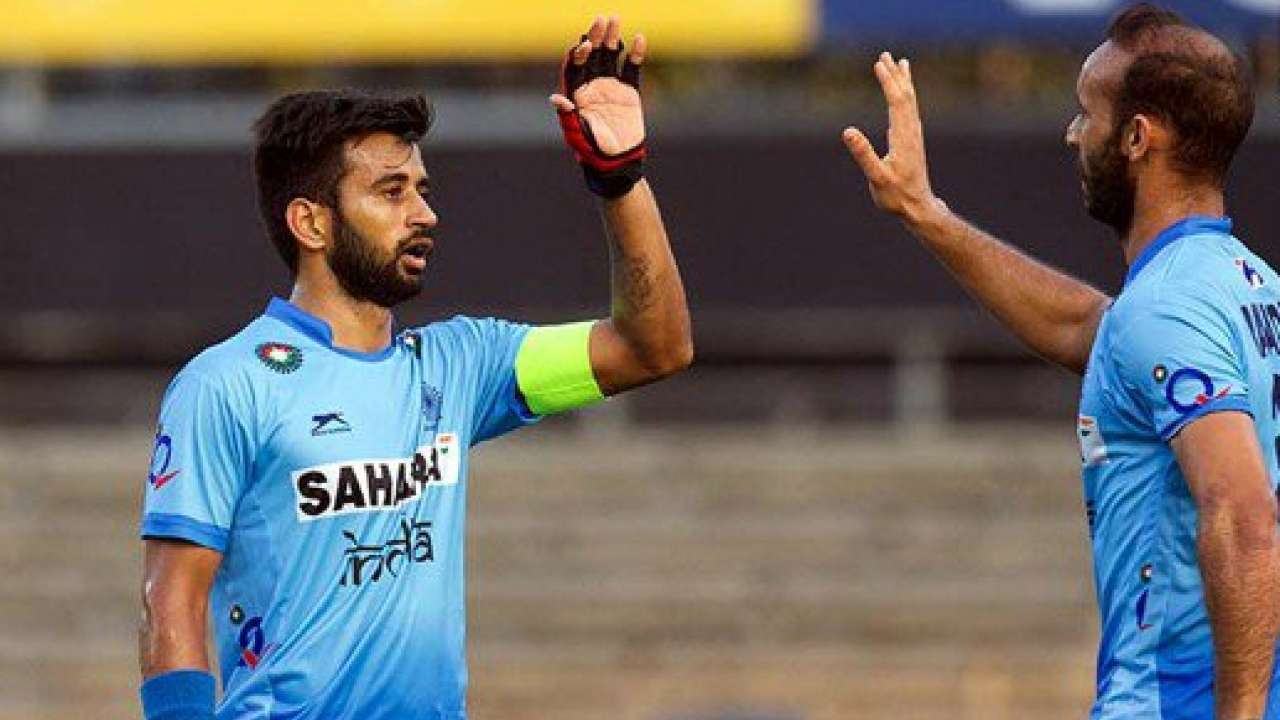 Indian Men's hockey team captain Manpreet Singh (L) - File Photo, Twitter (@TheHockeyIndia)

In a first-of-its-kind association, Indian hockey on Thursday got a new sponsor in state government of Odisha, which has decided to support the game for the next five years.

The announcement was made by Odisha Chief Minister Naveen Patnaik during a grand function here on Thursday, which was also attended by both the Indian men's and women's hockey team players, International Hockey Federation (FIH) and IOA President Narinder Batra, IOA Secretary General Rajeev Mehta among other dignitaries.

During the function, Odisha government also unveiled its logo that will don the new jerseys of both the teams. Although it is not known how much money the state is going to pump into hockey, the association holds great significance for the development of the sport.

Commenting on the association, Odisha Chief Minister Naveen Patnaik said: "Hockey in Odisha is more than a sport, it's a way of life, especially in our tribal regions where children learn to walk with hockey sticks. No wonder Odisha has produced India's finest hockey talent. This is a first where a state government will not just be promoting a sport within its boundaries but will also support and nurture India hockey. This is Odisha's gift to the nation."

Odisha is regarded as the cradle of hockey and has produced greats like Dilip Tirkey, Ignace Tirkey and Lazarus Barla in the past. The current Indian teams also has the likes of Birendra Lakra, Amit Rohidas, Deepsan Tirkey and Namita Toppo to name a few.

Odisha has been supporting the game with various initiatives and also won the Kalinga Lancers in the Hockey India League. The Capital city of Odisha, Bhubaneswar has hosted international tournaments like the 2014 Champions Trophy and last year's Hockey World League Final.

Odisha is also the host and proud title sponsor of the FIH men's Hockey World Cup to be held later this year. The newly designed logo on the Indian national hockey team jersey is a summation of Odisha -- the Konark Wheel, the state's famed coastline, endangered Olive Ridley turtles, Odissi dance form and hockey.

Thanking the state government for its continuous support, FIH and IOA President Batra called Bhubaneswar as the sports capital of India. He also requested the Odisha government to built a state-of-the-art High Performance Centre for elite athletes of the country.

"I would request the Govt of Odisha to come up with a High Performance Centre for elite athletes. Like Delhi is the capital of India, Bombay the financial capital of the country, Bengaluru IT capital, for me Bhubaneswar is the sports capital of the country," Batra said.

Batra also informed that the opening ceremony of the World Cup will be held a day before the start of the event. The World Cup will be held from November 28 to December 16 this year.

Daily News & Analysis


---

East Grinstead play-off push continues



Ashley Jackson in action for East Grinstead. Credit Simon Parker.

Title hopefuls East Grinstead will be aiming to continue their recent good form when they entertain Beeston at Saint Hill Road in the Men's Hockey League Premier Division on Saturday.

Having won the Jaffa Super 6s indoor championships over the winter break, East Grinstead have hit the ground running in the outdoor league winning both their games since the resumption of the season.

A battling 3-2 away victory over Holcombe last weekend saw former GB and England international Ashley Jackson score the winner in the final minute and he is expected to play this weekend against Beeston.

"We've got some momentum back again after a bit of a blip," said East Grinstead's 1st XI Manager James Leman. "We always have good matches with Beeston and everybody is really up for it.

"This is the crunch time in the season so the next few games will be big for us as it is for all the teams.

"It was great to have Ashley Jackson back for us last week and he showed what a quality player he is and he will be in our squad for this weekend too."

Beeston won 5-2 when the teams last met in November, but Leman thinks the outcome could be very different this time.

"If we had taken our chances last time we could've drawn or even won the match, so hopefully we will do better this weekend."

For their part, Beeston will want to bounce back from a 2-1 loss at Wimbledon last weekend which has left the battle for play-off places even tighter with five teams separated by just five points.

Elsewhere, third-placed Reading go to Hampstead & Westminster on Saturday, while Wimbledon could move up from fifth if they win at Canterbury and other results go in their favour.

Leaders Surbiton are not in league action as they are in Switzerland competing in the EuroHockey Indoor Club Cup, having played their match with Brooklands MU in january.

It's tight at the top of the Men's Conference East with leaders Oxted having won just one of their last three games. But they will be looking to build on last weekend's win at West Herts with a home game against third-placed Cambridge City.

In the Men's Conference West the University of Exeter still lead despite having won just one of their last three games. They host local rivals Isca on Sunday.

And in the Conference North the University of Nottingham entertain Sheffield Hallam as they aim to continue their table-topping form, while second-placed Loughborough Students are at home against bottom of the table Preston.

FIXTURES

Saturday, February 17 2018

Men's Conference East
Old Loughtonians v Teddington 17:00

Men's Conference West
Univ of Birmingham v Clifton Robinsons 18:00

Sunday, February 18 2018

Men's Premier Division
Hampstead & Westminster v Reading 13:30
East Grinstead v Beeston 14:00
Sevenoaks v Holcombe 14:00
Canterbury v Wimbledon 14:30

Men's Conference East
Brighton & Hove v West Herts 13:00
Oxted v Cambridge City 13:00
Old Georgians v Richmond 14:00
Southgate v Chichester 14:30

Men's Conference North
Univ of Nottingham v Sheffield Hallam 12:30
Deeside Ramblers v Doncaster 13:30
Loughborough Students v Preston 14:00
Univ of Durham v Leeds 14:00
Bowdon v Cannock 14:30

Men's Conference West
Univ of Exeter v Isca 12:30
Team Bath Buccaneers v Olton & West Warwicks 13:00
Cheltenham v Fareham 14:00

England Hockey Board Media release


---

Canterbury continue relegation fight



Canterbury's Ashley Mainwaring in action, left. Credit Andy Smith

Unbeaten in six matches, Canterbury take on Buckingham in the Investec Women's Hockey League Premier Division on Saturday as they continue their battle to avoid relegation.

The Kent side find themselves bottom of the league despite being the only team to have not lost any of their last six outdoor fixtures.

Their current position can be attributed though to the fast that they lost five of their first six games before their recent upturn in form, the highlight of which was a draw at reigning champions Surbiton last time out.

"Before Christmas we were starting to understand our strengths and how Kate wanted us to play," said Canterbury's co-captain Helen Fagg, referring to new coach Kate Starre, a former Australian international and two-time Olympic champion.

"It always takes time to adapt to a new style of play but we've adjusted well and in our last two games we've had the lion's share of the play but just not been able to get all three points.

"Buckingham have had a great season so far and scored a lot of goals, so it will be an exciting game and we're definitely not underestimating them."

Starre's fellow Australian Penny Squibb will also be in their squad, a versatile player who scored on her debut in a 1-1 draw with Clifton Robinsons.

Having seen their lead cut to just one point after last weekend, Surbiton will want to take all three when they host Bowdon. Breathing down their necks are the University of Birmingham, who entertain Clifton Robinsons knowing a win could put them top.

Holcombe needed a goal in the last few seconds to beat play-off rivals East Grinstead last weekend and they will want to keep pace with the top two when they go to Slough on Saturday.

Meanwhile, East Grinstead are at home against Leicester in the top flight's other game.

In the Investec Women's Conference East leaders Hampstead & Westminster entertain strugglers Southgate as they bid to extend their unbeaten run to 13 games, while second-placed Sevenoaks are at home against Cambridge City.

Beeston - the only team in the Investec Women's Hockey League with a 100% record - will look to extend their advantage in the Conference North on Saturday when they host Sutton Coldfield, while second-placed Brooklands-Poynton wait until Sunday for their league match at Fylde.

Having dropped their first points since early November when they were held to a goalless draw last weekend, Trojans play Gloucester City at home. Meanwhile, Stourport could draw level with them if they can beat visitors Oxford Hawks.

FIXTURES

Saturday, February 17 2018

Investec Women's Hockey League

Investec Premier Division
Slough v Holcombe 12:30
East Grinstead v Leicester 13:30
Canterbury v Buckingham 14:00
Surbiton v Bowdon 14:00
Univ of Birmingham v Clifton Robinsons 16:00

Investec Conference East
Barnes v St Albans 13:30
Hampstead & Westminster v Southgate 13:30
Wimbledon v Harleston Magpies 14:00
Chelmsford v Bedford 14:30
Cambridge City v Sevenoaks 15:30

Investec Conference North
Beeston v Sutton Coldfield 12:00
Liverpool Sefton v Ben Rhydding 12:30
Loughborough Students v Univ of Durham 12:30
Timperley v Wakefield 12:30

Investec Conference West
Olton & West Warwicks v Team Bath Buccaneers 12:00
Stourport v Oxford Hawks 12:00
Trojans v Gloucester City 12:00
Cannock v Swansea City 12:30
Reading v Isca 13:30

Sunday, February 18 2018

Investec Conference North
Fylde v Brooklands-Poynton 13:30

England Hockey Board Media release


---

Hockey team get ang pows for stellar achievements

KUALA LUMPUR: The national men's hockey team have received ang pows for their achievement in two international tournaments.

The players received a total of RM11,000 each.

They were rewarded RM10,000 for winning the silver medal in the Asia Cup in Dhaka, Bangladesh, last October, where they lost 2-1 to world No. 6 India in the final.

They received another RM1,000 each for retaining the title in the Kuala Lumpur SEA Games last August.

Malaysian Hockey Confe­deration (MHC) deputy president Prof Datuk Dr S. Shamala said they paid the bonuses to the players in appreciation for their sacrifices.

"We hope the bonuses will motivate players to give their best especially at the Asian Games in Jakarta in August," said Shamala.

"MHC president Datuk Seri Subahan Kamal has stressed the importance of playing for a gold medal in Asiad in a bid to qualify automatically for the 2020 Tokyo Olympics.

The Star of Malaysia


---

Hafiz receives bonus and offer to return to Scottish Hockey League

By Aftar Singh



Time for a new challenge: Muhd Hafiz Zainol (right) has been a faithful UniKL player since his junior days.

KUALA LUMPUR: There is a double joy for Univer­siti Kuala Lumpur (UniKL) forward Muhd Hafiz Zainol after leading the team to the TNB Cup title.

The former junior World Cup player has received an offer again to play for Uddingston Club in Scottish Hockey League. He will be joined by UniKL defender Shazrul Imran Nazli for the first time.

Hafiz has also received a bonus of RM6,000 for helping UniKL win their first title in Malaysia Hockey League (MHL) last week.

UniKL, who made their debut in the MHL in 2011, beat KL Hockey Club 4-3 in sudden death penalty shootout after both teams ended the match 1-1 in regulation time in the final.

Hafiz has been a faithful UniKL player since his junior days. He was a member of the team that won the Malaysian Junior Hockey League (MJHL) league title and also the overall title in 2011 and 2012 respectively.

The 25-year-old Hafiz said he was proud of his achievements in helping UniKL win both the junior and senior hockey leagues.

And he was thrilled to play in the league in Scotland.

"It's really exciting that I'll be leaving to Edinburgh today to play for the Uddingston Hockey Club in the Scottish League for one season," said Hafiz, who will play for three-months.

"I am delighted that the club has requested for me to play for them again.

"I made my debut for the club last year and I did well to score seven goals in seven matches.

"I hope to score as many goals as possible to help Uddingston club win the league title.

"If we win the league title we will get the chance to feature in the European league," said Hafiz.

The star played thanked UniKL president and chief executive officer, Prof Datuk Dr Mazliham Su'ud for giving him the blessing to feature in the Scottish League.

Last year December, Hafiz also played in the Oman Hockey League for Sohar Club.

He also featured in the Italian League in 2016 for Pistoia Club.

The Star of Malaysia