All the news for Monday 17 December 2018

HA Congratulates Adam Kearns On Golden Whistle

Ben Somerford




Hockey Australia today congratulates Australian Hockey umpire Adam Kearns who earned the Golden Whistle after presiding over his 100th international match in Sunday's 2018 FIH Men's Hockey World Cup final.

Queenslander Kearns joins an illustrious list of 82 umpires to have reached the 100-match milestone.

Kearns is an FIH World Panel International Hockey Umpire who has officiated at the 2014 and 2018 World Cups.

He was officiated at the 2014 Commonwealth Games and 2016 Rio Olympics where he was the gold medal match reserve umpire.

Achieving the Golden Whistle in the 2018 World Cup final, won in a shootout by Belgium over the Netherlands, is a significant achievement for Kearns, who was also the gold medal match umpire in the 2017 European Championships.

Kearns also umpired four other matches at the 2018 World Cup, including the India-Netherlands quarter-final and pool matches Belgium-Canada, Germany-Netherlands and England-New Zealand.

Hockey Australia media release


---

Odisha Hockey Men's World Cup Bhubaneswar 2018
Bhubaneswar (IND)

Final results

ENG v AUS (Bronze Medal)     1 - 8
BEL v NED (Gold Medal)     0 - 0 (3 - 2 SO)

Final standings

1. Belgium
2. Netherlands
3. Australia
4. England
5. Germany
6. India
7. Argentina
8. France
9. New Zealand
10. China
11. Canada
12. Pakistan
13. Spain
14. Ireland
15. Malaysia
16. South Africa

FIH Match Centre


---

World Champions Belgium take top spot in men's FIH Hero World Rankings




Lausanne, Switzerland: Newly-crowned world champions Belgium are now sitting at the top of the FIH Hero World Rankings, the International Hockey Federation (FIH) can confirm.

The Red Lions claimed a shoot-out victory over the Netherlands in the final of the Odisha Hockey Men's World Cup Bhubaneswar 2018 on Sunday 16 December, giving them their first ever world title and also their first ever placement at the top of the rankings.

The win catapulted them from third to first in the updated rankings, released shortly after the completion of the gold medal match. Belgium's title success in Bhubaneswar saw them move onto 2196 points, 15 points ahead of the now second-ranked Australia, who claimed the bronze medal in Bhubaneswar with victory over England.

World Cup silver medallists the Netherlands have climbed from fourth to third, with Olympic champions Argentina moving down to fourth position.

There were also significant moves for China and France, with the team from Asia climbing from 17th to 14th in the new rankings, one place ahead of France who have moved from 20th to 15th following the ranking points earned from their impressive eighth place finish in Bhubaneswar.

To see the updated men's FIH Hero World Rankings in PDF format, click here.

FIH site


---

Belgium paint Bhubaneswar red with first gold

By The Hockey Paper, Bhubaneswar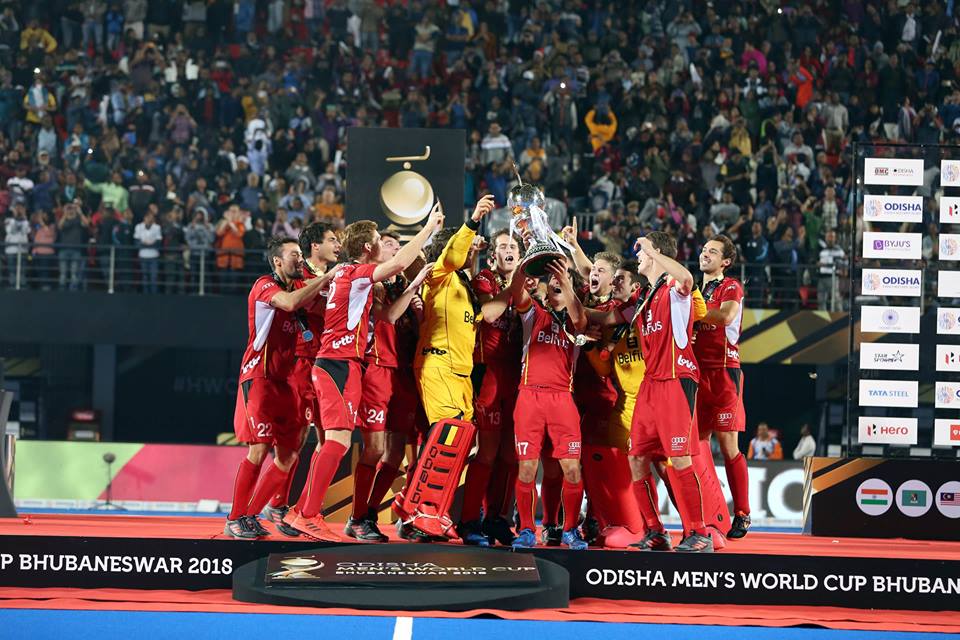 When Jeroen Hertzberger missed his sudden death shoot out attempt for the Netherlands, Belgium could finally celebrate a first world title – at the second time of asking.

Another defensive masterclass and dominant display between the posts from Vincent Vanasch had left the Netherlands short of their usual penetrative circle skills.

Instead, Belgium forced the Dutch into wide pockets and tried to break in central lines. The Olympic and European runners-up had several overlaps, but couldn't make it count.

Just two PCs, 30 circle entries (the Dutch notched nearly 200 in all) and under 10 shots, underlined the tactics behind this final, the first to finish goalless.

A shoot out seemed inevitable. despite Belgium ending as favourites to win it in normal time. It was almost as if both these European heavyweights were playing for the draw.

When the shoot out eventually came, no one could have predicted the drama.

Belgium looked down and out after missing their first two attempts. But then Vanasch suddenly forced the Dutch into errors, leaving Arthur de Sloover to slot home for a stunning turnaround.

The ceremonial presentation displays came as the Red Lions descended into the circle. Amid the mayhem, De Sloover's goal has been referred upstairs and the Belgian has been adjudged to have backed into Pirmin Blaak. Sudden death.

Florent van Aubel went wide then back and slung low, leaving Hertzberger to keep the final alive. Seconds later, Belgium were celebrating once more.

Glory amid the pain

First Emmanuel Stockbroekx had to leave the Belgian camp in the first week in India with a hamstring.

Then inspirational John-John Dohmen was forced home after their opening match. At first it was feared he had bronchitis but he is currently lying in a Bangkok hospital with a form of pneumonia.




Then Simon Gougnard's ill father passed away before their semi-final. He played – and scored against England, having opted to stay in India.

Unbeknown to the team, Stockbroekx, now back home, had visited the homes of all 18 squad players and edited a 50-minute video as a reminder to the team of their bad luck but acting as a best wishes for the final fling.

Coach Shane McLeod gathered the team in a hotel conference room and played the video. He then told them, after suffering several big final losses since 2015, that their campaign to win gold "was written in the stars".

The (light) rain Gods on Sunday then sided with Belgium.

They had started the tournament by scoring the first goal of this World Cup, in the third minute back on November 28. The Red Lions were finally left to roar at the end of the longest World Cup yet staged.

A 12-year odyssey for the rise of Belgian hockey had been realised.

It's been a funny day. We spoke on pre-game about how it was in the stars that we could win the World Cup. When that happened – I said, it was a sad joke. That's what it felt like – we won it, but then it was taken away from us. But luckily for us, we won it back, and there was a massive adrenaline of rush. I threw my bottle in the air away 50m. It was a really special moment. To take that get away, it made it a little bit more special.

Shane McLeod, Belgium coach

The Hockey Paper


---

Red Lions' family values fire up first World Cup gold



©: Frank Uijlenbroek / World Sport Pics

Belgium won their first men's World Cup as they beat the Netherlands in a final shoot-out, making their big tournament breakthrough in dramatic fashion.

In both the 2013 and 2017 European Championships and 2016 Olympic Games, they had led at times before eventually finishing in silver.

This time, after a scoreless draw in normal time, they never led until the last touch of the game when Florent van Aubel slotted the winning shoot-out for a famous victory.

Reflecting on the victory, HC Oranje-Rood's Thomas Briels said in his captain's press conference: "We are a team with really noble values and a work environment which we are really proud of, like a little family.

"It is something we strive for, to keep those values. We try to do our best bringing in the new players into the family and hopefully when they get in the team, they will then pass on those values again in the future. It is a team sport and you can only win with all 18 players and today we showed what a great team and family we are."

In an emotional tournament, he took on the armband when John-John Dohmen had to depart the competition through illness while Simon Gougnard put in a series of superb performances in honour of his father who passed away on Friday. They also had to cope with the injury of Manu Stockbroekx who also departed the tournament early.

For Waterloo Ducks goalkeeper Vincent Vanasch, he made key saves in the shoot-out and the game and said of the victory: "It was a perfect situation for a goalie. You can't imagine what I feel today' it's unbelievable but I feel we deserved it. We had a great tournament; the shoot-out was crazy but we are taking gold back home!"

The two finalists went hard at each other in the opening stages of the match, with chances being created at both ends. Jeroen Hertzberger forced an early save from Vanasch, while Gougnard's speculative, high backhand strike was almost brilliantly turned into the Dutch goal by Tom Boon.

The play switched from one end of the field to the other throughout the second quarter, with Netherlands defender Glenn Schuurman making a crucial interception to deny van Aubel a clear scoring opportunity with Arthur de Sloover doing the same in the Belgian back-line.

The Netherlands had two penalty corner opportunities ahead of half time, but failed to take their chance as the Red Lions defence held firm.

The two sides remained locked together throughout the third quarter, although Belgian captain Thomas Briels forced a save from Pirmin Blaak while Mirco Pruijser flashed a backhand effort across the face of the Belgian goal.

It was a tense and cagey period, although the same could not be said for the fourth quarter as both teams desperately tried to get the win before the lottery of the shoot-out would be brought into play. Netherlands ace Bob de Voogd rattled the pads of Vanasch, while Nicolas de Kerpel hit the side of the goal just before Briels almost won it for Belgium, with Sander Baart making a crucial goal-line clearance to take the match into a shoot-out.

The Dutch took a 2-0 lead in the shoot-out thanks to strikes from Jeroen Hertzberger and Jonas de Geus, but goals from Florent Van Aubel and Victor Wegnez, combined with some brilliant saves from Vanasch, restored parity at 2-2.

When Thijs van Dam missed, Arthur de Sloover thought he had won the title for Belgium when he fired home, but his effort was ruled out by a smart video referral from the Netherlands.

However, Belgium did not have long to wait for their moment in the sun. When Florent Van Aubel scored in sudden-death, Jeroen Hertzberger needed to find the net to keep his team alive.

However, it was not to be, with Vanasch forcing the brilliant Dutch attacker wide before his shot sailed over the cross-bar. While was heartbreak for the Netherlands, who had suffered defeat in a second successive World Cup final, the triumph for the Red Lions will be forever remembered as one of the greatest moments in the history of Belgian team sport.

Earlier in the day, the bronze medal was claimed by Australia, who blew England away with a sensational performance to emerge 8-1 winners.

Euro Hockey League media release


---

Craig Fulton helps guide Belgium to maiden hockey World Cup

He had previously overseen Ireland's incredible rise to the top 10 in the world

Stephen Findlater



Florent Van Aubel of Belgium scores his team's third and winning penalty at Kalinga Stadium in India. Photograph: Charles McQuillan/Getty Images for FIH

Former Irish coach Craig Fulton was celebrating World Cup gold just a few months after moving on from the Green Machine as Belgium landed the title for the first time in Bhubaneswar.

During his tenure, he had overseen Ireland's incredible rise to the top 10 in the world, European bronze and qualification for both the World Cup and the 2016 Olympic Games.

But he left his position in July for an assistant coach's role with the Belgians, citing the ceiling imposed by the limited resources available to push on further.

And it has proven an incredible switch as the Red Lions made their own breakthrough, reaching the final four for the first time.

And they followed up with a 6-0 semi-final hammering of England before beating the Netherlands in a shoot-out on Sunday evening to take gold.

The Irish teams, though, did get a boost on the government support front with a pair of almost simultaneous announcements.

At Abbotstown, Sport Ireland confirmed they will be replacing the sand-based pitch at the National Sports Campus with a state-of-the-art water surface matching the spec for Tokyo 2020.

It is expected to cost €600,000 and be complete by next April. This will be primarily a training base without recourse to renting out club venues while also being able to avail of the additional high performance support options at the NSC.

For big games and tournaments, though, UCD is likely to be back in favour as the venue of preference. The college confirmed they will replace the turf at Belfield for around €350,000 on their own without splitting the costs with Hockey Ireland.

Nonetheless, the pitches will be available for rental and it is expected that it if the pitch is ready in time, it will be the venue to host the women's Hockey Series final, part of the Olympic qualification process, in June.

The Irish Times


---

Doughty Belgium gets the top of the world feeling

Red Lions edge out the Dutch in a tense shootout; Australia wallops England for bronze

Uthra Ganesan



Hard work pays: The triumphant Belgium squad with its reward. 

It took the team an extra shot, a nerve-racking 60 minutes and some tense moments but in the end, maiden finalist Belgium proved more than equal match for three-time winner the Netherlands, being crowned the new champion of world hockey at the Kalinga Stadium here on Sunday with a 3-2 win in shootouts. The game remained goalless at the end of regulation time.

When Jeroen Hetrzberger shot over the goal after finding no space to play along the ground, it was the culmination of more than a decade of dream, sweat and hard work for the golden generation of Belgian hockey that finally got on top of the podium after coming close so often.

Vincent Vanasch, awarded the world's best goalkeeper in 2017, proved why he is rated so highly, bringing off three brilliant saves in the shootouts, including using the video referral, to ensure the European runner-up would not play second fiddle to the Dutch a second time.

For 60 minutes, there was little to separate the teams which gave a perfect display of dour, defensive European hockey that was all about battling for midfield control.

Cautious start

The finalists started cautiously, kept the ball and switched flanks trying to find that elusive opening. There may be debates on the style of play but mostly it was simply about being in the right place at the right time for the final pass, which neither team managed.

It was also about getting those short and diagonal passes accurate and through the gaps.

Taking their time to set up forward movement, the teams tried to move ahead, one defender at a time.

It made for great tactical play but with little excitement for the crowd. It also highlighted the importance of getting the basics right — both crowded their defence under attack but only two penalty corners were conceded through the game, both for Netherlands and both wasted.

The wait for that one goal to break the deadlock continued but with neither team willing to take the risk of pushing ahead, it always looked like coming down to shootout.

It did, and for once, Belgium showed no nerves on the big stage. After the disappointment of Rio Olympics, the Red Lions ensured they would roar as winners here.

Running riot

Earlier, Australia dismantled England 8-1 with a lesson in open play for its fifth bronze medal in the competition. It was also the biggest ever margin of win in a medal round in the World Cups, bettering Australia's own 6-1 hammering of Netherlands in the final in the previous edition.

The results: Final: Belgium 0 bt Netherlands 0 in shootouts; S-O score: Belgium 3 (Florent van Aubel 2, Victor Wegnez) bt Netherlands 2 (Jeroen Hertzberger, Jonas de Geus).

Third place: Australia 8 (Tom Craig 3, Jeremy Hayward 2, Tim Brand, Trent Mitton, Blake Govers) bt England 1 (Barry Middleton).

Other awards: Player of the tournament: Arthur van Doren (Bel); Best team goal celebration: India; Fans choice: Arthur van Doren (Bel); Fair Play award: Spain; Most goals scored: Australia (29); Best junior player: Thijs van Dam (Ned); Best goalkeeper: Pirmin Blaak (Ned); Top scorer: Blake Govers (Aus) and Alexander Hendrickx (Bel) seven goals each.

The Hindu


---

Decade long dream come true for the Red Lions

Errol D'Cruz



Pic: s2h photographer Rakesh

Belgian sport burst into euphoria after their hockey team lifted the Odisha World Cup in Bhubaneswar on Sunday after a heart-stopping shootout against three-time champions the Netherlands. Winning the country's first ever team sport world title will reportedly draw the Red Lions to a grand reception in Brussels where the mayor has invited them to appear in the city hall's balcony on Tuesday. In a sense, you could say the World Cup has made a visit to its former home.

For long, the Federation Internationale de Hockey (FIH), was based in Brussels before moving to Lausanne, Switzerland, in 2005. And for decades, Rene Frank, a Belgian, presided over the destiny of hockey as FIH president. During his tenure from 1966 to his death in 1983, hockey metamorphosed into a major sport.

Frank, was once referred to as a "benevolent dictator". Sweeping rule changes that included the change of the three-player offside rule to two, the discontinuation of the bully-off and the hand-stop at penalty corners, the hit-ins instead of the push-ins and the most revolutionary – the introduction of artificial surfaces – were catalyzed by his foresight.

It all added up to a sport, modernized and dynamic, the trappings of which were plain to see in Belgium's rise to the pinnacle in Bhubaneswar after being on the threshold for almost a decade.

It all started with a last-gasp 4-3 win over Germany in the 2007 European Nations championship bronze medal play-off in Manchester that secured Belgium a place in the 2008 Beijing Olympics and deemed their beaten opponents to take the long route towards qualification.

On Sunday, before an appreciative 15,000 crowd, the Red Lions beat their illustrious neighbours 3-2 in a sudden-death shootout after an hour's regulation time produced no goals.

They showed fine character in taking an unfavourable referral in their stride after already having broken into celebration at the end of the set of five. It broke a depressing run of silver medals – twice at the Euro Nations championships (2013 and 2017) – and the 2016 Rio Olympics. undefined

The World Cup now has a sixth winner after Pakistan (4), the Netherlands and Australia (3 each) and India have shared titles at 14 editions played thus far with the first one in Barcelona in 1971. Belgium remained unbeaten in the competition, having come through their pool as second best after a 2-2 draw with India and 2-1 and 5-1 wins over Canada and South Africa respectively.

The Red Lions saw the positives of playing an extra match, the cross-overs, where they pummeled Pakistan 5-0. A 2-1 win over twice-champions Germany in the quarterfinals was followed by a 6-0 rout over England in the semifinals. A goalless draw in the final brought their goal record to 22-5.



Pic: s2h photographer Rakesh

Despite the absence of goals in open play, the Belgians and Dutch produced a match worthy of a major final. Belgium became the first team to win a World Cup final without forcing a penalty corner, somewhat summing up the suspect potency of the award in the tournament where, at the other end of the pitch, Dutchman Mink van der Weerden experienced a dismal World Cup.

Aurthur van Doren, emerged best player of the tournament, reiterating his status as 2017 FIH Player of the Year. Alexander Hendrickx, another key defender, emerged joint-top scorer with Australia's Blake Govers with seven goals apiece.

Vincent Vanasch, however, made the crucial difference between two well-matched sides with a heroic performance in the shootout which went to sudden-death as well as in regulation play.



Pic: s2h photographer Rakesh

There were similarities in Belgium's triumph here and Pakistan's in 1994 in Sydney. Defender Simon Gougnard stayed with team in their road to glory despite the demise of his ailing father two days before the tournament's conclusion.

Tahir Zaman did the same.

Both nations beat the Dutch in the tie-breaker in the final – Pakistan doing so in the old system of penalty strokes.

Thomas Briels, the ebullient forward captaining the side, asserted that the stupendous performance by his team was no more, nor less, than a team effort while dedicating the triumph to Gougnard and his family. "I couldn't be more proud. We are the world champions and we showed today that our best player is the team," said the 31-year-old stalwart of 315 international matches.

Briels, a podiatrist by profession, inspired to help his team to put their best foot forward. Ironically, like several of his teammates, Briels plays for Oranje-Rood in the Netherlands, the country they beat in final. So does Arthur van Doren, 24, who plies his trade with the iconic HC Bloemendaal. And in Shane McLeod, a New Zealander who loves living in Belgium, the national team has made rapid progress since he took over in 2015.

The Belgians had the personnel to execute any role in Bhubaneswar. Their draw against India in the back-drop of a 15,000 vociferous and partisan crowd showed character and ability as they played the kicking-back to perfection to equalize late in the game. Then, in the final, the team rode a roller coaster of emotions after they thought Arthur van Sloover won it for them in the shootout.

Florent van Aubel, a veteran forward of 203 international matches, showed remarkable composure to fire home past goalkeeper of the tournament Pirmin Blaak before Vanasch forced Jeroen Hertzberger to send his backhander over the crosspiece.

The celebration this time around were final. Not only were Belgium World champions, the epic win took them to No. 1 in the world rankings.

Stick2Hockey.com


---

Big day for Belgium

s2h Team




The moment of triumph has come for the Rio Olympic silver medallist Belgium. It has not come a day late. The rising sun blighted the blistering attack of neighbouring giant The Netherlands in the entire sixty minutes in the Odisha World Cup final, and then went on to keep the nerves cool in the shoot out and sudden death to lift the field hockey's most coveted title here in Bhubaneswar.

Belgium had one heartbreak at big stage when Argentina walked away with 4-2 victory at Rio two summers ago. On the other hand, the Netherlands had many running over many decades. Even as late as last World Cup, they lost the final despite taking 1-0 lead. There were no goals on Sunday against the ever-packed crowd.

However, it was their neighbours who had better of exchanges and even three penalty corners, against nil by Belgium. It seemed the idea was to take them to shoot out. Netherlands over came Australia in the shoot out to be in the final. In fact, Netherlands' tryst with 2-0 continued in the nerve wrecking shoot out.

The Netherlands had lost 2-0 lead in the semis before Australia bouncing back to 2-2 to force shoot out. Similarly, with goals from Joroen Hertzberger and Geus De Jonas, Netherland worked for a 2-0 lead but when Florent an Aubel and Victor Wegnez scored in trot, Seve van Ass and Thijs van Dam missed out. Then This van Dam had the title on hand but Vincent Vanasch, blocked Thijs van Dam's effort.

It lead to sudden death. Florent van Aubel struck. Now its turn for Hertznerger to score and bring parity, which did not happen. Vanasch brought the much famed 'sarvnash' to the Dutch.

Even as the Belgium players rushed to lift Vanasch, and stadium erupted in joy, the deadly video referral was brought in a self-referral mode. Moments of suspense later, Belgium was allowed to inundate with their own tears of joy.

In a fight where the neighbours fought for honours, traditional superpower had to bend before a rising sun that torched their towering might.

Welcome Belgium, the sixth nation after Pakistan, India, Netherlands, Germany and Australia to lift the World Cup.

AWARDS
Odisha Best Player: Arthur Van Doren (BEL)
Odisha Mining Corporation Best Goalkeeper: Pirmin Blaak (NED)
Hockey India Best Junior Player: Thijs van Dam (NED)
Hero Top Scorer: Blake Govers (AUS) & Alexander Hendrickx (BEL) – 7 goals
Odisha Fair Play Award: Spain
Hockey India Fans Choice: Arthur Van Doren (BEL)
Hockey India Maximum Team Goals: Australia
Hockey India Best Team Goal Celebration: India

FINAL RANKING
1: Belgium
2: Netherlands
3: Australia
4: England
5: Germany 6: India
7: Argentina
8: France
9: New Zealand
10: China
11: Canada
12: Pakistan
13: Spain
14: Ireland
15: Malaysia
16: South Africa

Stick2Hockey.com


---

Belgium's decade of dreams and sweat translates to golden glory in Bhubaneswar

Shantanu Srivastava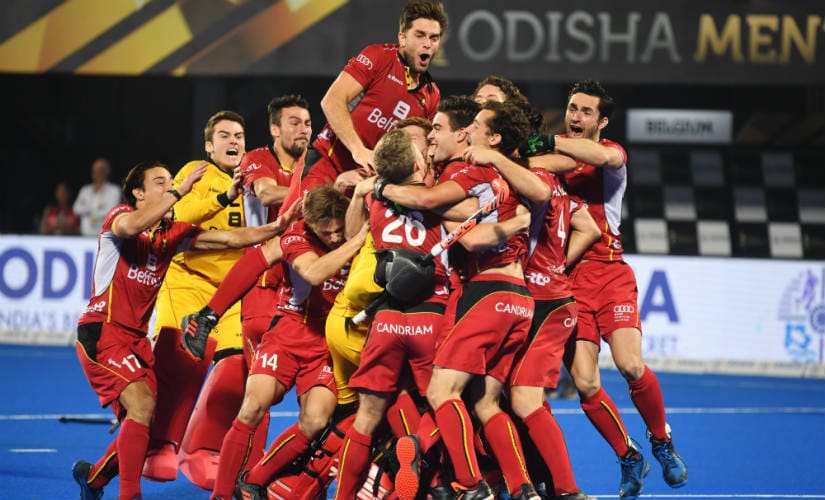 Belgium won their maiden Hockey World Cup on Sunday. AFP

Bhubaneswar: Jeroen Hertzberger stood at the 23-metre line, enduring the excruciating wait for the whistle to go off to begin his twinkle-toed journey towards Vincent Vanasch and glory. After 60 minutes and some more, all the years of dreams and sweat had precipitated into that singular, endless moment on this windy evening, beyond which waited two possibilities. This was sudden death — an 11-men sport broken down to its binary best, and not one of the 15,000 souls moved at the Kalinga Stadium. This was it.

It would end soon, though. Seconds later, that moment would eventually go to Vanasch and Belgium, and hockey would find a new world champion. For a team that carries the air of a diligent understudy, it was only fitting that glory arrived in the dramatic disguise of an opponent's miss.

"This will come back to us in waves," Belgium coach Shane McLeod told Firstpost. "At first, you don't realise what you have achieved, but it will surely keep coming back in waves that we are the world champions."

For the understated Kiwi, the night was a vindication of his coaching credentials. Since taking charge in October 2015, the reigning FIH Coach of the Year has led his bunch to a silver medal at the Hockey World League Final in 2015, a silver at the 2017 EuroHockey Championship, and another silver medal at the Rio 2016 Olympic Games.

The loss in the last two major finals was given a positive touch with a simple thought that was reiterated by multiple players. "You have to lose a final to win one," Arthur de Sloover said. Later, captain Thomas Briels and McLeod would say as much, indicating that it was more than a casual effort at making losses more palatable.

Yet, more than individuals, this was an endorsement of processes and programmes. The Belgian dream began in 2008 when they made it to the Olympics after 32 years on the back of a promising club and domestic structure. They finished ninth out of 12 teams, but the process to build a team for the future had started.

There were other important pitstops too, such as finishing fifth at the London Olympics as the World No 13, followed by the famous silver in Rio four years later and a second-place finish at the 2017 European Championships where they lost to the Netherlands in the final. A gold, though, remained elusive. To their credit, Belgium trusted their structure and knew that they were one push away from bringing the door down. The core of the team was not tinkered with, even as McLeod welded some Asian and Oceanic influences in their European game.

That familiarity and bonding, fostered over a decade, were on display when the team refused to buckle under last-minute eventualities. Emmanuel Stockbroekx and John-John Dohmen were injured, Simon Gougnard lost his father before the semi-final, but the team looked out for each other. Dohmen, in fact, made a short video with the family of every player and sent it to the team before the final.

"We are really really lucky we have so many good team members. Simon's father left him, it was sad for all of us. We wanted to to do it for him. It was a special moment for him," Briels said.

The journey, though, needed a closure. It arrived twice in a space of five minutes, 5000 miles from their homeland. Sloover's goal was disallowed after a video referral, and it would have been a cruel twist in their tale had Florent van Aubel missed too. He didn't.

Briels, Sloover, and McLeod would later dismiss those tense minutes — between the disallowed goal and sudden death — with exemplary equanimity.

"For one second, it's hard, but we had confidence in the guys and in our goalkeeper. I knew we will get the goal. It shows we can win a final. Sometimes, you have to first lose a final before winning.

"We showed a lot of character. We are very good friends, we are one family, and that is our strength," Sloover said.

McLeod knew it was written in the stars, and he told as much to his boys before the shootout. "He kept telling us, it's in the stars," added Briels.

At the end of a draining night, with the title of world champions sitting pretty on his shoulders and having thanked his stars that shone brightly in and under the clear sky, McLeod summed up the drama as only he could. "It was a funny day, you know." We know.

Firstpost


---

Belgium top the World

Red Devils beat Netherlands in sudden death to win their maiden World Cup

INDERVIR GREWAL IN BHUBANESWAR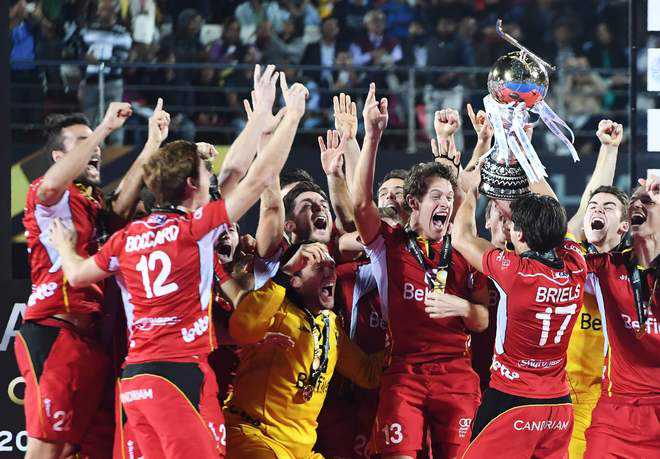 The Belgium players celebrate after defeating the Netherlands in the World Cup final in Bhubaneswar on Sunday. AFP

The Belgian players rushed to Arthur de Sloover and a swarm of red and black jumped and screamed in ecstasy. They were the world champions. Not yet! The on-field umpire crossed his arms for a timeout. Goalkeeper Prmin Blaak wanted a video referral. The Belgians were shepherded back to the half-line by the umpires. But they still believed they had done it, until, the umpire's arms spread-eagled. No goal! No World Cup! The platform for the victory ceremony, which was brought in the field by the overzealous staff, was hurriedly taken off.

Would Belgium's wait for their first major gold get longer? Coach Shane McLeod had that thought in his mind. "It's been a funny day," McLeod said. "In the morning, we had talked about destiny, and I had said if the stars would line up, we would be world champions. When that (review) happened, it felt like a sad joke," he added.

The shootout was still on, and after 2-2, it entered the sudden death stage. The question on everybody's mind, including McLeod's, was that would the players be able to refocus. "Obviously, you have that rush of blood, and it's hard to focus after that," said McLeod.

After going second in the shootout, it was Belgium's turn to go first in the sudden death. Florent van Aubel took his place and before the eight seconds were over, he had scored; only for Blaak to challenge again, this time more out of hope than conviction. The goal stood, and the pressure was on Jeroen Hertzberger and Belgian goalkeeper Vincent Vanasch. But Belgian captain Thomas Briels had faith in him. "I knew he would find the focus again," said Briels. "Vanasch and I had been in the same situation in a club match. But Vanasch had saved the retake as well. So I was confident," he added.

The 32-year-old Hertzberger, who had scored in the sudden death in the semifinals, had been successful in the regular shootout earlier. Trying to do something different, Hertzberger didn't go right like his earlier attempt. He turned left, a seemingly unplanned move. Unable to shake off Vanasch, Hertzberger smashed the ball high over the goal.

Belgium were the world champions. This time, no one could take away their first ever World Cup win, and no one could stop the red and black brigade from rushing to their saviour in bright yellow. Vanasch, along with Blaak, was the star of the shootout. For the Dutch, it was another heartbreak. They have now lost three major finals in this decade — at the 2012 Olympics and the 2014 and 2018 World Cups.

The shootout, in fact, was the savior of an otherwise tepid day. The final day had started with a one-sided contest, Australia hammering England 8-1. All expectations were on the final. But as finals usually go, the contest between Europe's two most attacking teams didn't live up to expectations. Both teams were largely safe in their approach, but both defences also must be credited for not giving an inch to the other team. The match had only eight shots on goal and just two penalty corners, both to the Dutch.

The Tribune


---

In a dramatic final, Belgium beat Netherlands in penalty shootout, clinch maiden title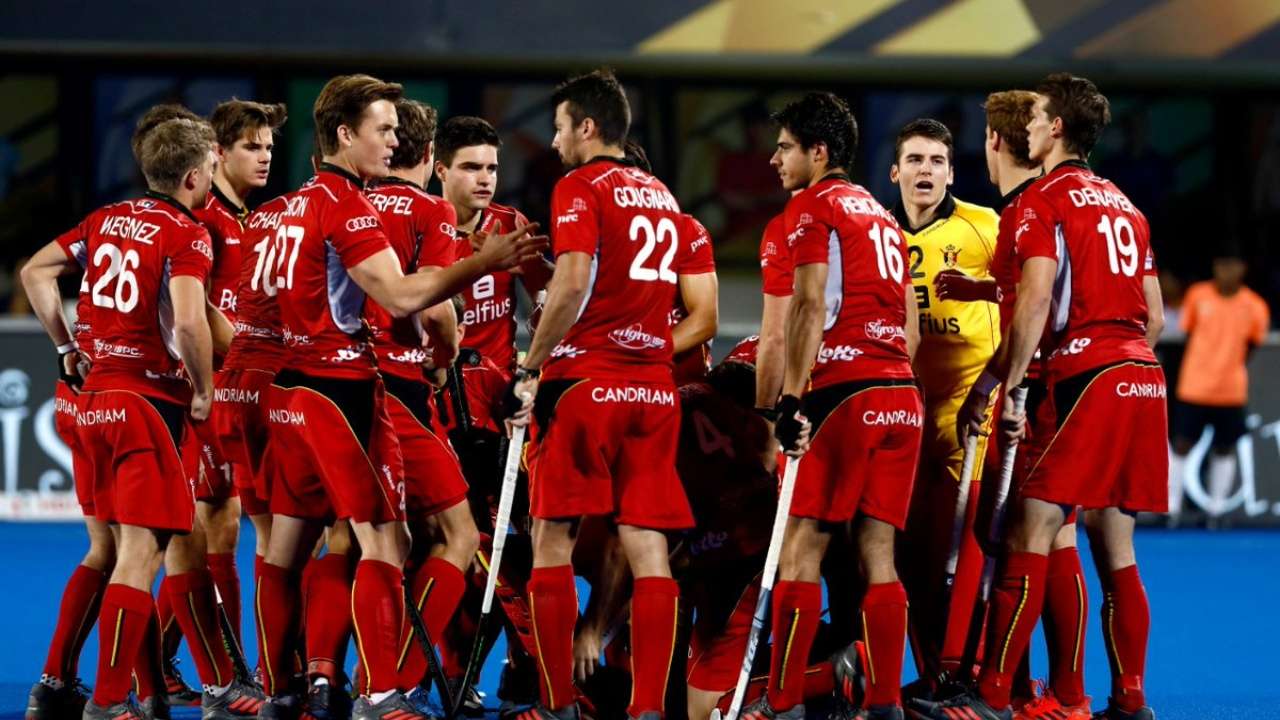 Men's Hockey World Cup 2018 , Twitter

Olympic silver medallists Belgium defeated Netherlands in the final of Men's Hockey World Cup 2018 in a dramatic penalty shootout on Sunday at the Kalinga Stadium.

It was Belgium's first World Cup final and winning it on their first attempt was certainly special.

During the penalty shootout, when Belgium made it 3-2, she broke into massive celebrations thinking they had won the final.

However, the Dutch used the their referral and the goal was overturned. The replays showed the ball hit Sloover's foot before he converted the chance. Belgium, who were celebrating, were left shocked.

Belgium then went on to score twice before Netherlands' Hertzberger missed his shot and that's it, that was the moment when the Kalinga Stadium once again erupted into celebrations as Hockey World Cup had a new champion.

Earlier, Belgium cruised into the Hockey World Cup final for the first time by defeating England at Kalinga Stadium here on Saturday.

Displaying a stunning performance, the Belgium side beat England by 6-0 in the semi-final of the tournament.

The match seemed one sided affair as Belgium completely outclassed their rivals.The goal scorers of the Belgium team were Tom Boon (8th), Simon Gougnard (19th), Cedric Charlier (42nd) Alexander Hendrickx (45th,50th), Sebastien Dockier (53rd).

Daily News & Analysis


---

Kookaburras Rout England To Claim World Cup Bronze

Ben Somerford




The Kookaburras have claimed the bronze medal at the 2018 World Cup with an emphatic 8-1 victory over England in Sunday's third place match in Bhubaneswar, India.

Top-ranked Australia hit back after Saturday's disappointing semi-final shootout defeat to the Netherlands with an impressive display where Tom Craig netted a hat-trick.

Craig scored twice while Blake Govers also netted as the Kookaburras raced to a 3-0 half-time lead, before scoring three goals inside five minutes early in the third period.

Jeremy Hayward netted two late drag flicks from penalty corners to complete the rout to provide some consolation for the Kookaburras.

Australia heads home from the World Cup with their fifth bronze medal, but their first since 1994, having lifted the trophy in both 2010 and 2014.

Speaking after the game, Craig said: "It's about the process. We take every game as it comes.

"We put the same amount of effort into every team. It leads to good results so we're happy."

The Kookaburras dominated all key statistics with 58-42 per cent possession along with 20-12 circle penetrations, 12-9 shots and 5-3 penalty corners. Australia converted three of their five penalty corners.

Craig added that they were motivated to finish on a high in spite of their heartbreaking loss to the Dutch.

"Losing yesterday was hard but we don't do it because it's easy," Craig said. "We wanted to bring a good game-plan with energy. I thought we brought that.

"We wanted to bring it throughout every quarter. I thought we did that."

Govers fired Australia into an eighth minute lead with a reverse stick finish after Craig's steal in midfield.

And Craig got himself on the scoresheet a minute later when he poked home at the second attempt following Tim Brand's cutback.

Kookaburras keeper Tyler Lovell saved well from Liam Ansell before Craig made it 3-0 in the 19th minute when he finished off a sweeping move he instigated after passes from Jake Harvie and Govers.

Govers hit the post in the 28th minute after a positive drive from co-captain Aran Zalewski as Australia dominated the first half.

The Kookaburras blitzed the English early in the third, with Trent Mitton netting his first goal of the World Cup in the 32nd minute with an upright back stick finish.

Mitton set up Brand for the fifth in the 34th minute before Brand completed his hat-trick with a cool finish for the half dozen.

England veteran Barry Middleton pulled one back on the stroke of three-quarter time with a far post finish.

Australia finished the contest on a high, with Hayward flicking low to England keeper Harry Gibson's left in the 57th minute to make it 7-1.

Three minutes later Hayward added another, after Govers hit the post, beating Gibson again to his left from a short corner.

Australia are next in action in the inaugural FIH Pro League on Saturday 2 February against semi-final conquerors Netherlands in Melbourne. Tickets are on sale via ticketbooth.com.au.

Australia 8 (Govers 8', Craig 9', 19', 35', Mitton 32', Brand 34', Hayward 57', 60')
England 1 (Middleton 45')

Hockey Australia media release


---

Batch: We Were Determined To Get Bronze

Ben Somerford




Kookaburras coach Colin Batch says his side had a steely resolve to finish off their 2018 FIH Men's Hockey World Cup campaign on a high following their heartbreaking semi-final defeat.

Australia, who were the defending world champions and top-ranked side going into the World Cup, were knocked out of gold medal contention after a 4-3 shootout defeat to the Netherlands in Saturday's semi-final.

The Kookaburras had rallied from 2-0 down at half-time, with Eddie Ockenden equalising with 27 seconds left to send the match to a dramatic shootout.

Australia put aside the disappointment of the defeat to crush England 8-1 in Sunday's third place match to seal the bronze medal.

"After the disappointment in the last game where we lost the semi-final, we were determined to perform better in the match," Batch said.

"We played the game the way we wanted and won. It is good have a podium finish at this level of competition.

"I am sure England would be disappointed with the results. We scored a lot of goals in the match and won it."

Kookaburras veteran Matthew Swann, who was part of Australia's triumphant 2010 and 2014 campaigns, added that the team banded together to bounce back from Saturday's heartache.

"You've got to band together as teammates and brothers," Swann said.

"We have each other's back no matter what. We showed that over 60 minutes against England."

He added: "We lost the opportunity to win gold but we took the opportunity to win bronze.

"That's what you need to do in life, whenever an opportunity arises you grab it with both hands."

Belgium lifted the World Cup with a 3-2 shootout victory over the Netherlands in Sunday's final following a 0-0 draw.

The result moved Belgium (2196 points) marginally above Australia (2181 points) on the FIH World Rankings into first, with the Kookaburras dropping to second. The Dutch moved up to third on 2029 points above Argentina.

Coincidentally, Australia will play both the Netherlands and Belgium in their next international matches to open the FIH Pro League on Saturday-Sunday 2-3 February at Melbourne's State Netball and Hockey Centre with tickets available now via www.ticketbooth.com.au.

Australia received their bronze medals after Sunday's win while Blake Govers was also awarded for joint top scorer with seven goals alongside Belgium's Alexander Hendrickx.

Hockey Australia media release


---

Australia overpower England to win World Cup bronze



HWC2018 Aus v Eng Bronze

England were made to settle for fourth place at a third consecutive World Cup after being defeated by Australia.

Tom Craig's hat-trick was the standout performance from the world number one outfit, with Jeremy Hayward scoring two late corners in addition to strikes from Blake Govers, Trent Mitton and Tim Brand.

Barry Middleton scored a late consolation in a game where Liam Sanford also made his 50th combined international appearance.

The Olympic silver medalists began the game in dominant fashion, Govers seeing a flick deflected over the bar before firing an unstoppable eighth minute shot on the reverse past Harry Gibson.

Seconds later Craig doubled the lead, lifting the ball over Gibson after the 'keeper had done brilliantly to save the midfielder's first effort, before the same player started and finished a stunning counter attack in the 19th minute.

Govers also hit the post shortly before half-time before Mitton added to the scoreline with his first of the tournament in the 32nd minute.

Brand and Craig then struck within 13 seconds of each other shortly afterwards before Middleton struck for the second time in the tournament while he, Mark Gleghorne, David Condon and Luke Taylor all saw second half efforts saved by Andrew Charter.

Hayward scored two goals from corners in the final three minutes to secure the bronze medal for the Kokkaburras.

Liam Ansell was also taken off injured midway through the final quarter, a sad note on which to end a good tournament for the East Grinstead forward.

England 1 (0)
Middleton (FG, 45)

Australia 8 (3)
Govers (FG, 8); Craig (FG, 9; FG, 19; FG, 34); Mitton (FG, 32); Brand (FG, 34); Hayward (PC, 57; PC, 60)

Starting XI: Gibson (GK), Ames, Gleghorne, Roper (C), Dixon, Middleton, Ansell, Condon, Waller, Gall, Sanford

Subs used: Taylor, Martin, Sloan, Hoare, Calnan, Wallace
Unused sub: Pinner (GK)

England Hockey Board Media release


---

Australia settle for hockey World Cup bronze after thrashing England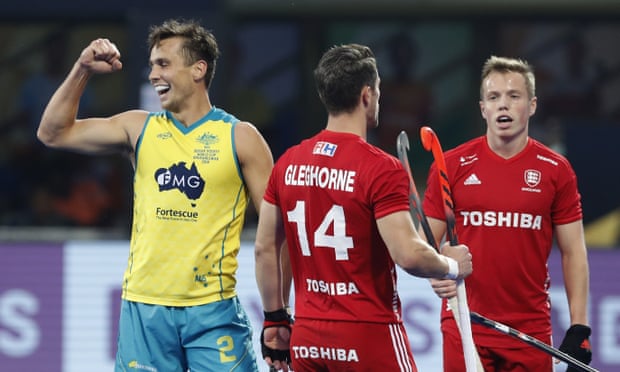 Australia's Tom Craig celebrates after scoring in the bronze medal match against England. Photograph: Aijaz Rahi/AP

Australia consoled themselves after their 2018 hockey World Cup semi-final loss by thrashing England 8-1 in India to take home the bronze. Tom Craig netted a hat-trick in a victory that ensured the Kookaburras a podium finish in Bhubaneshwar on Sunday.

Teammate Jeremy Howard grabbed a brace with Blake Glovers, Trent Mitton and Tim Brand also getting their names on the scoresheet. England veteran Barry Middleton grabbed a consolation goal when the match was already beyond doubt.

The Kookaburras dominated with 58% possession and led 20-12 on circle penetrations, 12-9 on shots and 5-3 on penalty corners.

Australia's fifth World Cup bronze, and first since 1994, provides some solace after they lost 4-3 in a penalty shootout with the Netherlands in the semi-finals on Sunday.

Craig said the team were determined to finish strongly after the heartbreaking loss ended their quest for a third consecutive world title.
Advertisement

"Losing yesterday was hard but we don't do it because it's easy," he said. "We wanted to bring a good game plan with energy. I thought we brought that. We wanted to bring it throughout every quarter. I thought we did that."

The Kookaburras start proceedings early with Craig stealing in the midfield before Govers fired in a reverse stick finish in the eighth minute. A minute later Craig doubled the advantage by poking in Tim Brand's cutback.

Just after his own keeper Tyler Lovell saved an effort from England's Liam Ansell, Craig added a second after passes from Jake Harvie and Govers in the 19th minute. Govers also hit the post nine minutes later with dominant Kookaburras up 3-0 at halftime.

Australia ran rampant after the break with Trent Mitton grabbing his first goal of tournament in the 32nd minute before setting up Brand two minutes later. Craig completed his hat-trick in the 35th minute to put the Kookaburras up 6-0 before England's Middleton clawed back a far post finish on three-quarter-time.

But Australia showed no pity for their opponents, who had been beaten 6-0 by Belgium only one day earlier to end their dream of reaching their first final in 32 years.

Hayward beat England keeper Harry Gibson in the 57th minute before adding a second off a short corner just three minutes later for the Kookaburras to end 8-1 winners.

The Guardian


---

Australia thrash England 8-1 to clinch bronze medal in World Cup



Australia's Tim Brand (C) dribbles past England defence during the field hockey bronze medal in Bhubaneswar on December 16. AFP

Last edition champions Australia secured a consolation bronze medal after mauling England 8-1 at the men's hockey World Cup at the Kalinga Stadium here on Sunday.

Tom Craig (9th, 19th, 34th minute) scored a hat-trick while Jeremy Hayward (57th, 60th) struck twice for Australia in the bronze medal play-off. Blake Govers (8th), Trent Mitton (32nd) and Tim Brand (34th) were the other goal getters for Australia.

World number 7 England's lone goal in the lop-sided match came from the stick of Barry Middleton in the 45th minute.

This was Australia's fifth bronze medal in the history of the tournament. The last time the Kookaburras had to be satisfied with a third-place finish was way back in 1994 in front of their home crowd in Sydney.

The two teams met in the pool stage earlier in the tournament with Australia winning 3-0.

The victory also enabled Australia to further increase their head-to-head record against England.

The two sides have faced each other 28 times earlier with Australia winning 21 matches as against four by England while the remaining games ended in draws.

After sitting back in the initial minutes, Australia secured their first penalty corner in the sixth minute but Govers' flick was deflected well over the post.

However, it did not take long for Govers to register his name in the score sheet. He scored his seventh goal of the tournament with a reverse hit after receiving a through ball.

A minute later, the Kookaburras doubled their lead when Craig scored from close range with a rebound from Brand's pass after his initial try was saved by England goalkeeper Harry Gibson.

Australia keeper Tyler Lovell then made a good block to deny Liam Ansell from close quarters.

Australia made the scoreline 3-0 in their favour four minutes into the second quarter through another fine field goal by Craig, following a brilliant link-up play with Jake Harvie and Govers.

Australia went into the half time break with a comfortable 3-0 lead.

Just seconds into the third quarter, England secured a penalty corner but Luke Taylor's attempt was easily saved by Charter.

Mitton then extended Australia's lead in the 32nd minute with a rebound after Hayward's try from a penalty corner was saved by Gibson.

Before England could settle down from the setback, Australia pumped in two more goals within a minute to make the contest a completely one-sided affair.  

First, Brand finished off a fine Mitton pass for the fifth goal and then Craig got the sixth one for Australia and completed his hat-trick with another field strike.

England scored a consolation goal just seconds before the end of third quarter with Middleton finishing off into an empty goal from a Phil Roper pass.

Australia scored their seventh goal in the 57th minute when Hayward converted a penalty corner. Australia then secured back-to-back penalty corners in the final minute, the second of which was converted by Hayward to seal a convincing win.

The Tribune


---

Australian win bronze on England demolition

s2h Team




Marauding Australians demolished English at mercy to post an impressive 8-1 win to get bronze at Kalinga stadium in Odisha.

Craig Tom, who struck a hattrick was declared Man of the Match in a contest every Australian looked like worth of that award.

Defending champions Australia who lost out to Netherlands narrowly on Saturday in the semifinal gave vent to their anger on hapless and clueless England.

The goal rout started in the 8th minute when Blake Govers scooped the ball in a melee to see Tom Craig adding one more in the very next minute

Tom slotted two more goals one in the 19th minute and last of his third goal in the 34th minute.

That was the worse phase the England were subject to. Australia scored two goals in the first minutes after lemon time. Trent Mitton started it all, followed by Tim Brand. Tom's third goal nailed England to no end.

For England that beat Rio Olympic champions Argentina in the quarterfinal the next two outings turned out to be difficult experiences. While Belgium shut them for 6-0 in the semis, Australia added salt to the wounds today.

Its not often England concedes 14 goals in two matches while earing mere a token goal.

Barry Middleton, who is in his fourth World Cup, scored the only consolation goal at the fag end of third quarter.

Stick2Hockey.com


---

Harendra Singh earns FIH reprimand after questioning umpiring calls in defeat against Netherlands

Shantanu Srivastava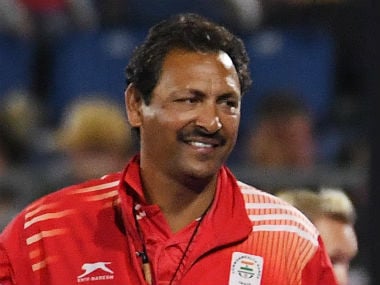 File image of India Coach Harendra Singh. AFP

Bhubaneswar: India coach Harendra Singh's comments against the umpiring have earned him an official reprimand from the International Hockey Federation (FIH) on Sunday.

The action will be recorded by FIH and can be taken into account if Harendra breaches the Code of Conduct again at a future event, a Hockey India release said.

"The FIH Technical Delegate today decided that India's coach Harendra Singh committed a breach of the Code of Conduct (Level 1, 2.2 k: Public criticism of, or inappropriate public comment in relation to an incident occurring in an International Match or any Participant or team participating in any International Match or FIH, generally, irrespective of when such criticism or inappropriate comment is made) at the press conference following the match India v. Netherlands on 13 December. As a result of this breach, Harendra Singh received an official reprimand.

"In his decision, the FIH Technical Delegate indicates that the statements from India's coach at the press conference regarding the umpires were – as admitted by Harendra Singh himself during today's hearing – unacceptable," the release said.

Harendra had blamed certain umpiring calls for India's 2-1 loss to The Netherlands in their quarter-final on 13 December, and the comments had not gone down well with the FIH.

FIH CEO Thierry Weil had made it clear on Saturday that there will be no review of the umpire's decisions and insisted the teams must respect fairplay.

"To blame umpires is not the hockey style. Umpires have a tough job, they have to make decisions within seconds. It (questioning umpires) is not acceptable. If you lose, you have to accept it and look forward. Blaming umpires is not the right thing," Weil had said.

Harendra's outburst has not gone down well with FIH President Narinder Batra either, and the former Hockey India president said on Saturday that he will speak on the matter in detail after the World Cup.

"I have a very strong view on this kind of behaviour, and I will express them when I go back to Delhi. Thierry already said that they are doing a great job, and I'd say theirs is a thankless job. They will get criticised by anybody who loses. Be graceful whether you win or lose. Finding faults is very easy. You should rather appreciate and respect their efforts," Batra said.

Harendra's contract with Hockey India ends with the World Cup.

Firstpost


---

Quit or be sacked are Harendra Singh's choices as Hockey India begins search for foreign coach

The Hockey Insider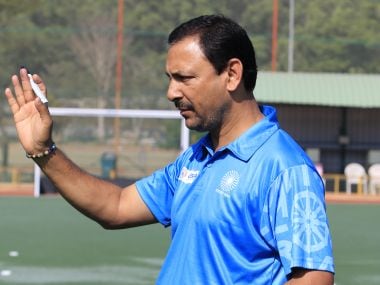 File image of Harendra Singh. Image Courtesy: Hockey India

Days after India made a gallant exit from the World Cup, beaten 2-1 in a well-contested quarter-final by The Netherlands, the country's hockey coach was facing the choice of quitting himself or being sacked from his position by the national federation.

The search for a "quality foreign coach" to replace Harendra Singh is in the initial stages. Preliminary inquiries were underway even as the top bosses of Hockey India, the national federation, were busy with the title encounter of the showpiece event.

On Saturday, not only was Harendra the target of criticism from the International Hockey Federation's Chief Executive but also had to meet the Umpires' Manager to explain his criticism of the umpires during the India-Netherlands encounter. Indian hockey sources said Harendra had not volunteered to go and meet the umpires, but had been summoned by the FIH Technical Delegate for a 'disciplinary hearing'.

As reported by The Hockey Insider ahead of India's first outing, Harendra's head was on the chopping block even before the biggest hockey event in the country's history got underway. The only chance for him to survive was if India produced an extraordinary show.

The story goes back to the failure of the team under Harendra to defend the Asian Games title at Jakarta and thereby not qualifying for the 2020 Olympic Games. Hockey India is still rankled by that reverse.

With the direct qualification chance lost, India face a tough task ahead to book the flight for Tokyo 2020.

A World Cup at home prevented large-scale changes after the Asian Games, but several players were shown the exit door. It was the worst-kept secret of Indian hockey that the national coach was living on borrowed time. Only the prospects of a public backlash from fans, if the coach was changed on the eve of the World Cup, allowed Harendra to stay on.

The axe has been taken out of its velvet case and is being ground. The wait was only for the World Cup final to get over and the guests to leave the country.

Within the corridors of power in Indian hockey, discussions are rife about Harendra's limitations as a coach and even the loss to the Netherlands is being scrutinised in this context.

The discussion for Harendra's replacement will soon accelerate. Applications will be sought from across the world and the choice made soonest as the Olympic qualifiers will come up in six months.

Harendra had been in the hot seat earlier, in fact more than once. He lost the job as assistant coach after the 2000 Olympic Games in Sydney and also in 2010 Asian Games when India lost in the semi-finals. This time, he survived after the dismal show in the Asian Games, but the dice was loaded against him even before the World Cup began.

The feeling within Hockey India is that Harendra's outburst against the umpires was an embarrassment to the country hosting the World Cup. Harendra's criticism of double standards in flashing cards got an official retort on Saturday when the FIH Technical Delegate "officials reprimanded" him for "unacceptable" statements against the umpires.

The Indian coach was found to have violated the Code of Conduct and the "official reprimand" would be recorded by the FIH. "It will be taken into account if Harendra Singh breaches the Code of Conduct again at a future event," the FIH said in a statement.

The FIH President, Narinder Batra, who also heads the Indian Olympic Association, also said he would speak on the matter in detail after the World Cup.

"Be graceful whether you win or lose. Finding faults is very easy and I've got a very strong view on this sort of behaviour," said Batra, who headed Hockey India until his election as the first non-European FIH President in 2017.

"I will express my views after getting back to Delhi. Umpires will get criticised by anybody who loses," said Batra, indicating a hard line against Harendra.

Harendra may have brought in effective communication with the players — since he speaks in a language understood by most players — but it failed when things came to the crunch.

Now that his contract is running out at the end of the World Cup, even a formal sack order may not be considered necessary by Hockey India.

Firstpost


---

Haier Hockey Series Open Starts from Monday

The Haier Hockey Series Open Pakistan starts from December 17 at the National Hockey Stadium, Lahore.

The Haier Hockey Series Open is an FIH event and the four nations competing here are Afghanistan, Kazakhstan, Uzbekistan and Nepal.

The format of the event is single league.

Since, Pakistan has been selected for the FIH Pro League, the new high profile event starting from early 2019, the Pakistan side here is not the national side and it will enter  as the President XI.

Importantly, the matches played by the President XI against the other sides will only be considered friendly games and will not carry any points towards the event.

PHF media release


---

2018 Test Matches: ESP v CAN (W) - 4th test
Sevilla (ESP)

ESP v CAN     1 - 2

Canada wins the 4 Test series 2 - 0 with 2 draws

FIH Match Centre


---

Schopman Adds Three to USWNT Senior Roster




COLORADO SPRINGS, Colo. - U.S. Women's National Team Head Coach Janneke Schopman has announced the addition of three athletes to the senior squad with goalkeepers Kelsey Bing (Houston, Texas) and Kealsie Robles (Yorktown, Va.), and midfielder Linnea Gonzales (Bel Air, Md.). For the past two weeks, Bing and Gonzales have spent time training with the USWNT, where Bing earned her first international cap in the second match of the test series with Belgium. Robles spent time in goal at the Four Nations Women's Ibaraki International Tournament in Japan in September where she earned her first cap for USA. Gonzales and Robles will join the team in May following college graduation and Bing, still a college junior, will join the team when time permits.




A Houston, Texas native, Bing was required to play a sport each trimester. When fall came around, field hockey was her top choice.

"I played club soccer at the time, so my mom told me field hockey was the most like soccer and that I would enjoy it," said Bing. "I decided to try it out."

Starting out as a field player, Bing ultimately chose goalkeeper because it was guaranteed that she would play at least a full half on the field without subbing out. Although another three others girls signed up for goalkeeper as well, they ultimately quit, which urged Bing to stay with it. By the end of eight grade, she fully transitioned into the position while prospering with the Texas Pride Field Hockey Club. Currently a junior at Stanford University, Bing was named America East Conference Rookie of the Year in 2016. She has also received multiple honors such as America East Conference Goalkeeper of the Year (x2), America East Conference West Division Team selection (x3), America East All-Championship Team (x2), America East Conference All-Rookie Team, NFHCA Third Team All-American and West Region First Team selection.

Bing recently recorded her first international cap with the USWNT in the test series against Belgium in November. A veteran of the Olympic Development Pipeline, she was a member of the U.S. U-17 Women's National Team from 2012-14 before a four-year stint with the U.S. U-21 Women's National Team from 2014-18, and later being named to the 2018 U.S. Women's National Development Squad. She helped the U-21 USWNT claim silver at the 2016 women's Junior Pan American Games in Tacarigua, Trinidad & Tobago and competed at the women's Hockey Junior World Cup in Santiago, Chile.

It is a huge honor to be named to the U.S. Women's National Team," commented Bing. "This has always been a goal of mine, so it feels really nice knowing that my hard work has paid off. I am looking forward to the new challenges and opportunities that will come with joining the team."

"Since I have known Kelsey from the U-21 program, she has showed me her commitment to USA Field Hockey and her desire to play at the highest level," said Schopman. "Although she's still in college and is young, she is a goalkeeper with a presence and I'm looking forward to see her grow in our environment."




Gonzales, who was recently named the 2018 Longstreth/NFHCA Division I Player of the Year, Regional Player of the Year and Big Ten Player of the Year, first found her passion for the game through her sister. She quickly developed a similar field hockey love while playing with H2O Field Hockey beginning in the third grade. She played for Patterson Mill High School before moving on to be a staple on offense for the University of Maryland Terrapins, where she has earned multiple honors including All Big Ten First Team (x2), All Big Ten Second Team, Big Ten Freshman of the Year, NCAA All-Tournament Team (x2) and NFHCA All-American.

She was named to the U.S. U-17 Women's National Team in 2012 before moving to the U.S. U-21 Women's National Team from 2014-18. Like Bing, Gonzales was also named to the 2018 U.S Women's National Development Squad.

"Being named to the senior squad is a dream come true," commented Gonzales. "This is something that I have wanted since I was a little girl, so it is very exciting to be able to start this new journey with an empowering group of women. I am looking forward to new challenges, learning, growing, and competing with the best as I continue on with the sport I love. I am very grateful for everyone who has helped and supported me along the way. Can't wait to start this new chapter!"

"Linnea is a player I followed intensely during college season," said Schopman. "Her performance throughout the season convinced me that she is now ready to join the team and help us on the journey. She has a great mentality and lots of room to grow, I'm looking forward to having her around starting January."




Robles, who represented USA at the Four Nations Women's Ibaraki International Tournament in September, first picked up the game when her fourth-grade teacher asked her to trade her soccer ball for a field hockey stick. From there, she started playing club hockey at age 13 with Focus Field Hockey. She played goalkeeper for York High School where she earned First Team All-Conference honors in addition to All-Star and Player of the Week nods from the Daily Press.

Recently finishing her senior season at Old Dominion University, Robles earned Second Team All-Region honors, as well as NFHCA National Academic Squad (x3) and Victory Sports Tours/NFHCA Division I Senior Game honors. Her Olympic Development Pipeline experience began in 2015 as a member of the U.S. U-19 Women's National Team before being named to the U.S. U-21 Women's National Team in 2017 and the U.S. Women's National Development Squad in 2018. Earlier this year, she helped represent USA when the U-21 USWNT played a friendly series against Argentina.

"I am blessed to have an opportunity of a lifetime," commented Robles.

"With the sudden retirements of some of our goalkeepers it was special to see that Kealsie was willing to join us during college season," said Schopman. "She impressed me in Japan as how well she fit into the team without knowing anyone. Secondly showing her dedication, willingness and ability to graduate early to join our team gives me confidence that she will be a good fit for our program."

USFHA media release


---

Schopman Adds Allessie to USWNT as Youngest Rostered Athlete




LANCASTER, Pa. – Following an invitational tryout last week, U.S. Women's National Team Head Coach Janneke Schopman has added the youngest rostered athlete Mackenzie Allessie (Mount Joy, Pa.) to the senior squad. Allessie, along with a few other athletes, were invited to Spooky Nook Sports over the past two weeks to train and practice with the USWNT. She will join the team effective January 2019.

"Mackenzie is one of the bigger talents in our pipeline and showed her potential this past summer against the Chile U-19 team," commented Schopman. "After two trial weeks, she has convinced the staff that she is able to play at the required level, and despite her age, we feel comfortable adding her to the team. She will join us full-time in January as she graduated high school early which is important in her development as a player."

A native of Mount Joy, Pa., Allessie started playing the sport when she was 7-years-old. Her mother was the coach at Milton Hershey School and as an eager and ambitious youngster Allessie tried to play with the team. Her passion for the sport flourished and since the sixth grade she has been part of the club team, Alley Cats, out of Palmyra, Pa.

Allessie is currently a senior at Donegal High School, and this past fall helped the Indians to the program's second PIAA 2A State Championship in three years. In October, she earned a prolific accolade holding the National High School Record for Goals Scored while finishing her career with 351 goals. She also broke the National High School Career Points and National High School Most Goals in a Season records. Along with two state championships, she was part of Donegal's teams that won two Lancaster-Lebanon League Championships, four District III Championships and four Section-2 Championships.

A current Ohio State University commit, Allessie has been involved with USA Field Hockey through the Futures Program and Junior USWNT since 2012. For seven consecutive years she was selected for the National Futures Championship and four AAU Junior Olympic Games. In 2016, she was named to the U.S. U-17 Women's National Team and traveled to Mannheim, Germany where she competed in a 3 Nations Tournament with Holland, Germany and USA. In 2017, she was selected for the U.S. U-19 Women's' National Team, and again traveled to Germany for a three-game tour with Belgium and Germany. Allessie remained on the U-19 USWNT in 2018, following her selection at the 2017 STX Select event, and participated in a series with Chile's U-21 team and traveled to Ireland for a three-game tour.

"Being selected to represent the Unites States is such an honor and privilege, it's a dream come true!", said Allessie. "I am excited to play and learn from such talented players and coaches as well as have the opportunity to be a part of such a hard-working environment. I am looking forward to this opportunity of a lifetime!"

USFHA media release


---

Ruthless Telkom crush Spartans in Abuja

By BRIAN OTWAL IN ABUJA, NIGERIA



Telkom's Flavian Mutiva (left) vies for ball with USIU-A Spartans' Beatrice Mbugua during their Africa Cup for Club Championship match at the Abuja National Stadium on December 16, 2018. PHOTO | BRIAN OTWAL |  NATION MEDIA GROUP

Nine-time champions Telkom Kenya on Sunday maintained their winning momentum as they downed compatriots United States International University of Africa (USIU-A) Spartans 4-0 on day two of the Africa Cup for Club Hockey Championship here at the Abuja National Stadium.

The win saw Telkom sit atop of the standings with maximum six points from two games. They launched their campaign to reclaim the title they lost to Ghana Revenue Authority at the last edition by beating Ghana Police 2-1 in their opening match on Saturday.

Captain Tracy Karanja led from the front as she gave her side an early lead in the first quarter. Audrey Omaido then added the second to give the Kenyan champions a comfortable 2-0 lead going into half time.

After the interval, Lilian Aura extended Telkom's lead with the third goal. Defender Terry Juma ensured she pocketed a Sh10,000 reward from coach Jos Openda after converting a penalty stroke awarded after foul play from the students.

"We did exactly what we ought to have done. The players played to script and this made it easy to collect the three points.

We just need to score goals and collect points," noted Telkom Kenya coach Jos Openda.

While Telkom lead the standings with six points, debutantes Spartans are yet to register a win at these championships, having drawn their opening match 1-1 against home side Delta Queens.

"It was disappointing but we now need to pick ourselves and win our next match," a disappointed Spartans captain Grace Akumu said.

"It is a setback but we still have to remain focused and maintain our consistency. The players just need to shake off their fear.

I know its their first time at the championship, we have played great teams, Telkom one of them, but we have to wear a different skin moving forward," noted USIU team manager John Kabuu.

In other women's matches on Sunday, reigning champion Ghana Revenue Authority once again faltered in their title defence campaign after drawing 0-0 with compatriots Ghana Police.

Men's defending champions El- Sharkia of Egypt registered their second victory with a 7-1 thrashing of hosts Kada Stars. Last year's finalists Eastern Company also from Egypt beat Ghana's Exchequers 2-1 in the other men's match.

Day three action on Monday will see USIU face GRA as they go in search of their first victory, while Telkom face Nigeri's Delta Queens seeking to maintain their 100 percent record at the championship.

Daily Nation


---

Winners Crowned At First-Ever Indoor Masters Challenge

Ben Somerford




The inaugural Australian Indoor Masters Challenge at Goulburn's Veolia Arena concluded on Sunday with the winners crowned across the different divisions.

Twenty-four teams across five different divisions fought it out for the respective titles in the first-ever Indoor Masters Challenge which was used as a selection opportunity for the 2019 Masters Indoor Hockey World Cup in Hong Kong.

Sydney East defeated Parkes 6-2 in the Women's Masters 40+ final on Sunday, while the Jaffas beat Gang Gang 1 2-1 in a thrilling Women's Masters 50+ decider.

In the Women's Masters 60+ final, Sydney Strikers defeated the Pips 2-0 in a shootout after a goalless draw.

In the Men's Masters 40+ and 50+ decider, Carbine 50+ beat New England 40+ 2-1 in a shootout after a remarkable 7-7 draw.

Carbine and New England finished the top teams in their respective 50+ and 40+ divisions too.

Head to https://hockeyaustralia.altiusrt.com/competitions/ for full match information.

The Indoor Masters Challenge was the first part of the Australian Indoor Hockey Festival in Goulburn which includes five further divisions to be played throughout January.

The Festival will run from Friday 4 January to Saturday 26 January 2019, across Under-13, Under-15, Under-18, Under-21 and Open divisions.

Hockey Australia have partnered with Destination NSW and the Goulburn Mulwaree Council to make the Festival possible and we thank them for their support.

Hockey Australia media release


---

ROUND-UP: Day 2 of the Jaffa English Super 6s Men's Premier Division




After finishing day one of the action-packed first weekend of the Jaffa Super 6's Men's Premier Division with two victories in two games, Hampstead & Westminster and Sevenoaks matched the feat, finishing the whole weekend unbeaten.

Hampstead & Westminster were the first team in action on Sunday, beating Wimbledon 7-5 thanks to four goals from Richard Smith.

Sam Ward scored four of his own in Hampstead & Westminster's 6-4 triumph over Team Bath Buccaneers to see them sit comfortably at the top on goal difference.

Sevenoaks had to fight back from a 3-1 half time deficit against Canterbury to keep their unbeaten run alive, scoring two minutes from time to edge the game 4-3 before handing Brooklands MU their second loss of the day 7-2.

Rufus McNaught-Barrington, Joe Naughalty and George Torry all with two goals apiece.

Surbiton made it three straight wins after their opening defeat to league leaders Hampstead & Westminster on Saturday morning.

On Sunday they kicked off with a 6-3 win over Brooklands MU before climbing to third in the table after beating East Grinstead 5-3.

Canterbury avenged their earlier defeat by compounding Wimbledon's woes with their second loss of the day as Sam Barrett netted a hat-trick in Canterbury's 7-5 triumph.

In mid-table, East Grinstead held off Holcombe to record a 6-4 victory before Holcombe returned to winning ways with a tense final match of the afternoon against Team Bath Buccaneers which they won 4-3.

England Hockey Board Media release


---

ROUND-UP: Day 2 of the Jaffa English Women's Super 6s




Three goals from Sophie Bray helped East Grinstead go top of the table in the final match of day two of the Jaffa Super 6s Women's Premier Division.

Her goals helped her side beat Leicester win 7-3 which, combined with their two wins on Saturday, was enough to put them top of the table despite a 4-2 loss to Slough. Bray now tops the scoring table with eight goals.

Buckingham closed day two in second spot on goal difference with two wins from two.

In the opening fixture of the day Buckingham toppled Beeston 3-1 who now sit bottom after losing all four games of the opening weekend - their second loss of the day came against Canterbury 3-4 despite leading 2-1 at the half.

Buckingham later beat Leicester 5-3 thanks to goals from Katrina Nicholson, Lauren Thomas, Rebecca van Berkel along with a double from Alex Naughalty.

Slough were looking to remain unbeaten after their 4-2 win over leaders East Grinstead but those hopes were dashed as two second half goals from Clifton Robinsons' Holly Savage and Abi Porter felled Slough with Clifton Robinsons running out 4-2 victors.

Slough are level on points with leaders East Grinstead but trail in third on goal difference.

Holcombe beat Canterbury 5-2 which included a double from Emma Trunks, whilst Bowdon Hightown's Sally Walton continued her impressive scoring streak with a hat-trick in their 4-2 victory over Clifton Robinsons.

Both victors, Holcombe and Bowdon Hightown met later in the day and recorded the first draw of the Championship as they played out a 3-3 stalemate.

Sally Walton added two goals for Bowdon Hightown to take her day's tally to five.

England Hockey Board Media release


---

Big derby win for Wanderers in Scottish women's Indoor National League 1




The game of the day proved a triumph for former champions Dundee Wanderers, as they saw off their Tayside rivals Grove Menzieshill 9-3 to open up a three point lead at the top of women`s indoor National League 1.

Wanderers took the game by the scruff of the neck and raced into a four goal lead through a double from Ruth Blaikie followed by singles from Vikki Bunce and Ellie Wilson. Back came Grove Menzieshill, back-to-back penalty corner conversions by Sam Sangster reduced the deficit to 4-2 by the interval.

However, the second half belonged to Wanderers with further strikes from Jess Ross (2), Millie Skidmore, Blaikie again for her own hat-trick and Bunce for her second of the contest, at the other end Sangster also gained her hat-trick with a sole consolation.

Wanderers` first outing of the day ended in a 5-1 win over Watsonians. It was the Edinburgh underdogs who got their noses in front through Katherine Holdgate, but by the interval the Taysiders were 3-1 up courtesy of strikes by Ruth Blaikie, Millie Skidmore and Vikki Bunce. That is how the tally stood until the final three minutes when Bunce grabbed a late double for her own hat-trick.

Grove Menzieshill also started the day with a comfortable win, 7-1 over Edinburgh CALA. Sam Sangster at a penalty corner and Jamie Lyon gave the Dundonians a 2-1 lead at the interval, Ava Allan replied for CALA. But the second half belonged to Grove Menzieshill, Lyon went on to complete her hat-trick, Sangster scored again from a set piece while Pauline Stott and Jude McMullan completed the tally.

Clydesdale Western recovered their winning ways with a more than comfortable 9-2 victory over Grange in the opening game of the day. When Frances Lonergan scored the first goal from a penalty corner in only four minutes, there followed a procession. Lonergan herself scored another in the second half but striker was Ali Eadie with a hat-trick.

The Titwood-based side continued their lively goalscoring form with an eight goal victory over Edinburgh University in their second outing. Top strikers on this occasion were the Justice sisters Kayleigh and Marjery with a brace each.

Hillhead drew with a 1-1 score against Edinburgh University. Louise Campbell opened for the students from a set piece in three minutes, but just before half-time Louise Andrews levelled for the Glasgow side from open play…and that was the end of the scoring.

However, in their second outing Hillhead excelled with a 7-1 victory over Grange. The contest was effectively over inside five minutes when Katy Fleming, Shona Oliphant and Jenny Sinclair put their side three up. The Glasgow side added four more during the course of the game – all from different scorers.

Watsonians recorded their first victory of the campaign following a narrow 3-2 win over capital neighbours Edinburgh CALA. The latter built up a two goal lead through Emma Davie and Shona McNab, but there was parity by the interval with Nicola Stobie and Morven Cawthorne scoring for Watsonians. Stobie then scored the only goal of the second half to secure the three points.

In the final games of the day Hillhead, still unbeaten in the campaign, recorded their second victory with a 6-1 score over CALA, a result that pushes them into fourth place in the table. The catalyst was a hat-trick by Louise Andrews, Katy Fleming got two while Wendy Andrews got the other, Shona McNab got the consolation for CALA.

Before that, Watsonians also moved up the table with a 9-1 win over Grange, here there were doubles for Heather Tait, Olivia McMahon and Catriona McClellan.

Scottish Hockey Union media release