All the news for Thursday 13 December 2018

Odisha Hockey Men's World Cup Bhubaneswar 2018 - Day 15
Bhubaneswar (IND)

Results 12 December

ARG v ENG (QF)     2 - 3
AUS v FRA (QF)     3 - 0

Fixtures 13 December

16:45     GER v BEL (QF)
19:00     IND v NED (QF)

Friday 14 December is a rest day - thank goodness!

Semi-finals

15 Dec 2018 16:00     ENG v BEL or GER (SF 1)
15 Dec 2018 18:30     AUS v NED or IND (SF 2)

Out of the Competition

Pool stage
Spain
Ireland
South Africa
Malaysia

Cross-overs
New Zealand
China
Pakistan
Canada

Quarter-finals
Argentina
France

FIH Match Centre


---

England stun Argentina to book Semi-Final Place



HWC2018 ARG v ENG

Barry Middleton inspired England to the semi-finals of the 2018 Men's Hockey World Cup in a thrilling victory over Argentina.

The midfielder produced his best performance of the tournament so far, scoring once, assisting another and producing an incredible block on the line to ensure his side kept their World Cup journey alive.

Will Calnan and Harry Martin were also on the scoresheet for England – for whom Michael Hoare won his 100th cap - while Gonzalo Peillat's two corners were not enough to see his side to victory.

Despite the obvious threat the reigning Olympic champions offered, Liam Ansell said his team were perfectly prepared for the game and firmly believed they would come out on top.

The Man of the Match said: "I'm ecstatic. We knew it would be a tough match, they have the number one corner threat in the tournament so stopping them was crucial.

"But we knew if we waited for our opportunities, stopped them from getting on the front foot and blocked their corners we'd have a good chance.

"We've got a few young guys who have come in and shone during this tournament. We've been talking before games about our mentality going into it, being in the right headspace and it's working. I'm really looking forward to the next match."

Argentina took the lead against the run of play in the 17th minute, Peillat's flick bouncing into the goal off a desperately unlucky George Pinner after two earlier Luke Taylor corners were charged down.

Juan Vivaldi then produced two fine saves from Zach Wallace and Phil Roper to maintain their advantage but there was nothing he could do to stop Middleton's laser-like equaliser.

Pinner then had to react quickly to block Matias Paredes as the klaxon sounded at the end of an intriguing first half, while Ansell produced a rare scuff on the reverse in the 32nd minute.

England spent five minutes down to 10 players in the third period but Argentina couldn't take advantage, the closest they came being a slap from Ignacio Ortiz that Pinner easily saved.

But in the dying moments of the quarter Calnan pounced after Middleton's aerial was mis-controlled, the ball falling at the feet of the midfielder who fired in a rocket for his second goal in as many games.

Peillat brought the scores level once again from another corner in the 48th minute but just seconds later England were back in front through Martin, finishing a move he started with a brilliant run by nudging the ball past Vivaldi.

Argentina pressed hard for the equaliser but Ansell almost scored the goal of the tournament on the counter, scything through the defence, but his diving shot smacked the post.

A kicking back was employed for the final four minutes but there was to be no way through for Argentina as England secured their place in a third successive World Cup semi-final.

They will take on either Belgium or Germany on Saturday 15 December live on BT Sport.

Argentina 2 (1)
Peillat (PC, 17; PC, 48)

England 3 (1)
Middleton (FG, 27); Calnan (FG, 45); Martin (FG, 49)

Starting XI: Pinner (GK), Ames, Gleghorne, Roper, Dixon, Middleton, Ansell, Condon, Waller, Gall, Sanford

Subs: Gibson (GK), Taylor, Martin, Sloan (C), Hoare, Calnan, Wallace

England Hockey Board Media release


---

Battling England beat Argentina to reach Hockey World Cup semi-finals

The Hockey Paper report, Bhubaneswar




England secured a brilliant, battling display over Argentina, the Olympic champions, to halt a long winless streak over the world No 2 and advance to the World Cup semi-finals.

It was nerve-jangling to the end as a last-ditch sling into the circle by Gonzalo Peillat saw the ball bobble off George Pinner's boot towards an Argentinian stick before ricocheting inches wide of England's post. Cue jubilation in the England camp seconds later.

The 20-year wait is over. So is the four-year wait to atone for their 2014 World Cup semi-final defeat, as Argentina briefly had 12 men.

Here, they went down to nine men for the last salvos as time ticked away and so did their discipline. But still they managed to get that last effort in.

Yet England held on thanks to goals from Barry Middleton, Will Calnan and Harry Martin, interspersed with PC strikes by Peillat.

Middleton even saw the sharp end of one after stopping a thunderbolt on the line. He was in agony afterwards and was due to ice his hand overnight, with England assessing in the morning.

"It's a nice feeling, apart from not being able to hold a stick," said Middleton.

"We owed them one for four years ago. You've got to do the little things people don't notice. You have to get hit, block the ball and do the dirty stuff. That's what wins you these bigger games, not the fancy stuff."

There were seven cards in all as England rallied from going behind to a Peillat strike – which leaked between George Pinner's arm and body – and build on their tournament momentum.




Three times England went close after goal line clearances in the first half, while number one runner Lucas Rossi charged down both of England's opening penalty corners.

But their chance finally came when Middleton slotted low and hard past Juan Vivaldi.

We saw more industrious running from Zach Wallace, who started a central run before being impeded in Argentina's circle. A third and fourth corner routine went awry, even with Argentina down to three defenders after a green card.

But Middleton was a class act as he cut the Argentinian defence open by launching an aerial pass forward, with seconds left of the third quarter hooter, which found Calnan in acres of space at the top of the circle.

He allowed himself one touch and the Hampstead & Westminster forward beat Vivaldi inside his right post.

Soon, Argentina were in the thick of the action and a trio of penalty corners. With their third, Peillat again dispatched low to the backboard as Middleton was left nursing a stinging hit.

Two minutes later, Peillat again stepped up and again Pinner was beaten through the arm.

With the next attack came England's third as the ball looped into the circle and fell into Martin's path to slot home.

Liam Ansell, full of confidence at this World Cup, then broke free with six minutes left but 39-year-old Vivaldi was in tune with the shot thanks to a full-length diving save.

For the second game running, England saw an opposition kicking back enter the fray as Argentina took off Vivaldi, but indiscipline continued to cost them with two late yellows.

They were in this position due to several factors, notably England's defence which left Argentina short out of ideas in the circle.




Yet the Olympic champions still had chances. It came with four seconds left as Peillat drilled in that last-ditch pass. Seconds later, Pinner was dancing a jig with his defenders.

"It was nervy at the end," said Middleton. "It's good to give the ball away at the end sometimes to slow it. But it also gives one set play to sling it in. The boys were defensively amazing tonight."

Mark Gleghorne added:"Tournament hockey is about getting better as you go along and you nailing the small details on the day. We have lots of work."

That includes debriefing on those final, frantic moments.

"That's why you have to be so on it," added Gleghorne. "The ball shouldn't have come in that way, and we will look at that."

And so it was left to celebrate a breakthrough win over Argentina in England colours.

"It was a massive team performance," said Martin. "We dug in and didn't have much left in the legs and left it all out there.

"I was prepared for shoot outs and willing the ball to stay out. It was a brilliant performance."

Australia became the second team through to the semi-finals when they beat France 3-0. They will meet either India or the Netherlands.

The Hockey Paper


---

England shock Olympic champs Argentina

By Jugjet Singh

BHUBANESWAR: England pulled off a major upset in the World Cup here on Wednesday when they edged 2016 Olympic champions Argentina 3-2 to qualify for the semi-finals.

The English will now play the winner of Thursday's quarter-finals between Germany and Belgium.

Argentina relied heavily on their penalty corner ace Gonzalo Peillat, who scored in the 17th and 48th minutes.

England were more clinical with field goals, as all three were well co-ordinated efforts by Barry Middleton (27th), Will Calnan (45th) and Harry Martin (49th).

Middleton, 430 caps and playing in his fourth World Cup, said it was nervy as Argentina almost equalised four seconds before the final whistle.

"Sometimes making a mistake at the final seconds can be costly, but this time, it was a good one as it showed that our defence is in good condition to stop any team in the world," said Middleton.

And what about England's next opponents: "We don't really mind playing Germany or Belgium. "Right now, I believe we can beat any team in the world and that's what we will be playing for in the semi-finals," said Middleton.

It was England's first win in 20 years over Argentina in the World Cup.

In the last edition at the Hague in the Netherlands, the South American side defeated England 2-0 in the bronze playoff.

New Straits Times


---

Hoare hails super defence as England through to semis ahead of Argentina



©: Frank Uijlenbroek / World Sport Pics

England and Australia became the first teams to reach the final four of the Odisha Hockey Men's World Cup Bhubaneswar 2018 thanks to victories in their respective quarter-final wins over Argentina and France.

England claimed a stunning 3-2 triumph over the Olympic champions to book their ticket to the semi-finals, with Harry Martin's fourth quarter strike proving decisive.

"I think it was a good game", said Wimbledon man Michael Hoare, who tasted victory against the Olympic champions on his 100th cap for England.

"Scoring with one second left in the end of the third quarter… we've had that against us in the last World Cup, it's nice to get one in this one. I felt the boys dug in really deep at the end and we played really well.

"We deserved to win. We got to the semi-finals last time. I think this time we're in a better position than last time. Our team is a bit stronger. Defensively, we've been really good in the last two or three games. If we can do that again in the semis, I think we've got a great chance to get to the final."

They initially fell behind to a very familiar source, Mannheimer HC's Gonzalo Peillat finding the net with a low and powerful penalty corner effort that England goalkeeper George Pinner half-blocked, but not enough to keep it out.

England dragged themselves level before half time when Barry Middleton fired a stunning strike into the bottom corner, smashing home after a surging run into the Argentina circle from Liam Ansell.

Things went from good to great for England at the end of the third quarter when Middleton sent an aerial pass deep into Argentine territory with Will Calnan capitalising on a defensive error to drill a terrific effort for a 2-1 lead.

A video referral by umpire Javed Shaikh saw a penalty stroke initially awarded to Argentina downgraded to a penalty corner. However, it made little difference as Peillat nailed it once again for 2-2 with 12 minutes to go.

England regained the lead just a minute later, with Harry Martin forcing home after Argentina's usually reliable defence failed to clear their lines. Argentina almost conceded a fourth goal when Ansell rattled the left post after a mazy run from deep in his own half, while Pinner was brought into action in the dying seconds to make a crucial block and confirm England's place in the semi-finals for the third Men's World Cup in succession.

Reigning world champions Australia proved too strong for 20th ranked France, powering to a 3-0 win to maintain their own ambitions to claim a third successive title. The Kookaburras' semi-final opponents will be either host nation India or European champions the Netherlands, two sides that also go head-to-head tomorrow.

The other quarter-final tie tomorrow features Belgium and Germany,

Euro Hockey League media release


---

England beat Argentina 3-2 to reach semi-finals

England reached the semi-finals of the Hockey World Cup in India with a thrilling 3-2 victory over Argentina.

Gonzalo Peillat gave Argentina the lead from a penalty corner before Barry Middleton fired in to equalise.

The influential Middleton then provided the aerial ball to set up Will Calnan put England in front.

Peillat levelled from another penalty corner but, almost immediately, Harry Martin struck the winner against the reigning Olympic champions.

England are in their third World Cup semi-final in a row and will now play play Germany or Belgium in the last four on Saturday.

They had shaded possession with 53% of the game, while they had eight shots compared to six from Argentina.

Liam Ansell was key to the win as he assisted England's opening goal and hit the post late on after a storming run.

He was given the man of the match and said: "I'm ecstatic.

"We knew that would be a tough match. They have got arguably the number one corner threat so stopping them was crucial.

"But we knew if we waited for our opportunities, stopped them from getting on the front foot and blocked their corners we'd have a good chance.

"We just put in a stellar performance. As a squad we have got a few young guys who have shone this tournament.

"We're really positive as a squad and really looking forward to the next round."

England starting XI: Pinner (GK), Ames, Gleghorne, Roper, Dixon, Middleton, Ansell, Condon, Waller, Gall, Sanford

BBC Sport


---

England stun favourites Argentina to reach hockey World Cup semi-finals

Barry Glendenning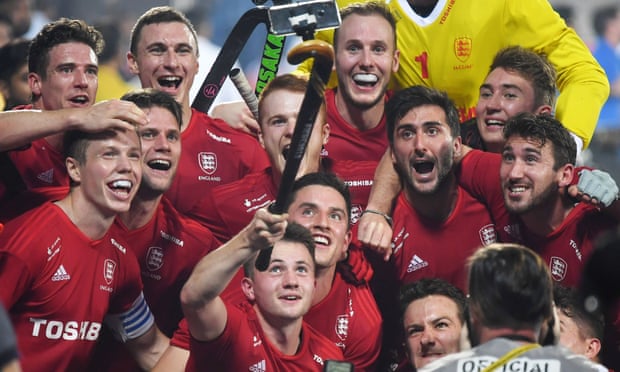 England's players celebrate after victory in the hockey World Cup quarter-final on Wednesday. Photograph: Dibyangshu Sarkar/AFP/Getty Images

Harry Martin fired England into the semi-finals of the hockey World Cup in India after a shock 3-2 victory over Argentina. Midfielder Martin struck in the second half against the Olympic champions to record England's first World Cup win over Argentina since 1986 and first in their last seven meetings.

Gonzalo Peillat gave Argentina the lead from a penalty corner before Barry Middleton levelled before half-time in Bhubaneswar. Middleton's excellent pass then set up Will Calnan to put England in front, but Peillat levelled in the 48th minute from another penalty corner.

Martin, though, hit the winner a minute later and Liam Ansell nearly added a fourth but hit a post. England will play Germany or Belgium in the last four.

"I'm ecstatic," Ansell told England Hockey. "We knew it would be a tough match, they have the No 1 corner threat in the tournament so stopping them was crucial. But we knew if we waited for our opportunities, stopped them from getting on the front foot and blocked their corners we'd have a good chance.

"We've got a few young guys who have come in and shone during this tournament. We've been talking before games about our mentality going into it, being in the right headspace and it's working. I'm really looking forward to the next match."

The Guardian


---

England overcomes Argentina

Champion Australia has it easy against France

Uthra Ganesan



Averting danger: England's Mark Gleghorne prepares to clear in the engrossing encounter with Argentina. Photo Credit: Biswaranjan Rout

Since the high of Rio Olympics triumph, Argentina has been struggling to reclaim that form. The first warning came when it lost to France in the pool stage here, and the struggles continued on Wednesday as England eliminated it with a 3-2 win and reach its fourth semifinal.

England played an attacking game to disrupt Argentina's defensive structure while keeping its own defences tight enough. Barry Middleton, at 34 playing his fourth World Cup, was the heart of the English team.

He got on to the scoresheet after Liam Ansell did all the hard work, running around the entire circle to draw away the defence and put Middleton through, who shot on the move to neutralise Gonzalo Peillat's goal.

That forced Argentina to step up its own pace but only ended up playing into England's plans. England kept pushing ahead from either side but was thwarted by Juan Vivaldi more than once.

Knowing its biggest weapon was Peillat, Argentina kept seeking penalty corners, earning six of them in the process. But George Pinner was up to the task and although the Argentine managed to convert two, it wasn't enough.

Clinical

Later, title favourite Australia cruised into the last four with a clinical 3-0 win against France. It wasn't the scoreline one expected but Australia was content converting three penalty corners without exerting too much.

To its credit, France did show some spark with the occasional foray, earned a couple of penalty corners and defended with desperation but against the World No. 1, it needed a lot more.

The results (quarterfinals):

England 3 (Barry Middleton, Will Calnan, Harry Martin) bt Argentina 2 (Gonzalo Peillat 2); Australia 3 (Jeremy Hayward, Blake Govers, Aran Zalewski) bt France 0.

The Hindu


---

England shock Argentina, move into semifinals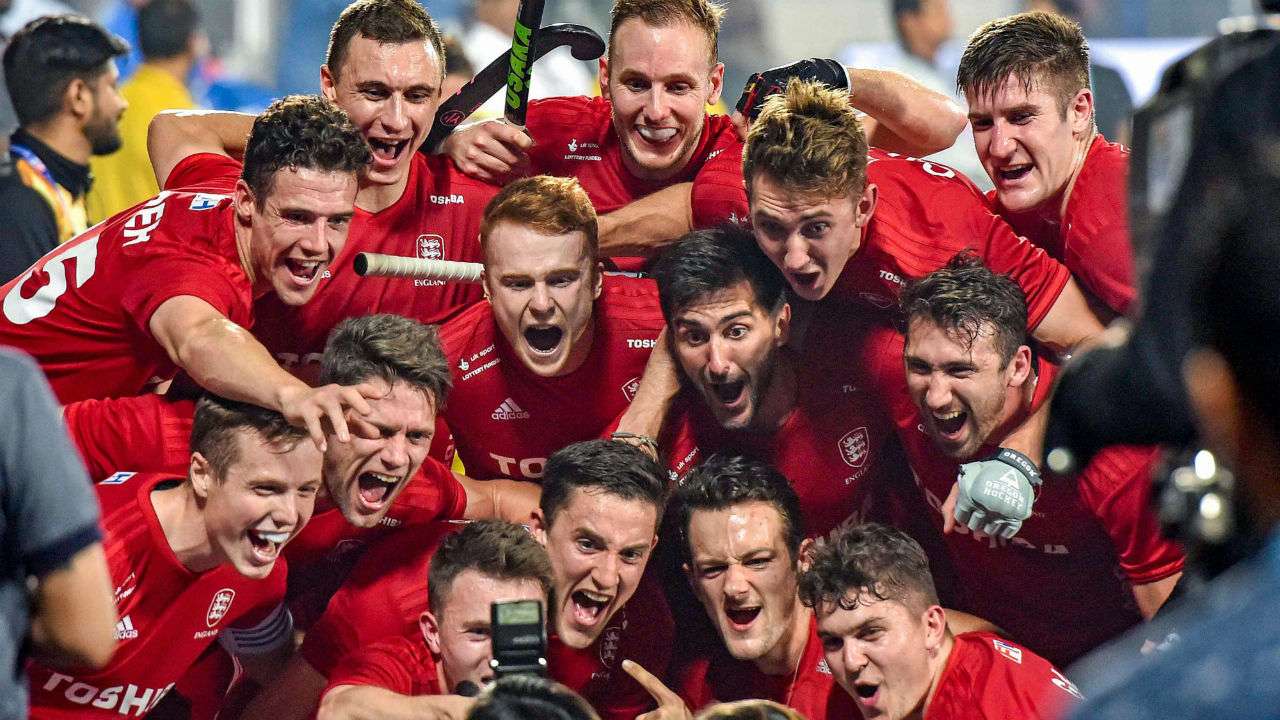 England players celebrate after winning the quarterfinal match against Argentina , PTI

Hockey World Cup 2018: England stunned Olympic champions Argentina 3-2 to book their place in the semifinals of the 14th men's Hockey World Cup here on Wednesday. England, who conceded the lead in the 17th minute, staged a superb come back to make their third successive semi-final appearance in the history of the tournament.

England scored three field goals through Barry Middleton (27th minute), Will Calnan (45th) and Harry Martin (49th), while Gonzalo Peillat (17th, 48th) struck both the goals for the losers at the Kalinga Stadium. Argentina, the bronze medallist in 2014, had themselves to blame for the defeat as they missed chances galore and got into panic mode after conceding the third goal.

Both Argentina and England were levelled 1-1 till 45th minutes but three goals in the last quarter changed the whole scenario. Will Calnan made it 2-1 for England before Peillat drew parity in the 48th minute. A minute later Martin shocked the Los Leones with a field strike to hand England the decisive lead.

Earlier, realising that slow pace is not helping them, England raised their tempo and that paid dividends as they earned their first penalty corner in the 11th minute. Luke Taylor's effort from the resultant set piece earned them another penalty corner immediately but Argentina defended stoutly to keep their rivals at bay.

Argentina secured its first penalty corner in the 17th minute and drag-flick expert Peillat scored with a powerful flick to take the lead. While Argentina players were celebrating, England almost equalised with a brisk counter-attack only for David Condon to miss a sitter.

Thereafter, the Los Leones surprisingly adopted a defensive approach and that worked in England's favour.

Mark Gleghorne's fine run down from the right flank and his subsequent cross was cleared by England defenders which laid in front of an unmarked Middleton, who slotted home with a powerful shot past goalkeeper Juan Vivaldi to level the scores.

Buoyed by the equaliser, England went on the offensive but failed to get past Argentina's crowded defence.

Argentina, on the other hand, adopted a wait and watch policy to launch counter-attacks.

But it was not to be as England striker Zachary Wallace made an impressive run into the Argentine circle and was brought down inside, which earned the Los Leones back-to-back penalty corners but they wasted both.

In the last quarter, Argentina equalised through Peillat's penalty corner conversion before Martin struck a minute later with a field strike to hand England the unexpected winner.

England will take on the winner of the match between Germany and Belgium in the semifinals on Saturday.

Daily News & Analysis


---

Australia and England in the semis

s2h Team



(Photo: Rakesh)

Defending champions Australia made another firm step towards their target of retaining the World Cup with a 3-0 victory over France in the first quarterfinal, while England too achieved the same feat by overcoming stiff resistance from Rio Olympic champions Argentina at a fighting score of 3-2.

England's opportunistic forward line came out with goals that seemed for many that a better organized defence could have avoided. It was not to be.

After a barren first quarter, Gonzalo Peillet gave Argentina the lead within two minutes from 2-minute rest. England tried to penetrate Argentine defence which appeared solid in the beginning. However, Odisha World' Cup's most capped player Barry Middleton tapped a loose ball in the melee inside the rival side to whack a backhand.

The beautiful goal evened out the lead. At the stroke end of third quarter, Will Calnan tapped a move to go ahead.

When Gonzalo Peillet gave the 2-2 equalizer at the 48th minute, it appeared the reigning Olympic champions are about stage a comeback for which they are known for.

When a defender failed to properly clear a long overhead near the periphery of their own citadel, Harry Martin lapped it up with a quicksilver turn to post what turned out to be the match winner. The second semifinal, with full stands now, expectedly turned out to be one-sided affair as the fancied France could not offer any valuable resistance to clinical Australians.

Its credit to the France that did not concede too many goals like China did in the last pool D match.

Its hugely commendable that France forced Australia to rely on penalty corners for goal, and for providing no elbow room inside their circle for the flashy Aussies known for relishing space. That the Australia had to rely on penalty corers for their harvest vouchsafes for the tenacity of the French side. The defending champions got all their three goals through penalty corners today. Jeremy Hayward, Blake Govers and captain Aran Zelewski slotted goals for the defending champions

It was nice scene to see full stands for both matches.

FIXTURE FOR THURSDAY
GERMANY VS BELGIUM, 06.45 PM IST
INDIA VS THE NETHERLNDS 07.00 HRS IST

Stick2Hockey.com


---

England edge past Argentina, Aussies dash French hopes

It was England's flair vs Argentina's grit and, not to forget, their penalty corner specialist. When Argentina got their first penalty corner in the 17th minute, everyone expected only one outcome. Gonzalo Peillat stepped up and delivered. Such was the pace of his drag-flick that the ball went through George Pinner – through the small gap between his right arm and torso. England hit back with a brilliantly worked field goal through Barry Middleton in the 27th minute.

Argentina are good at counterattacking, but England were not scared, playing attractive hockey. It paid off with another field goal from Will Calnan, in fascinating circumstances. A long scoop into the Argentine third deflected off a defender and into the path of the lone ranger, Calnan. The 22-year-old accepted the gift – his strike coming just two seconds before the halftime hooter.

England controlled the match, while Argentina struggled to start attacks. Until, they forced a penalty corner in the 48th minute. Peillat at the top of the circle, Pinner in goal, same result – the ball went through the same gap.
It seemed that England would not get past Peillat. Despite Middleton already having stopped one drag-flick on the goal-line — the veteran had to be taken off because of the hit on his hand.

But a minute later, Harry Martin finished another quick, albeit chaotic, move to give England the lead again. This time the former finalists held on to oust the Olympics champions. Three field goals for England beat two penalty corner goals by Argentina — a big win for attacking hockey.

World champs ease through

Australia proved too big a mountain to climb for the fast-rising France as the two-time defending champions won 3-0 with a dominant performance. Staying true to their style, France thrilled the audience with attacking and fearless hockey. But Australia were too smart for the world No. 20 France, and the difference in ranking was obvious.

The Tribune


---

Kookaburras Secure 11th Straight World Cup Semi-Final Spot

Ben Somerford




Reigning champions Australia have progressed to the 2018 FIH Men's Hockey World Cup semi-finals with a dominant 3-0 victory over France in their quarter-final in Bhubaneswar on Wednesday night.

First-half drag flicks from Jeremy Hayward and Blake Govers put the world number one Kookaburras in control at half-time against the plucky French, who are ranked 20th in the world.

Man of the Match Aran Zalewski sealed the win in the third quarter, rounding out a fine penalty corner variation with a cool finish.

Australia were good value for the victory, winning all key statistics with 23-17 circle penetrations, 6-4 shots and 5-1 penalty corners, with three of those converted by the Kookaburras.

The result means Australia will play either hosts India or the Netherlands in the semi-finals on Saturday night.

The victory also keeps the Kookaburras' hopes of a third straight World Cup title alive, although Zalewski insisted that wasn't on their minds.

"To be honest we haven't really thought about it," Zalewski said. "We've just been taking it each match at a time.

"This is a new group. We've got nine or 10 guys making their World Cup debut so it's not like we've actually won a World Cup.

"That's what we're trying to do. We'll try to take that into semis."

Australia will learn their semi-final opponent when India take on the Netherlands from 12:30am AEDT on Friday morning.

The Kookaburras almost took the lead inside the first 60 seconds when Flynn Ogilvie's shot hit the post.

Three minutes later, Australia went ahead from a short corner with Jeremy Hayward's drag flick taking a slight deflection to beat France goalkeeper Arthur Thieffry.

Australia hit the woodwork again in the seventh minute when Jake Whetton's low shot beat Thieffry to his right but not the post.

World Cup top scorer Govers added Australia's second in the 19th minute, continuing his run of scoring in every match this tournament, after winning a penalty corner which he emphatically shot low past Thieffry.

Thieffry did well to thwart Australia moments later when he snuffed out 150-gamer Trent Mitton's cutback with Ogilvie and Daniel Beale waiting at the back post.

France had their best attack in the 23rd minute when Timothee Clement released Aristide Coisne who beat Australia keeper Tyler Lovell but his goalbound shot was cleared short of the line by the back-tracking Hayward.

Australia added the third after Mitton successfully referred a non-decision to win a penalty corner, where Govers laid off for Matt Dawson to find Zalewski in space for a lofted finish from close range.

Both sides traded green cards in the final quarter as the chances dried up with Australia content to seal their spot in the final four for the 11th consecutive World Cup.

The victory over France also keeps the Kookaburras' record-breaking World Cup match winning streak going with 17 triumphs in a row.

Australia 3 (Hayward 4', Govers 19', Zalewski 37')
France 0

Hockey Australia media release


---

Title holders Australia beat France 3-0 to make semifinals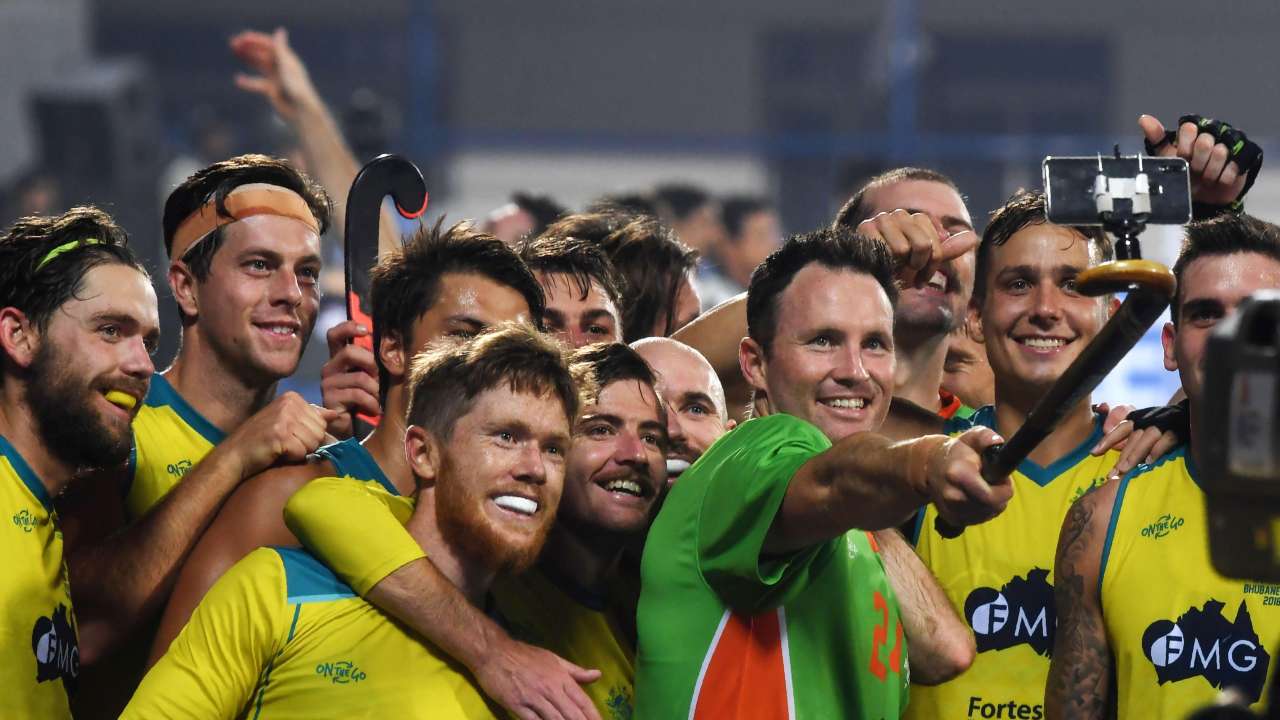 Hockey World Cup 2018 Australia's players pose for a selfie as they celebrate after winning against France , AFP

Two-time defending champions Australia are well on course to create a rare history as they defeated France 3-0 to progress to the semi-finals of the men's hockey World Cup here on Wednesday.

World no.1 Australia scored all their goals from penalty corners through Jeremy Hayward (4th minute), Blake Govers (19th) and skipper Aran Zalewski (37th) at the Kalinga Stadium.

However, the final scoreline was far from convincing from Australia's point of view, especially against a side which ranked lowest in the tournament at 20th.

The Frenchmen played good hockey in bits and pieces but were undone by the Kookaburras' vast experience and skills.

Despite the loss, the Frenchmen would return home with pride, especially with the superb show here that includes a shocking win over Olympic champions Argentina in the pool stages.

Australia will play the winner of Thursday's last quarter-final between India and Netherlands in the semi-finals on Saturday.

Four minutes into the match, Australia earned their first penalty corner when the ball found Francois Goyet's foot and Hayward made no mistake in converting the opportunity to hand his side the early lead.

Australia continued to dominate the proceedings with repeated forays as the French defence found itself in shambles to keep the Kookaburras at bay.

Soon after the start of the second quarter, Jake Whetton earned Australia its second penalty corner and Govers fully obliged by smashing his flick into the back of France's net to take a 2-0 lead.

Just at the stroke of half time, France earned their first penalty corner which they wasted as Australia went into the halfway break with a comfortable 2-0 lead.

Seven minutes into the third quarter, Australia tripled their lead when Zalewski converted Kookaburras' third penalty corner with a variation.

The Australians kept up the pressure on the France defence and secured another penalty corner in the 41st minute but this time they failed to make use of the chance.

The final quarter witnessed a neck-and-neck fight between the two teams as France tried hard to forge a comeback into the match but the Australians defended in numbers to deny any inroads.

The Kookaburras too tried to extend their lead over their less-fancied opponents but failed to create any real scoring opportunities.

Australia eventually defended their 3-0 lead and now wait for a mouth-watering semi-final clash against either India or Netherlands.

Daily News & Analysis


---

Charlier eyes breakthrough victory for Belgium in India



Belgiums Cedric Charlier celebrates after scoring a goal against Pakistan during the field hockey cross-over match between Belgium and Pakistan at the 2018 Hockey World Cup in Bhubaneswar on December 11, 2018. (Photo by Dibyangshu SARKAR / AFP)

BHUBANESWAR (India): It's frustrating to play without winning majors for years – and Belgium's seasoned hockey campaigner Cedric Charlier (pic) has had enough.

The 31-year-old, who has represented Belgium 287 times, hopes to get it right.

Belgium face archrivals and two-time world champions Germany for a place in the semi-finals at Kalinga Stadium today.

Charlier says the Red Lions have a chance to end their long wait this year at the ongoing World Cup.

"We're known as the Red Lions and have played in hockey tournaments for more than 100 years but our cabinet remains empty," said Charlier.

"We've never won major tournaments like the World Cup, Olympics, Champions Trophy and European championships.

Belgium came close to ending their major international woes but lost 2-4 to Argentina in the final of the 2016 Rio de Janeiro Olympic Games.

"We hope to have better luck in the World Cup in Bhubaneswar. If we win, we'll dance with the cup," said Charlier.

Belgium made steady progress since their opening 2-1 victory over Canada on Nov 28. They held India to a 2-2 draw before outplaying South Africa 5-1.

On Tuesday, the Group C runners-up knocked out four-time world champions Pakistan 5-0 in the second round.

Charlier promised to give Germany a run for their money.

"We played 13 times against Germany in the last three years and they have beaten us six times and we've won five times. It'll be a thrilling match," said Charlier, who has scored two goals in four matches.

The Star of Malaysia


---

Will India beat Netherlands in World Cup?

Belgium to keep winning streak in World Cup

By B.G.Joshi (in Kalinga Stadium Bhubaneswar)

In World Cup Netherlands have never lost to India in all 6 outings so far. In1973 Amsterdam final India lost in tie break, full time 2-2, tie break 2-4. After that in pool matches   in 1982(3-4), in 1990(3-5), in 1994(2-4), in 1998(0-5) and in2006 (1-6) Netherlands came victorious. Today India stands on the verge of creating history to defeat Netherlands in World Cup.
Germany-Belgium has played 4 times in World Cup. Red Lions beat Honamas in Hague (2014) by 4-2.Wil they do the same miracle again?

Here are statistical highlights
Today's quarter finals: head to head

 

Stats   B.G. Joshi

Germany vs.  Belgium

Germany

Particulars

Belgium

6

World Ranking

3

86

Total

86

59

Wins

11

16

Drawn

16

272

Goals

120

In   World Cup

4

Total

4

2

Wins

1

1

Drawn

1

14

Goals

7

India  vs. Netherlands

India

Particulars

Netherlands

5

World Ranking

4

105

Total

105

33

Wins

48

24

Drawn

24

215

Goals

237

In  World Cup

6

Total

6

0

Wins

6*

11

Goals

26

*1973 final match, full time score 2-2;

tie breaker 4-2
 Fieldhockey.com


---

India in trouble

By Jugjet Singh

BHUBANESAR: India have been impressive in the group stage, but it looks like they will face an uphill battle against the Netherlands in the quarter-finals of the World Cup on Thursday.

The World Cup has only produced one upset based on rankings, while the other top-eight teams are in the medal rounds.

World No 20 France is the only 'outsider' in the quarter-finals, as eighth-ranked Spain made an early exit together with Malaysia, Ireland and South Africa.

Defending champions Australia (World No 1), Argentina (2), Belgium (3), Netherlands (4), India (5), Germany (6) and England (7) will battle for the semis.

Netherlands start as early favourites in the last eight as they have never lost a World Cup match to India.

But Dutch coach Max Caldas brushed aside history.

"Past results do not matter to us as we only look towards the future," said Caldas.

"We're with the way we are playing.

"We were able to sustain our attack against Canada in the playoff and create chances in each quarter (won 5-0) as we controlled the pace.

"So, even though India like to play fast hockey, we like to set our own pace. And if it comes to fast, we'll be happy to play it," Caldas added.

New Straits Times


---

India up against dominant Dutch and history

The Netherlands has the ability to step on the gas under pressure and rise to the occasion

Uthra Ganesan



High on potential: The Indian side has the skill to trouble any team on its day. Photo Credit: Biswaranjan Rout

The 16 men stepping out on the turf at the Kalinga Stadium on Thursday would be up against not just their opponents but the weight of form, rankings and history when India takes on the Netherlands in the quarterfinals of the Hockey World Cup here.

Consider this: the Dutch have won every game against India in the World Cup — six in all. In fact, after 2006, the teams have never met — clubbed in separate groups with Netherlands always finishing in the top-two to qualify for the medal rounds and India bringing up the rear.

That game 12 years back saw India being thrashed 6-1. The lone scorer was Dilip Tirkey, now a key member of the organising committee here, but, amazingly, all the Dutch goals were off penalty corners or stroke, Taeke Taekema scoring five of them. What makes the situation even more interesting is that the Dutch have been struggling with their PCs in this tournament so far.

India, though, has been insisting the past holds little value in a changed world. While the opposition remains as dominant as ever, the Indian team has changed in every way. Improved fitness, use of scientific methods and technology has reduced the gap as far as training is concerned. The team is younger and skilled enough to trouble any team on its day. What hasn't changed, however, is the ability of the Dutch to step on the gas under pressure and rise to the occasion in big tournaments.

Ideal 12th man

The recent past also holds out hope for India. The teams played out a 1-1 draw at the Champions Trophy earlier this year, India lost 1-3 at the World League Semifinals last year but won in shootouts at the World League Finals in 2015. That game saw a capacity crowd roaring India back into the game every time it trailed, playing the ideal 12th man.

The only time the two teams have faced off in a knockout round of the World Cup was way back in 1973, when Netherlands edged past India on penalties in the final for its maiden title. The stakes are as high and Harendra Singh would be hoping his boys-turned-men step up to the challenge.

The Hindu


---

It's Dutch and go

With both India and Netherlands in fine form, a thrilling quarterfinal is on the cards

INDERVIR GREWAL IN BHUBANESWAR



Indian forwards have scored 12 goals from 30 shots and have made 80 circle entries in three matches. File photo

India's moment of truth has arrived. After a successful "four-nation tournament", the team has landed in Bhubaneswar for the World Cup. "World Cup starts now," India coach Harendra Singh said after their win over Canada. India's "first match", against the Netherlands, will be the biggest for this bunch of players. One win and India will start "smelling" — as Harendra has repeatedly said — a first World Cup medal since 1975.

But just as Harendra refuses to look at "history", it would do India good to not look beyond the match against the Dutch. Despite just one spot above India in the world rankings, the world No. 4 are big favourites going into the match. They have history on their side, having won eight World Cup medals so far. India have three medals, while the Dutch have three gold.

The Netherlands are not doing that bad in the present as well. They have played one match more than India, and except for their loss to arch-rivals Germany, the reigning European champions have been in rampant form. In four matches, they have scored 18 goals out of 66 shots and made 166 circle entries. The Netherlands have also conceded five goals, but three of those came in quick succession towards the end of the 4-1 loss to Germany. Overall, though, the Netherlands have been solid in defence and have controlled the midfield with ease. On Tuesday, coach Max Caldas had said his team would set the pace against India.

On Wednesday, Harendra returned the favour. "Hoga to wahi jo hum chahenge," Harendra said. The coach meant the result would depend on what India did on the field, and not how the opposition played. "The Indian team, mentally and physically, is ready. We have done our homework on the Dutch aggression. Whatever challenge they throw at us, we are ready to solve that, not just accept it," Harendra said.

Harendra added that the team wouldn't try to change anything. "Whatever we have practised, we won't do anything different. There will be some minor adjustments, obviously. They love to play attacking hockey, so do India. It is an equal contest," he said.

Confident India

Harendra's confidence comes from the way India have performed so far. India's stats are also not too bad. In three matches, they have scored 12 goals from 30 shots and have made 80 circle entries. They have conceded just three goals, two coming in the Belgium draw. The 2-2 draw with the world No. 3 would probably give India more confidence than the two victories. After being outplayed in the first half, India bounced back in the second half to take control of the match and go 2-1 ahead. That would give them the confidence to not panic in case they concede first. The match was also a good example of how crucial finishing would be — India scored two from six shots against Belgium.

The Dutch, too, would not give the hosts many clear chances. "In tomorrow's match, you can't afford to miss even 25 percent chances. We have to either score or get a penalty corner," Harendra said. What about defending penalty corners? "We can't ignore that (Netherlands' penalty corner power). India are ready to solve that challenge. What is the best way to defend a PC? No PC," said the coach.

HOW INDIA CAN DRIBBLE PAST THE MIGHTY NETHERLANDS

Taking chances

India have scored freely in the tournament so far. But 10 out of their 12 goals have come against lower-ranked teams, who gave India too much space. The Netherlands will be a hard nut to crack. India will not get too many clear chances, so they cannot afford to miss. "In tomorrow's match, you can't afford to miss even 25 percent chances. We should either score or get a penalty corner," coach Harendra Singh said.

Focus

India have had issues with straying focused throughout the match. It has not been India's bane alone. While the other teams were hurt, India were not punished by their lower-ranked opponents. Though Canada got the equaliser, it didn't matter much with the result reading 5-1. India's slow start against Belgium saw them fall behind early. They managed to pull back against Belgium, but making the same mistake, with the added pressure of a knockout game, against the Dutchmen could prove costly. "I agree that we have dropped our intensity during a game. We cannot afford that against a team like Holland. I have told them to keep that intensity not just for 60 minutes but 74 minutes, including the halftime and quarterbreaks," Harendra Singh said. 

Quick movement of ball

Like the Belgians, the Netherlands are also lethal with their counterattacks. They will put the Indians under immense pressure. The midfielders, especially, will have two-three Dutch players try and corner them. Any mistakes there will lead to the Netherlands finding their way into the Indian circle. To prevent that, the Indian players must move the ball with speed. Holding on to the ball or trying to run with it could be suicidal.

The Tribune


---

India's best chance in 43 years to enter semi-finals, says World Cup winner Ajitpal Singh

Shantanu Srivastava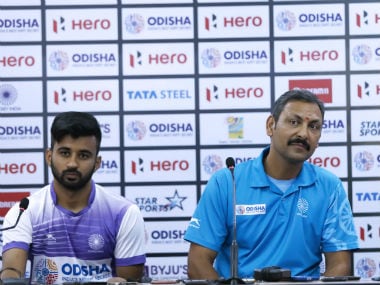 India will have to convert their chances against The Netherlands on Thursday. Image: Hockey India

Bhubaneswar: India's only World Cup-winning captain Ajitpal Singh has said that Thursday's quarter-final against the Netherlands will be India's best chance to end their semi-final draught, that stretches back to 1975.

"I would say it is the best chance for India to get into semi-finals because the World Cup is happening on home ground, there will be tremendous crowd support, and the team has progressively become better. They are fitter than ever, and they can sustain the pressure. Thus, it is the best chance for them to get into the semi-final and gun for the podium," Ajitpal told Firstpost.

The former captain, however, sounded a note of caution for Manpreet Singh-led team, who has been guilty of missing scoring opportunities in the Pool stage matches.

"India have to tighten their defence because Holland will come out attacking most of the time. Three of their forwards are very dangerous and deadly. If you get an opportunity and you don't score, you'll have it from The Netherlands, because they are not going to miss any chances. India should not think they can hold them back with their defence, because that's never going to happen. The Dutch will score if you give them a chance. Our forwards can't forget to score.

"No team can win a hockey match if you can't score. Goal karoge to jeetoge (You'll only win if you score). On turf, we can concede a goal anytime; even the last few minutes are very crucial. Our forwards have made circle entries but the final touches have been missing. When you get in the D, you have to make sure that you score. You cannot afford to miss a single chance on Thursday, because Holland are not going to spare you. It's not an easy match like South Africa or Canada," the three-time World Cup medallist warned.

India's sloppiness was largely papered over by impressive victory margins, but the first-half game against Belgium threw open a can of disastrous possibilities. Under attack and dispossessed, India's defence was put through a stern test, before the hosts came out all guns blazing in the second half and scored twice to eventually draw the match 2-2.

Ajitpal said India's counter-attack in the third quarter of that game was good enough to beat any top team. "Against Belgium, we were nowhere in the first half, but in the third quarter, we were outstanding. The way the boys played in the third quarter, I think they can beat any team (with that game) - Australia, Netherlands, Germany. But this patchy performance is very dangerous. We have to be systematic and organised," he said.

Commenting on the similarity in styles of both teams, the former stalwart said that the open-game tactics will make the match-up interesting.

"Both teams are evenly matched. The Netherlands are one of the title favourites, and so are India. It will be a very, very interesting match because both teams play open hockey. They play, and they let you play as well by way of giving spaces. They are not sides that believe in marking too much and stifling the game. It can go either way, depending on how teams turn up tomorrow. India are definitely in a position to beat the Netherlands, provided we take our chances."

After a two-day relative lull, the 15,000-seater Kalinga Stadium is expected to record full house, and Ajitpal, who was at the receiving end of crowd support in the 1973 World Cup, said that city's passionate fans give the home side a definite edge.

"We have the advantage of crowd support. The edge that a full house rooting for you gives you is unbelievable. We played against The Netherlands in the final of 1973 in their country. We were leading 2-0 at half-time and the crowd was shell-shocked. In the second half, they came out attacking, and the local crowd really got behind them. They cheered them so much that we were in a real mess in the defence. They were attacking all the time. But the crowd can not play for you; it's up to the boys to go out and win. You can't expect the crowd to win the match for you," he recalled.

In the first quarter-final of the day, Germany will play Belgium to decide a semi-final date against England. The winner of Netherlands-India clash will face defending champions Australia in the last-four stage on Saturday.

Firstpost


---

Ready to hold Netherlands for 74 minutes, declares coach Harendra Singh as India eye semi-final spot

Shantanu Srivastava



Coach Harendra Singh said India will not alter their attacking style. Image: Hockey India

Bhubaneswar: From the moment he walked into the press room, coach Harendra Singh's demeanour exuded cautious optimism. There were streaks of familiar bluster, but the realisation that something big lies in store was hard to miss. If it was an act, it was an act done well. Come Thursday, Harendra would like his boys to match his vaunt against a formidable Dutch side.

Despite an impressive all-win scoreline, India's Pool-stage campaign was not entirely spotless. There were sporadic drops in intensity in all three group matches, and the coach underscored the importance of staying switched on for the entire duration of the fixture.

"I agree that there have been instances where we have dropped our intensity, but we can't afford to do that against a team like the Netherlands," he said in the pre-match press conference on Wednesday.

"I have trained my boys to play for 74 minutes - 60-minute game time, 10-minute half-time break and the two-minute recesses between two quarters. They can't put their guard down even in the break, and irrespective of the outcome, we will play with full energy," he said.

Netherlands and India play a similar style of hockey, and the game is expected to be decided by small margins. Creation and conversion of chances hold the key in high-speed hockey, and Harendra said the team will not change its attacking tendency.

"We are not going to do anything different or out of the box. Obviously, there will be some changes, but largely, we will stick to our guns. It's great that India, Netherlands, and Australia all play similar styles of hockey. It will be an even contest, and you can't afford to concede any chances. There will be only three options: shot on goal, goal, or getting a penalty corner. Everything else is immaterial," said Singh.

"Indian team is mentally and physically ready for any challenge. We know the aggressive potential of the Netherlands, and we are fully prepared to meet any challenge they throw at us. We will not accept their challenge, we will overcome them," he said.

India are coming off a four-day break post their 5-1 win over Canada, while the Dutch will be playing their third game inside five days. Breaks such as these can derail momentum, but Harendra refused to dwell on it.

"We knew the schedule six months back, so the planning was there to take care of the break. Even the Netherlands knew that they will be playing thrice in five days, and they would have planned and prepared accordingly. In professional sport, there is no room for excuses. If you don't plan, this five-day break will be an excellent excuse for failure, but we have planned well and we have no excuses with the break," he added.

The Netherlands enjoy an all-win record against India at World Cups, dating back to the heartbreaking loss in the final of the 1973 edition. The contests have been more even in recent past — two wins apiece and a draw in last five matches — but Harendra chose not to reflect on the past. By his own admission, he doesn't understand history.

"I read history, not understand it. Every team that participates in a World Cup, comes with a desire to win. At the business end of the tournament, we expect to play top-ranked oppositions, and it will only get stiffer as we progress. Who knows, India will be number one at 9 PM on 16 December?" he said. His team would hope as much.

Firstpost


---

Indian team ready to answer call of 1.3 billion, says coach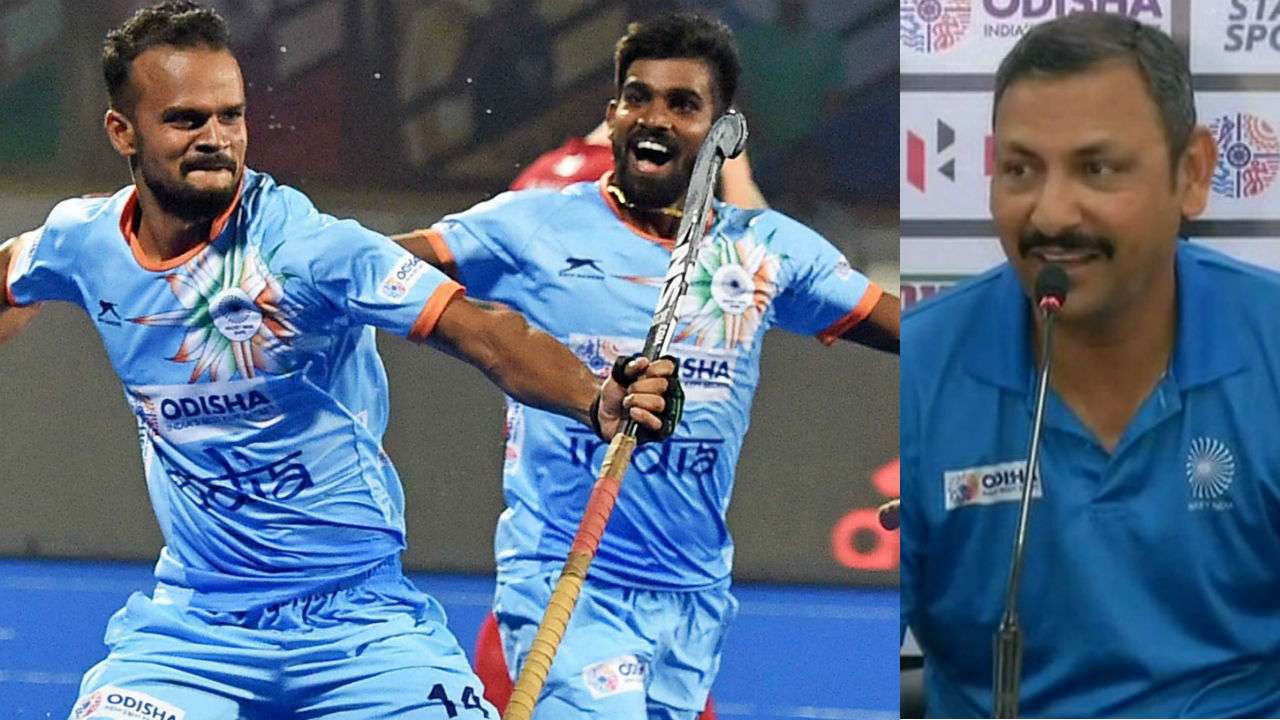 Standing on the verge of creating history, Indian hockey coach Harendra Singh on Wednesday said his team is ready to take on any challenge thrown by the Netherlands and answer the call of "1.3 billion" Indians in the World Cup quarterfinal in Bhubneshwar.

World no. 5 India are set to take on World no. 4 Netherlands in the last quarterfinal on Thursday, and Harendra said they have left no stones unturned and their preparation for the crucial clash are spot on.

"Hoga to wahi jo hum chahenge (Eventually, it is what we want that is going to happen)," Harendra declared when asked about Thursday's vital encounter.

"We want what 1.3 billion people want. Indian team is mentally and physically ready. We have done our homework on Dutch aggression. Whatever challenge they throw, we are ready to solve that, not just accept it," he added.

India has never defeated Netherlands in the history of the World Cup, but Harendra refused to dwell on the past.

"History is only to read, not to understand," he quipped, "They (Netherlands) have come prepared, Every team comes to win. Indian team has made history in the last six months. You have to face every team, it is World cup. You are bound to play the top team."

Harendra said it will be an equal contest on Thursday and whoever takes their chances will come out winners.

"We won't do anything different. There are some minor adjustments. They love to play attacking hockey, so do India. It is an equal contest. In tomorrow's match, you can't afford to miss even 25 per cent chances," he said.

Harendra said penalty corner conversions is an area of concern for the Netherlands which they will try to explore.

"When we analyse a match, we study grey areas of the opponents. Penalty corners is their grey area. We don't ignore Holland outright. From 1971 to 2018, their base of hockey is penalty corners. We can't ignore that. India is ready to solve that challenge," he said.

It is expected to be a full house on Thursday at the Kalinga Stadium like any other India match, and Harendra said "crowd support" will provide India extra motivation to go for the kill.

"I think they are forgetting that whenever the crowd is behind us, it becomes 12th man, extra energy. As a coach I like that," he said.

"There is no chance that opponents can easily sit on their back. I think it's not pressure, it's your thought how you enjoy it. So far in any tournament, not just the World Cup, we have learnt how to go with the crowd. We are enjoying."

Harendra said India cannot afford to drop their intensity at any point of time during the match.

"I agree that we have dropped our intensity during the course of a game, which we cannot afford against a team like Holland," he said.

"I have told them to keep that intensity not just for 60 minutes but 74 minutes, including half-time and quarter-breaks. We have discussed and they have agreed." India captain Manpreet Singh said they are determined to create a history.

"If you talk about Olympics it was two years ago. The team has improved, especially since Harry sir (Harendra) has come. We are playing attacking hockey. We want to change history. The focus is that we don't leave out even the 50:50 chances."

Daily News & Analysis


---

India chase slice of history against Netherlands in quarterfinal clash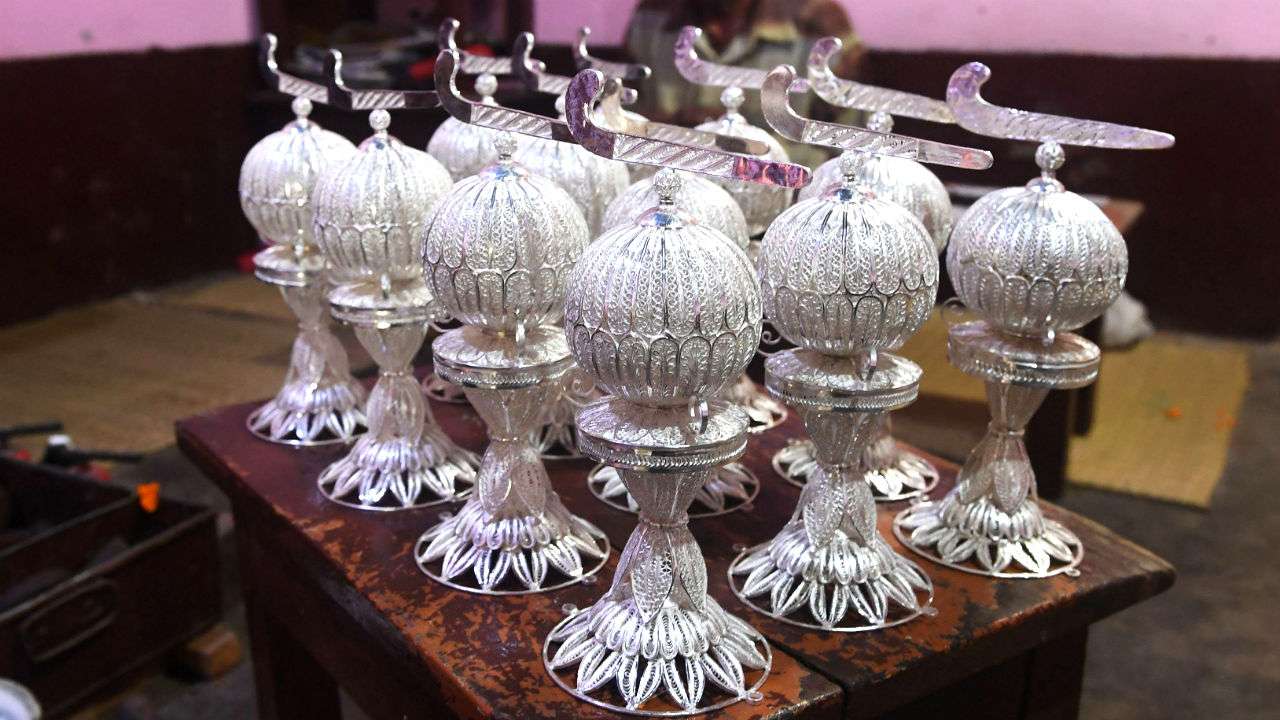 Hockey World Cup 2018: Their shoulders are burdened with weight of expectations but it won't be easy for India to end a 43-year long wait when they take on mighty Netherlands in the quarterfinal of the men's hockey World Cup on Thursday.

Boasting a rich hockey legacy, India last played in the semifinal of the World Cup way back in 1975 when they went on to lift their maiden title.

Of late, the game has witnessed an upward trend in the country but the history does not favour the hosts against the mighty Dutchmen, whom the Indians have never beaten in the World Cup.

In the six earlier meetings at the quadrennial event, Netherlands defeated India five times while one ended in a draw.

And if Manpreet Singh and his men get past the Dutch on Thursday, they will not only break a jinx but also rewrite history and ink their names in the one of the golden chapters of the Indian hockey.
India vs Netherlands: Head to Head

Going by present form and rankings, there is hardly anything to differentiate between the two sides.

While Netherlands are placed fourth in the current world rankings, India are a rung below in the fifth position.

The last time India and Netherlands faced each in the Champions Trophy earlier this, the match had ended in a 1-1 draw.

The over-all head-to-head record belongs to Netherlands. In the 105 games played between the two sides so far, India have won 33, lost 48 while the rest ended in draws.

However, the two sides have shared the spoils since 2013. India and Netherlands have faced each other nine times since 2013, winning four apiece while one game finished in a draw.And for India captain Manpreet Singh past results hold significance.

'History Matters'

"The past results matter a lot because Netherlands have a better result against us. But, we have played well against them recently. We have also beaten them, drew against them at the Champions Trophy. Indian hockey has improved a lot. The match will be tough and whichever team plays better will win," Manpreet said.

The India-Netherlands duel is expected to be a fast-paced, attacking encounter with both the teams heavily relying on their goal scoring abilities to come out winners.

Both India and Netherlands have scored heavily in the poll stages. While India have scored 12 goals and conceded three, the Dutch have pumped in 18 goals and conceded five.

In the likes of captain Billy Bakker, Seve van Ass, Jeroen Hertzberger, Mirco Pruijser, Robbert Kemperman, Thiery Brinkman, the Dutch have got plenty of experience in the midfield and its strike force. It will be a real test for the Indian defence on Thursday.

The Indians too would be relying on their strikers Mandeep Singh, Simranjeet Singh, Lalit Upadhyay and Akashdeep Singh to continue their good work.

Tremendous Pressure

With the Kalinga Stadium expected to be packed to its full capacity, there will also be tremendous pressure on the Indian team and the Dutch will be more than happy to exploit any mistake.

"This will be not be the first time. We have played in front of big crows in pool games and in the past as well. We are used to playing in front of big crowds," Netherlands coach Max Caldas said.

"We always try to play in our own pace, whether it is fast or slow. We like to dictate. We are not concerned about India because we can't influence what India will do."

Netherlands skipper Bakker added: "The Indian team also has lot of pressure. They need to perform in front of their home crowd. So I feel the pressure is more on the Indian team than us." Meanwhile in the first quarterfinal, Germany will take on Belgium.

Daily News & Analysis


---

Jugraj Singh backs India in Netherlands quarterfinal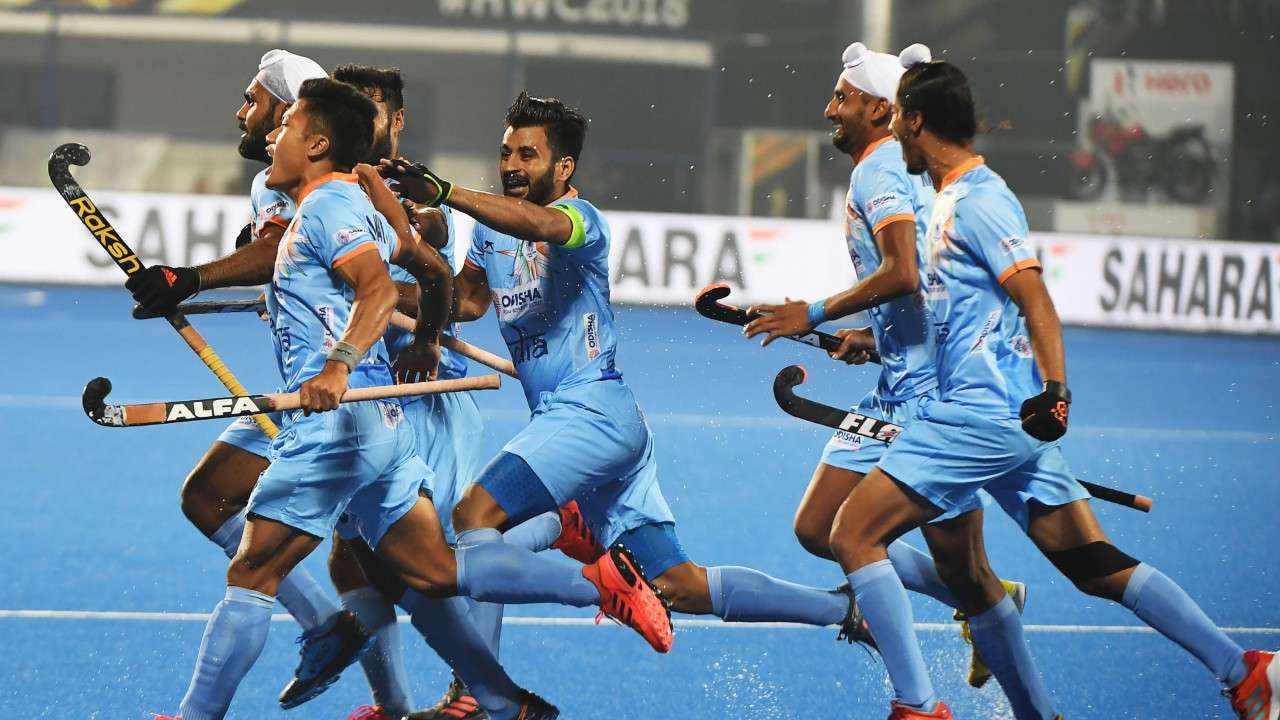 Indian Men's Hockey Team , AFP File Photo

Former defender Jugraj Singh believes that India stand a good chance of registering a win against the Netherlands in their quarterfinal clash of the ongoing men's Hockey World Cup if they manage to capitalise well on the chances created during the match.

The veteran player said that though the Netherlands are a quality side, they have the tendency to give away chances to their opposition and India just need to avail those chances.

Speaking to ANI, Jugraj said: "It is anybody's game. The Netherlands are a quality side but the best part about them is that they let you play, as well. You always get chances against them. If you avail your chances it can be your game. India can get good scoring chances against them. We have got strikers, good midfielders especially players like Manpreet Singh and Chinglensana Singh- the way they are playing; I don't think anyone can stop India".

Jugraj also stressed upon the need to earn more and more penalty corners in the match saying that it is India's strength.

"We need to earn more penalty corners as it is our strength. I don't think India are lagging in any department. In fact, after a long wait, we have one of the best teams. This team has got all the abilities to beat any team," he said.

The former defender praised India's team combination by terming it as 'one of the best'. He said that there are many players in the team who were a part of the squad that lifted junior men's World Cup in 2016 and they have now an excellent opportunity to showcase their skills on this prestigious platform.

"Players of junior World Cup squad are senior players now. They have played many matches and have gathered enough experience to perform at the senior level. World Cup is the platform which they were targeting from last one-and-half years and now there is an excellent opportunity for them to showcase their skills," Jugraj said.

"Our team is one of the best combinations I am sure they are gonna rock this world cup and give one of the best performances. This team has the ability to ruin any team in this world," he concluded.

India will take on the Netherlands in their hockey World Cup quarterfinal on December 13 at Kalinga stadium.

Daily News & Analysis


---

INDIA QF: Whose advantage the crowd is, India?

Errol D'Cruz



Photo: Siddharth Mittal

India coach Harendra Singh calls the 15,000 full-throated support for his team his 12th player. In that case it will be 12 vs 12 when his team faces three-time champions Netherlands in the World Cup quarterfinals at the Kalinga stadium in Bhubaneswar on Thursday.

That's going by Dutch captain Billy Bakker's revelation that team feeds off the energy of the crowd and if their 5-0 demolition of Canada in their cross-over match is any indication, Harendra's advantage could well turn to deuce.

If the Netherlands disregard the partisan support that India will receive on Thursday, they do the same for any psychological advantage history may bring in their favour.



Key forward for India, Lalit Upadhyay. Photo: Siddharth Mittal

The Dutch have beaten India all six occasions the two nations have met in the World Cup but coach Max Caldas shrugged away the factoid, saying that the past does not matter.

What does matter is that either team is bubbling with consummate skill and the encounter with a semifinal place at stake is likely to be a celebration of attacking flair.

But if India assume it's another version of a marquee match with arch rivals Pakistan, they've got another thing coming.

The Dutch, ahead of a young Indian side by experience, will deny the hosts the sort of space that arises from playing the game from the heart as Indo-Pak encounters turn out to be.

If there's any advantage – besides the crowd support – that India will enjoy, it's the additional two days of rest that they earned after topping pool C ahead of Belgium who were forced into the cross-over match against Pakistan which they won 5-0.

India, ranked fifth, began their campaign with a 5-0 win over South Africa before drawing a taut match against third ranked Belgium 2-2.

The hosts then beat Canada 5-1 after the score read 1-1 at the end of the third quarter.

The Netherlands, ranked fourth, started off with a 7-0 rout of Malaysia before suffering a 1-4 loss to European rivals Germany in their second match. A 5-1 win over Pakistan brought their campaign back on track. The Dutch circle entries make for awesome reading – 136 in four matches. It has led to 67 shots, 18 of which have ended in the net.

So much so that their uncharacteristic failing at penalty corners (7 from 25) did not perturb Bakker who pointed to the number circle entries.

India have had 80 circle entries emanating in 20 shots and 12 goals. A success of four goals from 13 penalty corners amounts to more or less the same ratio that the Dutch have registered.

The Dutch penetration, however, is something that the Indian defence will be hard pressed to contain.

With their nifty inter-play marked by breathtaking touches to crack open the most stubborn of defences, one wagers Harmanpreet Singh, Varun Kumar, Surender Kumar, Amit Rohidas and Birendra Lakra with goalkeeper Sreejesh are going to have a busy night.

Except for the fourth quarter against Germany when they fell apart in deep defence, the Dutch have looked solid at the back.

India on their part, have shown staying power to rival the best and their propensity to attack is going to test the resolve of Bakker and his men.



Photo: Siddharth Mittal

The forward to impress has been Lalit Upadhyay even as Akashdeep Singh and Mandeep Singh have yet to reach peak performance in the competition.

Kangujam Chinglensena has been exemplary in the midfield where the battle is likely to be won and lost. If the Dutch attacks have to be broken down, vice-captain Chinglensana will need every support he can from captain Manpreet Singh who hasn't exactly been in sparkling form thus far.

The fluid formation of the Dutch often sees star forward, the Argentine-born Valentin Verga, defend one moment and find the boards at the other end the next. Along with Mirco Pruijser, he is going to be the Netherlands' best bet for goals from open play.



Photo: Siddharth Mittal

Jeroen Hertzberger, Thierry Brinkman and Robbert Kemperman are ever keen to join the party. Bob de Voogd and Sander Baart have added to a tide of orange that has led to such bright statistics that makes amends for Mink van der Weerden's failure to find the net from penalty corners with customary frequency.

Much of the creative fizz produced by the Dutch stems from the adeptness of the basics – trapping, accurate passing and positional play that warrants rival defenders have eyes at the back of their heads. That extends to the use of the aerial ball which, in Bhubaneswar, has often been seen as a tactic to turn defence to attack while taking the pressure off the defence.

Last but not least, the X-factor lies in the sharpness in front of goal and chances are likely to fall in spates. With both Sreejesh and his opposite number Pirmin Blaak providing a resolute last line of defence, the team that makes good of opportunities more than the other is likely to play the winner of Australia and France in the medal round.

Stick2Hockey.com


---

Hardik Singh: Hockey flows in his veins

Tazeen Qureshy



Photo: Courtesy: Avtar Burji

When Kamaljeet Singh was pregnant with her first child, she was confident about one thing – her child would be a hockey player. It was not an imposition on the new born baby, rather a family tradition, which she was sure will not be broken.

Today, the child Hardik Singh is all of 20 years, is representing India at the Hockey Men's World Cup, almost a month after he made his debut in the senior team.

"There was no doubt on his career choice. I know he would become a hockey player. There was no two-way about it," proud mother Kamaljeet says.

Hockey had been a part of Hardik's family history. His grandfather was a hockey player-turned-coach and his uncle was part of the gold-winning Moscow Olympics. His paternal aunt Rajbir Kaur has played four Asian Games while his maternal uncle has played for England.

"We lived near Sansarpur, so hence the hockey connection and craze. It is a hockey belt, and it automatically came to the family. His father and mother's side played hockey, so it had to be in his genes," says Hardik's father.

Keeping up with the legacy of the family, Hardik will now be playing the quarter-finals of the World Cup and not surprisingly, it is a proud moment for the hockey-playing family.

"The World Cup winning team in 1975 is an inspiration for us. A direct entry into the quarter-final is an emotional moment," says Hardik, without stressing much on the opponents.

Personally, Hardik has been trying to make the most of his chances, constantly self-introspecting his game.

Besides, the coach and his seniors, he also has his father to help him.




"I make it a point to talk to my father, both before and after the match. We talk about both the positives and negatives. He points out my mistake and adds value to my game," he says.

Though Hardik believes in concentrating on one match at a time and not think much about the future, the only thought which he has on his mind is to plat alongside his younger brother Manmeet.

"My younger brother says when he starts playing for India, my position will be threatened," Hardik says with a laugh. "But, he is disciplined and works hard. I am waiting to play with him for India. It will be a proud moment for our family." he says.

But, does the younger one follow Hardik bhaiya? "I want to create my own identity," Manmeet says with confidence.

Stick2Hockey.com


---

Radha slams the pathetic display of the Malaysian hockey team in India

By Aftar Singh



Rare one: Malaysian goalkeeper S. Kumar is the only player who played up to expectations at the hockey World Cup.

BHUBANESWAR (India): The Ma­­lay­sian hockey team's poor showing at the World Cup in India did not go down well with Malaysia Hockey Confederation (MHC) vice-president Datuk V. Radha Krishnan.

Radha is annoyed with the players' performances and attitude and wants tough decisions taken.

World No. 12 Malaysia boast 11 experienced players, who featured for the second time in the World Cup but the team eventually finished 15th out of 16 teams in Bhuba­neswar, thus failing to meet national coach Roelant Oltmans' top-10 target.

"Malaysia created a mockery in the World Cup," said Radha.

"The team were well prepared, they had experienced players but did not live up to the expectations.

"It was really disheartening to see the team losing badly to Holland (7-0). We managed just one attempt at Holland's goal. This is really poor for our standards," he said.

Malaysia drew 1-1 with Pakistan and lost 3-5 to Germany.

In total, Malaysia scored four goals from penalty corners and conceded 13 goals in three matches.

Radha said a post-mortem should be conducted to find out what went wrong.

"I'm not afraid to voice out my views as the truth must be told," said Radha.

"Action must be taken to drop "prima donna players". We must show that we can make some tough decision to drop players who do not fit in the team."

When asked about the players who did not perform in the World Cup, Radha pointed out Muhd Firhan Ashari, Meor Muhd Azuan Hasan, Joel van Huizen, Muhd Ramadan Rosli, Nabil Fiqri Mohd Noor and Faiz Helmi Jali.

Only goalkeeper Mohd Hairi Abdul Rahman did not play in any of the three matches while 39-year-old S. Kumar was the best performer although he was the oldest in the World Cup squad.

Radha added that Malaysia's world ranking would plunge and it was not a good indication ahead of the team's bid to qualify for the 2020 Tokyo Olympics.

"We've a good set-up of foreign coaches such as Terry Walsh who has been the MHC technical director for the last three years," he said.

"It is important for the MHC executive board to relook into Terry's contribution as a whole to our team.

"As for coach Oltmans, he only joined as the national coach on Oct 1. As such we cannot expect too much from him in such a short time.

"Malaysia must wake up from the slumber and must change their attitude fast as we've an important tournament next year to qualify for the Olympics," he added.

The Star of Malaysia


---

Have mercy and send PHF management home

Mohsin Ali




ISLAMABAD - Former Pakistan hockey team head coach and manager Olympian Shahnaz Sheikh Wednesday requested Prime Minister Imran Khan to have mercy on national game hockey and send the highly incompetent incumbent PHF management home, as it is already too late and further delays could cost green shirts a place in the 2020 Tokyo Olympics as well.

"Pakistan hockey team had played six tournaments under this federation and they finished 7th or beyond in all the tournaments. These are same players whom I had managed and coached in 2014 and at very same venue, where first the Netherlands and then Belgium thrashed green shirts, we managed to beat the Netherlands 4-2 and hosts India 2-1 in the Champions Trophy in India. But now see the debacle, green shirts conceded 12 goals and managed only 2. What a downfall," Shahnaz rued while talking to The Nation.

He said he had managed to take Pakistan team to finals of Champions Trophy and Asian Games and also helped Pakistan win 4-nation tournament in Australia in 2015.

"Soon after that the elected management was removed and Brig Khalid Khokhar and Shahbaz Senior took over the reins of the federation. They made huge claims and promised not to bank on government for funds but look what happened. They are crying from day-one for government financial support. They had hired six different coaching combinations, two chief selectors and a number of other changes were also made but results remained the same. More and more misery was witnessed by the long suffering hockey fans and now Pakistan had missed two golden opportunities of ensuring a birth in the 2020 Olympics. They failed in the Asian Games and now they baldy flopped in the World Cup as well. I had always maintained, players lack fitness and stamina and all my fears came into reality when after playing well against Germans and giving them strong reply, green shirts completely flattened against the Netherlands. They even failed to beat Malaysia and were given a hockey lesson by Belgium, who could have scored more goals had they not missed simple chances. Pakistan team failed to create a single major goal-scoring move in the entire 4 quarters of the match."

He said that one thing was very much clear that players and bench ddin't had any kind of coordination.

He said that rather than focusing on playing major tournaments and arranging long-time training camps, the federation kept on changing combinations and personal likes and dislikes have also badly affected the performance of national hockey team.

"I feel it is more than enough and government had to decide as any further delays in removing the top brass of the Pakistan Hockey Federation will leave unprecedented damage on the game and it will take decades to come out of these damages."

"I feel four years are more than enough to proof whether one has qualities, direction and all know how of the hockey. If they failed to manage improving hockey in last 4 years, what can they do in next 4 years or so. The PM should not waste any further time and immediately appoint an ad-hoc committee, based on highly sincere Olympians, who could steady the fast sinking PHF ship and ensure Pakistan hockey back on right track." He said until and unless drastic steps are being taken by the government regarding the PHF, hockey is bound to suffer more and more.

The Nation


---

Ex-Olympians want regime change at PHF after World Cup disaster

Mohammad Yaqoob




LAHORE: Holding the present Pakistan Hockey Federation officials responsible for national team's miserable performance in the ongoing World Cup where the green-shirts were ruthlessly knocked out by Belg­ium, former Olympians Manzoor-ul-Hasan Senior and Samiullah Khan on Wednesday said regime change is mandatory for the revival of Pakistan hockey.

Placed in pool 'D', Mohammad Rizwan Senior-led Pakistan failed to record even a single win in the preliminary round. They lost the opener to Germany 1-0, barely drew with Malaysia 1-1 and were thrashed 5-1 by the Netherlands. And it was all over for Pakistan in the cross-over knockout match against Belgium who just toyed with the former four-time world champions to breeze into the quarter-finals with a facile 5-0 victory.

"The pathetic results produced by Pakistan at the World Cup shows complete lack of planning and preparation by the management. Therefore, the PHF officials should immediately resign; and if they don't, the government should sack them," both Manzoor and Samiuallh said while talking to Dawn.

"Not even in one match Pakistan performed like an integrated unit; rather it looked as if individuals or groups [within a team] are playing," lamented Manzoor. "Yes, Pakistan started off well against Germany but in a World Cup no team can make an impact on the basis of good show in just one match. You need to demonstrate high-quality game consistently in all outings to create chances for yourself to advance."

A disgruntled Manzoor held the federation — whom he claimed did not even develop domestic hockey — responsible for the disaster Pakistan went through in the 16-nation showpiece at Bhubaneswar.

"The PHF officials and the team management should immediately resign and if they don't go the government should take necessary action to send them home," he insisted.

"Instead of preparing a world-class team, the current PHF management has been busy to form parallel bodies at district and provincial levels to get votes in order to remain in the federation," he alleged.

"Furthermore, the PHF has completely failed to develop infrastructure at domestic level, and this is the reason Pakistan hockey has undergone alarming decline in recent years."

Meanwhile noting that Pakistan delivered their worst performance at the mega event, Samiullah emphasised the present PHF regime must leave the scene if the country is to see the national team qualify for the 2020 Olympics.

"The PHF made a mockery of the affairs by failing to appropriately prepare the team [for a major event like the World Cup] during its tenure, and has been taking decisions on ad hoc basis," Samiullah said.

"Pakistan lost their opener to Germany, though by a close margin. However, after this match, rather than looking to bring improvement in weak areas, we started praising the team for a small-margin defeat. And the results in the next games exposed all the shortcomings.

"The current PHF management should say goodbye to the federation and the government should bring in better people [to manage the game] as time is running out for us to qualify for the 2020 Olympics," Samiullah warned.

Responding to a question whether the approach adopted by the government — which did not rescue a cash-strapped PHF prior to the World Cup — towards the national game was right, Samiullah defended the government stance, saying "Current PHF officials could not maintain their reputation to receive financial support from the government."

But when insisted that it (hockey) was a matter of national importance and the government should have played its due role, Samiullah agreed but said there must be a proper system according to which the PHF should be run smoothly in case of change in government.

Underlining that the PHF management — rather than concentrating on building a strong team — has been running its affairs on adhoc basis, Samiullah said the induction of Tauqir Dar (head coach) and Danish Kaleem (assistant coach) at the eleventh hour before the national camp for the World Cup started reflects poor planning by the federation.

He added that the PHF also raised a developing squad but it had failed to even produce a single player from it despite spending millions of rupees on the activity. "Kamran Ashraf, the coach of the developing squad, has also disappeared from the scene."

Dawn


---

Cricket killed hockey in Pakistan

By Jugjet Singh

BHUBANESWAR: 'The rise of cricket has killed hockey in Pakistan.'

That was the frank opinion of Pakistan manager Hassan Sardar whose side limped out of the World Cup on Tuesday.

Sardar played for the country during their glory days, and was a member of Pakistan's 1982 World Cup and 1984 Olympic gold medal-winning sides.

"We had plenty of support from every quarter back then and hockey was a popular sport. But if I was a sportsman of this era, even I would have picked up a cricket bat instead of a hockey stick," said Sardar.

Pakistan's only point in the World Cup was the 1-1 draw against Malaysia in Group D. The four-time World Cup champions lost all their other matches.

"There is no hockey culture in Pakistan now as people now follow cricket. Children want to play the game because there are role models for them to follow on television.

"To compound matters, there are no current hockey role models for the children to idolise and pick up the sport in a big way," said the legendary centre-forward of his generation.

The lack of money and administrative problems have also hastened the decline of the sport in Pakistan.

"Our federation are facing problems and this is carried forward to players and coaches as well. We lost Roelant Oltmans (Malaysian coach) because of this very reason," said Sardar.

Pakistan did not have the funds to continue paying Oltmans, and the Dutchman was hired by the Malaysian Hockey Confederation after the Indonesia Asian Games.

Sardar added: "There is no grassroots hockey anymore. There are a few academies left and no domestic hockey is being played.

"This is the truth behind Pakistan's demise in hockey."

New Straits Times


---

France, a working-class hockey team

A number of players in the French squad have a day job and play only when they get free time

By Mihir Vasavda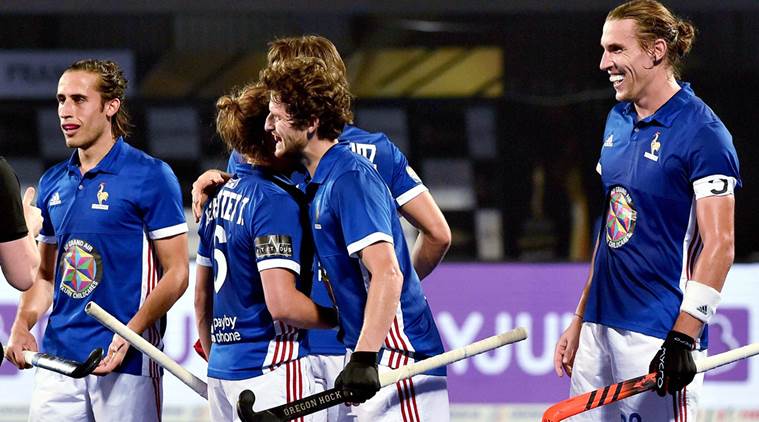 The French team comprises a wine merchant, a music student, a doctor and an aspiring gymnastics coach. (PTI Photo)

Pieter van Straaten studies in Holland, works in Belgium and plays hockey for France all over the world. The 26-year-old is half-Dutch, half-French and represented the Netherlands internationally till the under-16 level before switching allegiance. And while he is here in Bhubaneswar playing at the World Cup right now, around this time next week, he'll be back in Haarlem, studying music production.

While Van Straaten is learning the art of creating music, his teammate Tom Genestet is an expert in producing wine. Genestet, 31, is the most-capped player in the French team, having made 174 international appearances. But on days when the midfielder isn't scurrying around hockey fields, Genestet is scavenging vineyards across France, supervising the spirit's journey from grape to glass.

Genestet is a wine merchant, who works 12 hours a day at his bar apart from a couple of hours of training. His wine bar in Saint-Germain near Paris is where French players hang out on most weekends, watching matches and discussing strategies. "And emptying several bottles of really good wine," Van Straaten adds. Next week, Ballon Rouge – Genestet's bar – will be the venue for a grand celebration.

France have been the story of this World Cup so far. The tournament's lowest-ranked team gave New Zealand a mighty scare, held European heavyweights Spain to a draw and stunned Olympic champions Argentina to qualify for the crossovers, where they edged out China. On Wednesday, they'll play their biggest match ever. France, ranked 20th in the world, will take on World No.1 Australia for a place in the semifinals.

Mismatch on paper

On paper, it's a mismatch of epic proportions – virtually like Vanuatu playing India in cricket. France are playing a World Cup after 28 years and in their two earlier appearances (1971 and 1990), they finished seventh. Australia are two-time defending champions; in fact, their 2014 winning team is arguably considered the best ever in the sport's history. Because of a cash-crunch and geographical compulsions, French players train in two groups – one in Brussels, the other in Paris. Australian players train at one of the best facilities in the world in Perth all year long.

But the differences aren't just restricted to statistics and structures alone.

The French are a rag-tag bunch, most of whom who play hockey only when they can manage some free hours from work or studies. It's a squad with the most unique make-up: a vintner, an aspiring music producer, a marketing manager, a doctor, a lawyer and IT professionals.

Now, they must take on some of the best professionals in the business. "Our target was to get out of the pool," says Maximilien Branicki. "We are now in bonus land."

Branicki, 20, aspires to be a gymnastics coach. He is currently earning his coaching stripes from a university in Brussels, where he lives. Till a couple of years ago, Branicki played for Belgium's youth teams. But he realised that he wasn't good enough to play for the senior side. So, earlier this year, he switched from the blood-red Belgian jersey to the French blue.

"There are times when, during the day, I study in Brussels, then for training I go to Paris in the evening. It's tough… it's the life of a high-level sportsperson," Branicki, who plays for Royal Oree, says.

"It's strange, our team," France captain Victor Charlet, a doctor by qualification, says with a smile. At 6-foot-5, Charlet is by far the tallest player in the World Cup. And among the tallest to have ever played the sport. Like most in France, Charlet's initial sport of choice was football. But the sport, he says, didn't suit his mentality. A school friend introduced him to hockey when he was 11, "and it made total sense to play the sport," Charlet, who plays for Belgian club Waterloo, says. "The crowd is perfect and on the pitch, everyone is honest. It's a strong and small sport – it's a family thing."

Charlet gets his hockey stick custom-made since most in the common market are too short for him. He uses a hockey stick that is 38.5 inches long, a couple of inches more than the average height.

The height gives him a distinct advantage – "I can impose myself on attackers" – but it's when he runs that Charlet looks the most menacing. He's like a tank, rolling over everything that comes in his way.

Australia may be a bridge too far for France, but weirder things have happened in sport. "Who knows!" wonders Genestet. "I will throw a big party for the players in my wine bar, regardless of what happens."

EXPLAINED: France is better than what rankings show

At 20, France, the tournament's lowest-ranked team has been the biggest revelation, defying world rankings to gatecrash their way into the top eight. Their ranking, however, is hardly a reflection of the quality they possess.

One of the main reasons for France being ranked below the likes of China (17) and continuously missing Olympics and World Cups is the confederation they compete in. Europe is the most competitive group in world hockey, home to heavyweights like Germany, Netherlands, Belgium, Spain and England as well as emerging sides like Ireland. They've had an occasional result or two against these teams, but to repeat it consistently has been a challenge.

The routine defeats stunt their progress in world rankings, which in turn renders them ineligible for major international tournaments, where a place is awarded to continental champions or according to world rankings. Bhubaneswar 2018 can be a turning point in that sense, as they are sure to climb up the ranking ladder, which might make qualification process relatively smoother.

Indian Express


---

India captain Manpreet Singh plays down Hockey India CEO's behaviour, says it was players' fault to enter VIP Area

Shantanu Srivastava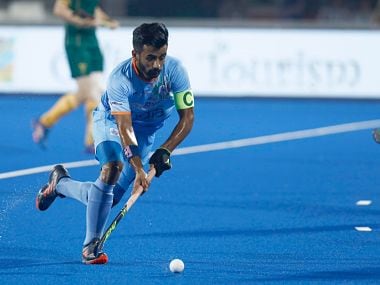 India captain Manpreet Singh was allegedly yelled at in full public view. File image.

Bhubaneswar: A day before one of the most important matches of his career, Indian hockey team captain Manpreet Singh was busy defending Hockey India CEO Elena Norman. Reason? Norman had allegedly reprimanded him and his few teammates - Mandeep Singh, Krishan Bahadur Pathak, and Gurjant Singh - on Tuesday night because the players were found sitting in the VIP Lounge of the Kalinga Stadium.

As per eyewitnesss, the players - who are not permitted to enter the said area - were rebuked by Norman in full public view and were told to "shut up and get out." A Hockey India official who tried to intervene was repeatedly abused and yelled at.

The incident, that happened during the Netherlands-Canada crossover game, was brought to notice in a lengthy Facebook post by Leo Devadoss, a Karnataka-based hockey coach who claimed to be present at the time of the incident. Sources close to the Indian team told Firstpost that the incident did come up for discussion within the team on the match-eve too.

Skipper Manpreet, when asked about the incident, tried to downplay the incident when the question was finally posed to him towards the end of a fairly long presser.

"I was waiting for this question. I thought nobody would ask," he said with a chuckle, before taking the blame for his presence in the area.

"It was our fault to be in the lounge when we were not allowed to be there. Nothing of this sort happened, and things have been blown out of proportion. I had forgotten about the incident until I was reminded about it the next morning when I saw some lengthy Facebook posts," the skipper added.

Further, Manpreet denied being under any duress, and said he shares a healthy rapport with Norman.

"There is no pressure on me to say what I am saying. It was our mistake. Nobody told me to say this. I have no personal issues with Elena. If I had got my phone here, I would have shown you that we are in constant touch. She is my colleague, and we share a very good relationship," he said.

Coach Harendra Singh's reply on whether such incidents affect the team's preparations was cryptic and subdued.

"That's a very good question," he began. "I know which country I live in. I had given our team a chart on the very first day. I drew a circle and told them to concentrate only on things inside the circle and forget the things outside," he said.

India will play The Netherlands in their quarter-final match on Thursday.

Firstpost


---

Hockeyroo Heberle named Irish chef de mission as OFI announce key athlete developments

1983 Hockey World Cup medalist Patricia Heberle has been named as the Olympic Federation of Ireland's Chef de Mission for the 2019 European Games in Minsk and the 2020 Tokyo Olympics.

Heberle has considerable high Performance and Olympic experience. As an athlete, she won a bronze medal at the 1983 Women's Hockey World Cup with Australia's Hockeyroos and finished fourth at the 1984 Los Angeles Olympics.

For the Sydney Olympic campaign, she served as assistant coach for the Australian gold meal winning team.

In 2001 she was appointed head coach of the England and Great Britain women's team, leading England to silver at the 2002 Commonwealth Games in Manchester.

Since then, she has been a high performance administrator and has been working since 2017 for the Olympic Federation of Ireland as its High Performance Lead.

She has recently been involved in leading the Sparking Performance programme for NGB Performance Directors through the Sport Ireland Institute.
"This role means a huge amount to me," she said of the role. "I have participated in the three Olympic games both as an athlete and a coach and the opportunity to be Chef de Mission for Team Ireland is both a huge honour and a privilege.

"I am coming into the role at a very exciting time for Irish Sport, having been involved for some time in the Irish high performance system.

"The people involved, the funding coming from government and Sport Ireland is starting to deliver some really good results."

Previously the role of Chef de Mission was recruited internally or on a voluntary basis. This is the first time that it will be a professional, stand-alone role.

Her appointment came on the same day the Olympic Federation of Ireland (OFI) and Sport Ireland Institute announced a "ground-breaking, athlete centred partnership agreement for performance support delivery for the period 2018-2022".

The press release describes it as "a comprehensive performance support programme for Team Ireland, covering athlete life-skills, sports science and medicine as well as various Games readiness activities before, during and after Games time.

"Previously, Irish Olympians did not always have the same medical support care team looking after their needs before, during and after Games.

"Instead there was often a handover of care from one medical team to another at Games time. Following feedback from athletes post the Rio Games the OFI and Sport Ireland institute came together to put this new athlete centred support plan in place.

"This new partnership aims to align all sport science and medical care so that athletes can perform to their full potential. The OFI and Sport Ireland have agreed to jointly fund this new partnership and it will be delivered through partnership with the OFI, Sport Ireland Institute, the National Governing Bodies and the Performance Directors."

The third part of the announcement saw Fukuroi City and the Ecopa Stadium facilities have been selected as the pre-games training camp for Team Ireland prior to Tokyo 2020.

The Hook


---

Richie and Gemma McCaw announce birth of baby Charlotte: 'Our hearts are so full'

OLIVIA CALDWELL



gemflynn We are excited to announce the arrival of our daughter, Charlotte Rose McCaw. Thank you for the love and blessings we have received, our hearts are so full ?. Gemma McCaw Instagram

New Zealand's version of sporting royalty has arrived as Gemma and Richie McCaw on Thursday announce the birth of a daughter, Charlotte Rose McCaw.

The parents were proud as punch, saying they were "excited" to announce the arrival and "our hearts are so full".

The former All Blacks rugby captain and former Black Stick hockey player announced the pregnancy in July via Gemma McCaw's instagram account.

Charlotte's arrival was announced on the day of the New Zealand Rugby Awards in Auckland, and one day ahead of a press conference called for All Blacks coach Steve Hansen to outline his future.

Charlotte's arrival was announced by Gemma on Instagram and Richie on Facebook, with a picture of three hands, clutching each other.

"We are excited to announce the arrival of our daughter, Charlotte Rose McCaw. Thank you for the love and blessings we have received, our hearts are so full," it said.

Within minutes they were flooded by thousands of likes, and many comments, among them New Zealand glitterati.



Richie and Gemma McCaw celebrated their babymoon in Honolulu. Gemma McCaw/INSTAGRAM

Silver Fern Katrina Grant said "massive congrats". Fatima Savea, the wife of former All Black wing Julian, also shot in a message of congratulations.

TV personality Toni Street wrote "awww yay team McCaw! Congrats Gem&Rich, Matt and I are thrilled for you guys, what a beautiful name, can't wait to meet her xxx".

Jason Gunn sent "Big big love to the 3 of you. Well done you xx."

Paralympian Sophie Pascoe posted "congratulations to you both!"

All Blacks halfback T J Perenara's partner Greer Samuel said "congratulations guys!!!", and the "Kaino tribe" added its congratulations to a posting that garnered more than 2000 likes in its first 30 minutes.  

Keven Mealamu, a long-time team-mate of McCaw's, sent three love hearts to Gemma's post, while Ma'a Nonu sent five.

Bondi lifeguard Andy Reid, an adventure team-mate of Richie McCaw's, commented "This is going to break the internet and little Charlotte is going to break some hearts if they can get past Earnie that is. You guys rock."

Announcing the pregnancy, the McCaws had posted a tiny pair of adidas running shoes, along with a men's and women's pair. They then set off to Hawaii for their babymoon.



Gemma McCaw as newly weds in 2017 in Wanaka. The couple have become parents overnight and couldn't be happier. RICHIE MCCAW/FACEBOOK

They married in Wanaka in January 2017.

Richie McCaw, 37, retired from rugby after leading New Zealand to a second consecutive Rugby World Cup title in 2015, beating Australia 34-17 in the final in London. Gemma McCaw, nee Flynn, 28, retired from competitive hockey last October.

Since retiring from international hockey, Gemma McCaw opened up a health business in Christchurch, entered the Godzone adventure race with her husband, and the Coast to Coast adventure race with him also.

Gemma McCaw, 28, has kept herself in the limelight with commentary during the Women's Hockey World Cup on Sky Television and appearances on the AM show with television host Duncan Garner.

Not a woman to be left behind in the fashion stakes, Gemma McCaw debuted her baby bump at New Zealand Fashion week earlier this year with her husband by her side.



Gemma and Richie McCaw were both at fashion week NZ this year. It was Gemma's first appearance with her baby bump. HANNAH PETERS/GETTY IMAGES

The couple hosted a baby shower in early October and on December 1 posted their "last dinner out for a wee while" on Instagram.

McCaw's pregnancy hasn't been easy for a woman used to being on top of her game in health. She told Now to Love that being pregnant can make staying on track with a healthy lifestyle particularly hard.

"I count myself lucky that I haven't had terrible morning sickness, but I was surprised by the level of exhaustion in those first 12 weeks.

"Suddenly I didn't feel like getting up at 6am for my morning run and my healthy diet wasn't quite so appealing either, with regular cravings for dense carbohydrates."

She kept up exercise with swimming, aqua aerobics, pregnancy yoga and pilates.

Richie McCaw who now works for Christchurch helicopters, told Stuff last month he was looking forward to the challenge of being a father.

"I kind of knew what I was doing when I was playing rugby but it's [becoming a dad] all very new.

"Plenty of people have done it before ... so I'm sure we'll figure it out.

"It's exciting. It's another chapter and I suppose when you finish the rugby side you close that chapter and move on to a new one. The helicopters is one thing and having a family is another."

Gemma McCaw played 246 matches for New Zealand and scored 71 goals after making her international hockey debut in 2008.

The hockey star won silver and bronze medals with New Zealand at the 2010 and 2014 Commonwealth Games in Delhi and Glasgow respectively.

Richie McCaw played a record 148 tests for the All Blacks and is the most capped rugby player of all time.

Stuff