All the news for Wednesday 12 December 2018

Odisha Hockey Men's World Cup Bhubaneswar 2018 - Day 14
Bhubaneswar (IND)

Results 11 December

BEL v PAK (Cross-over)          5 - 0
NED v CAN (Cross-over)     5 - 0

Fixtures 12 December

16:45     ARG v ENG (QF)
19:00     AUS v FRA (QF)

Remaining Quarter Finals

13 Dec 2018 16:45     GER v BEL (QF
13 Dec 2018 19:00     IND v NED (QF)

Out of the Competition

Pool stage
Spain
Ireland
South Africa
Malaysia

Cross-overs
New Zealand
China
Pakistan
Canada

FIH Match Centre


---

Three biggies join France for quarterfinal line up

s2h Team




After 14 days of action that saw 28 lively matches, involving 124 goals and 198 penalty corners, the last eight teams who will figure in the quarterfinal has been identified. In the last two days, the newly introduced cross-over matches involving matches between second and third ranked teams of each pool were staged. Here, the three higher ranked teams - Netherlands, Belgium and England - joined surprise package of Odisha World Cup France to complete the quarterfinal line up.

The crucial knock-out stage commences from today.

On Monday, giant killer France waged a grim battle before Timothee Clement's 36th minute solitary goal settled the issue against China. The Asian team, though went down, did so in full grace.

England thereafter overcame gritty New Zealand with some clinical finish in the striking circle.

On Tuesday, both European giants Belgium and their neighbour The Netherlands sailed smoothly into the quarters. First, Rio silver medallist Belgium struck five unanswered goals againts Pakistan, who finished third in their pool ahead of Malaysia. Pakistan had their chances of scoring in spells but poor finish and excellent goalkeeping by Vincent Vanansch denied anything for the four-time World Cup winning team.

The fouth and last of cross-over was between The Netherlands and Canada. The script went the way the earlier match between European superpower and former giant, was.

Canada kept The Netherlands in tight spot in the entire first quarter, but things changes in the opening seconds of second quarter. Thereafter, forwards of the famed country posted some scintillating goals to keep the scoreboard moving

In fact the three-time World Cup winners sent some strong notice to India when they struck some beautiful goals through open play. thijs van Dam in particular was unstoppable with twin strikes in the 40th and 58th minutes. Lars Balk in the 16th minute, rob Kemperman four inutes later and Thierry Brinkman in the very next minute completed the scoring list.

The four cross over matches generated 13 goals, 30 penalty corners and 2 strokes. A stroke was missed while the other was struck. Out of 30 PCs, a mere two were converted, one apiece by Belgium and The Netherlands.

THE QUARTERFINAL FIXTURES

ARGENTINA VS ENGLAND, 12.12.2018
AUSTRALIA VS FRANCE, 12.12.2018
BELGIUM VS GERMANY, 13.12.2018
INDIA VS THE NETHERLANDS, 13.12.2018

Stick2Hockey.com


---

Five-star Belgium and Netherlands advance to World Cup last eight



©: Frank Uijlenbroek / World Sport Pics

Belgium and the Netherlands joined the World Cup quarter-final part as they swept to comfortable wins over Pakistan, respectively, making it five European sides in the last eight.

Belgium's 5-0 victory over four-time world champions Pakistan sets up a mouth-watering all-European quarter-final against Pool D winners Germany.

The Olympic silver medallists from Rio 2016 took an early 2-0 lead with Alexander Hendrickx opening the scoring with a low penalty corner before Red Lions captain Thomas Briels completed the simplest of finishes after a wonderful run along the backline from Nicolas de Kerpel.

Cedric Charlier's speculative cross-shot took a wicked deflection off the stick of Pakistan captain Ammad Butt and flew into the goal to give Belgium a 3-0 lead at half time.
Sebastien Dockier finished off a flowing team move to leave Pakistan with a mountain to climb in the final 25 minutes and Tom Boon completed a 5-0 score-line from the penalty spot in the fourth quarter.

Speaking after the game, KHC Dragons Florent Van Aubel said: "I think we played our best game in the tournament so far. Winning 5-0 and getting into the quarter-finals, I think it's really good.

"The whole team worked really hard to get there, so it's really positive. We knew we were going to face Germany or the Netherlands in the next round. It's Germany. We have to get ready for them. They're playing really well at the moment, so I expect a tough game."

The Netherlands, meanwhile, are through to meet India after they beat Canada 5-0. The red caribous were resilient in the first quarter as goalkeeper David Carter – later named Odisha Player of the Match – bravely charged down a shot from Bob de Voogd that crashed against the shot-stopper's helmet.

The breakthrough arrived in the opening moments of the second period when SV Kampong defender Lars Balk found himself at the other end of the field to smash a blistering first-time effort under the cross-bar.

Carter denied the Dutch a second when he saved a penalty stroke from Jeroen Hertzberger, although the Netherlands did take a 2-0 lead into half-time when Kampong's Robbert Kemperman guided home a cross-shot from Thijs van Dam.

The Netherlands put some clear water between themselves and the Canadians with a solid display in the third quarter, netting twice to take the score to 4-0. Van Dam scored the third while Kemperman was the creator of the Netherlands' fourth goal.

He stole possession and danced through the Canadian defence before eliminating goalkeeper Carter with a perfect pass to Thierry Brinkman, who walked the ball over the line to effectively end the contest with quarter to spare.

The scoring was completed in the fourth quarter by van Dam, starting and finishing a rapid counter-attack to give the Netherlands a 5-0 victory.

Speaking after the match, AH&BC Amsterdam man Billy Bakker said: "We wanted to play better against Canada than we played against Pakistan.

"We just looked at the statistics and we had about 30 circle penetrations and we made five goals, so it could be more but we should be proud of this result. We're very happy and we're confident for playing the quarter-final against India. It's lovely. My team gets a lot of energy in front of this big crowd and this enormous stadium so it's only an advantage for us."

The low note for the Dutch was seeing Sander de Wijn depart in pain with a hamstring injury.

Wednesday's games see Argentina take on England while France are the outsiders when they go up against Australia.

Euro Hockey League media release


---

Pakistan join list of Asian casualties in World Cup

By Jugjet Singh

BHUBANESAR (India): Pakistan became the third Asian hockey team to be eliminated from the World Cup quarter-finals when they were bashed 5-0 by Belgium in a play-off on Monday.

China had lost their play-off 1-0 to France on Sunday, while Malaysia were eliminated in the group stage.

Only India have qualified for the last eight and will play the Netherlands tomorrow.

The Dutch outclassed Canada 5-0 in the playoff. Their goals were scored by Lars Balk (16th), Robbert Kemperman (20th), Thijs van Dam (40th, 58th) and Thierry Brinkman (41st).

The other quarter-finals will see Argentina vs England, Australia vs France, and Germany vs Belgium.

Belgium were ruthlessly sharp as they punished Pakistan's every mistake. The Europeans' goals came off Alexander Hendrickx (10th), Thomas Briels (13th),

Cedric Charlier (27th), Sebastien Dockier (35th) and Tom Boon (53rd).

China, Pakistan, Canada and New Zealand will play in the 9th-12th classification matches.

New Straits Times


---

Belgium proves too hot to handle for Pakistan

The Netherlands hammers Canada to set up a last-eight meeting with India

Uthra Ganesan



Take that! The Netherland's Thijs van Dam, left, fires in the first of his two goals against Canada. 

The odds were always in Belgium's favour but despite the huge gap in rankings, a 5-0 win against Pakistan was a statement of intent from the Red Lions as they booked a quarterfinal spot in the Hockey World Cup here on Tuesday.

Completing the last eight was the Netherlands, which beat Canada 5-0, would now be up against host India for a spot in the semifinals. Belgium would play Argentina in the other quarterfinal.

No one had given Pakistan a chance before the game, its continuation so far itself a testament to its survival instincts. But against a clinical and dominating Belgium, those weren't enough.

Total control

The Belgians controlled every aspect of the game and toyed with the opposition. Desperate defending from Pakistan kept it away for the first 10 minutes before Alexander Hendrickx's penalty corner conversion gve Belgium the lead.

Three minutes later, captain Thomas Briels made it 2-0 despite being shielded by a Pakistani defender, deflecting in a pass from Florent van Aubel who beat past half a dozen defenders along the backline.

Thereafter, it was Belgium all the way even without the team exerting itself to the limit.

It spread the flanks, used the aerial balls, cut through the middle and entered the Pakistan circle at will, taking possession of the midfield.

Pakistan hardly had a shot at goal through the game except through two penalty corners, both going waste. The Pakistan side that had fought hard in the early stages was absent and it looked like the players were running on fumes, unable to match the Belgian pace.

After a point, it simply looked like having given up and trying to only avoid conceding any more goals before going home.

Clinical show

Later, the Netherlands brushed aside any talk of inconsistency and staked itself as one of the favourites for the title with a clinical performance against Canada.

Against a team that likes to stay defensive, the Netherlands gave a lesson in finding gaps and opening up space. It was a wonder Canada managed to hold it goalless in the first quarter with coach Max Caldas clearly unhappy at the quarter break.

The pep talk helped the three-time champion get better with its finishes and two goals in five minutes were all that it took to open the gates.

Two more in as many minutes in the third quarter was enough to seal the win for the Netherlands.

On Wednesday, the first two semifinalists would be decided when England takes on Argentina in the first quarterfinal while Australia play France later in the day.

The results: Belgium 5 (Alexander Hendrickx, Thomas Briels, Tom Boon, Cedric Charlier, Sebastien Dockier) bt Pakistan 0; Holland 5 (Thijs van Dam 2, Lars Balk, Robbert Kemperman, Thierry Brinkman) bt Canada 0.

The Hindu


---

Pakistan's misery ends after Belgium thrashing




BHUBANESWAR - Belgium and the Netherlands both claimed cross-over play-off victories at the Odisha Hockey Men's World Cup Bhubaneswar 2018, securing their respective places in the upcoming quarter-finals of the competition on another high-quality day of action at the Kalinga Stadium.

Belgium's 5-0 victory over four-time world champions Pakistan sets up a mouth-watering all-European quarter-final against Pool D winners Germany, a match that will take place on Thursday 13thDecember. On the same day, home favourites India have a quarter-final meeting against the Netherlands, who defeated Canada 5-0 today. The World Cup quarter-finals begin on Wednesday 12thDecember with Argentina facing England and top-ranked Australia going head-to-head against France, the lowest ranked of the 16 competing nations here in Bhubaneswar.

In the day's opening cross-over match, Belgium (FIH Hero World Ranking: 3) had the better of the first period against Pakistan (WR:13), with the Olympic silver medallists from Rio 2016 taking a 2-0 lead against the giants of Asian hockey. Alexander Hendrickx opened the scoring with a low penalty corner before Red Lions captain Thomas Briels completed the simplest of finishes after a wonderful run along the backline from Nicolas de Kerpel.

Pakistan improved greatly in the second quarter and could well have reduced the deficit through Ali Shan and Muhammad Irfan Jr, who both missed the target when they had a clear sight of goal. Those missed opportunities were punished just before half time when Cedric Charlier's speculative cross-shot took a wicked deflection off the stick of Pakistan captain Ammad Butt and flew into the goal to give Belgium a 3-0 lead at half time.

The team coached by Shane McLeod added a fourth goal to their collection when Sebastien Dockier finished off a flowing team move to leave Pakistan with a mountain to climb in the final 25 minutes. As they have done throughout the event in Bhubaneswar, the Green Shirts gave it everything but could not get the goal their endeavour deserved, with Tom Boon completing a 5-0 score-line from the penalty spot in the fourth quarter.

It was a special day for Belgium duo Florent van Aubel and Simon Gougnard, with the former making his 200thinternational appearance for his country and the latter being named Odisha Player of the Match for his creativity in midfield.  Speaking after the game, Van Aubel said: "I think we played our best game in the tournament so far. Winning 5-0 and getting into the quarter-finals, I think it's really good. The whole team worked really hard to get there, so it's really positive. We knew we were going to face Germany or the Netherlands in the next round. It's Germany. We have to get ready for them. They're playing really well at the moment, so I expect a tough game."

With a quarter-final meeting against host nation India on the line, the cross-over match between the Netherlands (WR:4) and Canada produced a fascinating opening fifteen minutes as the Pan-American team frustrated the European champions. Canada goalkeeper David Carter – later named Odisha Player of the Match – bravely charged down a shot from Bob de Voogd that crashed against the shot-stopper's helmet, while Mink van der Weerden wasted a penalty corner effort towards the end of the period.

The breakthrough arrived in the opening moments of the second period when defender Lars Balk found himself at the other end of the field to smash a blistering first-time effort under the cross-bar, producing the sort of finish that most strikers would be proud of. Carter denied the Dutch a second when he saved a penalty stroke from Jeroen Hertzberger, although the Netherlands did take a 2-0 lead into half-time when Robbert Kemperman guided home a cross-shot from Thijs van Dam.

The Netherlands put some clear water between themselves and the Canadians with a solid display in the third quarter, netting twice to take the score to 4-0. Van Dam scored the third while Kemperman was the creator of the Netherlands' fourth goal, stealing possession and dancing through the Canadian defence before eliminating goalkeeper Carter with a perfect pass to Thierry Brinkman, who walked the ball over the line to effectively end the contest with quarter to spare. The scoring was completed in the fourth quarter by Thijs van Dam, starting and finishing a rapid counter-attack to give the Netherlands a 5-0 victory over Canada to confirm a quarter-final meeting against India on Thursday.

Speaking after the match, Netherlands captain Billy Bakker said:"We wanted to play better against Canada than we played against Pakistan. We just looked at the statistics and we had about 30 circle penetrations and we made five goals, so it could be more but we should be proud of this result. We're very happy and we're confident for playing the quarter-final against India. It's lovely. My team gets a lot of energy in front of this big crowd and this enormous stadium so it's only an advantage for us."

The first two matches of the Odisha Hockey Men'sWorld Cup Bhubaneswar 2018 quarter-finals will take place on Wednesday 12thDecember. Reigning Olympic champions Argentina (WR:2) face England (WR:7), cross-over winners against New Zealand, at 1645 IST (UTC+5:30) before reigning world champions Australia (WR:1) play France (WR:20) – who defeated China in the cross-overs – at 1900.

Assessing his team's performances so far whilst also looking towards the meeting against Olympic title holders Argentina, England's Adam Dixon said: "We've grown into the tournament and improved game by game. Our young players have really stepped up and made themselves counted for. Argentina are a strong and experienced team and we will have to be at our best to get a result. However, we are full of confidence and looking forward to the challenge."

Looking ahead to his team's quarter-final against France, Australia's Trent Mitton – who will make his 150thsenior international appearance in the match and whose father Grant was part of Australia's 1986 World Cup-winning side – said: "On the World Cup so far I think our team is going really well and there is a good feeling around the group. We are looking forward to getting to the business end of the tournament which starts on Wednesday with our quarter-final. Being able to play the 150thin a World Cup quarter final is pretty special as well. It will be a big game and the crowd will be huge."

The Nation


---

Belgium end Pakistan's campaign with 5-0 crushing victory




BHUBANESWAR: Pakistan's miserable campaign at the Men's Hockey World Cup finally came to an end after Olympic silver medallists Belgium thrashed the four-time champions 5-0 in the third cross-over match at the Kalinga Stadium on Tuesday. Staring the match as favourites, the Red Lions toyed with the Pakistani defence which somehow managed to hold on in the opening 10 minutes. But once Alexander Hendricks (10th minute) converted a penalty corner, the Pakistani defence broke apart and gates opened up for Belgium. Besides, Hendricks, skipper Thomsa Briels (13th), Cedric Charlier (27th), Sebastian Dockier (35th) and Tom Boon (53rd) were the other goal getters for Belgium.

While Pakistan will pack their bags and return home, Belgium will take Germany in the quarterfinals on Thursday. The Red Lions, ranked third in the world, came into the match as outright favourites against the World No. 13 Pakistan and they played like champions, dominating the proceedings for major part of the 60 minutes. Belgium's first scoring chance came from the very first move in the form of a penalty corner but the Pakistani defence did enough to thwart the danger. Belgium kept up the pressure on the fragile Pakistani defence and secured back-to-back penalty corners in the 10th minute, the second of which was converted by Hendricks with a powerful low flick to the left corner of the goal.

Three minutes later, Belgium doubled their lead through skipper Briels, who deflected in after being set up by Nicols de Kerpel's fine work pass from the right flank. Pakistan improved their game in the second quarter and made some impressive moves but they lacked ideas once inside the opposition circle. The final pass was lacking from the Pakistanis as a result of which their build-ups hardly troubled the Belgian defence. Pakistan earned their first penalty corner in the 16th minute but wasted the opportunity while opting for a variation. Minutes later Ali Shan's reverse hit from inside the box sailed over the Belgium goal. The missed chances hurt Pakistan as Belgium extended their lead three minutes from half time through Charlier whose reverse hit from a tight angle found the back of the net after a getting a slight deflection of Pakistani skipper Ammad Butt's sticks. Five minutes after the change of ends, Belgium made the scoreline 4-0 through Dockier, who pushed in after a fine one-two touch play from Charlier and Simon While Belgium wasted two more penalty corners in the third quarter, Pakistan too got a short corner but Ali Mubashar's attempt went wide.

Down by four goals, Pakistan knew it was the end of the road for them. It was a one way thereafter as Belgium made all the forays and earned two more penalty corners in the process. The last penalty corner resulted in a penalty stroke as the ball hit the body of a Pakistani defender and Boon made no mistake in converting the chance.

The Daily Times


---

Belgium humiliate Pakistan 5-0 in Hockey World Cup pre-quarters



PHOTO COURTESY: FIH

Pakistan lost 5-0 to Belgium on Tuesday in their cross-over, pre-quarter-final match at the Kalinga Stadium, Bhubaneswar, India.

The first period saw Belgium scoring twice in the 10th and 13th minute.

Alexander Hendrickx converted the penalty corner to give Belgium 1-0 lead.



PHOTO COURTESY: FIH

Soon after, Thomas Briels added one more to put Belgium 2-0 up against Pakistan.

In the second period, Cedric Charlier added the third to push Pakistan on the back foot courtesy a field goal.

The third quarter saw one more converted by Belgium as Sebastien Dockier netted in the 35th minute.

However, the Belgian show didn't end there and Tom Boon's penalty stroke conversion in the 53rd minute completed Pakistan's humiliation in the Hockey World Cup.

Belgium will now play the quarter-final of the event, while Pakistan will be packing their bags to leave for home.

Earlier, Pakistan made it to the next round courtesy two defeats and one draw in their Group D.

They lost their first match 1-0 against Germany, drew 1-1 against Malaysia and then lost 5-1 to Netherlands in the last group match.

The Express Tribune


---

It's India vs Dutch in quarters, Pakistan out

Netherlands hammer Canada 5-0, Belgium show Pakistan the way out with a 5-0 victory

Indervir Grewal in Bhubaneswar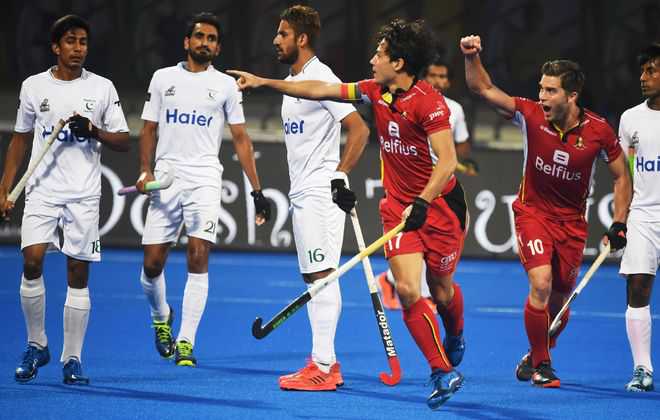 The Belgian players celebrate after scoring a goal against Pakistan in their cross-over match in Bhubaneswar on Tuesday. AFP

THE Netherlands gave India a reminder of their scoring prowess with a 5-0 thumping of Canada before their coach and captain hinted that the world No. 4 would not let the hosts feel at home in the quarterfinals. The Dutch took their time to get going against world No. 11 Canada. It was expected in a knockout match. But the 16th-minute goal by Lars Balk freed them up. Robbert Kemperman's strike four minutes later only made them more audacious in their attacks. The Dutch were free-flowing — they had 38 circle entries and 20 shots. They weren't bad in defence either, letting Canada into their circle just six times.

Thijs van Dam (40th, 58th) and Thierry Brinkman (41st) also got their names on the scoresheet, but the Netherlands could have scored many more. Netherlands coach Max Caldas, though, was "happy" with the performance. "We were able to create chances in all quarters," Caldas said at the post-match press conference.

From Canada, the questions quickly shifted to India, whom the Dutch play in the quarterfinals on Thursday. India have not played a match since Saturday, which means a break of four days before the next match. Caldas hinted at his team's advantage in terms of match practice. "We are happy to play (extra match) rather than practice," said Caldas.

India were dominant in the pool matches, even managing to unsettle world No. 3 Belgium in their 2-2 draw. A vehement crowd support also played a part, which the India coach has also acknowledged. But Caldas said that his side would not be overwhelmed by the crowd; neither would they let India take control. "We like to set our own pace," Caldas said. "It is not for the first time that we are playing India in India. And we are used to playing in front of big crowds." Captain Billy Bakker said the team wouldn't be too concerned about the crowd support for India. "There is also home-crowd pressure on India to perform. We will also get energy from the crowd," Bakker said.

Belgium send Pak packing

Belgium also had an easy outing on the blue turf as they ousted Pakistan after a 5-0 win. Alexander Hendrickx (10th), Thomas Briels (13th), Cedric Charlier (27th), Sebastien Dockier (35th) and Tom Boon (53rd) scored in the lop-sided encounter. They will have a much harder challenge in the quarters against Germany.

The Tribune


---

Netherlands crush Canada 5-0 to set up quarterfinal against India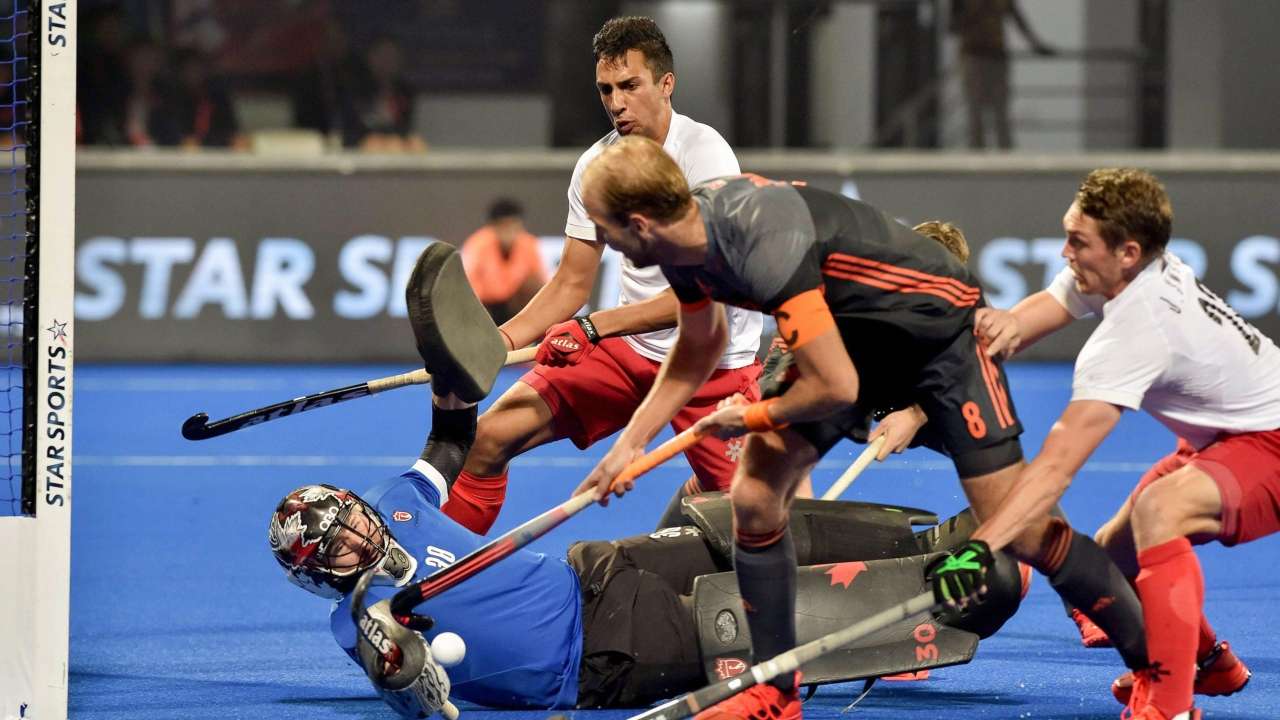 Men's Hockey World Cup 2018 , PTI

Three-time champions Netherlands Thursday mauled lower-ranked Canada 5-0 in the final cross-over match to set up a quarterfinal clash against hosts India in the Men's Hockey World Cup in Bhubneshwar.

Dominating the proceedings, Netherlands scored five field goals through Lars Balk (16th minute), Robert Kemperman (20th), Thijs van Dam (40th, 58th) and Thierry Brinkman (41st) to register the comfortable win at the Kalinga Stadium.

Netherlands will now play India in the last-eight round on Thursday.

In the match between world no. 4 Netherlands and world no.11 Canada, the Dutch were early aggressor as they made continuous forays.

The Canadians, on the other hand, preferred to sit back and defend while looking for counters to surprise their opponents.

Canadian goalkeeper Andrew Charter too made a number of brilliant saves to keep his side in the hunt.

The Netherlands' first chance came in the ninth minute but Charter came out of his line to pull off brilliant save and deny Bob de Voogd.

Seven seconds from the first quarter Netherlands earned their first penalty corner but Mink van der Weerden's attempt sailed over the goal.

After 15 minutes of resistance, Canada's resolute defence finally broke down seconds into the second quarter when an unmarked Lars Balk sliding try from Glenn Schuurman's pass found the back of the net past Charter.

Seconds later Netherlands got a golden chance to double their lead when they were awarded a penalty stroke but Charter once again came to his side's rescue to keep away Jeroen Hertzberger's try.

The Netherlands, however, doubled their lead in the 20th minute through Robert Kemperman, who slap shot from top of the circle found the Canadian net for the second time in the game.

Canada's James Wallace feeble try from close range was then easily parried away by Dutch goalkeeper Pirmin Blaak.

Chances came thick and fast for the Netherlands as Thierry Brinkman was the next to be denied by Charter before the Canadian goalie pulled off another fine save to keep away Hertzberger's reverse hit.\

The Dutch resumed the second half at the same pace and continued to mount attacks on the opposition goal and in the process secured back-to-back penalty corners in the 38th minute but the chances went wasted.

The Netherlands tripled their lead in the 40th minute Van Dam scored from a rebound after Seve van Ass's initial shot was saved by Canada keeper Charter.

A minute later, the Dutchmen extended their lead when Brinkman pushed in an open goal after being set up by Kemperman, who beat three Canadian defenders with his brilliant stick work.

After wasting another penalty corner, Netherlands made the scoreline 5-0 in their favour two minutes from full time through Van Dam's second goal of the day.

Daily News & Analysis


---

Valiant Canadians eliminated from 2018 Men's Hockey World Cup

World number four Netherlands end Canada's World Cup dreams with 5-0 defeat




Canada's gritty pool-play performances against Belgium and South Africa were enough to secure a bid into the crossover stage of the 2018 Hockey World Cup. The Netherlands dropped a group match to Germany setting up a Tuesday night date between the Orange and Red in Bhubaneswar.

In the end, the number four ranked Dutch we're simply too strong for the Canadians as they rolled to a 5-0 victory. David Carter put on a tremendous display in the Canadian net, keeping the Dutch at bay in the first quarter including a diving save off his mask. It was in the first few minutes of the second quarter when the Netherlands took control and never looked back.

Despite a save off a penalty stroke by Carter, the Dutch were able to pot two goals in the second and two goals in the third quarter putting themselves comfortably in the lead. Despite Canada's efforts to foray into the Dutch circle, the Red Caribou had nothing to show for it after 60 minutes.

For Canada, their defensive unit of Scott Tupper, Gordon Johnston, Richard Hildreth and John Smythe with Carter in net stood tall, taking the Dutch pressure and dispatching of it. The Orange were just too much for Canada in the end as they were able to capitalize on bursts of pressure in the second and third quarters.

Offensively, Canada finishes their World Cup outing by putting up a blank in their final game. It wasn't without effort as Gabe Ho-Garcia and Jamie Wallace led the attacking unit with chances and scared the Dutch goalkeeper on more than one occasion.

With the win, Netherlands moves forward to challenge India for a spot in the semifinals. That game goes on Thursday. With the loss, the Red Caribou return home finishing 11th at this year's World Cup. According to the competition plan, Canada will be right back at it in the new year working towards Olympic qualification. Stay tuned for more information about their journey.

Canadian Top Performers:

Jamie Wallace — Every positive attacking chance had Wallace's fingerprints on it. The 19-year-old led Canada's attack in tonight's game and has shown to belong at the top level despite his age.

Gordon Johnston — Not always represented in the box score is Gordon Johnston's superb defensive presence for Team Canada. His awareness, his long balls, his tackles, Johnston is a multi-talented player and put on a terrific performance.

David Carter — Without Carter's brilliant performance, this game could have been put out of reach early. A huge save off a penalty stroke and repeatedly diving for fantastic saves, Carter put on a show worth remembering. With over 15 saves in tonight' match, Carter was awarded the Player of the Match for a second consecutive game.

Field Hockey Canada media release


---

England take on Argentina at 11:15am GMT on Wednesday



England at the Odisha Hockey Men's World Cup

England are now through to the Quarter Finals of the Odisha Hockey Men's World Cup, and our next fixture has been confirmed as:

England vs Argentina
Wednesday 12 December
11:15am UK time

The winner will face the victor of Germany's match against either Belgium or Pakistan.

The sides have played eight times in World Cups, with England winning three, Argentina victorious twice, and three draws. In the last encounter, Argentina won bronze at the 2014 event in The Hague. England's last win was in 1986 in London.

England are playing their 88th match in World Cup history, having won 41 of those games, scoring 163 goals. Argetina have won 32 out of 84, scoring 142 goals along the way.

Penalty corner king Gonzalo Peillat is among the event's top scorers with four goals to his name. Agustin Mazzilli has three field goals. England's Liam Ansell and Mark Gleghorne each have two. Six different players have scored for England, while four have netted for the Latin Americans.

England's Michael Hoare is aiming for his 100th England cap, while Harry Martin is set to reach 199 combined England and GB appearances. Barry Middleton approaches his 430th cap. The world record stands at 453 for Holland's Teun de Nooijer.

Since last summer the teams have met three teams, most recently a 1-1 draw at the Sultan Azlan Shah trophy. In last year's Hockey World League Finals at the same venue Argentina won 2-2, while they drew 3-3 in London at the Hockey World League Semi Finals.

The game will be live on BT Sport.

England Hockey Board Media release


---

England ready to take flight against Argentina

By The Hockey Paper, Bhubaneswar




England will hope to halt Argentina's world title hopes with aerial prowess in Wednesday's World Cup quarter-final.

Danny Kerry's side face the Olympic champions for a place in their third successive semi-final against a side they last beat in 1998 and at a World Cup 32 years agowhen they last reached the final.

At the 2014 World Cup, Argentina fielded 12 men for two minutes as England lost out in a bronze medal play-off.

Protests came and went and now they will aim to let their hockey do the talking at the 15,000-capacity Kalinga Stadium.

England have shown their own title credentials in the last two games here where defender Liam Sanford has risen to the occasion.

Sanford, who debuted last year, was awarded man-of-the-match against New Zealand thanks to strong running and posing an aerial threat, tellingly with England's first goal.

"I've latched on to a couple of them and he has put in some great aerial bombs," said Phil Roper, England's co-captain. "He has one of the best aerials in the game right now."

Sanford has taken flight down the right flanks like he has with his off-field career in the Forces.

The 22-year-old's entry into England's hockey ranks has come at the expense of his job as an RAF flight operations assistant.

Dealing with Argentina's creativity sounds a walk in the park compared to Sanford's work in air traffic control towers with the RAF.

He said: "It's like hockey can be on the pitch where it can be be a high-stress environment. But they have really good managers who can deal with stress and the operations team is excellent."

Sanford, who is RAF sportsperson of the year, clearly loves the team environment.

"When we stick with each other as a team we are a lot calmer on the ball," added Sanford.

"When it gets a tight, you can sometimes get on each other's backs, which is only natural as we all want to do well."

England head into  their clash with an edge over Argentina, having played a brace of games since Los Leones' last match.

Argentina were even forced to play a 30-minute training game against Australia on Monday to replicate some form of match play.

Argentina lost 5-3 to France in their final Pool game last week which Gonzalo Peillat, their best player, on Tuesday called a "wake up call".

"We were a bit disappointed but it was a punch in the face for us before we face England," Peillat told The Hockey Paper.

"We weren't playing well and it [defeat] will give us confidence."

Meanwhile, Roper was confident with England's tournament tempo – getting better with every match.

"We are starting to build something. We are having fun and playing our game," said Roper.

"We've played two games and they've had a week off, but we don't know how it will pan out."

The Hockey Paper


---

England youth has Hockey World Cup X-Factor, says George Pinner

By The Hockey Paper, Bhubaneswar




Goalkeeper George Pinner believes that England's young debutants are bringing some 'X-factor' to their World Cup run.

East Grinstead defender Luke Taylor and Will Calnan, the 22-year-old Hampstead & Westminster forward, scored debut World Cup goals to put England one match away from their third semi-final in a row.

That comes against Argentina on Wednesday where the first semi-finalist will be decided.

"All the young guys have a fantastic attitude," said Pinner.

"Calnan has something about him, Jack Waller is a seriously calm guy and Zach Wallace makes things happen.

"They have what we need in the squad and that's a bit of X-Factor."

And the 31-year-old stopper urged England to further build on their momentum against the world No 2 side.

He said: "The thing we talk about most as a team is that we get out of a group with a hard-win game, then we've dropped off and played for a bronze medal. The key thing now is building performance on performance."

The good news for England is that Argentina's Pool win saw them move directly to the last eight and no game for six days heading into the clash, while Danny Kerry's side have played twice.

The last time England beat Argentina at a World Cup came in 1986 when they went on to reach the final.

The Hockey Paper


---

France set for historic showdown with Australia

By Rod Gilmour, Bhubaneswar




Maximilien Branicki took a moment to compose himself following France's crossover win over China.

The Frenchman will reach his 21st birthday on Sunday, the day of the World Cup final. And the way 2018 has gone in hockey's World Cup year – Ireland women and all that – who's to say that France can't write their own annus mirabilis and Branicki left prescribing Monday remedies.

"We have one match against Australia. The journey is special and Australia are the best in the world and one of the favourites in the competition," Branicki, who plays and studies in Brussels, said eventually. You could, of course, forgive his emotion. After a 28-year hiatus, France had made the last eight.

"Australia is better than us both physically, tactically, mentally. But it's one match and anything is possible and we will do the best that we can."

Australia are the top scorers in this World Cup, with 16. They have shipped one goal and are three matches away from an unprecedented World Cup hat-trick of titles. If France are to usurp the Kookaburras from the Kalinga's blue turf, it will represent the greatest upset of them all.

"At this World Cup we can write a new story. We have a really good generation and we hope to put in a really good match," said an upbeat Branicki. "There are a lot of parents and friends and it's great to see French people here. We know we need to perform for our supporters."

France held on against China to keep a clean sheet. Yet the ending was hardly French chic. There were four yellow cards, two from each nation, including a football, feet-first tackle on a Chinese forward which resulted in a last-ditch French PC save. The French, the world No 20, looked tired and the hooter yielded the start of 48 hours precious recovery.

Australia, with their days off and free from a crossover match, have instead been forced to play a 30-minute training game against Argentina.

Trent Mitton will mark his 150th cap for Australia against France in his first World Cup, a tournament featuring a host of debutants for the Kookaburras.

"There were certainly times where I thought I wouldn't get close to this milestone, mainly through repeated non-selections earlier in my career," said the 28-year-old.

"Being able to play the 150th in a World Cup quarter final is pretty special. It will be a big game and the crowd will be huge."

Mitton debuted in 2010 but the India trip ushered in his first world or Olympic tournament. Watching the France-China match with the team on Monday, Mitton will now line up in his first quarter-final as they aim to follow the marvellous team of 2014 into the record books.

"We are looking forward to getting to the business end of the tournament," added Mitton. Australia have got there with barely a whimper. For France, it may be a game too far.

The Hockey Paper


---

Australia hard to beat in wide open last eight

By Todd Williams




There has been much to savour in the first 28 games of this World Cup. A fantastic stadium with a wonderful atmosphere, some thrilling games and incredible goals have been shown around the world, exactly as the FIH would have hoped. Some of the television camera work has been quite brilliant.

The one thing we haven't had much of though is upsets. France's extraordinary win over Argentina has been the only real shock to speak of. China's draws with England and Ireland ultimately saw Ireland leave a round too early but the only real hard-luck story so far has been Spain.

If not the match of the tournament so far, Spain's 4-3 loss to Argentina was at least the most exciting first half we've seen and left no one in any doubt as to their quality. In reality though, they might as well have lost it 11-0, as China did to Australia. Whereas China's two draws was enough to get them through, Spain's needed to convert one of theirs into a win.

The two last-quarter goals they conceded to the Kiwis will no doubt be causing coach Fred Soyez sleepless nights for a few weeks to come. As a result, Spain are the only team in the world's top eight not to have qualified for the quarter-finals.

That spot has gone to France, the tournament's lowest-ranked team, in what might be seen as some sort of moral reward for their toppling of the Olympic champions and providing the tournament with it's one and only big shock.

They of course have the chance to do it again when they take on Australia, the world No 1 and defending champions. Australia will of course take no chances and not just for the respect that France's five wonderful goals against Argentina deserve.

Only last year at the World League Semi-Finals, France led Australia 2-0 after eight minutes, and only two goals in the last ten minutes gave the Aussies a narrow win. Australia were only just at the start of their post-Rio rebuild but nonetheless, their memory will not have faded.

In the first quarter-final, Argentina will take on England. There is a sense that Argentina are not quite at their level of the past two years but anyone that underestimates a team of their quality does so at their peril.

That said, England's two tough knockout wins over Ireland and New Zealand has given them confidence but they will be under no illusion as to the difference between beating the world's number two team compared to numbers 10 and nine.

On Thursday, the European heavyweights take the stage. Germany, who have slipped in the past couple of years from their usual top three spot to world number six, take on the relatively new kids on the block, Belgium.




Anyone doubting Germany's quality and intent at this tournament would have been firmly put in their place as they dismantled the Netherlands as only the Germans can, setting them up to win their group.

On the other hand, Belgium have recovered from a slow start against Canada and two significant injuries to see off Pakistan comfortably which will restore confidence and momentum. This promises to be a cracker.

And if it isn't then the remaining match, India against the Netherlands might well be. India have performed well in front of their home crowd and many of the experts are tipping them to go beyond this round and the next.

That said, the Dutch would probably be their second least favourite opponent to be facing at this stage, only just behind the Germans.

The Dutch proved at last year's Euros that they can put an unexpected loss behind them quickly and move on and forward.

Their fast-flowing, cohesive play will test India both in terms of their ability to score but also in depriving India of the turnovers they need to feed their counter-attacking style.

The Dutch are good enough to sedate the Indians attacking play and also the crowd. The question will be whether India can rise above that and create the game that they want instead.

Australia, Argentina, Belgium and The Netherlands are my pick but I wouldn't be at all surprised to see Germany and India get through instead.

The Hockey Paper


---

France are an emerging hockey power

By Jugjet Singh

France have been a revelation in this World Cup, and after beating the Olympic champions, they have set their eyes on the World champions as their next victims.

Ranked a low 20 in the world, the French were predicted to be among the four teams that will make an early exit, but instead, they beat Olympic champions Argentina 5-3, drew 1-1 with Spain and were edged 2-1 by New Zealand in the group stage.

And in the crossover they beat China 1-0 to qualify for the quarter-finals where World No 1 and World Cup champions Australia await them.

"We came to the tournament as the lowest ranked team but we beat Olympic champions Argentina to reach the quarter-finals. And now we will play to beat World champions Australia," said France coach Jeroen Delmee.

This French team started making waves at the 2013 Junior World Cup in New Delhi where they marched into the final and lost 5-2 to Germany.

On their way to the silver, they beat Malaysia 3-1 in a shoot-out after the semi-finals match ended 1-1.

Malaysia were on fire under coach K. Dharmaraj back then, but overconfidence after taking a fourth minute lead against France, killed their chances of playing in the final.

And France have nine player from the 2013 squad playing at the Kalinga Stadium right now. This what progress is all about.

Their match against China could have gone either way, but the French were more determined.

"Offensively we did very well, but just failed to score [goals] two and three, and we were a bit unlucky also with the ball hitting the post, but the most important thing for us is the win. To be ranked number 20 and to reach the top eight is an amazing achievement for my team.

"Now we will prepare as best we can and hopefully we can perform another very good match (against Australia) with our team," said Delmee, a former Netherlands international.

Whatever happens in the match against Australia, the French are assured of a top-eight finish while the team who they beat in a shootout five years ago in New Delhi ended 15th out of 16 teams.

New Straits Times


---

Youngster Clement steers France into last eight

By Aftar Singh

BHUBANESWAR (India): There is one name hockey fans must remember – Timothee Clement.

He is only 18 but he has made France proud by helping his side reach the hockey World Cup quarter-finals in Bhubaneswar, India.

World No. 20 France, the lowest ranked team in the World Cup, edged world No. 17 China 1-0 in the second round match at the Kalinga Stadium on Monday night.

And it was the forward Cle­ment, who scored the all important goal in the 36th minute of the match.

France, who are featuring in the World Cup after a 28-year hiatus, face reigning world champions and Group B winners Australia in today's quarter-finals.

Clement was thrilled to be the hero of his team in only his ninth international cap for his country.

"I do not have international exposure but that did not stop me from scoring the winning goal to help France reach the quarters," said Clement, who is waiting to enrol himself in a college soon.

"We've a one-day break before we face Australia. They are the world's best but we're enjoying a good run here.

"We stunned world No. 2 and Olympic Games champions Argentina 5-3 in the group match last week. Anything is possible," he added.

He scored a goal to help France draw 1-1 with Spain in a group match.

France coach Jeroen Delmee was happy with the team's fairy tale run.

"I thank Clement for scoring the solitary goal. To be ranked number 20 in the world and to reach the top eight is an amazing achievement for the team," said Delmee.

Meanwhile, world No. 7 Eng­land reached the quarter-finals after defeating New Zealand 2-0 in the second round match on Monday.

Will Calnan gave England the lead in the 25th minute before Luke Taylor sealed the deal in the 44th minute.

England will take on Argentina in the quarter-finals today.

The Star of Malaysia


---

India - Netherlands at men's World Cup

s2h Team

India and The Netherlands are bracing up for the much awaited Quarterfinal of the 14th World Cup being staged amidst much fanfare at Kalinga Hockey Stadium, Odisha, India.

The past history between the two nations -- whose world ranking do not separate them much apart - is not that for India. India did not any show any win over their quarterfinal rival. Except one draw, which is final of the 1973 World Cup which was decided through penalty strokes) India has lost all other five times they met. The margin of defeat increasing all the time.

India did not meet The Netherlands in the last two World Cup held in Delhi and The Hague.

1973 India drew 2-2
1981 India lost 3-4
1990 India lost 3-5
1994 India lost 2-4
1998 India lost 0-5
2006 India lost 1-6

Its five loses of out of six with one draw for India.

Stick2Hockey.com


---

Attacking hockey is India's strength and we'll not deviate, says skipper Manpreet Singh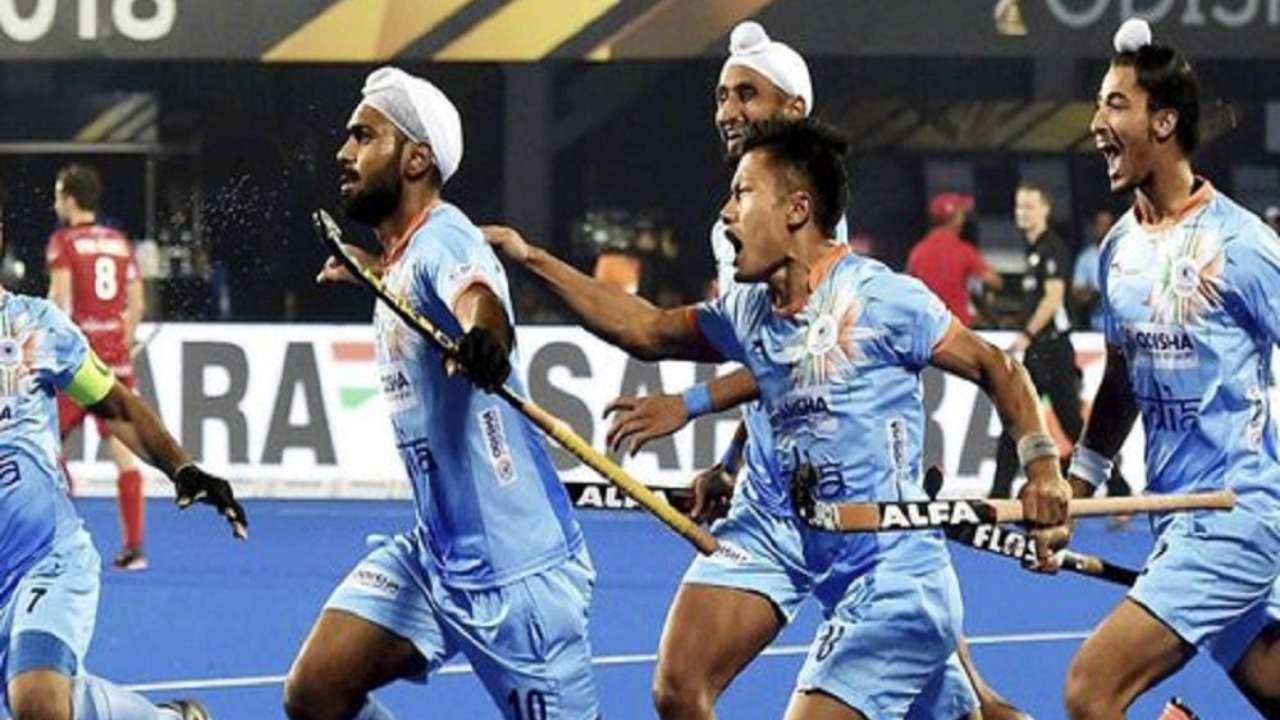 Men's Hockey World Cup 2018 , Twitter

Expecting the Netherlands to be their quarterfinal opponents in the World Cup, India captain Manpreet Singh Tuesday said they will continue to play attacking hockey in a game where there will be no margin for error.

India's quarterfinal opponents will be decided later in the evening after the conclusion of the fourth cross-over match between world no. 4 Netherlands and Canada.

Like everyone else, Manpreet too expects the Dutch to sail into the last-eight round.

"We are expecting Holland to come through because they are a much better team. But whoever goes through our aim would be to give our best. It is a knockout, do-or-die match and there is no second chance. We can't afford to miss chances. At the same time, we need to be cautious and give less chances," the midfielder said.

"We need to play attacking hockey, our strength. When we try to play defensive, we tend to be too much defensive which provides more chances to opponents. We need to put pressure on them (from the start)," Manpreet explained.

The skipper said utilising chances would be crucial to success in the quarter-final.

"But it will be a very tough match and whichever team utilises its chances will win," he said.

"If you progress to the semi-finals you always have an option of finishing in the podium. You are just one match away from a medal. But if you lose in the quarterfinals, you don't get a second option.

"In the end it all boils down to how we play. If we get good chances and miss them and obviously the opposition team will take advantage of it," he added.Manpreet listed out a series of dos and don'ts if they are pitted against three-time champions the Netherlands.

"In the past we had good matches against Holland. In the Champions Trophy, we drew with Holland. We have also defeated them in the past.

"Our aim would be to strengthen our defence. Holland has a very good and experienced midfield. They also have good strikers. So, our aim would be to break their moves early. We can't give them easy chances and also need to convert our chances," he said.

Manpreet said the Hockey India League played a big part in the progress of the Indian team.

"Before HIL we didn't knew these players of Holland, Australia etc. But since HIL started we all know each other having played against them and shared the dressing room with them. The team has improved a lot after HIL," he said.

Manpreet didn't play the entire match against Canada in their last pool match because of fever but he has since recovered and will be a key figure in India's midfield on Thursday.

"I am fine now. In the last match, I had a fever so I couldn't play the full match. But I am feeling better now," he said.

Daily News & Analysis


---

Speedy India is Turner's pick to win the hockey World Cup

By Aftar Singh




BHUBANESWAR (India): Two-time World Cup champion Glenn Turner of Australia predicts India to be genuine title contenders in the World Cup.

The 34-year-old Turner has been impressed with India's progress in the ongoing World Cup and believed the hosts were not afraid of playing any team in the world.

"India have great players. They are fast, fit and very skilful. They have improved, thanks to all the exposure in the Hockey India League," said Turner, who is in India for the World Cup.

Turner was a member of the Australian team who won the 2010 World Cup in New Delhi and 2014 World Cup in The Hague, Holland.

He added that the Indian team were much more structured and make better decisions on the pitch.

"They also have the ability to play well under pressure and are fast on counter attacks," he said.

Turner was also impressed with the performance of defender Har­manpreet Singh as he felt that he has not only marshalled the defence solidly but also delivered goals in all the three group matches.

"To me, he has all the traits to be hailed the world's best player," he added.

World No. 5 India have qualified for the quarter-finals as group champions and face the winners of the second-round match between Holland and Canada.

They topped their group with impressive wins over South Africa (5-0), Canada (5-1) and drew 2-2 against world No. 3 Belgium.

India have won the Olympic Games gold medal eight times but won the World Cup only once in Kuala Lumpur in 1975.

Former India national coach V. Baskaran put his money on India to reach the final.

"They have tremendous home crowd support but they need to be cautious and keep their focus throughout the match.

"India players learned a bitter lesson against Malaysia in the semi-finals of the Asian Games (in August). They allowed Malaysia to equalise in the last two minutes of the match," said Baskaran.

"The match ended in a 2-2 draw and India lost 7-6 in the penalty shootout," said Baskaran, who was the captain of the India team who won the 1980 Moscow Olympics gold.

The Star of Malaysia


---

Dalit landless labourer's son Sumit makes waves in hockey

Poverty was a companion for Sumit, now a key India midfielder at the World Cup. Going to bed hungry or after having just plain bread — family couldn't even afford milk — travelling ticketless on trains to save money for fruits or a meal at inter-district hockey competitions were the norm.

Saurabh Duggal



India's Sumit (C) tries to dribble past Belgium's Tom Boon during the field hockey group stage match between India and Belgium at the 2018 Hockey World in Bhubaneswar. (AFP)

From the time he can remember, he has had one mission in life --- lift his family out of poverty. As a 10-year-old, Sumit would be up before dawn to clean the floor of a restaurant in exchange for food, to ensure his family of five had breakfast. After work, he would rush home to drop the food packet before reaching the ground at 5.30am.

Poverty was a companion for the boy, now a key India midfielder at the World Cup. Going to bed hungry or after having just plain bread — family couldn't even afford milk — travelling ticketless on trains to save money for fruits or a meal at inter-district hockey competitions were the norm.

Son of a dalit landless labourer, Sumit is now the hero of the predominantly Jat village of Kurad in Sonipat district, Haryana. Sonipat, the Mecca of Indian wrestling, can now boast of a World Cup hockey player as well.

Sumit too initially tried his hand in wrestling before switching to hockey, and the 23-year-old is among the players carrying the nation's dream of ending the 43-year wait for a World Cup win.



Sumit's house at Kurad village in Sonepat. His mother with elder brother Jai Singh. (HT photo)

On Saturday, in the 5-1 win over Canada, Sumit was the architect of two goals.

"Poverty is the biggest curse. My childhood and even my youth, till four years ago, was spent in poverty. My parents have worked as labourers. All these hardships have made me mentally strong. There is no room for fear and pressure in my life. Whenever I take the field, my only promise is I have to give 100 percent in each game, and thankfully I am keeping my promise," says Sumit, who was also part of the 2016 Junior World Cup-winning team.

Sumit, who made his senior debut last year, was left out for the Commonwealth Games but made a comeback in the Asian Champions Trophy.

"After being dropped, Harendra sir told me I must work on my attacking game and that helped me in get back," says Sumit, who earned his 50th India cap in the first match of the World Cup.

Switching from wrestling wasn't a hard decision as his poor family couldn't afford the rich diet needed to pursue the sport. At the same time, a hockey academy came up in the village and he found it easier to try his hand at it.

"My elder brother Amit was playing hockey, so I joined hockey. I figured out that if I have to grow in hockey, at least a decent diet is a must. For this I am thankful to my Kurad village. In my formative years, on rotation the villagers used to take care of my milk intake."

Sumit recalls an episode from those days. "It was about 10 years ago. I used to train at Sports Authority of India centre, Bhalgarh, about 10km from my village. I didn't have a cycle, so I used to take a lift to commute. One evening, after training I felt very tired, so I thought of taking a nap. By the time I woke up it was very late, so I decided to stay at the ground for the night. The groundsman saw me sleeping and took me to his room and gave me dinner. Now, whenever I visit SAI centre, I make it a point to meet him and present some gift. My mother always makes me remember that I shouldn't forget my tough times and must always be thankful to those who helped me in my hour of need."

Sumit's success has encouraged 10-15 Dalit children in his village to go to the ground for training. The player is grateful for the Hockey India League for boosting his finances. "At times my father still works as a labourer. When I stop him, he says it's his work. I am planning to build a house for the family by next year, we still live in a kutcha house (without plaster)," says Sumit, who is now working with ONGC.

Hindustan Times


---

Vantage Black Sticks Men World Cup Review




The Vantage Black Sticks 2018 World Cup Campaign came to a halt on Tuesday Morning as the team was knocked out of the Odisha Men's Hockey World Cup by a determined English team. 

The Vantage Black Sticks entered the World Cup looking to improve on their previous best finish of 7th place. The side featured 8 players who were returning from the team that competed at The Hague in 2014. 

Game 1 vs France

The Vantage Black Sticks were looking to get their campaign off to a strong start and came up against an improving French team that had held them to a draw the last time the sides met. The game was a close one which saw both sides construct several opportunities. The Vantage Black Sticks got their first goal of the tournament when Kane Russell drove the ball along the baseline and put in a reverse stick shot to put the Vantage Black Sticks up 1-0. The Vantage Black Sticks then extended their lead with a Stephen Jenness ripper of a shot before France scored one back to set up a tense final quarter. The Vantage Black Sticks held their nerve and secured the much needed 3 points to start their campaign off well. 




Game 2 vs Argentina 

As was the case in their previous game against France both teams were locked at 0-0 after 1 quarter of the game. Argentina found the Vantage Black Sticks defence napping to put themselves up 1-0 at the half time break. Argentina then extended their lead with goals in the 3rd and 4th quarters to put themselves up 3-0. The Vantage Black Sticks kept pushing to get themselves opportunities but were unable to break through the Argentina defence. 




Game 3 vs Spain 

Game 3 was a must win game for the Vantage Black Sticks they found themselves behind by 2 goals as they entered the second half. With 10 minutes to go in the game Hayden Phillips rocketed a shot past the goalie that gave the Vantage Black Sticks a chance at getting a point from the game. Kane Russell tied it up with 4 minutes to go in the game as he flicked home a powerful drag flick that tied the game at 2 and sent the Vantage Black Sticks through to the cross over match of the Odisha Men's Hockey World Cup. 




The new format meant that the top side from each of the pools went straight through to the quarter finals while the 2nd and 3rd ranked teams would play off in a cross over match to earn their spot in the quarterfinals. The Vantage Black Sticks were scheduled to take on England in their cross over match. 

Game 4 vs England

This was a win or go home match and this showed in how the teams were playing to start the match. England struck first when they showed some creativity along the base line before deflecting a ball home. They then extended their lead in the 3rd quarter which put the Vantage Black Sticks under a lot of pressure and forced them to chase the game and their survival in the tournament. They were unable to break through the stoic English defence and as a result their tournament ended at the cross over stage of the World Cup. 

The Vantage Black Sticks left the Odisha Men's Hockey World Cup in the 2nd round. The tournament showed some great play from the Vantage Black Sticks and they created several opportunities on the offensive end of the field. They will be looking for an improved performance at both ends of the field as they now look towards the inaugural pro league where they will come up against 8 of the top sides in the world.

Hockey New Zealand Media release


---

The ball tracking technology

Video umpire coach feels it will help resolve doubts over corners, penalty shots

Y.B. Sarangi



Carol Metchette. Courtesy: FIH 

The International Hockey Federation (FIH) is exploring possibilities of adopting the ball tracking technology, which is used in international cricket and the Indian Premier League (IPL), to make its video referral system foolproof.

Video referral, which came into hockey around 2006, made its debut in the Olympics in 2008 and in the World Cup two years later. It has developed over the years to become more acceptable.

"When it started there were only three questions which could be asked: Was the ball touched inside the circle? Did the ball come outside the circle? Did the ball come outside the line? Other things were spotted on the footage, but video umpire was not allowed to say what happened.

"It was too limiting and the correct result was not always out... it's much better now," Carol Metchette, the FIH video umpire coach at the Hockey World Cup here, told The Hindu.

Carol said the FIH had been working with production companies on ball tracking.

"I know they are looking into ball tracking as in cricket. As technology improves there is going to be better things coming in.

"I am not sure (when FIH will introduce), but I know they were looking at it. In one of the tournaments and in the (women's) World Cup in London they were talking about hawk-eye. There was a man looking into the speed of the ball and the line. So, hopefully, soon."

According to Carol, ball tracking will help resolve doubts over penalty corners and penalty shots.

"It can be used if the ball from a penalty corner is high for danger, the first shot. It can be used to know whether the ball was going towards the goal that might be given a penalty stroke."

Carol said the trend of 'no advice possible' from the video umpire was rare these days because of the installation of enough cameras.

About her own job, Carol said, "Some of the things I have discussed with them are staying calm, how to say what you see on the pitch...We go through all the referrals and discuss them...

I look at all those positions where the incidents happened and if there is a pattern forming...

For video umpires I work out the statistics so that they can go away from the tournament with their statistics and (work on) how they can improve for the next tournament," she said.

The Hindu


---

Is the dice loaded against 'star' coaches when they join Asian teams?

The Hockey Insider



India's coach Roelant Wouterthe Oltmans (R) looks on during the men's quarterfinal field hockey Belgium vs India match of the Rio 2016 Olympics Games at the Olympic Hockey Centre in Rio de Janeiro on August 14, 2016. (Photo by MANAN VATSYAYANA / AFP)

They come with almost impeccable credentials. Some have already proved themselves as world beaters both as players and coaches, others have guided their teams to the biggest prizes in hockey. Despite the abundance of talent in Asia from which they feel privileged to pick their squads, these star coaches often find the going tough once in the hot seat. That is the growing impression, so much so that some Asian teams now think twice before hiring these "star" coaches.

Is the dice loaded against star coaches when they join Asian teams?

And why? After all, they are head-hunted for the assignments and they arrive with a lot of fan-fair. Their word is almost the law when team selections are concerned – a privilege not available to their predecessors among local coaches. They have a number of assistant coaches from the locals as translators, so language barriers are not such a big issue – as some teams are recently making it to be. The facilities demanded for the squad by the coaches are provided as soon as possible – which again is not something the local coaches could have always secured in the same time.

So what goes wrong? There is a plethora of questions hockey followers keep asking as the debate gets surcharged.

Let's ask someone who has wide experience of across the continent and teams under his charge have often tasted success. But even he has had to shuttle from one nation to another in search of contracts. Who other than Dutchman Roelant Oltmans! He's been a popular coach in Asia and has coached the national squads of three leading hockey nations – India, Pakistan and Malaysia.

Having lived in Asia for six consecutive years, Oltmans ought to be quite familiar with the travails faced by foreign coaches and also possess an insight into the way the system works in these nations. After all, Oltmans has been the coach of Pakistan's squad twice. He had a five-year stint in India, first as the High Performance Director and then as the national coach; until he got sacked last year. And now he is in charge of the Malaysia national squad. Nice moves all, except the inherent bickering over decisions to leave the national squads that he had coached.

After being fired from his position as India's national coach, Oltmans moved to Pakistan and has now landed in Malaysia, which is a new outpost for him, but a choice where the officialdom is "quite patient".

Acknowledging that there is a vast difference in the manner a coach deals with the federations in these nations, Oltmans expectedly does not want to elaborate. "Yes, dealing with the officials in these countries is vastly different, but I do not wish to comment further," says Oltmans, who is heading back from Bhubaneswar to Kuala Lumpur after his Malaysian team failed to even qualify for the cross-overs. Asian Games silver medallists Malaysia, in fact, were the only Asian team failing to make the cross-overs from their respective groups while India, Pakistan and China performed marginally better.

For someone who has been pretty successful in Asia, Oltmans says: "It's got to be looked from both sides. People are also expecting wonders from foreign coaches. We're not wizards."

Pointing at the impatience being one of the factors, Oltmans says, "It takes time. That's something that the management has to understand, the people who are funding the program have to understand. If they do, then you can deliver."

The coaches, says Oltmans, must never give hints that they could do wonder in a week's time, or get impatient when things do not start changing immediately. "For us coaches, we have to understand that as well. Rome wasn't built in a day, it took quite a few years. We are building a system in a country and that takes time," he says.

The "star imports" begin their work with all praise being heaped on them, but soon they are the target of fierce criticism and almost the butt of all jokes concerning their sport – which may not necessarily be hockey. There seems something amiss when it comes to acceptance of foreign coaches in the Asian sporting culture. But things can change drastically for these hockey coaches in Asia when they come under fire.

"If you get the time, and you are willing to spend your time, then you can make a change. But you also have to understand what you can change and what you can't change," says Oltmans.

Siegfried Aikman, a Dutchman of Indian origin who guided Japan to the Asian Games gold medal, feels success and failure of coaches in a foreign environment depends upon the inter-personal skills of people involved.

"The coaches often bring their coaching expertise to the foreign environment, but do not have enough local knowledge of how things get done there," says Aikman.

Citing his own experience in Japan, Aikman says he was more successful during his second stint in the country.

Oltmans emphasises that cultural issues must be understood by the coaches before expecting drastic changes. His own understanding of the Asian system perhaps was the key to his relative success compared to other coaches who did not last long in the new environment.

"You can't change the culture or how the system works," says Oltmans about the things coaches cannot change. "Once you accept it, then you can work better."

Barring a few exceptions, these coaches are seen packing their bags much ahead of the perceived deadlines – whether they quit or get sacked.

The sacking of coaches is such a touchy subject in the hockey world nowadays that some teams attract very few applicants when vacancies arise. And when this vacancy opens up, the top available talent is reluctant to head to Asia. It is not just about the senior national squads, but even junior teams and clubs can be confronted with the same difficulty if the assignment is long-term.

"Occasionally, foreign coaches end up offending people around them. That's where things begin to go wrong for them," says Aikman. "Also, the press often gets impatient and critical if progress is not evident soon."

"People management skills is what determines the quantum of success," adds Aikman.

Firstpost


---

Hockey World Cup Memories: Dutch legend Stephan Veen remembers lifting the Cup in his maiden attempt

Stephan Veen



Stephan Veen is a two-time Olympic gold medallist and a two-time World Cup winner. AFP/ File

Former Netherlands captain Stephan Veen is a two-time Olympic gold medallist (1996, 2000) and a two-time World Cup winner (1990, 1998). In this interaction with Shantanu Srivastava, he recounts his first World Cup win — Lahore, 1990.

I was 19 when I played my first World Cup in Lahore in 1990. That was my first tournament ever, my international debut. There was no interchange, so I thought I wouldn't get a minute of game time, but I played five games. Unfortunately, I missed the final, but I played the semis and four other games. I missed only two games.

My first World Cup experience was fantastic. When you win a World Cup at that age, it gives you a lot of confidence. You know you have shown your worth to the world, and that gives you confidence. You know the world is watching, and you kind of enjoy the attention.

My experience in Pakistan was superb. I like the food in India and Pakistan, and I really had a good time there. The hospitality in Lahore was outstanding, and people were really passionate about hockey.

We played in front of 50,000-60,000 people, who used to cram the stadium and climb on the roofs...it was crazy. When our bus used to hit the streets, people used to follow us on their scooters. It was real fun, something that I had experienced for the first time.

The admiration and the energy people from India and Pakistan have for the game is so different than in The Netherlands, and it was always fun playing here.

Our final was against the hosts, and it was incredible. I can still remember the scenes when Floris van Bovelander took those penalties. Shahbaz Ahmed scored the first goal for Pakistan, and the stadium exploded. I couldn't hear the man next to me, it was that loud.

Then we got the corner. Bovelander scored, and it was completely quiet in the stadium. Complete quiet. Manzoor was the defender on the line, and he simply stepped out of the way after taking a step ahead. That hit was so hard and so quick. It went out of the stick, and boom.

Bovelander proved himself as a player who can decide games, and he was truly phenomenal. We celebrated together, and it was great fun. I remember when we returned, it was quite cold back home, and a lot of people had come to the airport to welcome us. I think we had a great team in the 1990s, because we had a lot of skillful players like myself, Teun de Nooijer, who used to play on the left and I played on the right. We also had a very good defence, and the balance between attack and defence was very good. Also, we had players like Jacques Brinkman, Ronald Jansen, Floris Jan Bovelander, among others, who just had the mental ability to change games. They had the perseverance to go on after a loss or setback. They were able to change the fortunes during the game or during the tournament.

My first World Cup took a long time coming; we won our last World Cup when I was three years old, so yes, it was great to be part of World Cup winning team in my first dig.

Firstpost


---

2018 Test Matches: ESP v CAN (W) - 1st test
Sevilla (ESP)

ESP v CAN     2 - 2

FIH Match Centre


---

USMNT Travels to Chile for Unofficial Sanctioned Series




SANTIAGO, Chile –  On Sunday, members of the U.S. Men's National Team touched down in Santiago, Chile for one final training week and competition of 2018. The week-long tour contains multiple practices and fitness testing, as well as five unofficial sanctioned games against Chile's Men's National Team and the Mendoza Provincial Team.

Making the trip to Chile, were some first-time names to the USMNT. Seven are currently rostered on the U.S. U-20 Men's National Training Squad while two are on the U-19 USMNT training squad. Another two athletes, Darian Isla Rodriguez (Miami, Fla.) and Daan Wisselink (Amsterdam, The Netherlands), have been added to the roster to gain some valuable international experience.

"This tour in Chile is a great opportunity to see some different people in action," noted Rutger Wiese, USMNT Head Coach. "It will be a great learning moment for this very young squad."

U.S. Men's National Team Chile Tour Roster
Kevin Barber (Camarillo, Calif.), Michael Barminski (Ventura, Calif.), Sean Cicchi (Thousand Oaks, Calif.), Julian Croonenberghs (Tervuren, Belgium), Gerald Cutone (Reading, Mass.), Christian DeAngelis (Doylestown, Pa.), Ajai Dhadwal (Agoura Hills, Calif.), Liam Hawley (Ventura, Calif.), Will Holt (Camarillo, Calif.), Wander Hommes (Westlake Village, Calif.), Darian Isla Rodriguez (Miami, Fla.), JaJa Kentwell (Spring City, Pa.), David Kristof (Darien, Conn.), Alberto Montilla (Allen, Texas), Johnny Orozco (Ventura, Calif.), Jatin Sharma (South San Francisco, Calif.), Paul Singh (Simi Valley, Calif.), Eric Velge (Brussels, Belgium), Daan Wisselink (Amsterdam, The Netherlands)

Chile Tour Games:
Wednesday, December 12    USA vs. Chile            6:00 p.m. ET
Thursday, December 13        USA vs. Mendoza        6:00 p.m. ET
Saturday, December 15        USA vs. Chile            4:30 p.m. ET
Monday, December 17        USA vs. Mendoza        3:00 p.m. ET
Tuesday, December 18        USA vs. Chile            9:00 a.m. ET

Being unofficial sanctioned matches, no games will be live streamed.

USFHA media release


---

World Cup Spots Up For Grabs At Inaugural Indoor Masters Challenge

Ben Somerford

The inaugural Australian Indoor Masters Challenge will get underway later this week at Goulburn's Veolia Arena from Friday 14 December to Sunday 16 December.

The tournament will be fought out between 24 teams across five different divisions and will be a selection opportunity for the 2019 Masters Indoor Hockey World Cup.

It is the first-ever Indoor Masters Challenge with a view to the first-ever Masters Indoor Hockey World Cup under the World Masters Hockey umbrella, to be played in Hong Kong from 14-17 February.

Hockey Australia CEO Matt Favier: "We're thrilled to have Goulburn host the 2019 Australian Indoor Hockey Festival once again, having done an outstanding job in 2018.

"We also thank Destination NSW for their support as we move into the fourth year of our five-year agreement to play the Festival in the state.

"The Masters Indoor Challenge will be eagerly contested as it will act as trial for the Masters Indoor World Cup to be played in Hong Kong early next year."

The five divisions for the Indoor Masters Challenge are the Men's Masters 40+, Men's Masters 50+ Combined, Women's Masters 40+, Women's Masters 50+ and Women's Masters 60+.

There will be six teams and 18 matches in the Men's Masters 40+ and 50+ division, where games will be combined but with two divisional winners, with participating teams being Melbourne United 40+, Nepean 40+, New England 40+, Canberra 50+, Canberra Senators 50+ and Carbine 50+.

There will be eight teams and 20 matches in the Women's Masters 40+ division played between Not Really 40, Gang Gang 2, St Pat's, Gang Gang 1, Sydney East, Parkes, Sydney Strikers and Strikers.

There will be five teams and 13 matches in the Women's Masters 50+ division played between Sydney Strikers, Western, Gang Gang 1, Gang Gang 2 and Jaffa's.

There will be five teams and 13 matches in the Women's Masters 60+ division played between Goulburn Hockey Association, the Chillies, Sydney Strikers, the Pips and NWSHA.

The Indoor Masters Challenge represents the first part of the Australian Indoor Hockey Festival in Goulburn which includes five further divisions to be played throughout January.

The Festival will run from Friday 4 January to Saturday 26 January 2019, across Under-13, Under-15, Under-18, Under-21 and Open divisions.

Hockey Australia have partnered with Destination NSW and the Goulburn Mulwaree Council to make the Festival possible and we thank them for their support.

Hockey Australia media release


---

SAIL Team wins 115th All India Aga Khan Gold Cup



Image Source: Amar Ujala

In its maiden attempt, the SAIL Hockey Academy run by SAIL's Rourkela Steel Plant has won one of the oldest and most prestigious Hockey Tournaments of the country, the 115th All India Aga Khan Gold Cup Hockey Tournament-2018 held at Major Dhyan Chand Hockey Stadium, Pune from 1st to 9th December 2018.

The SHA team trounced Pune Hockey XI 4-1 to reach the quarter finals of the tournament. The SHA team went on to beat the Chandigarh XI 3-2 in the quarter final match to make it to the semis. Playing top class hockey, the SHA beat Madhya Pradesh Hockey Academy 4-2 in the semi-final and in their one of the best games, beat Army XI Danapur 2-1 to emerge triumphant and clinch the Championship. Jay Prakash Patel, the promising forward of SHA played brilliant hockey to score an outstanding goal, considered as one of the best goals of the tournament, was adjudged the Man of the Match in the finals.

The year 2018 has been a remarkable year for SAIL Hockey Academy where the SHA team notched up a string of successes in many prestigious tournaments of the country. Several cadets of the academy made it into the Indian National Hockey Team. Birendra Lakra, an alumnus of SHA is now representing India in the on-going Hockey World Cup being played at Bhubaneswar, Odisha. Besides, Silanand Lakra and Pankaj Rajak, cadets of the academy, have also represented the national team in the Sultan Azlan Shah Hockey Tournament and Sultan Johar Cup Hockey Tournament held at Malaysia. This year, SHA also won the Shri Nawagarh Trophy All India invitation Hockey Tournament and 8th Vinod Khandekar Under 21 All India Gold Cup Hockey Tournament.

SAIL Hockey Academy has been nurturing and honing the skills of numerous young hockey talents of the region. With excellent infrastructure facilities and the able tutelage of renowned coaches, SHA has been able to produce many national and international players of repute who have brought laurels to the region and the country.

Steel Guru


---

Lakers Club promoted to KHU Premier League

By VICTOR OTIENO



Lakers hockey club players pose with Kisumu County governor Anyang' Nyong'o at his office on December 11, 2018. Lakers have been promoted to KHU Premier League for the 2019 season. PHOTO | VICTOR OTIENO | NATION MEDIA GROUP

Kisumu County government on Tuesday hosted Lakers hockey club following their promotion to the Kenya Hockey Union (KHU) Premier League.

Lakers clinched a ticket to next year's KHU's league after finishing second with in women's Super League behind Kenyatta University. They finished the season with 22 points, three behind division's winners, KU.

Kisumu governor Anyang' Nyong'o directed the county's executive committee member in charge of sports Archie Alai to refurbish the Jomo Kenyatta Sports grounds' hockey pitch, Lakers' home ground.

Lakers have been hosting their home matches at either Simba Club or Kisumu Day as the Jomo Kenyatta turf is in poor state.

Alai also promised the team county government's support challenging them to make history by winning the national league in their debut season. "We will chip in as a county where we can. I challenge you to bring the trophy back home at the end of the season," she said.

Lakers was formed in 2017 and made their debut in the second division this year. The team comprises of 20 players and five officials.

Team manager John Paul Otieno says that they are targeting the indomitable Telkom's scalp next season. "We were under dogs in the Super League but we finished second. Our target in the premier league is to deal with Telkom which has dominated the competition," he said.

Lakers becomes the second women's hockey team in the lakeside city after the defunct Chelsea that was disbanded in 2000.

Daily Nation


---

2019 Coach Developer Pilot




2019 will see the start of the first Hockey New Zealand Coach Developer Pilot. Aligned with the Sport New Zealand Coach Developer model, Coach Developer focuses on building a network of developers to enhance the quality of support and opportunities for coaches.

To prepare for the start of the pilot, HNZ led a design workshop at the start of this month, engaging with Auckland, Counties Manukau, and North Harbour Associations as well as leaders in the coach and official development space nationwide. Facilitated by Master Coach Developer Pat Barwick, the workshop included valuable input from New Zealand Football Coach Development Manager Steven Dillon, Sport New Zealand Partnership Manager Richard Skelly, and each of the attendees.

Funding for the one year pilot has been secured through Auckland Tourism, Events and Economic Development (ATEED).

Feedback from the pilot will provide critical insights to inform and support the development of the Hockey New Zealand Coach Developer Model and Coaching Framework for the future.

*Featured in the above image is Kelly Hudson (Tauranga Hockey Officiating Development Officer and International Umpire), Tina Bell-Kake (Counties Manukau General Manager), Richard Skelly (Sport New Zealand Partnership Manager) and Simon Brill (HNZ Performance Coaching Manager), in a group breakout session at the Coach Developer workshop

Hockey New Zealand Media release