All the news for Tuesday 11 December 2018

Odisha Hockey Men's World Cup Bhubaneswar 2018 - Day 13
Bhubaneswar (IND)

Cross-over Results 10 December

ENG v NZL (Cross-over)     2 - 0
FRA v CHN (Cross-over)     1 - 0

Fixtures 11 December
   
16:45     BEL v PAK (Cross-over)
19:00     NED v CAN (Cross-over)

Quarter Finals

12 Dec 2018 16:45     ARG v ENG (QF)
12 Dec 2018 19:00     AUS v FRA (QF

13 Dec 2018 16:45     IND v NED or CAN (QF)
13 Dec 2018 19:00     GER v BEL or PAK (QF)

Out of the Competition

Pool stage
Spain
Ireland
South Africa
Malaysia

Cross-overs
New Zealand
China

FIH Match Centre


---

England beat New Zealand to make quarter finals



England v New Zealand HWC2018

Goals from Will Calnan and Luke Taylor secured England a mouth-watering 2018 Men's Hockey World Cup quarter-final tie with Argentina.

It was a second straight win for Danny Kerry's side at the tournament, following on from their 4-2 victory over Ireland in the previous game.

The Black Sticks had chances throughout the game but couldn't find a way past George Pinner, while at the other end Richard Joyce was also kept very busy.

There was nothing he could do to prevent Calnan or Taylor though as England secured their place in the final eight against the reigning Olympic champions, a game Player of the Match Liam Sanford firmly believes they can win.

"We learnt from our previous games and knew we had to control it, knew when we were on the ball we had to keep it and the team did that really well today," he said.

"Tonight we'll just enjoy the victory and then go away and learn from the game – there's lots we can still improve on.

"We've shown in the last game and this that we can overcome those tough fixtures so it's all to play for."

Other than a Mark Gleghorne corner that was easily saved, the first half was quiet until Phil Roper brought it to life in the 25th minute, superbly controlling Sanford's aerial before going on a mazy run and lifting the ball over Joyce for Calnan to nudge home.

Liam Ansell almost added a second moments later but his shot just went the wrong side of the post, while at the other end Pinner was on hand to block Nick Ross' fierce strike.

Both 'keepers were required to be at their best in the third quarter, Joyce producing a brilliant double save to thwart James Gall and Sanford after an electric break while Pinner instinctively stuck a pad out to prevent Stephen Jenness equalising.

There was no stopping Taylor's 44th minute strike though as he rifled the ball into the roof of the goal after Adam Dixon's corner hit the post.

New Zealand pressed hard in the final quarter, Jenness forcing Pinner into another save in the 49th minute before they employed a kicking back for the final ten minutes.

There was to be no way through however, while at the other end Gleghorne saw another corner brilliantly charged down by Cory Bennett as England looked to find a third.

Danny Kerry's side will take on Argentina at 11:15am on Wednesday 12 December live on BT Sport.

England 2 (1)
Calnan (FG, 25); Taylor (PC, 44)

New Zealand 0 (0)

Starting XI: Pinner (GK), Ames, Martin, Gleghorne, Dixon, Middleton, Ansell, Condon, Waller, Gall, Sanford

Subs: Gibson (GK), Taylor, Sloan, Hoare, Roper (C), Calnan, Wallace

England Hockey Board Media release


---

England knock the Vantage Black Sticks out of the World Cup




The Vantage Black Sticks have gone down to England 2-0 in their cross-over match. The result sends the Vantage Black Sticks home from the Odisha Men's Hockey World Cup. Despite a number of great scoring opportunities the Vantage Black Sticks were unable to break through the English defence.

The Vantage Black Sticks started the game holding the ball and looking to size up the England defence. This resulted in some early chances which were just snuffed out by the English defence. England however had the first penalty corner opportunity of the game where Richard Joyce made a fantastic glove save. The first quarter saw both sides playing quite conservatively as they looked to see where the gaps were on the field. At the end of the 1st quarter we were tied at 0-0.

The Vantage Black Sticks started the second quarter very strongly looking to assert themselves on the offensive end of the field. The English defence was resolute as they didn't let the Vantage Black Sticks enter their circle. England absorbed the early pressure and then worked there way into the quarter where they held some good possession and were looking patient as they waited for opportunities to open up. With 5 minutes to go in the second quarter Phil Roper found himself on the end of a well placed overhead and drove along the baseline laying a ball back for Will Calnan to deflect the ball home. Despite a few opportunities the Vantage Black Sticks were unable to find an equaliser and went into the half time break down 1-0 and looking for a big second half. 

England started the third quarter strongly putting the Vantage Black Sticks under a significant amount of pressure. The Vantage Black Sticks defence was strong and repelled the early pressure that was applied on them. The Vantage Black Sticks then had the first significant chance of the 3rd quarter when Stephen Jenness spun around the England defence but couldn't keep his shot down as it went over the cross bar. England followed the Vantage Black Sticks attacking opportunities with 2 penalty corners of their own, however they were unable to convert either opportunity as Vantage Black Sticks goalie Richard Joyce pulled off some good saves. The Vantage Black Sticks started to find their feet in the last few minutes of the 3rd quarter when they had some deflections that were kept just out of the goal to maintain Englands lead. Just before the end of the 3rd quarter England had a penalty corner, the first shot came off the post and then Luke Taylor trapped the rebound and swept it powerfully home past Richard Joyce. At the end of the 3rd quarter the score was 2-0. 

The Vantage Black Sticks started the 4th quarter looking for a goal to get themselves back into the contest. Stephen Jenness and Nick Ross both had some great opportunities however Englands Goalkeeper George Pinner managed to stand tall and pull off some great saves. With 10 minutes to go the Vantage Black Sticks pulled their goalkeeper creating an overlap in the hopes of scoring the needed 2 goals to tie the match up. The Vantage Black Sticks conceded a penalty corner with no goalkeeper, Cory Bennett then ran out 1st as the field player with goalkeeping privileges and ran down the drag flick. England then looked to slow the game down and despite some great opportunities for the Vantage Black Sticks they were unable to get on the scoreboard and went down 2-0 to England. 

Coach Darren Smith stated after the game that "We have a few disappointed boys here. We didn't threaten them often enough, until we were chasing the game, then didn't take the opportunities that were presented".

Vantage Black Sticks 0
England 2 (Will Calnan 25', Luke Taylor 44')

Hockey New Zealand Media release


---

Mature England set up Argentina clash

By Rod Gilmour, Bhubaneswar




Sam Ward, tweeting from home, predicted the right result, George Pinner cartwheeled in delight, there were two World Cup debut goals and the customary sub-continental winning team selfie.

After a fraught Pool stage week, England now have two successive victories after overcoming dangerous New Zealand 2-0 and setting up a World Cup quarter-final showdown against Argentina. There's a sense of fun and freedom in this long-lasting World Cup.

No homesickness for England. Pinner proved unbeatable between the posts as a Will Calnan volley tap and Luke Taylor slam home put England on track for their third semi-final in a row.

"I haven't done that since I was about 11 years old and it didn't go too well the last time I did it," said Pinner of his theatrics.

"It was a bit of emotion. It's been an interesting tournament but we've grown into it and built on our wins. That's what great teams of the past do and that's to build."

England may yet become a world-beating team but for now their mix of no-fearing youth and wise old campaigners once again proved the winning formula.

In a brilliant defensive display, coach Danny Kerry's game plan shut down New Zealand's dangerous attackers and left England with more circle penetration. Conversely, the Kiwis' execution, coupled with wayward passing proved their downfall.

"We've done our homework over the last few days," co-captain Phil Roper said. "They are a talented team but we managed to negate their threats."
Aerial goal

Their 25th-minute opener was perfectly crafted. The strong-armed Liam Sanford delivered an aerial pass from half-way to Roper whose four weaving touches and scooped pass left Calnan to volley home from one yard. "I've been trying to get that poacher-esque finish to my game and it's great to get my first," Calnan said afterwards,

Liam Ansell's shot on the turn then went inches wide before Pinner had to twice use his pads to deny New Zealand shots. New Zealand accrued 11 shots to England nine, but Pinner never looked in too much danger.

England's second came via their fourth penalty corner as a rebound off the post fell to Taylor, who rifled home.

"We were given a game plan for 60 minutes and we were absolutely outstanding in the detail," added Pinner. "To keep a clean sheet is bloody hard to come by so it was a bit of personal satisfaction."

Calnan, the Hampstead & Westminster forward, is another young prospect thrust into the World Cup by Kerry.

The 22-year-old admitted the game went by in a 'blur' but he looked far from overawed last night. "I've been trying to get that poacher-esque finish to my game and it's great to get my first," he said.

"I don't feel young and we are such a strong unit that before games it doesn't feel like I'm sticking out. I feel really comfortable."

That's how England's display largely seemed. There were moments at 1-0 to the good where it seemed edgy, but England's defence left the Kiwis searching for a goal from distance. Steve Jenness had one chance, otherwise the danger man was kept quiet.

Their decision to opt for a kicking back with 10 minutes left was a sign of England's domination. But Kerry's side adapted to the extra man.
Argentina undercooked?

England now face an Argentina side who will be playing their first match in six days since a surprise loss to France last week.

"We've played two games and they've had a week off. We don't know how it will pan out," admitted Roper.

What is certain is England's preparation. Their decision to rent a local restaurant for the month, complete with table tennis and pool, seems a masterstroke. It was intended to avoid ill health, but now it has beaten cabin fever.

"We've done as much as we can to make sure this experience is fun and fresh for us," added Roper.

"We're trying to grow into the tournament now and Argentina will pose a threat. But we are confident we can put our game out there.

"They are the world No 2, Olympic champions. We are starting to build something. We are having fun and playing our game."

The Hockey Paper


---

Black Sticks knocked out of World Cup

The Black Sticks been knocked out of the Men's Hockey World Cup after going down to England 2-0.

Despite a number of great scoring opportunities the Black Sticks were unable to break through the English defence. England will now play Olympic champions Argentina in the quarter-finals while New Zealand are left to reflect on a mis-fired campaign that produced one victory in four games.

New Zealand started the game holding the ball and looking to size up the England defence, creating some early chances which they failed to make the most of.

The Black Sticks started the second quarter very strongly looking to assert themselves on the offensive end of the field. The English defence was resolute as they didn't let the Black Sticks enter their circle. England absorbed the early pressure and then worked there way into the quarter where they held some good possession and were looking patient as they waited for opportunities to open up.

With five minutes to go in the second quarter England's Phil Roper found himself on the end of a well placed overhead and drove along the baseline laying a ball back for Will Calnan to deflect the ball home. Despite a few opportunities the Black Sticks were unable to find an equaliser and went into the halftime break down 1-0.

The Black Sticks started to find their feet in the last few minutes of the third quarter when they had some deflections that were kept just out of the goal to maintain England's lead.

Just before the end of the third quarter England doubled the lead from a penalty corner, the first shot came off the post and then Luke Taylor trapped the rebound and swept it powerfully home past Richard Joyce.

The Black Sticks started the fourth quarter looking for a goal to get themselves back into the contest. Stephen Jenness and Nick Ross both had some great opportunities however England coalkeeper George Pinner managed to stand tall and pull off some great saves.

With 10 minutes to go the Black Sticks pulled their goalkeeper creating an overlap in the hopes of scoring the needed two goals to tie the match up. The Black Sticks conceded a penalty corner with no goalkeeper, Cory Bennett then ran out first as the field player with goalkeeping privileges and ran down the drag flick. England then looked to slow the game down and despite some great opportunities for the Black Sticks they were unable to get on the scoreboard.

Black Sticks 0
England 2 (Will Calnan 25', Luke Taylor 44')

The New Zealand Herald


---

Black Sticks men exit Hockey World Cup with a whimper with loss to England



England celebrate one of their two goals against the Black Sticks. FIH

The Black Sticks men's bid for the Hockey World Cup has ended with a whimper in the first knockout round.

New Zealand were defeated 2-0 by England in the crossover playoff on Monday (Tuesday NZ Time) at Kalinga Stadium in Bhubaneswar, India, finishing the tournament with a 1-1-2 record.

The result, which will see them finish between ninth and 12th, adds another line to the Black Sticks men's mediocre history at the World Cup. New Zealand have not finished higher than seventh (1973, 1975, 1982 and 2014) and have failed to qualify for four of the 14 editions (1971, 1978, 1990, 1994).

The Black Sticks fell behind in the 25th minute when Will Calnan scored with a field goal, then were effectively put away when Luke Taylor scored from a penalty corner after the initial shot bounced off the post just before the end of the third period.

Goalkeeper Richard Joyce kept New Zealand in the match through the first three periods with some great saves, while Stephen Jenness and Nick Ross had the Black Sticks' best chances in front of goal but were held out by England's George Pinner. The Black Sticks pulled Joyce with 10 minutes to play for an extra attacker but England were able to control possession, slow the game down and hold out New Zealand.

England dominated in most aspects, out-shooting them 8-5, having 16 circle entries to five and earning four penalty corners to one. For the fourth straight match, New Zealand's pass accuracy dipped below their opponents'.

New Zealand are now 0-4 against England at World Cups, outscored 10-4.

The Black Sticks defeated France 2-1, lost to World No 2 Argentina 3-0 and drew 2-2 with Spain to finish third in Pool A, before the knockout phase.

England 2 (Will Calnan 25', Luke Taylor 44') New Zealand 0. 1Q: 0-0, HT: 1-0, 3Q: 2-0

Stuff


---

England beat New Zealand 2-0 to reach quarter-finals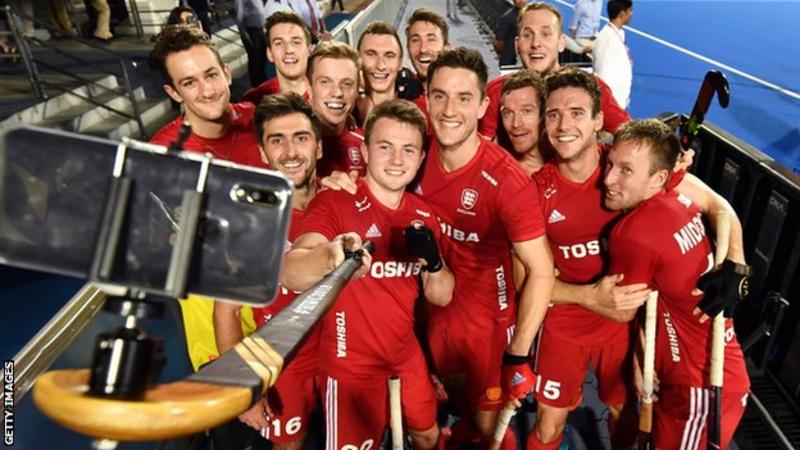 England finished second in Pool B after beating Ireland 4-2

England beat New Zealand 2-0 to reach the quarter-finals of the Hockey World Cup in India.

Goals from Will Calnan and Luke Taylor either side of half time set-up a knockout tie against reigning Olympic champions Argentina on Wednesday.

The Black Sticks piled on the pressure in the final period but England's defence stood firm.

"We learned from our previous games and knew we had to control it," said player of the match Liam Sanford.

"Tonight we'll just enjoy the victory and then go away and learn from the game - there's lots we can still improve on.

"We've shown in the last game and this that we can overcome those tough fixtures so it's all to play for."

The victory over New Zealand follows their 4-2 thumping of Ireland in the final pool game which resulted in their opponents being knocked out of the tournament.

England starting XI: Pinner (GK), Ames, Martin, Gleghorne, Dixon, Middleton, Ansell, Condon, Waller, Gall, Sanford

New Zealand starting XI: Lett, Ross, Joyce (GK), J Panchia, Woods, Russell, Tarrant, A Panchia , Jenness, Inglis, Phillips

BBC Sport


---

England, France advance to quarters

By Jugjet Singh

BHUBANESWAR: England skipper and goalkeeper George Pinner made some great saves against New Zealand on Monday to take his team into the quarter-finals of the World Cup against Argentina here in India.

England beat the Kiwis 2-0 with goals from Will Calnan (25th) and Luke Taylor (44th).

Calnan, who was named as the man-of-the-match, said: "It was team effort which won us the day and now we are looking forward to playing in the quarter-finals.

"I'm not going to think about Argentina at this moment because I just want to enjoy this victory.

"After a day's rest we will start preparing for them," said Pinner.

England coach Danny Kerry has analysed Argentina: "They play a simple but effective game by building up patiently and coming from the flanks.

"We will play our own style, and not get into their game."

In another crosssover match, World No 20 France beat 17th-ranked China 1-0 to qualify for the quarter-finals.

France scored off Timothee Clement in the 36th minute and will now play with defending champions Australia in the last eight.

New Straits Times


---

England see off New Zealand to set up quarter-final date with Argentina; France edge past China



England hockey team in action against New Zealand. Image Courtesy: Twitter @TheHockeyIndia

Bhubaneswar: A dominant England sailed past New Zealand 2-0 in the first crossover match to book their place in the quarterfinals of the men's hockey World Cup on Monday.

England scored through Will Calnan's (25th minute) field strike and penalty corner conversion by Luke Taylor (44th) to register the comfortable win.

England will face Olympic champions Argentina in the first quarterfinal on Wednesday.

World No 7 England were by far the better side against New Zealand in the opening two quarters, creating more goal scoring chances than their ninth ranked opponents.

England had the first scoring chance in the fifth when they earned their first penalty corner but they failed to utilise the opportunity.

After a barren and eventless first quarter, England drew first blood in the 25th minute when Will Calnan deflected in a high ball from skipper Phil Roper from the left flank.

Two minutes later, a Liam Ansell strike from close range went just went inches off the target as England wasted a golden opportunity.

The Black Sticks tried to forge a comeback towards the end of the second quarter and in the 28th minute a Nick Ross' strike from top of the strike was padded away by England goalkeeper George Pinner.

Seconds later, England were awarded a penalty corner but they failed to stop the push and wasted the chance to go into the breather a goal down.

England continued from they left after the change of ends and secured back-to-back penalty corners just after the resumption of play but wasted both the chances.

The Black Sticks tried to bounce back but they could find the net after entering the England circle.

England earned their fourth penalty corner just a minute away from the final quarter and Taylor scored after David Condon's initial try was saved by New Zealand goalkeeper Richard Joyce.

New Zealand came close to reducing the margin in the 49th minute but Stephen Jenness' shot from inside the box was easily parried away by England goalie Pinner.

With two goals down, a desperate New Zealand took out their goalkeeper Joyce nine minutes from the final hooter for an extra player but the move backfired as England became the only team to earn two penalty corners without a goalkeeper but Cory Bennett put his body on the line and took a heavy knock to keep England at bay.

In the final minute of the match, New Zealand secured another penalty corner but Pinner made a smart save to keep a clean slate and keep intact England's record of never finishing below eighth in the World Cup.

France edge China

France eked out a narrow 1-0 win over debutants China in the second cross-over match to advance to the quarter-finals of the men's hockey World Cup.

The lone goal of the match came in 36th minute from the stick of Timothee Clement.

France might be the lowest ranked team in the tournament at 20, but they had already shown the world that rankings hardly have any significance by stunning Olympic champions Argentina 5-3 in the pool stages.

France will face two-time defending champions and world number 1 Australia in the second quarterfinal on Wednesday.

The Frenchmen started on a bright note against world number 17 China and took the early initiative by earning four back-to-back penalty corners as early as in the second minute but wasted all the opportunities.

China made a subdued start to the game and allowed France to dominate the possession, relying mostly on their counter-attacking ability to stun their opponents.

In the 19th minute, a selfish play from Charles Masson denied France a great opportunity. After cutting inside the box from the right flank, Masson, instead of passing the ball to his teammate, went for glory and hit straight at the body of Chinese goalie Caiyu Wang from a tight angle.

China came close to scoring in the 21st minute but E Wenhui missed from close range after Ao Suozhu controlled a long ball over the French defence and made his way into the circle showcasing 3D skills.

Two minutes from half time, France were unlucky as Etienne Tynevez's deflection from a Jean-Baptiste Forgues pass hit the crossbar.

In the never next move, the Chinese goalkeeper once again came to his side's rescue by keeping out Blaise Rogeau's reverse hit from top of the box as the Frenchmen failed to break the 'Great Wall of China' in the opening two quarters.

China came out with more purpose after half time and came tantalisingly close to breaking the deadlock in the 33rd minute but a sliding E Wenhui's deflection from Zixiang Guo pass was parried away by an alert France goalie Arthur Thieffry.

France finally broke the resolute Chinese defence in the 36th minute through Clement.

The move was started by Viktor Lockwood, who got to the baseline with a blazing run down the left flank and cut back to Maximilien Branicki in the centre. Branicki unleashed a fierce reverse stick at the far post which was deflected by Clement into the net.

A minute later, China secured their first penalty corner of the match but failed to capitalise on it.

The third quarter witnessed three penalty corners -- one to France and two to China.

In a desperate need for a goal to take the match into shoot-out, China pressed hard and earned two penalty corners in succession minutes away from full time but the French goalkeeper Thieffry was upto to the task on both occasions to keep a clean slate and ensure a last eight berth for his side.

Firstpost


---

France continue magical run in Bhubaneswar continues as England also advance



©: Frank Uijlenbroek / World Sport Pics

France and England made it through to the last eight of the World Cup in India as they produced strong performances to beat China and New Zealand well despite the close nature of the scorelines.

For France, it continues the tournament lowest ranked side's epic journey in what is their first World Cup since 1990.

The match remained scoreless up to half-time although France certainly had the better chances with Blaise Rogeau twice going close and Etienne Tynevez hitting the left post of the China goal with an angled deflection. China, for their part, did not muster a single shot before the break.

Les Bleus finally broke the deadlock thanks to a touch from Nicolas Clemont, who guided Maximilien Branicki's cross-shot into the China goal after Viktor Lockwood's excellent run along the left baseline.

China responded immediately by winning a penalty corner, but the attempt on goal from Du Talake was deemed dangerous after hitting France defender Victor Charlet on the knee.

China had two penalty corner opportunities to pull themselves level in the final quarter, but it was not to be. France were into the quarter-finals, much to the delight of Head Coach Jeroen Delmee.

"I'm really happy with the performance", said former Netherlands international Delmee. "Offensively we did very well, but just failed to score [goals] two and three, and we were a bit unlucky also with the ball hitting the post, but the most important thing for us is to win. To be ranked number 20 and to reach the top eight is an amazing achievement for the team."

Looking ahead to a quarter-final meeting against title holders Australia, Delmee said: "Now we have another big opponent. We beat the Olympic champion and maybe we can beat the world champion, but it may be a different story. We will prepare as best we can and hopefully we can perform another very good match with our team."

For England, they looked the more composed side throughout their 2-0 victory over the Blacksticks.

They took the lead in the second quarter thanks to a close-range finish from Will Calnan, although the undisputed architect was Phil Roper, who escaped his marker before bursting into the circle and coolly lifting the ball over Joyce for Calnan to force home at the back post.

In the third quarter, a penalty corner from Adam Dixon rattled the right post before Luke Taylor smashed home the follow-up to put England firmly in control of the match.

When asked about how it feels to reach the last eight of the Odisha Hockey Men's World Cup Bhubaneswar 2018, Wimbledon's Phil Roper said: "It feels absolutely amazing. This was a really tough game again. We're starting to build some momentum. First a really good performance against Ireland and now a pretty good performance against the Kiwis who are a really, really tough side. We're delighted to come away with a clean sheet and score a couple of good goals."

Looking ahead to the match-up against Argentina, Roper was cautiously optimistic. "Obviously they're a really good team, but we're very excited", said Roper, who today wore the captain's armband.

"As I said, we've built a momentum. We've played two games while they've been resting so maybe we're building something. It will be a tough game but we're starting something and we're really enjoying it."

The second day of crossover games on Tuesday sees Belgium face Pakistan and the Netherlands taking on Canada.

Euro Hockey League media release


---

France downs China, makes quarterfinals

No sweat for England against New Zealand

Uthra Ganesan



Match-winner: France's Timothee Clement, centre, controls the ball before slotting it in. Photo Credit: Biswaranjan Rout

It's target firmly on the 2024 Olympics and having already punched above its weight so far, France kept its dreams alive in the Hockey World Cup here on Monday with a 1-0 win over China, an erratic game of attrition between the two lowest-ranked teams in the fray.

France clearly was the better side, taking inspiration from its win against Argentina and carrying the momentum ahead, hoping for an early goal.

Intrepid Ao

It came close, earning four consecutive penalty corners in the second minute, but was denied every time by rusher Ao Weibao, who had to finally be stretchered out.

In fact, credit for keeping the French quiet till the 36th minute — when Timothee Clement finally got the breakthrough — and after that should also go to Chinese goalkeeper Caiyu Wang, who brought off repeated saves from every side.

The Chinese crowded the midfield and the defence, hoping for a desperate error from the French that came in the ninth minute when Lixing Su got the ball at the top of circle, only to see it snatched away by the lone French defender.

Work to be done

French coach Jeroen Delmee — a double Olympic and World Cup champion — on the other hand would be frustrated by the poor positioning and passing of his wards. Charles Masson and Francois Goyet kept receiving the ball on the right flank but were often out of position for the final pass.

Two consecutive PCs in the final minute for China were not enough to give it the equaliser.

The better team

Also advancing to the last eight was England with a clinical 2-0 win against New Zealand to keep its record of making the last-eight stage in every World Cup since 1973 intact and set up a meeting with Argentina.

Clearly the better team with dominance in every department, England nevertheless missed chances to score more and both coach Danny Kerry and captain Phil Roper admitted penalty corners was an area they needed to work on, more so given the fact that Argentina has Gonzalo Peillat in its ranks.

The reward for France is a quarterfinal meeting with World No. 1 and twice champion Australia.

But that comes later. For now, France will savour this victory.

The results:

England 2 (Will Calnan, Luke Taylor) bt New Zealand 0.

France 1 (Timothee Clement) bt China 0.

The Hindu


---

France's dream run continues

Overcome China 1-0 | England prove two good for New Zealand

Indervir Grewal in Bhubaneswar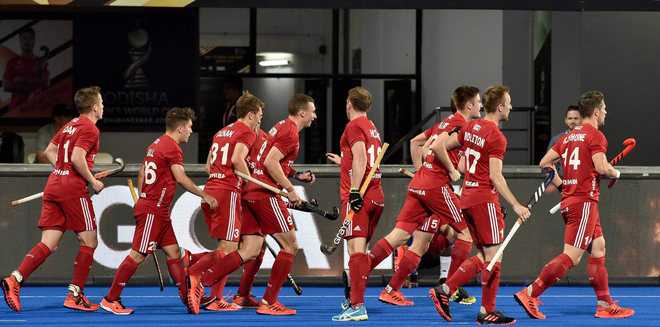 England players celebrate after winning their match against New Zealand on Monday. PTI

FRANCE'S fairytale run continued after they scraped past China in a frantic crossover encounter, while England proved 'two good' for New Zealand, who would also be blaming George Pinner for a rock-solid performance in the opposing goal.

World No. 7 England looked the livelier team, and the likelier one to score. The English forwards were nippy and their attacks coming at regular intervals. But they could never run over the gritty New Zealanders. The first quarter was a slow affair as the knockout nerves made the teams play safely. New Zealand smartly kept more possession (55 percent). The second quarter, though, belonged to England, who dominated possession (57 percent) and had more attacks. Five minutes from the halftime break, Will Calnan gave them the lead.

New Zealand, till then, were not looking too capable in attack. But they found their ways. They had created more chances than England in the second half, but Pinner kept everything out, including some stunning reflex saves. To make matters worse, Luke Taylor struck in the penultimate minute of the third quarter to make it 2-0. England never looked that fragile to relinquish a two-goal lead and they held on. In the end, it was an even match in terms of stats, except for the goals column.

In the quarterfinals, England will face world No. 2 Argentina on Wednesday. The reigning Olympics champions will take the field against England, not having played a match for five days. No guesses who has the advantage when it comes to match practice. Strangely, Argentina played a practice match, during a World Cup, with Australia on Monday. The defending champions also need some match practice. By the time they meet France in the quarters on Wednesday, they would have gone four days without a match.

Unlike the first crossover match, the France-China encounter was a lopsided one in terms of stats. France had 57 per cent possession, 33 circle entries (11 for China) and 13 shots (3). Yet, what sent them through to the next stage was Timothee Clement's strike in the 36th miniute.

The Tribune


---

When Indians were left bruised blue and black

Indervir Grewal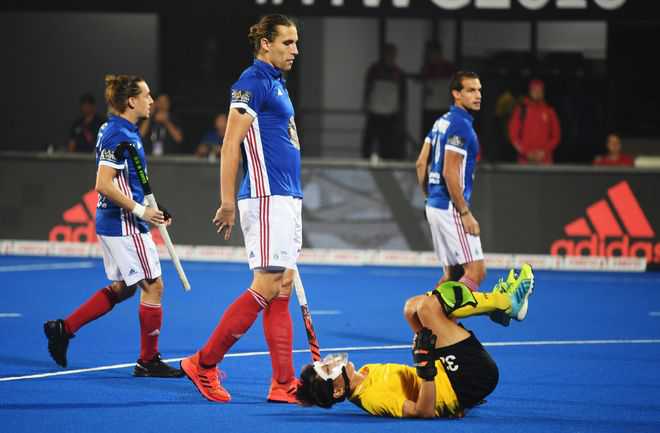 China's Guo Jin (bottom) reacts from an injury during a penalty corner while France's Victor Charlet (C) looks during their cross-over match in Bhubaneswar on Monday. AFP

Former Indian Navy striker RS Bal remembered a particularly rough match. It had rained before the match. The centre-forward was up against two very hard, rough-playing, defenders. "When I walked off the field after the match, I was muddy and bloody," said Bal, visiting from Switzerland for the World Cup.

The year was 1963 and hockey was played on grass. Bal was barefoot, as was the prevalent practice at the time because "the canvas shoes were very slippery".
Whatever little protective gear there was, it wasn't enough. "We had blackened toes, bruised shins," added Bal, who played for the Indian Navy for almost 10 years. He went on to become a successful coach in Germany, leading a women's club team to the national league title twice and the European final twice.

Goalkeepers got the worst of it. "We didn't have helmets," said Arvind Chhabra, who played for India in the late 1970s and early 1980s. "We had no chest guards, no arm guards. There were small gloves and pads till below the knees, made with wooden sticks and cloth. We would get bruised all over our body," the former Indian Airlines goalkeeper added.

"Once, during the national camp, the ball hit me in the face and my jaw broke. I had to sit out for almost a year," added Chhabra, who later worked with the Indian women's team.

It took some years for the helmets to come in. Over the decades, with technological and scientific advancements, safety equipment has seen huge improvement. The equipment wore these days is lighter yet safer. Goalkeepers are covered from head to toe, while the outfield players have teeth-guards, gloves, bigger shin-guards and shoes with better grip.

However, the stick has also changed — with the composite stick, players can generate much more power now. The ball has become harder. The game has also become faster, more physical and demanding.  Despite safety improvements, the perils remain. Bruises are still common and there are occasional fractures and dislocations. But in 2012, hockey had its most horrifying incident when a 24-year-old Australian player died after getting hit by the ball during a local women's match. Though it was a freak accident — the ball deflected off her own stick and hit her in the back of the head — the incident reminds every one of the dangers of the game.

Dangers of penalty corners

Penalty corners, specifically, have been on top of the list whenever safety has been discussed in the last decade. With the speed of drag-flicks reaching up to 100 kilometres per hour, the defenders come under direct fire during penalty corners. India's analytical coach Chris Ciriello was among the first group of players who demanded better safety measures. "After Phil Hughes got hit in the head and died, we started playing with baseball helmets (while defending penalty corner), and they (FIH) allowed us," said Ciriello.

Change in FIH rules led to better safety measures. The FIH allowed players to wear facemasks and kneepads while defending penalty corners. But Ciriello said the helmet was crucial because it "covered the back of the head". "I still think they should be able to use it. They (FIH) need to review it because the face mask doesn't cover the back of your head," he said.

During the second crossover match on Monday, a Chinese rusher took hits thrice in a row while defending French penalty corners. He had to be stretchered off the field. There have been discussions about whether the penalty corner needed a rethink, with former Australia coach Ric Charlesworth the biggest voice in favour of eliminating the drag-flick altogether.

However, Ciriello said the right way forward was to improve safety. "Drag-flick is a skillset. It is about making sure the players are safer as the skills are getting faster and harder," Ciriello said.

Ciriello's thoughts showcase the players' mentality. Whether it was the 1960s or 1980s or current time, the game looks much more dangerous from outside than to the players on the field. "I think as a player you just want to play," said former Australia striker Glenn Turner.

Turner was a tough player himself, who regularly took body hits and slid in for deflections. Giving the example of the World Cup, Turner said: "It has been pretty safe here, like you can see."

The players will play the game no matter what. They will take hits for their country. The onus, therefore, falls on the international federation to ensure the safety standards keep improving with time.

England's concussion policy

England came to the World Cup without their best striker in recent times --- Sam Ward. The decision to drop Ward came just a week before the event. Ward was "gutted", but England's strict concussion protocol meant the 27-year-old couldn't take the flight to India.  Ward had picked up a slight concussion in a practice match after being hit by the ball on his head. "In UK, they have a very strict protocol around concussion," said England coach Danny Kerry. "We test them when they are in the programme. They go through some basic cognitive brain tests. Then if anyone gets a concussion, they redo the tests to understand the severity of the concussion. They do those tests on a frequent basis until there are no more symptoms at all. Only then do we do a seven-day return that builds up to playing with others with stick and ball involved." Kerry added that the concussion protocol had been around for around eight years. "I think with the research coming out of rugby, American football, people realise that if you make people go back (to sport) too soon, it could lead to serious damage," Kerry said. Kerry said that the players in the UK were more aware now. "In the past, maybe 10-15 years ago, people would dismiss it, they would be like 'I have just got a sore head'. But that has changed now, players understand the serious nature of a concussion," the coach said.

The Tribune


---

Pakistan face Belgium in do or die match

France, England seal quarterfinal berths in Men's Hockey World Cup




LAHORE - Pakistan hockey team will face Belgium challenge in the Men's Hockey World Cup crossover today (Tuesday) for a quarterfinal place of the mega hockey event in India.

The match against Belgium will be an uphill task for former master of the game Pakistan, who were third in the pool D while Belgium finished second in the pool C. The two sides have reached this stage in contrasting fashion. While green-shirts sneaked in with only one point from the three pool games, edging out Malaysia on goal difference.

The Red Lions (Belgium) were unlucky not to qualify for the quarter finals directly, missing out only on goal difference. Belgium had won two and drew one with India, who topped the pool because of the better goal difference. Surprisingly, Pakistan and Belgium have played against each other just twice in the World Cup with Pakistan winning  2-0 in 1973 and 3-2 in 2002.  Currently ranked three in the world, till only a few years back, Belgium were a non-entity on the international hockey circuit and quite a few times  even failed to qualify for the World Cup and the Olympics. Their mercurial rise in a very short time is simply amazing. Belgium's best positions at the top international title events have arrived in recent times. Olympics: 2nd in 2016, World Cup: 5th in 2014, Euro Hockey Nations Championships: 2nd in 2013 & 2017, Junior World Cup: 2nd in 2016.

Match starts at 4:15 PM

At Bhubaneswar, the Red Lions are a serious medal contender and remain so after the pool stage. Pakistan had started well, going down 0-1 to Germany. Next, they had a hard fought 1-1 draw with Malaysia.

In the last pool game, they were outplayed by the Dutch in a 1-5 defeat. In the second half, most of the time, Pakistan appeared at a loss for ideas. All this means, Pakistan will have to play out of their skin to make it to the quarter finals; needing to overcome an in form side ranked 10 places above them.

Meanwhile, France and England sealed quarterfinals berth in the Hockey World Cup after defeating their respective opponents in the crossovers played on Monday in Bhubaneswar.  France's fairytale run in the Hockey World Cup continued as they pipped China 1-0 here to qualify for the quarter-finals. Timothee Clement scored for Les Blues. In the quarter-final on Wednesday, they will take on defending champions Australia, who are in the midst of a record 16-match winning streak in the World Cup.

France, in the first quarter, showed a greater intent to attack than China. Their two shots on goals, nine circle entries, four penalty corners in this phase are proofs. But in their defence, China was obdurate. They scrambled, dived, struggled, got hit – one of their players was even stretchered off – but conceded no goals.

The best moment of the first quarter came around the 13th minute, when France made four back-to-back, albeit unsuccessful, penalty corners. It was, in fact, stretched to four because the first three corners – drag-flicked by French captain Victor Charlet repeatedly to the right – was blocked by the shins of an onrushing Jin Guo.

Poor Guo was on the ground, wincing, while he stopped Charlet's third attempt and was stretchered off after Charlet's fourth, which the goalkeeper saved, diving leftward. As Guo was being carried off the field, Charlet ran towards him and patted on his shoulder in a sweet second of sportsmanship.

Both teams came close to scoring a goal in the second quarter. Charles Masson made a brilliant run along the right flank and – instead of scooping the ball to Viktor Lockwood at goalmouth – made an unsuccessful attempt at scoring. For China, Wenhui at goalmouth, despite stretching, couldn't connect a ball that was crossed from right.

France broke the deadlock in the 36th minute, when Timothee Clement deflected Maximilien Branicki's drive from the edge of the circle into the net. Lockwood had sprinted superbly along the left flank to feed the ball to Branicki. France created more opportunities (including two penalty corners) in the final quarter but failed to add to their tally.

A dominant England sailed past New Zealand 2-0 in the first crossover match to book their place in the quarterfinals. England scored through Will Calnan's (25th minute) field strike and penalty corner conversion by Luke Taylor (44th) to register the comfortable win. England will face Olympic champions Argentina in the first quarterfinal on Wednesday.

World No 7 England were by far the better side against New Zealand in the opening two quarters, creating more goal scoring chances than their ninth ranked opponents. England had the first scoring chance in the fifth when they earned their first penalty corner but they failed to utilise the opportunity. After a barren and eventless first quarter, England drew first blood in the 25th minute when Will Calnan deflected in a high ball from skipper Phil Roper from the left flank.

Two minutes later, a Liam Ansell strike from close range went just went inches off the target as England wasted a golden opportunity. The Black Sticks tried to forge a comeback towards the end of the second quarter and in the 28th minute a Nick Ross' strike from top of the strike was padded away by England goalkeeper George Pinner. Seconds later, England were awarded a penalty corner but they failed to stop the push and wasted the chance to go into the breather a goal down.

England continued from they left after the change of ends and secured back-to-back penalty corners just after the resumption of play but wasted both the chances. The Black Sticks tried to bounce back but they could find the net after entering the England circle. England earned their fourth penalty corner just a minute away from the final quarter and Taylor scored after David Condon's initial try was saved by New Zealand goalkeeper Richard Joyce.

New Zealand came close to reducing the margin in the 49th minute but Stephen Jenness' shot from inside the box was easily parried away by England goalie Pinner. With two goals down, a desperate New Zealand took out their goalkeeper Joyce nine minutes from the final hooter for an extra player but the move backfired as England became the only team to earn two penalty corners without a goalkeeper but Cory Bennett put his body on the line and took a heavy knock to keep England at bay.  In the final minute of the match, New Zealand secured another penalty corner but Pinner made a smart save to keep a clean slate and keep intact England's record of never finishing below eighth in the World Cup.

The Nation


---

Pakistan face an uphill task against Belgium today




LAHORE: Pakistan, third in Pool D, take on Belgium, second in Pool C, in the cross over for a quarterfinal place in Hockey World Cup at Kalinga Stadium in Bhubaneswar, India on Tuesday (today). The two sides have reached this stage in contrasting fashion. While the Green-Shirts sneaked in with only one point from the three pool games, edging out Malaysia on goal difference. The Red Lions were unlucky not to qualify for the quarterfinals directly, missing out only on goal difference. Belgium had won two and drew one with India, who topped the pool because of the better goal difference.
Surprisingly, Pakistan and Belgium have played against each other just twice in the World Cup with Pakistan winning 2-0 in 1973 and 3-2 in 2002. Currently ranked three in the world, Belgium were a non-entity on the international hockey circuit only a few years back, and quite a few times even failed to qualify for the World Cup and the Olympics. Their mercurial rise in a very short time is simply amazing. Belgium's best positions at the top international title events have arrived in recent times: second position at 2016 Olympics, fifth position at World Cup 2014, second position at Euro Hockey Nations Championships in 2013 and 2017 and second position at Junior World Cup in 2016.

At Bhubaneswar, the Red Lions are serious medal contenders and remain so after the pool stage. Pakistan had started well, going down 0-1 to Germany. Next, they had a hard fought 1-1 draw with Malaysia. In the last pool game, they were outplayed by the Dutch 1-5. In the second half, most of the time, Pakistan appeared at a loss for ideas. All this means, Pakistan will have to play out of their skin to make it to the quarterfinals; needing to overcome an in form side ranked 10 places above them.

The Daily Times


---

Kookaburras To Play France As Mitton Brings Up Milestone

Ben Somerford




Kookaburras forward Trent Mitton says playing his 150th cap for his country in a World Cup quarter-final is "pretty special" having missed selection in both 2010 and 2014.

Mitton, who turned 28 late last month, will bring up the milestone in Thursday morning's knockout clash with world number 20 France from 12:30am (AEDT) live on FOX SPORTS 503.

France defeated China 1-0 in Monday's crossover match for a spot in the quarters against world number one Australia.

The Western Australian debuted for his country back in May 2010 against Egypt at the Azlan Shah Cup as a teenager, following in the footsteps of his father Grant and grandfather Don who both represented Australia.

He's since won three Commonwealth Games gold medals and three Champions Trophy titles but had never competed at a World Cup or Olympics until this tournament.

Mitton's father Grant was actually part of Australia's 1986 World Cup-winning side and Trent is eyeing off his own slice of history.

"I'm incredibly happy and proud to be able to play my 150th game," Mitton said.

"There were certainly times where I thought I wouldn't get close to this milestone, mainly through repeated non-selections earlier in my career.

"Being able to play the 150th in a World Cup quarter final is pretty special as well. It will be a big game and the crowd will be huge."

Mitton reflected on the numerous highlights of his career to date.

"Some of the best moments in my career to date would have to be the three Champions Trophy wins I've played in 2012, 2016 and 2018," he said.

"And the three Commonwealth Games gold medals. This year's Games on the Gold Coast were particularly special.

"Also I've been very fortunate to be able to play a fair few of those games with some of the best players our game has ever seen in Jamie Dwyer and Mark Knowles. "

The Australian team got together on Monday night to watch the France-China match as a group at the team hotel.

The side defeated China 11-0 in their final pool game on Friday night to complete a perfect group stage with three wins from three games and Mitton said the mood was positive.

"On the World Cup so far I think our team is going really well and there is a good feeling around the group," Mitton said.

"We are looking forward to getting to the business end of the tournament which starts on Wednesday with our quarter-final."

The Kookaburras play France from 12:30am AEDT on Thursday morning. The match is live on FOX SPORTS 503 or kayosports.com.au. Follow @Kookaburras on Twitter for regular updates.

Australia v France
Thursday 13 December, 12:30am AEDT

Kalinga Stadium, Bhubaneswar

LIVE on FOX SPORTS 503 & kayosports.com.au

Follow @Kookaburras on Twitter for updates

Kookaburras' 18-member team for the World Cup
Athlete (City, State)
Daniel Beale (Brisbane, QLD)
Timothy Brand (Chatswood, NSW)
Andrew Charter (Canberra, ACT)
Tom Craig (Lane Cove, NSW)
Matthew Dawson (Killarney Vale, NSW)
Blake Govers (Wollongong, NSW)
Jake Harvie (Dardanup, WA)
Jeremy Hayward (Darwin, NT)
Tim Howard (Wakerley, QLD)
Tyler Lovell (Perth, WA)
Trent Mitton (Perth, WA)
Eddie Ockenden (Hobart, TAS)
Flynn Ogilvie (Wollongong, NSW)
Matthew Swann (Mackay, QLD)
Corey Weyer (Biggera Waters, QLD)
Jake Whetton (Brisbane, QLD)
Dylan Wotherspoon (Murwillumbah, NSW) *Plays for QLD
Aran Zalewski (Margaret River, WA)

Hockey Australia media release


---

Canada working hard on survival mode

By The Hockey Paper, Bhubaneswar



Canada's James Kirkpatrick in action against India

Spare a thought for Canada.

Having spent a week in Japan before travelling to India, their lengthy sojourn in India will see every player forced to take a month off work from their jobs back home.

Considering that the International Hockey Federation has previously hinted at upping the World Cup to 22 teams for 2022 – presumably over three weeks – it means that there could be six more teams like Canada (perhaps the biggest of the part-time teams) with the same predicament.

"The two weeks are more challenging physically and teams have to be super fit," said James Kirkpatrick. "I think if you start going into longer tournaments, the sport has to become more professional."

And therein lies the crux; an enlarged tournament with more 'amateur' teams and the FIH is expecting these federations to fork out a substantial sum? How is that growth?

Kirkpatrick is one of the lucky ones. He can hot desk on tour through his work as a full stack (web) developer.

"I remotely on tour and my boss is excellent," said Kirkpatrick. "It's really flexible and I work when I can. At tournaments with a lot of down time like this, I can chip away.

"But for some guys it's really challenging but they make it work.

"I don't know if I could hold down a full-time job and play lots of tournaments like this throughout the year. We'll see where it goes."

World No 11 Canada had a full week before their last group match against India at the weekend – an unheard of length of time for a hockey tournament.

Kirkpatrick added: "It's been a bit crazy. It's the longest gap I've had in a tournament. It's been about retraining and refocusing."

The team left Bhubaneswar and took a few days by the coast in Puri before losing 5-1 to India after proving more than a handful in defence.

"Once you start chasing it's difficult to get back within reach," added Kirkpatrick. "We were happy to play with them for the first three quarters.

Now, it's the Dutch for a place in the last eight. Canada, with their gritty defence and a determined game plan, lost out 3-1 at the World League in London last summer.

And Kirkpatrick says Canada are relishing another showdown. "It will be a fun one. It's just one game."

The Hockey Paper


---

Germany confirm top spot with lively Malaysia tie as Dutch go through in second



©: Frank Uijlenbroek / World Sport Pics

Germany confirmed their place at the head of Pool D with a lively 5-3 win over Malaysia while the Netherlands go through to the crossovers games thanks to a 5-1 success against Pakistan.

The Germans looked to be topping the group at a canter when Uhlenhorst Mulheim's Timm Herzbruch found the roof of the net from a penalty corner in the opening minute before Rot-Weiss Koln's Christopher Rühr crashed an unstoppable backhand effort into the top left corner just before the end of the quarter.

Rühr played a decisive role in Germany's third goal, surging into the circle before seeing his cross-shot touched home by club mate Marco Miltkau.
At 3-0, things were looking bleak for Malaysia, who desperately needed at least a draw if they were to have a realistic chance of reaching the knock-out phase.

Remarkably, they dragged themselves back into the game with two goals just before half time. Razie Rahim scored the first before setting up the second, finding the goal with a penalty corner before providing the perfect assist for the diving Nabil Noor from another penalty corner situation.

The two sides traded goals in the third quarter, with Miltkau once again showing his incredible reflexes to touch home another cross to make it 4-2 before Razie netted another to keep Malaysia within touching distance at 4-3.

The effort was charged down, with Germany going straight down the other end to kill the game at 5-3 thanks to Herzbruch's second goal of the day to all but end Malaysia's hopes of remaining in the competition.

"We are happy that we could win against Malaysia", said Germany's Tobias Hauke, who today made his 300th international appearance for Die Honamas, after the game.

"It was a tough game. We started really well with 3-0 up in the beginning of the second quarter, but then we got a little bit in trouble. But I think Malaysia played quite nice today, they had good counter-attacks and good penalty-corners.

"We knew it before but we were not so concentrated in the third quarter in the defence. We're really happy to be now through to the quarter-finals. That was our aim today. Finishing at the top of the pool is good for the self-confidence and for the rhythm."

Pakistan knew that by avoiding a heavy defeat against the Netherlands they would be certain of a place in the knock-out phase of the competition. A win would be enough to move ahead of the Dutch into second place in the pool and a possibly easier task against Canada rather than Belgium.

Thierry Brinkman netted from close range just seven minutes in but two minutes later, Pakistan's Umar Bhutta restored parity from a second phase penalty corner situation.

The Dutch, though, built a 2-1 half-time lead via Seve van Ass before Jeroen Hertzberger, Jorrit Croon and Mink van der Weerden scored second half goals.

Speaking after the match, SV Kampong's Robbert Kemperman said: "We played a very solid game. In the first two quarters Pakistan defended really well. It was difficult to find the gaps but we kept the pace high. I think we can be happy after this match."

On Monday, the knock-out games begin with New Zealand facing England while France take on China.

Euro Hockey League media release


---

Coach Kermas unhappy despite a clean slate




GERMANY were not jumping for joy despite maintaining a 100% re­­cord in all three Group D matches.

They qualify directly for the quarter-finals as group champions after defeating Pakistan 1-0, outplaying Holland 4-1 and defeating Malaysia 5-3.

Two-time world champions Germany will face the winners of the second round match between Belgium and Pakistan in the last eight on Dec 13.

Germany coach Stefan Kermas even said he was unhappy with his team's performance against Malay­sia on Sunday.

"Our defence was too shaky as we conceded three of the eight penalty corners Malaysia had in the match.

"We took it easy after leading 3-0 and conceded two goals in just two minutes. Letting in three goals in a match is not good. Our performance was way off from our best.

"It was a good lesson for us as from now we need to play better if we want to progress further in the World Cup," said Kermas.

Kermas said that they are two stages in the World Cup. One is the group stage and then it is the knockout challenge.

"The real test starts in the knockout stage. If you don't play at 100% in the quarter-finals then your are in real trouble," said Kermas.

"We have not play to our true form and I believe that Australia are the team who have played to their real form and they can play well in any situation.

"I have experienced players who can play a good match. We have to regroup ourselves and be better prepared for our quarter-final match.

German captain Martin Haner, (pic) who marshalls the defence, said that the match against Malaysia was an eye opener for them.

"Our defence struggled against Malaysia as we gave away eight penalty corners and they scored three.

"We need to rectify the mistakes we made against Malaysia and play a tight marking game in the quarter-finals," said Haner, who is doctor by profession.

The Star of Malaysia


---

Malaysia's glaring weakness is inability to score field goals



On target: Muhd Razie Abdul Rahim scored two penalty corner goals but it was to no avail as Malaysia could not make it to the second round in the on-going Hockey World Cup.

MALAYSIA'S glaring weakness in the on-going Hockey World Cup is the inability to score field goals.

After three group matches Malaysia netted four goals – all from penalty corners.

Defender Muhd Razie Abdul Rahim proved his mettle yet again with penalty corner goals in consecutive world cups.

In his first World Cup in The Hague, Holland in 2014, the Kuala Lumpur-born player converted three goals from penalty corners in six matches. Malaysia finished last among the 12 teams in the fray.

In the on-going edition in Bhubaneswar, India, the police inspector netted two penalty corners in the Group D match against Germany, which Malaysia lost 3-5 on Sunday.

Malaysia earned a total of 16 penalty corners in three group matches and converted four into goals.

Faizal Saari scored one against Pakistan on Dec 5, which Malaysia drew 1-1 while Nabil Fiqri Mohd Noor netted one in the match against Germany.

In the opening match against Holland on Dec 1, Malaysia were outplayed 7-0.

Malaysia conceded 13 goals and scored four in three matches.

The Malaysian forward line, led by Faizal, was a big letdown as they failed to score a single field goal.

The other strikers in the team are Tengku Ahmad Tajuddin Tengku Abdul Jalil, Muhd Firhan Ashari, Mohd Ramadan Rosli, Nik Muhd Aiman Nik Rozemi and Norsyafiq Sumantri.

Tengku and Firhan scored a goal each in the 2014 World Cup but they fired blanks in Bhubaneswar.

The 31-year-old Muhd Razie said that he was not pleased with his performance and his conversion rate.

"We conceded more goals than we scored in the three group matches and it clearly shows that our team cannot defend well.

"Letting in seven goals against Holland was a real blow for us. Our conversion rate is also bad as we earned seven penalty corners against Pakistan but only managed to score one," said Razie.

"Overall we failed to play as an unit and let the nation down. It is a wake-up call for us to prepare better in our bid to qualify for the 2020 Tokyo Olympics."

The Star of Malaysia


---

Oltmans: My players don't know how to play clever hockey

By Aftar Singh and S.S.Kanesan



Power play: Christopher Ruhr reels away to celebrate after scoring against Malaysia in a Group D match at the Hockey World Cup at the Kalinga Hockey Stadium in India on Sunday. Germany won 5-3.

MALAYSIA were the odd team out. They were the only Asian team among the four who did not make it to the second round in the Hockey World Cup in Bhubaneswar, India.

The three are India, who topped their group to qualify for the quarter-finals while Pakistan and China finished third in their respective groups to make the second round of the tournament.

It was not surprising that Malaysia's Dutch coach, the 64-year-old Roeland Oltmans, did not minced his words in his appraisal of the team's poor displays.

Oltmans had set a top 10 target in the World Cup but he was clearly disappointed.

"In the match against Ger­many, we were 4-3 down and we had a chance to equalise off a penalty corner we earned in the fourth quarter but we blew it. Instead Germany's quick counter-attack yielded a fifth goal for a 5-3 win.

"That is really frustrating. My players don't know how to play clever hockey like the European teams," said Oltmans, who took charge of the national squad on Oct 1.

Oltmans added that the defence also crumbled when they are under pressure.

"We also lacked the experience playing against the top European teams like Holland, Germany and Belgium.

"These teams are far more superior and we need to play as many matches as possible with them to build up our confidence and narrow the gap in standard.

"Nevertheless I'm convinced we will learn from this tournament and come back stronger," said Oltmans.

Malaysia, ranked 12th in the world, were thrashed 7-0 by Holland in their opening match. They then drew 1-1 with Pakistan who are ranked 13th.

Against world No. 6 Germany, Malaysia were trailing 3-0 before they fought back to lose 3-5.

The last time Malaysia won a match at the World Cup was 16 years ago when they beat Cuba 4-2 in the Kuala Lumpur edition in 2002.

What was really evident was that the players did not possess the passion to play their hearts out and these few should not even be in the national team.

Judging by the way the team played in the World Cup, it is highly unlikely that Malaysia will qualify for the 2020 Tokyo Olympics.

Oltmans gave a negative reply when asked if they were indications of players quitting the team after the dismal World Cup outing.

"The players would be given a break to play in the Malaysia Hockey League (MHL) which begins in January. I will pick a team for next year's tournaments and our main aim is to qualify for the 2020 Tokyo Games," said Oltmans.

Malaysia will feature in the Sultan Azlan Shah Cup in Ipoh from March 24 to April 1 and will also host the World Series at the National Hockey Stadium in Bukit Jalil from April 23- May 1.

The Star of Malaysia


---

Admit failure, sack Walsh, says hockey legend

By SAIFUL AFFENDY SAPRAN

KUALA LUMPUR: Former international Datuk Poon Foke Loke only had harsh words for the national team that failed to meet their second round target at the World Cup in Bhubaneswar.

The team, who lost 5-3 to Germany on Sunday, did not qualify for the playoffs after finishing fourth in Group D with only one point. They were denied by Pakistan, who took third, on goal difference,

"You have to admit that you have failed. Now, you need to explain the reasons of it.

"You can't keep saying that the team played well. What I am saying is stop giving excuses," said Foke Look, who was part of the national team that finished fourth at the KL World Cup in 1975.

Foke Loke added that national coach Roelant Oltmans must now focus on development aspects in the quest of producing quality players.

He also proposed the sacking of Malaysian Hockey Confederation (MHC) technical director Terry Walsh, who he feels has not done much in the last three years.

Asked whether the drastic action would affect the team's preparations for next year's 2020 Olympics qualifying campaign, Foke Loke said it has to be done.

"So many opportunities were given to them to improve things. We must start taking risks," he added.

New Straits Times


---

Veen: We have always been very close to top often

s2h Team



Stephan Veen, now a high performance consultant of the Netherlands

If you think that the likely World Cup quarterfinal between India and the Netherlands at the Kalinga Stadium in Bhubaneswar will be a clash of contrasting styles you couldn't be further from the truth. The Dutch for decades have displayed a sublime touch to hockey, proving time and again that bracketing them as a hit-and-run European team is misplaced and unjust.

The sight of Stephan Veen, now a high performance consultant of the Netherlands federation for the game, reminded one that skill and creativity has been the keynote of the Netherlands pedigree that has produced three World Cup and two Olympic titles.

Veen's artistry at the forefront of the all-conquering Dutch teams in the last millennium brought two Olympic (Atlanta 1996 and Sydney 2000) and as many World Cup gold medals (Lahore 1990 and Utrecht 1998). "It's not going to be a match of different styles," Veen said at the Kalinga stadium while looking forward to a likely clash against the hosts noted for skill and artistry.

"Even as a European team we dribble, pass and attack…it's in our DNA," said the 48-year-old former captain of the Netherlands.

"And so, against India, it will be an attacking game should we beat Canada and play them in the quarterfinals," elaborated the hero of the 2000 Sydney Olympic final who, as captain, scored a hat-trick and then the winning penalty in the shootout to help the Dutch beat South Korea and win their second gold at the Games.

Debuting at only 19 years of age, Veen was a member of the Netherlands team that won their second World Cup title at Lahore 1990.

"Being part of a champion team gave me a lot of confidence," he said as he flashed back to the a spate of titles that the Netherlands clinched in the 1990s.

"We had a skillful team that had a fine balance between attack and defence and most importantly was mentally strong," Veen said.



(Pic: Stephen Veen, right) with the Netherlands captain VD Horst at The Hague Word Cup 2014)

In Lahore, he played five out of seven games but watched a dramatic final against Pakistan from the dugout.

"After Shahbaz Ahmed gave Pakistan the lead, the stadium exploded with noise," he recalled. "But when Floris Jan Bovelander scored two goals from penalty corners, it was absolutely quiet," Veen said of the final that Netherlands won 3-1.

Should the Dutch make the quarterfinals, they will up against similar odds at the Kalinga stadium where 15,000 vociferous partisan fans make up what India coach Harendra Singh calls his team's 12th player.

Veen believes that the Dutch would do well to control India beyond the 23-metre line because that's where the hosts can be dangerous with their skills.

But he has faith in his compatriots' fine all-round talent in which Sander de Wijn, Sander Baart, Mirco Pruijser, Robbert Kemperman and Billy Baker could trouble India should the Dutch beat Canada in their cross-over on Tuesday.




Reflecting on the Dutch in the competition so far, Veen found them very good against Malaysia in a 7-0 win.

He felt they were fine against Germany for three quarters in a 1-4 defeat and good against Pakistan who they beat 5-1 after a shaky first quarter.

Veen, who works as a headhunter for a global company dealing in executive search, is married to former Netherlands player Susan van der Wielen and has a son Lucas (15) who is an under-15 national player and daughter Josephine (13) who also plays hockey.

The Dutch are experiencing an 18-year global title drought when it comes to the World Cup and Olympics. "We may not have won titles but we have been very close to the top, finishing second (three times) and regularly in the top four," Veen said.

With Veen around, the Dutch may just be inspired to find that elusive title-winning touch after striking rhythm in their last pool match in which they scored an impressive 5-1 win over Pakistan to make the cross-overs.

Stick2Hockey.com


---

Penalty corner goals now complement success, but don't decide it

 K Arumugam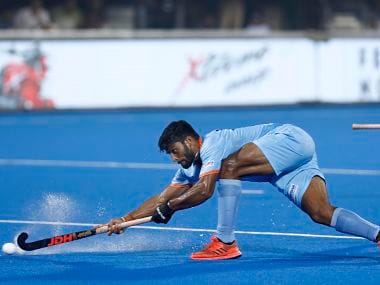 India's Varun Kumar takes a drag flick at the Hockey World Cup. Image courtesy: Hockey India

On Sunday, The Netherlands and Pakistan played the last pool match of the ongoing Hockey World Cup. The same teams, one known for precision and the other for artistry, contested a World Cup final 28 years ago.

In Lahore, the two teams symbolising contrasting styles of hockey took the pitch at the National Stadium in front of 70,000 fans. The Dutch emerged winners just as they did at the Kalinga Stadium. But the contrast in the nature of victory and margin is unmistakable.

The Netherlands silenced the partisan crowd with the sledge-hammer force of the effervescent Floris Jan Bovelander, who scored two of their penalty corners after Pakistan's iconic forward Shahbaz Ahmed gave the hosts the lead with a goal of quality.

The powerfully-built Dutchman single-handedly doused the Pakistan fire before it could turn wild.

Here in Bhubaneswar, at a neutral venue, the contrast was too obvious to miss. The Dutch earned nine penalty corners against Pakistan, but none of those impacted the outcome.

The three-time champions converted two of those awards, but only at the fag end after The Netherlands put the issue beyond doubt at 3-1.

The result at both Lahore and Bhubaneswar was the same. However, the process and scale of victory are vastly different. The significant difference: penalty corner success in Bhubaneswar added, not decided victory. Success at the lethal set piece is no longer the lone winning mantra.

The Asians and Pan American teams have realised this a bit too late. They have spent time and energy to unearth exponents like Sohail Abbas of Pakistan and Jorgi Lombi, believing their expertise will equal Europeans if not go one better than them.

It did not work out that way tournament after tournament. The Pakistani and Argentine legends went on to top the top scorers' charts while their countries rarely won medals in either the World Cup or Olympics.

Malaysia scored three penalty corner goals against Germany the other day — a feat that would have easily given them outright victory a decade ago — but not so now.

Germany scored from a penalty corner, but complemented that with field goals to win 5-3 and doom Malaysia to an early exit.

What counts now is how effective a team is and how sharp, fast and precise it is in conceiving and executing moves upfront rather than grapple with the wealth of PCs and health by way of conversion!

The days of the PC are passe. It worked when the concept of coaching revolved around taking the lead and defending it. It made for boring hockey. The game today is bursting with energy of the aggressive kind.

As the Bhubaneswar edition of the World Cup reaches the business end, the rich dividends that accrue from attack are plain to see.

The biggest surprise and talking point here is how debutants France, the lowest ranked at No 20, outplayed, outmanoeuvred and outscored reigning Olympic champions Argentina, the World No 2.

Argentina have in their ranks the current greatest penalty corner exponent in Gonzalo Peillat, the top scorer of the previous World Cup and Olympics.

Neither did his prowess help get his team the bronze medal at The Hague four years ago where two field goals counted against England. Nor did his fearsome drag-flicks help secure a win over France here.

Rio may be an honourable exception, but that would warrant detailing on some other occasion.

Attacking in swarms and stinging like de-combed bees, Dutch coach Joren Delmee's French side dismantled the vaunted South Americans.

The winds of change sweeping the corridors of elite hockey is slowly becoming a storm.

Free-flowing France struck four field goals and even converted the lone penalty corner on the way to an epic victory. Interestingly, the losing team depended heavily on their trump card Peillet. True, he scored three goals through his art, much like Razie Rahim for Malaysia mentioned above, and is worthy of praise.

But the moot point is that the duo's prowess failed to bring their teams victory.

Here lies a lesson for every aspiring team, especially those in Asia.

Look no further back than the Asian Games in Jakarta three months ago. It wasn't Malaysia, boasting of PC expert Rahim, nor India with its battery of specialists (Rupinder Pal Singh, Harmanpreet Singh and Varun Kumar) who collected gold, but Japan who played like France in Jakarta.

The numbers in Bhubaneswar too reveal the same. They are tricky and misleading if one doesn't read between the lines.

Of the 111 goals, 40 have come from PCs. The healthy conversion rate is due to the fact that the four teams weeded out of the competition after the league stage have conceded one-third of those goals.

On the other hand, 30 out of 48 goals pool toppers scored were through from open play.

The writing on the wall is crystal clear: PC goals complement, but don't complete your mission. The era when penalty corners defined victory is long gone.

More than any other team, the Aussies, who are well on course to clinch their third World Cup title on the trot, seem to have understood this. Their free-flow game brings in a rich harvest of field goals.

What counts now is not how you execute a carpet drive or drag flick from which angle at a penalty corner, but how often you create chances from open play.

What intensity you generate and how you manage to sneak a deflection through a maze of legs and sticks into the goal of an opponent with a stout defence bolstered by a goalkeeper par excellence.

Or, for that matter, how adept you are at the tomahawk, the scourge of goalkeepers these days.

A key skill that has also developed is negotiating aerial balls. It has rivalled the process of free-hit deflections for goals.

Aerial balls have made a comeback into the game after enjoying their moments in the 1980s. Without offside, overheads and long scoops have become vital. How a team collects a long airborne ball, manages its bounce and effect a timely half-volley whack into the cage have become distinctive scoring tools. India slotted two such goals in the Bhubaneswar opening.

Individual skills now have new meaning, forms new armament and makes for a whole new repertoire.

It also includes smart 3-D skills, particularly when it comes to entering a circle past tentative defenders.

It's this mix of skills that enhances the chances of success. Not a rigid strategy or regimented structure.

The result — goals, attractive and frequent, each fittingly celebrated with eye-catching digitals, and explosion of cheer, music and fireworks that light up the sky in and around the Kalinga Stadium.

It all adds colour to the firmament of hockey.

Firstpost


---

Goalkeeper substitution — teams haven't made it count

Teams are only dropping back and not attacking, says Japanese coach Siegfried Aikman

Y.B. Sarangi



Future plans: India coach Harendra Singh's move to substitute custodian P.R. Sreejesh, right, against Canada in its last pool match, was to test his team ahead of the knockout matches. Photo Credit: Biswaranjan Rout

When the International Hockey Federation (FIH) brought into effect the revolutionary goalkeeper substitution rule in 2006, there was a lot of scepticism about the move. Slowly, it has become a weapon for teams trailing by a goal or two to rally in closely-contested matches.

The ongoing Hockey World Cup at the Kalinga Stadium here has seen several instances of the goalkeeper being substituted for a field player in closing minutes.

Belgium, trailing by a goal against India, replacing its 'keeper in the final moments to build pressure and level scores for a 2-2 outcome and New Zealand bouncing back from two goals down to hold Spain to a 2-2 draw were some fine examples in the pool stage. So, how the rule is being utilised after 12 years of its implementation?

"Sometimes you need to take the 'keeper off. The opposition becomes conservative. Sometimes it works, sometimes it does not," said New Zealand coach Darren Smith.

India coach Harendra Singh used the ploy when the host was leading comfortably against Canada in its last pool match. Harendra said taking off custodian P.R. Sreejesh was a pre-determined move to test his team ahead of knockout matches.

According to Malaysia coach Roelant Oltmans, the rule mostly helps a side. "Sometimes it works in your direction, sometimes it works in the opponent's direction. My experience is if you do it then you always have a chance to get one goal."

Noted Dutch coach Siegfried Aikman, who is now at the helm of Japan men's team, said the teams had not been able to make optimum utilisation of the rule.

"Actually it's a huge opportunity to score, but all the teams are only dropping back, not attacking. That's strange. We as coaches have not got the best out of it.

"It's the same like when we stopped the offside rule after Atlanta Olympics. It took us almost 20 years before we could play behind the defensive line because we still had in our mind the offside rule. Now it's over.

"The goalie change rule, the same thing is happening...it's conditioned behaviour. If you want to change it, you have to do it many many times...It will change when a generation comes and they have it. Then they will do it naturally," said Aikman.

The Hindu


---

Recent lapses notwithstanding, former Australia forward Glenn Turner impressed with India's defence

Shantanu Srivastava



Glenn Turner at the Kalinga Stadium on Monday. Image: Hockey India

Bhubaneswar: London Olympics bronze medallist and two-time World Cup winner, Glenn Turner, has thrown his weight behind India's defence even as the Indian backline is yet to hit top form at the ongoing Hockey World Cup at Bhubaneswar. Turner said he was impressed with the control of India's defenders in the striking circle, and hailed Birendra Lakra and Harmanpreet Singh for their defensive skills.

"The boys in India have always played on bumpy surfaces like grass or dirt, where you have to be good as a receiver. The way they receive the ball is amazing. To be able to do it (receive the ball cleanly) under pressure in the circle as well as they do outside the circle is and just unique. Also, the way they move, their skill, the way they take people on in one-on-one situations is great.

"Some of the defenders are so good. I love Birendra Lakra; I have played against him for a while and the way he uses his body in the ring, his little shimmy–shakes, those little movements are all quite unique. Harmanpreet Singh at the back is cool. I played against him at the Hockey India League (HIL), and he was amazing. To me, he could be the world's best player," Turner, who helped Kalinga Lancers win the 2017 edition of the league, said. Harmanpreet represented Dabang Mumbai in that edition and was adjudged the Upcoming Player of the Tournament.

Turner's comments are encouraging for India, who, despite topping their Pool, have shown worrying slip-ups in defence. While South Africa applied tremendous pressure in the Indian 'D' in the third quarter, Belgium tested India's nerve in the breathless first half, where their continuous circle penetrations resulted in an eighth-minute goal. Meanwhile, Harmanpreet, India's leading drag-flicker, has missed more than he has hit. So far, he has nailed just one penalty corner and a penalty stroke despite taking maximum flicks.

Turner also had high praise for India's forward line. "Lalit Upadhyay has been good. Mandeep (Singh) always impresses but I hope he gets a couple of goals in the next game or two. At the moment, he hasn't scored much, but he is a very confident player. Sumit has impressed. I wish I had some of the skills these boys have, but they have to use it at the right time."

"India are much more structured now. They are a lot fitter, and they make better decisions. And they are using their unique skills in match situations for the benefit of the team," he added.

The 2010 Commonwealth Games gold medallist also credited HIL for team's fitness evolution and said that India are good enough to beat any team in the competition. "I think they are great. They are fit, fast, very skilfully. They have learnt a lot from HIL. They are not scared of any team. On their day, they can beat any team. They will be a hard team to beat in this competition."

India's only area of improvement, according to Turner, is their temperament. The 34-year-old urged the team to back its training to deliver at the global stage. "The calmness, I guess (is an area where India can work on). They have to go in and back their ability and training. They should not worry about outside things like the fans, the other teams. That could disintegrate a campaign and I'm sure that's not what they want to do."

Turner has recently ended his eight-day camp with the strikers of national women's team, and is still playing professional hockey in Netherlands, Malaysia and Australia. He said he is willing to return to India and for a longer stint, but didn't confirm any developments.

Firstpost


---

Structure over flair – the new mantra

The Indian dribble might be a passé, but 22-year-old Enrique Gonzalez is bringing it back in fashion. He does it fearlessly and stylishly, no matter where he is on the pitch.

by Mihir Vasavda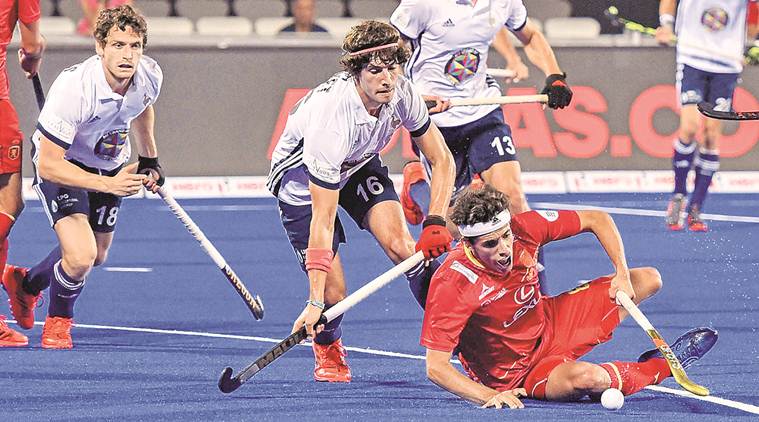 Spain's Enrique Gonzalez is a rarity in modern hockey — a player who prefers dribbling the ball over passing. FIH

Amidst the Hulks that are nurtured in world hockey these days, Enrique Gonzalez resembles an ant. He is short and skinny, and glides on the turf wearing a white band to tie his curly, brown hair. But that's not the only reason he stands out.

The Indian dribble might be a passé, but this 22-year-old is bringing it back in fashion. He does it fearlessly and stylishly, no matter where he is on the pitch. "When I get the ball, the immediate thought is to dribble past the first man," Gonzalez says. Then the next… and then the one after him. Dribbling isn't the last resort for him. It's his first instinct. One that often leaves his coach Frederic Soyez and video analyst Alejandro Iglesias frustrated. "After every match, we show him the moments where he could've passed instead of dribbling," says Iglesias. He flails his both arms in the air helplessly and adds: "But he doesn't get it."

Dribbling may not be a dying art. In fact, it can be argued that some of the stuff players do these days is unlike anything we've ever seen on a hockey field – like the 3D skills, where they lift the ball in the air and run the length of the pitch without letting it touch the ground. But it is surely turning into a controlled one.

If you're a coach of a hockey team, there's just one message for players who like showboating: curb your enthusiasm. Speed and size seem to be more coveted than pure hockey instincts as the biggest challenge that has emerged for trainers across teams is to curb the natural urge of players like Gonzalez and get them to play within the defined structure.

When faced with the choice of having individuals with overall athletic ability – such as height, weight, speed and explosion – over someone who has great instinct but is limited athletically, the former gain precedence. And the pattern that is emerging from the World Cup seems to justify the theory.

It's not a coincidence that Gonzalez's Spain, who often sacrificed structure for style, were the first team to be knocked out of the World Cup last week. In their place, France – the tournament's lowest-ranked team – sneaked into the crossovers by playing smart, disciplined hockey in which the players stuck to their roles without being too flashy or creative.

That's also a reason why Asian teams have not been able to beat their European counterparts in the eight meetings between the sides from the two continents in the World Cup so far. Glenn Turner, the Australian legend who led the team to back-to-back World Cup titles in 2010 and 2014, says it's just 'smarter' for teams to play that way. "You've got to play within a structure because if you don't, you'll lose. You've seen with the Indian teams in the past – if you are just going to run, you are going to get flogged," he tells The Indian Express.

One of the reasons for this is the amount of time spent on studying videos of opposition players. Simon Orchard, Turner's teammate in the World Cup-winning squads, says meetings on matchdays can run into hours as the coaches decode every habit of the rival teams. "There's too much reliance on video and not a lot on instincts," he says.

Which is why a player like Germany's Florian Fuchs chooses to show his creative side only when he is in the attacking third. Fuchs is one of the most expressive players the modern game has seen. His game is all about flair but it's in a defined zone. The individual skills, he says, can be decisive in the forward line but on any other area of the pitch, there is a greater emphasis to stick to the pre-decided patterns. "Looking at our game, we have a lot of freedom and we have a lot of creativity but it is all within the framework we have developed – a strategic, tactical framework, which gives a broad idea of our game," he says.

But there's also a flipside. Orchard says the compulsion to play within a team structure has taken away a lot of individual freedom. It's a curious case, where even though the overall level of global hockey has seen a rapid spike, there seems to be a serious shortage of individual stars. It can be felt at the World Cup, where apart from drag-flick expert Gonzalo Peillat, no one player has stood out.

Instead, multiple players have contributed to a team's success, which is true even for India. "The reliance of a lot of coaches is on a team game plan with each player doing their job. You still have a lot of talented players but they are not given the license to be phenomenal," he argues.

Gonzalez would agree with Orchard. His ability to weave his way past opponents earned him the best player award at the 2016 junior World Cup. In that set-up, Spain's game-plan was designed around his style. "But now, I have to play as my team wants," he says. "Even if it means controlling my instinct."

Indian Express


---

FIH CEO Weil: We need to bring hockey to people

Errol D'Cruz




He brings with him the know-how of marketing a billion-dollar sport like football. Thierry Weil, former marketing director of Fifa, however, exudes a passion for hockey even while learning the sport he had little knowledge of before joining the FIH as its CEO in April this year. undefined The Frenchman, though, believes that his views as a relative outsider may at times be considered "stupid or crazy" but could go a long way in stimulating thought and action among hockey's fraternity whom he cherishes for their loyalty and passion for their beloved sport. Weil, 59, visited Bhubaneswar to witness the 14th Men's World Cup and took time from his busy schedule to share his thoughts with www.stick2hockey.com and ideas about hockey as he embarks on fulfilling his mandate in developing and taking the sport to a new level.

Excerpts from an interview:

You have said very clearly that you want the World Cup to be hockey's No. 1 event. Please elaborate. Given that I have come from football, I would like the World Cup to be the most prestigious event. In football, a nation aspires to be No. 1 in the world by winning the World Cup. When I came to the FIH, I learned how important the Olympic Games are and the importance of the support of the local Olympic committees. But for hockey itself, it would be great for teams to get involved in the World Cup and the games leading to it. At the end you can name yourself the No. 1 team in the world. How beautiful it would be to have your very own event as the most important. You can bring the World Cup to countries who want to play host, develop hockey and make a big impact.

How can we make the World Cup the No. 1 hockey event?

It's just that when you have venues like this today (the Kalinga Stadium) with 15,000 seats filled, players will see the difference sooner or later. At the Olympics, hockey is one sport of many. The 2024 Olympics will be hosted by Paris. Currently, hockey is not well known in France and we may have a big mission to draw spectators to fill the stadium. But we will achieve it. As for the World Cup, we hope to hold it in rugby and football stadiums that are bigger. We may use temporary pitches and huge infrastructure that will make the World Cup bigger.

Is this achievable in the near future?

Yes, this is definitely achievable. Look at the atmosphere here (at the Kalinga stadium). I am not sure if the players have played before such crowds of 15,000-16,000. Most of them have played in front of just 4,000-5,000 spectators.

Is hockey's place in the Olympics in doubt?

No, not at all. This was something discussed in 2013 and now it's completely out of the way. The first thing that I did after joining the FIH was to visit the International Olympic Committee (IOC) office in Lausanne (Switzerland) where we also are based and to check it out. The IOC says that they are now happy with the development of the sport and especially Hockey Fives. The most ongoing discussion at the IOC is about which sport remains in the Olympics and which goes out. In 2013, there was a wake-up call to make hockey more attractive and exciting and it led to the FIH mission to develop the sport. This was when the 'hockey revolution' (to develop a global game to inspire the next generation) was launched.




Tell us something about the Hockey Fives movement

At the recent Youth Olympics (in Buenos Aires, Argentina), hockey (Fives) was named the best sport – above all others. It was the best visited and perceived sport. It may have been the Fives but it's still hockey and is the best way we can spread the game globally. There are no penalty corners here and goals can be scored from anywhere on the pitch. Fans find it easy to follow the game and may come back again.

Will Hockey Fives replace 11s in the Olympics?

The 11s will stay but our goal was to have both versions in the Olympics.

What would you like to bring into hockey?

It may sound arrogant but I would like to bring something into hockey. It's a really nice sport. After watching my first few games I would like to communicate to people outside of the hockey community about the beauty of the sport. Hockey is all about complete respect and complete fairplay. You seldom see a player going against a decision, moaning to the umpire or pretending to be injured and lying on the ground as in some other sports…this is a team sport that will provide an education for us. But first, we need to promote hockey. The outside world doesn't know much about the sport. It is confused with ice hockey. So, we need to inform people on how good the sport is – about its physical beauty and other elements in there. undefined

Do you think the rules of hockey are too complex?

The sport is simple. The ball crosses the line (after being played by an attacker in the D) and it is a goal. The team that scores the most goals wins the match. But then, it is true that when a spectator watches a game for the first time, the rules appear complicated. We need certain rules for safety but we need to review other rules to make the game as simple as possible and understandable for non-hockey people. Players and coaches who experience the rules everyday need to look into it.

Artificial surfaces are not accessible to many in the world. As a result the number of players have dropped in India and Pakistan among other nations. Is there a solution?
We have addressed these issues at our congress. We want to make it clear that it is not necessary that artificial pitches be used at lower levels. At the top level, we need such surfaces but the FIH congress has made it clear that hockey can be played on any surface at lower levels and we are open to the Hockey Series Open being played on grass if a nation doesn't have an artificial pitch available. This would enable far more countries participate and they could progress to the next level and play on an artificial surface. The impression that hockey should be played only on artificial surface has shrunk the number of players. Therefore you don't see half of the hockey family. We are also working on alternative pitches to water-based one as we don't want to be seen as a sport wasting water. In England the traditional (England vs Scotland) annual women's match at Wembley drew 65,000 schoolgirls who watched along with the Queen. It's a real pity that it was discontinued in 1991 because hockey moved to artificial surfaces.




How could we go about and draw more of the general public to hockey?

We need to make sure that people understand that all you need is a stick and a ball. Look at football, the best players come from the beach (in Brazil) and streets and often have played with a ball made of plastic bags bound together. At the Youth Olympics in Buenos Aires, people could play hockey on a little field with long grass. You need just a few friends to play a 3 vs 3 game, People could have fun ….you miss the ball because of the grass, and it bumps over your stick. But who cares! It's fun. We need to bring hockey to people not wait for them to come to the stadium. We could organize a game in a town square for example.

Your thoughts on the Pro League due to start in January…

The Pro League will help us to have a consistent base in the markets – on TV and in front of people. It could also help more kids take to the game in the hope of earning from it as there would be prize money on offer. Six months in a year would allow people to consume more of hockey as a professional sport. The business case has been done. Yes, there is the risk but everything in life involves risk. Without risk you can't go ahead. Eleven nations have agreed to come and share that risk with the FIH. The Pro League could inspire the grassroots which is the start of everything.




Are you disappointed that India will come into the Pro League only in 2021?

It all happened before my time. There were many reasons why India were not in. India coming in would take the pro league on to another level. The beauty of it is we could review the situation of the first two years, update and upgrade it in time to welcome a big country like India.

Your thoughts about India in the context of world hockey?

I did not know too much of hockey before I joined the FIH. I knew that hockey was big in India, Pakistan and the Netherlands where I worked. My plan is to go back 20 years when hockey in India was huge. The FIH plans for India and world hockey are not extreme. If people dismiss my plans as useless, we need to show them those old videos and pictures. We need to see 70,000 people watch the World Cup final in Lahore once more. We need those Wembley games again. This is what hockey has. This is what hockey needs!

Stick2Hockey.com


---

FIH's intention to play the sport on grass raises questions over world body's policy shift

Jitendra Nath Misra



Will hockey's playing surfaces flip over to grass?

On 2 November, Thierry Weil, the FIH's chief executive officer, announced that the FIH was open to the idea of hockey once again being played on grass. If implemented, the decision will "allow far more countries to be a part of the Road to Paris," he said. According to him, many countries had been alienated by the high maintenance costs of artificial playing surfaces. "Right now," explained Weil, "a lot of countries are not being able to play because of lack of surfaces, but we can be a lot more inclusive if we allow it." Categorically, he concluded: "Any country in the world that's willing to participate in it on a turf of their choice … be it in Latin America, Africa, Asia … if four or five countries decide to play on a turf of their choice, FIH will have no problem with it. That's the vision."

This significant policy shift is belated acknowledgement that expensive artificial surfaces proved beyond the reach of poor countries, and, thus, it is a step in creating an equal opportunity model. If tennis' four major tournaments – Wimbledon and the French, U.S. and Australian Opens – can be played on three surfaces – grass, clay, hard court– why can't hockey be played on more than one? Sport thrives on mystery and flair, because humans tire of more the same. Apart from addressing the issue of costs, FIH may be trying to play a guess game, introducing another dimension to hockey, and drawing in new fans.

When the FIH introduced artificial playing surfaces at the 1976 Montreal Olympics, the Indian media wrote something like this: "This is a European conspiracy against Asia; power will trump skill, and the new surface will kill Asian hockey." India's (and to some extent, Pakistan's) slump in form immediately after Montreal did not appear to be a co- incidence. But the FIH simply brushed the issue under the carpet, pacifying dissent by simply doing nothing.

Indian hockey's sudden free fall, beginning in 1976, has been discussed in detail. But it is worth again asking the old questions, because we never ever got conclusive answers to them. Is there a correlation between the change in surface and India's slump? Statistically, it would appear not. India's stranglehold on the Olympics gold medal had slowly loosened from the 1960 Rome Olympics (India lost the final to Pakistan), 16 years before the introduction of artificial surfaces. In fact, India's decline had begun right after the 1948 London Olympics, when India was no longer able to impose itself by winning huge victories. Bronze medals at the Mexico City (1968) and Munich (1972) Olympics are further evidence of continuing decline.

India has little to show after artificial surfaces were introduced. It has been a frustrating wait since 1975 to even make the Olympics or World Cup semi finals. But the world salivates in hope that India's fortunes can turn around, because everybody loves to love Indian hockey. Actually, the motives are far from altruistic. The FIH wants India, the country that provides the bulk of the sport's revenue, to do well. Leandro Negre, the then president of the FIH, had said so publicly. So, is it India's hidden hand that has brought about the policy change? It is hard to say.

With this decision, it is worth revisiting old arguments for clarity on the new approach. The problem is that information is lacking. From the public domain we don't know how the Indian Hockey Federation dealt with the introduction of artificial surfaces. Did India protest? Minhaz Merchant writes in The Times of India: "For the first time (at the 1976 Montreal Olympics) since it began playing hockey in the 1928 Games in Amsterdam, India did not win even a bronze medal. The Indian Hockey Federation (IHF) should have objected. Whether through collusion or apathy, it did not. All Olympic Games henceforth were played on hard astroturf." Merchant provides no information on what the Indian federation actually did.

Former Indian player AB Subbaiah denies that artificial surfaces led to India's decline. Former Pakistani players like Hassan Sardar and Islahuddin Siddiqui do the same. At the 2017 Asia Cup in Dhaka, Hassan Sardar was swift to point out to me that Pakistan had won gold medals in the Olympics (1984) and World Cup (1994), when artificial surfaces were used. Here at Bhubaneswar, Islahuddin Siddiqui tells me: "The European didn't get better. We got worse. I am not blaming (the) artificial turf." After the recent improvement in India's play, whatever criticism there was of artificial surfaces has largely disappeared.

The more likely reasons for India's decline are poor management, refusal to learn and evolve, bravado, false pride, and lack of strategic thinking. There is enough information on these aspects, but very few courageously uphold that complaining about surfaces is evasion, and lack of grace. To some extent, facts on the ground kill the debate. By installing over 200 artificial pitches, India seems to have reconciled to their continuing use.

Artificial surfaces are here to stay, says Narinder Batra, president of the FIH. The economic argument he provides is compelling, broadcasters demand minimal disruption of schedules for prime- time viewing. "Artificial surfaces were an excuse for India's failure," Leandro Negre, the former FIH president, tells me. Tayyab Ikram, the chief executive officer of the Asian Hockey Federation, says hockey will be out of the Olympics if it reverts to natural grass. Reversal to natural grass would be a step back, says Marijke Fleuren, president of the European Hockey Federation. Sigfried Aikman, the Dutch head coach of the Japanese men's team tells me at the World Cup: "No I don't think so (that artificial surfaces led to India's decline). It's a terrible excuse."

Yet, not everybody thinks that artificial surfaces are good for the sport. Juan Pablo, the manager of the Argentine team at the World Cup, and a former national player, tells me: "Artificial surfaces helped Europeans. You need money. It is very expensive for poor countries. Because of the characteristic of playing of Indian and Pakistani players, it helped Europeans." Not just India, but "Argentine hockey changed a lot (after artificial surfaces were introduced). A good artificial pitch is very expensive. Most clubs (in Argentina) had sand artificial pitches, which is cheaper. We don't put water but (put) sand on the pitch. There are only 20 to 30 artificial pitches in Argentina now."

Even in a rich country like New Zealand, the cost of artificial surfaces drove rural communities in the Hawkes Bay region away from hockey. Marcus Agnew writes in Hawke's Bay Today: "In the old days it was very strong in those communities, but with the advent of artificial surfaces, it meant hockey died in those places without a turf, which were only in the big centres or the wealthy schools - unfortunate for hockey, as ironically so much of the natural talent lies in the rural settings."

But the argument of cost has a flip side. Hargurnik Singh Sandhu, a former Canadian men's team member, and coach of the junior men's team, told me once that a developed country like Canada finds natural grass pitches expensive. Due to harsh climatic conditions in Canada, it is cheaper to hire artificial playing fields for tournaments, than maintaining natural grass pitches. Aikman says the same of the Netherlands.

So, the debate goes on, the FIH's decision-making continues to evolve, the European domination of hockey remains, and, without the research, the range of opinions is just that. For now, there is no plan to play the elite tournaments on grass, but Weil's announcement might be an indicator for the future. If India is the new joker in the pack, we have to also remember that power in the international system of hockey shifts ever so gradually, and decisions are slow to flip over.

Firstpost


---

Egypt men and Namibia women win through to 2019 Hockey Series Finals




Egypt dominated the men's competition at the Hockey Series Open in Bulawayo, Zimbabwe as they won all their matches and so qualified for the Hockey Series Finals next year.

In the women's competition it was Namibia who emerged as the overall winners as they faced tough opposition from their two rivals in the first Hockey Series Open event to take place in Africa.

Ahmed Elganaini topped the goal scoring table with 10 goals, all scored from open play, as Egypt (FIH Hero World Ranking:19) swept to comprehensive victories.

In the opening game Egypt, who were the highest ranked team by some considerable margin, beat Namibia (WR:74) 17-1. They followed this up with a much closer 4-1 victory over the host nation Zimbabwe (WR:66) before rattling 13 goals past Zambia (WR: no world ranking). 

Egypt's dominance was underlined by the presence of four of the team taking the top four goal scoring spots. Elgnanaini was joined by Mohamed Adel (8 goals), Amr Elhady (3) and Ahmed Elnaggar (3 goals).

The remaining games were all drawn, with Zimbabwe and Zambia finishing a highly competitive encounter at 2-2. Zambia then played out an exciting 4-4 draw with Namibia, with Siyabonga Martins and Pieter Jacobs rescuing Namibia by scoring in the final 60 seconds of play to bring the score from 4-2 to 4-4.

Namibia continued to demonstrate the importance of playing until the final minute when they repeated the feat against Zimbabwe. The host nation were leading 3-2 but Liam Hermanus made the most of a penalty corner to bring his side back to 3-3 with seconds left on the clock.

The results mean Egypt finished in top spot, with Zimbabwe second, Zambia third and Namibia in fourth place.

In the women's competition, Namibia (WR:60) opened their account with a 3-0 victory over Zambia (no world ranking). The goals came from Jivanka Kruger, Kaela Schimming and Phea Gerber.

Zambia learned that experience and turned their next result into a 3-2 win over Zimbabwe, scoring twice in the final three minutes for the game. Zimbabwe had taken an early 2-0 lead with goals from Alexei Terblanche and Mazvita Mtausi. The Zambia goals were scored by Anna Banda, Carol Namombe and the winner from Catherine Kalomo.

The final game, which sealed Namibia's first place finish was a slender 1-0 win by the eventual champions over the hosts. The only goal was scored in the 26th minute by Namibia's captain Magreth Mengo. The results mean that Namibia finish in pole position, with Zambia second and Zimbabwe in third place. Egypt men will now play the Hockey Series Final in France, while Namibia will be competing in the women's event in either Spain or Ireland (tbc).

FIH site


---

FIH To Visit Australian Venues Ahead Of First-Ever Pro League

Ben Somerford




The International Hockey Federation (FIH) will this week arrive in Australia for a series of venue inspections as preparations ramp up for the inaugural FIH Pro League.

The new FIH Pro League is the world's first-ever global home-and-away league, pitting nine of the world's best men's and women's teams against each other on a round robin basis from January-June 2019.

The Kookaburras and the Hockeyroos' eight home matches in the ground-breaking Pro League will be played in Melbourne (Saturday-Sunday 2-3 February), Hobart (Saturday-Sunday 9-10 February), Perth (Saturday 16 February) and Sydney (Saturday 2 March and Saturday-Sunday 16-17 March).

FIH Pro League Manager Mathilde Grenet will visit all four venues as preparations ramp up ahead of the opening game in Melbourne on Saturday 2 February against the Netherlands.

Grenet will visit the Perth Hockey Stadium (Thursday 13 December), followed by Hobart's Tasmanian Hockey Centre (Saturday 15 December), Melbourne's State Netball and Hockey Centre (Monday 17 December) and Sydney's Olympic Park Hockey Centre (Thursday 20 December).

The new Pro League is a revolutionary concept for Hockey which will replace the World League and Champions Trophy.

Some of the world's best international teams will face off weekly around the world before the finals to be played in the Netherlands in late June.

All matches will be televised on FOX SPORTS and tickets are already available in Australia via ticketbooth.com.au.

All matchdays will include both a Kookaburras and Hockeyroos match and with tickets available from $10 per matchday, they represent amazing value.

Series Passes will also be available in cities where there will be multiple matchdays; Melbourne, Hobart and Sydney from $15 per Series Pass, with Series Passes starting from $50 for adults.

The Pro League brings Hockey home, with the eight matchdays representing the next opportunity for Australian fans to watch the Kookaburras and Hockeyroos on home soil against elite opposition.

Australia's Pro League campaign begins in Melbourne against the Netherlands and Belgium, with the Dutch women's side currently ranked number one in the world.

In Hobart, the Kookaburras will play Pakistan and the Hockeyroos will face China, before both sides take on highly-ranked Germany.

In Perth, Australia takes on the old foes Great Britain, who are the current women's Olympic champions.

In Sydney, fans will be treated to three matchdays of action, firstly with the Kookaburras playing Spain and the Hockeyroos against USA, then a fortnight later with both sides facing Argentina – who are the current men's Olympic champions - and Trans-Tasman rivals New Zealand.

For ticketing information click here.

Australian Home FIH Pro League Fixtures (all times local):

Saturday 2 February 2019 – State Netball & Hockey Centre, Melbourne
Kookaburras v Netherlands – 3pm (AEDT)
Hockeyroos v Netherlands – 4:45pm (AEDT)

Sunday 3 February 2019 - State Netball & Hockey Centre, Melbourne
Kookaburras v Belgium – 3pm (AEDT)
Hockeyroos v Belgium - 4:45pm (AEDT)

Saturday 9 February 2019 – Tasmanian Hockey Centre, Hobart
Kookaburras v Pakistan - 3pm (AEDT)
Hockeyroos v China - 4:45pm (AEDT)

Sunday 10 February 2019 - Tasmanian Hockey Centre, Hobart
Kookaburras v Germany - 3pm (AEDT)
Hockeyroos v Germany - 4:45pm (AEDT)

Saturday 16 February 2019 – Perth Hockey Stadium, Perth
Kookaburras v Great Britain - 3:30pm (AWST)
Hockeyroos v Great Britain - 5:15pm (AWST)

Saturday 2 March 2019 – Sydney Olympic Park Hockey Centre, Sydney
Kookaburras v Spain - 3pm (AEDT)
Hockeyroos v USA - 4:45pm (AEDT)

Saturday 16 March 2019 - Sydney Olympic Park Hockey Centre, Sydney
Kookaburras v Argentina - 3pm (AEDT)
Hockeyroos v Argentina - 4:45pm (AEDT)

Sunday 17 March 2019 - Sydney Olympic Park Hockey Centre, Sydney
Kookaburras v New Zealand - 3pm (AEDT)
Hockeyroos v New Zealand - 4:45pm (AEDT)

Hockey Australia media release


---

Canada challenges Spain in four-game test series

In their final training push of 2018, Canada will take on world number seven Spain in four-game test series




It's been a long and intense four months for the Women's National Team. The majority of the team has been centralized in Belgium competing and training in the Belgium Hockey League. They have also been meeting in Antwerp for three days each week to train as a national side. Their final act of 2018: take on the reigning World Cup bronze medallists, Spain, in four matches on their home soil.

The decision to challenge Spain to four test matches was an intentional one and one that plays two roles according to Team Canada's head coach, Giles Bonnet.

"We played against Spain before the World Cup and before our Belgium training block," he said. "…so this is a good opportunity to review the improvements we've made and evaluate ourselves against a team that came third at the world cup."

Veteran Canadian defender Dani Hennig has spent the fall competing with teammates Kaitlyn Williams, Maddie Secco and Hannah Haughn for Royal Victory [Antwerp]. She feels that a competition against a strong international side is a good fit for the Canadian team who is looking to put into practice everything they worked on in their four-month training block.

"Every chance to play is an opportunity to grow," Hennig said. "It's important for us to apply what we have learned over the fall and really push for some results."

Shanlee Johnston, who has been playing for Gantoise in the Belgium Hockey League, agrees with Hennig and thinks the work will show against one of the best teams in the world.

"I think everyone is excited to see what these past 10 weeks have done for our game," she said. "We've been working hard, and I think it will show in the upcoming games. It's time to put our technical growth into action against a top tier team."

CAP MILESTONES

The current makeup of the Women's National Squad is a blend of newer players and a veteran core. Players like Kate Wright, Dani Hennig, Hannah Haughn and Sara McManus all have over 150 caps to their name with a few others approaching that milestone. On the flipside they also have a handful below 50 caps and some who have just eclipsed that mark.

This week in Spain, three players will reach major cap milestones. Brie Stairs will join the 150 club and become only the ninth Canadian woman to reach that mark. Nikki Woodcroft will play her 50th cap and Wright will reach 200 senior international caps.

Currently sitting at 196, with all going well, Wright will reach the 200-cap milestone in Canada's final tilt against Spain. This milestone is particularly incredible as Wright becomes the first Canadian woman to reach the 200-cap threshold. Notably, after two matches Dani Hennig will slide past Canadian legend Steph Jameson and into second all-time behind Wright.



Kate Wright (top), Nikki Woodcroft (centre) and Brie Stairs (bottom) will all reach cap milestones during the Spain test series.

SPAIN TOUR ROSTER
| PLAYER NAME | CURRENT CLUB | CAPS |
| --- | --- | --- |
| Alexis De Armond | White Star | 12 |
| Hannah Haughn | Victory | 159 |
| Maddie Secco | Victory | 107 |
| Alex Thicke | Leopold | 55 |
| Rachel Donohoe | Gantoise | 57 |
| Brienne Stairs | Leuven | 148 |
| Steph Norlander | Leuven | 94 |
| Alison Lee | Leiden | 44 |
| Amanda Woodcroft | Leuven | 95 |
| Nikki Woodcroft | Leiden | 48 |
| Natalie Sourisseau | Hurley | 121 |
| Shanlee Johnston | Gantoise | 94 |
| Kate Wright | Leuven | 196 |
| Dani Hennig | Victory | 167 |
| Sara McManus | Leuven | 155 |
| Karli Johansen | Leopold | 114 |
| Lauren Logush | Leiden | 34 |
| Kaitlyn Williams | Victory | 118 |
| Holly Stewart | Namur | 73 |
Field Hockey Canada media release


---

Kenya Hockey Union now gets their act together in good time

By Elizabeth Mburugu:



USIU's John Kabuu (left) and Eugene Onyango of Green Sharks in action. [Jonah Onyango, Standard]

The 2018 Kenya Hockey Union (KHU) league season was one of the best organised in years.

Unlike previous seasons that were marred with uncertainty inconsistencies, 2018 was well planned.

Butali Sugar Warriors, Telkom, Chase Sailors, Kenyatta University (KU) Titans and Bungoma Farmers were crowned in their respective leagues.

This season also saw the introduction of men and women's Super Leagues.

Chase Sailors and KU Titans, who both made a return to the top tiers, were declared winners in the Super League. The duo had been relegated to form the Super League at the end of the 2017 season.

The men's Premier League title chase was once again a two-horse race between bitter rivals Kenya Police and eventual winners Butali.

It ended on a dramatic note when former champions Police relinquished their crown after losing 2-1 to the sugar millers in their last league tie.

While Police needed a draw to retain their title, Butali had the tougher job; they required to win for them to lift the trophy they lost to Strathmore University Gladiators in 2016.

With 10 minutes remaining and the scores locked at 1-1, the gods of hockey seemed to be favouring Police but turned against them in the 57th minute when Frank Wanangwe scored the winner.

Tied on 60 points, Police surrendered their gong on an inferior goal difference. It was business as usual in the women's Premier League as Telkom won their 21st title on an unbeaten run.

Strathmore finished second while Vikings, who remained winless through the season, finished last and were relegated to the second tier.

Chase Sailors, KU Titans together with KU Vultures and Technical University (men), Mombasa Sports Club, University of Nairobi and Multimedia University (women) had been demoted to form the second tiers.

Bungoma Farmers and Lakers impressed on their debut in competitive hockey.

Farmers won the men's national league while Lakers finished second in the women's Super League.

Eldoret University were also in fine form finishing second behind farmers.

Veteran Jackline Mwangi of Telkom proved that she is still the best goal scorer with 16 goals.

The Standard Digital


---

Butali Sugar to sign three ahead of next season.

By AYUMBA AYODI



Butali Sugar's Frank Wanangwe in full drive against Kenya Police during their Kenya Hockey Union men's Premier League match at City Park on December 9, 2018. PHOTO | CHRIS OMOLLO |  NATION MEDIA GROUP

The new men's hockey Premier League champions Butali Sugar Warriors now targets three key singings with the intentions of not only retaining the local title but ending Kenya's two decades drought at the Africa Club Championships next year.

Butali Sugar Warriors have chosen to skip this year's Africa Club Championships that kicks off on Friday this week in Nigeria just to adequately prepare for next year's continental championships.

"The league has just ended and players need to relax with their families as they take stock on their successful campaign," said Butali Sugar team manager Kamal Sembi.

"We don't want to take a fatigued side to Nigeria. We rather invest those funds in players and make a mark next year," explained Sembi, who paid tribute to his players for their fighting spirit and will to win.

Sembi said that the team's strong character was exhibited after they overcame favourites and defending champions Kenya Police in the last match 2-1 to recapture the title.

"We knew we depended on that match hence we prepared the players well mentally. It was all about their mental structure especially after our key player Zack Aura was unavailable due to personal commitments," said Sembi.

Butali Sugar, sponsored by Butali Sugar Company, was formed in 2014, inheriting the berth left vacant by the disbanded Kisumu Simba. They won the league in 2014 and 2015 before surrendering to Strathmore University in 2016 and Police in 2017 and then recaptured it this year in dramatic fashion.

Sembi noted that the club's coach Dennis Owoka was given free hand to sign players he felt would strengthen his squad. He brought in George Mutira, Nixon Amadi and experienced goalkeeper Linus Sang early in the season. He later signed Dutchman Maarten Fonteyn who helped them to recapture the title on the last day of the league.

"The three keys players we are targeting are top secret for now since we have until this weekend's deadline to sign them. We want to challenge for the Africa title next year strongly," he told Nation Sport.

Kenya has not won the Africa title since 1998 when Kenya Defence Forces team that had the likes of Owoka and Meshak Senge won the trophy.

The club's sponsor through Sanjay Patel has expressed his desire for continental glory.

At the same time Owoka has urged Kenya Hockey Union to improve umpiring standards in the country as well organize more tournaments to help grow the game. "We also need to have tournaments in between the leagues. We need regional tournaments, lets us take hockey to Eldoret, Kisumu, Kakamega, Mombasa and Nakuru," he said.

Daily Nation


---

Great start in Scottish Women's Indoor National League 1




Former champions Dundee Wanderers stole a march on present incumbents Clydesdale Western with a 6-3 win in the final encounter of the day, elsewhere there was a double victory for Grove Menzieshill to keep them in touch at the top.

Susie Gilman put Western ahead in the first minute, but thereafter in the first half it was all Wanderers. Within a minute Millie Skidmore had equalised, Emily Dark added a second and Sophia Free made it 3-1 for the Taysiders, and only minutes gone.

Wanderers added further goals through Free again, Ruth Blaikie and Becky Ward before the interval, Jen Eadie pulled one back for Western, and the teams turned round with Wanderers 6-2 in front.

In the second half Wanderers failed to add to their tally, Eadie did pull one back for Western in 31 minutes, but the points were well and truly on their way to Dundee.

In their opening match Western seemed to be heading for a narrow 4-3 victory until Hillhead`s Wendy Andrews grabbed the equaliser from open play with just over a minute left. Hillhead`s earlier strikes came from Andrews again, Rachel Osborne and Zoe Irvine while Millie Steiger, Jen Eadie, Susie Gilman and Heather Howie were on target for the Glasgow side.

Western then picked up on the scoring front with a 10-0 victory over Edinburgh CALA, here there was a hat-trick for Gilman and two each for Marjery Justice and Bromwyn Shields.

There was no holding Wanderers in their opening game against Edinburgh CALA, they were six up at half-time and finished 7-1 winners.  There were two goals each for Wanderers` Emily Dark and Millie Skudmore while Ellie Rutherford got a late consolation for CALA.

The former champions were also a victim of a late Hillhead strike from Wendy Andrews as they were held to a 2-2 draw by the underdogs. Kate Fleming gave the Glasgow side an early lead but penalty corner second phase strikes by Jess Ross and Becky Ward put Wanderers 2-1 in front at the interval.

Then a touch of deja vu, as the minutes ticked away Andrews embarked on a counter attack and proceeded to slip the ball under Carmin Dow for another share of the points.

Watsonians put up stern resistance to Grove Menzieshill, but finally succumbed to a hat-trick of penalty corners by Sam Sangster and a 4-3 reversal. Jamie Lyon got the Taysider`s opener while Watsonians` strikes came from Georgia Jones, Faith Joubert and Anna Cameron.

Grove Menzieshill was more forceful in their second outing with a 7-1 defeat of Grange. Sangster had another hat-trick of penalty corners – her second of the day – Lyon picked up a double while Holly Duval and Ellie Stott got the others.

Elsewhere, Edinburgh University made an immediate impact with a seven goal victory over Grange, there were doubles each for Ella Watt and Bridie Marlow with the others coming from Bethan Mann, Jenny Walls and Ellie Hutcheson.

However, the students failed to capitalise in their second encounter with Watsonians, the contest finished in a 2-2 draw.   All the goals came in the first half, Louise Campbell and Marlow put the students into a 2-0 lead, but back came Watsonians through Emily Newlands and Heather Tait to level by the interval, there was no further scoring in the second half.

Scottish Hockey Union media release


---

Linnea Gonzales Named Longstreth/NFHCA Division I National Player of the Year




GILBERT, Ariz. -  Linnea Gonzales, senior forward from the University of Maryland, has been named the 2018 Longstreth/NFHCA Division I National Player of the Year.

Last week, Gonzales was named the 2018 Longstreth/NFHCA Mid-Atlantic Region Player of the Year after her outstanding season with the Terrapins, who earned a share of this year's Big Ten regular-season championship and were outright winners of the 2018 Big Ten Tournament Championship. Gonzales was also named Longstreth/NFHCA Division I First-Team All-American this year, her second All-American honor, as well as collecting Longstreth/NFHCA Division I Mid-Atlantic All-Region First-Team honors.

The 2018 Big Ten Conference Player of the Year led her team with 14 goals and five assists. This year, Gonzales was also named to the All-Big Ten Tournament Team and was a unanimous selection for All-Big Ten First-Team honors. She led a Maryland team that finished the season 22-3 and garnered a second-straight trip to the NCAA National Championship game where they finished runners-up.

Gonzales has started all 94 games in her career at the University of Maryland and will finish her career with 43 goals and 13 assists. She helped the Terrapins to two Big Ten tournament titles, three Big Ten regular-season titles, four trips to the NCAA Championship Tournament and two appearances in the NCAA Championship final.

Content Courtesy of the NFHCA

USFHA media release


---

Samiullah wants PM to replace flop PHF heads with new ones

ISLAMABAD - Former hockey Olympian Samiullah Monday held government responsible for the Pakistan team's debacle and urged Prime Minister Imran Khan to save the national game from further decline.

Talking to The Nation, Samiullah, who is also known as flying horse, said: "The results of national team in the World Cup in India are not surprising to anyone and especially to former hockey players, as we were expecting the same. Other top hockey-playing nations had completed their preparations two years back, while at that crucial time, Pakistan Hockey Federation (PHF) was running after the government's grants. How could the government issue finances to the PHF, when they were not providing details of their expenditures."

He said the PHF should have arranged at least three tours before the World Cup, which is the biggest hockey event. "Every participating nation entered the mega event with full preparations and selected their best lot to brighten their chances of winning it. But the PHF was in a fix and they kept on changing team managements and never bothered on ensuring a long-lasting set up, which could have ensured players prepare well for the mega challenge."

He said that the way green shirts were playing in the World Cup, they hardly managed to score two goals and remained lucky not to concede more goals against the Germans and also played out 1-1 draw against Malaysia, which gave them lifeline and place in the crossovers against European powerhouse Belgium.

"I feel Pakistan team have 50-50 chances of beating Belgium. If I were the coach, I would have told my players to go and play fearless hockey as we have nothing to lose. The fear of losing has put Pakistan hockey to new lows. Every foreign coach has just tried to change the style of play, rather than ensuring the Asian style, which best suits to Pakistan hockey. They just focused on defensive hockey, which cost Pakistan badly, and no one else but the players suffered badly," he added.

Samiullah said the current PHF management should have quit yet as they have completely failed to turn the fortunes of national team. They don't have any vision and direction and instead they kept on changing coaches and team managements, which is good enough to show lack of their vision the direction. The previous government kept on providing massive funds to them, but they couldn't utilize it well, that's why the current government is reluctant to provide funds to these incompetent PHF officials."

He said it is government's duty to provide jobs to the players, which gave them a sense of satisfaction and help them fully focus on playing in the grounds. But when they don't have jobs, they will run from post to pillar to earn bread and butter for their families. "The time is high when soon after the World Cup, the government must intervene and send present PHF office-bearers home and appoint technocrat hockey officials, who may chalk out 2020 plan to bring Pakistan hockey out of crisis and help it regain lost glory," Samiullah concluded.

The Nation