All the news for Tuesday 20 July 2021

Tokyo 2020 Preview: Men's Pool A – Australia the team to beat




The second of our Olympic Games Tokyo 2020 pool previews focusses on the teams competing in Men's Pool A, where Australia – currently the top ranked team in world hockey – face eight times Olympic gold medallists India, reigning Olympic champions Argentina as well as Oceania rivals New Zealand, Spain and hosts Japan.

Australia
The Kookaburras are regarded as the most consistently successful Australian sports teamover the past two decades and have been ranked amongst the top four nations in the world for more than 30 years. The Olympic champions of 2004 could only manage a sixth-place finish at Rio 2016, but under the guidance of head coach and former Kookaburras striker Colin Batch, the team will start Tokyo 2020 as one of the favourites for gold. 

Coach quote – Colin Batch: "Being at our best when we need to be is what it's all about. Our first aim is to qualify for the quarter-finals and we cannot underestimate that. We come up against a determined host country first up who will be nicely acclimatised and very eager to perform well in front of their home crowd, so each match generates a different set of circumstances. We're not looking too far past that first match against Japan."
One to watch: Eddie Ockenden. One of the undisputed greats of Australian hockey, Eddie Ockenden rarely puts a foot wrong no matter where on the field he is deployed. In March 2020 he became the most capped male player in Australian hockey history, surpassing Jamie Dwyer's record of 365 appearances.

For more information on Australia, check out our special interview spotlight feature by clicking here.

India
It has been over 40 years since India men claimed the most recent of their incredible eight Olympic hockey gold medals. However, their superb form in recent times makes them serious contenders to claim a ninth title at the upcoming event in Tokyo. The team has claimed victories against nearly all the top teams in world hockey over the past couple of years, with Australian head coach Graham Reid getting the best out of a talented and exceptionally fit collection of athletes. India booked their ticket to Tokyo with two victories over Russia in the 2019 FIH Hockey Olympic Qualifiers, winning 4-2 and 7-1 in Bhubaneswar. 

Coach quote – Graham Reid: "It has not been an easy process to make the final selection of 16 players as there is a lot of quality and ambition in this group of players. The performance levels of all the athletes are at an optimum level and more importantly they work well together. They know what it means to represent the country at the Olympics. We are now focussed on training with the same intensity and our goal is to put forward our best performance as a collective unit in Tokyo."
One to watch: Manpreet Singh. India's captain is a dynamic midfielder who leads by example. Named FIH Player of the Year in 2019, becoming the first player from India to win the award.

For more information on India, check out our special interview spotlight feature by clicking here. 

Argentina
For many years, Argentina's men were hidden in the long shadow cast by the remarkable achievements of their female counterparts. A bronze medal at the Rabobank Hockey World Cup 2014 in The Hague (NED) changed everything, with Los Leones (The Lions) going on to claim Olympic gold – something that even Las Leonas (The Lionesses) have not achieved – at Rio 2016. Can they defend their title in Tokyo?

Captain's comment – Pedro Ibarra: "We know that we are the last champions, but this tournament is something different. It [is now] five years later, and every team has changed players, changed coaches, changed tactics, changed everything. So, we have to be quiet and go step-by-step, as we did in Rio."
One to watch: Lucas Vila. Long considered one of the most naturally gifted attackers in world hockey, Vila has a reputation for scoring spectacular goals and always provides assists for his team-mates. Played an instrumental role in their Olympic success in 2016.

For more information on Argentina, check out our special interview spotlight feature by clicking here. 

New Zealand
Coached by former Black Sticks midfielder Darren Smith, New Zealand – who shocked the world by becoming Olympic champions at Montreal 1976 – are renowned for their tireless team work ethic but are also blessed with some exceptional individuals. Stephen Jenness and Hugo Inglis are both wonderful attacking talents, while veteran defender Shea McAleese and penalty corner expert Kane Russell are consistently excellent performers. New Zealand reached Tokyo with two victories over Korea in the 2019 FIH Hockey Olympic Qualifiers, winning 3-2 and 3-0 in Stratford. 

Coach quote – Darren Smith: "It's a pretty experienced group but it's also the first pinnacle event for players like Sam Lane who have previously missed out through injury or Jacob Smith and Nick Ross who have been rewarded for their perseverance. They've shown they're really determined to be there."
One to watch: Stephen Jenness. An attacking midfielder with a keen eye for goal, Jenness has been a central figure for the New Zealand team for nearly a decade, earning well over 200 international caps since making his debut in 2011.

For more information on New Zealand, check out our special interview spotlight feature by clicking here. 

Spain
Spain's men have regularly produced sides that are capable of fighting for the biggest honours in the game, a fact proven by five silver medals at Olympic or World Cup level, not to mention two European championships and a Champions Trophy title. Head coach and former France international Frédéric Soyez – who will step away after Tokyo, being replaced by current Netherlands men's head coach Max Caldas – has instilled a wonderful work ethic into his team without sacrificing any of the flair that has been the signature of so many Spanish sides in the past. Spain earned a berth at Tokyo with a hard-fought triumph over France in the 2019 FIH Hockey Olympic Qualifiers, coming back from three goals down to draw 3-3 in the first match before edging a 3-2 victory in Match 2 in Valencia.

Player perspective – Marc Salles: "Regarding the pool, it's very different. You have Argentina, but also Australia and New Zealand, who play a little bit [in] the same [way], hockey that is very physical. They go for it all game; they don't have any down time. With Japan, we don't know a lot about them. We know that they won the Asian Games a few years ago, so they are going to be very good. We know India. It is always difficult to play them as they are skilful, fast and unpredictable. We have a very open pool, and I am looking forward to playing in it."
One to watch: Xavi Lleonart. A pacey, skilful attacker with an eye for goal, Lleonart has an uncanny ability of unlocking opposition defences.

For more information on Spain, check out our special interview spotlight feature by clicking here.

Japan
As the host nation, Japan's men already had a ticket to Tokyo 2020 before they stepped onto the field at the 2018 Asian Games in Jakarta, Indonesia. Incredibly, at that event they earned an outright berth, claiming a stunning gold medal ahead of four higher-ranked teams in India, Malaysia, Pakistan and Korea. It was an astonishing achievement for the team coached by Dutchman Siegfried Aikman, who will be looking to weave his magic with the team as they target a podium place on home soil.
Player perspective – Manabu Yamashita: "I am very excited and cannot wait for the Olympic Games to be played in my country. I feel I am very lucky. I'm very proud about representing my country, especially when singing my national anthem. It will be a very special occasion."
One to watch: Manabu Yamashita. A high-quality defender who has represented Japan for the past ten years, 'Yama' will be determined to enjoy every minute of the home Olympics experience. 

For more information on Japan, check out our special interview spotlight feature by clicking here.

Our pool previews will continue on Wednesday when we look at Women's Pool B, where Australia, Argentina, New Zealand, Spain, China and Japan will battle it out for the four quarter-final berths.

The hockey competitions at the Olympic Games Tokyo 2020 will take place from Saturday 24 July to Friday 6 August 2021. Both the men's and women's competitions feature 12 teams, split into two pools of six ahead of quarter-finals, semi-finals and medal matches. For more information about the hockey competitions at the Olympic Games Tokyo 2020, visit https://olympics.com/tokyo-2020/olympic-games/en/results/hockey/olympic-schedule-and-results.htm.  

Make sure that you use #Tokyo2020, #Hockey, #StrongerTogether, #HockeyInvites @Tokyo2020 and @olympics on social media when showing your support for your nation. Be sure to follow FIH for all the latest updates as teams and fans get ready for the biggest show on earth – the Olympic Games.

FIH site


---

Argentina and Canada go in search of Olympic glory

Sarah Juggins

The Olympic hopes and dreams for the Pan American Hockey Federation this year rest with two nations – Argentina and Canada.

The men's and women's national teams of Argentina and the men's team of Canada will be taking to the biggest international stage, at the Oi Hockey Stadium in Tokyo, as they do battle with the eleven other top nations to win a coveted Olympic medal.

For Argentina men, this is a chance to defend the gold medal they won in such glorious fashion in Rio five years ago. Then, the team defeated Belgium 4-2 with an energetic display of attacking hockey, tempered by some very cool-headed defending. The team's progress through the tournament had been steady but not spectacular. An opening 3-3 draw with the Netherlands was followed by a 3-1 win over Canada, a close 2-1 victory over India and a scintillating 4-4 draw with Germany.

In the knock-out stages, Argentina beat Spain in a match that was really played out in the final three minutes, with Spain scoring in the 57th to bring the scores level, before Juan Gilardi scored the winner in the final minute of play.

A re-match with Germany in the semi-finals saw Argentina hit top gear as they beat Germany 5-2, before Pedro Ibarra, Ignacio Ortiz, Gonzalo Peillat and Agustin Mazzilli all found the net to beat Belgium in the final.

Several of Los Leones remain in the squad that secured gold, but this is a new era, with plenty of teams lining up to take the crown. As captain Pedro Ibarra says: "We know we are the reigning champions, but this tournament is something different. It is now five years later, and every team has changed players, changed coaches, changed tactics, changed everything. So, we have to be quiet and go step-by-step, as we did in Rio."

There are some seriously experienced players in the Argentina squad. Juan Vivaldi, at 42, is the oldest player at the tournament and has 288 caps to his name. Ibarra has 310, midfielder Juan Lopez has 316 and Lucas Vila, has 256.

That experienced is melded with some hot young talent in the shape of Nicolas Keenan, Thomas Habif and Santiago Tarazona, but Head Coach Carlos Retegui is definitely plumping for wisdom over youth – the youngest player in the squad is 24-year-old Keenan.

The Head Coach, Retegui, will be hoping to make history as he is taking charge of both the men's and women's squads. There is a precedent to this – he did the same in the 2014 World Cup, leading both teams to Bronze, but Argentina is a country that loves its hockey and will be wanting its teams to come back with gold.

For Argentina women, this is the missing link in an otherwise glorious hockey history. Las Leonas won silver in 2000 and 2012, and bronze in 2004 and 2008. By their standards, a seventh position in 2016 was a real low point and they will be desperate to bounce back this time around.

Clearly, it is a team packed with talent. At 35, Belen Succi remains one of the world's best goalkeepers and she has a defensive team around her that is notoriously hard to break down. At 37 and with 337 caps to her name, Noel Barrionuevo is a rock in defence and a threat at penalty-coners. Along with teammate Sofia Maccari, the two Argentinian defenders are the oldest players in the women's competition.

When it comes to attacking options, Argentina are blessed with talent. Sisters Maria and Victoria Granatto create opportunities out of nowhere, while Agustina Albertarrio is imperious as she descends upon the opposition's goal.

Long-serving forward Delfina Merino believes this could be Argentina's year. Merino, who was FIH Player of the Year in 2017, says that the Olympics, and a good showing from the team, is just what is needed for the Argentina people after the devastation of the past 18 months of Covid restrictions.

Canada men reached their eighth Olympic Games after they defeated Ireland in a tense, exciting FIH Olympic Qualifier against Ireland. Their first appearance at an Olympics was also Tokyo, in 1964. To date, the Red Caribou's best finish has been 10th, and, as captain Scott Tupper says, they are aiming for the quarter finals, which will eclipse any previous finish.

In Tupper, along with Mark Pearson, Taylor Curran, Gordon Johnston and Sukhi Panesar, Canada have a lot of experience. What they have lacked in the past 18 months is much match-play, due to Covid travel restrictions. However, this is a team that knows how to dig deep, can defend with raw aggression and will play with no fear.

One notable absence from the team sheet is long-serving goalkeeper David Carter, who chose not to travel to Tokyo when he was selected to be reserve goalkeeper.

Talking about the challenges ahead, Tupper says: "Our best placement at an Olympic Games is tenth, so if we can get into a quarter-final it would be the best performance by the Canadian men's team ever, and we would love to do that.

"But I really do think it is one game at a time, and we must avoid letting a tough match at the start of the tournament roll into the next game. Ultimately, it is possible to get through with two good results. We would love to have more than two, but we really need to make sure that whether the previous game has gone well or not so well, we put it to bed and have a good game plan ready to go in order to seize any opportunity that presents itself."

Both Argentina men and women qualified for the Games as continental champions, with Canada sealing their place with an exciting victory over Ireland men in the 2019 FIH Olympic Qualifiers.

Looking at the pools, there will be no easy way to a quarter-final place for any of the PAHF representatives. In Pool A, Argentina men will find themselves up against the world number one side Australia, as well as a tricky encounter with India – a team that has been on the rise and will be looking to reignite their Olympic winning ways.

Spain are always a threat, in test matches played at the start of July, the European side held Argentina to a 2-2 draw before defeating the reigning Olympic champions by a 3-1 margin.

New Zealand showed both resilience and attacking flair in recent FIH Hockey Pro League matches against Australia, and the host nation, Japan, are reigning Asian champions.

If anything, Canada face an even bigger challenge. Belgium are currently second in the world rankings and were crowned FIH Pro League champions. They are a side oozing with talent and desperately want to add an Olympic title to the World Cup title they won in 2018.

However, Belgium's ascendency has been challenged of late with both Netherlands and Germany defeating the Red Lions. The Netherlands in particular look like a side that is hitting peak form at the right time.

Great Britain are a side that can be excellent but suffer inconsistencies. In their head coach, Danny Kerry, however, they have a leader who knows how to prepare for the biggest occasion.

If Canada are needing points at the tail end of the pool matches, then playing South Africa could be a bonus. The African champions have been heavily curtailed in their preparations due to pandemic restrictions and this could make them vulnerable, particularly if they have suffered confidence-sapping losses in earlier matches.

For Argentina women, their Pool B rivals are all sides that Las Leonas, on their day, can defeat. If there are any slips however, all five opponents can hurt Argentina's progress to the quarter-finals. The biggest threat will come from the Oceania duo. Under new head coach Katrina Powell [herself a double gold medalist with the Hockeyroos] Australia are starting to blossom. They play a high tempo, energetic game that puts relentless pressure on their opponents.

The Black Sticks revolve around Stacey Michelsen in midfield but they also have an ace goal scorer in Olivia Merry. Like Australia, their work ethic is immense.

Spain are a team that is still struggling to find consistency at the top level of international hockey. They teeter on the edge of breaking into the top 10, but just fall short. They are fast, they like to counter-attack but they can sometimes be curiously low on energy.

China are an unknown quantity at the moment. They haven't played FIH Pro League hockey since January 2020, but head coach Yang Wang will have been working tirelessly to prepare his team to better their ninth-place finish from 2016. The Argentina team will know to expect solid defence with fast counter-attacks.

The other unknown quality is the Japanese team. While there will be no home crowd advantage, the Cherry Blossoms will have the benefit of knowing the pitch very well and being totally comfortable in the heat. The team want to leave a legacy of hockey and, in becoming Asian continental champions, they proved they know how to win.

While the focus will be upon the teams and their performances, there is also a great representation of officials from the PAHF region. From appeals jury, to technical officials to umpires, the PAHF hockey family will be showcasing the continent's great hockey culture.

PAHF Olympic Officials

Maureen Craig-Rousseau - Appeal Jury President
Alberto "Coco" Budeisky – Appeal Jury
Royal Richardson - Technical Official
Rene Zelkin - Technical Official
Adrian Della Mattia - Technical Official
Steve Horgan - Umpires manager
Maggie Giddens - Umpire
Irene Presenqui - Umpire
Carolina de la Fuente - Umpire
Ayanna McClean - Umpire
German Montes de Oca - Umpire

Pan American Hockey Federation media release


---

Points from opening matches crucial for men's hockey side




The New Zealand men's hockey team are targeting their first three matches in Tokyo to keep on track for a quarterfinals spot.

Head Coach Darren Smith says it's crucial to get points from their opening three games starting with India on Saturday, despite India having a world ranking four spots higher than the ninth-ranked Kiwis.

"It's a strong pool but we've definitely been focused on that opening match against India as one we'd like to get three points from."

Next up in Pool A New Zealand will face Spain, who've they've always had tight encounters with, and then the home side Japan who Smith says will not be easy beats despite their world ranking at 15.

"Japan have steadily got better over a number of years. We played them in Tokyo in a test event two years ago and they were physical and very quick."

The Kiwis' last two pool matches don't get any easier as they face world no. 1 Australia and defending Olympic champions Argentina.

The team arrived in Tokyo on Sunday after disrupted preparations which saw them stuck in Perth for an extra week after the FIH Pro League matches against Australia.

"It was tough but we certainly locked in our Covid scenarios practice in Perth which will be part of our daily lives in Tokyo. And it was good to play Australia again," said Smith.

The good news on returning from Perth was that the injured pair of Waikato defender Nic Woods and Wellington striker and current New Zealand Player of the Year Jacob Smith had recovered from the injuries that saw them miss the Perth matches.

Darren Smith highlighted the team's talented forward line with three players attending their third Olympics – Hugo Inglis, Nick Wilson and Stephen Jenness – as ones to watch in Tokyo, while captain Blair Tarrant and four-time Olympian Shea McAleese will provide a rock solid defence.

"We've also got two vitally important drag flickers in Nic Woods and Kane Russell and some exciting young players like Sean Findlay and Dylan Thomas heading to their first Olympics."

In a recent rule change, the Olympic hockey squads have been expanded to 18 players with 16 to be named for each match. North Harbour striker George Muir and Canterbury defender David Brydon have been added to the New Zealand men's squad.

New Zealand Men: Steve Edwards, George Muir (North Harbour); Leon Hayward (GK), Jared Panchia (Auckland); Nic Woods (Waikato); Sean Findlay, Shea McAleese, Dylan Thomas (Hawke's Bay); Nick Wilson (Manawatu); Stephen Jenness, Dane Lett, Jacob Smith (Wellington); David Brydon, Sam Lane (Canterbury); Hugo Inglis, Nick Ross, Kane Russell, Blair Tarrant (Otago).

For player profiles and statistics including caps, goals and shirt numbers click here.

New Zealand Men's matches in Tokyo (NZ time):

Sat 24 July 1pm: vs India (world ranking 5)
Sun 25 July 11.45pm: vs Spain (8)
Tue 27 July 2.45pm: vs Japan (15)
Thu 29 July 12.15am: vs Australia (1)
Fri 30 July 10pm: vs Argentina (4)
Sun 1 August: Quarterfinals                           
Tue 3 August: Semifinals                              
Thu 5 August: Final/bronze medal

Hockey New Zealand Media release


---

A hockey medal at Tokyo Olympics would be a fitting tribute to Balbir, Keshav, Kaushik

A medal in hockey at the Tokyo Olympics will end India's 41-year drought at the Games and a tribute to legendary hockey players.

Nirmit Mehta



India Hockey (Source: Business Standard)

Hockey has always been one of the leading sports in India. India has enjoyed a tremendous amount of success in Hockey at the Olympics. India itself invented the sport, and as such, it is just fitting that they are the most successful hockey team in Olympic history. India has won a total of 11 medals, including eight gold in hockey at the Olympic Games, with the last one coming back in 1980 Moscow Games.


---

No distinction between senior and junior players: Indian hockey team captain Manpreet Singh

Manpreet was named captain of the team for the first time in 2017, and the team has gone on to steadily rise in the FIH World Rankings under his leadership.



Indian men's hockey team skipper Manpreet Singh (Photo | PTI)

NEW DELHI: A decade on from making his debut for the Indian national hockey team as a teenager, current captain Manpreet Singh has recalled his experience of how the senior players at the time lent their support to make him feel at ease. In an insightful conversation on Hockey Te Charcha; a podcast series initiated by Hockey India ahead of the Tokyo Olympics, Manpreet said: "When I came into Team India for the first time there were so many stalwarts like Ignace Tirkey, Tushar Khandker, Shivendra Singh, Sardar Singh, Gurbaj Singh, Sarvanjit Singh and Sandeep Singh."

"All of these players gave me the confidence to play my own game without fear or anxiety. Even when I made some mistakes in the beginning, they gave me their full support and always encouraged me to express myself on the field without any fear. That was a great environment for a youngster like me to come into the national team," he added.

Since his debut, Manpreet has established himself as one of the core members of the Indian men's team in the last decade. He has been a member of Indian teams which have won prestigious tournaments like the 2014 Asian Games, 2011 and 2018 Asian Champions Trophy and two hard-fought Bronze medals in the FIH World League in 2015 and 2017.

Manpreet was named captain of the team for the first time in 2017, and the team has gone on to steadily rise in the FIH World Rankings under his leadership.

Speaking about his own style of leadership, Manpreet said: "I have picked up a lot from the experienced players and team captains before me. We have a culture in this team where there is no distinction between senior players and junior players. Everyone in the team drives each other on to play without hesitation or fear. We support each other through on-field and off-field problems and always try to uplift the morale of the group. Even in this team, I always heed the advice and inputs of experienced players like PR Sreejesh, Rupinder Pal Singh and Birendra Lakra as everyone is keen to help in the growth of the team."

From humble beginnings, Manpreet has had a fulfilling career in international hockey. Apart from leading the team in the Tokyo Olympics, he has also been bestowed the honour of being a flag bearer for India in the Opening Ceremony of the Tokyo Olympic Games. However, Manpreet insists that he still has goals he wishes to achieve in his career.

The New Indian Express


---

Deep Grace Ekka is confident of a good showing at Tokyo

s2h Team




Moving from a remote village named Lulkidihi-Bahamnibahal of Odisha's Sundargarh district's Balisankra block to becoming an Olympian, Deep Grace Ekka has indeed come a long way.

"It's a great feeling to get the opportunity to represent India in the Olympics for a second time," Deep Grace told this writer after being named in India's Tokyo Olympics-bound women's hockey squad.

A dependable defender, Deep Grace was a member of the Indian squad which participated in the 2016 Rio Olympics as well. She is set to be Odisha's first female hockey player to take part in two Olympics. The only Odia to have done better is former men's hockey team captain Dilip Tirkey who is a triple Olympian (1996 Atlanta, 2000 Sydney and 2004 Athens.

Another great, Ignace Tirkey, has played in two Olympics – the 2004 and 2012 editions. Interestingly Ignace also hails from Lulkidihi village. Birendra Lakra and Namita Toppo, also of Odisha, are bound for their second Olympics when they take the flight to Tokyo.

The women's hockey team did not perform satisfactorily in Rio but this time around Deep Grace is confident of a much better show.

The strong, stocky and excellent defender, who at 27 is already a veteran of more than 200 caps, is also considered a complete team player.

Deep Grace feels the mix of youth and experience will bode well for the team. Sitting relaxed on the AI 306 flight at New Delhi T3 Terminal, without bothering about the jeg lag (coming from Bangalure in the morning), the little dynamo spoke about Tokyo.

"The team has gained experience and is full of confidence ahead of the Tokyo Games. We hope to perform far better than at the Rio Olympics," she said. Deep Grace further said that as a senior player and vice-captain, it has been her responsibility to ensure that youngsters in the team remained motivated during the Games.

The team has enjoyed good results in top tournaments recently, including winning a silver medal at the 2018 Asian Games and qualifying for back-to-back Olympics and Deep Grace said the experienced players are working in tandem with younger ones to augment the team's strength.

Born to a modest tribal farmer's family, Deep Grace is the youngest among three sons and two daughters of Charles and Jaimani Ekka.

Deep Grace had never touched a hockey stick till she was 12 years of age. She then joined Sundargarh Sports Hostel in 2006 and later switched to SAI Centre, Sundargarh, where she honed her skills between 2007 and 2010.



Women team at Delhi Airport: Will they be history makers

Tej Kumar Xess, a relative, spotted her under the sports talent hunt scheme run by the state government. "I picked her on physical abilities, not hockey skills. I am delighted she has reached this far," said a proud Xess, her first coach who guided her for a year after which gained admission to SAI -Sundargarh where PK Sarangi and later Lucila Ekka honed her skills.

Remembering Deep Grace, PK Sarangi said, "I am proud that she has achieved so many accolades. She is the 'Lady Dilip Tirkey' of Indian team. Frankly, she was not very impressive initially. But later with her passion and hard work she made rapid progress. Her strong build combined with good anticipation, recovery and explosive power has made her an integral part of the Indian team. I strongly believe that she can play for India for another four-five years."

After joining SAI, soon Deep Grace became a part of the hostel team and then, different teams in the state. She was picked for the national camp after a series of impressive performances in the domestic circuit. She earned the distinction of becoming the first, and so far the only SAI- Sundargarh girl, donning the national jersey.

Making her India debut in 2011 in the Under-18 Asia Cup at Bangkok where India won the bronze medal, Deep Grace graduated to the senior team the same year for the tour of Argentina.

She also played a part in the Indian junior team's historic feat of winning the country's first bronze medal in the 2013 FIH Junior Women's Hockey World Cup in Monchengladbach, Germany.

She has 202 international caps to her credit which include appearances at two Commonwealth Games (Glasgow 2014 and Gold Coast 2018), two Asian Games (Incheon 2014 and Jakarta 2018), one World Cup in 2018 and the 2016 Rio Olympics.

Among her prized possessions are a bronze medal from 2014 Asian Games and silver from the 2018 Asian Games as well as the Women's Asia Cup gold medal (Japan 2017).

Currently employed by Western Railway (Mumbai), Deep Grace was awarded the Biju Patnaik Award last year and also received the Sportswoman of the Year accolade for team sports at the second Sportstar Aces Awards in 2019.

Asked if she expects a podium finish at Tokyo, Deep Grace said, "When we are participating in the Olympics, we definitely want to win a medal. We will take it one match at a time and play according to the opponent's strength."

She didn't forget to add that every member of the team is determined to give her best at Tokyo.

Stick2Hockey.com


---

Olympic hopeful Elena Tice confident Ireland's women's hockey team can make their mark in Tokyo

By Myles McDevitt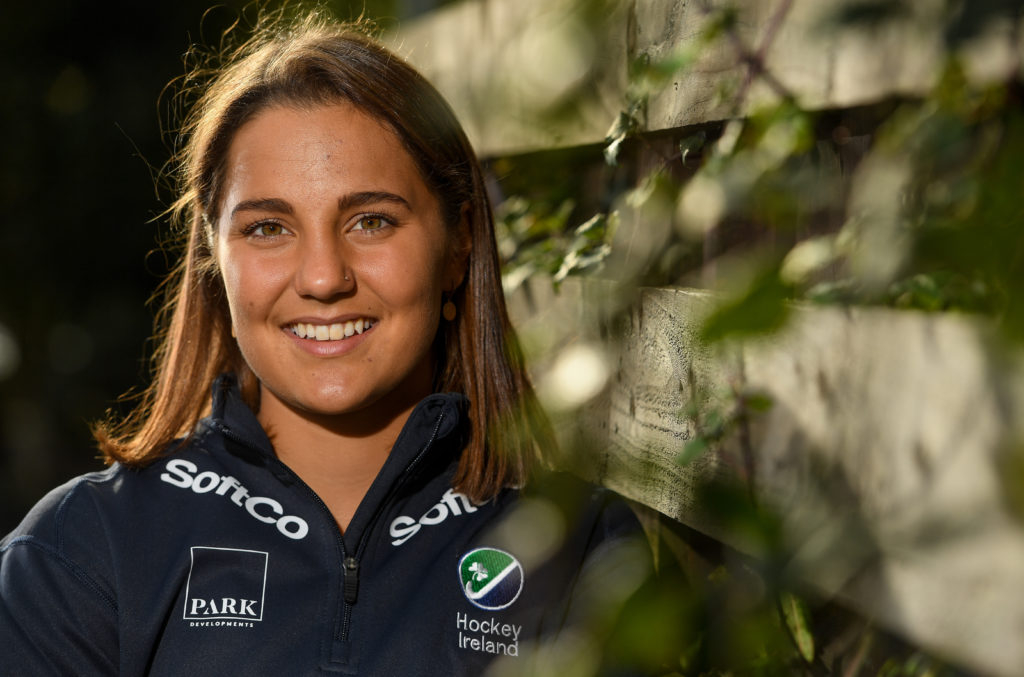 Elena Tice of the Ireland Women's Hockey team

THE Olympics may be about seeing the biggest stars of world sport apply their trade but it's also a chance to arrive on the biggest stage of all.

For Ireland's women's hockey team, these are the games to mark their arrival on the Olympic stage.

The team qualified for the Olympics in November 2019, beating Canada in a penalty shootout to send them through to Tokyo.

But one of the squad members, defender Elena Tice, has already had one of the most varied careers in Irish sport.

A dual international in both cricket and hockey, she is excited about the prospect of representing Ireland as the long-awaited games kick off later this week.

"Its been incredibly exciting, we qualified back in November 2019, so obviously with the games being delayed last year, we had a lot of time to sort of prep," she admits.

"It almost feels surreal that we're the first Irish female team to go to the Olympics, the whole nation will get behind us," she added.

The Olympics were called off in March 2020 as the Covid-19 pandemic took hold across the globe.

Japan's hopes of staging a competition this year where crowds would come to life again were dashed last month as another state of emergency was declared in Tokyo that would last throughout the competition period.

As a result the games, which begin on July 23 and run until August 8, are being held behind closed doors, with no fans permitted to attend.

It's a disappointing turn of events for the hockey team, Tice admits.

"It's something we've been aware of probably since the very beginning of the pandemic, we train at home all the time with the crowds there and play a lot of practice matches," she explained.

"It's disappointing that you would love to have your family in the stands and you want that for them as well.

"So, no doubt we will miss having our nearest and dearest there and obviously the Irish support is incredible and we've seen that in the World Cup."

For Tice, the Olympic Games represent a landmark moment within her career, having first represented Ireland in cricket, making her debut when she was just 13 years of age.

Her cricket career saw her win 60 caps for her country which also included travelling to Bangladesh for the 2014 ICC Women's World Twenty20.

Speaking on the parallels between the two sports, Tice said: "I learnt from a young age about how to carry yourself in a team environment, how to work hard, how to maintain discipline.

I was able to learn off seasoned cricket internationals like Isobel Joyce, Cecilia Joyce, Claire Shillington, Mary Waldron."

She added: "In terms of transferable skills, cricket is one big game of hand-eye coordination and hockey isn't too different, especially the position I play.

"Equally, I have learnt about how to thrive in a team environment off the pitch as well as on it."

Ireland's group at the Olympics include the likes of Great Britain, India, Germany, South Africa and the Netherlands.

The Netherlands is the number one ranked team in the world and beat Ireland in the final of the Women's Hockey World Cup in 2018 in London.

"They're an unbelievable side, we will relish the challenge of going up against them and hope to go out a give a good performance but I think other games are going to be our target games," Tice said.

In a career that has seen Tice represent her country at both cricket and hockey, winning a gold medal at the Olympics would top it all for her.

"I can't even put it into words, it would be the biggest sporting achievement in my life and would be unbelievable for Irish hockey.

"It would change the face of the game here, there is something special about the Olympics which is quite hard to put your finger on it."

Hopefully by the end of the Olympics, Ireland's women's hockey team can deliver gold.

On Saturday, July 24 Ireland play their first match against South Africa in the group stage. They then go up against the Netherlands on July 26, Germany on July 28, India on July 30 and Great Britain on July 31.

The Irish Post


---

Three north Durban hockey players arrive in Japan ahead of Olympic Games

The trio are currently in Japan after prepping for the games in a bubble at a camp at the North West University in Potchefstroom.



Mustapha Cassiem and Gowan Jones are looking forward to living their Olympic dreams as the duo travel to Tokyo for the games which start in a few weeks time.

WITH more than 1 000 international caps, the South African hockey men's team travelling to this year's Tokyo Olympic Games will be one of its most experienced.

Three of those members and north Durban residents, Mustapha Cassiem, Taine Paton and Gowan Jones recently spoke to Northglen News about their excitement ahead of the games which sees them take on Great Britain, Netherlands, Belgium, Germany and Canada in Pool B.

The trio are currently in Japan after prepping for the games in a bubble at a camp at the North West University in Potchefstroom.

One of the team's youngest players is 19-year-old Cassiem, who said he hopes to make his family and country proud. He is currently studying at the IIE's Varsity College Durban North where he also plays for the college's hockey team.

"It really is a very special moment for me and at times I have to pinch myself because it feels a bit unreal. I come from a proud sporting background and it is incredibly special to be in the same team as my older brother, Dayaan. He is already an established national team player and he's someone I look up to so I'm excited about the challenge ahead. We both want to make our family and country proud. To be able to reach the pinnacle of sports is truly an amazing feeling and I'm looking forward to just taking it all in," Cassiem said.

Paton spoke about the prospects of facing up to some of the toughest teams in the world.

"As a team we have a huge amount of trust in each other. While we are in a very difficult group with the world number one hockey team we have a lot to show what we've been working on since the 2012 games in London. There are no easy games in Tokyo and that's what is exciting. We are all really pumped and the support and coaching staff really have been incredible, we are all playing for the pride of our country. It isn't going to be easy but we've got our goals and plans and I firmly believe the results will show on the hockey turf," Paton said.

Glen Anil resident, Jones, a member of Riverside Hockey Club, is travelling to Tokyo as the reserve goalkeeper and said he was happy to fulfill whatever is needed of him.

"I may not play a single game in Tokyo but as the reserve goalkeeper my role is to provide support for Rassie Pieterse. As a training keeper I'll also have a chance to train with the team and just help support the team in whatever way I can. I'm really excited about travelling to Tokyo, it feels kind of surreal because this is my first Olympic Games but, like Mustapha said I too am ready to soak up the atmosphere in Japan and make my country proud in whatever capacity is needed," he said.

Northglen News


---

China women's hockey team aiming to improve on Rio's ninth place

TOKYO, July 19 (Xinhua) -- Ranked 11th in the world, the China women's hockey team will not be among the title favorites when the Olympic hockey tournament gets underway on July 24.

Yet the Chinese side, who are making their sixth consecutive appearance at the Olympics, still hope to improve on their ninth place at the Rio Games five years ago.

"It is tough for us to claim a medal," team manager Wang Tao told Xinhua upon the team's arrival in Tokyo on Sunday.

"But one of the core values of sport is about transcending ourselves. So we hope to play our best game after one year of behind-closed-doors training. We will go all out to show our competitiveness and mentality," Wang added.

China won the silver medal at Beijing 2008, the country's best record in the event. Of the 19 players in the current Chinese team, only nine participated in the last Olympic Games.

Captain Cui Qiuxia is optimistic about their prospects. "We are fully prepared now. Our goal is to stand on the podium," she said.

China is drawn in Pool B with Australia, Argentina, New Zealand, Spain and Japan. The top four teams in each pool will proceed to the quarterfinals, while the remaining four teams will be eliminated from the competition.

XinhuaNet


---

SA Under 21 Men Announced for FIH Junior World Cup

The South African Hockey Association has today announced the 24-man squad from which the final team for the FIH Junior World Cup in India in November 2021 will be picked. The FIH Junior World Cup will be taking place in India for the third time in history and the South African Men will be competing for the 6th time. South Africa were confirmed as participants in this year's event when the Junior African Cup was cancelled earlier this month.

16 teams will compete in the tournament once again, with Egypt joining South Africa as the African challenge in India. The hosts are also the defending champions having defeated Belgium in the 2016 tournament, where South Africa finished in 10th place. That South African squad featured Tyson Dlungwana, Peabo Lembethe, Ryan Julius, Tevin Kok and Bili Ntuli, all of which are now in Tokyo with the senior men for the Olympic Games. Garreth Ewing, the now senior men's coach in Tokyo, was the man at the helm as the South Africans almost eliminated the hosts!

The recent CTM Showdown gave the selection panel and coaches some good food for thought as the young men produced quality displays at the fine Northwest University. Marvin Simons and Aiden Tun have been capped at international level on the indoor courts and will be integral to the team's performance. While the likes of Trevor de Lora, Guy Morgan and Sihle Ngubane enhanced their reputation in Potchefstroom.

Coach Sihle Ntuli is excited about the upcoming challenge.

"We benefitted from the CTM Showdown in a superb way. The quality of competition with the senior men gave us a great insight into our progress and competitive readiness. It gave us some things to work on, but also importantly showed that we were a lot further along than we thought.

It is a massive honour for the team to be given the opportunity to represent South Africa and the African continent and we will be going to India to make you all proud!"

The 12th FIH Junior World Cup for men takes place in India from 24 November to 5 December 2021

SA U21 Mens Squad – FIH JUNIOR WORLD CUP 2021



SA Hockey Association media release


---

Australian Masters Hockey Champs threatened for second year




Preparations for the Australian National Masters 'Mega' Championships in September/October this year are under a cloud as infections from COVID's delta variation stubbornly continue to present at a high level in the Sydney community, with spot occurrences also in Melbourne and some smaller regional centres, writes Bill Murphy.


---

National masters' selections hampered in southern hemisphere

Bill Tomkins




Covid is having implications on selection of national masters' teams in New Zealand.


---

Hockey women rewarded by MTC

by Helge Schütz



Tim Ekandjo of MTC (centre) with Maggy Mengo and Erwin Handura. Photo: Helge Schütz

TELECOMMUNICATIONS company MTC on Friday gave the national women's hockey team new iPhones as a token of appreciation following the team's qualification for next year's Indoor World Cup.

Tim Ekandjo of MTC handed over 18 iPhones to the players and team management as a sign of appreciation for their achievement.

"As sponsors and a country, the ladies did us proud. As soon as they returned from the competition, everyone in the country started talking about hockey and the country's triumph. As a brand, we continue to invest in the sporting dreams of the country, and we can only invite other corporate entities to bolster our efforts to seeing the country doing great on the national and international stage," he said.

Team coach Erwin Handura, meanwhile, presented the Africa Cup trophy to Ekandjo, saying they could not have achieved it without the company's support.

"We qualified for the Indoor World Cup, but that would never have been possible without our main sponsor MTC. the government cannot foot the bill alone, hence we are grateful to MTC. Today we are here to present this trophy to MTC. Place it in your boardroom or wherever the public can see the fruit of your investment," he said.

The 2021 Indoor World Cup will be held in Liege, Belgium from 3 to 7 February and Handura said they are aiming for a top three finish this time.

"We finished ninth at the last World Cup – we played six matches, won two, drew two and lost two, but now we are aiming for a top three finish.

It can be done, but we at least want to get a top six finish, because then we will qualify automatically for the next world cup and wont have to play continental qualifiers," he said.

"The Pan American qualifiers were held at the end of June so we analysed that, while we also have video clips of all the top teams so our players are busy analysing them," he added.

Captain Maggy Mengo also thanked MTC for their support.

"I want to thank MTC because their financial support took a big weight off our shoulders and we are very grateful for their support. Now we can concentrate on the world cup where we will aim to finish among the top three countries. It won't be easy, but as our coach said, it can be done," Mengo said.

The Namibian