All the news for Monday 19 July 2021

Tokyo 2020: Women's Pool A Preview: Can anyone stop the dazzling Dutch?




With the start of the Olympic Games Tokyo 2020 just days away, we bring you the first of four preview features examining the teams that will compete in each pool. With six teams battling it out for a top four finish in order to secure a place in the cross-over quarter finals, the result of every match in the pool phase will have genuine significance.

Our first preview looks at the teams competing in Women's Pool A, where hot favourites the Netherlands take on reigning Olympic champions Great Britain, European silver medallists Germany as well as Ireland, India and South Africa. 

The Netherlands
They may not be the reigning Olympic champions, but the Netherlands are without question the team to beat at Tokyo 2020. Head coach Alyson Annan, the legendary former Australia international, double Olympic gold medallist and two-time FIH Player of the Year, has created a team very much in her own image: a perfect balance of outrageous talent, discipline and an unbreakable winning mentality. The team has been almost unstoppable in recent years, claiming the 2018 Women's World Cup before becoming both FIH Hockey Pro League and European champions in 2019 and 2021. Can anyone stop the dazzling Dutch from reclaiming their Olympic crown?

Player perspective – Lauren Stam: "It is a tough pool, but the other pool is also tough. All of the opponents are great opponents. Of course, we are going for first place and to do our best in the pool. That is the goal in the first phase of the tournament." 
One to watch: Eva de Goede. In team full of superstars, it takes a player of rare quality to shine, but Netherlands captain Eva de Goede does just that. A defensive minded midfielder with a flawless skillset, de Goede's ball running, tacking and visionary passes are a joy to behold. Named FIH Player of the Year both in 2018 and 2019.

For more information on the Netherlands, check out our special interview spotlight feature by clicking here.  

Germany
Following their wonderful Olympic bronze medal success at Rio 2016, Germany have continued to look like a team that can challenge the very best in the world. A bronze medal in the inaugural FIH Hockey Pro League and silver medals at the two most recent European Championship events prove that Die Danas – coached by former Belgian international Xavier Reckinger – really are a class act, and they will be looking to get amongst the medals in Japan. Germany faced Italy in the 2019 FIH Hockey Olympic Qualifiers, comfortably winning both matches to create an emphatic 9-0 aggregate score-line to reach Tokyo 2020.

Player perspective – Charlotte Stapenhorst: "We have a really good pool! We know that we have to look at ourselves and make sure that every pool game, we come out a little better. We'll proceed from game to game, I think." 
One to watch: Charlotte Stapenhorst. This lively attacker is always an impressive performer, with her magical 3D skills and creativity being a constant scourge to opposition defences.  

For more information on Germany, check out our special interview spotlight feature by clicking here.  

Great Britain
Having stunned the world by winning Olympic gold at Rio 2016, where they defeated the Netherlands in a thrilling shoot-out thanks to a sensational goalkeeping display from Maddie Hinch, Great Britain will be determined to defend their title at Tokyo 2020. Following Olympic gold medal-winning head coach Danny Kerry's switch to the England and Great Britain men's programme in 2018, the responsibility for preparing GB for Tokyo is now in the hands of former Australian international striker Mark Hager, a man who worked wonders in New Zealand with the women's Black Sticks team. Hager successfully guided his team to a place at Tokyo 2020 by defeating Chile in the 2019 FIH Hockey Olympic Qualifiers, claiming 3-0 and 2-1 victories over Las Diablas at the Lee Valley Hockey & Tennis Centre in London.

Captain's comment – Hollie Pearne-Webb: "I think from our point of view as a squad, we definitely don't see it as trying to defend the title. We are a completely new group of players with a completely new coaching structure and a completely different way of playing. Our aim for our squad is to go and win a gold medal, and it would be the first time as our squad."
One to watch: Lily Owsley. Blisteringly quick with an eye for goal, attacking star Lily Owsley is blessed with all the attributes that keep defenders awake at night. She made her senior international debut in 2013 at the age of 18 and within three years was a European and Olympic champion, with England and Great Britain respectively. 

For more information on Great Britain, check out our special interview spotlight feature by clicking here. 

Ireland
Ireland's women secured Olympic qualification for the first time in their history in dramatic style, edging Canada 4-3 in a shoot-out in front of 6000 enthralled fans at Dublin's Energia Park, also known as the Donnybrook Stadium. The Green Army – surprise silver medallists at the Vitality Hockey Women's World Cup London 2018, despite starting the event as the second lowest ranked of the 16 competing teams - trailed 3-1 in the shoot-out before staging a remarkable comeback, eventually winning in sudden-death. Ireland have been both authors and protagonists of an astounding story in recent years. Will they add another fascinating chapter in Tokyo?

Player perspective – Anna O'Flanagan: "I think our pool is extremely difficult. It is a pool that we can set our sights on doing well in, and I think there are some key games in there that we really need to win. We've targeted some key games that we really need to win if we want to progress in the tournament."
One to watch: Anna O'Flanagan. Strong, fast and a great finisher, Anna O'Flanagan is a central figure in Ireland's attacking line-up who was instrumental in the Green Army's incredible silver medal finish at the 2018 Women's World Cup. As Ireland's all-time record goal-scorer, expect her to regularly find the net in Tokyo.

For more information on Ireland, check out our special interview spotlight feature by clicking here. 

India
India women, coached by Dutchman Sjoerd Marijne, have been making steady progress in the past few years, moving up the FIH World Rankings as well as making the cut for the major events. Rio 2016 was India's first Olympic appearance since 1980, and The Eves are back again for a second successive Games here at Tokyo 2020. They earned their place in dramatic fashion through the 2019 FIH Hockey Olympic Qualifiers, claiming a thrilling 6-5 aggregate victory over USA in Bhubaneswar. Having won the opening game 5-1, India found themselves 4-0 down to the Americans in Match 2 before team captain Rani fired home a stunning fourth quarter strike to secure that all important ticket to Tokyo.    

Coach quote – Sjoerd Marijne: "This team has worked very hard over the last few years and has made progress consistently. There's a good mix of experienced players and new talent, which is excellent. We look forward to taking on the best in the world in Tokyo. This is a team with a lot of potential and drive which we hope to channelise to our best performance yet."
One to watch: Rani. India's captain has a reputation for scoring important goals, a fact proven by netting the decisive strike against USA in the 2019 FIH Hockey Olympic Qualifiers.  

For more information on India, check out our special interview spotlight feature by clicking here. 

South Africa
South Africa have long been the dominant force in African hockey, a fact perfectly highlighted by their staggering record in the Africa Cup of Nations continental championship. Following Zimbabwe's title success at the inaugural event in 1990, South Africa have won six successive Africa Cup of Nations events, their most recent being in Ismailia, Egypt in 2017. Additionally, they have also won all four of the African Olympic Qualifier competitions played since 2007, with the most recent being the 2019 competition on home soil in Stellenbosch to earn their ticket to Tokyo 2020. 

Coach quote - Robin van Ginkel: "The year that we have had extra as a result of the postponement, has been a massive positive for us in growth. Our energy has been revived and I truly believe we are in a better position than we would have been a year ago. We went through a rigorous selection process and came across the team that is what we believe is the right combination to make South Africa proud."
One to watch: Erin Hunter. South Africa's captain is calm and inspirational defender who will be determined to play an influential role for her team at the world's greatest sporting spectacle.  

For more information on South Africa, check out our special interview spotlight feature by clicking here.  

On Tuesday, we will take a look at Men's Pool A, where Australia, India, Argentina, New Zealand, Spain and Japan will all go head-to-head in a bid to secure a place in the competition quarter-finals. 

The hockey competitions at the Olympic Games Tokyo 2020 will take place from Saturday 24 July to Friday 6 August 2021. Both the men's and women's competitions feature 12 teams, split into two pools of six ahead of quarter-finals, semi-finals and medal matches. For more information about the hockey competitions at the Olympic Games Tokyo 2020, visit https://tokyo2020.org/en/sports/hockey/. 

Make sure that you use #Tokyo2020, #Hockey, #StrongerTogether, #HockeyInvites @Tokyo2020 and @olympics on social media when showing your support for your nation. Be sure to follow FIH for all the latest updates as teams and fans get ready for the biggest show on earth – the Olympic Games.

#Tokyo2020
#StrongerTogether 
#HockeyInvites

FIH site


---

Olympic Games Tokyo 2020: Spotlight on Japan




In the latest of our Olympic Spotlight series, we focus our attention on Tokyo 2020 hosts Japan, whose men's and women's teams are hoping to inspire the nation's next generation of hockey players with their performances on home soil at the Oi Hockey Stadium.

Japan's women claimed a remarkable gold medal success at the 2018 Asian Games in Jakarta, Indonesia, meaning that The Cherry Blossoms had effectively qualified for the Olympic Games Tokyo 2020 twice over, adding to the ticket already awarded as the host nation. The Asian Games victory – where they defeated higher-ranked India in the competition final – will have given the Cherry Blossoms a real taste for success, something they will be determined to replicate on home soil in Tokyo.

Like their women, Japan's men already had a ticket to Tokyo 2020 before they stepped onto the field at the 2018 Asian Games. However, that did not stop The Samurais from earning an outright ticket by claiming gold ahead of four higher-ranked teams in India, Malaysia, Pakistan and Korea. It was an astonishing achievement for the team coached by former Dutchman Siegfried Aikman, who will be looking to weave his magic with the team as they target a podium place on home soil.

Japan stars Yukari Mano and Manabu Yamashita give their thoughts on the once in a life-time opportunity to take part in a home Olympics.

Yukari Mano, Manabu Yamashita – thanks for talking to us! How are you feeling about competing at the delayed Olympic Games Tokyo 2020?

Yukari Mano: "Among the situation of many different opinions towards the Tokyo 2020 Games being held, we express our gratitude to the people who have supported and gave the effort to make the Tokyo 2020 Games happen. Within this situation our team has worked hard and fought together. Through this experience, we believe that we have achieved the knowledge to tell a story. We hope to tell our story at the Tokyo 2020 Games."

Manabu Yamashita:"From the postponement, I believe our team's strength has risen. Our team had been in training for a long period of time. We hope to make the most of what we have achieved."

What does representing your country at an Olympic Games mean to you, especially one being played at home in Tokyo?

Yukari Mano: "We will be ready to compete on behalf of our fellow Sakura Japan teammates whom we have fought together on this journey. Our goal is to leave behind a positive legacy for all the people who have supported us. As for the Olympics being held in Japan, I hope to take this opportunity to spread an awareness of the beauty of Hockey that I have given 16 years of my life to."

Manabu Yamashita: "I am most honoured. This is a big chance for people to watch and bring awareness of Hockey at the Tokyo Games, therefore I hope to leave behind positive results."

As always at an Olympics, every match is difficult! The focus will be all about getting out of those tough looking pools and into the quarter-finals. Which teams are you most looking forward to facing in your pool, and why?

Yukari Mano: "I look forward to each and every match. The first match [against China, on 25 July] will be the most challenging of all."

Manabu Yamashita: "Australia, which is the very first match we will be competing in [on 24 July]. I look forward to playing against the world number one ranked team. We definitely want to win against Australia and pass the preliminary matches with the winning motivation."

Finally, apart from winning an Olympic medal, what is your biggest hope for Tokyo 2020, and what impact can the Olympics have on helping the sport to grow in Japan?

Yukari Mano: "Through Hockey, although the difficult situation [regarding covid-19], I hope to move the hearts of the people who have believed in us. From this difficult situation, my goal is to inspire people through Hockey from the experience our team has achieved from not giving up hope to our goal. I truly believe that sport has a powerful energy to get people involved."

Manabu Yamashita: "To leave behind a positive legacy and make Japanese Hockey a major sport. That is my goal."

The hockey competitions at the Olympic Games Tokyo 2020 will take place from Saturday 24 July to Friday 6 August 2021. Both the men's and women's competitions feature 12 teams, split into two pools of six ahead of quarter-finals, semi-finals and medal matches. For more information about the hockey competitions at the Olympic Games Tokyo 2020, visit https://tokyo2020.org/en/sports/hockey/.

Visit the Watch.Hockey App to view the video interview in full.

#Tokyo2020
#StrongerTogether
#HockeyInvites

FIH site


---

India will take one game at a time at Tokyo 2020, pool games will be tough: Graham Reid

The Indian hockey chief coach feels the COVID restrictions have made the team resilient and mentally strong.

By Naveen Peter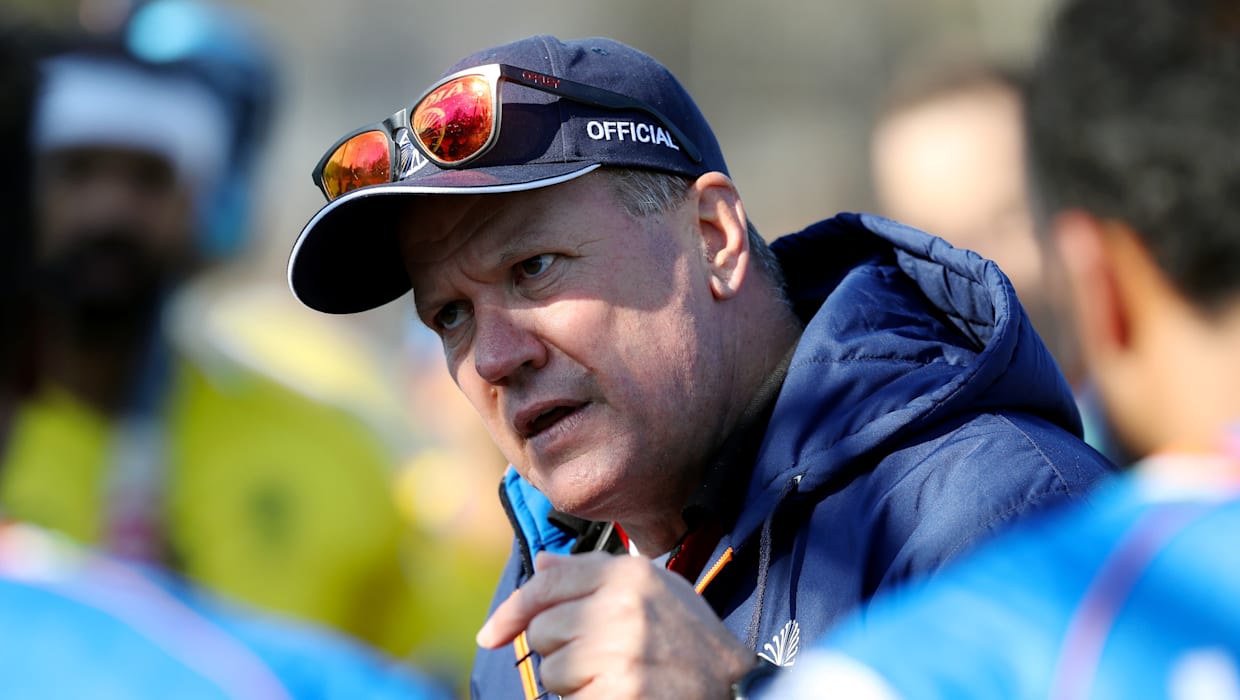 Picture by Hockey India

Graham Reid, chief coach of the Indian men's hockey team, believes that his squad is in the top mental shape heading into the Tokyo Olympics.

The COVID-19 pandemic and the ensuing nationwide lockdown saw the Indian hockey team holed up at the Sports Authority of India (South Centre) in Bengaluru for the majority of the past 16 months with very little exposure to the outside world.

The Australian thinks that the challenging times have brought the team together.

"In the last 16 months the mental resilience of this group has risen dramatically," Graham Reid told Outlook.

"Sharing such an experience like this together bonds the group I feel and when we get to Tokyo we will be in a bio-bubble but that's what we have been doing. In Tokyo we will be in similar condition so bring it on and we have the resilience to be successful."

The Indian hockey team reached Tokyo on Sunday and are in a mandatory three-day quarantine at the Games Village. While the quarantine rule comes across as a bit inconvenient, Graham Reid isn't complaining.

"We are invitees to their country. So, we have to play by whatever rules they determine and that is their right to do that," Graham Reid explained.

"We just have to work through it and we will do that. We are able to train and hopefully we will be able to play a practice game when we are in Tokyo…we will live with whatever rules are created," he added.

The Indian hockey team, led by Manpreet Singh, go into Tokyo 2020 with little competitive exposure. Their only competitive matches this year came in April when they faced the reigning Olympic champions Argentina in the FIH Pro League.

Their Pro League fixtures against Great Britain, Spain and Germany in Europe had to be postponed due to the pandemic.

Though Graham Reid had hoped for a few more matches to assess his players in the lead up to Tokyo 2020, he chose not to dwell on the uncontrollables.

"Cancellation of the European trip was a huge disappointment. We missed out on that piece of the puzzle that goes with Olympic selection," the 1992 Barcelona Olympics silver medallist said.

"We have focused on our own internal competition and that's what we have done. But yes, we would have loved more competition of course but we can't dwell on that…and continue to build on what we have."

At Tokyo 2020, India are grouped alongside Argentina, Australia, New Zealand, Spain and Japan in Group A.

With the top four qualifying for the knock-outs, India is expected to make the quarter-finals at the Summer Games. But Graham Reid isn't resting easy.

"In every Olympics, pools are difficult. In the four Olympics that I have seen and this will be the fifth, each of the pools have hugely competitive teams and this is no exception," he said.

"From the quarter-finals, it brings the other pool into consideration as well. That's why it is very difficult to ascertain the chances and we will take every game as it comes…

"We have pretty much beaten every team over the last two years and so the ability for us to win those games is there. We just need to make sure that we focus on our game plan and executing and the results will look after themselves."

India begin their Olympic campaign with a match against New Zealand on Saturday, July 24.

Olympic Channel


---

Team GB's women's hockey team bounce back from lows after Rio gold

'Rollercoaster' ride of personal struggles and enforced retirements paved road to Tokyo for the Olympic champions

Andy Bull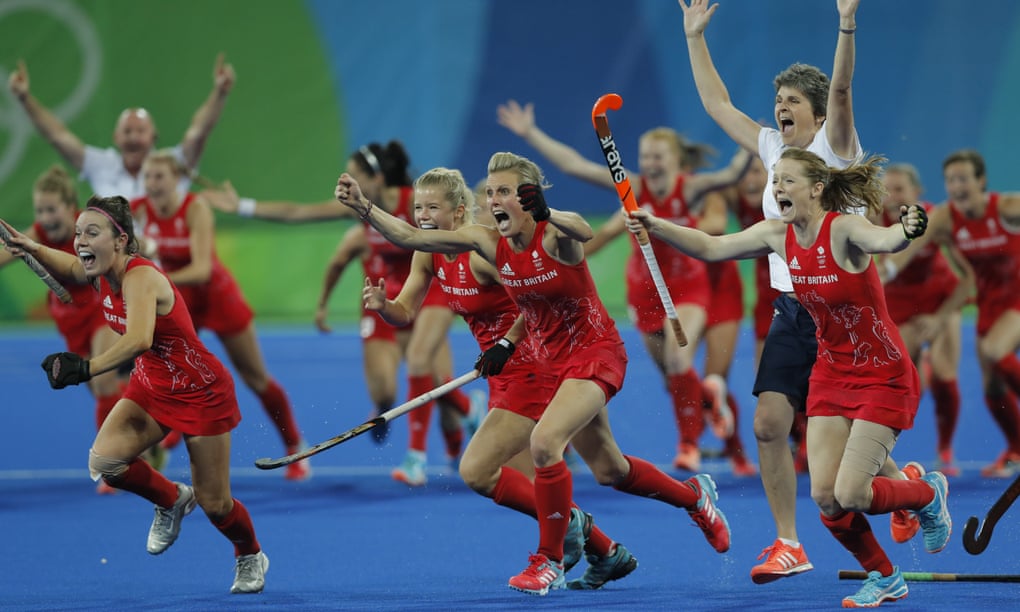 Team GB celebrate after winning gold in Rio following a gripping penalty shootout against the Netherlands – the final was watched by 10 million on BBC One. Photograph: Tom Jenkins/The Guardian

They had planned for that final penalty shootout, had prepared for it with scrupulous attention to detail. They had studied and learned the shots each of the opposition's players tended to make under pressure, discussed how long the goalkeeper should take to make the walk to the goal, whether the rest of the team should shout out in support or not, and what they might say if they did, whether each of the penalty-takers wanted to dribble the ball before shooting, and how they would feel if they made a mistake while they were doing it. It was only later, long after it was all over, that they realised there was one thing they hadn't discussed: what would happen if the plan worked.

It did, and they won gold, late on 19 August 2016 in front of a TV audience of around 10 million people on BBC One, while the 10 o'clock news was delayed to allow the nation to watch one of the headline stories of the Games being played out live. "The one thing a lot of us weren't prepared for was the way it happened," says goalkeeper Maddie Hinch, "and what came off the back of it. You know, we believed we could win, but no one really spoke about what would happen if we did it in front of 10 million people."

For some players, the answer was obvious. Kate and Helen Richardson-Walsh, Georgie Twigg, Crista Cullen and Hannah Macleod all retired from international duty soon afterwards. Others, like Hollie Pearne-Webb, the scorer of the decisive penalty five years ago who will captain the team in Tokyo, found it was a straightforward decision to stay on. "I remember being on the pitch in Rio, and just knowing I wanted to do it all over again," Pearne-Webb says, "It was my first Olympics, and it had been a difficult cycle, like they all are, but winning that gold made it all worth it. And I just knew I wanted to be part of that journey again. For me it was just a motivator. I knew how good it felt, and I wanted to go and do that again.

"But obviously it wasn't like that for everyone. I think everyone in the squad that won gold that day experienced it in different ways."

Like Hinch. "A rollercoaster is definitely the best way to describe this last five years," the goalkeeper says. "We weren't set up for what was coming when we landed, I certainly wasn't, so we had that ultimate high, and it went on and on, we were really kind of living off it for the rest of that year. And then of course, it dies down. But I think as an athlete once you've tasted it, it's almost like it's so intoxicating that you feel you had to go find it again and then you're chasing something that's almost impossible to grab."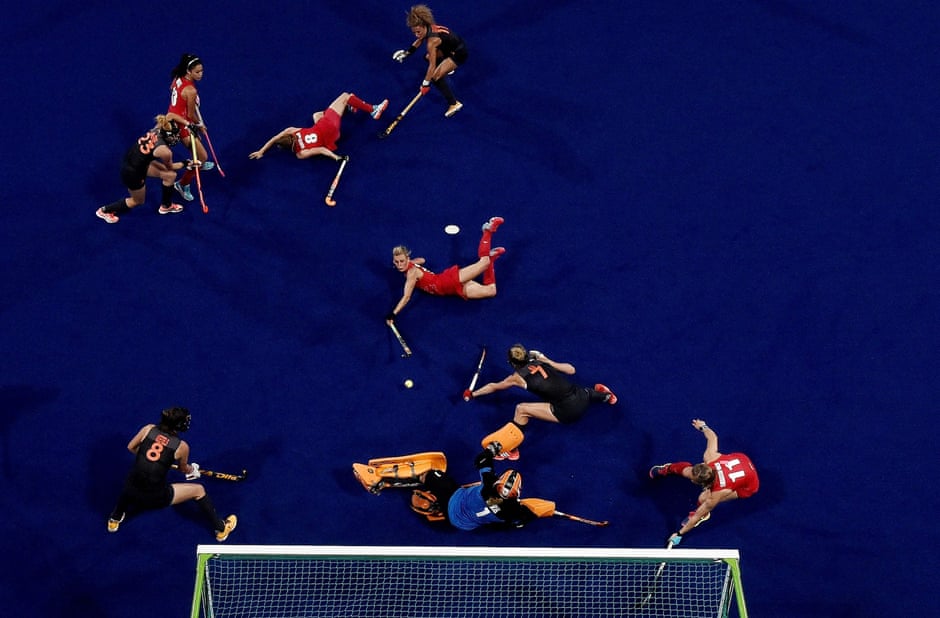 Alex Danson (centre) dives to score during the 2016 final – she took over as captain after Rio but has since retired with a concussion-related injury. Photograph: Manan Vatsyayana/AFP/Getty Images

Altogether, seven of the 2016 squad have made it through to the Tokyo Games. There ought to have been more, but the team has had a run of cruel luck with injuries. Alex Danson, who took over as captain from Richardson-Walsh, was forced into an early retirement by a brain injury caused by a concussion, so was Nicola White, while Sophie Bray decided to step back from international hockey for personal reasons. Pearne-Webb says every Olympic cycle is hard, but this one has been harder than most. As often seems to be the way with Britain's national teams, they were almost thrown by their own success.

In 2018 England hosted the Women's Hockey World Cup. It was a golden opportunity to capitalise on the success of Rio, and the organisers sold over 80,000 tickets. That meant the team was playing in front of the largest crowds they'd ever experienced. It got to them. They played poorly, and were knocked out in the quarter-finals by the Netherlands, who Team GB beat in that Rio 2016 final. Their coach Danny Kerry, who had been with England and Team GB on and off for over a decade, stepped down soon afterwards. He's now coaching the GB men's team.

Pearne-Webb says: "After any team has achieved ultimate success like the squad did in Rio, one of the biggest challenges is to go ahead and try and do that again, because you need to be better. And we had a significant loss of really experienced players and leaders in our squad after Rio, and then again after the World Cup with Alex's injury. So there has been a lot of rebuilding and then a change of coach halfway through. And then obviously the pandemic delaying everything by a year."

In one way, she says, the delay has helped because it's given the squad more time to move on from the past with Mark Hager, their new coach.

We found ourselves kind of back to where we were when I started my career, in those fifth- and sixth-place finishes
Maddie Hinch

Hinch took a three-month sabbatical in 2018, for the sake of her mental health. She found that the success had turned her into an obsessive perfectionist. "I felt every time I stepped on the pitch I had to be like this superhuman and only perfect would work. And I've never been perfect. I let in crap goals leading up to Rio, I let in a few of them during the tournament. But that all got forgotten just because of this medal. So yeah, these are the demons that I was fighting, those highs and lows. And it was tough."

At the same time, the team's performances dropped off, and "we found ourselves kind of back to where we were when I started my career, in those fifth- and sixth-place finishes." Rio was a giant leap forward, followed by several steps back.

"For me personally it helped that I was back at my part-time day job as well which helps keep me very grounded," says Pearne-Webb. "I'm also quite good at putting things in boxes. And it wasn't long after I got back home that Rio was put in a box, and the medal was put away. And it was all about looking forward to Tokyo."

She's encouraged the entire team to try and take a similar approach. "This is a very different team and a very different squad," she says, "So we're looking to go there and create our own history." Their expectations are lower, and they like it that way, it's a way of coping with the extra pressure they feel because they're defending champions.

"Rio does seem like a very distant thing now," Hinch says, "And what I'm excited about is writing a different story. I think that the biggest mistake we can make is to go out there to Tokyo and repeat everything that happened in Rio. We have to make our own mark on the hockey scene. And I honestly believe that if we can perform consistently, we'll come home with a medal, or we will certainly be in the hunt for one.

"I just want us to come back being proud of everything we put in out there, I want to feel that we didn't fear anything, and that we left no stone unturned. Really, I think that could be our biggest concern: if we come home and think we just kind of bottled it. So let's just go and put it all out there, and what will be will be."

The Guardian
`
---

Home support can help Team GB emulate Rio Olympic gold




Olympic gold medallist Georgie Twigg has backed a 'Home Support' campaign to help inspire the next generation of athletes and help the nation get behind Team GB athletes in Tokyo this summer.


---

My Life in Hockey: Kate Richardson-Walsh

Olympic hockey gold medallist Kate Richardson-Walsh shares her memories and inspirations




How I first became involved in sport

My parents were both PE teachers and loved sport, so my sister Rachel and I had a go at most activities. I did a lot of gymnastics and swimming as a youngster, and when I went to my local secondary school we played hockey, netball and athletics. My PE teacher was a really enthusiastic hockey player, as was my mum, and they passed their passion on to me. I immediately fell in love with the team aspect of hockey and felt I'd found a place in which I belonged.


---

Tokyo Olympics: All you need to know about the hockey venue turf



The Oi Hockey venue

Officially opened in August 2019, all hockey will take place at the Oi Hockey Stadium, located in the waterfront area of Tokyo Bay. Competition will be showcased over two main pitches. The 15,000- capacity (reduced for the rescheduled Games) is located inside the Oi Central Seaside Park Sports Forest and the stadium is a permanent addition to the city.


---

Epic Olympic journey of the official who became 'Mr Hockey'

Frankie D'Cruz



The Olympic rings on the gate to Vijayanathan's home reminds him of his adventures at the Games. (G Vijayanathan pic)

PETALING JAYA: There are sporting legends, and then there is "Mr Hockey" – Vijayanathan Gulasingam one of Malaysia's foremost Olympic trailblazers, not as a player but as an official.

He has been part of an astonishing nine men's field hockey tournaments at the Olympic Games between 1964 and 2000 – as an elite umpire, tournament director, judge and as assistant manager of the national team.

The Malaysian men's hockey team has also made nine appearances at the Games, between 1956 and 2000, and enjoyed reasonable outings but has struggled since then.

Sydney 2000 was Vijayanathan's last Olympics. The Malaysian hockey team has been struggling to qualify for the Games since then.

Vijayanathan was distraught when he had to skip umpiring at the 1980 Moscow Olympics after the United States led a worldwide boycott of the Games following the Soviet Union's invasion of Afghanistan.

That year, his wife, Rajaletchmy Rasiah, consoled him by replicating the five interlocking rings of the Olympics on the gate of their house in Taman Kanagapuram here.

"Every time I see the rings on the gate, I think of the beautiful moments at the nine Olympics I have attended. The feeling is as good as gold," said Vijayanathan, who turns 90 in November.

He said the excitement of the Olympic experience was as real to the officials as they were to the athletes.

"To represent Malaysia as an official at the highest level has been the greatest privilege and honour of my life," said Vijayanathan, who was inducted into the Olympic Council of Malaysia's Hall of Fame in 2004.

His Olympics experience began in 1964 in Tokyo, when he accompanied the Malaysian men's hockey team as the honorary secretary of the Malaysian Hockey Federation.

Tokyo will host the Games for the second time from July 23 – Aug 8, but without spectators.

"I had dreamed of going back as a spectator to where I began my Olympic journey but these are unprecedented times," he said.



Sultan Azlan Shah (team manager) and Vijayanathan (secretary) watching the Malaysian team in training at the Munich Olympics in 1972. (G Vijayanathan pic)

He was MHF secretary from 1956 to 1985 under three MHF presidents — then prime ministers Abdul Razak Hussein and Hussein Onn, and Sultan Azlan Shah.

Malaysia finished in ninth place in Tokyo, as they did in their first Olympic outing in Melbourne 1956.

One of Vijayanathan's enduring memories was the use of bicycles at the Games. "Thousands of bicycles were available throughout the Olympic village and it felt like a community. We simply got on a parked bicycle and rode it anywhere and left it there. Then, it was fair game for anyone else," he recalled.

At Mexico 1968, Vijayanathan was the assistant manager of the team that won only against the hosts for 15th spot despite having some brilliant players like Ho Koh Chye, A Francis, N Sri Shanmuganathan, Ranjit Singh and R Yogeswaran.



Vijayanathan, who umpired the 1973 and 1975 World Cup finals in Amsterdam and Kuala Lumpur respectively, seen here in action at the 4th World Cup in Buenos Aires in 1978. (G Vijayanathan pic)

Vijayanathan, who became an international umpire in 1969, officiated several key fixtures at Munich 1972 when Malaysia finished eighth overall. Most of the players later formed the backbone of the now legendary 1975 Kuala Lumpur World Cup team.

After co-umpiring the rapturous 1975 World Cup final between India and Pakistan, at the age of 44, he was a star umpire at the Montreal Olympics a year later.

Even Pakistan, who had disputed the so-called controversial goal – awarded by Vijayanathan – that gave India the World Cup, succeeded in getting him to umpire their victorious bronze medal playoff against The Netherlands although he was actually in line for the final.

Vijayanathan said he decided to skip the 1980 Moscow Games even though he had been appointed as an umpire by the International Hockey Federation (FIH).

When he retired as umpire in 1982 after the Bombay World Cup, he progressed rapidly in other areas of hockey administration, helped by his stature and natural authority.

His rise in world hockey led to him being a member of the two most powerful committees in FIH, in sharp contrast to the fortunes of the Malaysian team which had the talent but often choked under pressure.

At Los Angeles 1984, where Vijayanathan was appointed the tournament director, the Malaysian team, who finished eighth in Montreal, slumped to 11th placing, beating the hosts 9-8 on penalties after a 3-3 draw.

He said his stint as a hockey judge at the next Olympics in Seoul, where the Malaysian team did not qualify, was stress-free and gave him the chance to enjoy other sports.



Vijayanathan officiating the final between Germany and Australia at the Barcelona Olympics in 1992. (G Vijayanathan pic)

At Barcelona 1992, he was the assistant tournament director and although Malaysia finished ninth overall, a star was born: a young Mirnawan Nawawi around whose playmaking and scoring genius the team was built.

It was the same story in Atlanta 1996 and Sydney 2000 – Vijayanathan shone as tournament director but the team settled for a lowly 11th placing.

Vijayanathan, who was rated the No 1 hockey umpire in the world by FIH in 1972, said he was working on a follow-up book to his 2012 autobiography, 'The Memoirs of Mr Hockey', to give an insight into his Olympic adventures.



Vijayanathan was ranked the No 1 umpire in 1972 by the FIH. (New Straits Times report)

He said his Olympic and World Cup mementos reminded him of the unifying power of such multicultural sporting events.

One keepsake of significance to him is a 46-year-old metal Balilla whistle, a gift from Alain Renaud of France, his co-umpire at the 1975 World Cup.

"I treasure it very dearly because the 1975 final is much talked about until today and the tournament embellished determination as my strongest characteristic," he said.

Vijayanathan is unfailingly polite; when you say matter-of-factly that he was a master of the whistle, he says simply, "Thank you, thank you".

Free Malaysia Today


---

2021 Australian Country Hockey Championships postponed




The 2021 Australian Country Hockey Championships scheduled to be held from 7-14 August in Cairns have been postponed to October.

Hockey Australia was forced to postpone the event due to the evolving COVID situation and border closures in various states around the country.

These travel restrictions, coupled with current lockdowns and uncertainty has ultimately affected and reduced the number of teams able to participate.

The Australian Country Championships are scheduled to now go ahead in Cairns from 16-23 October.

"Although it is frustrating and disappointing for everyone involved that the Country Championships have been postponed, this was an inevitable decision," said Hockey Australia GM - Commercial, Communications and Events, Tim Cherry.

"With teams unable to attend and the continual uncertainty with border restrictions, this is the best solution to ensure we give these championships every opportunity of going ahead at a later date."

"The safety of the players, coaches, officials and staff is our top priority, and while planning and holding any national event in the current climate is a risk, we need a level of assuredness that teams will be able to travel interstate without being forced to quarantine when they return home."

"We thank the Member Associations, Tourism and Events Queensland, and all relevant stakeholders for their understanding and ongoing collaboration as we plan to run these championships in October."

The 2021 Australian Country Championships will take place in Cairns from 16-23 October. More details to be announced in due course.

Hockey Australia media release


---

Ireland U-19 boys and girls shine in England in Four Nations Series




Both the Irish boys and girls Under-19 teams made it with three wins from four in their respective Four Nations series competitions over the weekend with impressive performances against England in Lilleshall.

For the boys, their Saturday 5-1 success against the English was one of the biggest scorelines for Ireland at any grade as Simon Lowry's outfit produced an outstanding display.

In a fast-pressing performance from the outset, they raced into a 1-0 lead via Waterford man Ian Balding's powerful drag-flick. Ben Ryder swooped to chip the second into the roof of the goal when he nipped in behind the last defender.

Evan Jennings came to the fore in the second half, setting up Josh Filgas with a square pass following a powerful run. Jennings' deft deflection extended the advantage to 4-0 and while England got one back in the final quarter, Jennings provided another first time finish for his double and 5-1.

The result follows two wins over Wales last week with their one setback a frustrating 3-2 defeat to England on Friday. After a cagey opening, the deadlock was finally broken by England midway through the second quarter.

It wasn't long before Ireland got a deserved equaliser following some sustained possession high in the England half. Balding's drag flick was saved but the rebound was batted into the net by James Maginnis.

Ireland continued to pressure England, but a quick counter-attack found them lacking cover at the back and the resulting penalty stroke, on the half time whistle, by Luis Cuttle left Ireland trailing 2-1 at half time.

After the break it was all Ireland, but the equaliser proved elusive, with a number of balls flashing past the back post and an England goalkeeper who was on fire against the Irish penalty corner attack.

Late in the third quarter a slick move down the left, left England with a back post tip-in to extend their lead further. Ireland reacted well by scoring immediately in Q4 with Rex Dunlop deflecting at the penalty sport from a well-polished short corner routine.

As such, after that disappointment, coach Lowry was delighted with how his side bounced back.

"We couldn't have asked for a better reaction in game two this weekend," said Lowry. "The guys acquitted themselves brilliantly and played with real desire and intensity and the way we moved the ball was top class.

"We were disappointed not to come out of game one with a result because we played well for much of the game and created a lot of chances, particularly in the second half.

"After Friday it was nice to see our attacking quality shine through. It was a real team effort from both players and staff to pick ourselves up and go again."

The side has been working with a panel of 34 players for this development series and so it was a nice way for some to sign off this phase of their underage careers.

"For some of these guys it is their last involvement in the Under-19 program, and it is great to have been able to finish with a win like that, particularly after the 18 months that we've had. It's all to play for now and we can't wait to face Scotland in UUJ next weekend."

That is a reference to a title showdown with Scotland with two games next weekend at Jordanstown.

On the girls side, Ireland back up their two big wins over Wales last week with four points out of six from their trip to England. Emma Paul's first half goal gave the Little Green Army a 1-0 success on Friday with the strike coming following consistent pressure which led to a penalty corner that the captain slotted away.

And they carried that momentum into the second half to make it three wins from three in the competition with three clean sheets at that stage.

In so doing, it means Ireland's senior, Under-23 and Under-19 female sides have all beaten either Great Britain or England in the past four months.

Saturday did see their perfect defensive record breached when Tamsin Cookman scored from a penalty corner in game two on Saturday morning for England.

And it remained that way until early in the final quarter before a flurry of penalty corners ended with Nicola Torrans – younger sister of Sarah who is currently in Tokyo with the Olympic squad – pouncing on a penalty corner chance at the back post.

It meant a 1-1 draw with a point each to their name but the English hosts went on to edge a shoot-out after the game which earned them an extra bonus point.

That leaves Ireland on 10 points from 12 available to date with England in second on eight points. It meansGavin Groves' side are in pole position with two games against Scotland to come at Jordanstown.

Boys Under-19 Four Nations
Friday: England 3 (T Graves, L Cuttle, R Wilson) Ireland 2 (J Maginnis, R Dunlop)
Saturday: England 1 (W Petter) Ireland 5 (E Jennings 2, I Balding, B Ryder, J Filgas)

Girls Under-19 Four Nations
Friday: England 0 Ireland 1 (E Paul)
Saturday: England 1 (T Cookman) Ireland 1 (N Torrans), England win bonus point shoot-out 3-2

Irish Hockey Association media release


---

GB&I 4-Nations wins for Scotland U19s in Wrexham




Double up today in Wrexham at the U19 Great Britain & Ireland 4-Nations tournament, but both the boys and girls had to do it the hard way by coming back from being behind. The girls were one down but recovered to win 3-1, the boys were even more resilient by turning round a two goal deficit to finish 3-2 ahead.

Wales 2-3 Scotland | U19 boys

Being two goals adrift at the interval certainly focusses the mind and the Scots youngsters certainly responded with effect by finishing the contest 3-2 up.

The Scots lost a goal in each quarter of the first half, but might have reduced the deficit had Jamie Croll`s goal-bound effort not been cleared off the line. In addition, the Scots had a couple of penalty corners but again nothing came from them.



Photo by David McCarthy

Then up stepped Charlie Jack into proceedings, but he started off as the sinner when his spot effort was saved by the Welsh keeper. The Inverleith youngster then turned saint with a hat-trick of penalty corner drag flicks to secure the three points.

However, the match proved to be a tousy affair throughout. The Welsh barely played any of the match with a full complement with a flurry of yellow and green cards in every quarter. Further Watsonians` Euan Burgess seemed to take the brunt of the treatment as he was battered about on several occasions.

The Scots kept their cool and took the points.
 
Wales 1-3 Scotland | U19 girls

The Scots youngsters started off today`s contest the way they finished yesterday`s 4-0 win – a high tempo and creating several chances but their efforts were thwarted by some good defending by the Welsh keeper and her colleagues. The first quarter ended goalless and that despite three Scottish penalty corner opportunities.

The Scots then had a great chance to make the opening, Ellie Stott rounded the keeper but was subsequently brought down, unfortunately Ava Smith`s resulting spot effort was well blocked by the keeper.

Keith Smith`s charges had all the possession and pressure in the first half but could make no scoring breakthrough.

Sod`s Law, after all the dominance, it was Wales who took the lead against the run of play – the result of a scramble following a penalty corner and a final miscue entered the net.



Photo by David McCarthy

Undaunted, the Scots youngsters responded immediately, less than 30 seconds into the final quarter a counter-attack saw Ava Smith carry the ball into the circle and her reverse stick shot was directed home on the line by Jenn Tait of Erskine Stewart`s Melville for the equaliser.

Three minutes later the Scots were in front and it was Tait again on target – Smith`s penalty corner shot was blocked, the rebound fell to Grace Drummond and this time Tait deflected her shot high into the net.

The third soon followed, Anna Hoolaghan sent the ball into the circle, there resulted a bit of a scramble and Watsonians` Molly Morris was on hand to provide the final touch.

After the match coach Keith Smith remarked: "I'm very pleased with the performance, we matched the high tempo of yesterday and the girls responded really well.

"In particular they responded well to the setback of the Welsh goal, so it was a very promising and mature performance. Special mention today of the work rata of Zara Mason, her contribution created a lot of chances throughout the game."

Scottish Hockey Union media release


---

Wild weather wreaks havoc for NZ Under-18 finals




Wild weather in both Wellington and Hamilton wreaked havoc on finals day of the Vantage National Under-18 Men's and Women's Tournaments.

The women's final in Wellington on Saturday between North Harbour and Auckland was abandoned at three-quarter time with the title shared between the two teams, while in Hamilton the final was moved to St Paul's Collegiate where North Harbour were 2-0 victors over Canterbury.

Vantage Under-18 women

In the capital, torrential rain and major wind warnings meant many of the final playoff matches were sadly abandoned.

In awful conditions the final did go ahead between North Harbour and Auckland Blue, and both teams had chances in the first half with the goalkeepers forced to make crucial saves.

Near the end of the third quarter the heavens opened with power, and with the turf now completely underwater the match was abandoned with the scores locked at 0-0.

The Amanda Hooper Memorial Trophy will now spend half a year in the North Harbour trophy cabinet before making its way across the bridge to the home of Auckland hockey.

In the earlier bronze medal match, Canterbury were 3-1 victors over Waikato thanks to goals from Ella Illerbrun, Niamh McKenzie and Hayley McKellow. Canterbury had come off a tight 2-1 loss to North Harbour in the semifinal while Waikato had lost 2-0 to Auckland Blue in the other semi.

The top goal-scorer in the tournament was Hawke's Bay's Hannah Cotter with 12 goals.

Final results and standings available here

Vantage Under-18 men

Not to be outdone by the wild weather in the capital, Hamilton also faced torrential rain. The Gallagher Hockey Centre was soon under water which forced the abandonment of the playoffs for fifth-sixth and seventh-eighth.

The medal matches were then moved to St Paul's Collegiate where the turf was in a better playing condition.

The final saw the two early tournament favourites North Harbour and Canterbury battling it out. After very even early exchanges, North Harbour captain Scott Cosslett found the back of the net for the eighth time in the week – this time from a penalty stroke.

Harbour grabbed another minutes later with Rocco Ludolph making it 2-0. Canterbury came back in the second half with a string of penalty corners, but Harbour proved too strong taking home the gold medal and the Paul Ackerley Memorial Trophy.

The earlier bronze medal match saw Otago, who had come off a tight semifinal loss to neighbours Canterbury 2-1, up against Hawke's Bay, who gone down 5-0 to Harbour in the other semifinal.

Hawke's Bay found themselves on the scoreboard first through Callum O'Keeffe, however Otago showed their class with three more goals to Jack Cotton, Sam Gradwell and Patrick Ward to take the bronze medal with a 3-1 victory.

The top goal-scorer in the tournament was Taranaki's Jordan Whittleston with 10 goals.

Final results and standings available here

And finally, a big thank you to all the tournament's officials for all your efforts, and to our two hosts – Waikato Hockey and Wellington Hockey – for putting on two amazing events.

Hockey New Zealand Media release