All the news for Monday 14 June 2021

Dutch defence stands firm to win third consecutive EuroHockey title




There was a distinct carnival atmosphere as Netherlands and Germany took to the pitch at the Wagener Stadium in Amstelveen for the final match of the the final day of action at the Women's EuroHockey Championship 2021.

And, for the majority of the 3,000 fans that were lucky enough to be allowed into the stadium, it was the perfect outcome as the Netherlands extended their domination of this event to make it three victories in the past three editions. The Oranje's 2-0 victory over Germany was a repeat of the 2019 EuroHockey Championship final, although the score line doesn't fully reflect the intensity and sheer quality of both teams in this game.

Of course, as hosts, Netherlands, along with fourth placed Spain, have already booked their berths at the 2022 FIH Women's World Cup but for Alyson Annan and her squad, this final was yet another opportunity to demonstrate the squad's extraordinary capacity to operate at the highest level with unshakeable consistency. This time, the focus was largely on the defence as it withstood wave after wave of German attack.

Certainly Germany were no pushover in this contest and Head Coach Xavier Reckinger will be taking a close look at his team's repertoire of penalty corner routines as Germany failed to take advantage of a string of seven penalty corners in almost as many minutes. At this stage, the Netherlands were 1-0 up courtesy of a penalty corner from Marloes Keetels. The sustained German pressure was dealt with by a very composed Dutch defence as they chased down one penalty corner after another.

The third quarter saw Germany really ramp up the pressure on the world number one side but the Dutch defence was magnificent as they dampened everything the German attack threw at them. Josine Koning was outstanding in the Dutch goal but the commitment of her defence matched her own awareness and agility.

Germany's best chance fell to Lisa Altenburg but the outstretched stick of Sanne Koolen somehow blocked the path from the striker to the goal.

The result was put beyond doubt in the 56th minute when Frederique Matla showed extraordinary awareness and skill to flip the ball over the head of Germany's Julia Sonntag after a quick break had caught the German team high up the field.

Speaking after the game, Player of the Match Marloes Keetels said: "That was  tough battle as both sides were pushing hard. The Germans played a hard, running game and we really enjoyed the challenge of playing a side of such quality.

"The crowd was brilliant. We have been a long time without crowds and now it is hard to describe how it feels to be playing in front of crowds again – it was awesome."

In the bronze medal match earlier in the day, Belgium defeated Spain by a 3-1 scoreline, emphasising the progress the Red Panthers are making under the new coaching team headed by Raoul Ehrens.

The first half saw Belgium dominate the match, with incisive passing and a high rate of possession that kept the Spanish under constant pressure to chase the ball. Belgium's persistent probing of the Spanish defence was rewarded in the 21st minute when captain Barbara Nelen was able to squeeze the ball past Maria Ruiz from an acute angle to give her side a 1-0 lead.

The second half was also mostly one-way traffic, with the Spanish struggling to find a passing game. The second Belgium goal was scored by Abi Raye, who deflected a shoulder high ball past Ruiz.

Lucia Jimenez gave the Red Sticks hope when she magicked a goal from a melee in the Belgium circle but the impressive Ambre Ballenghien put the game beyond doubt when she smashed home the third goal for Belgium at the start of the fourth quarter.

In their role as joint hosts of the FIH Women's Hockey World Cup 2022, Netherlands and Spain already had guaranteed spots, which means qualification from the EuroHockey Championship 2021 extends to the first five placed teams. Germany will be joined by Belgium and England.

The remaining teams – Ireland, Italy and Scotland – will have a further opportunity to qualify for the World Cup via the European World Cup Qualifying Tournament. This event will being together those three teams, plus the teams ranked 1-5 in EuroHockey II, which takes place later this year.

Final Standings

1. Netherlands
2. Germany
3. Belgium
4. Spain
5. England
6. Ireland
7. Italy
8. Scotland

Player of the Tournament

Eve de Goede (NED)

Goalkeeper of the Tournament

Elena Sotgui (BEL)

U21 Player of the Tournament

Ambre Ballenghien (BEL)

Top scorer

Frederique Matla (NED) - 8

FIH site


---

Double Dutch at Eurohockey Championships as Netherlands claim women's title too

Netherlands men and women make strong statement at the 2021 Eurohockey Championships by claiming both trophies in Amstelveen just weeks out from the Tokyo 2020 Olympics

By Ken Browne



Picture by 2021 Getty Images

Netherlands' women celebrated winning the 2021 Eurohockey Championships with a 2-0 win over Germany on Sunday 13 June.

It meant a Dutch double after the men claimed the trophy yesterday, but anything the men can do, the women can do better: No shootout was necessary for the victory today.

Goals from Marloes Keetels in the 11th minute and Frédérique Matla four minutes from full time gave the Oranje their 11th Eurohockey crown - an 11th of 14 possible titles since the tournament began in 1984.

Their dominance was marked on the pitch as the game began at the Wagener Stadium in Amstelveen too, the Germans sitting deep and crowding the circle in an attempt to stymie the deadly Dutch attack.

Julia Sonntag had a busy day in the German goal making a spectacular triple save from a penalty corner in Q1, denying tournament top-scorer Frédérique Matla who had seven goals to her name before the final.

The Germans attempted to counter-attack at pace lifting high flicks over the Dutch midfield to chase into the corners, and slowly grew into the game.

Their first penalty corner came on '10 which led to three-in-a-row, but Sonja Zimmerman couldn't find a way through, the team in orange maintaining an incredible record of shutting out every single penalty corner over the entire tournament.

Player of the Tournament Keetels opened the scoring 11 minutes in, deflecting a well-worked penalty corner into the German goal, a deserved reward for her team's superior hockey to that point.

But the Germans refused to lie down and really came alive in the third quarter, pressing for an equaliser through midfield dynamo Kira Horn and Lisa Altenburg had a golden opportunity in the final minute of Q3 with Netherlands down to ten and the goal gaping.

But Sanne Koolen got her stick in the way of what looked a certain goal.

Energised, Germany laid into the hosts in Q4, Josine Koning maintaining the Netherlands' penalty corner perfect record with a series of sensational saves and double-saves.

And with Germany pressing, Netherlands took advantage of the space behind, Frédérique Matla latching on to a loose ball and improvising a superb finish with a backstick dink over Sonntagg. Her eight goal of a spectacular tournament for her.

That put the match to sleep in the 11th minute of Q4, the defending champions coming out on top once more, a carbon copy of the 2019 final.

Netherlands buff up Olympic credentials

A dominant performance from the women in Amstelveen means they rock up to the Tokyo 2020 Olympics with the wind in their sails as 2020-21 FIH Pro League and Eurohockey champions.

Stunned by Great Britain in the final at the Rio 2016 Olympic Games, the Netherlands will be hoping to bring home a fourth Olympic gold and complete a sparkling year.

Olympic Channel


---

The Netherlands repeat trick to retain Women's EuroHockey Championship crown

By Geoff Berkeley



The Netherlands beat Germany 2-0 to secure the the women's EuroHockey Championship title for the third successive time ©Getty Images

There was a sense of déjà vu in Amstelveen as hosts The Netherlands beat Germany 2-0 to regain the women's EuroHockey Championship crown.

It was the same scoreline when the Dutch team triumphed against Germany in the final in 2019 and they were equally impressive this time around as they chalked up an 11th title and third in succession.

It also comes just 24 hours after The Netherlands' men's team emerged comfortable 4-1 winners from the shootout after Germany held the hosts at 2-2 at the end of regulation time.

Germany were no pushovers in today's contest but they failed to take advantage of a string of seven penalty corners in almost as many minutes.

The Netherlands were 1-0 up courtesy of an effort from a penalty corner from Marloes Keetels.

The third quarter saw Germany really ramp up the pressure on the world champions, but the Dutch defence was magnificent while Josine Koning was outstanding in goal.

Germany's best chance fell to Lisa Altenburg but the outstretched stick of Sanne Koolen somehow blocked the path from the striker to the goal.

The result was put beyond doubt in the 56th minute when Frederique Matla showed great awareness and skill to flip the ball over the head of Julia Sonntag after a quick break had caught the German team high up the field.

"That was tough battle as both sides were pushing hard," Keetels said following the win.



Stella van Gils controls the ball in the final, where The Netherlands overcame Germany ©Getty Images

"The Germans played a hard, running game and we really enjoyed the challenge of playing a side of such quality.

"The crowd was brilliant.

"We have been a long time without crowds and now it is hard to describe how it feels to be playing in front of crowds again - it was awesome."

In the bronze-medal match, Belgium powered to an impressive 3-1 victory over Spain.

Barbara Nelen opened the scoring for Belgium in the 21st minute when she squeezed the ball past Maria Ruiz from an acute angle.

The second half was also mostly one-way traffic, with Abi Raye's deflected effort double Belgium's advantage.

Lucia Jimenez gave Spain hope when she struck but the impressive Ambre Ballenghien smashed home a third goal for Belgium to seal victory.

As joint hosts of the FIH Women's Hockey World Cup in 2022, The Netherlands and Spain already had guaranteed spots.

This means qualification from the EuroHockey Championship extends to the top five teams, with Belgium and England joining Germany in qualifying.

The remaining teams - Ireland, Italy and Scotland - will have a further opportunity to qualify for the World Cup via the European World Cup Qualifying Tournament, scheduled to take place later this year.

Inside the Games


---

Double Dutch as Oranje women win European hockey title as well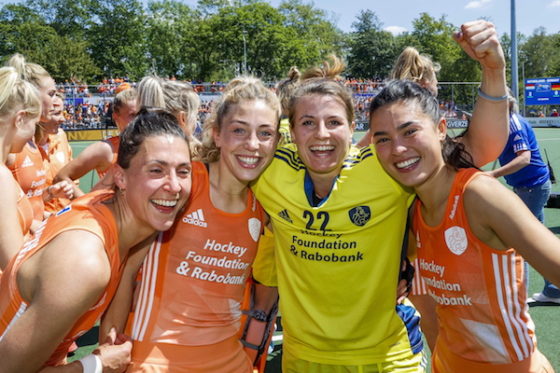 Players from the Netherlands celebrate winning the final. Photo: William Vernes EPA

The Dutch women's hockey team made it three in a row by winning the European title for the third time in succession in Amstelveen on Sunday with a 2-0 win over Germany.

It is the 11th time that the Dutch women have won the Eurohockey title. Marloes Keetels and Frédérique Matla scored the goals.

Coach Alyson Annan said the win is an important match in the run up to the Olympics, which start in six weeks time. 'We need some tough matches,' she said. The Oranje women won the gold medal in 1996 and 2000.

On Saturday, the Dutch men won the European title on shoot outs, also against Germany.

DutchNews.nl


---

Ireland's young guns win series over Scottish men



Jonny McKee in action against Scotland. Picture: Adrian Boehm

Ireland's young guns ran up a strong 6-1 win over Scotland's men to win their uncapped series at Jordanstown in impressive fashion.

Mark Tumilty's side had won the first match 3-1 before falling 1-0 on Saturday before this comprehensive scoreline from a weekend in which he gave 14 new players their first taste of international hockey.

They were 3-0 up on Sunday morning courtesy of goals from Sean Murray, Michael Robson and Tim Cross in the first quarter before Banbridge man Jonny McKee put them four clear.

The Scots got one back before half-time but an Ian Stewart corner goal – his second of the weekend – and a solo goal from Daragh Walsh completed an upbeat performance for the side in their first formal action since November 2019.

On Saturday, Scotland scored early on and held sway in the early stages before Ireland grew into the game but they could not break through David Forrester's defences, the goalkeeper brilliantly denying Ian Stewart and Tim Cross in the closing stages.

The results bring a strong confidence boost to the panel ahead as they ramp up preparations for the EuroHockey Championships II in Gniezno, Poland in August.

There, Ireland need a top five finish to land a place in October's World Cup qualifiers; prior to that, Ireland will meet the Scots again in a series and also face Great Britain.

"I am very pleased with the weekend," Tumilty said of the weekend. "It was good to finish the weekend strong. I feel that the players are making good progress as we try to develop our playing style. It was also great for the players to spend time together off the pitch as this group now contains many new players."

Men's international series
Saturday: Ireland 0 Scotland 1
Sunday: Ireland 6 (S Murray, M Robson, T Cross, J McKee, I Stewart, D Walsh) Scotland 1

Irish Hockey Association media release

---

Kookaburras team named for Tokyo Olympics




The Australian Olympic Committee has announced the Kookaburras team who will represent Australia in men's hockey at Tokyo 2020.

Chef de Mission of the Australian Olympic Team for Tokyo Ian Chesterman attended the announcement at the Western Australian Institute in Perth, confirming to 16 lucky athletes that they will compete at the pinnacle tournament of their sport.

Co-captain Eddie Ockenden joins hockey greats like Rechelle Hawkes, Jamie Dwyer and Mark Knowles in making his fourth Olympics, with the men's team featuring six Olympians named for their second Games and nine Olympic debutants.

One of those debutants is 23 year old Dylan Martin, who only came into the squad this year and made his international debut as recently as 27 May in the Trans-Tasman Series against New Zealand.

Kookaburras Head Coach Colin Batch said the bolter who heralds from Wagga Wagga more than deserved his selection.

"We have watched Dylan closely both last year and this year and think he has the goods," said Batch.

"He's calm under pressure, makes good decisions with and without the ball and is a really good defender, so we think he can perform well in our way of play and on the big stage."

Another who will head to his first Olympics is Perth local Trent Mitton. After missing out on selection in 2012 and 2016, the striker's patience and persistence has paid off.

Batch said the task of narrowing the squad down from 27 to 16 was extremely difficult given the amount of depth and talent in the group.

"We have a really committed squad and of course this team announcement brings some elation but also some disappointment in the group," said Batch.

"Some players have played well recently and not been selected. We have had limited international matches but the importance and value we place on our daily training environment is also a major part of our assessment."

Ockenden heads to his fourth Olympics as the Kookaburras co-captain alongside Aran Zalewski and is buoyant about the team's chances despite the unprecedented build up which saw them go over 400 days without playing an international match due to COVID.

"It's special and humbling to join those great hockey players who have represented Australia at four Olympics," said Ockenden.

"It doesn't feel like it's my fourth Olympics - I'm still excited to make it and excited about the challenge and opportunity ahead.

"We have a really strong squad - some really good players missed out on selection so our depth is huge in the Kookaburras at the moment.

"We've got a good mix of experience and some great young guys coming through with plenty of enthusiasm, so we'll be confident - we just have to make sure we're playing our best when we get over there and when it gets to crunch time."

The Kookaburras find themselves currently ranked as the number one ranked team in the world, having leapfrogged Belgium after their 4-0 series sweep over New Zealand.

When it comes to Olympics, Batch knows rankings stand for little and knows what will be required if the Kookaburras are to be successful in Tokyo.

The Kookaburras will launch the Tokyo 2020 men's hockey competition in a mouth-watering encounter against hosts Japan on 24 July.

"Being at our best when we need to be is what it's all about," said Batch.

"Our first aim is to qualify for the quarter finals and we cannot underestimate that. We come up against a determined host country first up who will be nicely acclimatised and very eager to perform well in front of their home crowd, so each match generates a different set of circumstances.

"We're not looking too far past that first match against Japan."

The Kookaburras' Olympic medal cabinet comprises one gold, three silver and five bronze medals, the last of which came when the team claimed bronze at the 2012 London Games.

Chef de Mission of the Australian Olympic Team Ian Chesterman congratulated the athletes on today's selection.

"Today is a fantastic recognition of the skill and resilience of these teams and players, and I congratulate them on making the Australian Olympic Team for Tokyo," said Mr Chesterman.

"The Hockeyroos and Kookaburras hold a special place in Australia's Olympic tradition and these players will continue to build on that rich legacy. I want to particularly congratulate Eddie Ockenden – the talent, commitment, resilience and drive to make four Olympic Games is truly inspiring and an exceptional achievement.

"Thank you to Hockey Australia, the coaching and support staff, and the families, friends and supporters who have been there every step of the way with each of these 32 athletes."

The Hockey competition will run from 24 July – 6 August at Oi Hockey Stadium.

Find out more with full athlete Bios at www.olympics.com.au/games/tokyo-2020/team/

Hockey Australia media release


---

Olympic Games Tokyo 2020: Spotlight on Spain




The build-up to Tokyo 2020 continues with our latest Olympic Spotlight feature looks at the men's and women's teams of Spain, one of Europe's most famous hockey playing nations.

There can be no doubt that under the guidance of head coach Adrian Lock, Spain women, the 1992 Olympic gold medallists, have undergone an impressive revival. The Englishman – a former Under-21 international – has been getting the best out of a talented group of players that reached the quarter-finals of the Rio 2016 Olympic Games before suffering defeat at the hands of eventual gold medal winners Great Britain. However, it was their performance at the Vitality Hockey Women's World Cup London 2018 that really highlighted their progress, with the Red Sticks storming to the bronze medal by defeating Australia in the 3-4 place play-off, giving Spain their highest ever World Cup finish. The team secured their place at Tokyo 2020 through the FIH Hockey Olympic Qualifiers, defeating Korea 2-1 and 2-0 in Valencia.

Spain's men have regularly produced sides that are capable of fighting for the biggest honours in the game, a fact proven by five silver medals at Olympic or World Cup level, not to mention two European championships and a Champions Trophy title. Head coach and former France international Frédéric Soyez – who will step away after Tokyo, being replaced by current Netherlands men's head coach Max Caldas – has instilled a wonderful work ethic into his team without sacrificing any of the flair that has been the signature of so many Spanish sides in the past. Spain earned a berth at Tokyo with a hard-fought triumph over France in the 2019 FIH Hockey Olympic Qualifiers, coming back from three goals down to draw 3-3 in the first match before edging a 3-2 victory in Match 2 in Valencia.

Ahead of their respective Olympic campaigns, we caught up with long-time Red Sticks stars Berta Bonastre and Marc Salles – two players who have been central figures in their squads for well over a decade – to see how things are shaping up for the Spanish teams. The interview was recorded prior to the recently concluded European Championships.

Berta Bonastre and Marc Salles, thank you so much for talking to us! The Olympic Games Tokyo 2020 is getting close. Berta, despite the delay and all of the challenges surrounding the covid situation, are you looking forward to Tokyo?

Berta Bonastre: "Yes, for sure. Especially because it is one year later. One year is a lot of time to wait for something like this. When you live something, you have to live it at 100 percent. When I was in Rio I didn't expect that covid was coming, and that the next time I was at an Olympics I would have to wait [an extra year due to the delay]. So yes, I'm so excited for this to come."

And you, Marc – how are men's Red Sticks feeling about the chance to compete in Tokyo?

Marc Salles: "I think for everyone it was a big break. I remember during the first quarantine, of 15 days, we didn't know that the Olympics would be [postponed]. We were doing gym at home and using Zoom with all the team [in order] to prepare. We were thinking that we would spend 15 days at home and then play the Olympic Games. When they decided to postpone it for one year, then everything changed. We started a new organisation of the team. We were thinking 'we have one year more, so what can we do better and what can we improve'. It was a very good thing for us at the end."

You've both been fortunate enough to play for Spain in Olympic competition. Starting with you, Marc, what does it mean to you, to represent your country at an Olympic Games?

Marc Salles: "For us, we are very proud because there are many people who play hockey here in Spain. It is only 16 players who go there, and [at the time the interview was conducted] we are not going yet. We have to train; we still have 26 players. So, for us, it is very important to do it again, to go to another Olympic Games. We are very proud and very happy."

Same question to you Berta. It is fulfilling a childhood dream, right?

Berta Bonastre: "Yes, for sure. I think the big part of the team, it is a nice group that have been working for a long time together. Not only the 16 players who will go there, but the big group of girls who are training for that. I think when you are playing at the Olympics, you think not only about the 16 that are there, but also the girls who couldn't make it. I think if the team gets better, it is because of everyone that was in the team in all of the moments of the year. You are fighting for something as a big group, not just the 16 players who are there. It is like a big dream for the team."

It was a while back now but securing qualification for Tokyo was obviously a crucially important step. For you Berta, it was against Korea in the 2019 FIH Olympic Qualifiers in Valencia. What did it mean to you to secure that ticket to Japan?

Berta Bonastre: "It was amazing because we had been preparing for it for a long time. We had a big preparation for around a month and a half before, and we felt we were like a family. When we played the games, I felt that the whole team was so concentrated, focussed on what we had to do. We knew exactly what we had to do, and I felt we were quite confident. I think all of the team grew together. Our coach wanted everyone to be there, so even those who were not playing. I think that made us stronger. It was so fast – the two games went so quickly. But I think we were so confident and had studied every detail both on and off the field. I have quite a good memory of that."

And Marc, for the men it was also the Olympic Qualifier in Valencia, a dramatic encounter against neighbours France. That must have been very special.

Marc Salles: "For us it was a little bit what like Berta said. It went very fast, the two games. We prepared to be the best we could be, but France played really good and maybe we didn't expect that. We didn't play our best hockey, maybe because of the pressure or maybe due to the atmosphere there. It was all about preparing to win and qualify, but we still had to play two important games. I think we were 3-0 down in the first match, so it was very tough for us because we had to recover and start again. I remember that moment as a very difficult moment, as all of the qualifying competitions for the Olympic Games are. I remember in 2015, in Argentina, we played Korea and had a shoot-out to go to the Olympic Games. It is always difficult to qualify. You have extra pressure. When you go to the Olympic Games, you want to win medals and be there. However, for me, preparing and playing in these qualifying games is the most important thing because it is where you have to win, no matter what. The best thing about that weekend was to qualify, not the hockey. That is what I remember, and I feel very happy about that."

In Tokyo, the focus will be all about getting out of those tough looking pools and into the quarter-finals. Marc, you guys face reigning Olympic champions Argentina, Australia, India, New Zealand and Japan in Pool A. Your first match is against Argentina, on 24th July. What are your thoughts about that match, and the pool in general.

Marc Salles: "For Argentina, we always say, maybe because of the Latin or the language, that we play a little bit the same. We both put our passion on the game and are both very skilful. It is always difficult to predict what is going to happen. It is always a close game. I remember at the Rio Olympic Games they beat us in the quarter-finals with a penalty stroke three minutes before the finish of the game. It is a tough game and will be very close. Regarding the pool, it's very different. You have Argentina, but also Australia and New Zealand, who play a little bit [in] the same [way], hockey that is very physical. They go for it all game; they don't have any down time. With Japan, we don't know a lot about them. We know that they won the Asian Games a few years ago, so they are going to be very good. Also playing at home, where it is going to be 40 degrees and 90 percent humidity. It is going to be very tough for all of the teams. We know India. It is always difficult to play them as they are skilful, fast and unpredictable. We have a very open pool, and I am looking forward to playing in it."

And Berta, the women's Red Sticks are in Pool B alongside Argentina, New Zealand, Australia, China and Japan. There are no easy matches at the Olympic Games.

Berta Bonastre: "That is what I wanted to say! In the Olympics, every game is a challenge and I think all the teams play differently, in a competition like that. As a team, what we expect is to play game by game, not thinking about the final objective. Every game is a war. You have to analyse and study every team, because each team is there [at the Olympics] because they are strong, intelligent and technical. We have played test matches against some of the teams in the pool. We went to Australia and played five games, while China came here to Spain. We also had several games against New Zealand and also Argentina, where we played five or seven games. I think we know each other quite well, which makes it more difficult, knowing every detail, every press, every kind of attack, and every player. You know them very well. I think it will be quite a different situation because of Covid, so every team will have changed. We will see, but I think we are quite excited about that challenge, to have the possibility to be there and we will fight until the end."

Finally, you have both represented Spain with such distinction over a long period of time, having achieved so much. What is the plan after Tokyo for you both? Or are you not thinking that far ahead? We'll start with you, Berta.

Berta Bonastre: "That is a big question! I don't know. I feel I have been with the national team for a long time, as I started quite young. It takes a lot of effort to be there, to take care of your body, to be at 100 percent. It is quite a big effort. On the other hand, you have big emotions and experiences that you don't have with a normal life. So, I think my objective is to go to the Olympics and then I would like to continue until the World Cup (in 2022), but you never know. You have to feel that your mind and your body are ready to follow. I don't want to think about it; we will see."

And you, Marc?

Marc Salles: "I feel a little bit the same as Berta. Give everything to the Olympics, be the best prepared that I can, mind, body, technical and tactical. Then, after a big vacation after the Olympics – it has been a long, long year – I am going to play another year with [club team] Atlétic Terrassa, that is for sure. We'll see what is going to happen. I'm not even thinking about the World Cup in two years, you know? I am thinking about what will happen in September, and then we will see."

The hockey competitions at the Olympic Games Tokyo 2020 will take place from Saturday 24 July to Friday 6 August 2021. Both the men's and women's competitions feature 12 teams, split into two pools of six ahead of quarter-finals, semi-finals and medal matches. For more information about the hockey competitions at the Olympic Games Tokyo 2020, visit https://tokyo2020.org/en/sports/hockey/.

Visit Watch.Hockey App to view the full interview.

#Tokyo2020
#StrongerTogether
#HockeyInvites

FIH site


---

Kamo Black Sticks hockey factory turns out bright new star Katie Doar

Suzanne McFadden



Already extolled for her stick skills, teenage Black Stick Katie Doar controls a ball in the air during the TransTasman series with the Hockeyroos in Palmerston North in May. Photo: Dave Rowland/Getty Images

Just 19, Katie Doar has grabbed the attention of the hockey world with her silky skills, and is on her way to her first Olympics in Tokyo alongside her childhood idol, Stacey Michelsen.

The latest Olympian to come out of Kamo's Black Sticks factory, Katie Doar is already a bit of a legend.

To begin with, the 19-year-old is part of an incredible sporting legacy – the 15th Black Stick to have graduated from the small school of Kamo Intermediate, just north of Whangarei.

It stretches back to Neil McLeod, who was part of the 1976 New Zealand men's team who won Olympic gold in Montreal, and includes 12 women who've played for the Black Sticks, including Doar's elder sister, Madi and two others bound for the Tokyo Olympics - captain Stacey Michelsen and veteran Ella Gunson.

But Doar is not just any player. She's already being compared to her original hockey idol Michelsen – for her magical first touch of the ball, her control and stick skills that belie her years.

Michelsen, the most capped Black Stick of all time who's heading to her third Olympics, is blown away by the talented teenager, who she first guided when Doar was around nine years old.

But Doar holds a record that Michelsen and others can never better.

During her two years at Kamo Intermediate, Katie Doar became the most striped student in the school's history.

How do you earn your stripes? Through sports, academic and cultural achievements and services to the school.

Doar was so determined to beat sister Madi's school record of 89 stripes she threw herself at everything the school had to offer. She collected 104 of them.



A Year 8 Katie Doar wearing her record 104 school stripes. Kamo Intermediate/Newsroom

"I had them all down my sleeves and across the front of my shirt for things like cross country, debating and doing a fun run," Doar says. "I was so proud of Madi, but I was always going to beat her."

(They've since changed the rules for gathering stripes at Kamo, so the record looks safe with the younger Doar).

The sisters were later boarders at St Cuthbert's College in Auckland (following Michelson there) and now share a house in the city with their two dogs, Kevin and Bill, and play club hockey together for Southern.

Madi was the first to make the Black Sticks, debuting for New Zealand in 2017 at the age of 17. The following year she won gold at the Commonwealth Games on the Gold Coast. She's now working and studying fulltime.

Then Katie followed in 2019, first wearing the silver fern when she, too, was 17. And now she's bound for her first Olympics.

"I wasn't with Madi when I got the email to say I was in the team, but when I got home there were flowers and stuff from her," Katie Doar says. "She knows what it's like to go to big events, so she's pretty chuffed for me.

"I still didn't think my first big event would be these Olympics, right up until I got the email. I was pretty chill about it all so it came as a shock."

The shockwaves reverberated all the way to Kamo, where the Doars' mother, Helen, was working in her physiotherapy clinic.

"When she heard, she said to her patient: 'Sorry I have to go ring my daughter' and she started crying," Doar says. "I was laughing: 'Oh my gosh you're so weird, Mum'. But Mum and Dad were so happy, because they knew how much my sister and I have put into the sport."

Another mum elated by the news would have been Michelsen's mother, Barbara. She's a common denominator in the stories of Michelsen, Gunson and the Doar sisters – as their hockey coach at Kamo Intermediate.



Third-time hockey Olympian Stacey Michelsen with first-timer, Katie Doar. Suzanne McFadden/Newsroom

"I was so fortunate to have Barb Michelson as my coach; it was insane how much I learned. It was probably the first real spark where I realised I loved hockey," says Doar, who followed her sister into the game after being frustrated by her football games being cancelled by rain.

"I'll never forget how much fun hockey was back then. I said to Mum the other day, I actually miss being that young."

There was also the thrill for the Doar sisters of being invited to train with Stacey Michelsen whenever she'd return to Whangarei. Michelsen, crowned the World Young Player of the Year in 2011, wanted to help the talented young siblings build on their skills.

And that continues today – Michelsen, with 291 international caps to her name, still helping the 19-cap Doar.

"It's still so nice to train alongside her and keep learning from her; she's so helpful," Doar says. "I've always loved Stacey, loved watching her play, and I still do.

"I remember lining up for the national anthem for the first time and thinking, 'Oh my gosh I'm playing with Stacey - this is quite weird'. I thought it would never happen, especially because of the age difference [Michelsen is 30], I thought I'd never get in there in time to play alongside her."

Michelsen says it's been incredible to follow Doar's rise in the game.

"When I first watched Katie as a youngster, I could tell she was a special kind of player. She had a skillset that stood out amongst her peers," Michelsen says. "And her trajectory has been a very steep curve – she's developed so quickly. But that certainly hasn't been a surprise to me. She's a very special kind of player."

And can Michelsen see herself in Doar?

"Obviously it's difficult, because I want to flatter Katie, but I don't want to talk about myself!" Michelsen laughs.

"But I think we're similar in terms of our ability on the ball. She has an incredible ability with the skills she has – particularly for someone of her age – and her control is so great. It's always stood out through the levels she's played at, but now it stands out internationally, too."



Katie Doar of New Zealand is challenged by Laura Barden of Australia. Dave Rowland/Getty Images

Michelsen gives credit to the people in Northland hockey, like her mum, who've devoted so much time to helping develop a steady stream of Olympians.

"We're really privileged to come from a region that has that community focus and my mum is certainly one of those people who has given back, coaching for years and years," she says. Her mum still works and coaches at Kamo Intermediate. "All the coaches up there are so willing to give extra time, which makes so much difference when you're developing at that key age group of intermediate age kids."

Doar is in her second year studying exercise and sports science part-time at Massey University. She has her final exam of the semester today, and flies out with the Black Sticks on Friday for Perth, where they will finally play the two Pro League games against the Hockeyroos that were postponed in March last year by the Covid pandemic.

"The study is great to have something else to focus on. It gives some balance and keeps me busy," Doar says.



Katie Doar of New Zealand controls the ball against Argentina in Auckland in 2019. Phil Walter/Getty Images

She's looking at becoming a physio: "But I try not to say that to mum because she gets all excited".

On the field, Doar revels in playing club hockey - especially alongside her sister. And she'd love to mirror the international longevity of Michelsen. It's now up to her to stamp her mark on the Black Sticks - she just has to determine where she'll do it.

"I often get asked 'what position are you?' and I have no idea," she laughs. "I started off as a striker, and then I play midfield for club, but before that I played defender. I can play wherever, just chuck me in.

"I like midfield, but there's a lot more running, which is hard. I'm a battler."



Katie Doar at the announcement of the Black Sticks squads bound for the Tokyo Olympics. Simon Watts/BW Media

Doar is prepared for her first Olympic experience to be unusual. Following the protocols in the Tokyo Olympics Playbook, she knows she can't tuck her mouthguard in her sock anymore or grab her water bottle (her manager has to hand it to her). And she'll constantly have to wear a mask unless she's eating, sleeping, training or playing.

She's disappointed her family, who've done so much for her throughout her hockey career, can't be there. But she's ready for the ride of her life.

Michelsen's advice to Doar?

"Just to make sure she knows to treasure it and enjoy it. It's an event like no other," she says.

"You really feel for these young girls going to these Games in such a strange environment. But I've said this to them - and I do believe it - your first Games are so special that all of these strange protocols we're going to have to adhere to won't dampen that because it's such a special experience.

"So I hope Katie lives in the moment and enjoys it as much as she can. And I think she will do great."

* For the record, beyond their hockey internationals, Kamo Intermediate has also produced Football Ferns Hannah Wilkinson and Katie Rood, Black Fern Leanne Atkins, international triathlete Simone Ackermann, NZ beach volleyball player Suzy McAsey, All Black Ian Jones and Black Cap Bryan Young.

Stuff


---

SA Men's hockey team coach Garreth Ewing is hopeful for Tokyo

St John's College wishes Ewing the best of luck as he and his team steps into their quarantine bubble ahead of the Tokyo Olympics.



St John's head hockey coach and head of the South African men's hockey team Garreth Ewing is optimistic about what his team can achieve in Tokyo. Photo: Supplied

HOUGHTON – St John's College in Houghton wishes their head hockey coach and head coach for the South African men's hockey team Garreth Ewing all the best as he heads for the 2020 Summer Olympics in Tokyo.

Ewing said he put a lot of time into coaching over the years, working with teams at every level and in many positions to have a good idea of what was required in all leadership roles around a hockey team.

Ewing added that though delays experienced as a result of Covid-19 have been a frustration, they have also brought opportunity.

"The break during lockdown was an opportunity in disguise," said Ewing. "It gave us plenty of time to spend on different aspects of our team dynamic [all via Zoom, of course], which will hopefully allow us to have an even stronger team synergy when we compete under pressure in Tokyo."

He said the team aimed to get out of the pool stages and into the knockout quarter-finals at the Olympics.

"It will be a huge challenge because we are the second lowest ranked team in the event, but we know the teams we will target to get the necessary results."

Ewing said the team was taking a long view and using the experience gained in Tokyo as a springboard to stronger performances at the World Cup in 2023 and the Paris Olympics in 2024.

He explained that being in South Africa presented the team with some unique challenges. Being far from quality opposition was a struggle and lacking a title sponsor meant that players were constantly fundraising or having to pay out their own pockets.

Ewing said he had received good support from the sports department at St John's College, with other members willing to step in and cover for him when he was out working with the national team.

He added that Covid-19 had also challenged the sports department at St John's, with many boys missing out on a sports season due to restrictions.

"There are so many boys who love their sport and want to get out and play and train. Fortunately, at the moment, we can do some non-contact training and keep the guys busy.

"Hopefully, as we progress through the next few months, restrictions will ease again and we can get the boys back into competition."

Rosebank and Killarney Gazette 

---

A goal in sight for hockey players

With relaxations being introduced every week, the association is waiting for the state government to relax the rules for training and start sports activities.

By Ashok Venugopal



A men's hockey match of the Chennai Hockey Association, before lockdown

CHENNAI:  Keeping athletes engaged during a lockdown isn't an easy feat. Lack of activities, change of routine and finding new ways to stay occupied at home can be difficult to keep the mind focussed. Addressing these challenges faced by the state hockey players, the Hockey Unit of Tamil Nadu took the digital route to conduct various training sessions that can ensure their mental, physical and emotional fitness.

"These are challenging times for any athlete. They have never seen such a scenario where they have to stay indoors for such a long time. The Hockey Unit of Tamil Nadu has been in touch with its fraternity to help them overcome the challenges during COVID-19. We have been in touch with the players, coaches and technical officials virtually. Prominent guest speakers have given lectures on hockey rules, fitness, motivation techniques, the art of goalkeeping and technical sessions on umpiring to keep all of them engaged,'' said M Renuka Lakshmi, general secretary of Hockey Unit of Tamil Nadu.

With relaxations being introduced every week, the association is waiting for the state government to relax the rules for training and start sports activities. "The 11th Hockey India nationals that have been postponed indefinitely may resume in September. The All India MCC-Murugappa tournament in Chennai is also tentatively scheduled for the same month. So we need to start activities once the restrictions are relaxed,'' said Renuka.

They also have ambitious plans for their teams once the training begins for the upcoming season. "We are keen on conducting the state championship (inter-district) where players will be selected from the 32 districts to represent the Tamil Nadu state team. We will pick the final team after the players undergo a 30 to 40 days residential camp. If it is not possible to have a tournament, we will select the players through open trials,'' she added.

The Hockey Unit also has a contingency plan for the benefit of the players. "If we are not able to have a camp or trials, at the moment, we have a database of our players with records of their past performance. We will call prominent senior and junior players who have represented the state and try to have a camp based on the data when things get normal after lockdown. These players, both men and women, will be contacted virtually and online sessions will be held for them from the end of June. The final team will be picked once the tournament dates are announced,'' said Renuka, adding that the players will be asked to focus on endurance and strength training to perform better at the national level.

The New Indian Express