All the news for Friday 11 June 2021

EuroHockey Championship 2021 Men - 11 June
Amsterdam, Netherlands

All times GMT +2)

4 Jun 2021     GER v WAL (Pool B)     8 - 1
4 Jun 2021     NED v FRA (Pool B)     3 - 0

5 Jun 2021     ENG v RUS (Pool A)   5 - 0
5 Jun 2021     BEL v ESP (Pool A)   4 - 2
5 Jun 2021     FRA v WAL (Pool B)   2 - 2

6 Jun 2021     GER v NED (Pool B)   2 - 2
6 Jun 2021     ESP v RUS (Pool A)   5 - 1
6 Jun 2021     ENG v BEL (Pool A)   2 - 1

8 Jun 2021     BEL v RUS (Pool A)   9 - 2
8 Jun 2021     FRA v GER (Pool B)   5 - 6
8 Jun 2021     ESP v ENG (Pool A   2 - 3
8 Jun 2021     NED v WAL (Pool B)   6 - 0

10 Jun 2021     RUS v FRA (Pool C)   5 - 6
10 Jun 2021     ESP v WAL (Pool C)   6 - 1
10 Jun 2021     ENG v GER (SF1)   2 - 3
10 Jun 2021     NED v BEL (SF2)   2 - 2 (SO 3 - 1)

11 Jun 2021 13:45     ESP v FRA (Pool C)     
11 Jun 2021 21:00     WAL v RUS (Pool C)

Pool Standings

Pool A
| Rank | Team | Played | Wins | Draws | Losses | Goals For | Goals Against | Goal Difference | Points |
| --- | --- | --- | --- | --- | --- | --- | --- | --- | --- |
| 1 | England | 3 | 3 | 0 | 0 | 10 | 3 | 7 | 9 |
| 2 | Belgium | 3 | 2 | 0 | 1 | 14 | 6 | 8 | 6 |
| 3 | Spain | 3 | 1 | 0 | 2 | 9 | 8 | 1 | 3 |
| 4 | Russia | 3 | 0 | 0 | 3 | 3 | 19 | -16 | 0 |
Pool B
| Rank | Team | Played | Wins | Draws | Losses | Goals For | Goals Against | Goal Difference | Points |
| --- | --- | --- | --- | --- | --- | --- | --- | --- | --- |
| 1 | Netherlands | 3 | 2 | 1 | 0 | 11 | 2 | 9 | 7 |
| 2 | Germany | 3 | 2 | 1 | 0 | 16 | 8 | 8 | 7 |
| 3 | Wales | 3 | 1 | 0 | 2 | 4 | 16 | -12 | 3 |
| 4 | France | 3 | 0 | 0 | 3 | 7 | 12 | -5 | 0 |
Pool C
| Rank | Team | Played | Wins | Draws | Losses | Goals For | Goals Against | Goal Difference | Points |
| --- | --- | --- | --- | --- | --- | --- | --- | --- | --- |
| 1 | Spain | 2 | 2 | 0 | 0 | 11 | 12 | 9 | 6 |
| 2 | France | 2 | 1 | 0 | 1 | 8 | 8 | 0 | 3 |
| 3 | Wales | 2 | 1 | 0 | 1 | 4 | 8 | -4 | 3 |
| 4 | Russia | 2 | 0 | 0 | 2 | 6 | 11 | -5 | 0 |
---

EuroHockey Championship 2021 Women - 11 June
Amsterdam, Netherlands

All times GMT +2)

5 Jun 2021     NED v IRL (Pool A)   4 - 0
5 Jun 2021     ESP v SCO (Pool A)   4 - 1

6 Jun 2021     ENG v ITA (Pool B)    4 - 0
6 Jun 2021     GER v BEL (Pool B)   1 - 1

7 Jun 2021     IRL v SCO (Pool A)   1 - 0
7 Jun 2021     BEL v ITA (Pool B)   4 - 0
7 Jun 2021     ENG v GER (Pool B)   0 - 2
7 Jun 2021     ESP v NED (Pool A   1 - 7

9 Jun 2021     IRL v ESP (Pool A)   1 - 1
9 Jun 2021     GER v ITA (Pool B)    4 - 0
9 Jun 2021     BEL v ENG (Pool B)   1 - 1
9 Jun 2021     NED v SCO (Pool A)   10 - 0

11 Jun 2021 09:15     SCO v ITA (Pool C
11 Jun 2021 11:30     IRL v ENG (Pool C)
11 Jun 2021 16:00     NED v BEL (SF1)
11 Jun 2021 18:30     GER v ESP (SF2)

Pool Standings

Pool A
| Rank | Team | Played | Wins | Draws | Losses | Goals For | Goals Against | Goal Difference | Points |
| --- | --- | --- | --- | --- | --- | --- | --- | --- | --- |
| 1 | Netherlands | 2 | 2 | 0 | 0 | 11 | 1 | 10 | 6 |
| 2 | Spain | 3 | 1 | 1 | 1 | 6 | 9 | -3 | 4 |
| 3 | Ireland | 3 | 1 | 1 | 1 | 2 | 5 | -3 | 4 |
| 4 | Scotland | 2 | 0 | 0 | 2 | 1 | 5 | -4 | 0 |
Pool B
| Rank | Team | Played | Wins | Draws | Losses | Goals For | Goals Against | Goal Difference | Points |
| --- | --- | --- | --- | --- | --- | --- | --- | --- | --- |
| 1 | Germany | 3 | 2 | 1 | 0 | 7 | 1 | 6 | 7 |
| 2 | Belgium | 2 | 1 | 1 | 0 | 5 | 1 | 4 | 4 |
| 3 | England | 2 | 1 | 0 | 1 | 4 | 2 | 2 | 3 |
| 4 | Italy | 3 | 0 | 0 | 3 | 0 | 12 | -12 | 0 |
Pool C
| Rank | Team | Played | Wins | Draws | Losses | Goals For | Goals Against | Goal Difference | Points |
| --- | --- | --- | --- | --- | --- | --- | --- | --- | --- |
| 1 | England | 1 | 1 | 0 | 0 | 4 | 0 | 4 | 3 |
| 2 | Ireland | 1 | 1 | 0 | 0 | 1 | 0 | 1 | 3 |
| 3 | Scotland | 1 | 0 | 0 | 1 | 0 | 1 | -1 | 0 |
| 4 | Italy | 1 | 0 | 0 | 1 | 0 | 4 | -4 | 0 |
---

Dutch hosts knock out defending champions Belgian at men's EuroHockey Championship

By Ali Iveson



The Netherlands are through to the final at the men's EuroHockey Championship ©Getty Images

The Netherlands beat neighbours Belgium in a dramatic men's EuroHockey Championship semi-final which featured three goals in the last 10 minutes and a shoot-out, won by the host nation.

The Dutch knocked out the world champions and defending European champions as goalkeeper Pirmin Blaak was beaten only once in the shoot-out.

Nico de Kerpel had given Belgium the advantage in the semi-final in Amstelveen, found in space in the D and allowed to convert, but the hosts responded through Seve van Ass eight minutes from time.

Belgium went straight up the other end and scored, Alexander Hendrickx bagging his fifth goal of the tournament, but Jip Janssen levelled once more from a short corner and that sent the game to a shoot-out.

When Thijs van Dam scored and Arthur van Doren missed in the fourth round, the Dutch had a chance to go 3-1 up in the shoot-out and win it.

Jorrit Croon found the roof of the net with a smart, reverse-stick effort, delighting the home fans and sending The Netherlands to the final.

Germany await after they beat England 3-2 in the other semi-final.

Martin Häner, Martin Zwicker and Niklas Wellen all scored inside 13 minutes as the Germans raced into a 3-1 lead, slowed only by Adam Dixon's goal for the opposition.

England pushed for a way back into the match but were regularly thwarted by shot-stopper Alexander Stadler.

Sam Ward did score in the 59th minute, but there was to be no grandstand finish as Germany held on for the win.

The final is scheduled for Saturday (June 12), with the women's EuroHockey Championship taking centre stage tomorrow.

Inside the Games


---

England's Men Defeated In Semi-Finals; Wales Lose Opening Pool C Match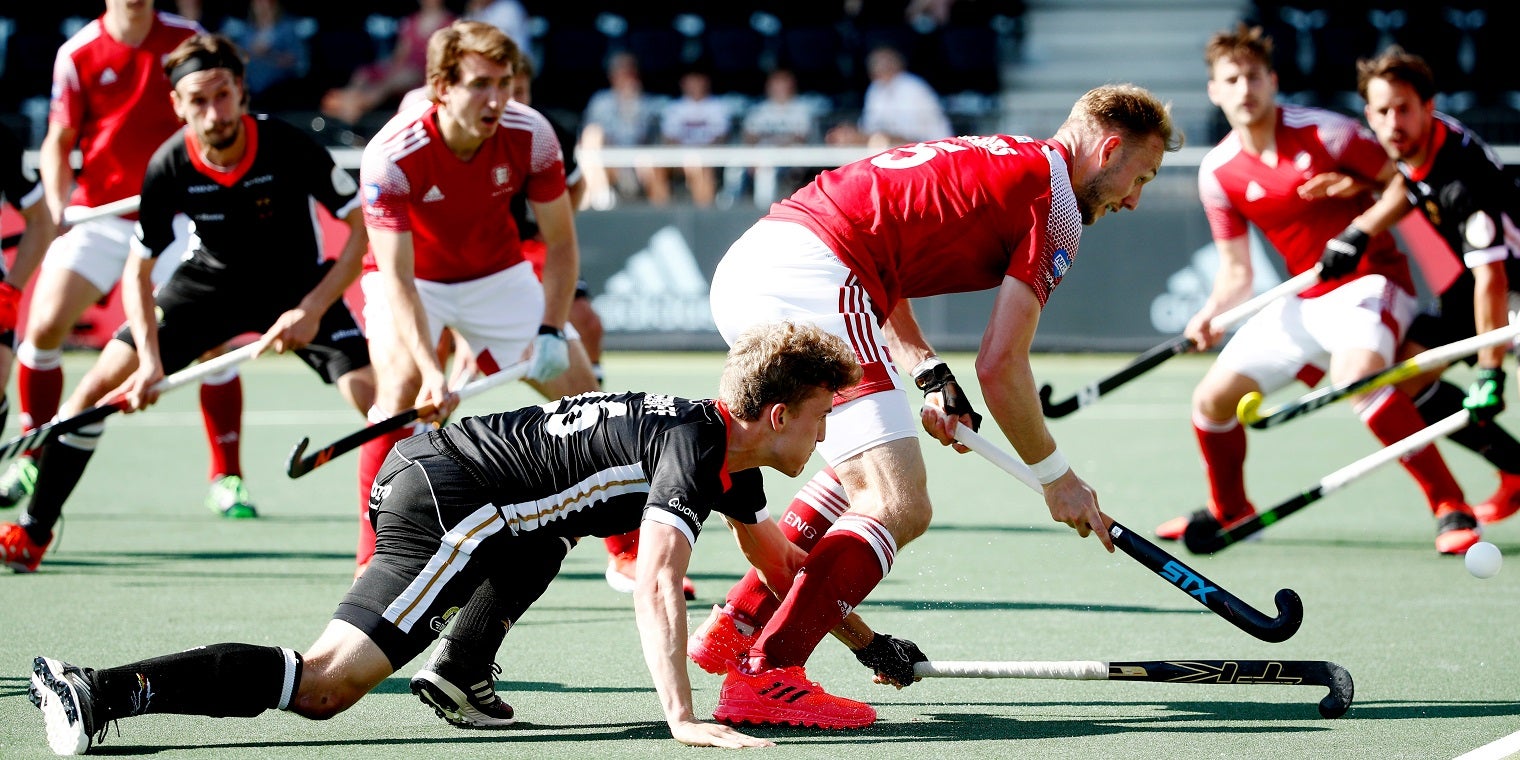 It was a disappointing day at the EuroHockey Championships as the men took to the field, England tasting semi-final defeat after Wales began Pool C with a loss to Spain.

England's men saw their hopes of a place in the final dashed by a 3-2 defeat to Germany, meaning they'll face the loser of this evening's semi-final between The Netherlands and Belgium in Saturday's bronze medal match.

In the earlier game, Wales suffered a 6-1 defeat to Spain in their opening Pool C encounter, meaning the team will need to win their final game of the competition against Russia in order to remain in the top division.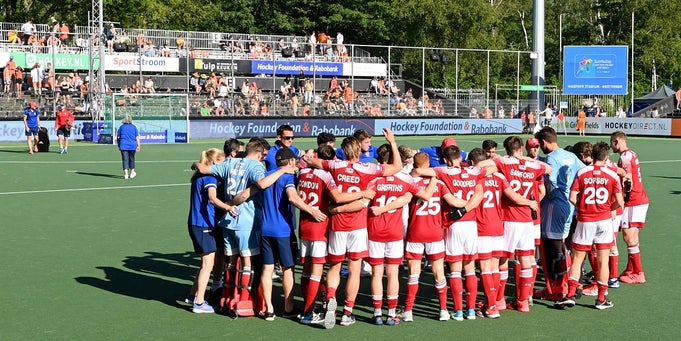 England's men will contest the bronze medal match on Saturday. Credit: World Sport Pics

With a place in the EuroHockey Championships final at stake, England's match against Germany made for breath-taking viewing with a feast of superb goals in the opening quarter.

A fast-paced start saw Germany take a first minute lead, Adam Dixon swiftly responding to level the scores at 1-1 with less than five minutes on the clock.

The German's ensured they would maintain their advantage with two quickfire goals sending them into the half-time break two up.

Though England rallied in the second-half and piled on the pressure, Sam Ward's strike in the final minute was the only further mark the team could make on the scoreboard as Germany secured a 3-2 semi-final victory.

Defeat means that England will face either The Netherlands or Belgium on Saturday at 09:00 as the team look to secure a bronze medal.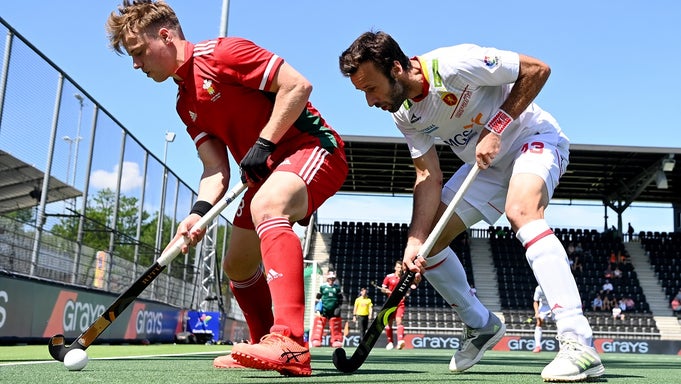 Wales' men suffer defeat to Spain in their opening Pool C match. Credit: World Sport Pics

After being consigned to Pool C with defeat to The Netherlands in their previous match, Wales met Spain knowing that the victor would take pole position in the hunt to finish fifth and secure World Cup qualification. After a ruthless start from the Spanish, the team found themselves 3-0 behind after conceding three goals in as many first-quarter minutes.

David Alegre added another shortly into the second-quarter, and though Jolyon Morgan clawed one back on the stroke of half-time, Wales were left with an insurmountable mountain to climb as Alegre bagged his second and Marc Miralles' last-minute strike ensured they would taste defeat.

Wales go into their final match against Russia, on Friday 11 June at 20:00, knowing that a victory would save them from relegation and confirm their place in the competition's next edition.

Great Britain Hockey media release


---

Defeat For England's Men In EuroHockey Championships Semi-Finals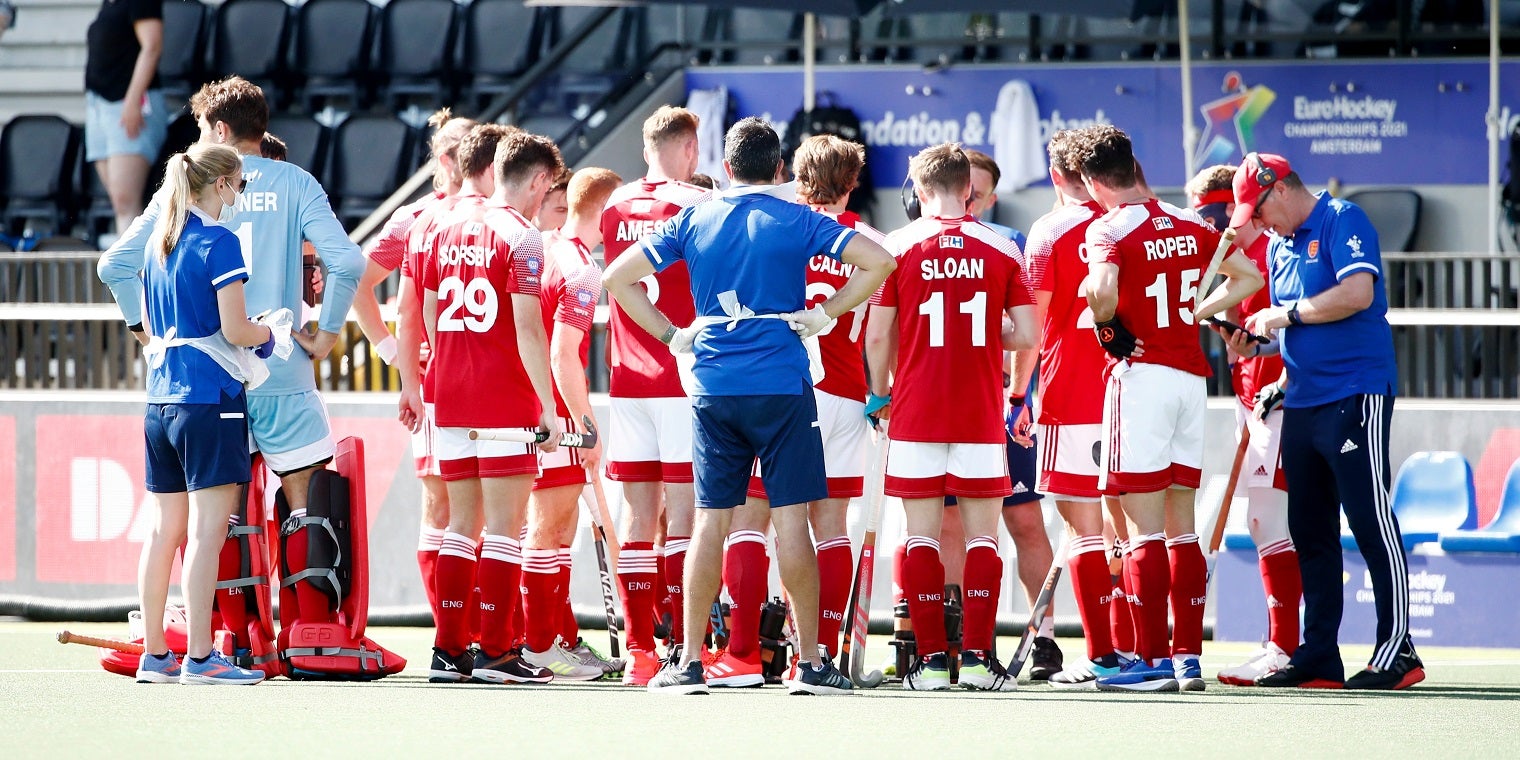 England's men were denied a place in the EuroHockey Championships final with a 3-2 defeat to Germany.

A breathless first-half saw Germany earn a 3-1 lead, all four goals coming in the opening quarter, with Adam Dixon's lone goal keeping England in the match.

Though England created a series of chances through the second-half as they looked to close the gap, Sam Ward converting with less than two minutes remaining, there was to be no comeback as the team saw their hopes of making the final dashed.

The 3-2 defeat means that England will face the loser of this evening's semi-final match between The Netherlands and Belgium on Saturday 12 June at 09:00 in the bronze medal match.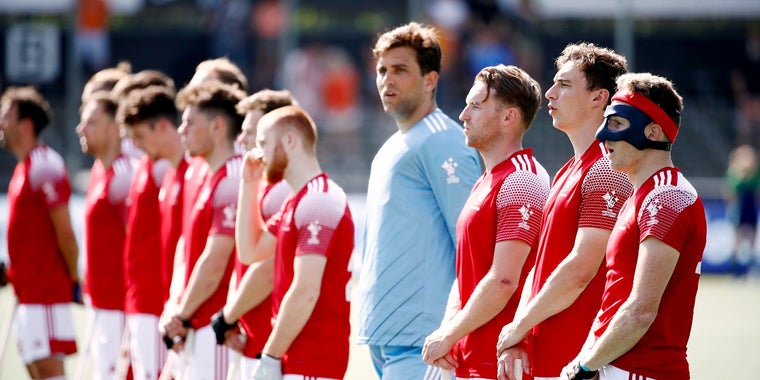 England's men were defeated 3-2 by Germany in the semi-finals. Credit: World Sport Pics

Germany got off to the perfect start, Martin Haner converting a penalty corner in the opening minute of the match with a brilliant drag flick as the team immediately demonstrated their attacking capabilities.

England swiftly replied, Dixon levelling things up with less than five minutes on the clock through another successful corner as his effort hammered into the backboard.

Set pieces were proving crucial, Germany's Martin Zwicker slotting the loose ball into the back of the net to make it a third goal from as many penalty corners and regain their advantage.

Niklas Wellen kept the goals coming in a frantic first-quarter, the forward running through with only Ollie Payne in goal to beat and producing a delightful finish to lob the 'keeper and open up a 3-1 lead.

Payne was on hand to prevent it from being more, coming up with a couple of important saves in the opening stages of the second-quarter with both the glove and boot to ensure the gap would only be two.

In an end-to-end encounter, both teams were looking threatening with a wealth of circle entries at both sides of the field.

England earned another penalty corner with less than thirty seconds remaining in the half, Dixon's powerful effort this time being met by the outstretched boot of Alexander Stadler in goal.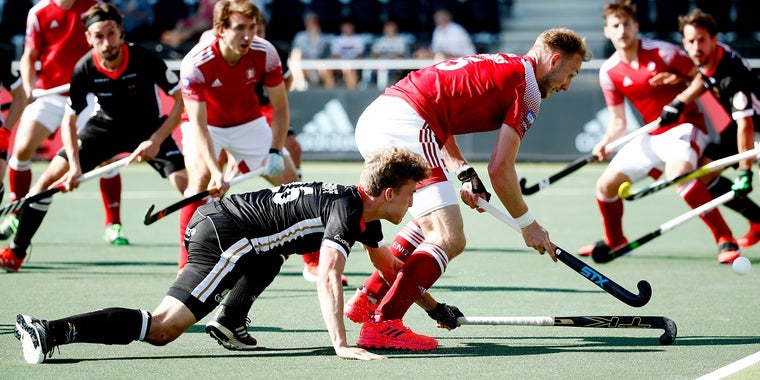 David Ames earned his 100th combined England & GB cap. Credit: World Sport Pics

The intensity didn't slow down come the second-half, Payne halting Christopher Ruhr's early shot on goal with a well-executed save.

England went on to enjoy a spell of pressure, Chris Griffiths coming close with a deflection only to be denied by some good goalkeeping before a German stick diverted Phil Roper's penalty corner drive shortly after.

Danny Kerry's side were getting much more action in the German circle, Ward's booming shot on the reverse forcing a smart save to prevent England from bringing one back.

Roper was next to see a chance fall his way, the forward's reverse stick shot needing another solid save to repel the English pressure.

Ward ensured it would be close to the end, converting another penalty corner as the team gave it their all until the final whistle.

However, the pressure was to prove fruitless as a stubborn German defence ensured England wouldn't be given a way back into the game and would fall to a 3-2 semi-final defeat.

As a result, England's men will contest the loser of this evening's semi-final between The Netherlands and Belgium in the bronze medal match at 09:00 on Saturday 12 June.

After the match, captain Adam Dixon commented: "We've started games solidly throughout this tournament, so it was disappointing to go behind early on.

"I thought the lads battled back well and we knew we'd get chances through the rest of the match. With the amount of late possession we had we probably could have created more.

"It's a short turnaround between now and our next match on Saturday, and there's still a medal to play for, so we'll be looking to prepare well to be ready for that and give it our all."

England 2 (1)

Dixon (4' PC), Ward (59' PC)

Germany 3 (3)

Haner (1' PC), Zwicker (9' PC), Wellen (13' PC)

Starting XI: Ames, Griffiths, Sloan, Ward, Roper, Dixon (C), Creed, Goodfield, Payne (GK), Waller, Wallace

Subs (Used): Martin, Ansell, Condon, Sanford, Sorsby, Calnan

Subs (Unused): Pinner

England Hockey Board Media release


---

England beaten 3-2 by Germany in semi-finals

England's hopes of winning their first EuroHockey Championships men's title in 12 years were ended by Germany in a 3-2 semi-final defeat in Amsterdam.

Martin Haner put Germany ahead inside the first minute, with Adam Dixon levelling three minutes later.

Martin Zwicker and Niklas Wellen goals soon after put Germany in control.

Sam Ward pulled a goal back late on, but it was not enough to deny Germany a spot in Saturday's final against Belgium.

The Germans will be looking to claim a ninth European crown and first since 2013.

England, who won their only title in 2009, now face the Netherlands in their fifth third-place play-off in 10 years on Saturday.

BBC Sport


---

Wales on brink after 6-1 Spain loss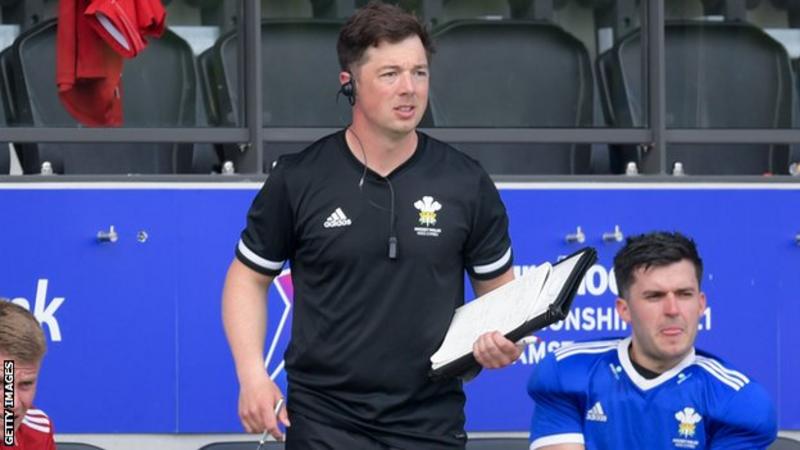 Daniel Newcombe hopes to keep his Wales team in Europe's top flight

Wales' men face a crucial final match with Russia on Friday as they fight to keep their place in the top tier of European hockey.

A 6-1 defeat by Spain on Thursday means Danny Newcombe's side must avoid losing to Russia while bettering France's result against Spain.

Wales were 3-0 down after 11 minutes to a Spain side ranked ninth in the world.

Jolyon Morgan's goal was Wales' only consolation as Spain doubled their tally.

Wales must now beat or draw with Russia - who are ranked five places below them - while hoping the day's other game goes their way.

That would keep Wales' spot in EuroHockey's top division for the next Championships in 2023.

Wales were playing in the third division as recently as 2015.

Earlier in the 2021 tournament Newcombe saw his side recover from an 8-1 defeat by Germany to beat France 3-2 before losing 6-0 to Netherlands.

BBC Sport


---

Hawkshaw eyes new target as England tie nears




Ireland's women need to bounce back quickly from Wednesday's draw with Spain as they go in search of the last remaining World Cup ticket on offer from this week's EuroHockey Championship in Amsterdam.

Ireland missed out on a semi-final berth on Wednesday on "goals scored", having tied with Spain on both points and goal difference, meaning their sights are now realigned than the maiden semi-final they had hoped for.

The Green Army will meet England on Friday morning (10.30am Irish time, live on RTE Player) before taking on Italy on Saturday (3.30pm, Irish time).

Ireland carry their 1-0 win from the initial group stages against Scotland into this four-team pool from which the round-robin winner will be assured of a place next summer's World Cup.

England also carry through three points courtesy of a 4-0 win over the Italians but find themselves in unfamiliar territory; this is the first time in 15 European Championships they will finish outside the top four. As such, it makes for a big psychological – as well as tactical and physical – battle on Friday.

Hannah Matthews said the players have to do their best to be "like a goldfish" and put things behind them quickly and refocus on a new target.

Flying midfielder Sarah Hawkshaw agrees but adds "it would be naïve to say it is easy to do. It was a huge opportunity and the closest we have been.



Picture: Frank Uijlenbroek/World Sport Pics

"At the time, it was very hard. But we have been in this Pool C before. We have come together, talked about it, had honest conversations about how we felt so we can move on from it.

"We are now really excited to push forward and play England. We have had a good few battles in the past few months against GB and most of the girls from that squad would be in the England squad and we have played some good hockey. And of course, the motivation is there to take them on.

"We do need to look at ourselves and our performance from that Spanish game. We need to to move the ball better. England are a good team, have a good defensive structure and work really hard. We have to move them and that comes from us, showing for the ball, giving good options, getting the ball to our high strikers."

Aside from the immediate importance of the tie, there would also be historical significance in victory. Ireland have yet to do so in a world ranking event and each of Ireland's seven previous meetings with England have seen the latter prevail.

But Hawkshaw says the side will take a lot of impetus from their 2019 campaign when they came similarly close to reaching the semi-finals but bounced back to beat Belgium and Russia in Pool C.

"We can take a lot of confidence from that. I only saw the video a couple of days ago of the last couple of seconds of the Belgian game counting down, Shirley [McCay] crossing the ball for Anna [O'Flanagan].

"It also shows how quickly the game can change. We need to get the ball into those areas which will be really important against England and something we haven't got enough of. We have to get the ball into those areas because anything can happen.

"Huge confidence from that experience, we know what the stakes are. No room for error and we have to produce results. It is a situation England haven't been in so we take that as a positive."

Irish Hockey Association media release


---

Ireland's Hawkshaw 'excited' for England encounter

Ireland midfielder Sarah Hawkshaw says they must improve for the EuroHockey Pool C opener against England on Friday.

Both sides missed out on a semi-finals spot in Amsterdam and automatic qualification for the 2023 World Cup.

The winner of Pool C will secure the fifth available World Cup place.

"We are now really excited to push forward and play England - the motivation is there to take them on," said Hawkshaw.

Ireland's 1-1 draw with Spain on Wednesday ended their hopes of making the semi-finals for the first time.

The Irish carry their 1-0 win from the initial group stages against Scotland into the four-team pool while England also carry through three points courtesy of a 4-0 win over Italy.

It is the first time in 15 European Championships that England, who missed on on the semi-finals after drawing 1-1 with Belgium, have finished outside the top four.

"We have had a good few battles in the past few months against GB and most of the girls from that squad would be in the England squad and we have played some good hockey," added Hawkshaw.

"We do need to look at ourselves and our performance from that Spanish game. We need to to move the ball better.

"England are a good team, have a good defensive structure and work really hard. We have to move them and that comes from us, showing for the ball, giving good options and getting the ball to our high strikers."

BBC Sport


---

Ireland must overcome disappointment to book Hockey World Cup ticket

Ireland's women need to bounce back quickly from Wednesday's draw with Spain as they go in search of the last remaining World Cup ticket on offer

Stephen Findlater



Kathryn Mullan (C) and Elena Tice dejected after the game against Spain which saw them Ireland exit the European Championship. However, a World Cup spot is still up for grabs. Picture: INPHO/Frank Uijlenbroek

Ireland's women need to bounce back quickly from Wednesday's draw with Spain as they go in search of the last remaining World Cup ticket on offer from this week's EuroHockey Championship in Amsterdam.

Ireland missed out on a semi-final berth on Wednesday on "goals scored", having tied with Spain on both points and goal difference. The Green Army will meet England Friday morning (10.30am Irish time, live on RTÉ Player) before taking on Italy on Saturday (3.30pm, Irish time).

Ireland carry their 1-0 win from the initial group stages against Scotland into this four-team pool from which the round-robin winner will be assured of a place in next summer's World Cup.

England also have three points courtesy of a 4-0 win over the Italians but are in unfamiliar territory; this is the first time in 15 European Championships they will finish outside the top four.

Ireland's Flying midfielder Sarah Hawkshaw says the side will take a lot of confidence from their 2019 campaign when they came similarly close to reaching the semi-finals but bounced back to beat Belgium and Russia in Pool C.

"I only saw the video days ago of the last couple of seconds of the Belgian game, Shirley [McCay] crossing the ball for Anna [O'Flanagan]. It also shows how quickly the game can change. We need to get the ball into those areas which will be really important against England and something we haven't got enough of.

"Because anything can happen. There is no room for error and we have to produce results."

The Irish Examiner


---

Irish young guns win 3-0 on opening night




Ireland's young guns produced a composed performance in their first senior international outing since 2019 to beat Scotland in the first of three uncapped fixtures.

Coach Mark Tumilty has named 14 new players in his panel for this series at Jordanstown with games to follow on Saturday and Sunday.

And two of those were on the mark. After a scoreless first half, Corinthian's Ian Stewart broke the deadlock five minutes into the second half with a quick counter goal.

Conor Empey then converted a stroke soon after and Peter McKibbin – a relative veteran with one cap – finished off a corner slip move to make it 3-0.

Scotland came on strong in the closing quarter with Fergus Gibson doing well to repel a Scottish strike on goal before Sam Hyland's corner running charged down a series of penalty corners to maintain the clean sheet.

Men's international test match

Ireland 3 (I Stewart, C Empey, P McKibbin) Scotland 0

Irish Hockey Association media release


---

Olympic Reflections: De Nooijer doubles up as Dutch grab second chance at Sydney 2000




In the latest of our Olympic Reflections series, five-time Olympian Teun de Nooijer – the three-time FIH Player of the Year who played a world record 453 international matches, scoring 219 goals – tells the remarkable story of how the Netherlands bounced back from the brink of elimination at Sydney 2000 to claim a second successive Olympic gold medal.

The sensational Dutch attacker – winner of two gold (Atlanta 1996, Sydney 2000) and two silver (Athens 2004, London 2012) medals, and who is set to travel to Tokyo as an assistant coach of the Germany women's team – talks about how his team almost blew their chances of staging a success defence of the Olympic crown won at Atlanta 1996 before eventually writing another famous chapter in hockey's history books.

Your journey to winning your second Olympic gold, at Sydney 2000, was far from straightforward. Can you tell us about that?

Teun de Nooijer: "When I look back at that tournament, I think we had an unbelievably good team, and an unbelievably experienced team. At 24, I was the youngest on the team. There is no team now where that is the case, I think. We really, really struggled. We started okay but were a little bit unlucky as well because we scored a goal against Malaysia that hit the back-bar and came out, but the [umpire] thought it was against the bar. It was disallowed, and we had a 0-0 because of that. We dropped a lot of points, and then in the end, I think we needed a win against Pakistan. We actually played pretty well, creating a lot of chances but just didn't score. Pakistan did, so we lost that game.

"After that, Germany needed to play GB [Great Britain]. Germany had a great team, so we all thought that we were out of the tournament, no semi-final place for us. Germany will win this game; it was a big chance for them to go through. But it just fell our way. GB won, with Callum Giles, the penalty corner specialist, having a chance five minutes from the end and he scored to make it 2-1. We were all in our little houses watching the game. Players from the team were already preparing to go out, because we were not having a semi-final, so we were going to go into town and have a beer! But then it just turned around. It was crazy.

"I'm proud because during the pool, we didn't play to our max. But in the semi-final, we played a great game against the Aussies. It was 0-0 actually, and extra time, but in the end we won it with penalty strokes. But for the audience I think it was fantastic to watch, because it was really attacking style from the Aussies and from our side as well. It just went back and forth, but we both didn't score, with 15,000 Aussies in the stands in Sydney [watching on]. Before the Olympics we really, really prepared ourselves for taking penalty strokes, and that helped us, because we needed to. We took five, and five went in and they missed one.

"In the final, against Korea, it was also a strange game. We were 3-1 up with four minutes to play, and then it was 3-3, so again extra-time and again penalty strokes. And again, we took five and all went in the net. They missed one, and we were Olympic champions. It was a crazy tournament where a lot of things went wrong as well – the energy amongst the staff and between the staff and the team just wasn't good. There was some frustration and stuff going on, and that is why our focus occasionally wasn't on the right direction, and we weren't really a team. But still, the qualities in the team were unbelievably high, and what we did was play well in the semi-final and final, and that helped us in the end."

Did you think that, with the Great Britain result against Germany, it was a second chance for you to go on and win the gold medal? Did it unite the team?

Teun de Nooijer: "Totally. We totally felt it was our second chance, and we had a long team talk about that and really said to each other: okay, this is it. Now we have a second chance, and we are going to grab this, one way or the other. Everything that had happened doesn't matter anymore. We are here now, and we are going to grab this chance, and that is what we really did well."

A video interview of Teun de Nooijer talking about finding both gold and love at the Olympic Games Atlanta 1996, where he met Germany international and future wife Philippa Suxdorf, can be found on Olympics.com by clicking here.

The hockey competitions at the Olympic Games Tokyo 2020 will take place from Saturday 24 July to Friday 6 August 2021. Both the men's and women's competitions feature 12 teams, split into two pools of six ahead of quarter-finals, semi-finals and medal matches. For more information about the hockey competitions at the Olympic Games Tokyo 2020, visit https://tokyo2020.org/en/sports/hockey/.

#Tokyo2020
#StrongerTogether
#HockeyInvites

FIH site


---

2022 National Masters Tournament dates confirmed




Hockey New Zealand in conjunction with Tauranga Hockey Association and Tauranga City Council are pleased to announce the dates for the 2022 National Masters Tournament. The tournament will be held from  Sunday 20 February to Saturday 26 February 2022.

The tournament has been moved a week earlier than this year's scheduled dates to avoid a clash with the ICC Women's Cricket World Cup at the neighbouring Bay Oval.

The change of date will ensure full access to the hockey facility including the village green area and a fully operational third turf.

After the postponement of the 2021 National Masters Tournament due to a change in COVID-19 alert levels, Tauranga is pleased to be able to welcome back the more than 1500 participants from 90-plus teams who were registered for this year's event.

Hockey New Zealand Media release


---

Hockey Five League likely in July

LAHORE: The Pakistan Hockey Federation (PHF) has announced the launch of domestic activities after relaxations announced by the government in its fight against coronavirus.

The domestic activities were discussed in a meeting attended by PHF Secretary General Asif Bajwa, President Brig Khalid Sajjad Khokhar and Asian Hockey Federation CEO / Secretary General Tayyab Ikram Chaudhry.

Bajwa said: "God willing, we will organise PHF domestic season in the best possible way. We are trying our best to organise Hockey Five League in July. The Chief of Naval Staff All Pakistan Hockey Tournament will be played from August 1 to 8 in Karachi. Mari Petroleum Azadi Hockey Cup will be played from August 8 to 14 at Ayub Park, Rawalpindi.

"We are working hard to bring international hockey to Pakistan which will help improve Pakistan's ranking," he added.

The News International


---

An Evening with Olympic Gold Medallist Gulraiz Akhtar

By Ijaz Chaudhry



Gulraiz Akhtar (in white) being presented souvenir by Major (rtd) Peerzada

After a hiatus of seven months due to the Covid 19, meetings with hockey stalwarts, organised by former international Major (retired) Peerzada, resumed.

Gulraiz Akhtar, gold medallist 1968 Olympics & 1970 Asian Games, and one of the finest left halves to play for Pakistan was the chief guest at a well-attended gathering at the lawns of the golf and country club, Lahore.

Guests included the captain of that victorious team of the 1968 Olympics, Dr. Tariq Aziz, and another member of that side Anwar Shah.

Also present were former secretary Pakistan Hockey Federation Brig (retired) Musarratullah, ex-director

Punjab Sports Board Shahid Nizami, deputy director Punjab Sports Board Ms. Chand Parveen (wife of Gulraiz Akhtar) as well as quite a few hockey enthusiasts.
All thanked Gulraiz Akhtar who had agreed to come despite his ill health.

Gulraiz recalled, "I was lucky to have been born in Rawalpindi, the biggest hockey centre at the time. Then my uncle Naseeb was the 1956 Olympics silver medallist and elder brother Pervez was also an international.

After representing the army in the nationals for a few years, I joined Customs.

I debuted for Pakistan at the 1966 International Hamburg Festival but couldn't gain the selection for the 1966 Asian Games. However, I was the first choice left half in Pakistan"s gold medal-winning sides of the 1968 Olympics and the 1970 Asian Games.

At that stage, I said goodbye to international hockey but continued appearing for the Customs in the domestic circuit."

At the 1972 Olympics, Pakistan lost in the final against former West Germany.

Dissatisfied with the umpiring, Pakistani players misbehaved during the medal ceremony.  The FIH punished them with the life ban, later reduced, and the players were eligible for the 1974 Asian games.

With those players unavailable, the Pakistan team for the 1973 World Cup mainly comprised newcomers. A few old-timers were recalled including Gulraiz, who reminisced, "That second string Pakistan side surprised everyone by reaching the semis where we lost to India 0-1. In the 3rd position playoff, West Germany defeated us with the same scoreline"

"I retired from customs in 2000 and have been living in Lahore for a long time now."

Gulraiz Akhtar was also presented with a souvenir by Major (retired) Peerzada who promised to make such meetings a more frequent affair.

Ijaz Chaudhry writes on hockey & other sports. For more about him and his work, visit: www.sportscorrespondent.info

Fieldhockey.com