All the news for Wednesday 5 May 2021

2021 Test matches RSA v NAM (M) - 5 May
Johannesburg (RSA)

1 May 2021     RSA v NAM   7 - 0 (Watch the match replay here)
2 May 2021     RSA v NAM   2 - 1
4 May 2021     RSA v NAM   3 - 0  
5 May 2021 19:00 (GMT +2)     RSA v NAM
7 May 2021 19:00 (GMT +2)     RSA v NAM

No Spectators allowed due to COVID restrictions
All matches to be streamed live on the Watch Hockey App

FIH Match Centre

---

Workmanlike performance from South Africa sees them home against Namibia



Photo – Marcel Sigg / Run Ride Dive

The South African Hockey Men and their neighbours renewed pleasantries tonight at Northcliff High School in Johannesburg for the third test. The match saw the hosts in their new TK kit on the day that the SA Hockey and TK announced their new partnership.

The Namibians who had impressed in a heartfelt performance on Sunday where the crossbar denied them the draw, were looking to show a continued improvement and possibly snatch a result. The South Africans welcomed back Daniel Bell into the team having arrived back from club duty in Belgium.

The game started with a more focussed approach from the South Africans with the likes of Chad Futcher, Leneal Jackson, Jethro Eustice and Bell seeing a lot of ball. South Africa fashioned an early chance where Mustapha Cassiem deflected for the top right corner, but it was a good save from DJ Strauss. Strauss would be a little frustrated with his effort for the goal though in truth. South Africa won the penalty corner, the injection was good and Chad Futcher fired in a good penalty corner. Strauss got his pad to it, but it bundled over the line. It was Futcher's first outdoor goal for South Africa to couple with his indoor international haul.

South Africa would turn one into two before the end of the first chukka with Mustapha Cassiem finishing off a team move. That marked Cassiem's fifth international goal in just his 7th match, a remarkable start to his outdoor career. Unfortunately that was the last of significant action in the first half and 2-0 remained the score at the break.

Both teams searched for the next goal, which in turn would be the final goal of the game. The South Africans were the team to get it as a wonderful run from Andrew Hobson along the baseline laid the ball across and Ignatius Malgraff was able to tap into an empty net. Malgraff will not have many easier goals in his career, but he will be delighted all the same.

Despite a double yellow card for the South African Men at the end they were able to hold on despite the numerical disadvantage and seal the series 3-0. The two teams will meet again on Wednesday and Friday for the final two test matches of a hotly contested series.

The matches will be streamed live on the SA Hockey Association Facebook page and the Watch Hockey App.

SA Hockey Association media release


---

The Elephants are Back




The South African Hockey association can today announce that TK Sports South Africa are the new kit supplier of the national teams. This agreement renews the relationship between TK and SA Hockey, having previously been the kit supplier spanning two FIH Hockey World Cups, most recently the Women and Men's World Cups of 2010. Now, the Elephants are Back.

Having returned to International Hockey for the first time in over a year, the SA Hockey Men wore the limited edition Simunye kit in collaboration with TK. They will now return to the green and gold TK kit for the first time since 2010 for the third to fifth Test Matches vs Namibia. The agreement with TK Sports South Africa runs until December 2023 and will be rolled out for the next confirmed events calendar of the women and men's teams.

Marissa Langeni, CEO of SA Hockey, was delighted to share the news.

"We are delighted to renew our relationship with TK and welcome them back into the South African Hockey family. They have been fantastic supporters of South African Hockey over the years. As a brand, TK reflects our ambitions for growth, and we look forward to working with them to bring fans new and exciting products. We are extremely excited for this partnership."

Rassie Pieterse, MD of TK Sports South Africa, echoed in his delight.

"TK Sports have been providing equipment for hockey since 1985 and have a longstanding heritage of leading brands worldwide. We are delighted to be able to put the players in kit that bring out the best of their performance on the turf. The South African Hockey fanbase is a passionate and proud group of people. We are also excited by the opportunity to offer supporters a chance to get their own replica kit and to see stadiums packed in green and gold once fans are allowed to return. The elephants are back!"

Replica kits will be available for purchase on TK Sports SA online store. A portion of every sale will be given by TK back to SA Hockey.

SA Hockey Association media release


---

India's matches in Europe postponed




Lausanne, Switzerland: India's upcoming FIH Hockey Pro League away matches against Spain and Germany, scheduled on 15-16 May and 22-23 May respectively, have been postponed. This is due to the current international travel restrictions affecting India because of the COVID-19 pandemic.

FIH, Hockey India as well as the Hockey National Associations of Germany, Spain and Great Britain – since the matches initially planned in London on 8-9 May were also postponed - are currently looking at all potential options to rearrange these matches at a later date.

On behalf of the global hockey community, the International Hockey Federation (FIH) would like to express its support and strong sympathy to the Indian hockey community, as well as their families and friends. At this very hard time for India, a country so much linked to the history as well as the current development of hockey, our thoughts are with all Indian people.

#FIHProLeague
#HockeyInvites
#PlayHockeyStayHealthy

Official FIH Pro League Site


---

India's FIH Pro League hockey matches against Spain, Germany postponed

The Indian hockey team was set to face Spain in the FIH Pro League on May 15 and 16 before playing Germany on May 22 and 23.

By Utathya Nag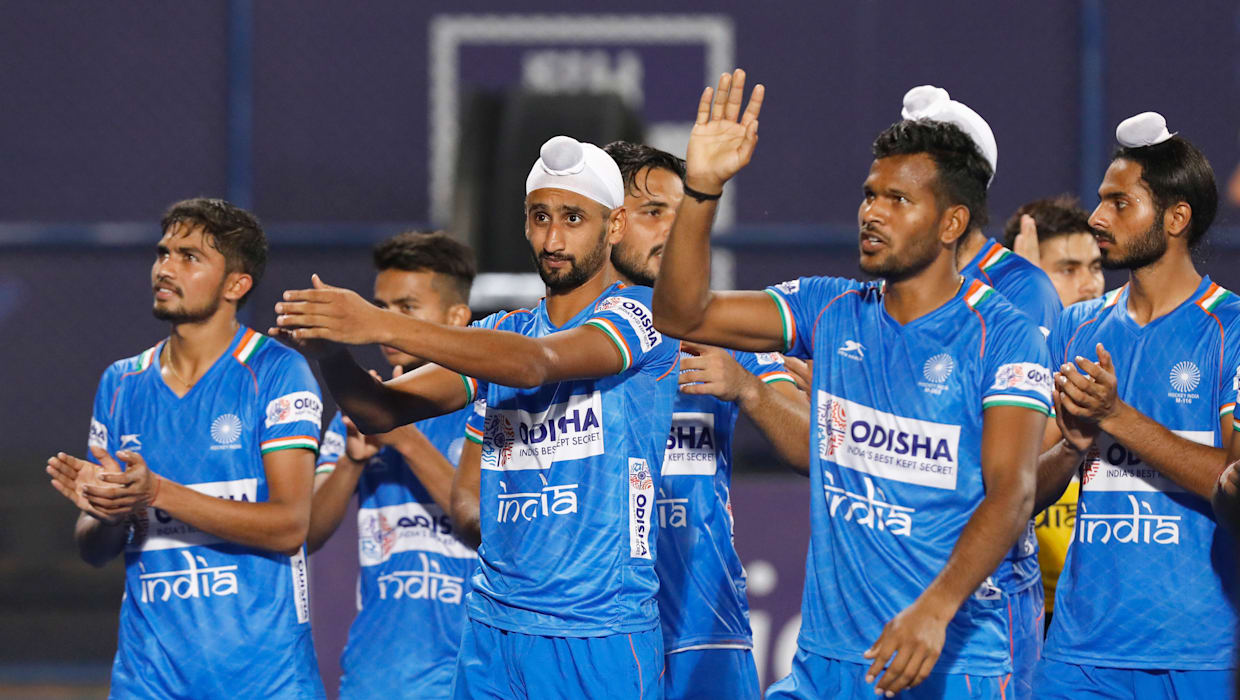 Picture by Hockey India

The Indian men's hockey team's upcoming FIH Hockey Pro League away matches against Spain and Germany have been postponed due to international travel restrictions placed on India because of the COVID-19 spike in the country.

India were scheduled to play Spain on May 15 and 16 in Valencia before flying to Hamburg to face Germany on May 22 and 23.

India's matches against Great Britain in London on May 8 and 9 were postponed last month after the UK put India on their red list.

Several other countries like Malaysia, Hong Kong, Maldives, the USA and others have also banned travellers from India due to the pandemic.

The international hockey federation (FIH), Hockey India as well as the national hockey associations of Germany, Spain and Great are currently looking at all potential options to reschedule these matches at a later date.

"On behalf of the global hockey community, the international hockey federation would like to express its support and strong sympathy to the Indian hockey community, as well as their families and friends," FIH said in a statement.

"At this very hard time for India, a country so much linked to the history as well as the current development of hockey, our thoughts are with all Indian people," it added.

The postponements will come as a big blow to the Indian hockey team's preparations for the upcoming Tokyo Olympics.

The Indian hockey team returned to competitive action after a year-long COVID-enforced hiatus in February this year. After a short tour of Europe, Graham Reid's men travelled to Argentina for an extended stay.

There, India played a series of practice matches alongside two FIH Pro League fixtures. The Indian team gave a good account of itself against the hosts, as they won the first game via shootout before brushing aside the reigning Olympic champions 3-0 in the second game.

However, the latest round of cancellations will again derail India's preparations for Tokyo. The team is currently training at the Sports Authority of India (SAI) centre in Bengaluru.

The travel bans are expected to impact the Indian women's team as well, who were set to tour the Netherlands for practice matches.

Olympic Channel


---

Indian men's hockey team forward Lalit Upadhyay says players need to work on converting chances

In the recent Argentina tour, the Indian team scored 12 goals in four practice matches and five goals in two FIH Pro League games against the Olympic champions, but Lalit said there is still room for improvement as nine goals came via penalty corners.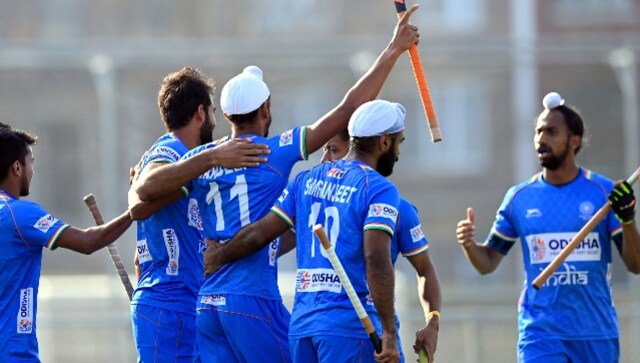 Bengaluru: Indian men's hockey team forward Lalit Upadhyay feels that the players need to work on converting more chances into goals ahead of the Tokyo Olympics scheduled to open on 23 July.

In the recent Argentina tour, the Indian team scored 12 goals in four practice matches and five goals in two FIH Pro League games against the Olympic champions, but Lalit said there is still room for improvement as nine goals came via penalty corners.

"The matches against Argentina were high-scoring games and it's never easy to convert field goals against a team like Argentina who are quite strong in their defence," said Lalit, who scored in India's 3-0 win against Argentina in the FIH Pro League tie.

"Over these last few months, we have really worked a lot on converting goals as well as creating penalty corners. We have also focused on how we must work our way into the circle from the 25m mark," he added.

Lalit said the team can be a bit sharper while taking chances inside the circle.

"This is something we are focusing on during our on-going camp," he said.

He said the team can win a medal at the Tokyo Olympics despite facing several challenges in the lead up to the Games due to the COVID-19 pandemic.

"All of us in the core group believe this (Tokyo Olympics) is our best shot at a medal and we continue to work towards that mission despite whatever challenges we may have to face in the lead up.

"Our focus will be on maintaining our fitness level, avoiding any injuries and we will be creating match scenarios in our practice sessions where we will work on different tactics," he said.

Lalit emphasised that having a centralised training facility like the Sports Authority of India (SAI) Centre in Bengaluru has been a boon in these unprecedented times.

"We are truly lucky to be in a facility like SAI Centre, Bengaluru where our training goes on undisturbed, and we have the best facilities. We also have an exclusive gym now for hockey which has been very helpful," he said.

Firstpost


---

The Olympics dreams of Jharkhand's hockey queens

Jharkhand loves hockey and over the decades, the state has produced many hockey stars. Now Nikki Pradhan and Salima Tete seek to add a new chapter to that proud tradition

By Deepti Patwardhan



Nikki Pradhan and Salima Tete in action for India.

Salima Tete took her first steps in hockey on a dusty ground speckled with stones, in a small hamlet in Jharkhand's Simdega district. "My friends and I would remove the stones ourselves, try to make the ground as smooth as possible and mark temporary goalposts," the teenager recalls. In the absence of proper hockey blades, they would use wooden sticks. It usually doesn't take much for a game of hockey to kick-off in her part of the world.

The sport, brought to India's heartland by Christian missionaries before Independence, is entrenched in the region's soil. The first ever Indian hockey team at the Olympics, at the 1928 Amsterdam Games, was captained by Jaipal Singh Munda, born in present-day Jharkhand.

Mint Lounge


---

Tough week at Bisham gives Dancer food for thought



Sarah Torrans scored a peach of a goal in game two. Pic: Adrian Boehm

Ireland's four game uncapped series against Great Britain at Bisham Abbey provided plenty of food for thought for coach Sean Dancer as they ended with three defeats and one draw for their week's work.

In game one, despite a concerted second half performance, they fell 3-1.  Anna O'Flanagan struck in the third quarter off the back of a Katie Mullan ball into the circle to reduce a 2-0 half-time deficit.

But Britain snagged a penalty corner goal in the second half to stretch out their advantage in this first of four ties to be played between now and Sunday.

The tie saw Cashel's Caoimhe Perdue become the first woman from Tipperary to play for Ireland since Pam Smithwick in 2016, getting a quarter of the game for Sean Dancer's side.

Otherwise, Chloe Watkins stood out in midfield while Shirley McCay's big save off the line augmented a strong performance, making a series of key interceptions at the back.

In game two, Sarah Torrans got the only Irish goal with a peach of a solo goal, taking on a free hit herself before unleashing a rocket of a shot as they went down 4-1.

Game three was the high point with a 0-0 draw coming from a much more composed performance with Watkins, Roisin Upton and Hannah Matthews providing assured performances in the spine of the team.

Lizzie Murphy made a couple of key saves while the game could have been won had a couple of corners been converted.

In the final game, Ireland conceded six times in the final quarter to scupper what had been an impressive performance to that point.

Hannah Matthews' goal from a short corner and a Deirdre Duke strike from open play, slipping home a reverse-stick finish under the keeper from close range, had Ireland 2-1 up at three-quarter-time.

But a volley of goals from Shona Mccallin, Ellie Rayer, Giselle Ainsley, Laura Unsworth, Grace Balsdon and Izzy Petter turned things around dramatically.

Ireland will next face Scotland before the final squad for the European Championships is announced.

He will expect to have goalkeeper Ayeisha McFerran available once again following the conclusion of her Dutch season with SV Kampong.

The Larne woman ended the season with a second successive clean sheet as her side drew 0-0 with Hurley to finish in eighth place.

That concluded a tricky season in decent fashion; Kampong sat bottom in March before a change in coach helped them finished strongly, picking up 10 points in their last six games.

Also in Utrecht, Kinsale man David Harte's season will continue into the playoffs with Kampong finishing the regular season in second place after a 6-3 success against AH&BC Amsterdam. They will meet HC Rotterdam in the playoff semi-finals.

In the US, former Catholic Institute player Anna Horan helped the UConn Huskies reach the final four of the NCAA Division One championships. They dismissed Rider University 5-0 in the quarter-finals of the competition.

The Hook


---

T&T Hockey men, women eye more World appearances



T&T senior women's coach, Antony Marcano

This country's senior men and women hockey teams are both hopeful of fulfilling their engagement of competing at the 2021 Indoor Pan American Cups (IPAC) next month in the USA.

The tournament to be hosted by USA Field Hockey for both women and men will be held at the Training Center, Spring City, near Philadelphia and, Pennsylvania, from Friday, June 25 to Sunday, June 27, 2021, and will qualify teams to the 12-team 2022 FIH Indoor Hockey World Cup from 2 to 6 February 2022 in Liège, Belgium.

It was originally scheduled for February 2021 but was postponed due to the coronavirus pandemic.

The teams to qualify for the men's competition so far are Iran, Kazakhstan (Asia), Austria, Czech Republic, Germany, Netherlands, Russia (Europe), Belgium (Host), South Africa (Africa), Australia and New Zealand (Oceania) with the Pan American winner the lone team outstanding,

In the four-team men's competition defending Pan American champions T&T who reached the last Indoor World Cup in Germany after beating Argentina in the final in Georgetown, Guyana will come up against Canada, Argentina and the USA in a round-robin series ahead of their semifinals and final matches.

However, the women's pool consists of six teams in the USA, Argentina, Canada, Uruguay, T&T and Guyana who will also contest a round-robin series at the end of which the top two teams will play the final from which the winner will qualify to the 12-team 2022 FIH Indoor Hockey World Cup from 3 to 6 February 2022 in Liège, Belgium.

The teams to qualify for the women's competition so far are Kazakhstan (Asia), Austria, Belarus, Czech Republic, Germany, Netherlands, Ukraine (Europe), Belgium (Host), Namibia (Africa), Australia and New Zealand (Oceania) with the Pan American winner the lone outstanding team.

The men's team qualified to the last FIH Indoor Hockey World Cup in Germany 2018 making it the second appearance for the national men's hockey team at an Indoor World Cup final after the 2005 team ended second in the Pan American tournament behind hosts Canada to reach a first-ever FIH Indoor Hockey World Cup in Vienna, Austria in 2007.

On the women's side, Anthony Marcano has been tasked with taking the team to a first Indoor World Cup since competing at the inaugural edition in 2003, Leipzig, Germany after winning the 2002 Pan American title in Rockville, USA.

with just under two months to go before the tournaments, Cindy Martin-Faustin, the T&T Hockey Board National Team Administrator indicated that while the teams have been in continuous training they are still to confirm their involvement in terms of financial commitments and getting all the needed health and safety measures put in place.

On April 28, the Pan American Hockey Federation wrote to the participating federations and noted that with its reorganization of PAHF events, within this "new reality", it has developed a document where the care of the participants is their main concern, but without forgetting the objective of the Federation; that is to promote the game in a low-risk environment.

The document provides participants with operational safety guidelines to minimize risks at events and to safeguard the health of the players, officials and all parties involved in the Organization. USAFH and PAHF have developed a COVID-19 protocol document.

As part of competing at the Indoor Pan American Cups all the parties; host, participating national associations, and appointed officials are required to sign an IPAC COVID Protocol Acknowledgement Form, indicating acceptance and commitment to abide by these requirements. Noncompliance with the IPAC Covid Protocol by one or more parties will be understood as creating a risk to all other parties. Such a breach is subject to disciplinary sanction. This PAHF/ USA Field Hockey COVID-19 Protocol (further: the protocol) is based on the document "FIH Tournament Protocols during COVID-19 Pandemic", guidance document produced April 2021 for organizing countries.

The release noted that the IPAC Covid-19 Protocol is being used as a guideline throughout this protocol and was developed on April 15, 2021, by PAHF and USA Field Hockey and is in keeping with the national restrictions made by the host government at this time.

Before arrival in the USA every person entering the USA is required: A negative PCR (Quick tests are not acceptable), having been tested a maximum of 72 hours before arriving in the USA.

To the players' relief, they will be able to go directly to their team base as currently no quarantine is required in any USA State.

All participating teams and officials are recommended to monitor the CDC website.

The Trinidad Guardian


---

Burras to hold preliminary Junior World Cup training camp

Australia's Under 21 Men's Hockey Squad, the Burras will assemble for a training camp on the Gold Coast this Sunday in the lead up to the FIH 2021 Junior Hockey World Cup.

An extended squad of 44 athletes have been selected for the week long camp that will consist of skill development and high level match competition in lieu of last year's National Championships being cancelled because of COVID.

Burras Head Coach Ben Bishop says he is looking forward to bringing together the best identified Australian Under 21 male hockey talent.

"Our coaching group is excited to work closely to help advance the players' hockey growth on and off the pitch, especially after the restrictions and limited opportunities last year," said Bishop.

"The camp will involve skill development sessions, off field learnings and what I am sure will be high quality intra-squad matches to challenge the athletes as they work towards other Junior Program activities in 2021."

Notably, the focus and investment being put into this group of athletes at this age level is not only about the upcoming Junior World Cups but a longer term vision for success according to Hockey Australia High Performance Pathways Manager Ian Rutledge.

"Besides being an adjusted Olympic year, 2021 is also a Junior World Cup year for our men's and women's programs, and therefore an important activity for our collective program and athletes," said Rutledge.

"Athletes from this cohort will most likely be our 29-32 year old senior team leaders at what will hopefully be a home 2032 Olympics, with the experience of Paris 2024, Los Angeles 2028 and over 200 international caps in their back pocket.

"Rather than retiring in 2028, data and experience shows that athletes often choose to continue their journey 'a little longer' with a home Olympics being the next stop and driver.

"Whilst the Junior World Cup is a comparative competition opportunity, the ongoing athlete development, progression and support processes that underpin it are more critical for us in the longer term. This is the work we are attempting to get across and then optimise during these camps."

Following the camp, the next part of the Burras program will see the athletes compete in the Australian U21 Championships in late June.

Selectors will use the national championships to refine squad selections in the lead up to the announcement of the 2021 Junior World Cup Squad.

Australia's Women's Junior World Cup group continue their preparations after a similar camp was held at the AIS in February, with squad selection also taking place at the National U21 Championships.

2021 Burras (Australian U21 Men's) Junior World Cup Preliminary Camp
9-16 May 2021
Gold Coast HP Centre, Runaway Bay QLD

Name (State/Territory)
Davis Atkin (ACT)
Jay Macdonald (ACT)
Lain Carr (NSW)
Nathan Czinner (NSW)
Miles Davis (NSW)
Charlie Dorman (NSW)
Reece Gaddes (NSW)
Rashil Jetley (NSW)
Robert McLennan (NSW)
Connor Tuddenham (NSW)
Patrick Vastani (NSW)
Ky Willott (NSW)
Zach Rakkas (NT)
Jayden Atkinson (QLD)
Luca Brown (QLD)
Michael Doan (QLD)
Liam Hart (QLD)
David Hubbard (QLD)
Kyle Jeffery-Prestwich (QLD)
Will Mathison (QLD)
Zac Profke (QLD)
Luke Randle (QLD)
Joe Sandor (QLD)
Jack Holland (SA)
Josh Brooks (TAS)
Henry Chambers (TAS)
Cooper Burns (VIC)
Josh Henderson (VIC)
Connor Holland (VIC)
Brad Marais (VIC)
Craig Marais (VIC)
Connar Otterbach (VIC)
Jed Snowden (VIC)
Trent Symss (VIC)
Ben White (VIC)
James Collins (WA)
Brodee Foster (WA)
Campbell Geddes (WA)
Harry Golding (WA)
Tom Harvie (WA)
Oliver Higgins (WA)
Matthew Lewis (WA)
Alistair Murray (WA)
Christian Starkie (WA)

Hockey Australia media release


---

Weekend College Games: NCAA Division I Final Four




And then there were FOUR! The 2020 NCAA Division I Field Hockey Tournament Semifinal matches are set! Below is a breakdown of the upcoming games and how to watch!


---

Say 'no' to match manipulation




The IOC's Believe in Sport campaign seeks to raise awareness around the integrity of sporting competition. This means eradicating manipulation of competitions, using insider knowledge to inform betting and individuals betting on their own sport.

In other words, it is a campaign to stamp out match manipulation and cheating that is associated with gambling activities.

Integrity within hockey is something that both Rogier Hofman and Jackie Mwangi feel very strongly about. Hoffman and Mwangi are both members of the FIH Athletes Committee and both have long and distinguished careers within the game.

Hofman was a key member of the Netherlands men's squad for more than a decade and over the course of his 212 matches in the orange kit, Hofman has been an Olympic silver medallist, a World Cup silver medalist and has numerous other titles and medals to his name.

Mwangi is a Kenyan international, a member of the FIH Development Committee, chairperson of the African Hockey Federation Athletes Committee and is now the women's national team coach.

In the following excerpt, we hear the thoughts of Hofman and Mwangi as they discuss the IOC campaign to stop match manipulation and also reflect on their personal experiences of the positive aspects of hockey. For the full interview, go to Watch.Hockey.

Why is integrity within the game so important?

Jackie Mwangi: "Fair competition is so important because it is the very essence of why we play sport. Manipulation creates an unfair advantage to one side and that is not right at all.

Hockey is a relatively clean sport when it comes to gambling and match manipulation, how can the hockey community make sure it continues to be a sport that is known for its integrity?

Rogier Hofman: "Education is the most important part. We need to teach the kids that it is about fair game, giving everything you have. Off the pitch it is about friendship and doing the sport you love. It is not just about sport but it is relative off the pitch in life."

Jackie Mwangi: "For me. I am the most competitive player on the pitch. If I could not compete 100 per cent, no, that is never the way sport should be. That is what I love about hockey, everyone gives 100 per cent."

How important are campaigns such as the IOC Believe in Sport campaigns when it comes to raising awareness.

Rogier Hofman: "As FIH we have to be role models in this campaign. What is s important is that in some cases you might not even realise that what you are doing is manipulation. For example, you might want to lose a match as that would give you a better chance in the semi-final – that is a form of manipulation."

Jackie Mwangi: "I agree with Rogier, but also there have been several instances where a major game is coming up and a main player goes on line and says 'I am injured' and that could be construed as 'insider information'. We have to educate players to realise when they might be potentially manipulating the game."

Manipulation and cheating are the darker sides of the sport. What are the positives in sport for you, both personally and across society?

Rogier Hofman: "Sport has always been part of my life. I don't know anything else. The best friends I have are all part of me being an athlete. Even now, as a member of the FIH Athletes Committee, it gets you closer to the people around you. I hope my children will find the joy in sport that I have."

Jackie Mwangi: "We have been having hockey development camps for many years and that basically empowers the people from the slums and helps them develop their skills. It changes the community and gives people something positive. It gives people confidence. There is also life skills training going on through hockey training. Hockey scholarships gives the children a chance to win scholarships. This is happening across many countries in Africa."

Rogier Hofman: "Sport made me who I am. I am proud of what I have done and who I am. Where I live, we all have the opportunity to choose to play sport and listening to Jackie, I realise the privilege in that."

Jackie Mwangi: "In my part of the world, not finding a place to play is not an excuse. You can start playing hockey anywhere. You may not have the infrastructure but that doesn't mean you can't start something. You just need the determination to start what you love doing and in this case, it is hockey."

The IOC Believe in Sport Campaign highlights the importance of integrity in sporting competition. Under its code of conduct there are four key rules that all athletes, coaches and officials need to be aware of:

Never bet on your own sport or the Olympic Games;
Never manipulate a competition and always do your best;
Never share inside information bout your sport; and
Always report any approach to manipulate or anything suspicious.

#TakeTheRightDecision

FIH site


---

Cooper aiming to put focus on grassroots in FIH executive board bid



Inez Cooper speaking at an EHF General Assembly. Pic: Frank Uijlenbroek/World Sport Pics

Inez Cooper is looking to put the FIH's focus on the sport's grassroots should she be successful at the world body's elections on May 22 where she is in the running for a place on the FIH executive board.

The Loreto Hockey Club member has been a key figure in Irish and European hockey for many years having previously played during her time in London with the world's oldest hockey club, Blackheath for over a decade.

She played an integral role in the formation of the Irish Hockey League in 2008 and its subsequent move to a full season format in 2015.

She was also the brainchild behind bringing Olympic qualifier matches against Canada to Donnybrook's rugby stadium in 2019 where record crowds for a women's international sporting event flocked to see the Green Army qualify for Tokyo.

Cooper joined the European Hockey Federation board in 2013 where she had chaired the Education Committee from 2013 to 2019 before overseeing the Coaches and Officials Committees since 2020.

She has also been a key mentor as part of the EHF's Female Leadership Forum.

In her professional career, she is currently managing director of Synch Payments, a joint venture bringing together Ireland's four largest banks to launch an instant mobile payments system and has previous multi-national Executive level experience in Financial Services and Management Consultancy companies.

She will hope to take that range of experience to the FIH board as an ordinary member, vying for a spot on a shortlist of three from which two people will be elected.

Discussing her vision, she says: "A key focus for the next few years needs to be on grassroots – the players, the clubs and all NA's – build up from the bottom. Healthy roots will lead to a thriving for the future.

"Secondly, we need to close the gaps between the top tier nations and below – we need a competition structure that supports more NA's playing at the top level, easy movement in a competitive way to drive the sport, increasing numbers broader and deeper.

"Thirdly, we need to increase and diversify the financial revenues at the top, improve the financial position overall and be very focused and targeted in driving funds to development areas, ensuring this in turn has a return."

The Dubliner says this latest FIH Congress comes at an opportune moment as the FIH faces a number of big challenges with the Covid-19 pandemic offering a rare pause for thought on the sporting treadmill.

She believes it is the perfect time to take a "short and sharp pause" to review where the sport exists in the world.

 "To achieve this vision, we need leadership, focus and governance that organises the hockey community to deliver on multiple aligned objectives at the same time and to engage and communicate, bringing people with us on the journey."

The Hook


---

Covid no hurdle to hockey in the Manawatū



2020 Hockey New Zealand Administrator of the Year – Ally Roberts (Manawatū)

Ally Roberts went above and beyond her normal responsibilities in 2020 to manage a full and successful hockey season through Covid-19 alert levels.

During the 2020 lockdown, Hockey Manawatū's Office Manager spent an inordinate amount of time developing plans and reducing operational costs. As a result, the Association was well placed financially and operationally to provide a full and enjoyable season to the community when hockey resumed under Level 2.

Roberts helped develop comprehensive Covid response plans, facility maps and posters, meaning Hockey Manawatū had phenomenal processes in place to ensure we complied with Government regulations and provided a safe venue for our community.

Hockey Manawatū also had the opportunity to host 23 teams for the Lower North Island Secondary Schools Premiership tournament. Despite getting the final go-ahead with less than a week before the tournament's start, Roberts worked tirelessly to produce safety plans and facility maps – ensuring they were well communicated to all participants and spectators.

She also managed to find time to help neighbouring Associations with their administrative and communication tasks, supported the Hockey Manawatū volunteer committees, provided administrative support to Aotea Maori Hockey and somehow still had the energy to come up with exciting new ideas to engage the community and increase their enjoyment. One such idea was a thank you event for volunteers.

Roberts is an incredibly deserving recipient of the Hockey New Zealand Administrator of the Year award.

Hockey New Zealand Media release


---

Mariela Antoniska, a "Leona" at El Cruce Hospital



Mariela Antoniska (ARG)   

The doctor who is part of the Gastroenterology service at the sanatorium is a legend of field hockey: the former goalkeeper was one of the founders of "Las Leonas" in Sydney 2000 and saved the decisive penalty to win the World Cup in Perth 2002.

Mariela Antoniska is a doctor and former Argentine field hockey player, goalkeeper for the national team, gold medal at the Pan American Games (1999 and 2003) and two Olympic medals (silver and bronze) at the Sydney 2000 and Athens 2004 Olympic Games.

She currently distributes her days in the public health system. Today Mariela is rotating in the Gastroenterology service at Hospital El Cruce and she also works at Hospital Garrahan.

For Argentine sports history, Antoniska is an absolute legend. She was a key player from the goal in the team that decided to be called "Leonas" in Sydney 2000 and today is a legacy for the national field hockey. And in 2002 she became a giant in the Perth World Cup against the Netherlands, the local and classic of the Argentine team, when she saved Fatima Moreira de Melo's penalty to give Argentina the consecration.

"I have been specializing in the bile duct in the Gastro service since the end of 2019. In Garrahan we began to see many patients with these pathologies and they needed someone to train. That's why I came to El Cruce to do the rotation and I'm really happy because it's an incredible place because you can see this pathology a lot. It is a hospital where you can learn and train. There are ten doctors and assistants" said Mariela at a break that she made at her work in El Cruce.

She shows that she established an excellent bond with her partners because they all joined in to her in the photos for this note. Mariela is a pediatrician and gastroenterologist and she knows effort, tenacity and commitment. She was a member of the national field hockey team for more than a decade.

"In my house they always instilled in me that I had to finish school besides playing hockey. That I must did what I liked but I had also to study. My uncle is a doctor and I am always interested in this profession. And well, when I finished high school and already playing in the Leonas team, I began my Medicine career at the UBA, I did it in parallel a little slower than the rest of my classmates. For all the commitments we had in the team and the trips. In 2007 I received my medical degree. I did the pediatric residency at the Posadas Hospital and then went to Garrahan. Until 2011 I continued playing in my club Lomas Atlhetic but with the guards it was complicated".

Mariela is from Lomas de Zamora and she started playing hockey at the age of 10 and she did it continuously until she was 37 years old. At 33 she left the Argentine national team to dedicate herself completely to medicine.

Source: Hospital El Cruce

Pan American Hockey Federation media release